A St. Patrick's Day party isn't a party unless you serve these Irish Cheddar Bacon Jalapeño Potato Skins. Crispy and cheesy and oh-so-bacon-y. Potato skins filled with Irish cheddar, crispy chopped bacon, diced jalapeño and baked until the cheese melts, bacon crisps up more and the jalapeños soften. Yields 20 potato skins.
St. Patrick's Day is approaching and it's on a Sunday … womp-womp. But I'm thinking of celebrating on Saturday, complete with green beer and delicious appetizers. And by appetizers I mean these Irish cheddar bacon jalapeno potato skins.
Potato skins may be one of the best appetizers. Because potatoes. But also because they are the perfect hand held vessel. And the more loaded up with goodies the better. I was inspired by these nachos, and decided to hollow out baked potatoes, throw them under the broiler to crisp and then fill them with Irish cheddar cheese, crispy bacon and jalapeño.
The combination of potato, bacon and jalapeño is delicious.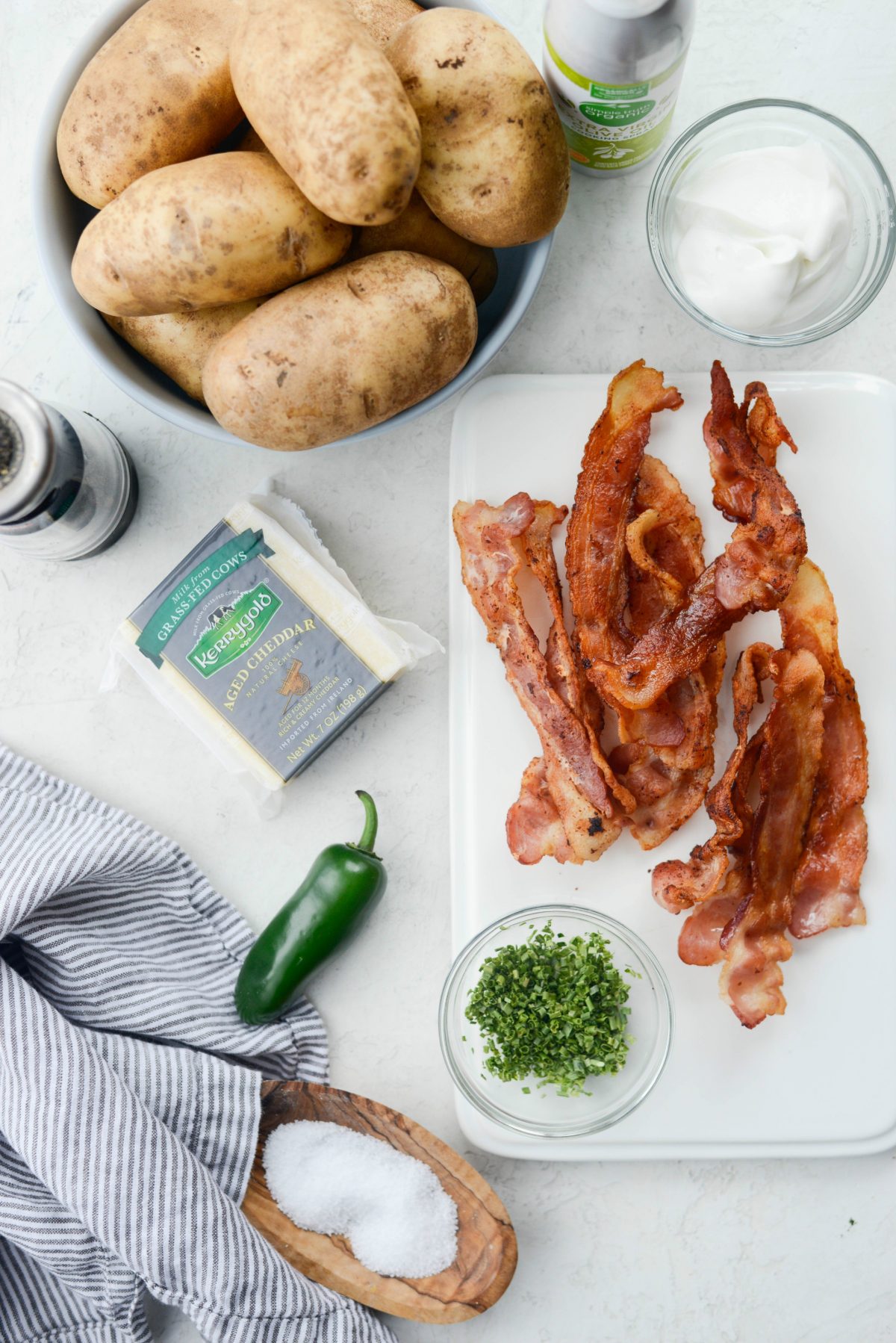 Here's what you will need: 5 pounds medium-sized russet potatoes, olive oil, kosher salt and black pepper, 3/4 pound bacon, 7 ounces Irish cheddar cheese (grated), 1 jalapeño pepper, minced parsley leaves. Sour cream and greek yogurt, for serving.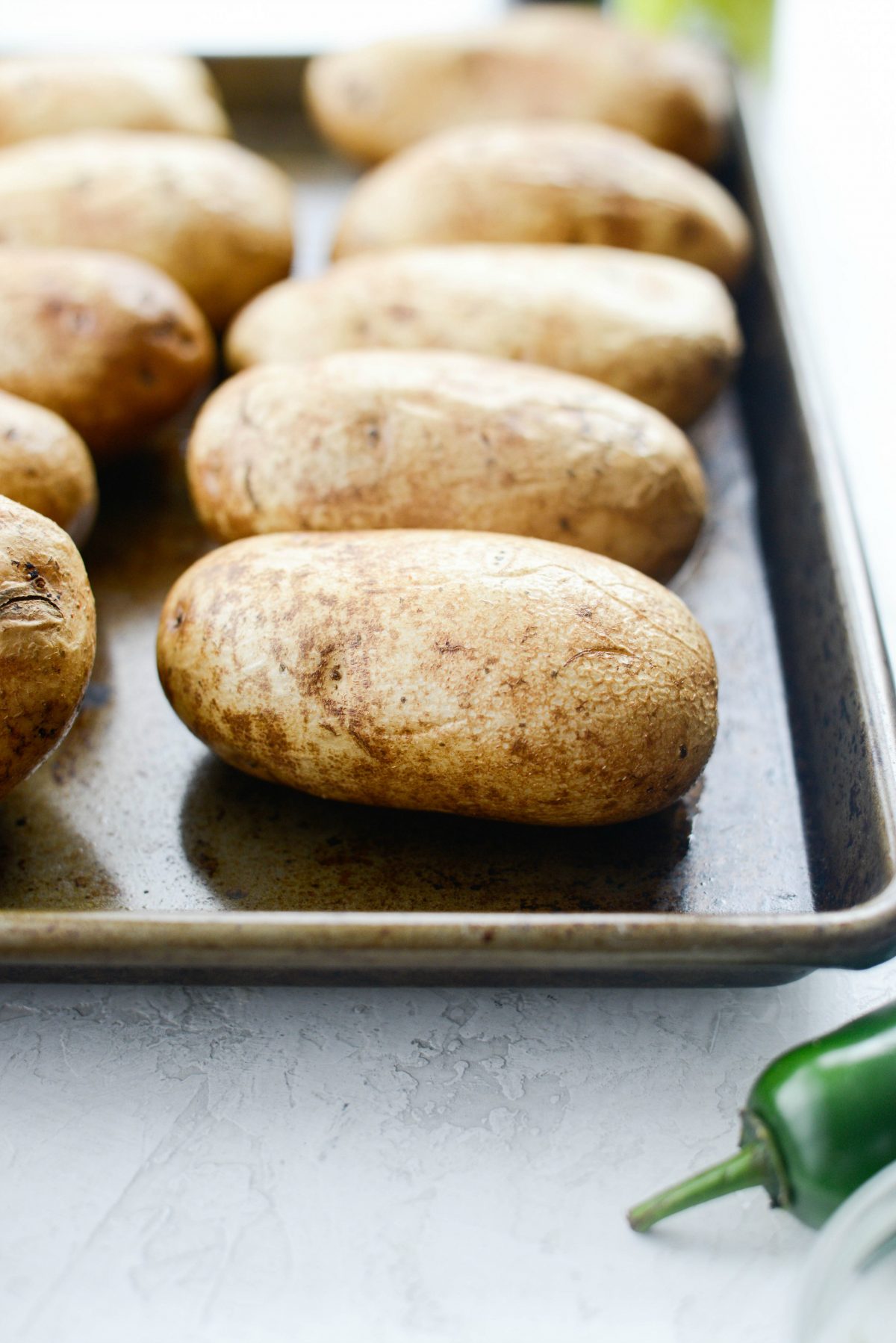 To start, preheat your oven to 350°. Spray or drizzle the (scrubbed) potatoes with olive oil and massage the oil into the skin of the potatoes. Bake on a rimmed baking sheet on the middle rack of your preheated oven for 45 minutes to 1 hour. The potatoes are done when a fork pierces the largest potato easily. Allow to cool until safe enough to handle.
Meanwhile, cook the bacon until crispy, drain and chop pretty small.
Next, cut the potatoes in half horizontally. And scoop out the flesh, leaving a little potato still attached to the skin.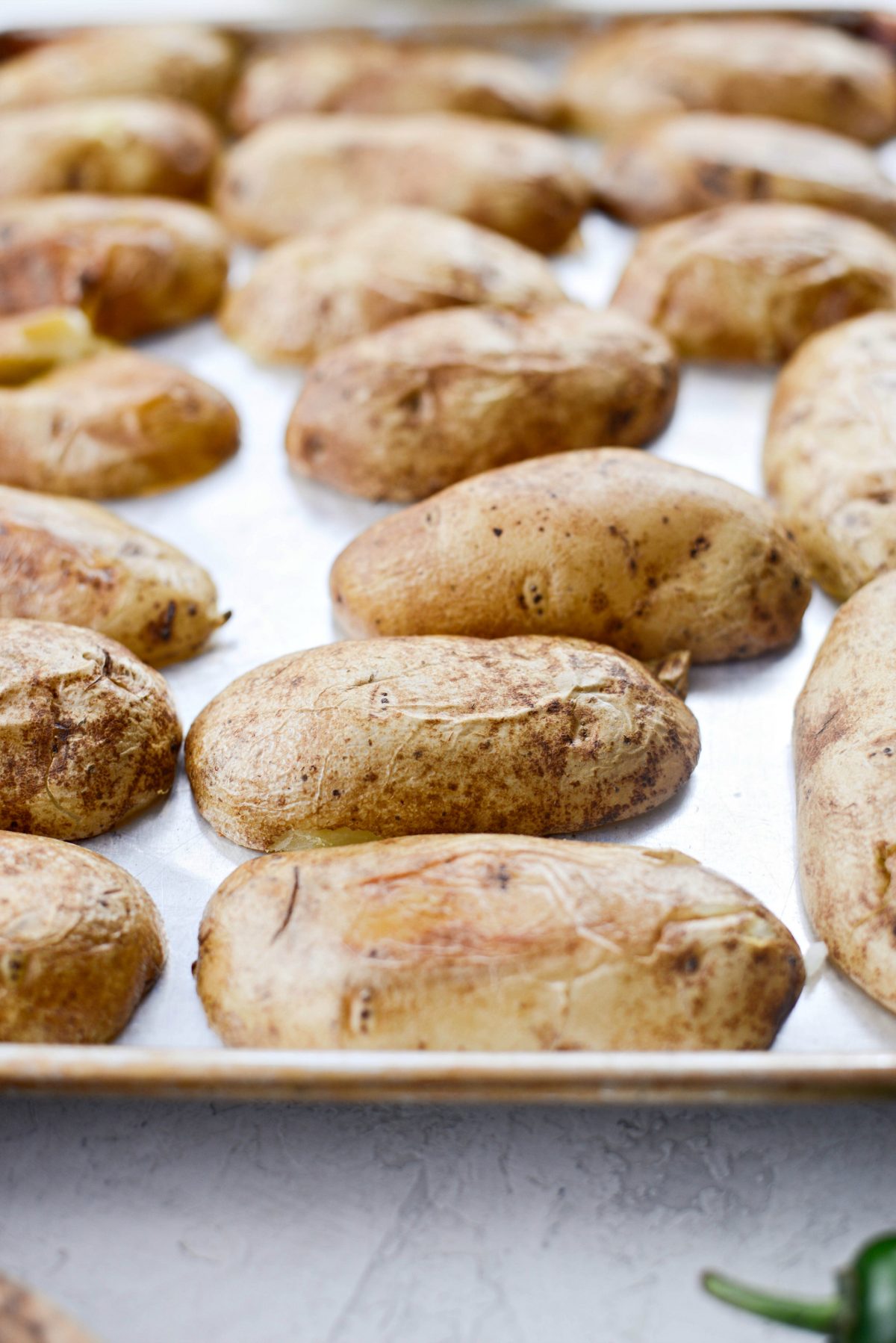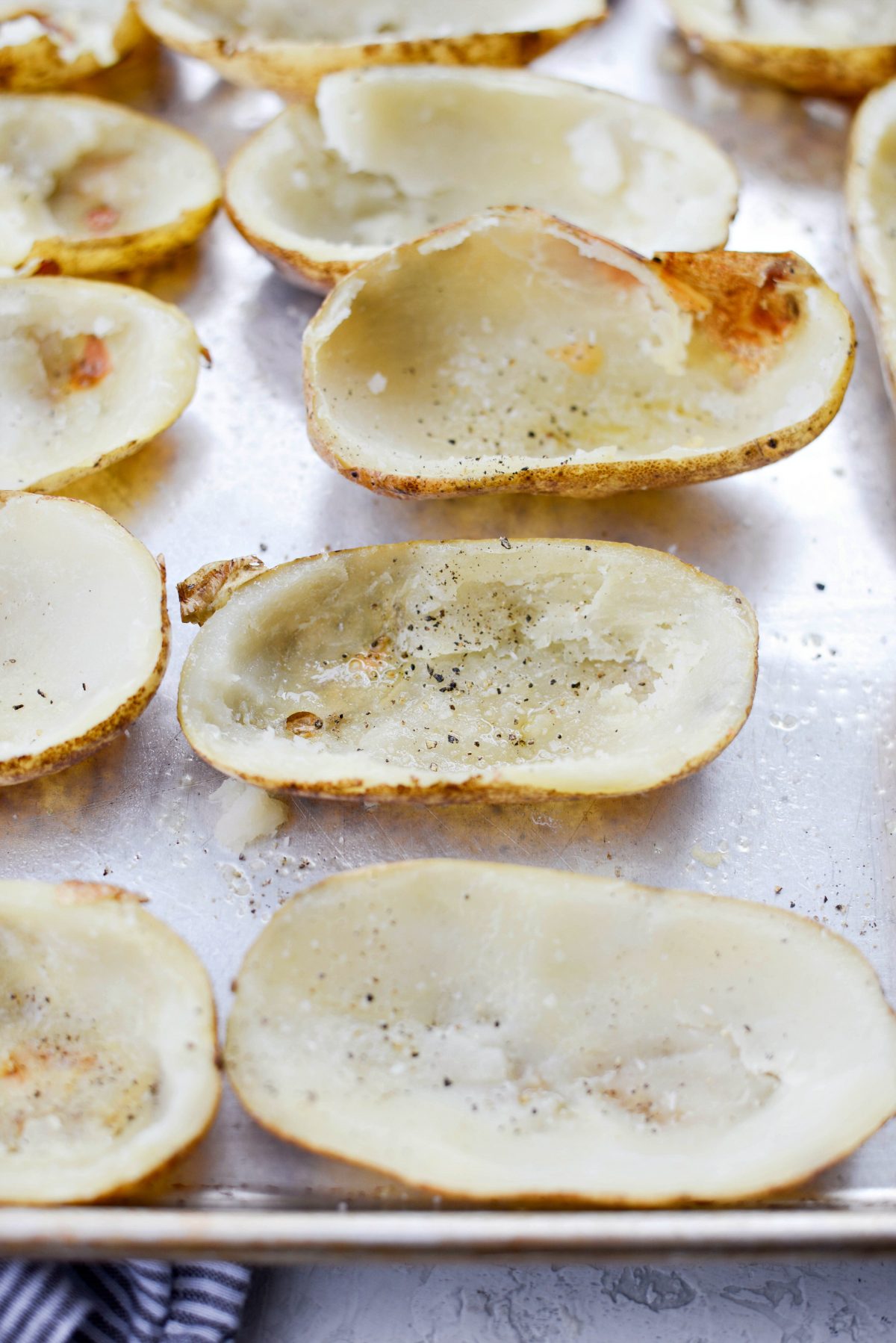 Then, using oven mitts, move your oven rack to the highest position and preheat your oven to broil (high).
Next, invert the potato skins, and broil for 4 minutes or until the skin is crisp, roasting the pan halfway through to ensure even browning. Use tongs to flip the skins and spray the side with the expose potato with olive oil and season with a little bit of kosher salt and lots of freshly ground black pepper. Broil for 4 to 6 more minutes, rotating the pan halfway through.
Switch your oven over to bake and preheat to 375°.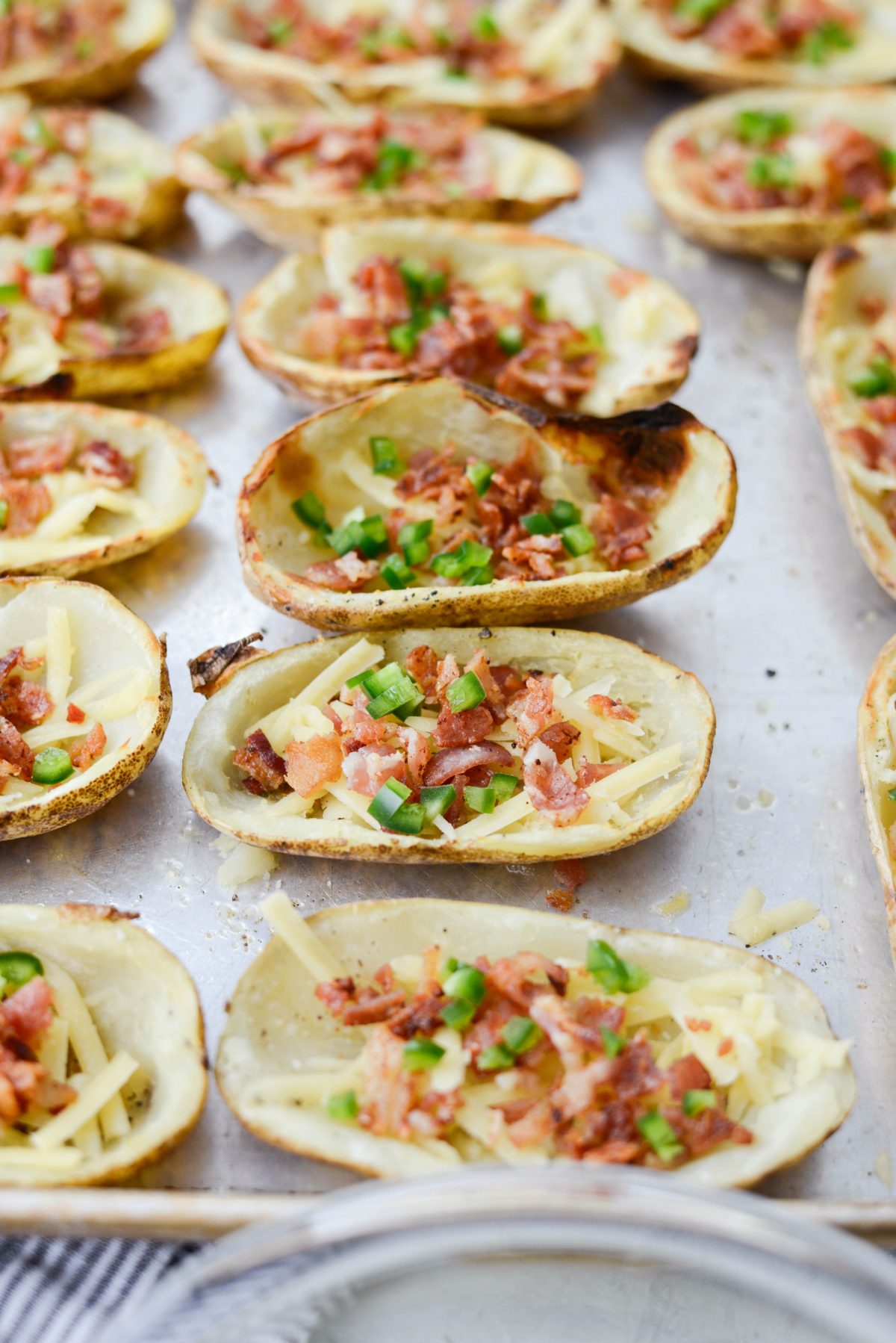 Once the potatoes are golden brown in spots, divide the cheddar among the skins and top with bacon and finely diced jalapeño. Bake in your preheated 375° for 5 to 6 minutes or until the cheese has melted.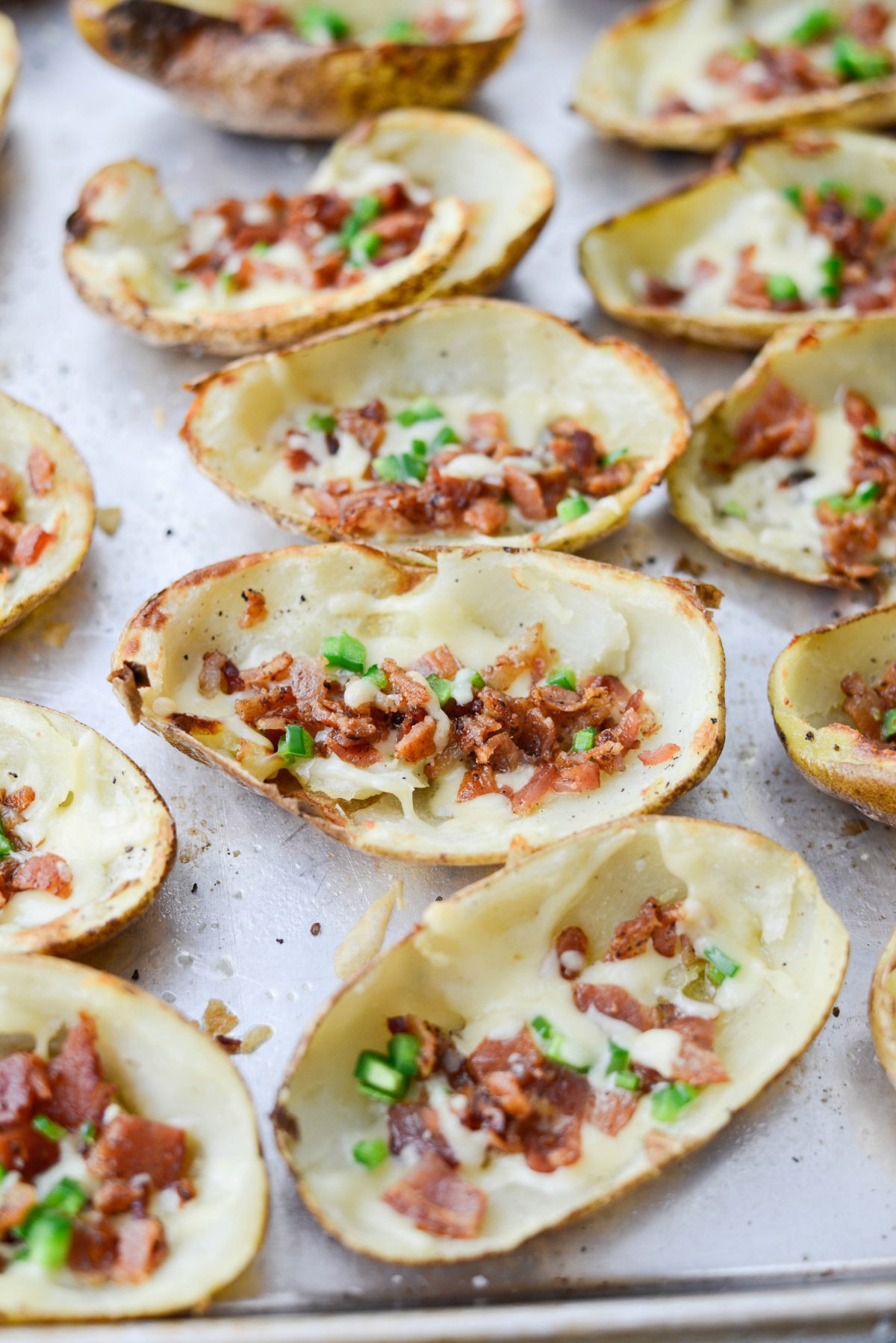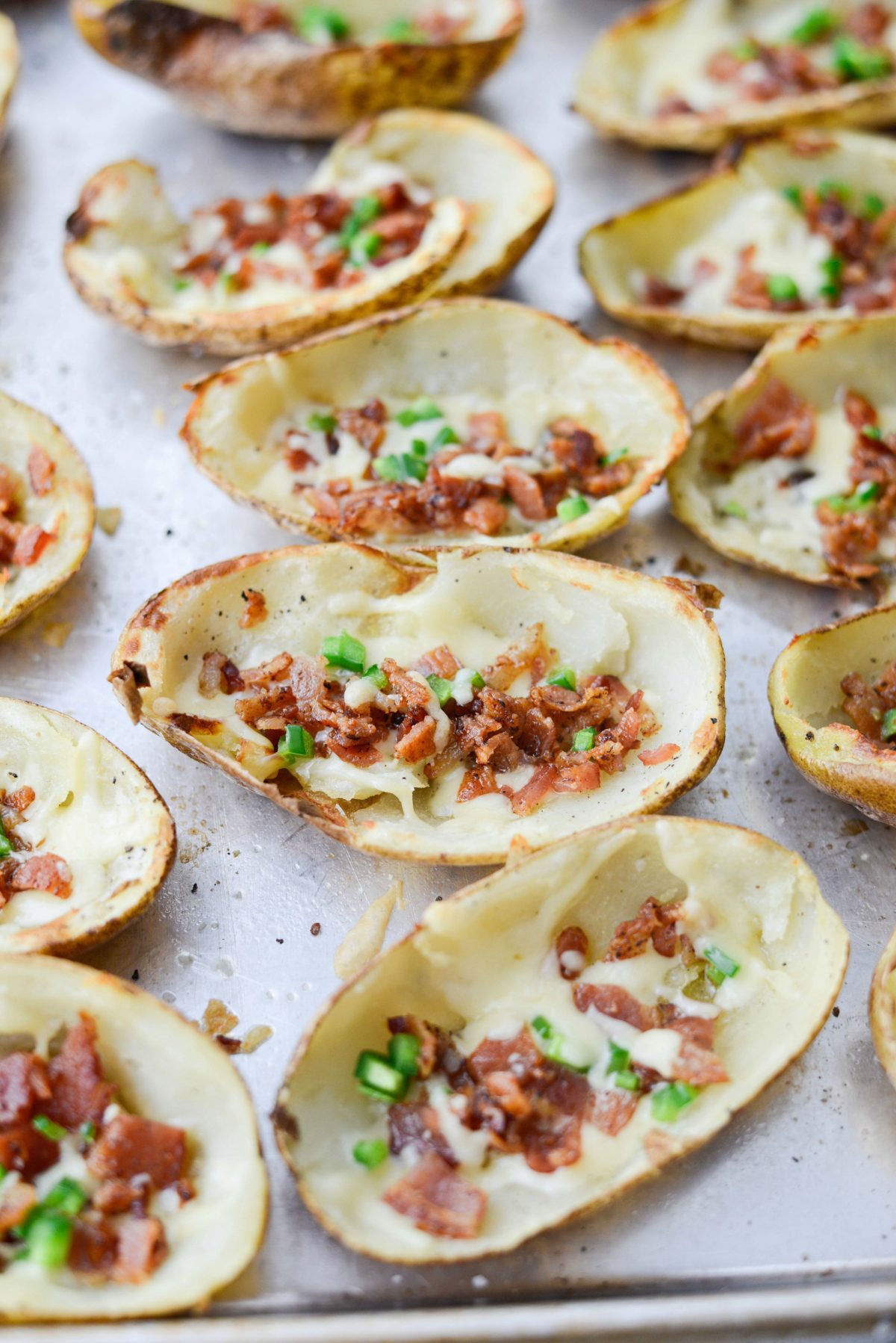 Lastly, sprinkle with snipped chives and the finely minced parsley for a burst of freshness.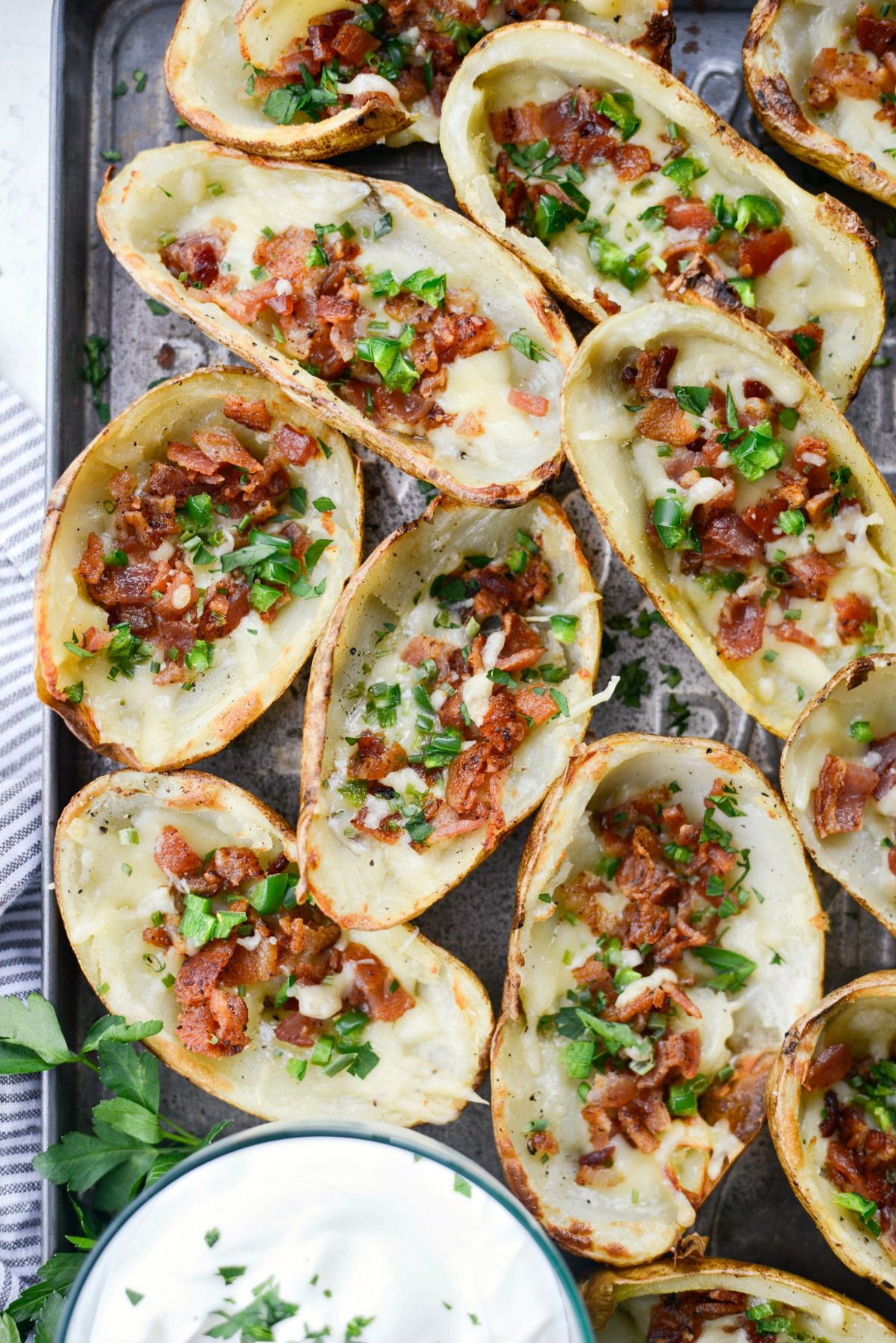 Serve with sour cream or (plain) nonfat unsweetened greek yogurt and prepare to not share, take the whole pan somewhere quiet and inhale.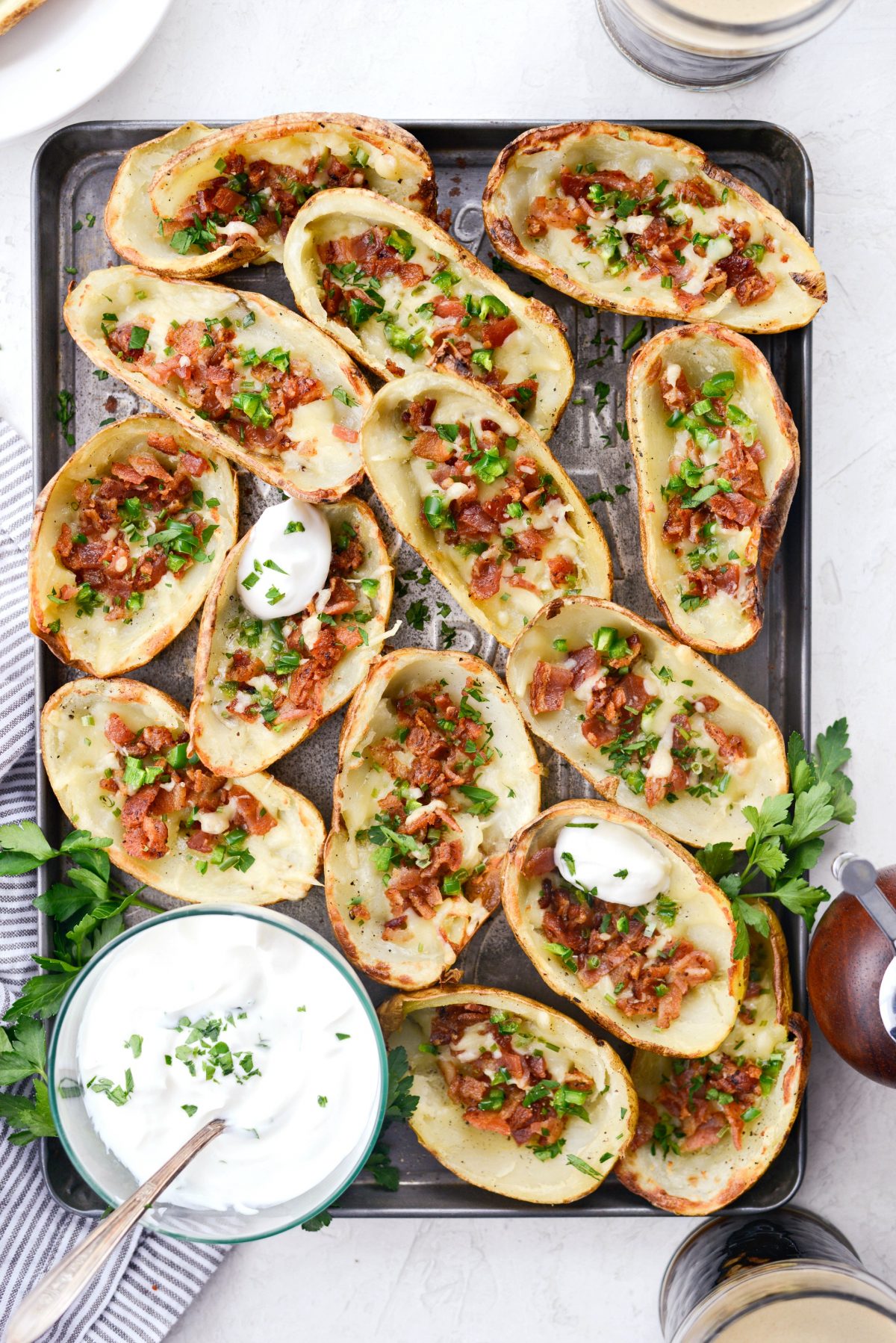 However these are delicious served with cold beers and good friends.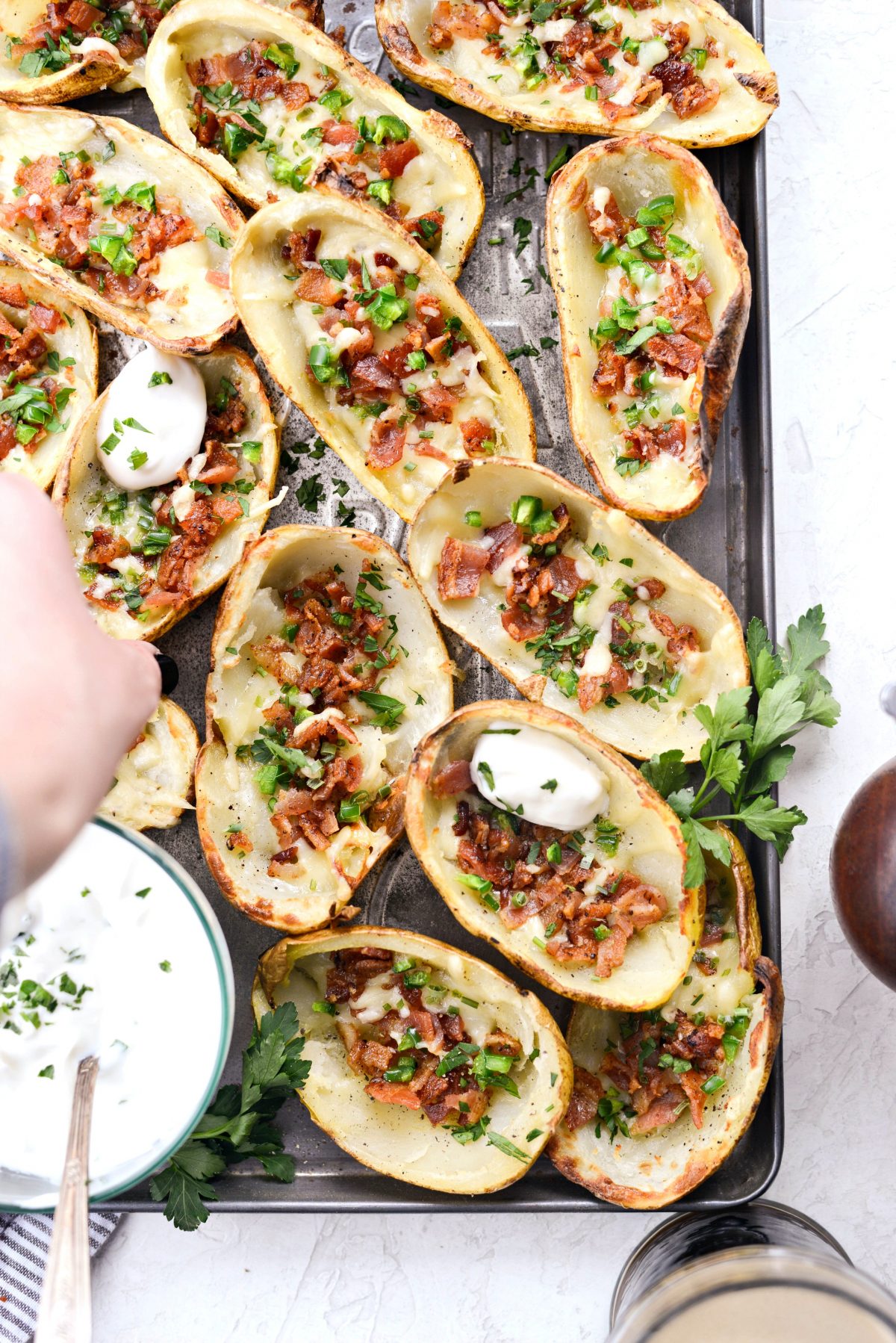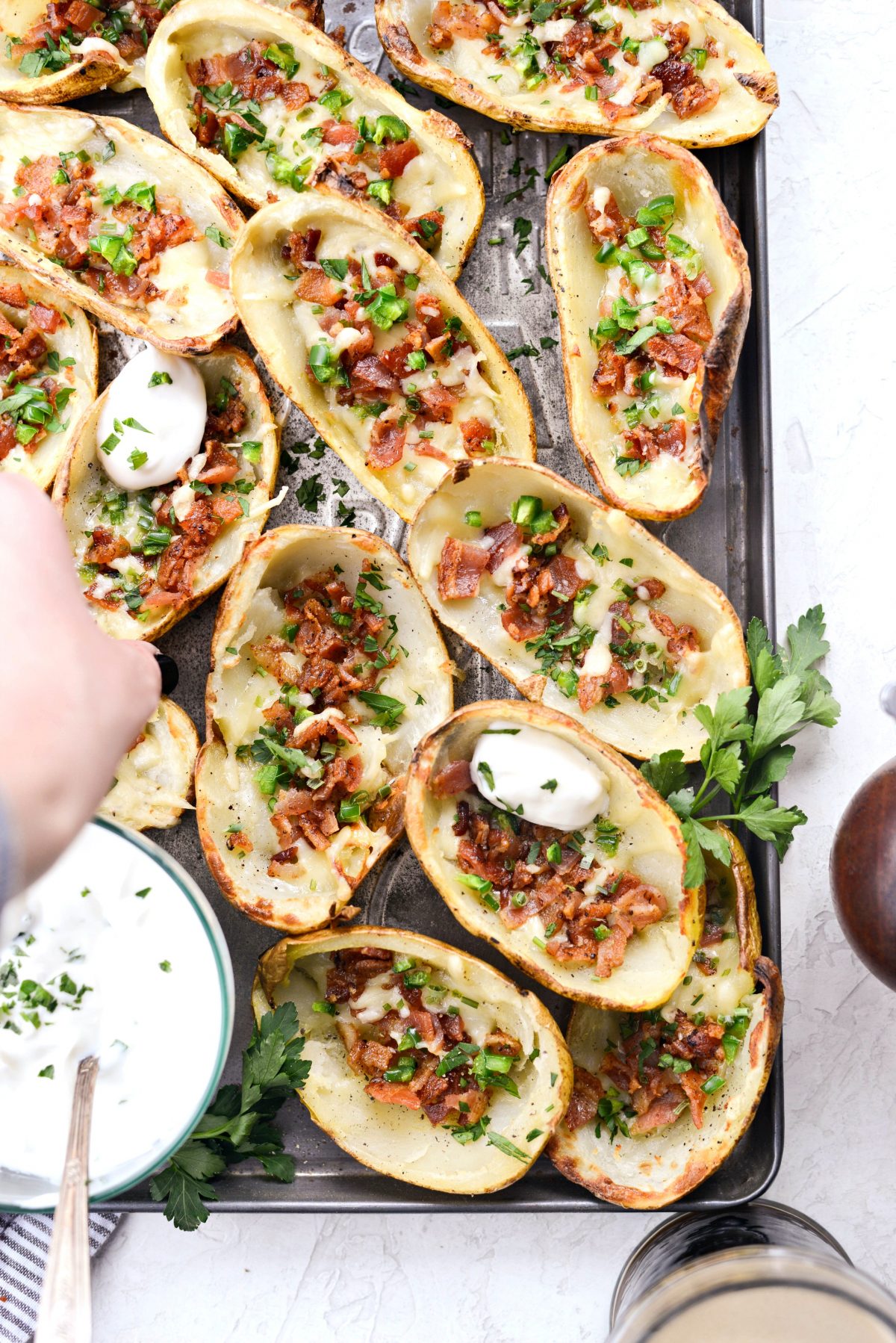 Enjoy! And if you give this Irish Cheddar Bacon Jalapeno Potato Skins recipe a try, let me know! Snap a photo and tag me on twitter or instagram!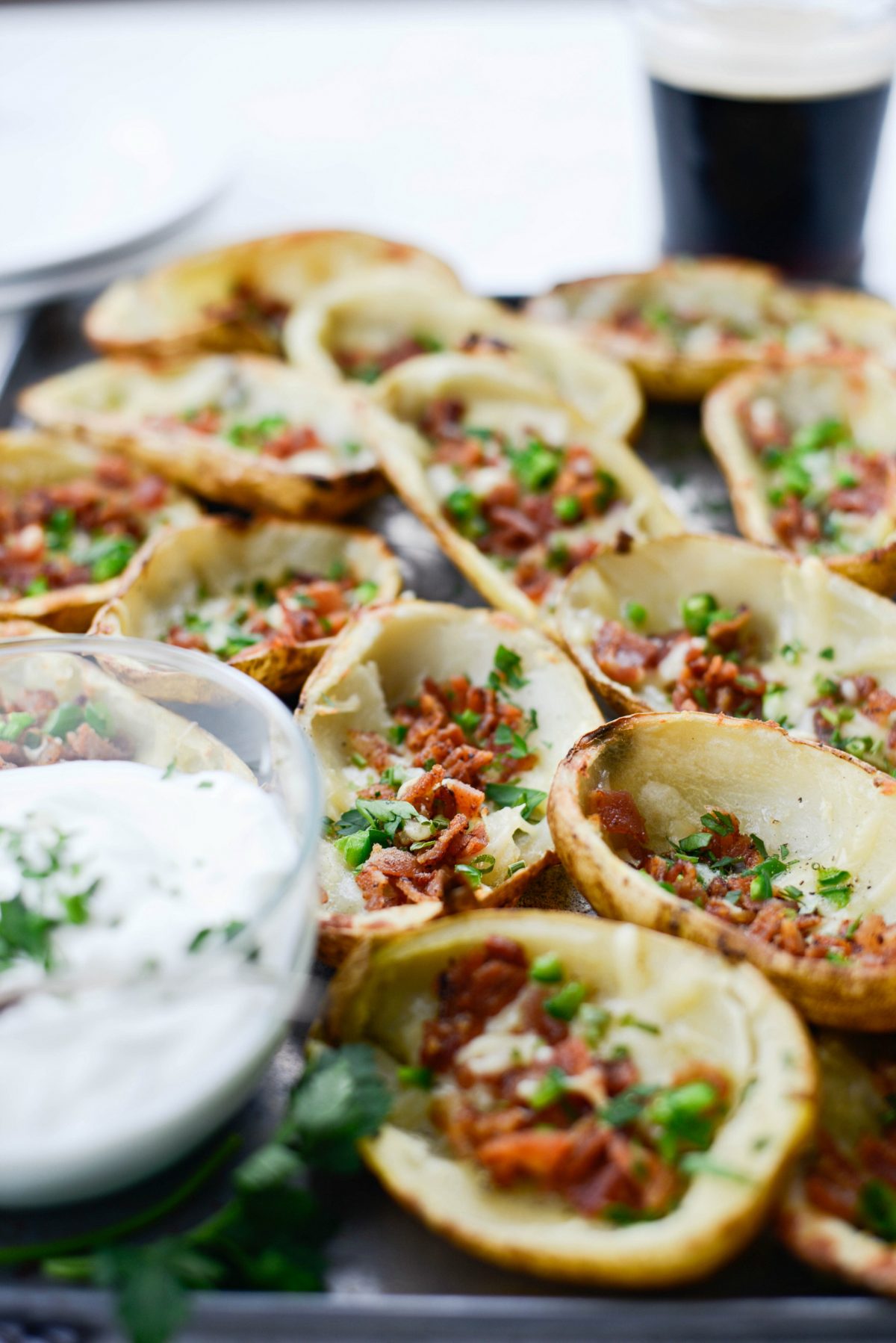 My cookbook Simply Scratch : 120 Wholesome Homemade Recipes Made Easy is now available! CLICK HERE for details and THANK YOU in advance!
[this post contains affiliate links.]
This post may contain affiliate links.
Buy the Cookbook: Simply Scratch : 120 Wholesome Homemade Recipes Made Easy Now available on Amazon »
THANK YOU in advance for your support!