Slow Cooker Beef Barbacoa is beef slowly cooked with onions in a flavorful broth until shreds easily with forks. This slightly sweet and smoky beef is delicious tucked into soft tacos, atop nachos or layered in tostadas! This recipe yields quite a bit and is great for serving a crowd.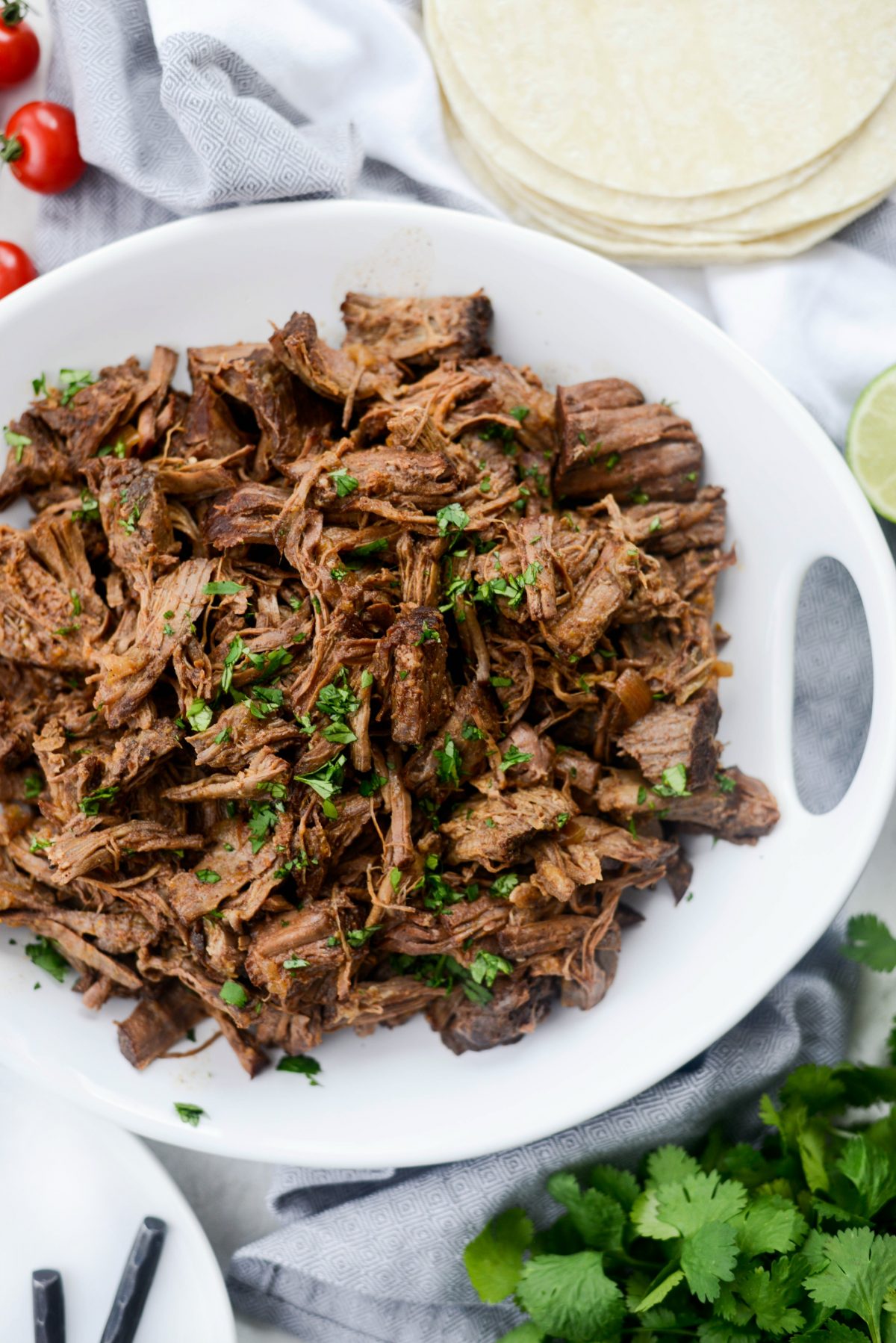 First things first, what is barbacoa? Depending on where you are will depend on what type of meat and preparation. In some areas it's goat, beef or pork. But in a nutshell, it's slowly cooked meat. From the research I've done, the word barbacoa has translated to barbecue over time. Whether that refers to the spices used or preparation, it's hard to tell. In modern Mexico, some may slowly cook it over an open fire or dug in a whole covered with a certain type of leaf. However, in my kitchen I use the slow cooker so I can set it and forget it.
The key to getting more flavor and texture with your beef barbacoa is to season the meat well with kosher salt and black pepper before searing it in a hot skillet. Then cooking the onions in the pan while scraping all the flavor-filled browned bits on the bottom of the skillet before adding it into your slow cooker.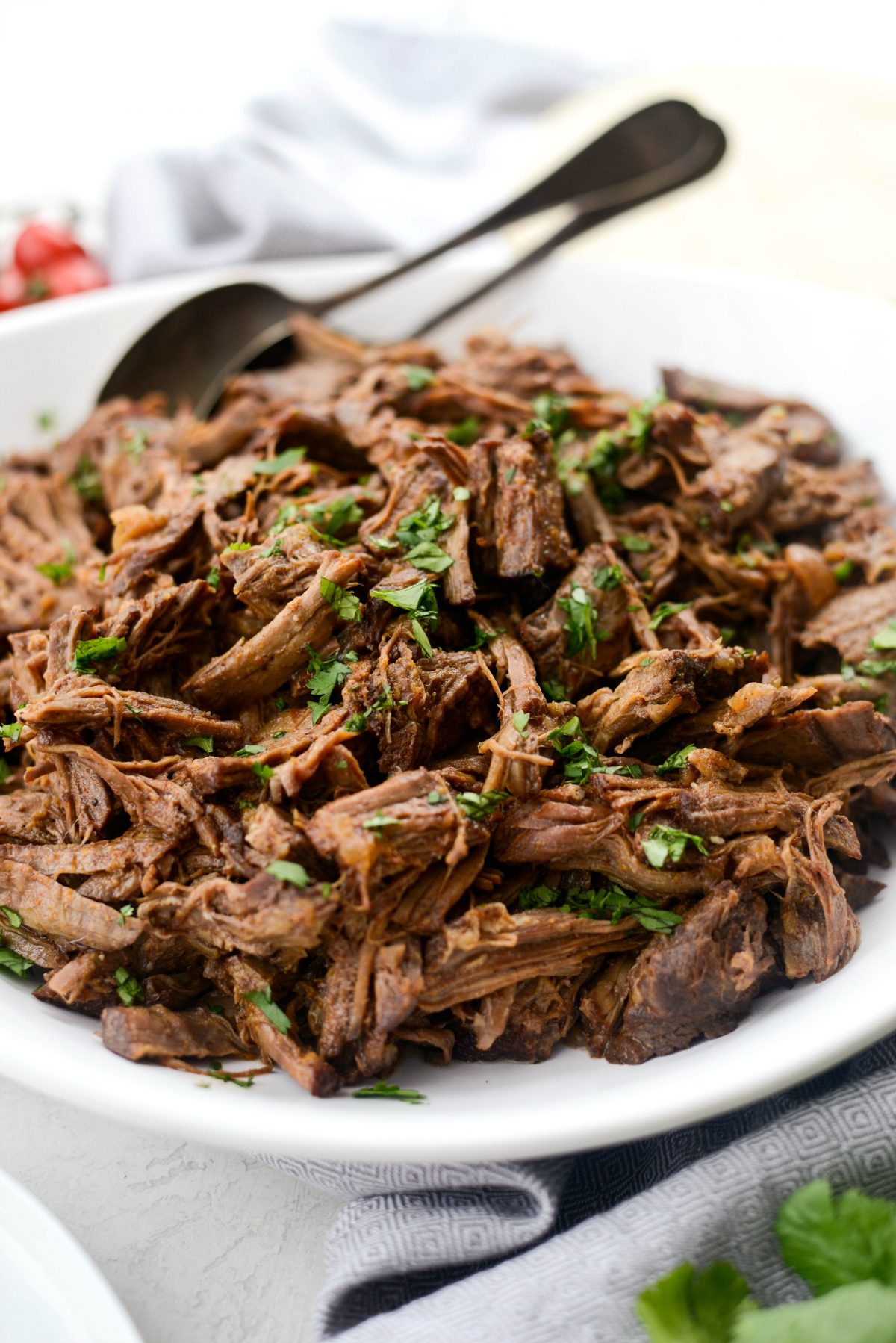 The simplest way to serve beef barbacoa is to fill tortillas with the saucy, shredded beef and top with onions, cilantro and a squeeze lime juice. However you can't go wrong with anyway you decide to serve it. I love it on nachos where the exposed ends of the barbacoa get crispy in the hot oven.
To Make This Slow Cooker Beef Barbacoa You Will Need:
5 to 6 pounds beef chuck
salt and pepper
1 tablespoon light olive oil
1 large (or two medium) sweet onions
1 cup dark brown sugar
6 cloves garlic (grated)
2 rounded tablespoons tomato paste
1 rounded tablespoon chili powder
2 teaspoons chipotle powder
1 teaspoon smoked paprika
3 cups low-sodium chicken stock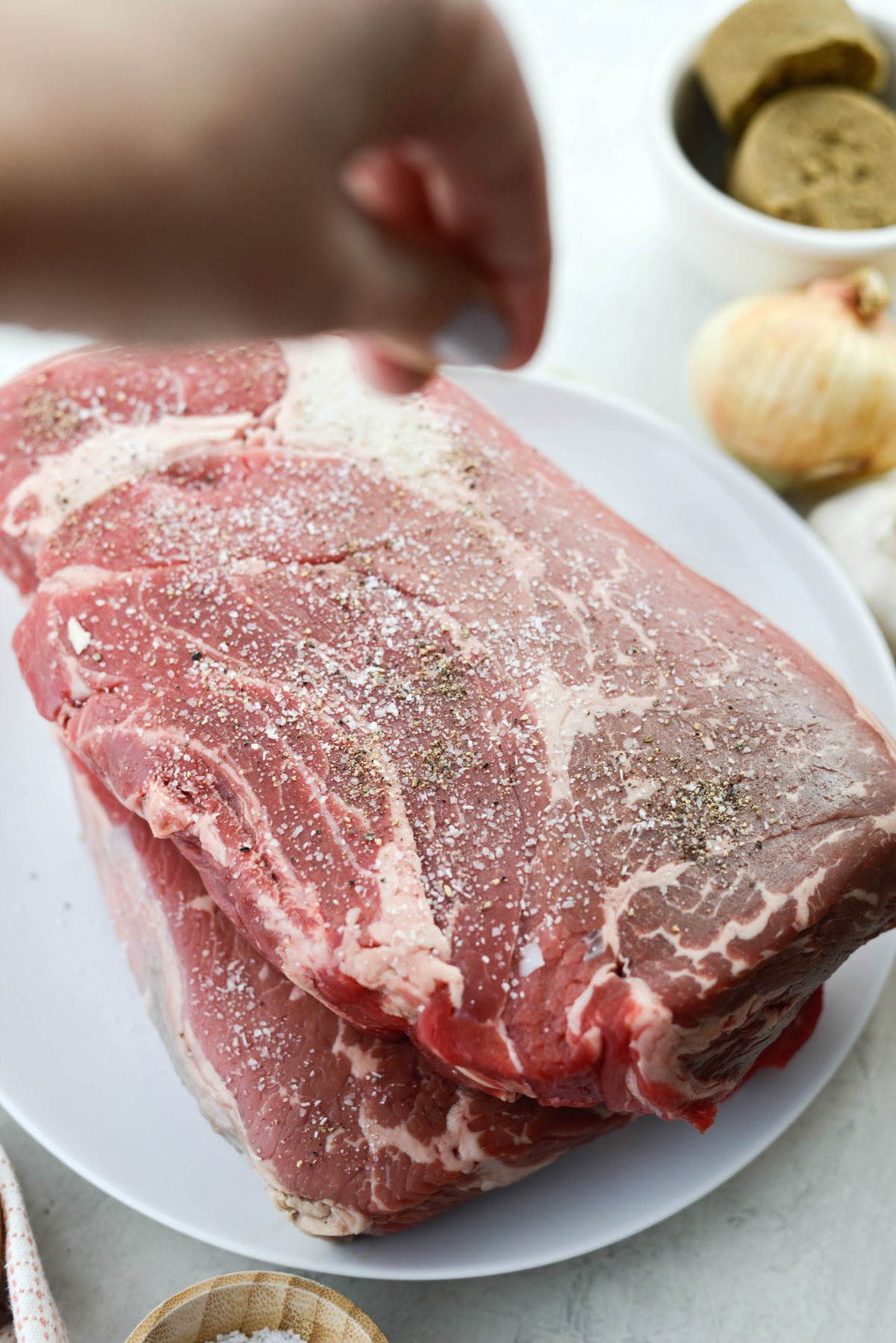 First preheat a large stainless skillet or dutch oven over medium-high heat. Season all the sides of the roast with kosher salt and freshly ground black pepper. Because my grocery store doesn't carry any chuck roast over 2-1/2 pounds, I had purchased two.
Once hot, add the oil to the pan and swirl to coat, creating a non-stick surface. Sear the roast for 4 to 5 minutes on both sides. Then transfer the caramelized seared roast to your slow cooker.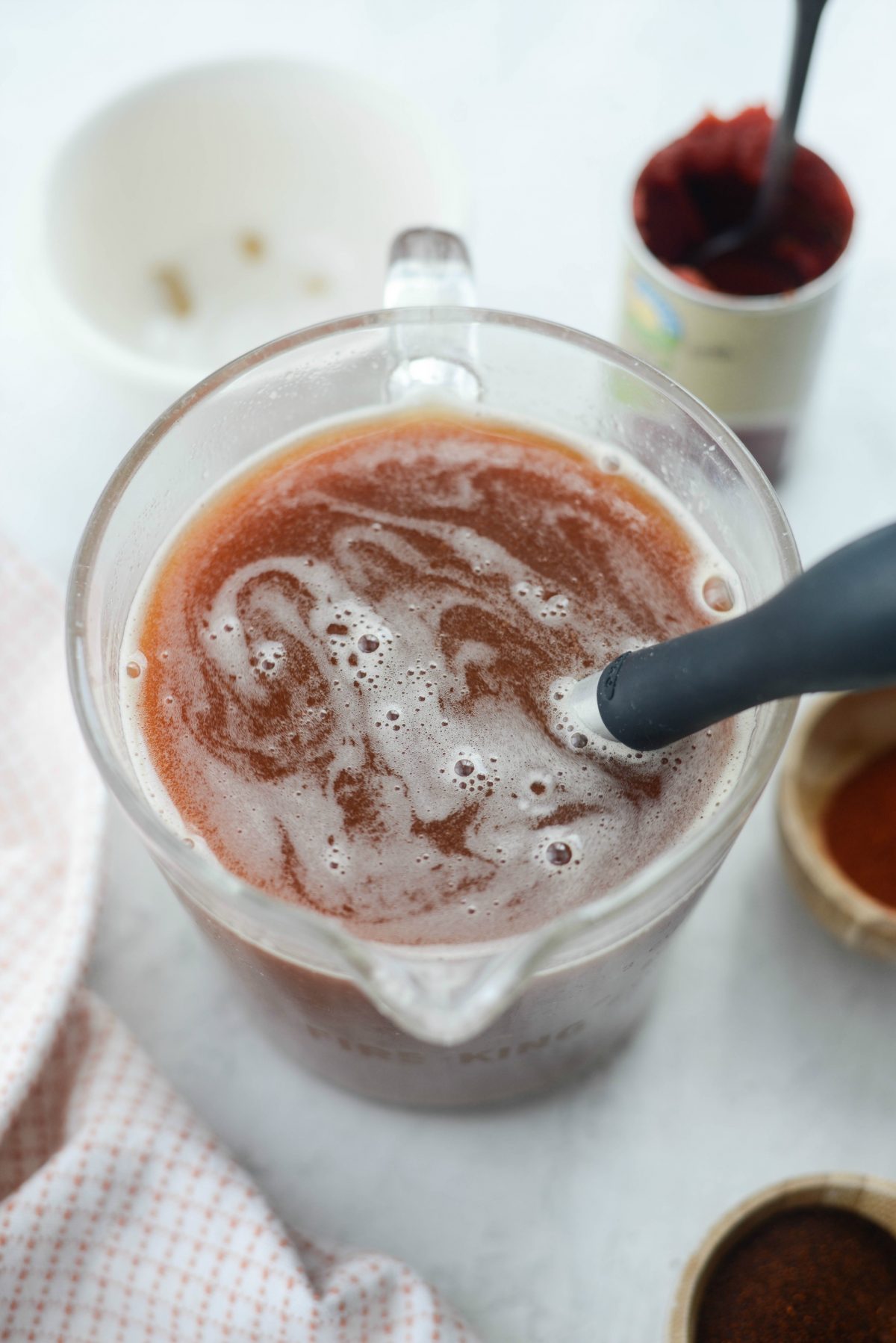 Meanwhile, whisk together the sugar, grated garlic, tomato paste, chili powder, chipotle powder, smoked paprika and chicken stock and set off to the side.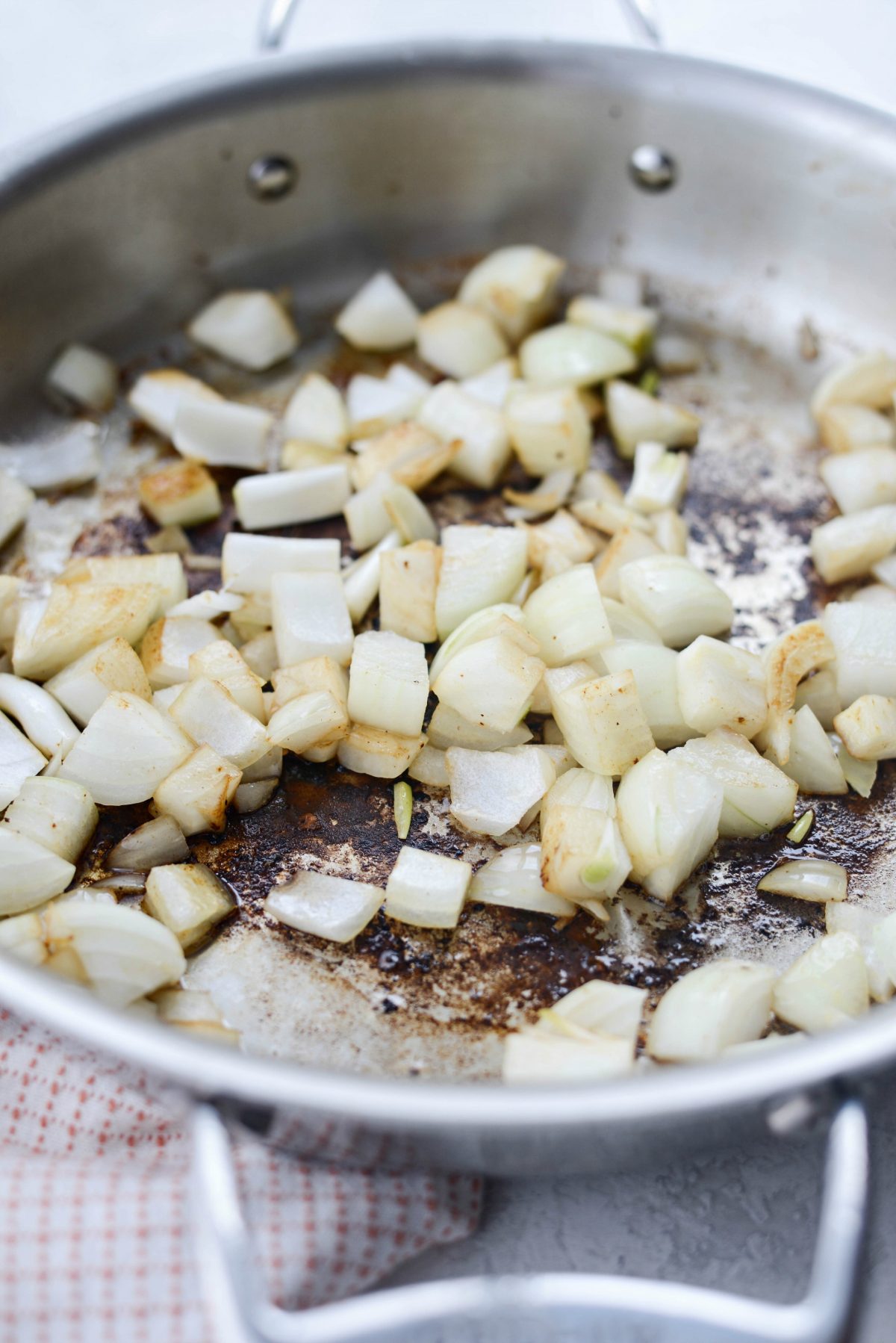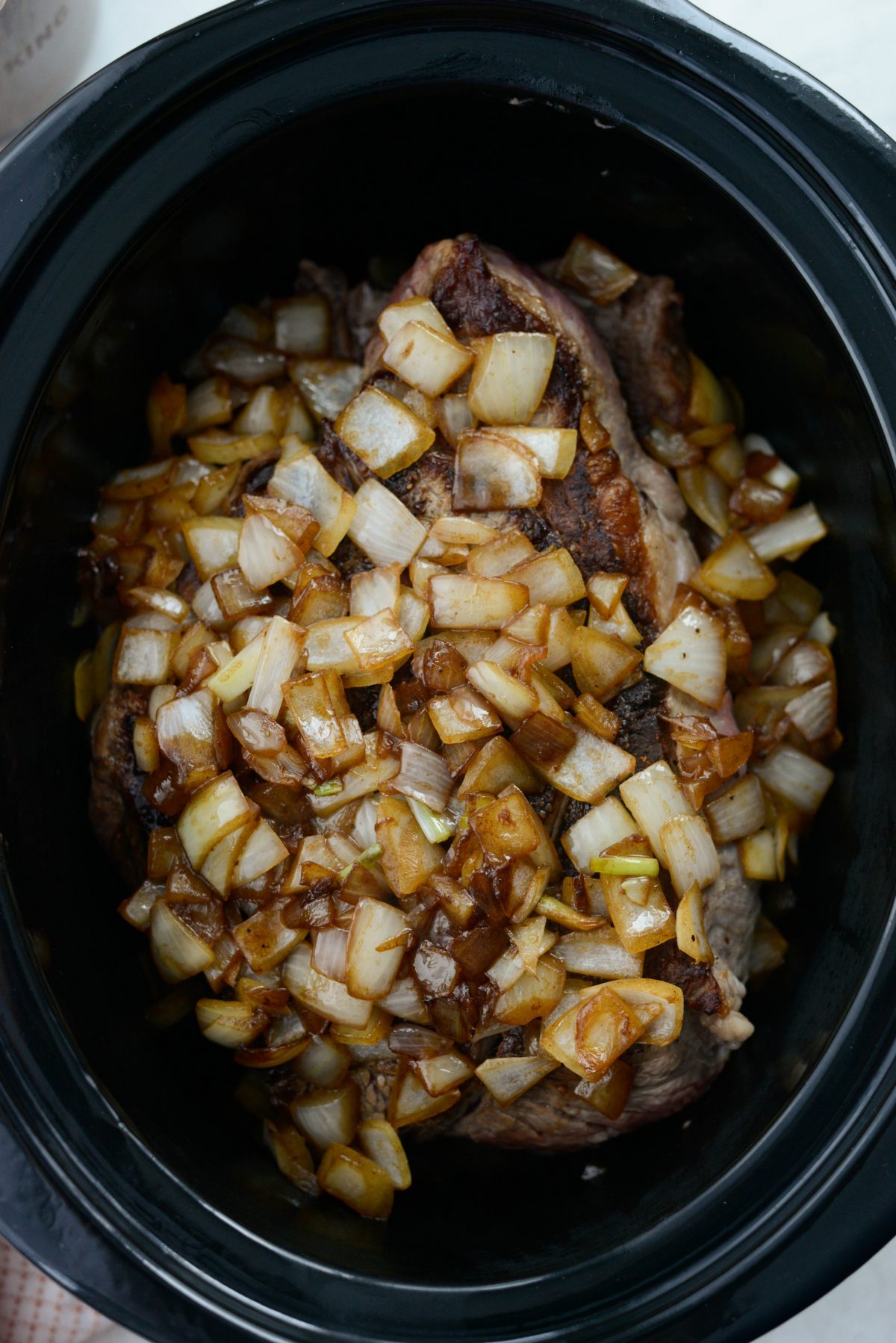 Once the meat is seared and in the slow cooker, reduce the heat under the skillet to medium and add in the diced sweet onion with a pinch of salt. Stir and cook until tender while scraping up the browned bits on the bottom of the pan. Add a few splashes of water (up to 1/4 cup) to the pan to help lift up any stuck-on browned bits. Once the water has evaporated transfer the onions to the slow cooker as well.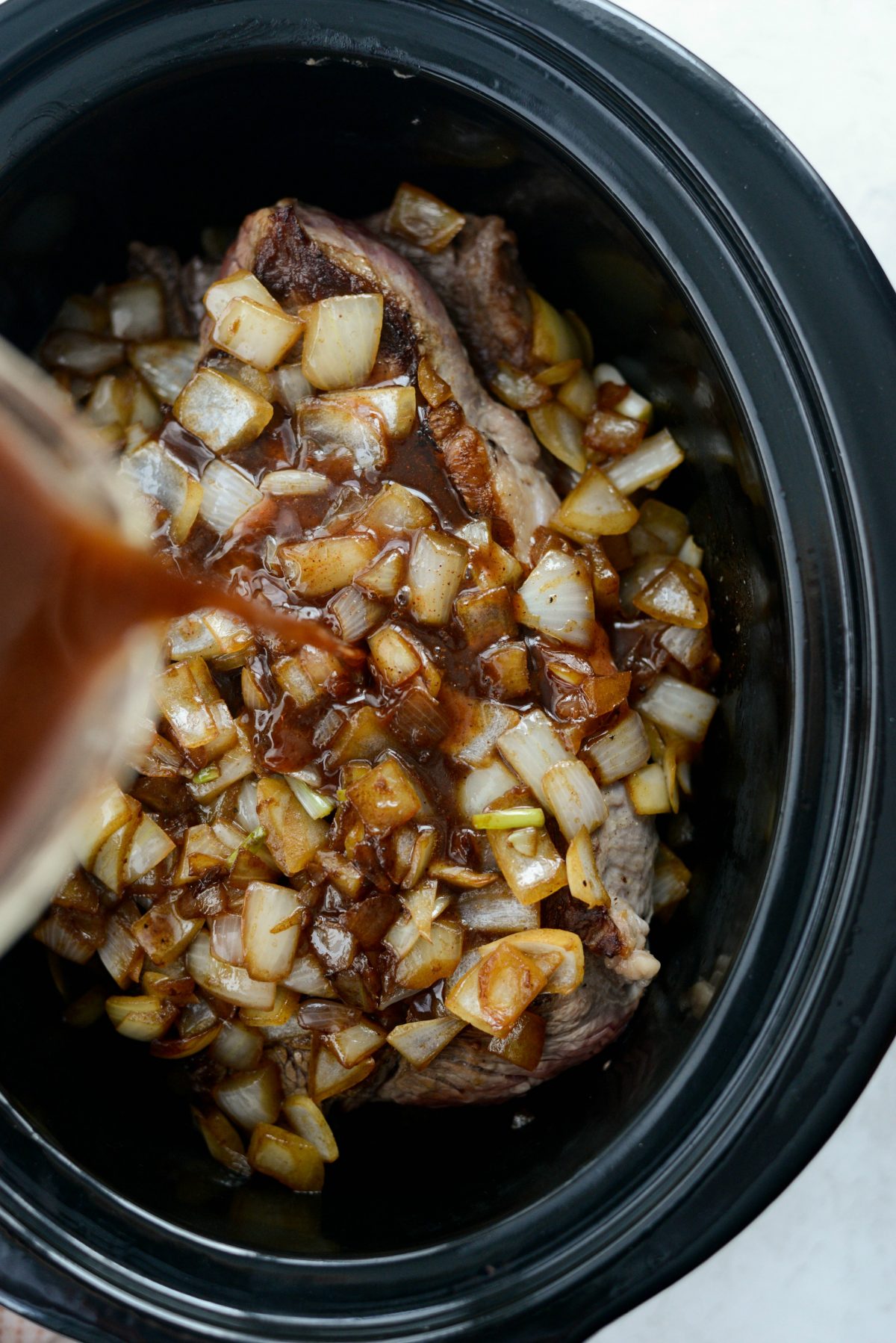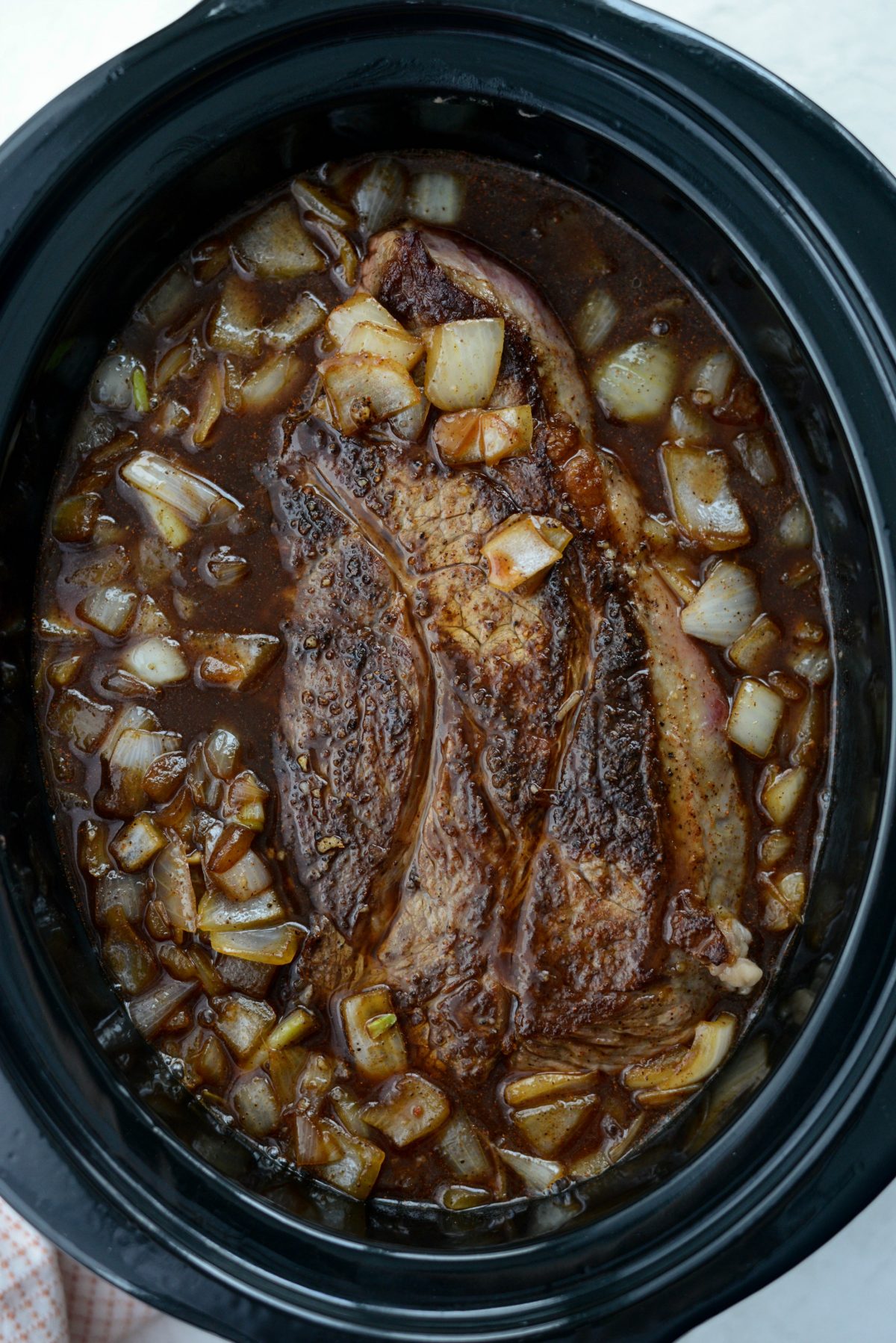 Pour the cooking liquids over the beef and onions, lifting and submerging the beef.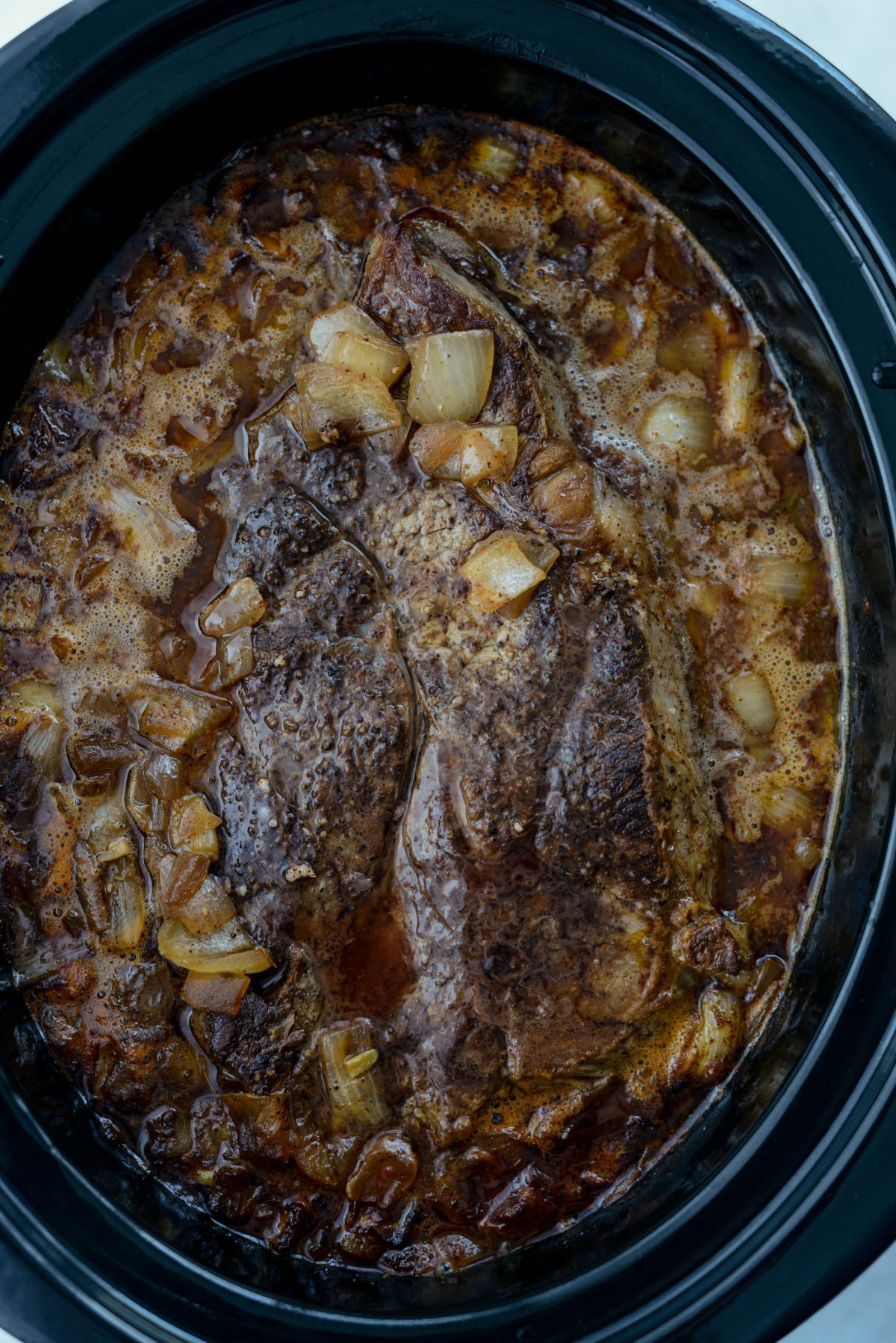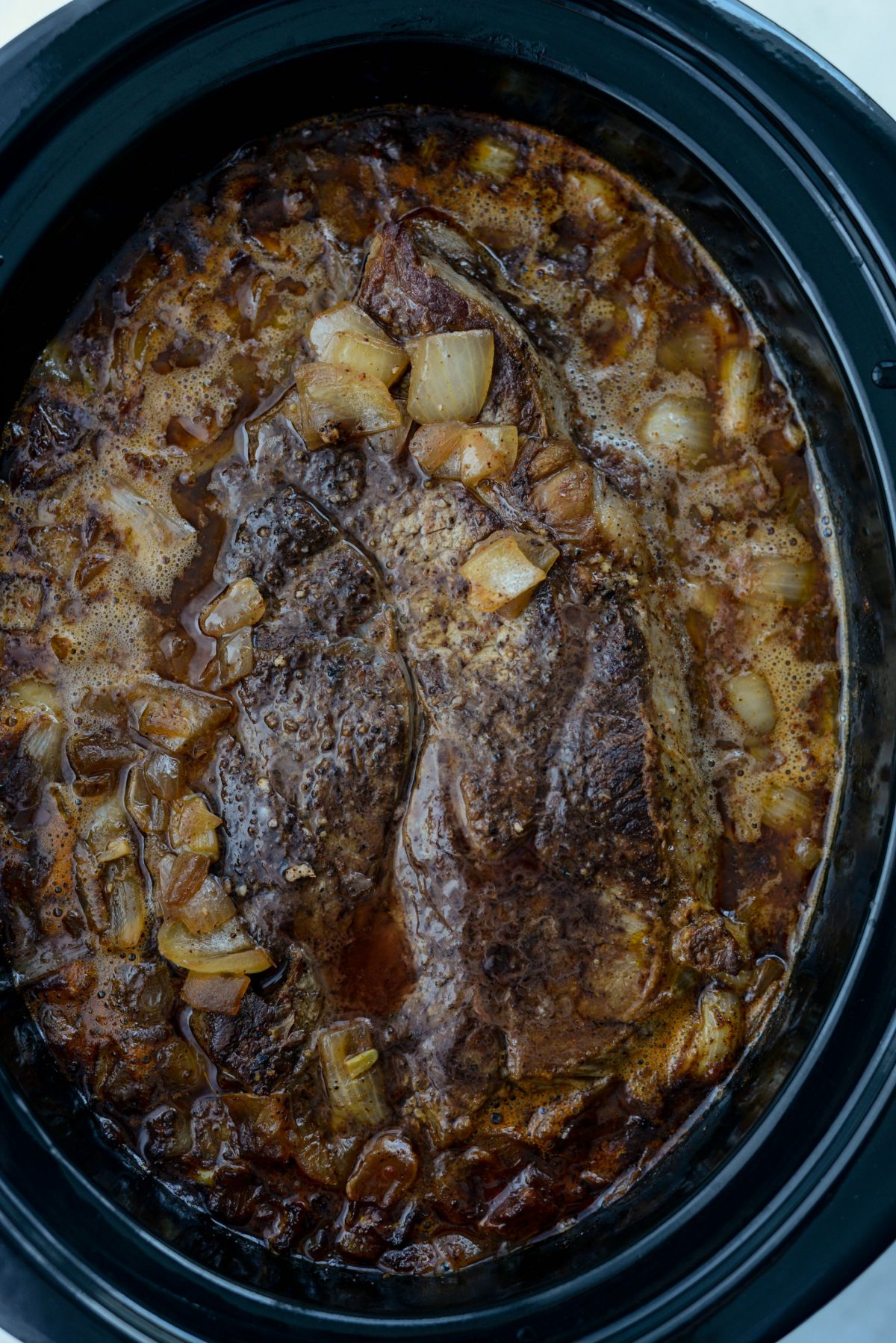 Next, cover and cook on low for 6 to 8 hours or on high heat for 4 to 6 hours.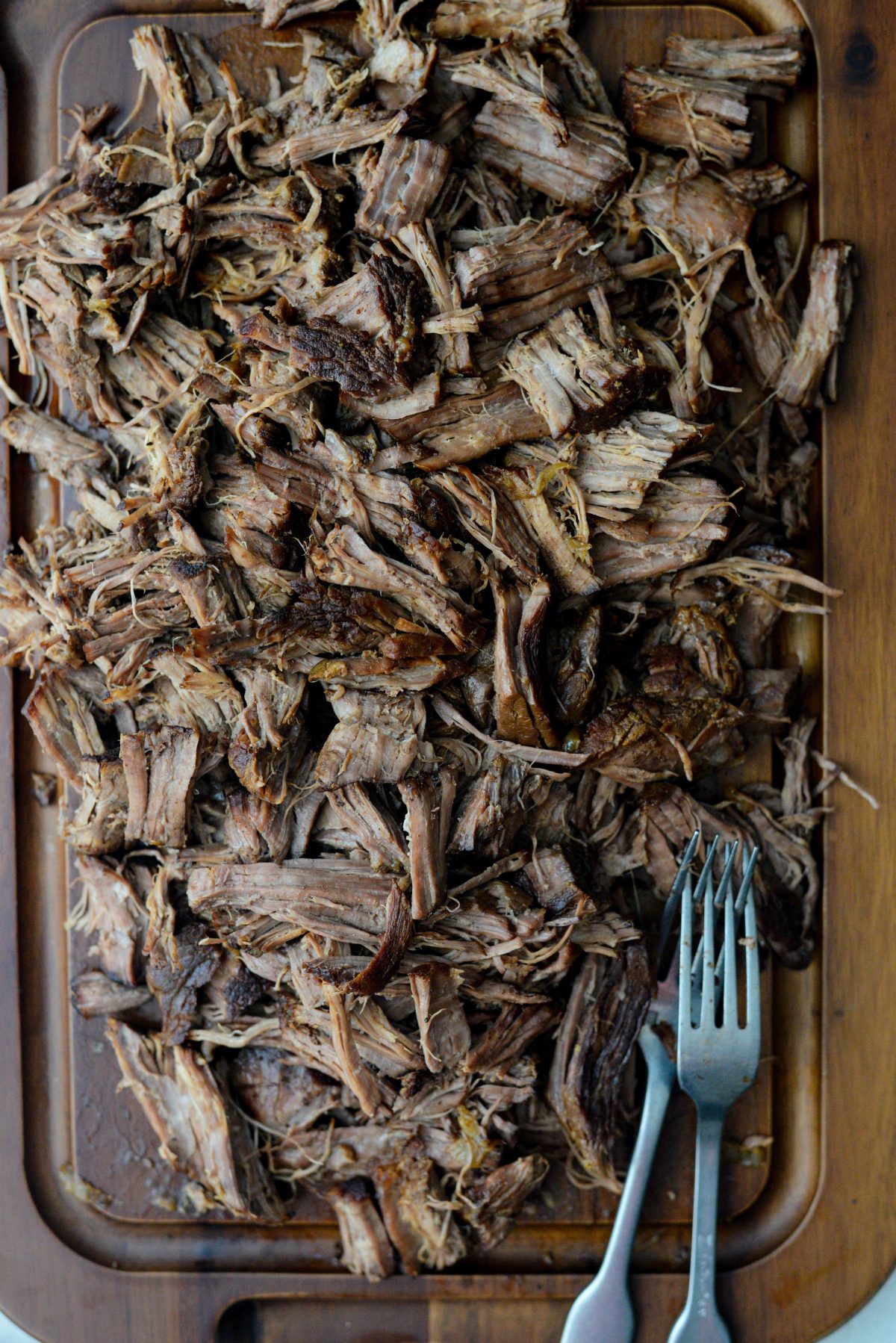 Then, once cooked, use tongs to lift out the beef and transfer it to a cutting board. It should be falling apart.
Shred the beef using two forks.
Lastly, transfer the beef back to the slow cooker along with a few pinches of salt (to taste) and cook on high heat, uncovered for about 25 to 30 additional minutes.
If making the slow cooker beef barbacoa in advance: Transfer the shredded beef barbacoa to a container. And the liquids in a separate container and once cooled refrigerate overnight. Remove the top layer of fat and reheat the liquids and beef back in the slow cooker on low until heated through.
As tempting as it is to just eat this right out of a bowl, this flavorful sweet and smoky, tender slow cooker beef barbacoa is delicious stuffed into tacos, layered on tacos or tostadas and then adorned with all the toppings.
For more slow cooker recipes, click here!
Enjoy! And if you give this Slow Cooker Beef Barbacoa recipe a try, let me know! Snap a photo and tag me on twitter or instagram!
This post may contain affiliate links.
Buy the Cookbook: Simply Scratch : 120 Wholesome Homemade Recipes Made Easy Now available on Amazon »
THANK YOU in advance for your support!