You can feed a small crowd of friends and family with this Pumpkin Slab Pie. Creamy and perfectly spiced pumpkin pie in a homemade, buttery and flaky pie crust! This holiday season, try this simple approach to a from-scratch, sheet pan pumpkin pie that's beyond easy and delicious! Yields 12 to 16 squares.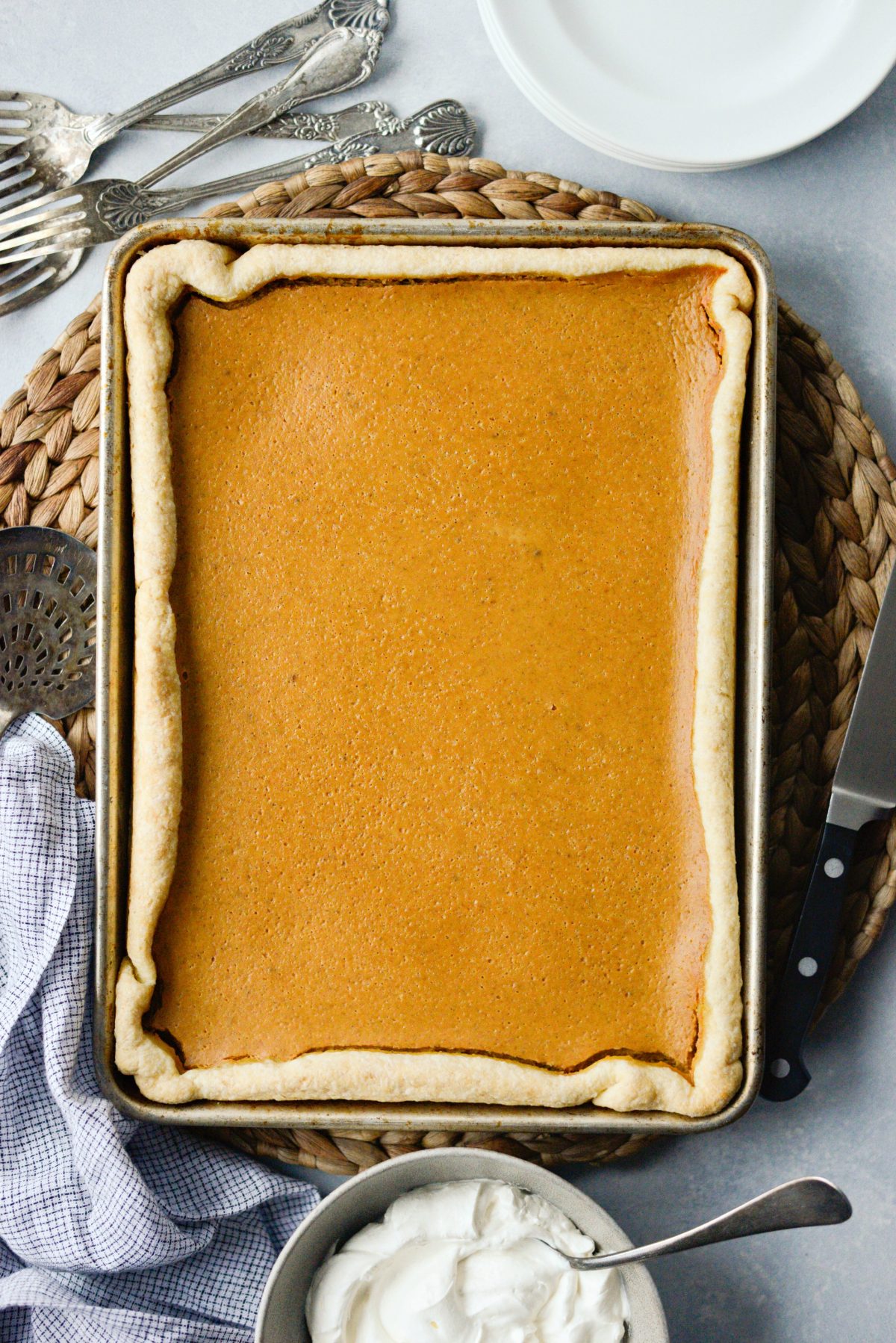 If a few years ago you would've asked me what was my favorite Thanksgiving pie, I would be confident in my answer. Pecan.
Hands down, without a doubt, THE best pie of all. But now I'm not sure sure. I mean, pumpkin. Over the years, it's grown on me. It's sweet, but not too sweet. And I'm pretty fond of the creaminess in contrast with the flaky butter crust. And hello? whipped cream! Plus it's just the better dessert to pair with a cup of coffee.
This year I wanted to test out making a pumpkin slab pie because a) it feeds more and b) way easier.
Not that regular round pumpkin pie is terribly hard, but slab pie is where it's at if you want a pie without all the fuss. The crust recipe is easy, just throw it all into a food processor. The filling is really easy too, just add it all to one bowl and whisk. However, the top reason why I may prefer making a pumpkin slab pie vs. a regular one is mostly because I don't have to try to serve a triangular piece of pie out of a round pie dish with a rectangular serving utensil. Why struggle with this?
It's the little things.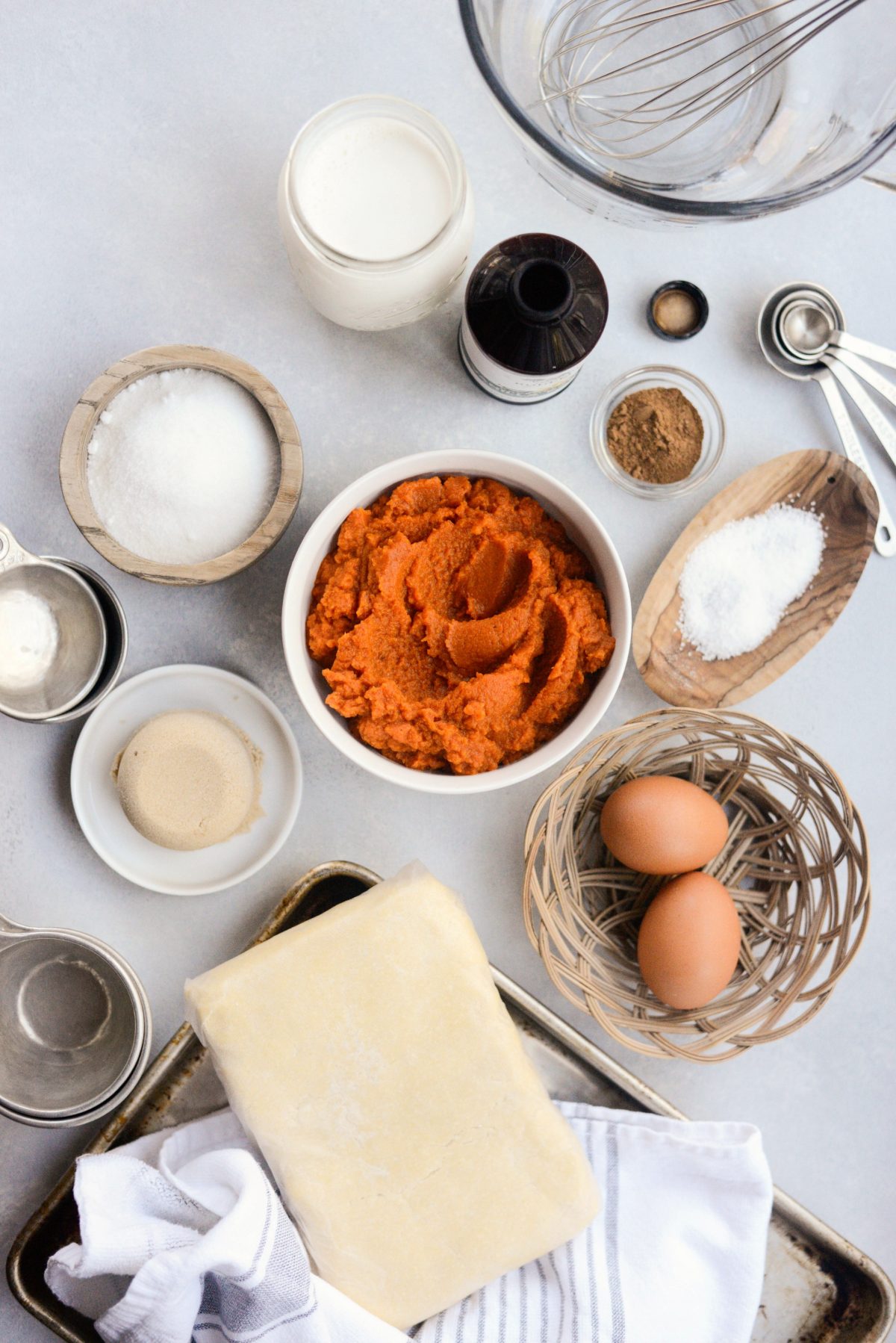 To Make This Pumpkin Slab Pie You Will Need:
pumpkin puree (homemade or store-bought)
half & half
eggs
granulated sugar
light brown sugar
kosher salt
real vanilla extract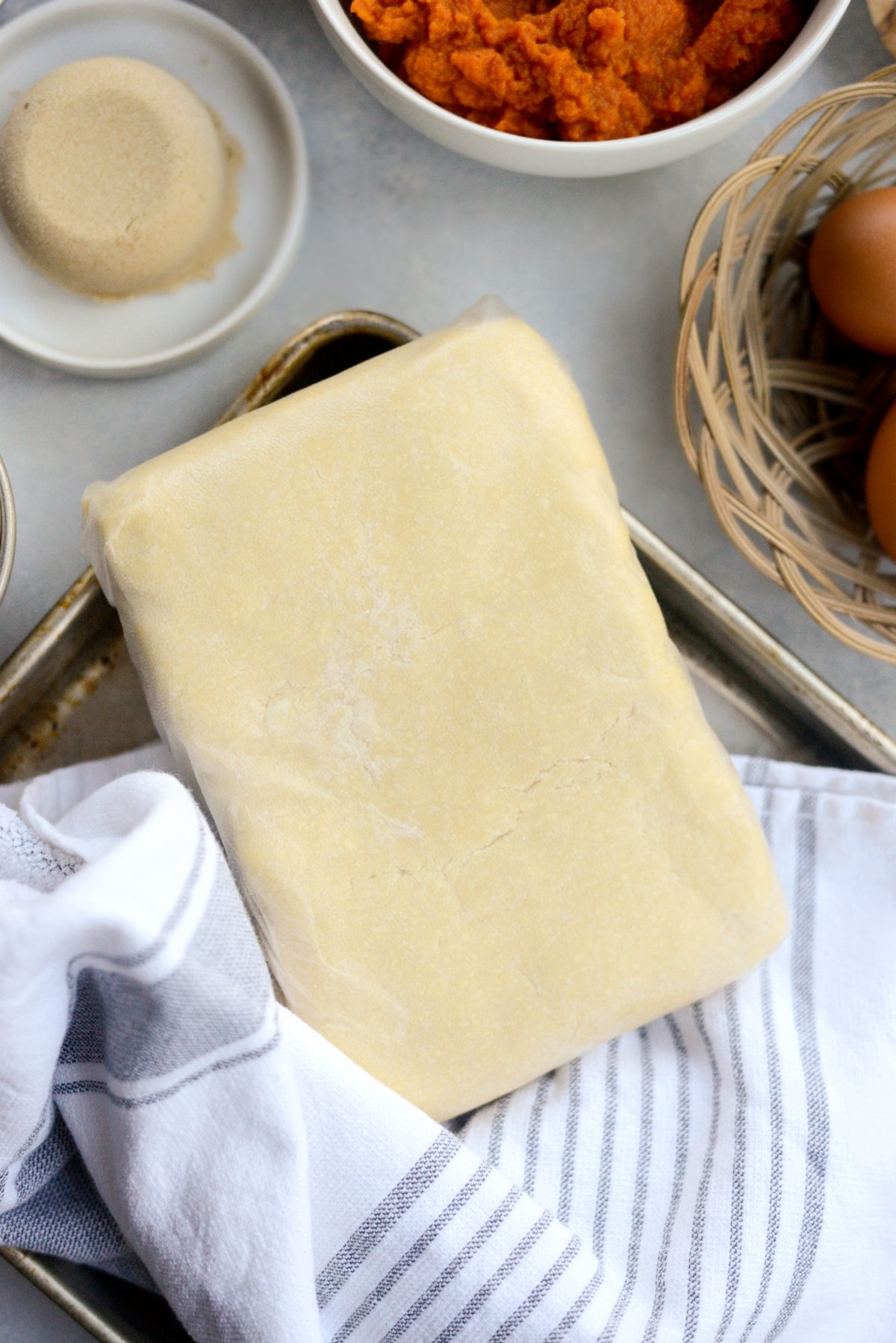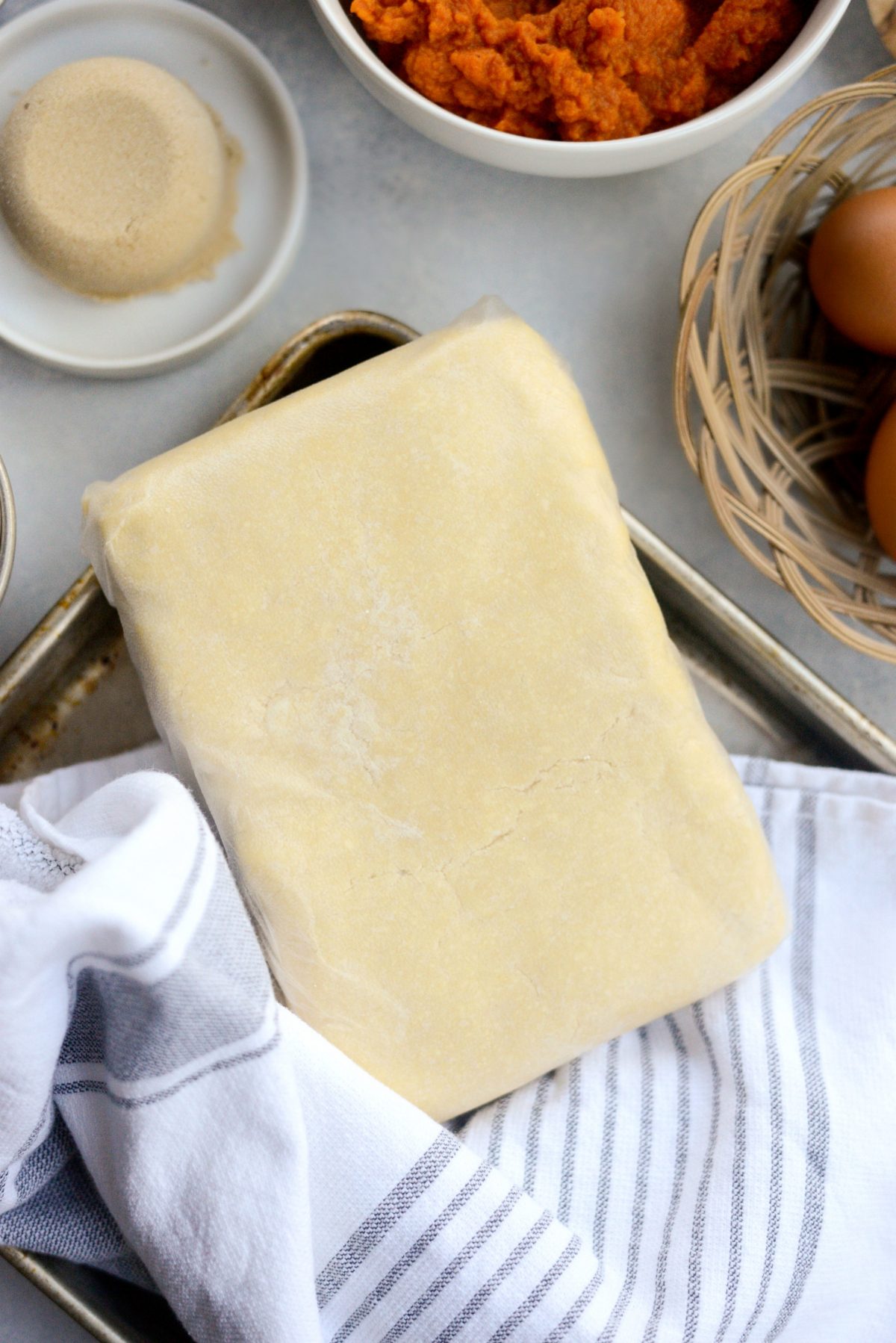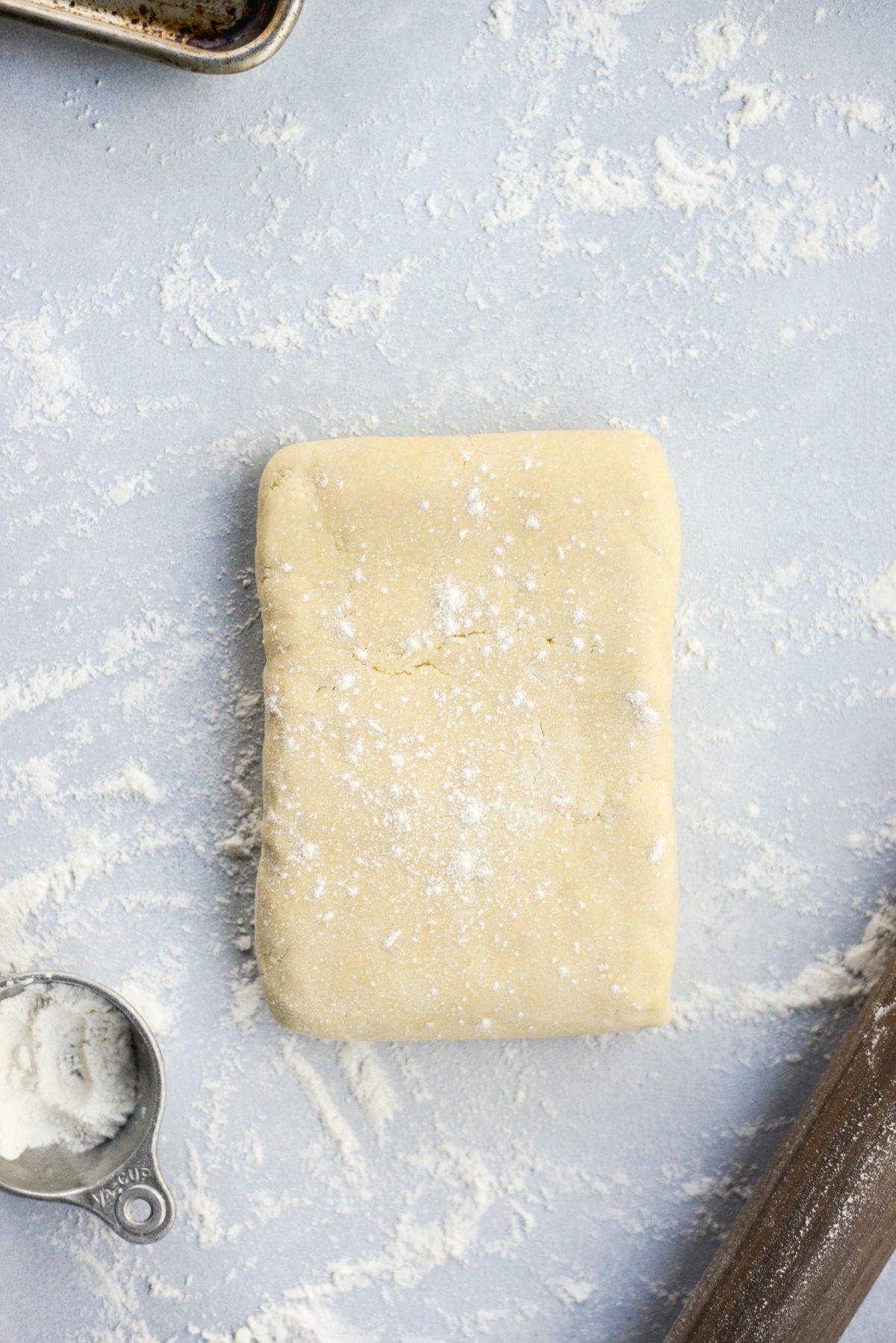 Then after you make the pie crust, I suggest shaping it into a rectangle before wrapping in plastic wrap, this will make it easier to roll out to that shape. Then allow the dough to rest for 30 minutes in your refrigerator.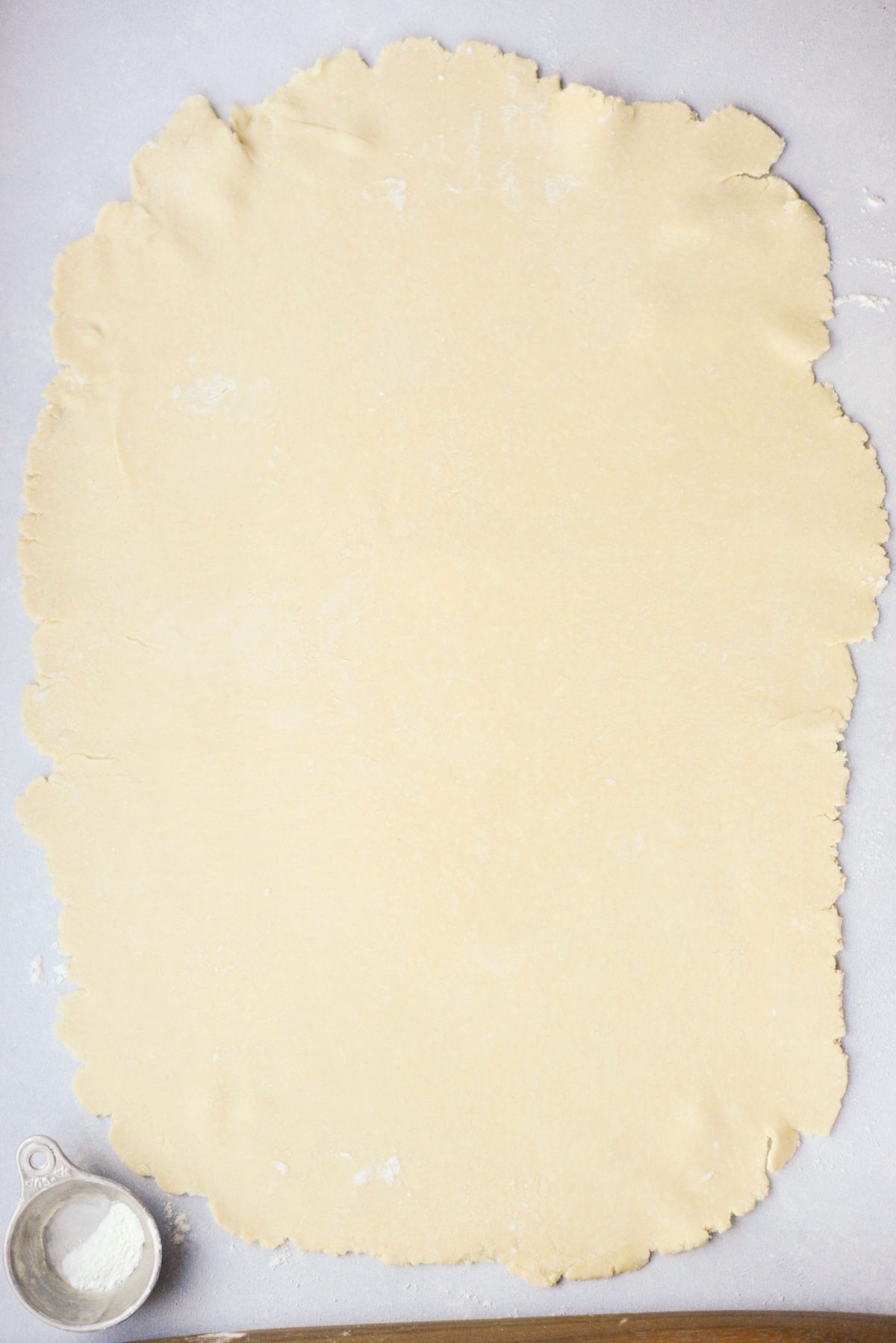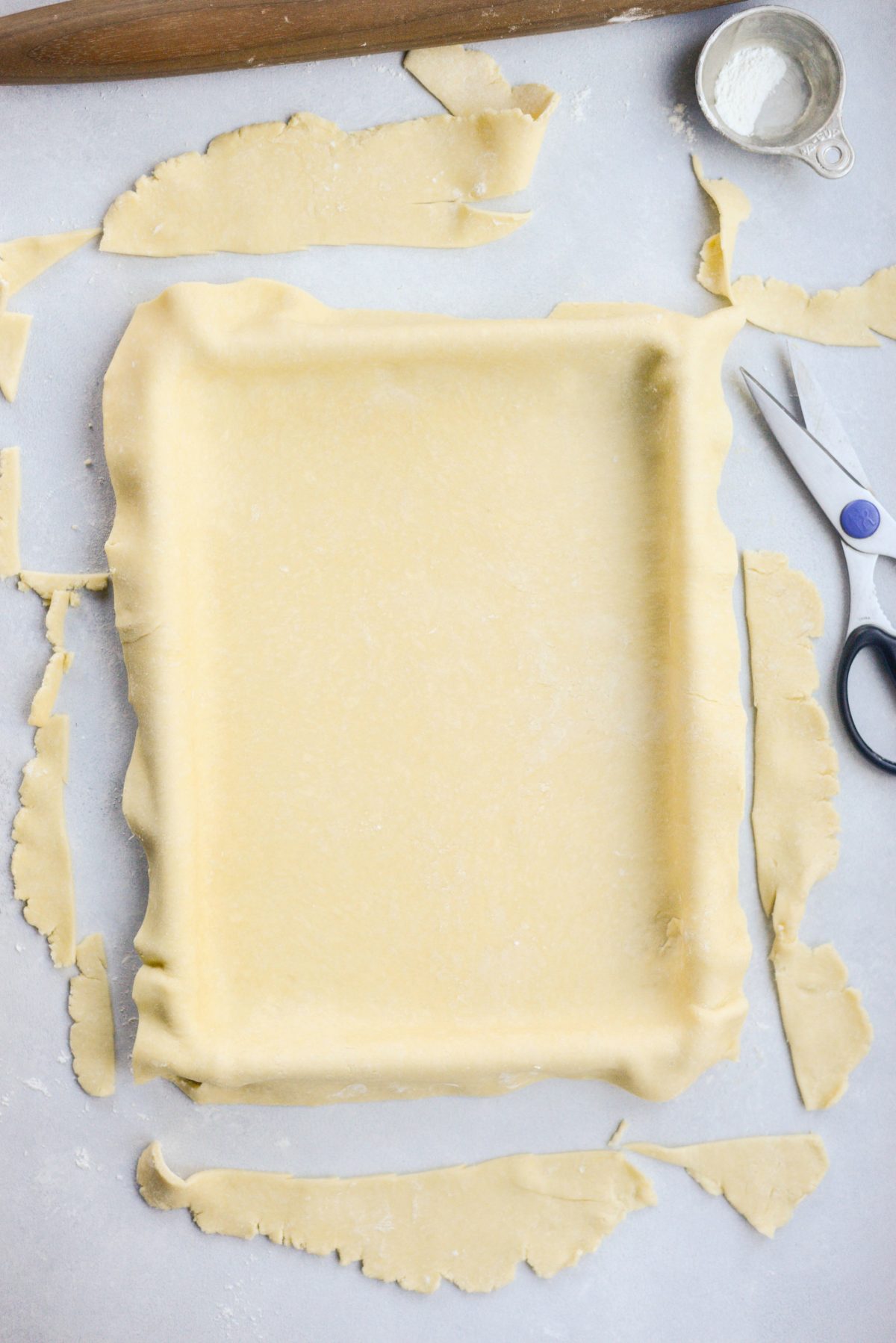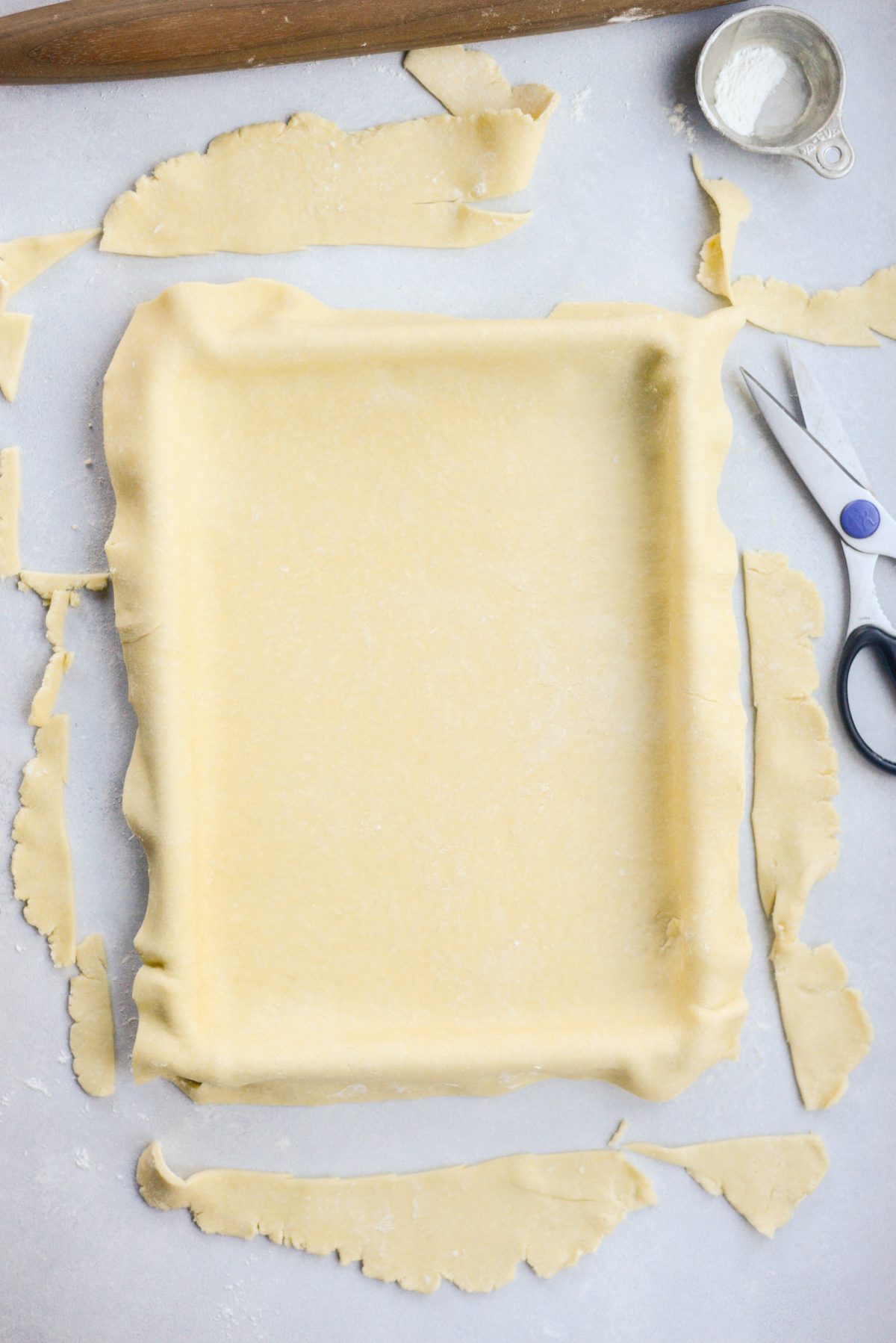 Next, once the dough has rested, roll it out to a 12 x 15 rectangle that is roughly 1/8 to 1/4 of an inch thick. This should fit a quarter sheet pan (10 x 13 x 1). Next, trim off any excess leaving an inch over hang. You can save the scraps, chill and then re-roll to stamp or cut out fun seasonal shapes.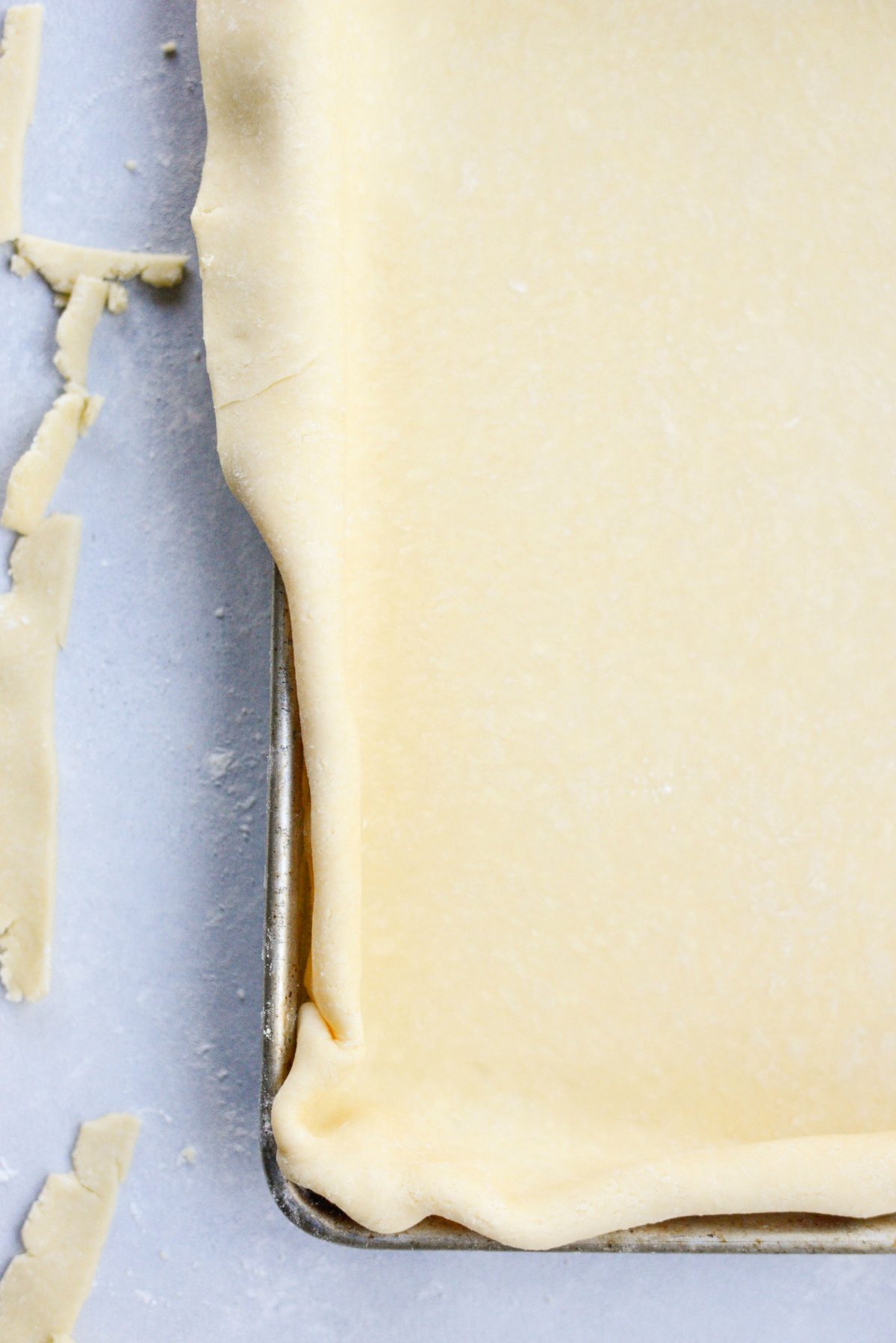 Next tuck the overhang into the pan, pinching to from a crust. Return the crust back to the fridge to chili or 15 to 20 minutes. Then preheat your oven to 375°. Once the crust has chilled and your oven has preheated, place a piece of parchment paper into the crust and weigh it down with ceramic pie weights or dried beans and partially bake for 15 to minutes.
Then decrease the oven temperature to 350° and use oven mitts to move your oven rack to the lower third position of your oven.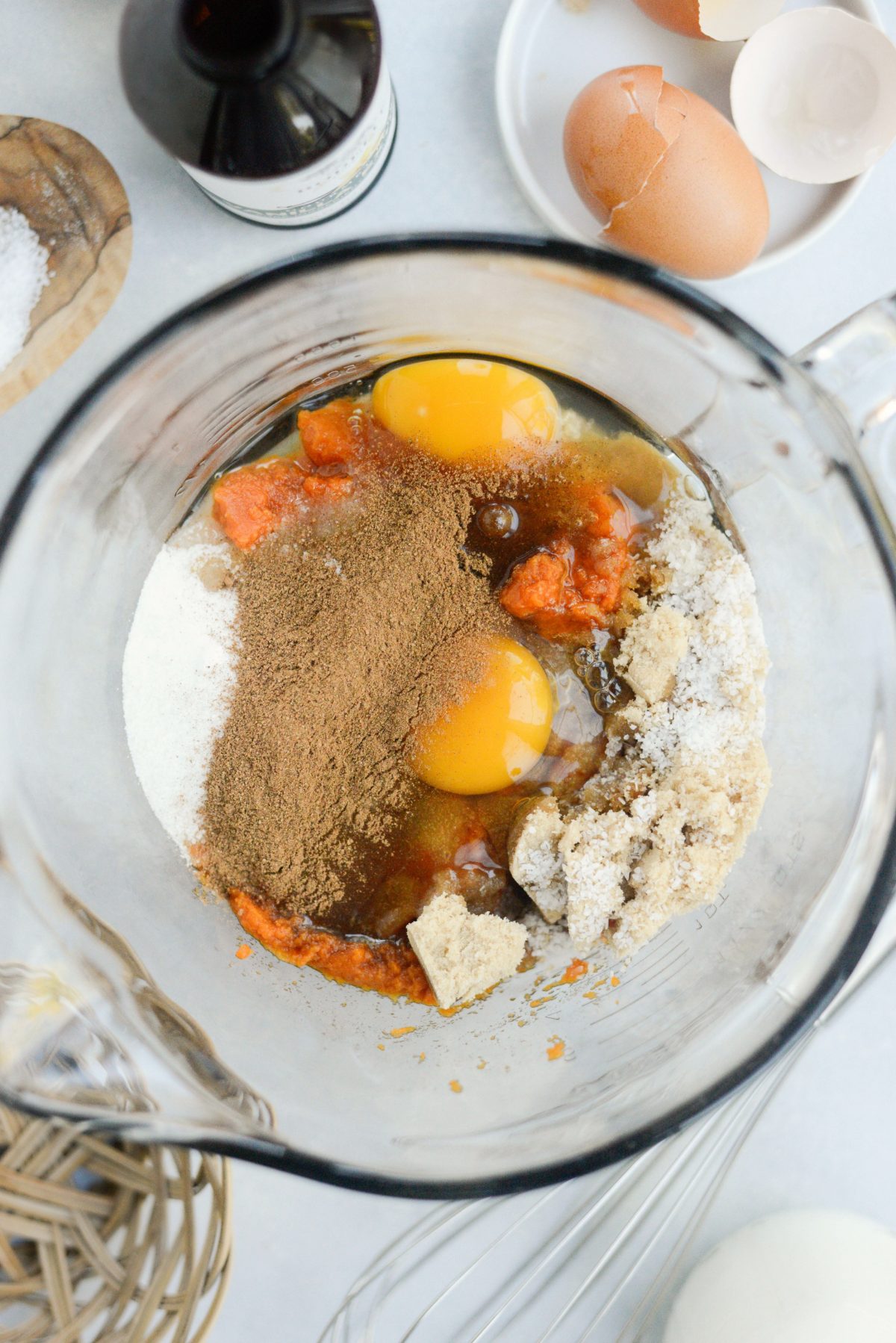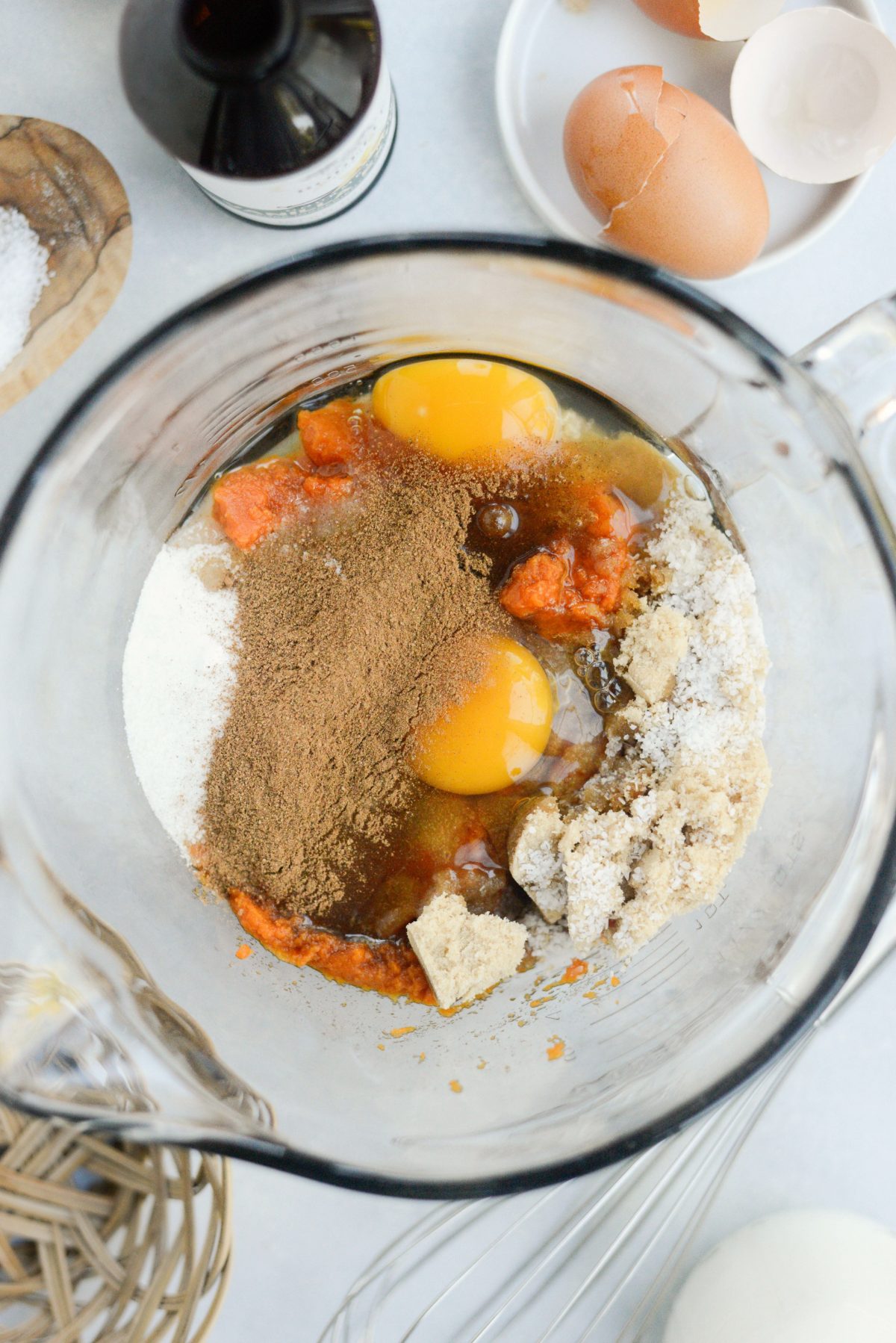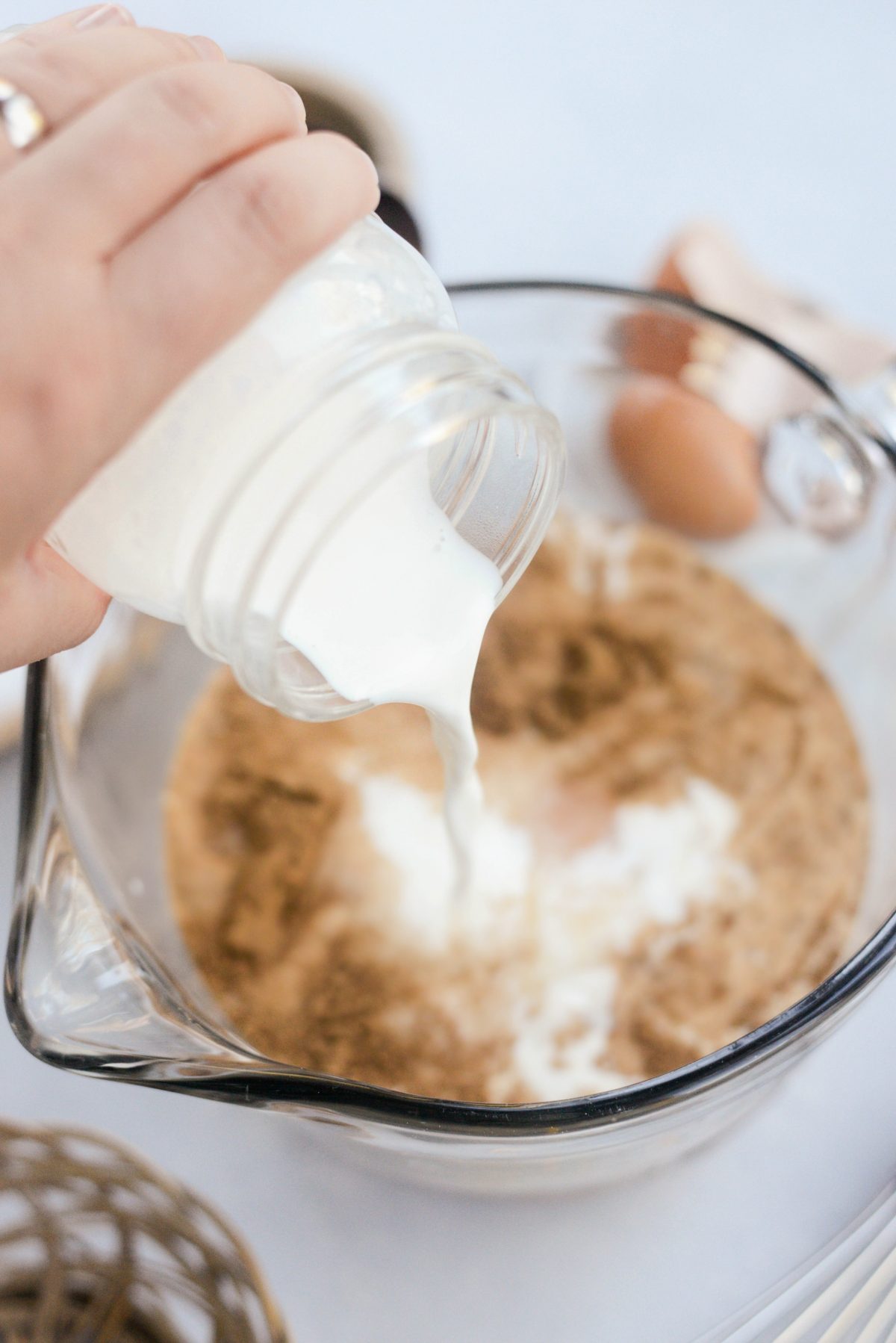 Meanwhile, make the filling. Pumpkin pie filling is SO easy. In a mixing bowl, measure and add 1-3/4 cups pumpkin puree with 1-2/3 cup half & half, 2 large eggs, 1/2 cup granulated sugar plus 1/4 cup light brown sugar, 2 teaspoons pumpkin pie spice and 1/2 teaspoon vanilla extract. Give that a whisk and pour in the half & half.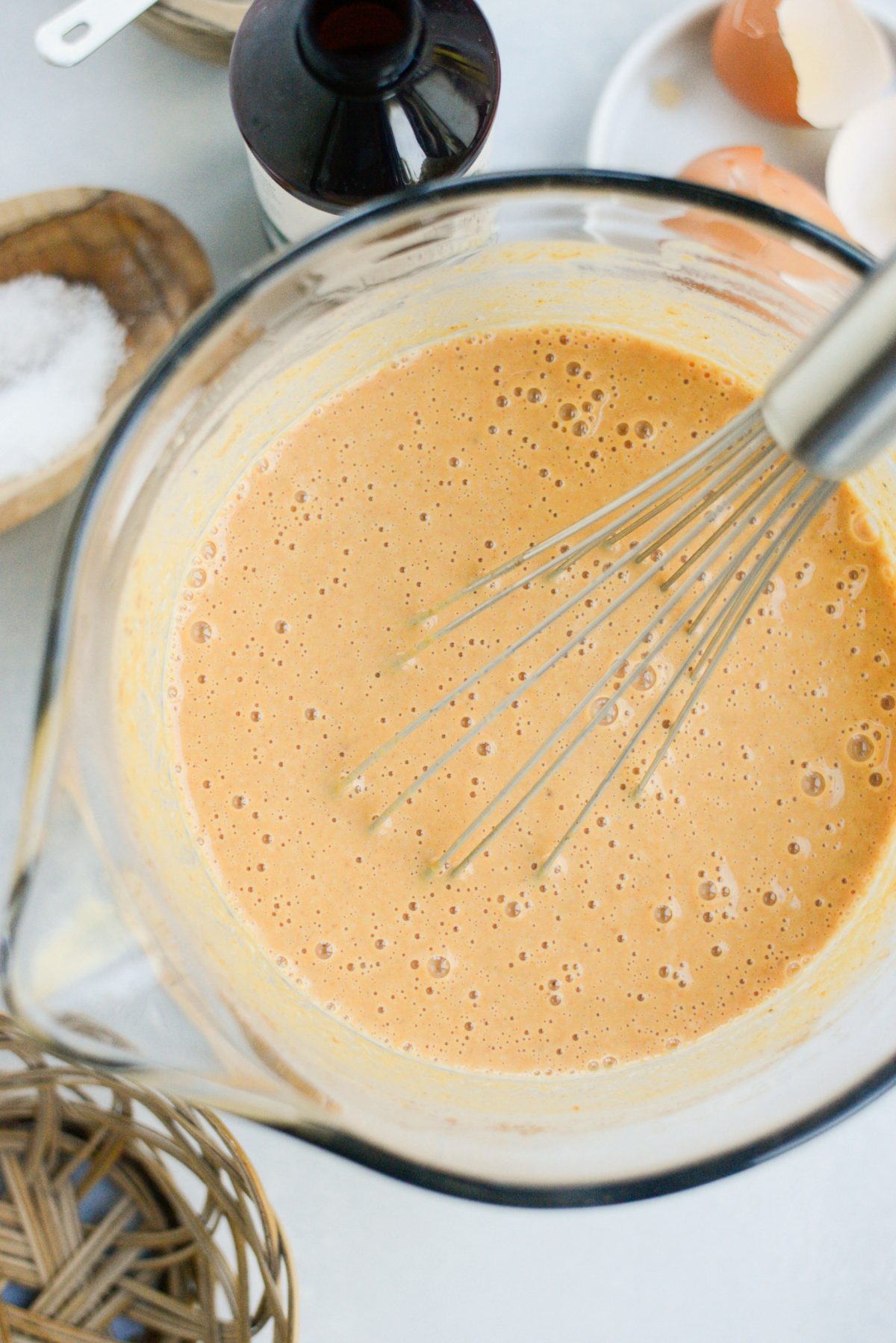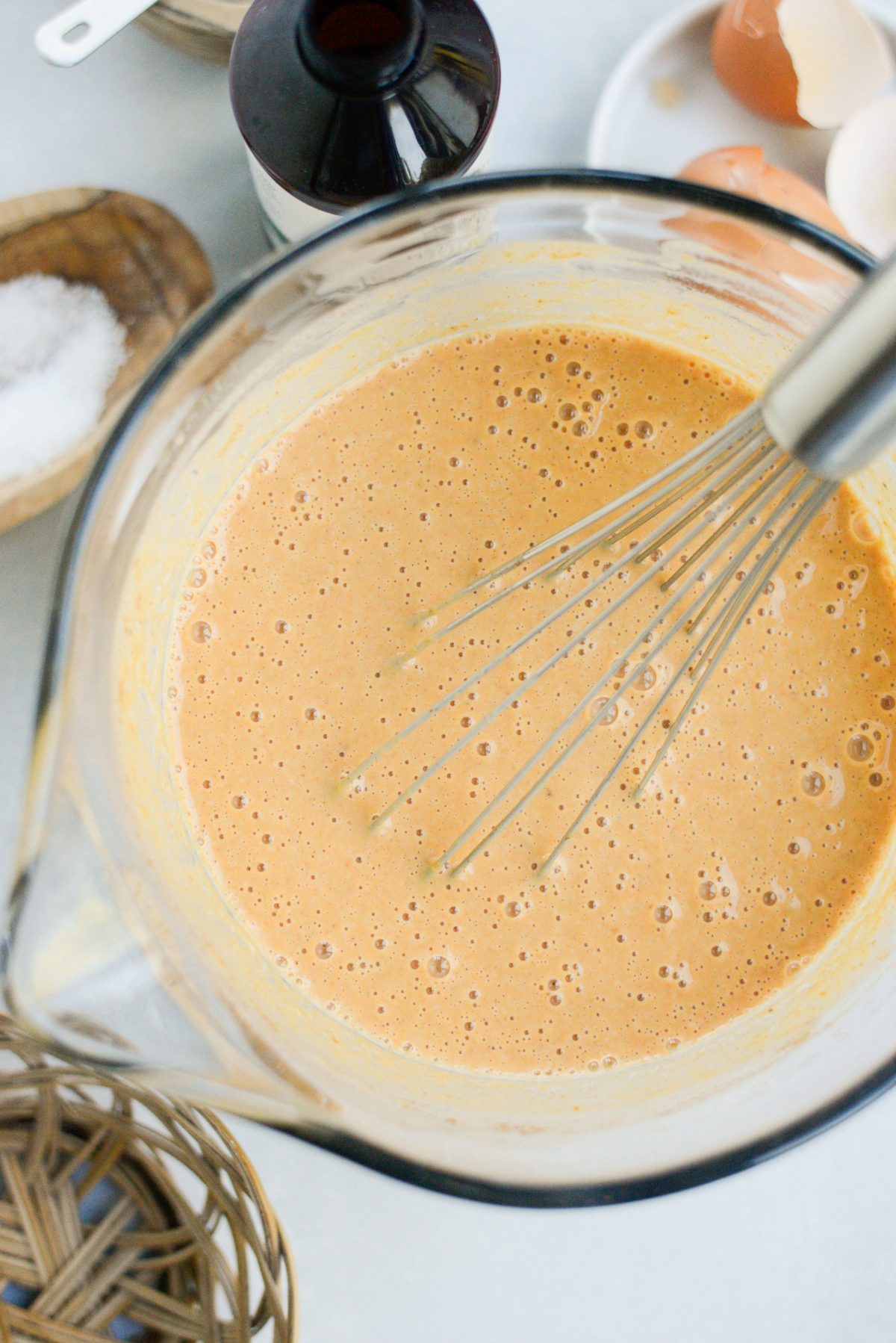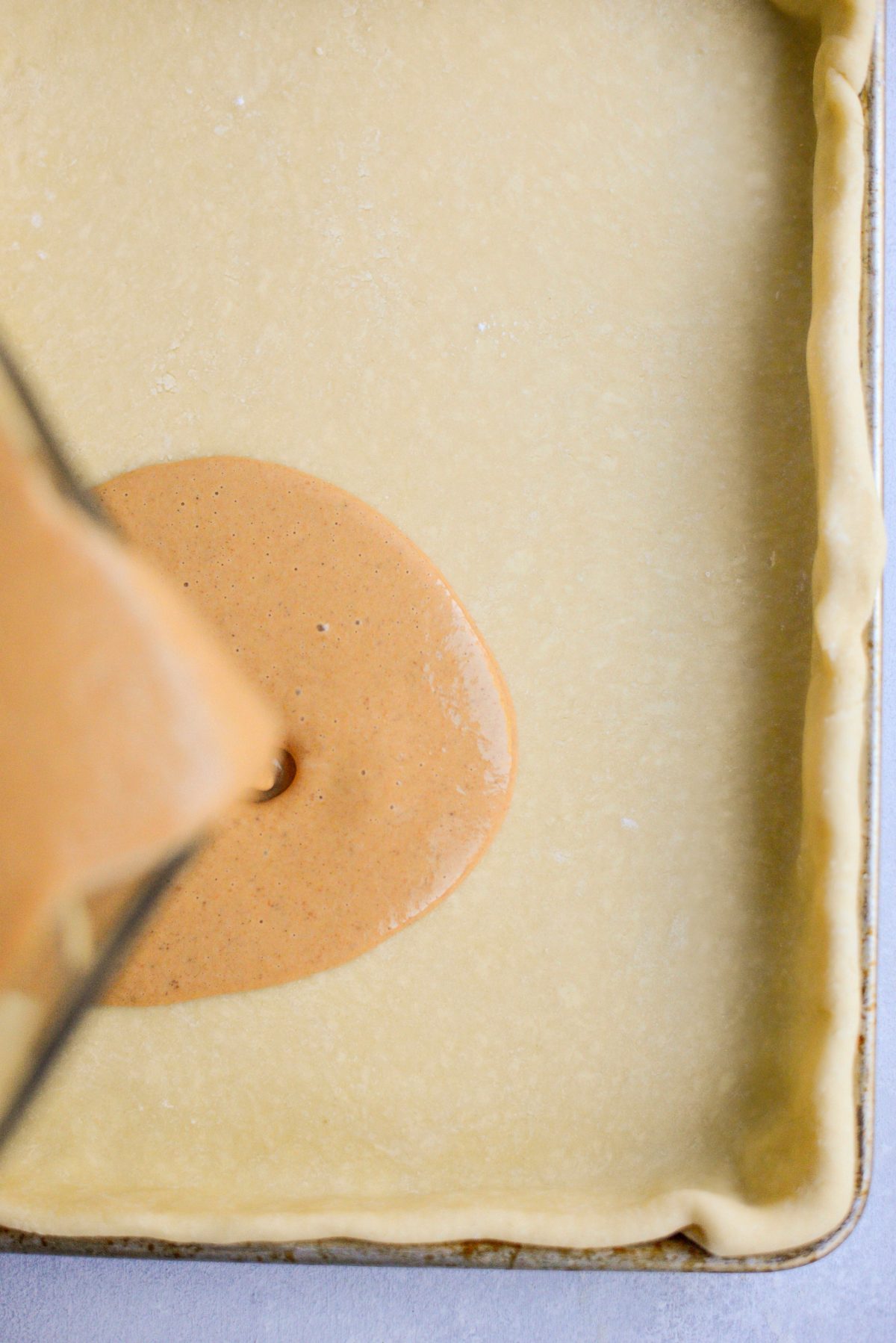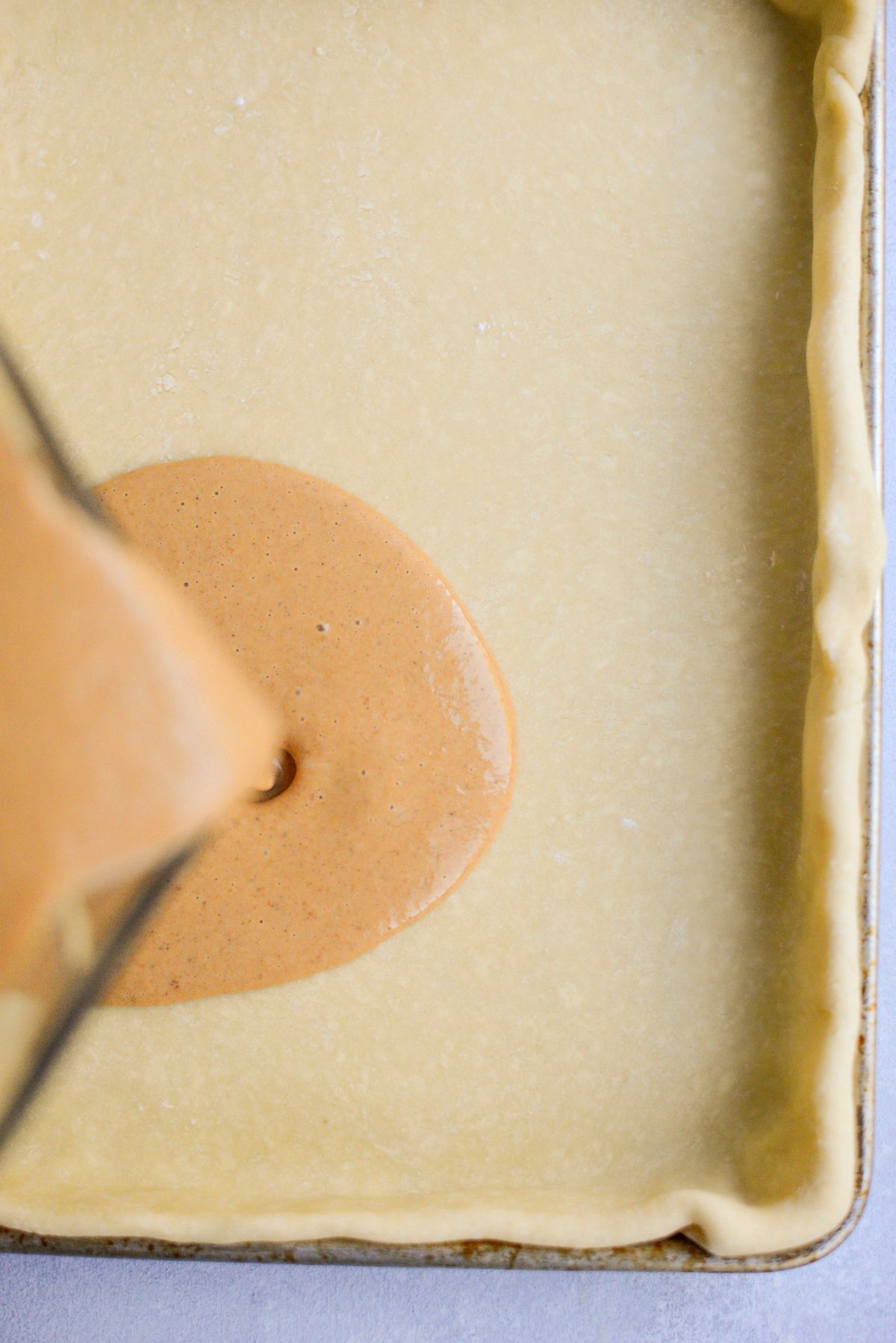 Once the pumpkin pie filling is thorough combined, pour it into the pie crust. Annnnd this is the exact moment, I realized I forgot to partially bake my crust.
Why is par-baking a crust important?
It's not, really. Unless you don't want the bottom crust to be soggy, especially in custard pie recipes. And you'll see in these photos, exactly why I suggest you do this step. But hey, things happen. People forget stuff. 😂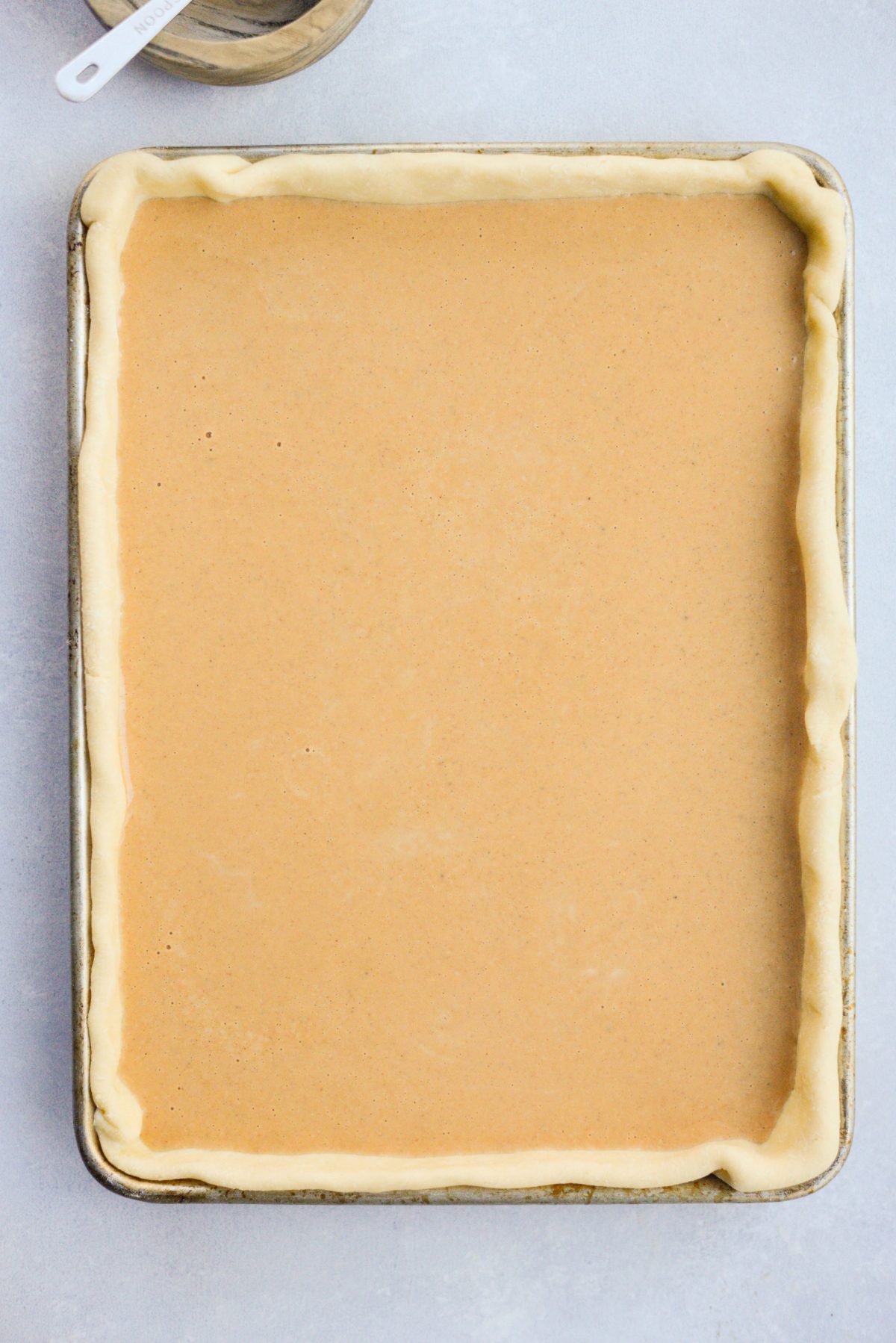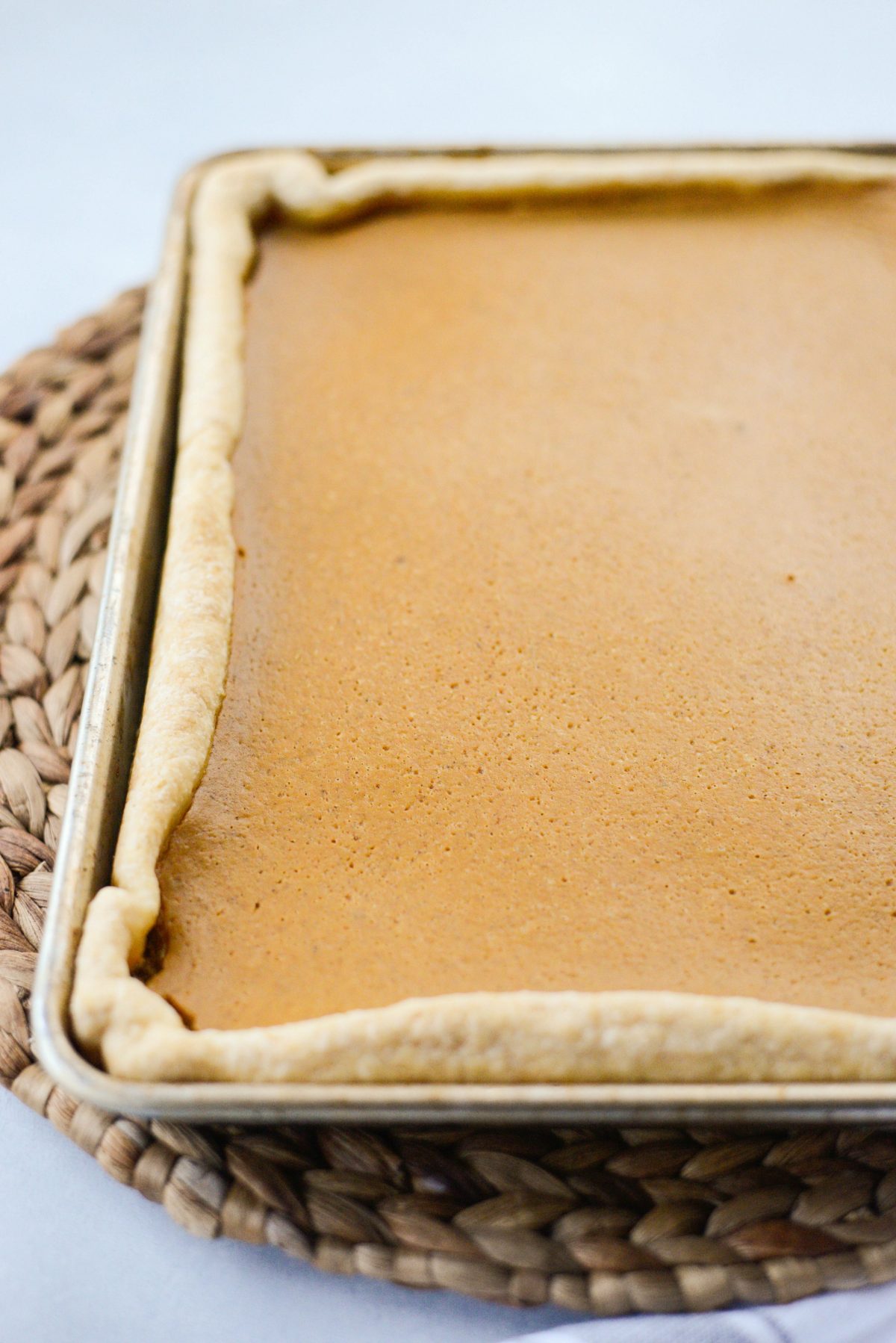 Then slide the pie on the rack in the lower third of your oven and bake for 30 to 40 minutes or until the pie is set and the crust is golden.
If you notice the edge of the crust starts to brown too quickly, take sheet of aluminum foil the length of the pan, fold it in half and cut out a wide rectangle. Then unfold and place over the pie. Furthermore the filling is exposed, yet the crust is not.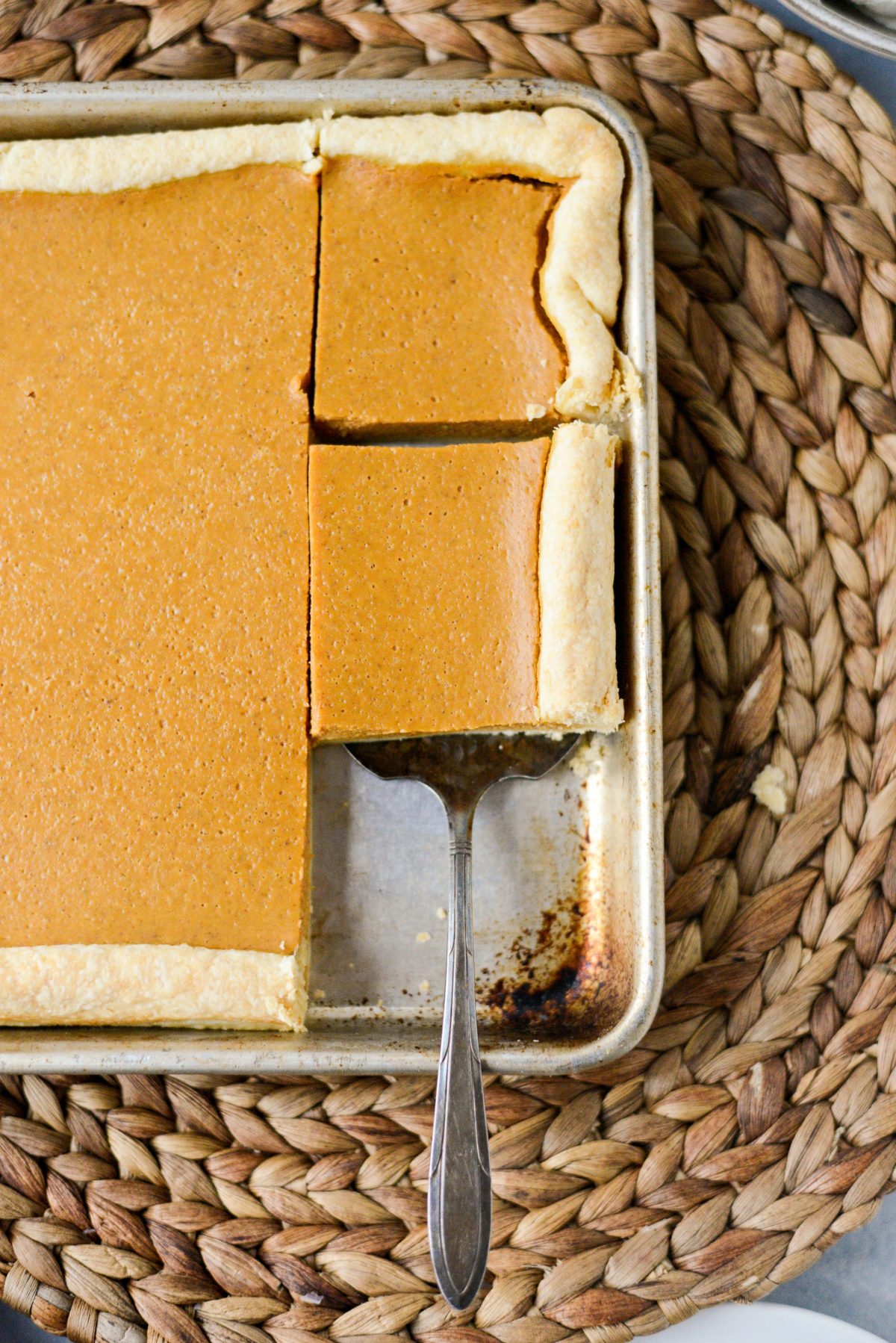 Depending on how many people you're serving or how big you want the pieces to be. I like to cut the pie into 12 squares. Serve with whipped cream and coffee.
Always coffee. (:
Ps. remember to par-bake your crust. Don't be like me.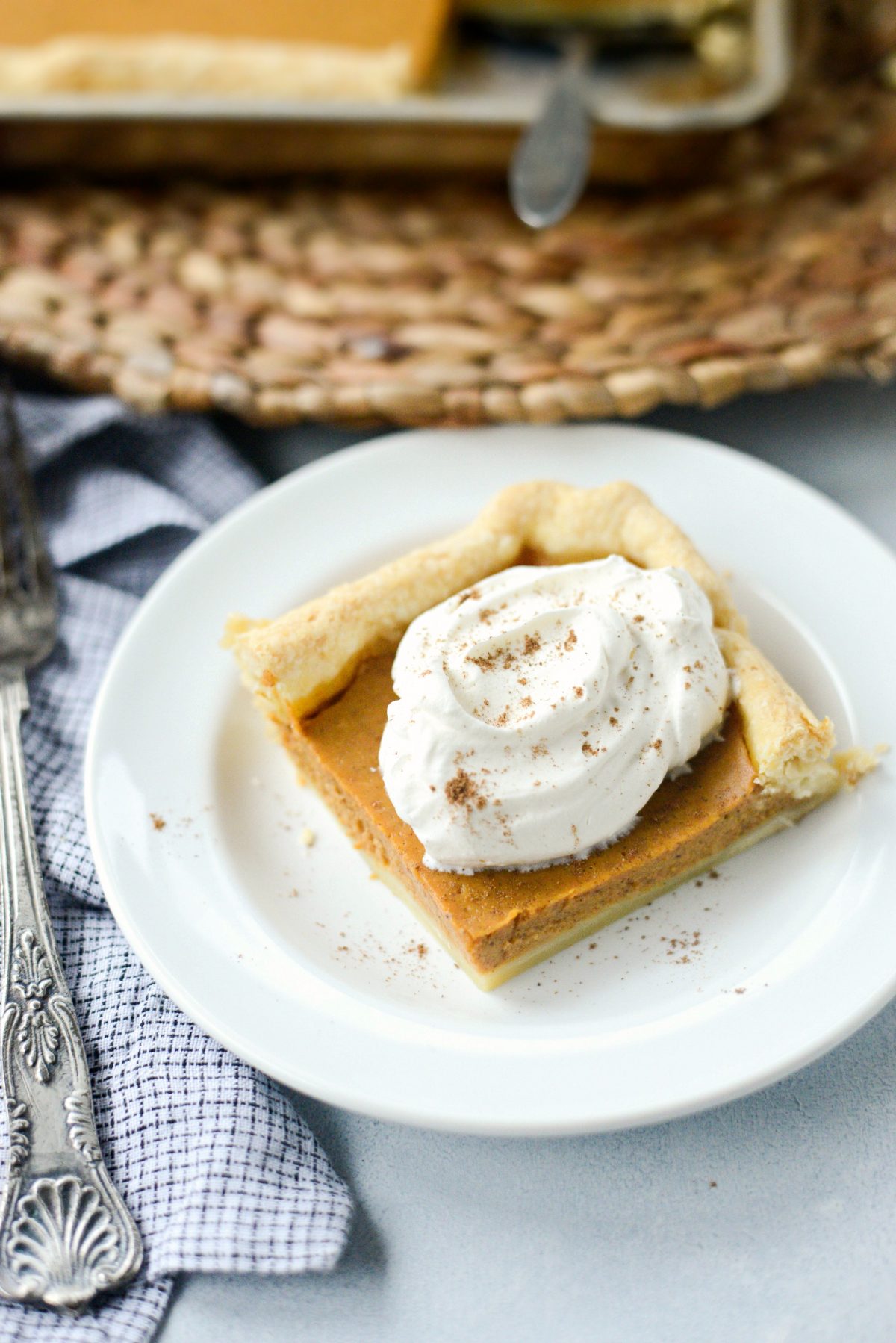 Enjoy! And if you give this Pumpkin Slab Pie recipe a try, let me know! Snap a photo and tag me on twitter or instagram!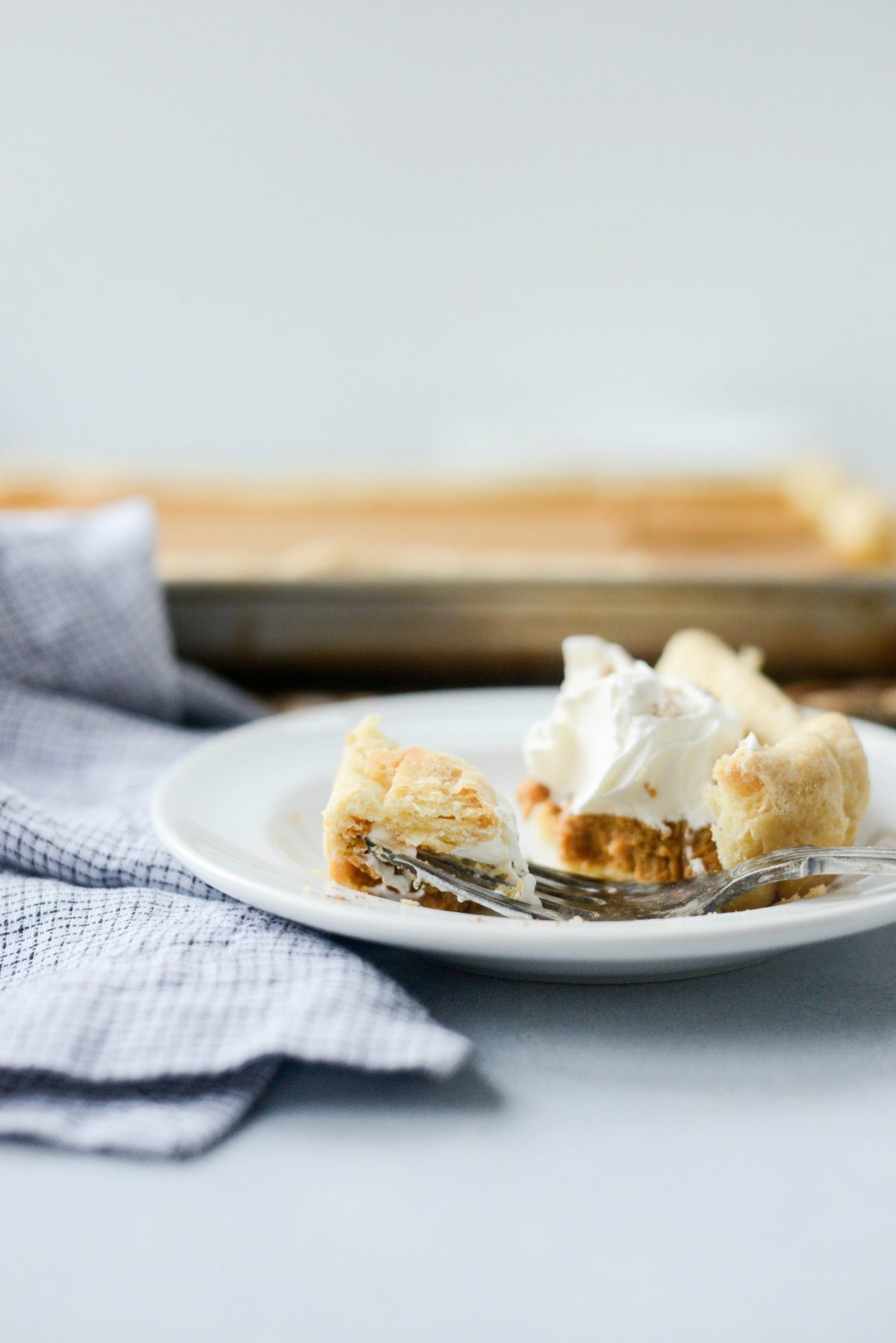 This post may contain affiliate links.
Buy the Cookbook: Simply Scratch : 120 Wholesome Homemade Recipes Made Easy Now available on Amazon »
THANK YOU in advance for your support!