Make this from scratch Fresh Green Bean Casserole with Onion Ring Topping this holiday season! Green beans tossed with a creamy homemade mushroom sauce is topped with crispy air-fried onion rings and baked until bubbling and delicious. Serves 6 to 8.
As if you couldn't guess, my favorite Thanksgiving side dish is and always will be, green bean casserole.
A few years ago I did make a homemade version. While it's super delicious, I still wanted that crispy fried onion topping.
Let's be real, it's the reason why people love this casserole so much, amiright? SO after owning my air-fryer for a year now, it has easily become my favorite appliance. And it makes the perfect onion topping for my homemade green bean casserole.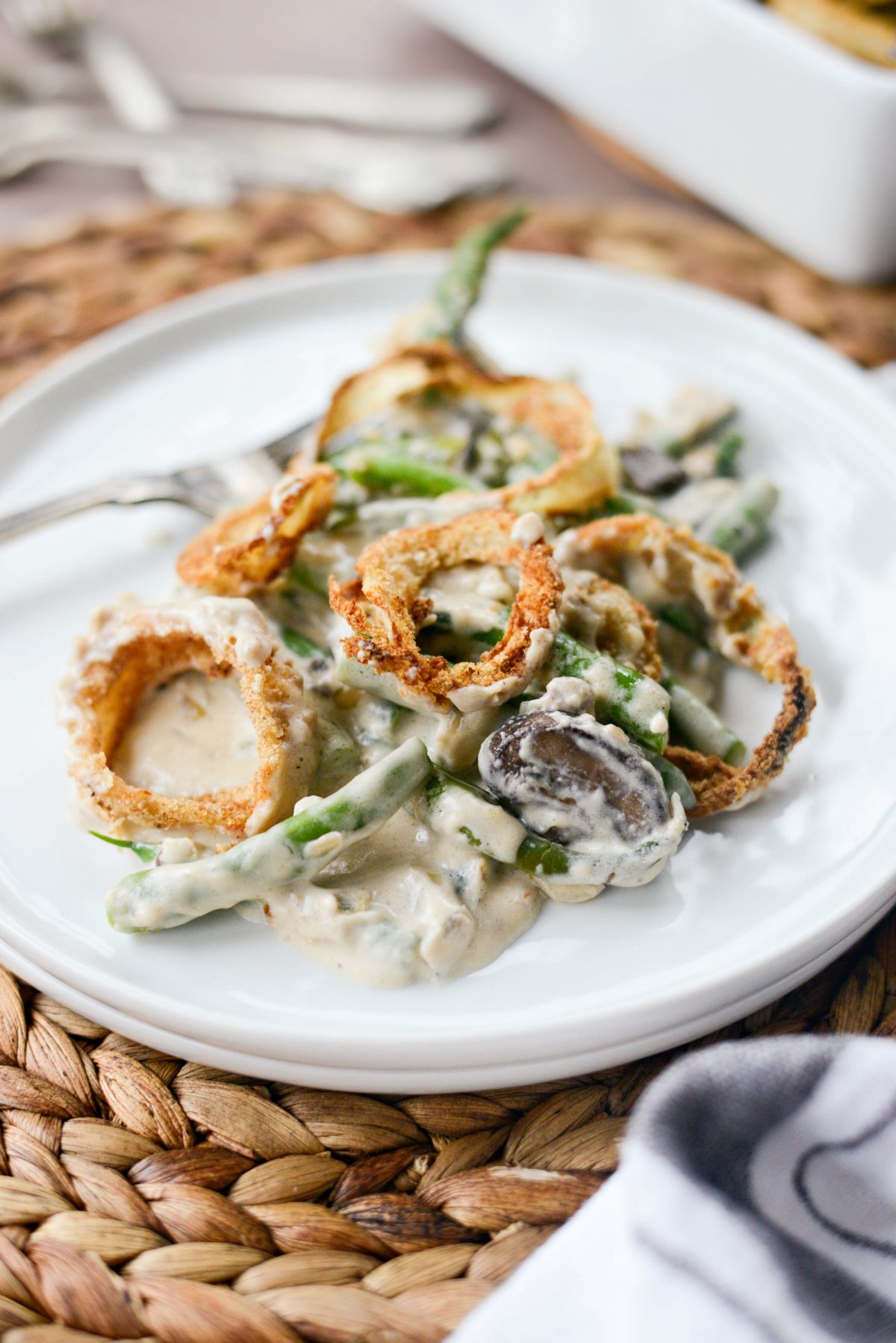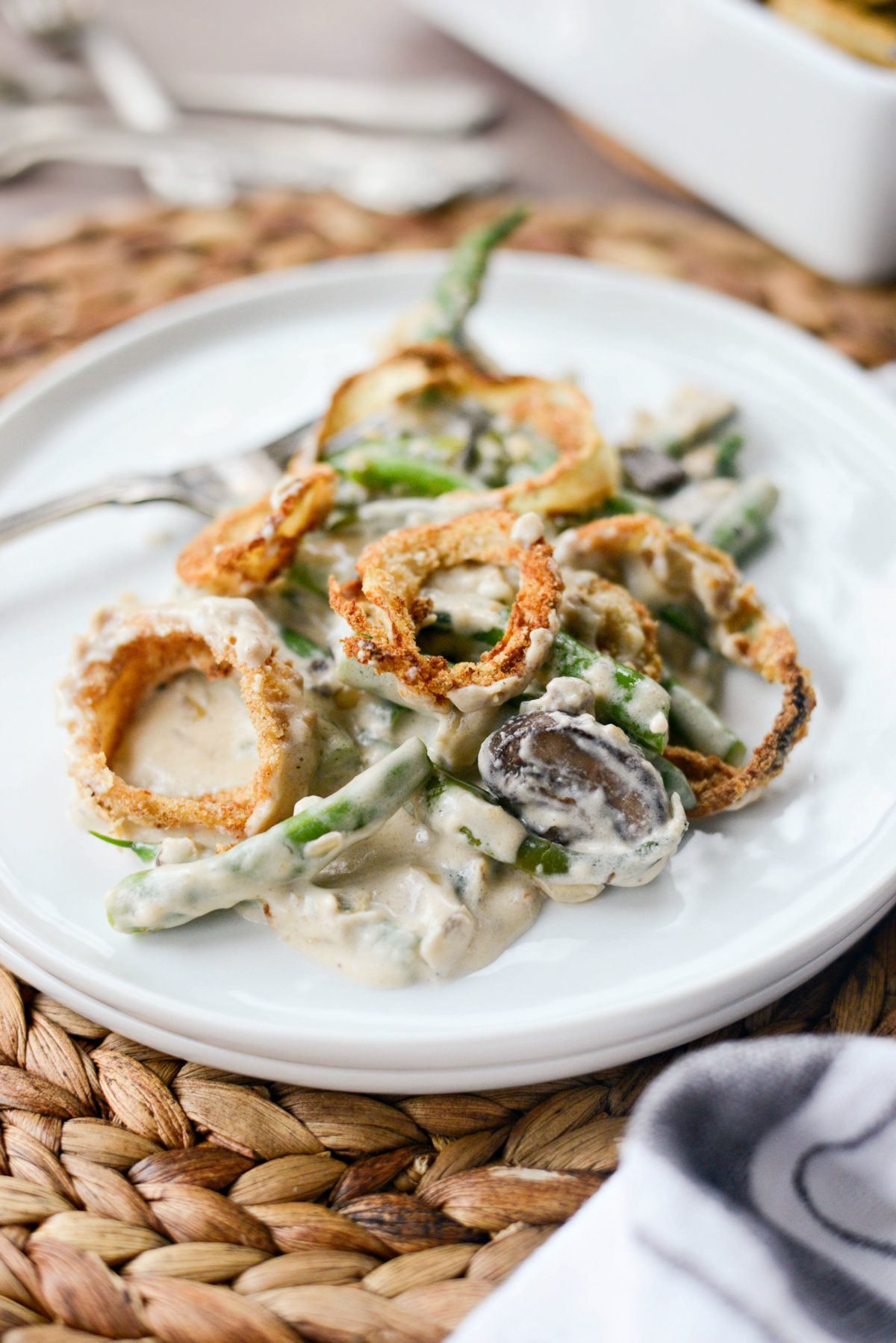 No can of cream of mushroom soup needed.
Just simple, fresh ingredients for the best green bean casserole deserving enough to grace your Thanksgiving table.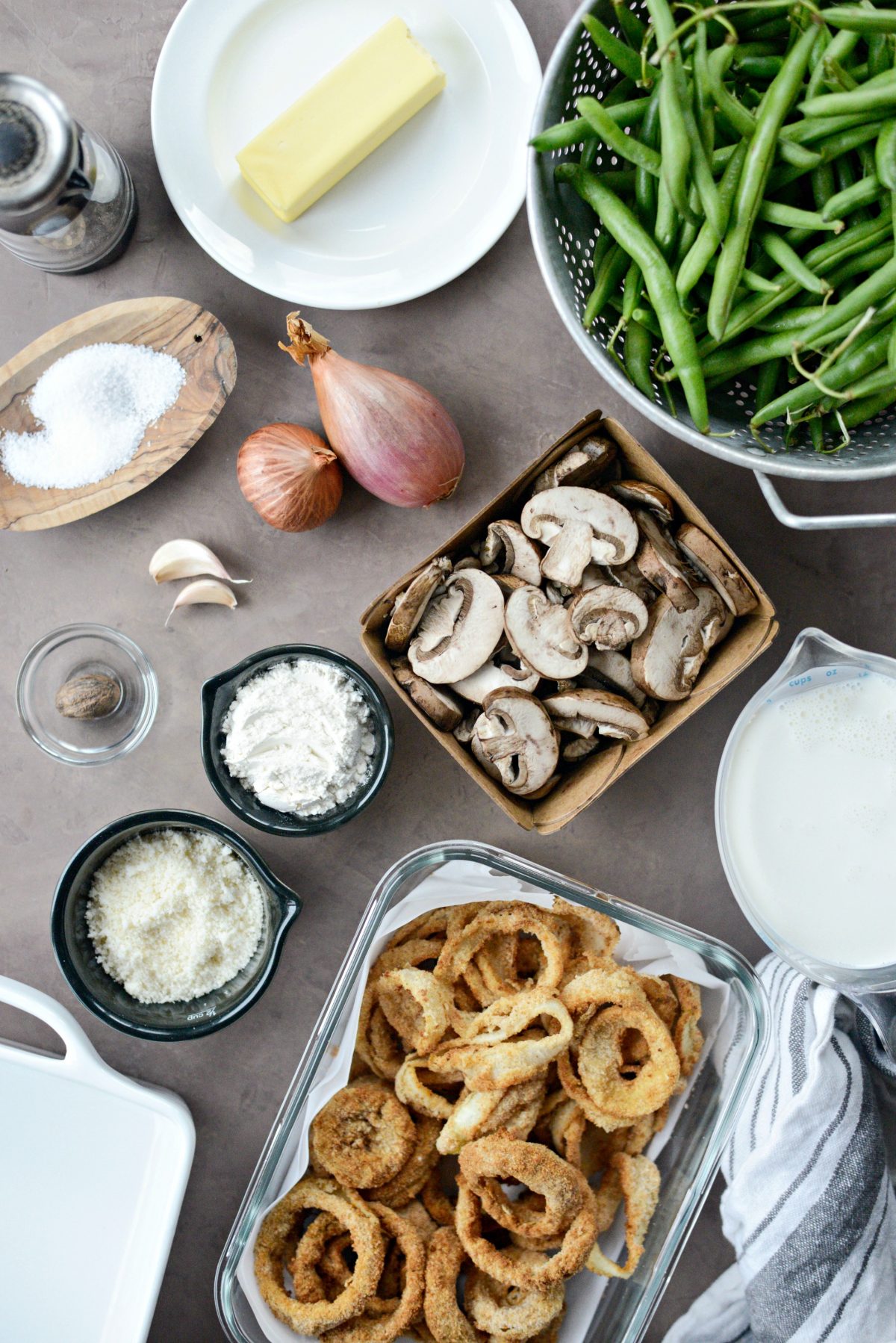 To make this homemade Fresh Green Bean Casserole You Will Need:
fresh green beans
unsalted butter
shallot
sliced fresh mushrooms
cloves fresh garlic
all-purpose flour
half and half
freshly grated nutmeg
kosher salt
freshly ground black pepper
freshly grated Parmesan cheese
If you don't have an air-fryer you can still make this recipe. Either slice up a bunch of shallots and fry them in 1 tablespoon each butter and olive oil until crispy or buy the store-bought crispy fried onion topping. No judgement here.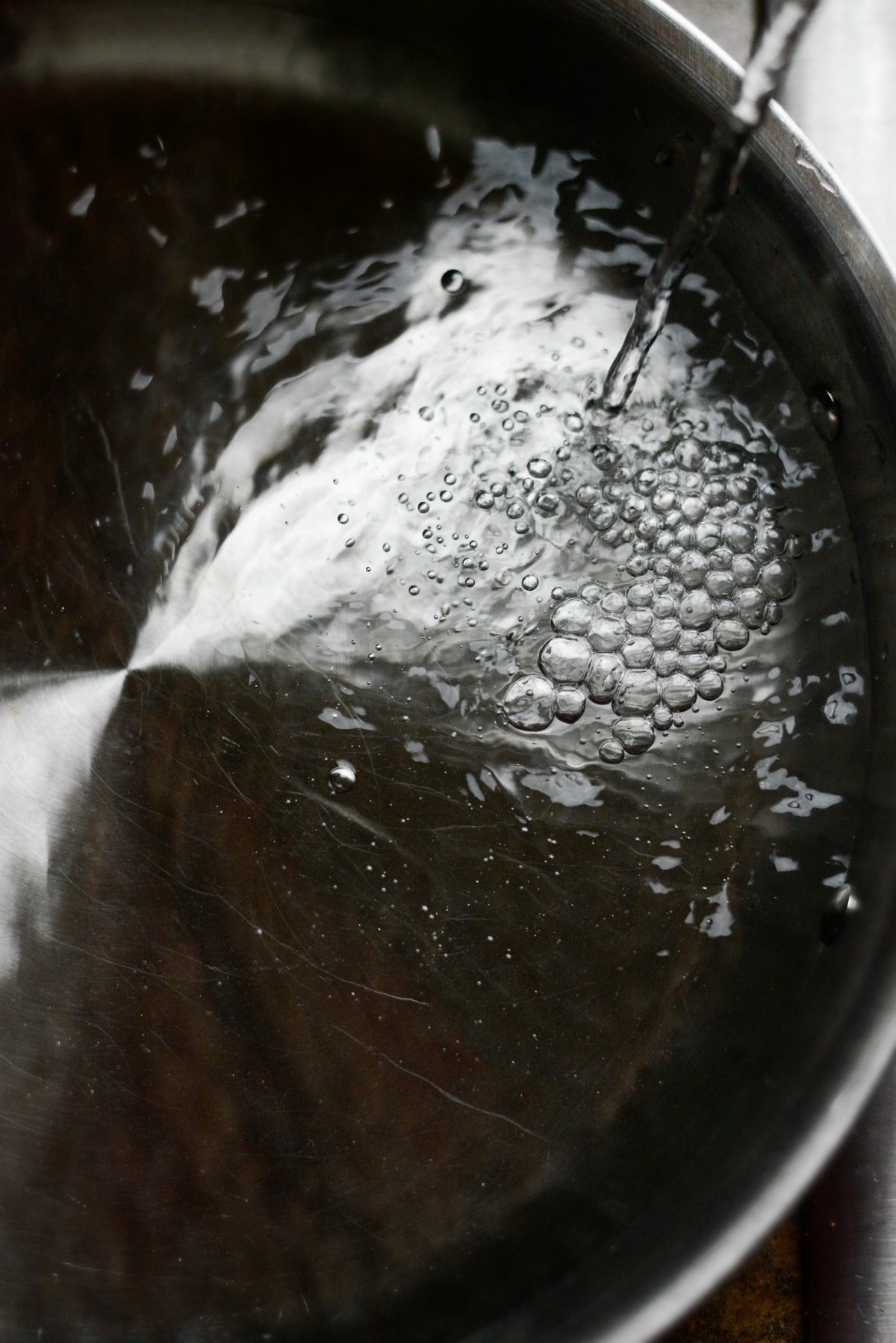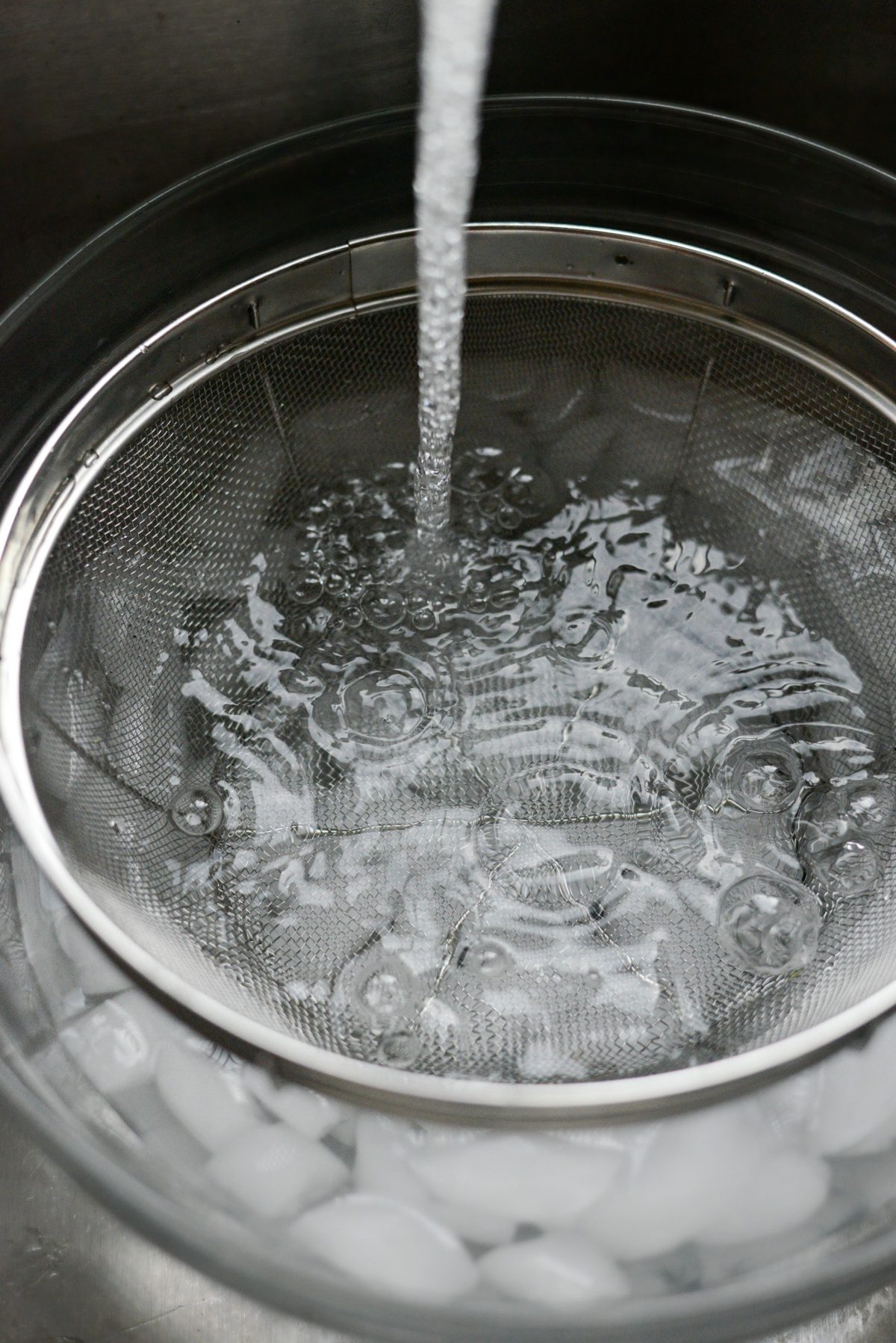 First prep the green beans by bringing a large pot of salted water to boil. Also, fill a large bowl with ice and set a mesh strainer or colander in the center and fill with water.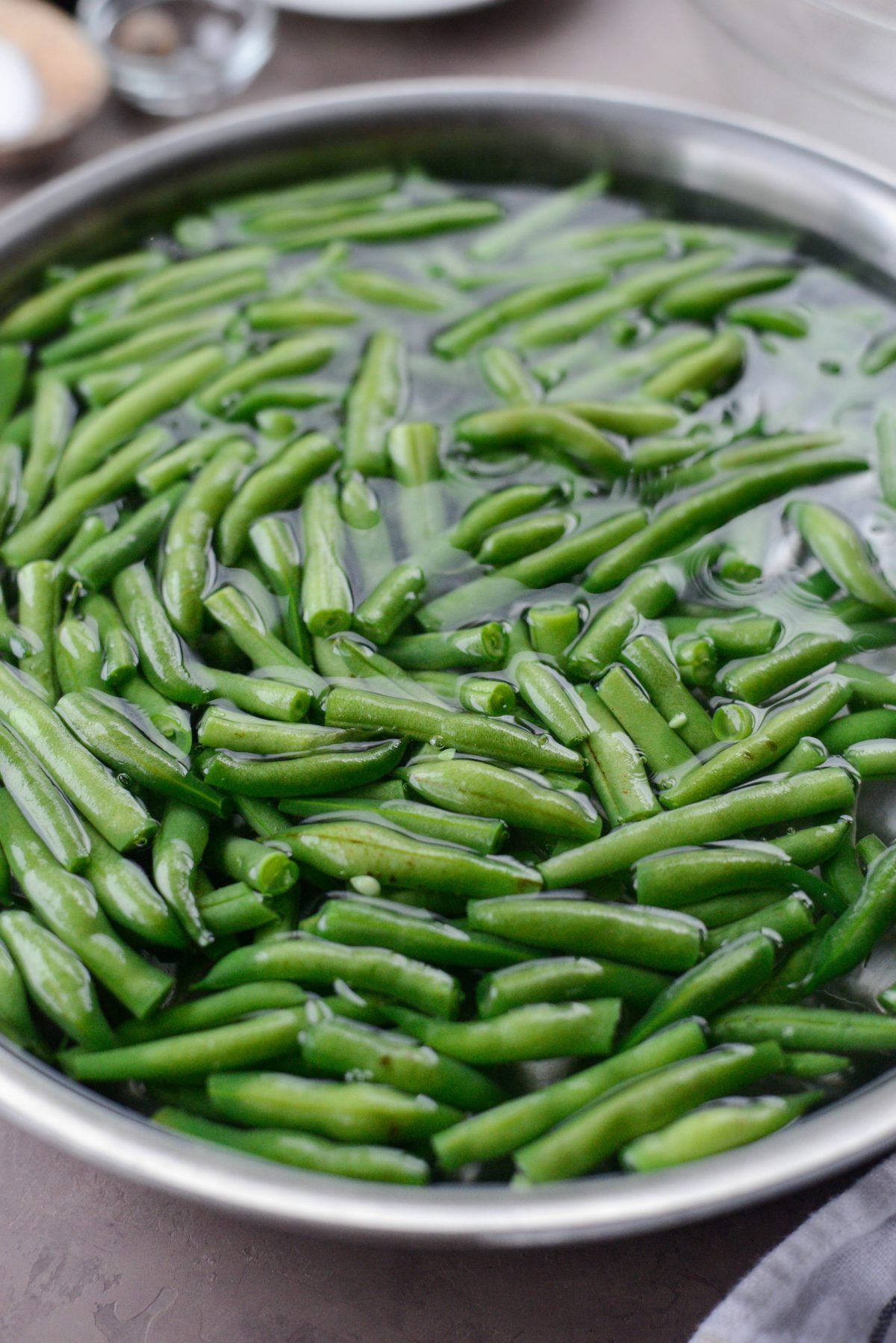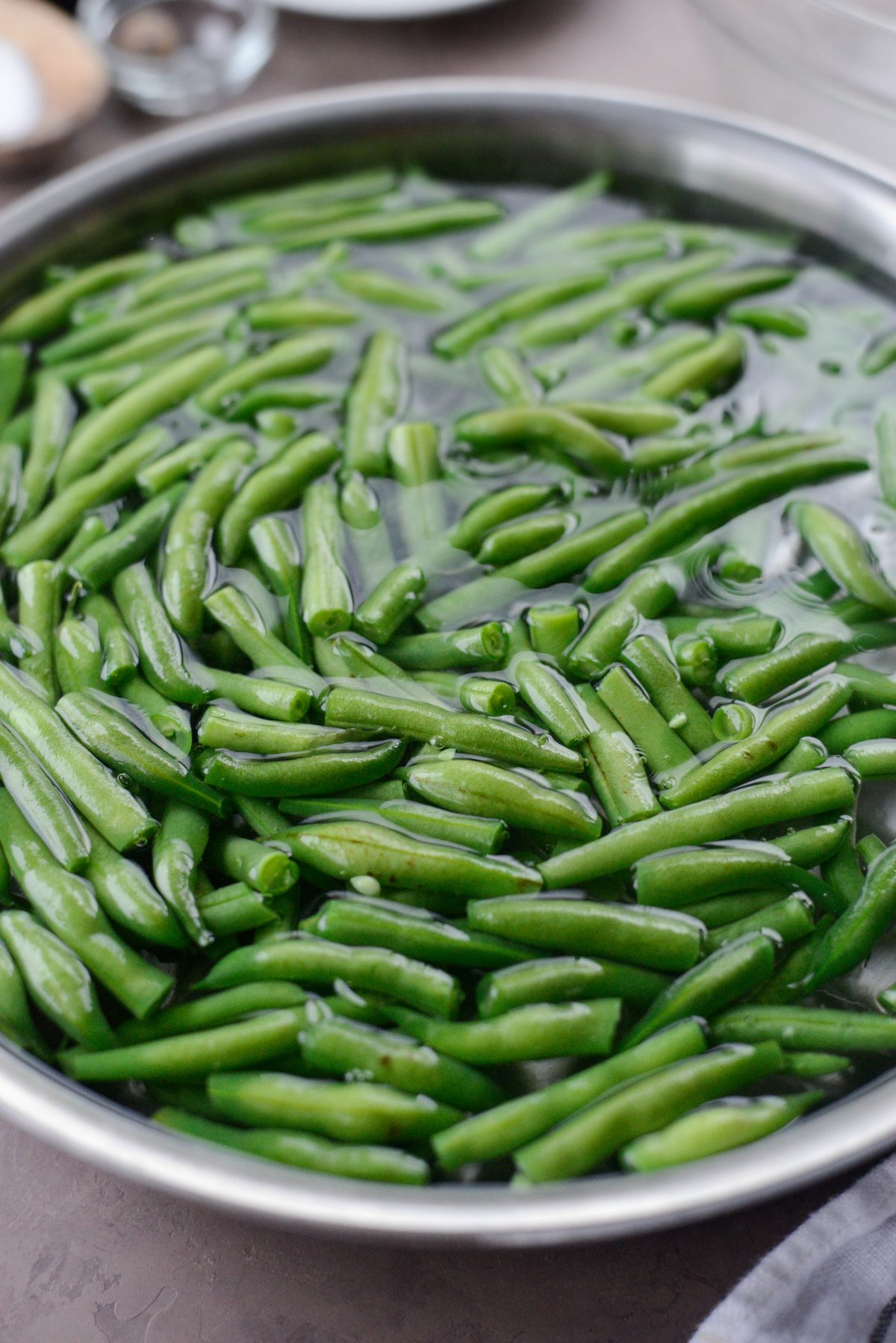 Trim and cut 1-1/2 pounds green beans in half. Once the water is boiling, add all of the green beans and simmer for 6 minutes or until bright green and just starting to become tender.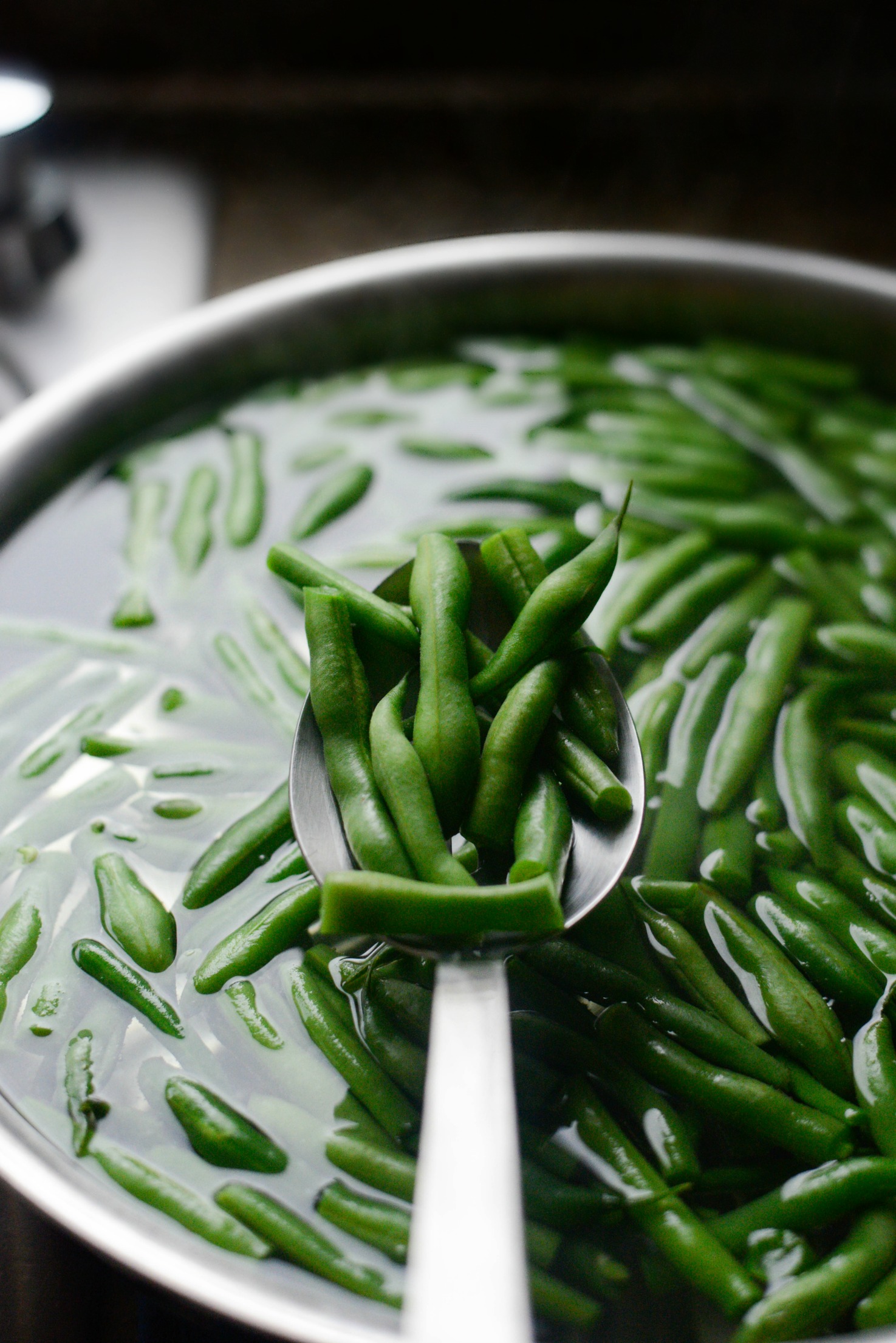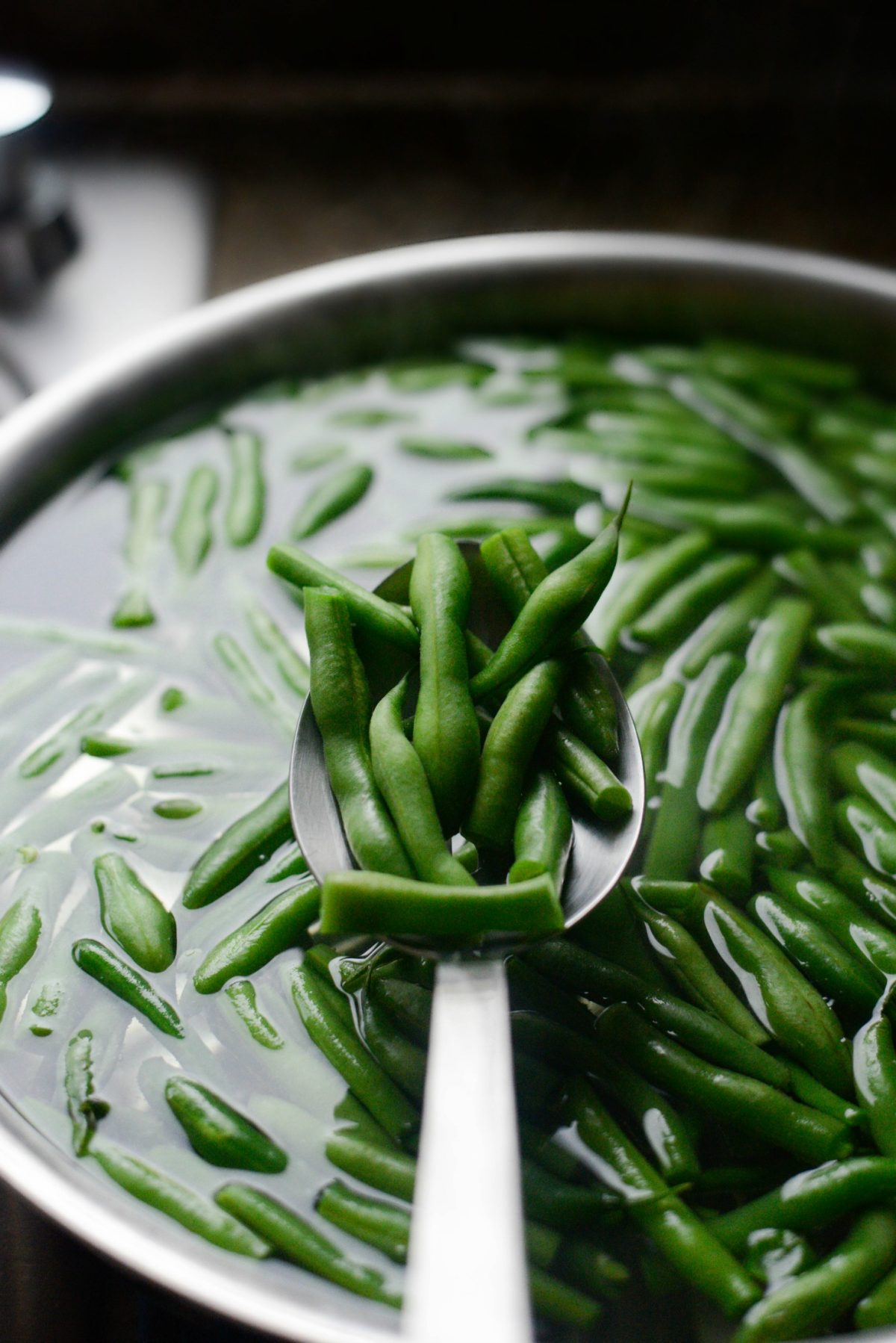 Transfer the green beans to the waiting colander in the ice bath. When they are cool to touch, remove the strainer holding the green beans and drain well. Set these off to the side for a moment.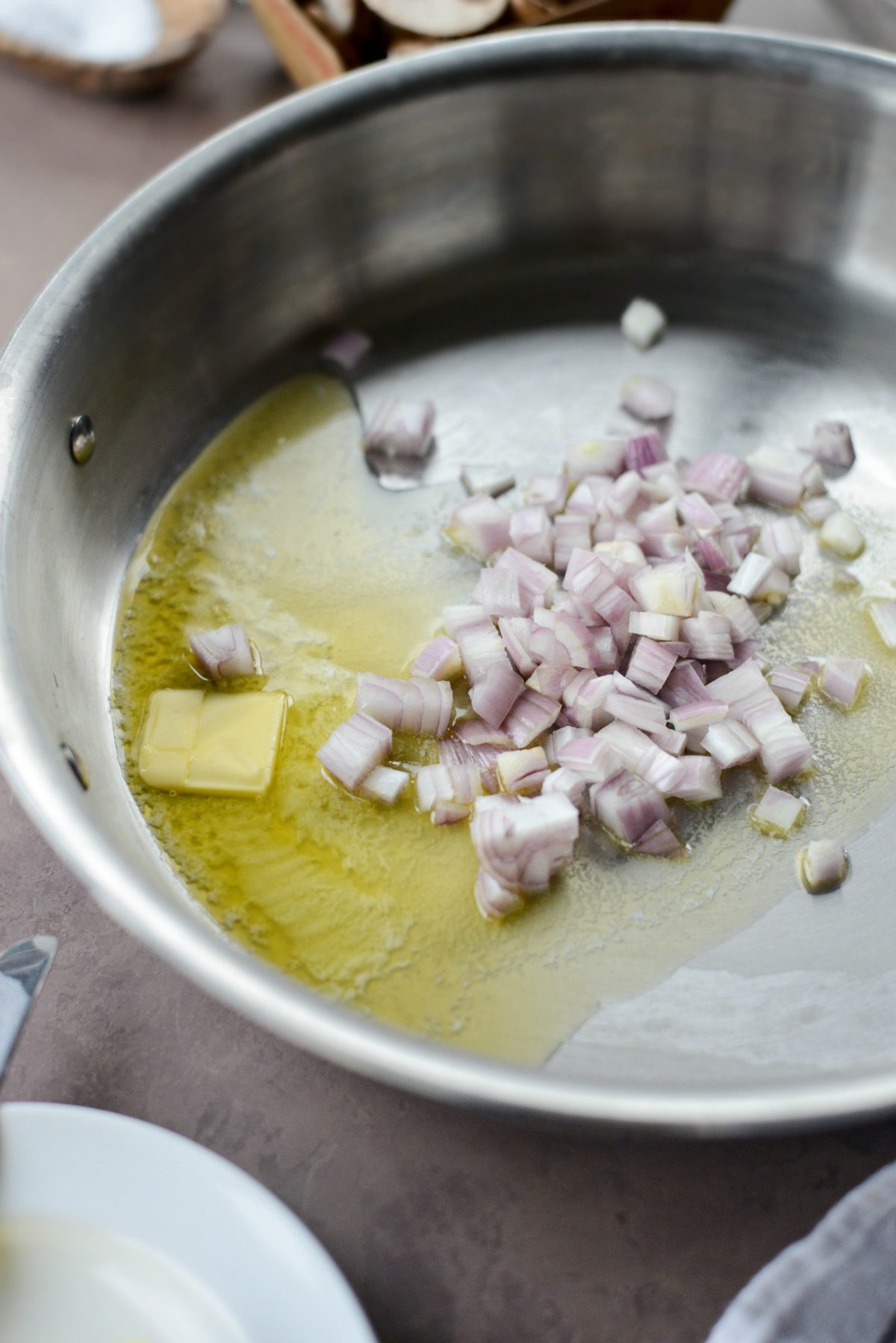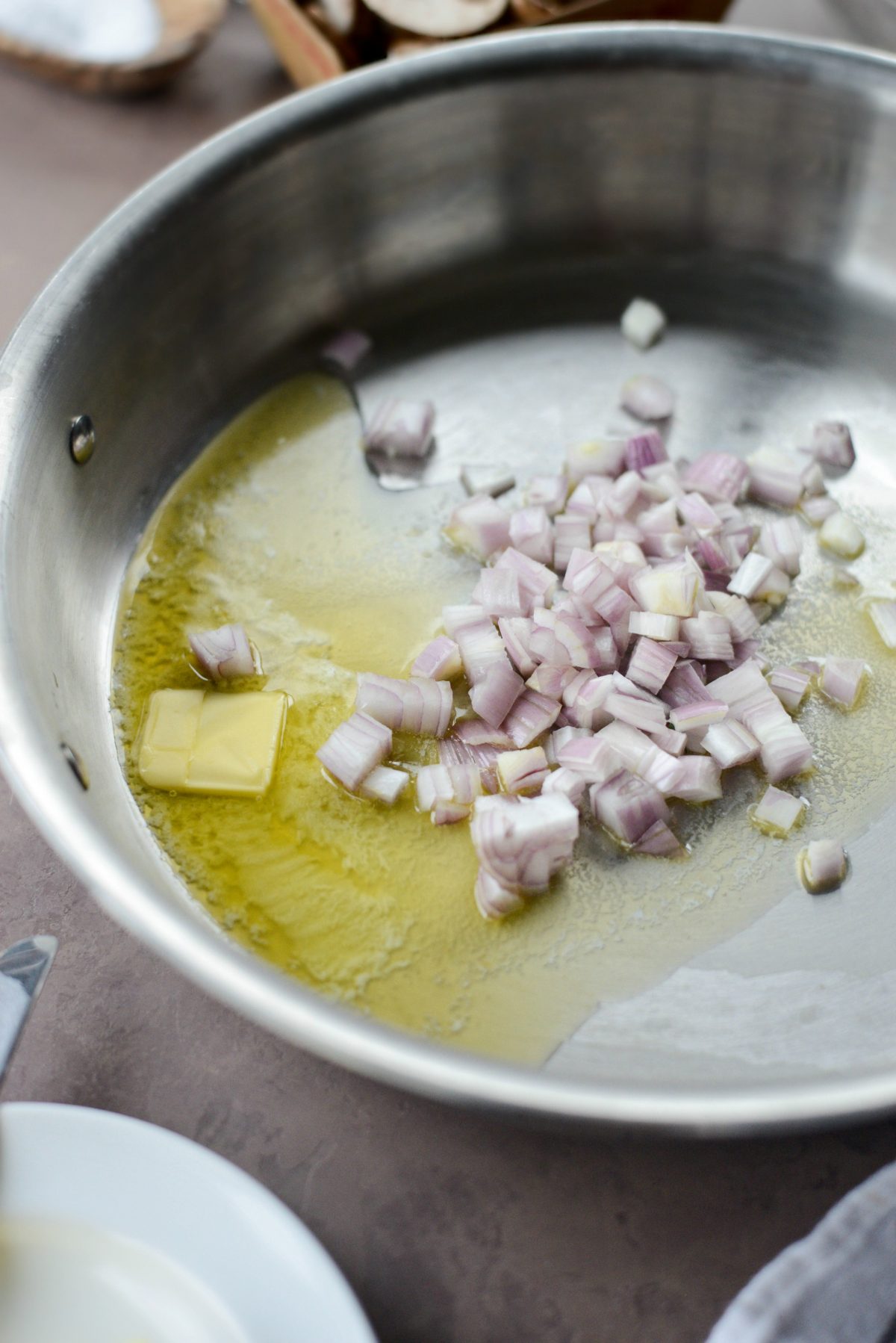 Melt 2 tablespoons of butter in a large, deep-sided skillet over medium-low heat.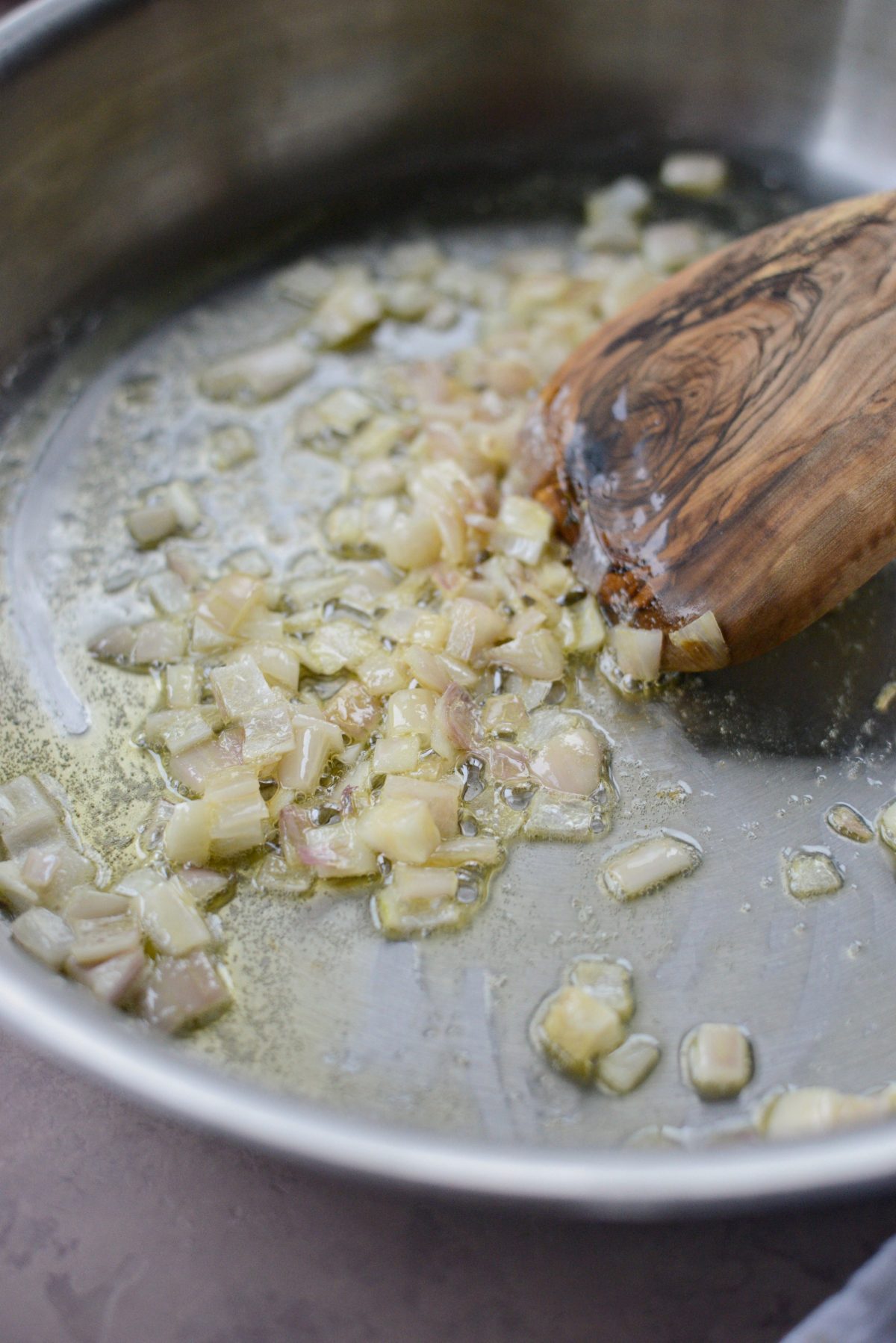 To the butter, add 1 diced shallot with a pinch of kosher salt and sauté until tender, about 5 minutes.
What is better than the smell of butter and shallots sautéing?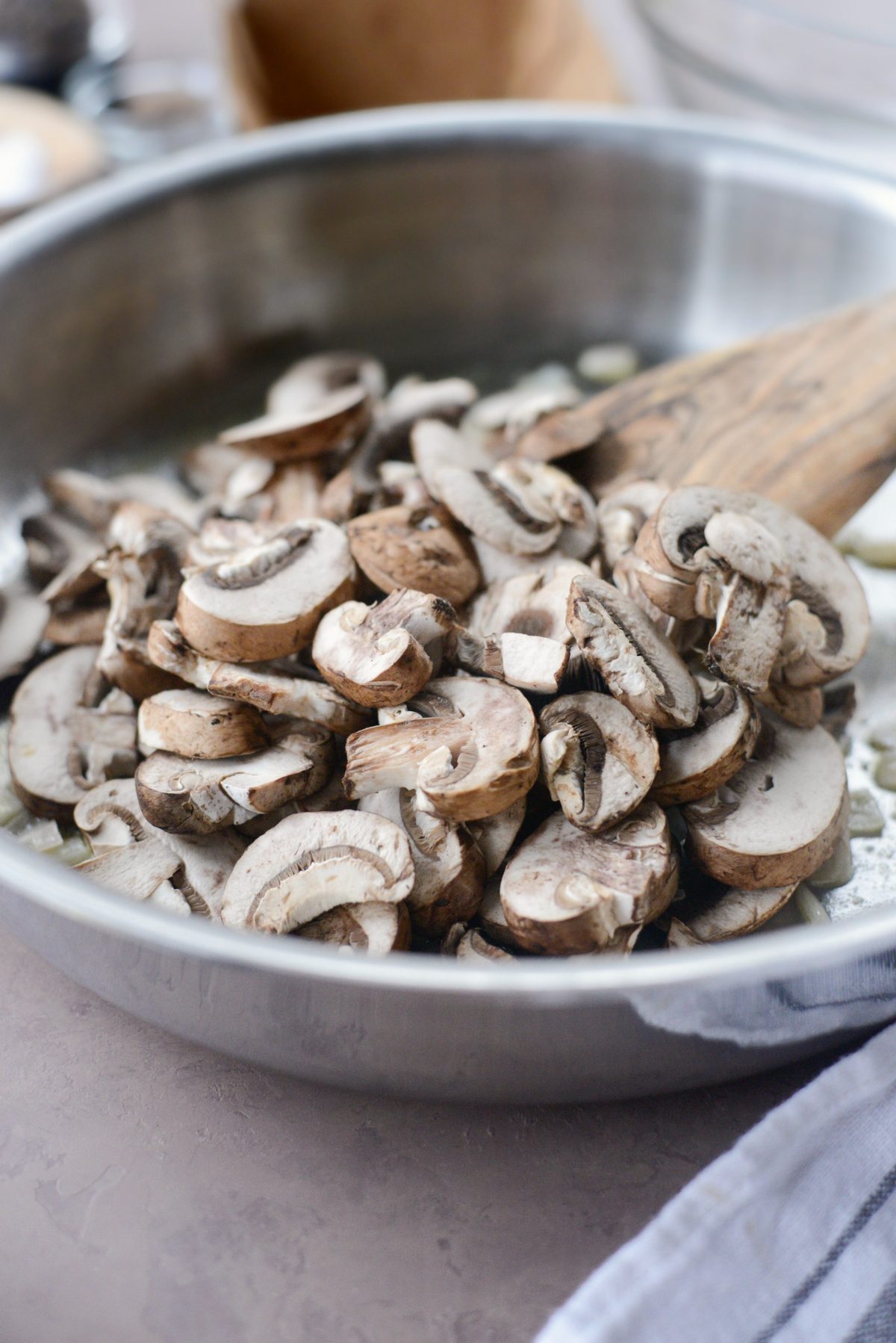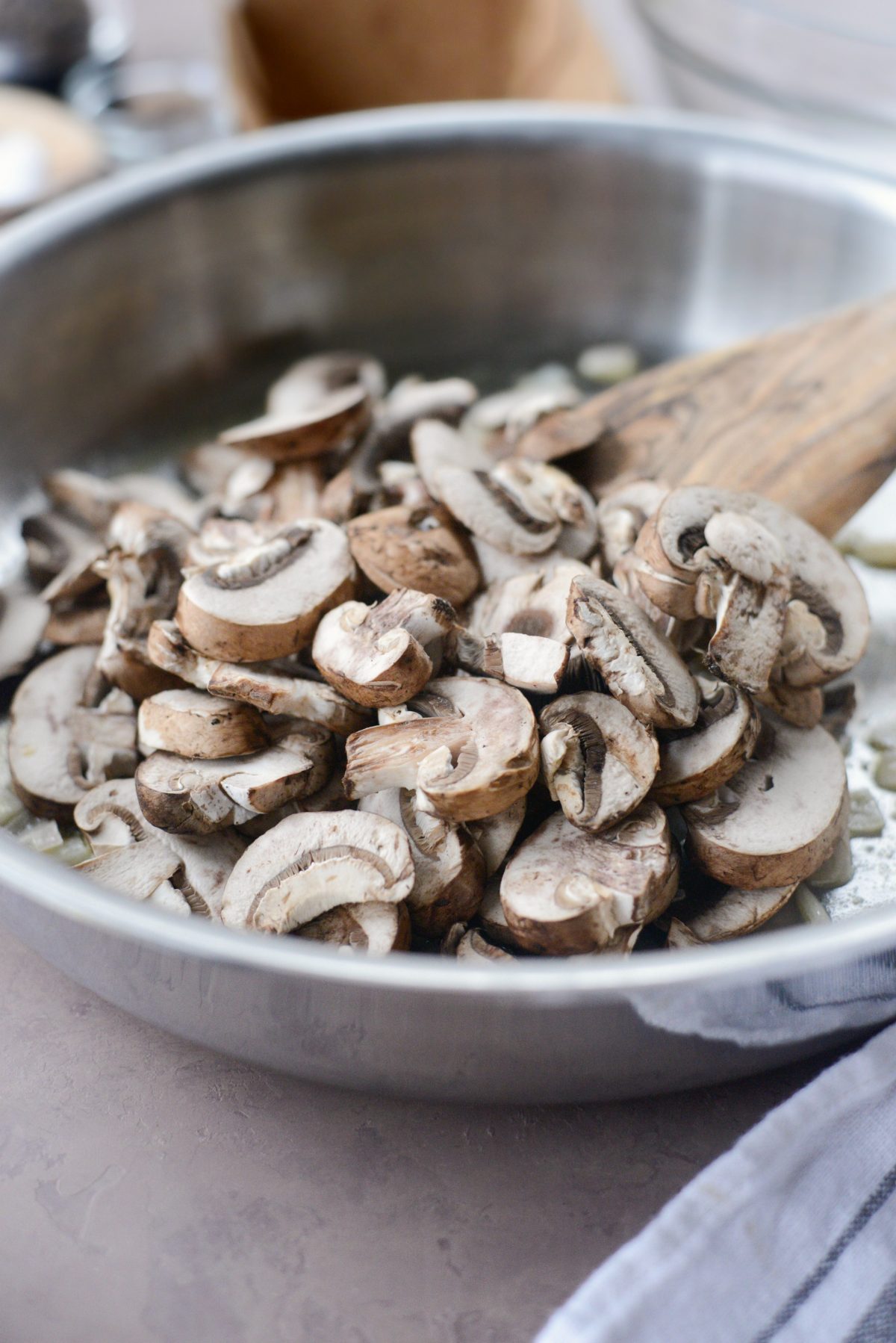 To that, add in 8 ounces of sliced mushrooms. Stir and cook until just tender, about 5 to 8 minutes, before adding in the 2 small cloves of garlic that have been minced. Cook for 1 to 2 minutes.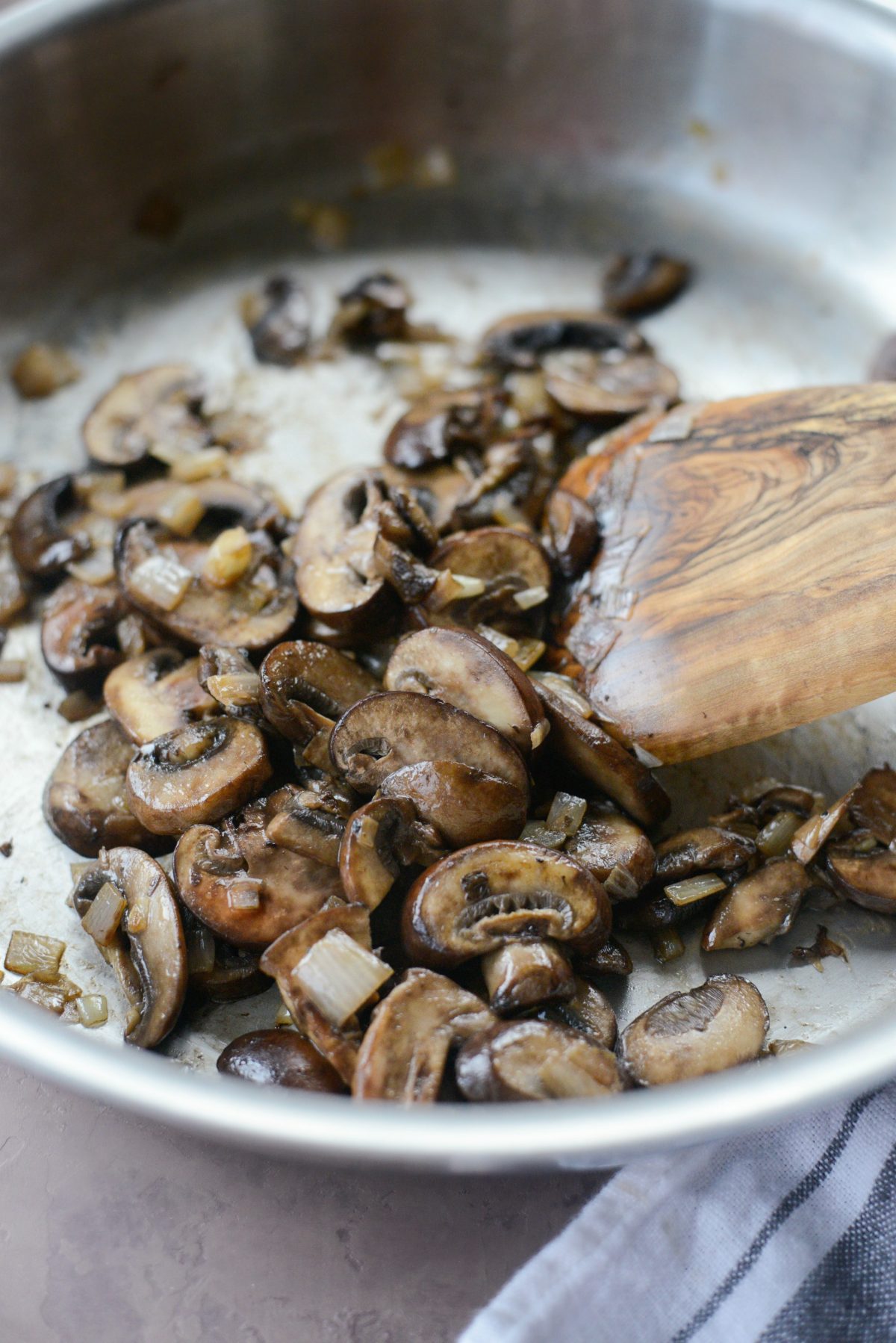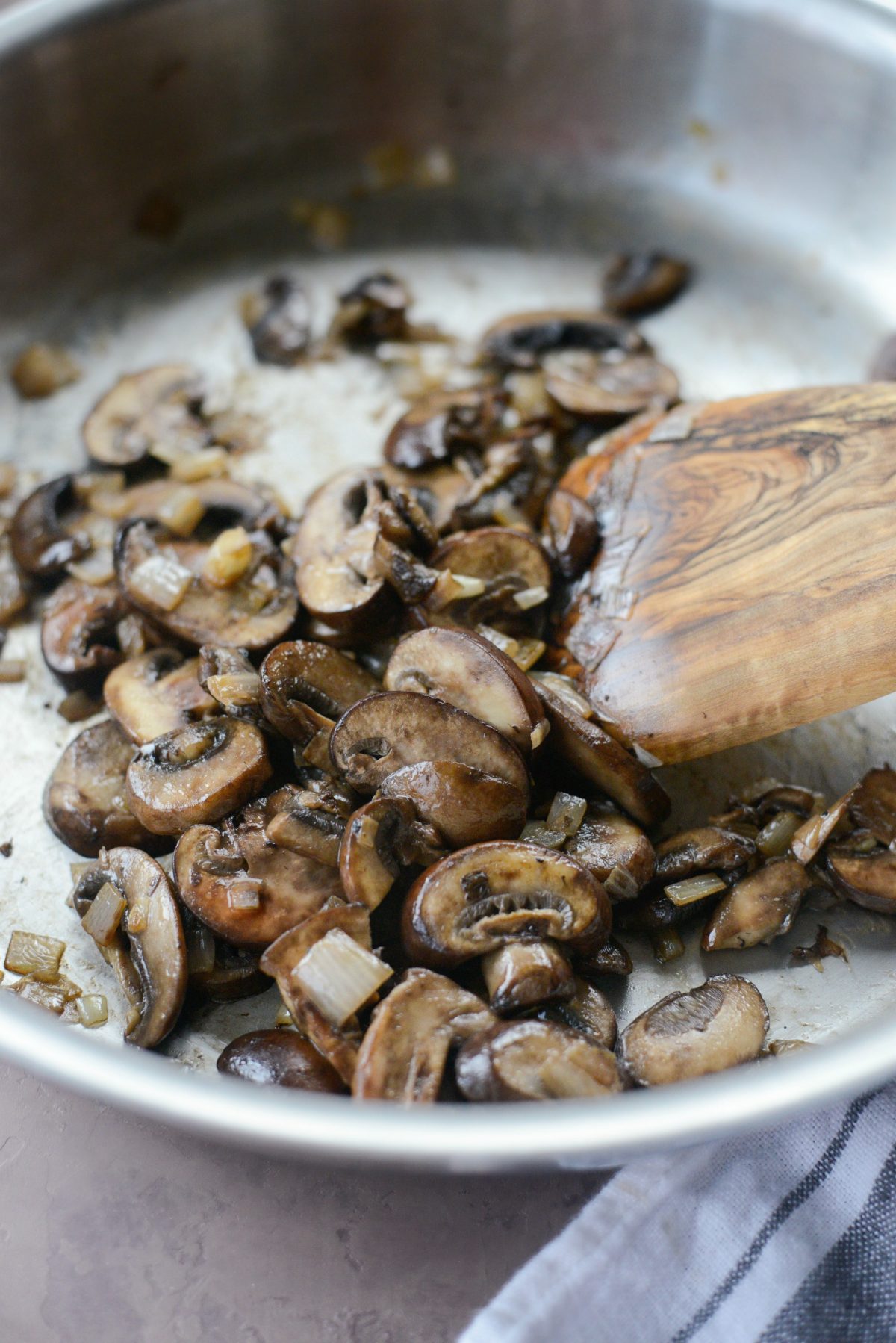 As far as what mushrooms to use, I'm using cremini mushrooms, but white button would work too.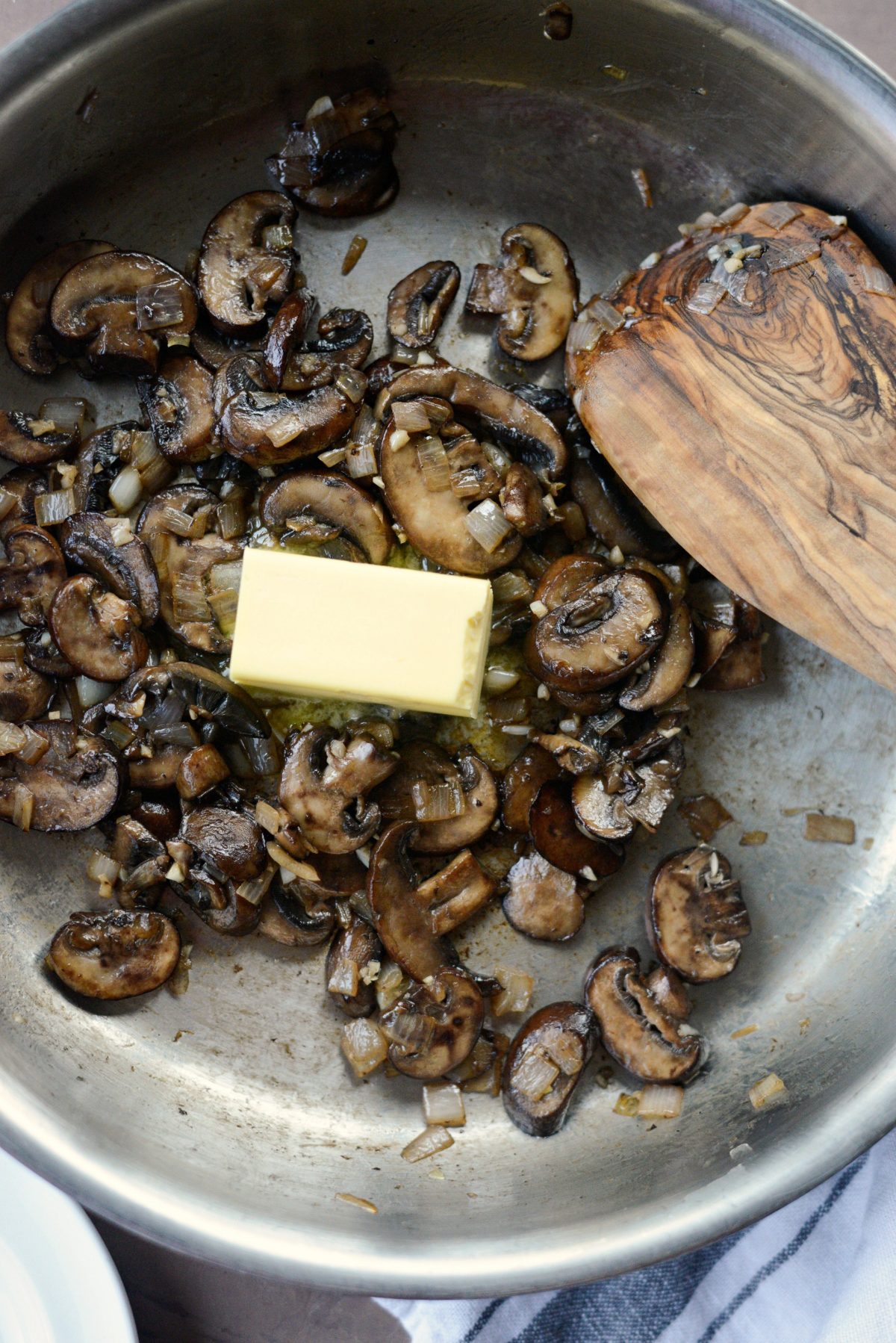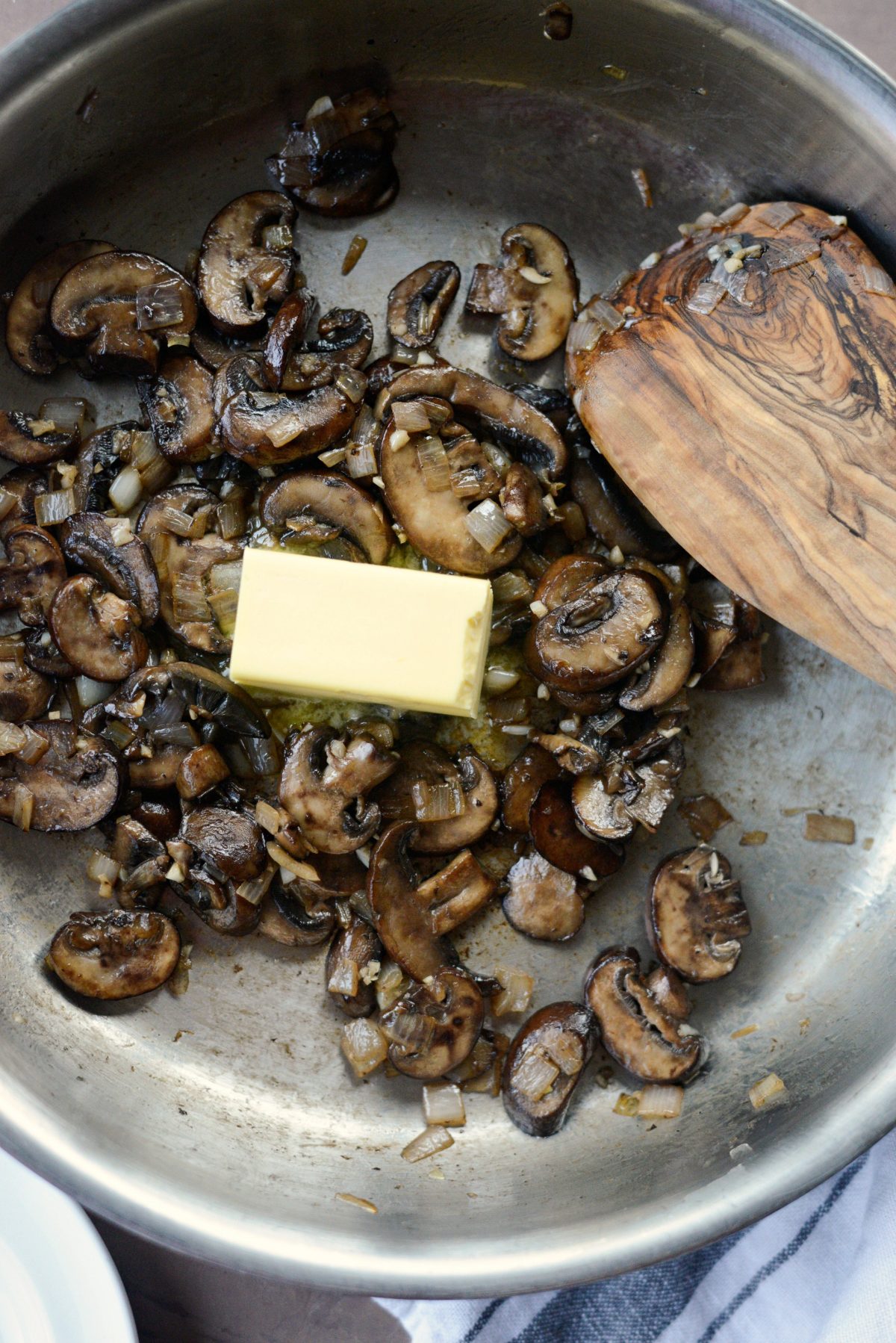 Once the mushrooms are tender, add in the remaining 4 tablespoons of butter.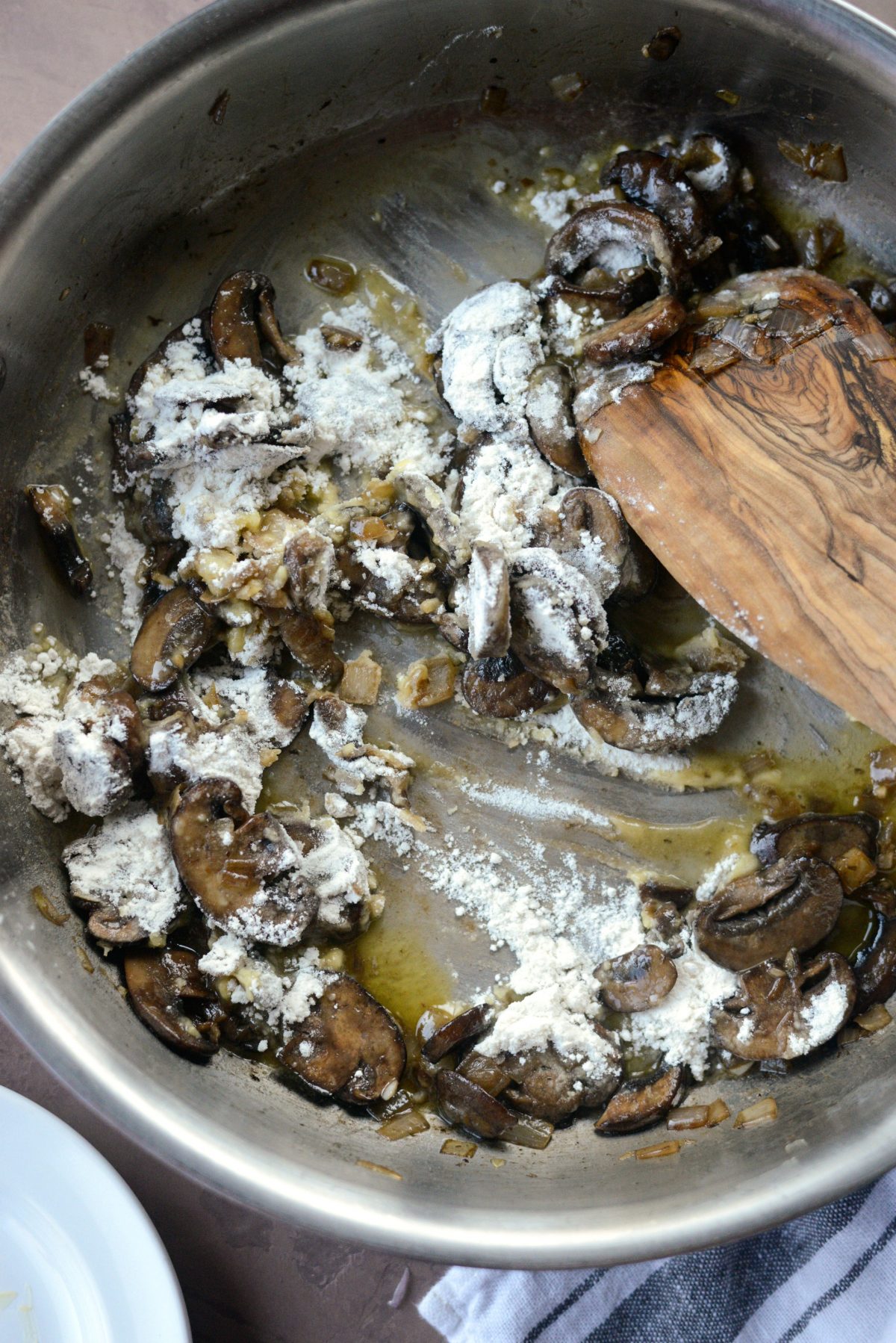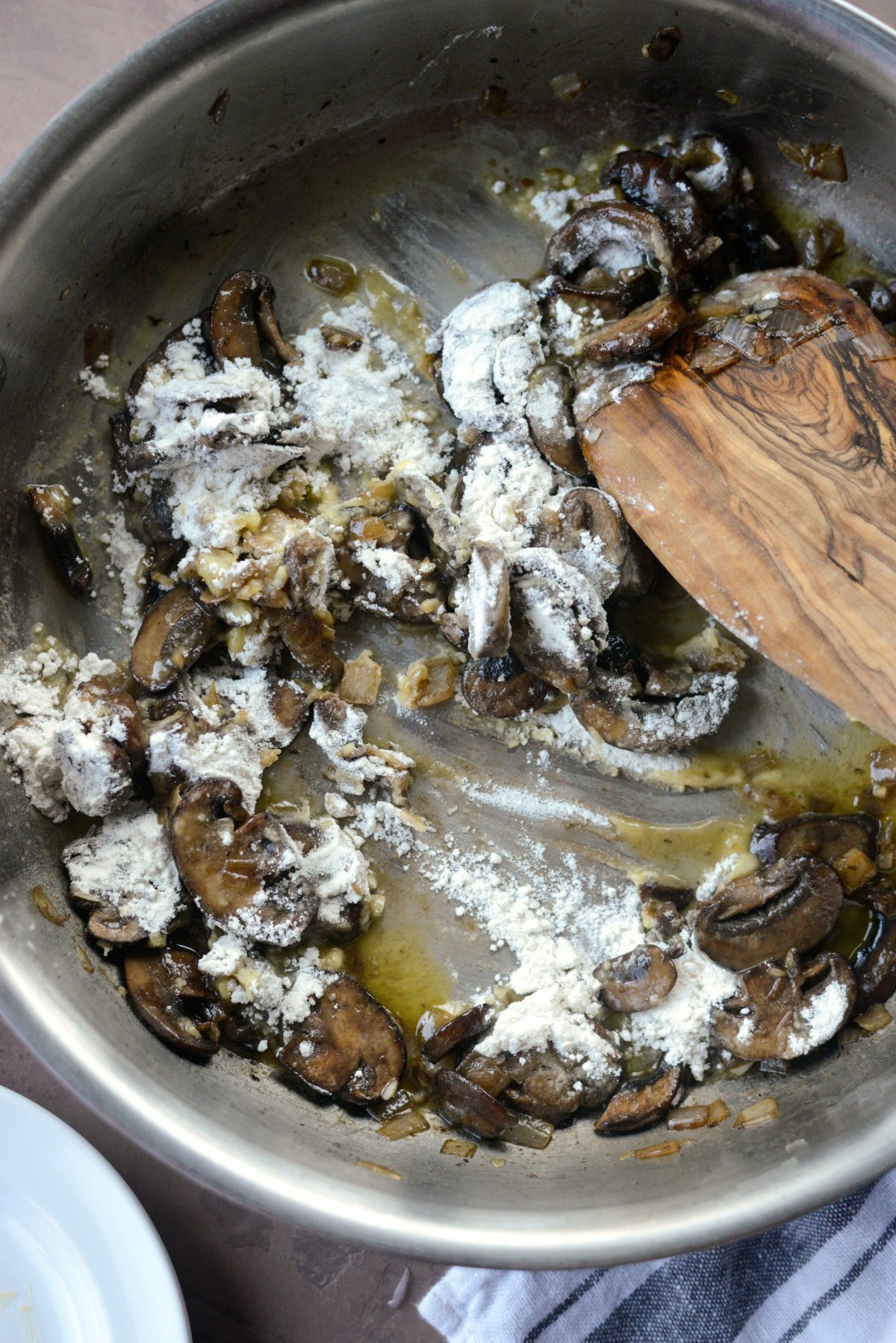 Measure and stir in 1/4 cup unbleached all-purpose flour, until absorbed. Cook the flour for 2 to 3 minutes, stirring occasionally.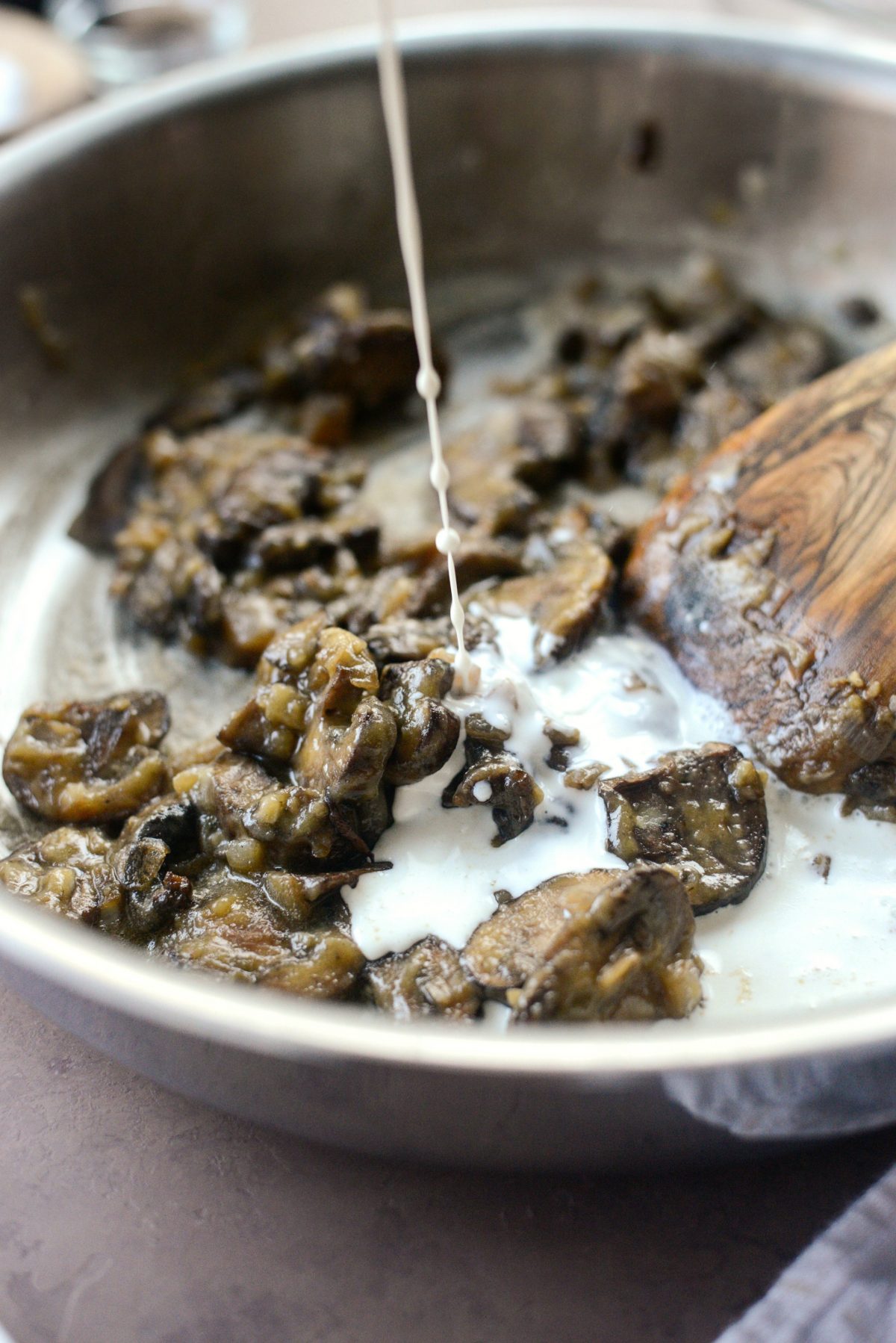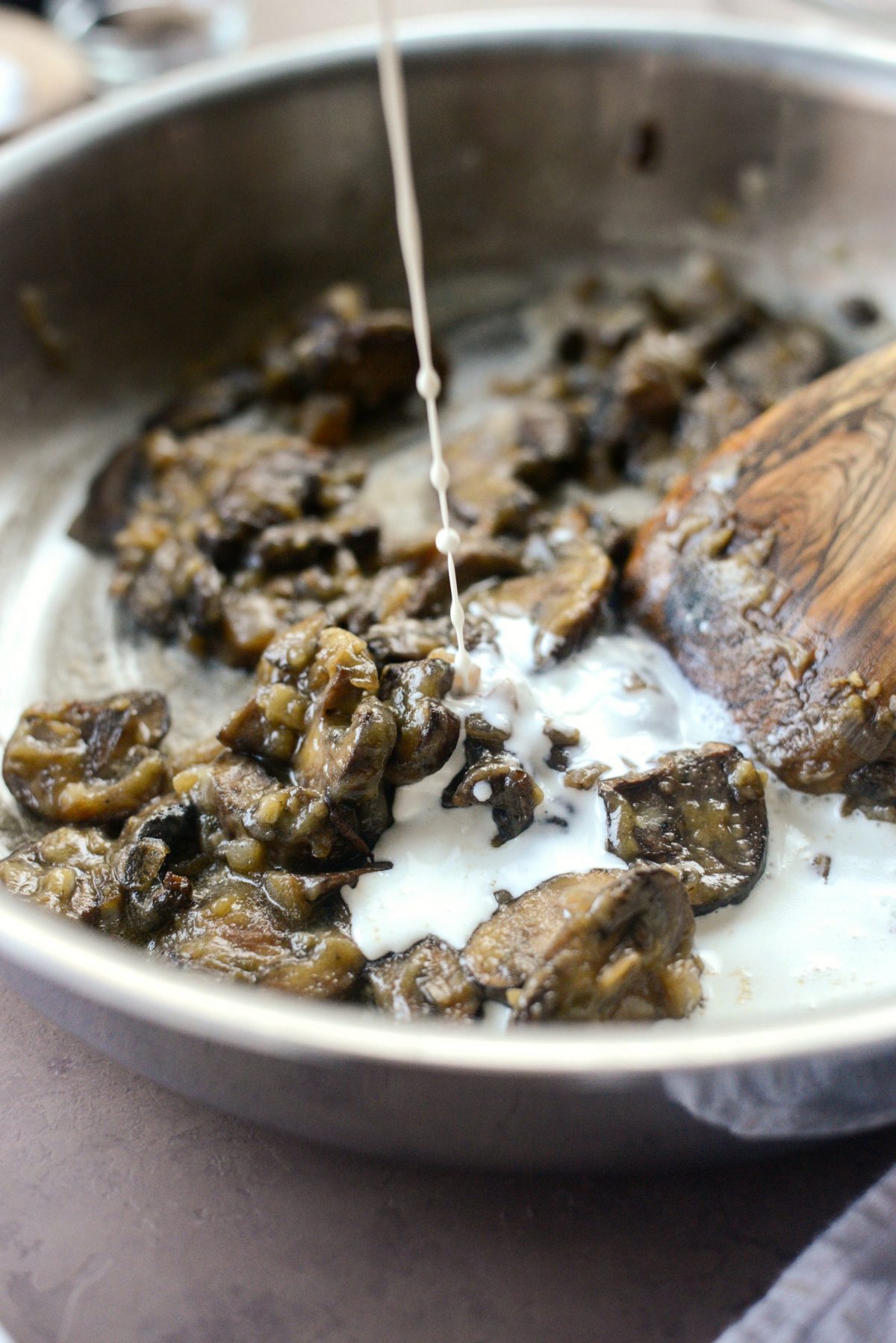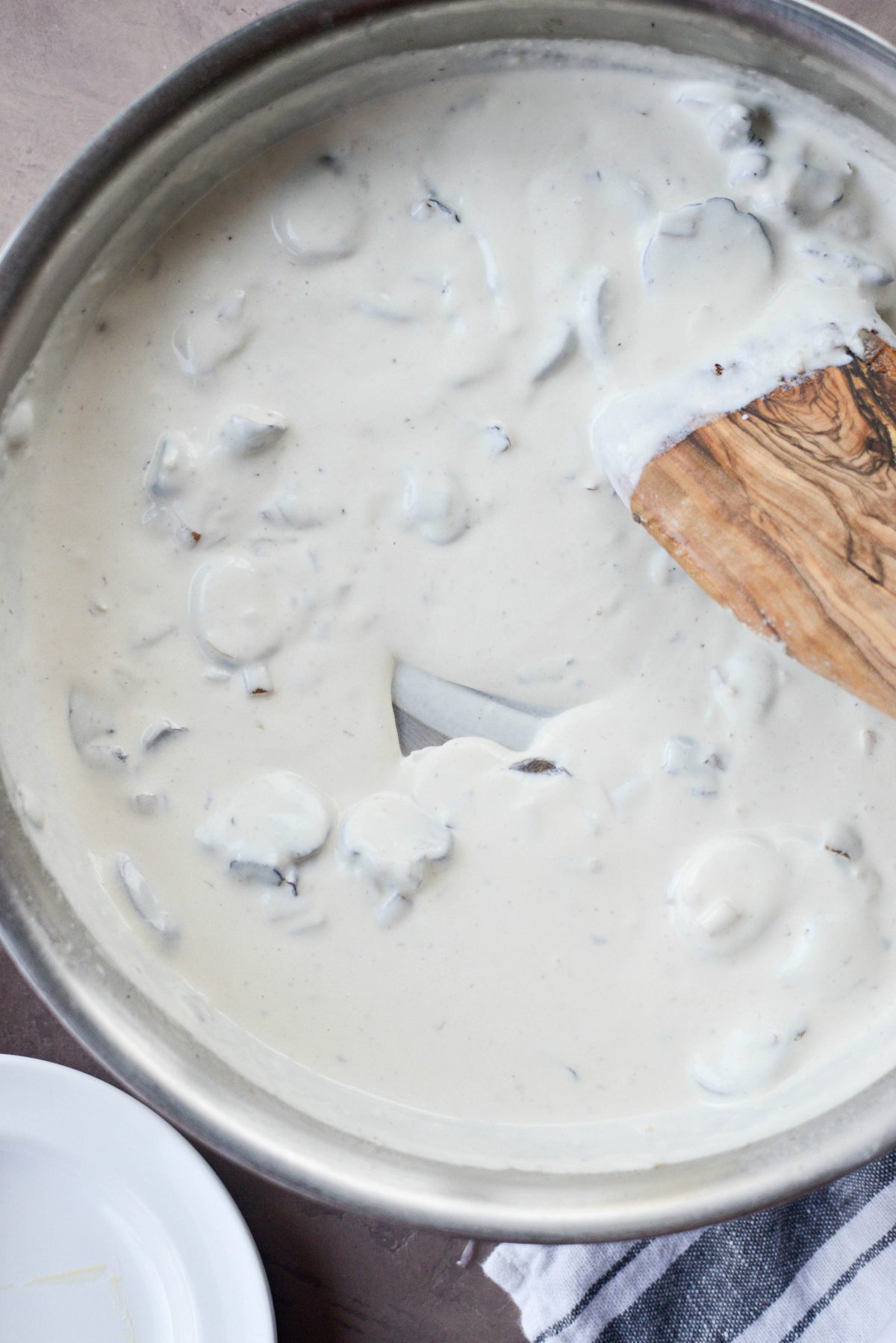 Pour in the 2 cups of half & half and stir, over medium-high heat, until thickened.
Stir in 1/3 cup freshly grated parmesan cheese.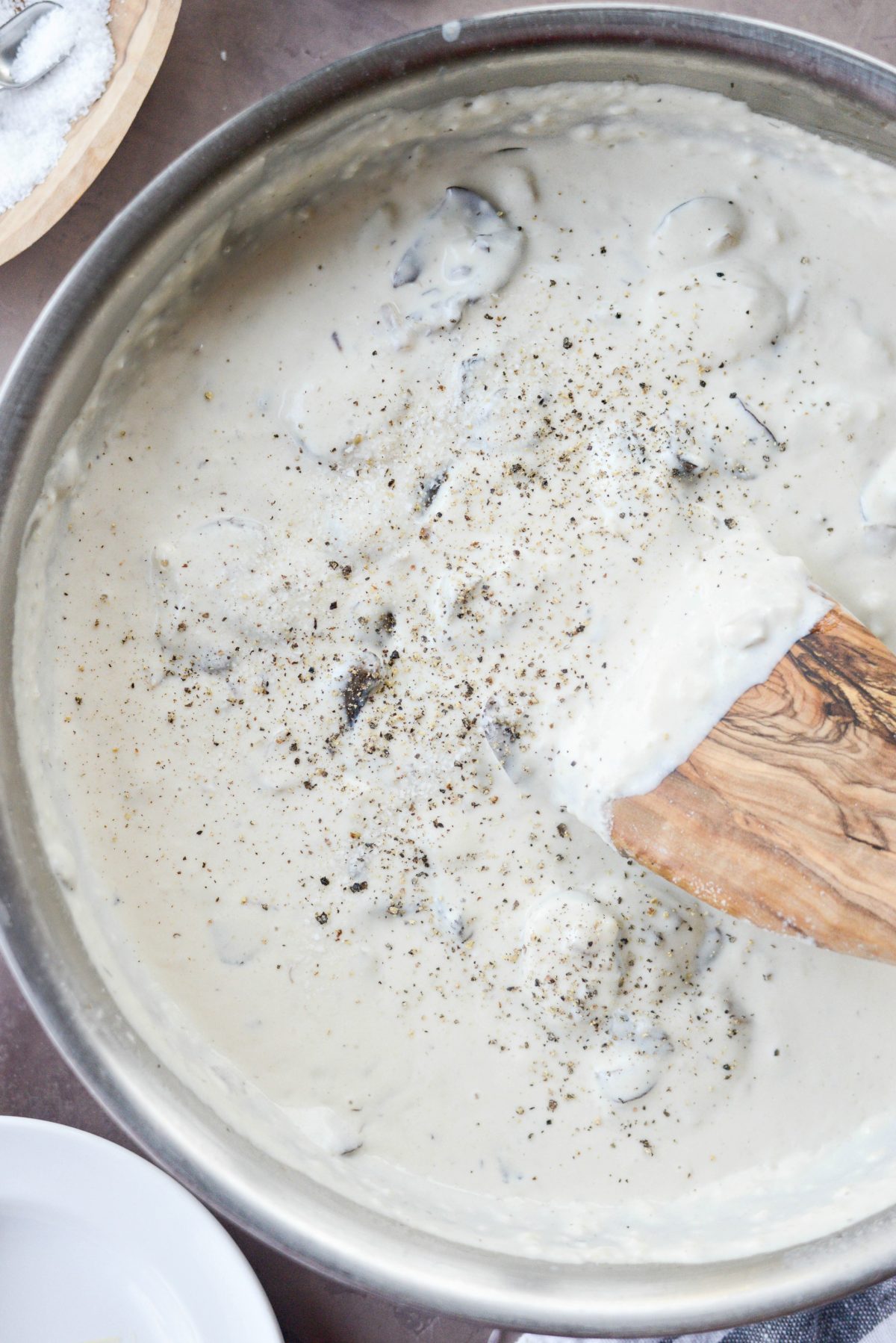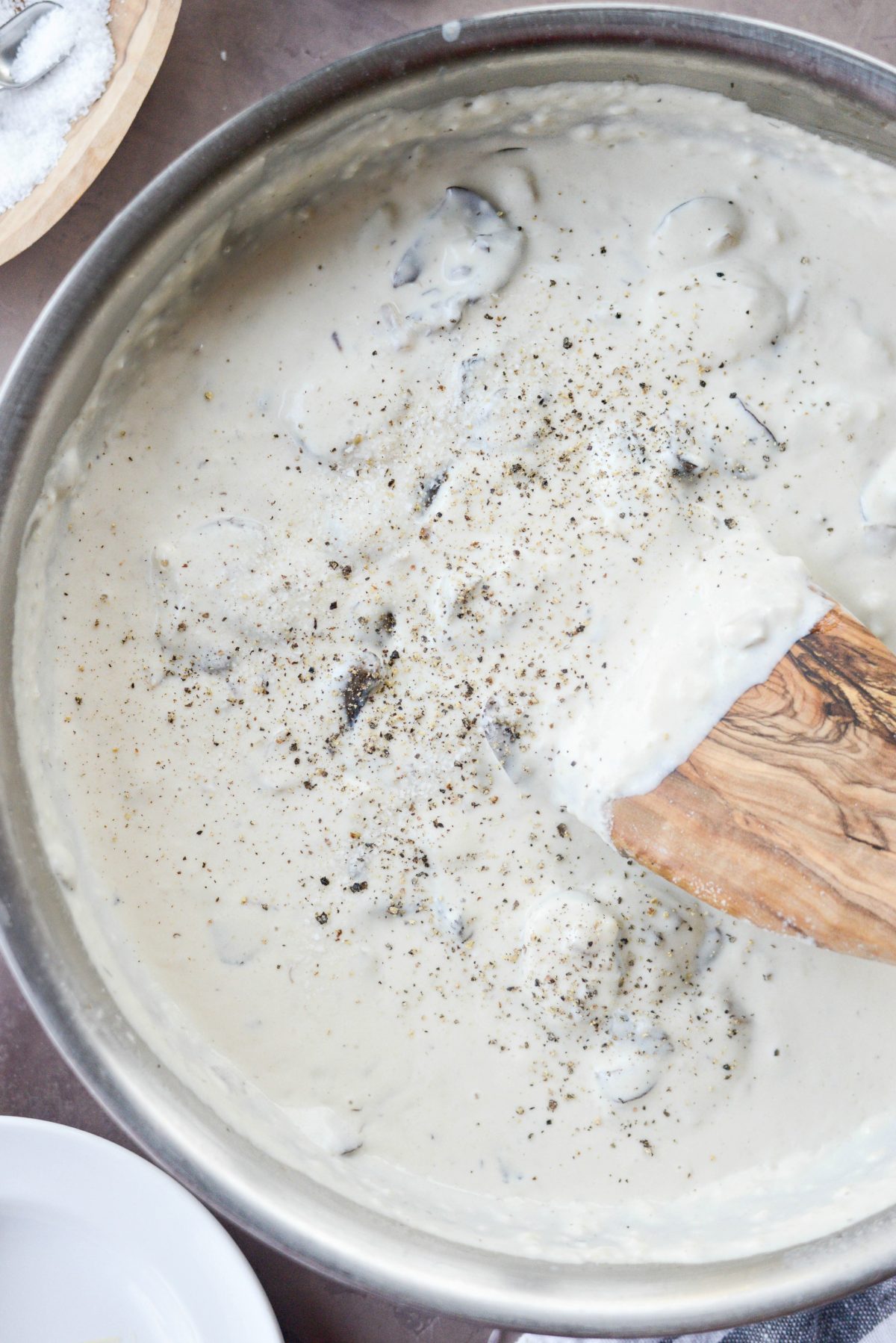 Season with 1 teaspoon kosher salt (more or less to taste), 1/2 teaspoon freshly ground black pepper and 1/8 teaspoon grated fresh nutmeg.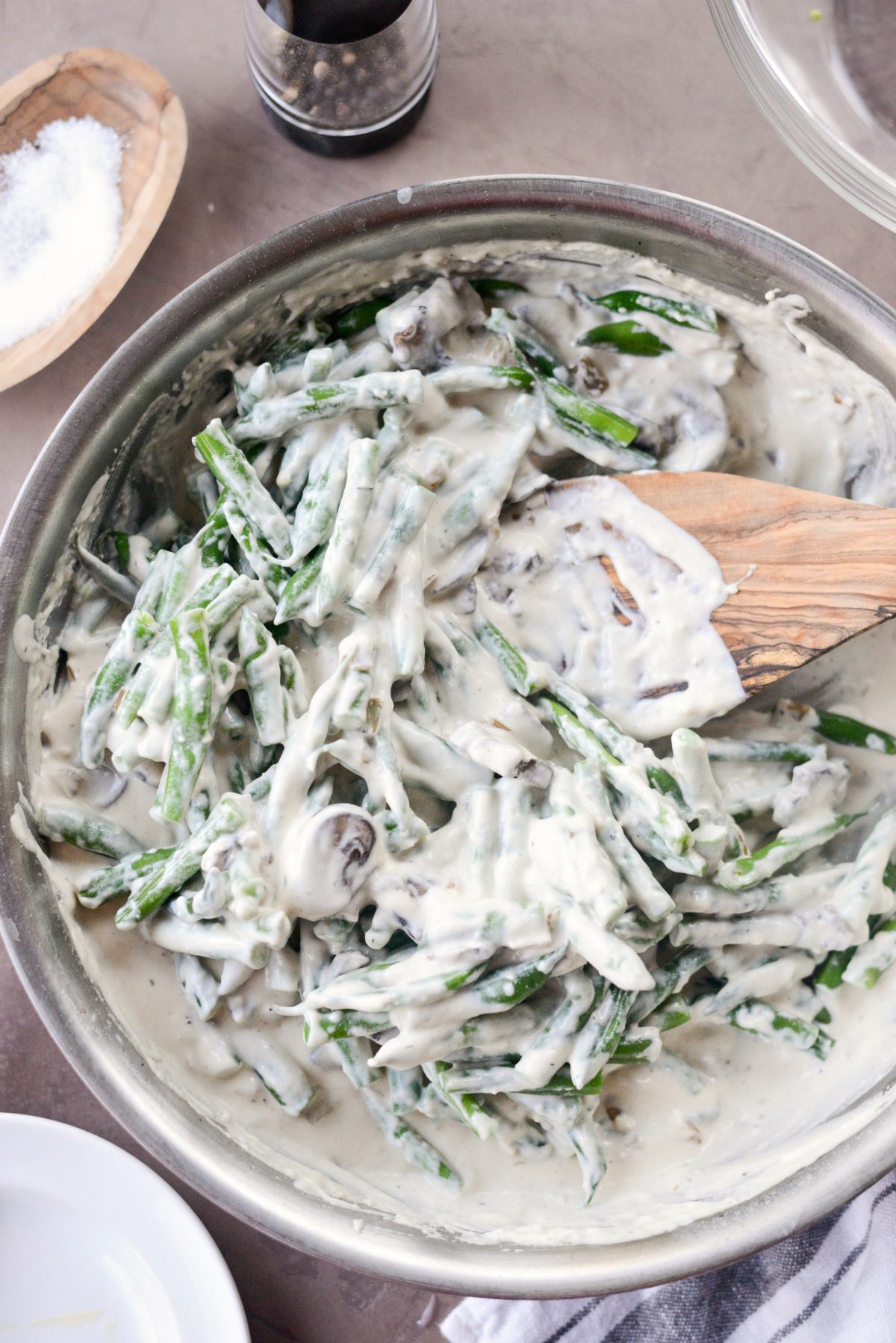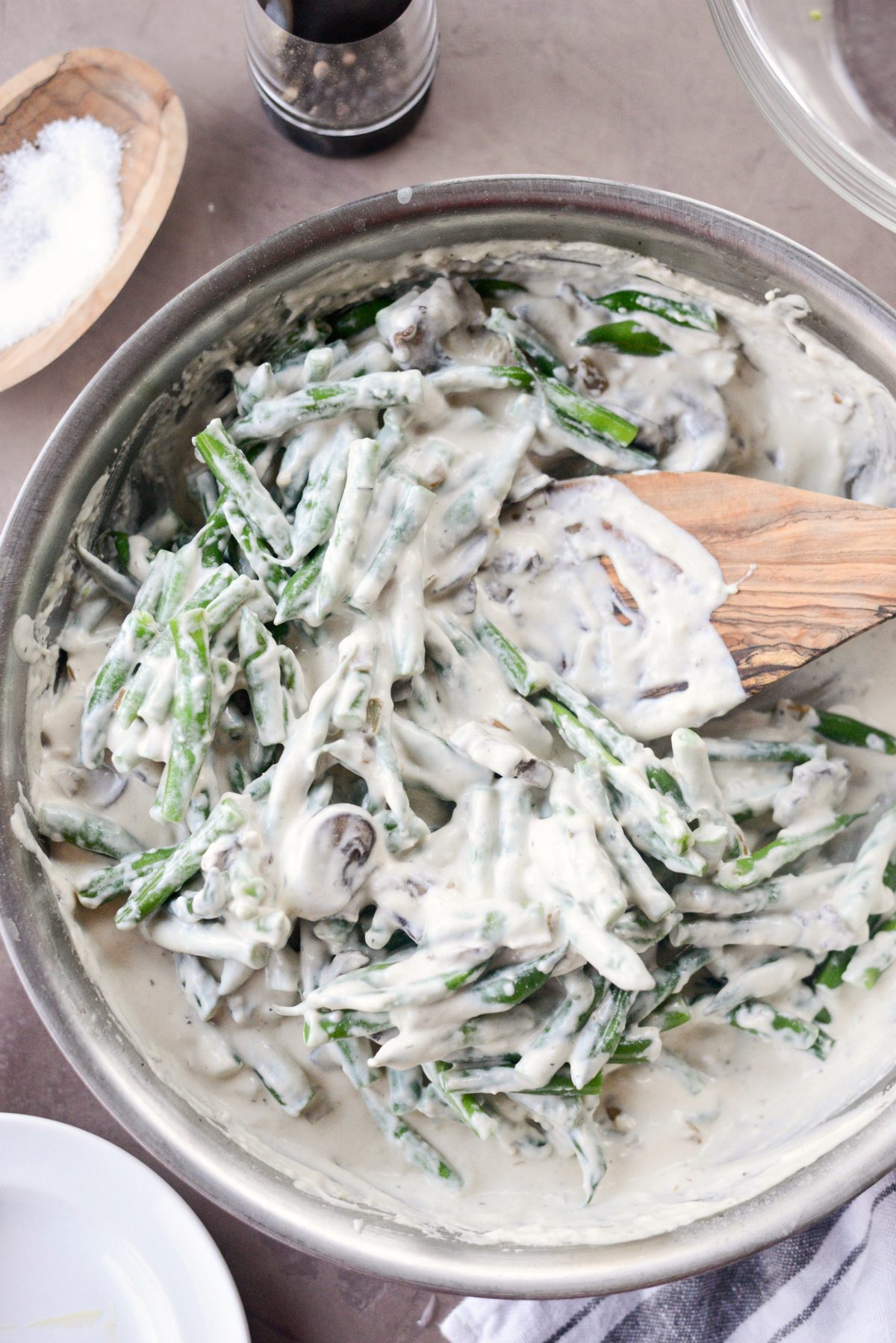 Lastly, toss the blanched green beans in the creamy mushroom sauce before pouring the green bean mixture into 9×9 (or 8×8 would suffice) baking dish that has been sprayed with olive oil spray.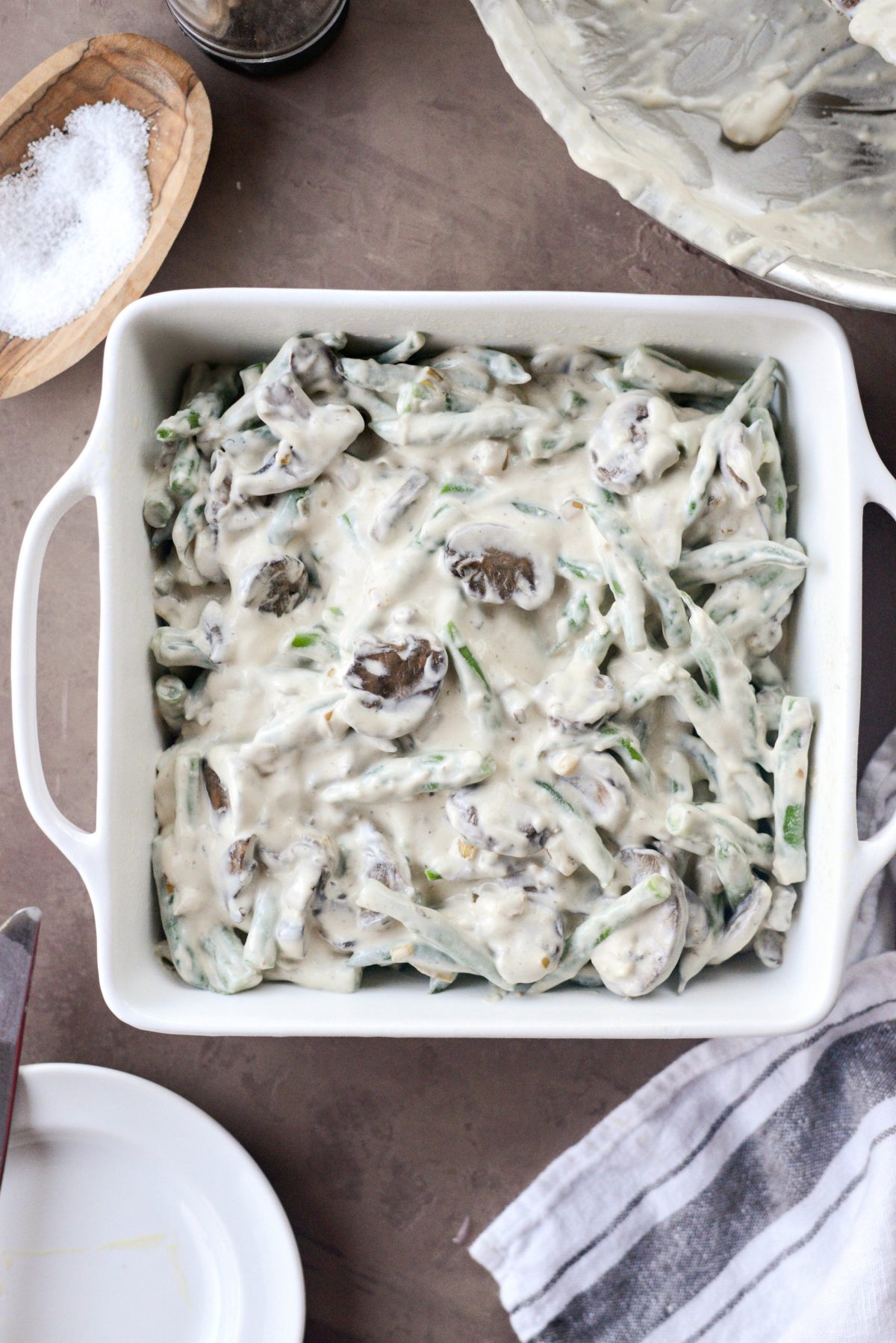 Cover tightly with aluminum foil and bake on the middle rack of your preheated 350° for 20 minutes.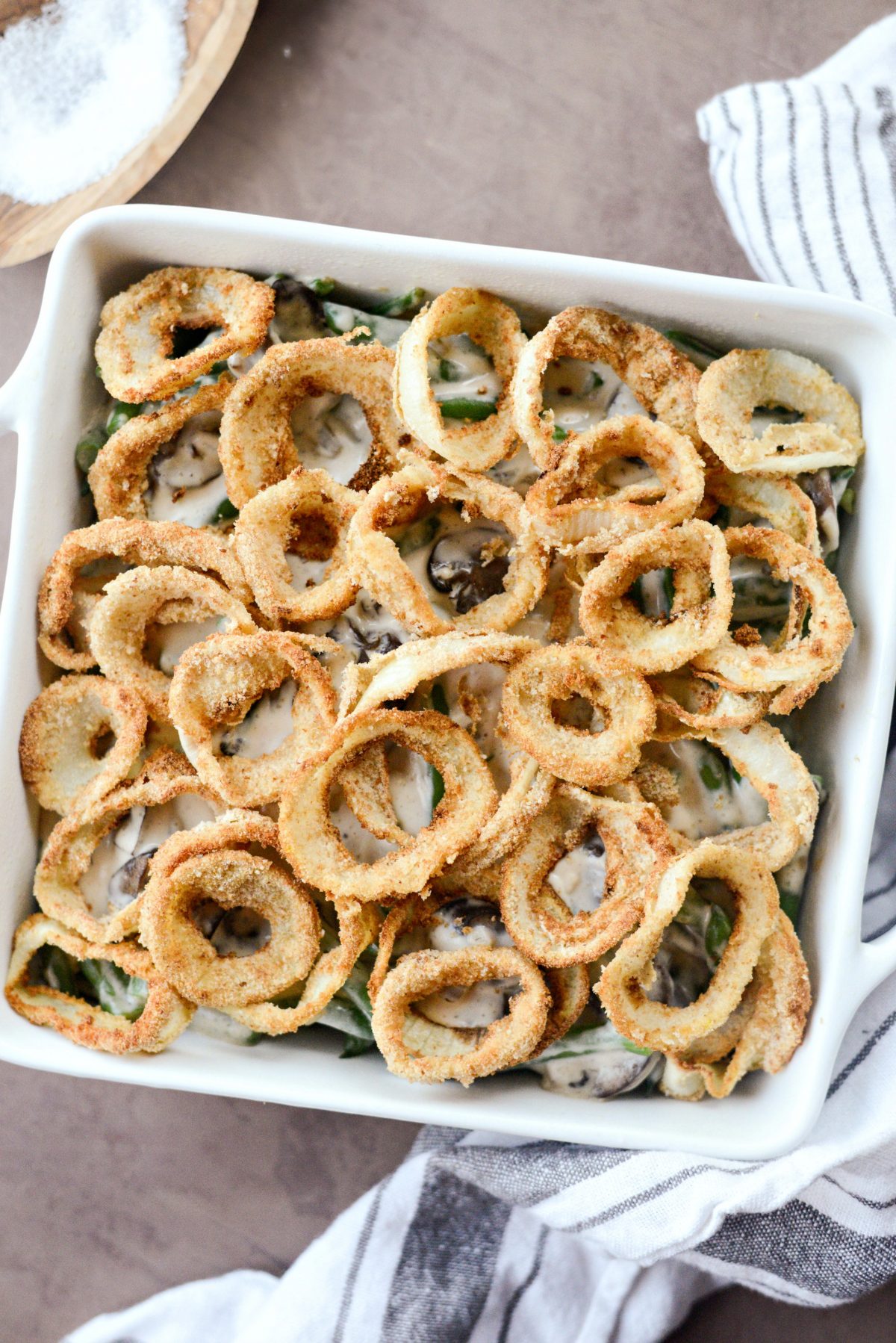 This casserole will smell heavenly!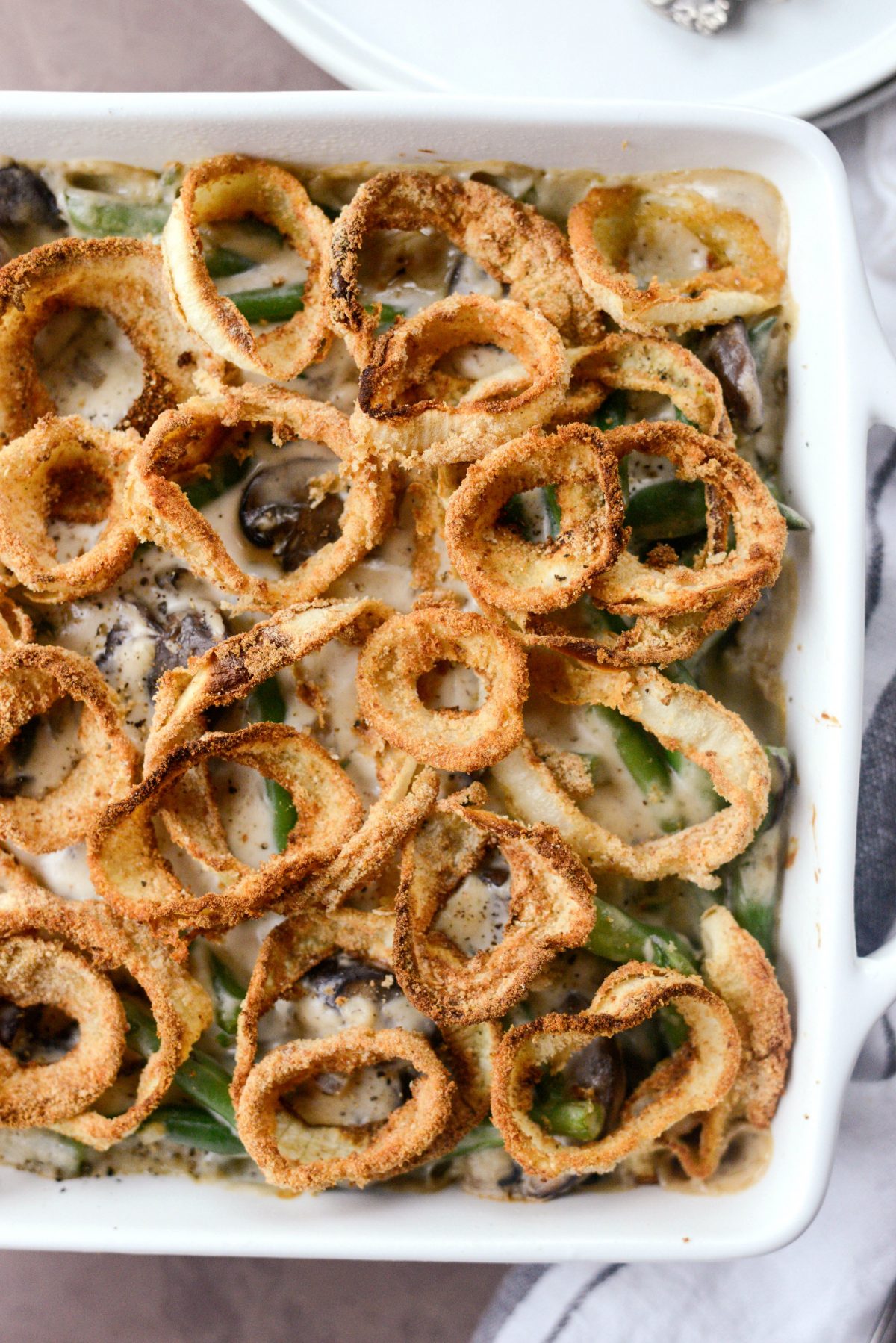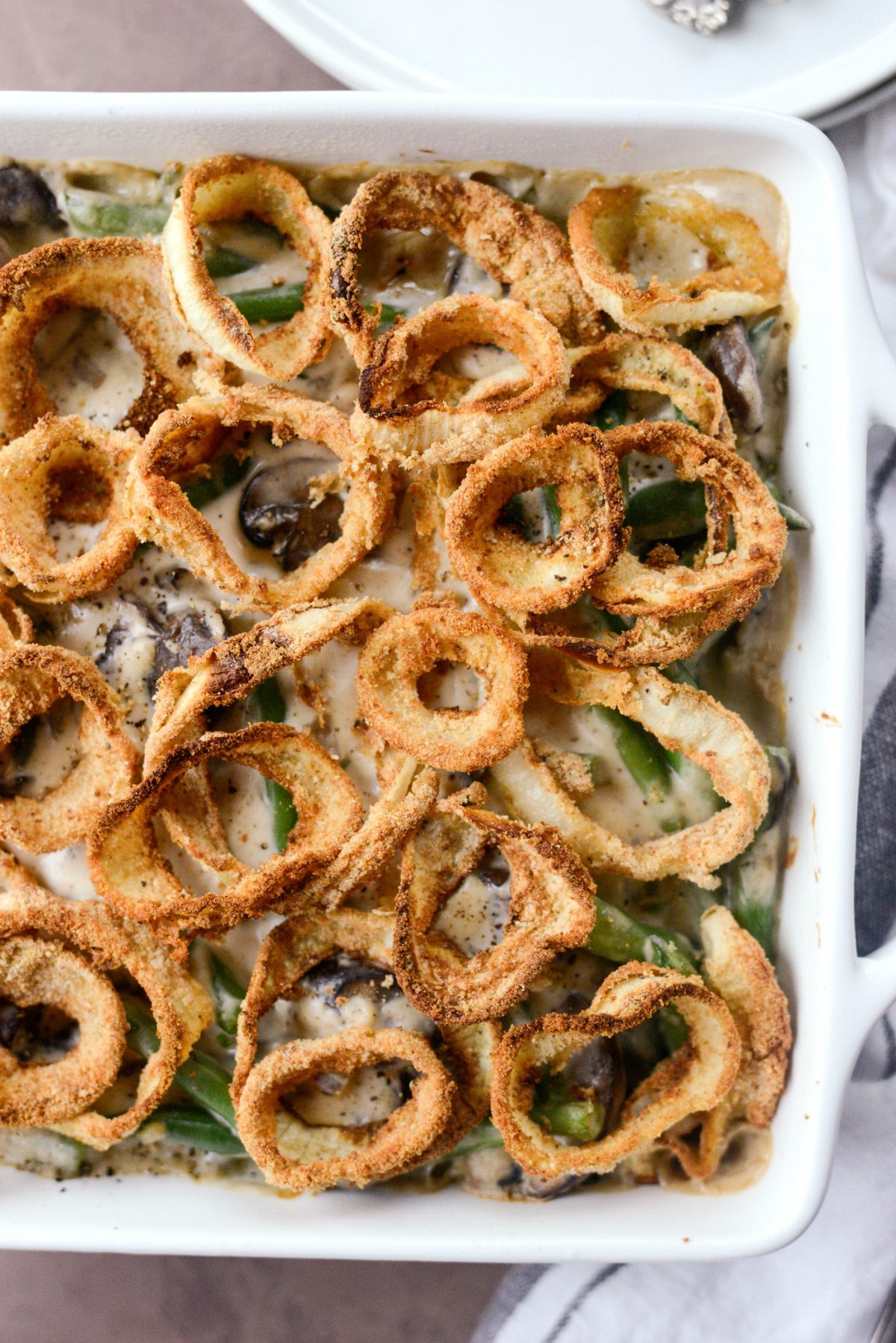 Remove the foil and scatter the lightly battered onion rings over top. Continue baking for an additional 20-25 minutes or until the casserole is bubbling and the onion rings are crispy and a deeper golden color.
I'm not kidding you when I say this is the best green bean casserole.
It's the perfect combination of creamy meets crispy and it's so delicious! But most importantly it's easy. Instructions for making it in advance included 🙂
Enjoy! And if you give this Fresh Green Bean Casserole recipe a try, let me know! Snap a photo and tag me on twitter or instagram!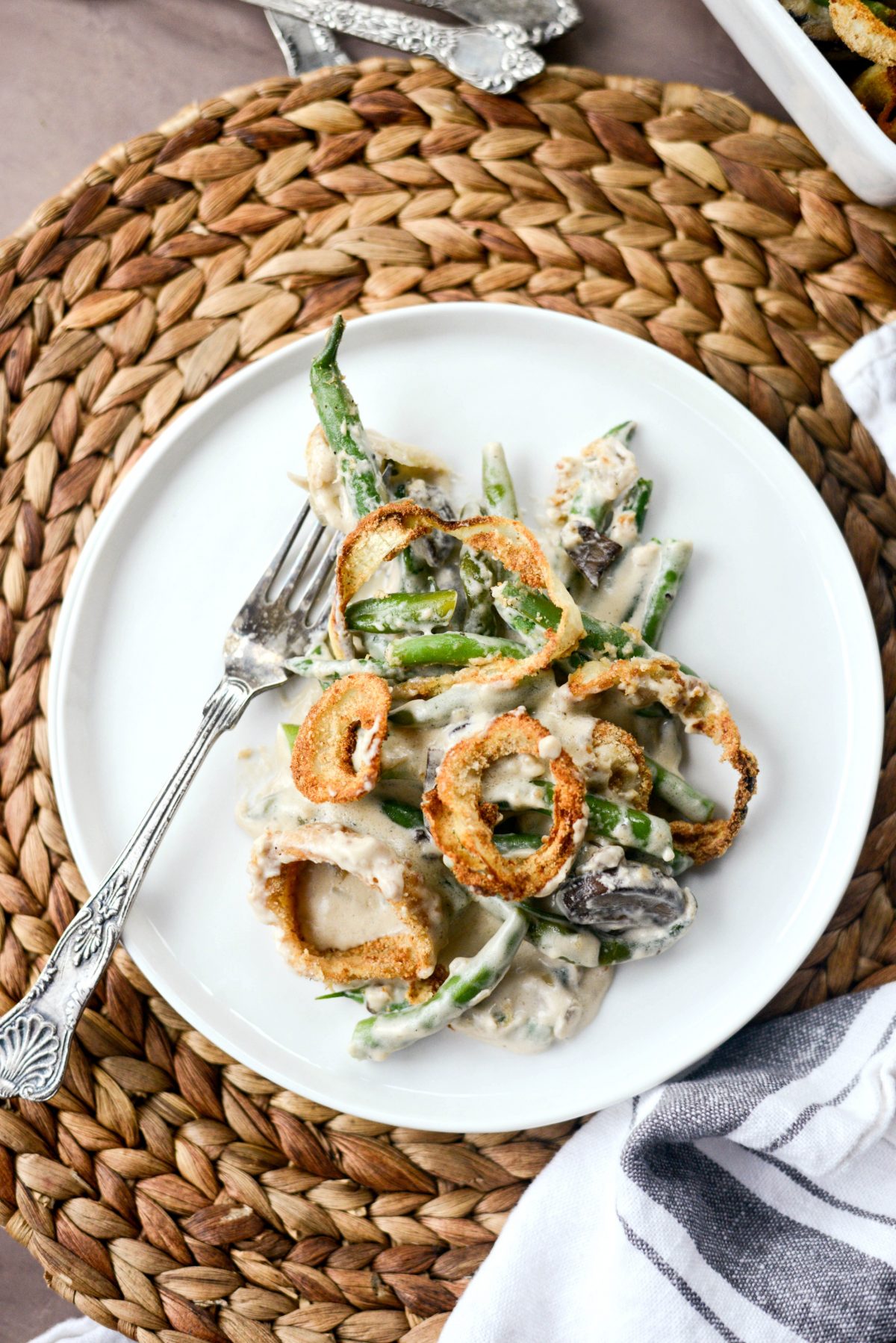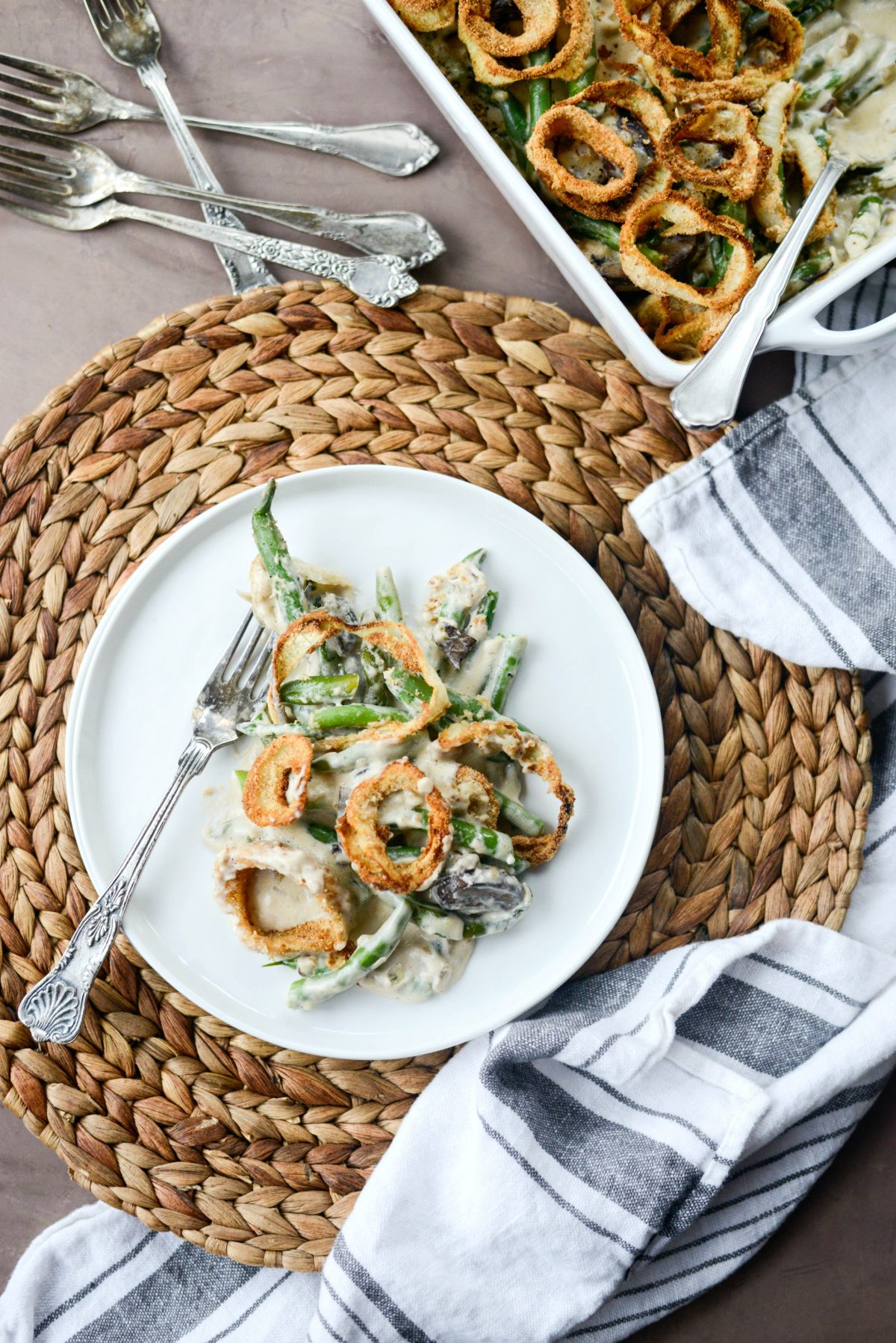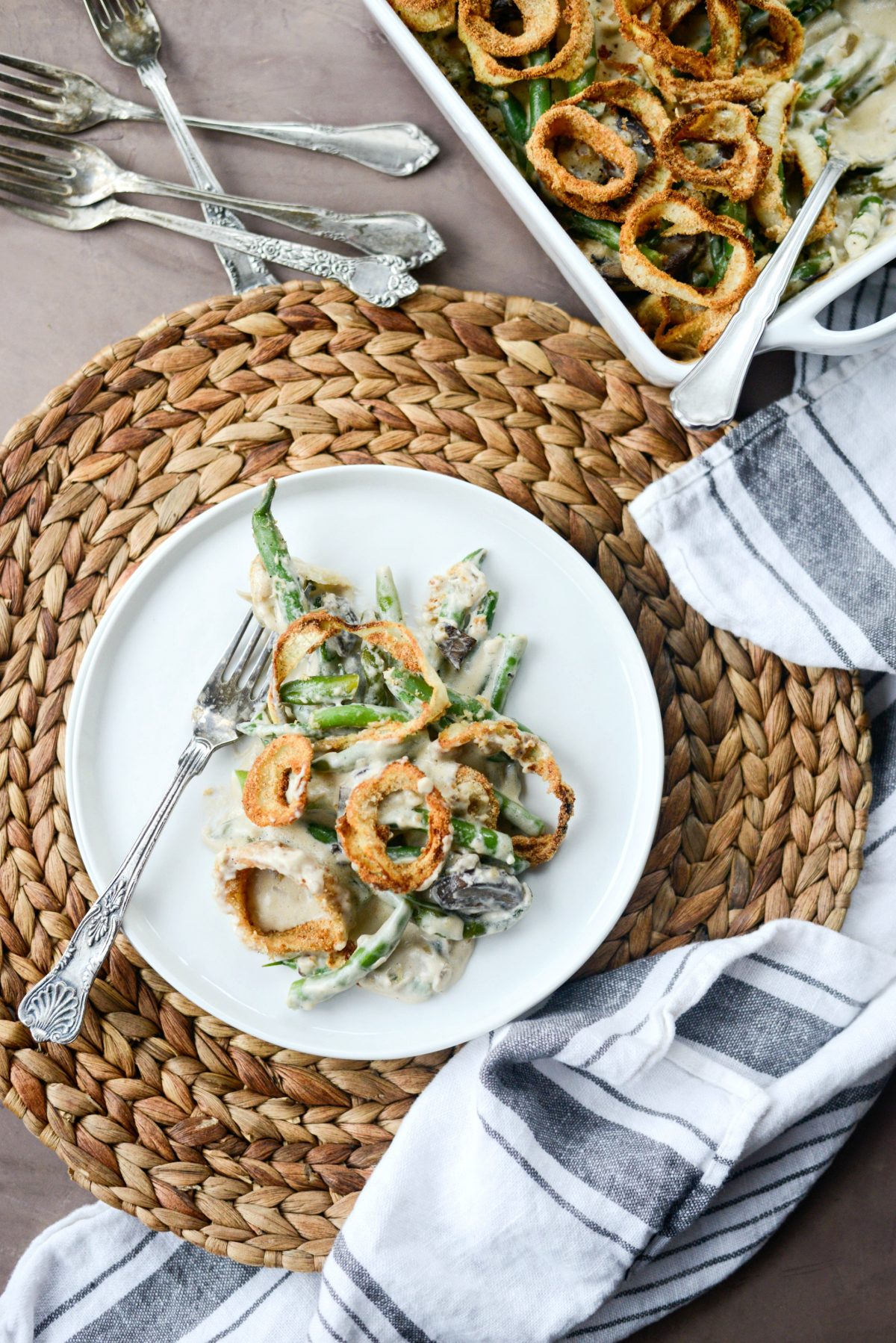 This post may contain affiliate links.
Buy the Cookbook: Simply Scratch : 120 Wholesome Homemade Recipes Made Easy Now available on Amazon »
THANK YOU in advance for your support!