In this Spicy Squash Queso recipe, I sautéed onions, peppers and garlic with spices and mixed in homemade roasted butternut squash puree, diced green chiles and lots of pepper jack cheese for a lusciously creamy and dreamy queso dip.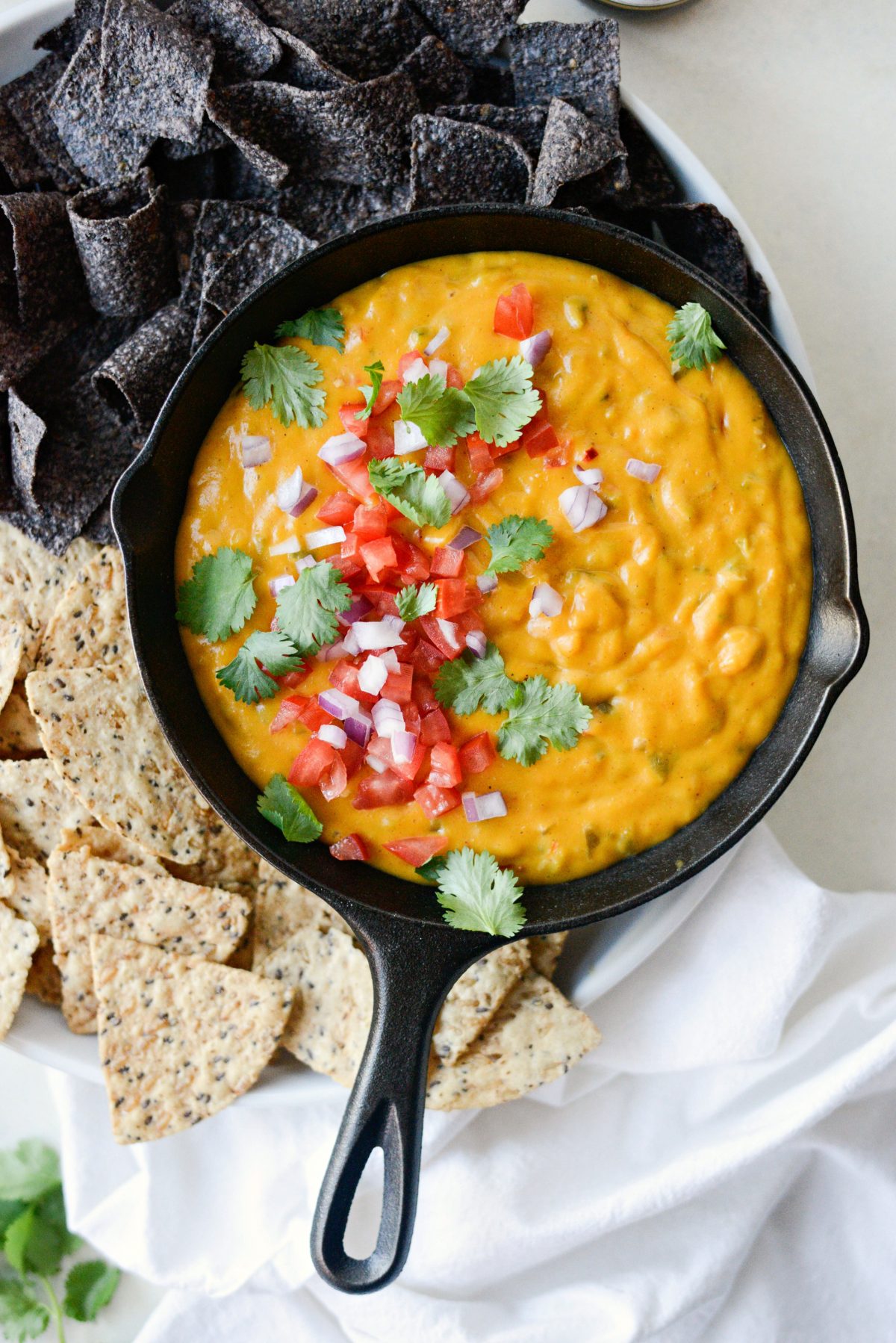 I know it sounds pretty crazy, but turning butternut squash puree into queso is pretty awesome and delicious. Annnnd it's also saving you some calories because you're omitting butter, flour, milk or cream. This is as healthy as queso can get. Guiltless queso? Sign me up.
I had some serious plans for this queso on Sunday, that was until my fridge went kaput and I spent the day running up and down flights of stairs with laundry baskets of condiments and meat and cheeses and oh so many condiments. I can sense my closest friends are laughing right now because they know the constant Jenga like situation that is my fridge.
Any-who, so instead of me blowing my family away with this amazingly not-squashy squash queso, I had to make it on Monday with not a soul to share it with. Not really the same, yet not terrible either. #morequesoforme
Here's what you'll need: 2 teaspoon olive oil, 1/3 cup diced yellow onion, 1/4 cup diced red bell pepper, 1/2 a jalapeño (seeded for less heat), 1 clove garlic, 1/2 teaspoon cumin, 1/4 teaspoon each of ground chipotle powder, regular chili powder and onion powder. And you'll also need 1-1/2 cups butternut squash puree, 1 (4 ounce) can diced green chiles, 8 ounces pepper jack cheese and low-sodium chicken broth.
Start by adding 2 teaspoons olive oil into a 10-inch skillet and add in 1/3 cup finely diced onion, 1/4 cup finely diced red bell pepper and 1/2 a (seeded and finely diced) jalapeño. Heat the skillet on medium heat and sauté until the vegetables are tender.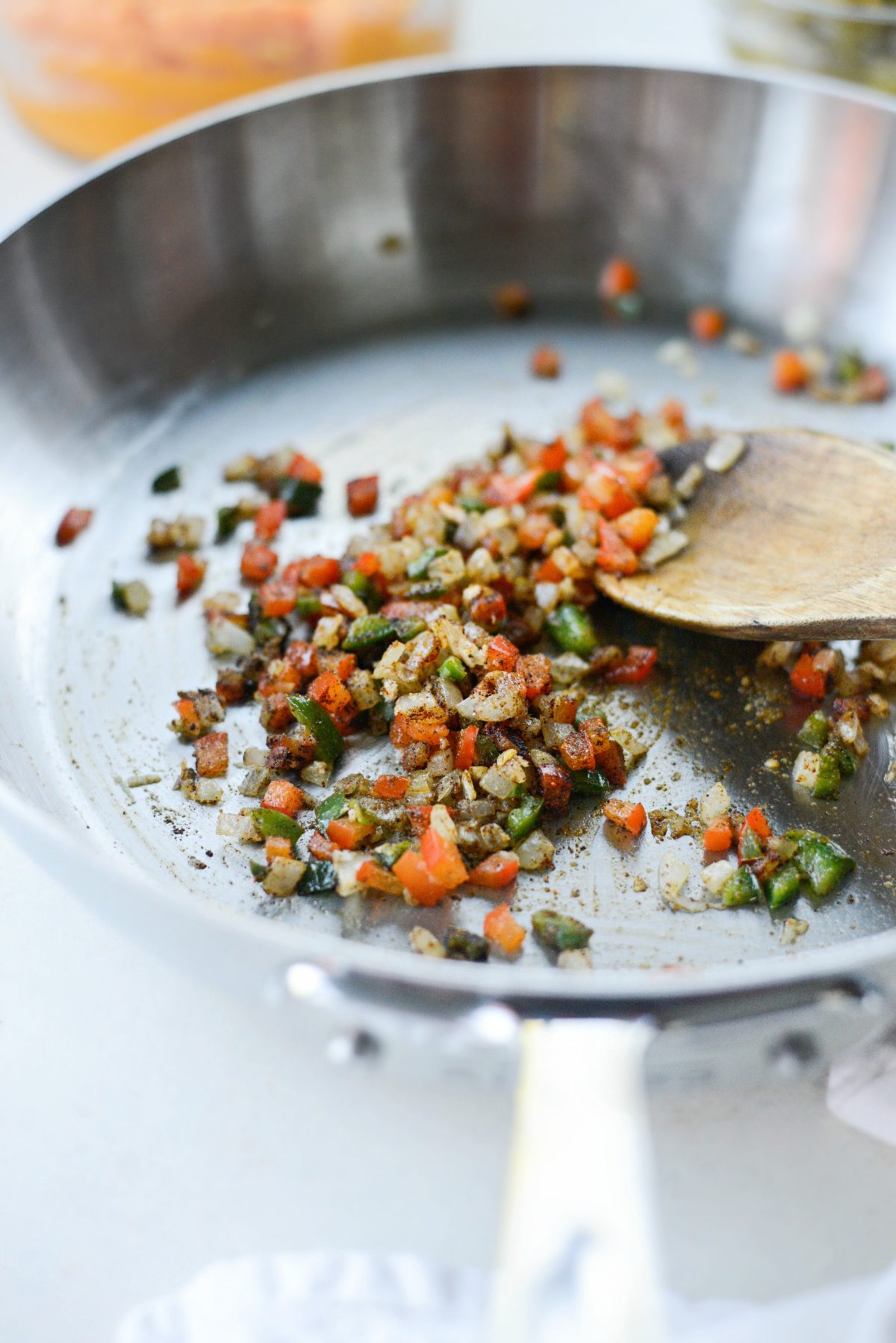 Next grate in a clove of fresh garlic and measure in 1/2 teaspoon ground cumin and 1/4 teaspoon each of ground chipotle powder, chili powder and onion powder. Stir and cook for about a minute.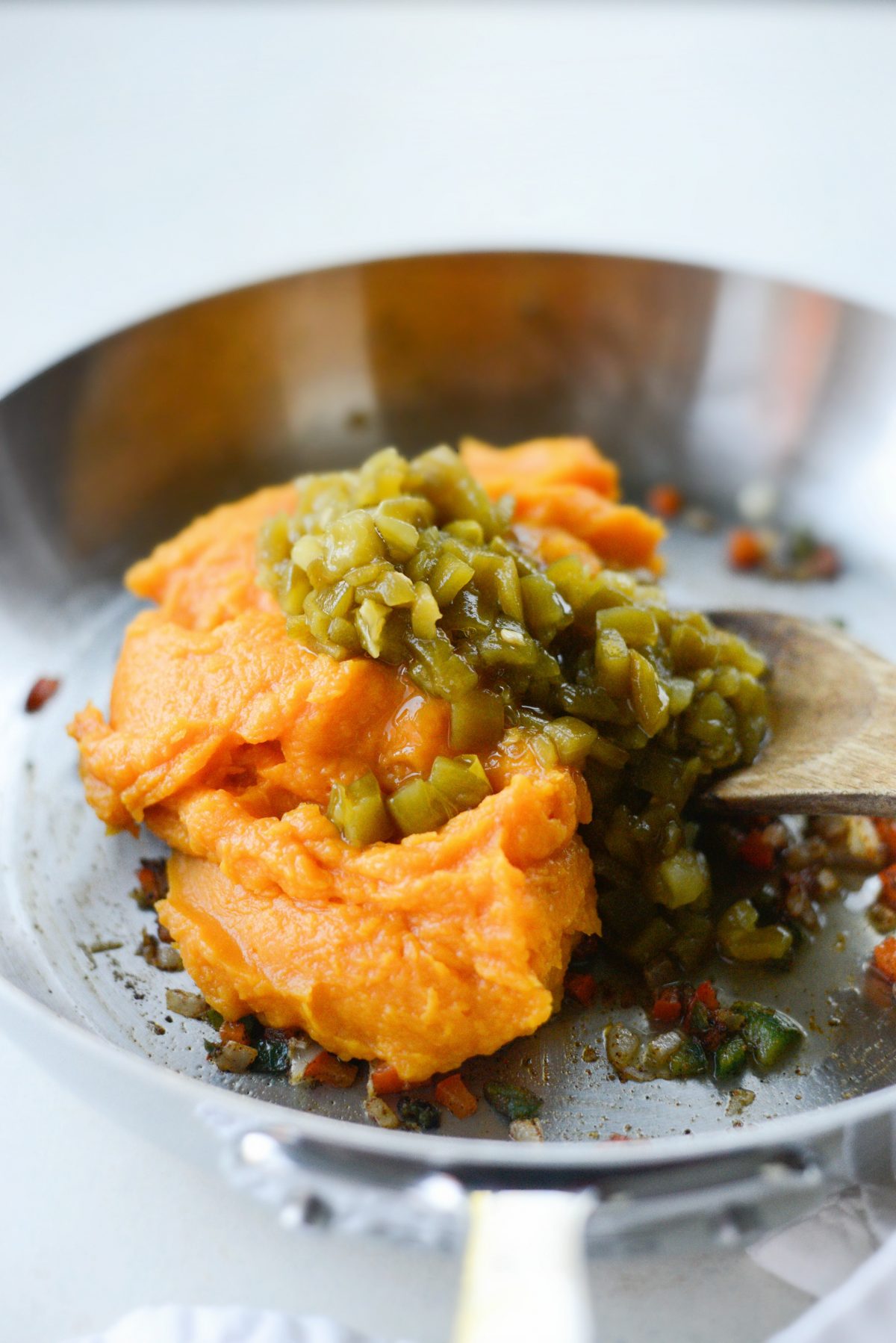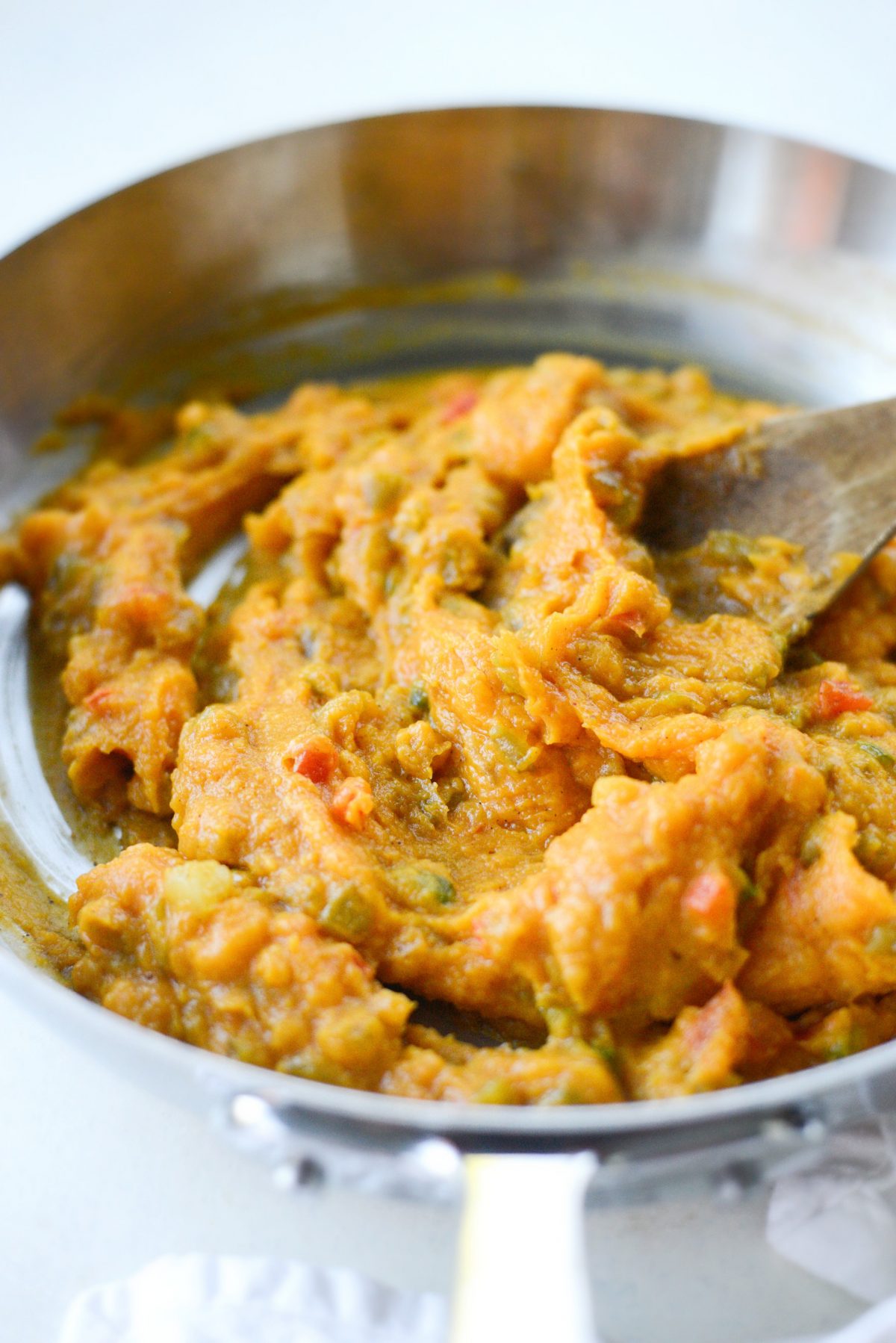 Then add in the 1-1/2 cups of butternut squash puree and the diced green chiles. Stir and heat through.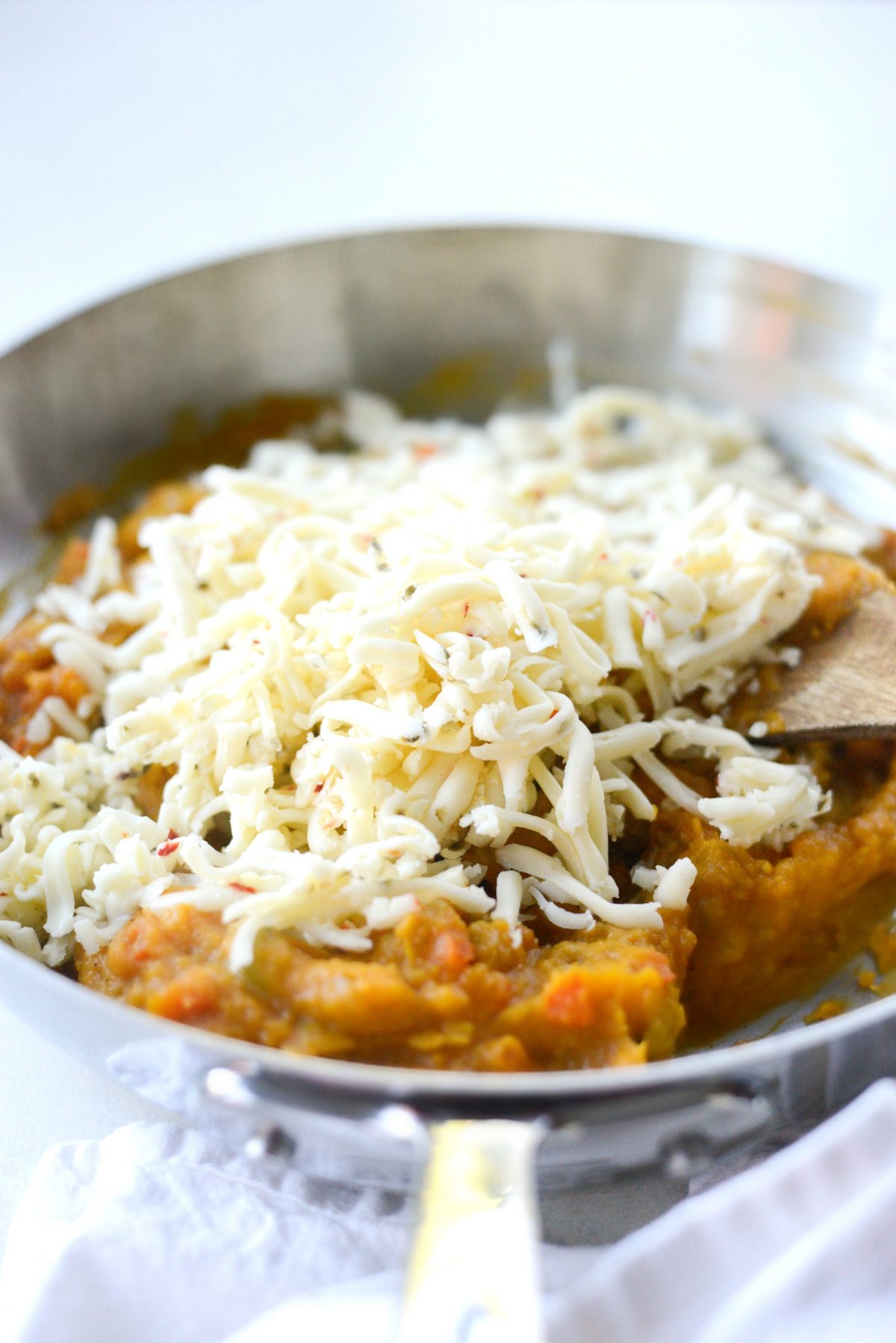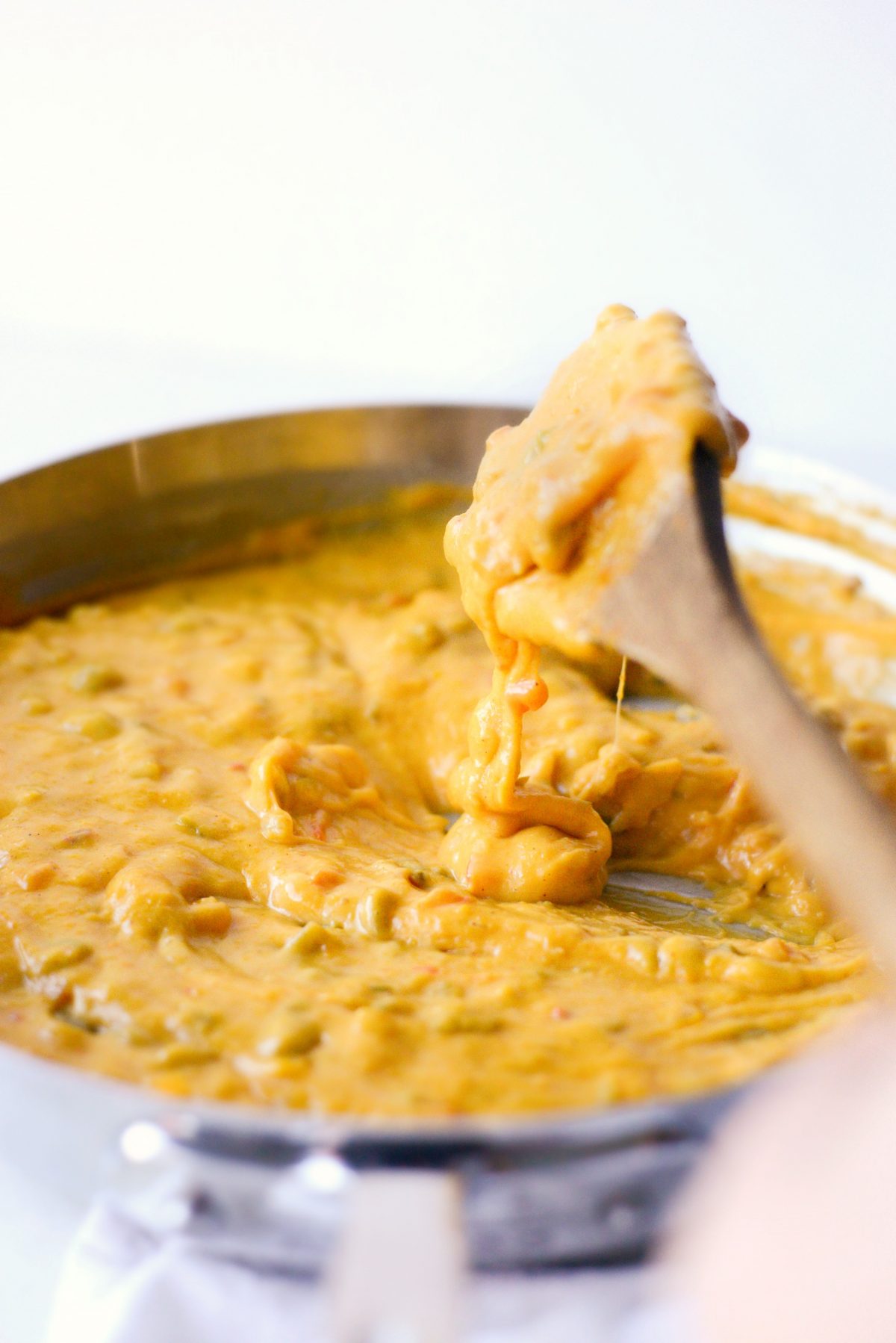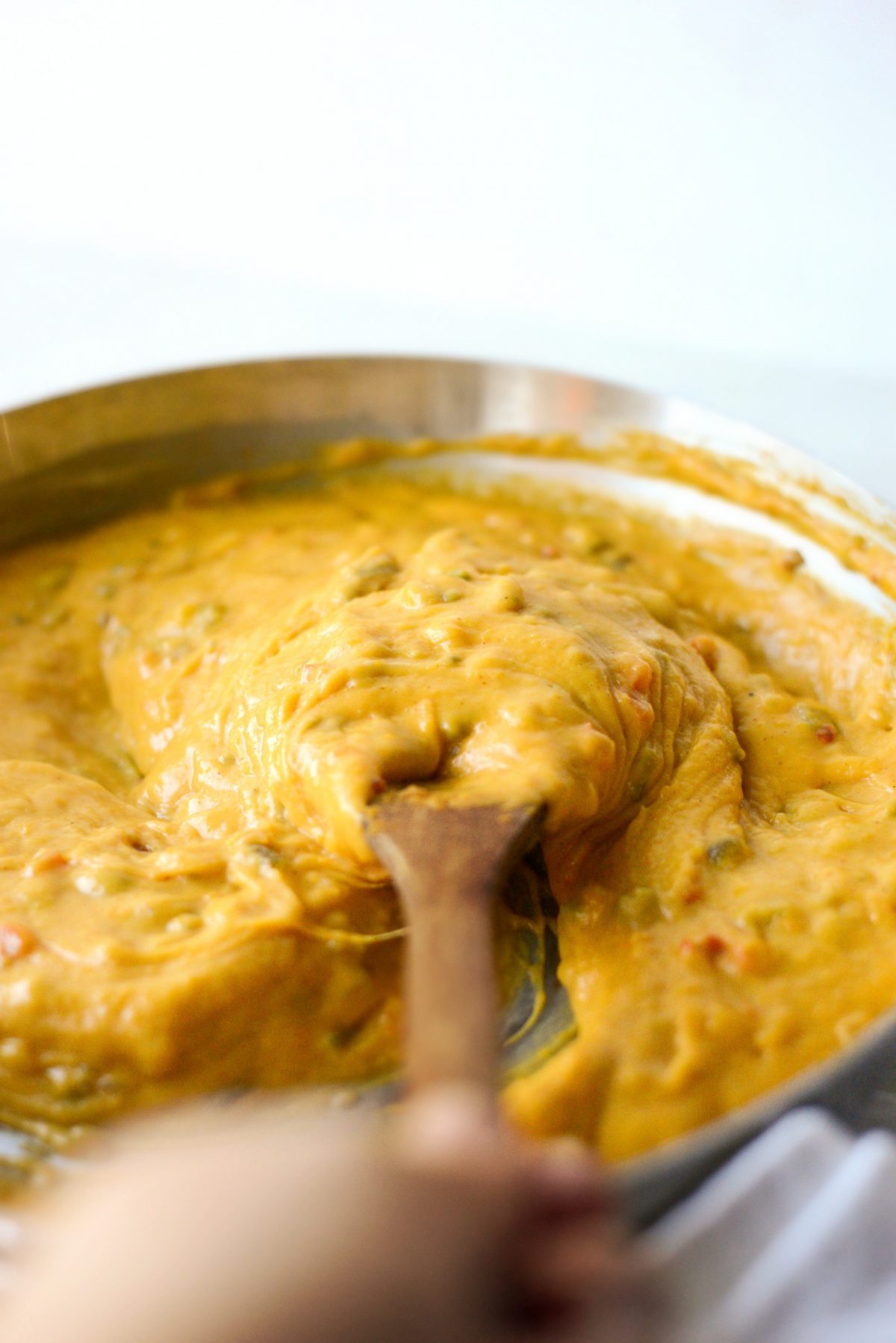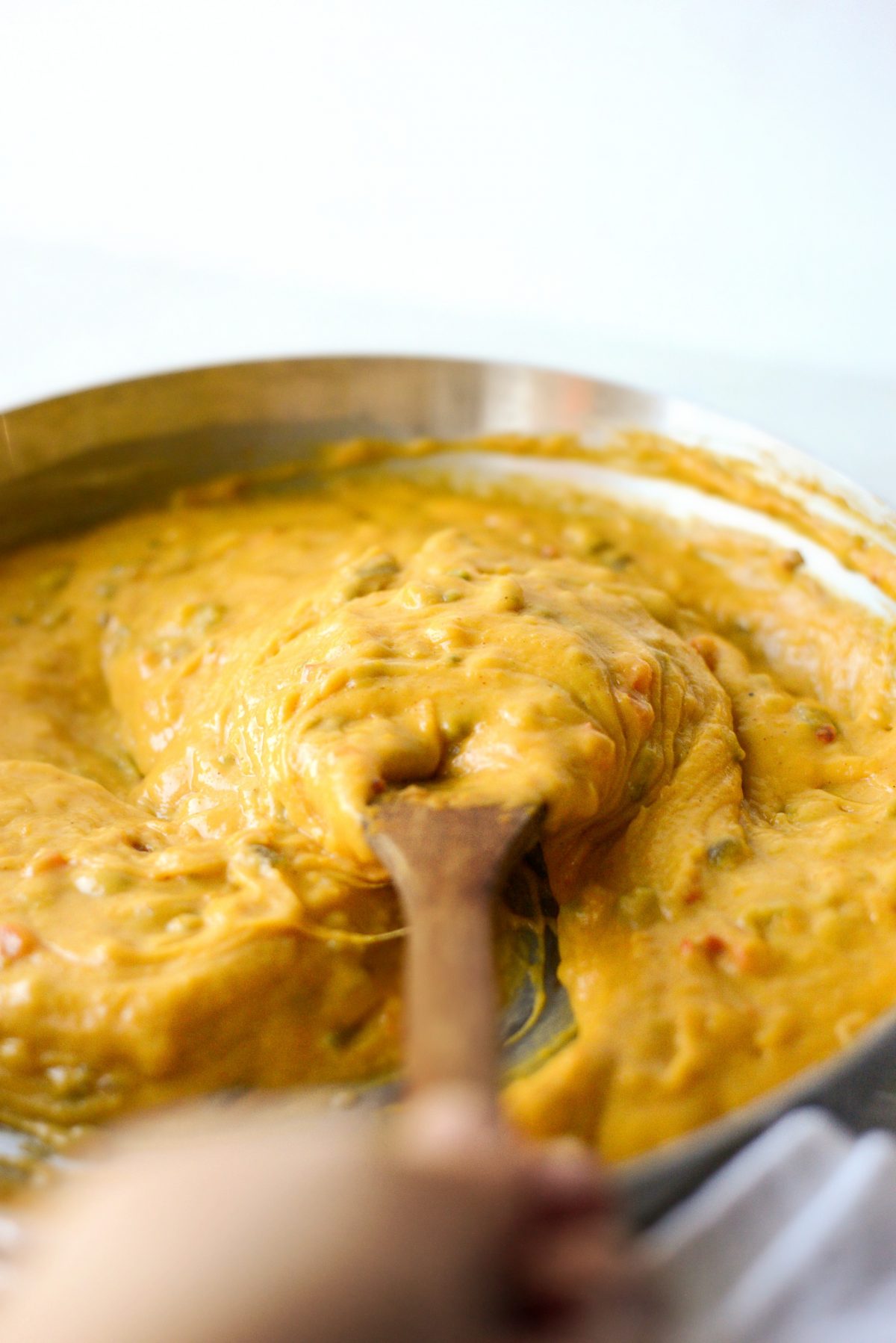 Next grate and add in 8 ounces of pepper jack cheese. Stir until the cheese is completely melted.
Lastly add in a few splashes of low-sodium chicken broth or vegetable broth until thinned to a desired consistency. Then season with kosher salt to taste. Keep in mind that chips tend to be salty, so be mindful and don't over salt.
Continue to cook on low heat until hot.
Immediately pour the spicy squash queso into your serving vessel. Ideally a small crock pot would be perfect as this is best piping hot.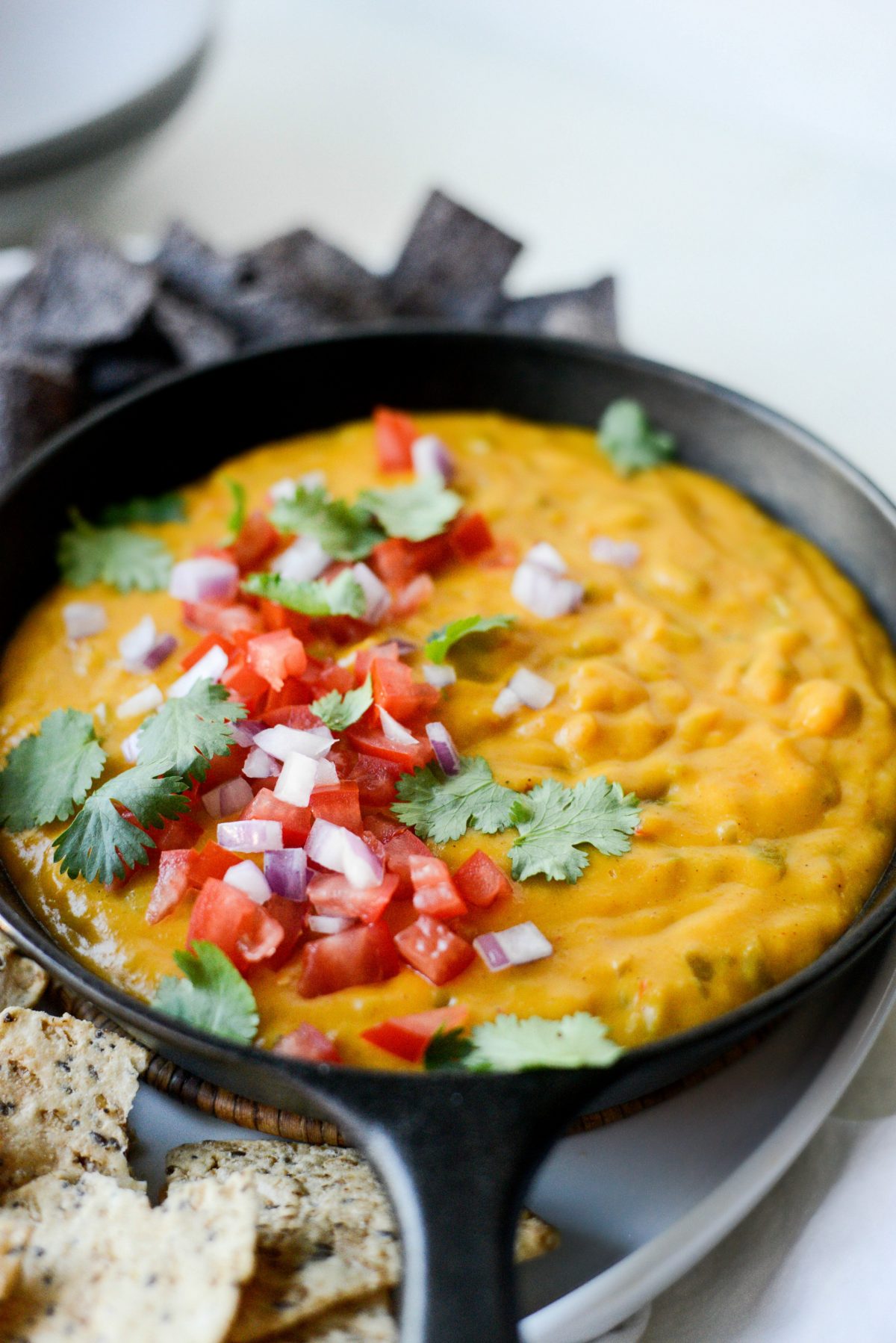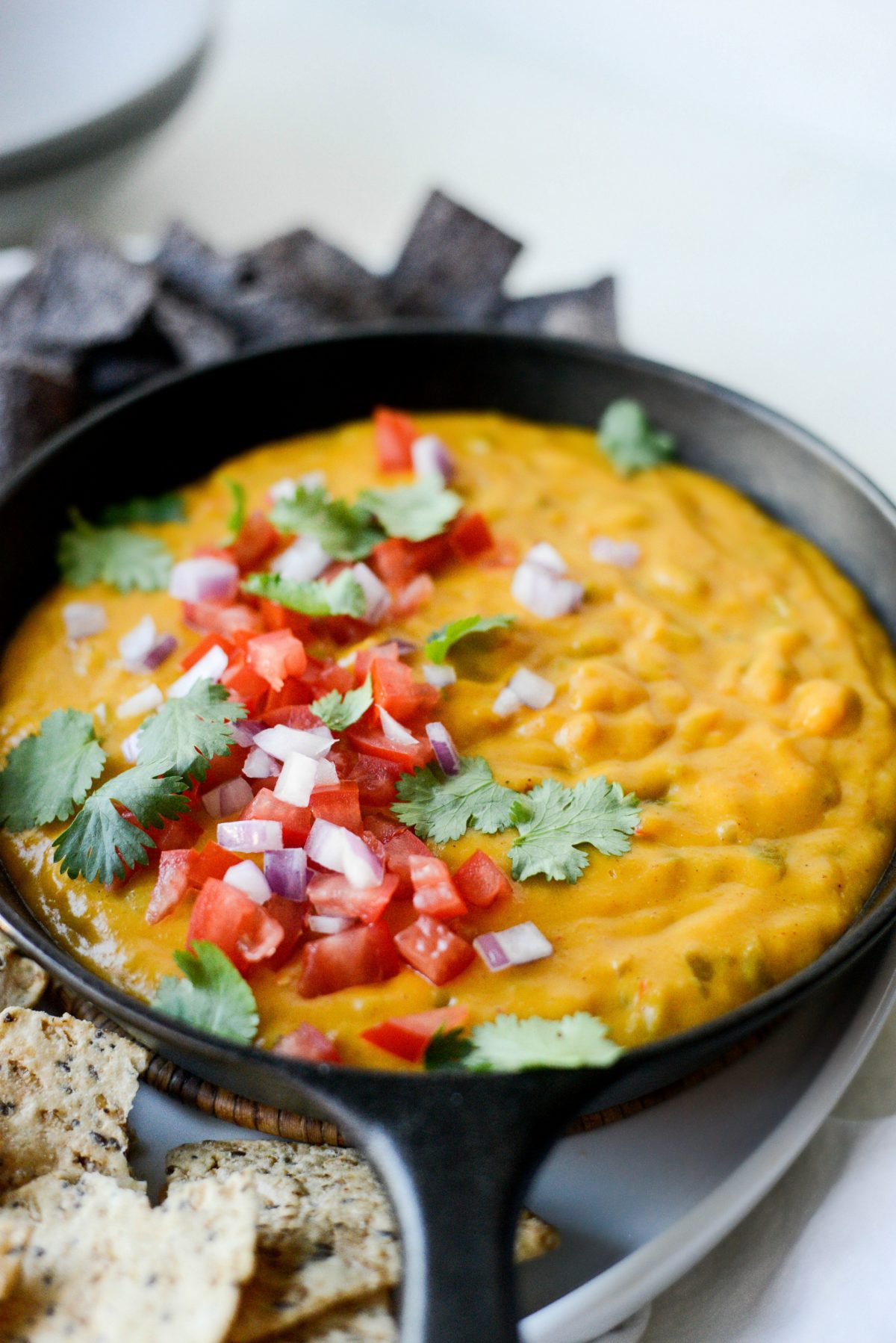 Top with whatever your heart desires or nothing at all. I personally love the contrast of cheesy warm queso with cool fresh tomatoes and minced raw onion.
As always, serve with tortilla chips or crisp veggies.
Enjoy! And if you give this Spicy Squash Queso recipe a try, let me know! Snap a photo and tag me on twitter or instagram!
My cookbook Simply Scratch : 120 Wholesome Homemade Recipes Made Easy is now available! CLICK HERE for details and THANK YOU in advance!
[this post contains affiliate links.]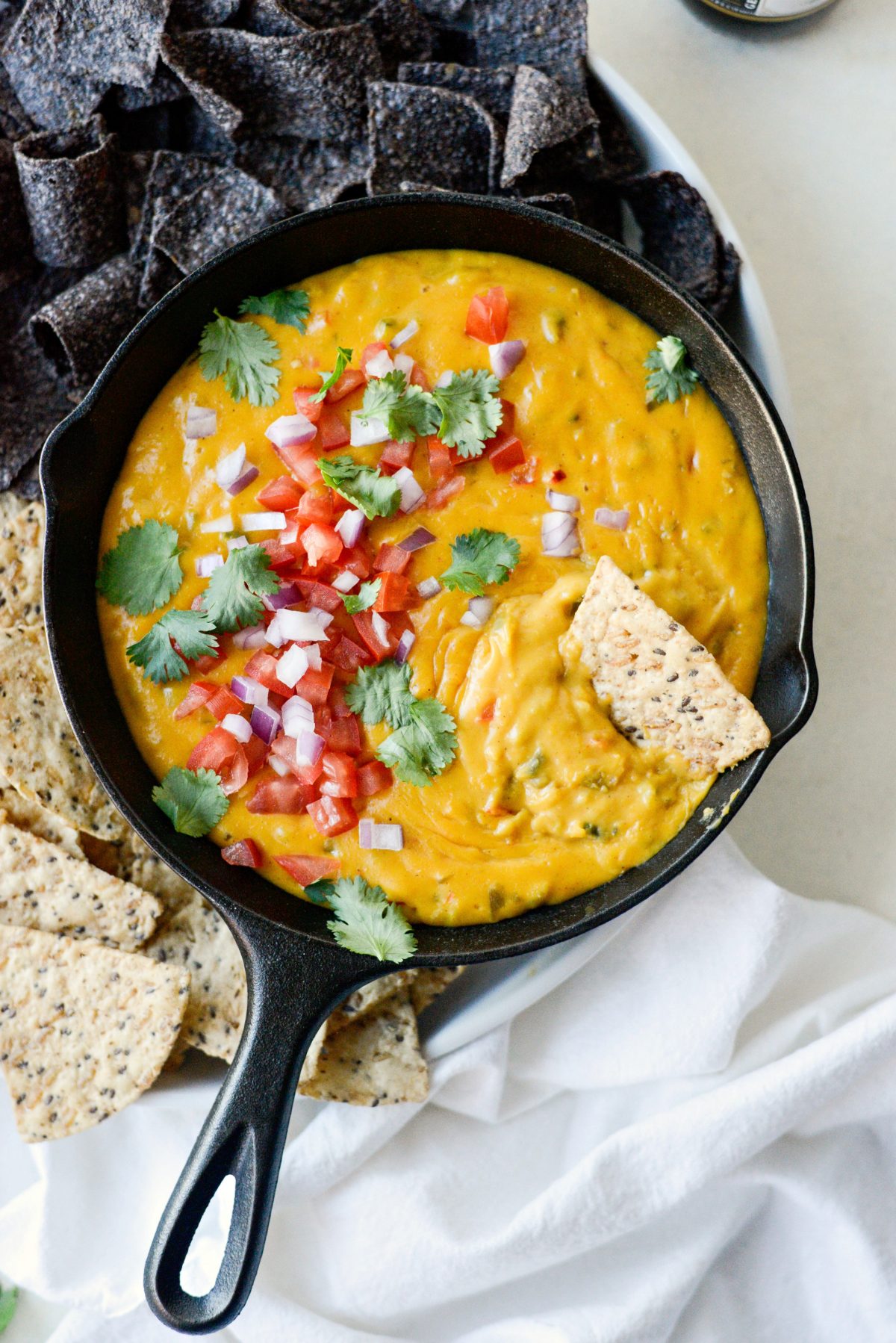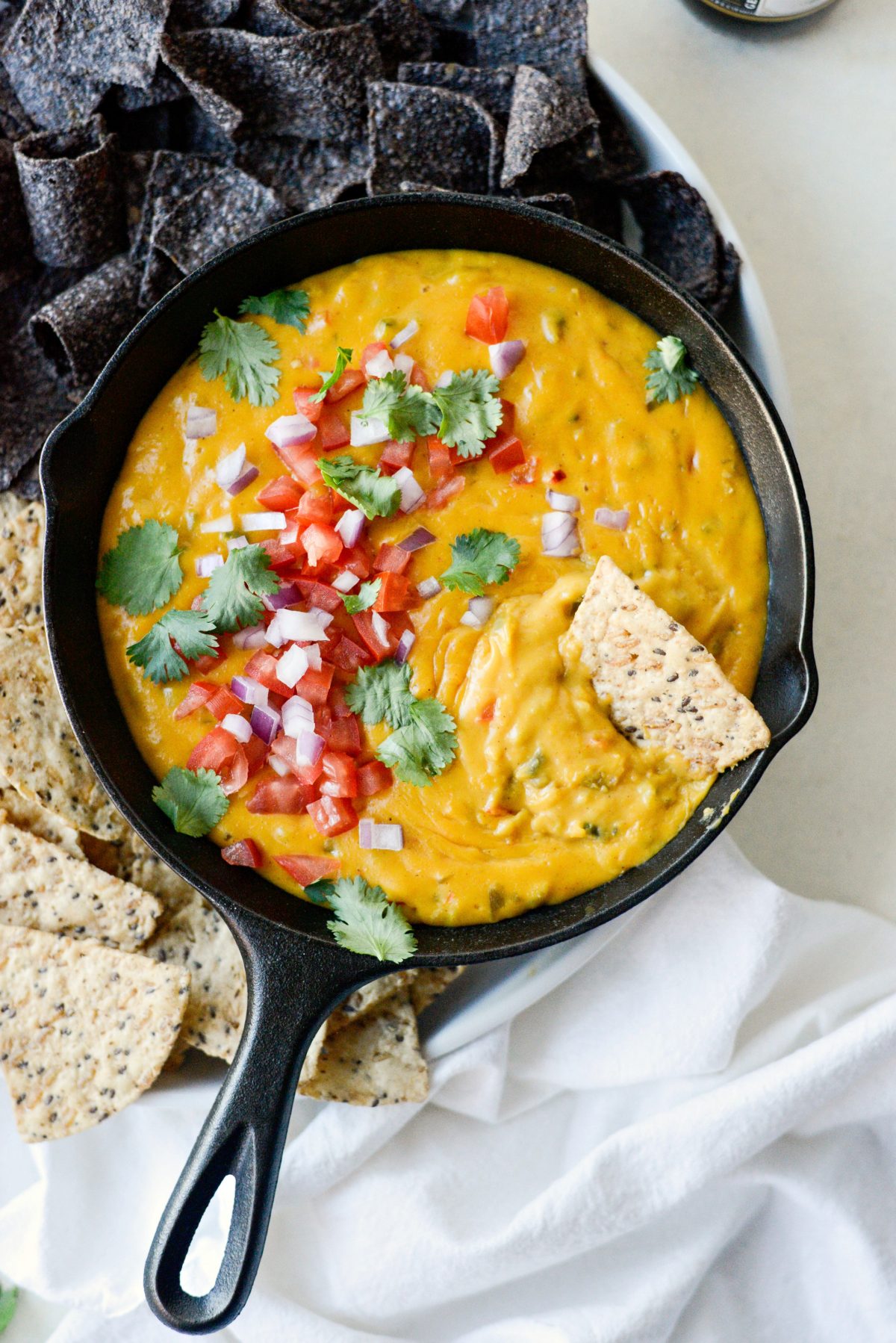 This post may contain affiliate links.
Buy the Cookbook: Simply Scratch : 120 Wholesome Homemade Recipes Made Easy Now available on Amazon »
THANK YOU in advance for your support!