In this homemade Roasted Red Pepper Tomato Soup, roasted tomatoes and red peppers are blended with sautéed onions, celery and garlic and smoky chipotle peppers. A luscious and flavorful fall soup that will fill you up and keep you warm. Serves 4 to 6 depending.
Love is… your in-laws planting roma tomato plants because you were too busy with life to plant a garden yourself.
It's true. This is the first year in a while that Pat and I haven't planted a garden. With both girls playing travel softball this past summer, Pat and I knew we wouldn't have any spare time to maintain a garden. And we didn't. I was so grateful and surprised when my wonderful in-laws told me they planted a few Roma tomato plants. FOR ME!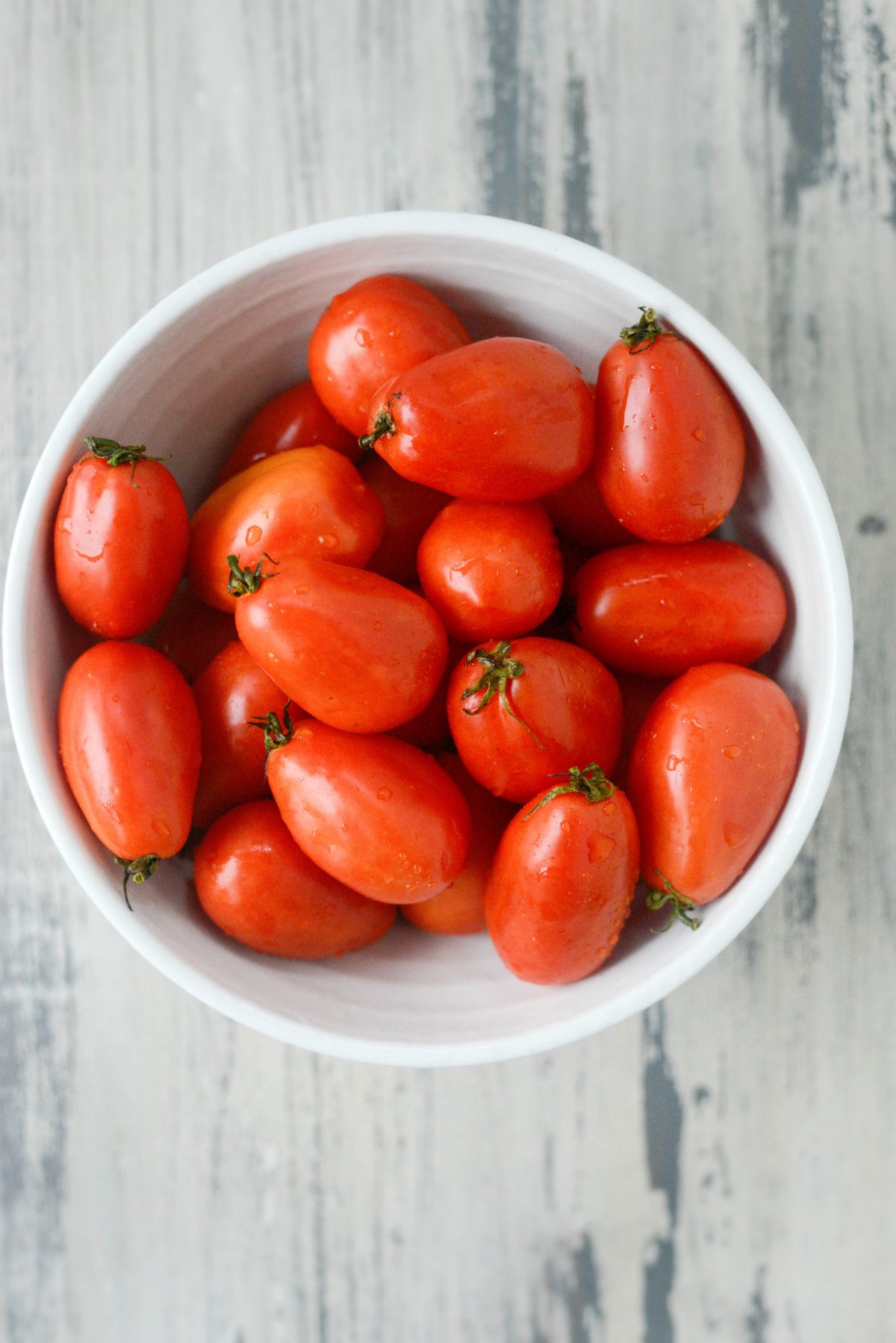 For those of you who don't know, Romas are my favorite tomatoes. They're great in salads and on sandwiches, but they also are delicious roasted. Especially roasted. And most definitely in soups. The romas I received were a lot smaller than the ones I've grown in the past. I did a quick Google search and I'm pretty certain they're mini romas. Who knew? But look how cute they are! I suppose the reason why I'm telling you this is because if you're at the grocery store, 2-1/2 pound of regular roma tomates may look a lot less than what's in this bowl.
In Michigan, this is the time of year tomatoes are in abundance.
And if you're wondering how to use the last of your tomatoes, I have the perfect recipe for you! Sometimes I use canned tomatoes in recipes, but if I have the opportunity to use fresh (bonus if they're home grown!) I will not let them go to waste.
I've had this recipe for roasted red pepper tomato soup written down since the end of last fall. Calling for roasted tomatoes and red peppers along with chipotle chiles and thyme. It didn't disappoint.
It's a comforting, creamy bowl of soup and I swear I could taste the sweetness of the roasted red peppers, the tomato and the smokiness of the chipotles. Delicious!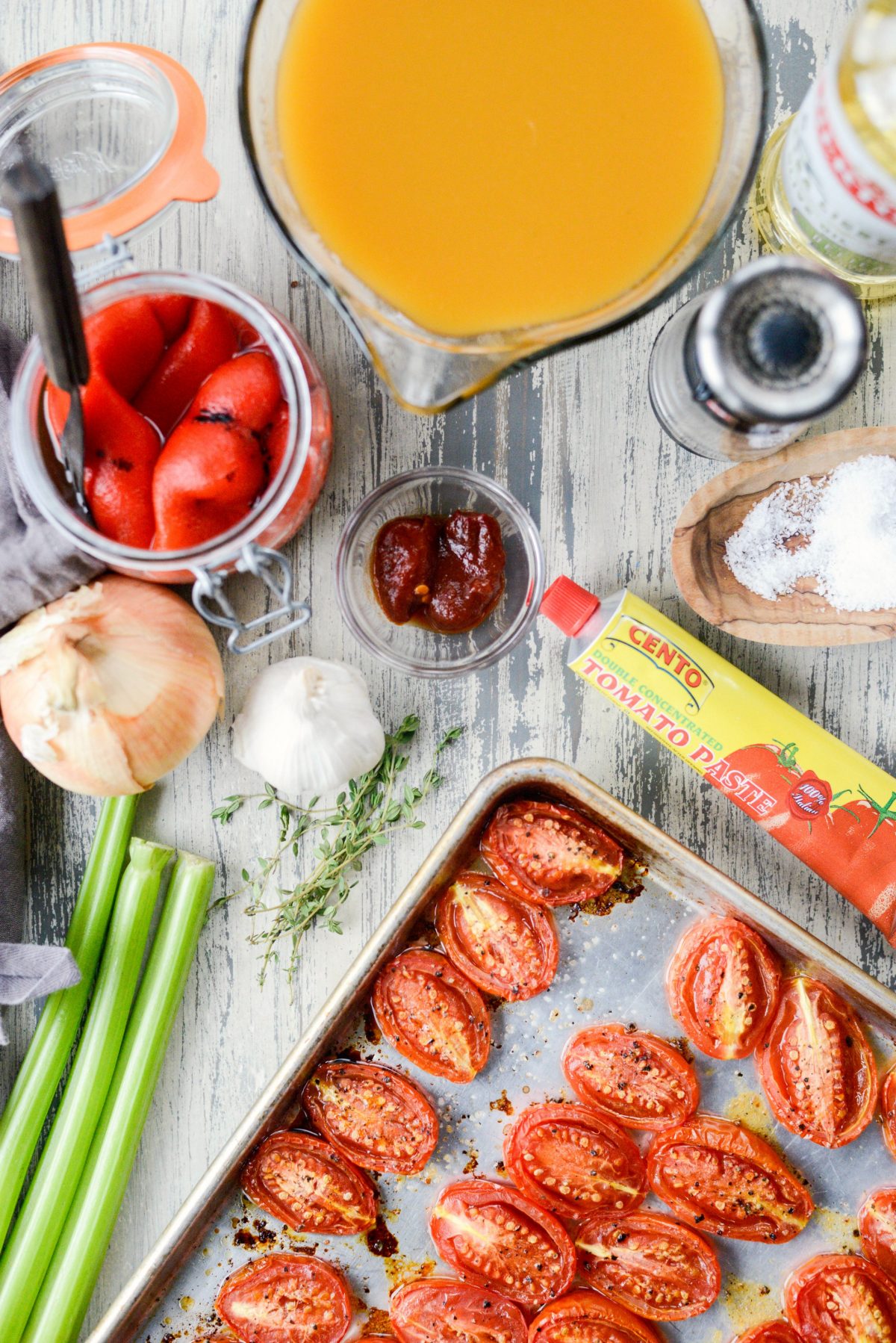 To Make This Roasted Red Pepper Tomato Soup You Will Need:
roma tomatoes
olive oil
kosher salt
freshly ground black pepper
chipotle peppers in adobo
yellow onion
celery (a little over 1 cup, sliced)
garlic
thyme leaves
tomato paste
low-sodium vegetable broth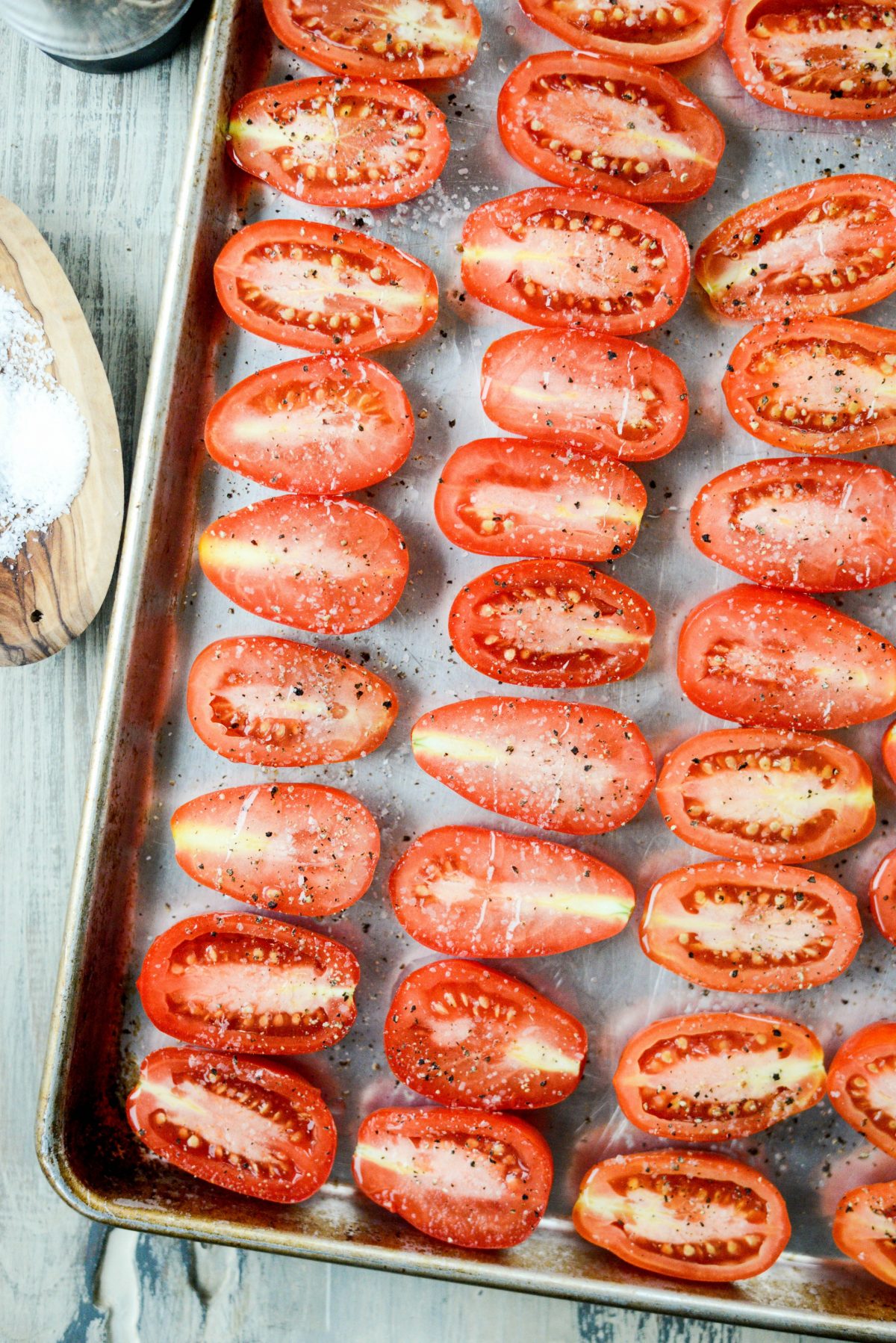 < img class="alignnone size-large wp-image-53559″ src="http://www.simplyscratch.com/wp-content/uploads/2018/09/Roasted-Red-Pepper-Tomato-Soup-l-SimplyScratch.com-4-1200×1798.jpg" alt="Roasted Red Pepper Tomato Soup l SimplyScratch.com" width="1200″ height="1798″>
To start, preheat your oven to 375°. Cut 2-1/2 pounds of roma tomatoes in half and place them cut side facing up onto a metal rimmed baking sheet. Drizzle with olive oil and season with kosher salt and freshly ground black pepper.
Slide the pan of tomatoes onto the middle rack of your preheated oven and roast for 40 to 50 minutes. Allow to cool slightly before adding the roasted tomatoes and any liquids that have accumulated on the sheet pan into you high-speed blender.
Then add in 2 whole roasted red bell pepper and 2 small chipotle peppers.
Set this off to the side for a moment.
Next, while the tomatoes roast, heat 2 teaspoons of light olive oil in a 5 quart dutch oven over medium-low heat. Then add in 1 diced onion, 3 sliced celery and a pinch of kosher salt. Stir, cover and sauté until the vegetables are tender and the edges of the onions are just the slightest bit caramelized.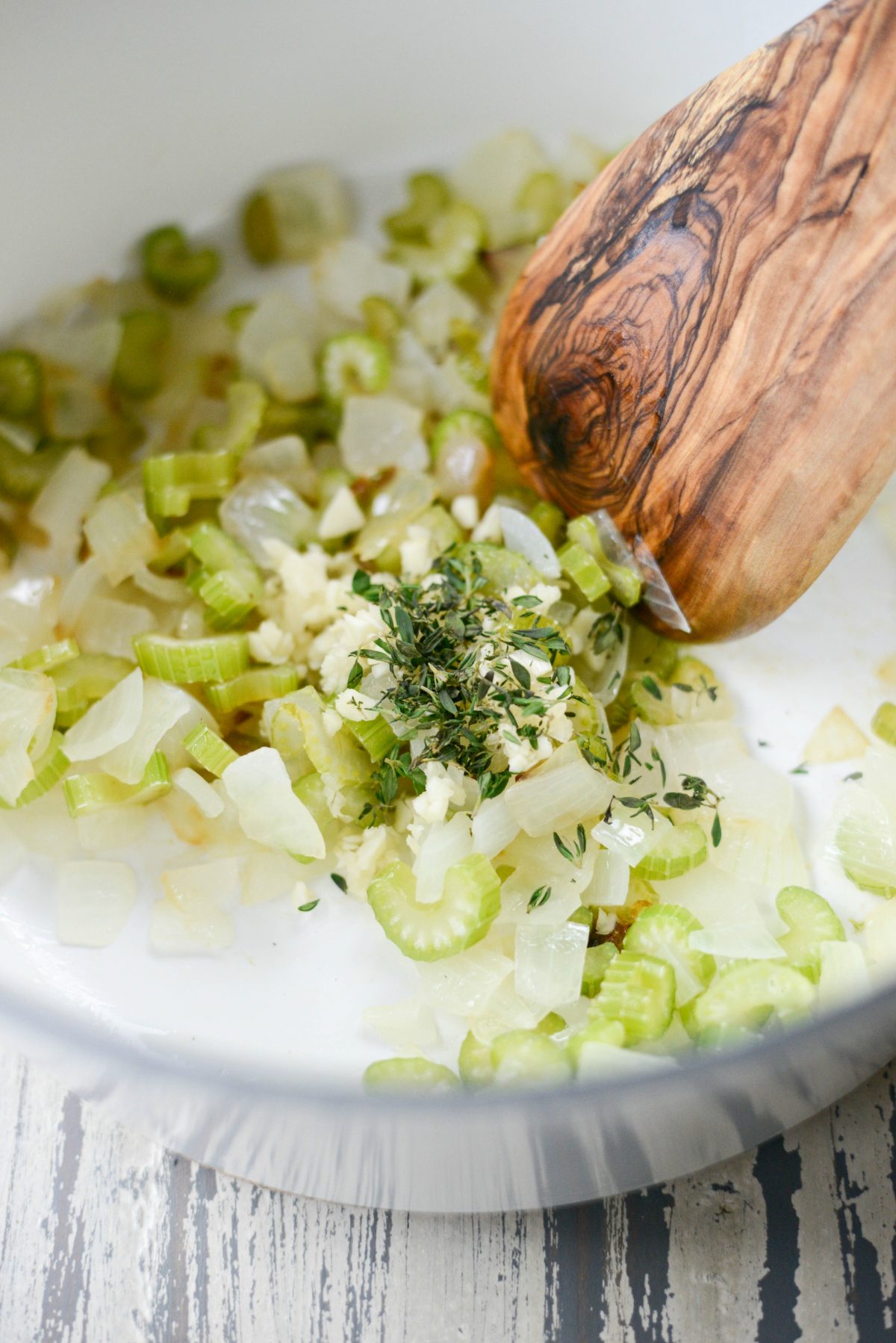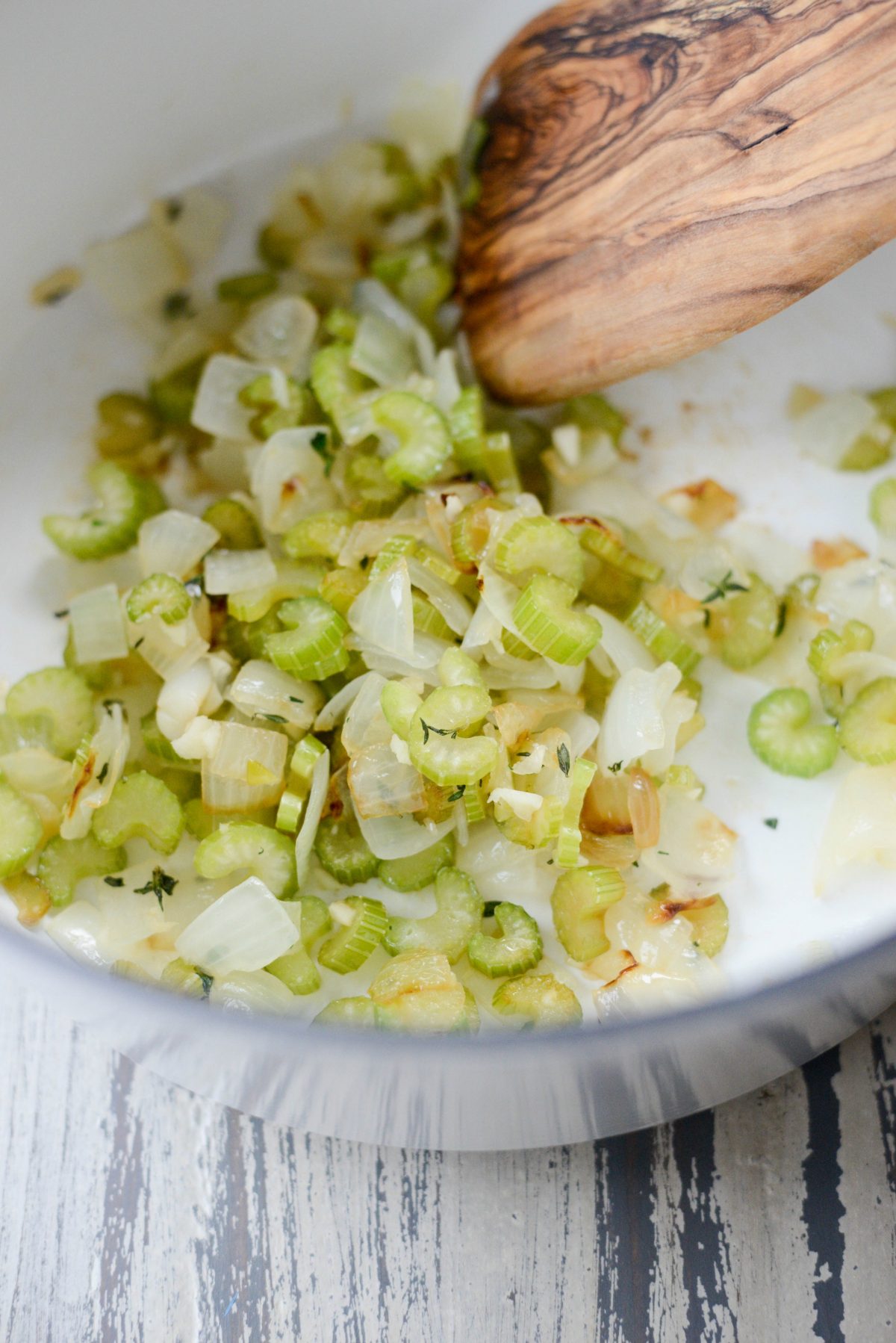 Next add in 2 cloves of minced garlic and 1 teaspoon chopped fresh thyme leaves. Stir and cook for 1 minutes.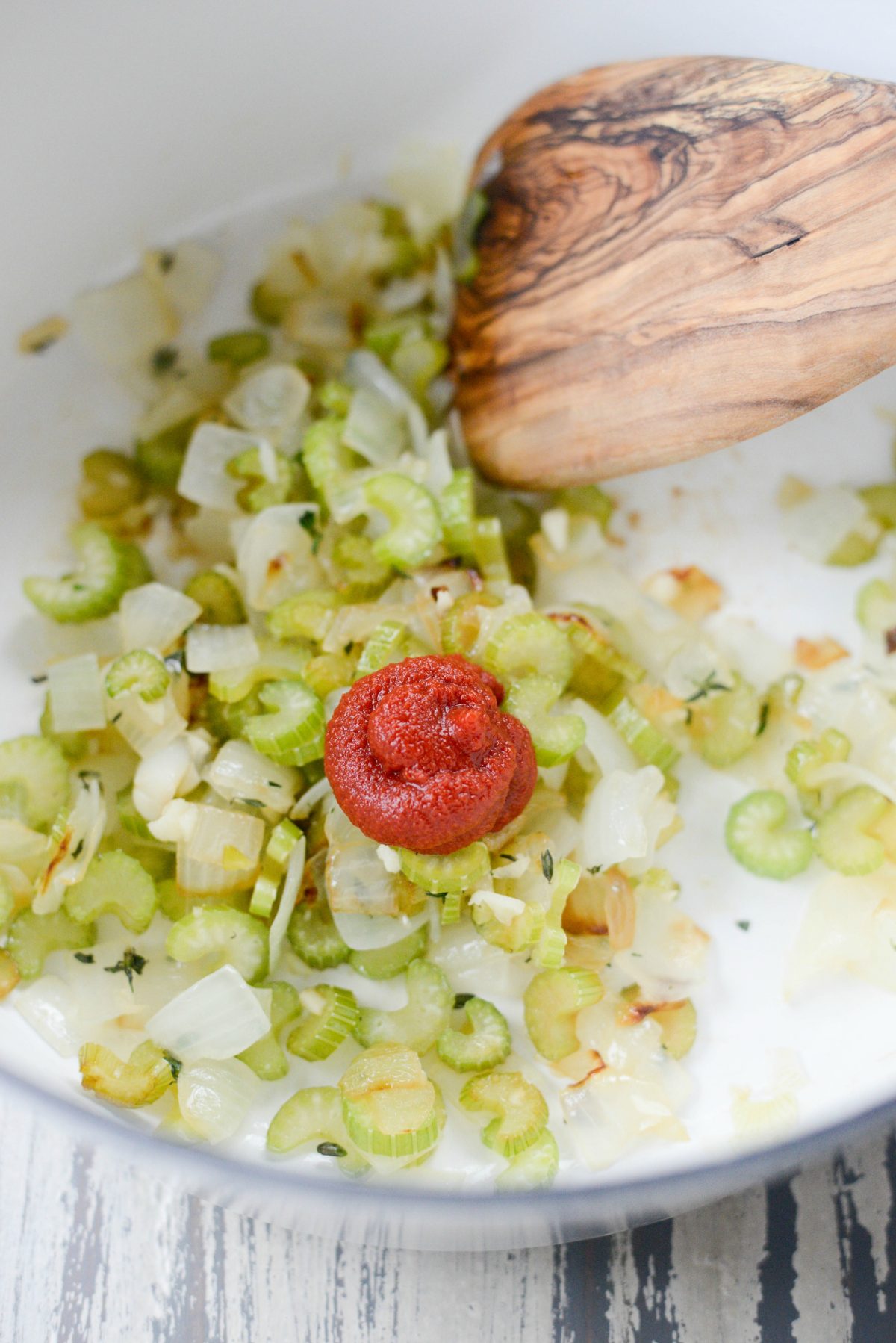 Then add in 1 tablespoon of tomato paste, stir and cook for 2 minutes or until it starts to caramelize.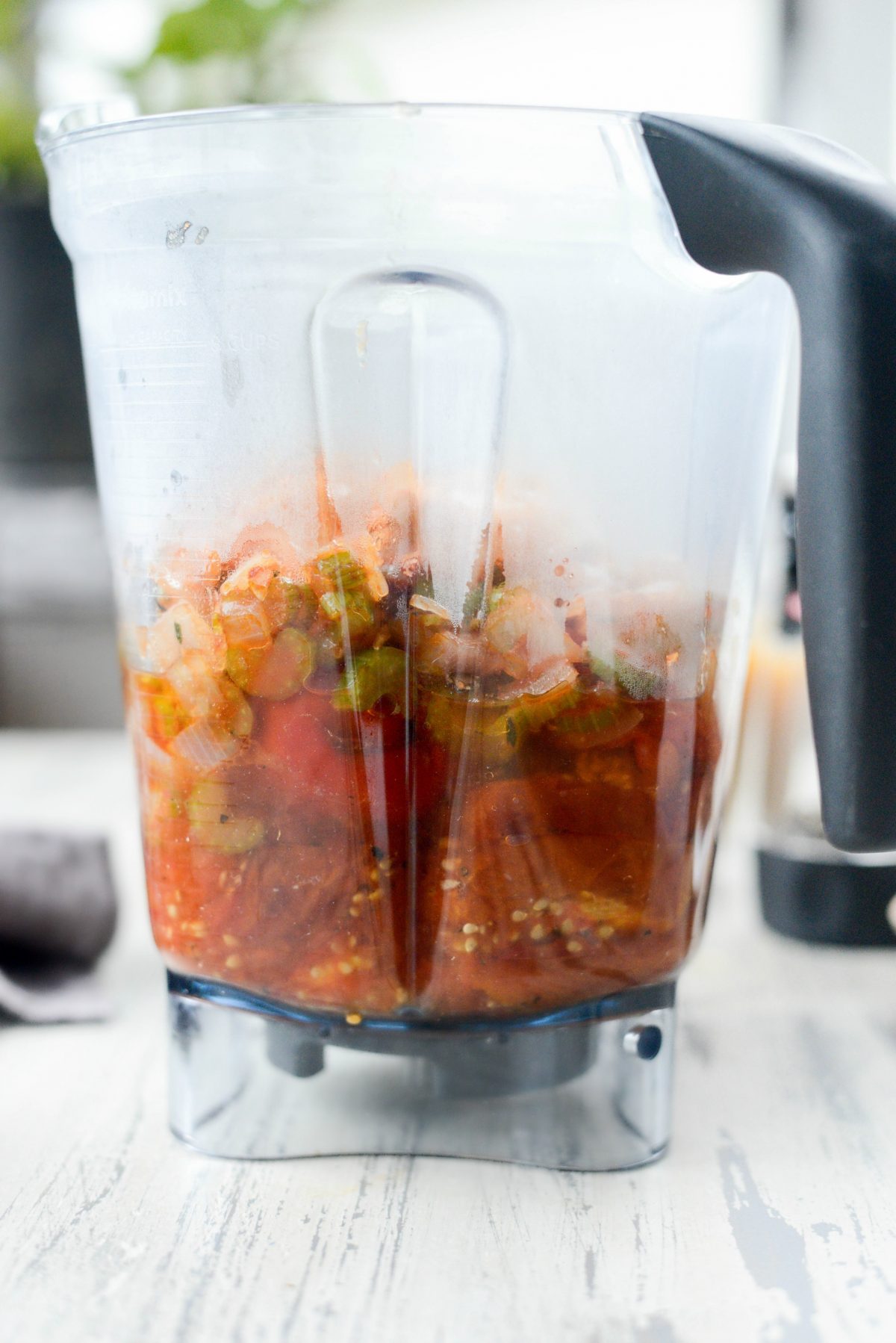 Then transfer the onion and celery mixture in with the tomatoes and red pepper. Secure the lid and puree until velvety smooth.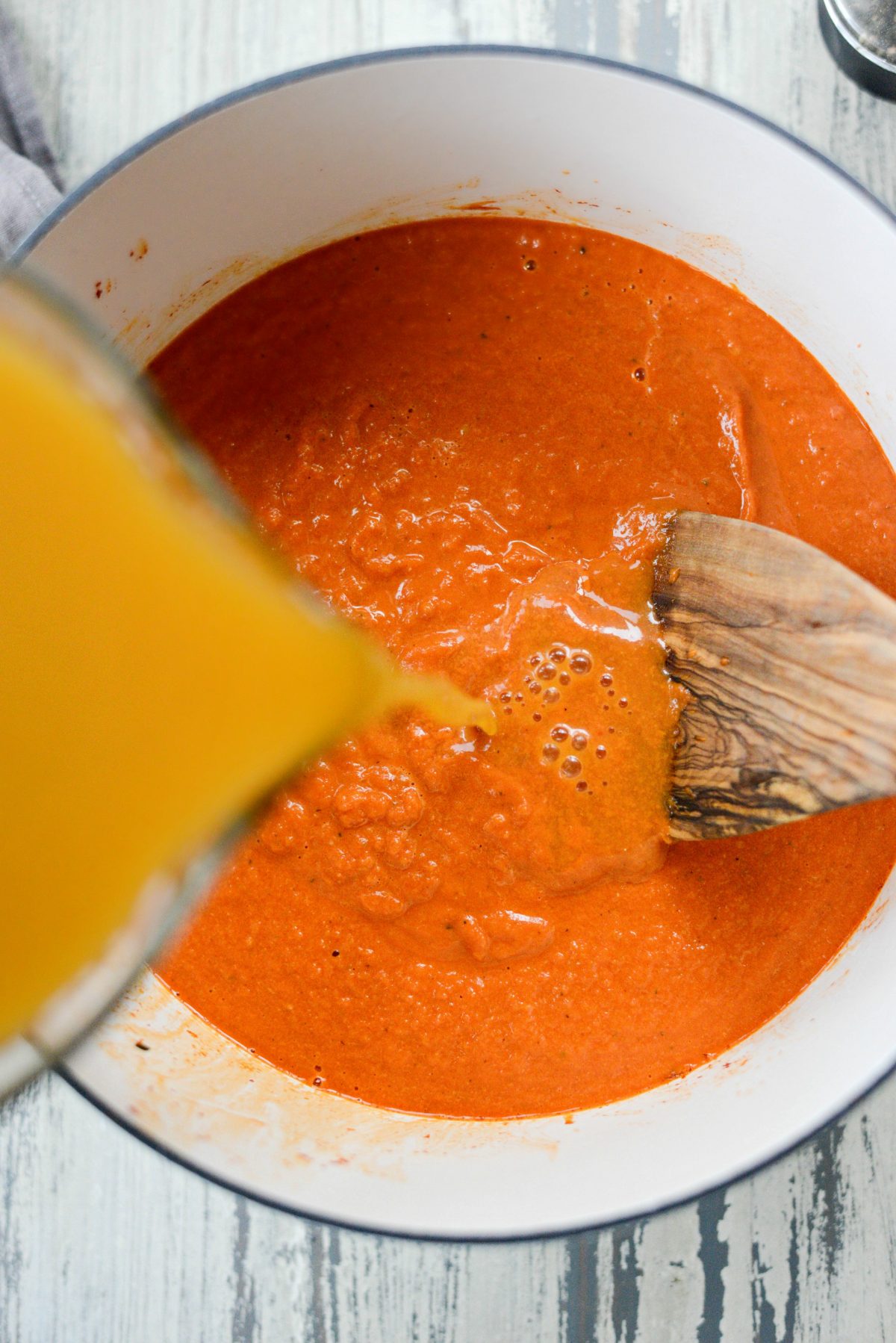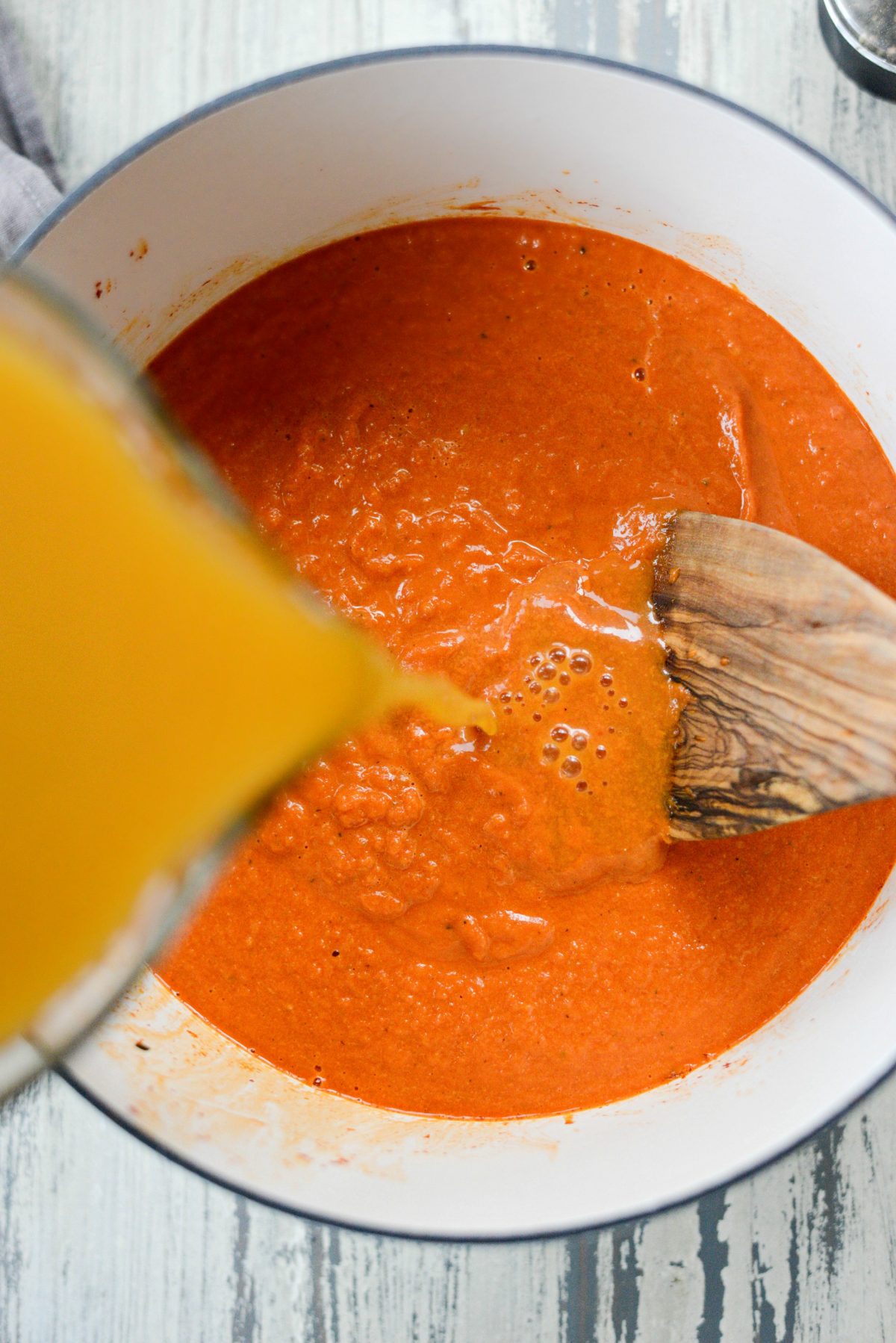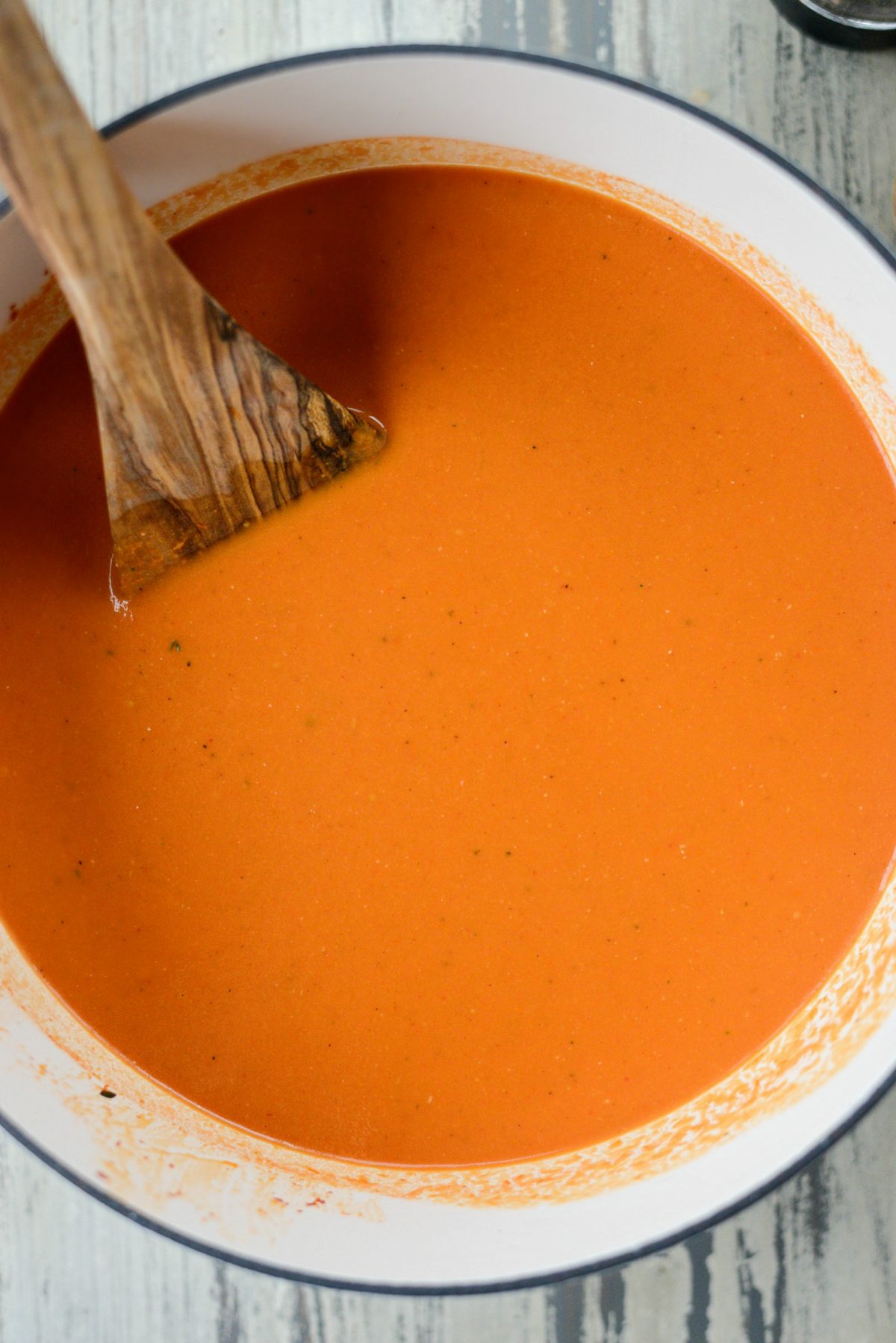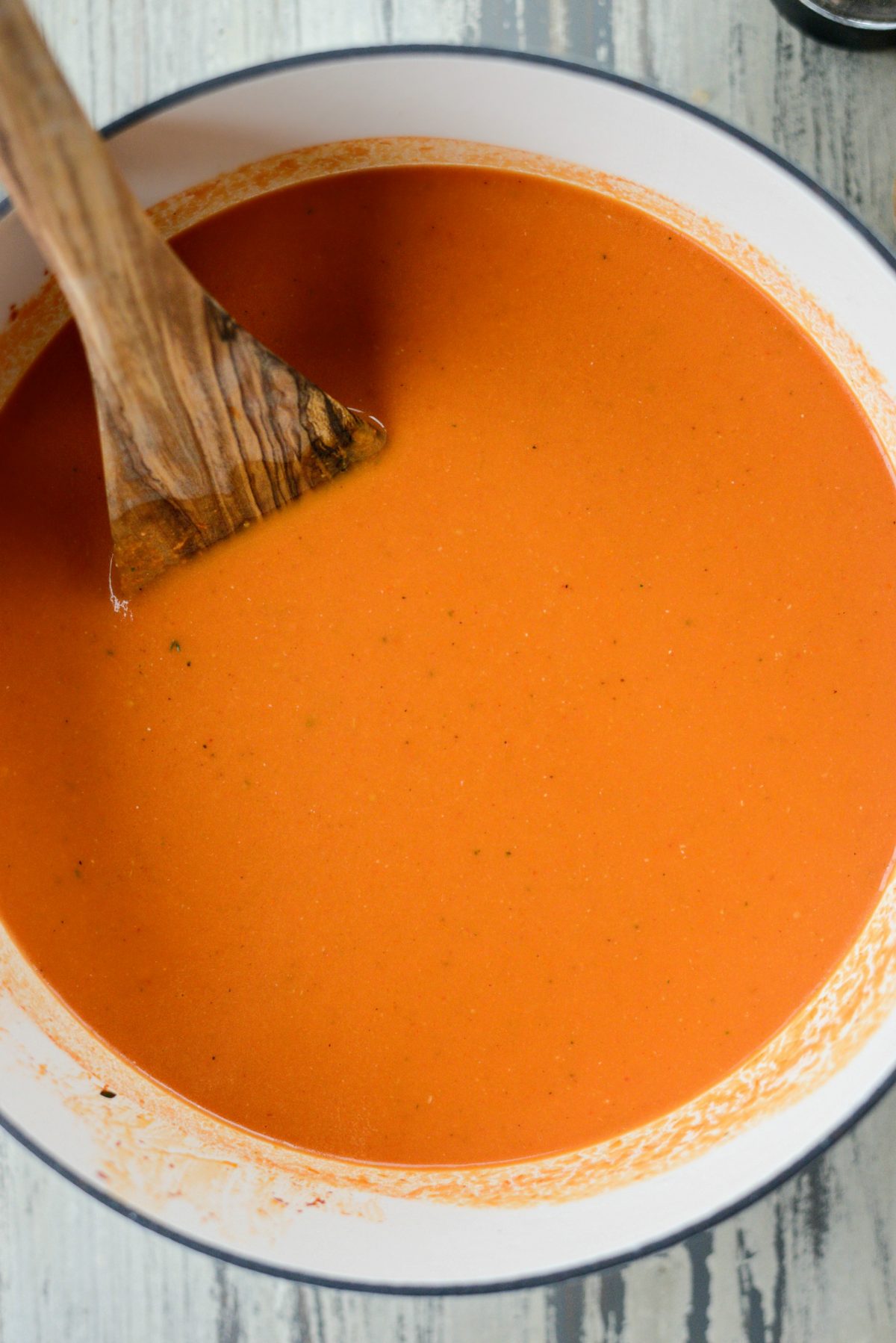 Lastly, pour the puree back into the pot and add in 4 cups of vegetable broth, stirring to combine. Season the soup with salt and pepper to taste. For me, it was about 3/4 teaspoon of salt.
If I don't have homemade vegetables broth (recipe is in my cookbook!) on hand, my favorite organic broth is Imagine. It's thicker than expected and not watery or watered down whatsoever and is a rich golden color. (see above)
I mean, look at that color! 🧡
To add a little texture to this soup, I tore up some ciabatta bread into bite-size pieces and added it to a deep-sided skillet with a little olive oil and kosher salt. I heated it over medium and tossed it around with a spatula until crispy and golden brown in spots.
Once the soup is hot, ladle it into bowls and top with a few ciabatta croutons, freshly ground black pepper and thyme leaves.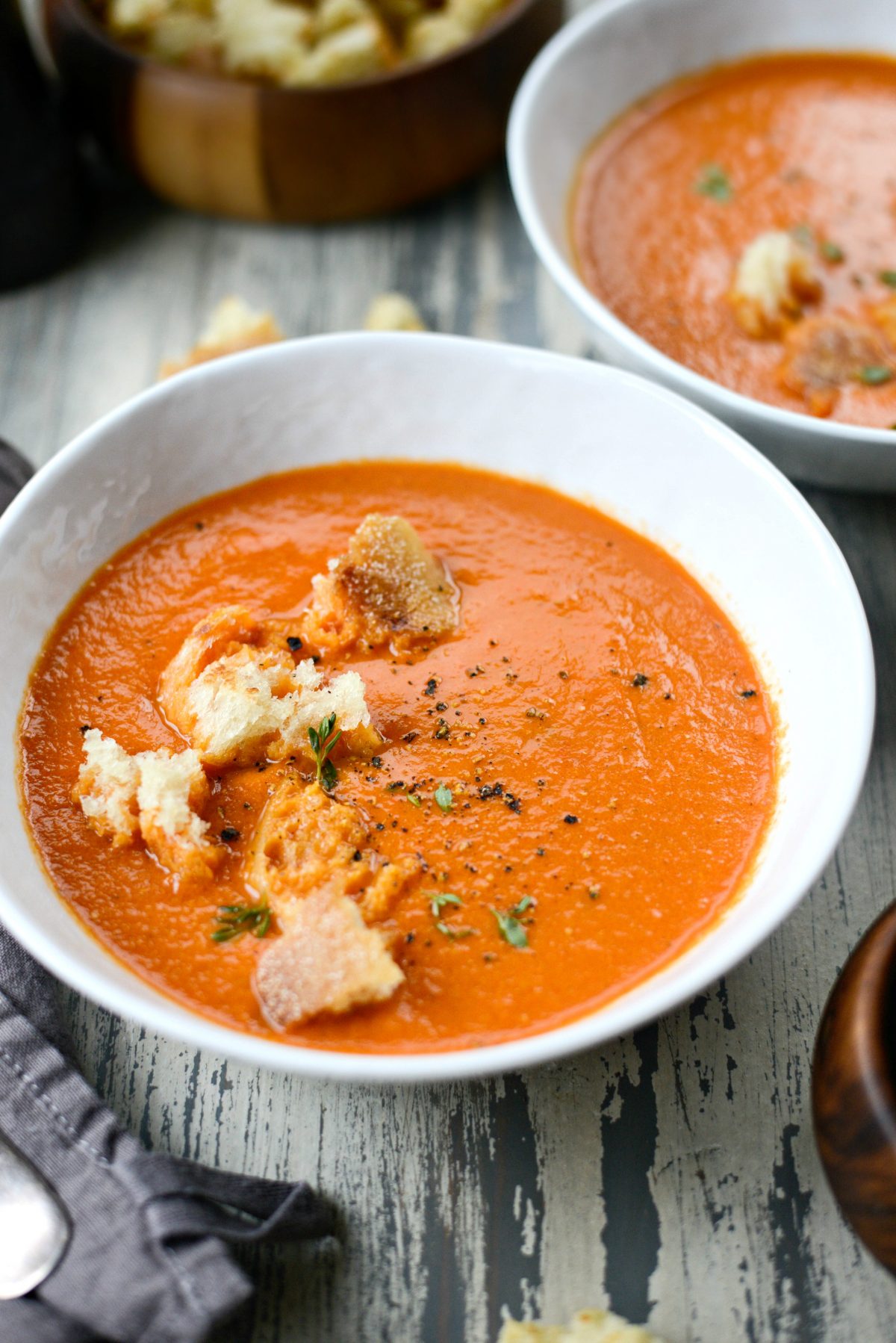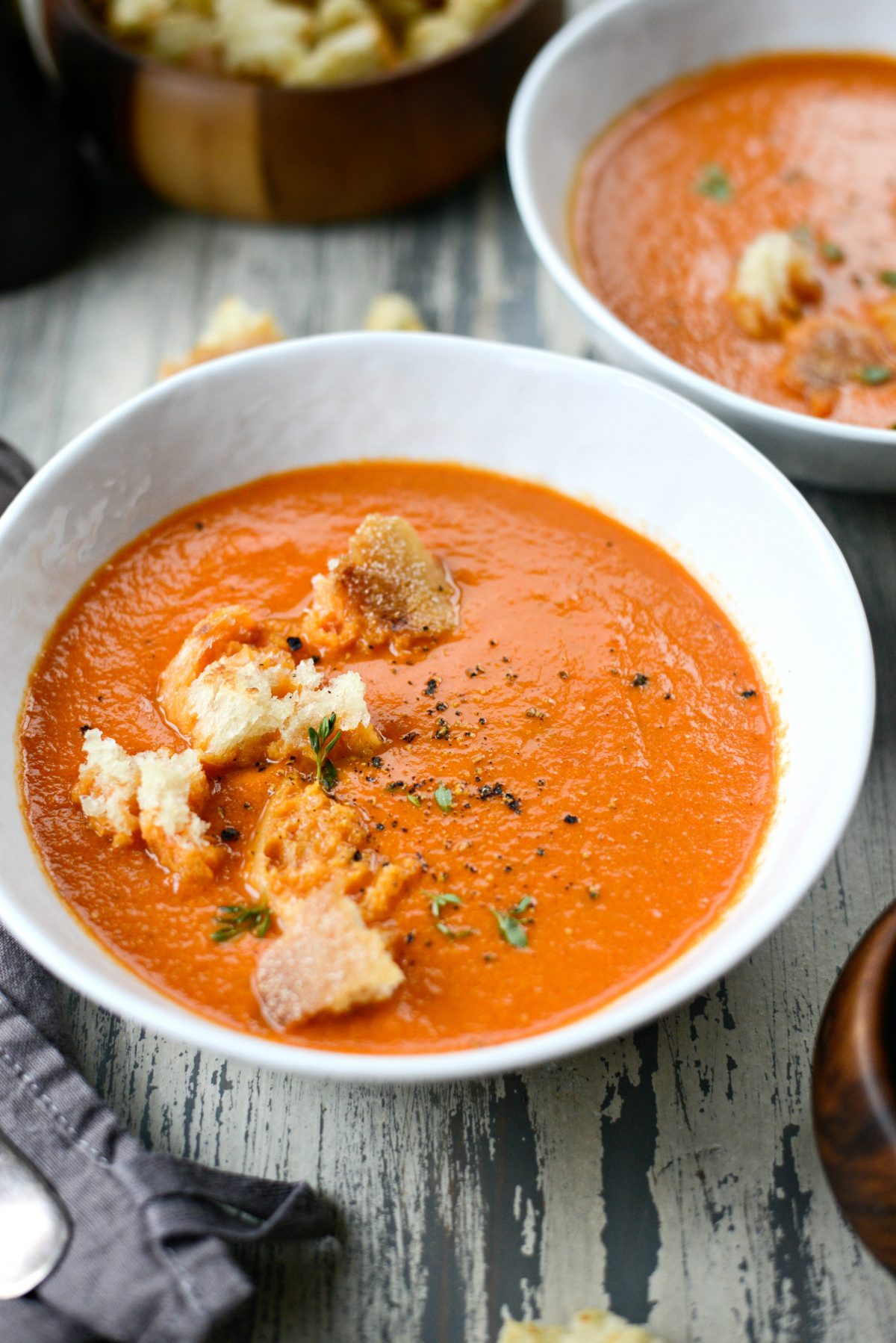 Enjoy! And if you give this Roasted Red Pepper Tomato Soup recipe a try, let me know! Snap a photo and tag me on twitter or instagram!
This post may contain affiliate links.
Buy the Cookbook: Simply Scratch : 120 Wholesome Homemade Recipes Made Easy Now available on Amazon »
THANK YOU in advance for your support!