This Enchilada Chicken and Rice Skillet is one pan easy dinner! Leftover chicken (or rotisserie!) is tossed with sautéed onion, garlic with tomato paste, my homemade enchilada seasoning, fire roasted tomatoes and green chiles, rice and black beans. Simmered in broth until the rice is plump and tender. Then just top with cheese and cover until melted and delicious! Serves 6 in about 35 minutes.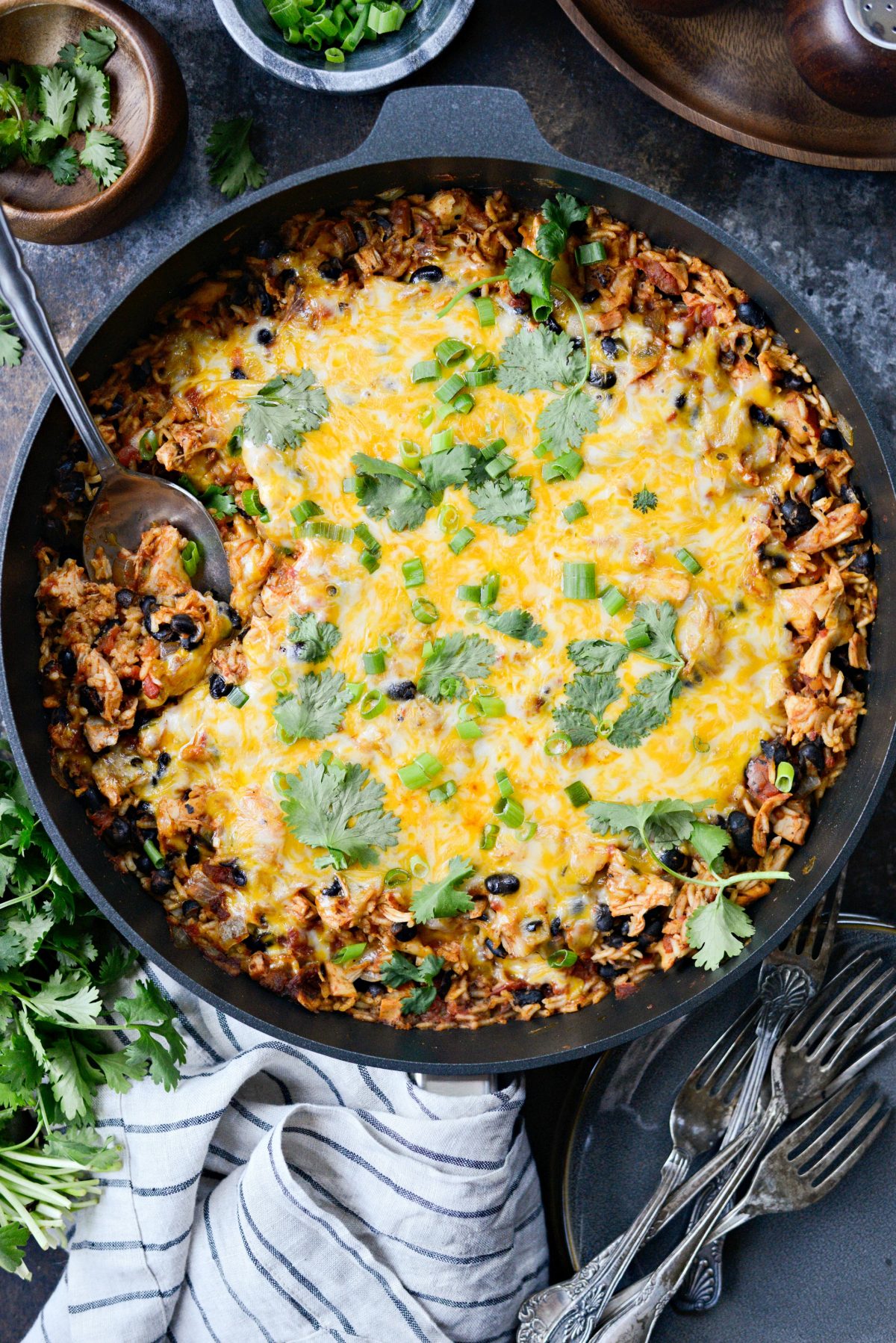 While I'm not ready to say good-bye to summer. I'm SO excited for the fall, mostly for the food.
I sat on the couch literally all day yesterday planning what recipes I want to make. There's just something about fall meals that I've always loved cooking.
With the arrival of fall comes back-to-school. This is a big year for the McNamara household, Haileigh is a senior (WHAT?) and Malloree a freshman. These two haven't been in the same school since they were in 3rd and 6th grade. Haileigh will be driving Mal to school in the morning, which means I no longer have to drive anyone to and from school, and I will gleefully wave from my porch with my cup of coffee in hand. Until next school year anyways.
Before this momentus year begins, I'll be taking Haileigh's senior pictures and we still have a couple of college tours to go on. Malloree is counting down the days until we go school shopping. I think she's more excited about supply shopping than for clothes. August is going to be one busy month.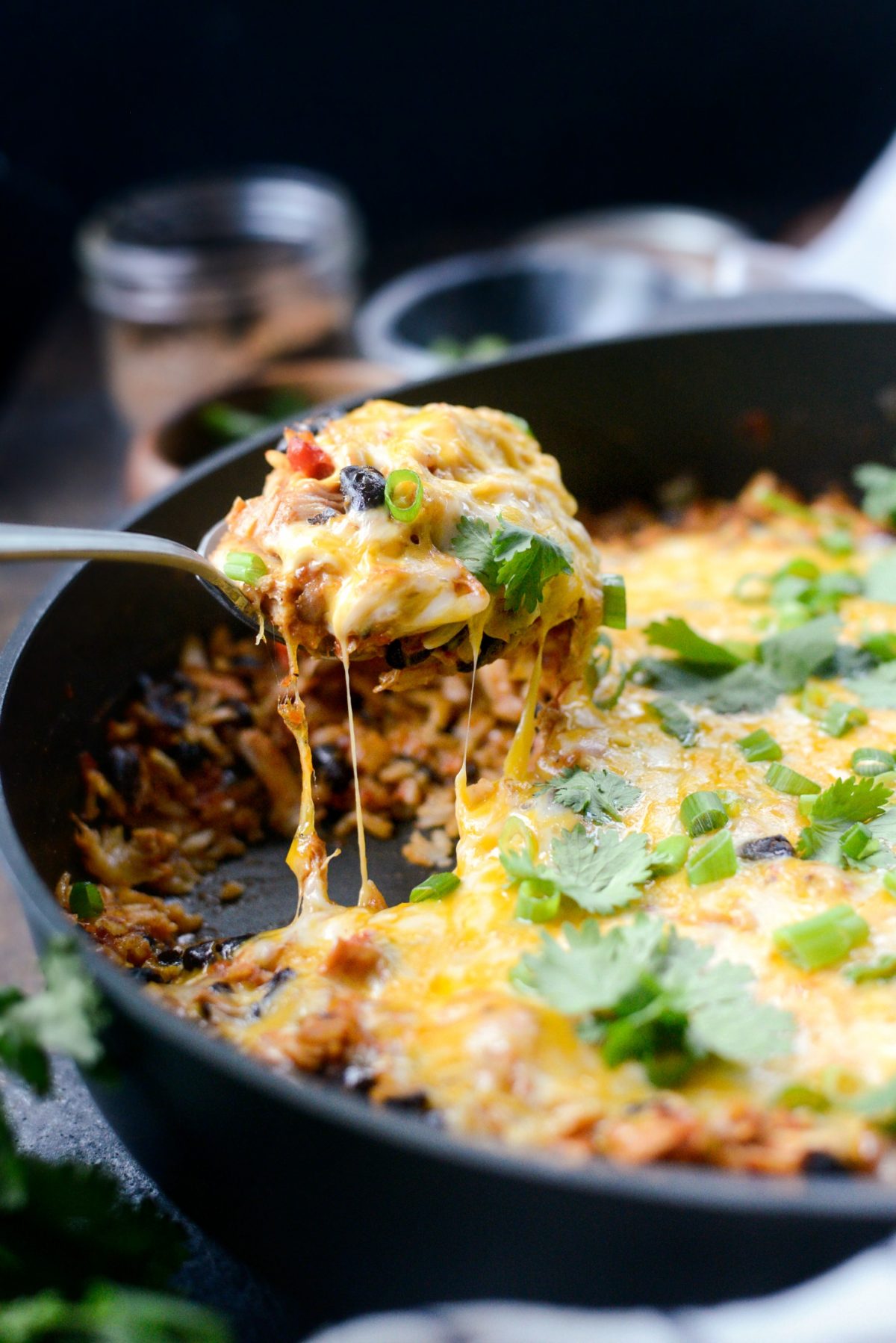 In the meantime, I'm brushing up on some easy back to school dinner recipes I've had jotted down in my notebook. This gorgeous enchilada chicken and rice skillet was at the top on my list. Inspired by this Mexican version, this easy skillet dinner calls for leftover shredded chicken and my homemade enchilada seasoning. The cooking methods are similar, but this one takes a little less time, so you can put dinner on the table in no time flat.
To Make This Enchilada Chicken and Rice Skillet You Will Need:
olive oil
yellow onion
garlic
leftover cooked shredded chicken (or rotisserie)
tomato paste
long grain white rice
black beans – rinsed and drained
fire-roasted tomatoes and green chiles (I used Rotel)
chicken broth
cheddar jack cheese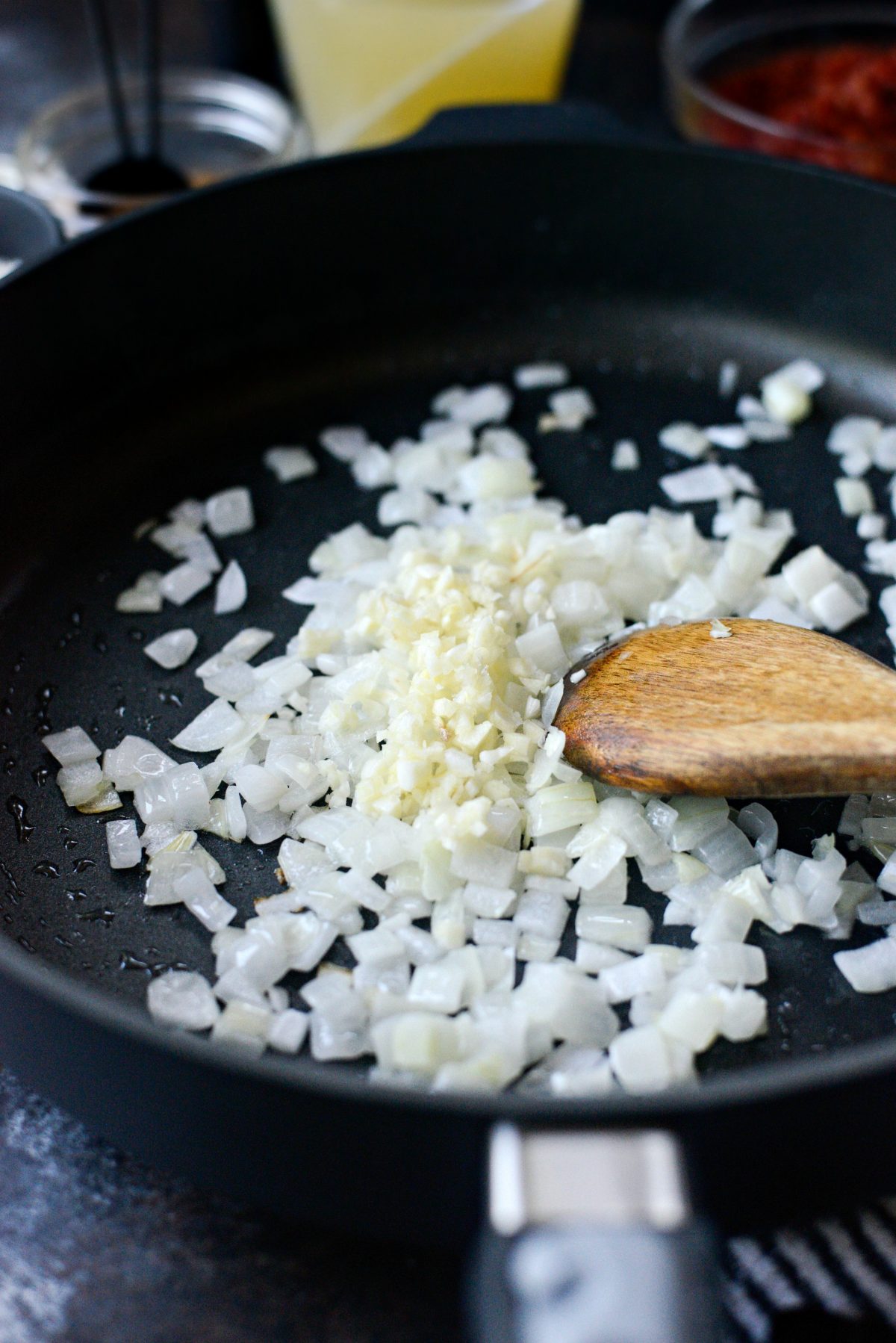 Start by adding 2 teaspoons of light olive oil to a 12-inch large, deep-sided skillet. Drop in 1 small onion that has been diced and season with a pinch of kosher salt. Stir occasionally and cook about 8 to 10 minutes. Next add in the 2 cloves of minced garlic and cook 1 minute.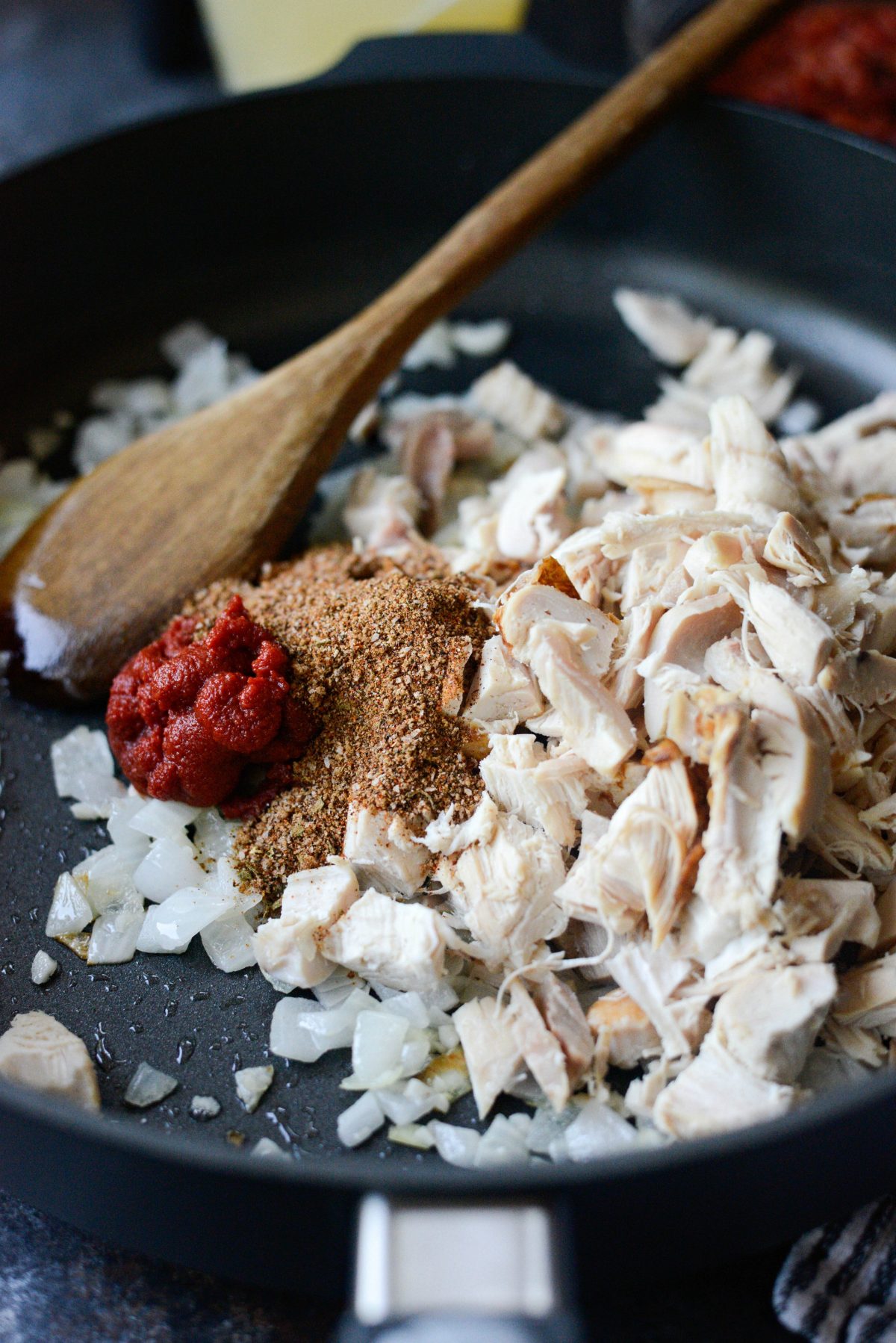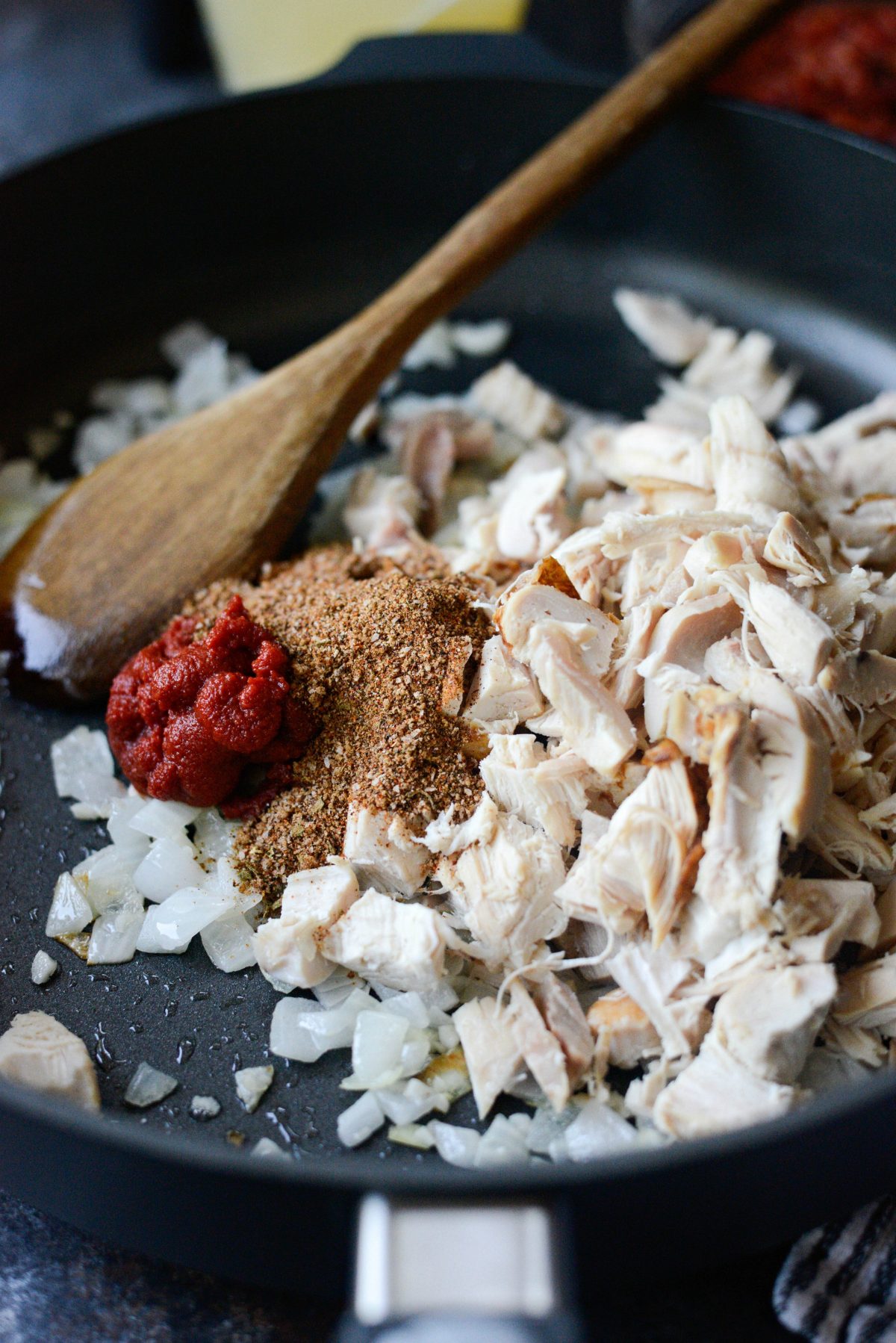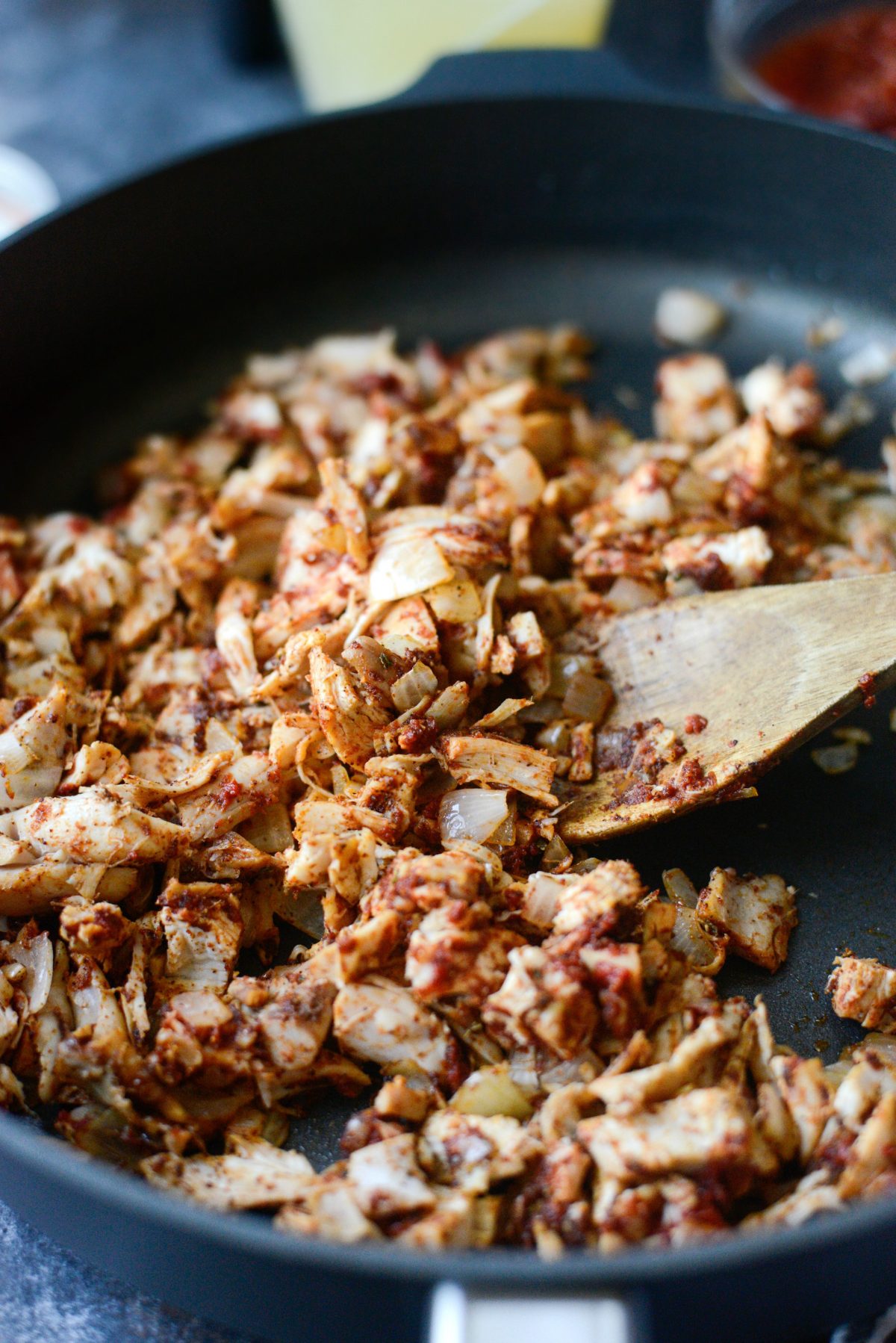 Next add in the 3 cups of shredded cooked chicken, 2 tablespoons enchilada seasoning and 2 tablespoons tomato paste. Stir and cook for 1 additional minute.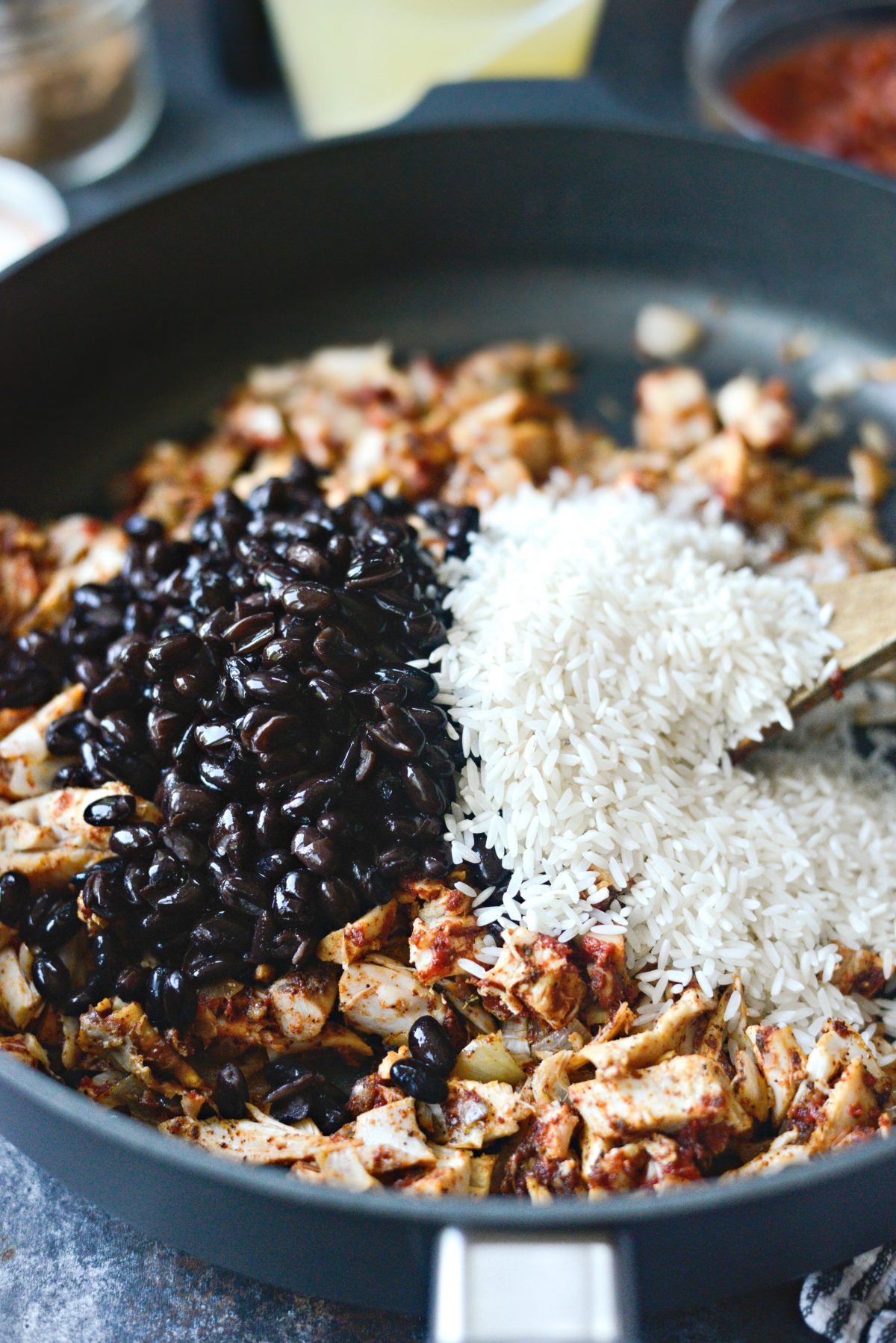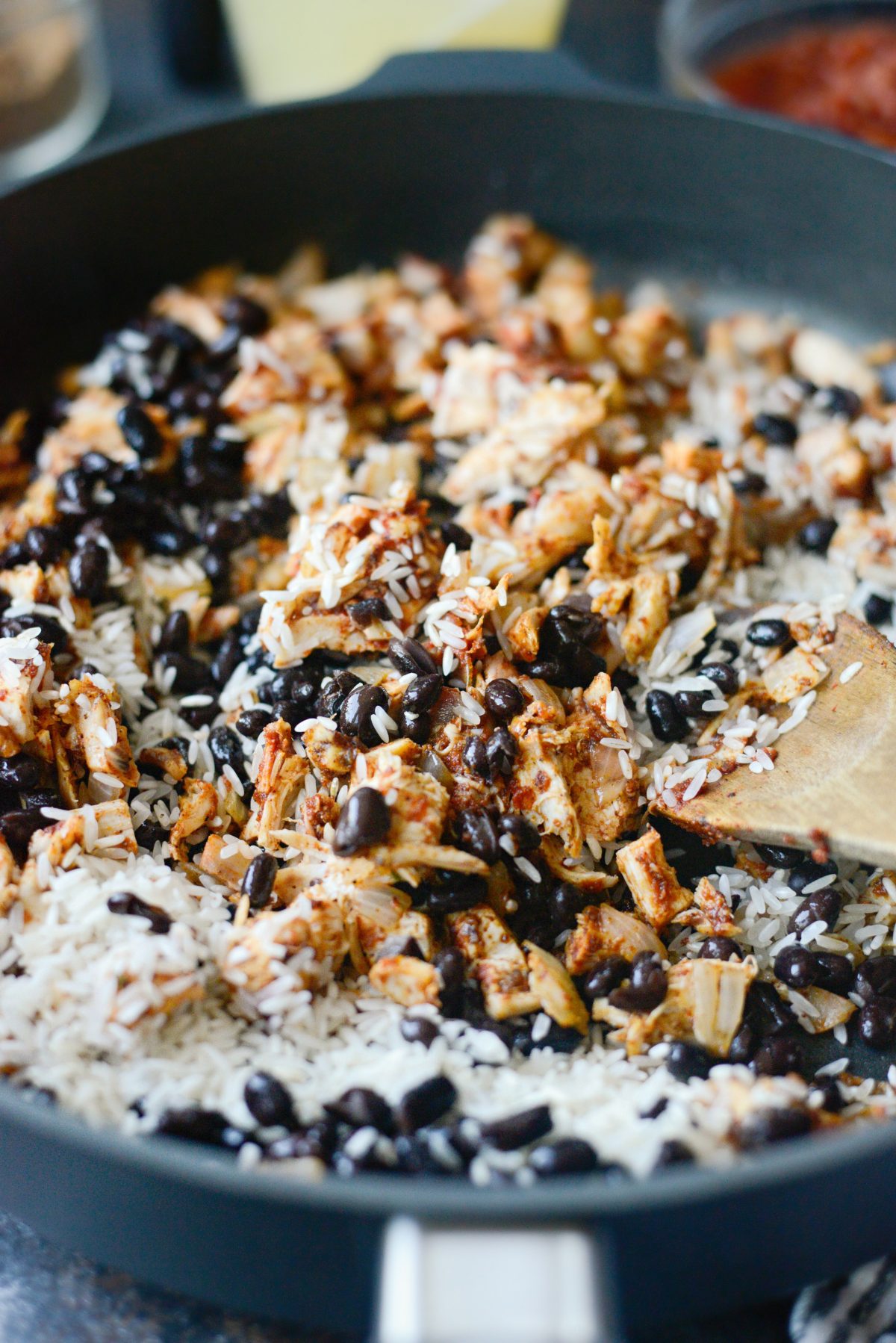 Now add in 1 (15 ounce) can rinsed and drained black beans and 3/4 cup of long grain white rice.
Due to the fact that this cooks in 25 minutes, brown rice will not work in this recipe because it cooks in about 40 minutes or so.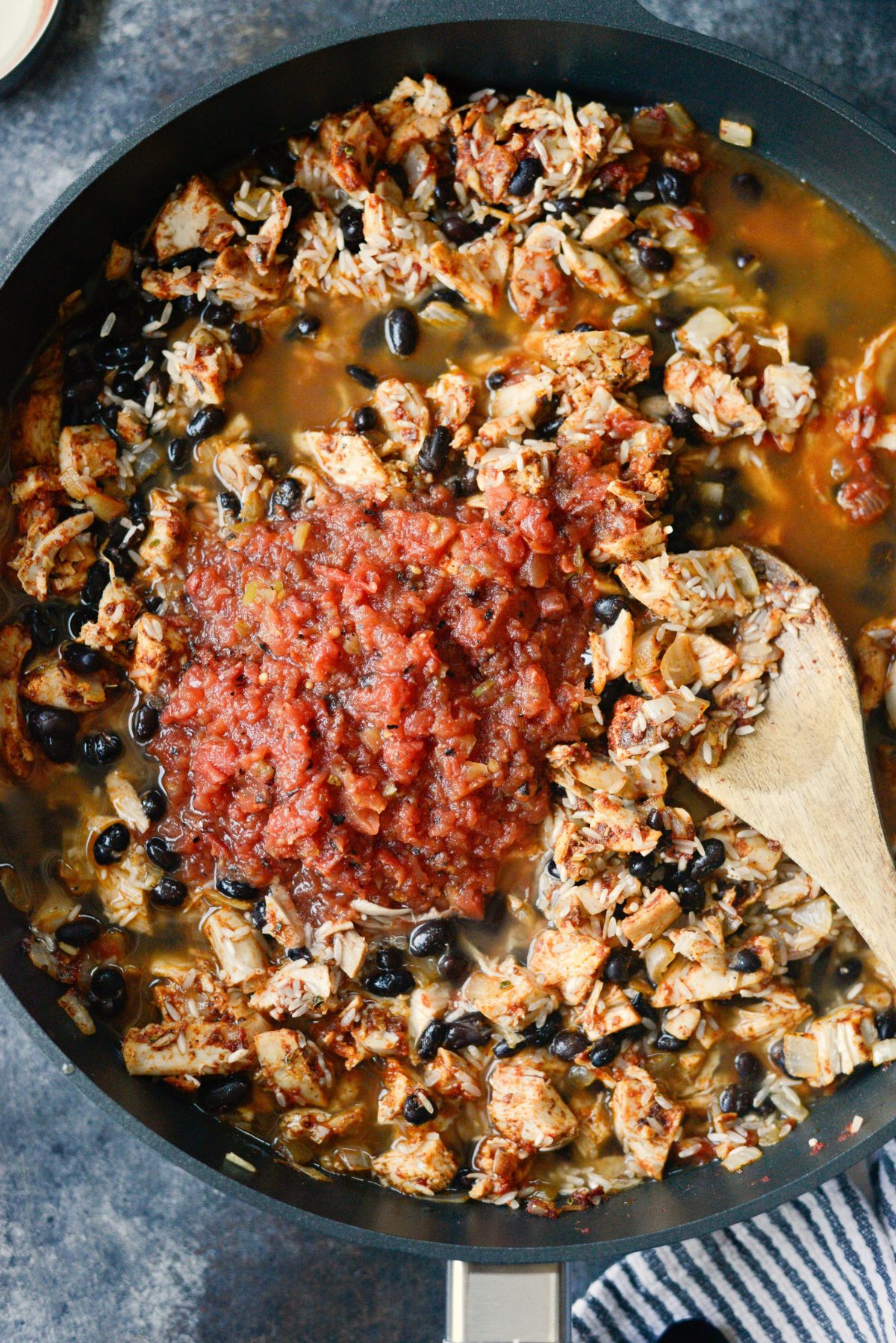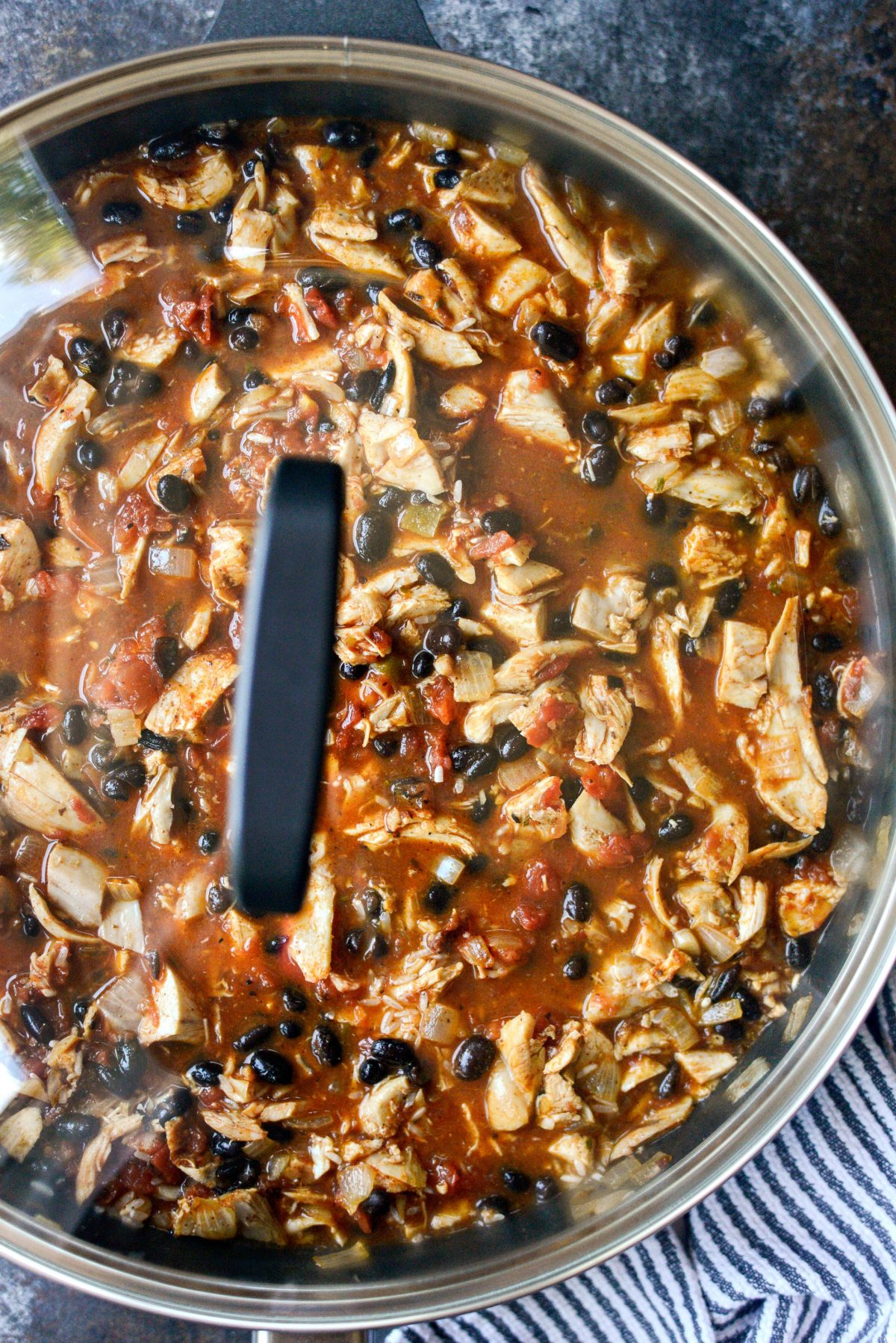 Lastly pour in 2 cups of low-sodium chicken broth and the (15 ounce) can of fire-roasted tomatoes and (4 ounce) can green chiles. Earlier, I quickly pulse the tomatoes and chiles (with the liquids) in my mini-food processor so the tomatoes are in smaller pieces. My family is not down with large pieces of tomato in anything.
Bring to a boil, cover and reduce the heat to medium-low. Simmer for 20 to 25 minutes or until the rice is tender. Stir half way through.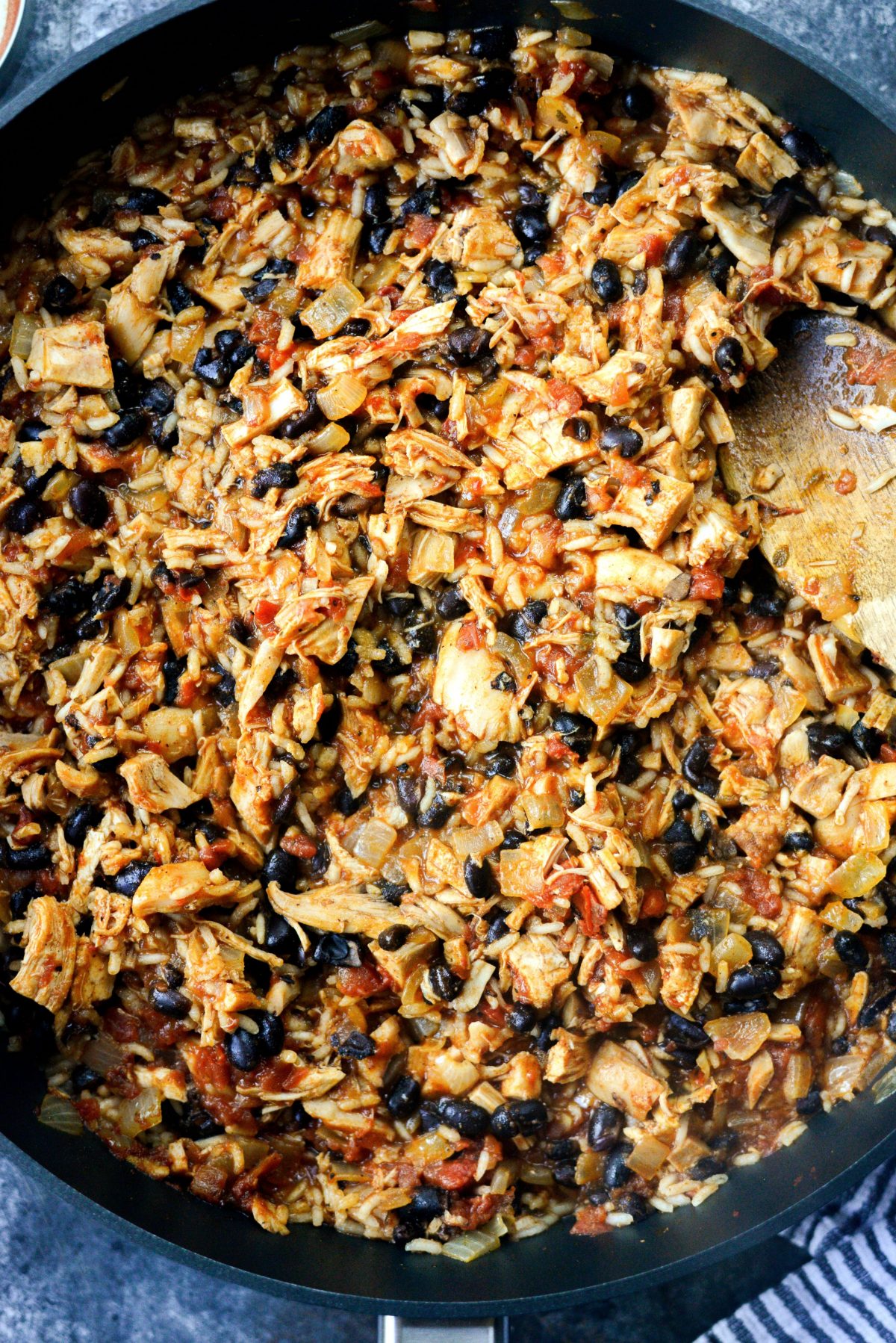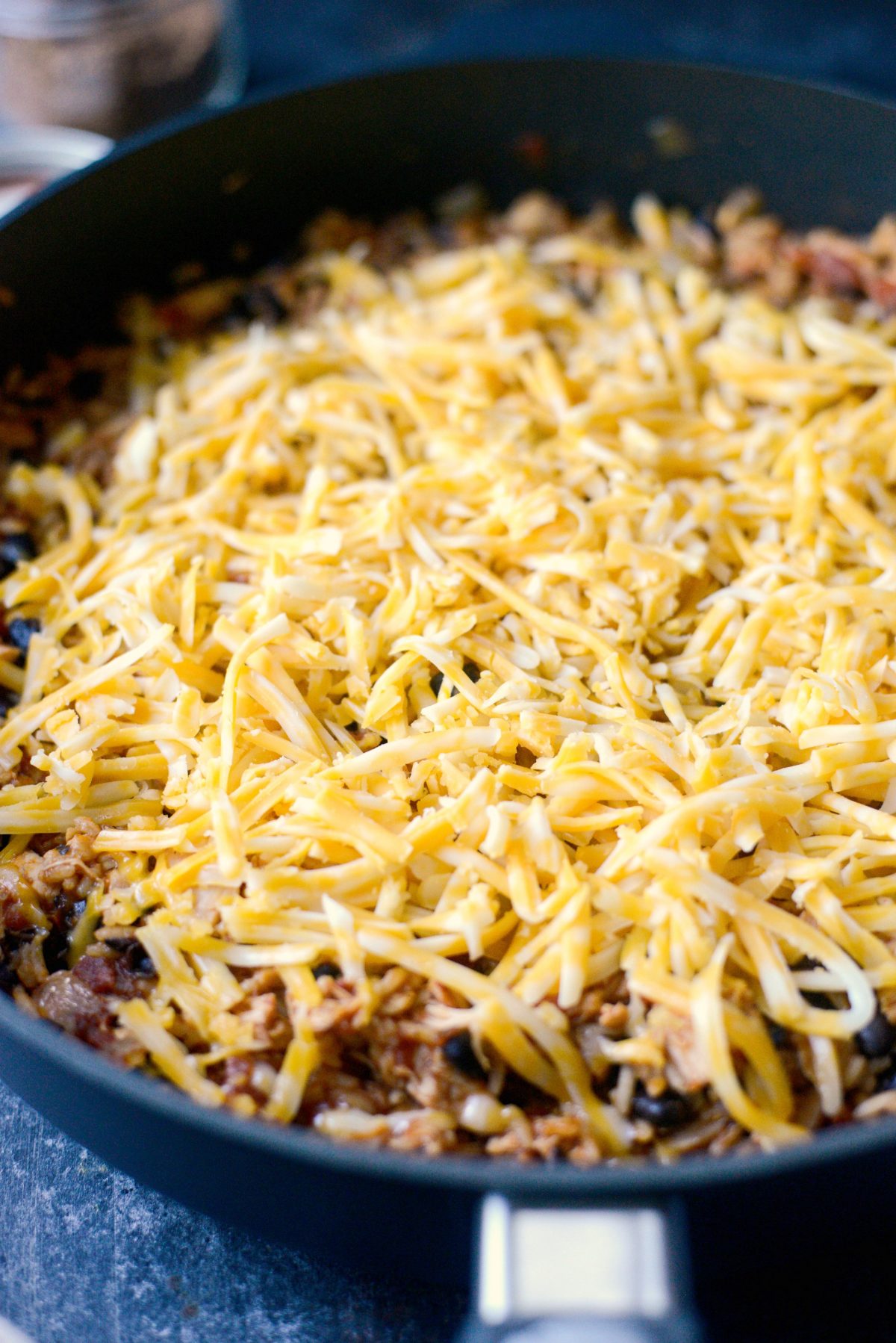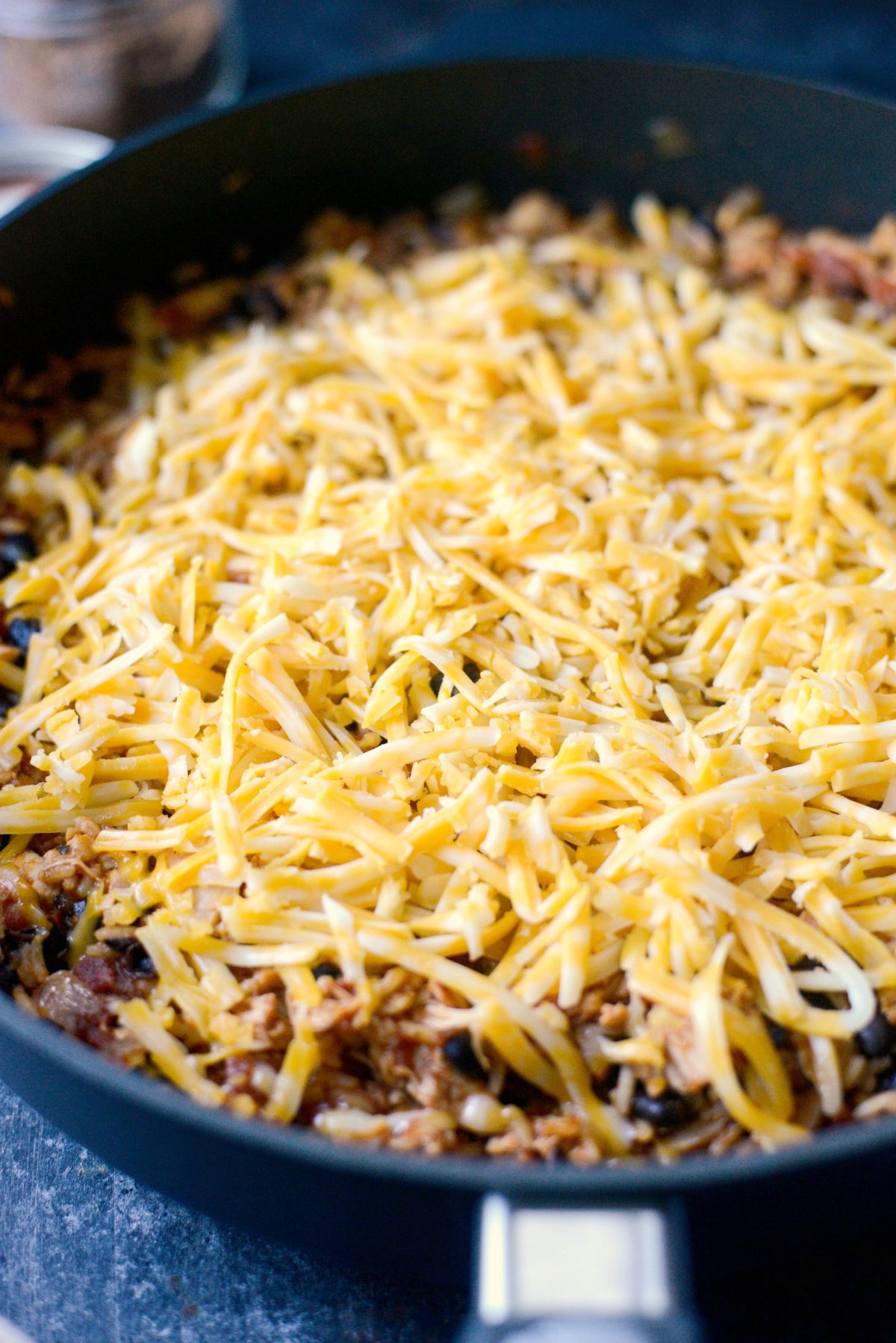 Stir one last time before topping with 2 cups of shredded cheddar jack cheese. If you can't find cheddar jack, just toss together 1 cup cheddar with 1 cup Monterey Jack cheese. Return the lid to the enchilada chicken and rice skillet and reduce the heat to low until the cheese is completely melted. Because gooey cheese is the best kind of cheese.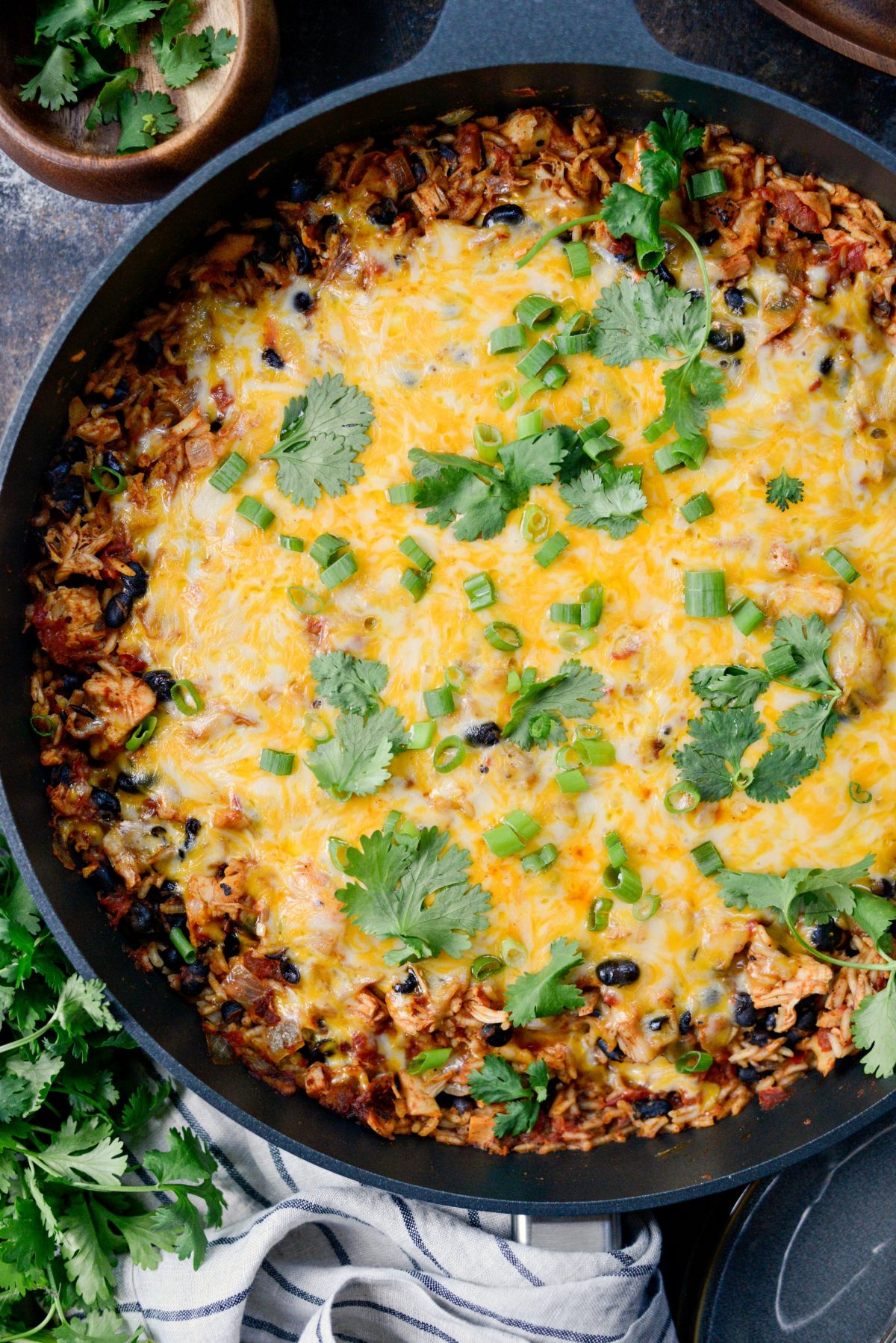 Garnish the skillet or your individual bowls with sliced green onions and cilantro leaves. I serve this with tortilla chips, hot sauce and sour cream. But any toppings you can dream up will work beautifully.
Essentially this enchilada chicken and rice skillet is deconstructed enchiladas. All the flavors you love about enchiladas in one skillet and a fraction of the effort. And my family LOVES it. My husband especially. He even pointed out that this would make for an excellent dip to serve at a football party or fun gathering.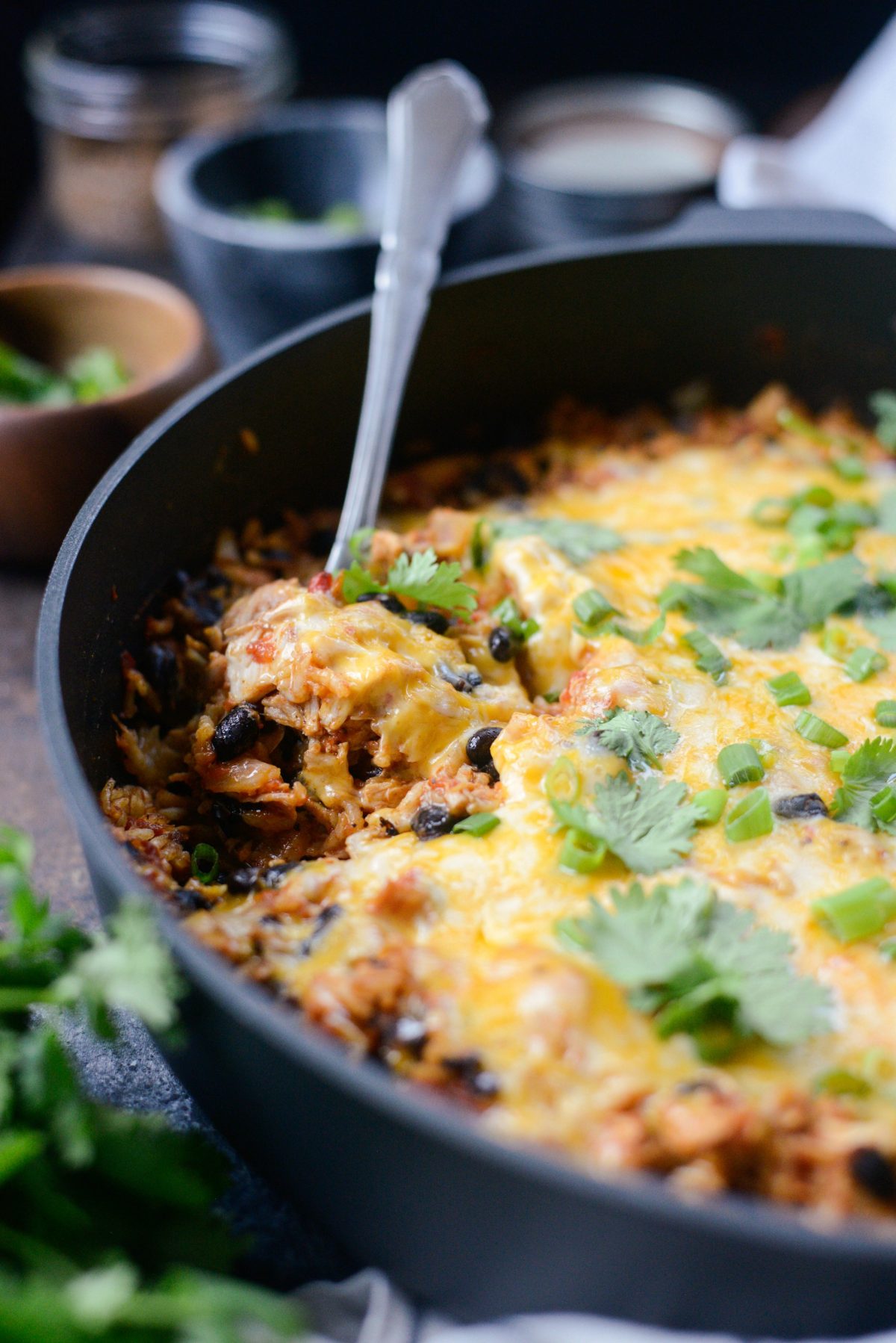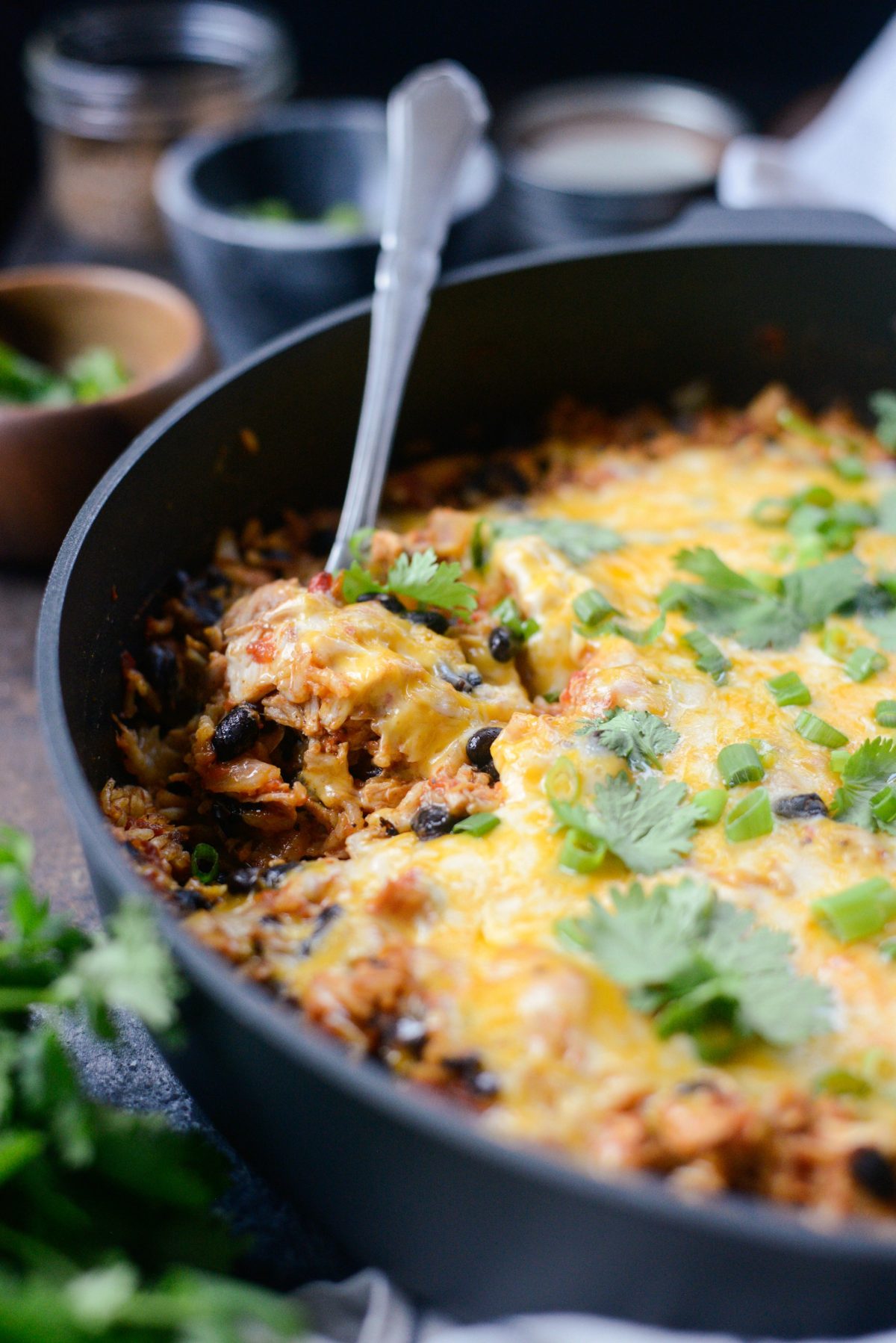 Enjoy! And if you give this Enchilada Chicken and Rice Skillet recipe a try, let me know! Snap a photo and tag me on twitter or instagram!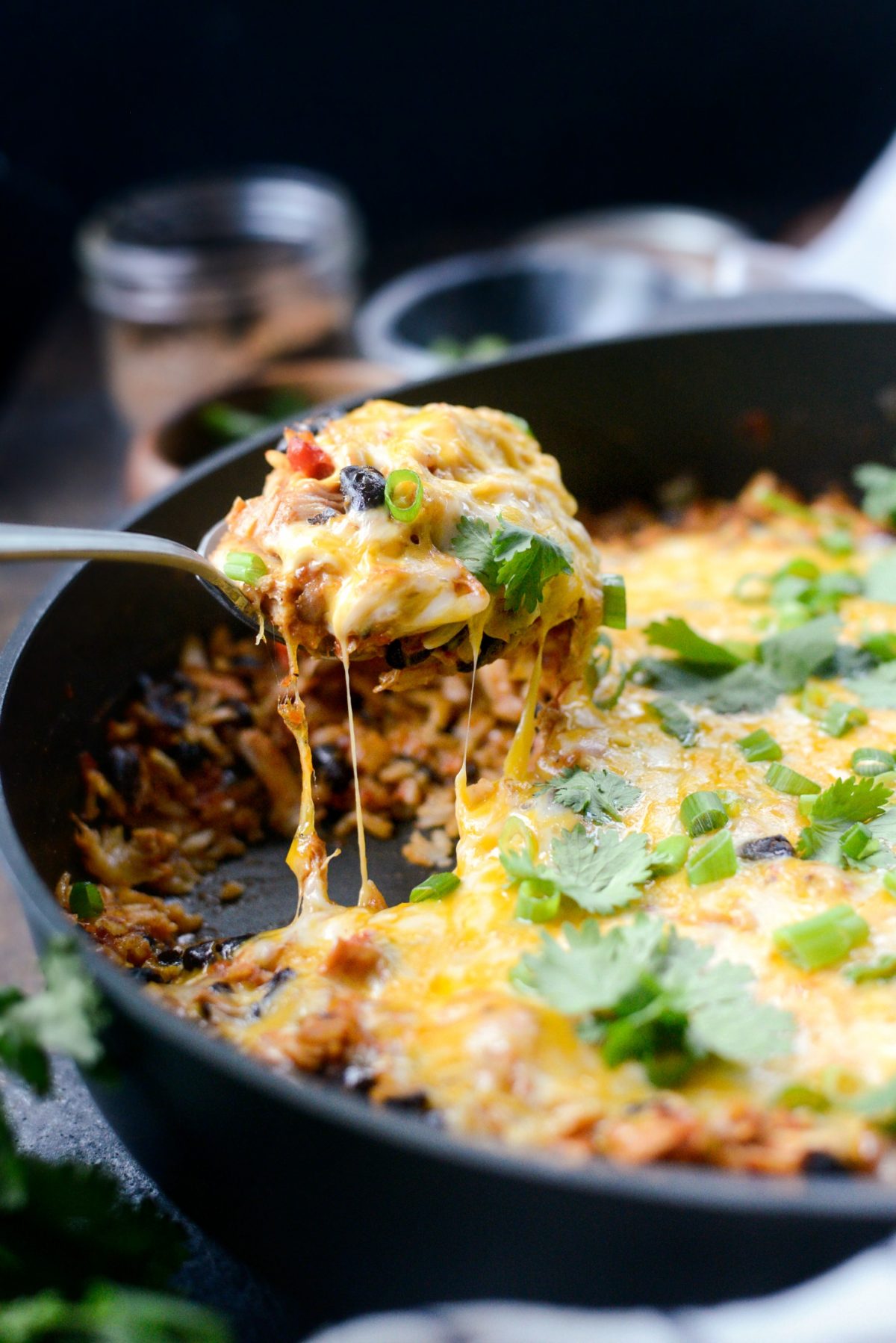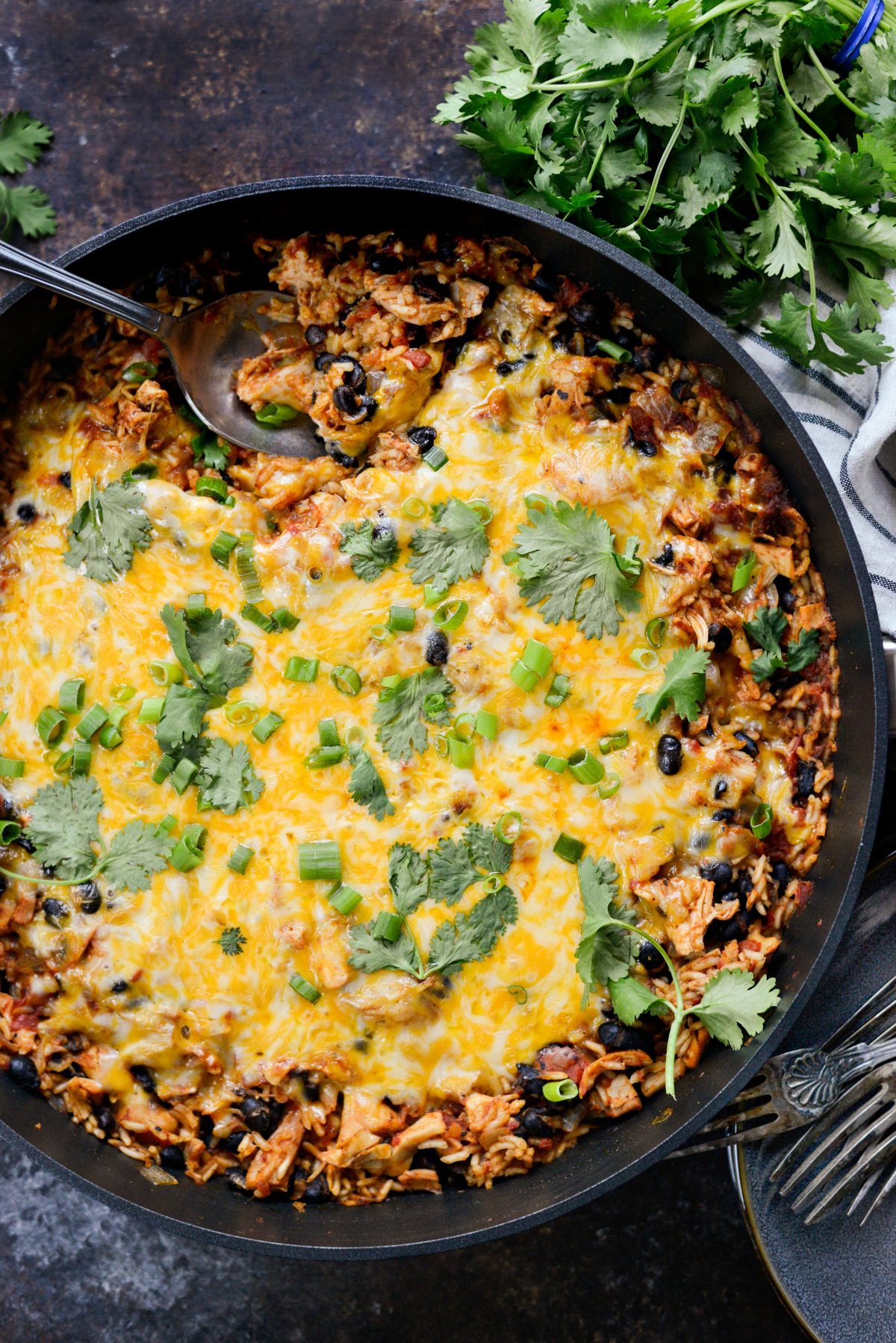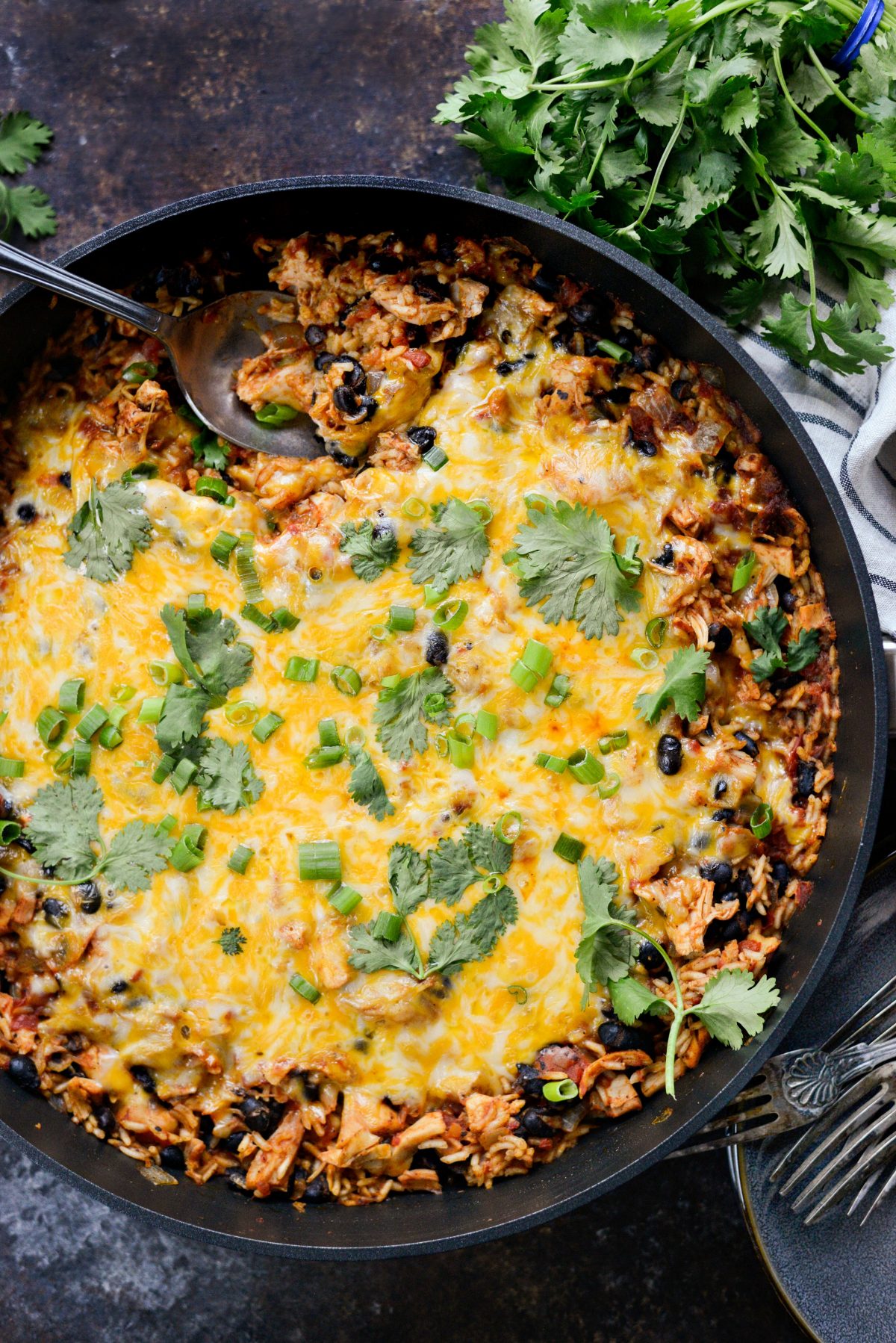 This post may contain affiliate links.
Buy the Cookbook: Simply Scratch : 120 Wholesome Homemade Recipes Made Easy Now available on Amazon »
THANK YOU in advance for your support!