Grilled Garlic Brussels Sprouts are the latest and greatest thing to come off my grill! Fresh brussels sprouts are brushed with a garlicky olive oil and grilled until the outer leaves get charred while the insides are tender and delicious. For a little extra flair, I like to drizzle them in honey and reduced balsamic (glaze) and toss them with sliced almonds. These are delicious next to seafood, chicken or beef! Serves 4 to 6 in about 25 minutes.
3 out of 4 of us love brussels sprouts. I never had them growing up because they were a banned vegetable at our home. It wasn't until I was a teenager that I had my first one while having Thanksgiving dinner at my (now) in-laws. Since then, it's been my mission to make my kids love them like I do. Because it will happen. 😉
I've made grilled zucchini, green beans and even grilled grapes for a salad and yet this summer was the first time I've ever grilled brussels sprouts. Grilled brussels sprouts? YES! They were MADE for the grill! This is such an easy grilled side dish.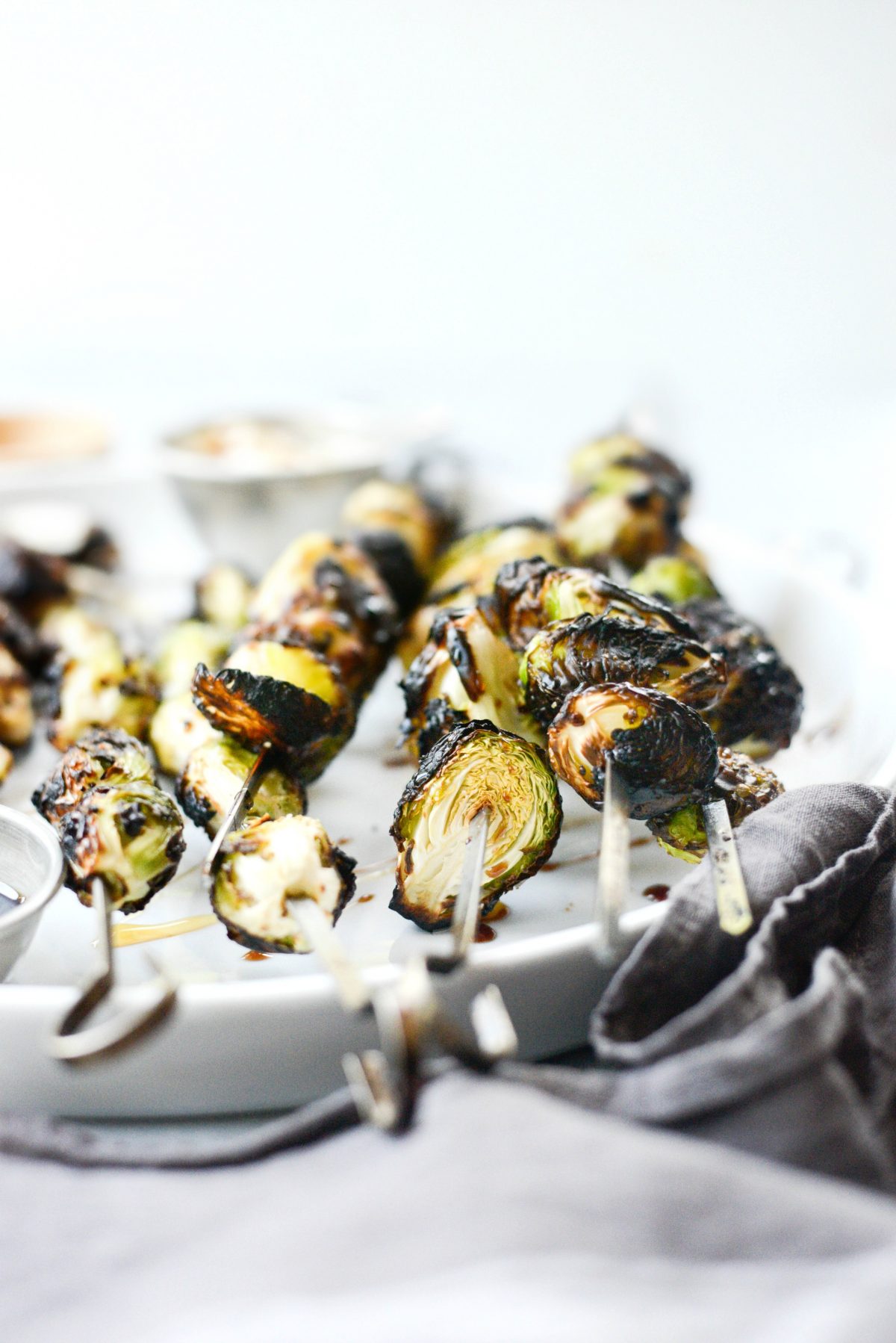 Don't let the charred outer leaves freak you out. That is flavor. And it's delicious.
To Make These Grilled Garlic Brussels Sprouts You Will Need:
brussels sprouts
olive oil
fresh garlic
kosher salt
freshly ground black pepper
honey
balsamic glaze (or reduced balsamic vinegar)
sliced almonds
Start by trimming the ends and peeling any dark, tough outer leaves off of 1-1/2 pounds of brussels sprouts. This probably takes up the most of the prep time.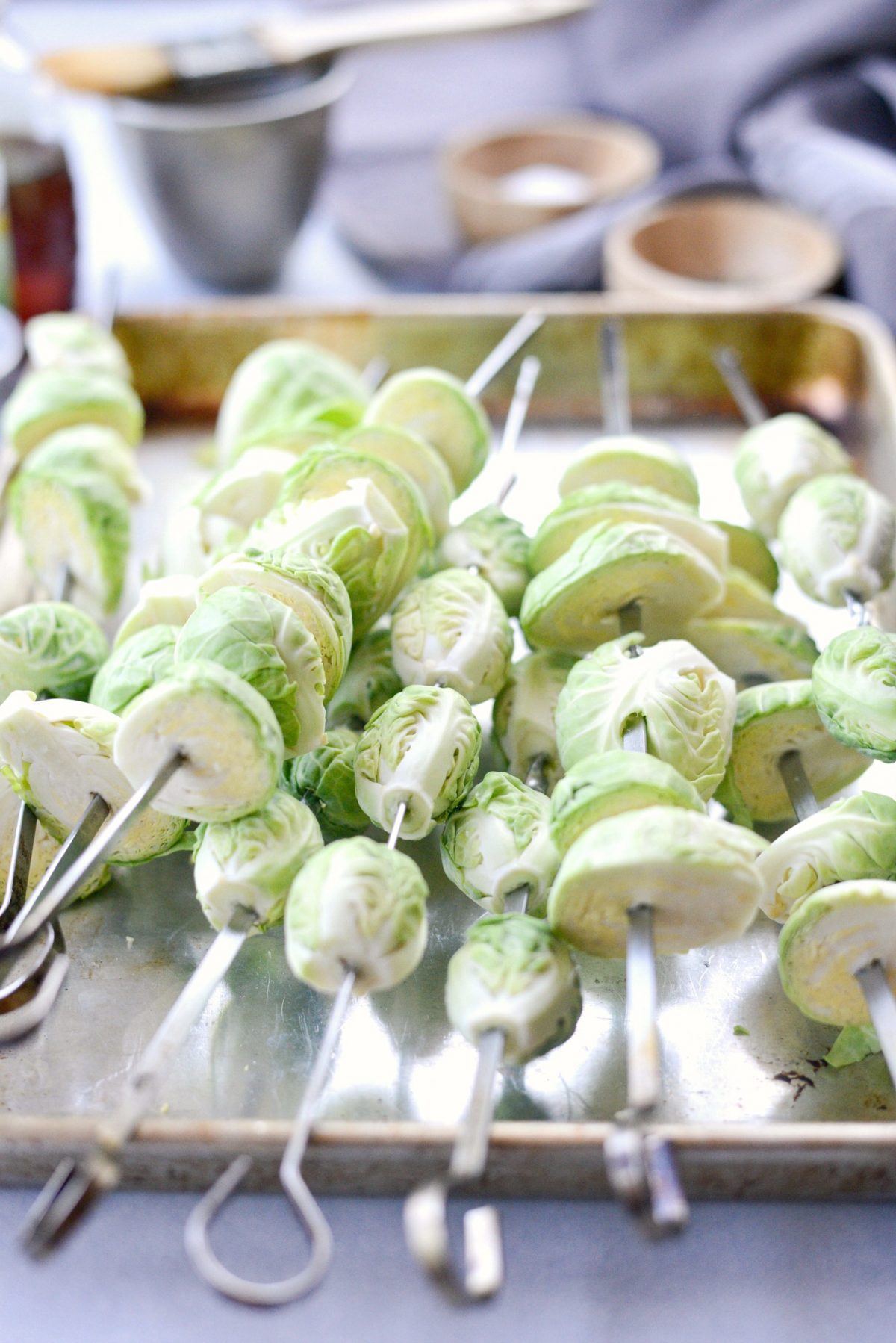 Cut any larger sprouts in half, keeping the smaller ones whole, and thread on to metal skewers. I like to use metal and not bamboo because first of all, the metal pierces the tough raw sprout easier. But secondly, because metal is conductive, it will heat up and cook the inside of the sprouts.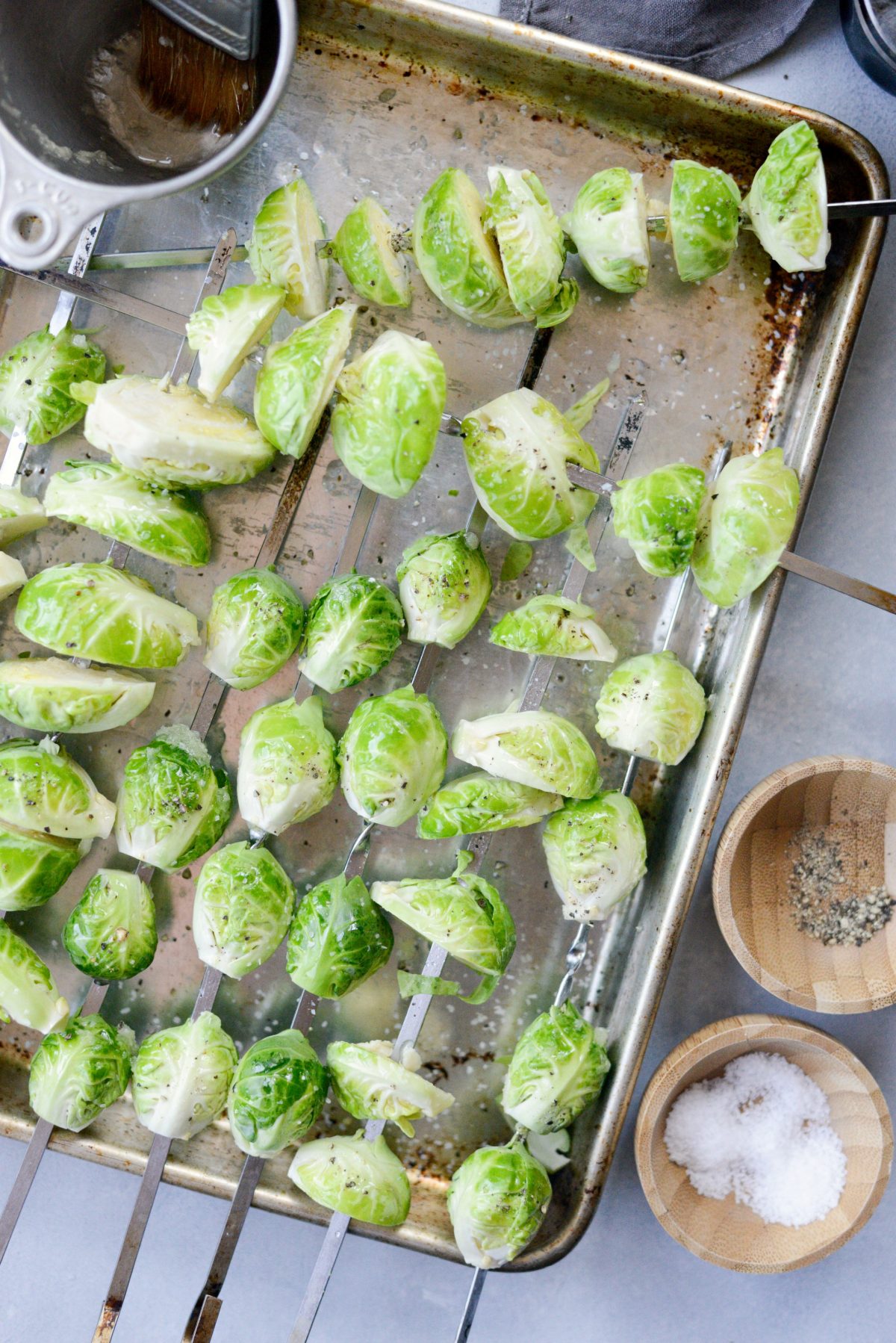 Next grate a large clove of garlic and stir it into 2 to 3 tablespoons of olive oil and brush it all over the brussels sprout kebabs. Season with a few pinches of both kosher salt and pepper.
Preheat your grill to 400 to 425°.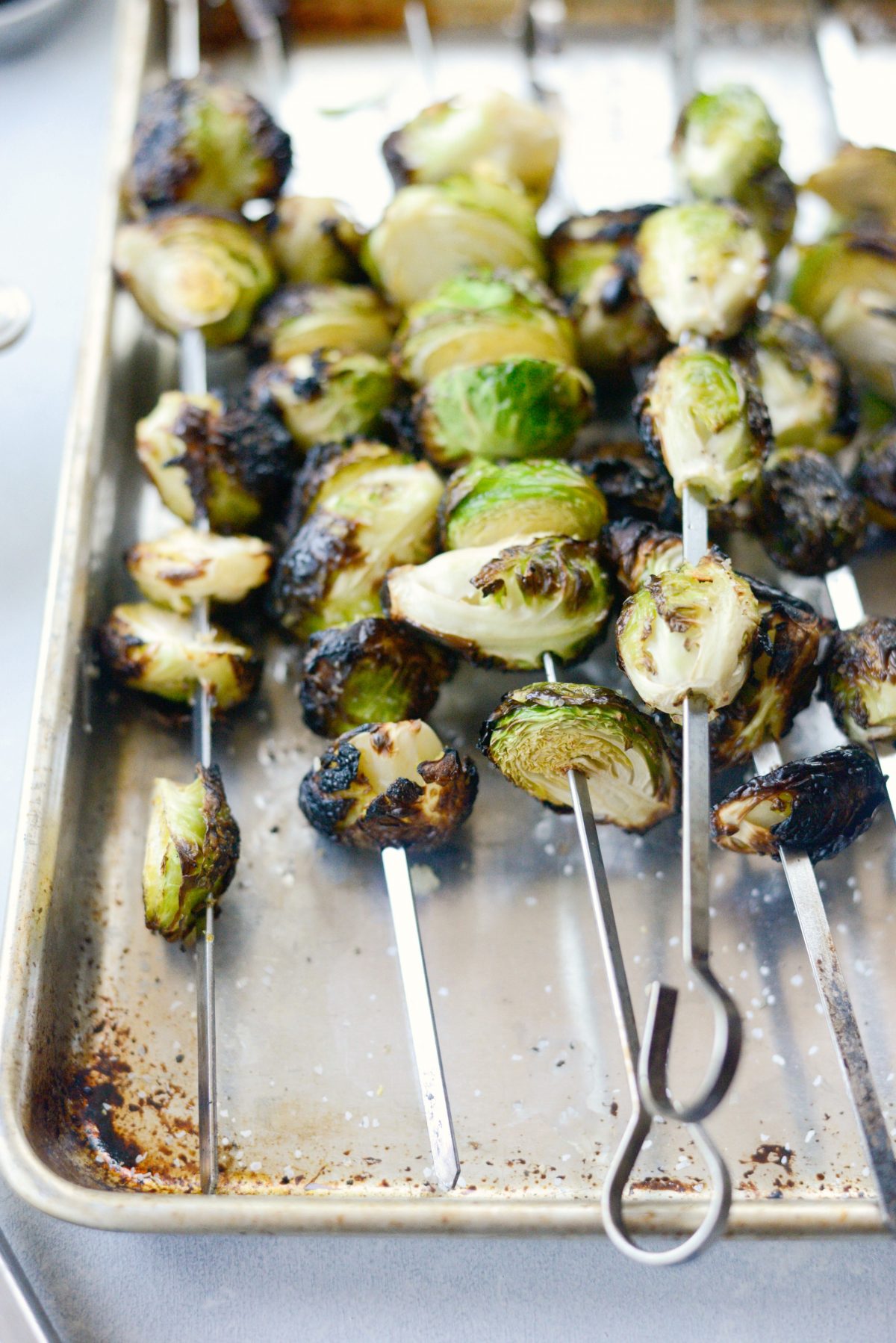 Lastly, place the skewers onto your preheated grill, close the lid and grill for 4 minutes. Use tongs to rotate the skewers, grilling for an additional 3 to 4 more minutes or until lightly charred and tender.
Once cooked, carefully remove skewers and let cool slightly before serving.
Give the skewer handles a few minutes to cool down until they are safe to handle. Now, you could stop right here and enjoy them as they are. BUT drizzling them with honey and balsamic glaze and (after removing them form the skewers) topping them with crunchy sliced almonds. Toast them if you're feeling extra.
Meet my new favorite way to eat brussels sprouts.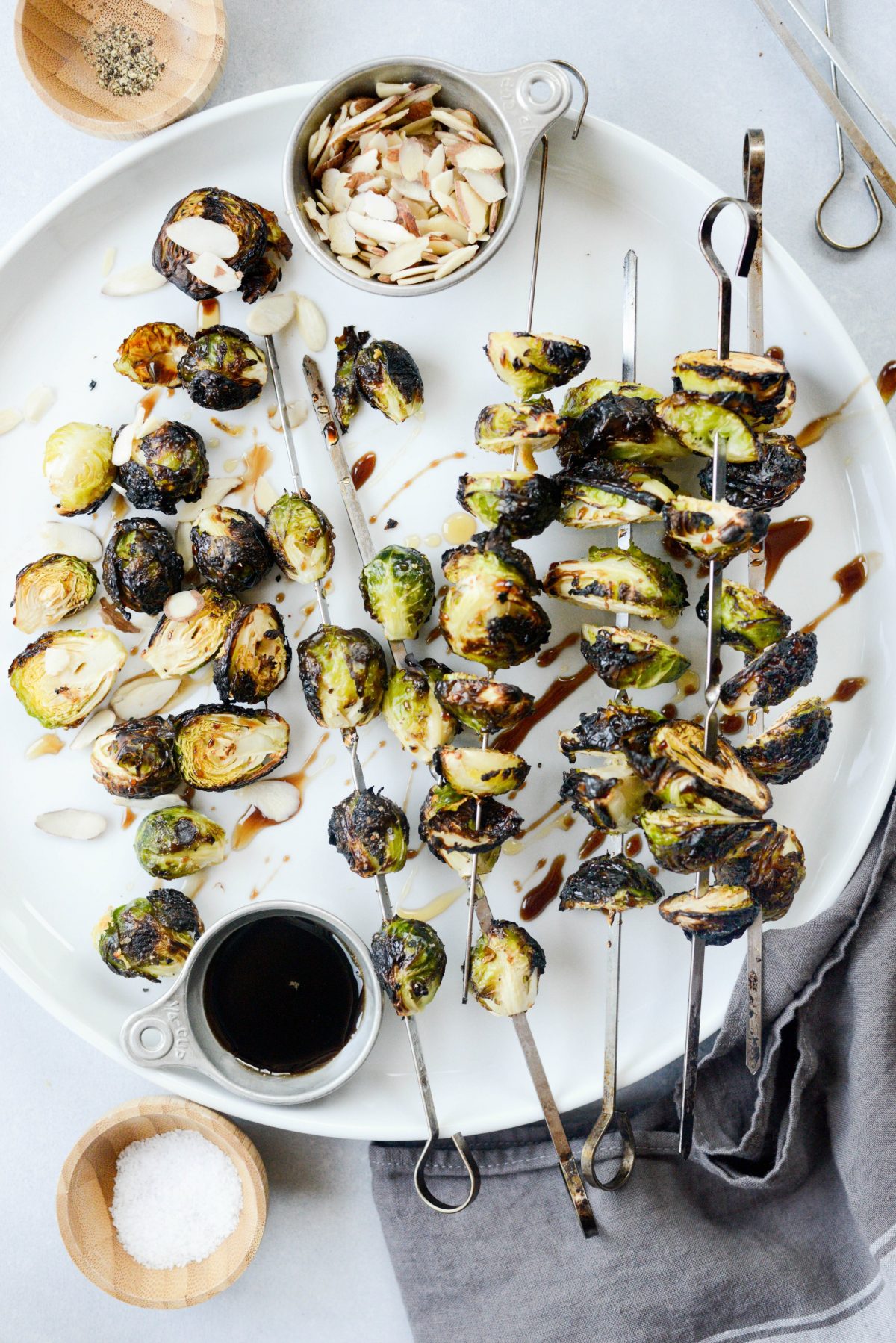 As a result to grilling, the outer leaves of these grilled garlic brussels sprouts get crisp, caramelized and most importantly, tasty. Meanwhile the middle of the brussels sprouts is cooked perfectly and tender. The honey and balsamic glaze add a touch of sweetness and tang which seems to work harmoniously with the garlicky brussels sprouts. The almonds are just texturally yum.
Needless to say, I LOVE this recipe! And you will too.
For more brussels sprouts recipes, click here.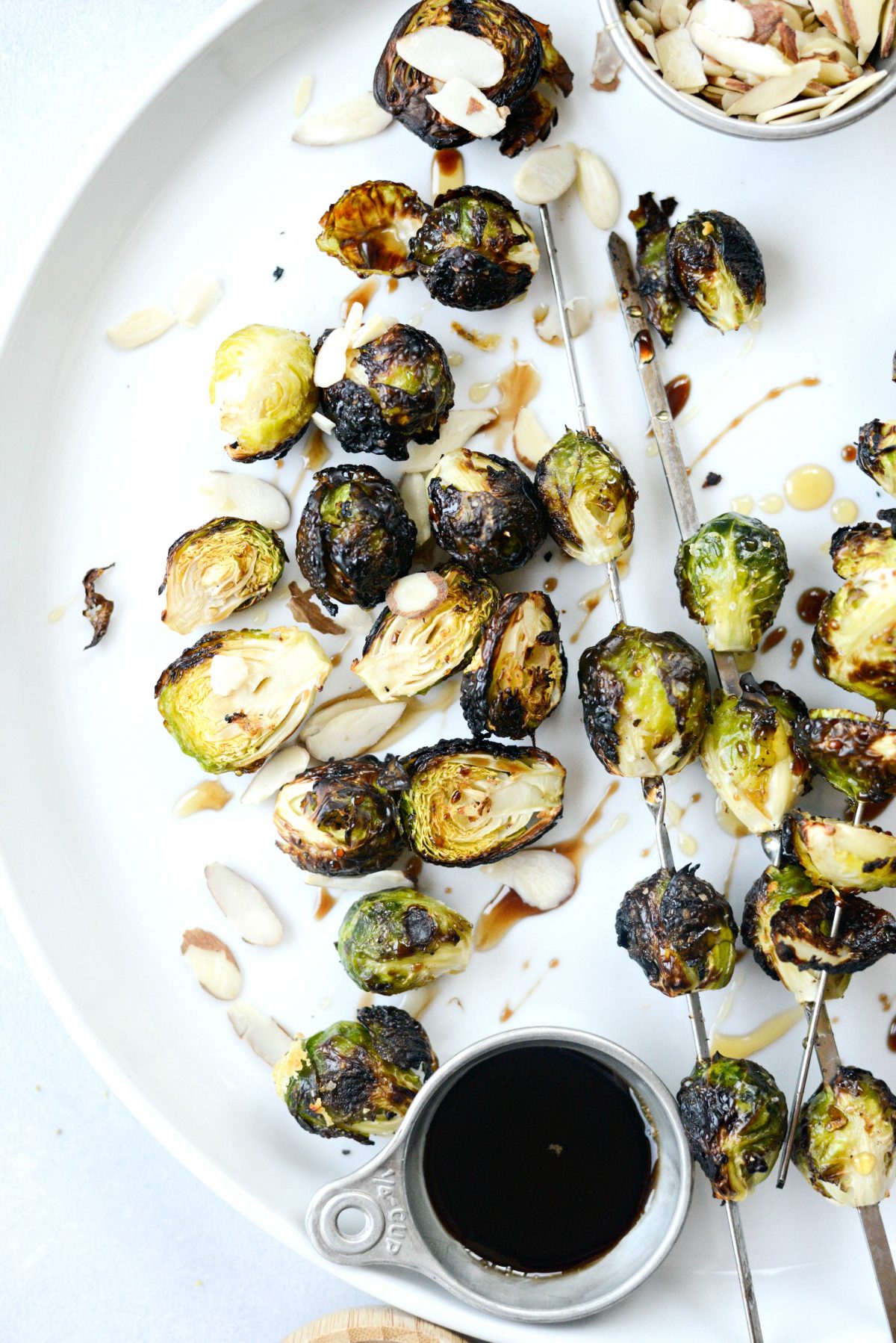 Enjoy! And if you give this grilled garlic brussels sprouts recipe a try, let me know! Snap a photo and tag me on twitter or instagram!
This post may contain affiliate links.
Buy the Cookbook: Simply Scratch : 120 Wholesome Homemade Recipes Made Easy Now available on Amazon »
THANK YOU in advance for your support!