These No-Bake Cookies and Cream Mini Cheesecakes are ridiculously easy and don't require you to turn on your oven. Cream cheese is blended with powdered sugar, vanilla and heavy cream and is then poured over cream-filled chocolate sandwich cookies for a cool sweet treat! The next time you're craving a easy cool treat, I've got you covered.
Is it me or does it feel as if it's been forever and a day since I shared a dessert recipe? Actually it was April 11th to be exact. So yeah.
I can admit that I'm bad at posting dessert recipes here. I suppose my sweet tooth has dried up and fallen out because I really don't like a lot of the treats I see around the web-o-sphere. Besides that I'm also a little picky, this really isn't shocking, but I swear I can sense when something is going to taste too rich for my liking. Which sadly, is about 90% of most desserts. However, I'm always game for baking cookies or not baking at all.
Enter these no-bake cookies and cream mini cheesecakes.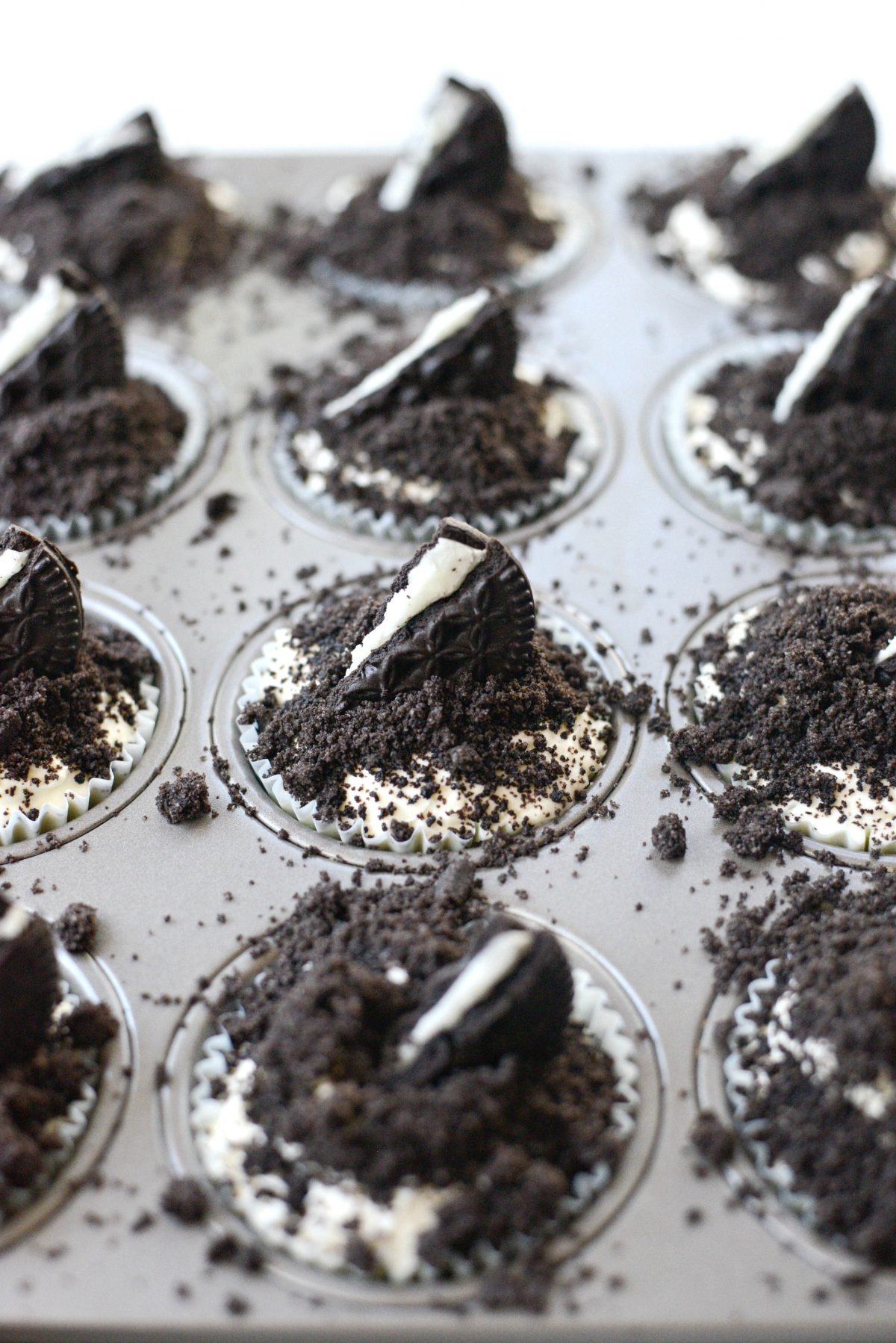 It's like they hit every mark of my "summer requirements in order to make/bake list:
easy ✔
minimal ingredients ✔
no-bake ✔
cheesecake ✔✔✔
Plus cookies and cream anything is guaranteed to be even more scrumptious.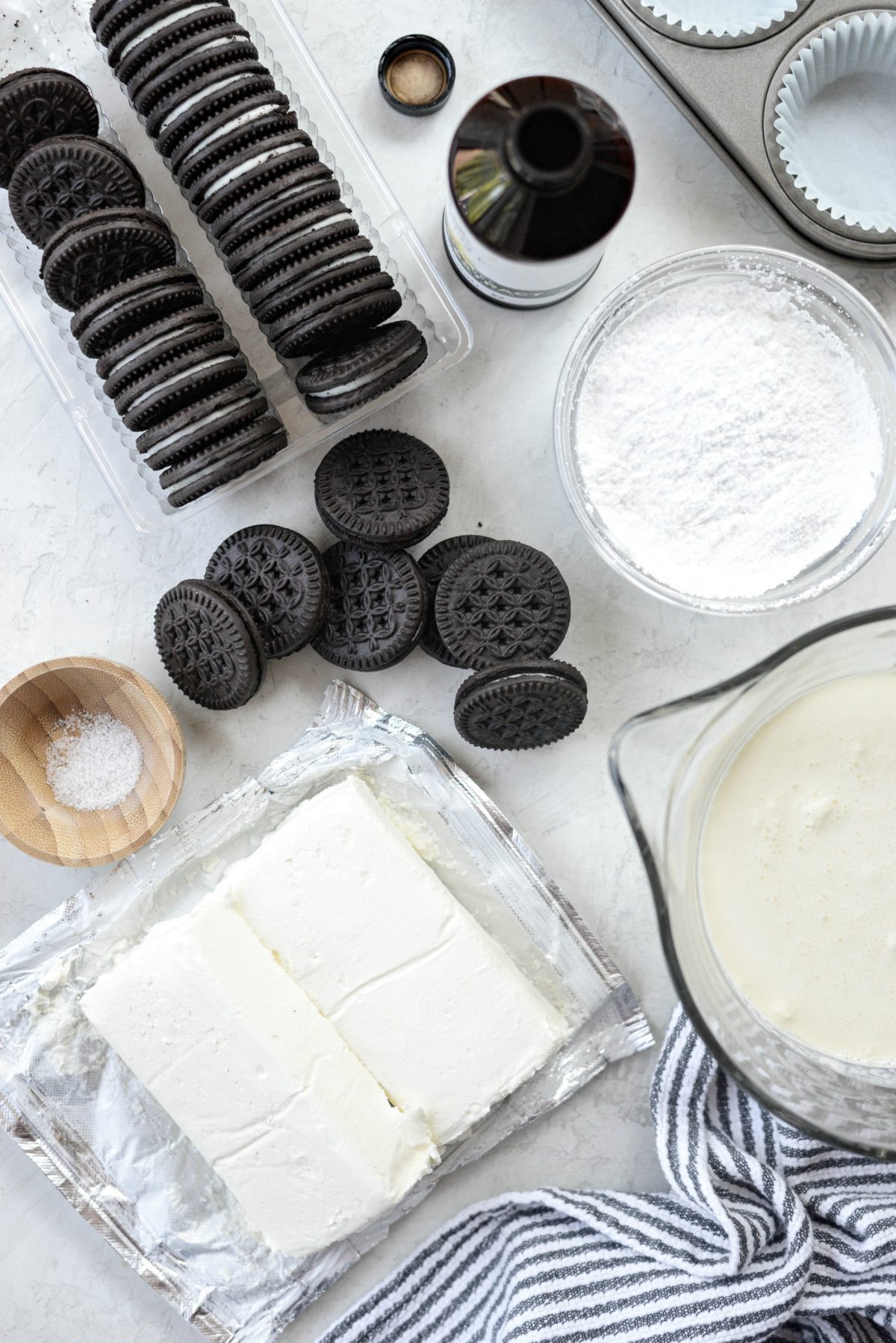 To Make These Cookies and Cream Mini Cheesecakes You Will Need:
cream cheese
powdered sugar
vanilla
sea salt
heavy cream
cream-filled chocolate sandwich cookies
As I mentioned before only simple and minimal ingredients here, folks!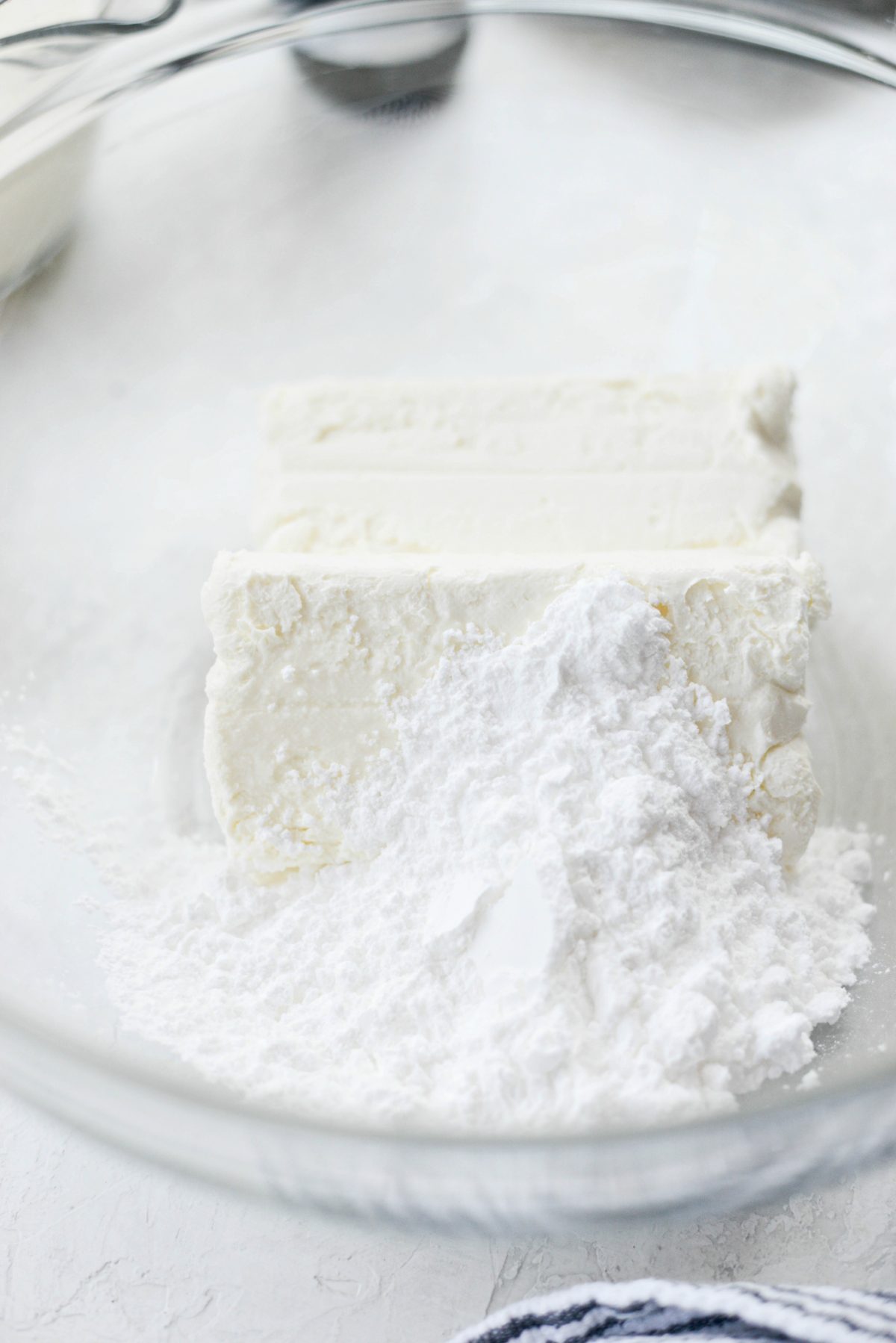 TO Make the no-bake cheesecake:
To start, add 16 ounces cream cheese (softened), 1 heaping 1/2 cup of powdered sugar (that's been sifted), a pinch of sea salt and 1 teaspoon pure vanilla extract into a large mixing bowl.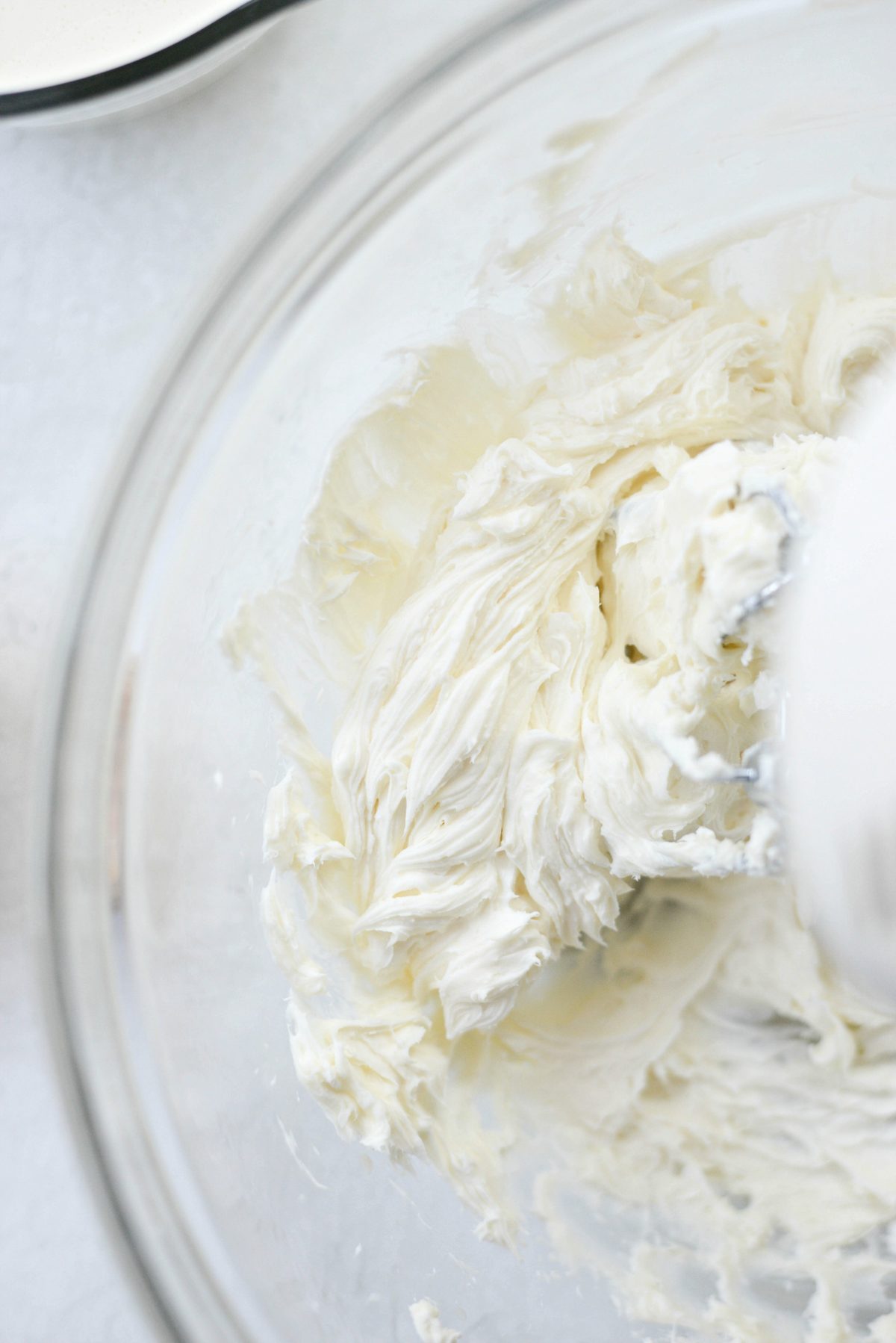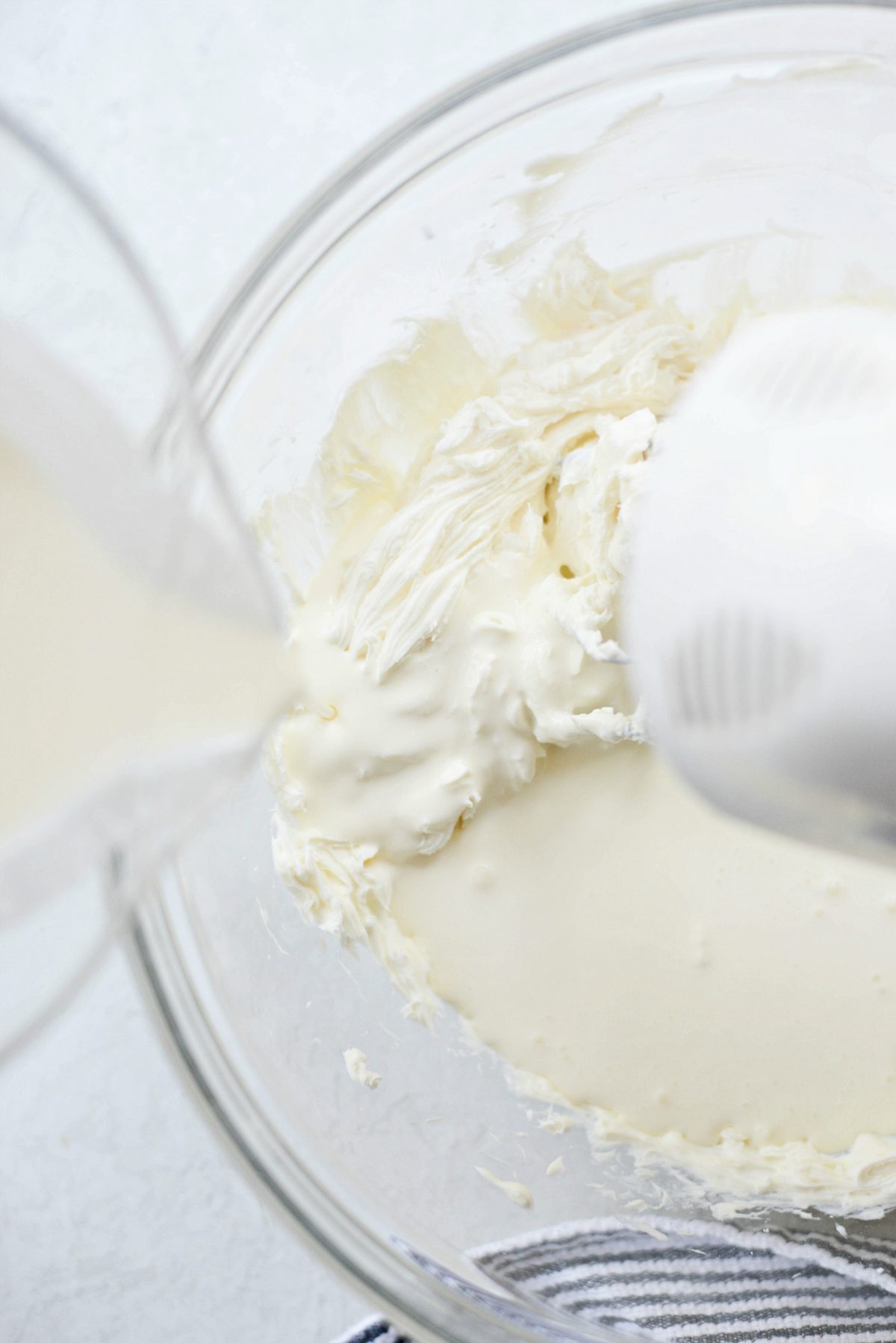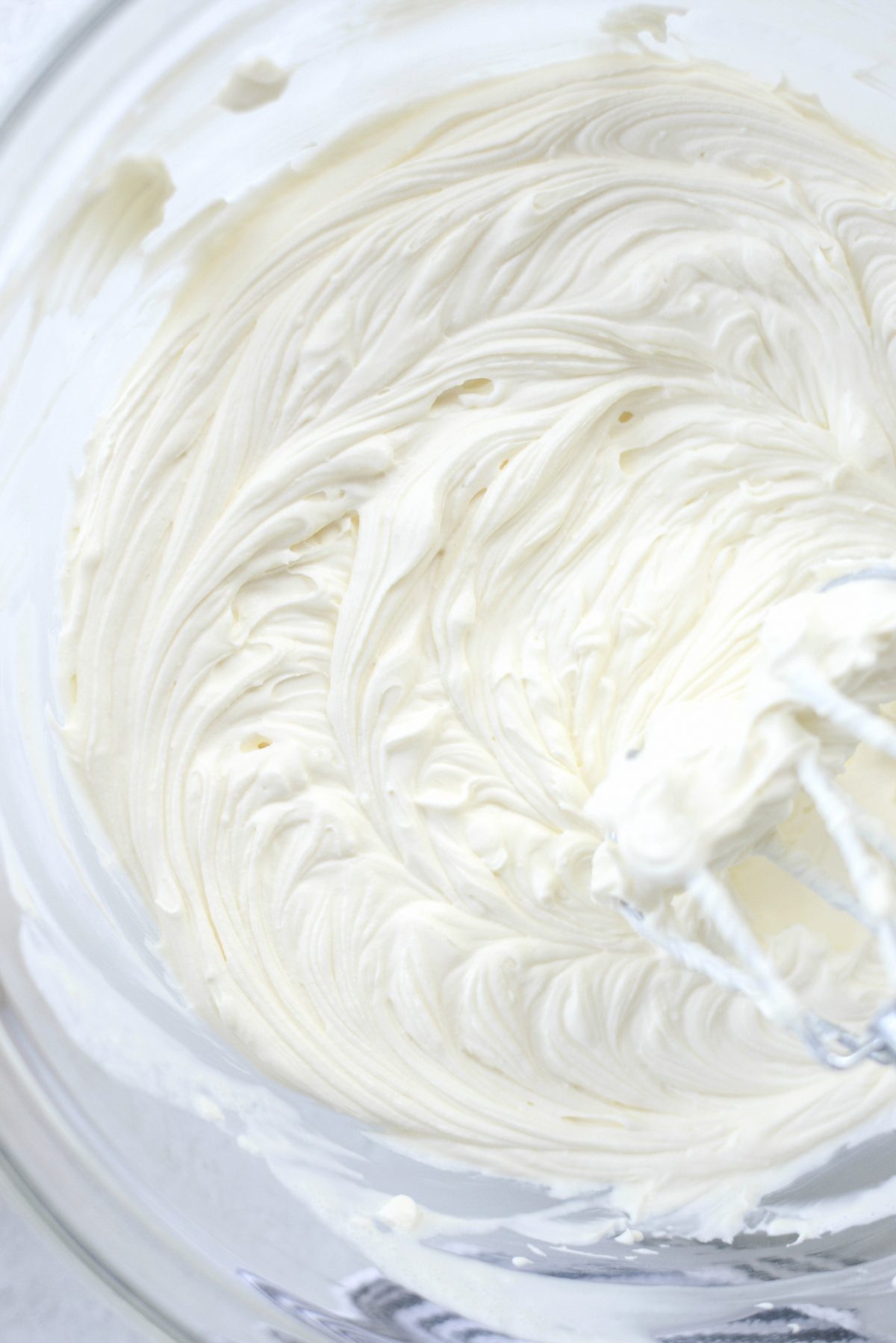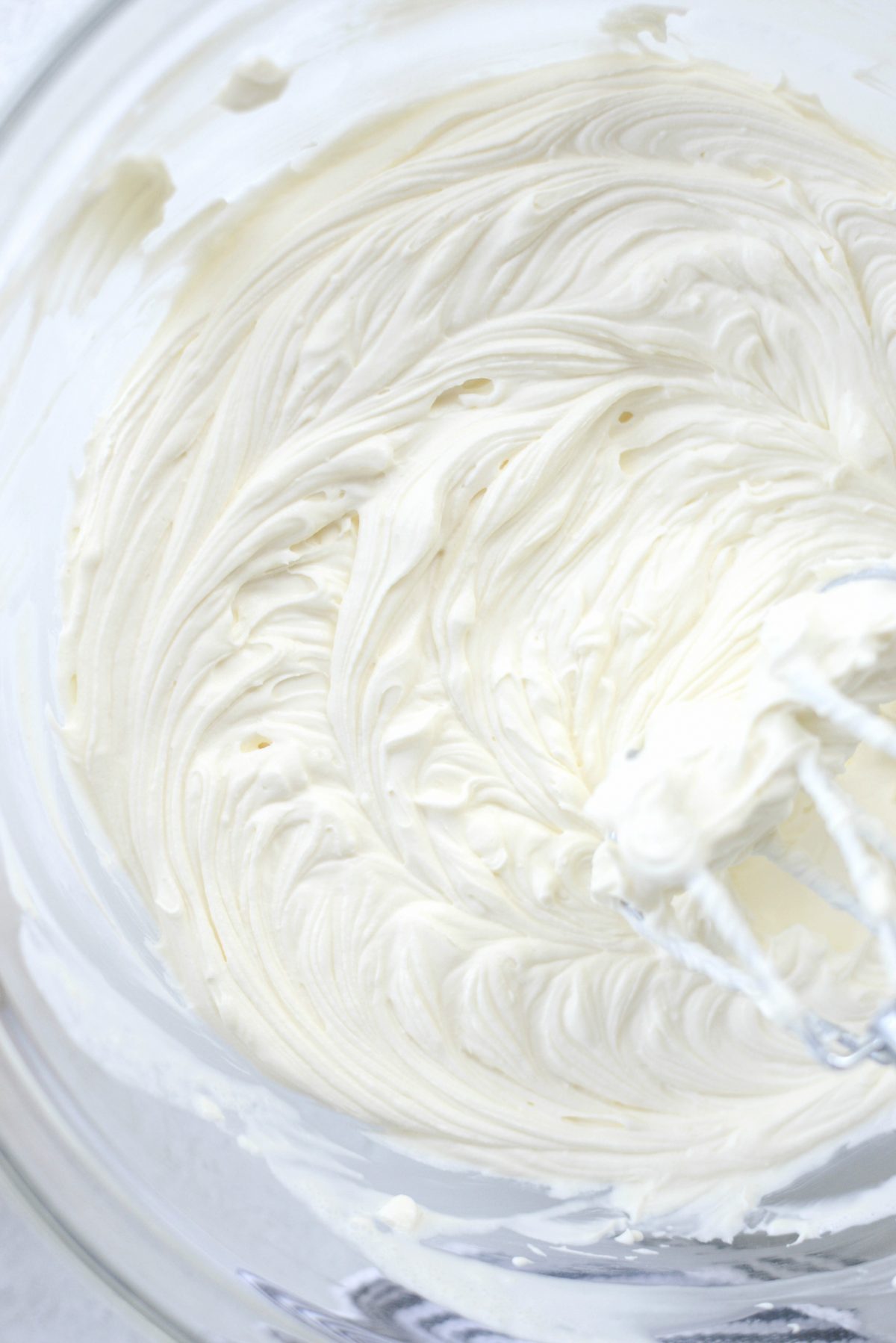 Next, mix on low speed until most of the powdered sugar is incorporated. Then increase the speed a notch or two, mixing until there are few to no lumps. Sifting the powdered sugar should help you achieve this.
Lastly, pour in the 2 cups of heavy cream, and start to mix it on low speed and slowly increasing the speed until the cream cheese filling is thick and creamy. Set this bowl of heaven off to the side for a moment.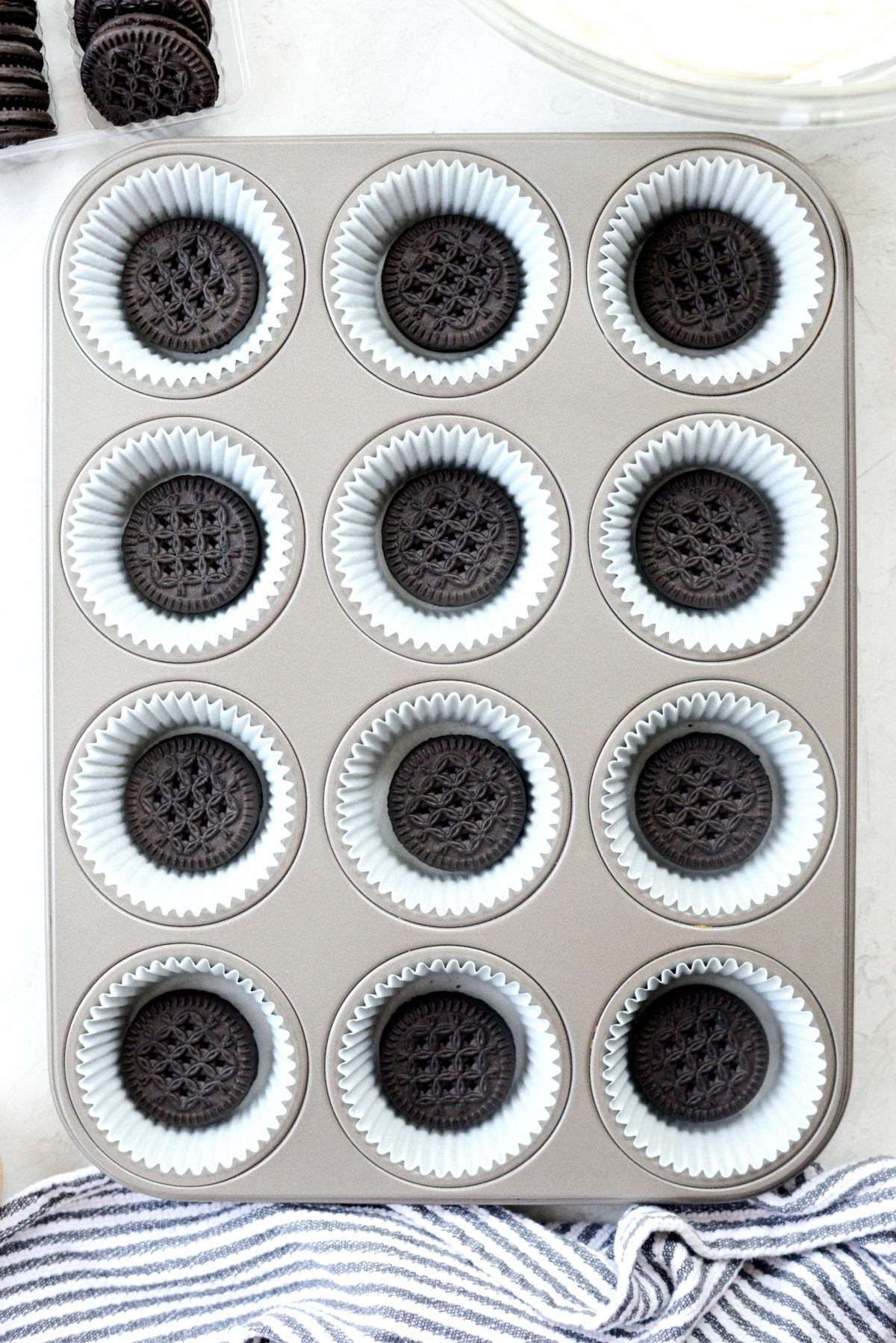 Now place paper liners into a 12-cup muffin tin and drop in a sandwich cookie in the bottom of each one. These cookies will act as the base "crust" for the cookies and cream mini cheesecakes.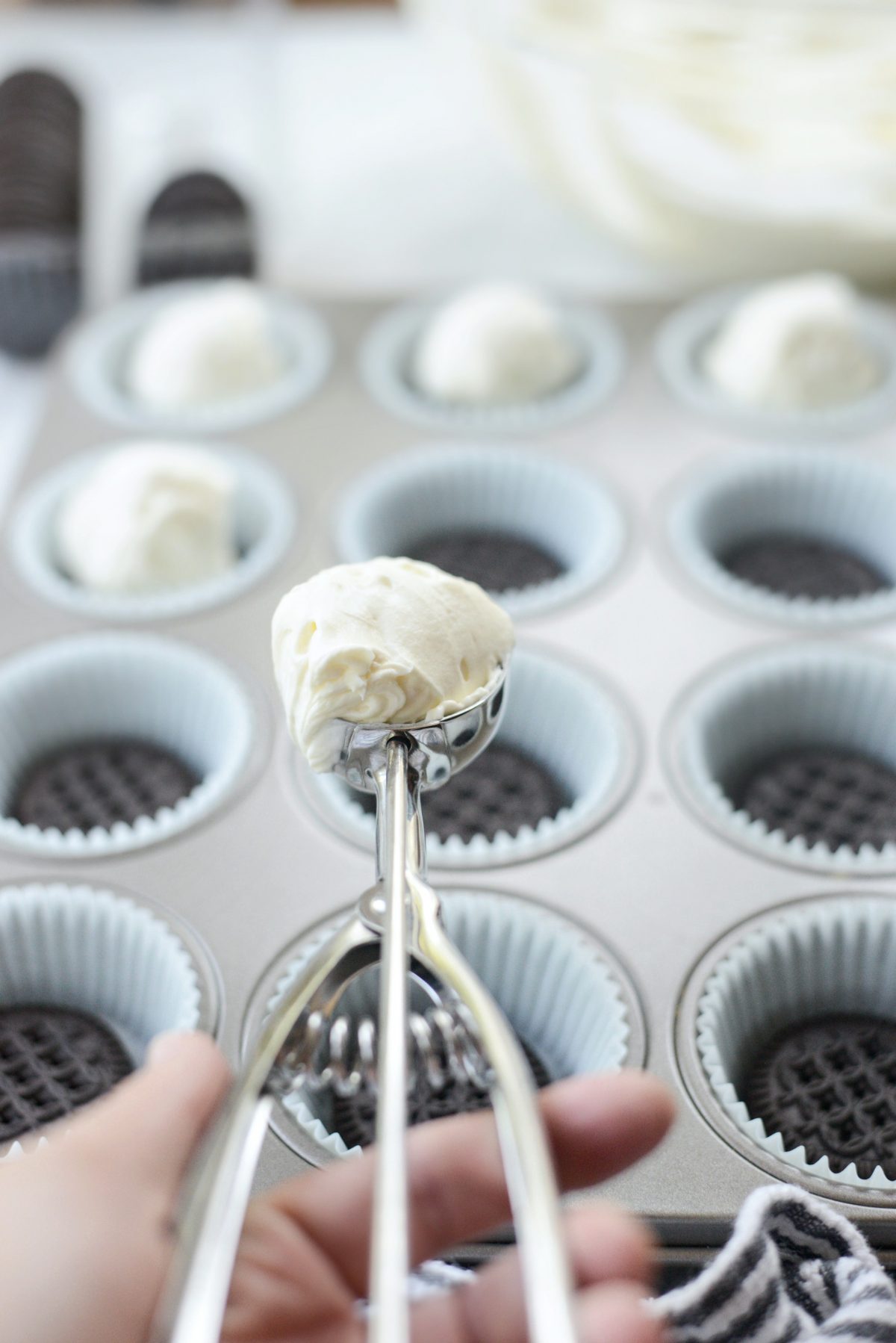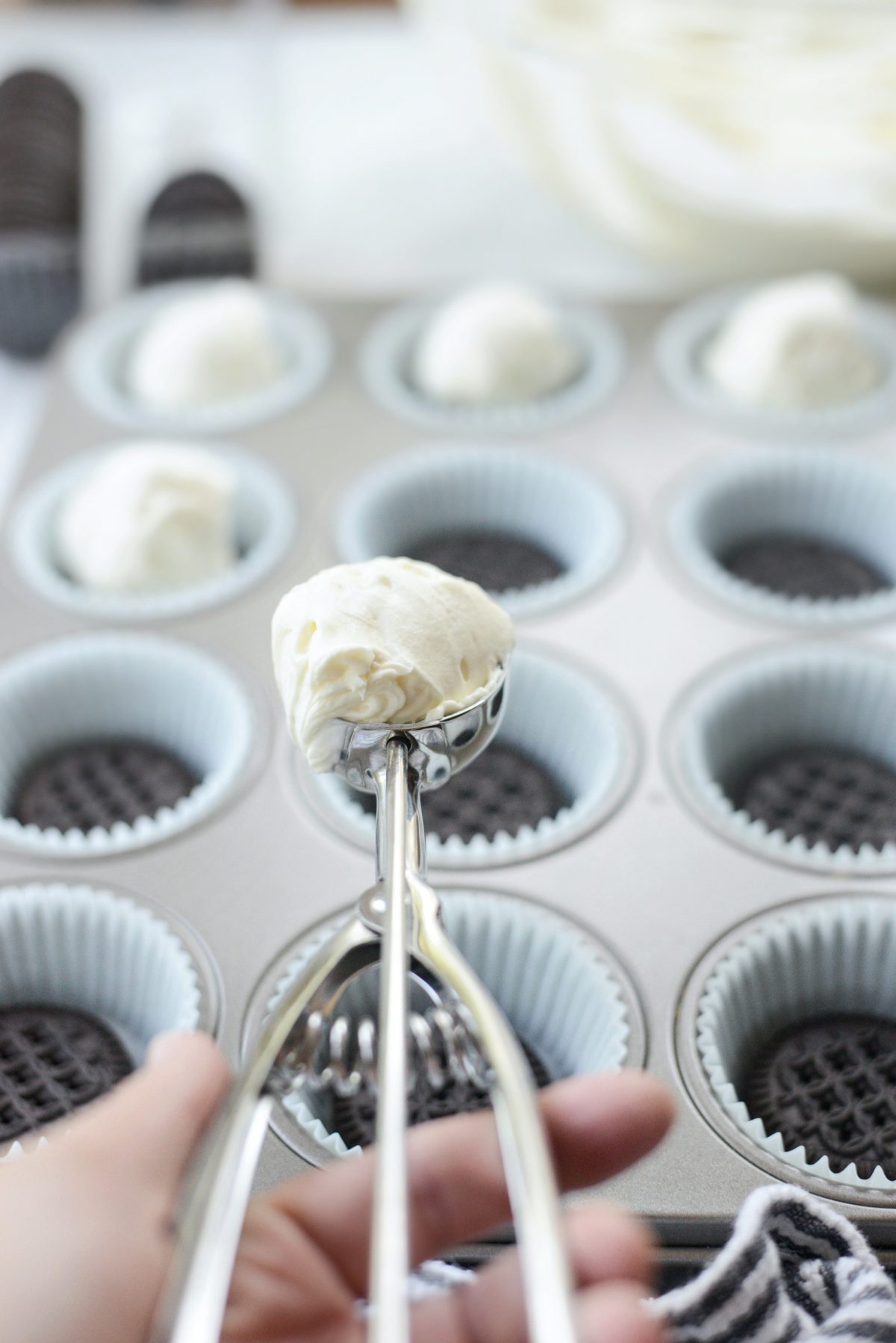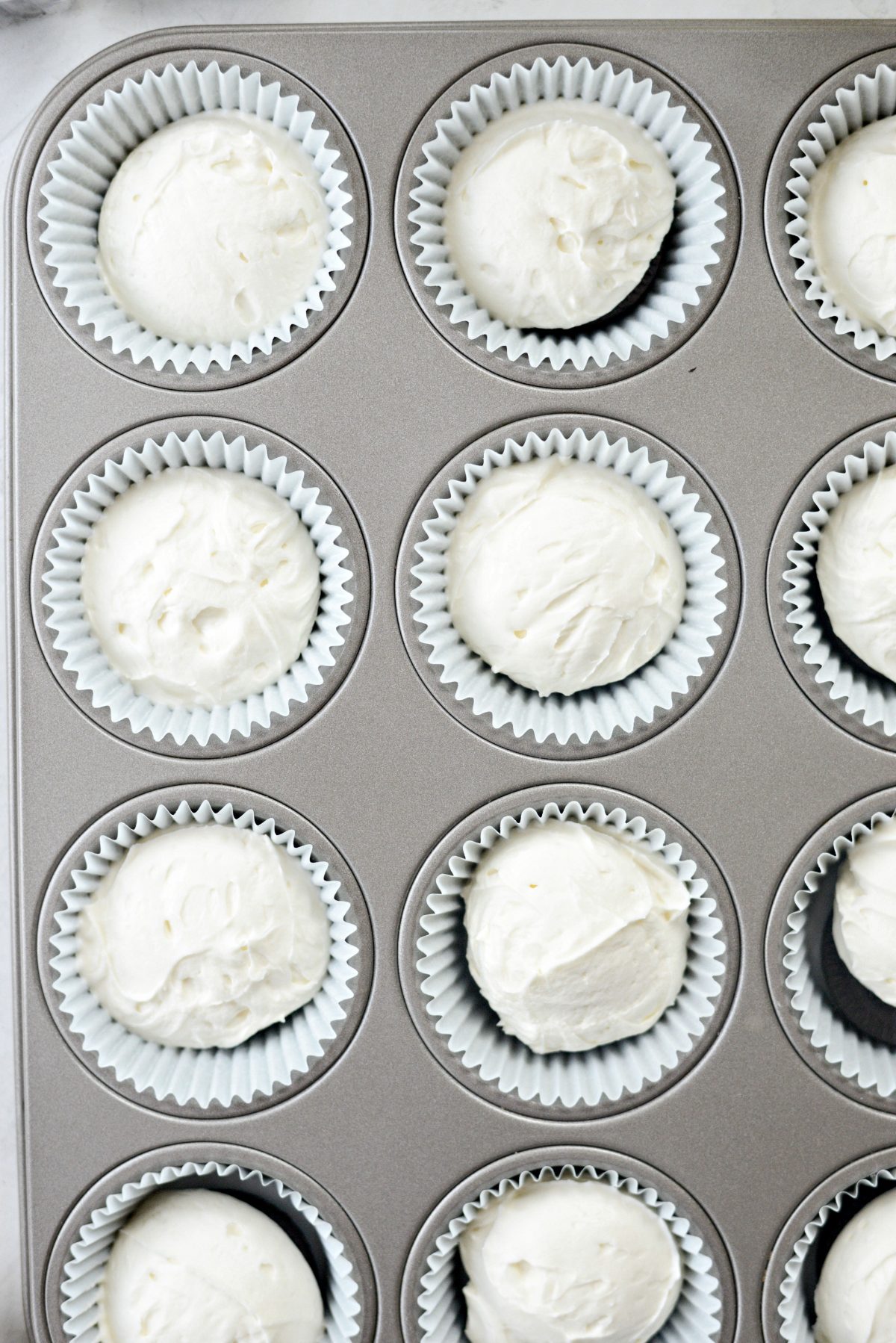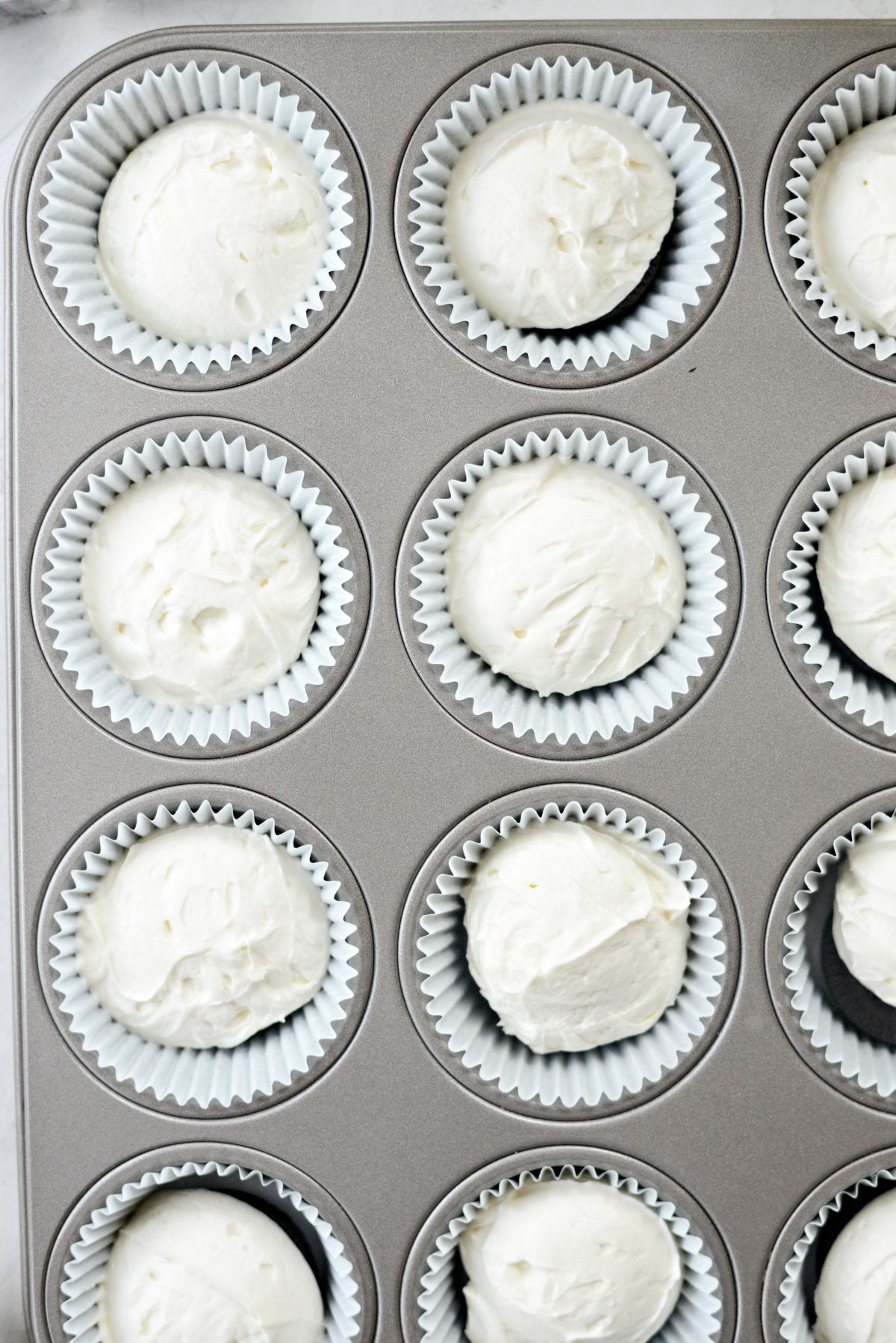 Next, scoop some of the filling out of the bowl and top each cookie. I'm using a 2-tablespoon scoop to make the job easier and cleaner. And then give the pan a few (like 10 or so) firm taps on your counter to settle the filling.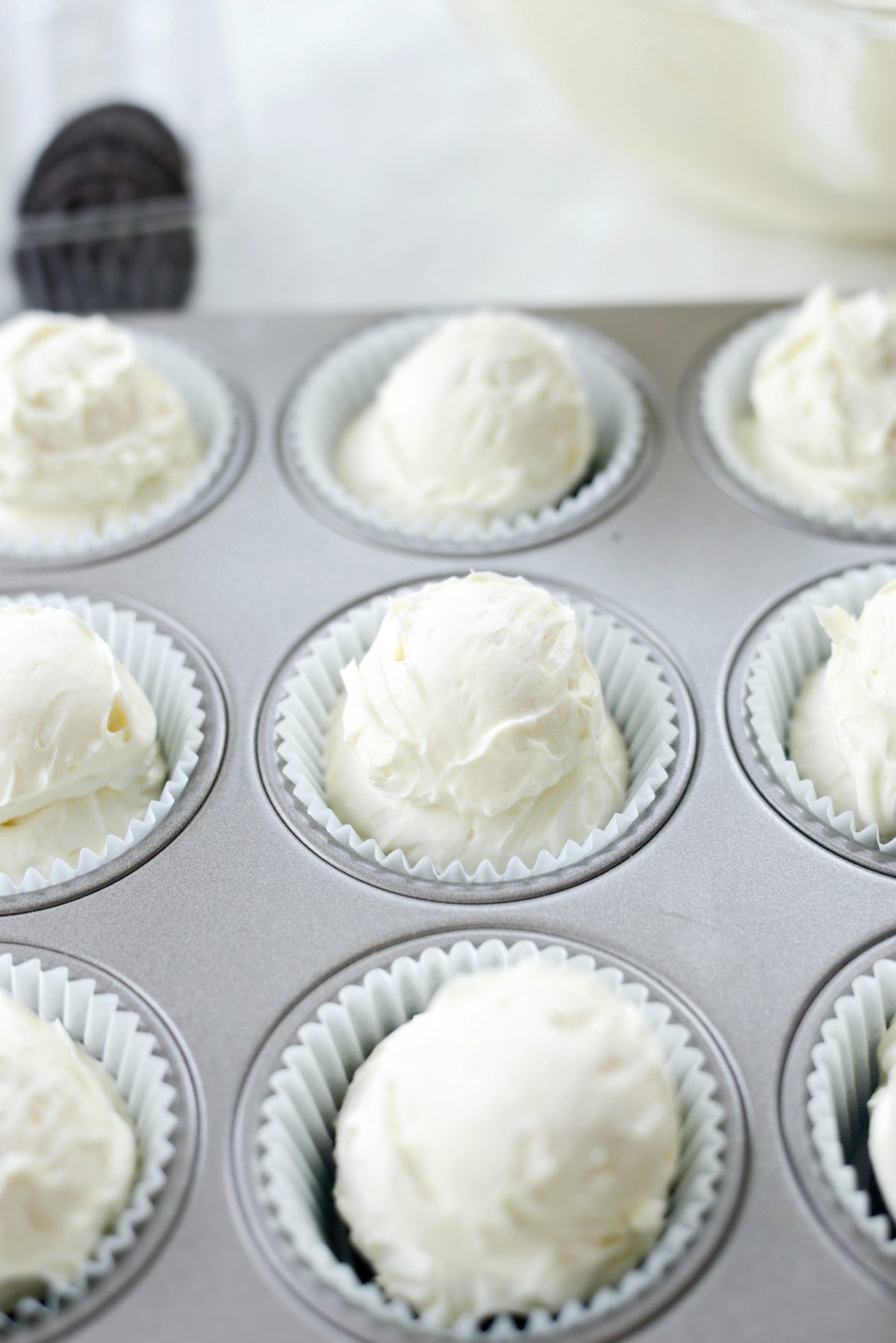 Next divide the remaining filling into the muffin liners and firmly tap the pan some more to settle the filling even more so. In the end, each mini cheesecake should have about 1/4 cup of the filing.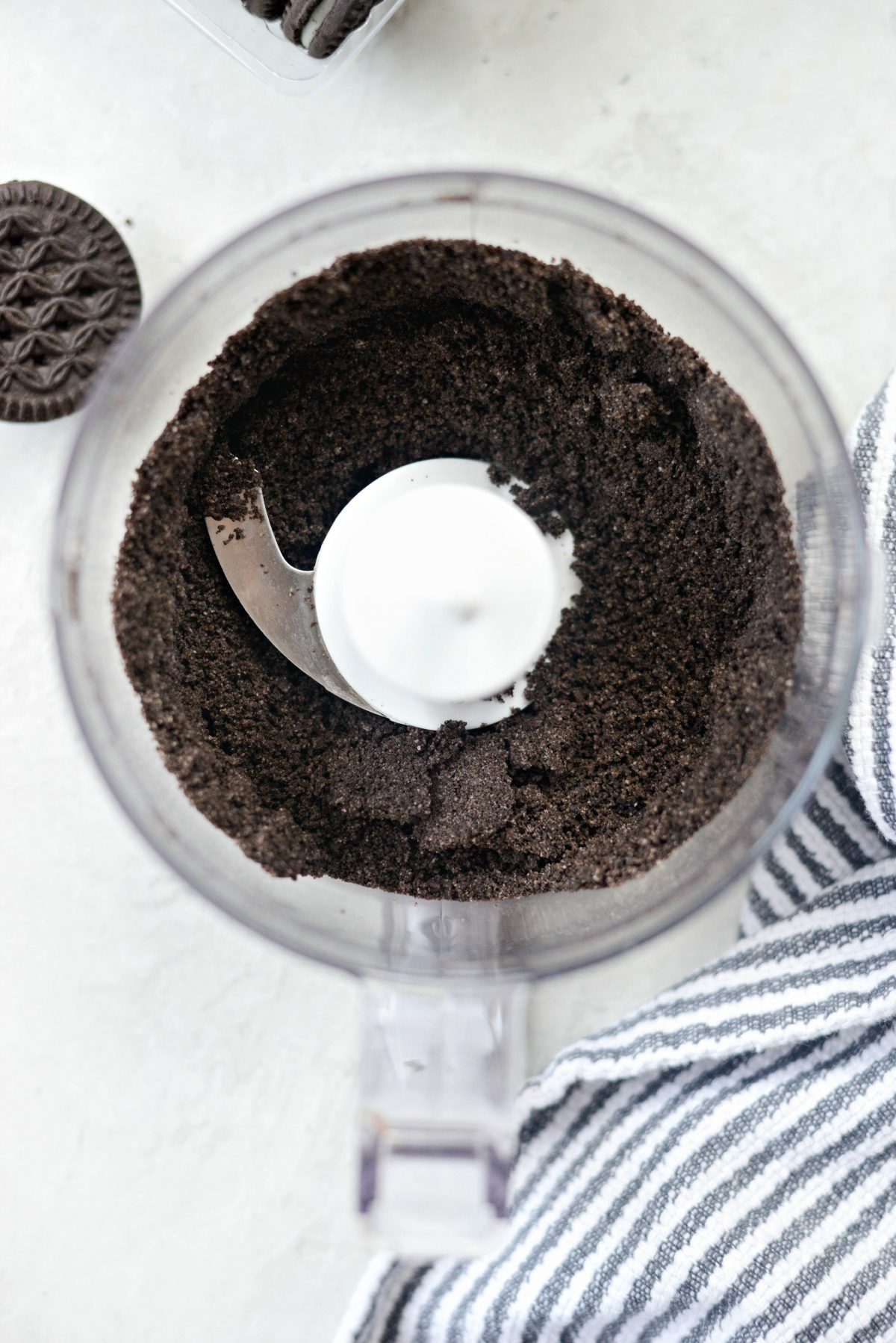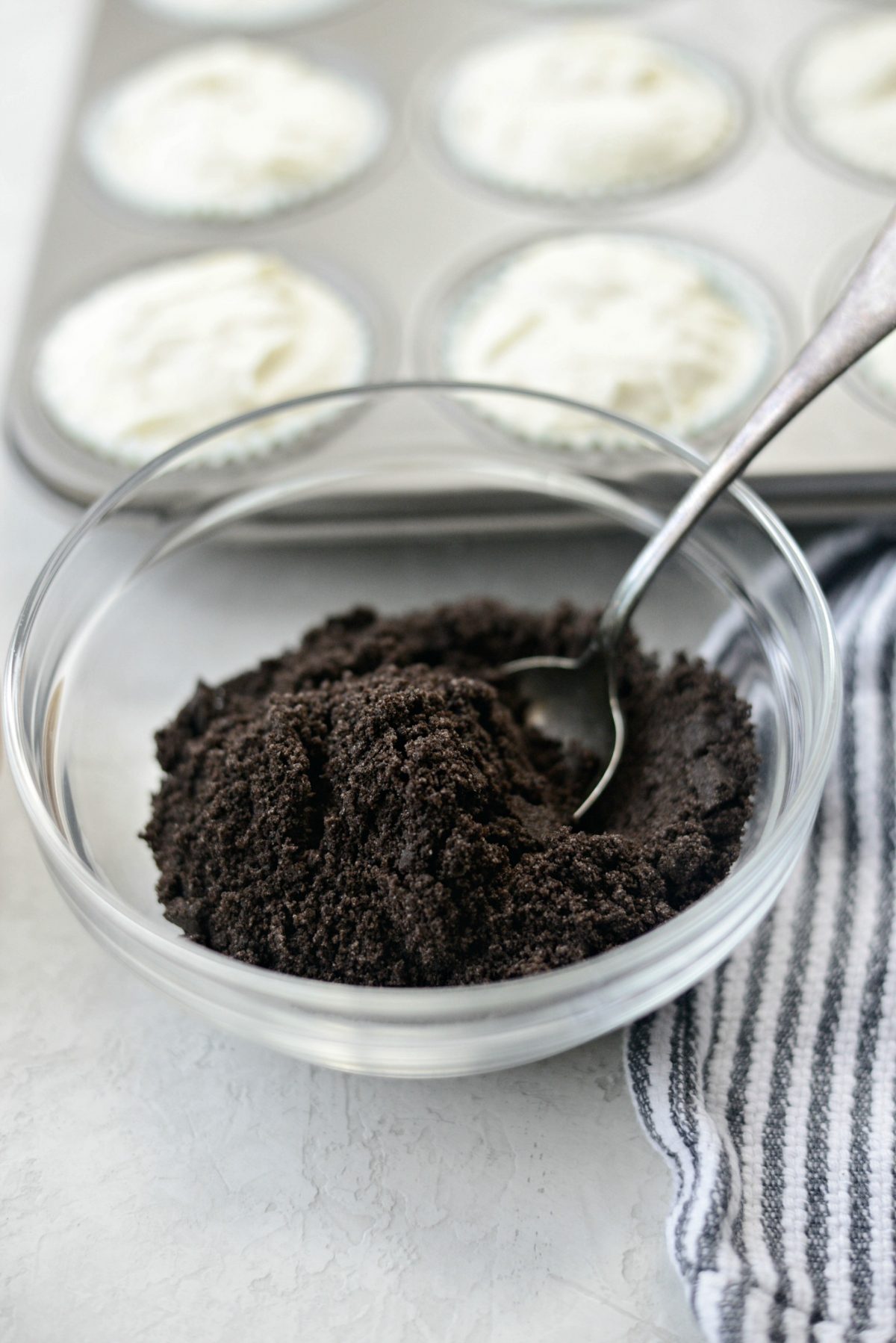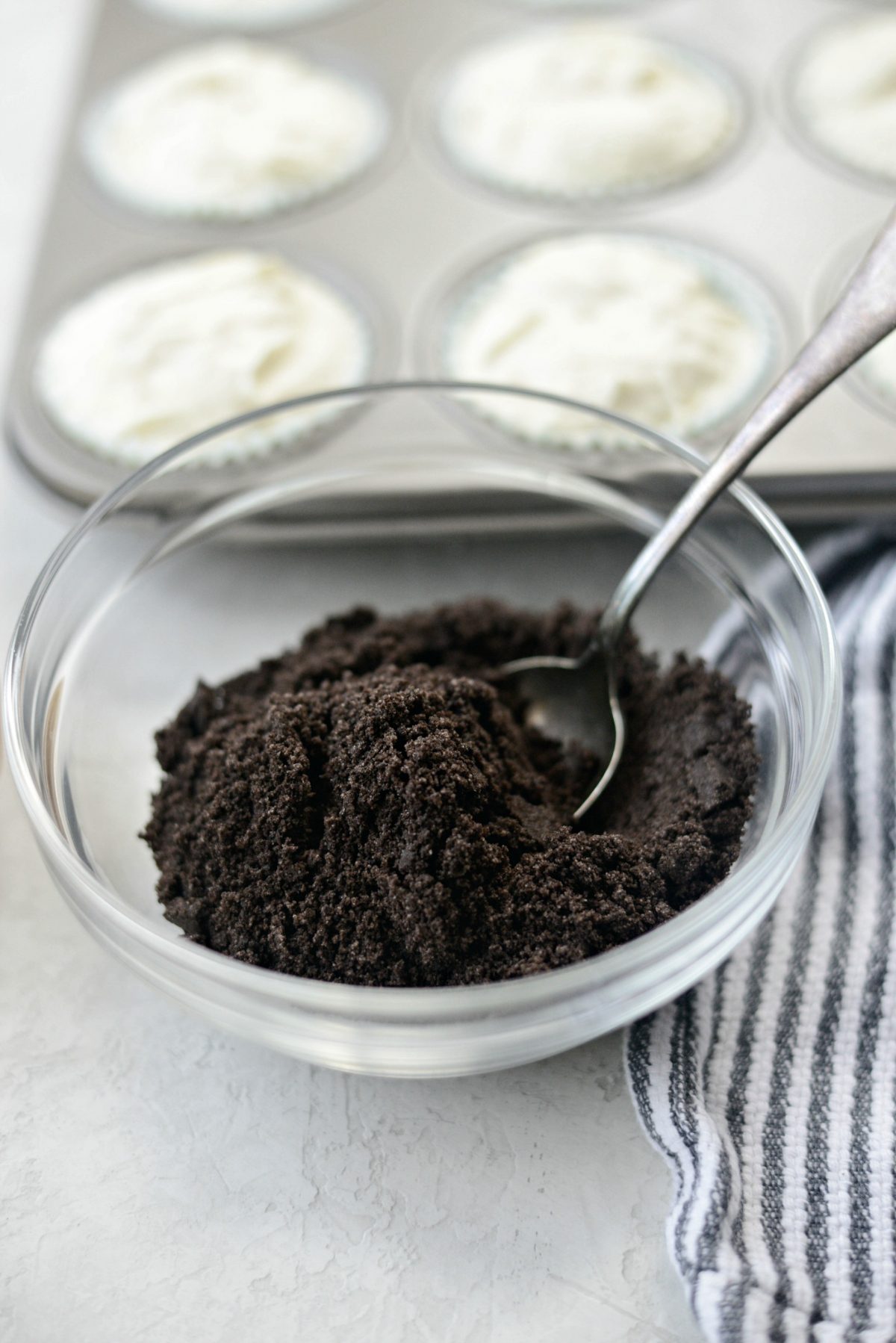 Now, here is where you have options:
You can twist 6 cookies in half and add them to your food processor and then pulse into crumbs like above.
Or alternatively, crush 12-16+ cookies in to large pieces and press them into the filling. This will give great contrast and break up the creaminess of the cheesecake. It's your call! I promise you can't go wrong either way.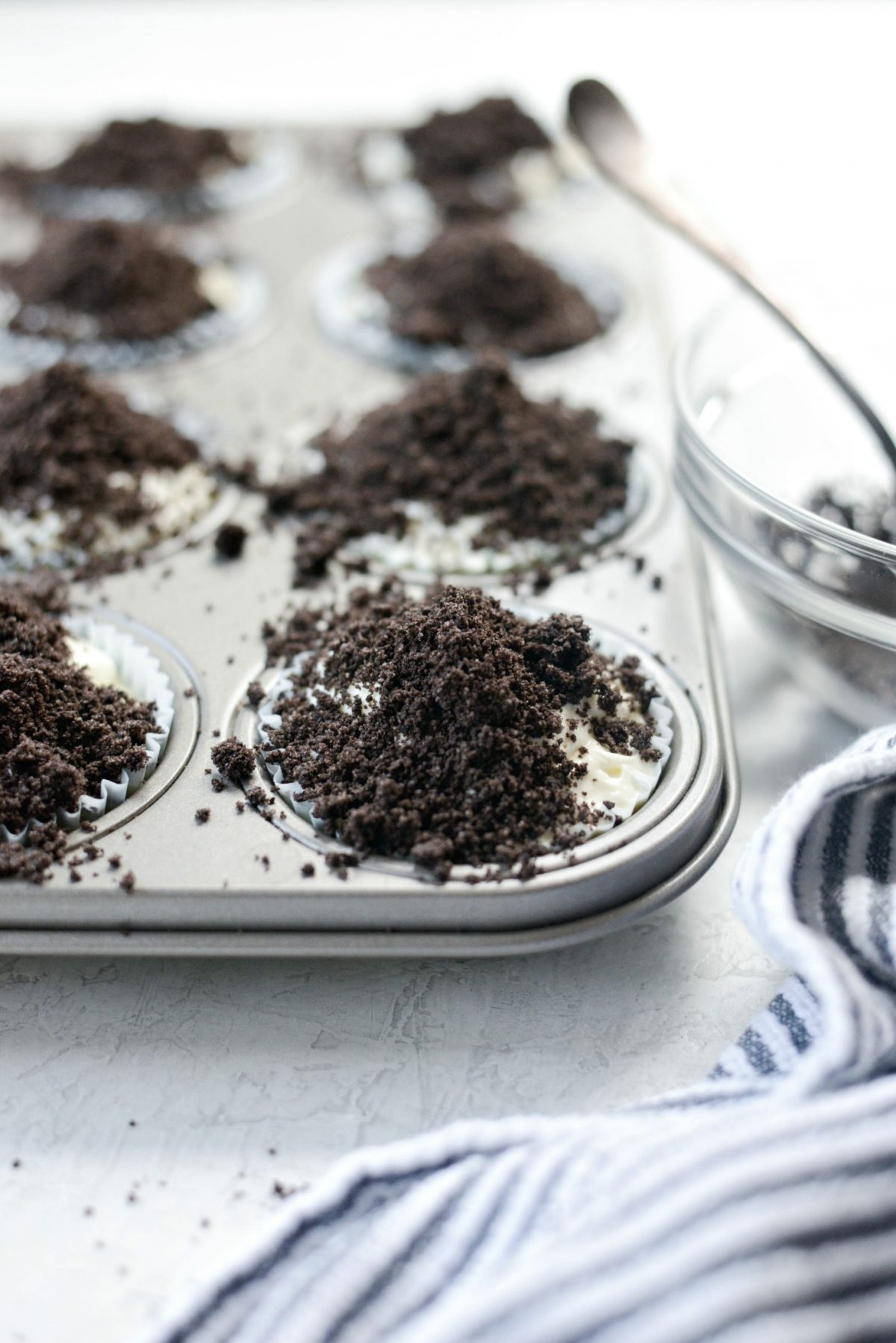 Next all you have to do is refrigerate them for 4 to 6 hours. The longer the better, so they have time to firm up, furthermore softening the cookies as it chills.
Then while these work their magic in your fridge, take a nap. You deserve it.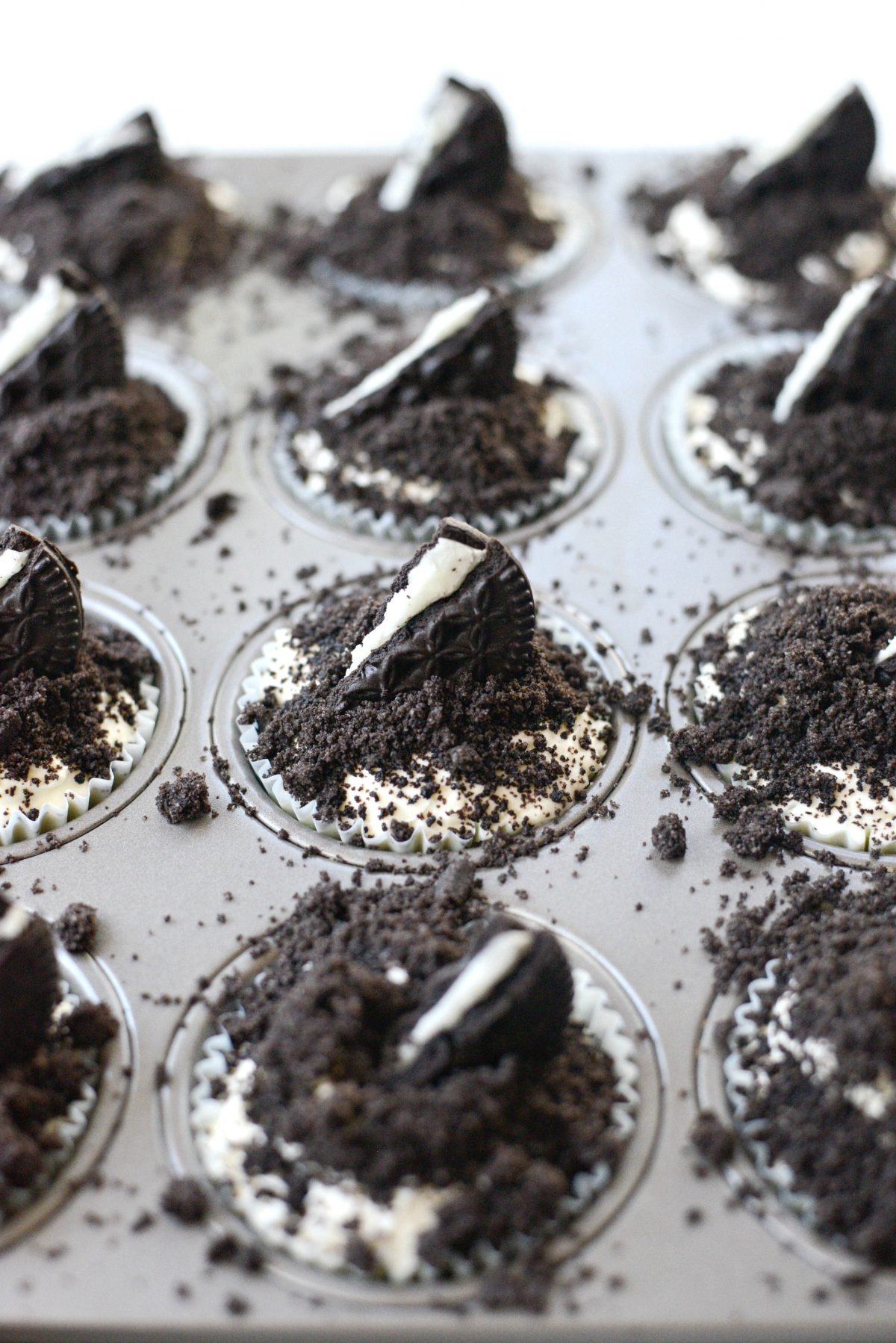 If you decide on going the crumb route, break any remaining cookies in half and top each cookies and cream mini cheesecakes with a cookie half (or two 😉).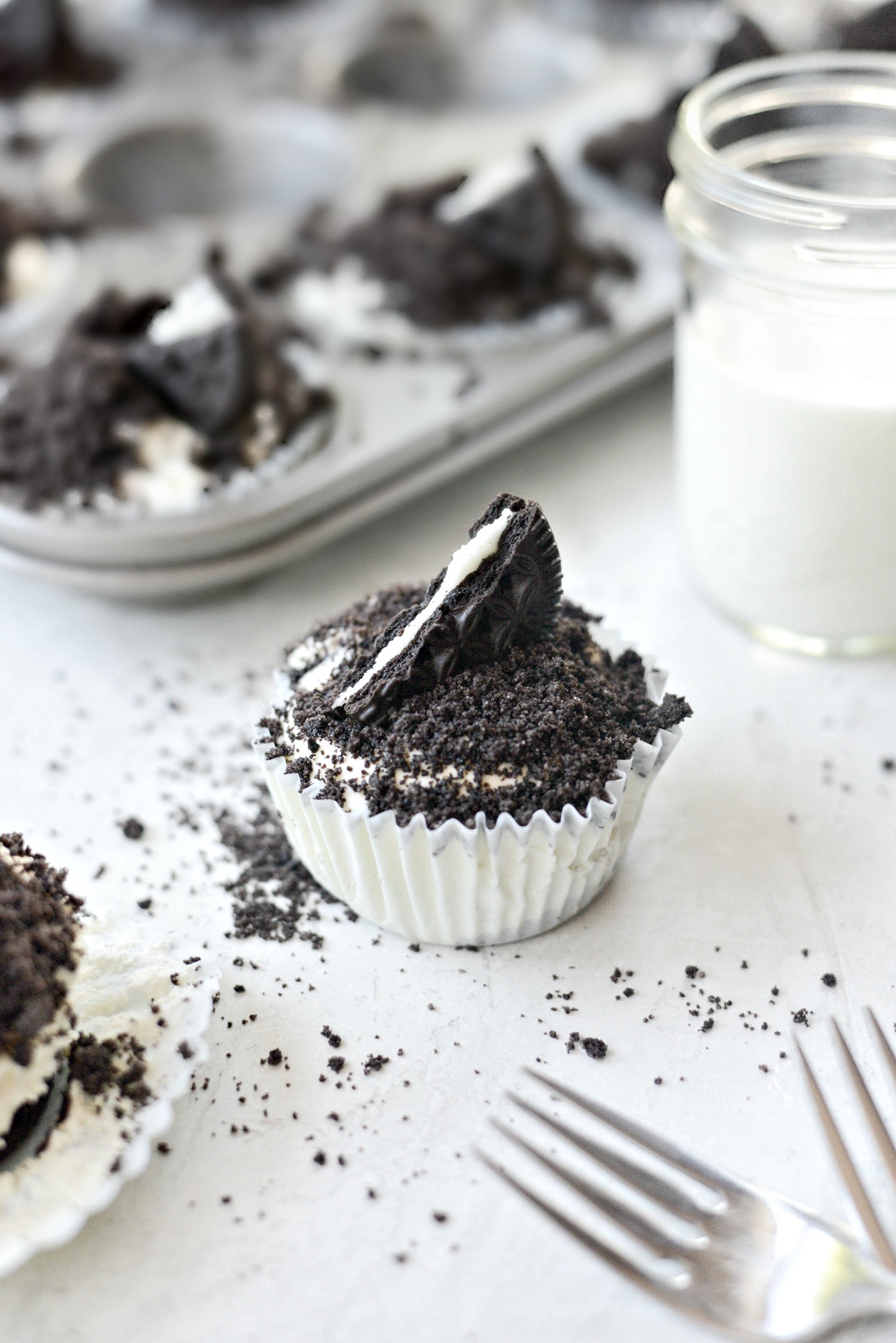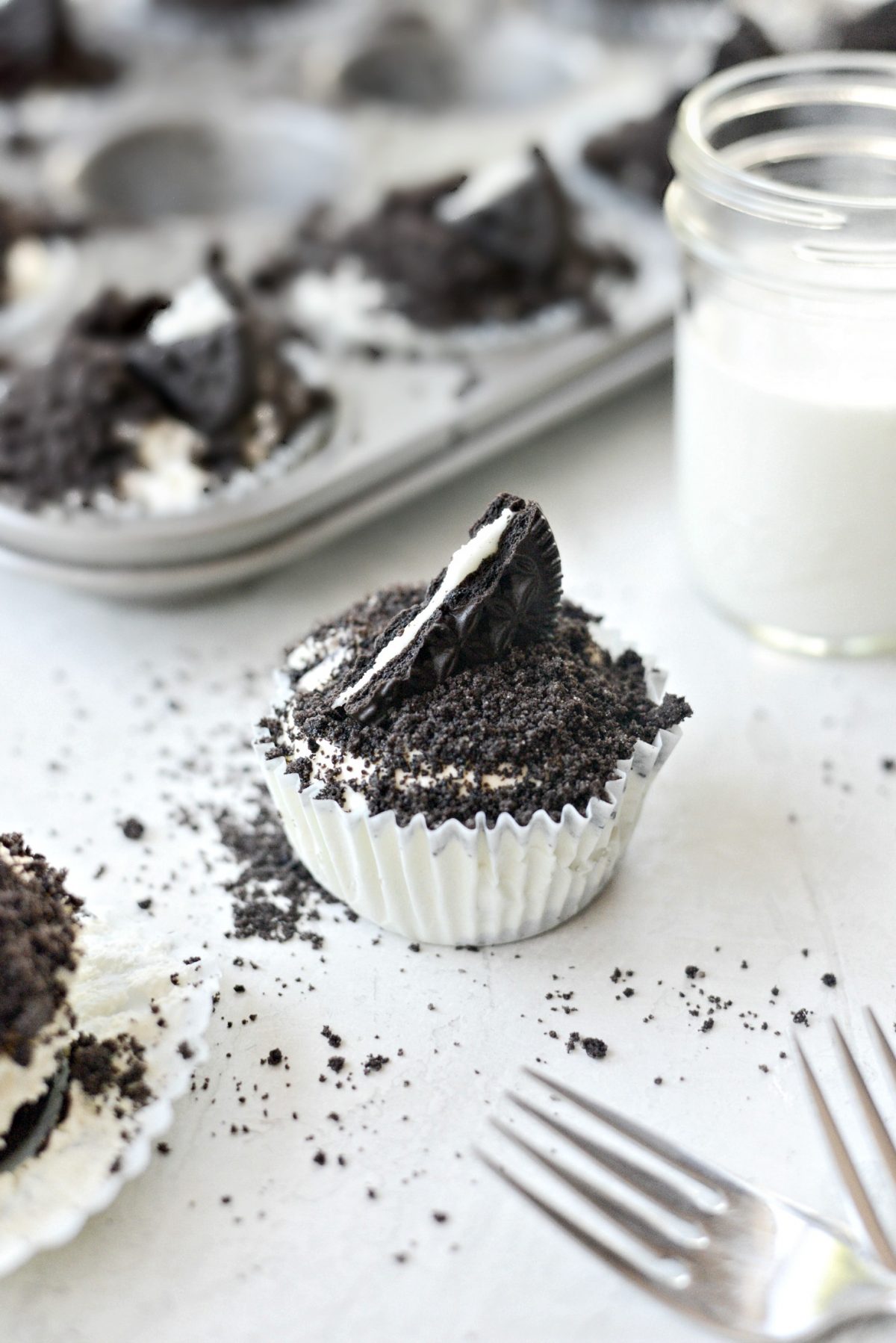 I've never was a huge fan of cookies and cream things. Except this icebox cake which is pretty darn good. However these mini delights may have made a fan out of me after all. Because first: cheesecake. And then of course: cookies.
Also my family loved these mini cheesecakes. Malloree was all heart eyes and said "This may be my most favorite thing you've ever made, Mom."
I agree, Mal. I agree.
Enjoy! And if you give this Cookies and Cream Mini Cheesecakes recipe a try, let me know! Snap a photo and tag me on twitter or instagram!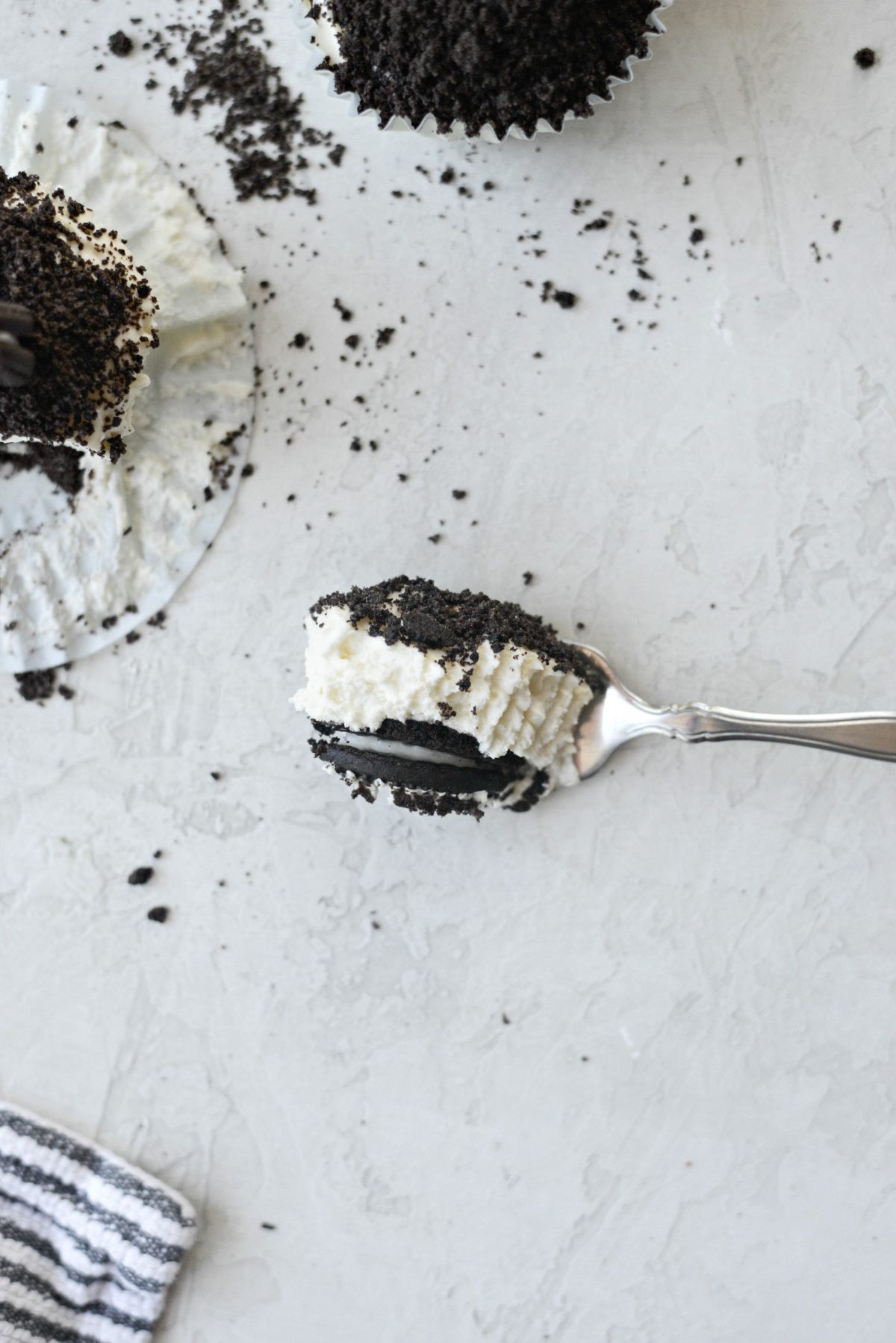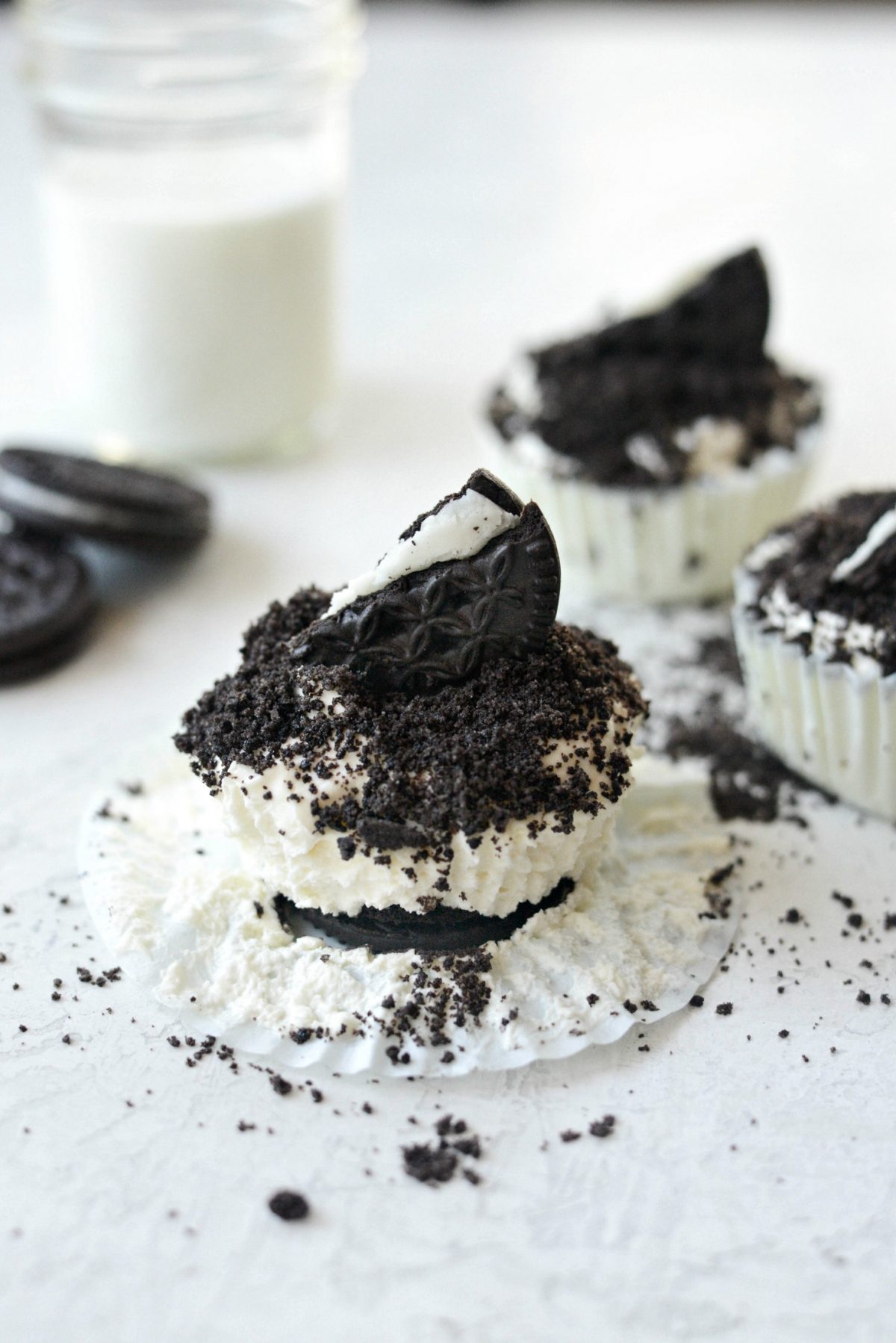 This post may contain affiliate links.
Buy the Cookbook: Simply Scratch : 120 Wholesome Homemade Recipes Made Easy Now available on Amazon »
THANK YOU in advance for your support!