Whether for dinner or meal prepping for the week, these Maple Sriracha Glazed Meatballs are simple and satisfyingly delicious! Simple turkey meatballs tossed in a spicy sriracha, maple and ginger glaze is served with brown rice, matchstick carrots and radishes. A squeeze of lime and fresh cilantro completes this amazing meal. Serves and meal preps 4 easily plus extra meatballs for serving or freezing.
We're still on a meal prep kick and I don't plant to stop anytime soon. Next up on the menu, is these addictive Maple Sriracha Glazed Meatballs. Sweet and spicy and mouthwateringly delicious. I meal prepped these and hand them on hand for the week.
I really enjoyed knowing that these containers were sitting in my fridge waiting. That and the fact I didn't have to resort to peanut butter toast. This is what I love about meal prep! You just don't have to give much thought about lunch (or dinner), just reheat and devour.
But back to these glazed meatballs.
These were beyond delicious. It's kind of embarrassing how much I love these. Like the fact that two days in a row I had them for both lunch AND dinner. Pat was up north on a golf trip and the girls either had practice or did their own thing for dinner – side note: I kind of like that they're old enough to do this 🤣. Normally we all sit down together even if we're all having something different but we're in the thick of softball practice, games and other summer activities that this is the norm some nights.
I served these meatballs with cooked brown rice, matchstick carrots and radish for crunch, a wedge of lime and cilantro. Satisfyingly filling and good for you too!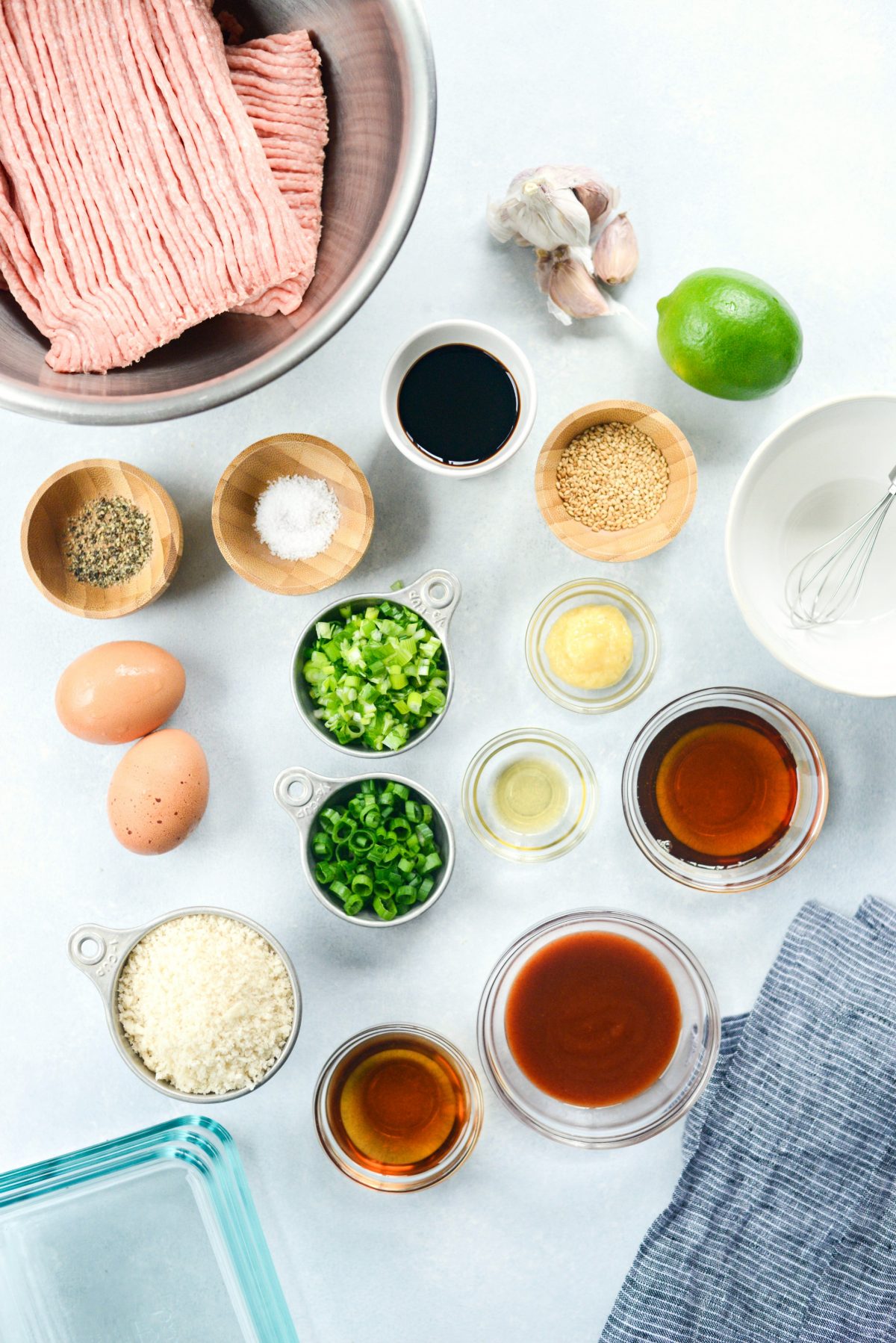 This recipe makes A LOT of meatballs, 38 to be exact. If you don't plant to eat them all, then after they are fully cooked, I would freeze half of them for later. Otherwise consider halving this recipe.
To make these Maple Sriracha Glazed Meatballs you will need:
ground turkey
panko breadcrumbs (homemade or store-bought)
garlic
green onions
eggs
kosher salt
freshly ground black pepper.
For the glaze, you will need:
sriracha
low-sodium tamari
rice wine (like shoaxing [affiliate link])
maple syrup
fresh ginger
garlic
sesame oil
fresh lime juice
For meal prep or serving you will need; cooked brown rice, lime wedges, sliced green onions, cilantro, sesame seeds -I like toasted- and matchstick carrots and radish.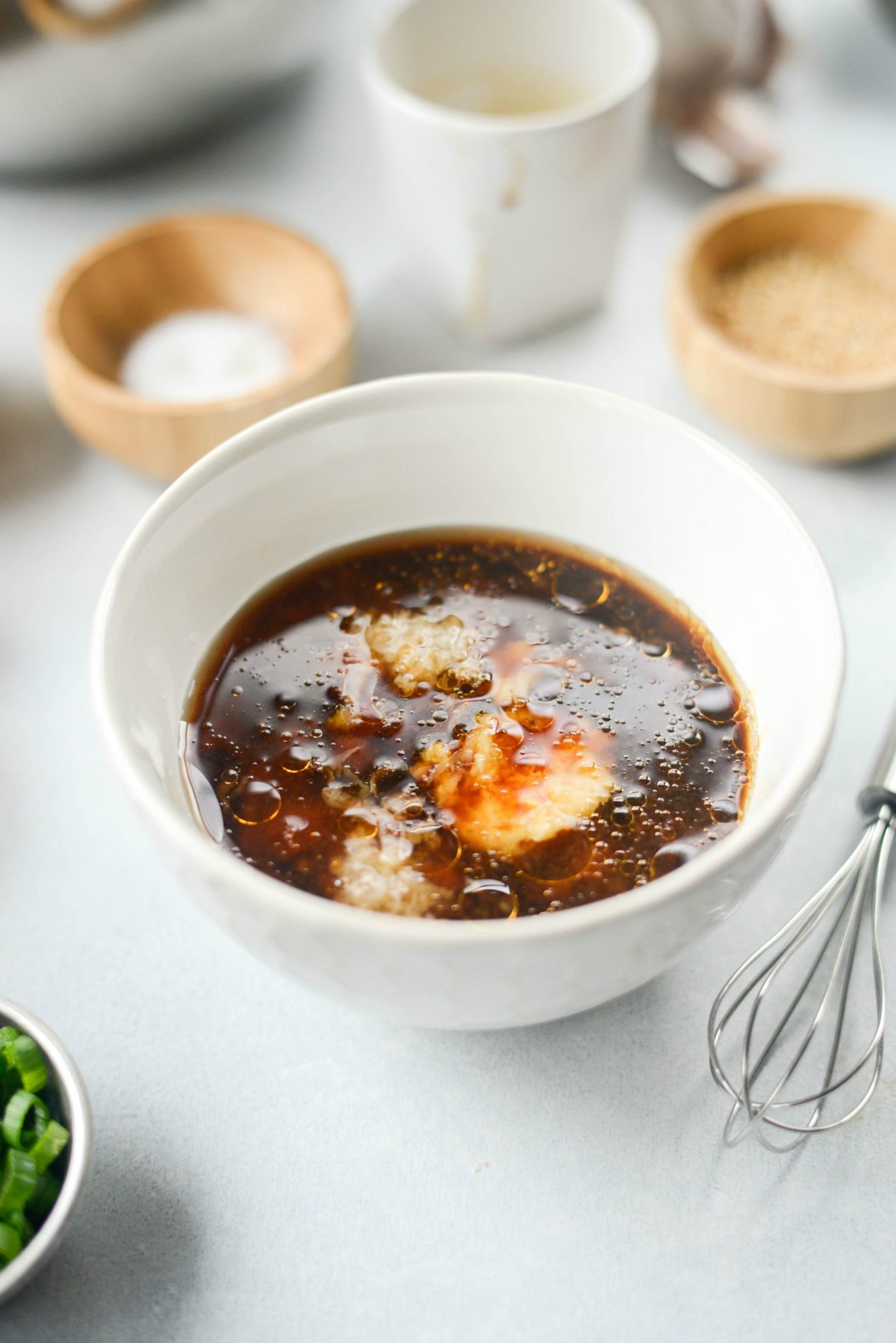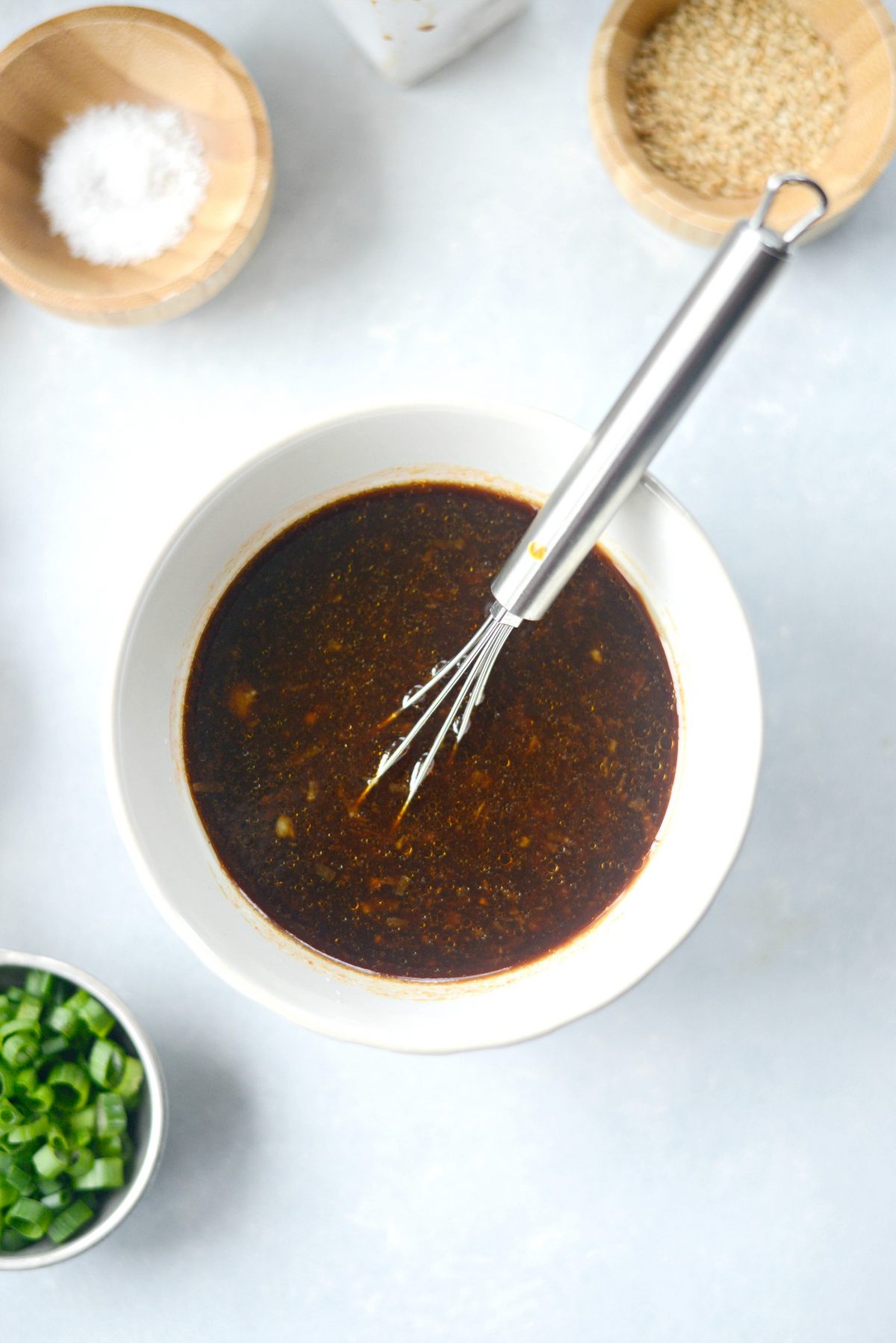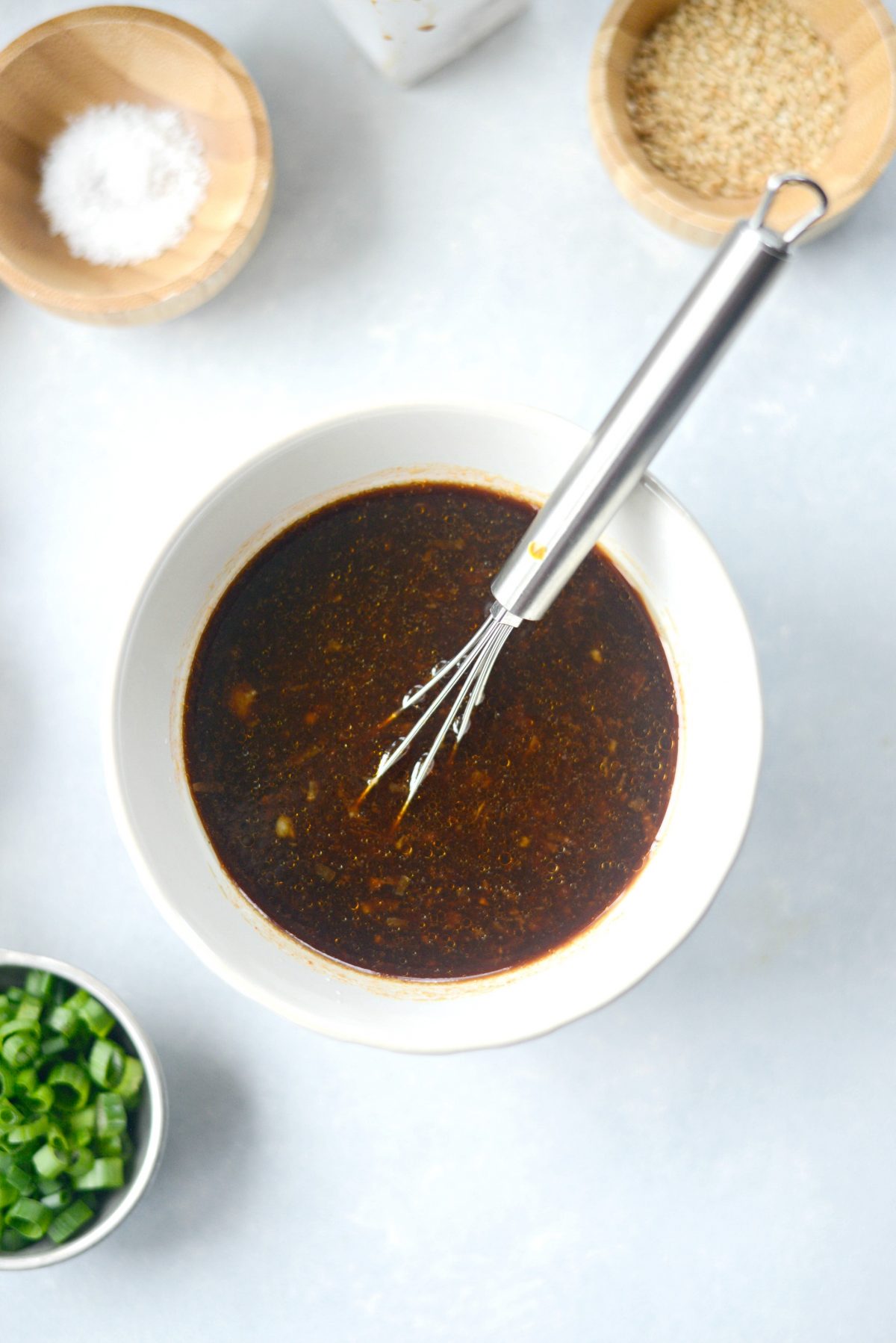 Make The Glaze:
Add 3 tablespoons sriracha, 1/4 cup low-sodium tamari, 3 tablespoons rice wine, 3 tablespoons maple syrup, 1 tablespoon grated fresh ginger, 2 cloves grated fresh garlic, 1 teaspoon toasted sesame oil and the juice of 1/2 a lime into a bowl and whisking until combined.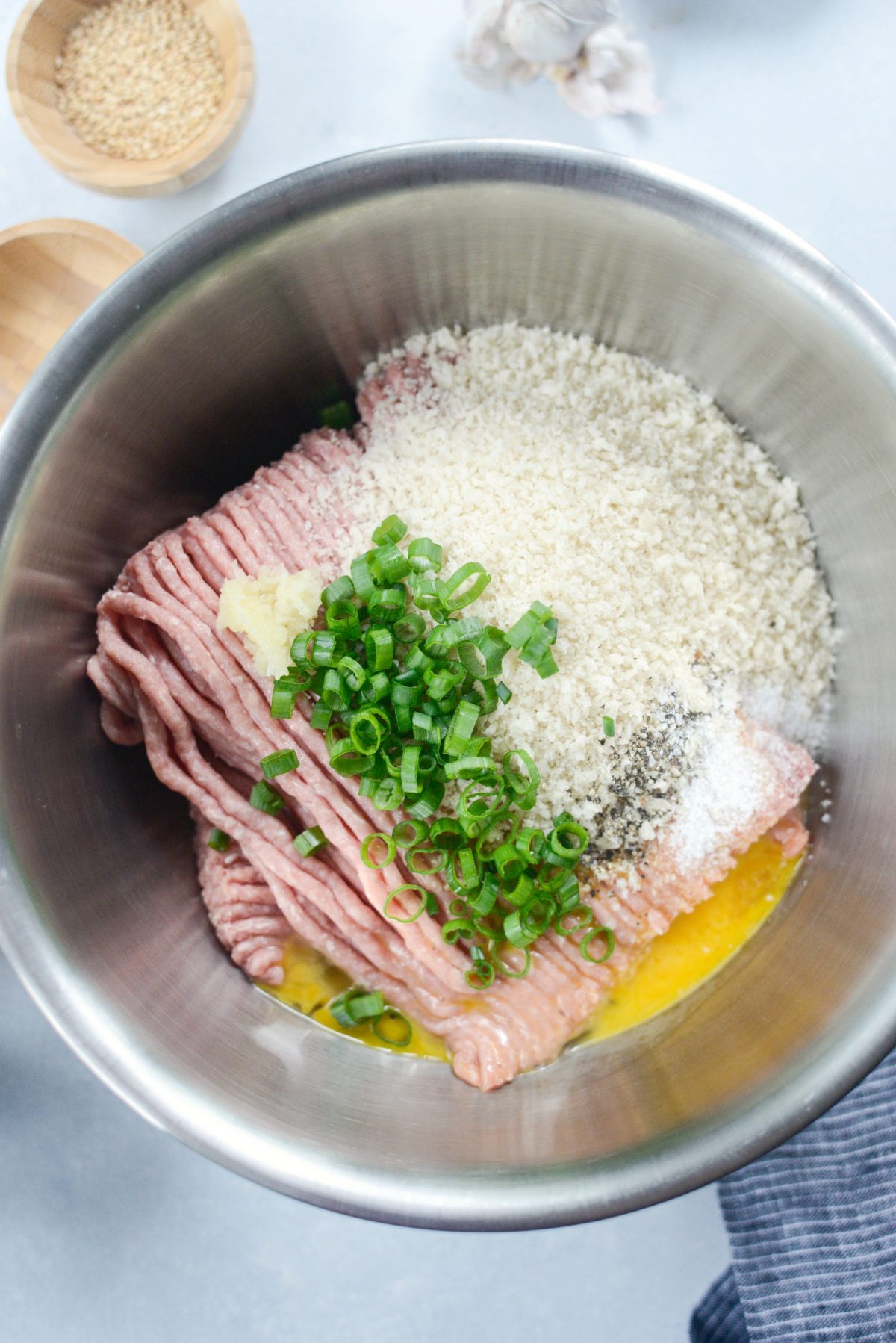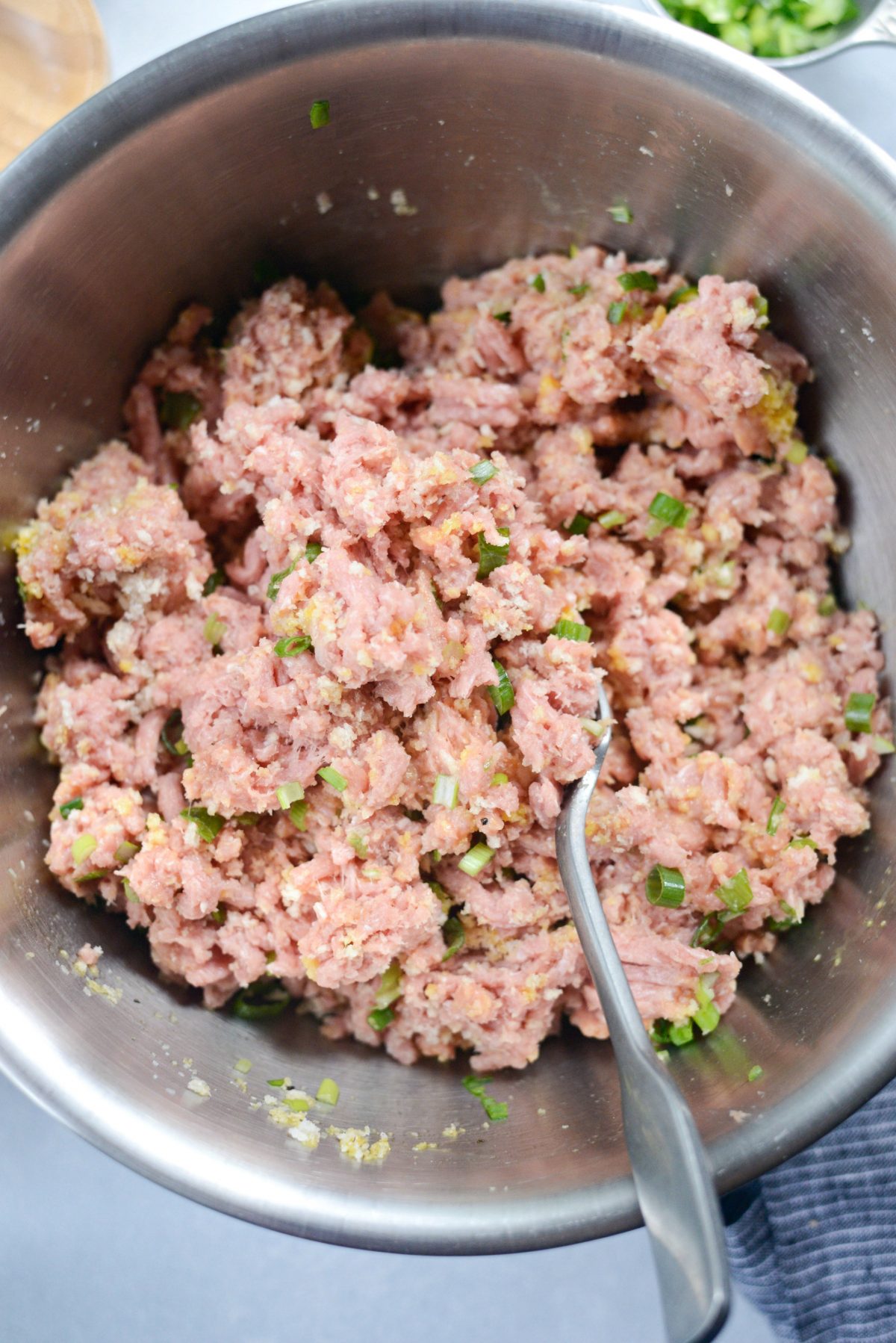 In a large mixing bowl, combine the 2 pounds turkey with 1 cup of panko, 2 lightly beaten eggs, 1/4 cup of finely chopped green onions (don't be me and add in the sliced dark green onion parts that were meant for the garnish 🤣), 1 clove grated fresh garlic, 1/2 teaspoon kosher salt and freshly ground black pepper. Stir with a fork to combine.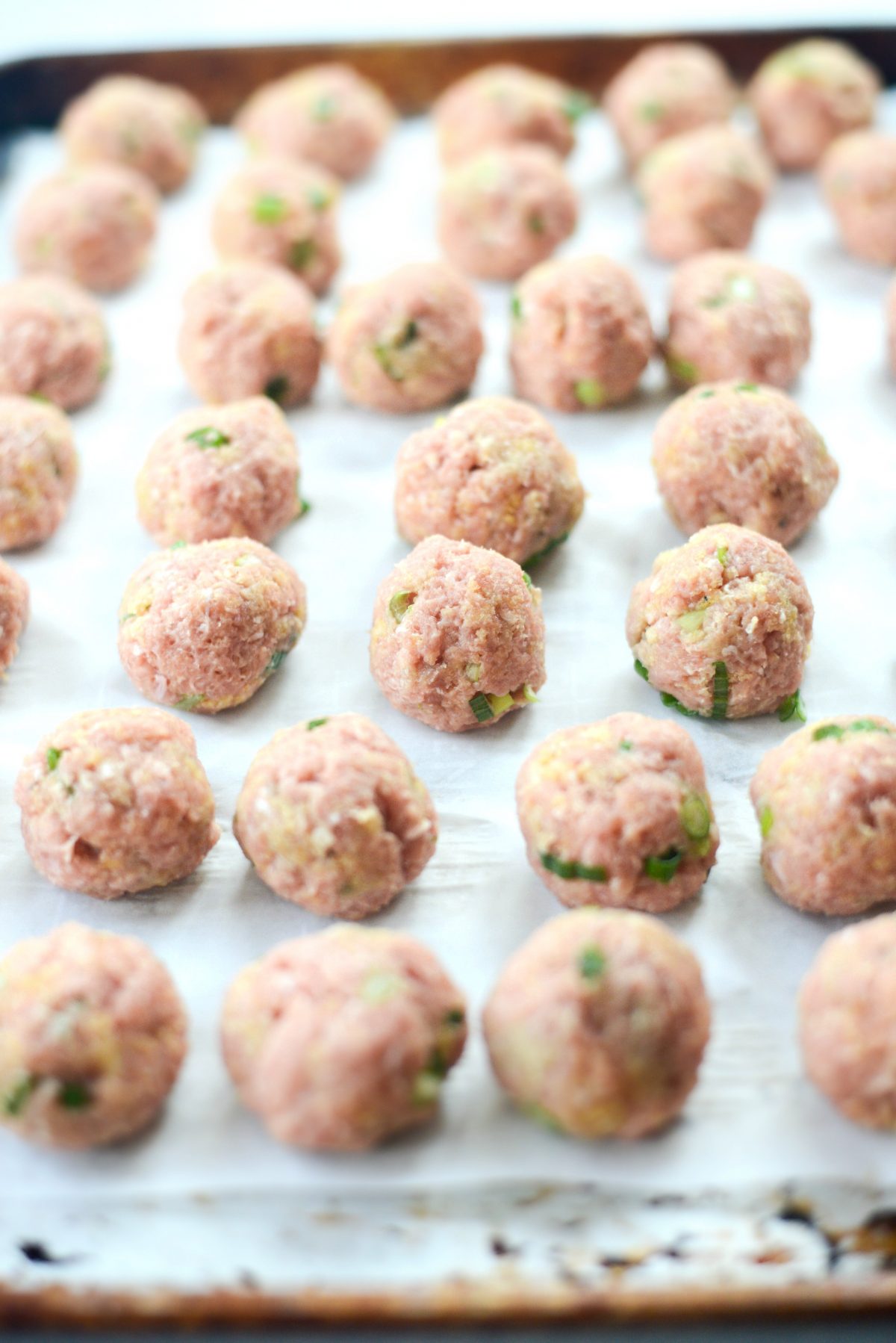 Use a small scoop to measure out the meatball mixture and roll into balls. Place onto a parchment lined, rimmed baking sheet and bake at 350° for 20 to 25 minutes or until fully cooked.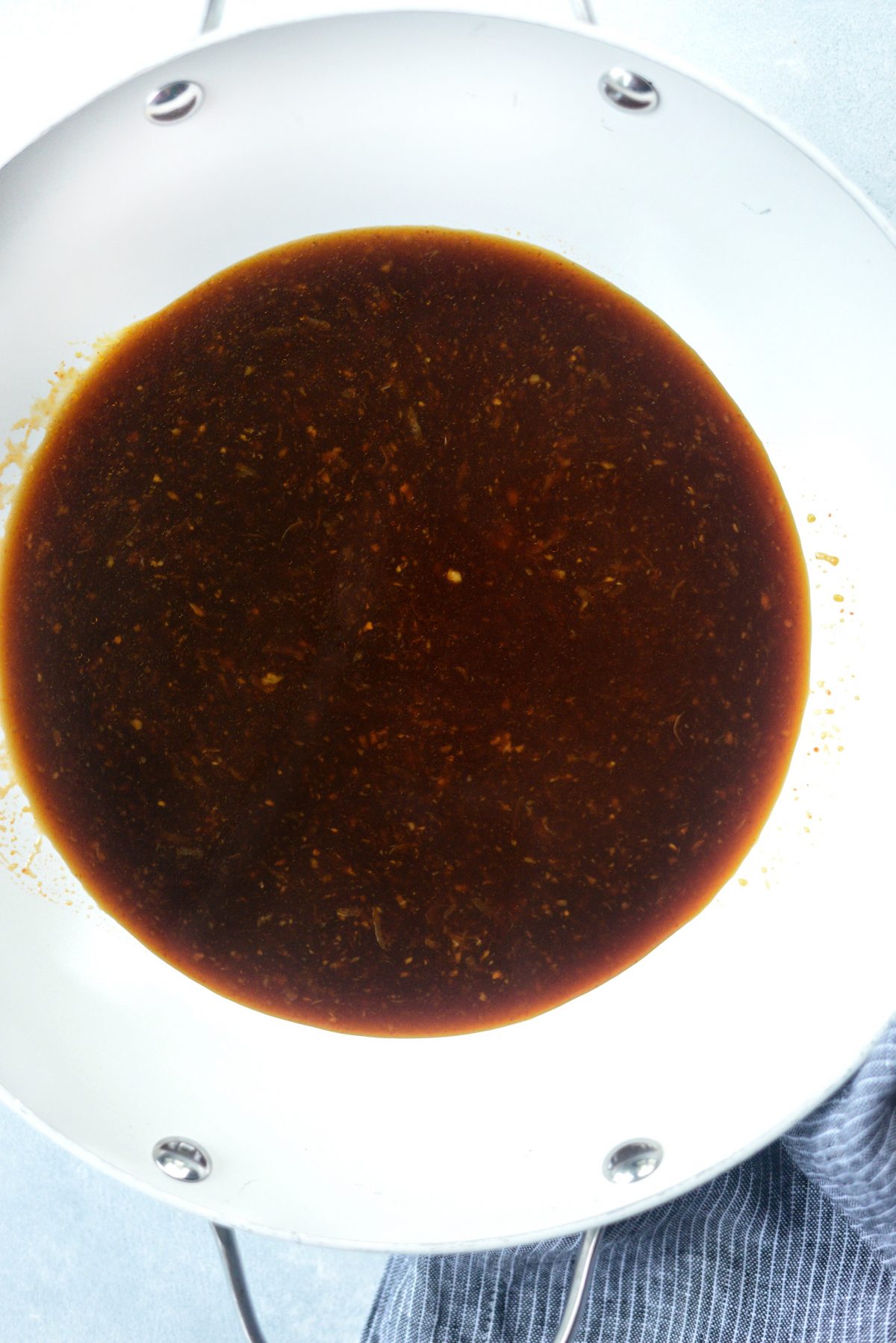 Meanwhile add the glaze ingredients into a wok or large chefs pan and heat on medium-high until it starts to boil, reduce to low and simmer until thickened. About 8 minutes.
Throw in the turkey meatballs and toss them around until all the sides are coated.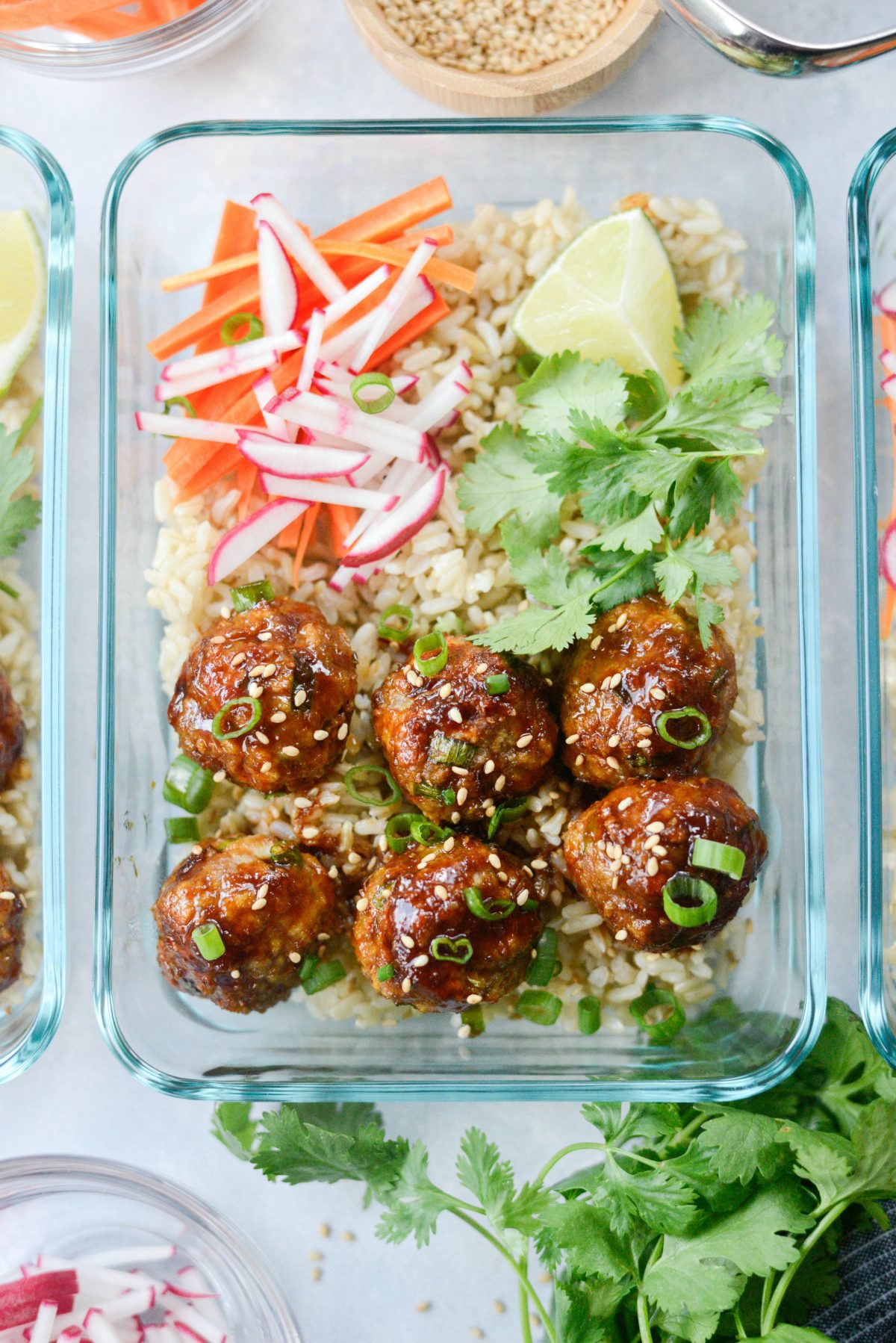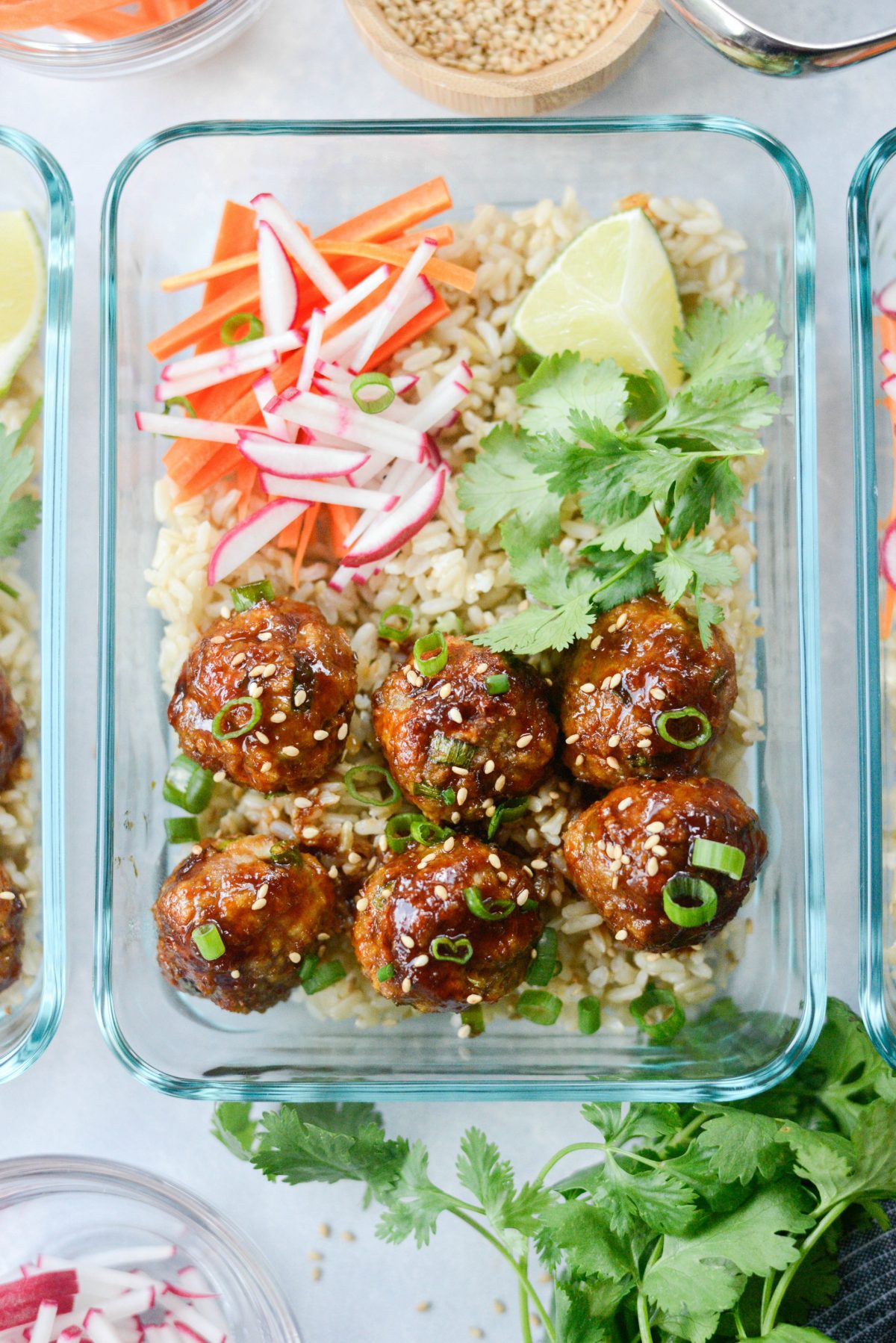 Meal Prep:
For my meal prep containers, I added about 1/2 cup of cooked brown rice into 4 (3 cup) containers [affiliate link]. Then I topped them with 6 to 8 maple sriracha glazed meatballs along with some extra glazed from the pan, matchstick carrots and radish, and sprinkled everything with sesame seeds and green onions.
Lastly I tucked in a wedge of lime and a few small sprigs of cilantro leaves. Once cooled down, cover and refrigerate for up to 5 days.
To reheat:
I remove the cilantro, lime wedge, carrots and radish to the upturned lid. Reheat the maple sriracha glazed meatballs and rice until warm. Then I added back the veggies, squeezed the lime over top and tore up the cilantro and sprinkled it over everything. Then I proceeded to eat it all in record timing.
Enjoy! And if you give this Maple Sriracha Glazed Meatballs recipe a try, let me know! Snap a photo and tag me on twitter or instagram!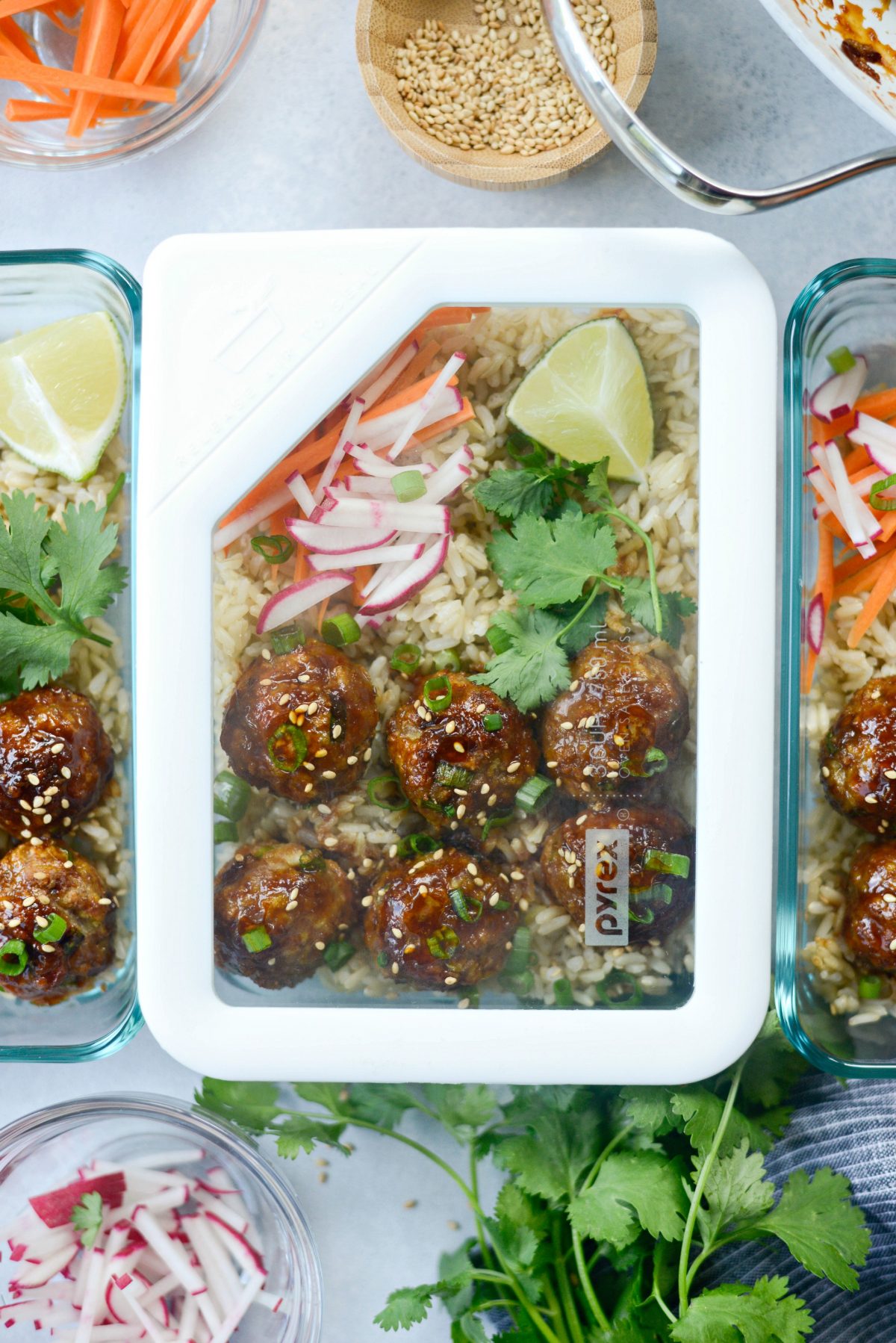 This post may contain affiliate links.
Buy the Cookbook: Simply Scratch : 120 Wholesome Homemade Recipes Made Easy Now available on Amazon »
THANK YOU in advance for your support!