Not only is St. Patrick's Day only a few days away, but today is actually National Cereal Day! I decided to celebrate both with these Lucky Charms Marshmallow Treats.
Two birds, one sweet and yummy stone.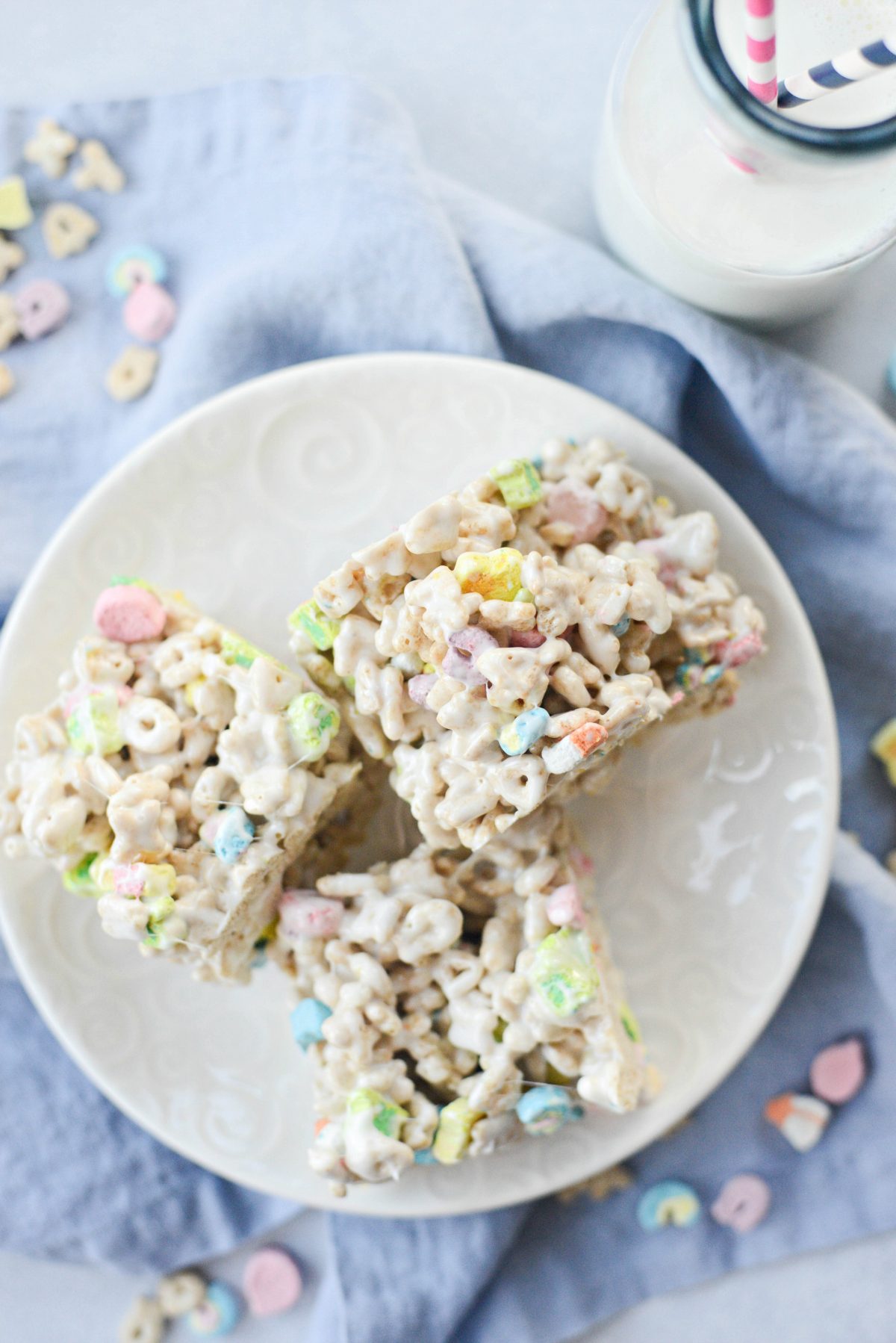 I have forever loved a big bowl of cereal. I grew up on non-sugary cereals like Cheerios and Rice Krispies, but I secretly loved Lucky Charms. Those marshmallows softened by milk…yum! My Dad, in fact, taught me at an early age to fill my bowl up to the very top with cereal before adding milk. No half bowls here. 😉 So when I learned that I could turn my love for Lucky Charms into marshmallow treats, it became my new favorite thing. It's handheld cereal for on-the-go or at least that's how I'm justifying it.
I first made these Lucky Charms Marshmallow Treats a few years ago for Malloree's old softball team. Aptly named the Shamrock's, Mal and I thought these would be a fun treat for after the game along with green apple Gatorade. Back then I spread the mixture out evenly on a larger rimmed metal baking sheet and used a clover cookie cutter to stamp out shamrock shaped treats. Overachiever much?
It wasn't as easy as it sounds, but bruised palms aside, they did turn out.
This St. Patrick's Day I wanted to share my recipe so you can make these fun treats! Whether your bringing a treat in for a classroom party, packing them in your kids lunch or you just love the cereal like I do, these sweet treats will put a smile on everyone's face.
Here's what you need: 12 cups Lucky Charms cereal, which is just about a whole 20.5 ounce box. I separate the cereal from the cereal's marshmallows. This helps when it comes to mixing, so the warm marshmallow mixture won't start dissolving the cute lucky charm marshmallows. It doesn't take as long to separate them as you'd think and will make a difference in your Lucky Charms marshmallow treats.
Besides allthecereal, you will also need 1 stick [salted] butter, 1 (16 ounce) bag of mini marshmallows, 1/2 teaspoon vanilla extract and 1-1/2 tablespoons whole milk.
In a large pot, melt the butter over low heat.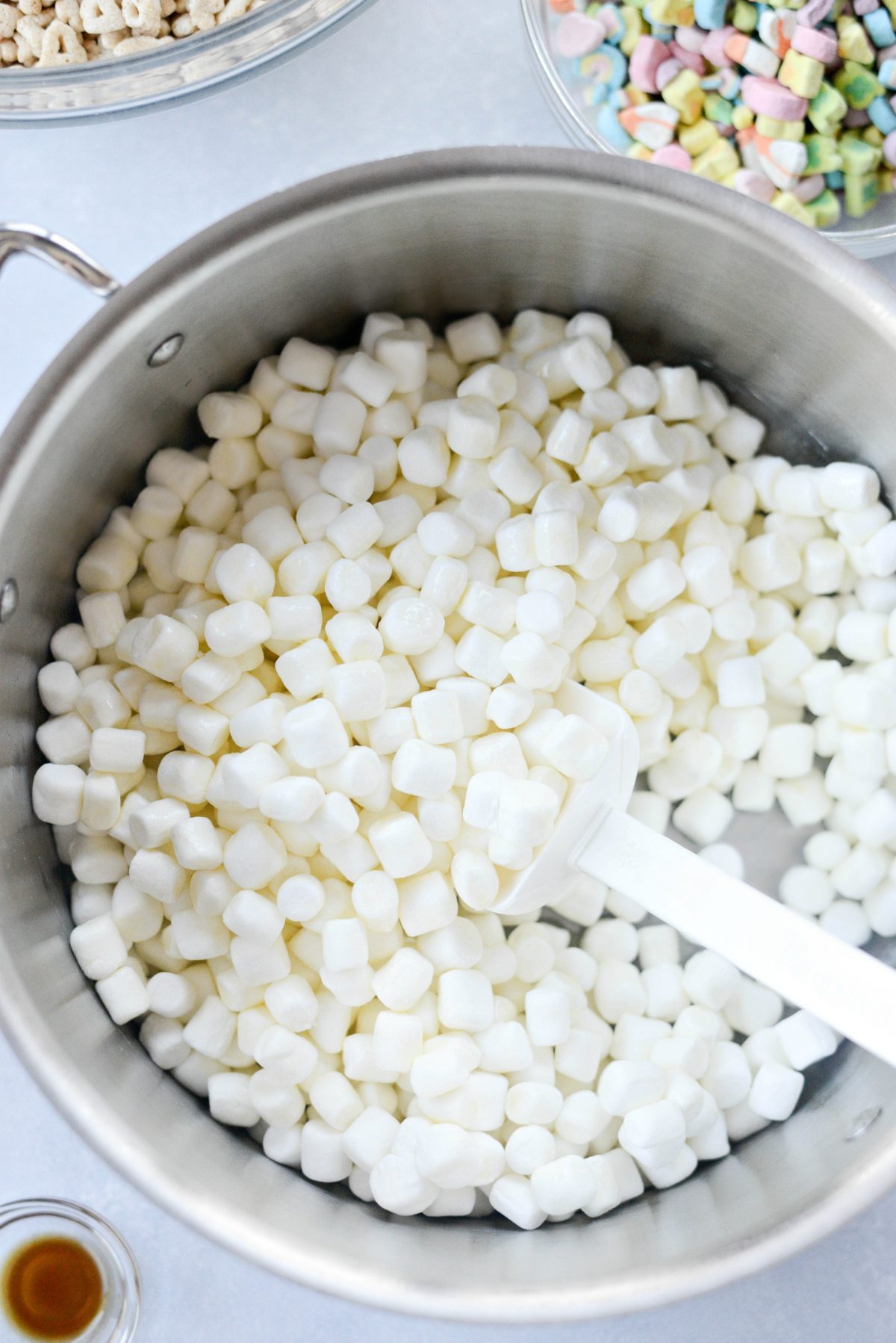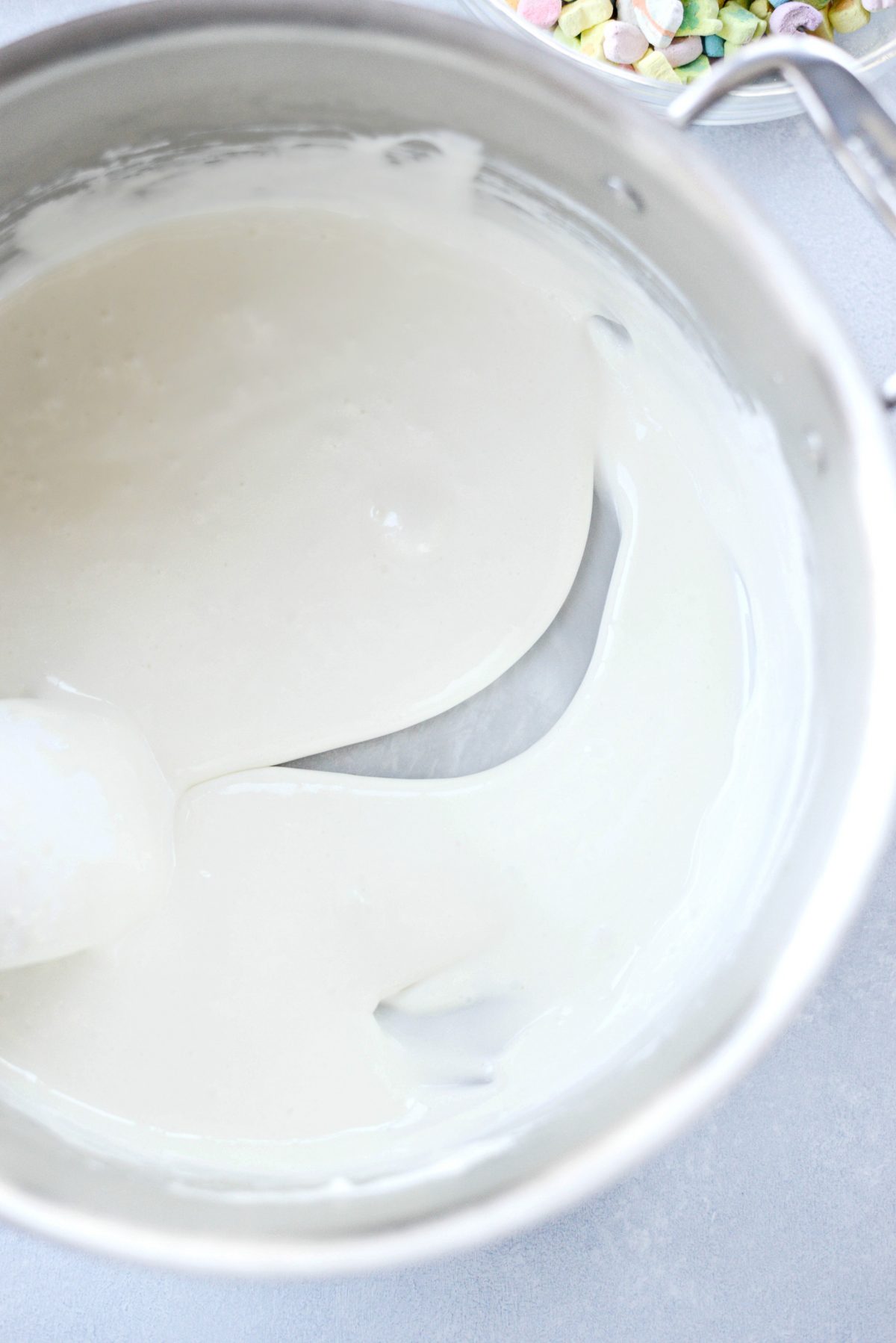 Once melted, add in all 16 ounces of the mini marshmallows and stir often until melted.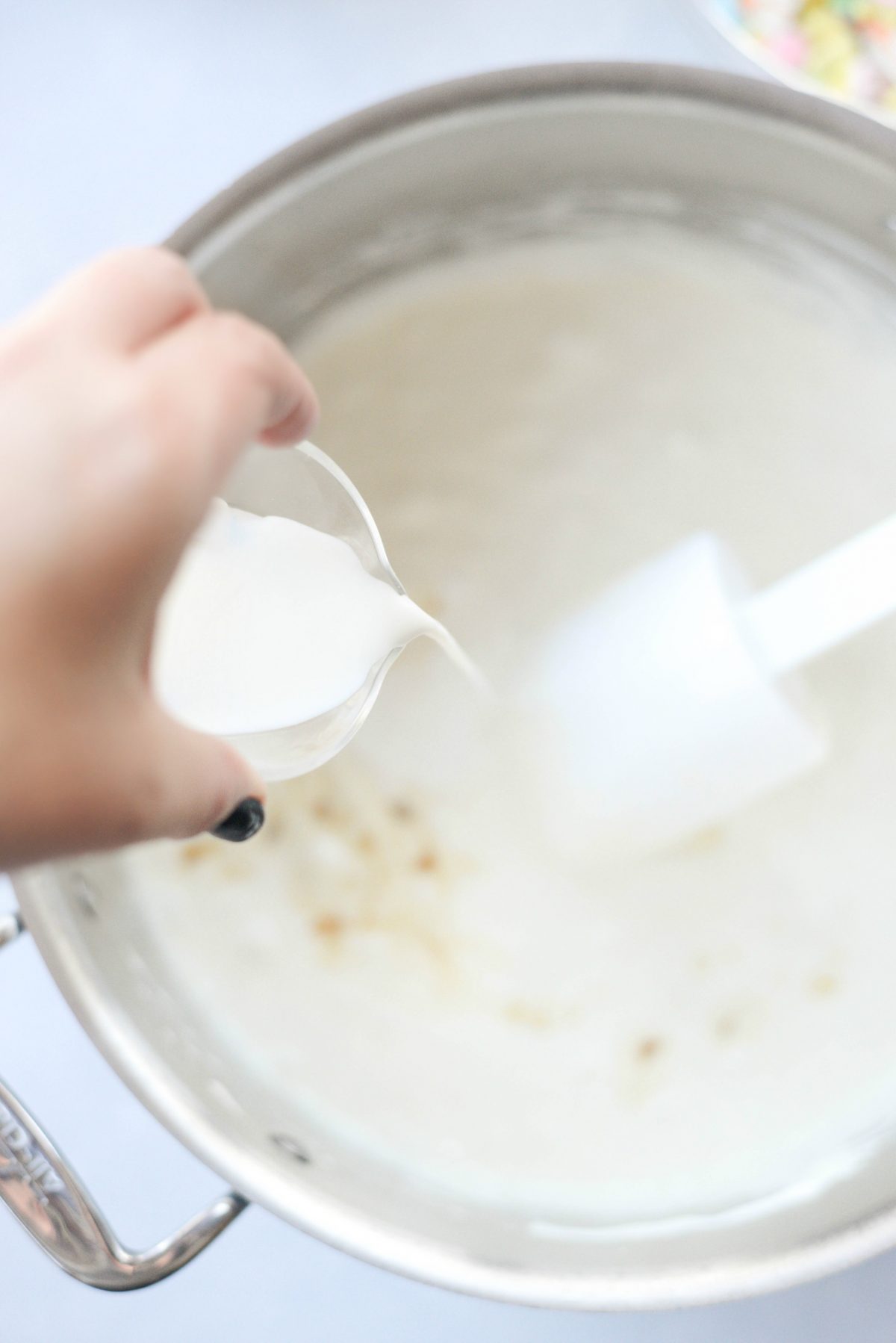 When the marshmallows have melted, stir in 1/2 teaspoon of vanilla extract and 1-1/2 tablespoons of whole milk.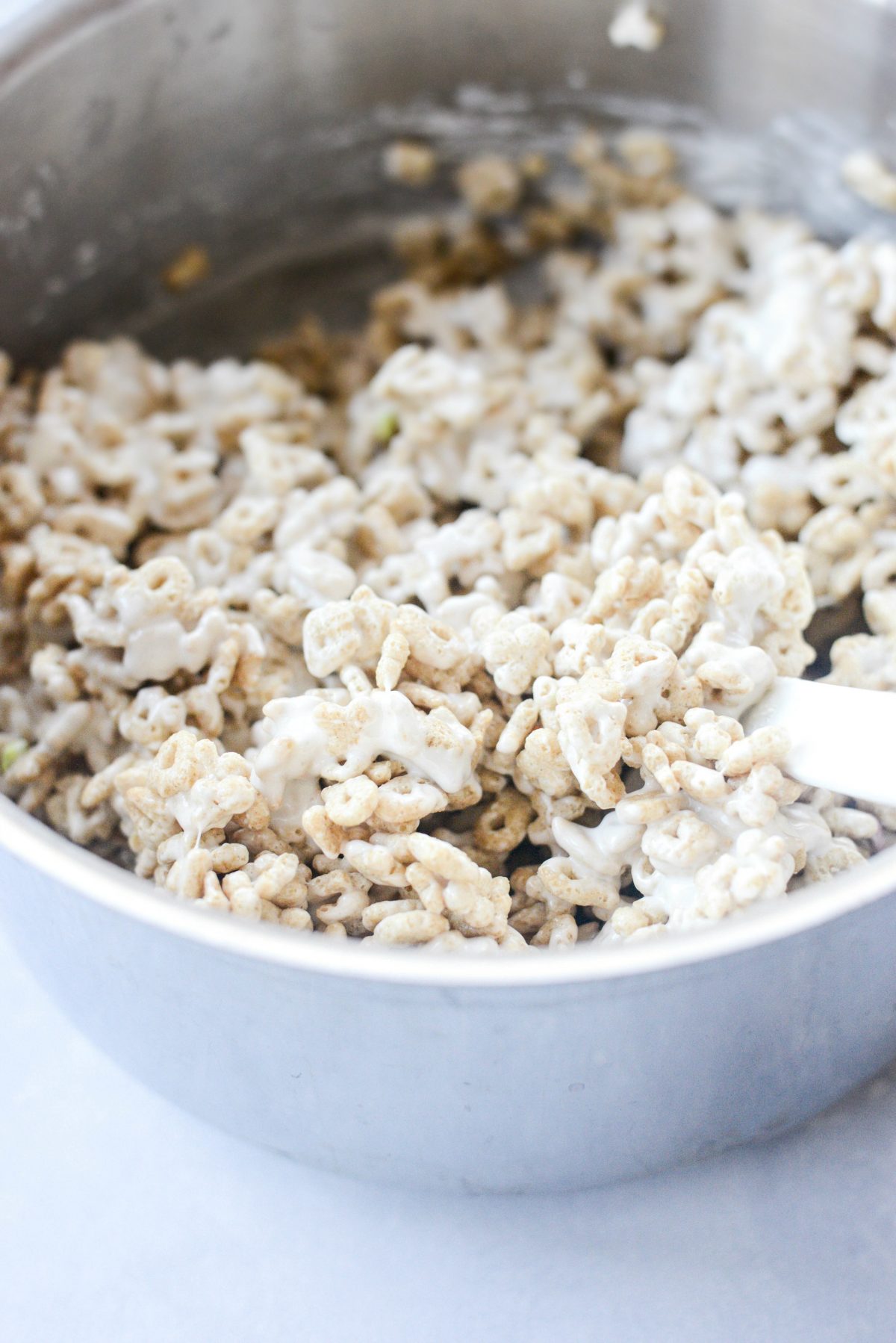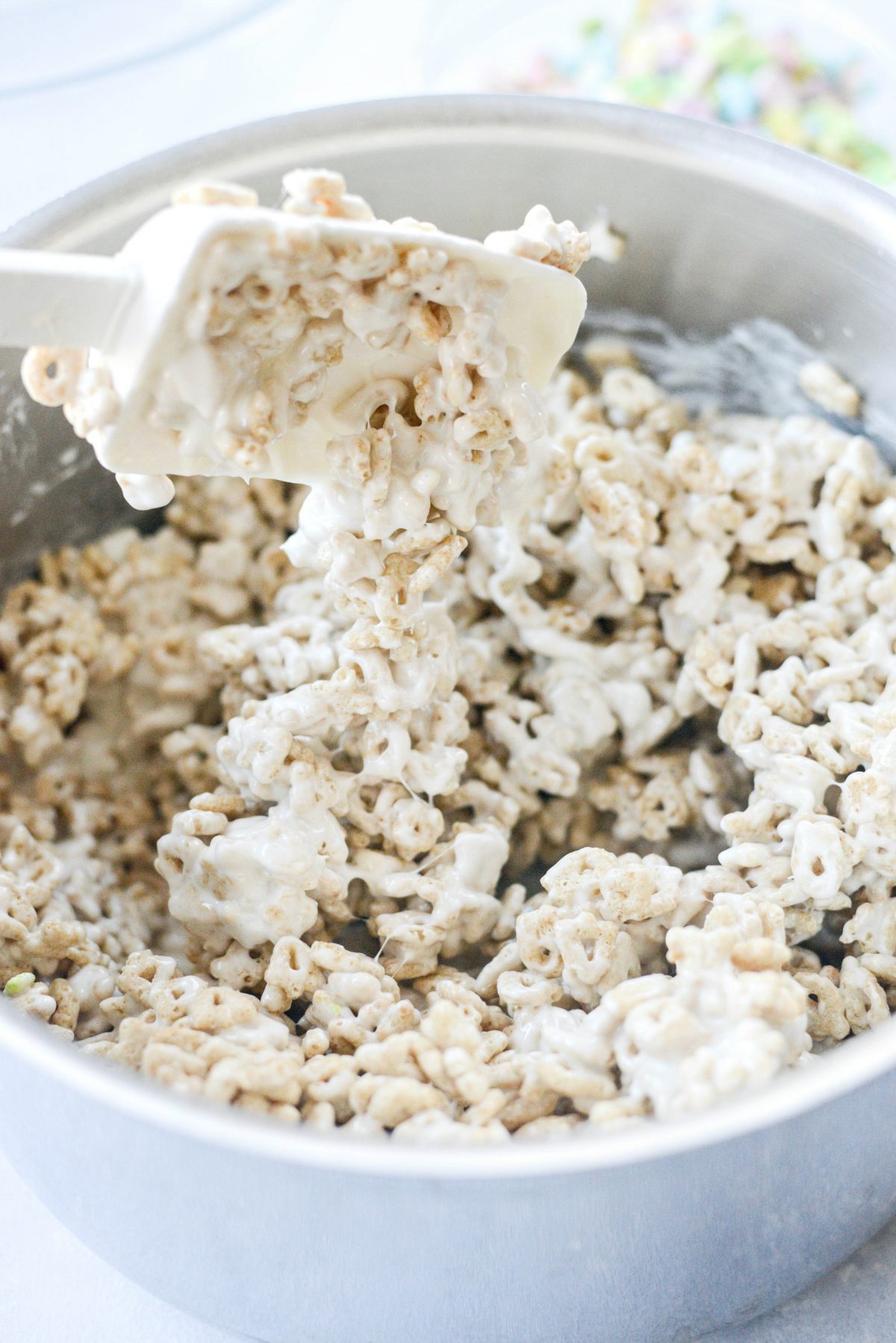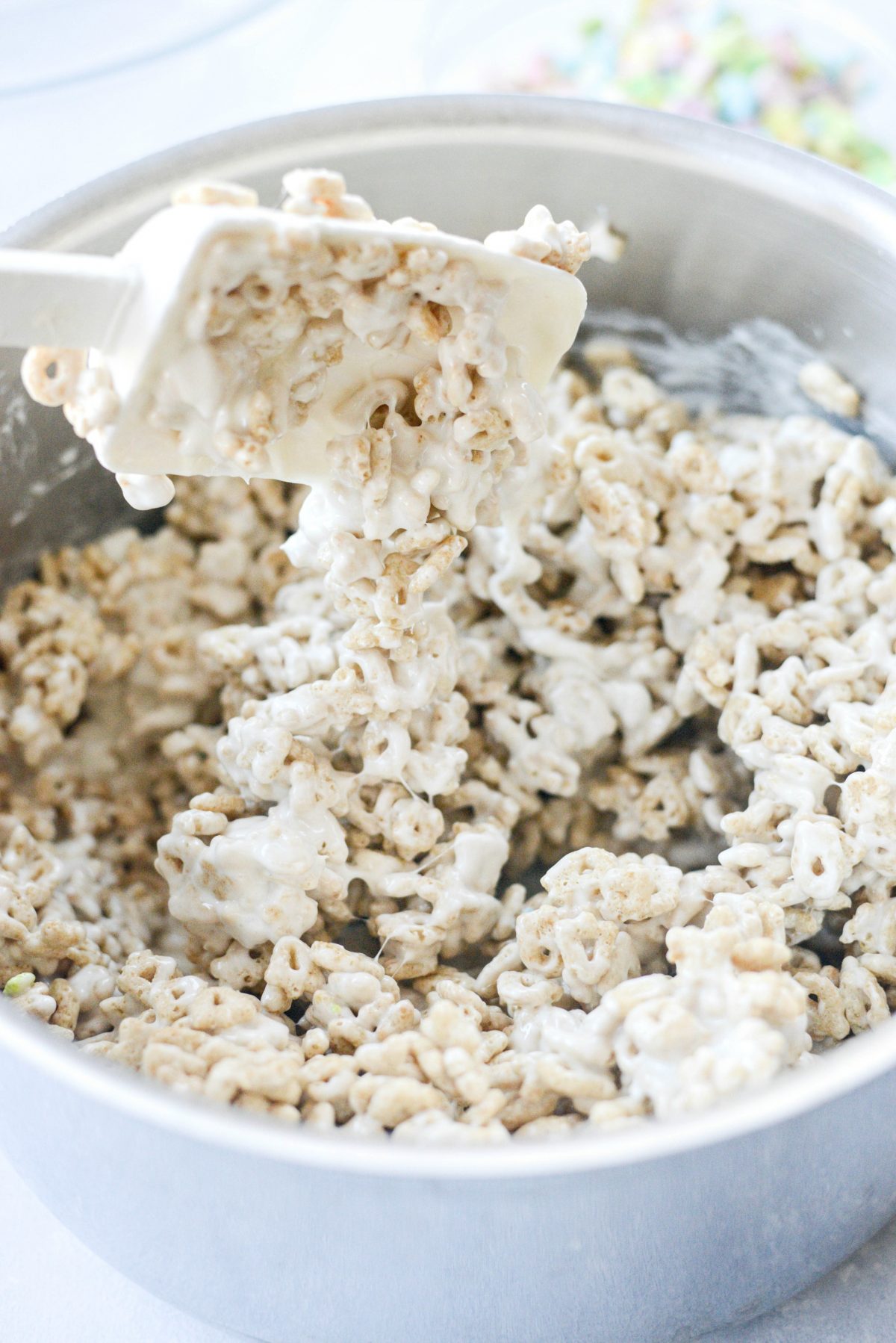 First add in the cereal and toss quickly in the warm marshmallow mixture.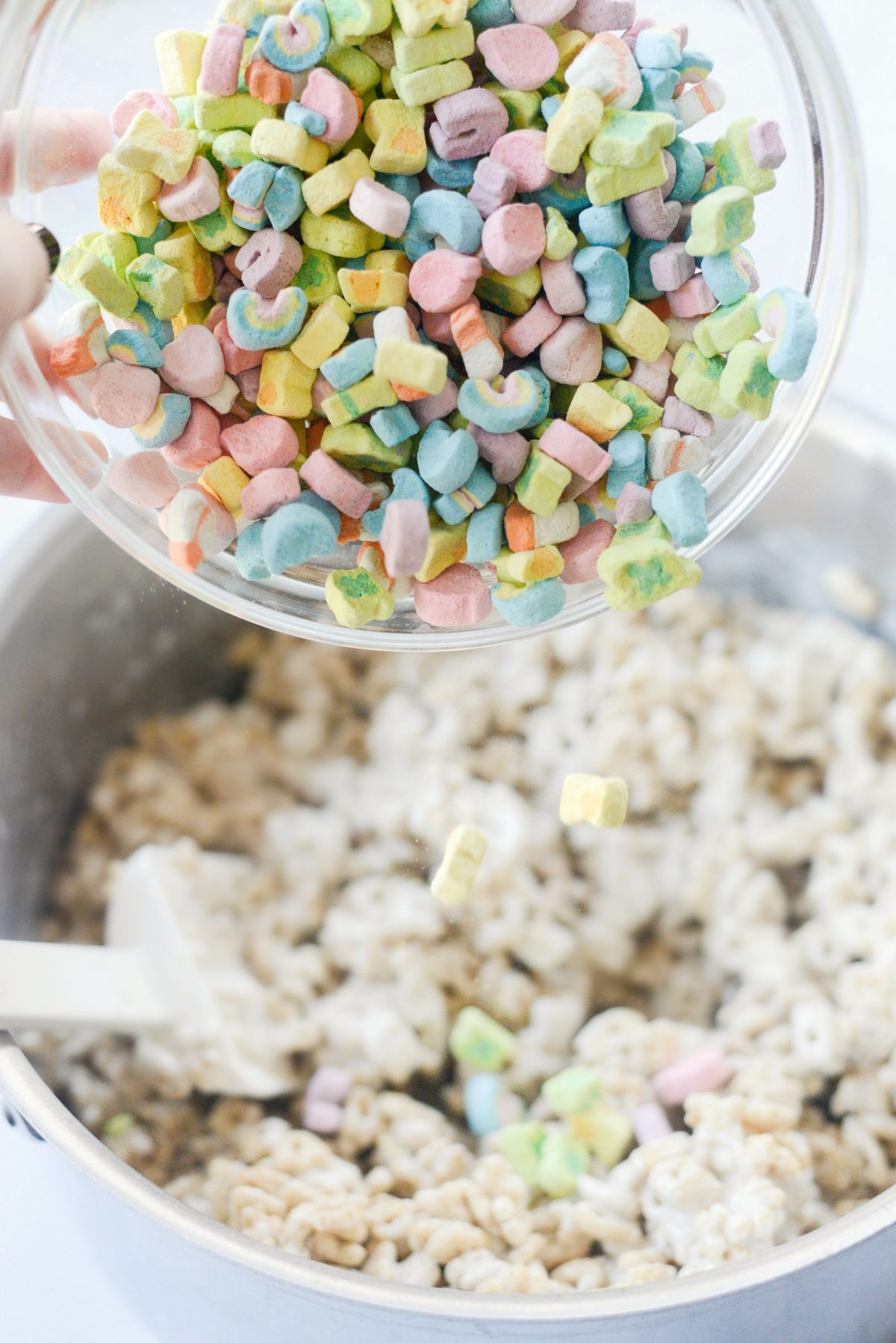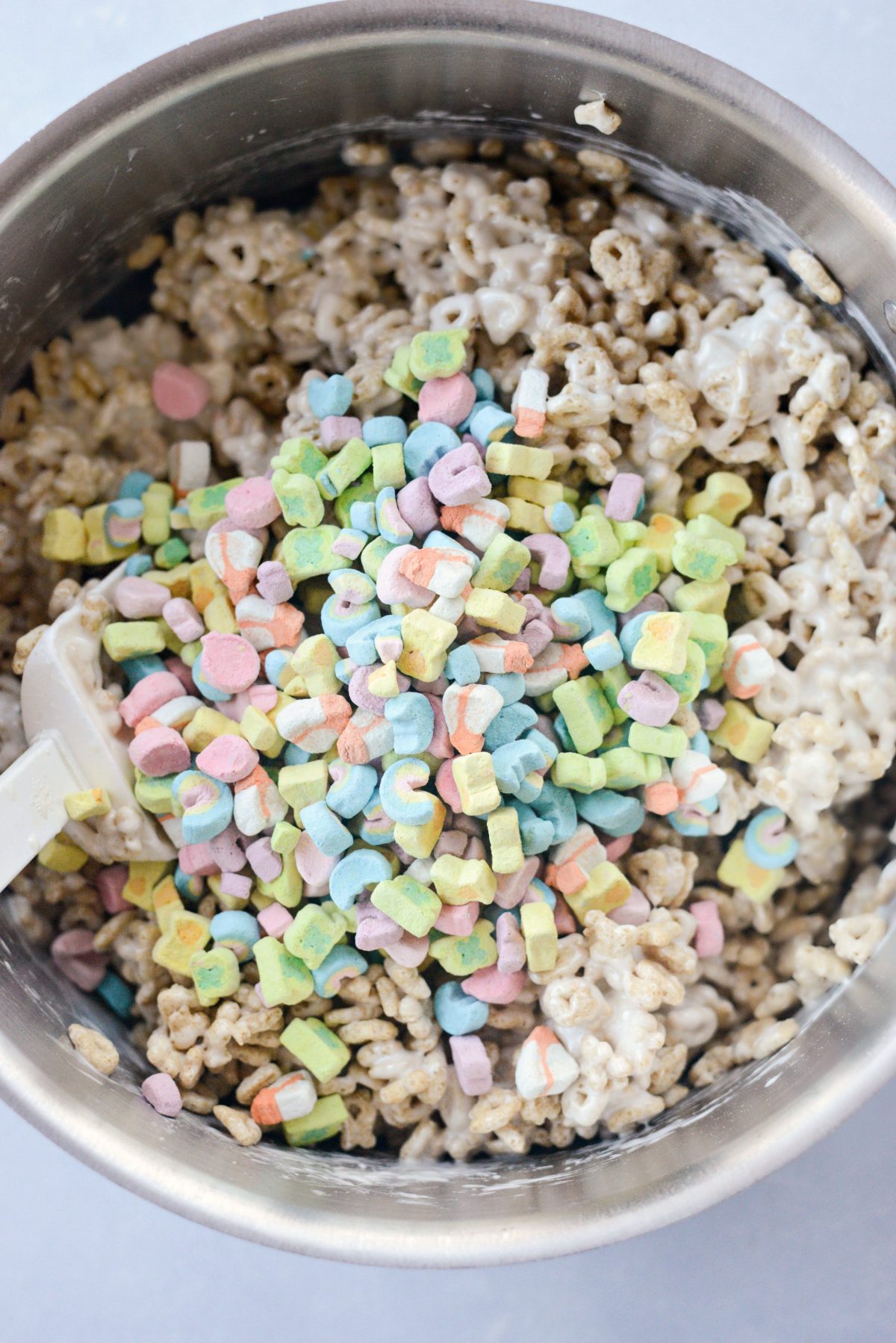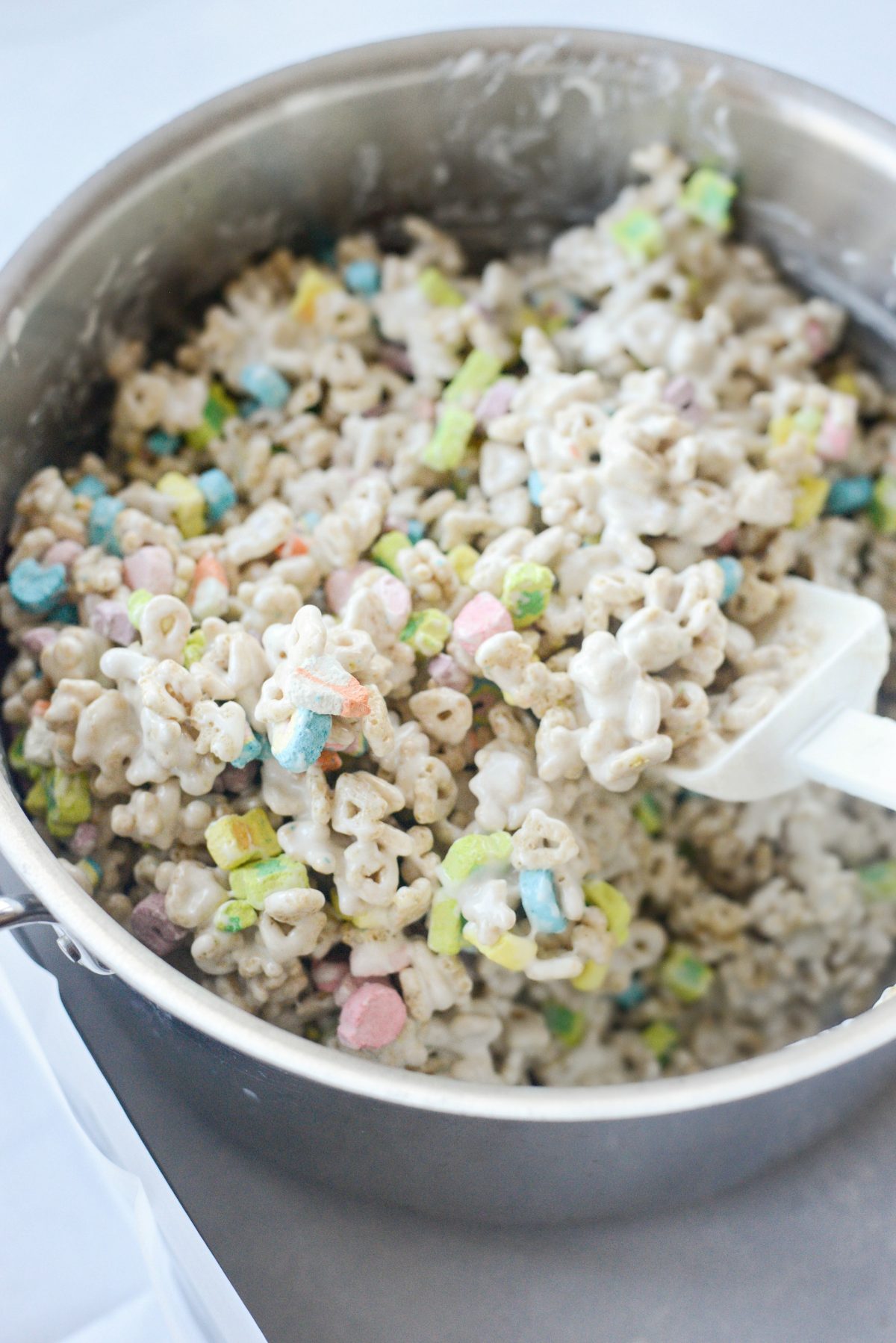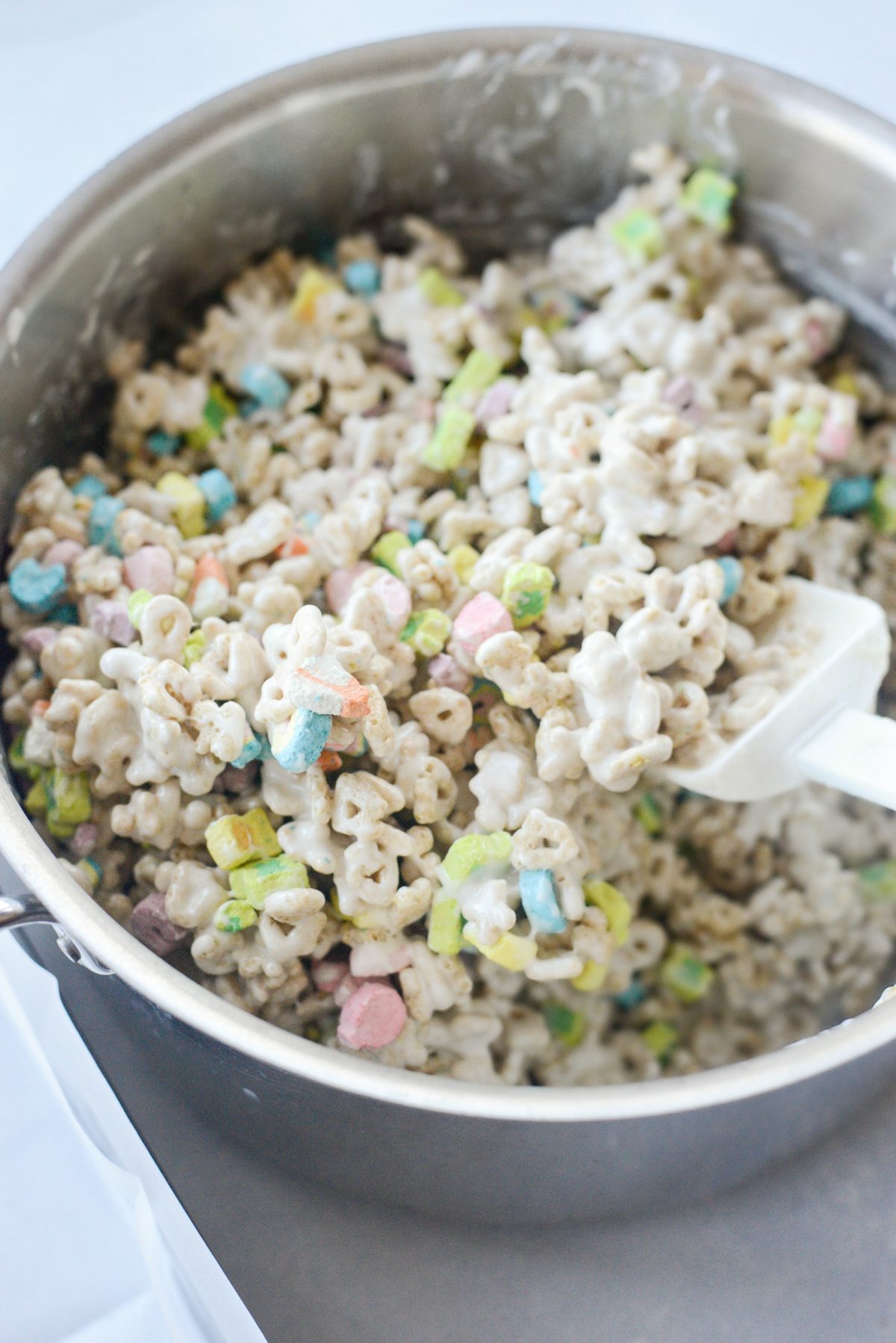 Just when the cereal is mixed in with the marshmallow mixture, add in the Lucky Charms marshmallows and gently yet quickly toss to combine.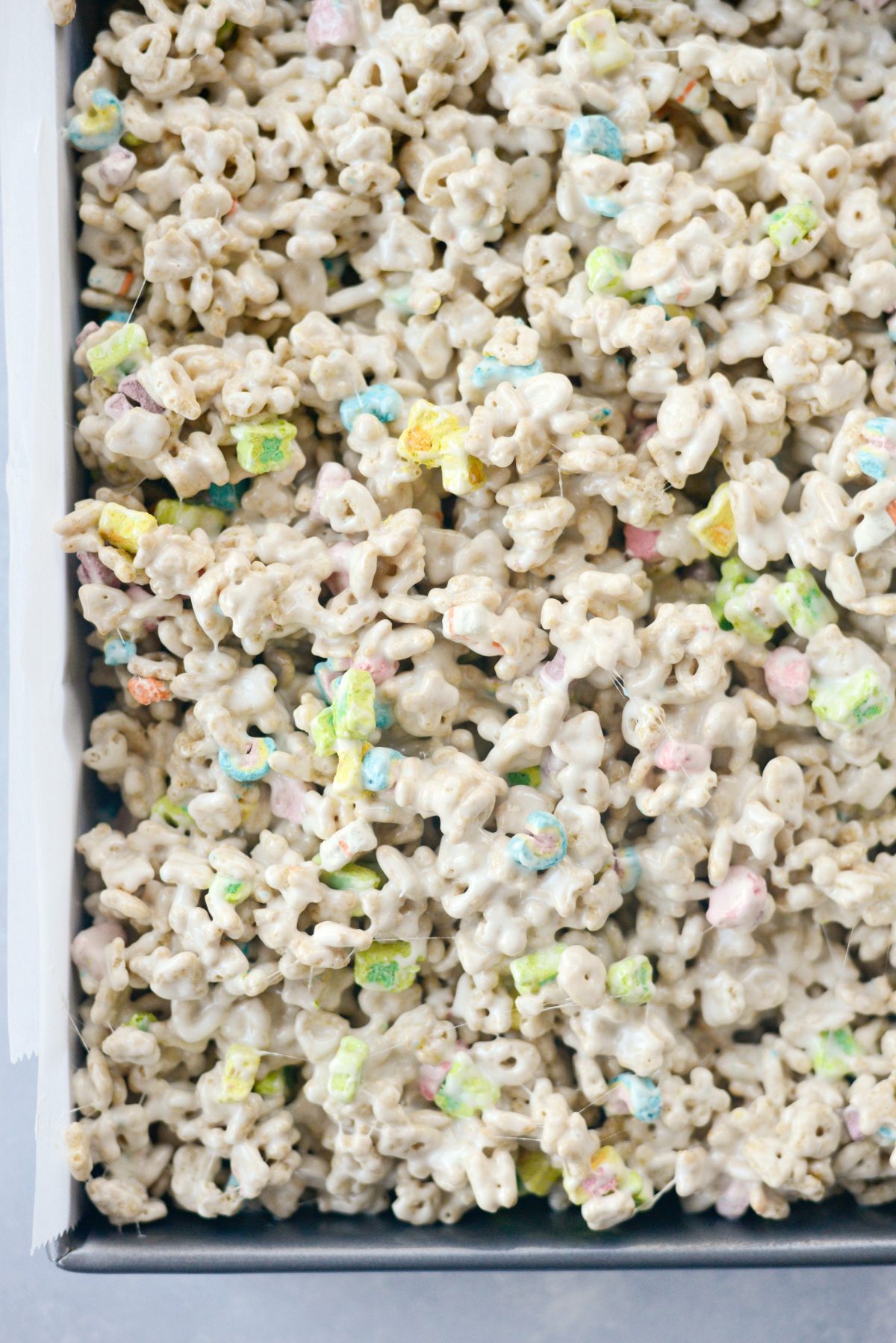 Pour the Lucky Charms marshmallow mixture into a lined 9×13 pan that has been sprayed with non-stick spray. I used coconut oil spray 🙂 With oiled fingers, press the mixture to the corners and sides of the pan evenly. Refrigerate until set.
Then remove and cut into squares.
For a less sweet version, try these Marshmallow Cereal Bars!
Serve with a glass of ice cold milk. Naturally.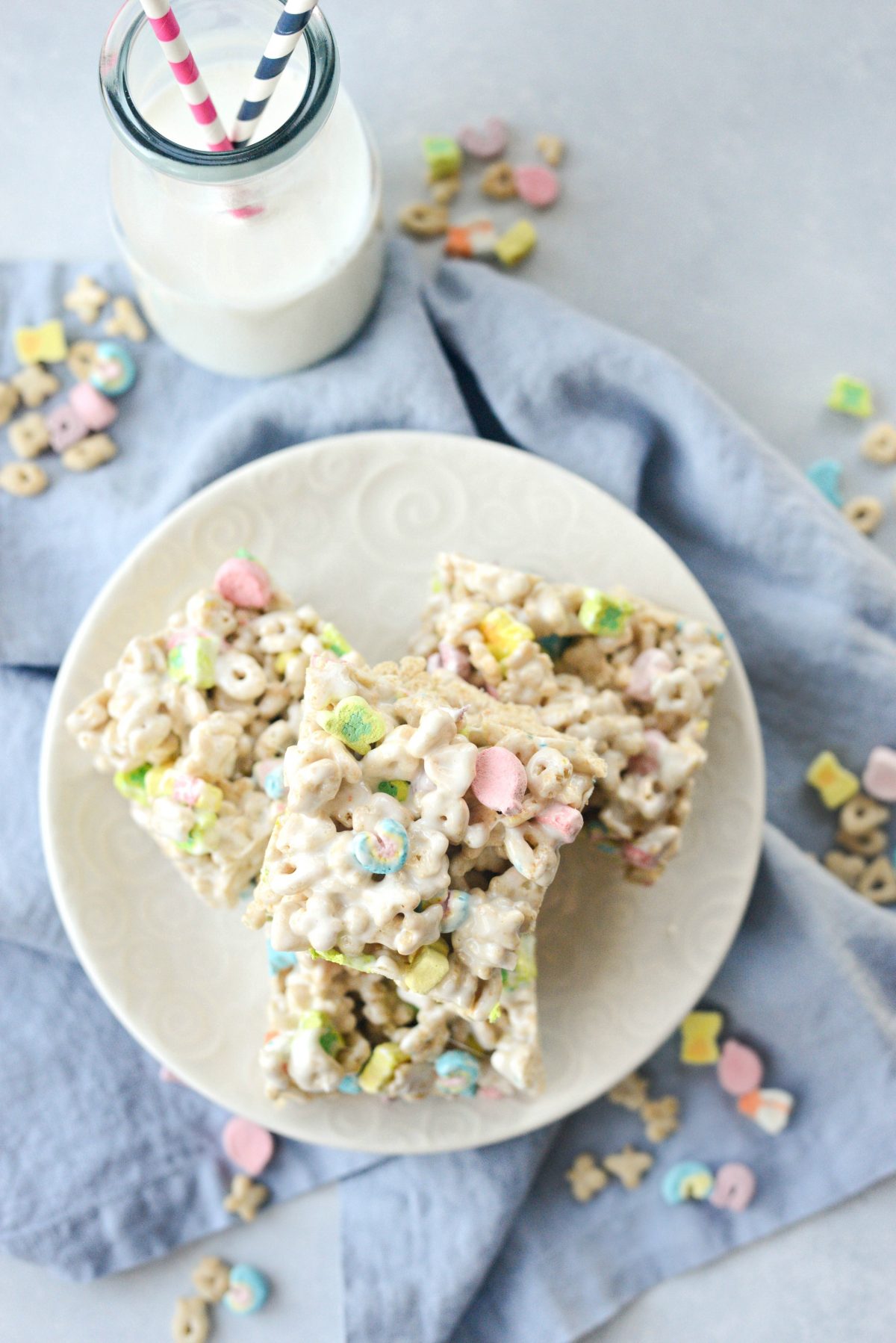 Enjoy! And if you give these Lucky Charms Marshmallow Treats a try, let me know! Snap a photo and tag me on twitter or instagram!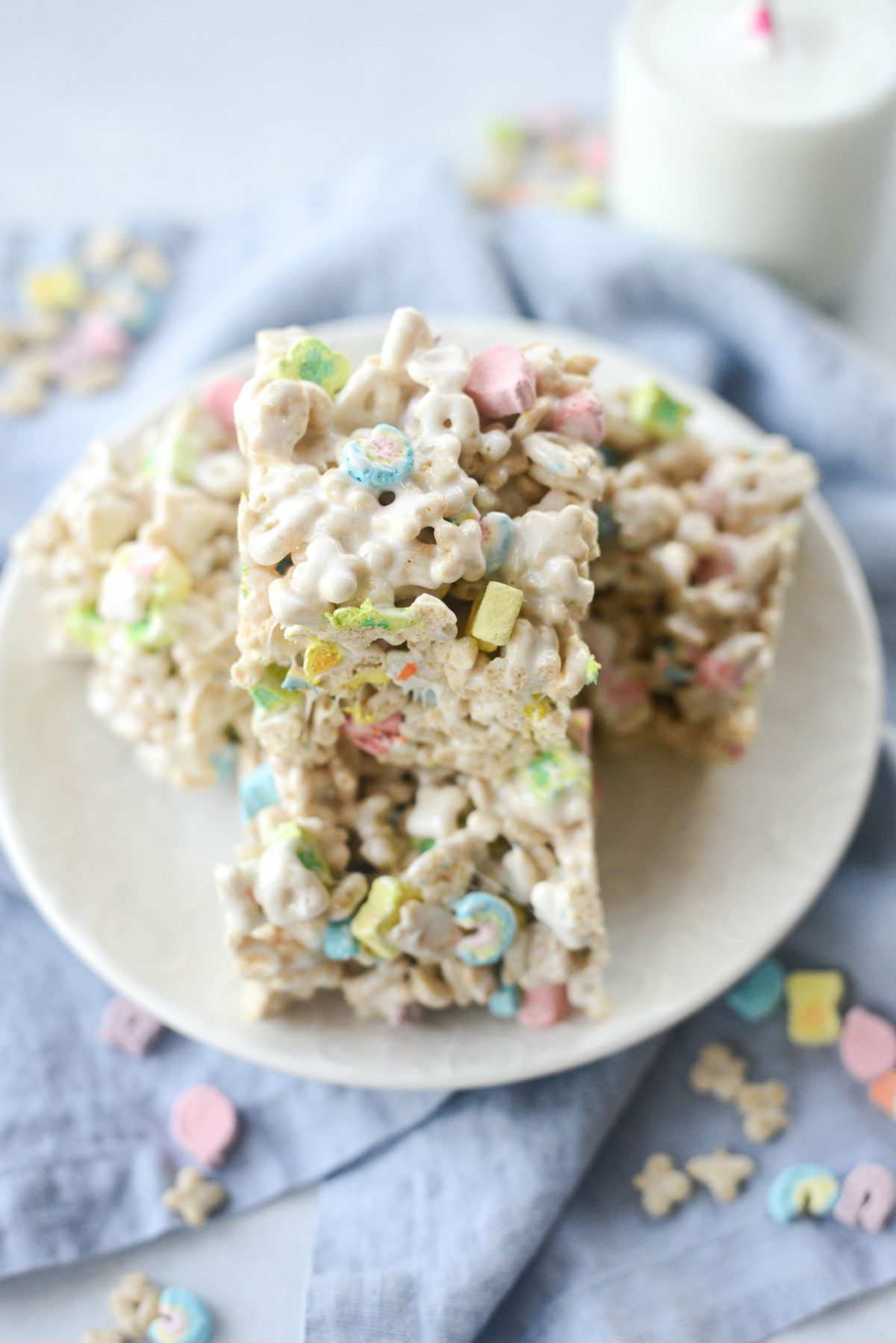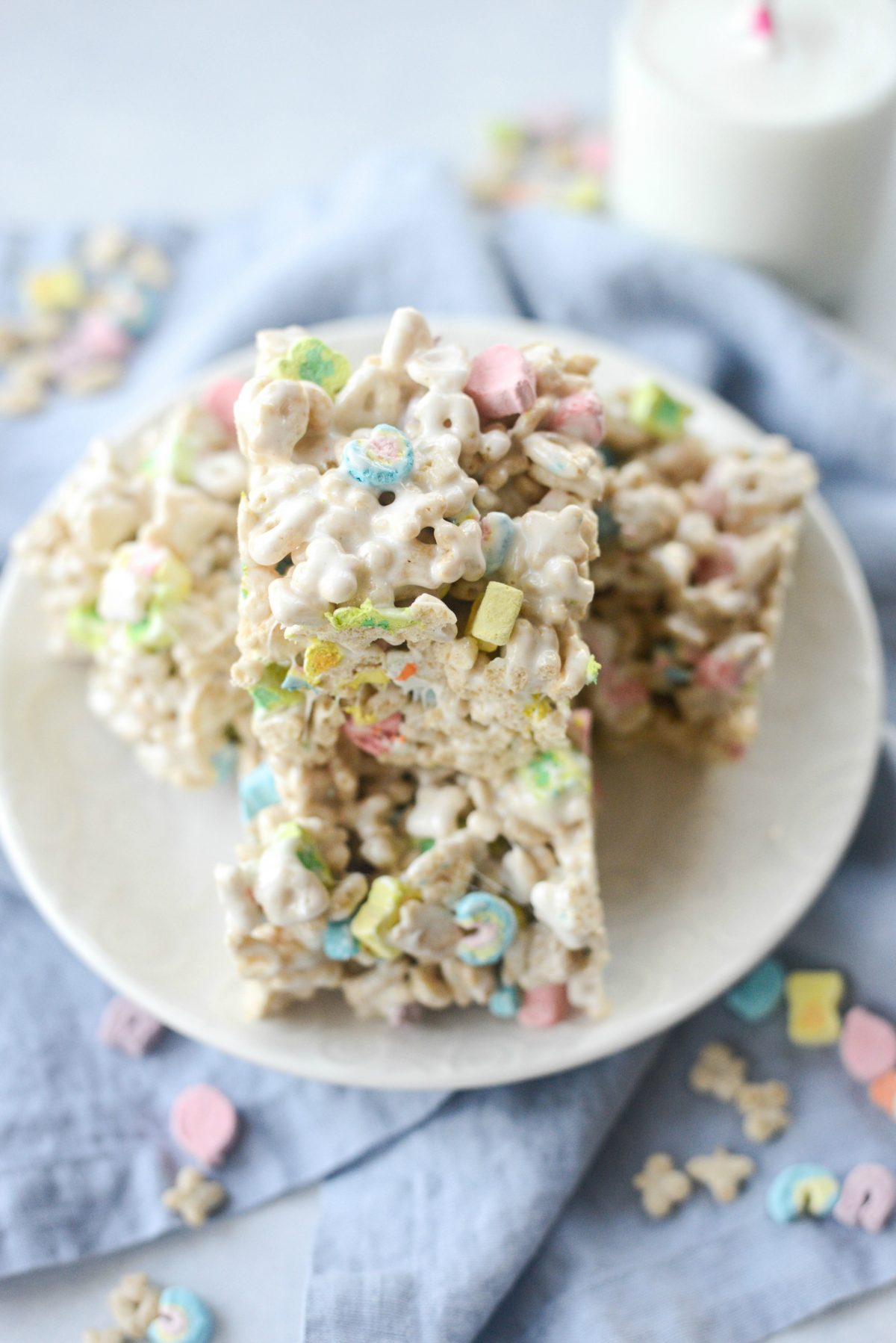 My cookbook Simply Scratch : 120 Wholesome Homemade Recipes Made Easy is now available! CLICK HERE for details and THANK YOU in advance!
[this post contains affiliate links.]
This post may contain affiliate links.
Buy the Cookbook: Simply Scratch : 120 Wholesome Homemade Recipes Made Easy Now available on Amazon »
THANK YOU in advance for your support!