This Golden Lemon Chicken Orzo Soup is just what the doctor ordered. With fresh lemon, dried turmeric and an array of veggies in light chicken broth it's a simple one-pot soup for your soul. Serves 4 to 6 in about 45 minutes.
I'm one of those people that believes chicken soup cures allthethings.
I personally witnessed it's magic when I was in my twenties and had the worst cold of my life. Worse than any "man cold". Back when I was working 12-hour shifts in the ER, my kids were little and I was hanging onto a little sleep and a prayer, my mom made me lemon chicken and rice soup. It was an insta-cure and I've been a believer ever since. Since we're still in the thick of cold and flu season and I keep hearing this year is the worst yet, I'm staying ahead of the game by infusing my teenagers with a bi-weekly bolus of this golden lemon chicken orzo soup.
Golden because turmeric. LOVE me some turmeric! Sliced carrots, celery and diced onions are sautéed and mixed with the turmeric along with fresh lemon juice, zest, orzo pasta, poached chicken, peas and green onions. All in a light chicken broth. I'm not 100% sure, but I'm thinking (hoping) this is why we've all stayed relatively healthy this winter/cold season.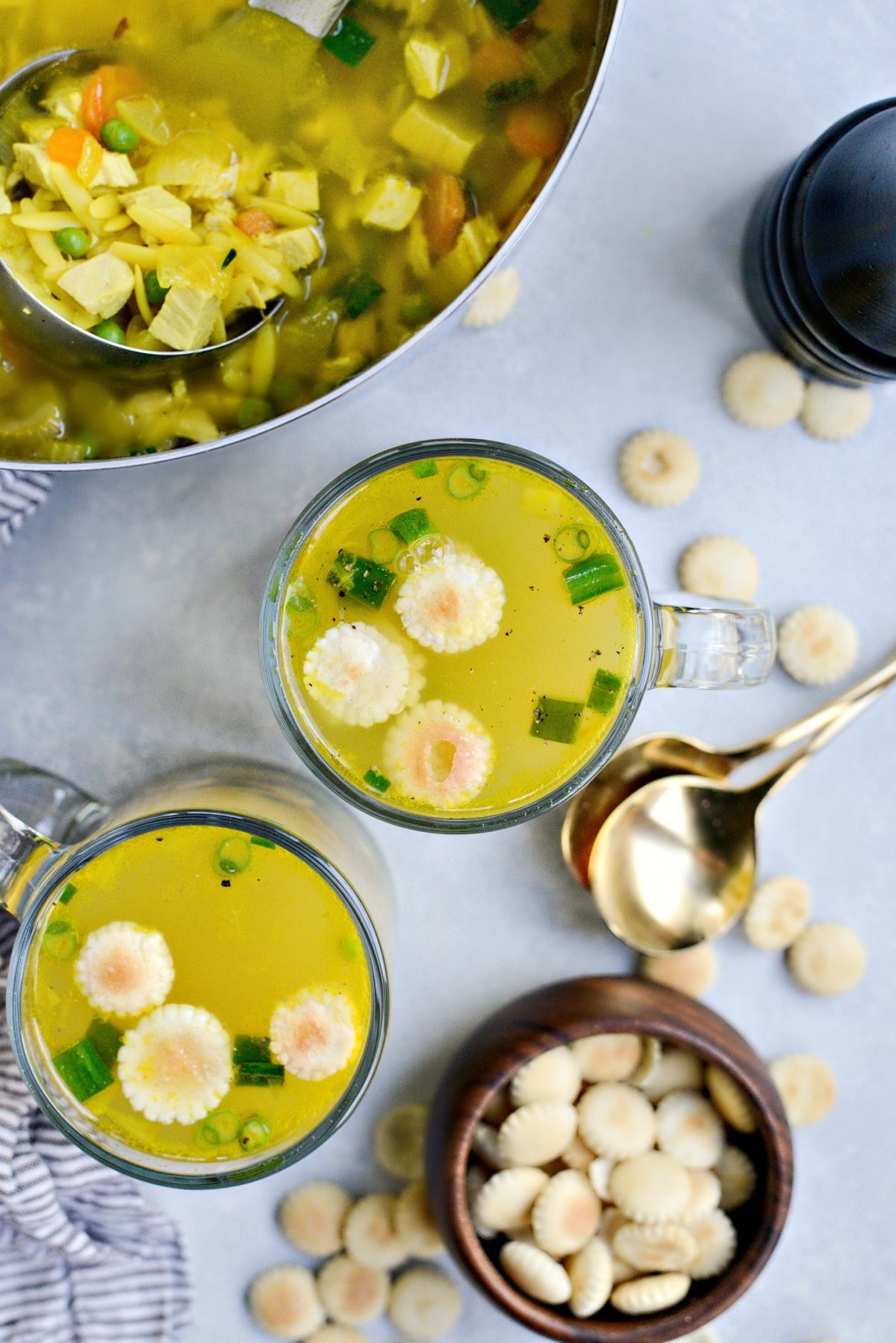 Bonus! This soup is incredibly easy too!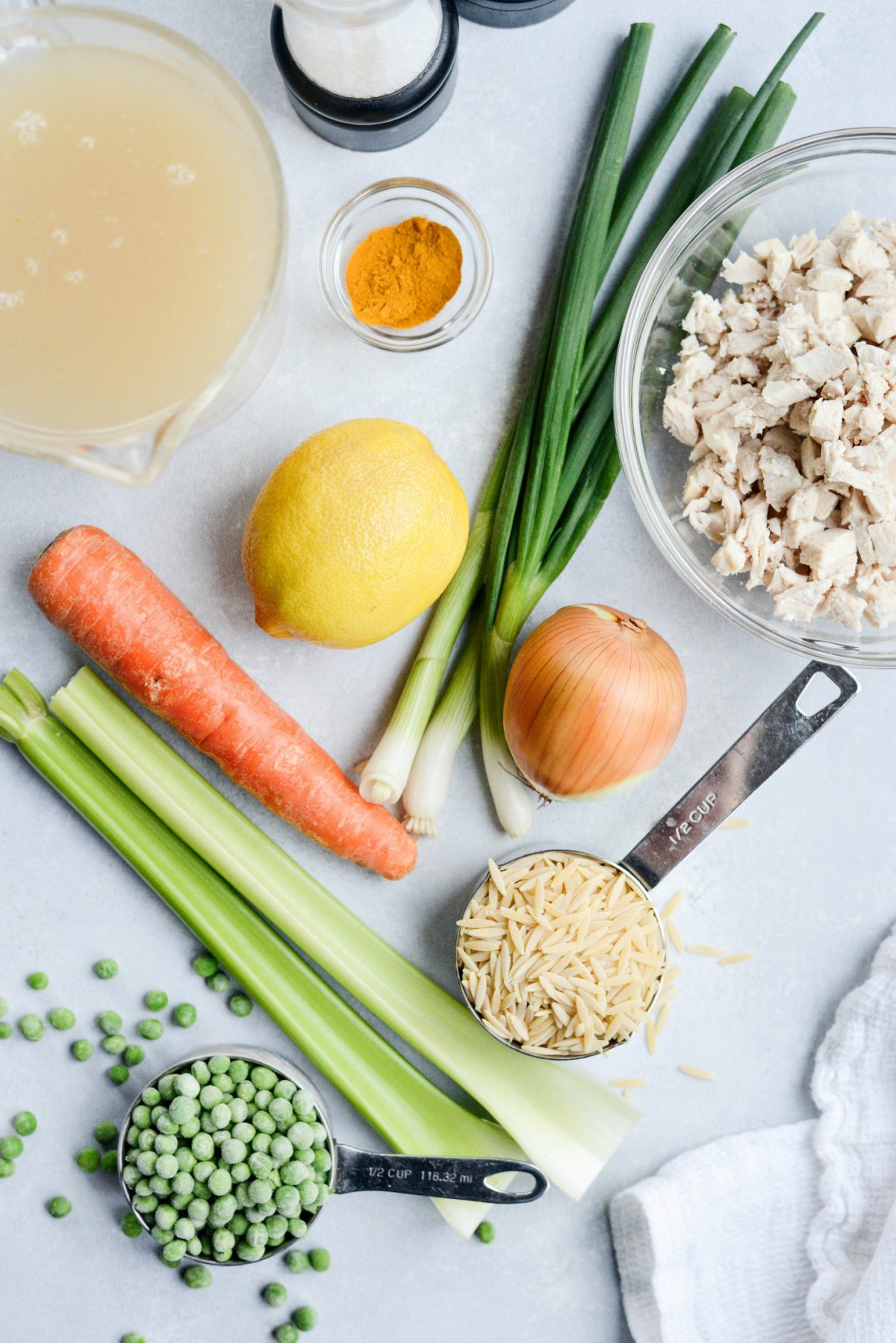 To Make This Golden Lemon Chicken Orzo Soup You Will Need:
carrot
celery
turmeric
low-sodium chicken broth
lemon
frozen peas
green onions
leftover cooked chicken
I poached my chicken earlier in the day, but in a pinch a rotisserie chicken can be used.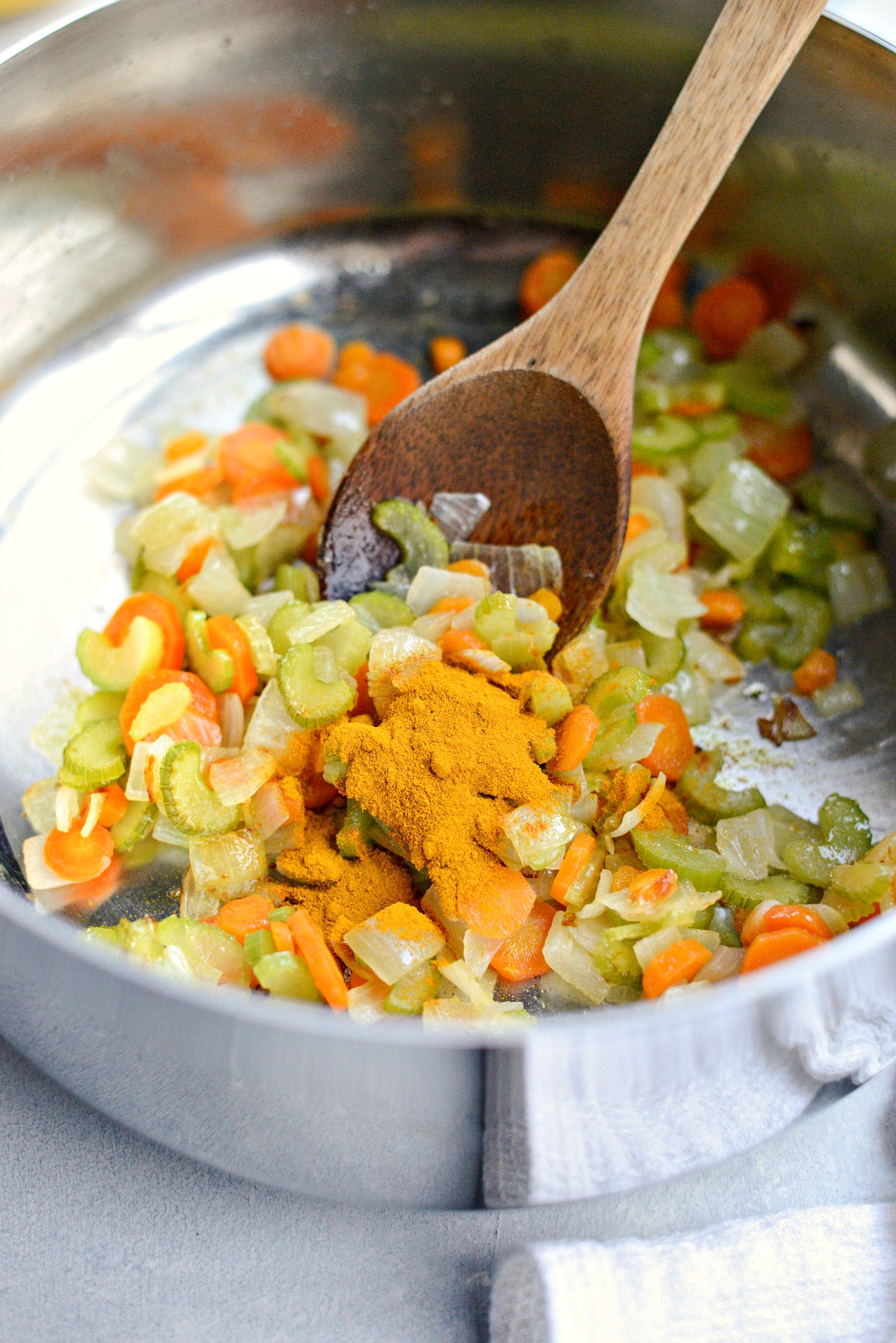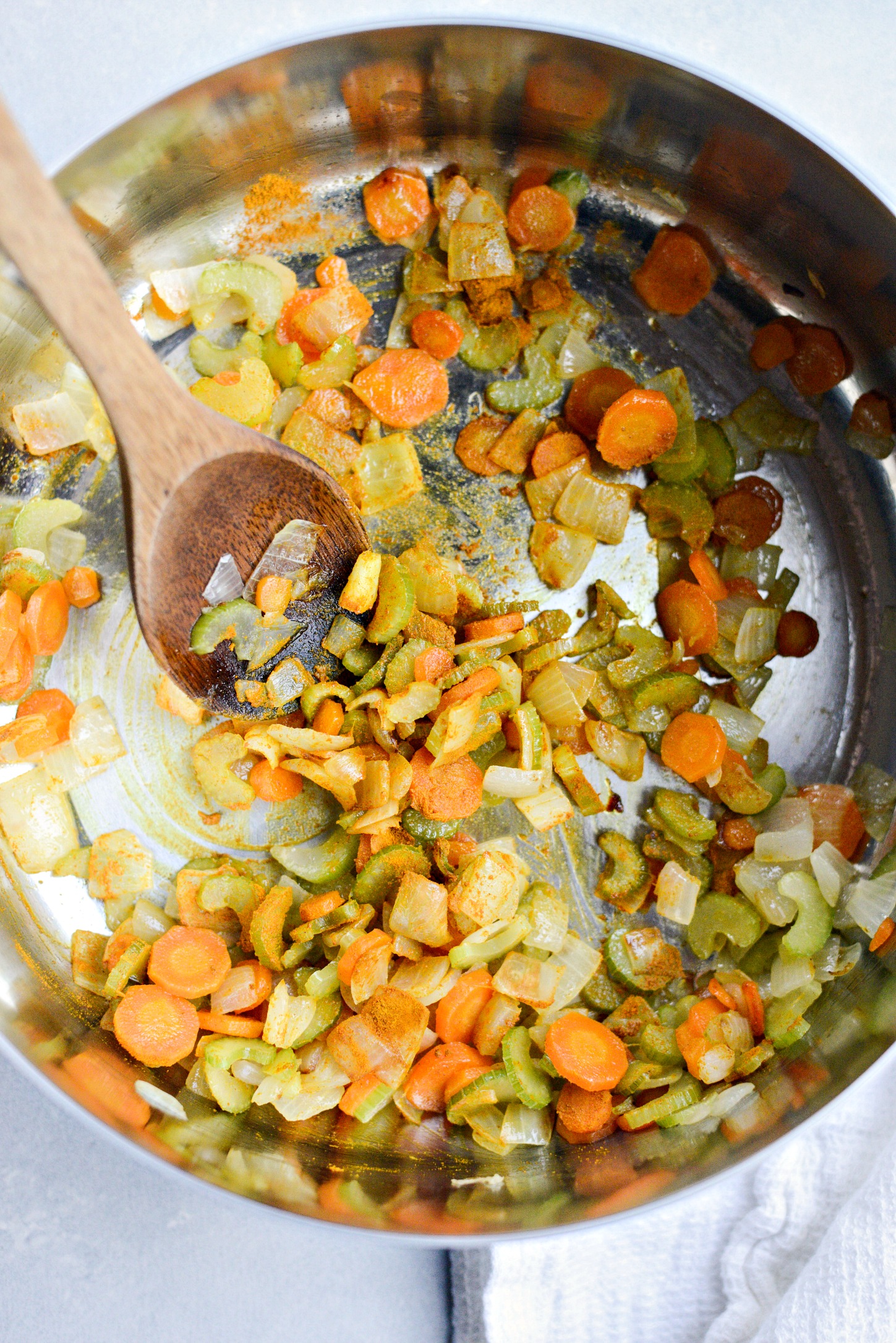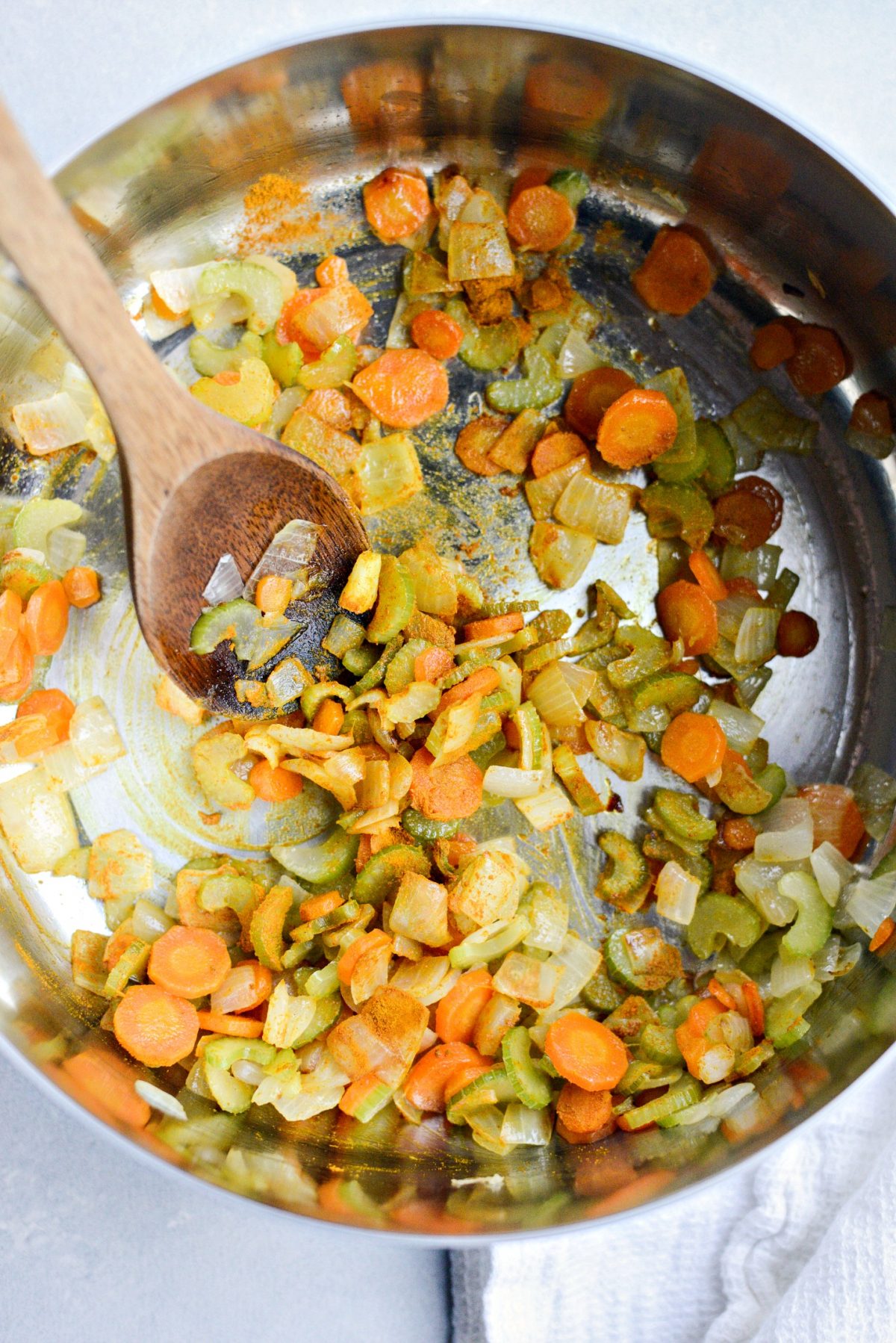 Start by sautéing 1 sliced carrot (or 2 medium size) and 1 to 2 (sliced) stalks of celery along with 1/2 cup diced yellow onion in 1 tablespoon of olive oil. Season with a pinch of kosher salt. Cover and cook, stirring occasionally until soft and tender, about 8 to 10 minutes.
To this add in 1 teaspoon turmeric and stir to combine. You may not want to use a white or light spatula here. Turmeric likes to stain, just ask my kitchen rug when I dropped it on it. 🙈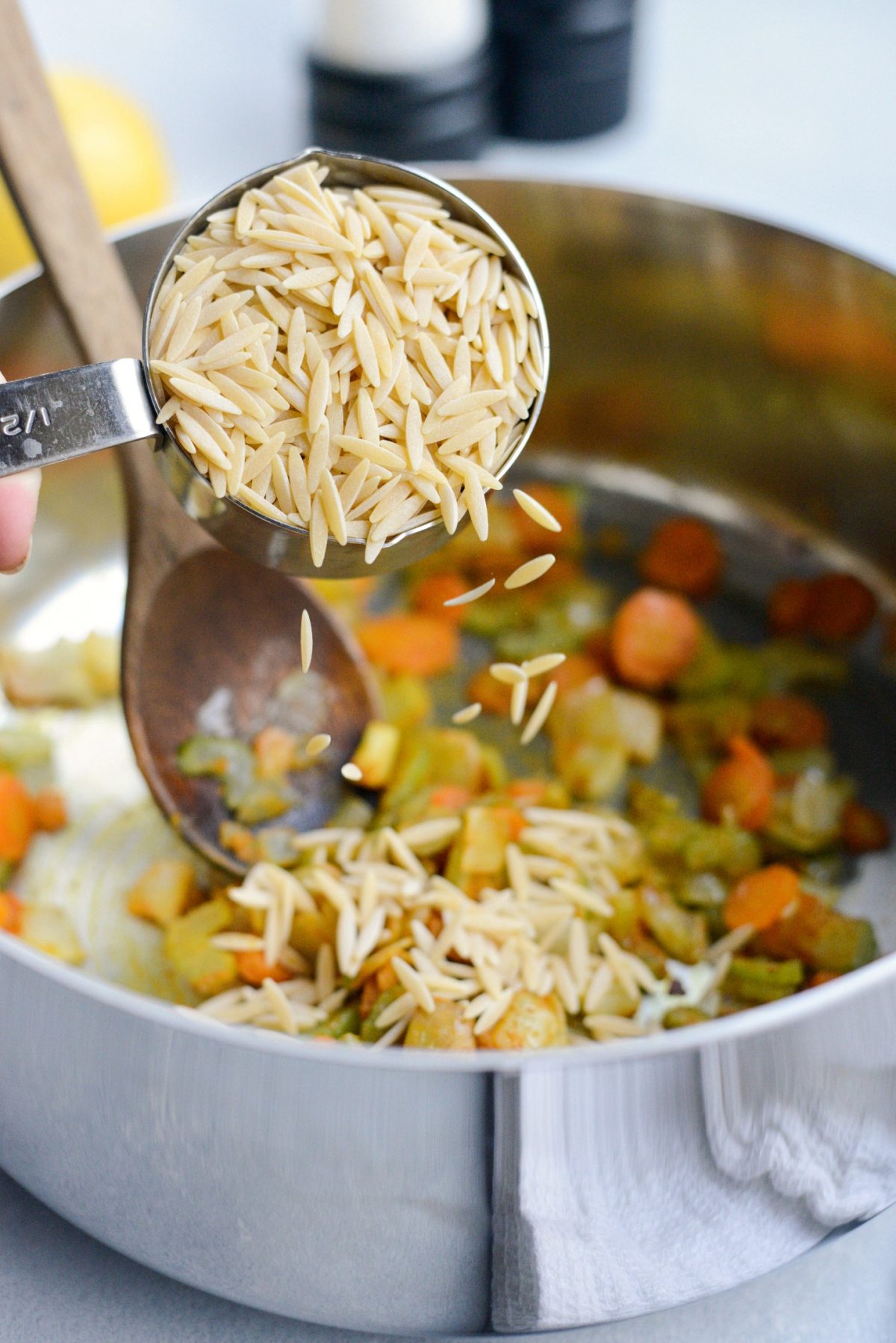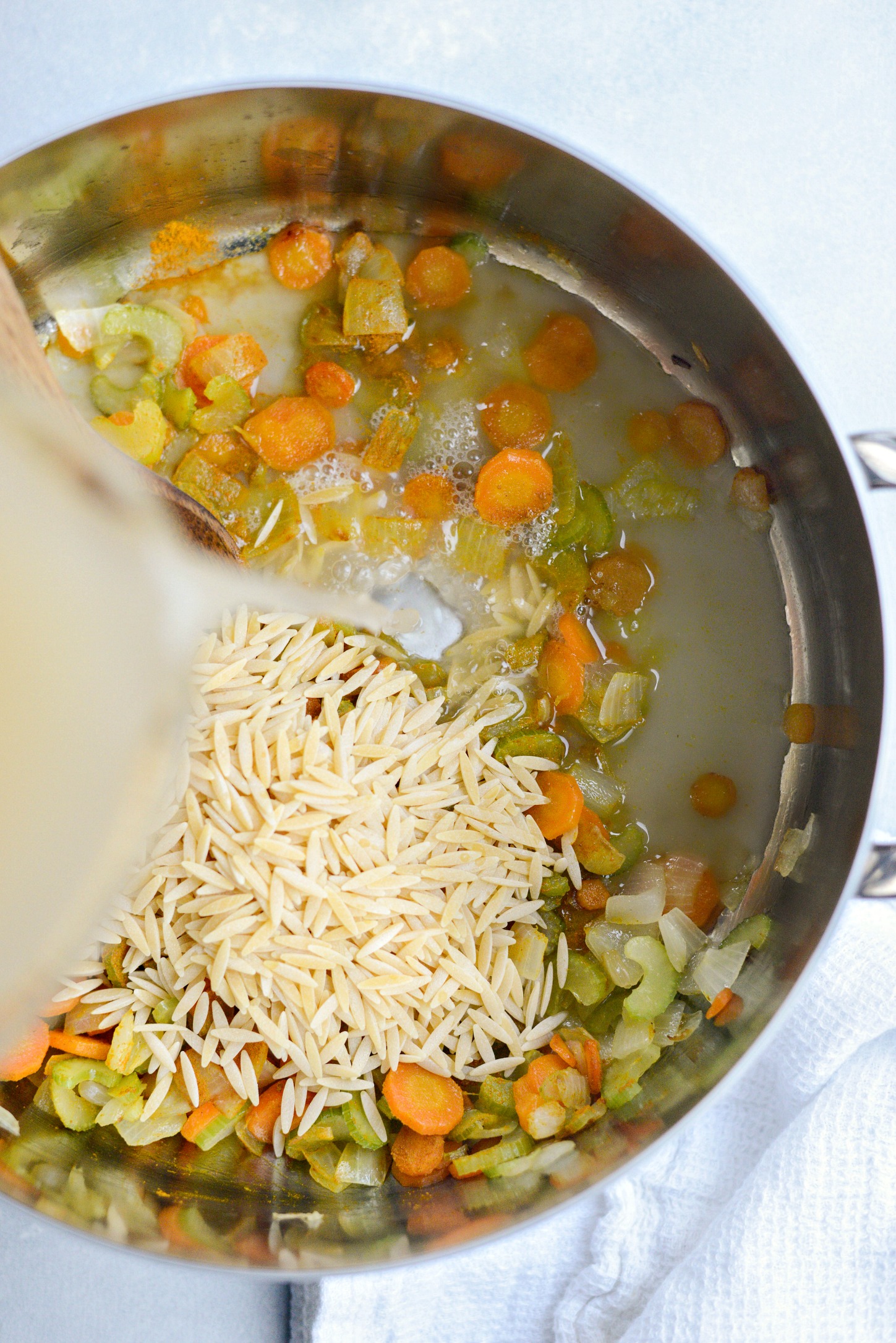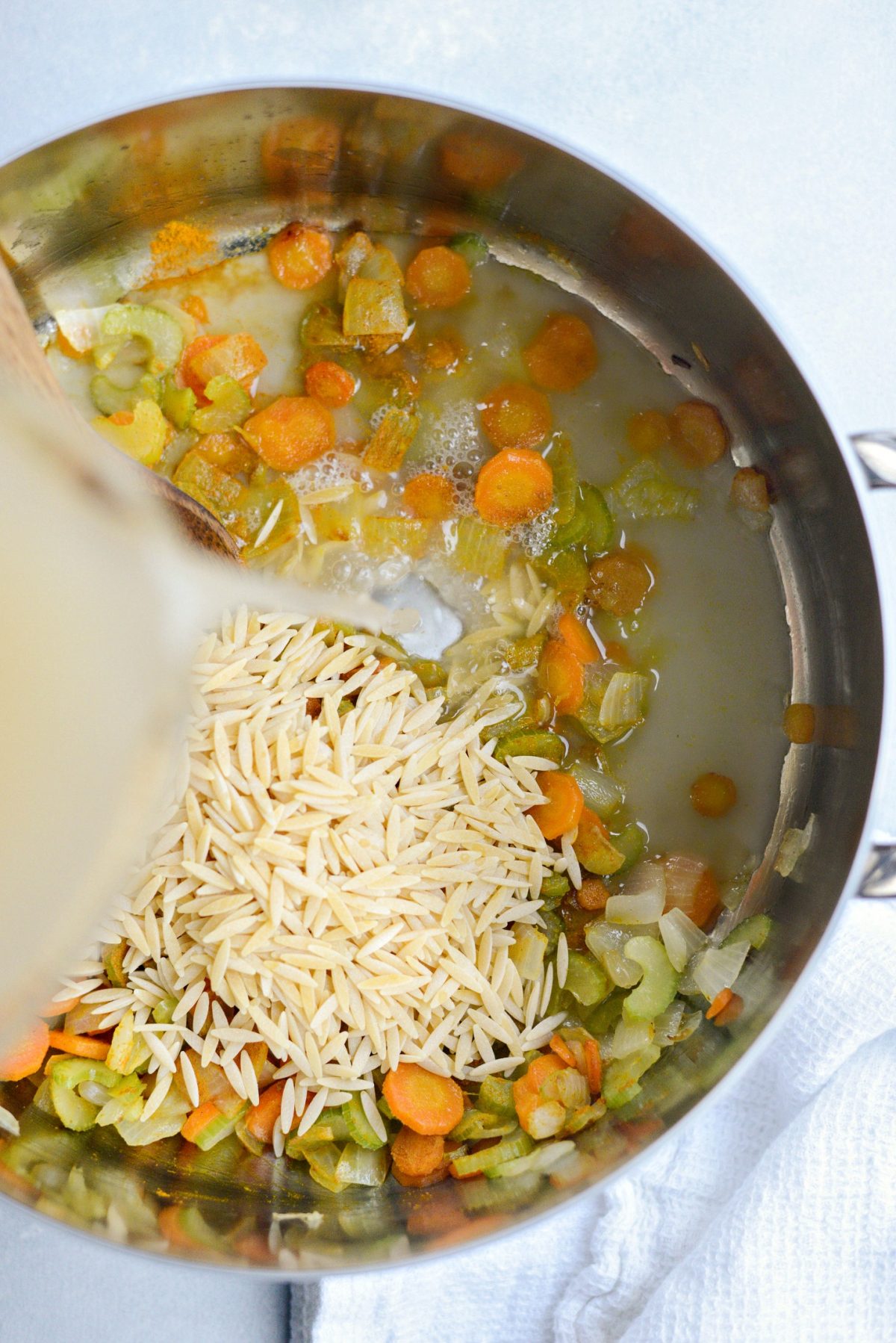 Measure and add in 1/2 cup of dried orzo pasta, 1 quart low-sodium chicken broth plus 4 cups water. Bring to a boil then reduce and cook until the pasta is al dente. About 10 to 15 minutes.
Add in the 2 cups of diced cook chicken (which is about 2 to 3 medium chicken breasts), 1/2 teaspoon of finely grated lemon zest and 2 tablespoons (more or less to your preference) of freshly squeezed lemon juice.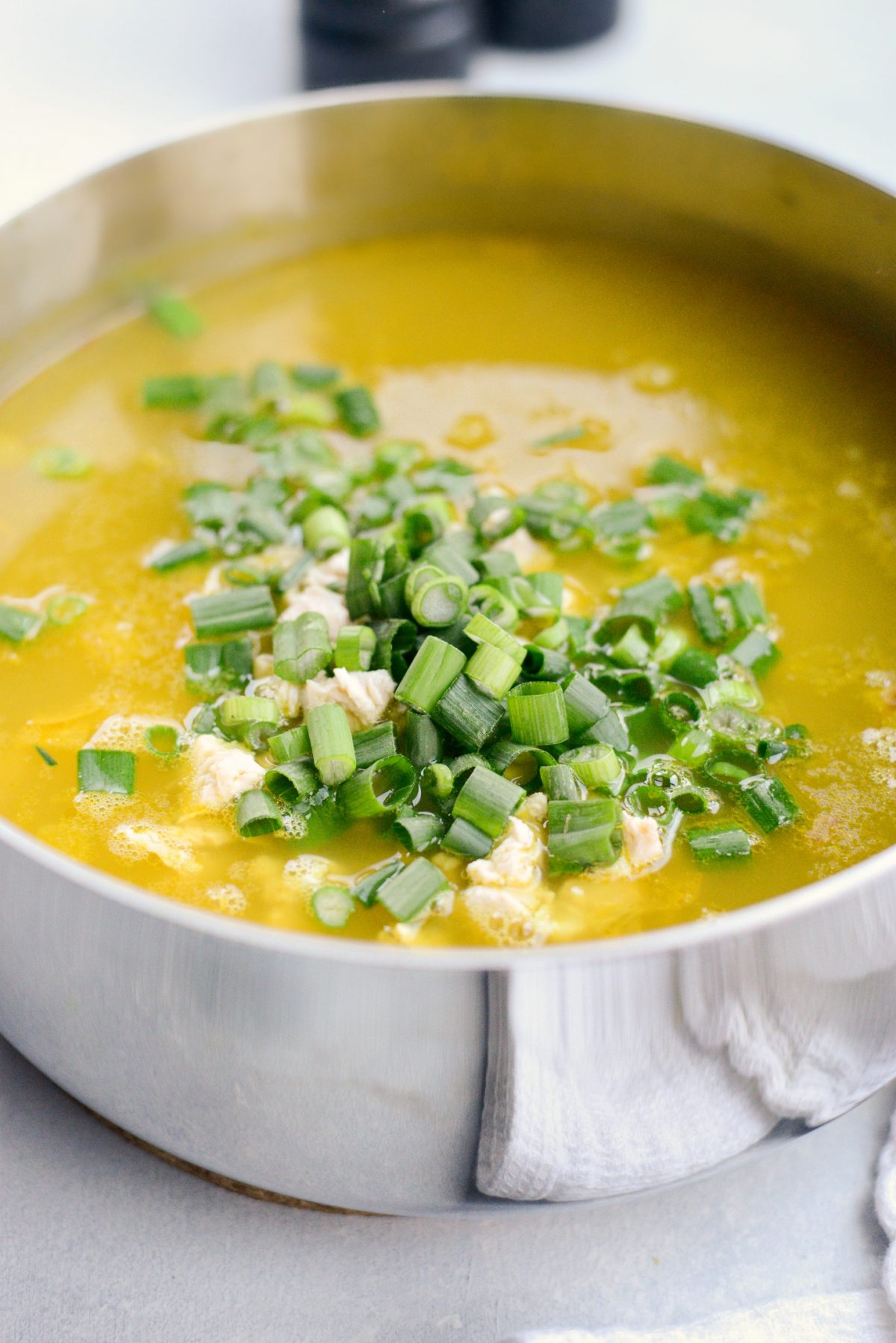 Then add in 1/2 cup frozen peas and the light and dark green parts of 3 (sliced) green onions.
Stir this sunny lemon chicken orzo soup and heat throughly. Taste and season with kosher salt and black pepper to taste.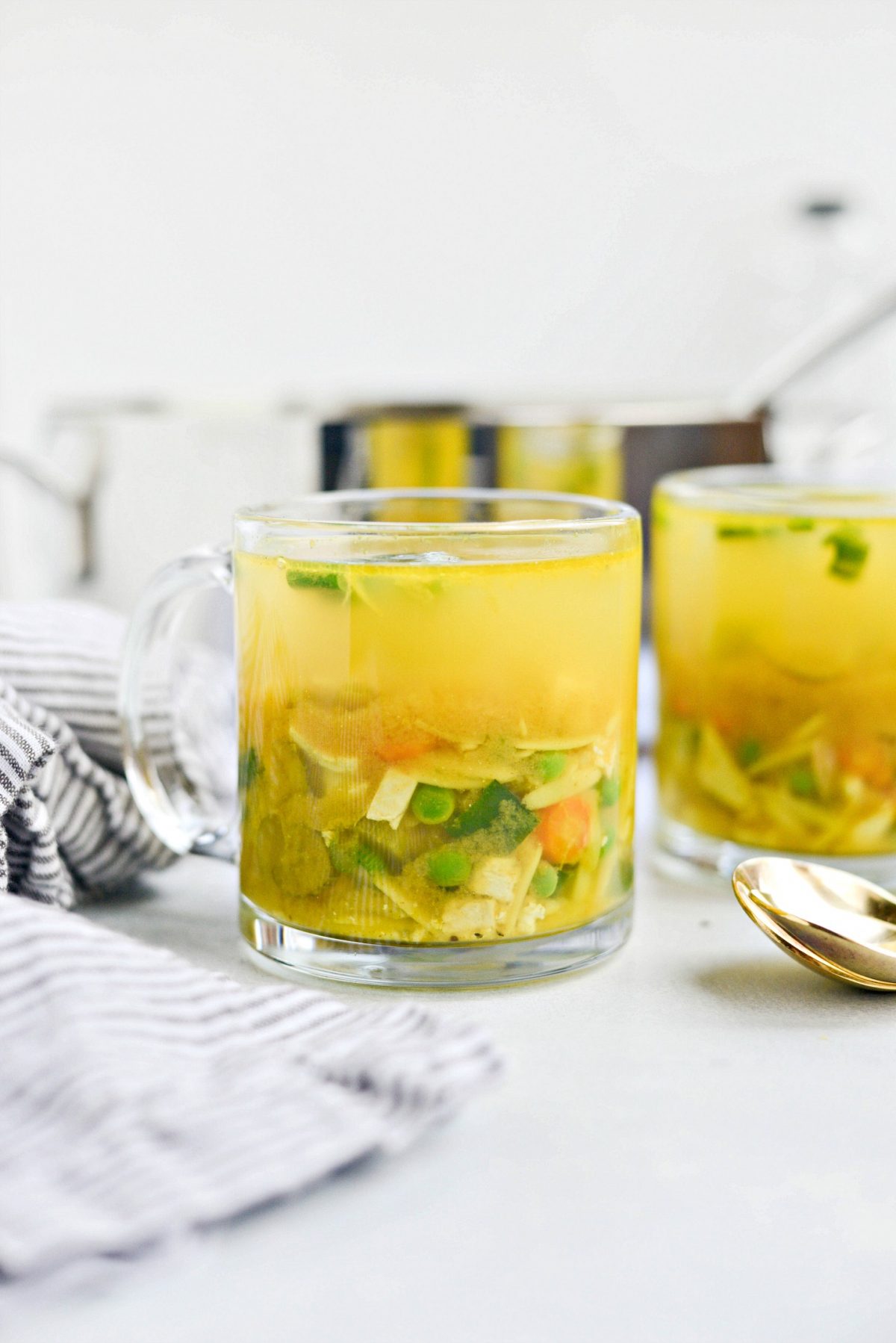 Lastly, ladle soup into bowls, or my favorite, mugs! This way I can sit and hold my mug-o-soup, it's less messy this way. 😉 37-years-old and I can't eat soup nor a salad without looking like a starving neanderthal.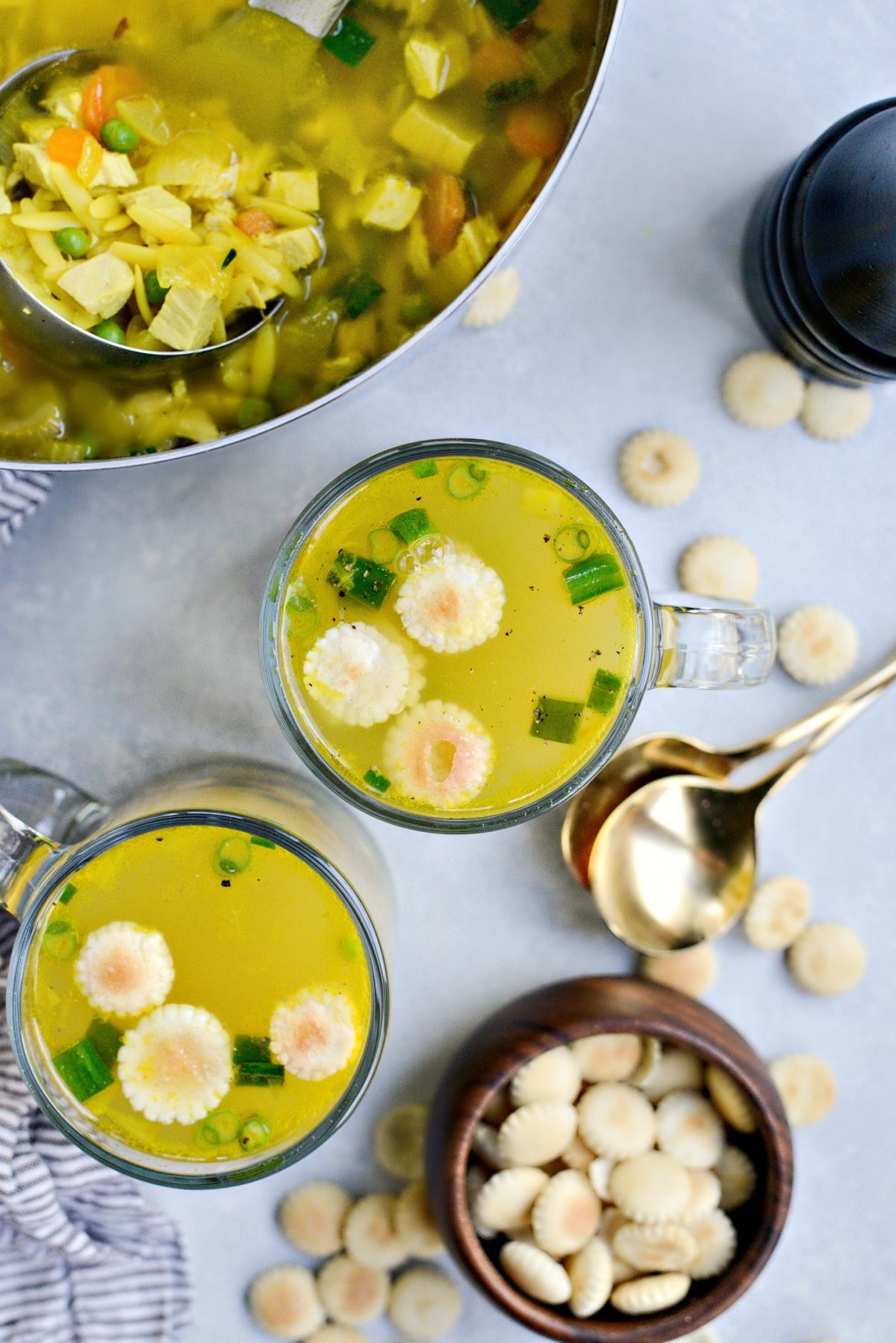 Oh and perhaps add a few oyster crackers for good measure.
Crackers are a soups BFF.
Enjoy! And if you give this Lemon Chicken Orzo Soup recipe a try, let me know! Snap a photo and tag me on twitter or instagram!
This post may contain affiliate links.
Buy the Cookbook: Simply Scratch : 120 Wholesome Homemade Recipes Made Easy Now available on Amazon »
THANK YOU in advance for your support!