Garlicky Lemon Parmesan Roasted Asparagus is a simple, bright and flavorful side dish. Fresh asparagus is tossed with olive oil, salt and pepper and fresh garlic before roasted in a hot oven. Finished with fresh lemon juice and parmesan cheese. Perfect if served with chicken, fish or beef. Serves 4 (maybe even 6) in 10 minutes.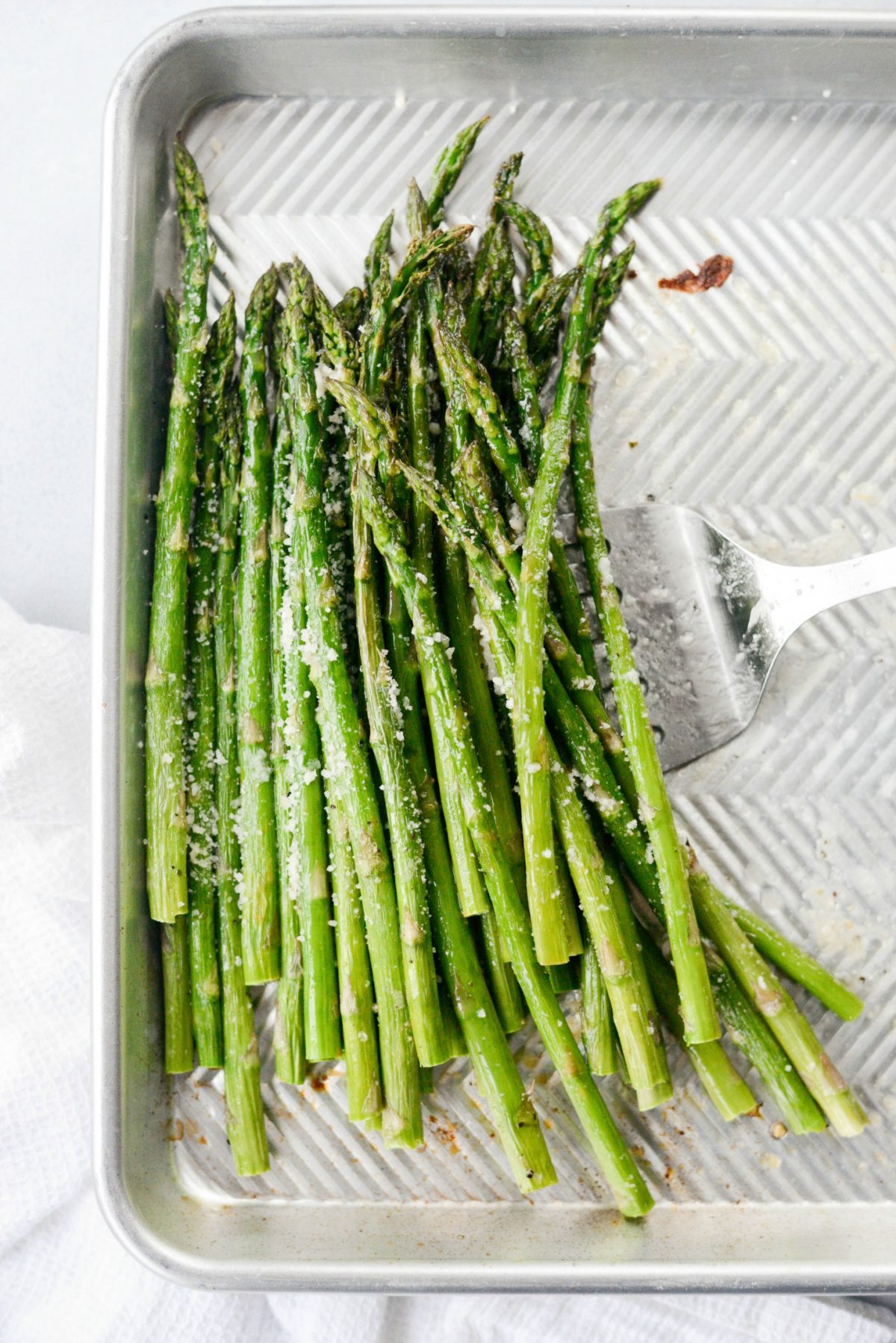 Last week I was testing out a new chicken recipe on my family (lucky them and lucky you, soon!) and I planned to whip up some roasted asparagus to go with it. 3 out of 4 of us like asparagus (Mal still isn't a fan) and I usually grill it or sauté it, I don't really roasted asparagus often because I haven't ever found a recipe that I loved.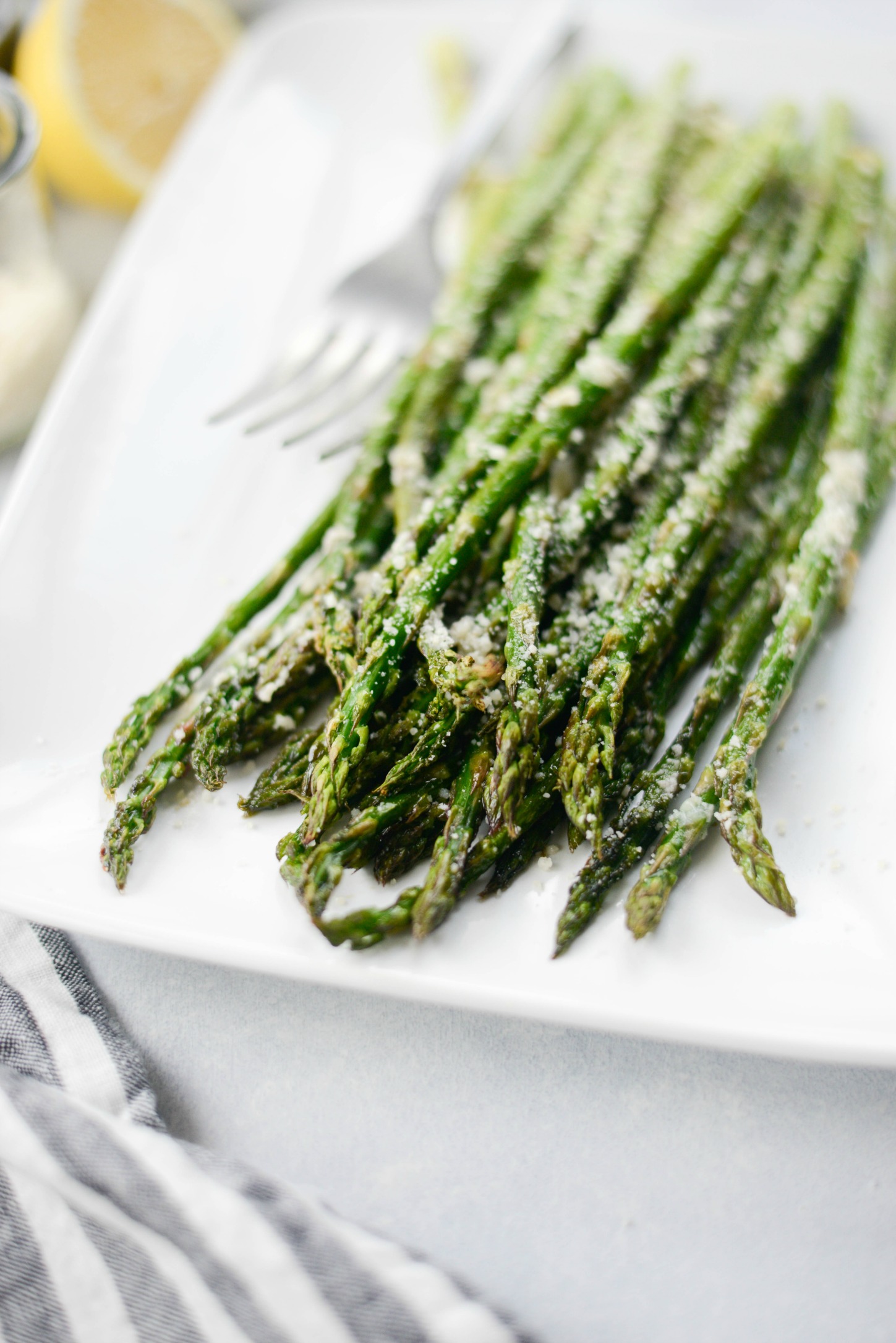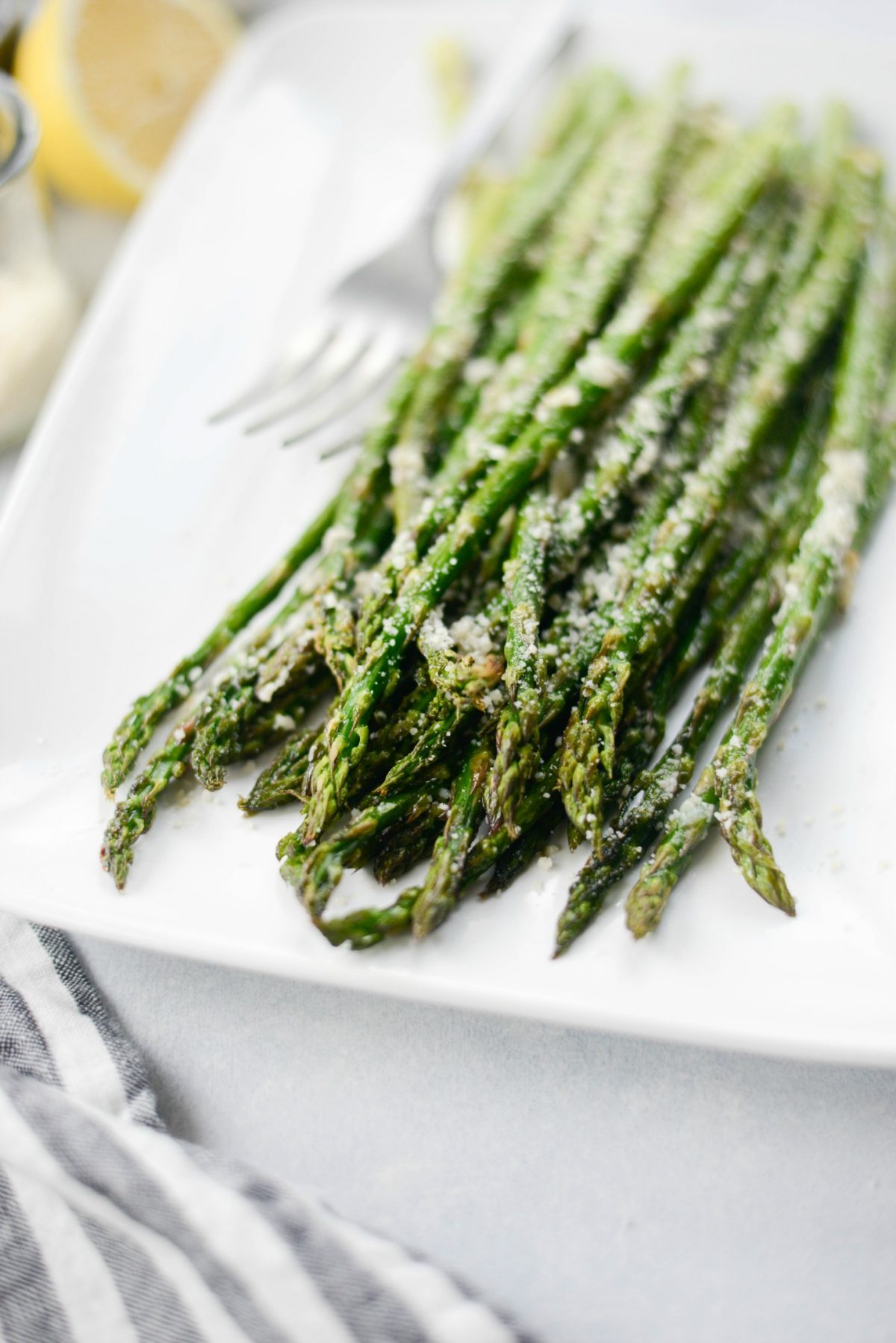 So back to dinner, I really didn't have a recipe to go by. I was just going to wing it and throw it all together and serve it. Fingers crossed. Little did I expect that I would rush out to the store the next morning, buy more asparagus to shoot this recipe for SS. They're juicy, yet still have a little crunch or bite. The lemon parmesan garlic thing they have going on is utterly fantastic and borderline magical.
This garlicky lemon parmesan roasted asparagus has simple, classic ingredients and can be pulled together in no time.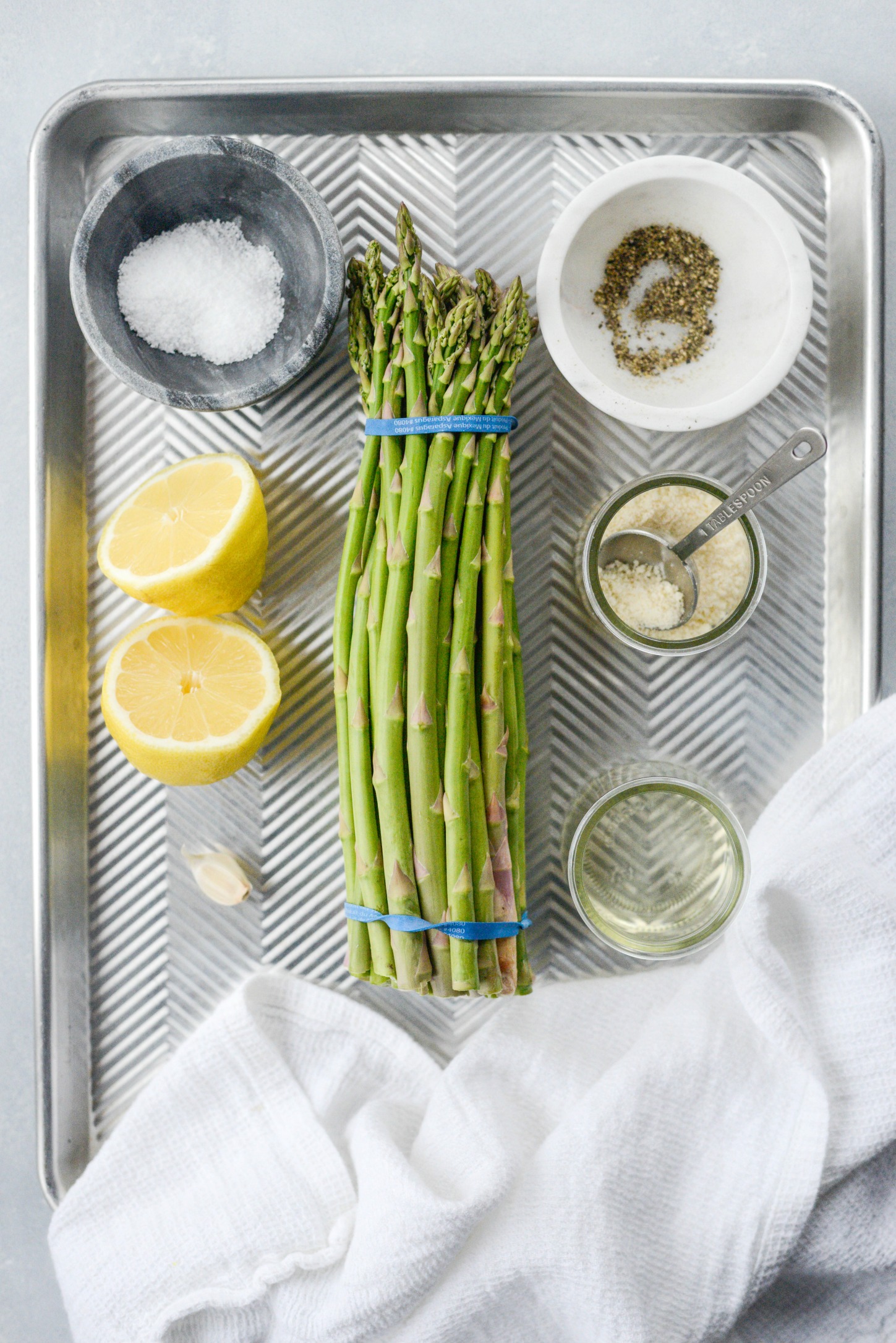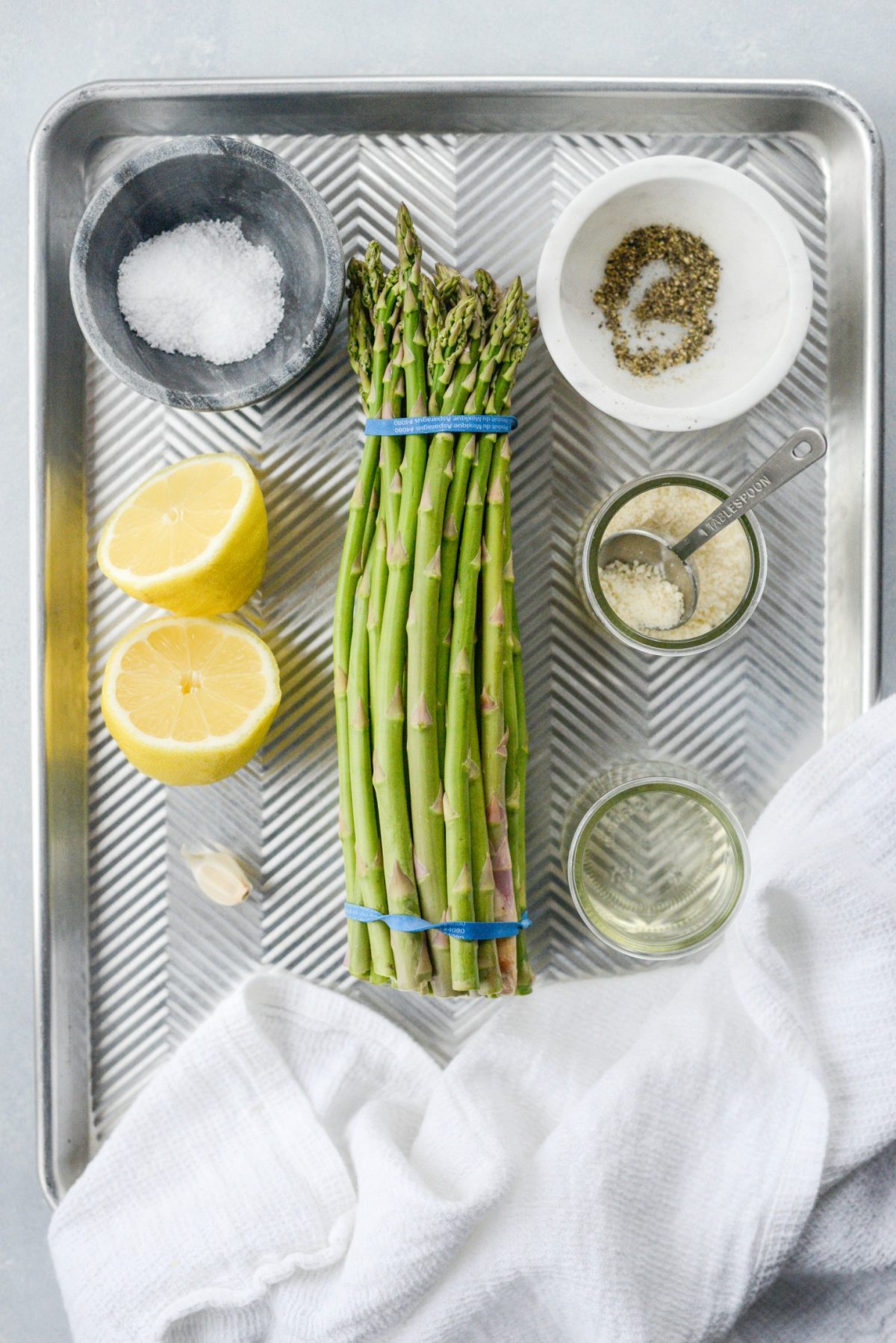 To Make This Garlicky Lemon Parmesan Roasted Asparagus You Will Need:
1 bunch asparagus
extra light olive oil
kosher salt
freshly ground black pepper
garlic
lemon
parmesan cheese – the freshly grated stuff (;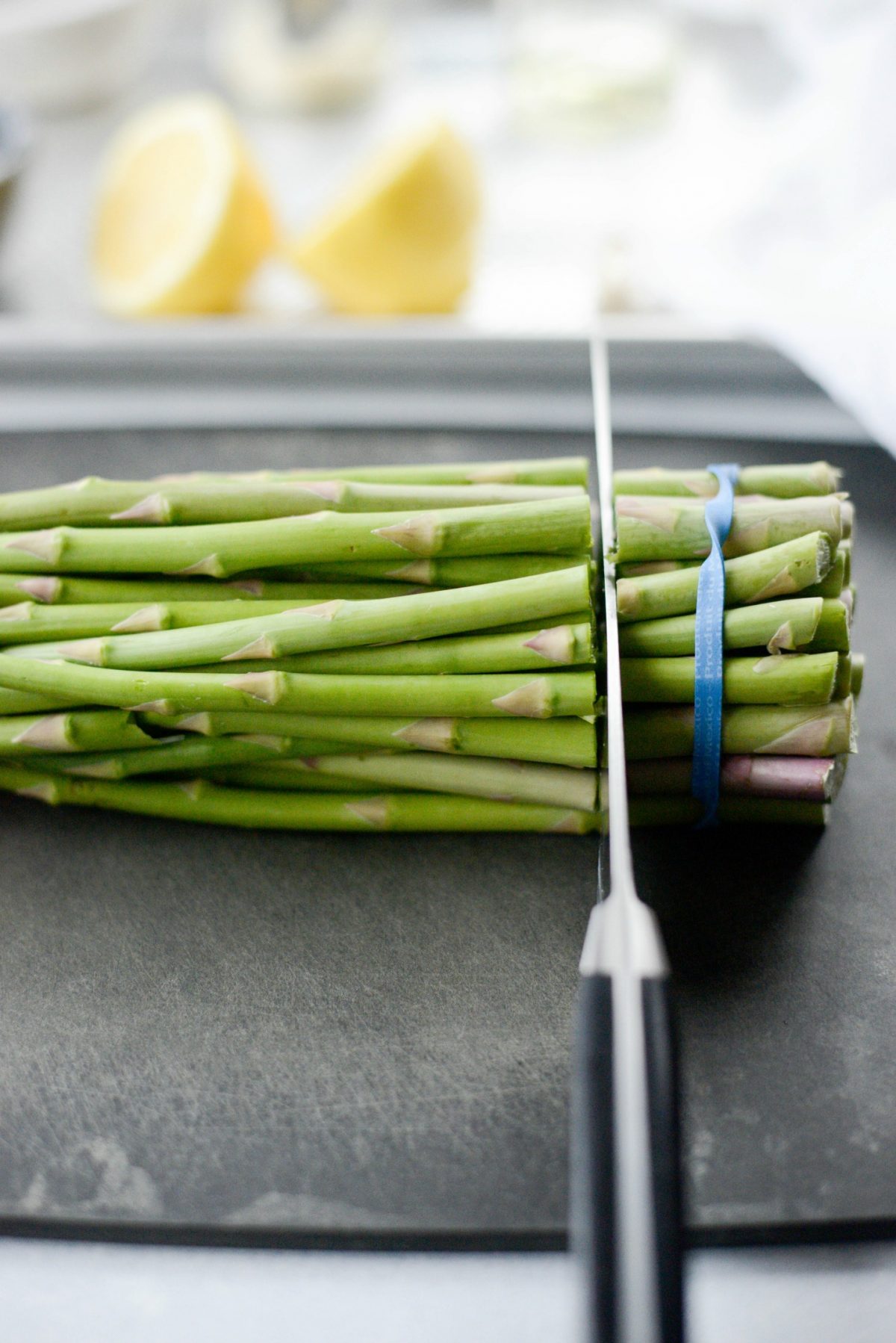 Trim the last inch or inch-and-a-half of the ends of the asparagus. Remove the rubber bands, rinse and pat dry with a clean kitchen towel.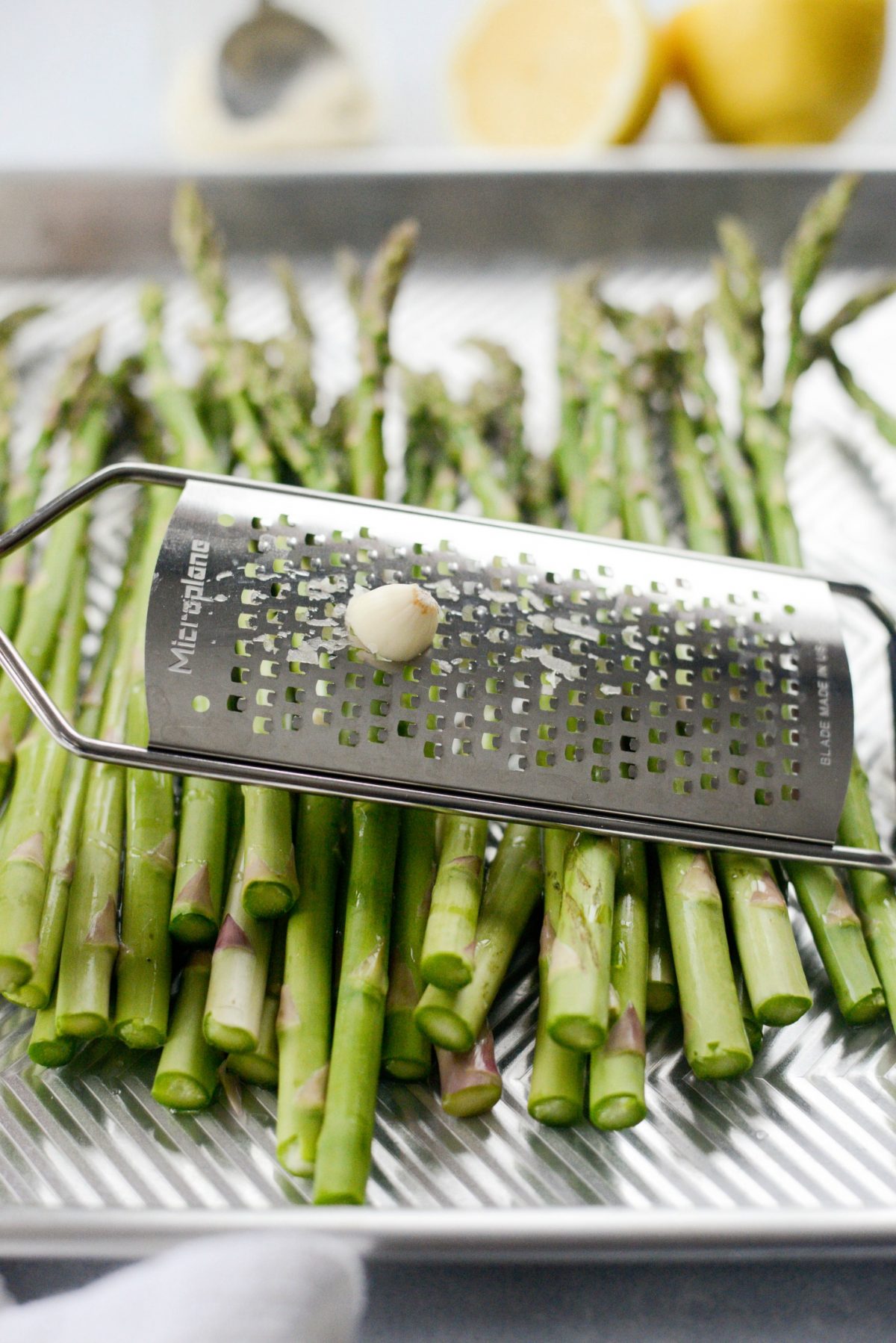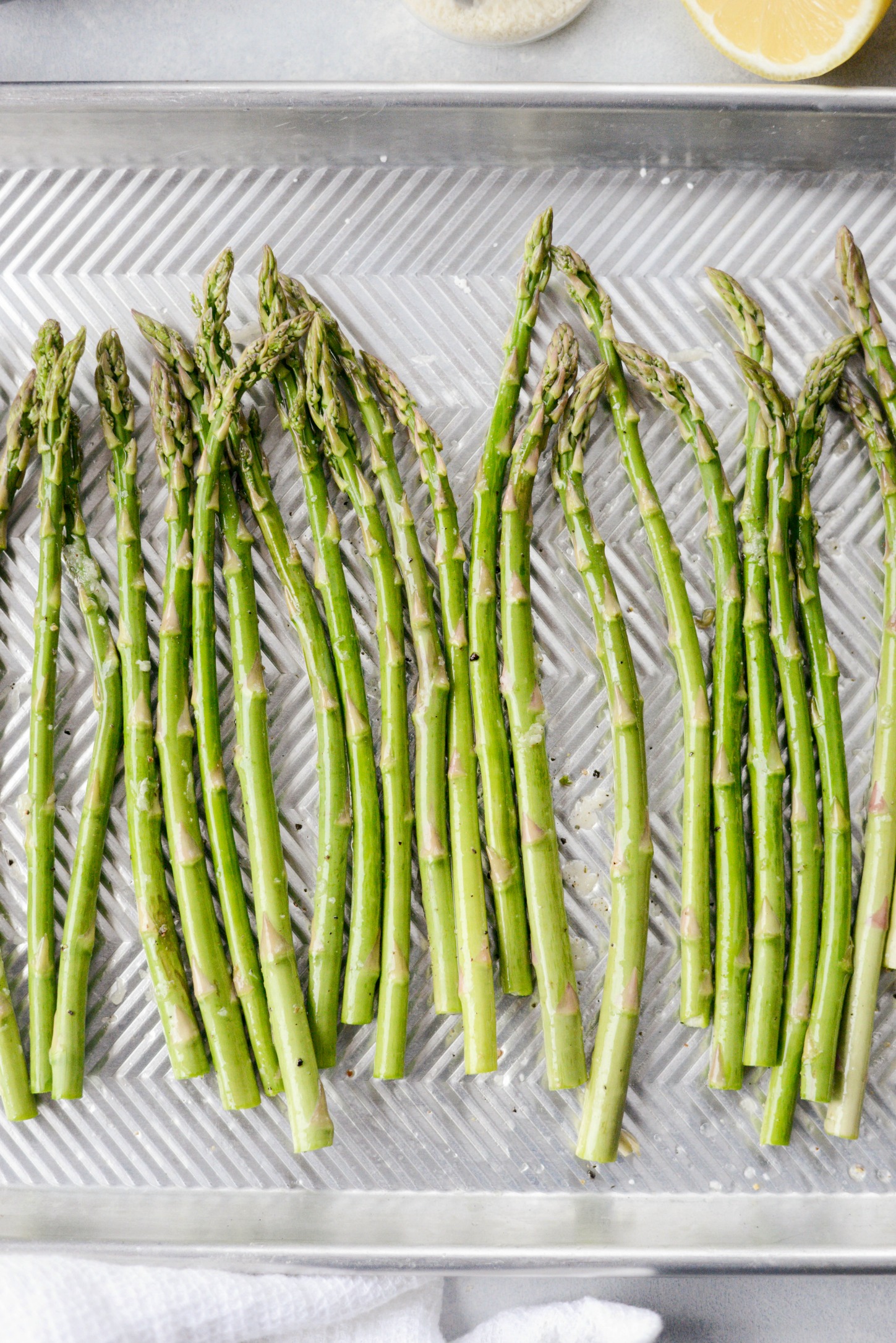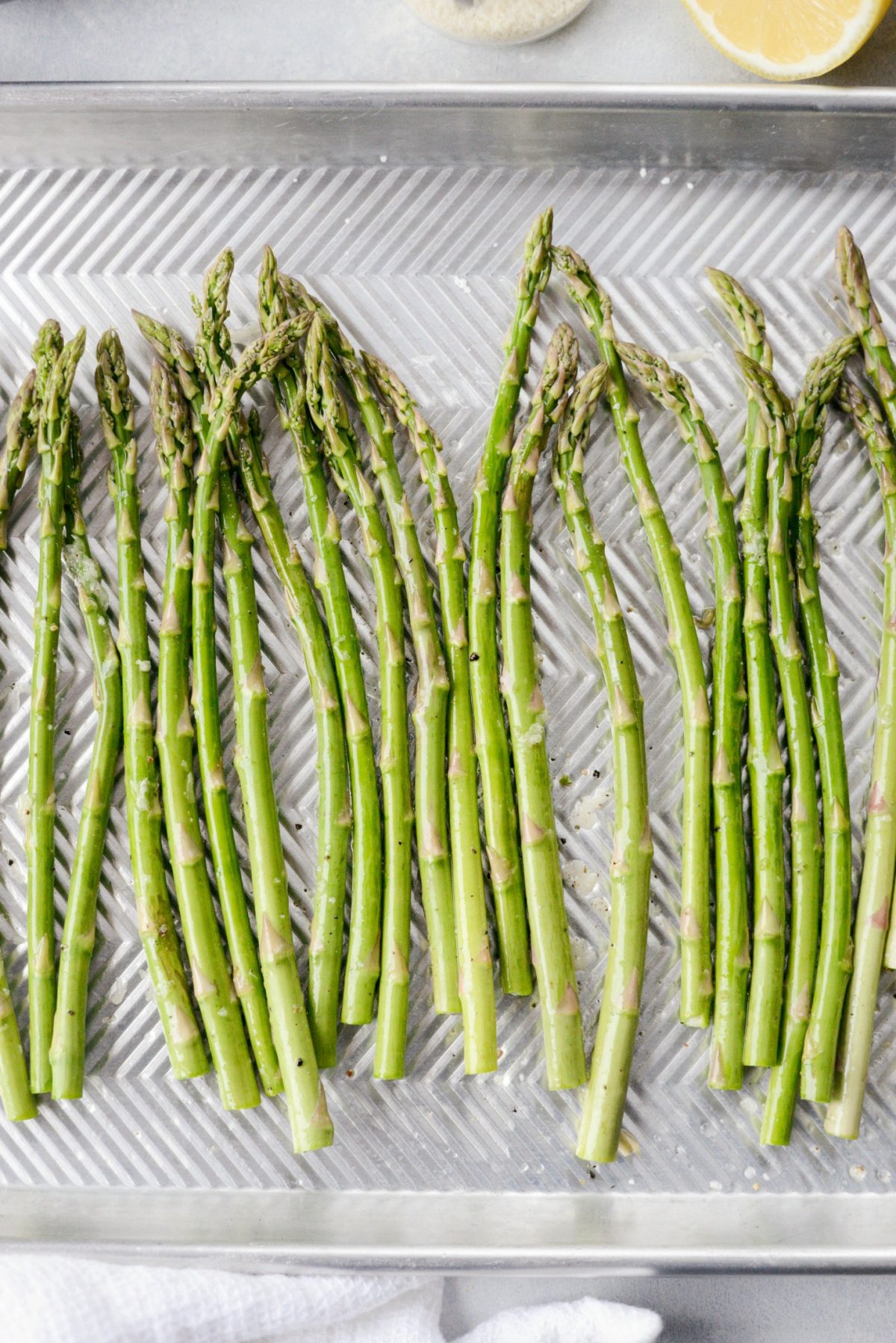 Place the asparagus onto a rimmed, metal baking sheet and drizzle with 1 to 2 tablespoons of olive oil, grate 1 small clove of garlic, and season with a pinch of kosher salt and black pepper. Toss to coat before sliding the pan onto the middle rack of your preheated 500° (yes 500 degree) oven and roast for 6 to 8 minutes, rotating the pan halfway during roasting.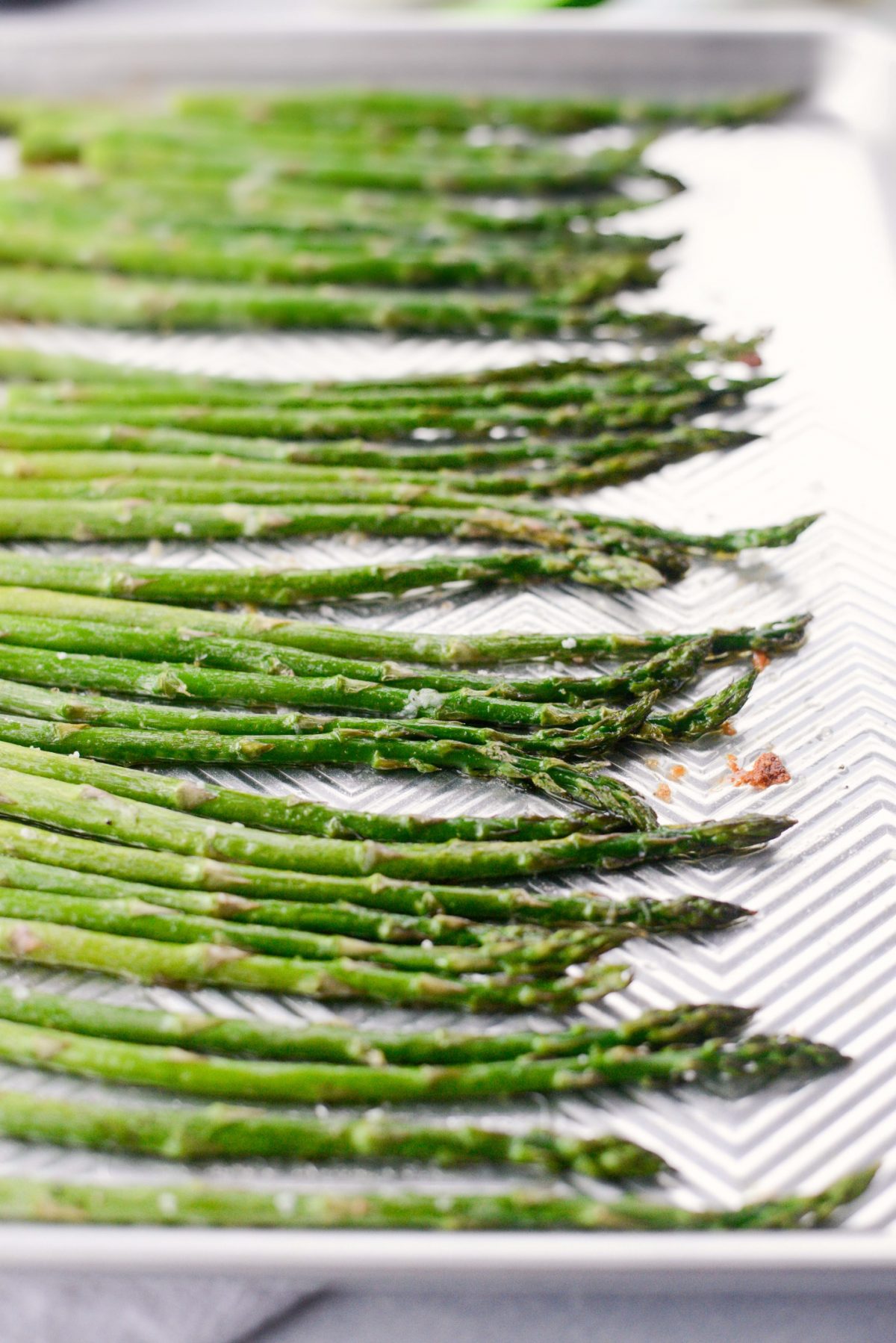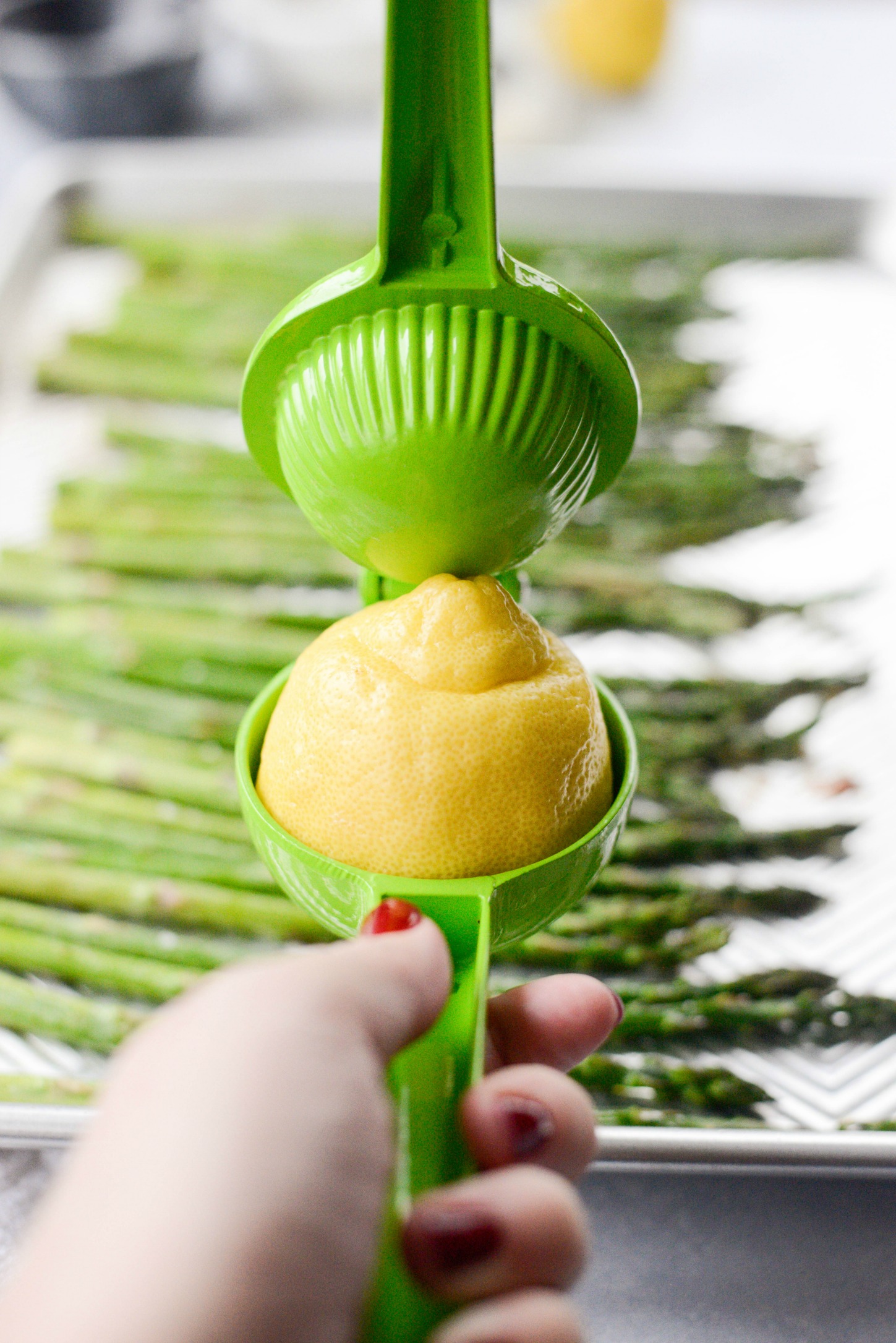 Once roasted, immediately squeeze half a lemon over top…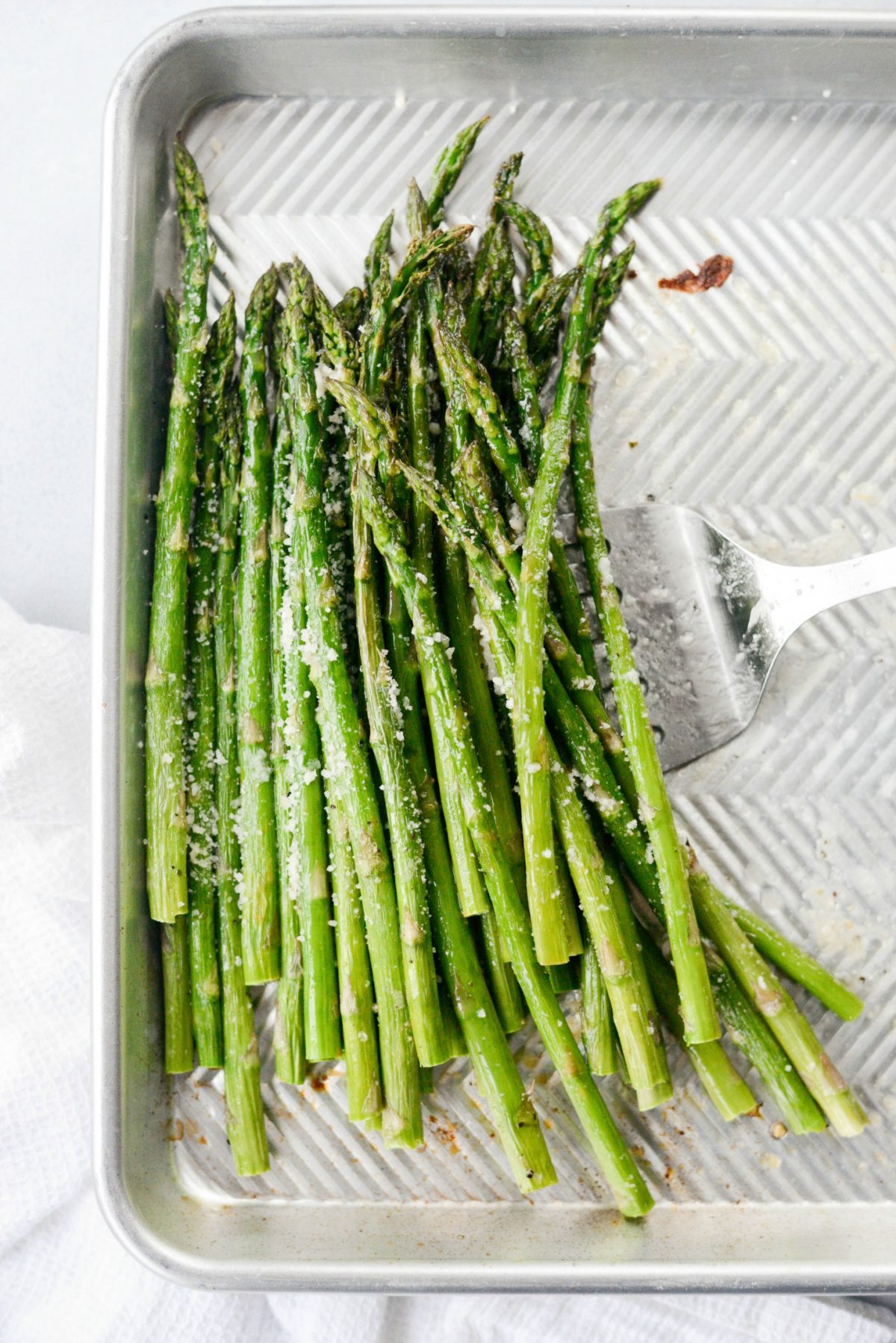 …and sprinkle with a couple tablespoons of freshly grated Parmesan cheese.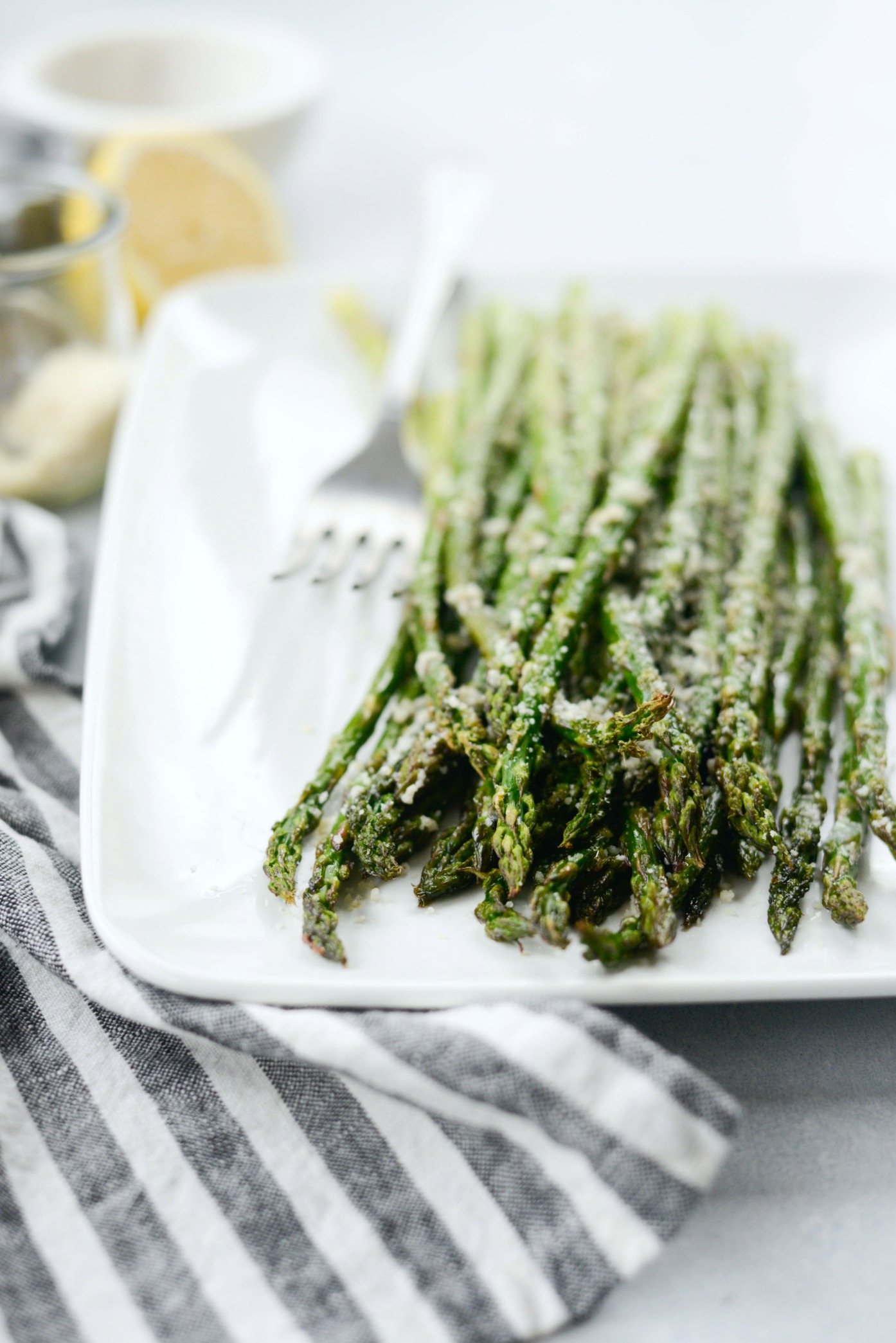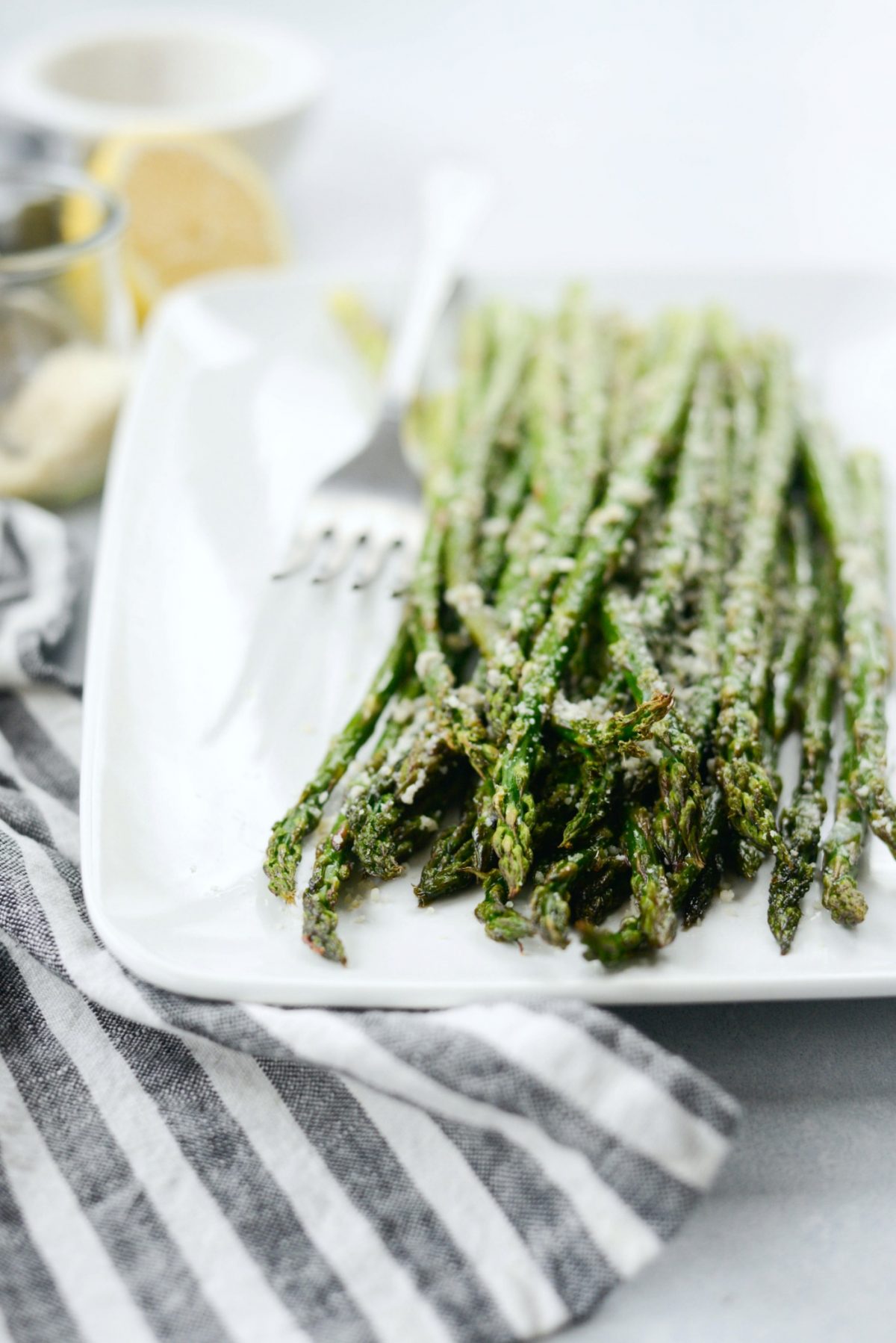 Serve, still warm and looking gorgeous.
I really had no idea how delicious this garlicky lemon parmesan roasted asparagus was going to turn out! Perfectly cooked, tender yet still with an al dente firmness. Bright with lemon, cheesy and garlicky. SO good! It was love after first bite and I vow that this will be my go-to roasted asparagus recipe.
Enjoy! And if you give this Garlicky Lemon Parmesan Roasted Asparagus recipe a try, let me know! Snap a photo and tag me on twitter or instagram!
This post may contain affiliate links.
Buy the Cookbook: Simply Scratch : 120 Wholesome Homemade Recipes Made Easy Now available on Amazon »
THANK YOU in advance for your support!