Friday means Mexicali Chicken Sheet Pan Nachos. Don't you agree? Crisp tortilla chips topped with Mexicali seasoned chicken, melty cheese and an array of fresh toppings like: orange and yellow peppers, red onion, fresh tomato and jalapeño, avocado, sour cream and a sprinkle of finely minced cilantro. Serves 2 (4 if snacking) in about 35 minutes.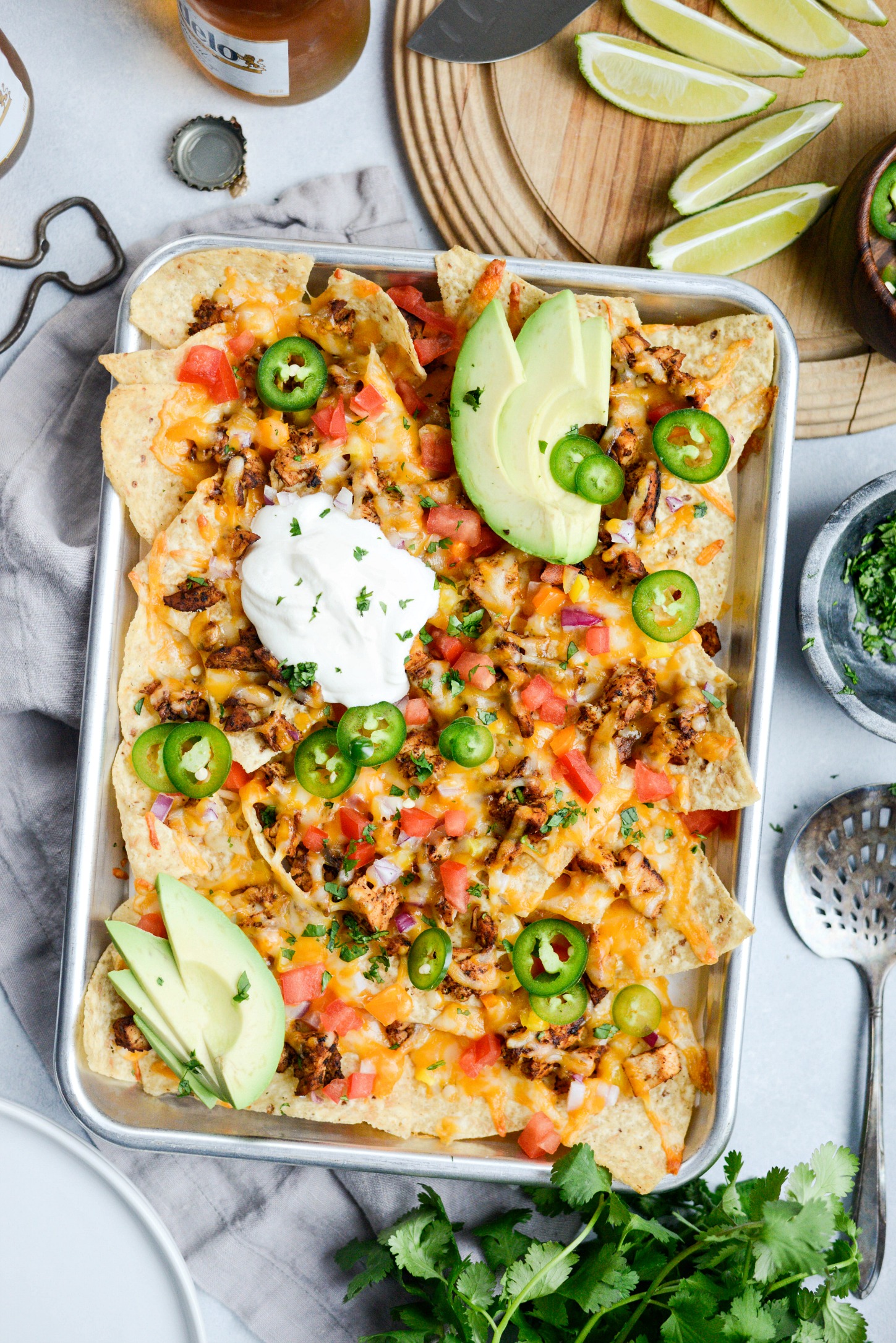 WE DID IT! It's safe to say, we made it through another week and I'm super pumped that Friday is here. Pat and I have a full weekend ahead of us; a window guy coming to give us an estimate on new windows and then we have dinner plans with friends (super excited about this). On Saturday, I'm hoping to start painting our entryway. A small step towards re-painting our entire main level, so I'm going room by room. Then on Sunday, I normally don't blog but I have a cake recipe I really want to make, so I'm baking and probably picking up my groceries.
Anyhoo, Friday's are made for nacho consumption. On Friday's, for awhile I'd make us nachos and call it 'Nacho Night'. This was before high school football or basketball games became a regular thing my daughters go to, back when we all didn't have Friday plans except for nachos and a game of Apples to Apples. Oh the good ol' days.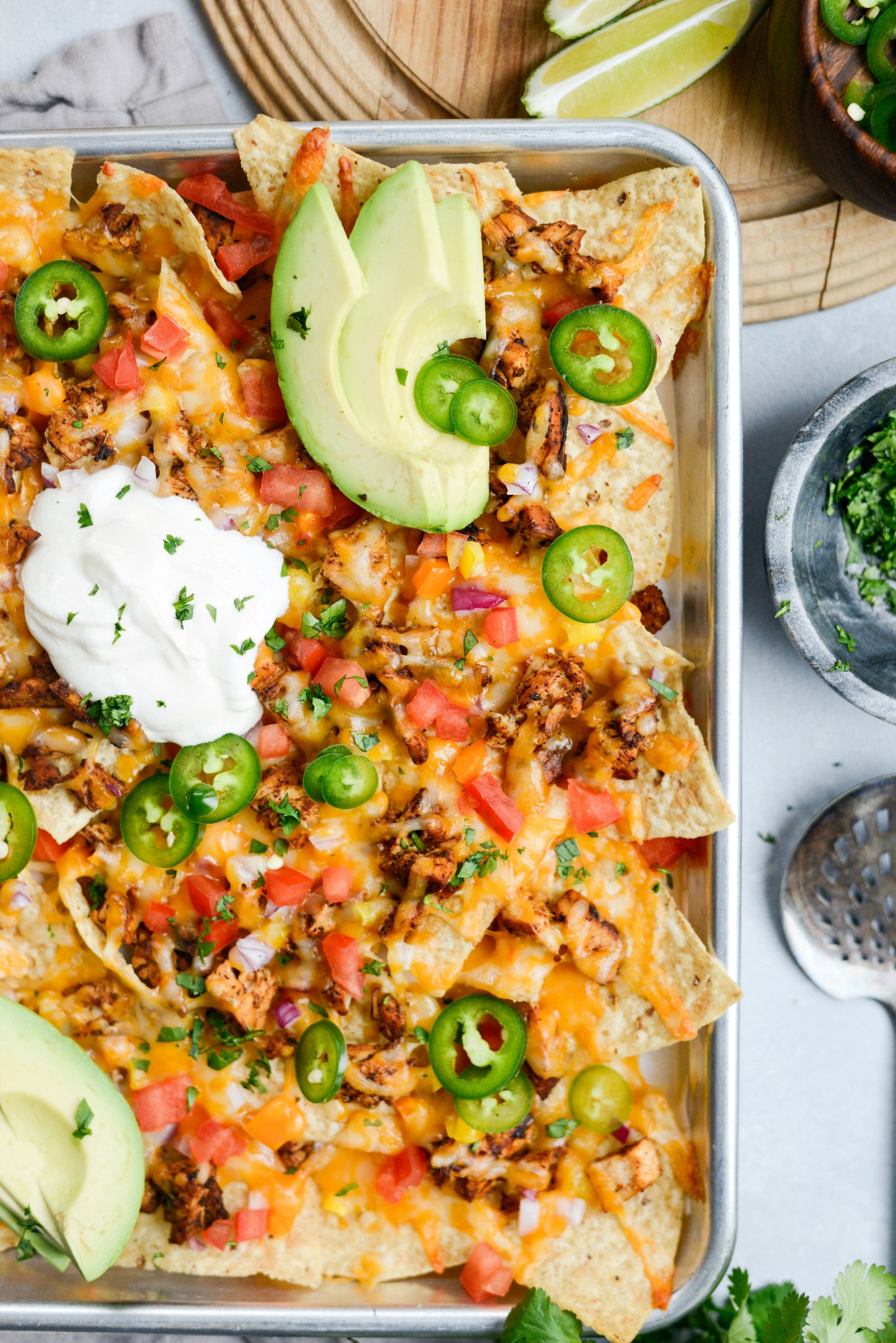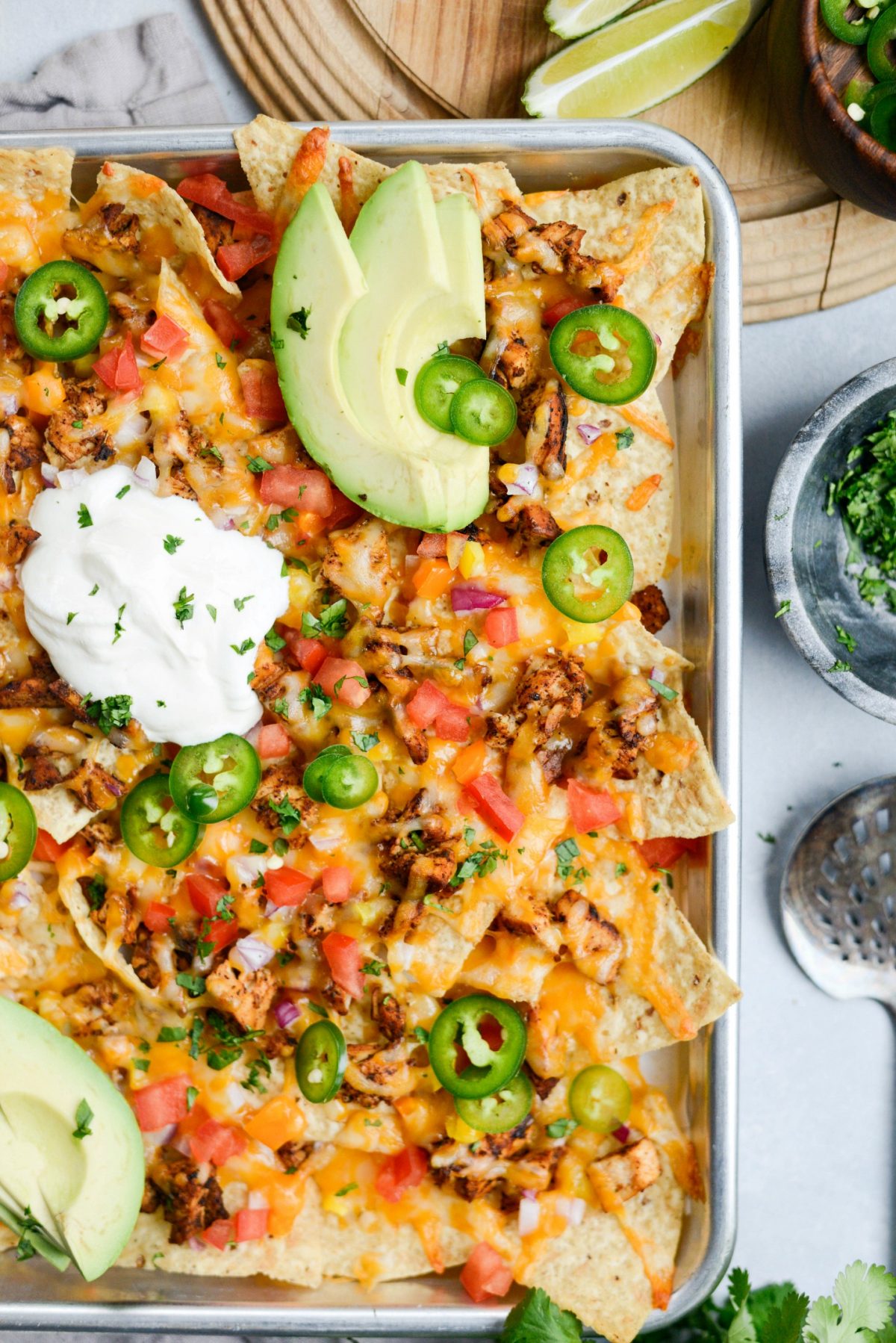 If you saw, I shared my Mexicali seasoning yesterday and today I'm showing you what I did with it. Mexicali seasoned chicken is delicious and one of my favorite things to use it for is nachos.  I have these oven-safe dishes that I usually divide chips among separately because not everyone likes the same toppings. Mal likes just chips, meat, cheese and avocado. Haileigh likes chips, meat, cheese, a little bell pepper, no onions and hot sauce. Pat and I are on the same page as far as toppings [load'em up!] go, but he puts an unnatural amount of hot sauce on his.
However this time I'm making a sheet pan nacho. Perfect for two or could be shared by 4 if only snacking.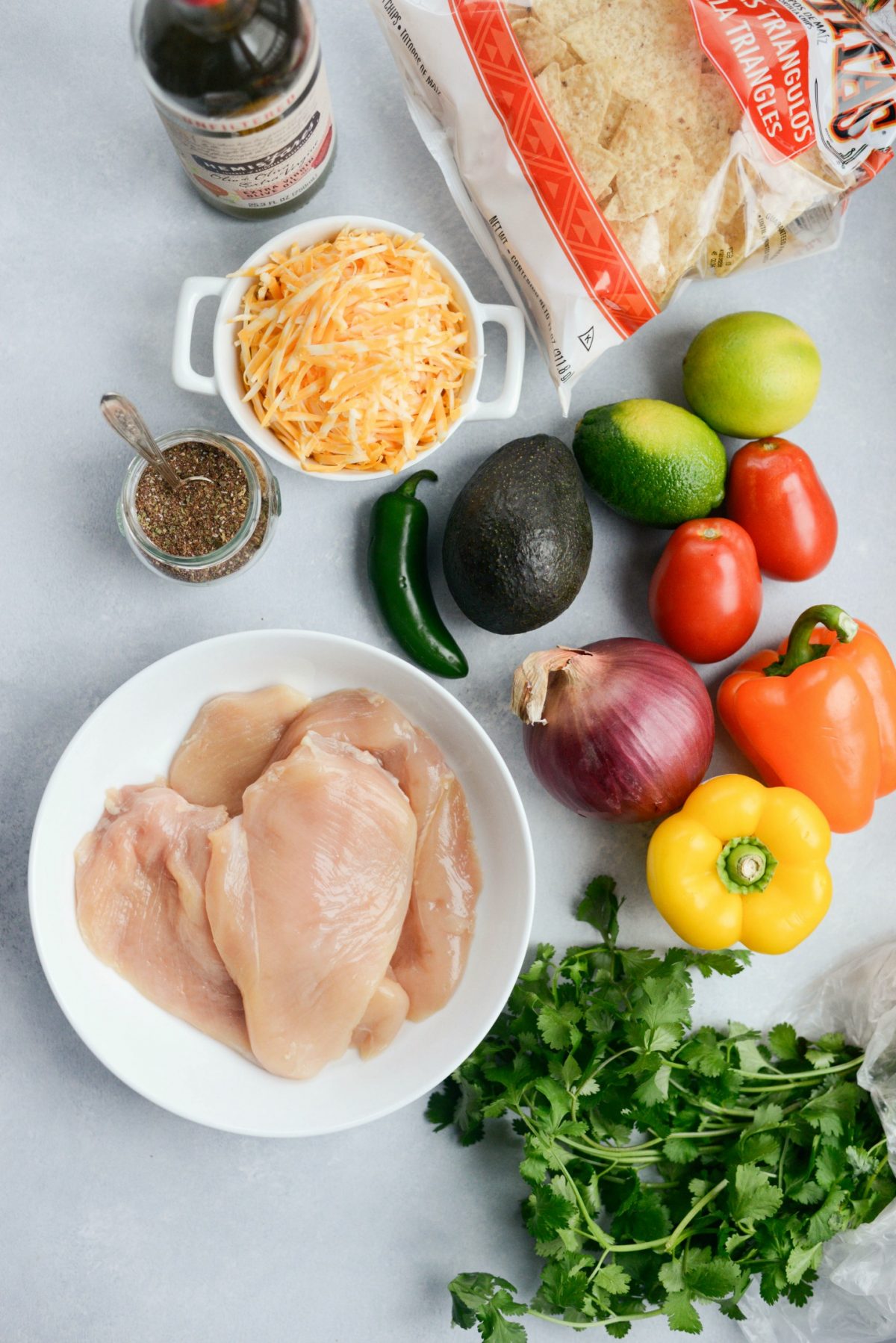 You'll need chicken a couple limes, olive oil, this mexicali seasoning, freshly shredded cheese –not the pre-bagged stuff which is coated in cellulose and won't melt well — and then grab all the topping you want to use on your nachos, like bell pepper, red onion, tomatoes, avocado, jalapeño and cilantro.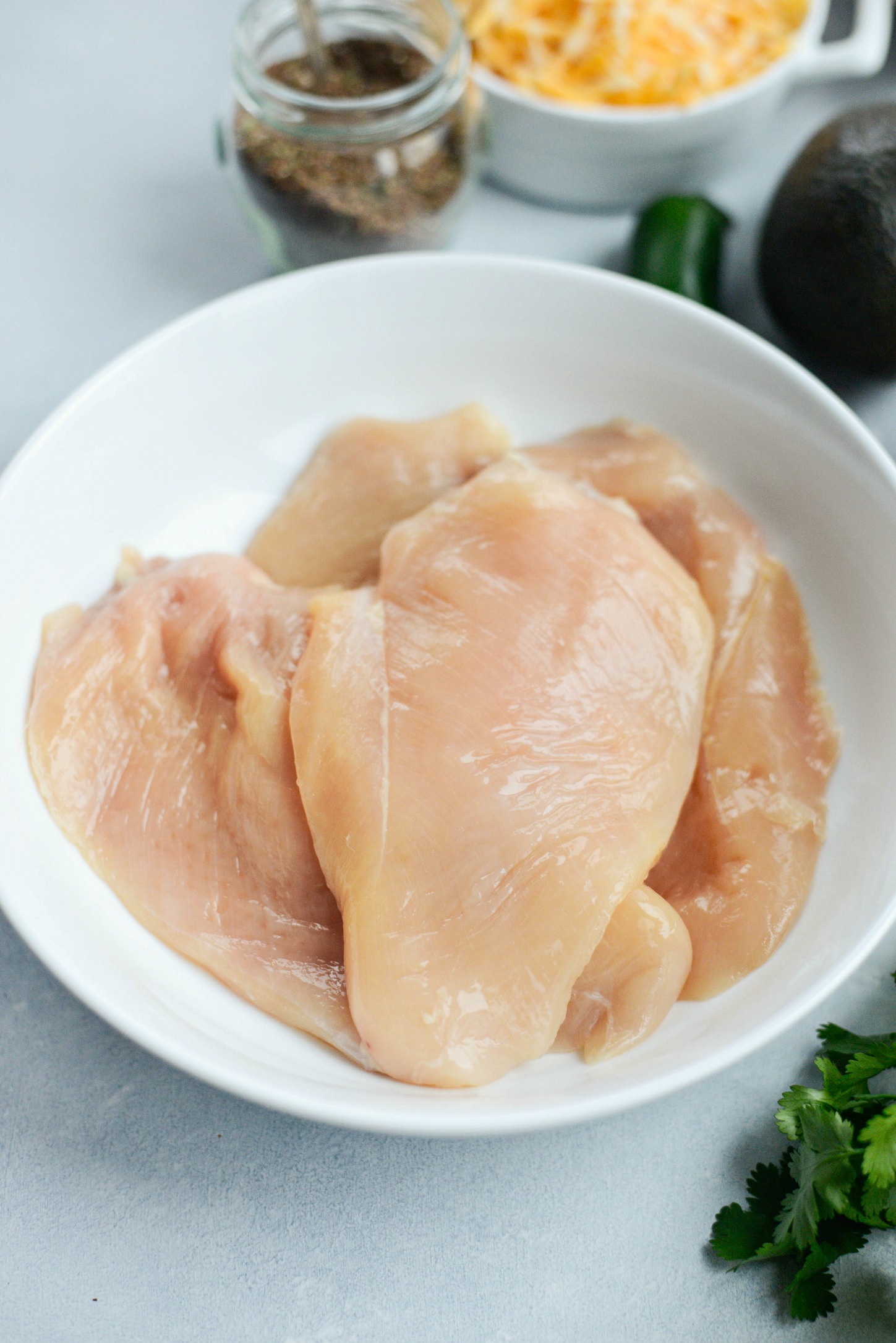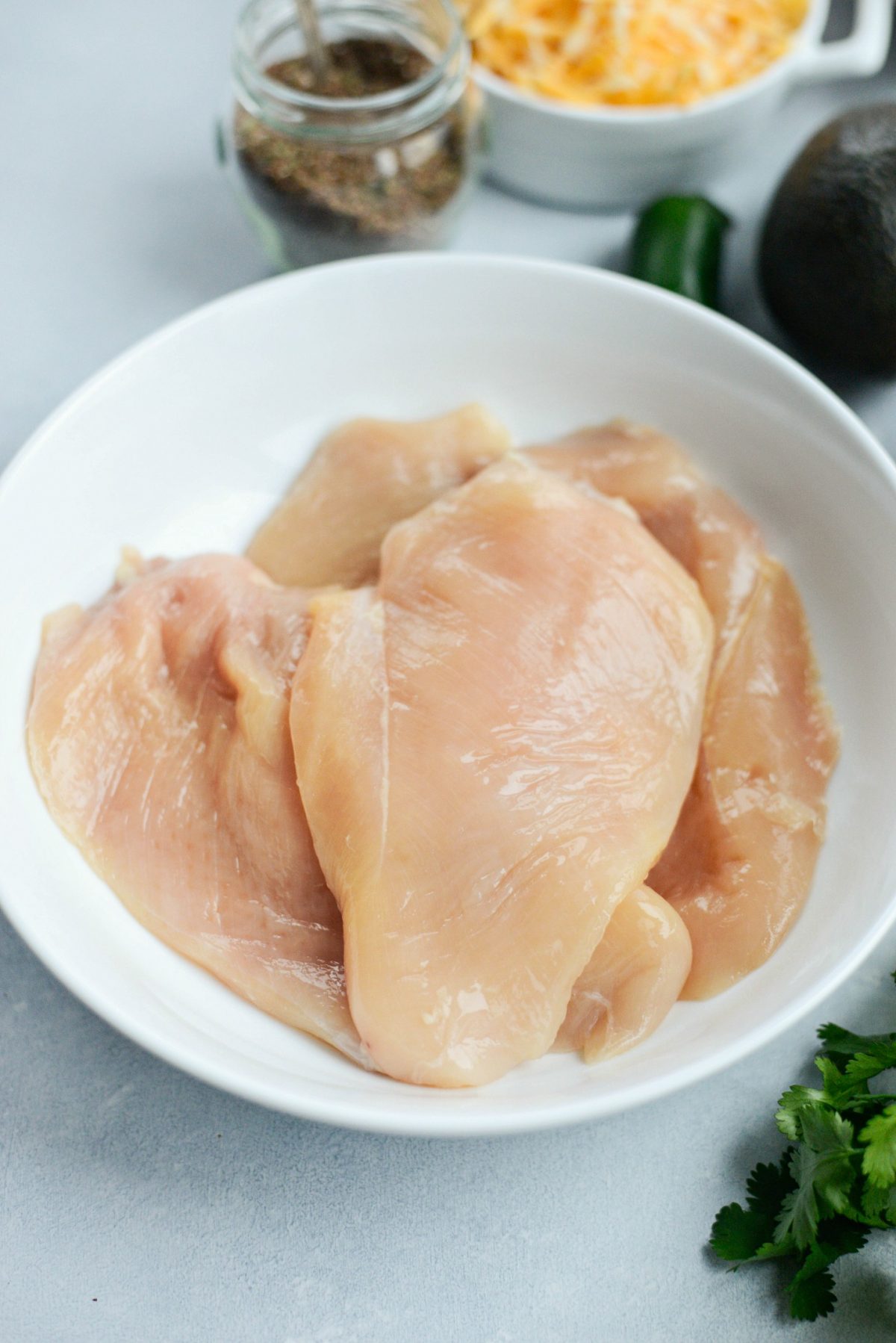 To make the chicken, place boneless skinless chicken breast halves into a shallow dish. I bought 1-1/4 pounds so I could have extra chicken for meals throughout the week – I was thinking ahead, something that doesn't happen too often. But if you wanted to make two 1/4-sheet pans or even a larger sheet pan nacho, 1-1/4 pound of chicken will feed 4 easily.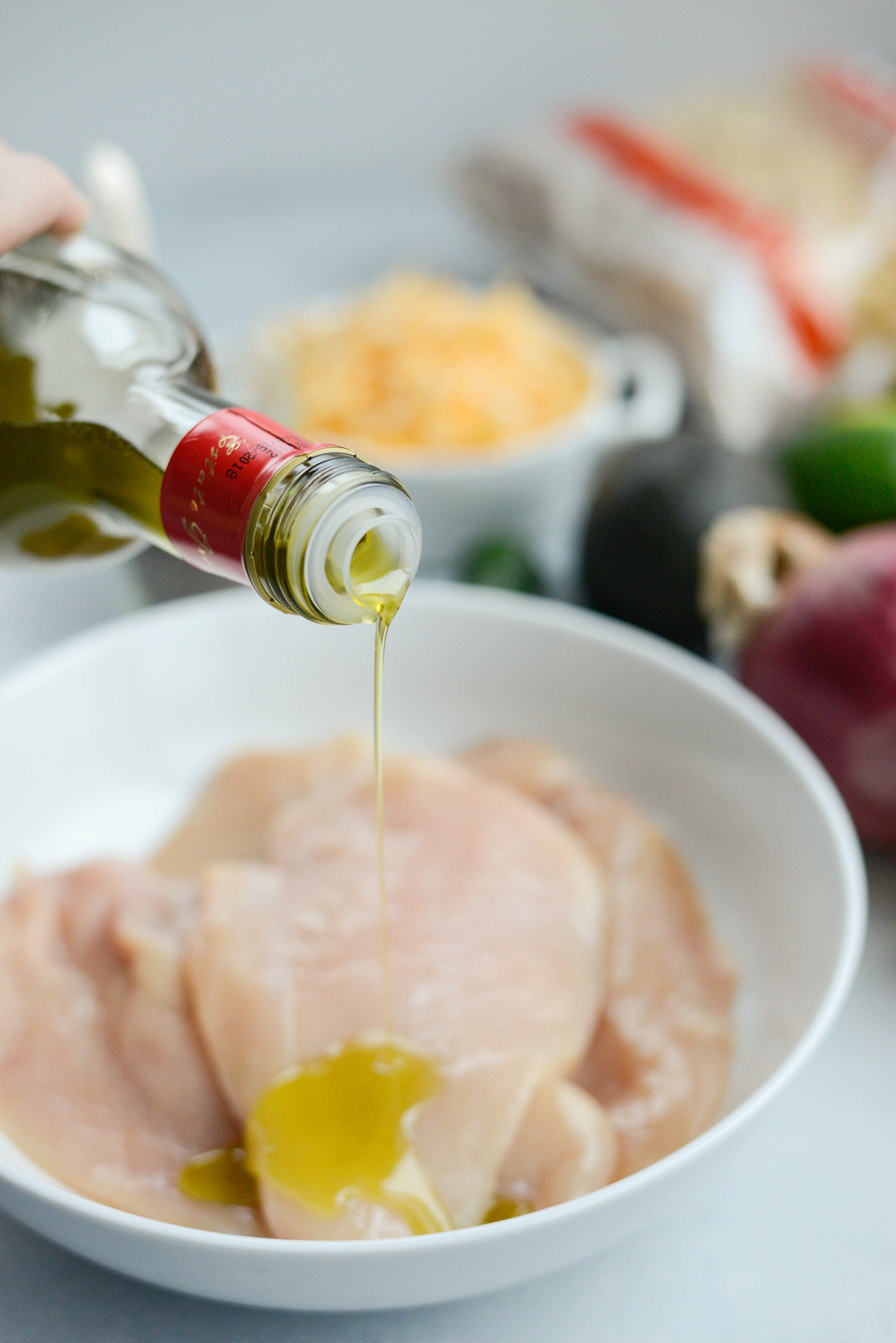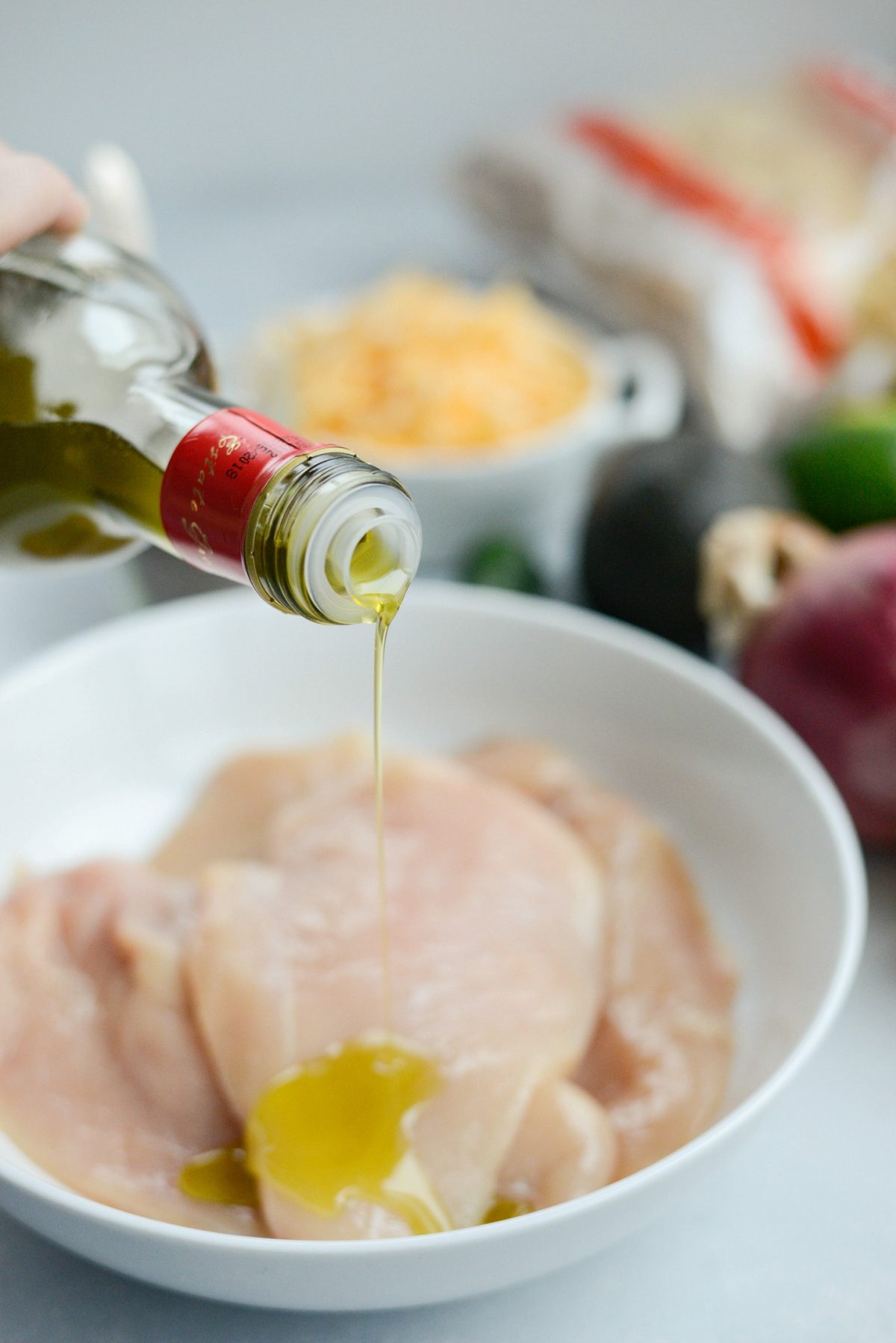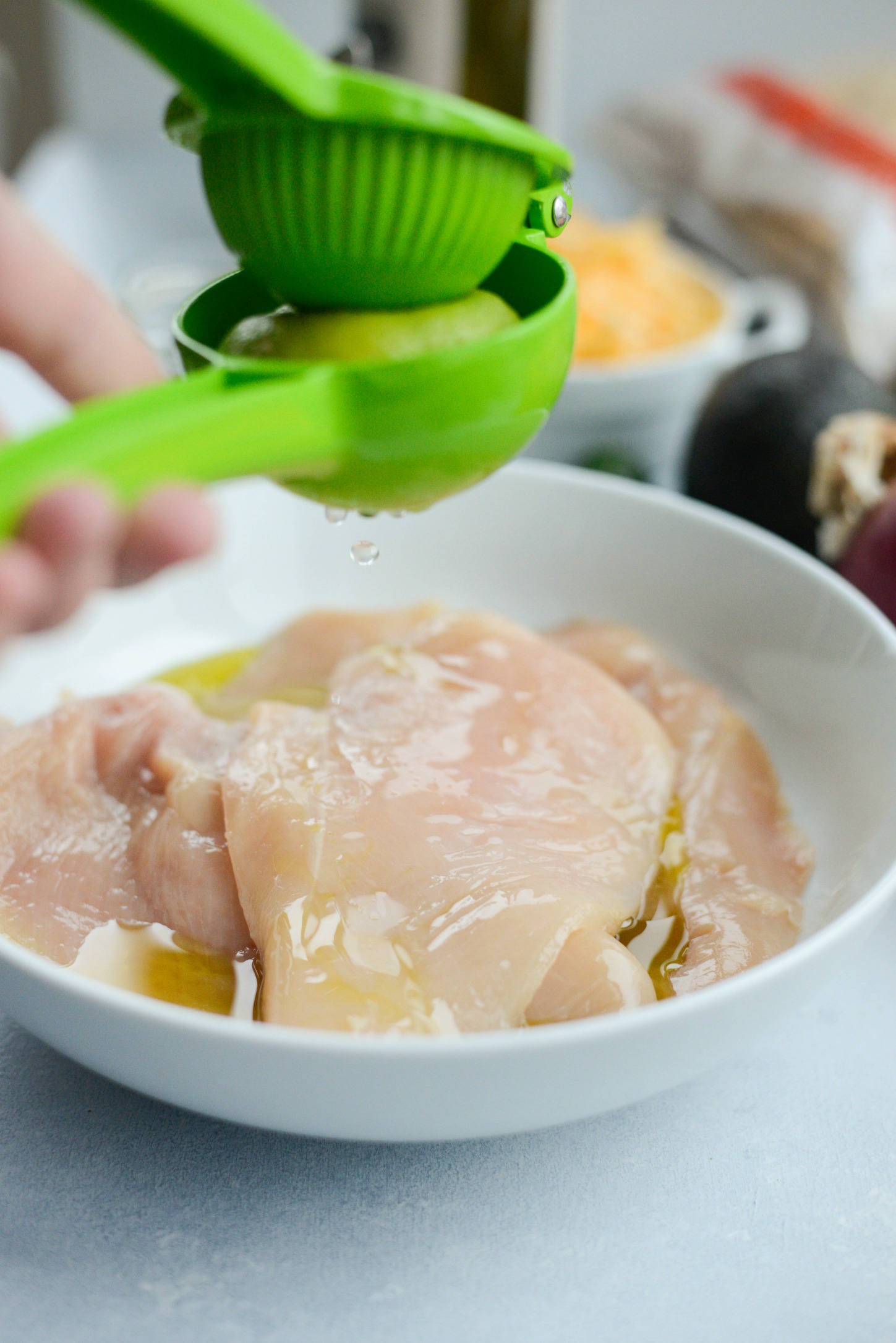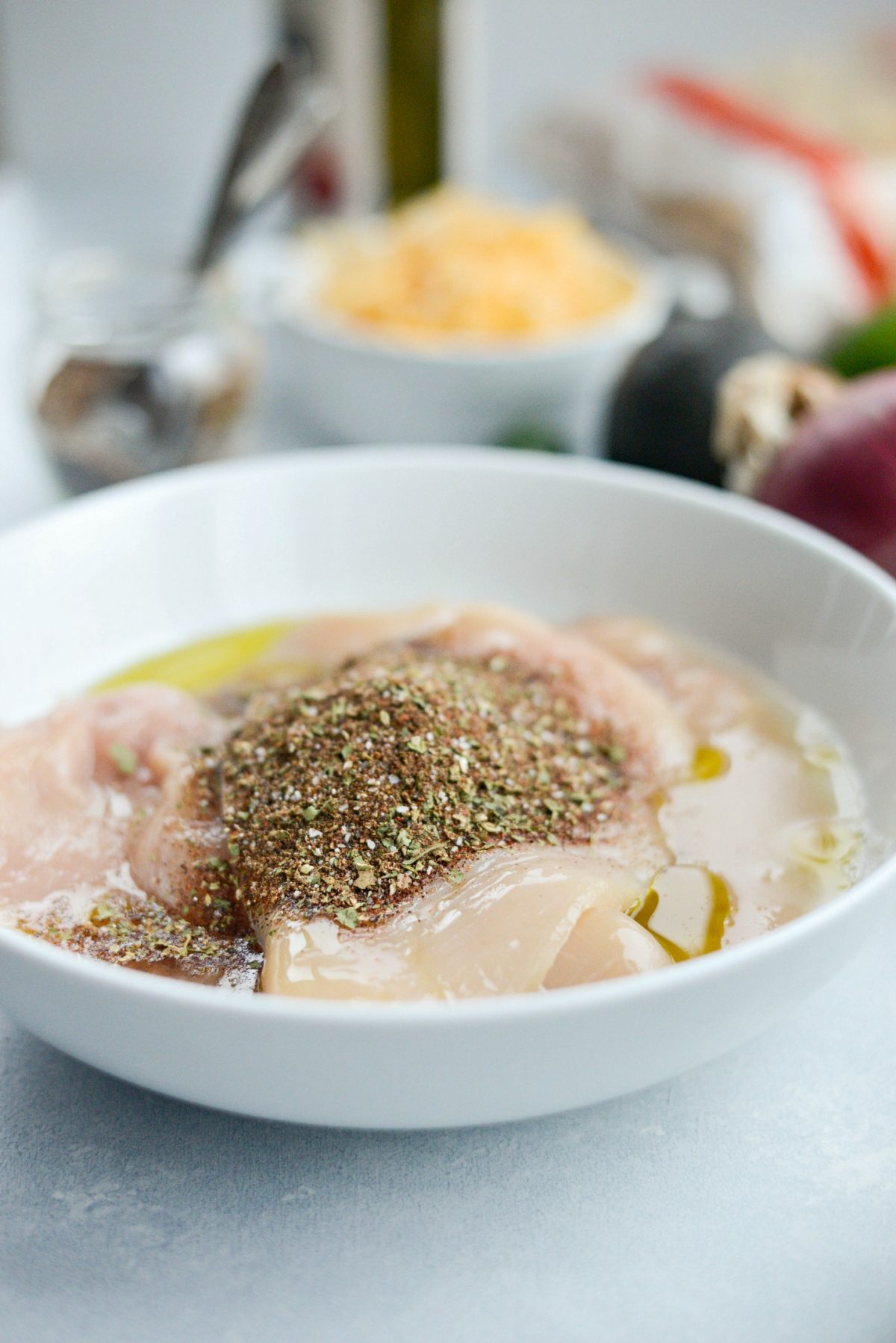 Drizzle in 2 teaspoons of olive oil, the juice of 1/2 a large and juicy lime and 1-1/2 tablespoons of the mexicali seasoning.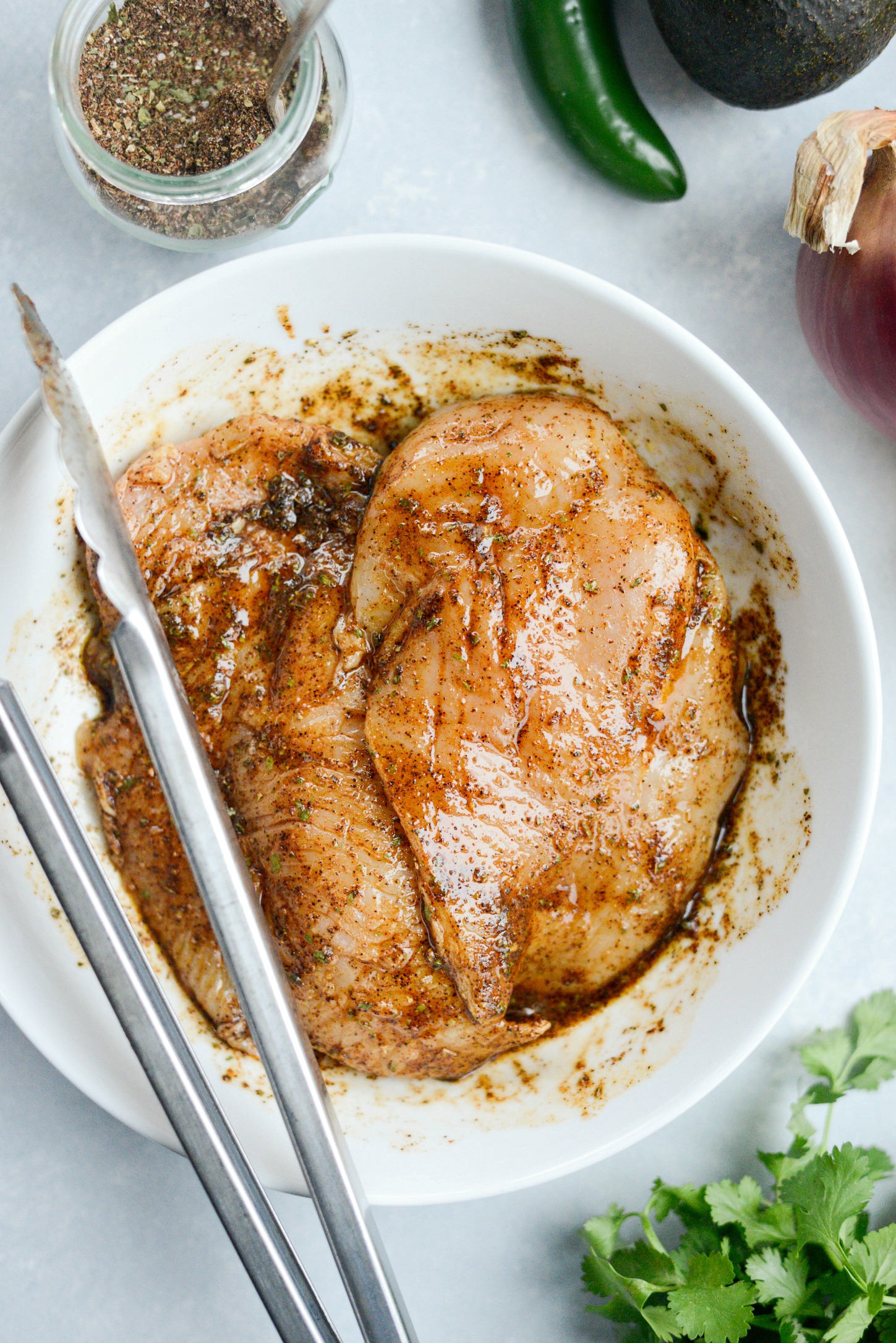 Toss to coat and let the chicken sit while you preheat a large skillet with the remaining 2 teaspoons of olive oil.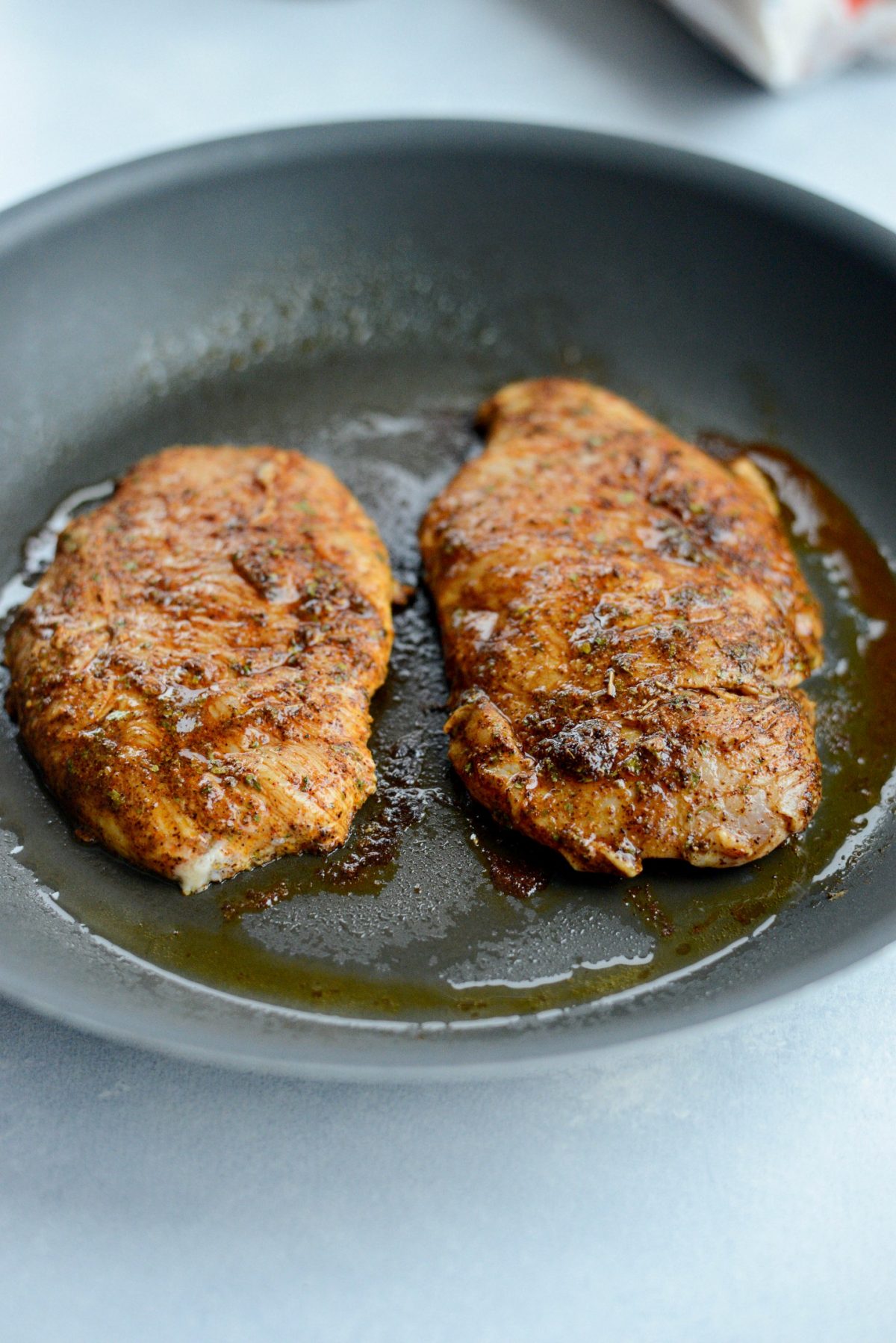 Once the pan is hot, cook the chicken 5 to 6 minutes a side or until fully cooked.
Then transfer it to a cutting board to rest for a few minutes before slicing and then finally chopping the chicken into small pieces. Add the chicken back into the pan and toss, picking up the goodness on the bottom of the pan.
Then line a small quarter sheet pan (affiliate) or two with parchment and in a single layer, arrange the chips so only the corners overlap a smidgen. Top with a little shredded cheese — I personally think cheddar jack is the perfect cheese for nachos, but use your favorite — then top with some or all of the chicken, onions and peppers.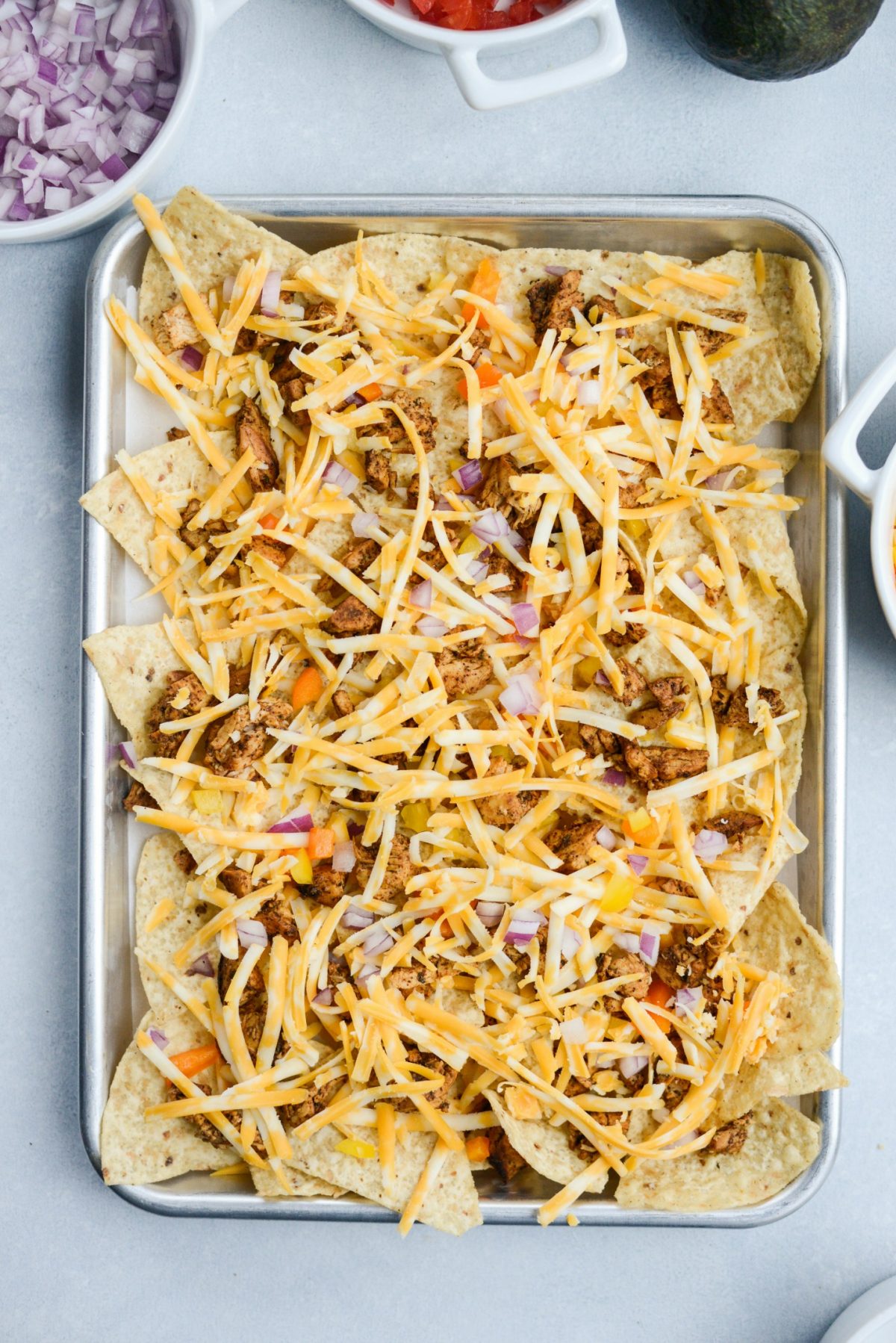 Top with more cheese and bake in a preheated 325° degree oven for 12 to 15 minutes. When the cheese has melted, you know your mexicali chicken sheet pan Nachos are done.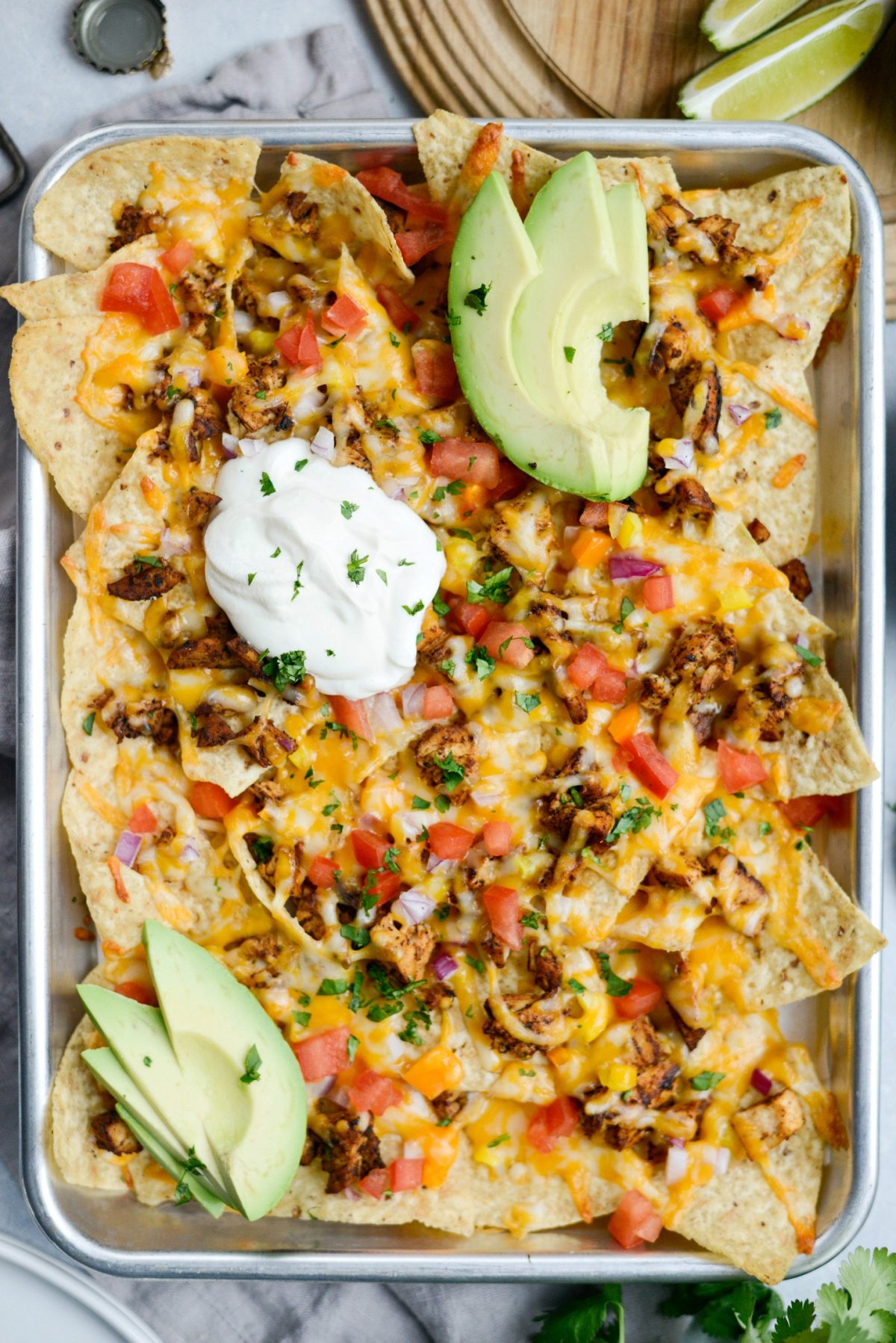 Then I topped our nacho with diced fresh tomato, avocado, sour cream and finely minced fresh cilantro.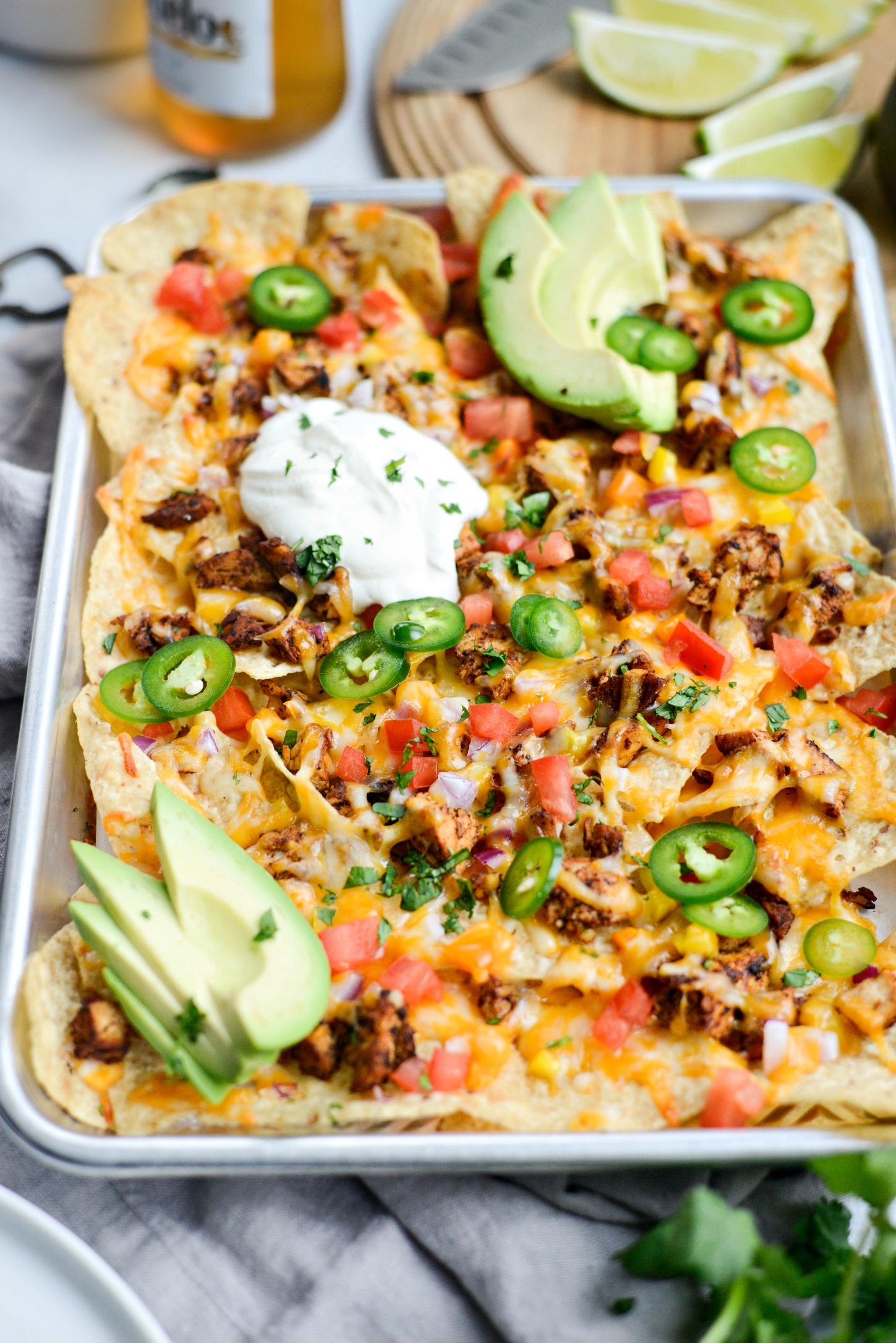 Beer and/or margaritas are optional.
These Mexicali chicken sheet pan nachos are SO GOOOOOOOD. Sorry for all-caps-ing you but these nachos are phenomenal!
It smells absolutely amazing while it's in the oven. I think it's safe to say that these are better than any nachos you might order at a restaurant. For sure.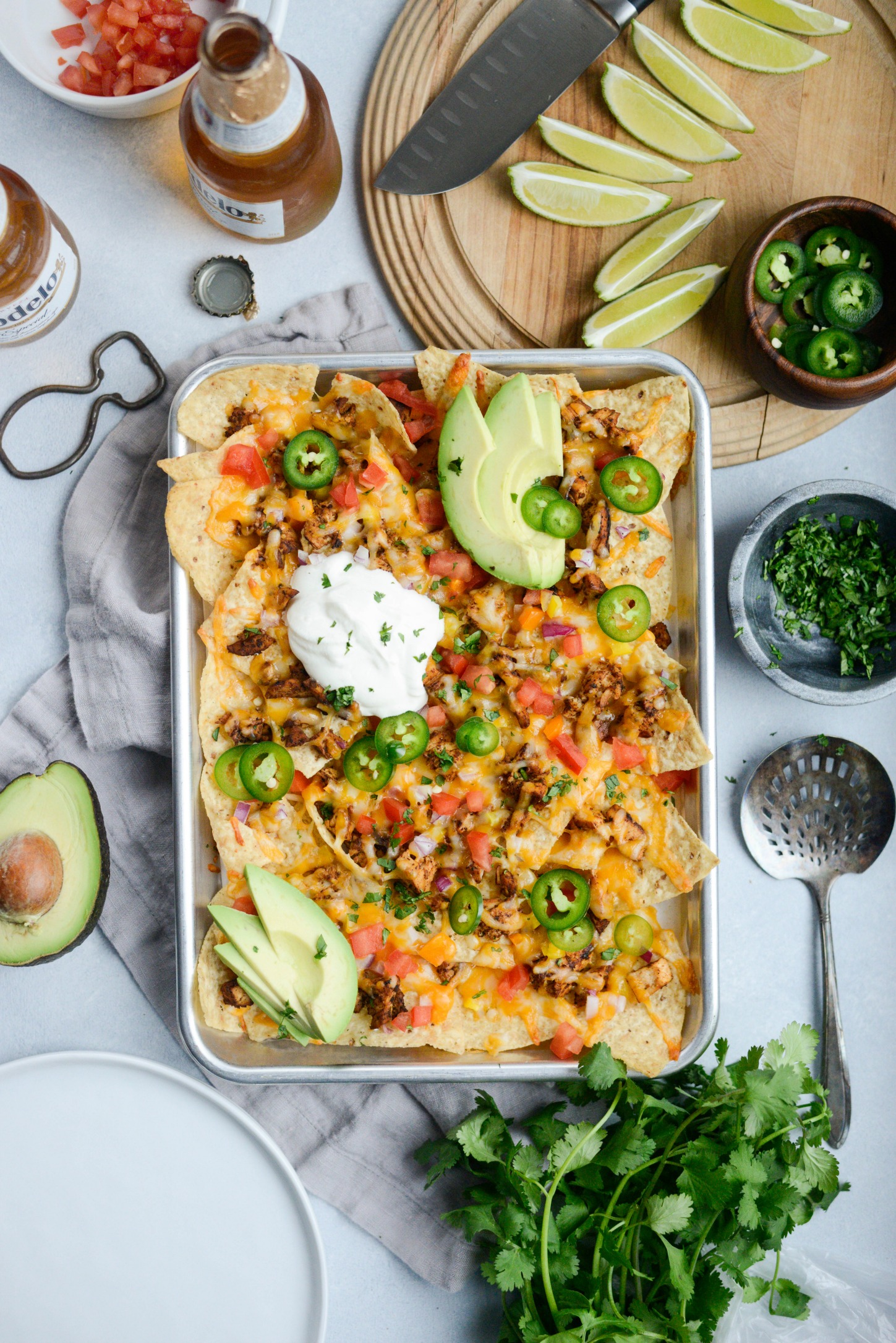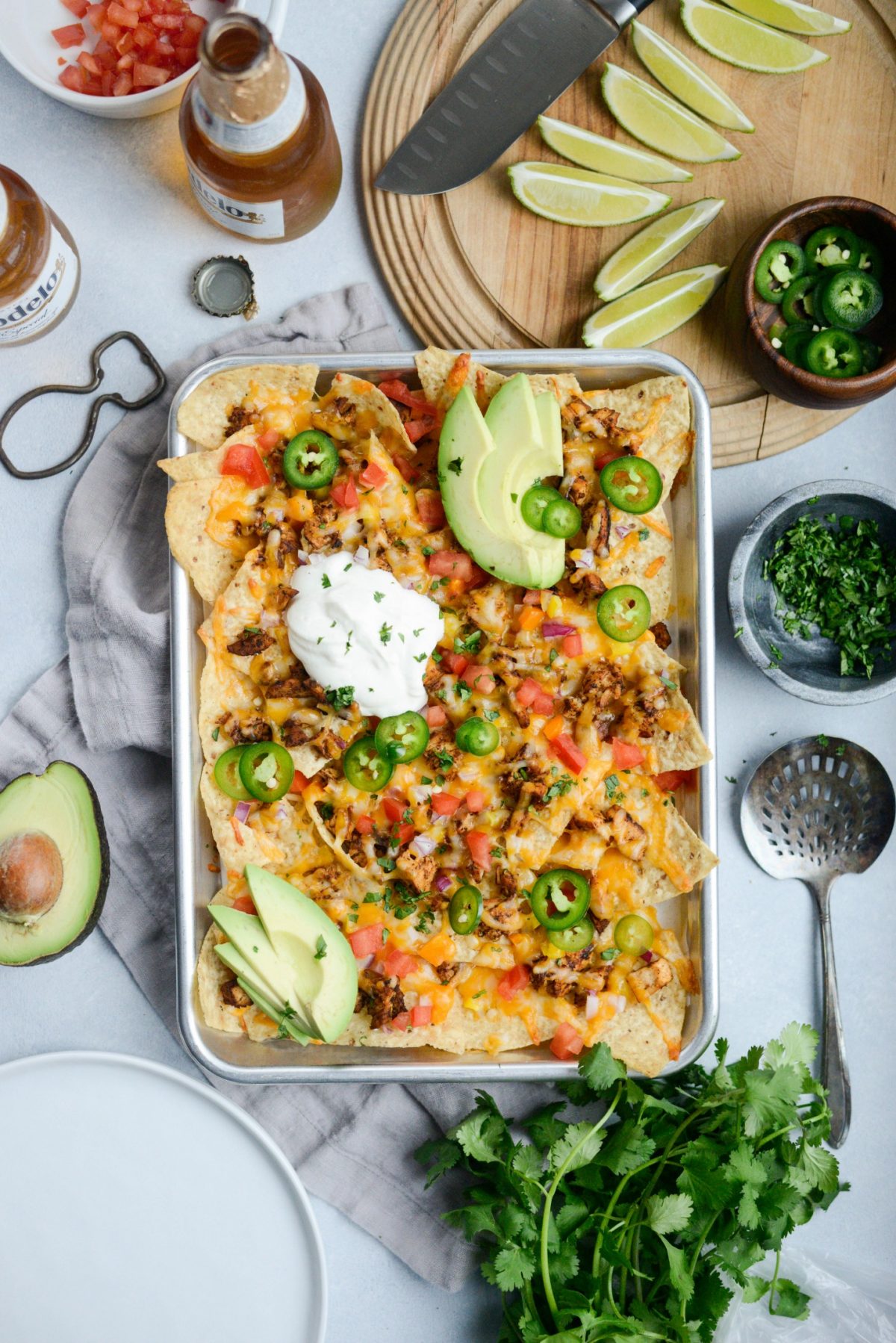 Enjoy! And if you give these Mexicali Chicken Sheet Pan Nachos a try, let me know! Snap a photo and tag me on twitter or instagram!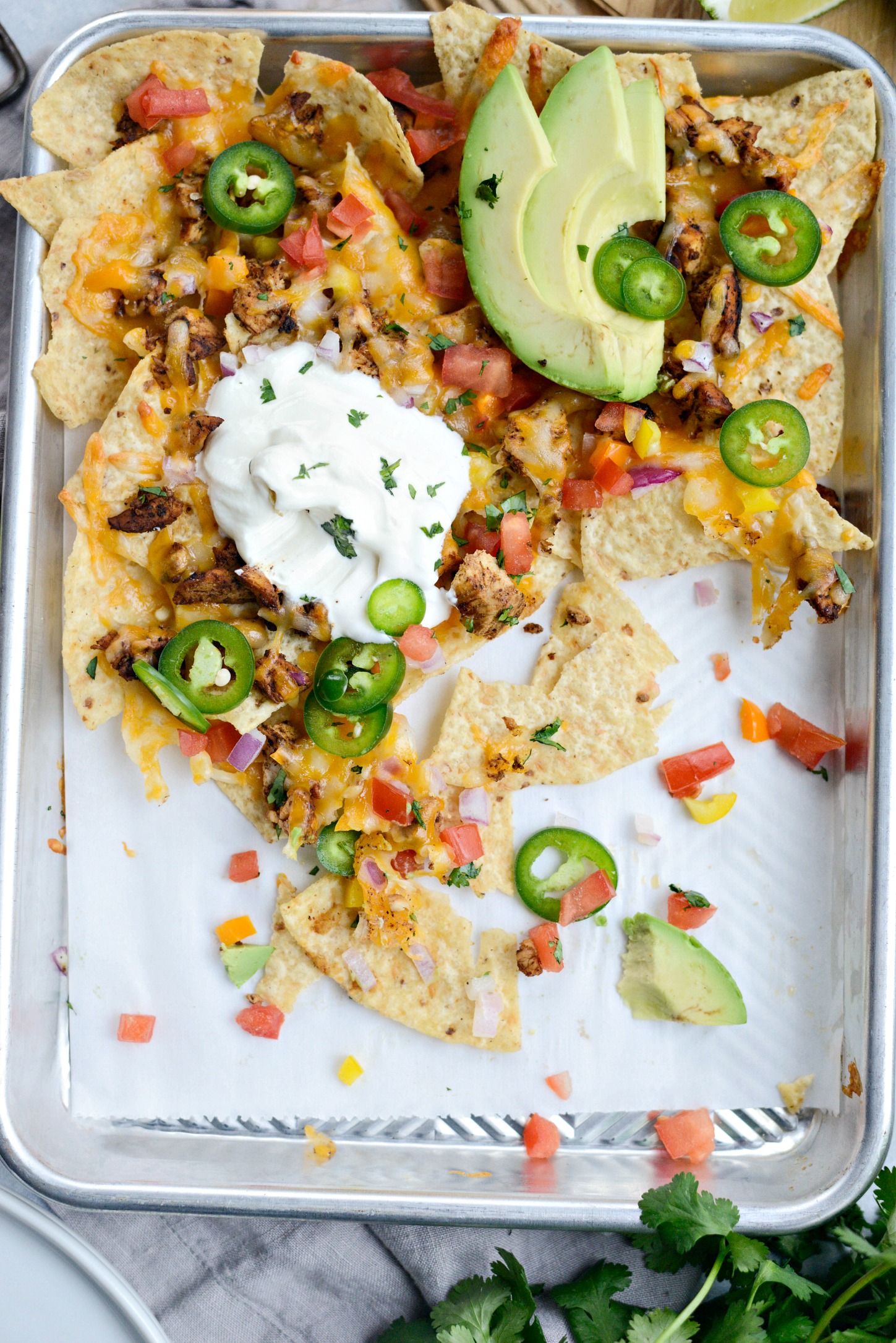 My cookbook Simply Scratch : 120 Wholesome Homemade Recipes Made Easy is now available! CLICK HERE for details and THANK YOU in advance!
[this post contains affiliate links.]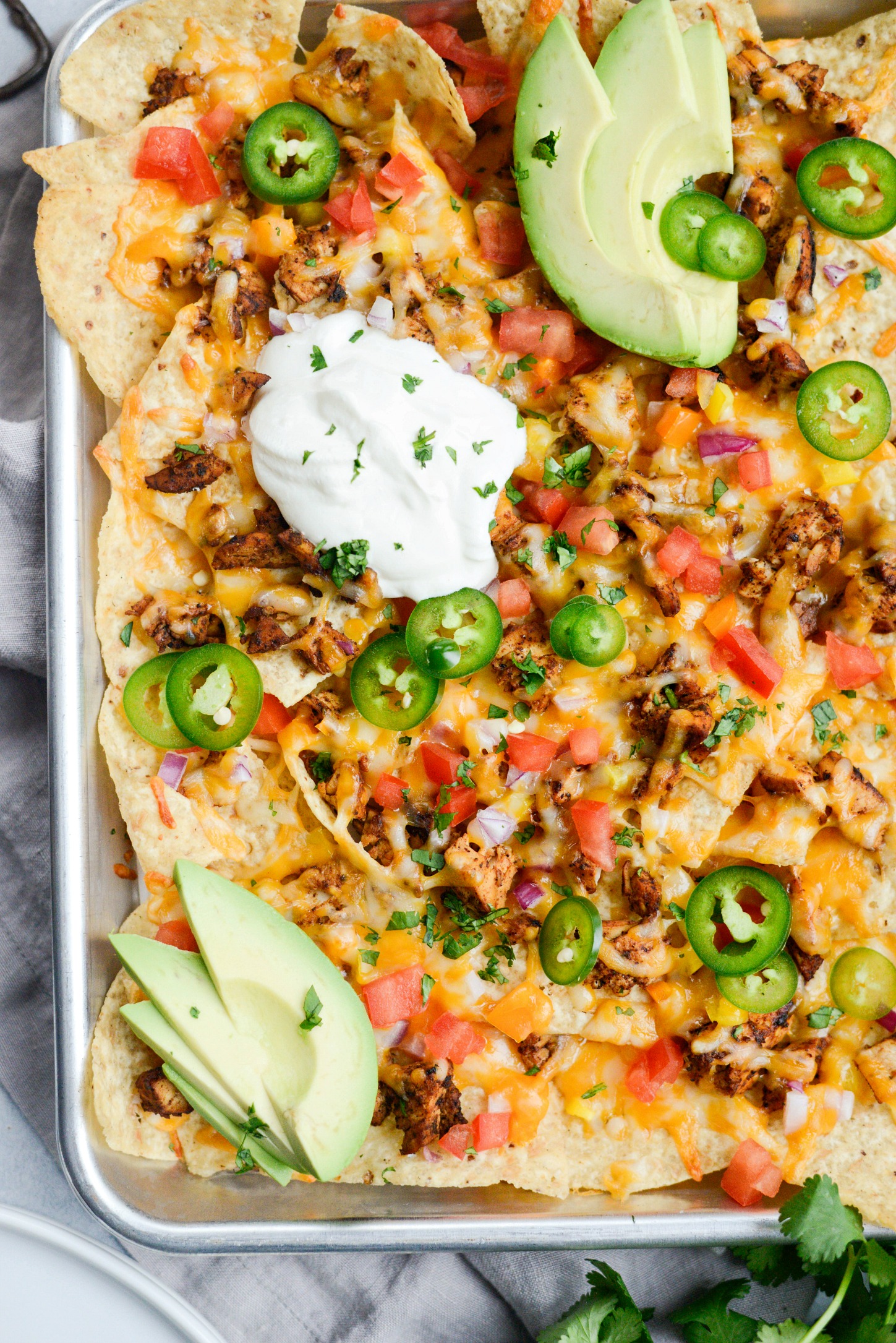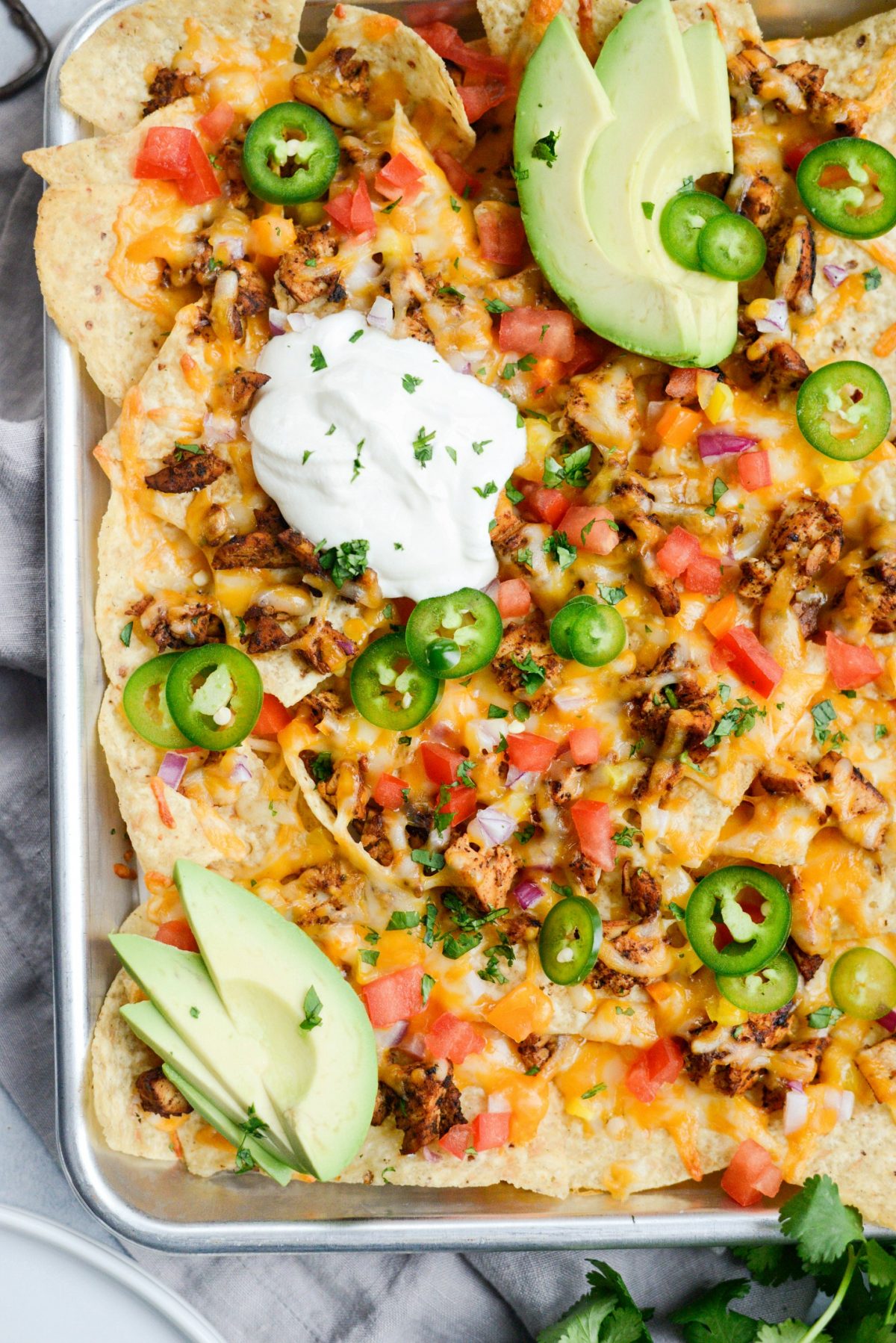 This post may contain affiliate links.
Buy the Cookbook: Simply Scratch : 120 Wholesome Homemade Recipes Made Easy Now available on Amazon »
THANK YOU in advance for your support!