This crunchy Asian ramen salad is a beloved classic. Napa cabbage, carrots and green onions are mixed with crushed (dried) ramen noodles, sliced almonds, sunflower seeds and a simple sweet dressing. This salad is delicious as is or tossed with leftover shredded chicken.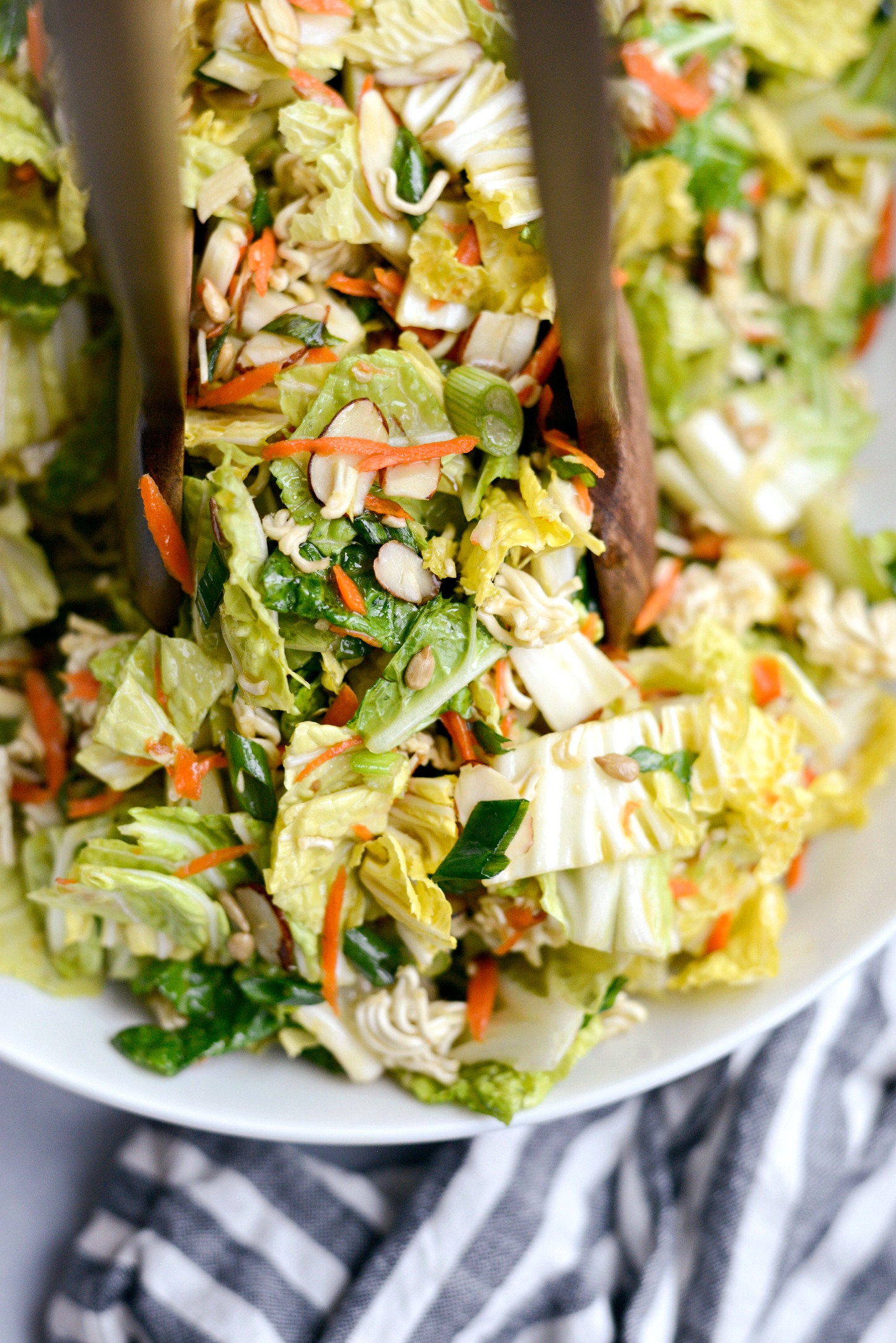 Happy New Year, friends! I hope you all had a great end of 2017 and a wonderful beginning to your 2018!
We had a lazy relaxing weekend. And since it's been so cold, Pat had a fire going in the fireplace just about every day. I hibernated under a thick wooly blanket and I either was writing this post  or reading. Best. Weekend. Ever. I loved not waking up to an alarm and I only left the house once to run to a store.
I didn't even think about making any resolutions. Did you? I feel like I always have good intentions to eat better, but then something like pizza or tacos is put in front of my face and I lose all will power.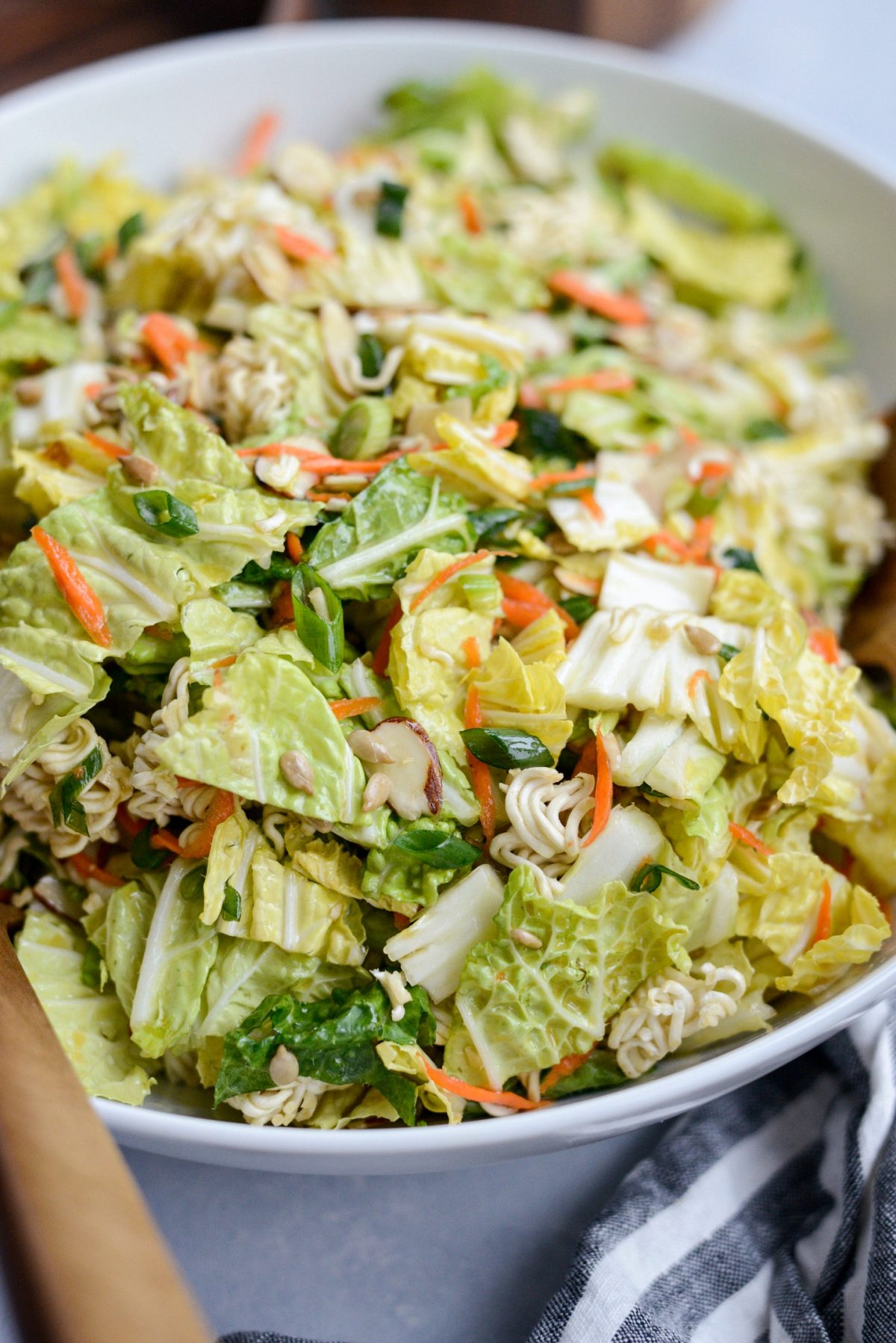 So I'm not putting any pressure on myself to eat better, but I am going to try to eat more salads.
So yeah, basically nothing has changed. 😉
For this salad you will need: 1 [medium to large] head of Napa cabbage, 2 medium carrots [not pictured because I totally forgot], 1 bunch green onions, 2 packages [3 ounces each] ramen noodles, 1/2 cup sliced almonds, 1/4 cup roasted and unsalted [shelled] sunflower seeds, 1/4 cup sugar, 2 tablespoons honey, 1/4 cup vinegar, 2 tablespoons tamari [or soy sauce], a splash of toasted sesame and a 1/2 cup of olive oil.
In a bowl, whisk together the 1/4 cup sugar, 2 tablespoons honey, 1/4 cup vinegar [either rice, white distilled or apple cider vinegar can be used], 2 tablespoons low-sodium tamari [or soy sauce] and a splash of sesame oil.
In the original recipe I had, it called for 1/2 cup of refined sugar. I cut it in half and added in 2 tablespoons of honey instead.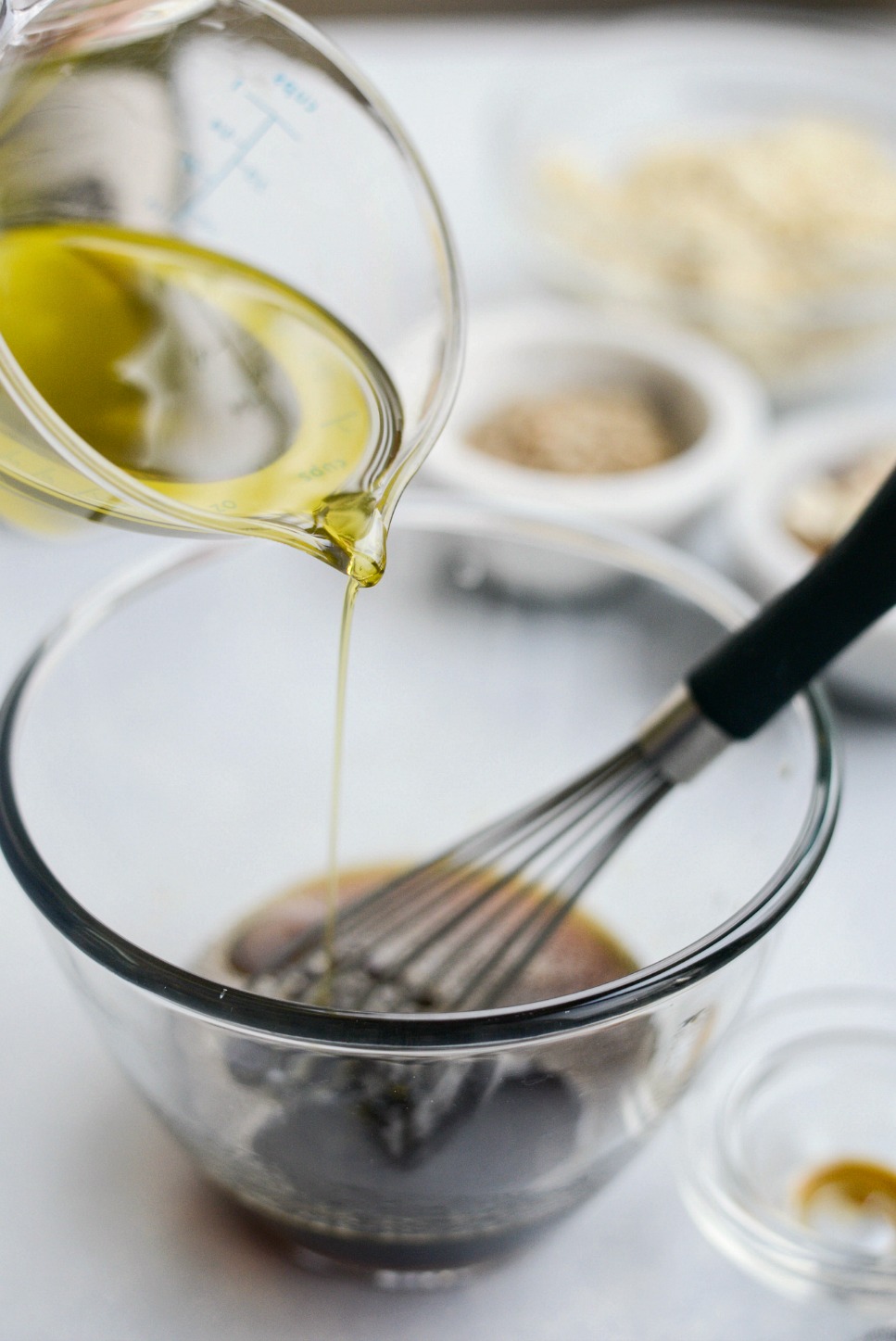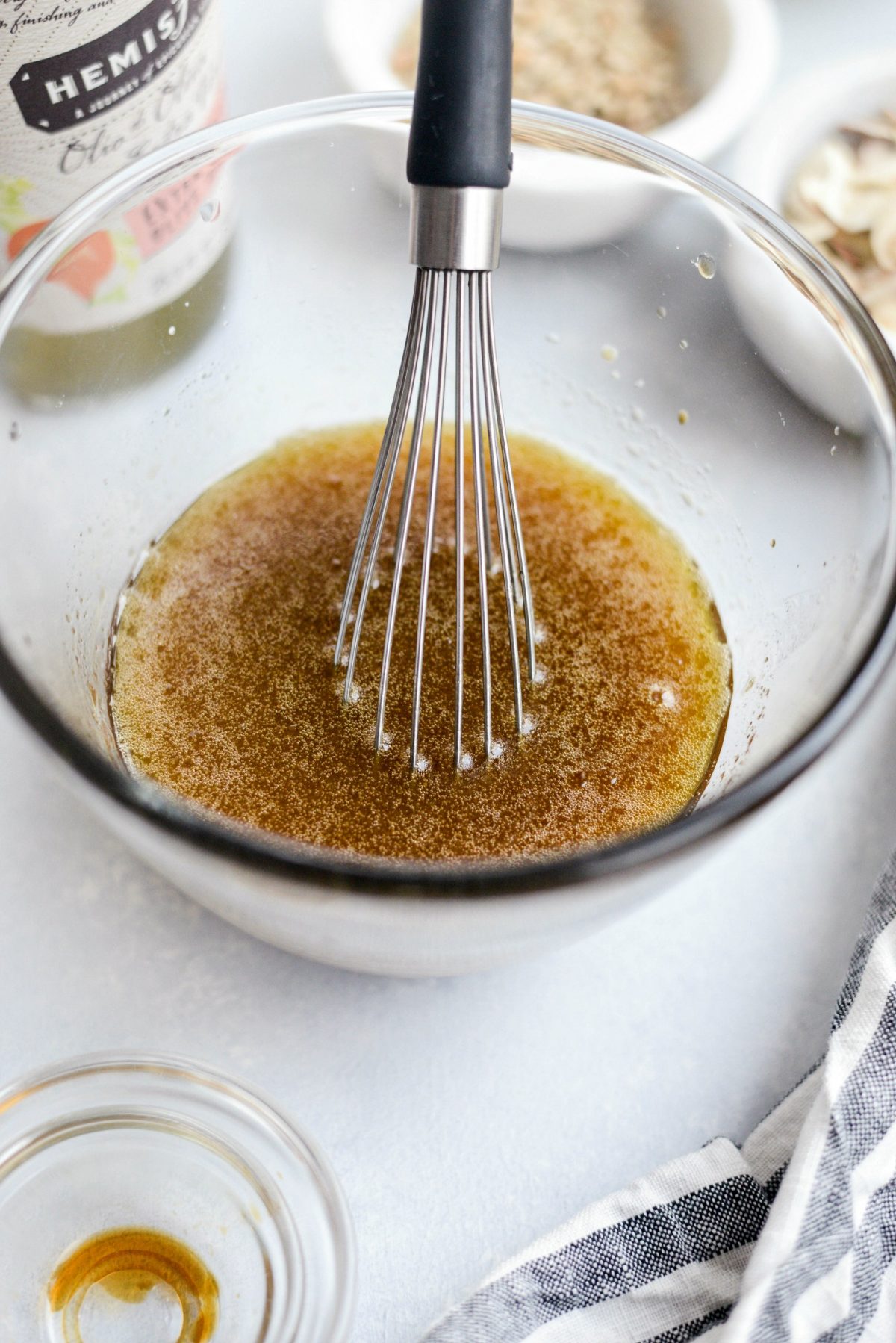 Keep whisking while you slowly pour in olive oil. The sugar won't dissolve all of the way, so set the dressing off to the side.
Then in a large mixing bowl add the chopped cabbage, grated carrot, sliced green onion, crushed ramen, sliced almonds and sunflower seeds.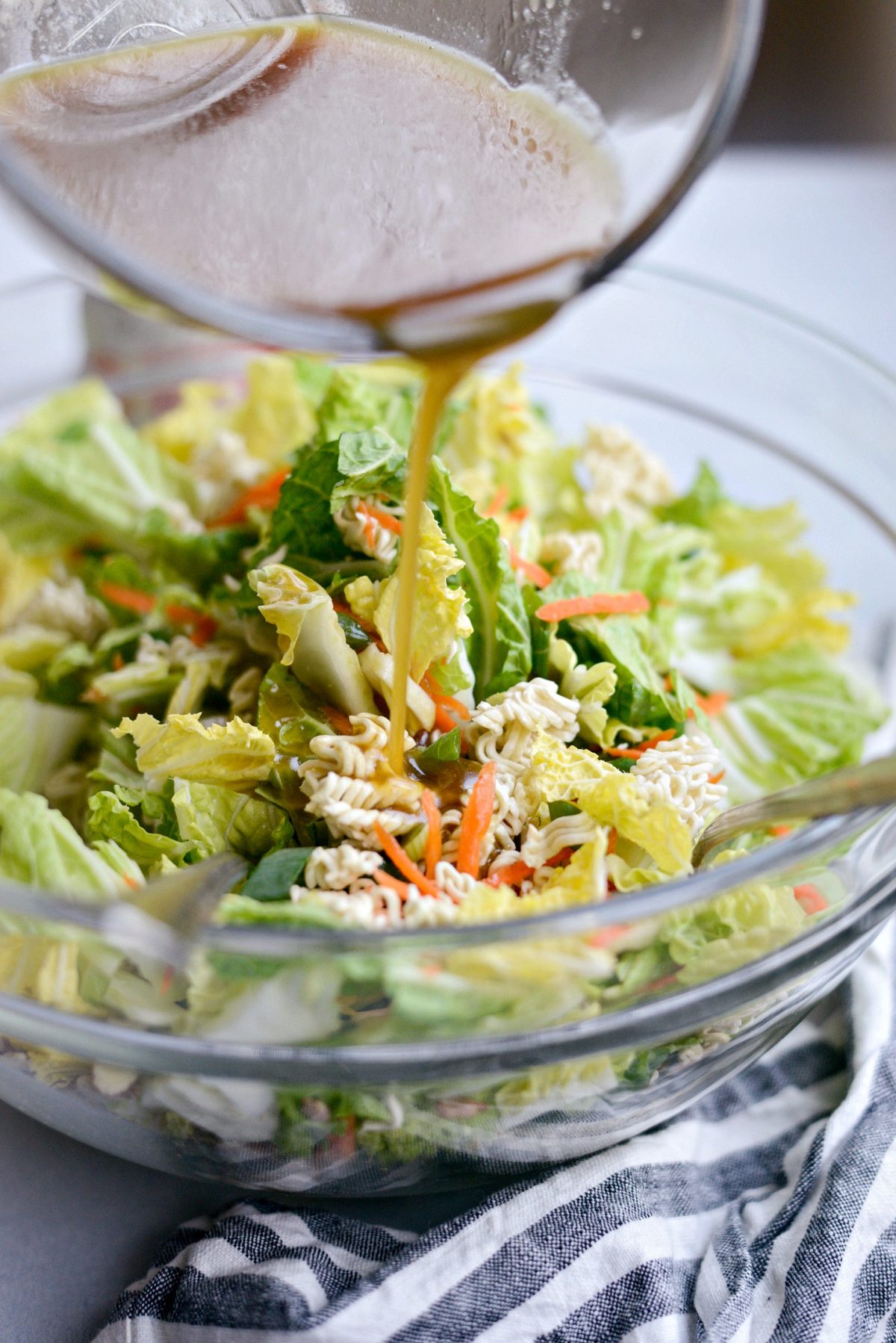 Drizzle in the dressing and toss to combine.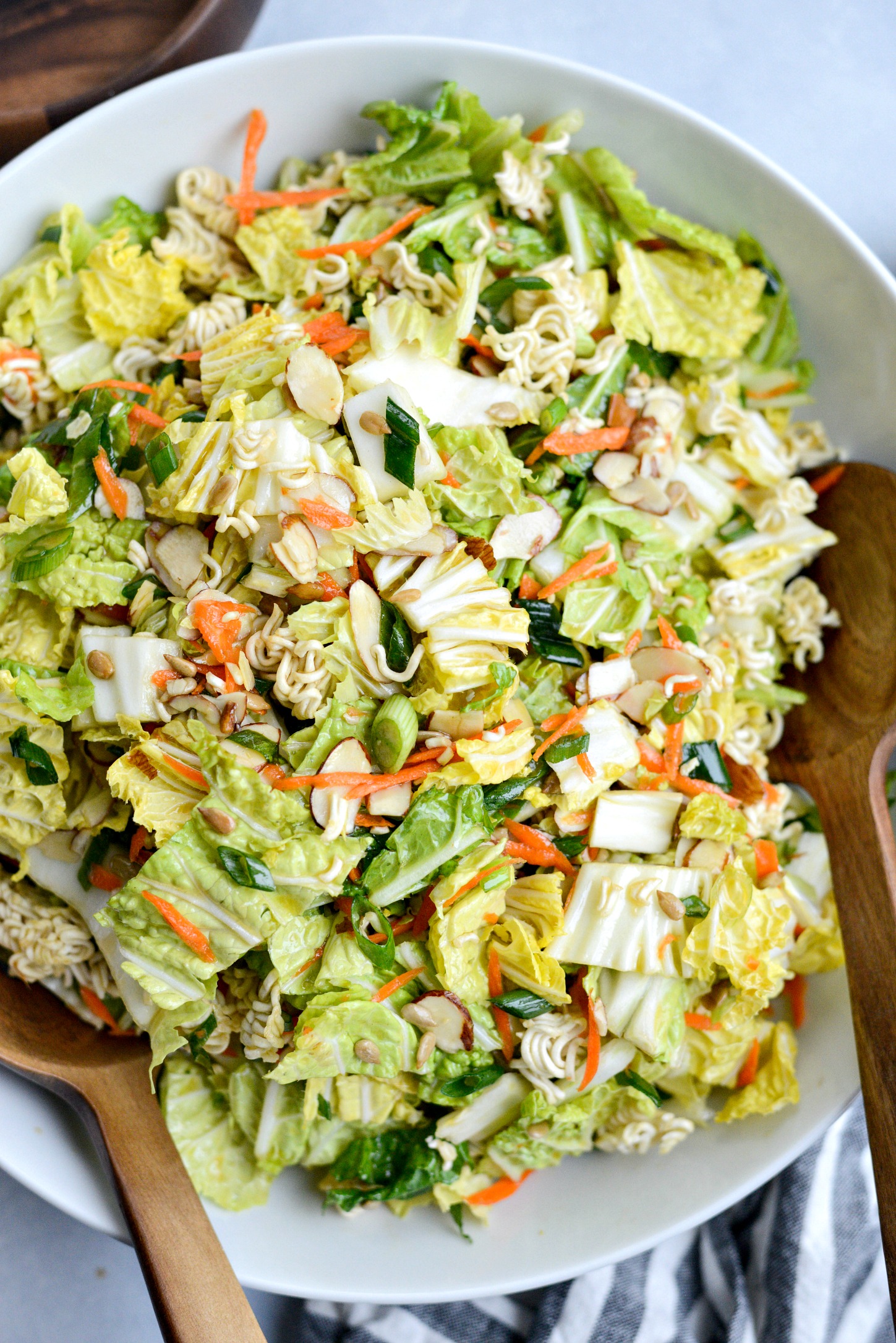 Serve immediately or refrigerate for an hour before serving. This salad is delicious served right away, just keep in mind the longer the salad sits, tossed in the dressing it will lose it's crunch factor.
With that said, I could eat this whole bowl all by myself. I also love this crunchy Asian ramen salad with fish, chicken or shrimp! I've also tossed in leftover shredded chicken to make this a crunchy Asian chicken ramen salad.
Sweet, crunchy and SO addictively good!
Enjoy! And if you give this Crunchy Asian Ramen Salad recipe a try, let me know! Snap a photo and tag me on twitter or instagram!
My cookbook Simply Scratch : 120 Wholesome Homemade Recipes Made Easy is now available! CLICK HERE for details and THANK YOU in advance!
[this post contains affiliate links.]
This post may contain affiliate links.
Buy the Cookbook: Simply Scratch : 120 Wholesome Homemade Recipes Made Easy Now available on Amazon »
THANK YOU in advance for your support!