These Whipped Blue Cheese Crostini with Pear, Honey and Walnuts are the perfect appetizer. Toasted baguette slices are topped with whipped blue cheese, slices of fresh pear, drizzled with honey and sprinkled with chopped walnuts. And goes beautifully with wine, friends and family!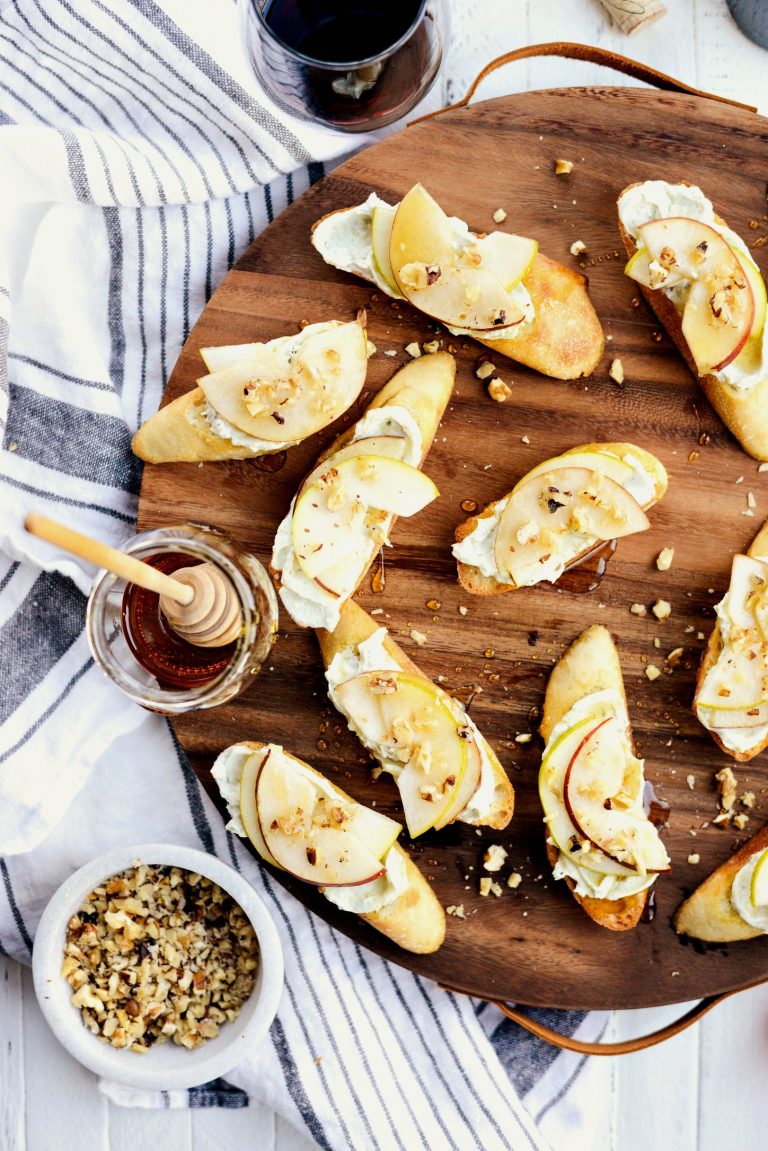 It's no secret that I could make a meal out of appetizers. In fact, that's exactly what my family does when we celebrate Christmas. My mom, sisters and myself all contribute by making a few appetizers instead of a traditional ham or turkey dinner. We like to keep it simple and do a impeccable spread of appetizers, wear comfy clothes (or at least I do 😉) and drink wine. It's relaxed and casual and we all graze throughout the day.
This whipped blue cheese crostini is something I would/will totally make for our Christmas gathering, not only because I know my family would love it but because it's SO easy. I can see it now, we'd each have our glasses of merlot with our appropriate wine markers in one hand and a crostini in the other. Pure holiday perfection.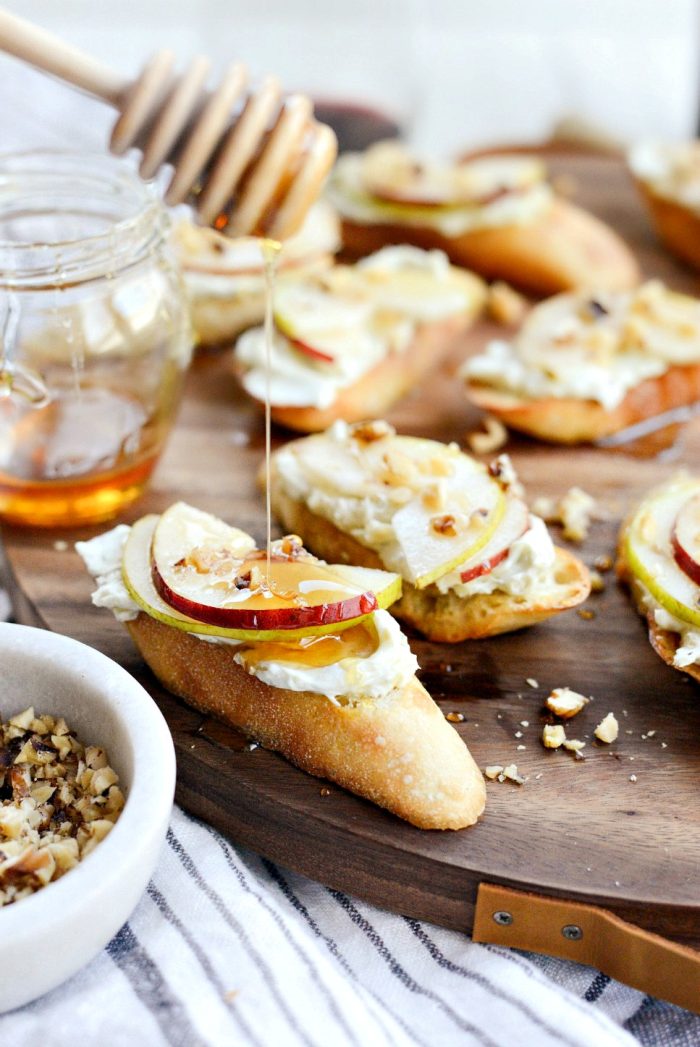 Speaking of perfection, you all know I love me some blue cheese [and wine], right? Well these are so ridiculously good that it was hard for me to stop shoveling these in my mouth when I made them. I mean, you get it right? Toasted slices of baguette are smeared with whipped blue cheese and topped with thin slices of fresh pear, drizzled with honey and a sprinkle of chopped walnuts tops them off. Sweet, salty, crips and wine.
Heaven. On. Earth.
To Make This Whipped Blue Cheese Crostini You Will Need:
4 ounces of blue chees – I'm using a smokehouse blue cheese [which is DELICIOUS!] but you can use any kind
whipped cream cheese
pears
walnuts
honey
I love to buy the take-and-bake demi baguettes. Not only are they easier to fit in my cart but I like that I can finish baking them at home. Smell of baking bread is nirvana.
Did I mention these whipped blue cheese crostini are easy? So. easy.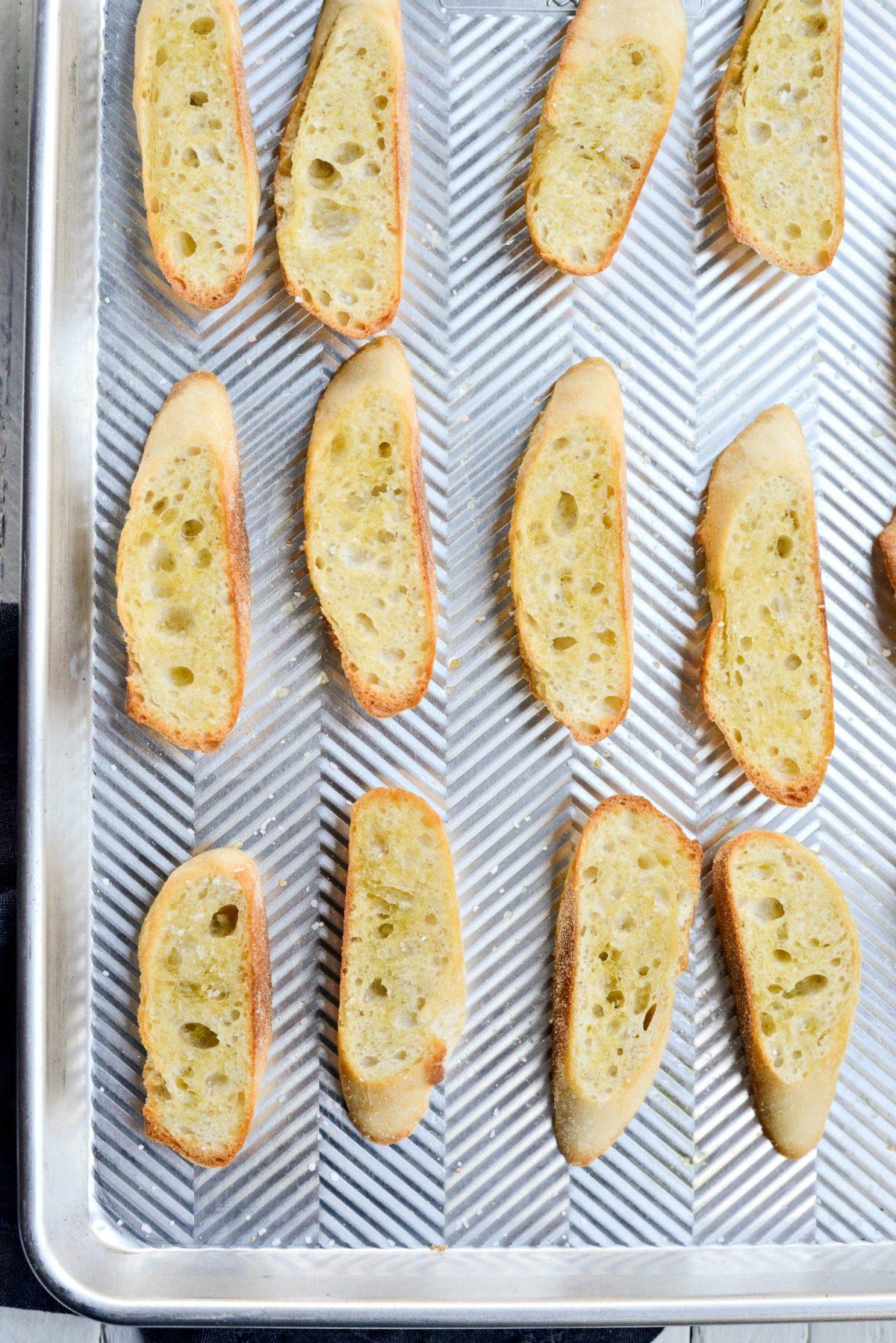 To make the crostini, place the sliced baguette [about 16 slices] onto a rimmed, metal sheet pan. Brush both sides with olive oil and sprinkle the tops with a little kosher salt. Slide the pan into your preheated 400° oven for 8 minutes. I rotate the pan halfway so they toast evenly.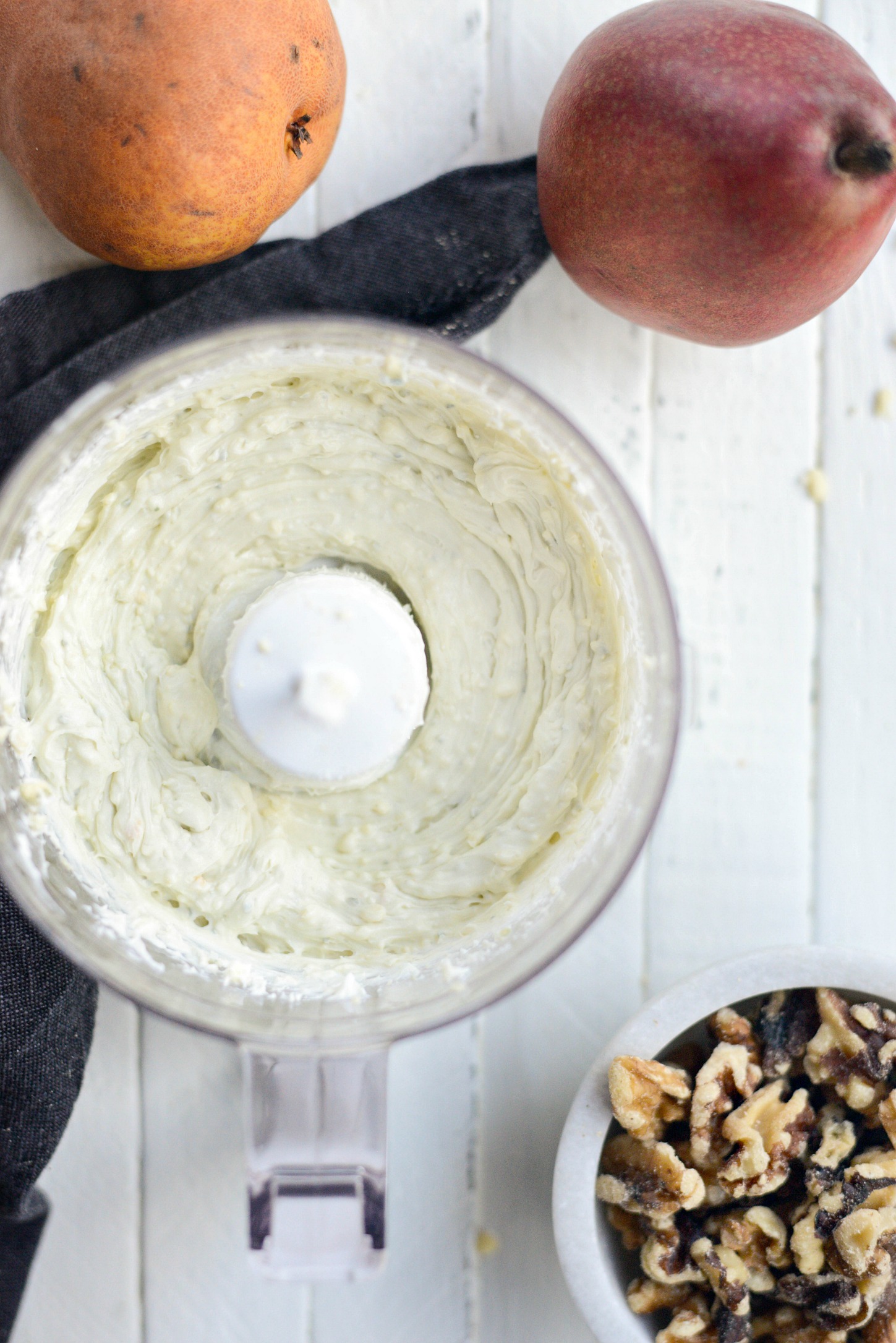 Meanwhile, I make the whipped blue cheese. Which is just as simple. Add the whipped cream cheese and crumbled [fresh – not pre crumbled] blue cheese into a mini food processor and pulse until creamy.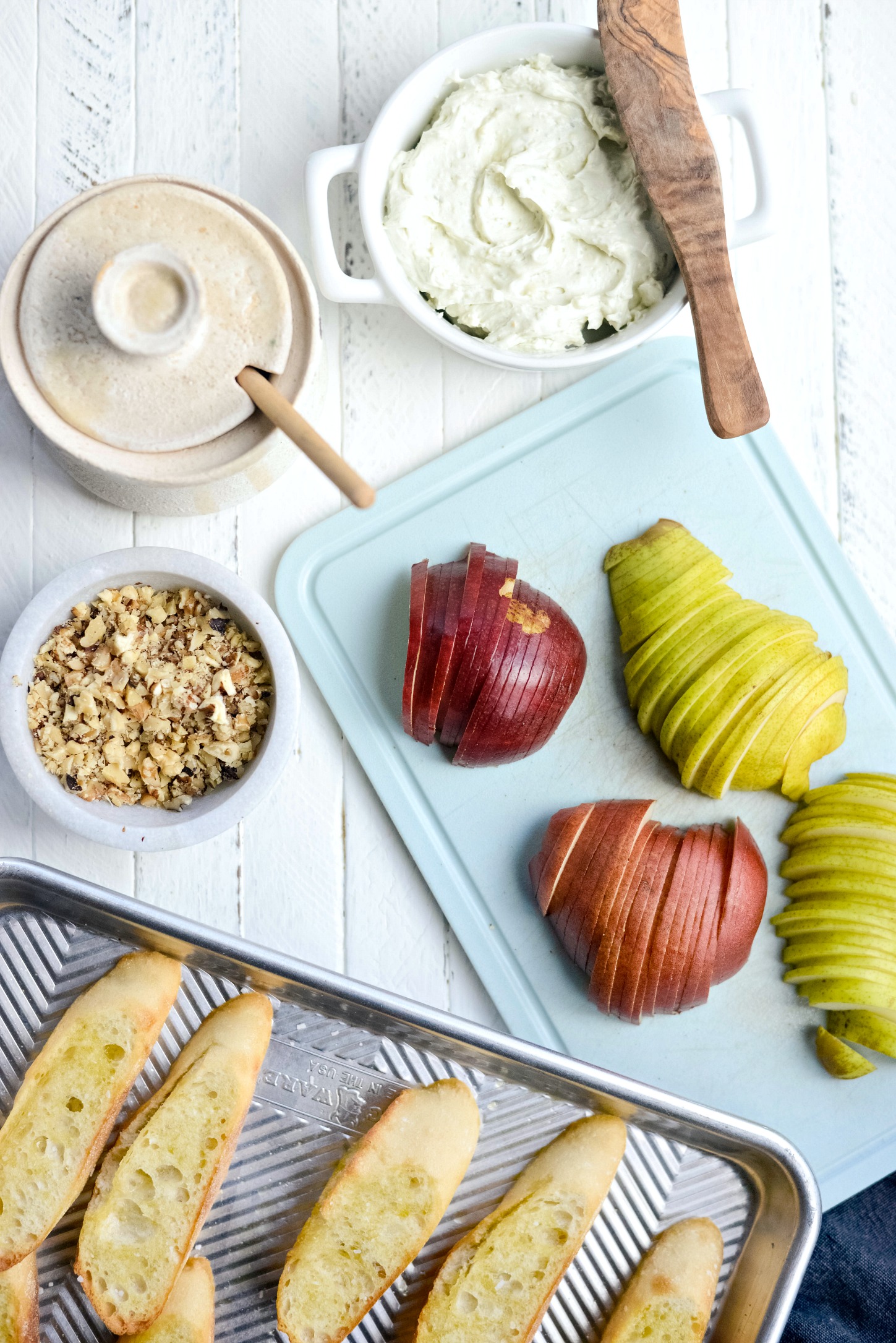 Then thinly slice the pears and you're now good to start building the crostini.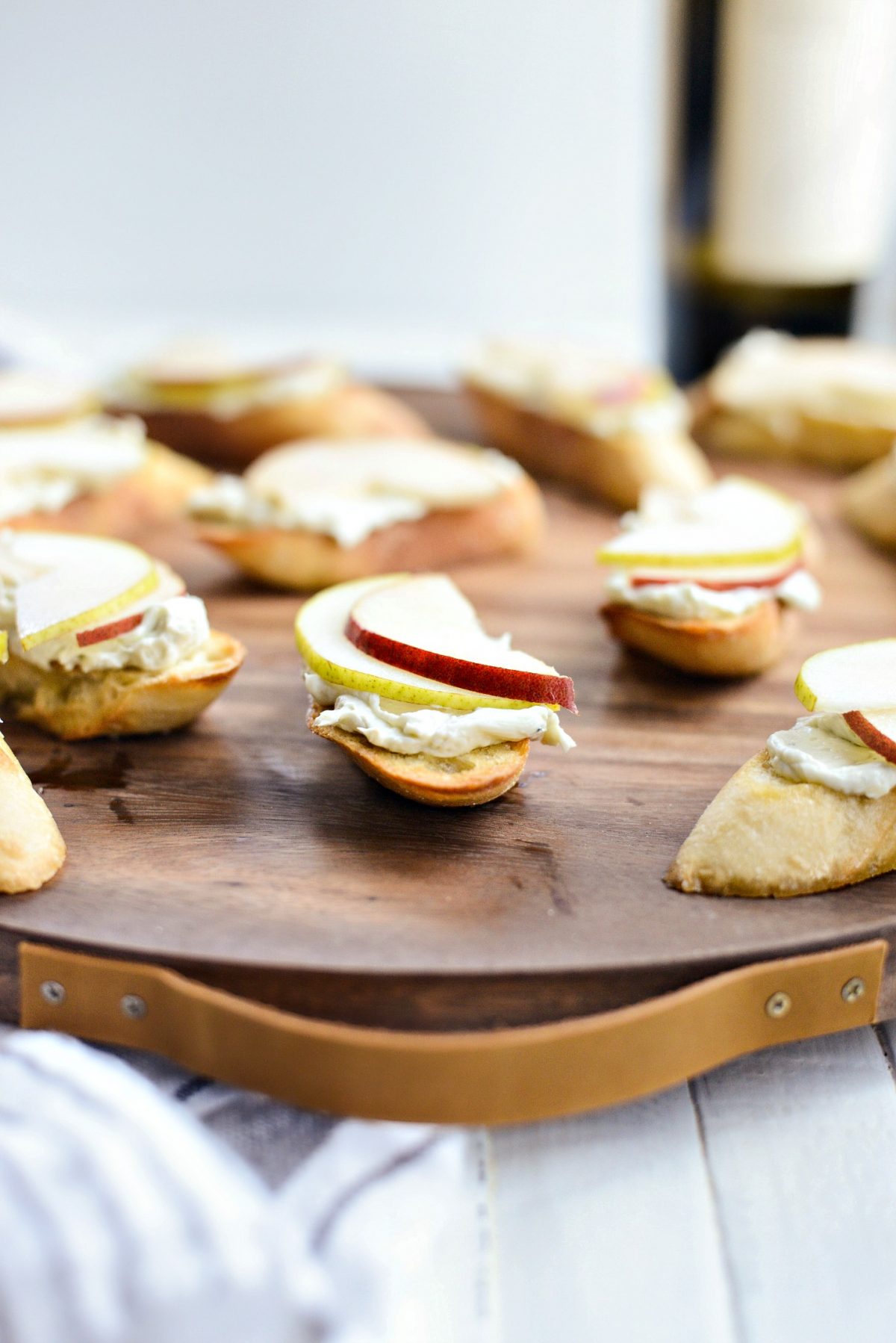 Next, spread the baguette slices with the whipped blue cheese and top with thinly sliced pear. I'm using two kinds of pear, red anjuou and a bartlett pear. I like the red and green for the holidays, but any pear would be fine.
I was going to use a bosc pear for a golden touch of color, but when I cut it in half, it was no good.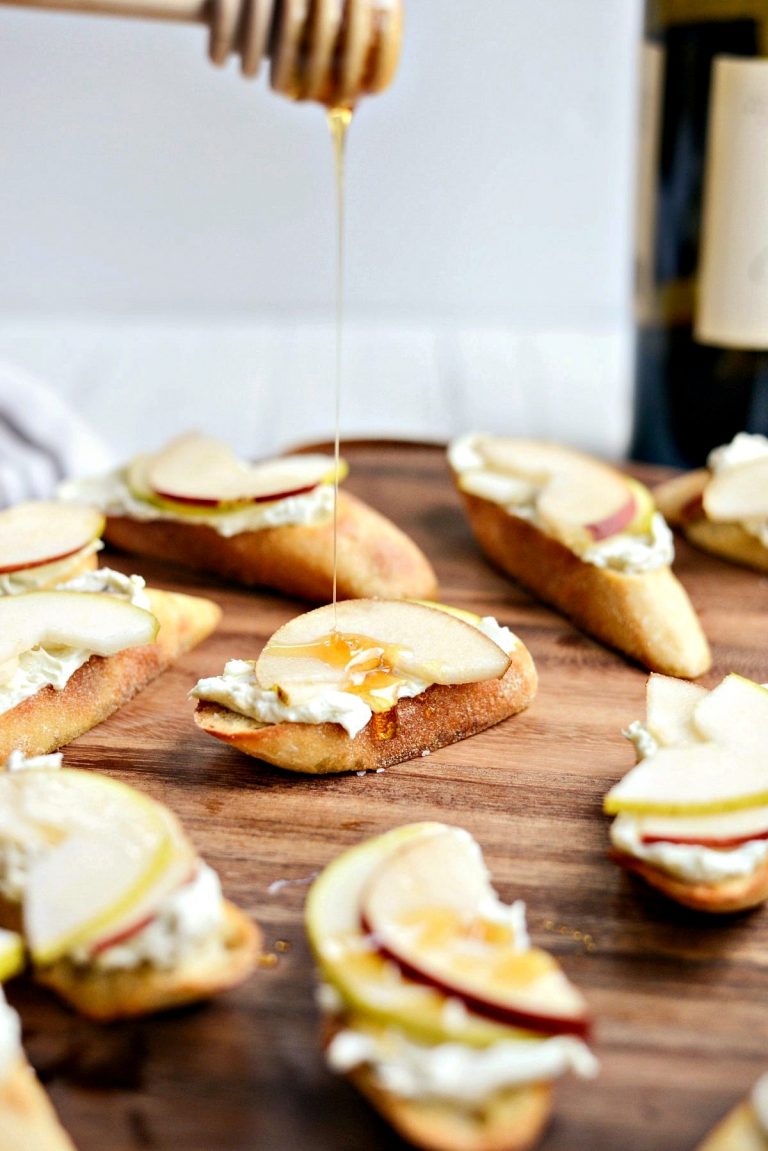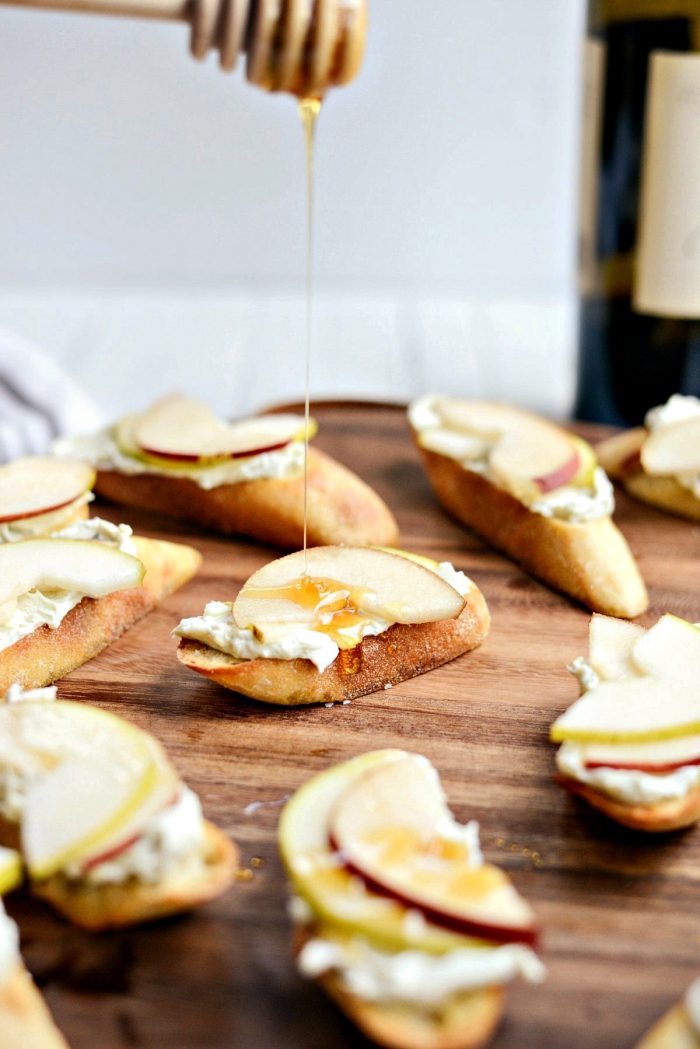 Luckily the honey adds enough of golden to make up for that bad pear.
Next haphazardly drizzle with honey and sprinkle with walnuts.
It's not science and it most definitely doesn't have to be perfect.
My newest favorite appetizer, just in time for the holidays! Sweet from the honey and pears, crisp from the toasted baguette, crunchy thanks to walnuts and funky — big thanks!, blue cheese! I know you will swoon over these easy, delicious [and beautiful] whipped blue cheese crostini!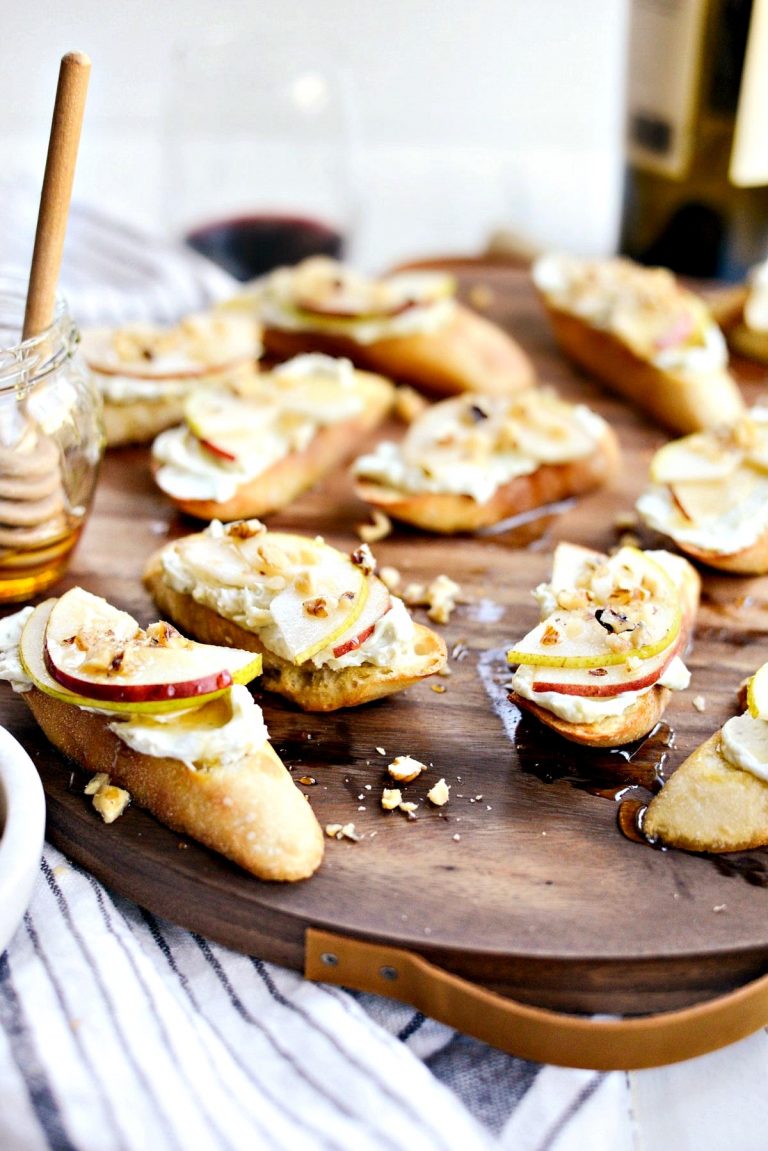 Enjoy! And if you give this Whipped Blue Cheese Crostini recipe a try, let me know! Snap a photo and tag me on twitter or instagram!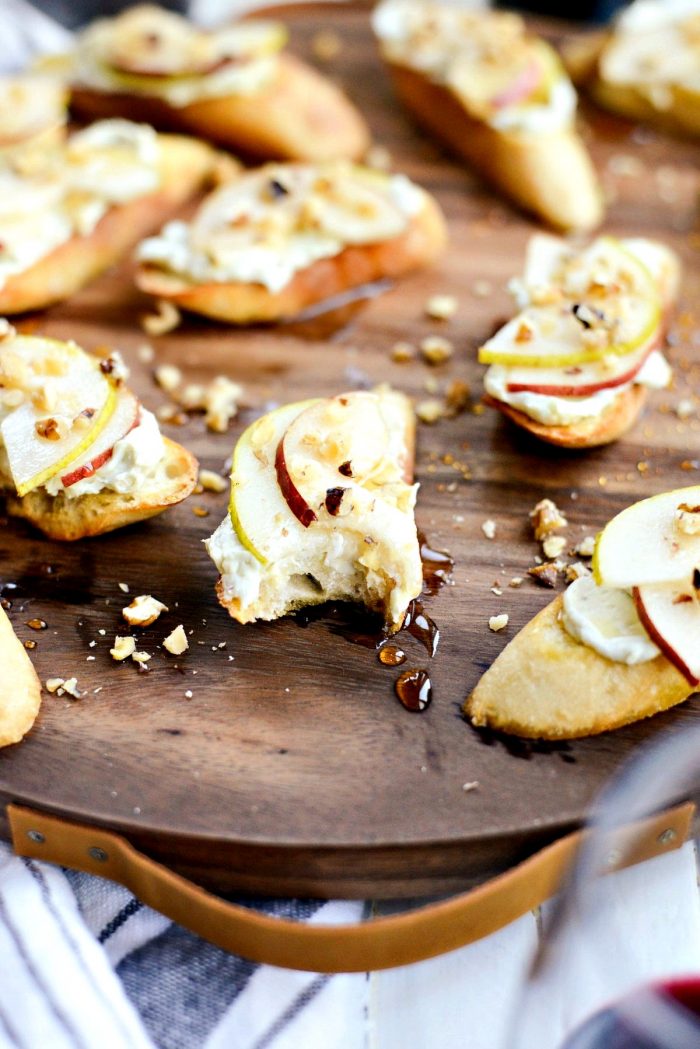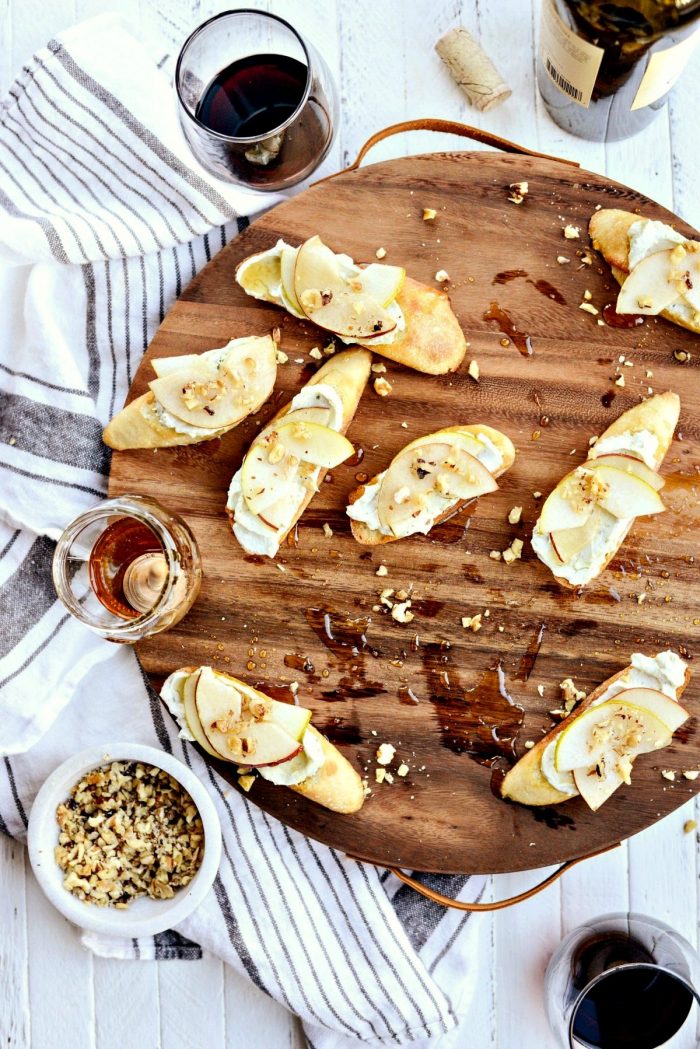 This post may contain affiliate links.
Buy the Cookbook: Simply Scratch : 120 Wholesome Homemade Recipes Made Easy Now available on Amazon »
THANK YOU in advance for your support!