This creamy Roasted Garlic and Rosemary White Bean Dip is loaded with flavor and only takes a few minutes to prepare. Roasted garlic is pureed with cannellini beans, fresh rosemary leaves, broth, vinegar and olive oil for a creamy addictive dip. Serve with toasted naan or pita chips for a crispy way to dip.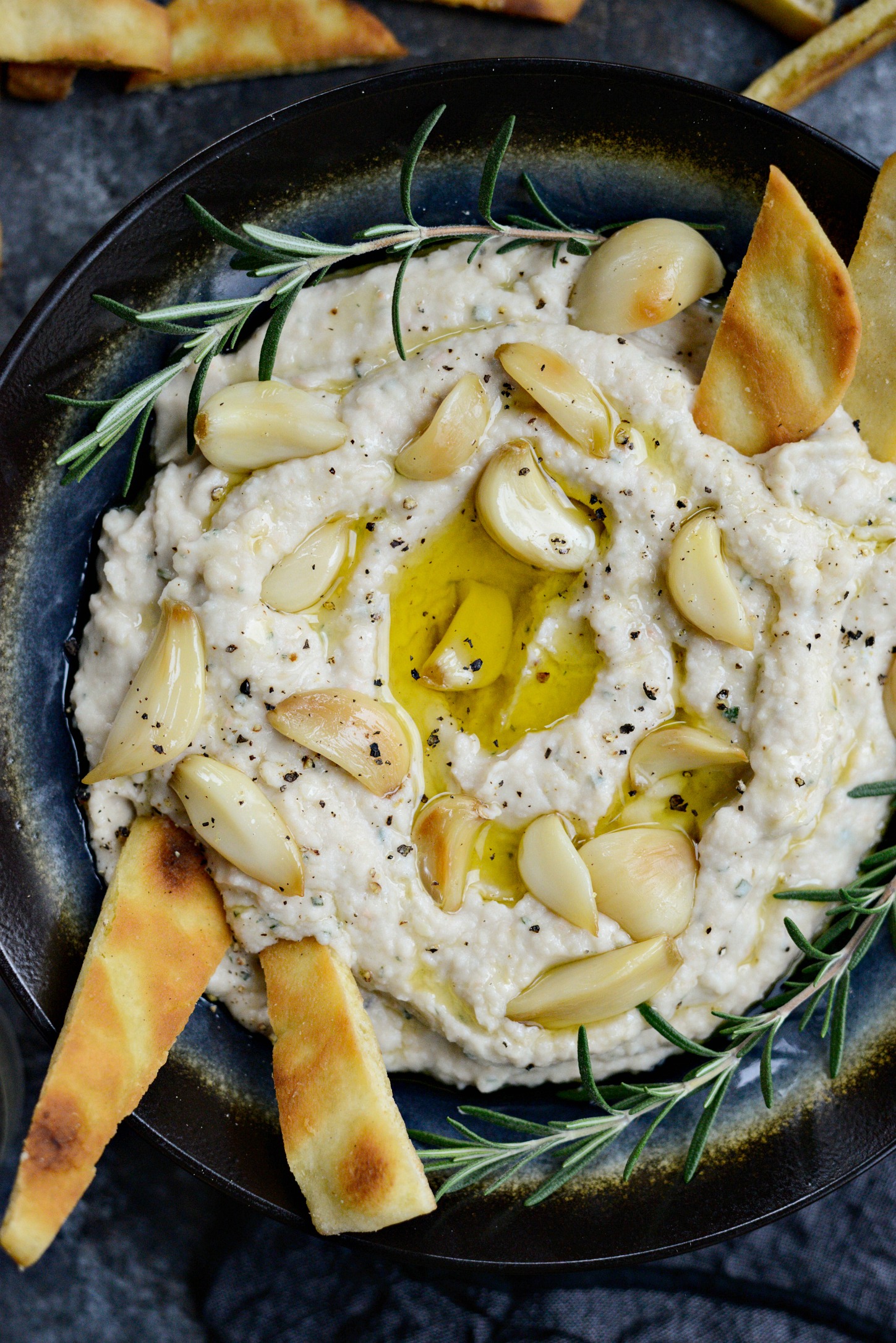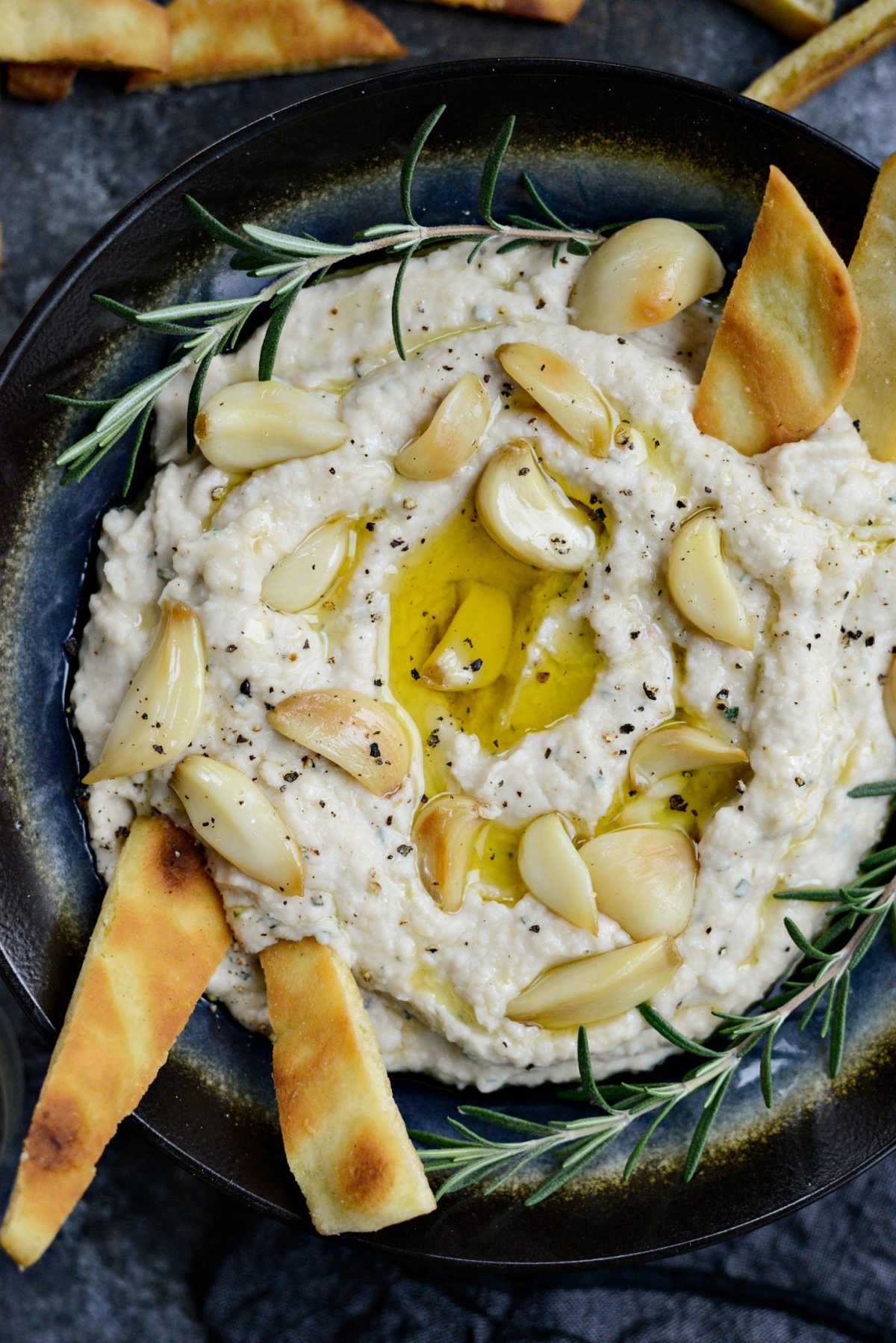 You know a dip is good when both of your daughters sit down on the couch with you to help polish the rest off.
When they sunk their toasted naan into this creamy dip, and took a bite they both agreed it was amazing. And then proceeded to fight over the last toasted naan shard.
Bonus! This roasted garlic and rosemary white bean dip couldn't be any more easy to whip up. If you have a food processor you're already ahead of the game. First, I roasted up a couple heads of fresh garlic – one for blending with the white beans and I used the other cloves for garnishing the final bowl of dip – then I whipped the roasted garlic with [drained and rinsed] canned cannellini beans, fresh rosemary and few other staple pantry ingredients which makes for one knock-your-socks-off dip.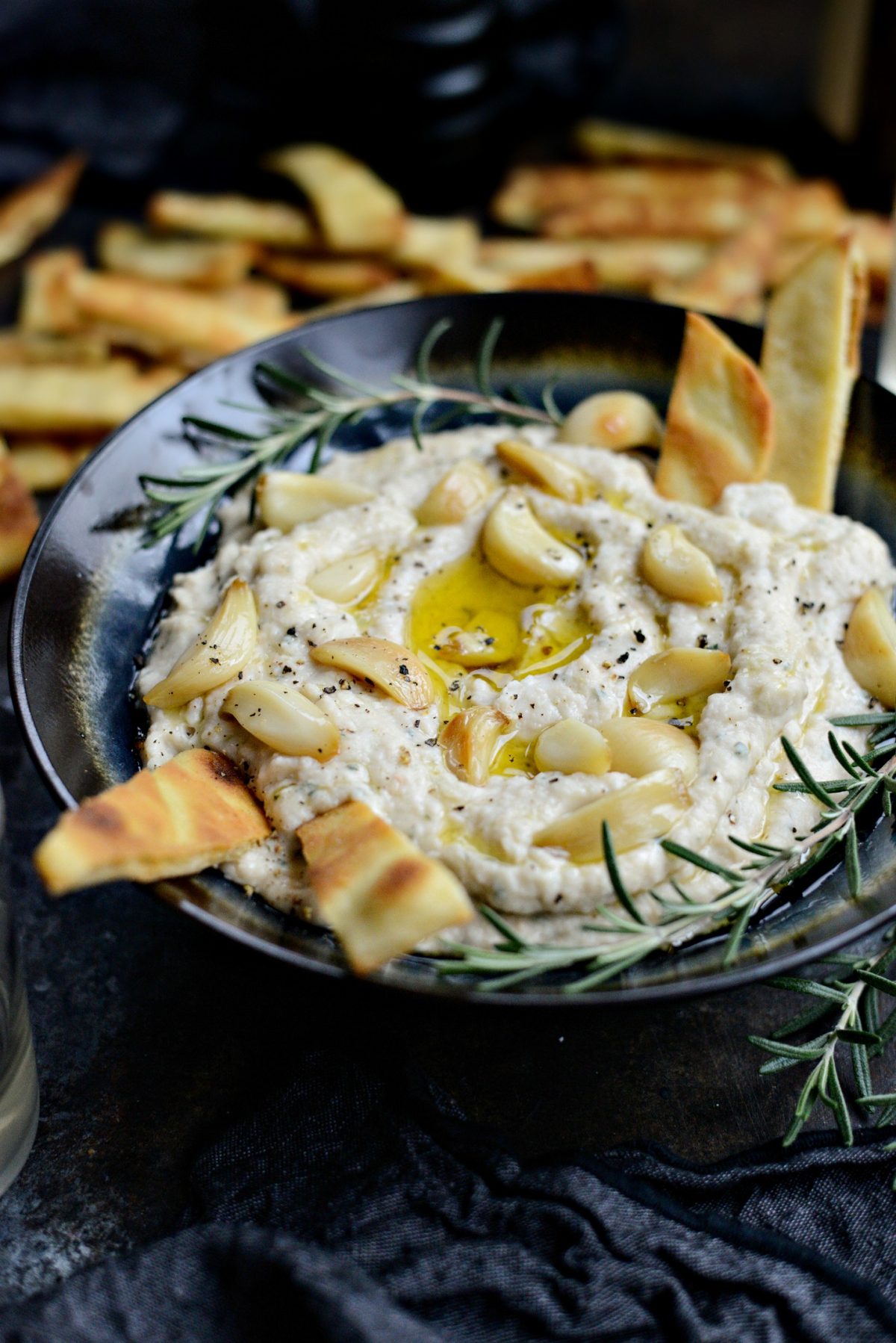 This super simple, garlicky rosemary white bean dip is perfect no matter what your plans are. Whether you're staying home with a cozy fire with a glass [or two, okayyy three] of champagne or if you're headed to a fun New Year's Eve party, make sure this dip is with you.
To Make This Roasted Garlic and Rosemary White Bean Dip You Will Need:
cannellini beans
good quality olive oil
fresh rosemary
1 head roasted garlic [plus more if you want some to garnish]
1/4 cup low-sodium chicken broth or water
1 tablespoon red wine vinegar (or fresh lemon juice)
kosher salt
ground black pepper
I prefer to roast garlic by the cloves, to do this: break up a small head of garlic into individual cloves [with the outer skin intact] and place them on to a sheet of aluminum foil. Drizzle the garlic with a little olive oil. Then fold up the sides of the foil like a purse. Place onto to the middle rack of your preheated 400° oven and roast for 20-25 minutes. Remove and let cool until safe enough to peel off the outer skin of each clove.
I roasted a bunch of garlic the other day when I made these party sandwiches, because I was planning on making this dip again.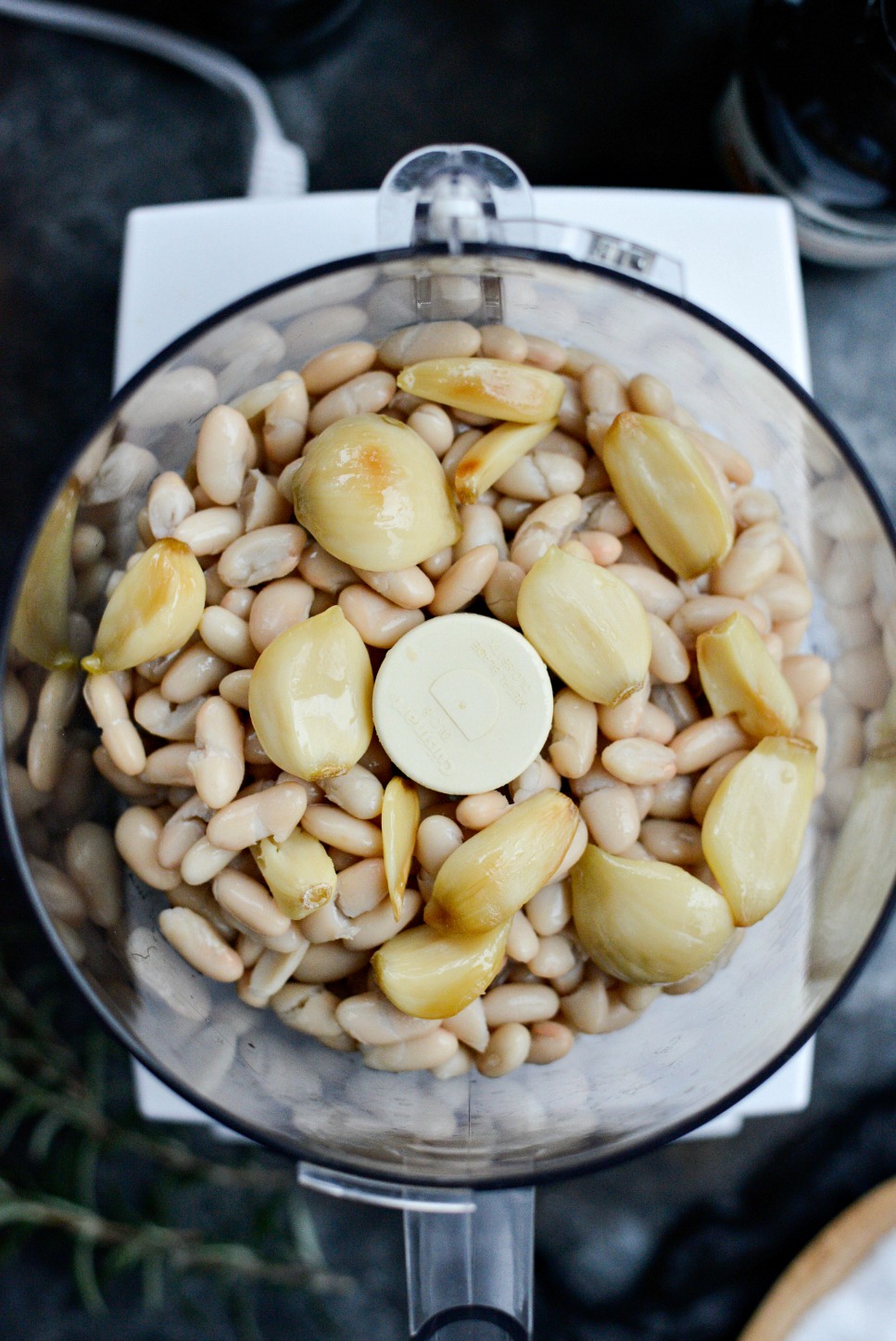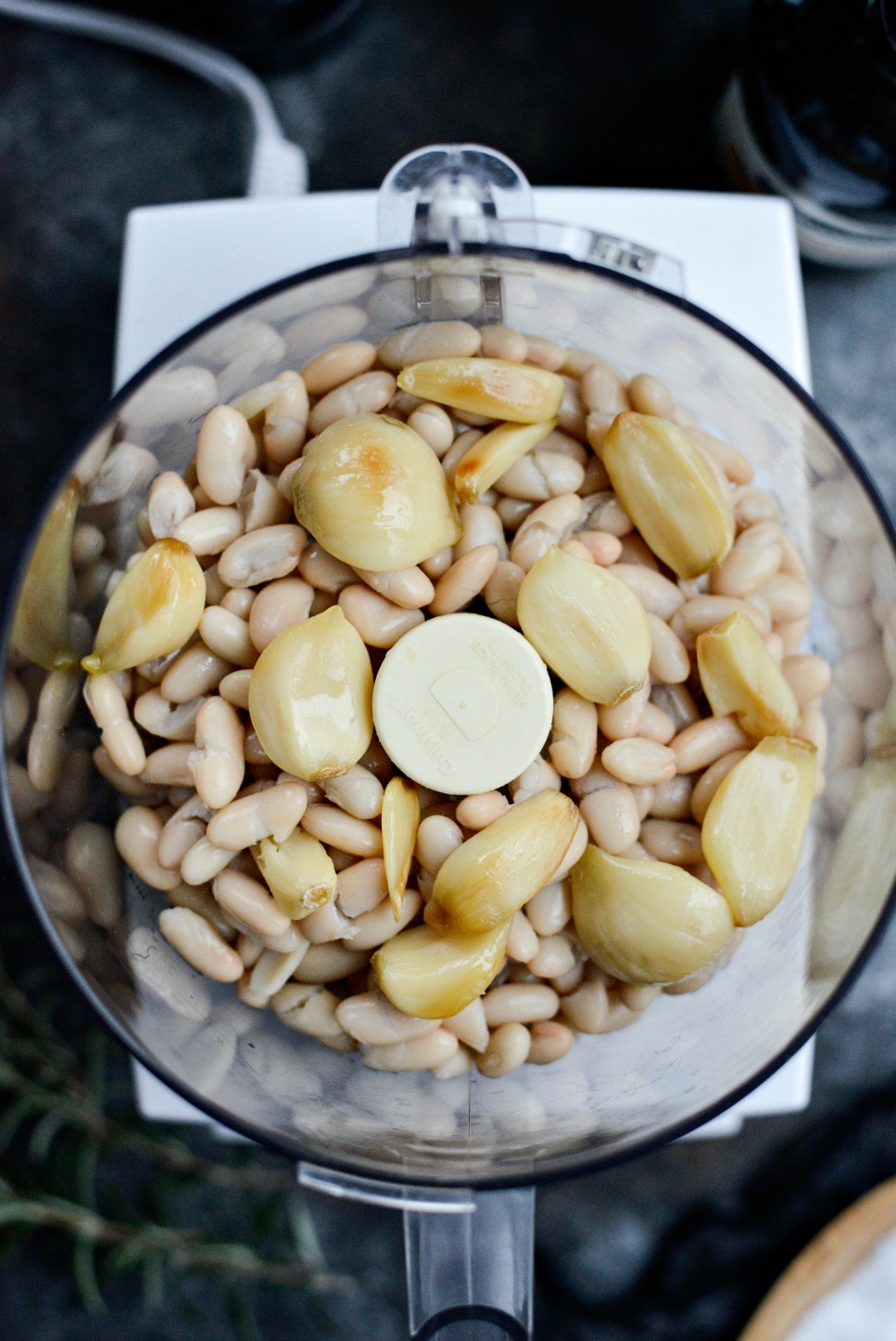 First, drain and rinse the cannellini beans. Then, into the bowl of your food processor fitted with the blade attachment. Next add in the beans and whole roasted garlic cloves.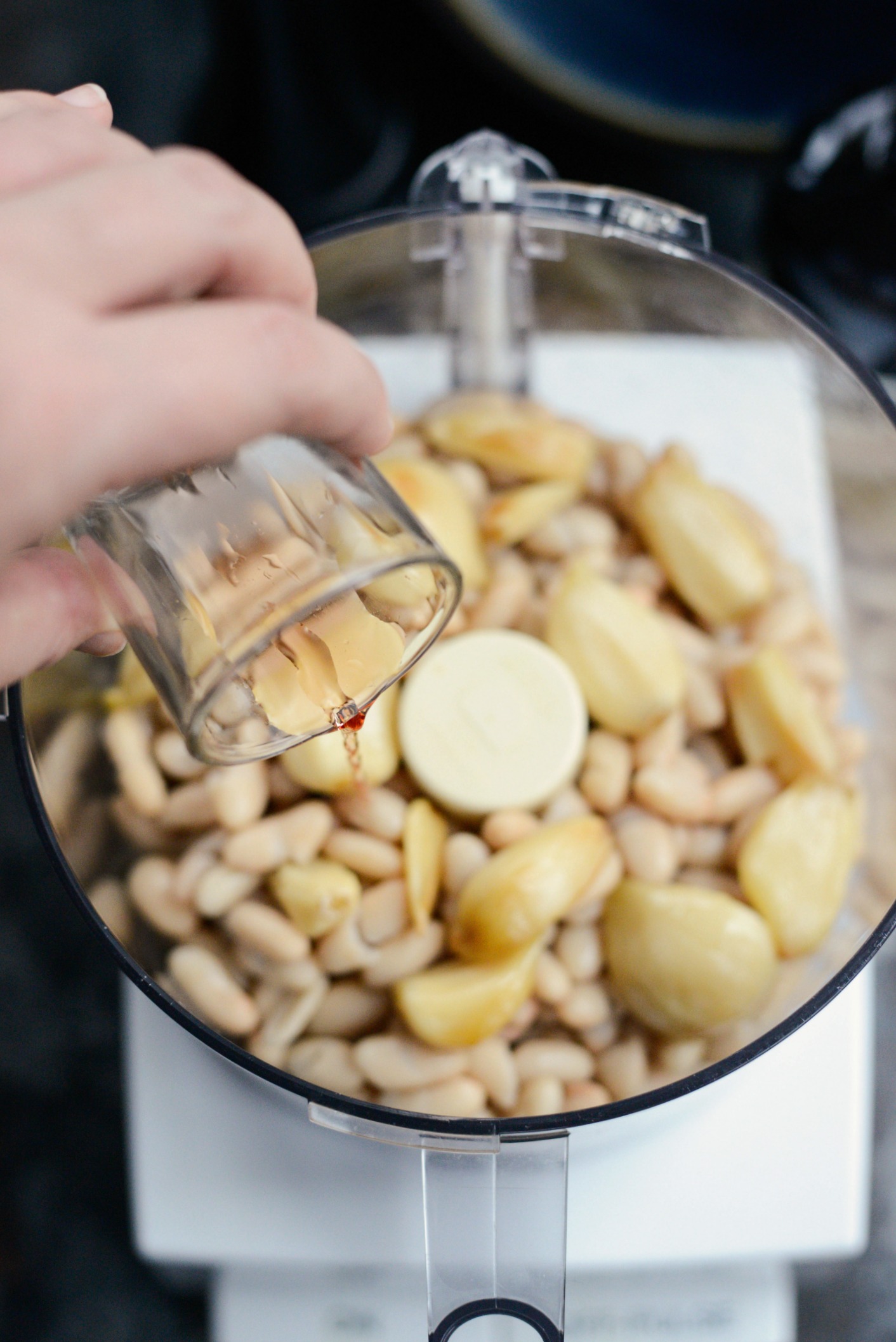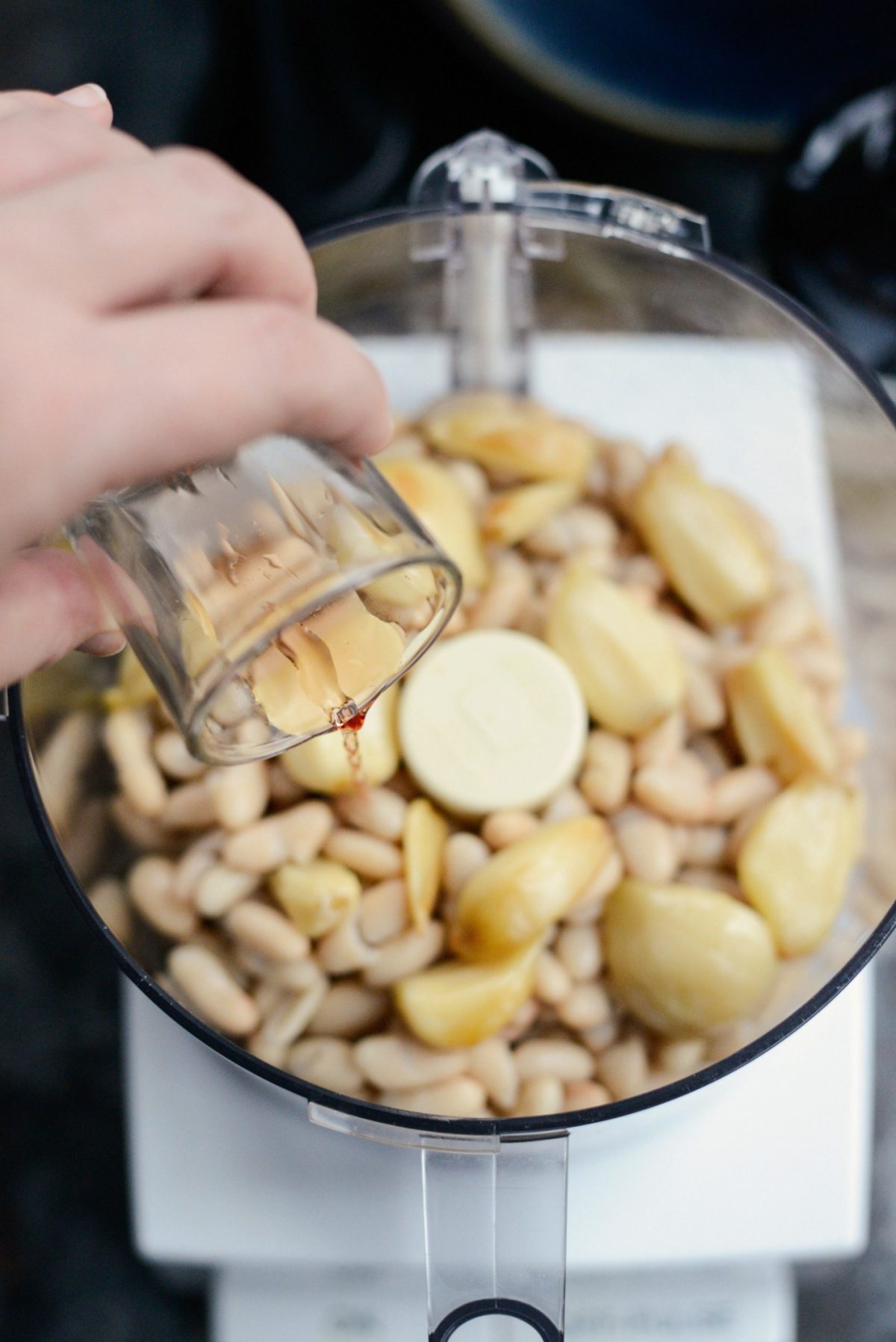 Then measure and pour in 1/4 cup of broth, 3 tablespoons of olive oil and 1 tablespoon of red wine vinegar. Or instead of vinegar try fresh lemon juice.
Next, secure the lid and pulse a few times. Then sprinkle in 1 tablespoon finely chopped fresh rosemary, and puree until smooth.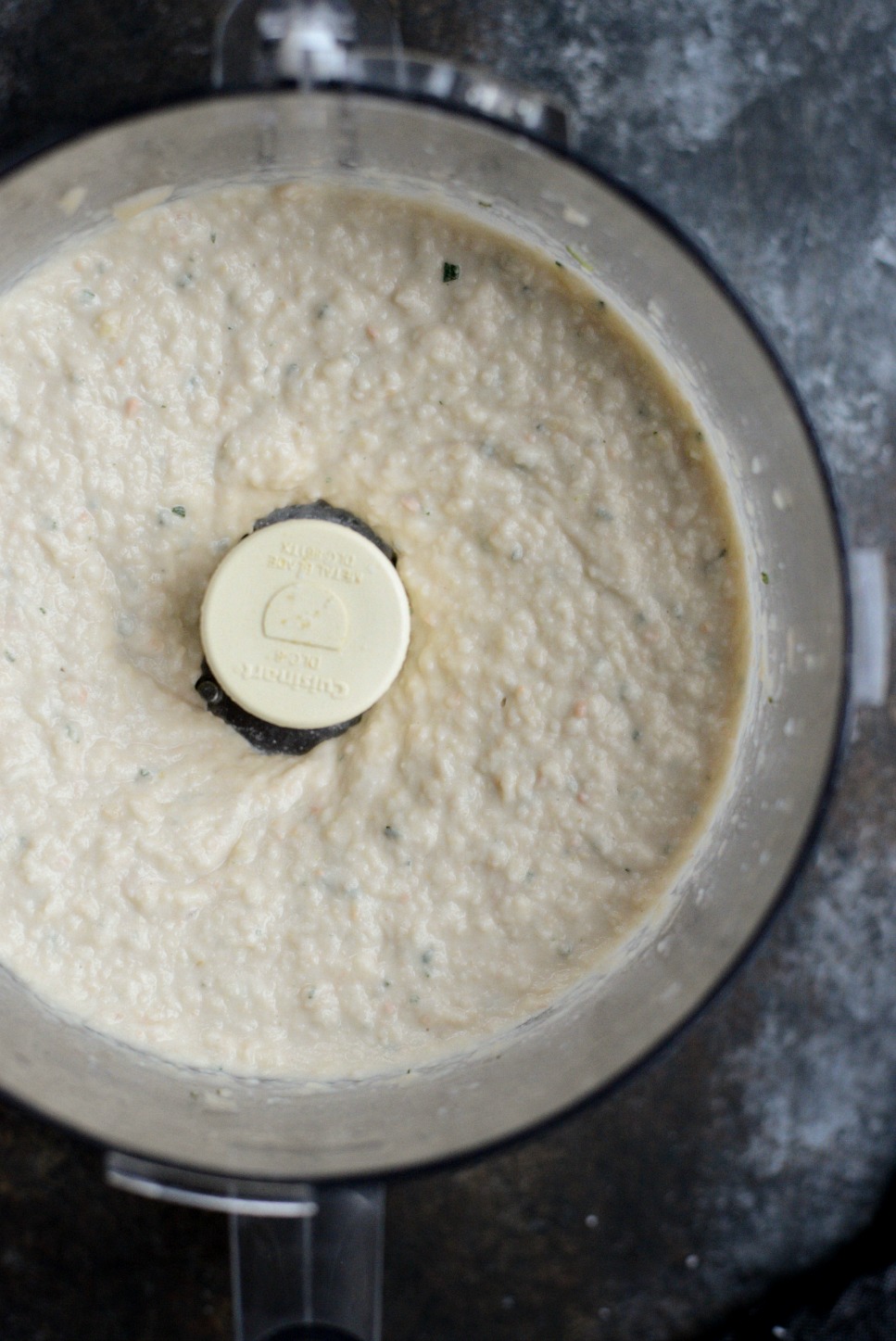 Taste-test and season with kosher salt and freshly ground black pepper.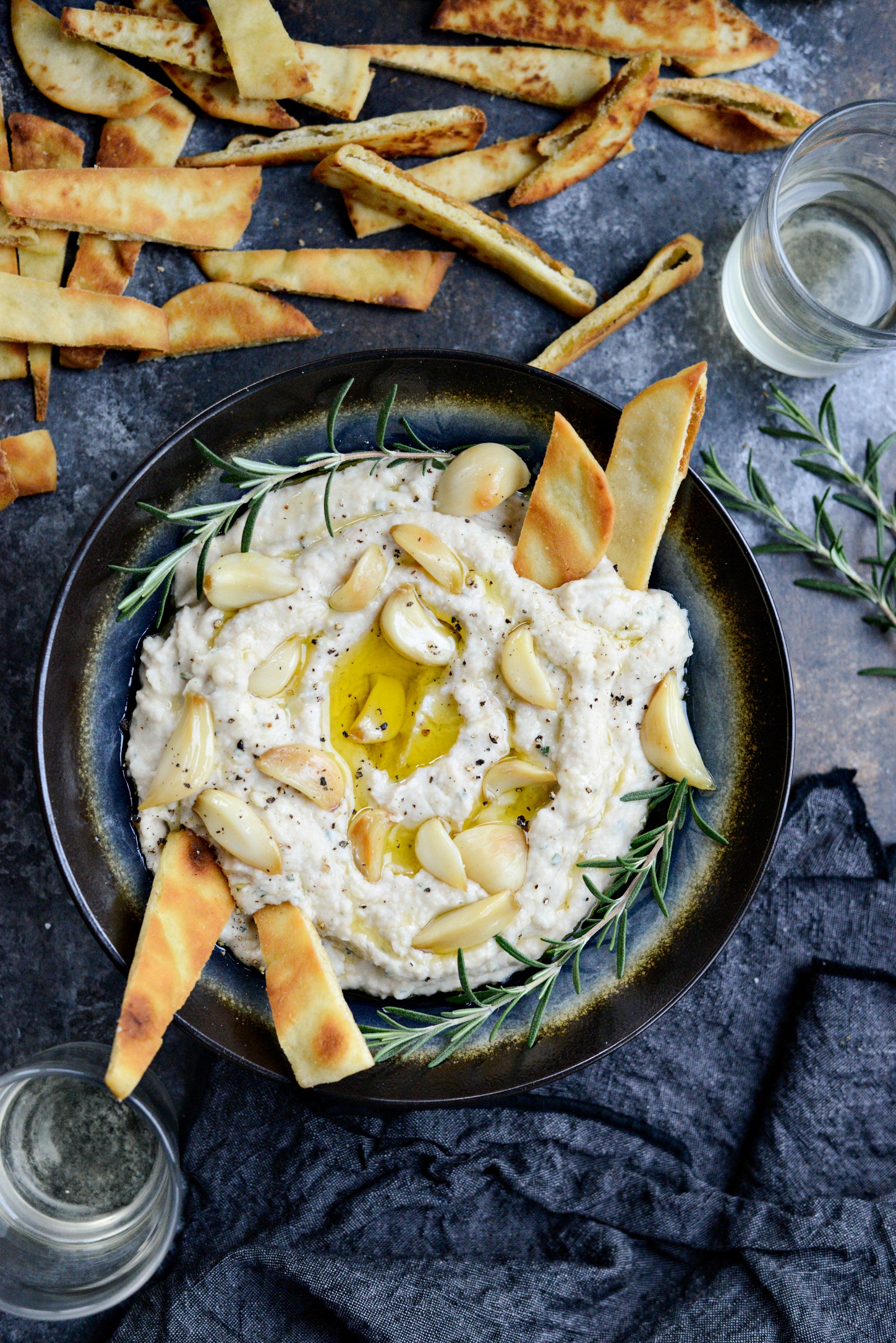 Now serve the roasted garlic and rosemary white bean dip in a large bowl. Then spread in a way to make dips and valleys, then drizzle with the remaining tablespoon of olive oil and garnish with extra cloves of garlic and rosemary sprigs.
Serve with any crackers or toasted bread you prefer. I love this with oven toasted naan shards or pita chips.
Now let's ring in the new year together, with champagne and garlic breath! 😉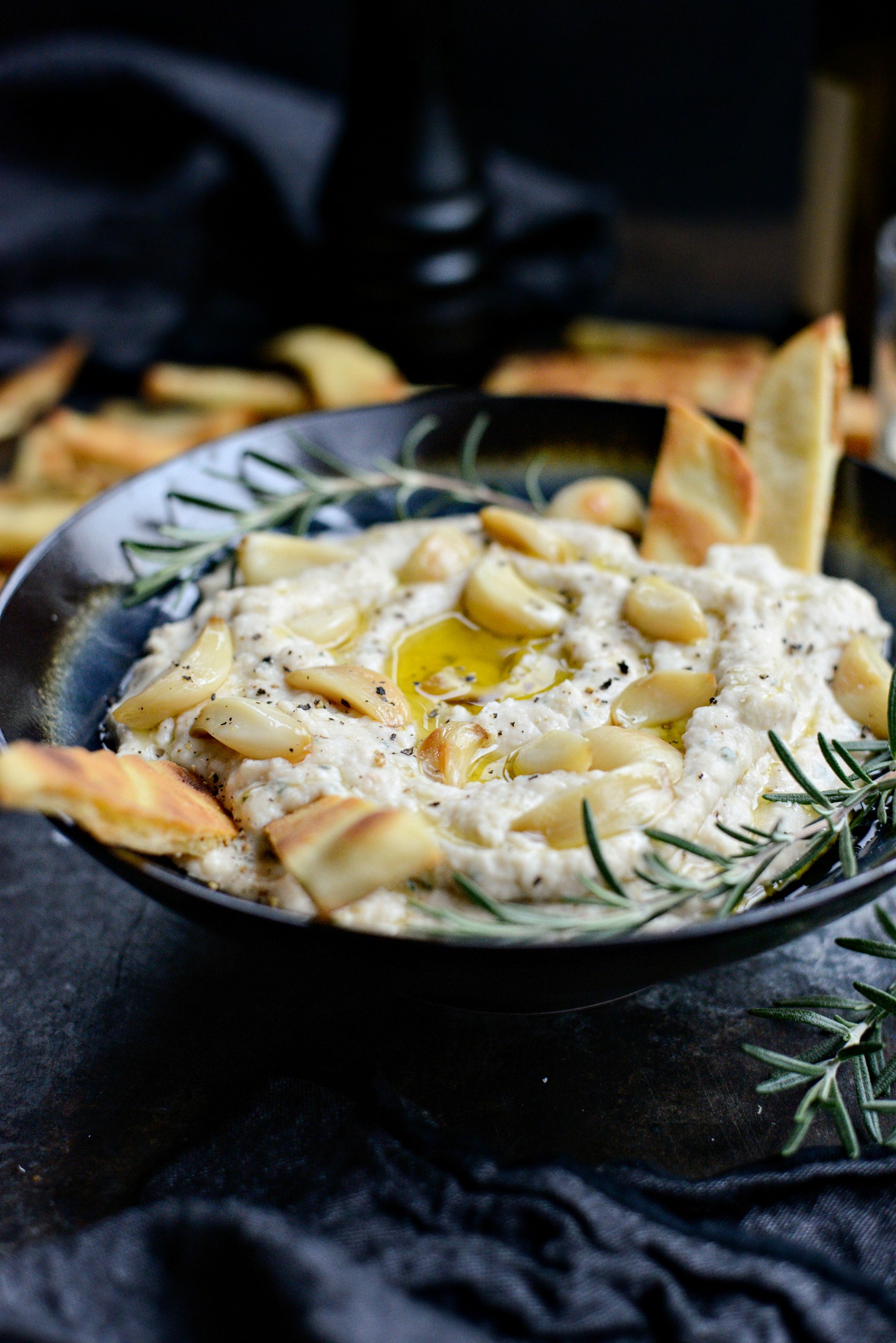 Enjoy! And if you give this Roasted Garlic and Rosemary White Bean Dip recipe a try, let me know! Snap a photo and tag me on twitter or instagram!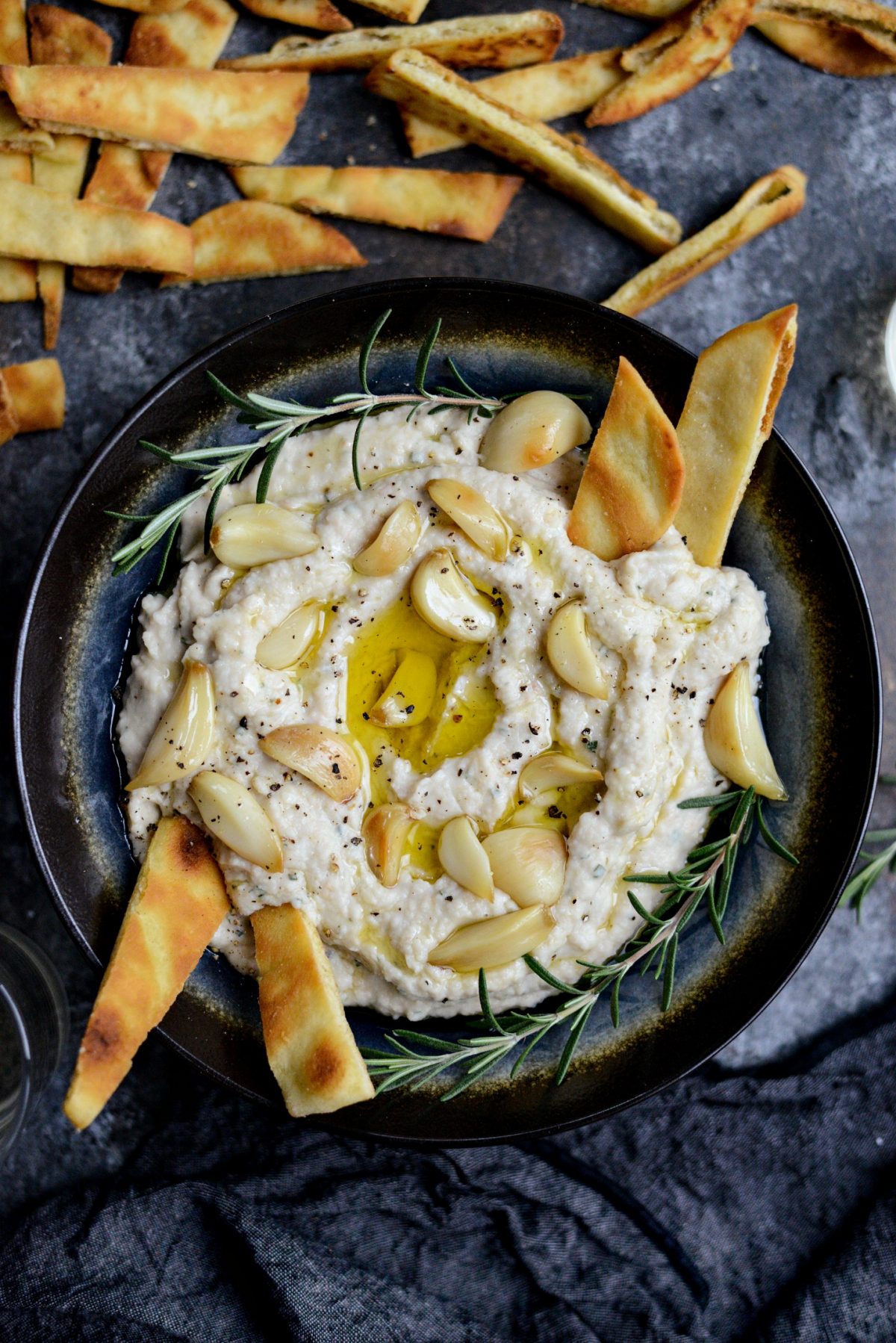 This post may contain affiliate links.
Buy the Cookbook: Simply Scratch : 120 Wholesome Homemade Recipes Made Easy Now available on Amazon »
THANK YOU in advance for your support!