Christmas Fettuccine is a fancy yet super simple pasta dish consisting of finely minced shallots, garlic, white wine, cream and butter. Diced tomato and minced fresh parsley and torn basil give this fettuccine its Christmas flair.
One of my absolute favorite Christmas movies is The Holiday. It's one of those movies that I could watch over and over and over. It also makes me want to take trip to Surrey and drink wine out of the bottle while grocery shopping. Call me crazy, but I want to live in that movie.
Just this past weekend my girls and I watched it for, what seems like, the millionth time – or maybe that's just me. I absolutely, irrevocably love that movie. And in one particular part in the movie Iris [Kate Winslet] offers to cheer Miles [Jack Black] up by making him 'Christmas Fettuccine'. It's not a poignant part of the movie, but every single time I want to be invited over for some Christmas Fettuccine.
So I made my own.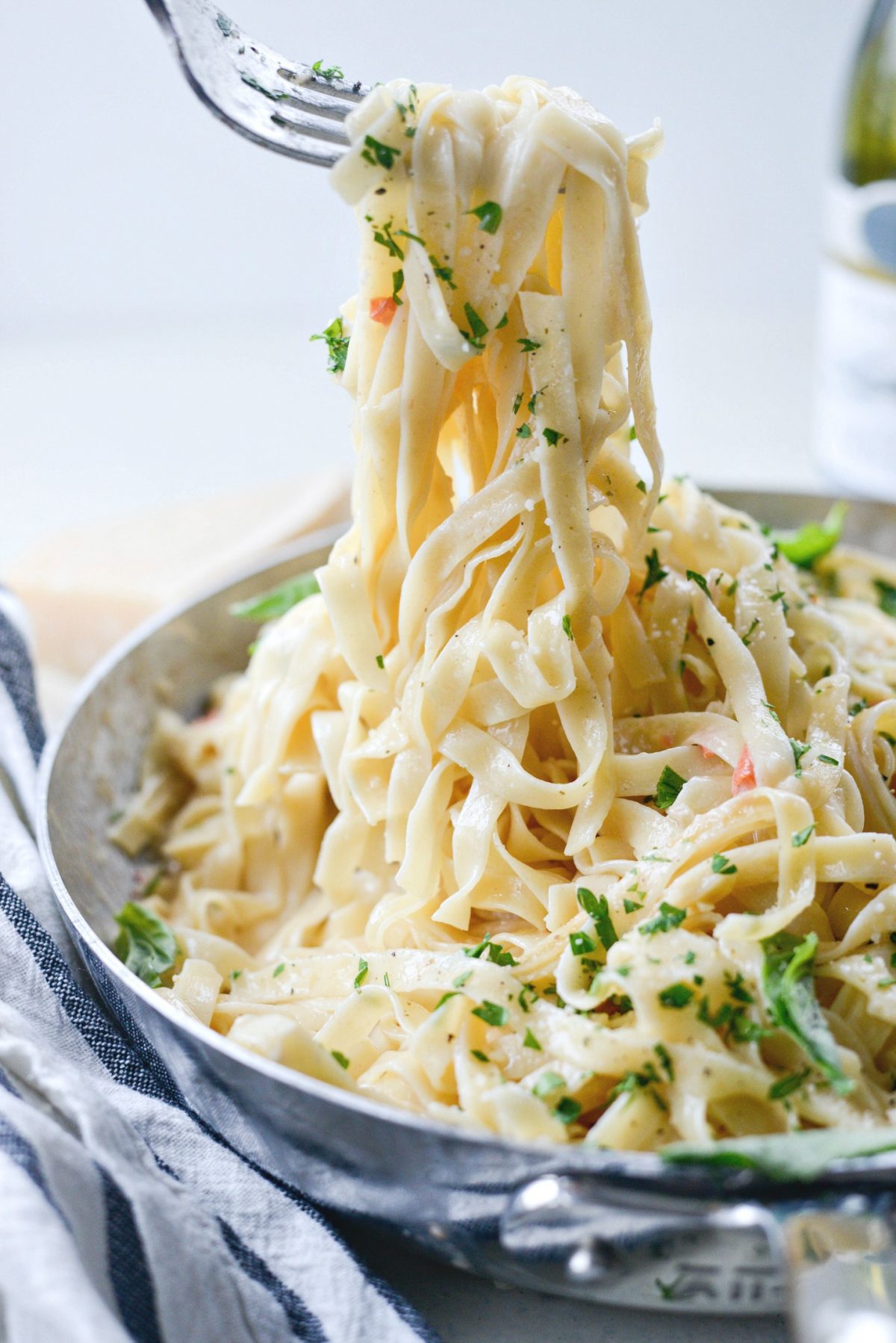 Good fettuccine is a handful of simple ingredients; butter, cream, black pepper and Parmesan cheese are the standard. In this Christmas fettuccine I sautéed shallot, garlic and fresh tomatoes, then added and reduced white wine before adding the butter, cream and cheese.
And I may or may not have sat down with this pan and gorged myself on all the carbs.
Merry Christmas to me.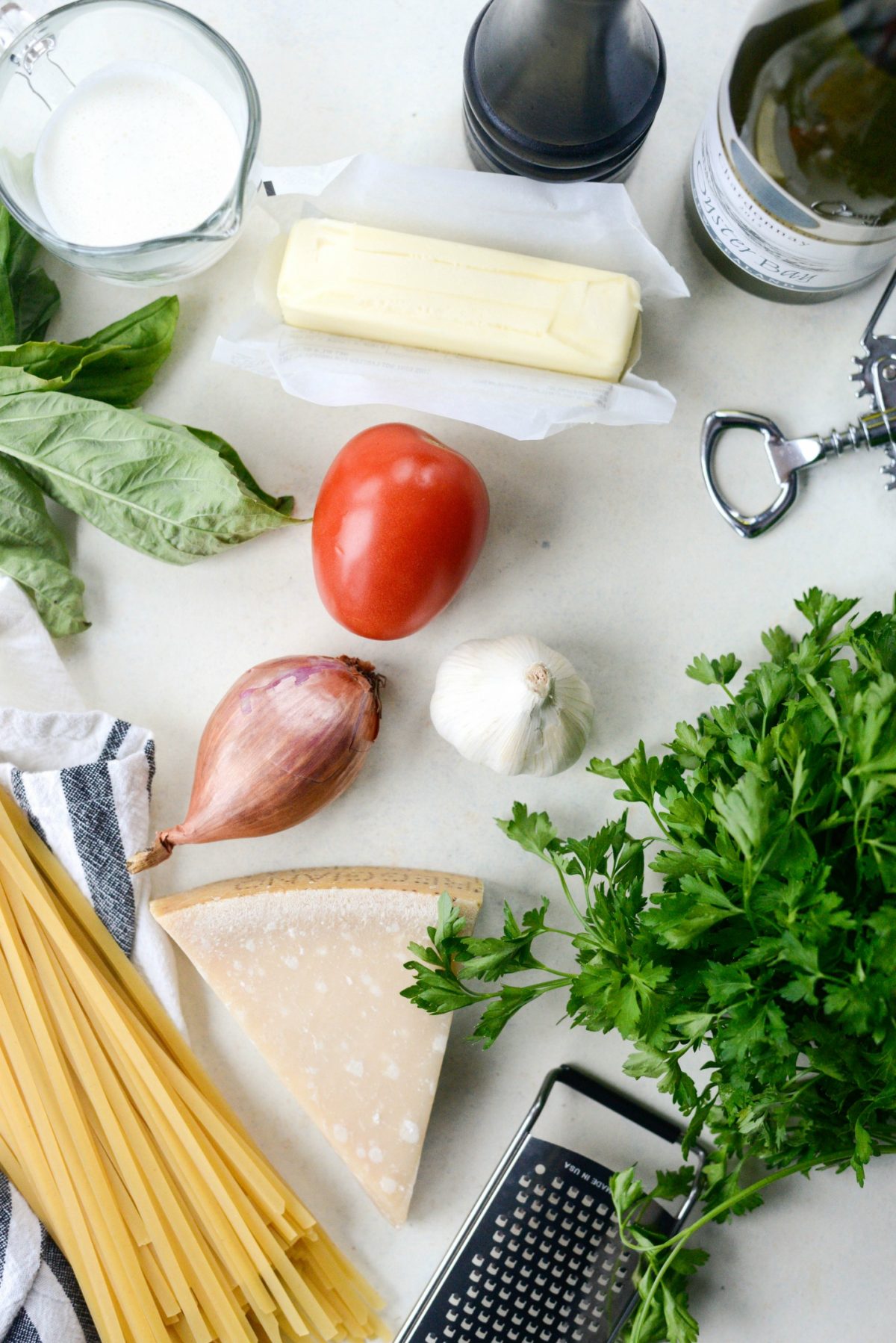 To Make This Christmas Fettuccine You Will Need:
dry fettuccine noodles
shallot
garlic
a large Roma tomato or two
dry white wine [or low-sodium chicken broth]
butter
heavy cream
freshly grated Parmesan cheese
fresh basil
parsley
First bring a large pot of salted water to a boil.
Meanwhile, on medium-low heat, sauté both the finely minced shallot and garlic in 2 teaspoons olive oil until soft and translucent, about 5 minutes.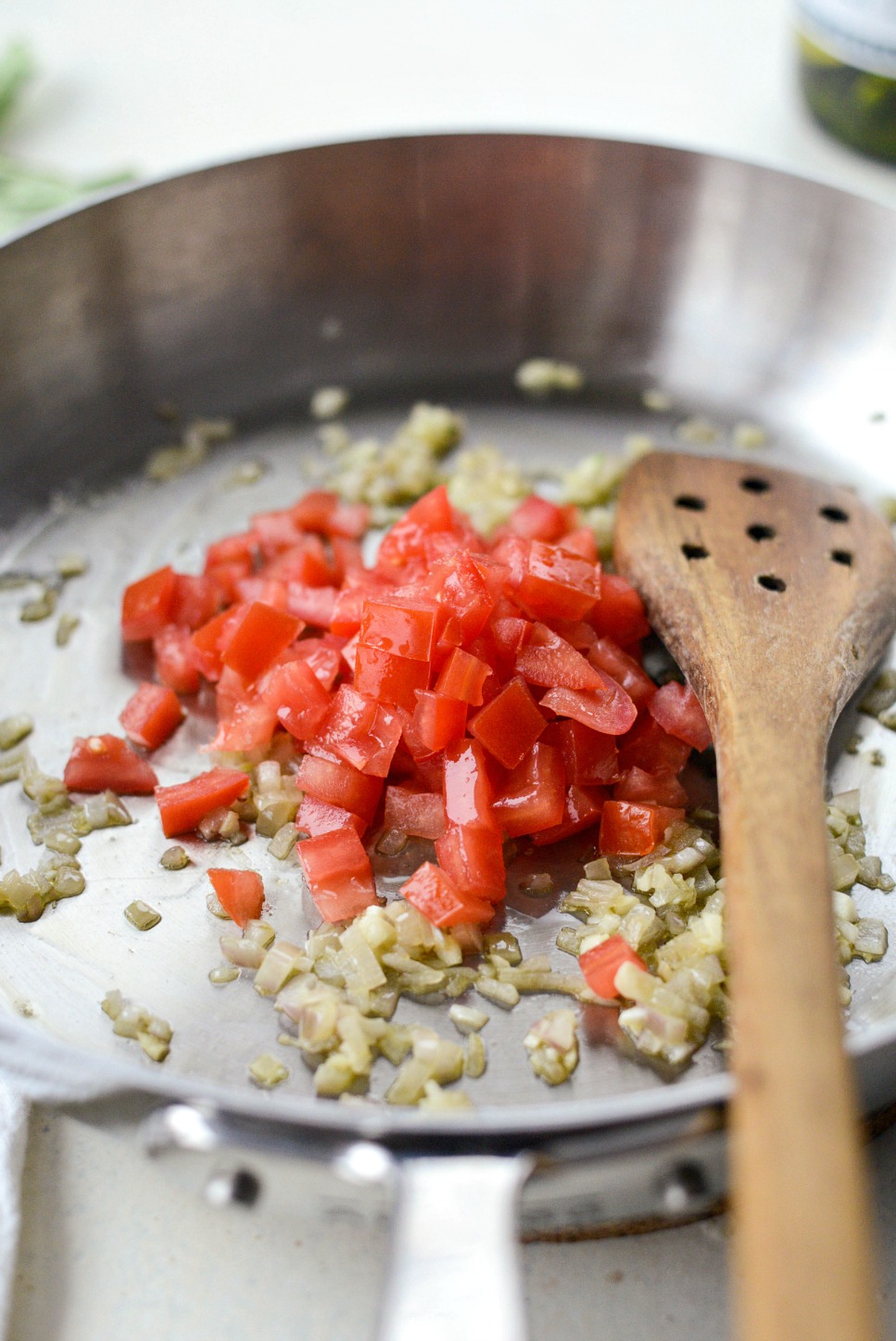 Add in the seeded and diced Roma tomatoes, and cook until soft and starting the caramelize on the bottom of the pan. About 2 to 3 minutes.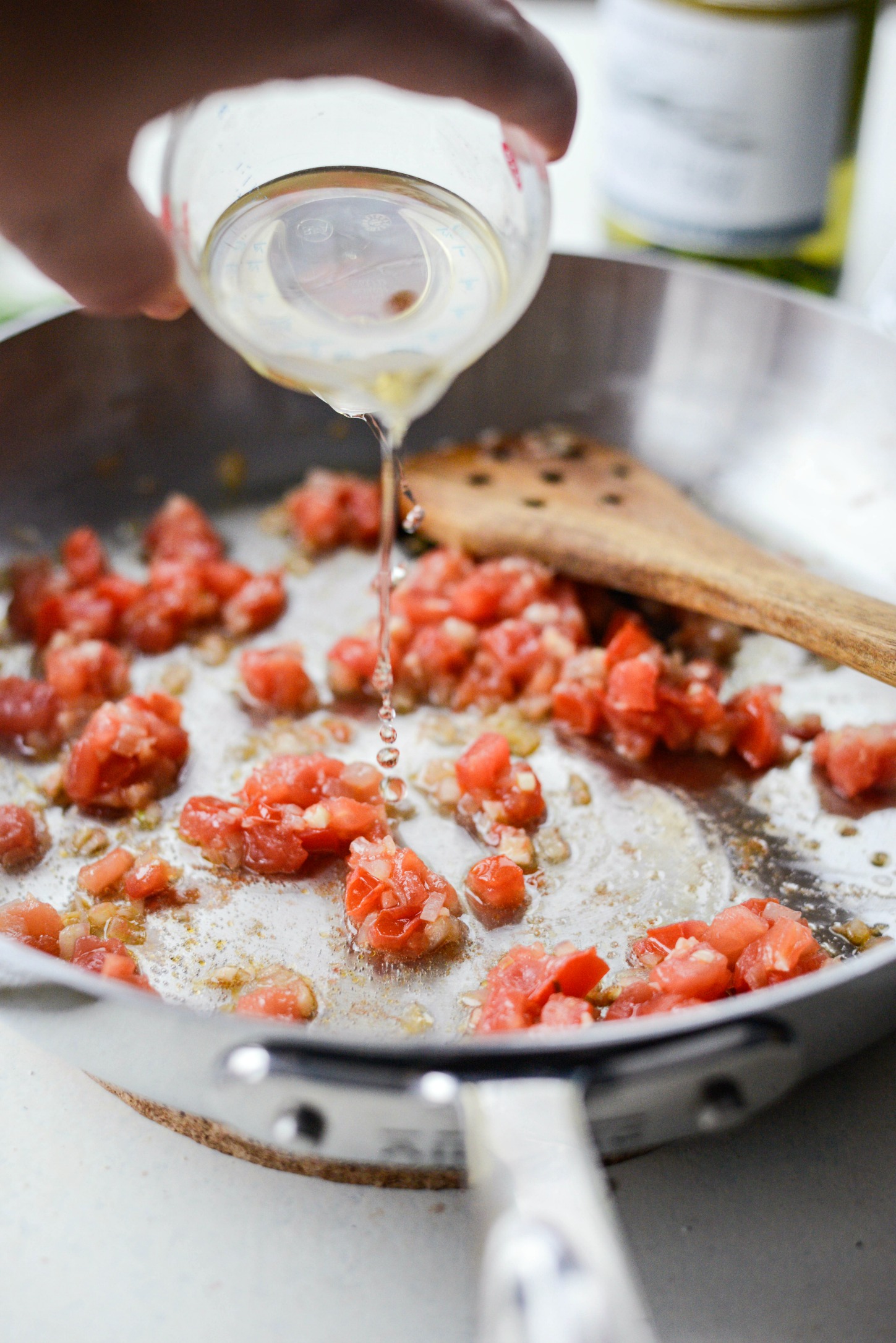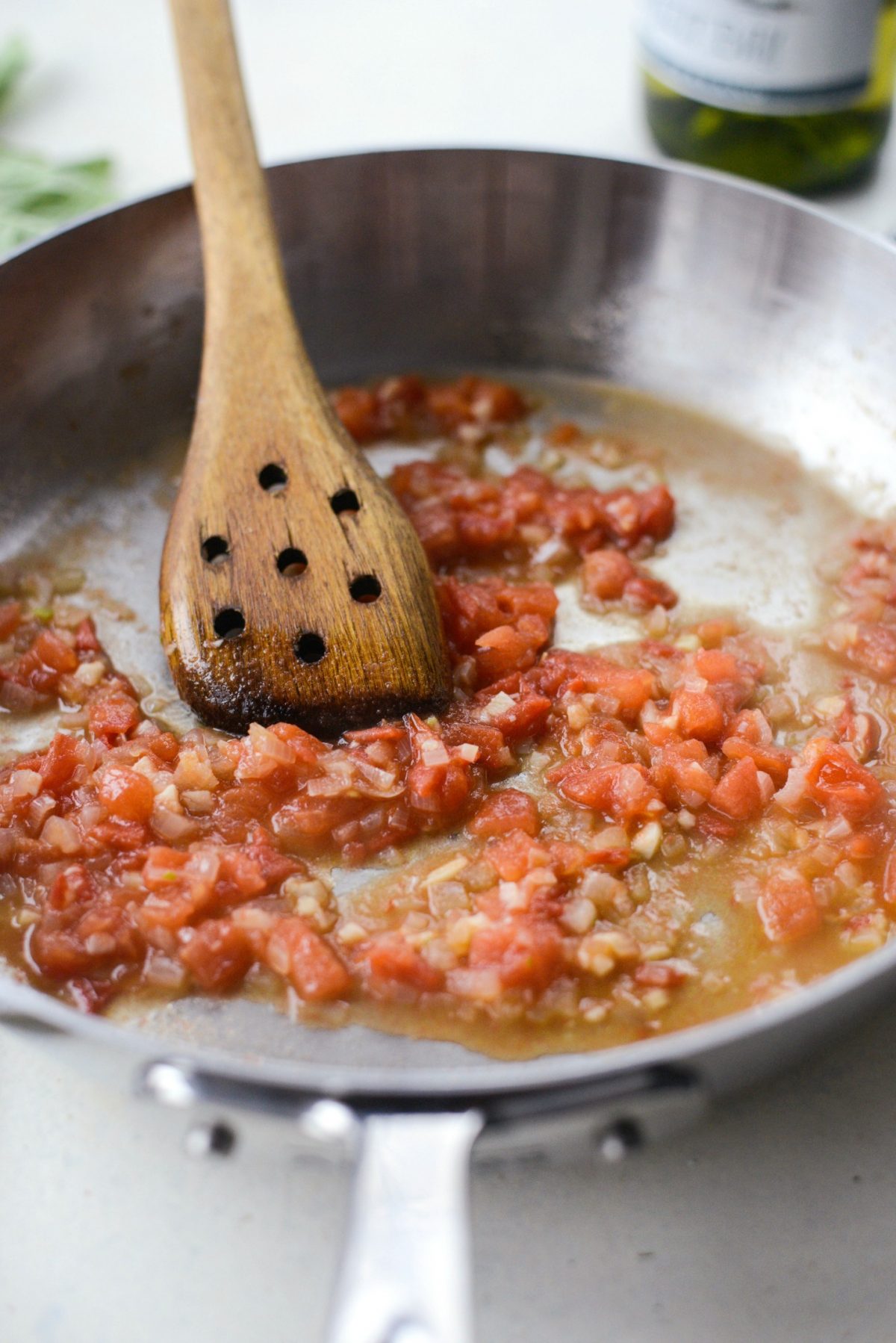 De-glaze by pouring in 1/4 cup dry white wine, scraping the bottom of the pan. Simmer until most of the wine has cooked out, about 2 to 3 minutes.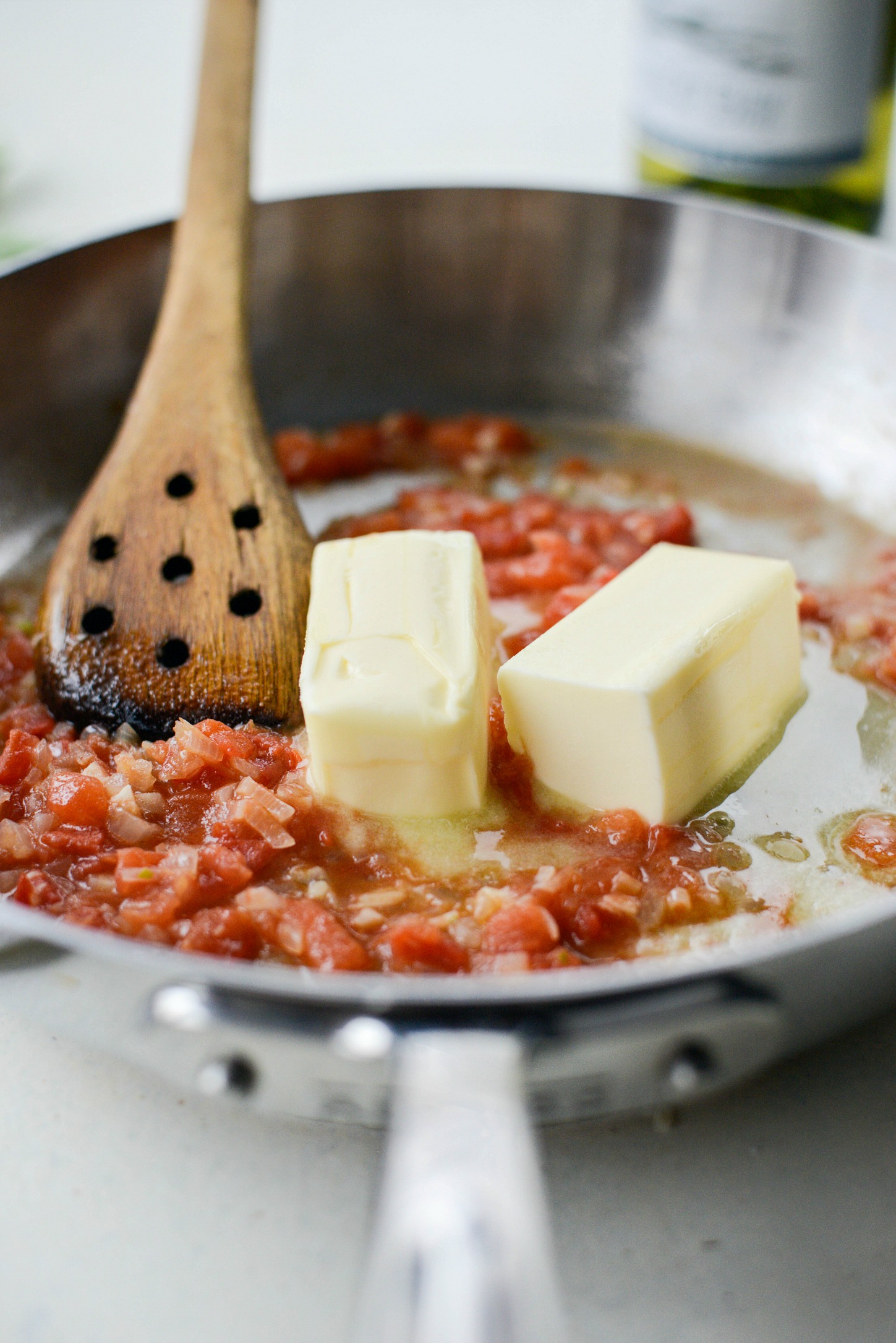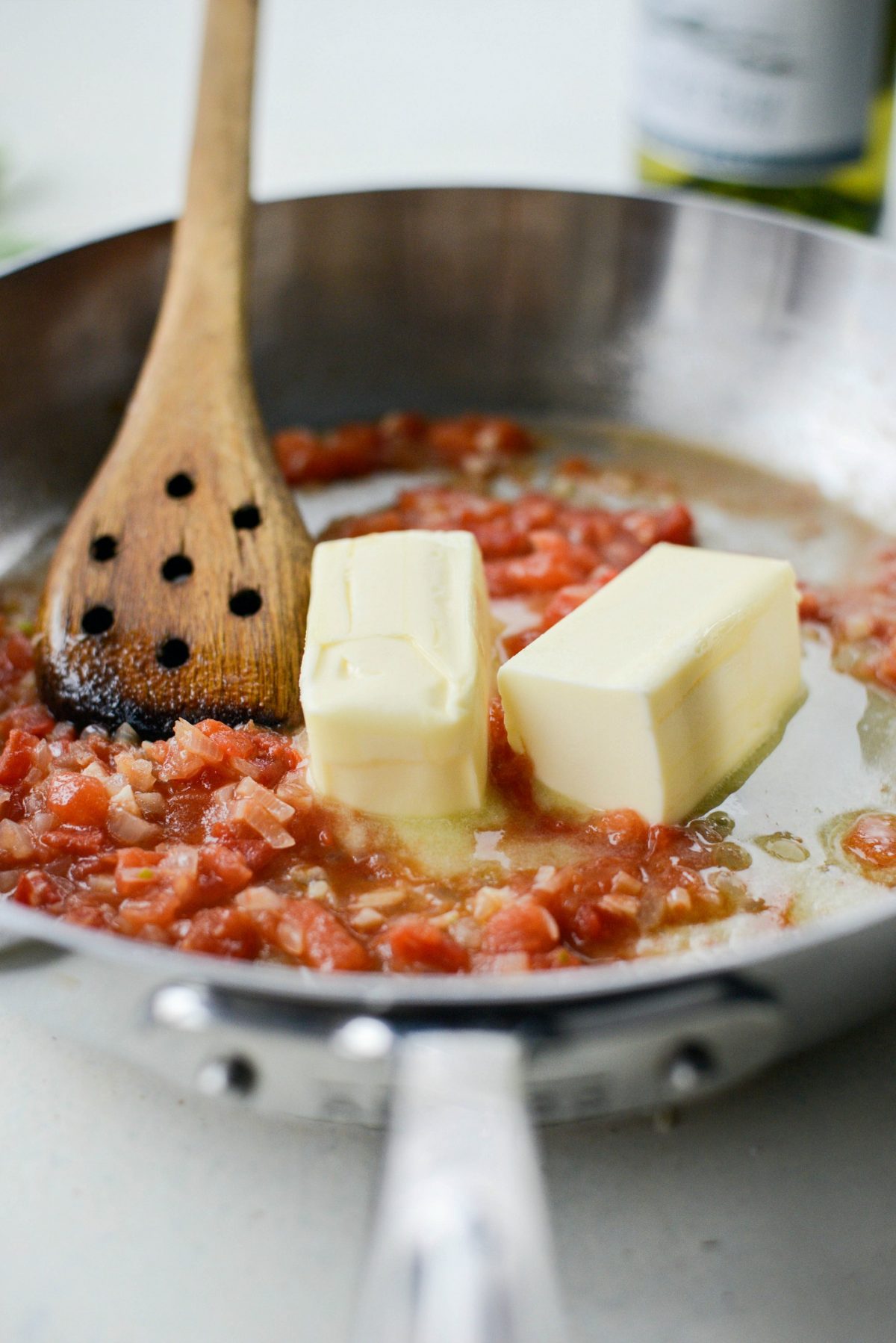 Melt in the 6 tablespoons of unsalted butter and pour in 1 cup heavy cream. Then reduce the heat to low and follow the package directions to cook the pasta. If the sauce becomes too thick, you can add a few splashes of pasta water later, to thin it out.
Note: Never have the cooked pasta wait on the sauce, ALWAYS have the sauce waiting for the cooked pasta to be added.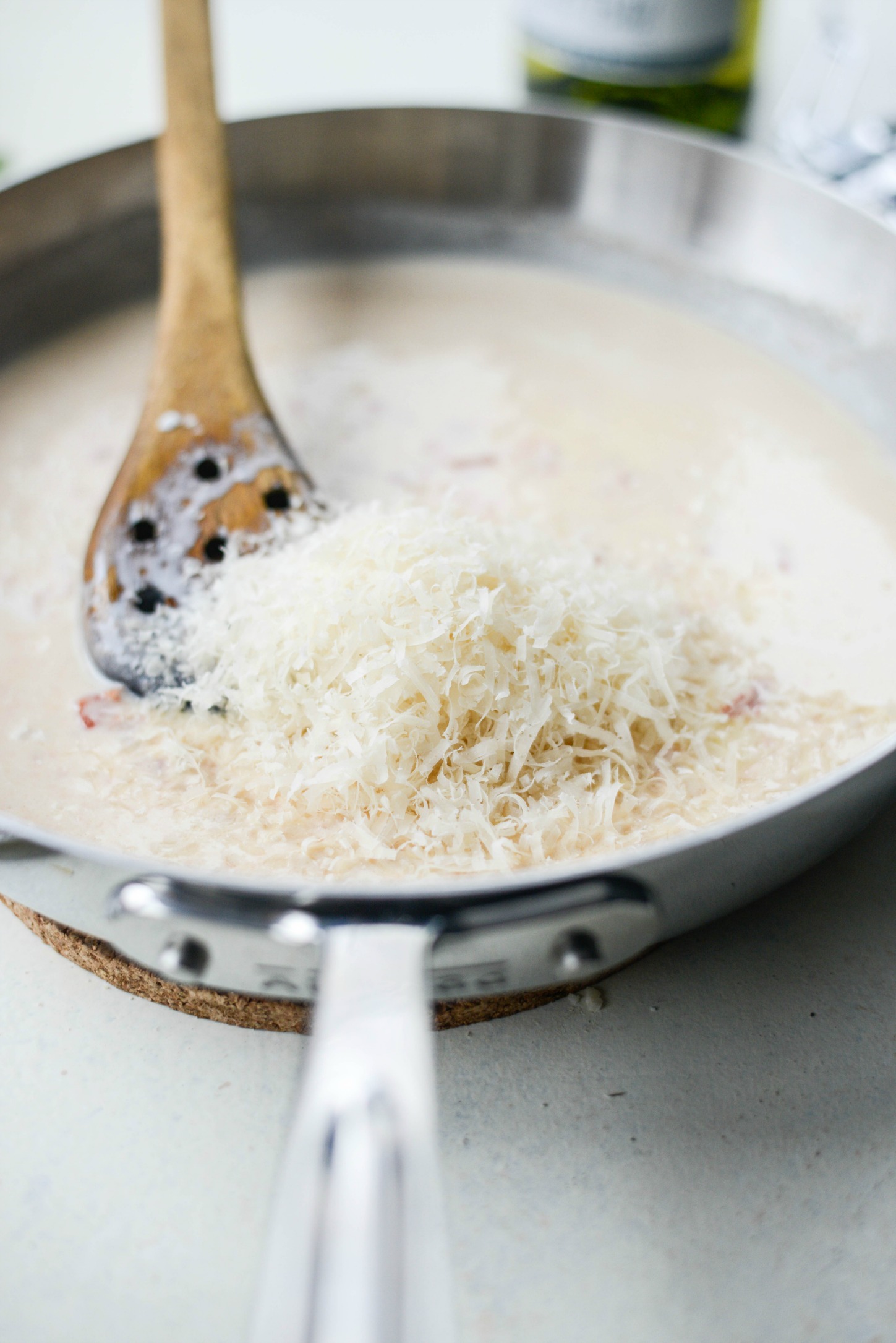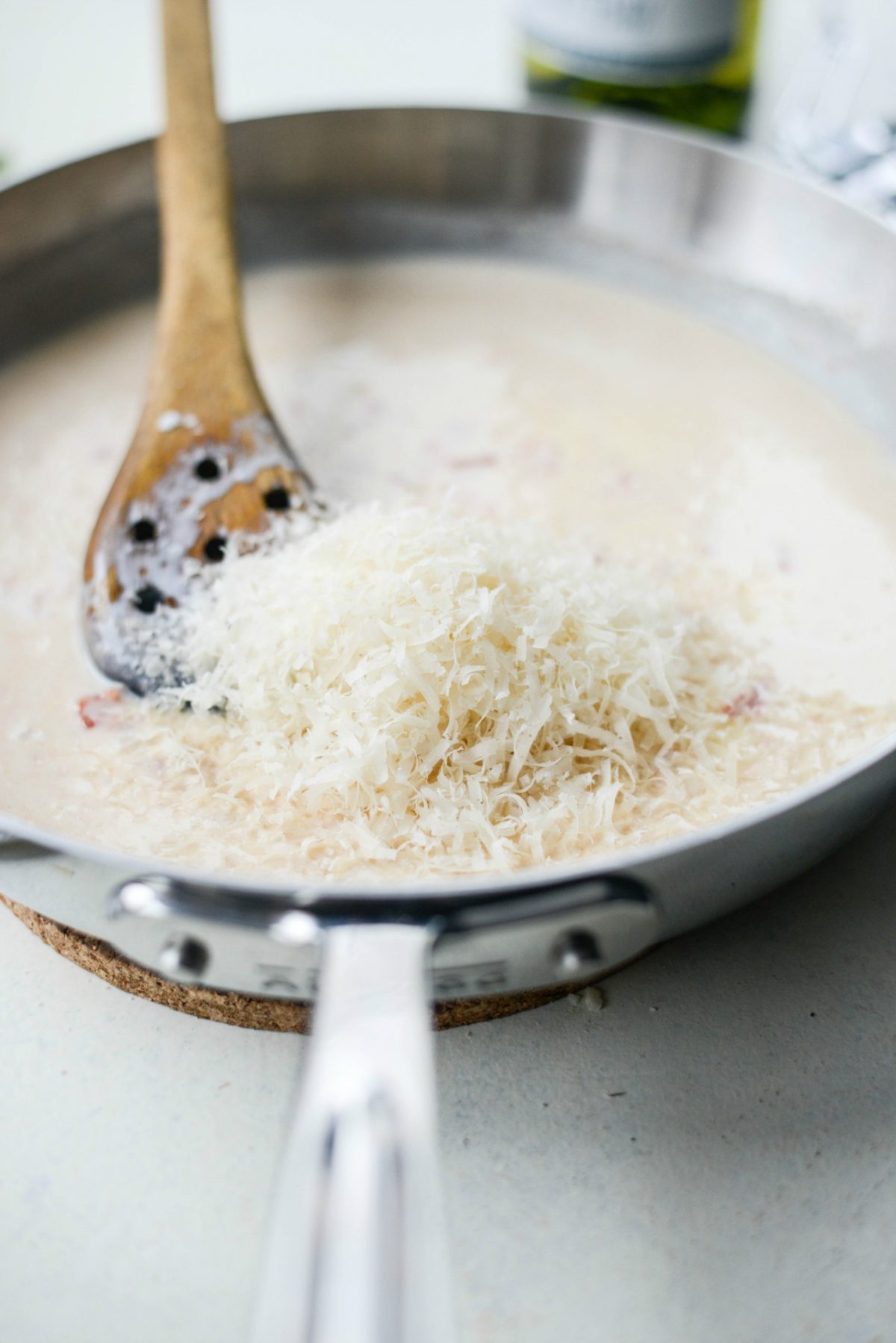 Stir in 1 cup freshly grated Parmesan cheese. Taste the sauce and add salt and pepper as needed, keeping in mind you will be serving the Christmas fettuccine with more grated Parmesan.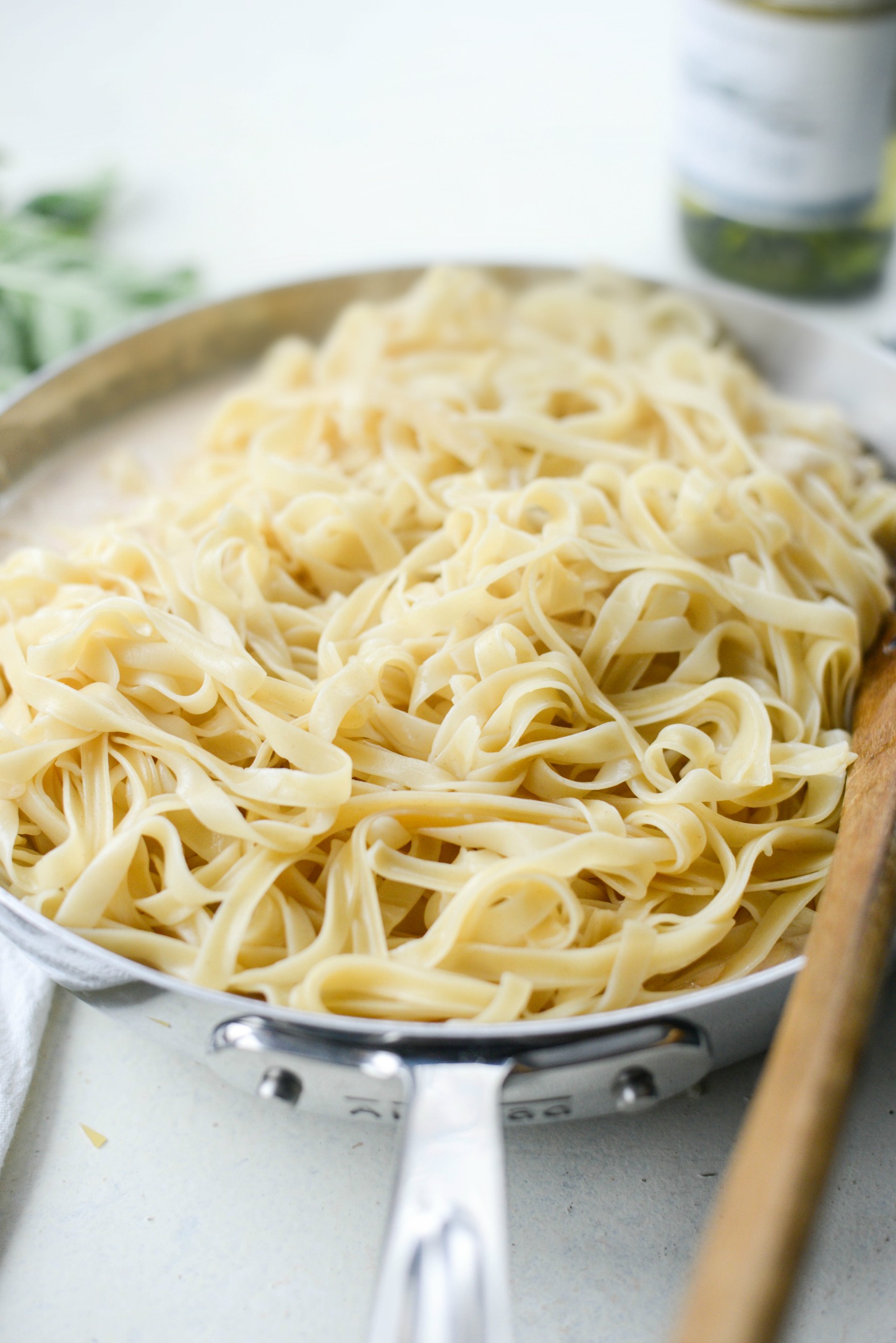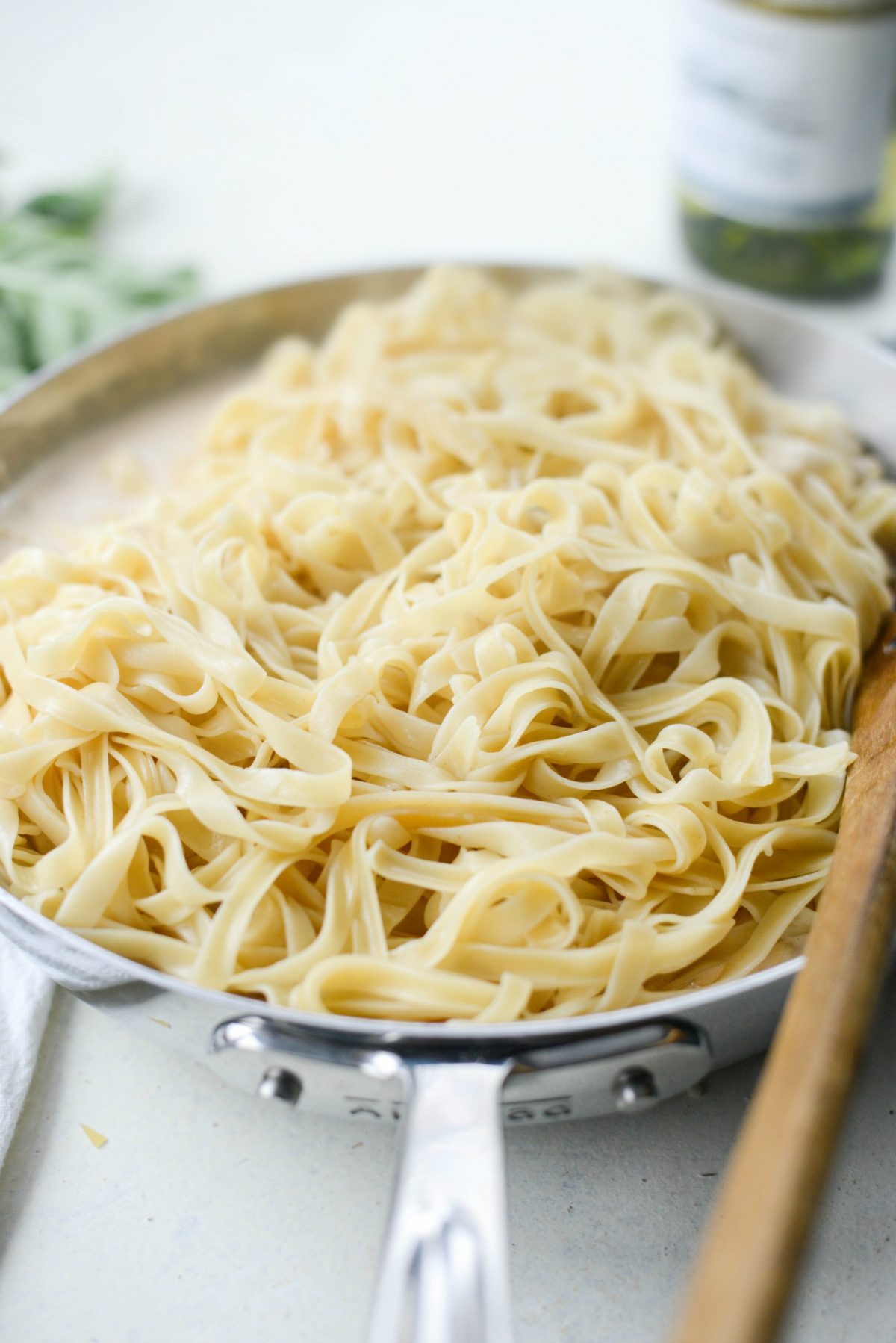 Lastly, add in the cooked fettuccine noodles (and pasta water, if needed to thin out).
Gently toss to combine and immediately serve in pasta bowls with minced fresh parsley and torn basil leaves.
Finally, it's time to eat!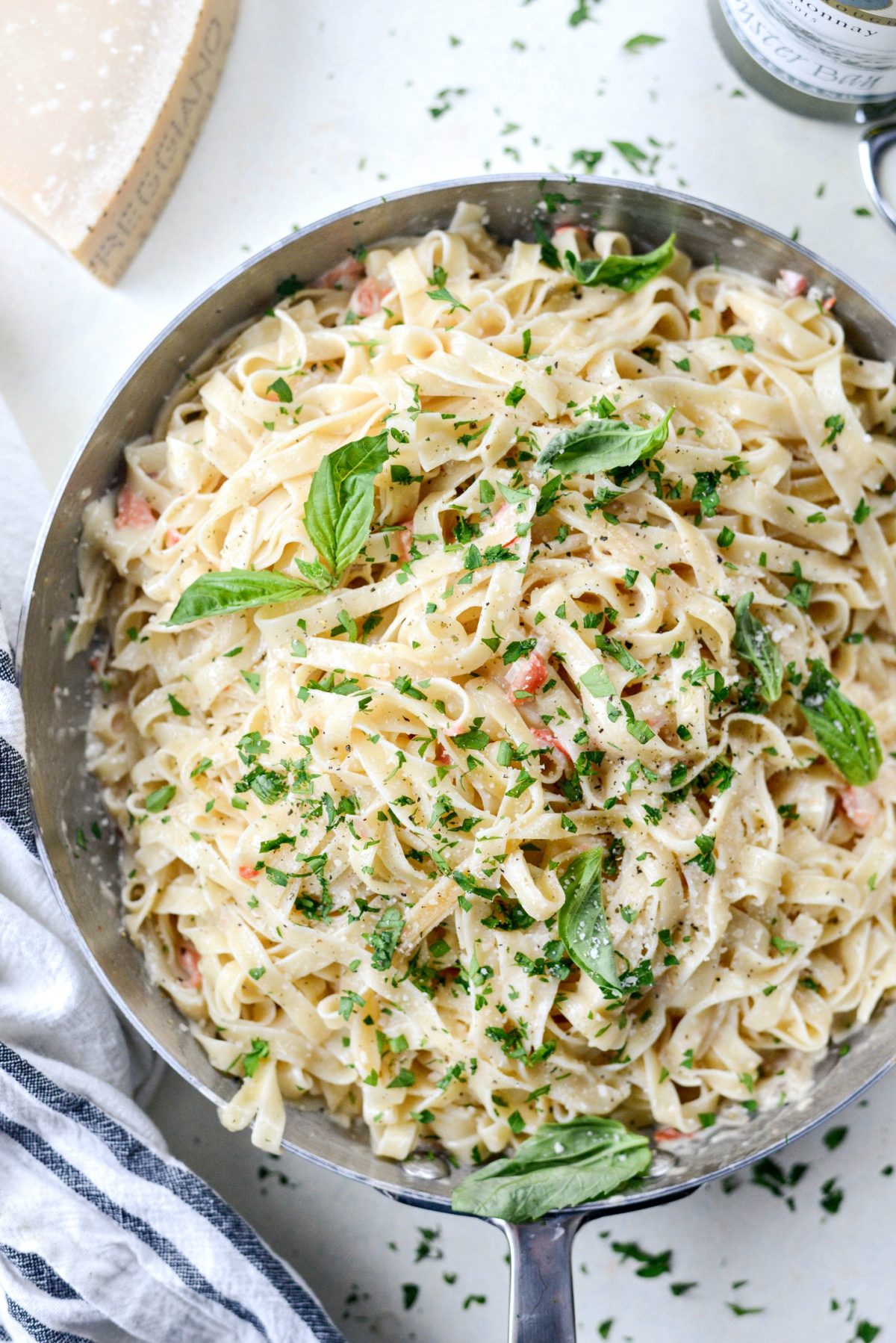 Serve as is or for more of a complete meal, top with sliced chicken (like the chicken from this recipe).
Because this Christmas fettuccine is perfect with white wine, serve with a glass of sauvignon blanc or chardonnay.
Happy Christmas!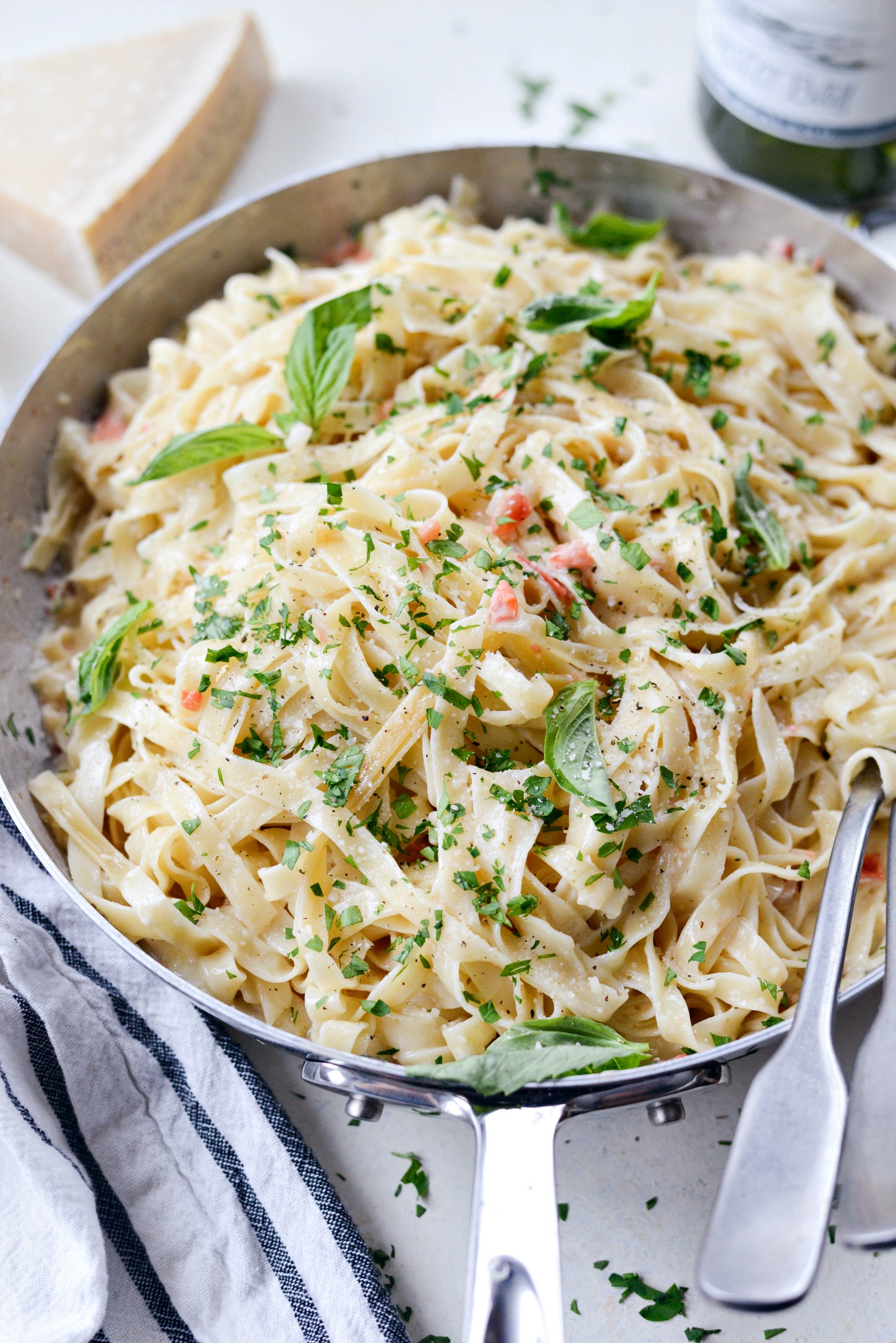 Enjoy! And if you give this Christmas Fettuccine recipe a try, let me know! Snap a photo and tag me on twitter or instagram!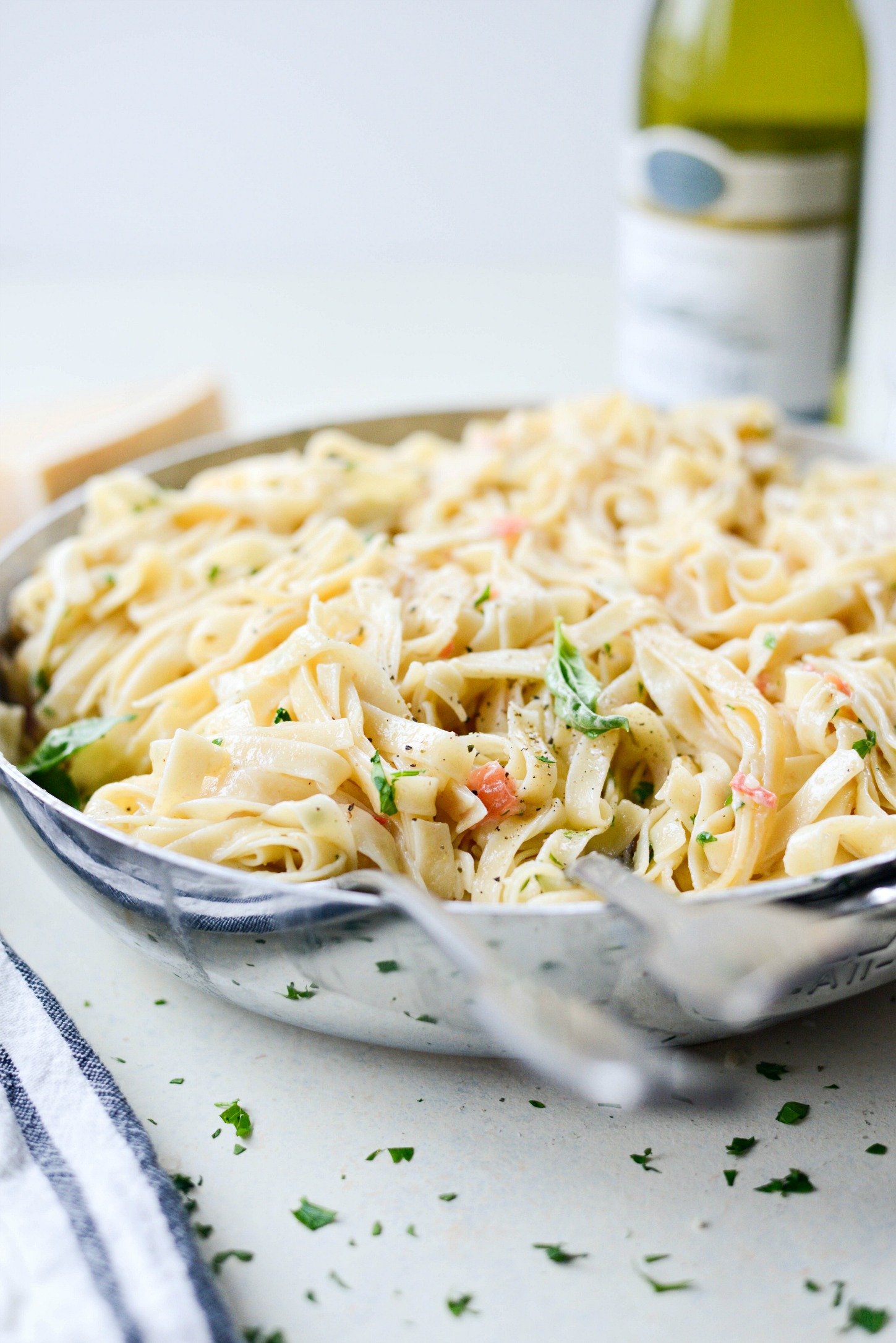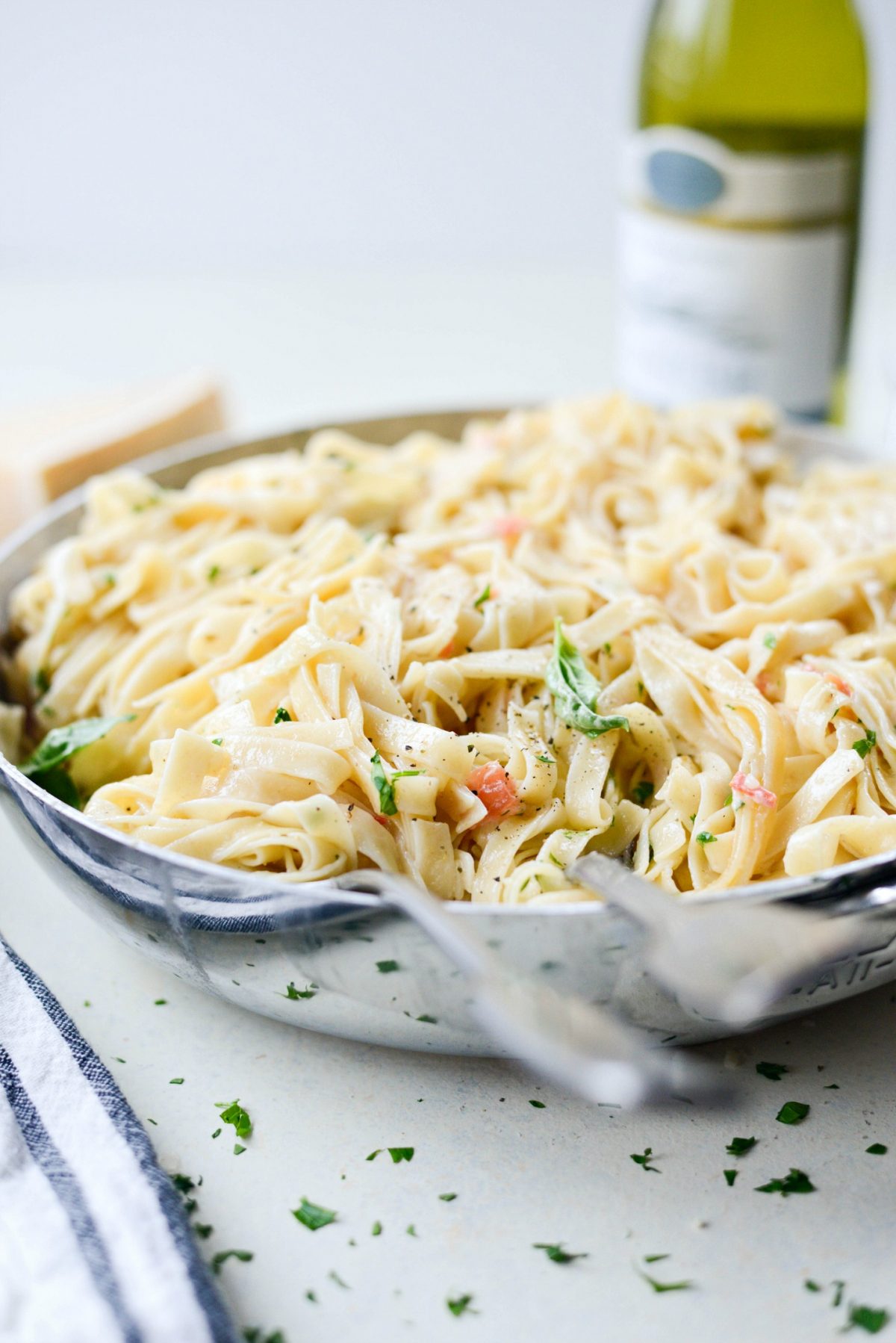 This post may contain affiliate links.
Buy the Cookbook: Simply Scratch : 120 Wholesome Homemade Recipes Made Easy Now available on Amazon »
THANK YOU in advance for your support!