In this super simple Tomato Basil Soup; onion, garlic and fire-roasted tomatoes are blended with fresh basil, thyme and broth for a deliciously classic and cozy soup. Serve ladles of piping hot soup in bowls with freshly grated parmesan on top and with a few crackers on the side. Yum!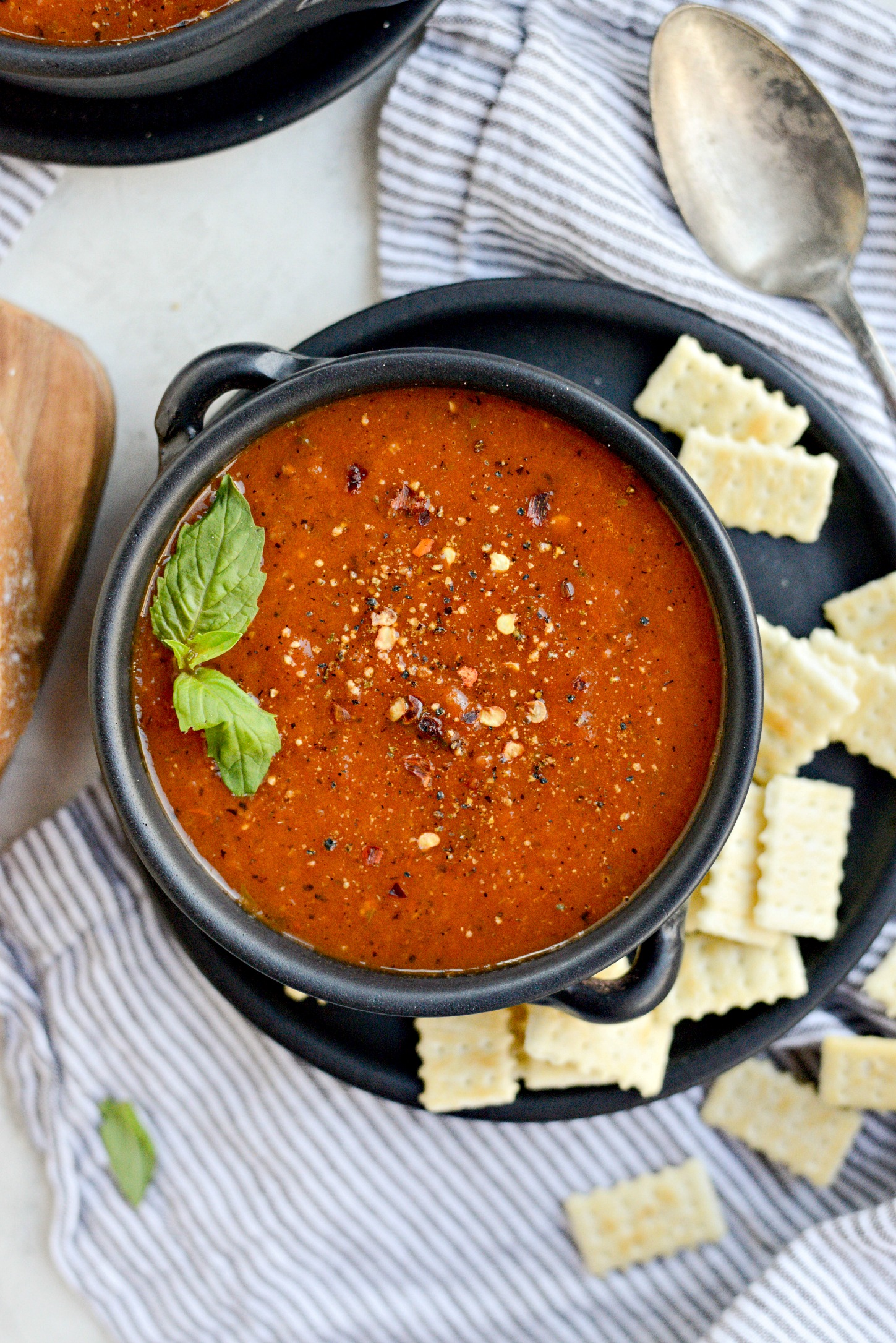 Tomato soup wasn't ever a soup that I craved. As a kid if the soup wasn't bean and bacon or chicken noodle, I wasn't having it. Now I'm totally on team tomato soup. Call it growing up or call it knowing canned soup is gross and realizing homemade tomato soup reigns supreme. I love to dip my grilled cheese sandwich into a hot bowl. Or sometimes I keep it simple and just crush and mix in a few mini crackers. Weird? Maybe. Try it with Parmesan gold fish. Epic.
I tend to over-shop at the grocery store, I know shocker, so every once and again I do a sweep of my pantry and try to use up what I have too much of. Apparently in 2017 I stocked up on a whole bunch of fire-roasted whole tomatoes. Since I desperately needed the space for some cartons of broth, I instantly had soup on the brain. But then again, when don't I have soup on the brain?
It's crazy how easy this soup is.
Using cans of [organic] fire-roasted tomatoes means I use less dishes, clean out my pantry 😉 and this soup can be on the table in an hour or less. Get your grilled cheese ready, I'm thinking you're going to want to make this soup asap because it's meant for dipping!
To make This Simple Tomato Basil Soup You Will Need:
olive oil
onion
garlic
fresh thyme
fire-roasted plum tomatoes
tomato paste
basil
low-sodium chicken broth
kosher salt
freshly ground black pepper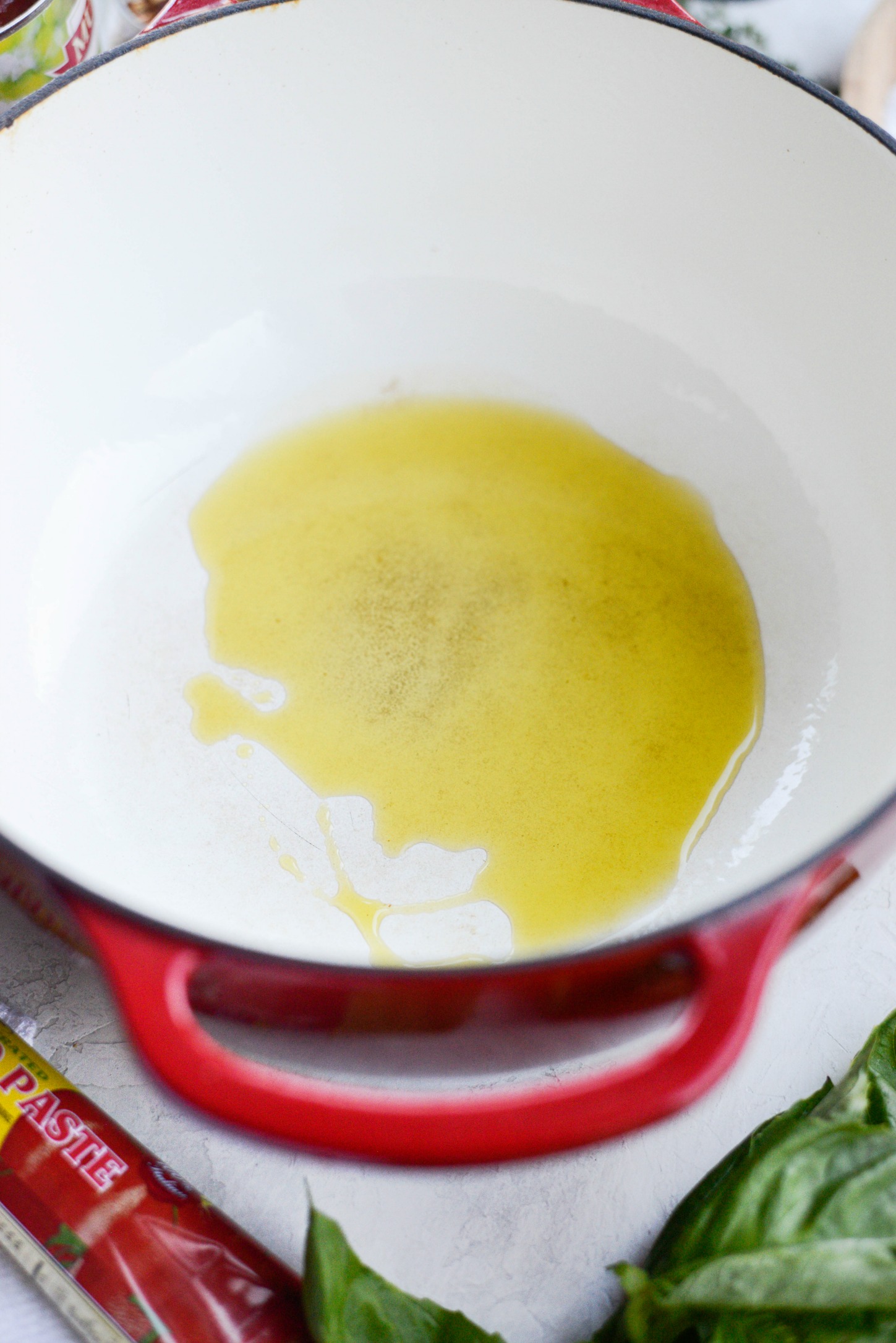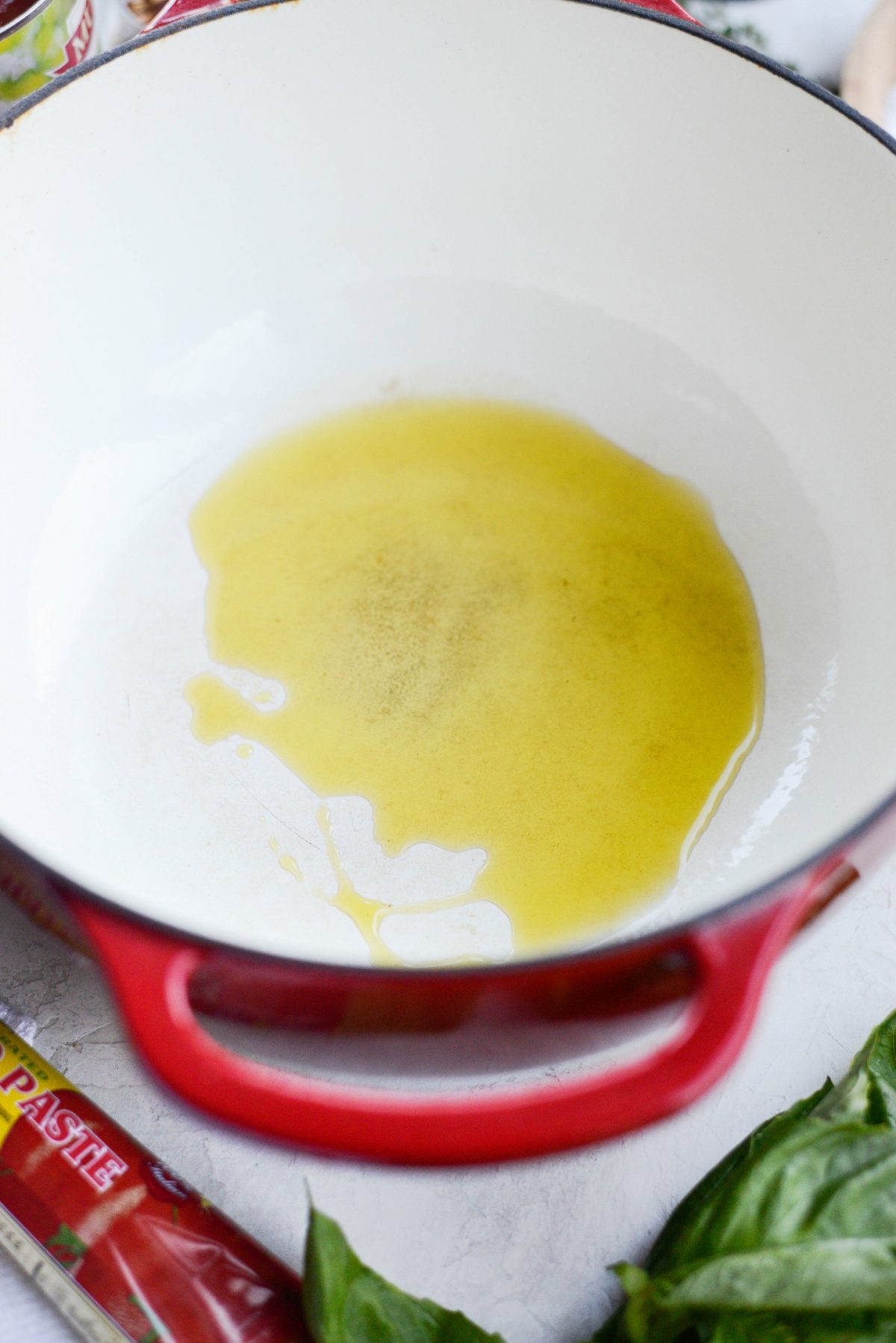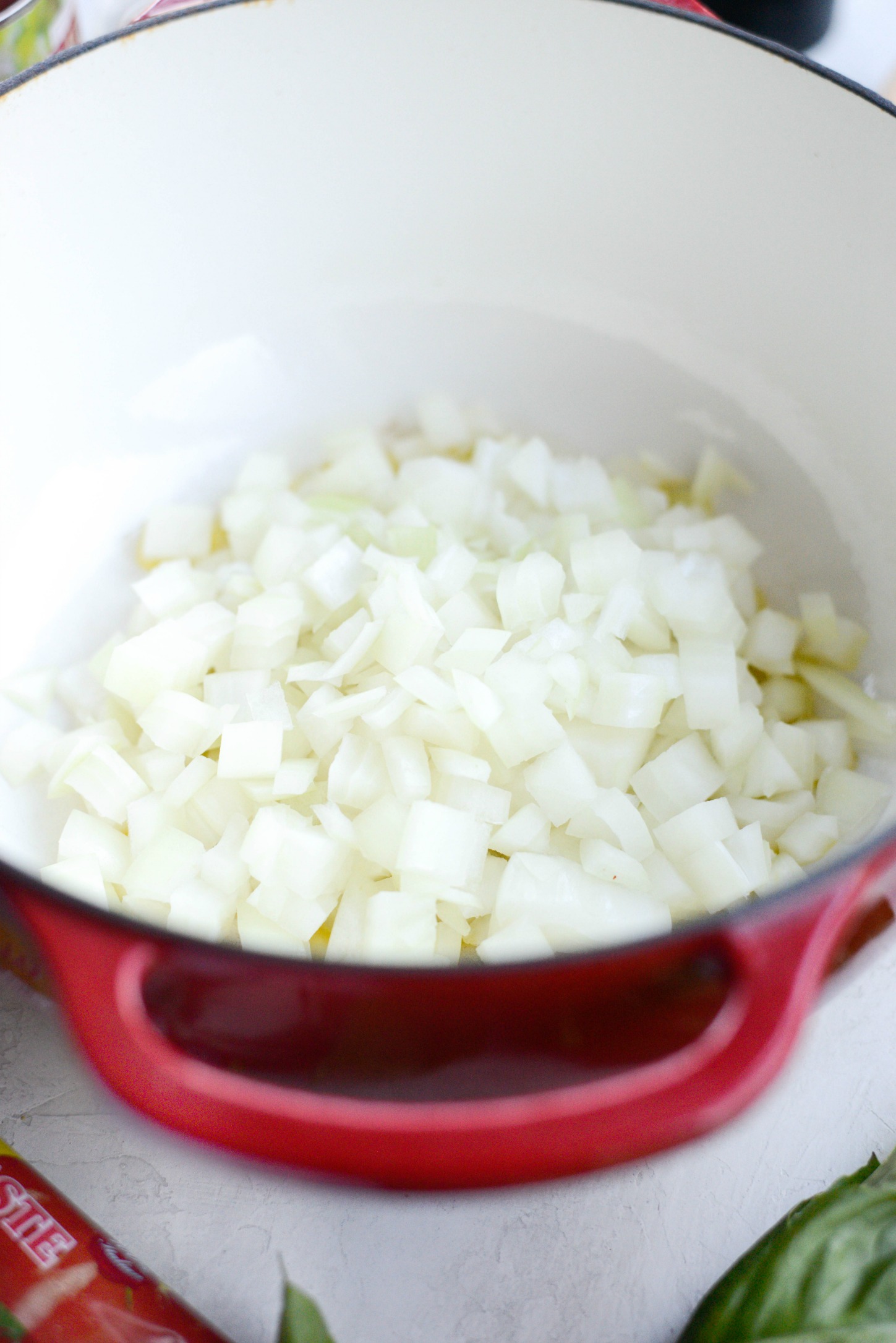 First, heat a tablespoon of olive oil in a large Dutch oven over medium to medium-low heat. Then add in the onion and a pinch of kosher salt. Next, cover and cook until the onions are soft and translucent, stirring occasionally. About 5 to 8 minutes.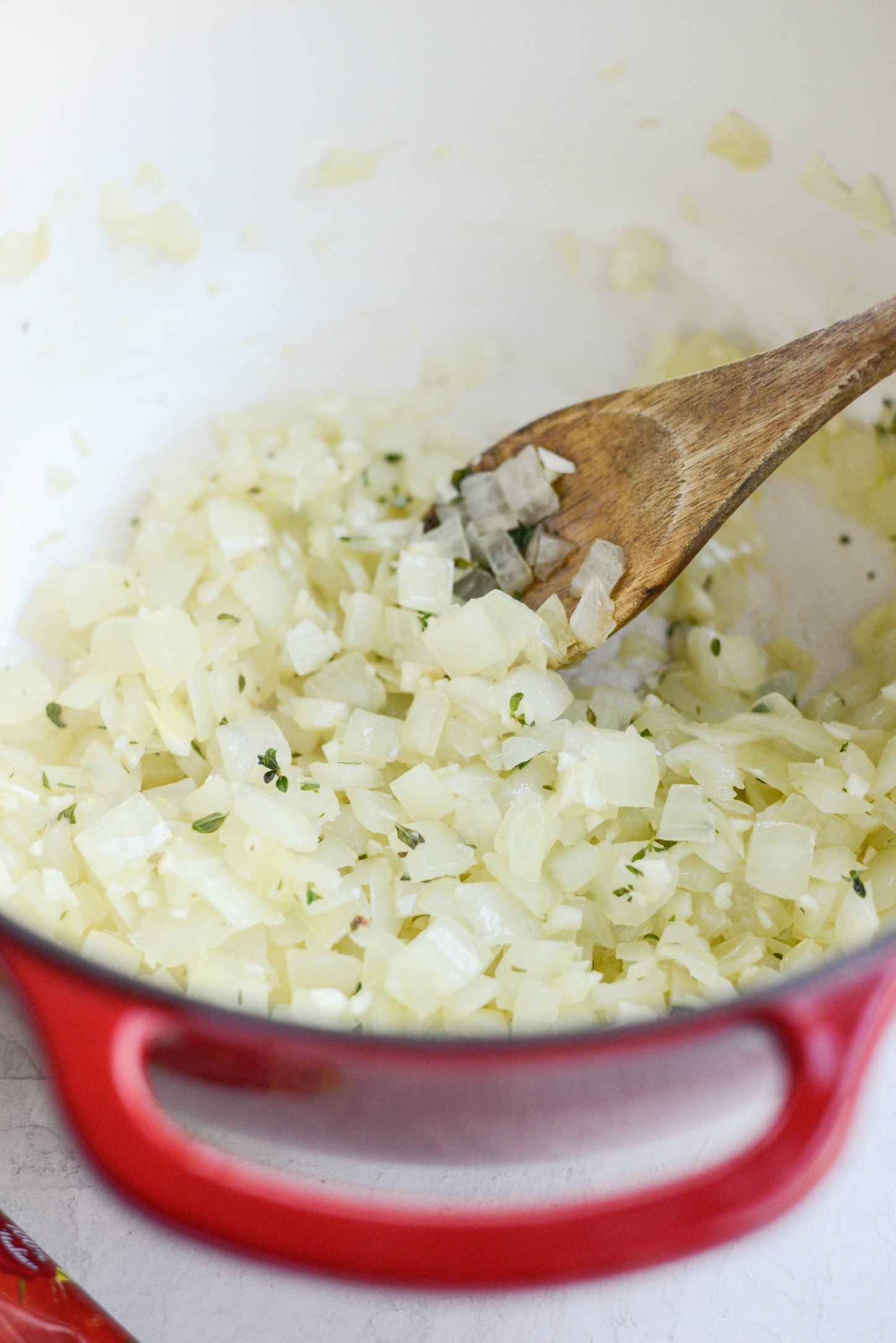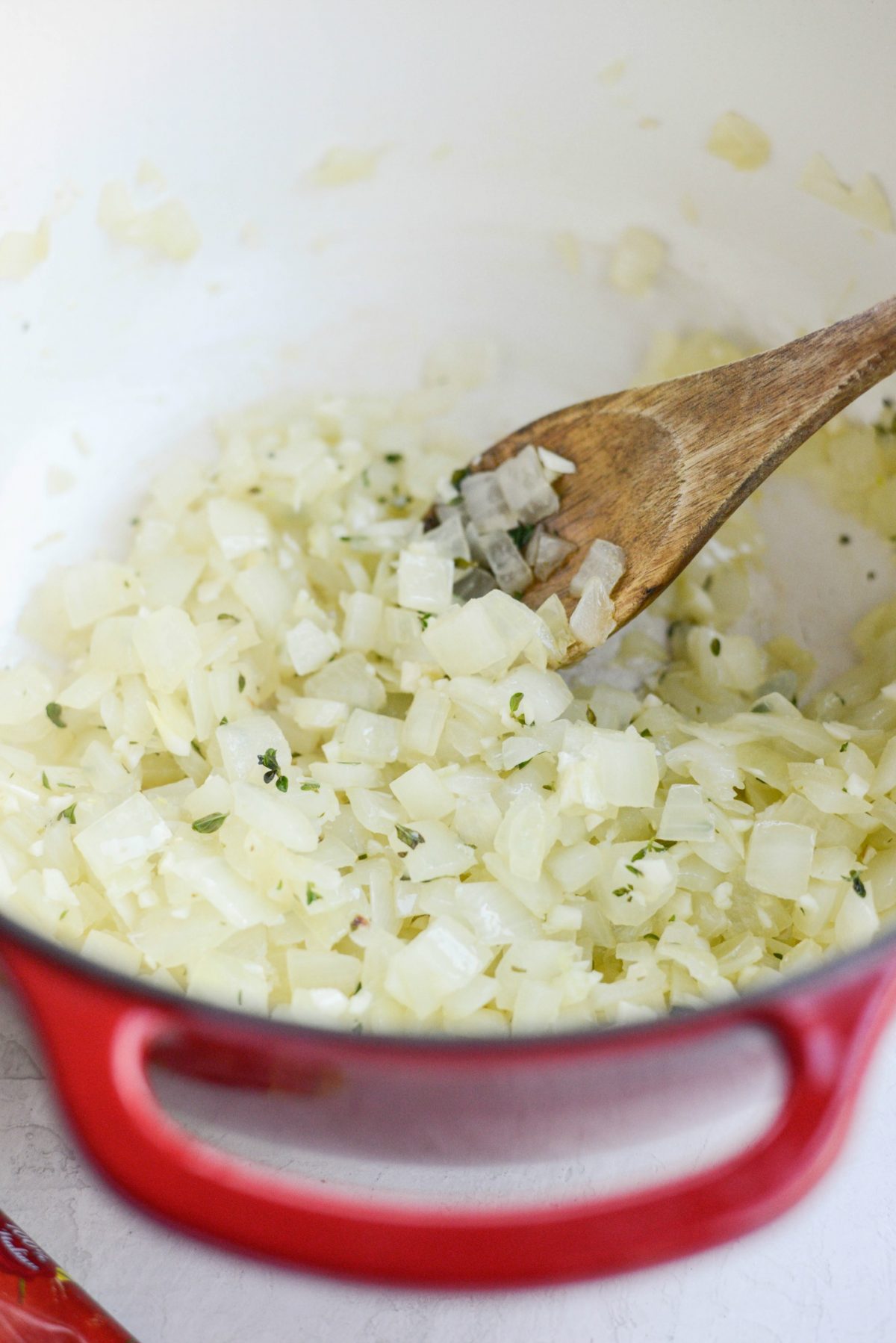 Then once the onions are soft, add in the 6 cloves of minced fresh garlic and a teaspoon of chopped fresh thyme. Stir and cook for an additional 1 to 2 minutes.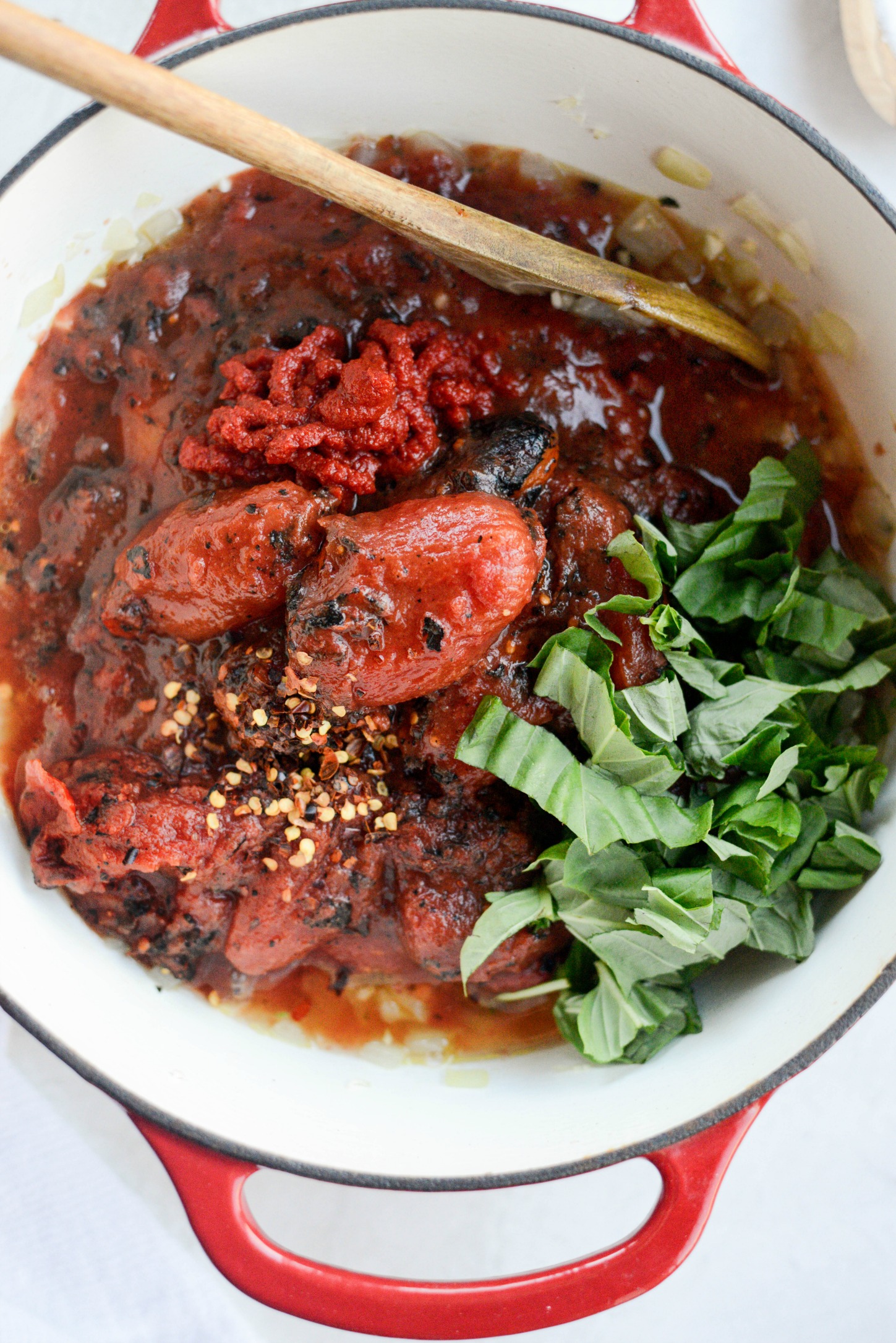 Next add in 2 tablespoons tomato paste, 1/2 teaspoon of both sugar and red pepper flakes, both cans of fire-roasted whole tomatoes and their liquids. I add a little water to each can and swirl it around to gather up any tomato-goodness that has clung to the insides. Next, use a wooden spoon to break up the tomatoes and pour in 4 cups of low-sodium chicken or vegetable broth.
Then stir, cover and simmer on medium heat for 35 minutes.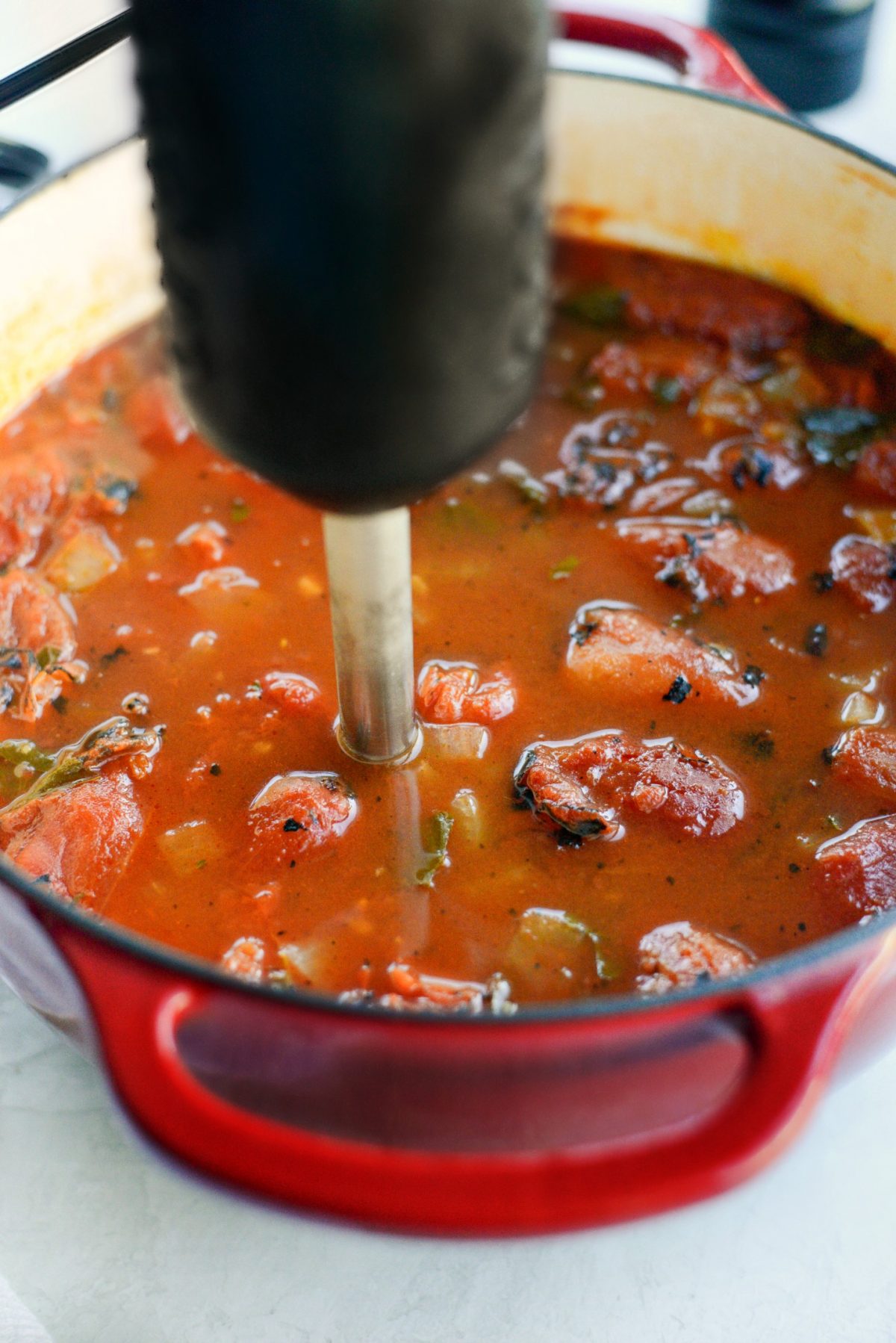 Next, use an immersion blender to puree the soup right in the pot until smooth.
Gorgeous!
Lastly, season with kosher salt and black pepper to taste. For me I thought it needed 2-1/2 teaspoons (this makes a big pot of soup) but taste and season to your preference.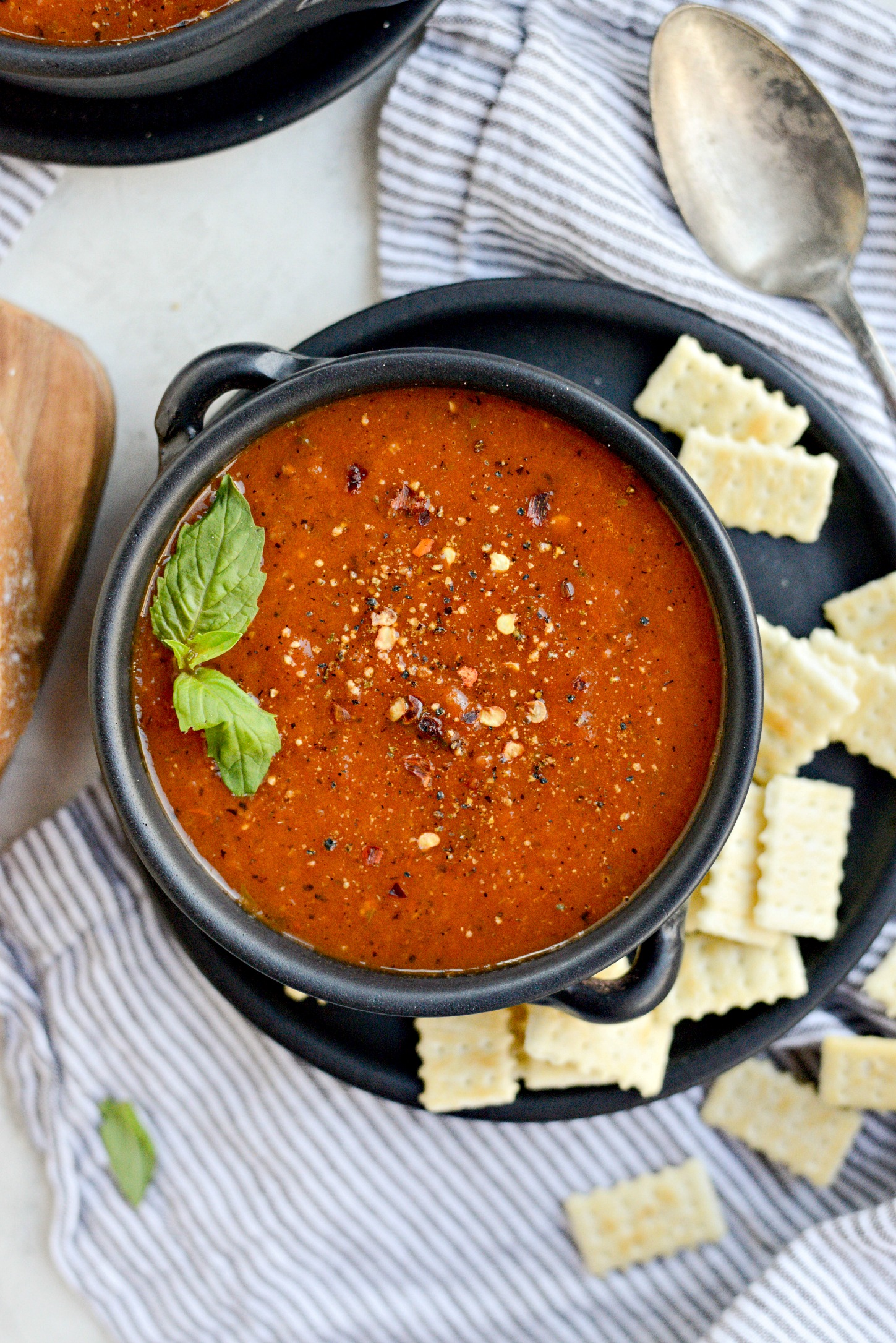 And then finally, ladle the piping hot tomato basil soup into bowls. SO GOOD!
Haileigh is my fellow tomato soup lover so I slid her a bowl to try, after she got home from school. After we both topped our bowls with more black pepper and some freshly grated Parmesan cheese, we added a few of those cute, little crackers to our bowls. FYI, Haileigh gives it two thumbs up and is even taking some to school for lunch tomorrow.
This tomato basil soup is ridiculously easy. And because the roasted tomatoes add so much robust flavor this soup ends up being soul warming. While the red pepper flakes add a little heat while the fresh basil comes in and then adds a bright floral note that only basil can.
Enjoy! And if you give this Tomato Basil Soup recipe a try, let me know! Snap a photo and tag me on twitter or instagram!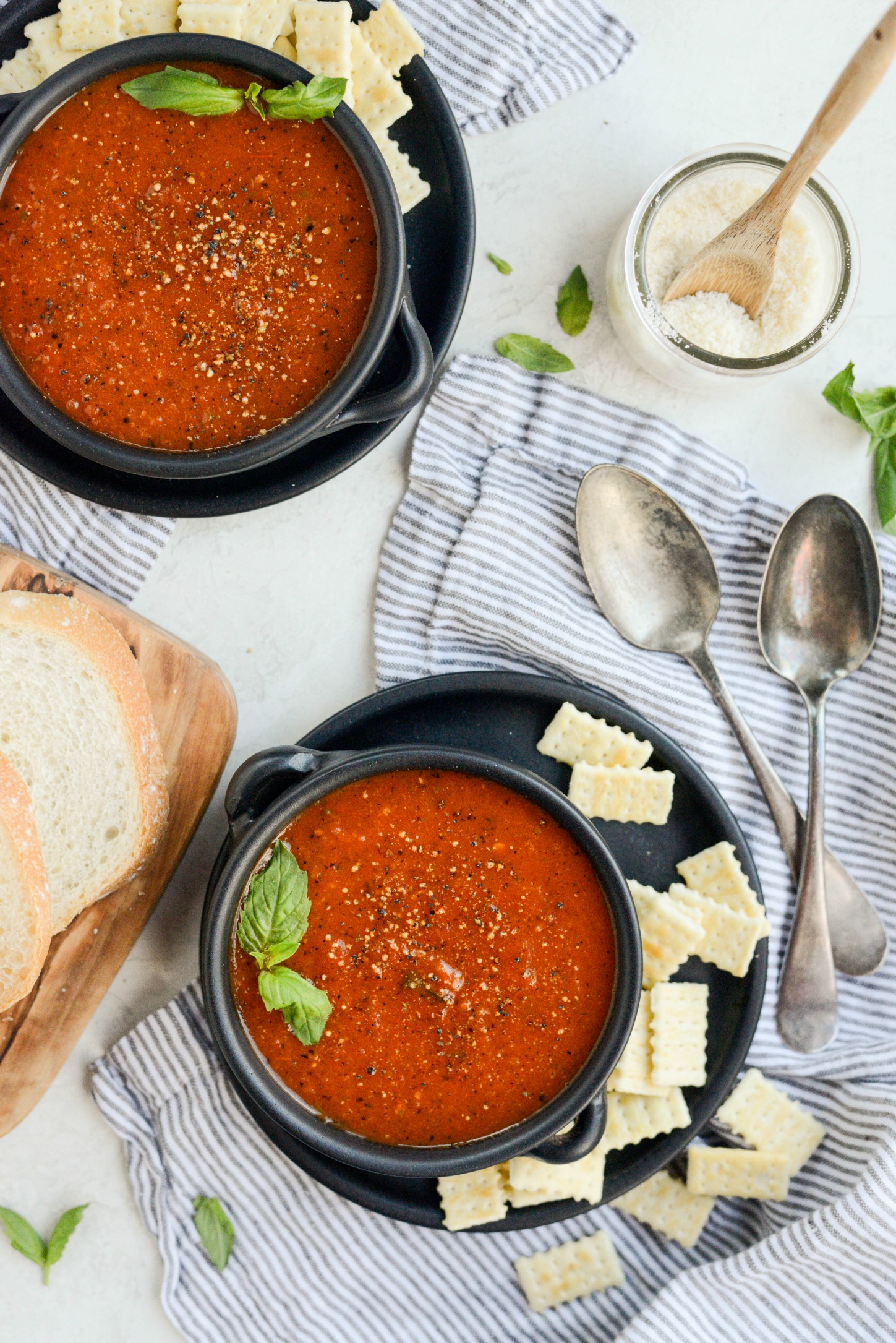 This post may contain affiliate links.
Buy the Cookbook: Simply Scratch : 120 Wholesome Homemade Recipes Made Easy Now available on Amazon »
THANK YOU in advance for your support!