A bowl of creamy Roasted Tomato Pumpkin Soup will keep you warm and full during these chilly fall and winter months. Fresh Roma tomatoes are roasted and pureed with pumpkin puree, shallots, garlic, fresh thyme and a few dried spices. Drizzle with a little olive oil and heavy cream and then top with fresh basil. Serve with a grilled cheese sandwich. Naturally.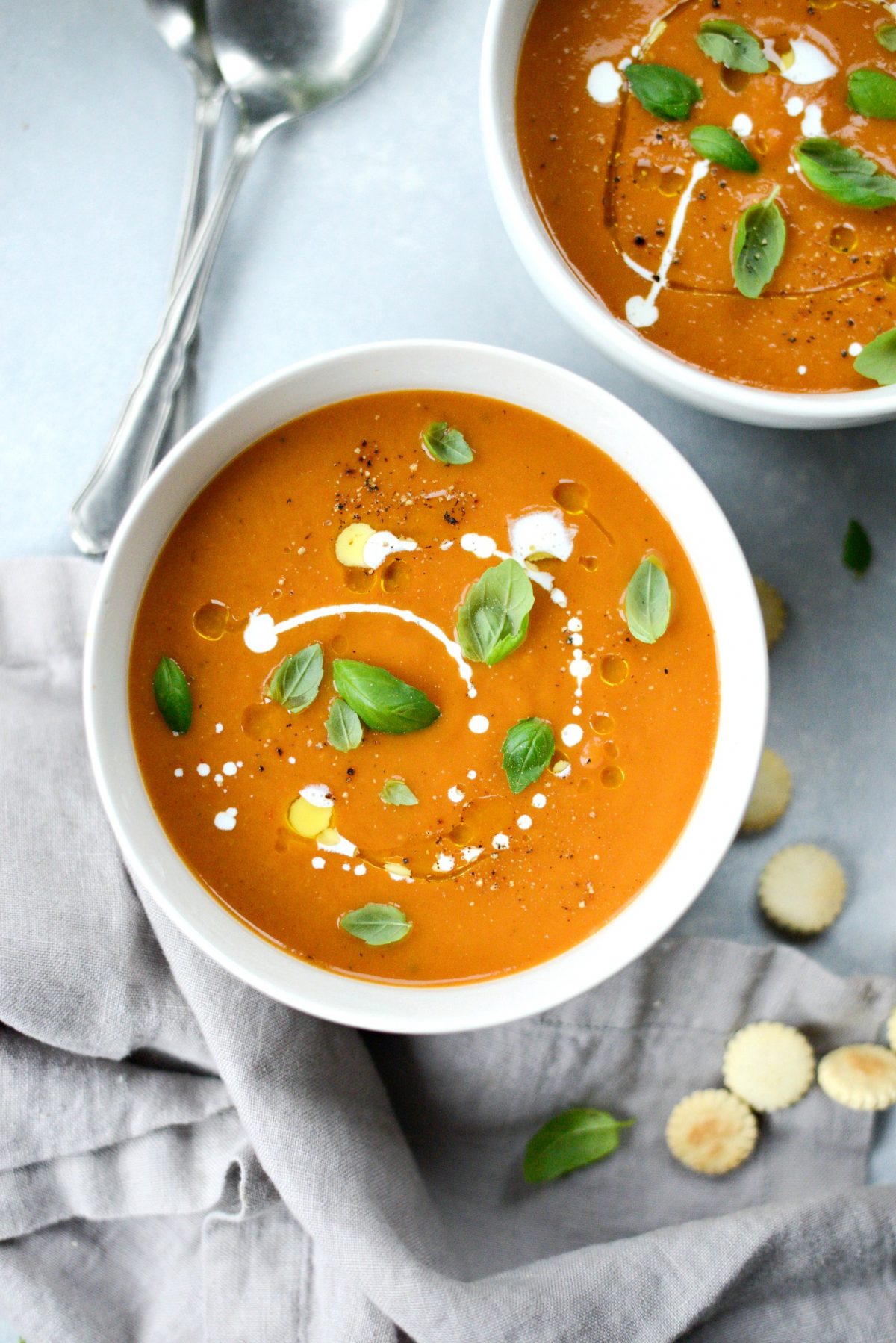 Last Tuesday it was raining all day and the sky was overcast and so dark that it was impossible to decently shoot a recipe. Instead of doing what I really wanted to do on a raining day [read: curl up on the couch and read] I organized my spice drawer.
So lame but it so desperately needed to be done.
In the last year, I've saved quite a few empty spice jars with intentions to transfer my homemade spice blends from their small tin, ball jar or [cringe] plastic re-sealable bag to one of these old spice jars. So I spent the afternoon peeling labels, washing, drying and even replenishing some of my spice blends. Not to mention that I weeded out expired spices, combined duplicate jars of things like cinnamon, basil and cumin and made a list of spices that I'm getting low on [hence why I have all these duplicates– I never check before grocery shopping!]. I feel so organized.
Then I put some of these spices to good use. In soup! It's officially soup season and I'm already deeming fall 2017 to be all about soup. In fact I'm thinking of starting a "Soup of the Week" series because the list of soups I plan to make is a long one. The first tomato soup I've ever made [and liked!] I put it in my cookbook. Similar to this recipe, I roasted tomatoes and pureed them with broth and other ingredients.
But that's where the similarities end. In this roasted tomato soup, I blended the roasted tomatoes with pureed pumpkin for a late summer meets fall soup.
To make this roasted tomato pumpkin soup you will need:
roma tomatoes
a large shallot
cloves of garlic
fresh thyme
smoked paprika
cinnamon
sage
cayenne pepper
nutmeg
sugar
kosher salt
black pepper
fresh lemon juice
vegetable broth
The thyme in my garden was still going strong, so that's why I'm using fresh. Feel free to swap in fresh sage (1/2 teaspoon fresh sage) if you have it. If you're using fresh sage, add it with the thyme to the shallots.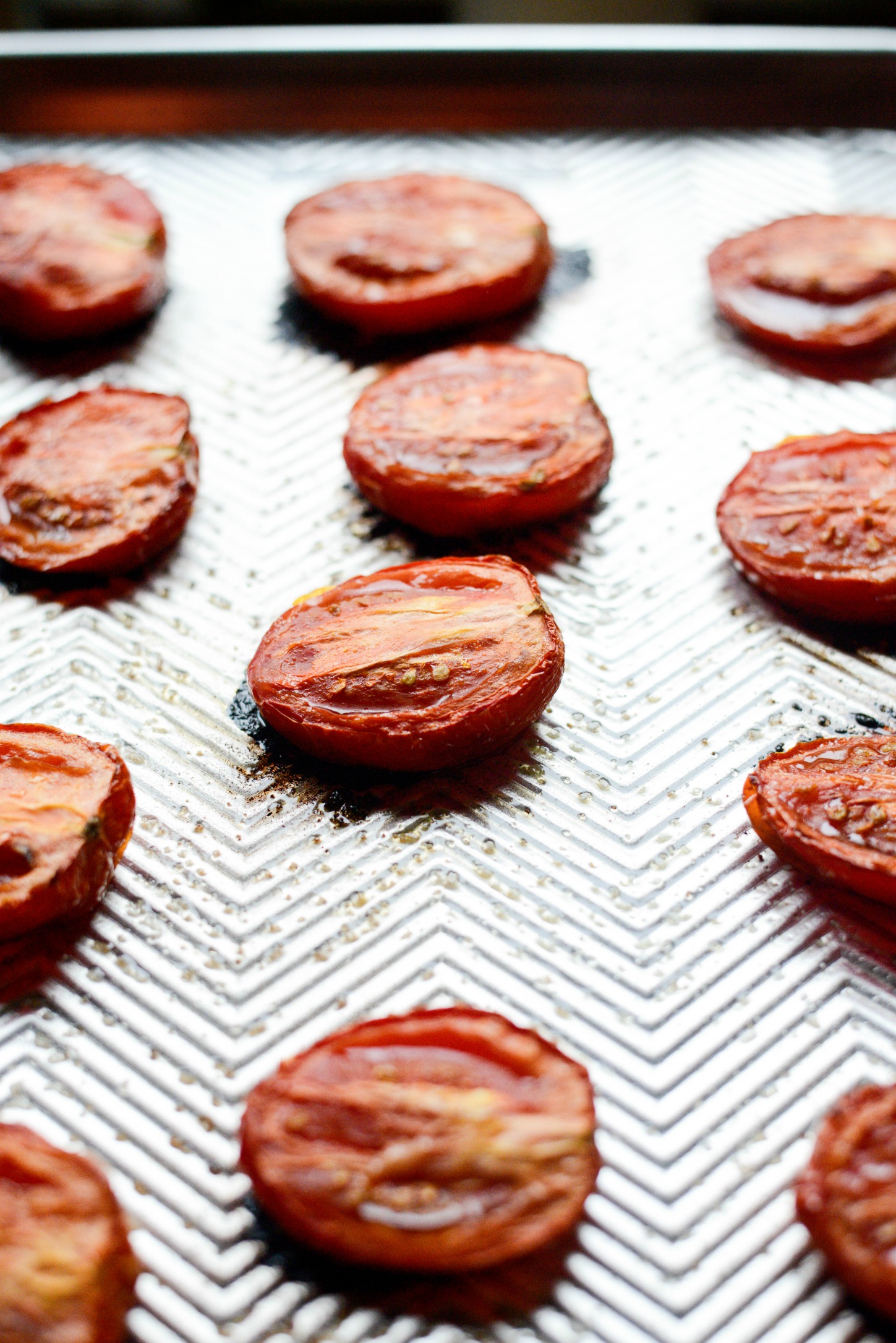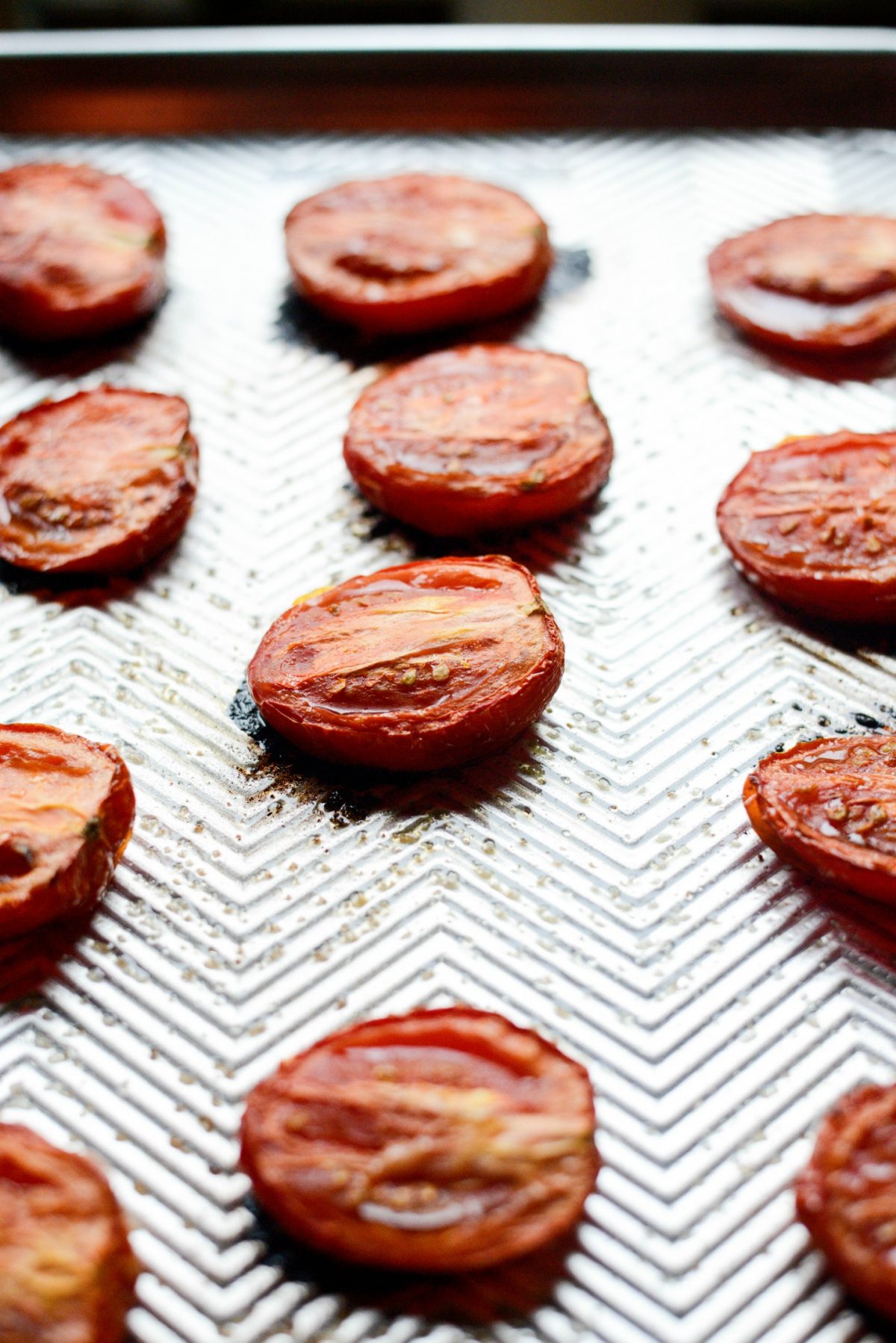 First things first – roasting tomatoes! Preheat your oven to 375°. Cut 1-1/2 pounds of Roma tomatoes in half horizontally and place them cut-side up onto a rimmed metal baking sheet [affiliate]. Drizzle with a little olive oil and sprinkle with a teaspoon of kosher salt. Roast on the middle rack of your oven for 50 to 60 minutes.
Meanwhile, sauté a large shallot in a few teaspoons of olive oil. Once soft and translucent, add in 2 minced cloves of garlic and a teaspoon of minced fresh thyme. Cook for 1 to 2 minutes.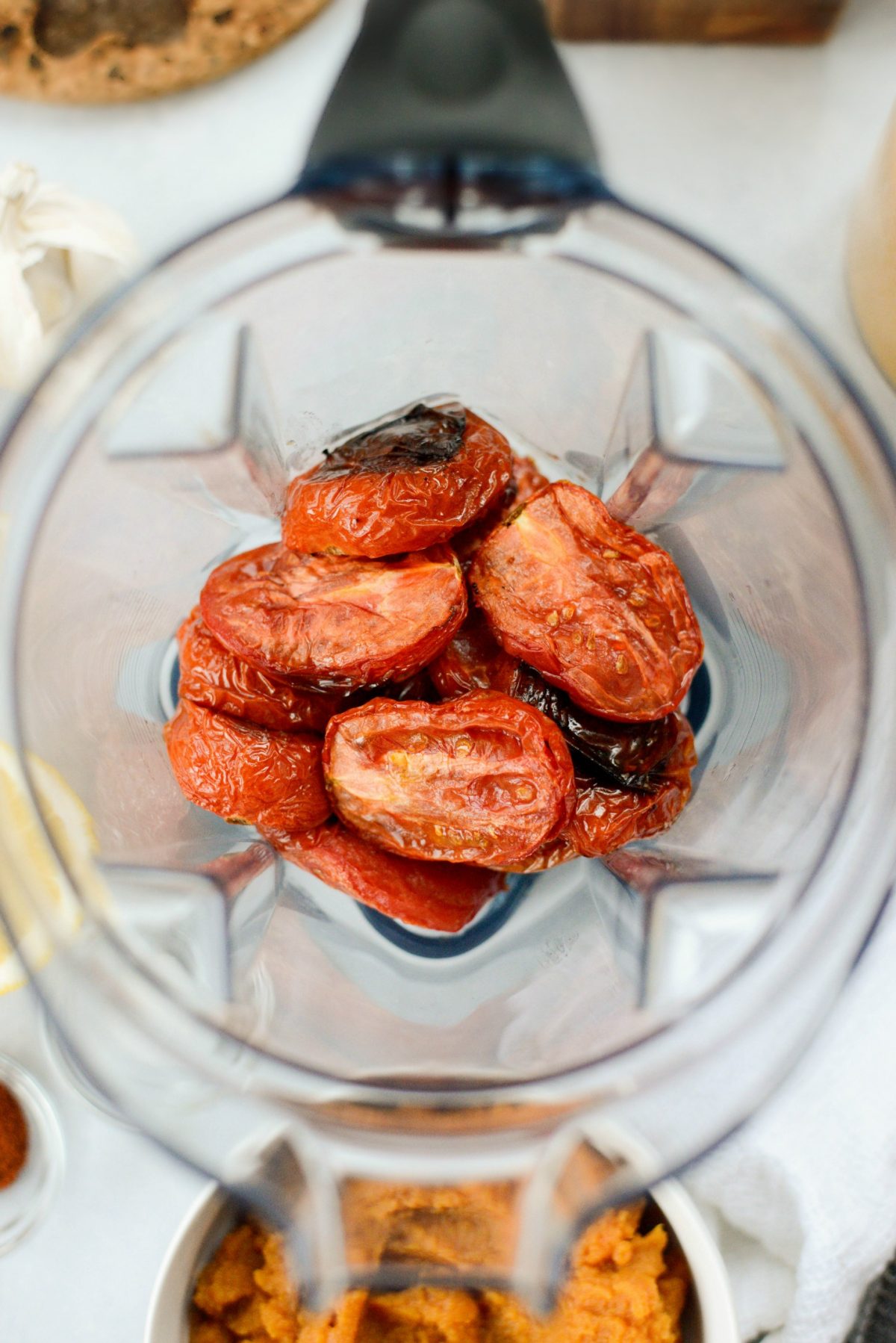 Transfer the roasted tomatoes to your blender or food processor.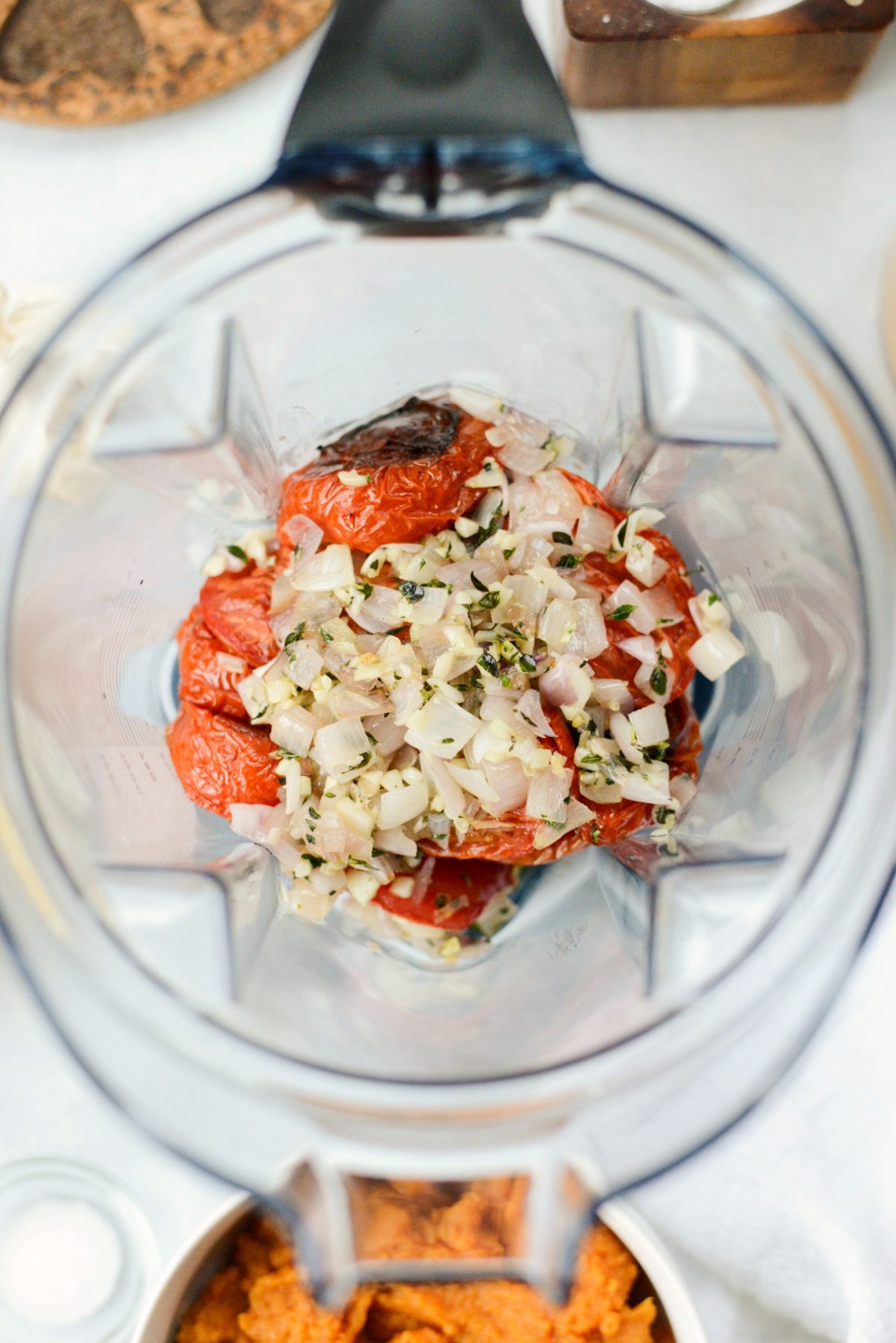 Then add in the shallots and garlic, sugar, salt, smoked paprika, cinnamon, sage, cayenne and freshly grated nutmeg.
Lastly add in 1-1/2 cups pumpkin puree and blend until smooth.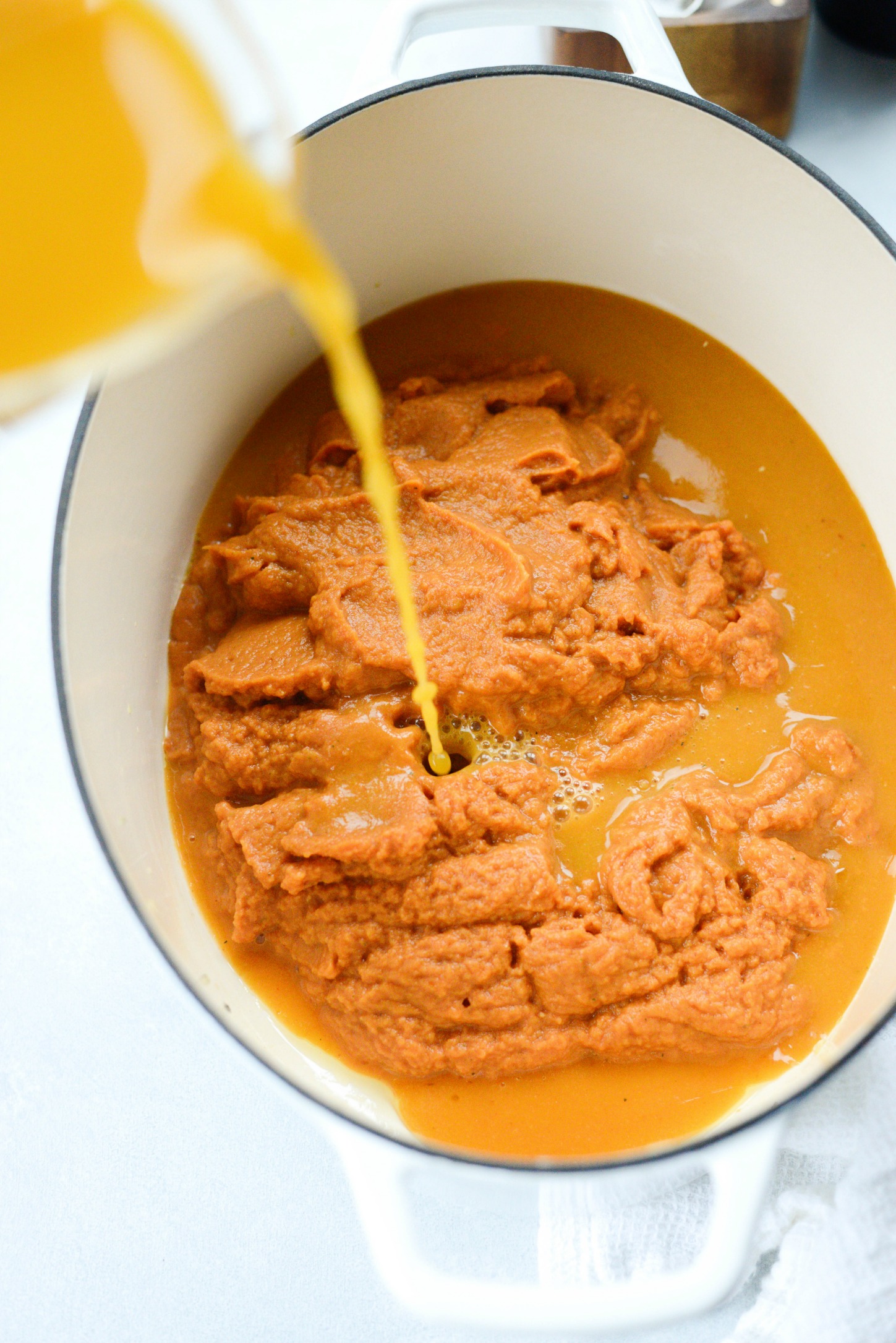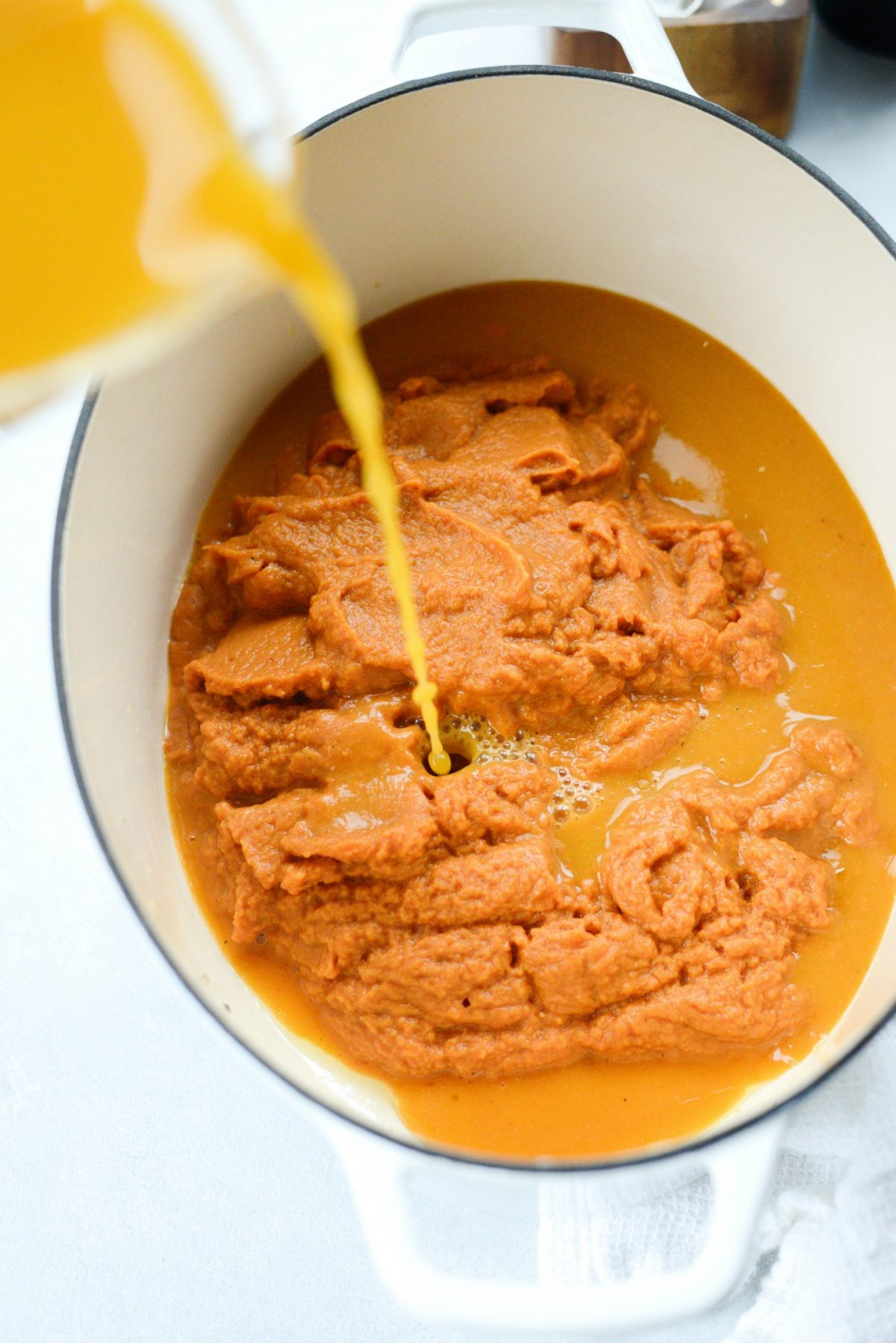 Add in 4 cups of vegetable broth (more for a thinner soup) and stir and heat until piping hot.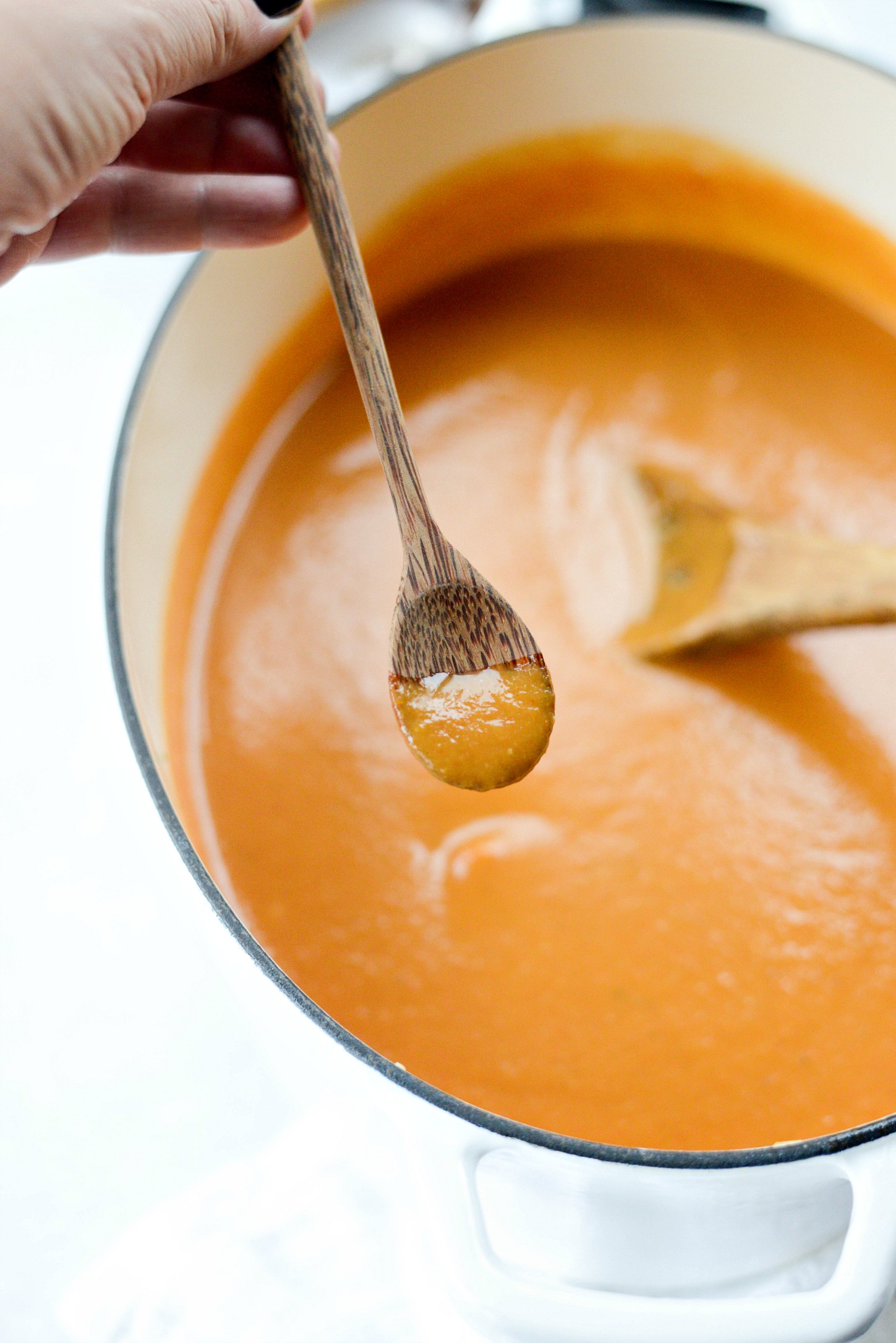 Season with salt and pepper, taste and adjust the seasonings to your preference.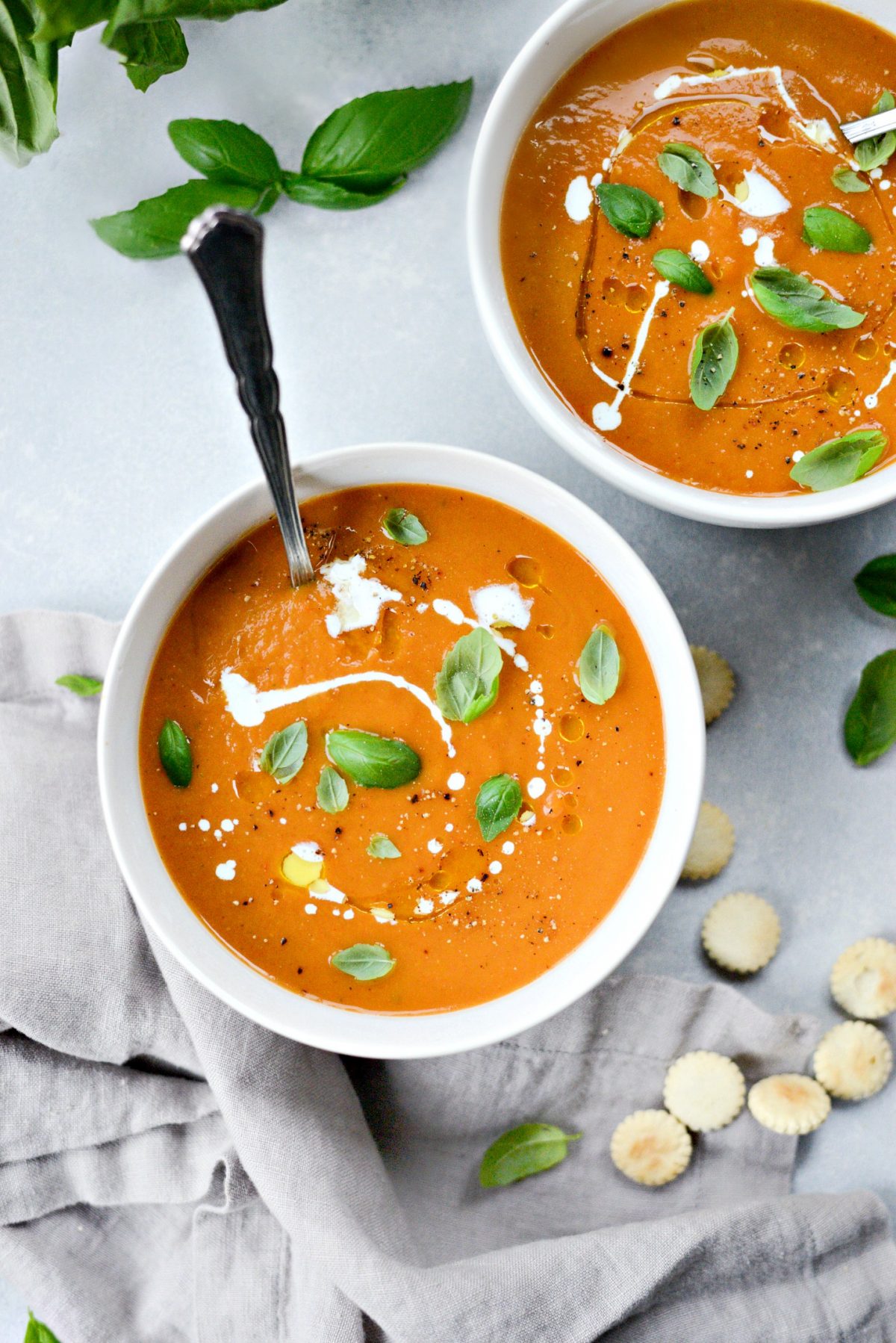 I served this roasted tomato pumpkin soup with a light drizzle of olive oil and heavy cream with more freshly ground black pepper and soup crackers, of course.
This soup is delish! It's a soup I would serve in a mug and joyfully sip it while in my comfiest of clothes and my fuzziest of socks.
It is a warm soup hug for your soul.
Enjoy! And if you give this Roasted Tomato Pumpkin Soup recipe a try, let me know! Snap a photo and tag me on twitter or instagram!
This post may contain affiliate links.
Buy the Cookbook: Simply Scratch : 120 Wholesome Homemade Recipes Made Easy Now available on Amazon »
THANK YOU in advance for your support!