Creamy Chicken Gnocchi Soup is a ridiculously luscious chicken soup with chopped baby spinach and pillowy potato gnocchi dumplings. Overall this soup is pretty effortless and I love to use leftover chicken, which makes whipping up this soup a cinch. A hearty soul-warming soup on your table in no time.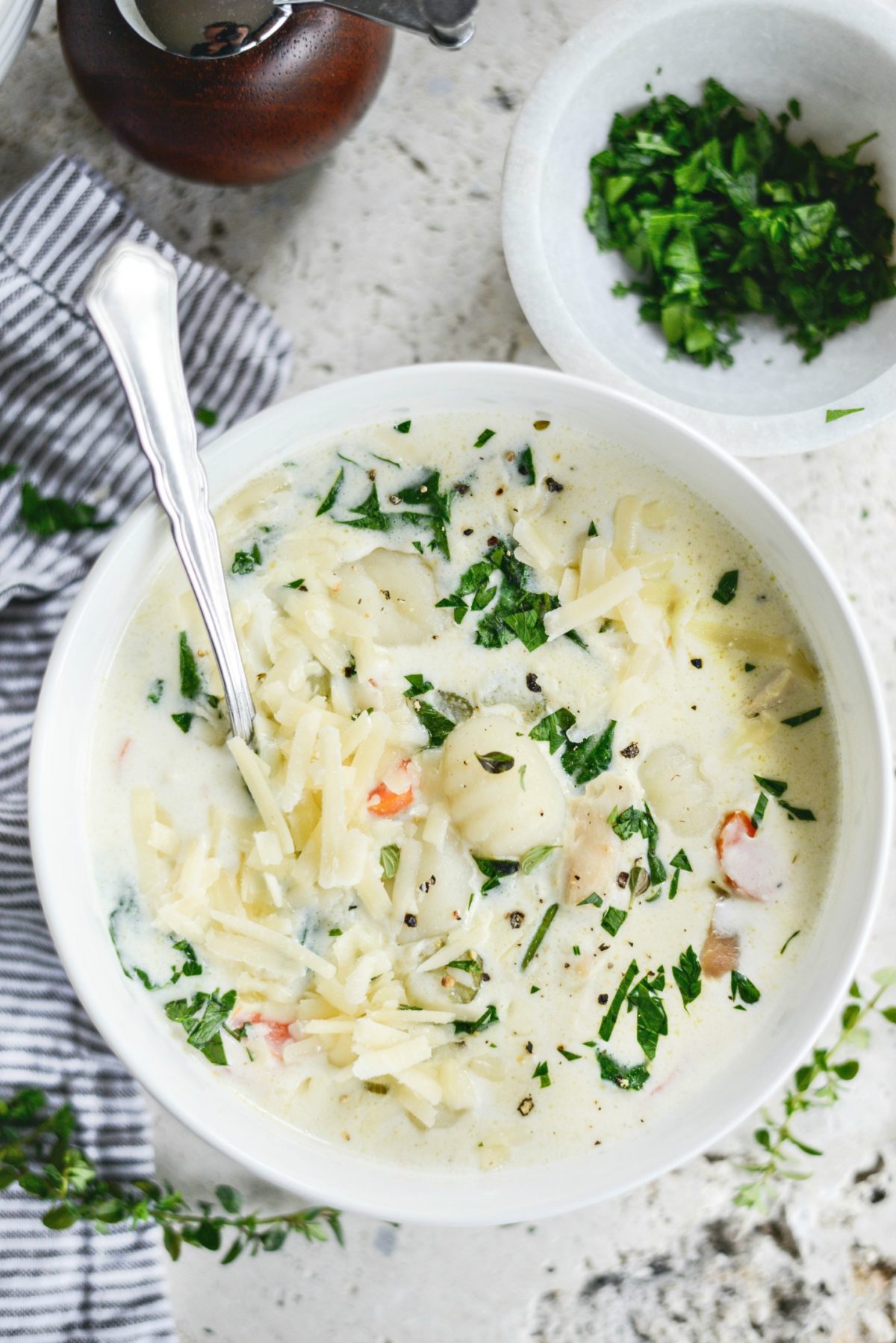 Truth be told I've never heard of this soup until this summer. Haileigh had her beautiful bestie, Ashlyn over and us girls were sitting around the kitchen table, as we normally do, sipping coffee and chatting about life stuff. This particular morning we somehow stumbled onto the topic of our favorite soups. By the way, soup season is my favorite season. Asking me to pick my favorite soup is like asking me to pick my favorite kid, I just can't. But if I had to, it would be a tie between Italian White Bean and no lie, this chicken and gnocchi soup. Haileigh's is most definitely Broccoli Cheddar Soup while Malloree loves a bowl of Fish Chowder — personally I think she's more into the old bay croutons than anything.
It was Ash's turn and she started talking about how chicken gnocchi soup is one of her absolute favorites, that and lobster bisque. [<— my kind of girl!]
But first I was like — hold up, wait a minute– what is chicken gnocchi soup?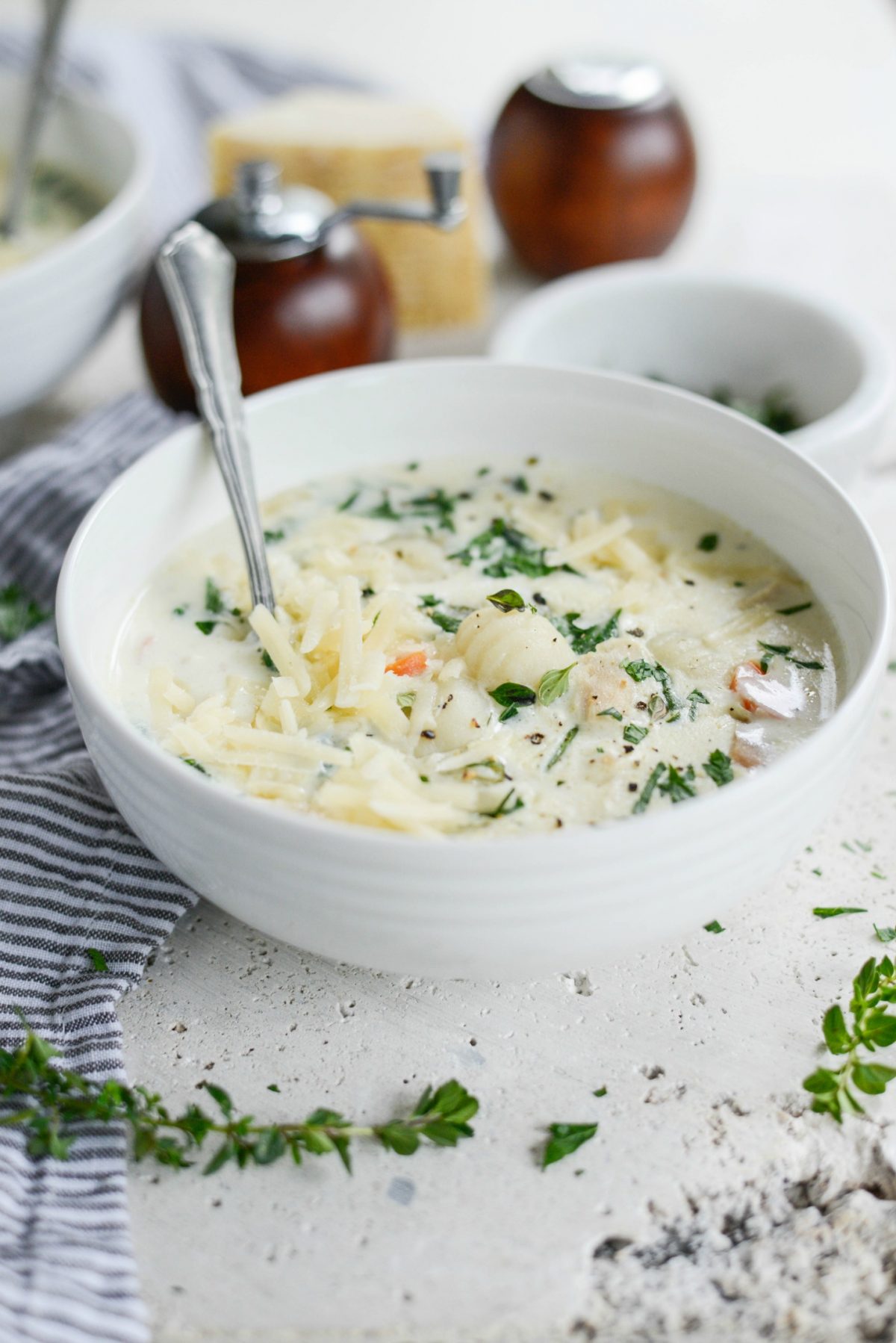 Apparently this soup is on the menu at Olive Garden? I had no clue because it's been well over 8 years since the last time I was there and I think I ordered some chicken dish. I'm not the biggest fan (obviously) but hey I hear they have great breadsticks and salad [and soup ;)].
To Make This Creamy Chicken Gnocchi Soup You Will Need:
16 ounces potato gnocchi
unsalted butter
olive oil
onion
carrots
celery,
cloves of garlic
fresh thyme leaves
unbleached all-purpose flour
half & half
low-sodium chicken broth
cooked chicken (leftovers!)
baby spinach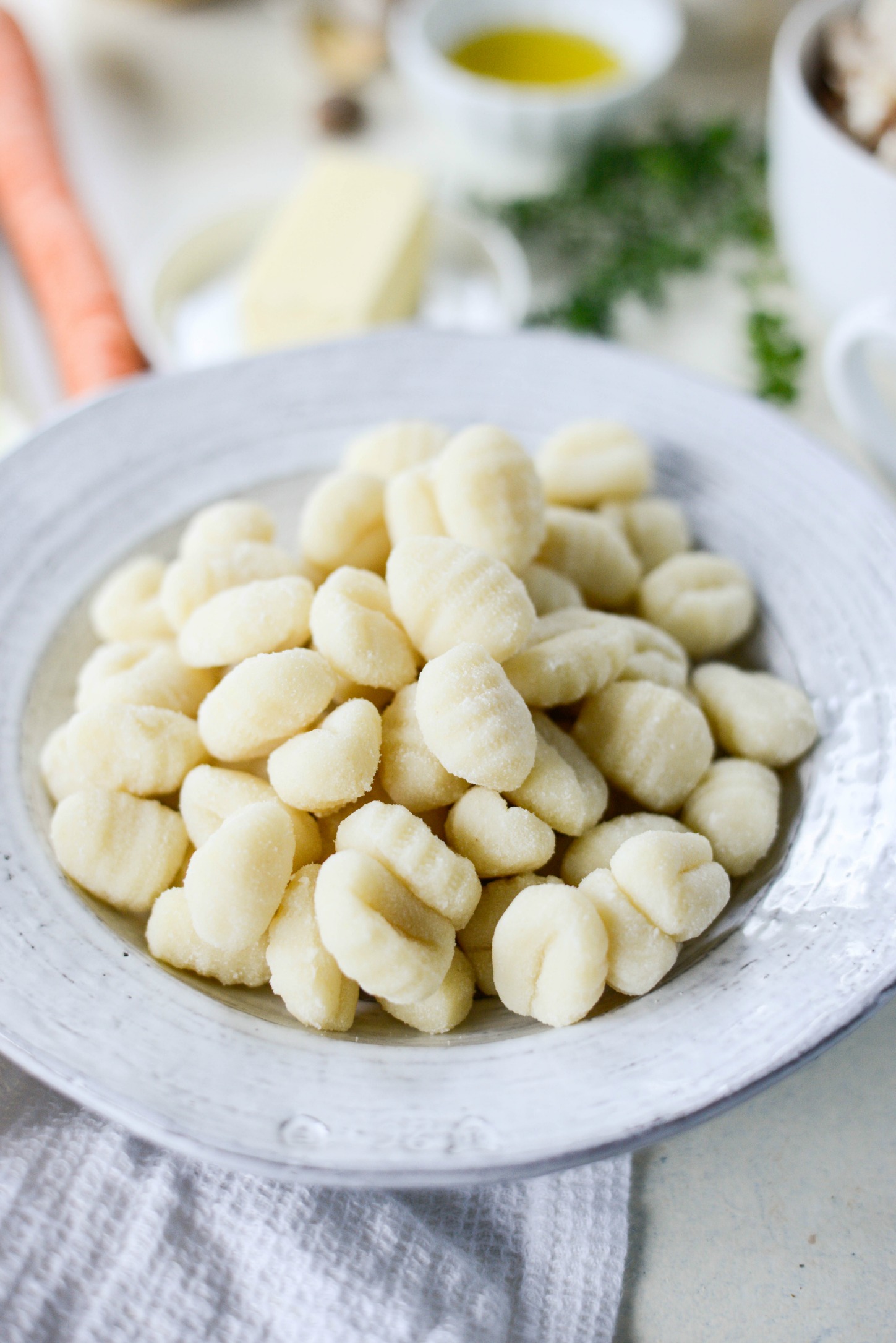 And no, I did not make my own gnocchi. I just don't have a great recipe yet nor do I have the time. Maybe when my kids are grown and moved out? We shall see. But in the meantime, bring a large pot of water (salted with 3 tablespoons of sea salt) and follow package directions to cook 1 pound gnocchi. Typically it's about 3 to 4 minutes or until they start to float at the top of the water.
Now let's build this soup! Start by melting 4 tablespoons of butter in with 2 tablespoons oil in a heavy bottom pot or Dutch oven on medium heat. Add in 1 cup diced onions, 1/2 cup each sliced carrots and celery with a pinch of salt. Stir, cover and cook until the onions are translucent and carrots are fork tender, stir occasionally.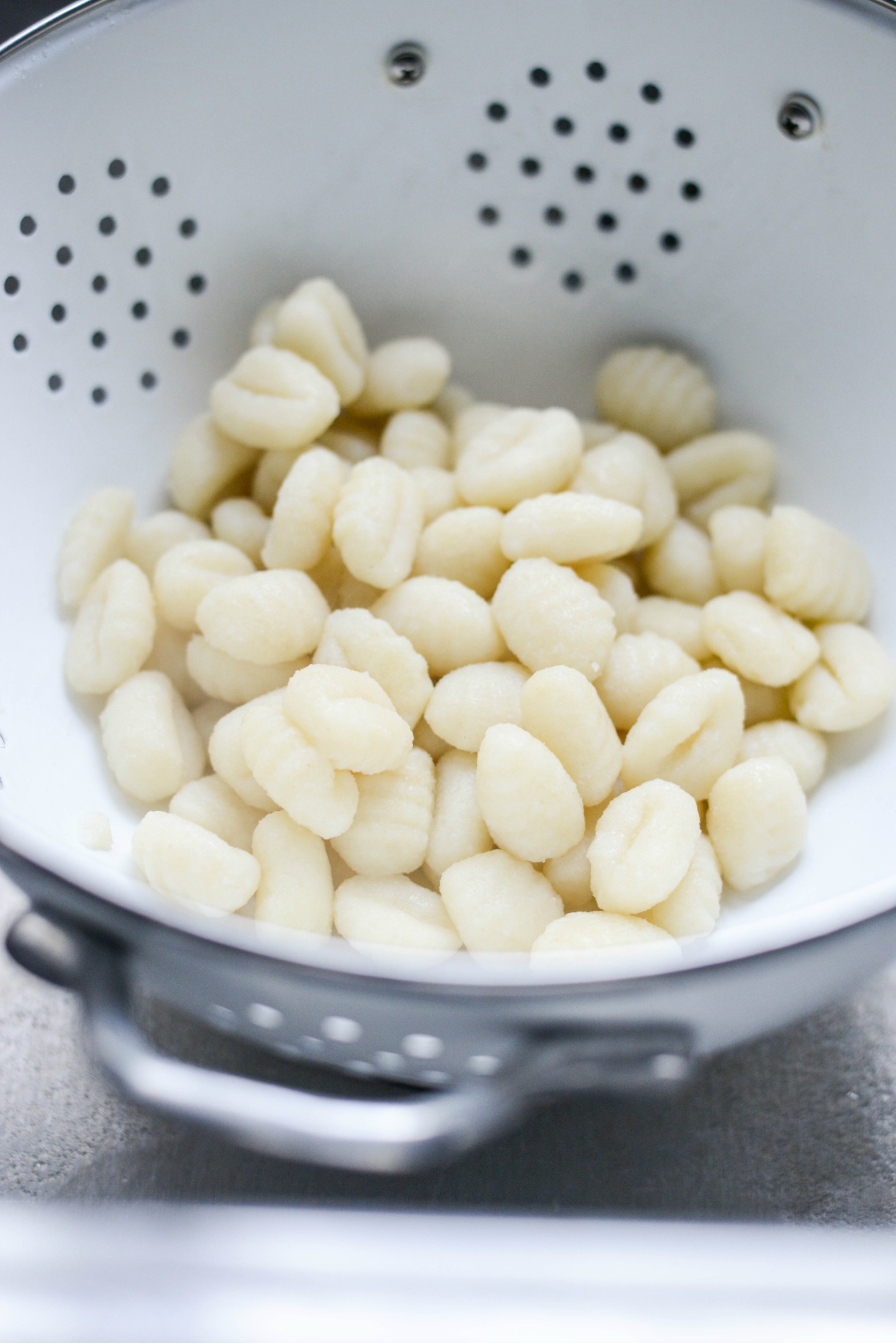 Once the gnocchi are cooked, drain them into a colander set into your sink. Then I lay them on a parchment lined, rimmed sheet pan so they don't stick to each other.
Once the veggies are tender and cooked, add in 2 cloves minced garlic and 1 teaspoons chopped thyme. Stir and cook for 1 to 2 minutes.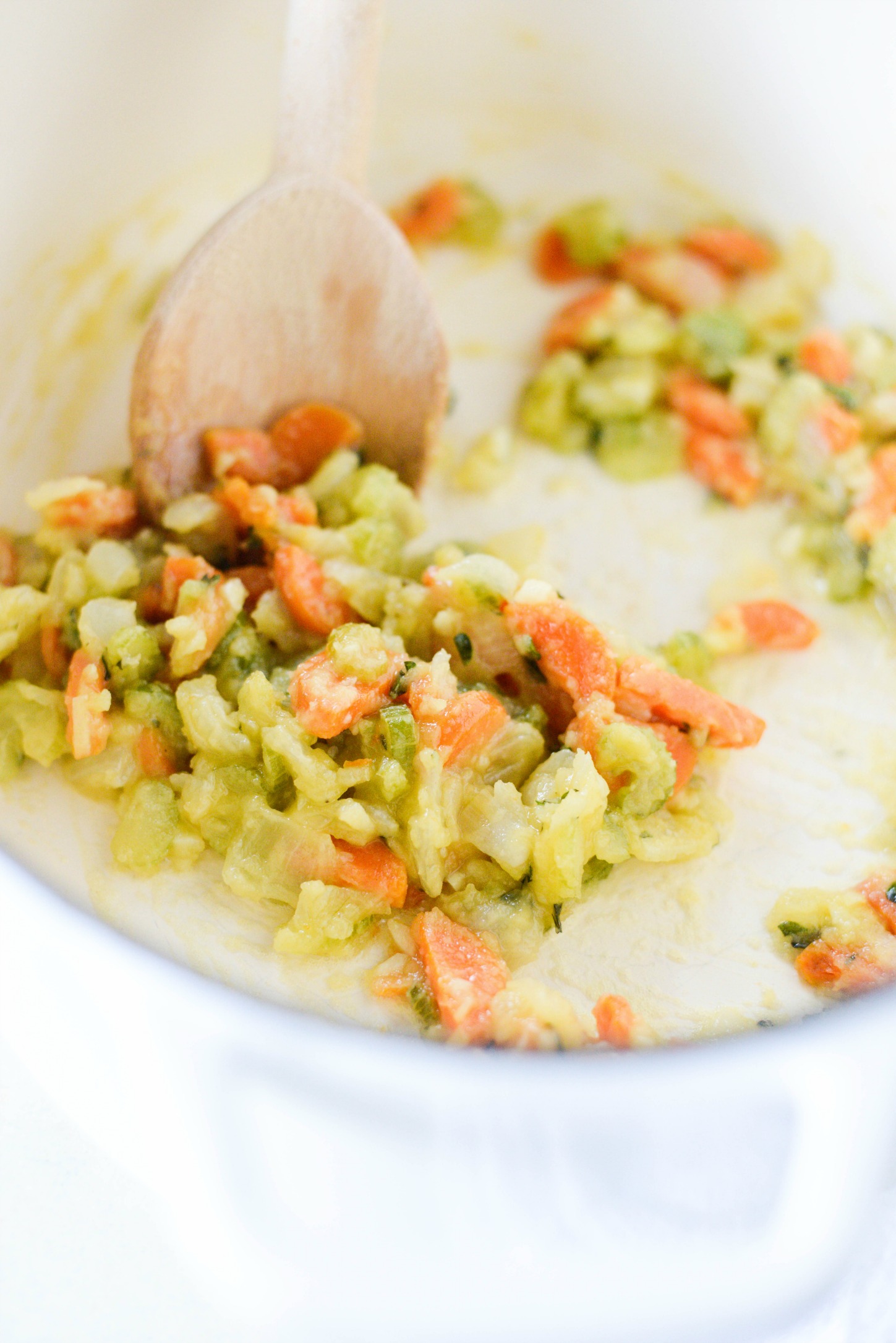 Next add in 6 tablespoons flour, stir and cook the flour/butter mixture for a minute or two.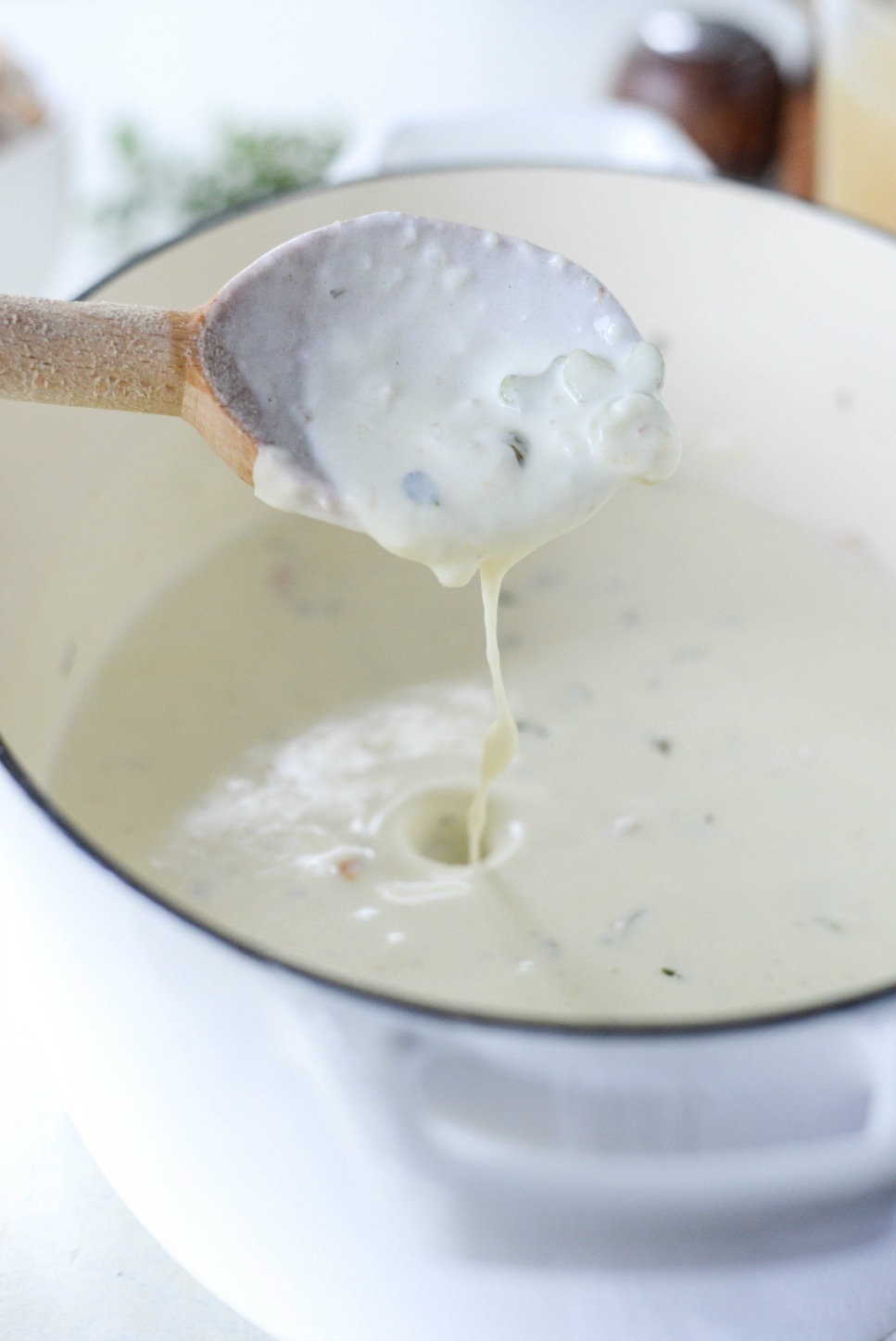 Now stir, while pouring in 4 cups half & half. Then grate in 1/8 to 1/4 teaspoon of freshly grated nutmeg. Increase the heat to a simmer, stirring until thick. Then pour in 4 cups chicken broth, heat until the soup has thickened slightly.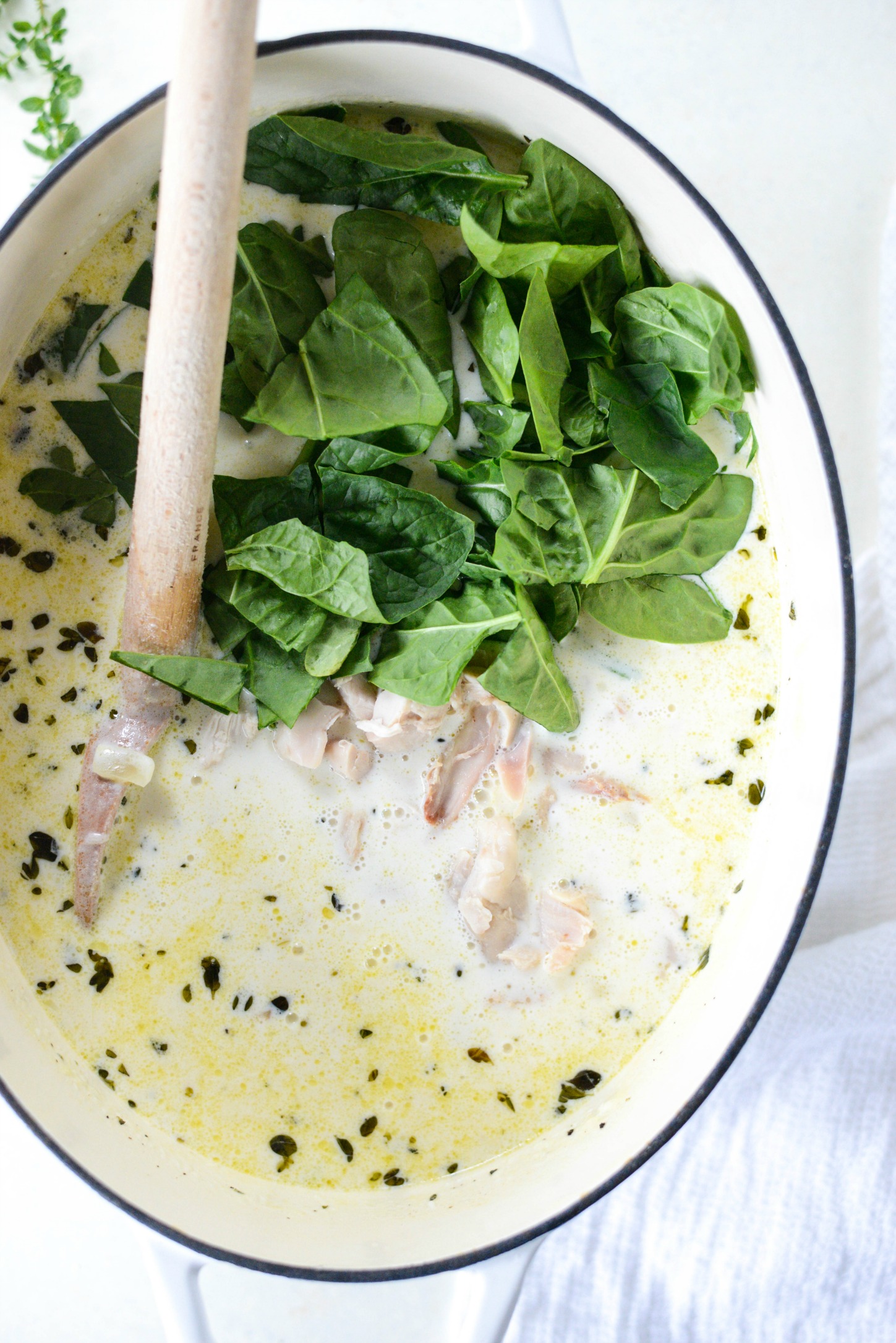 Lastly, add in the cooked gnocchi, 2 cups chopped chicken and 2 heaping cups baby spinach that has been coarsely chopped. Season with salt and pepper to taste and heat until the spinach has wilted and the soup is thick and creamy.
And smells heavenly.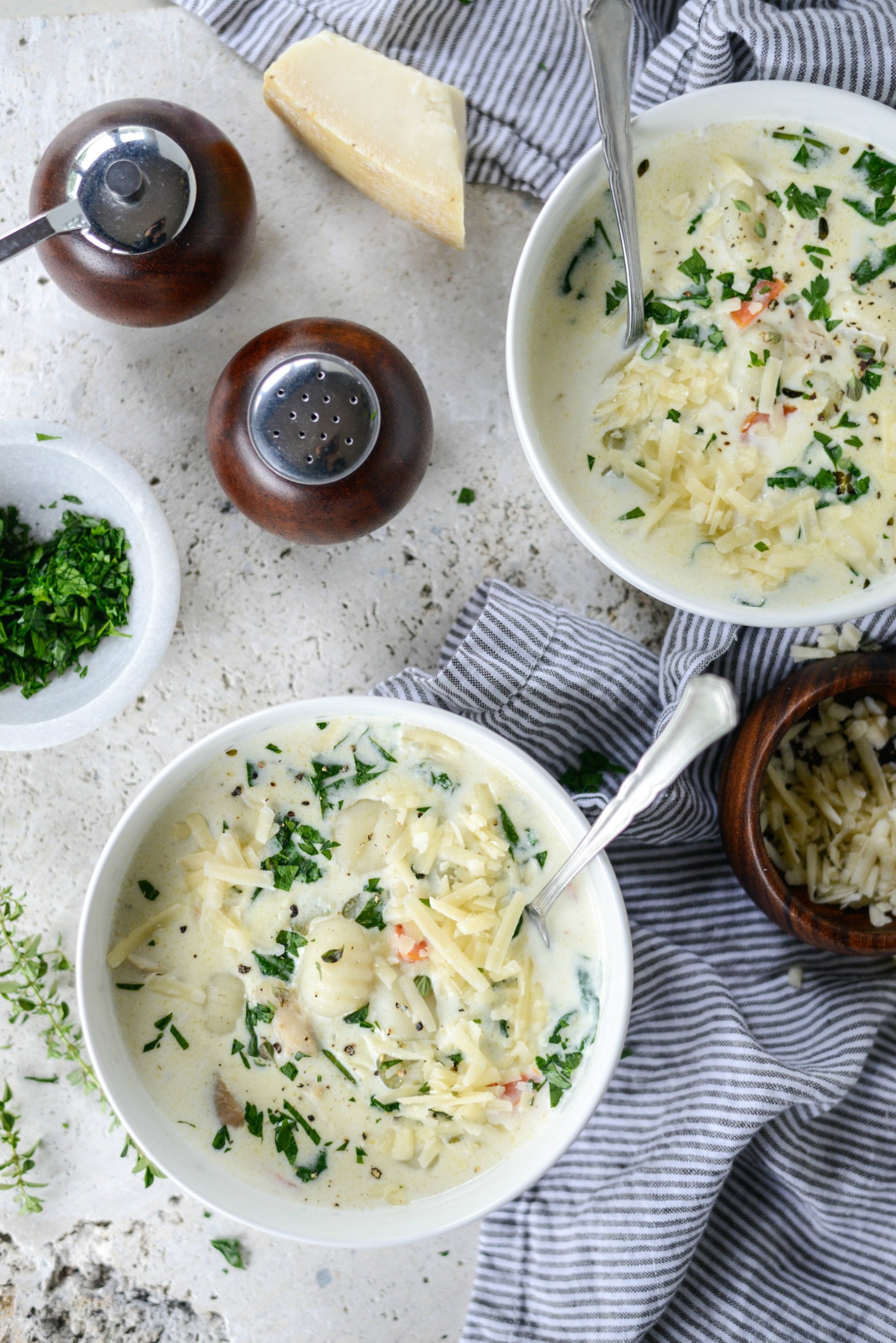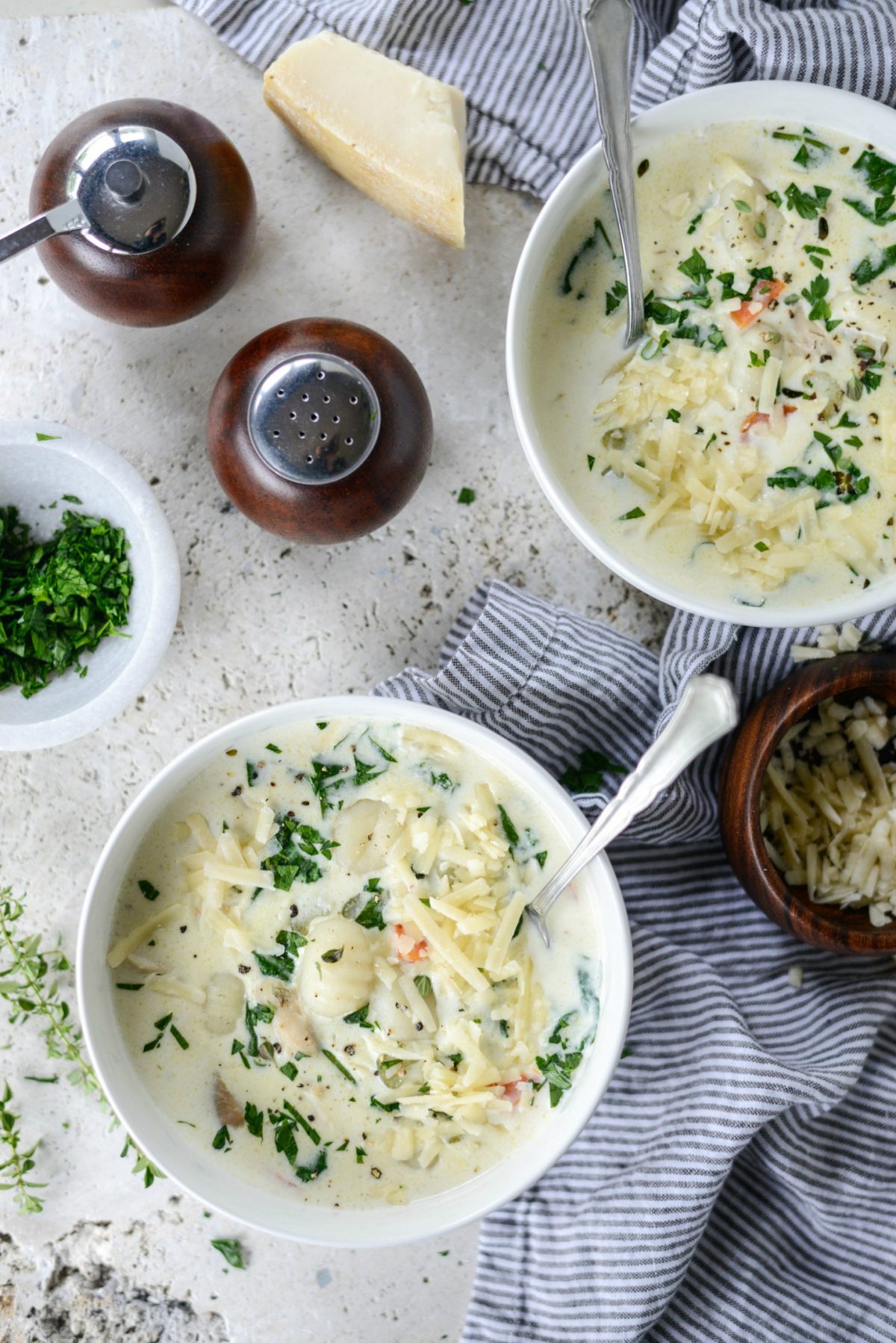 I made this soup late yesterday afternoon, it was rainy and a little chilly with the temperature in the low 60's. I served it with grilled fontina cheese sandwiches to Haileigh, Malloree and a few of Mal's girlfriends. All 4 girls gave it two thumbs up — I had zero doubts.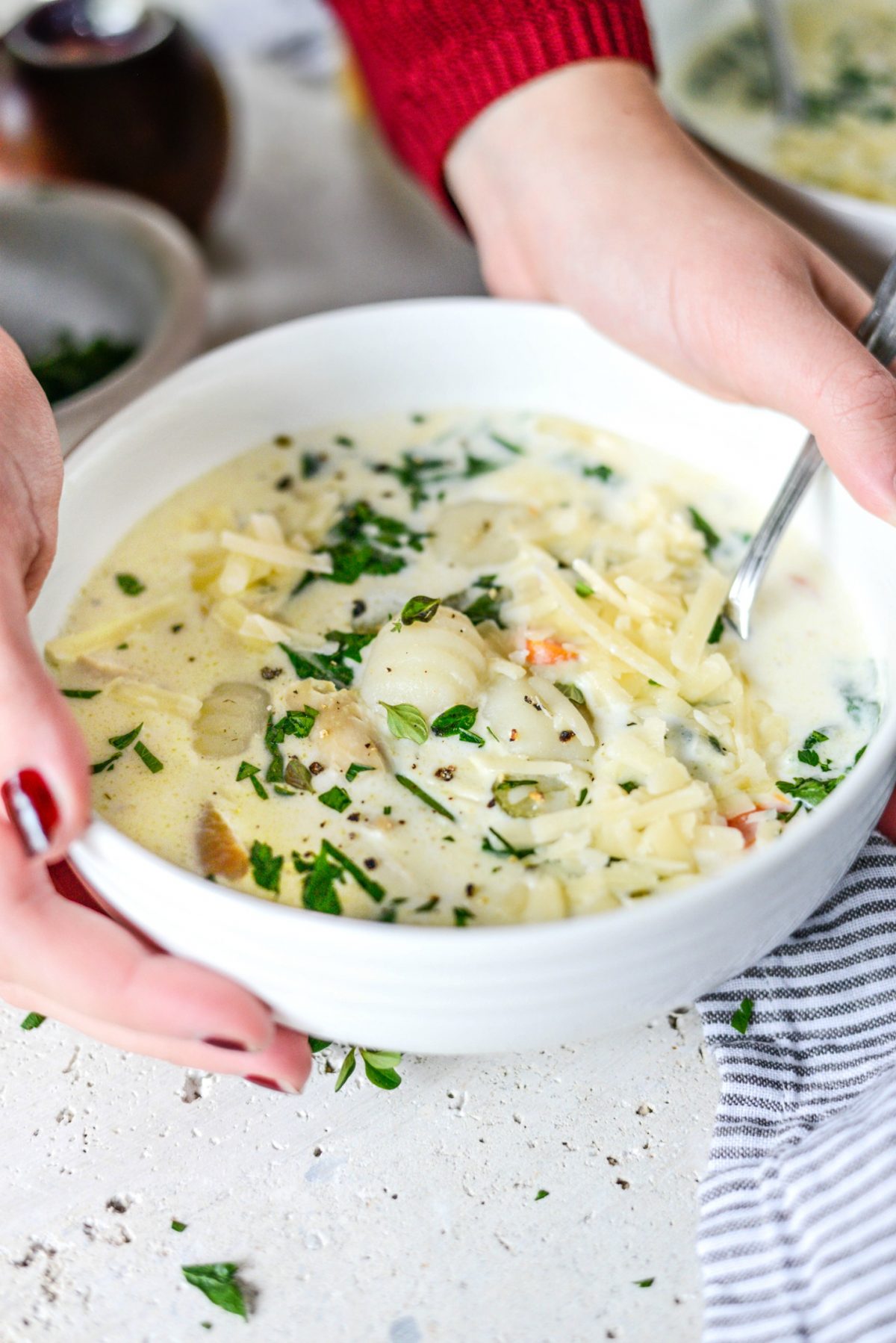 Enjoy! And if you give this Chicken Gnocchi Soup recipe a try, let me know! Snap a photo and tag me on twitter or instagram!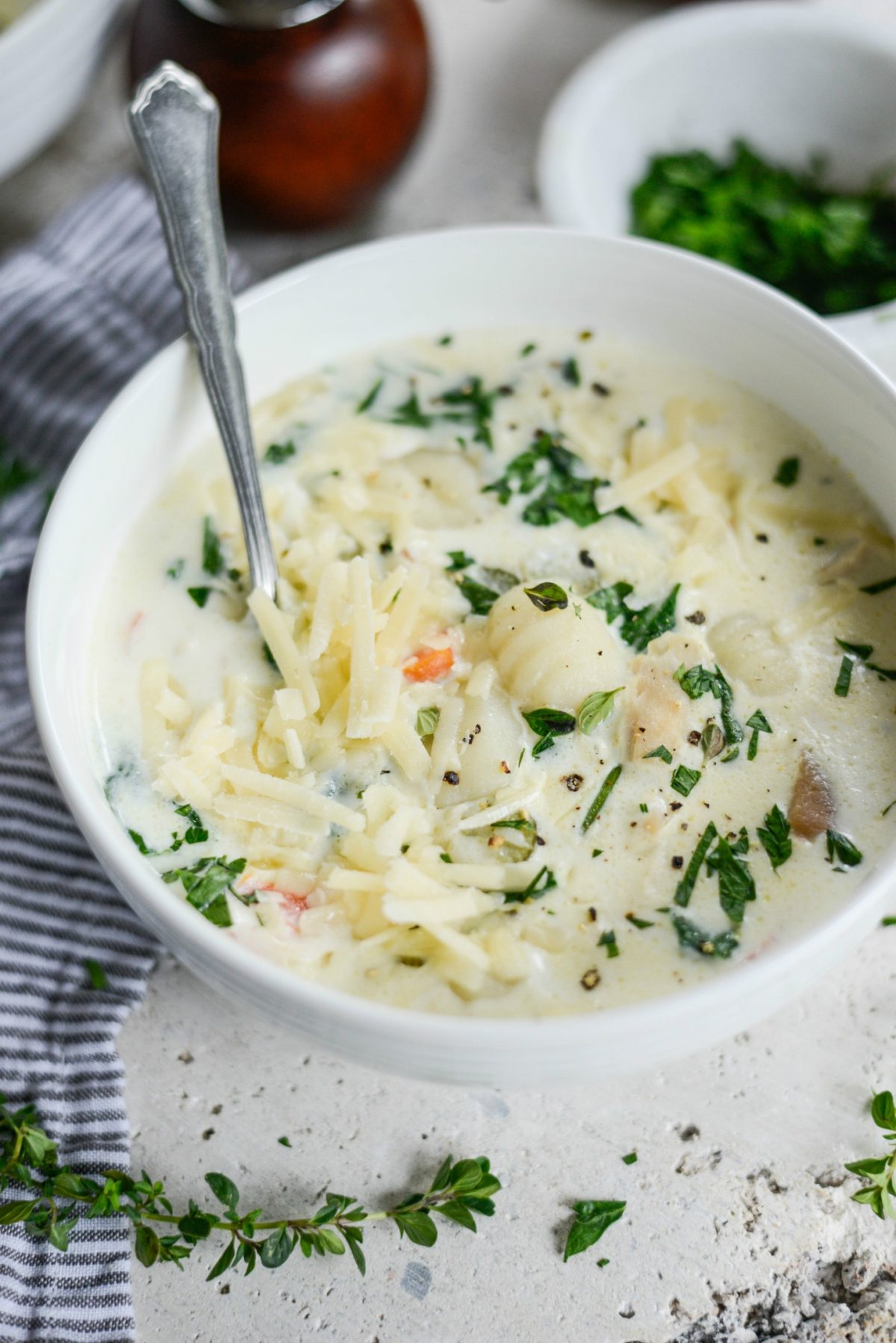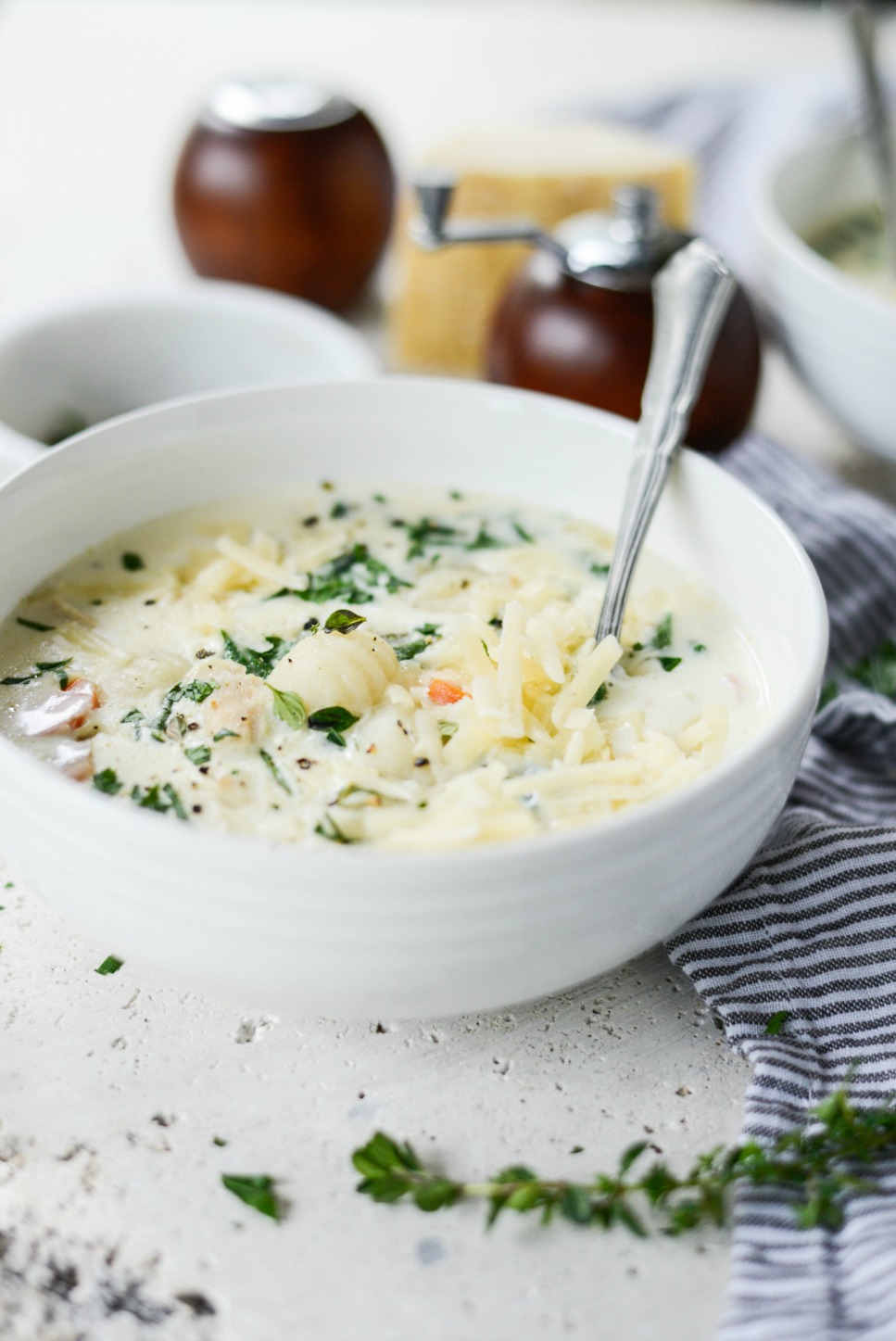 This post may contain affiliate links.
Buy the Cookbook: Simply Scratch : 120 Wholesome Homemade Recipes Made Easy Now available on Amazon »
THANK YOU in advance for your support!