Go meatless with these Grilled Teriyaki Portobello Burgers! Juicy grilled teriyaki glazed portobello mushrooms are topped with grilled onion and pineapple, extra teriyaki sauce and sprouts! Wrap this burger in butter lettuce leaves or bun of your choice with a smear of the most amazing honey wasabi mayo!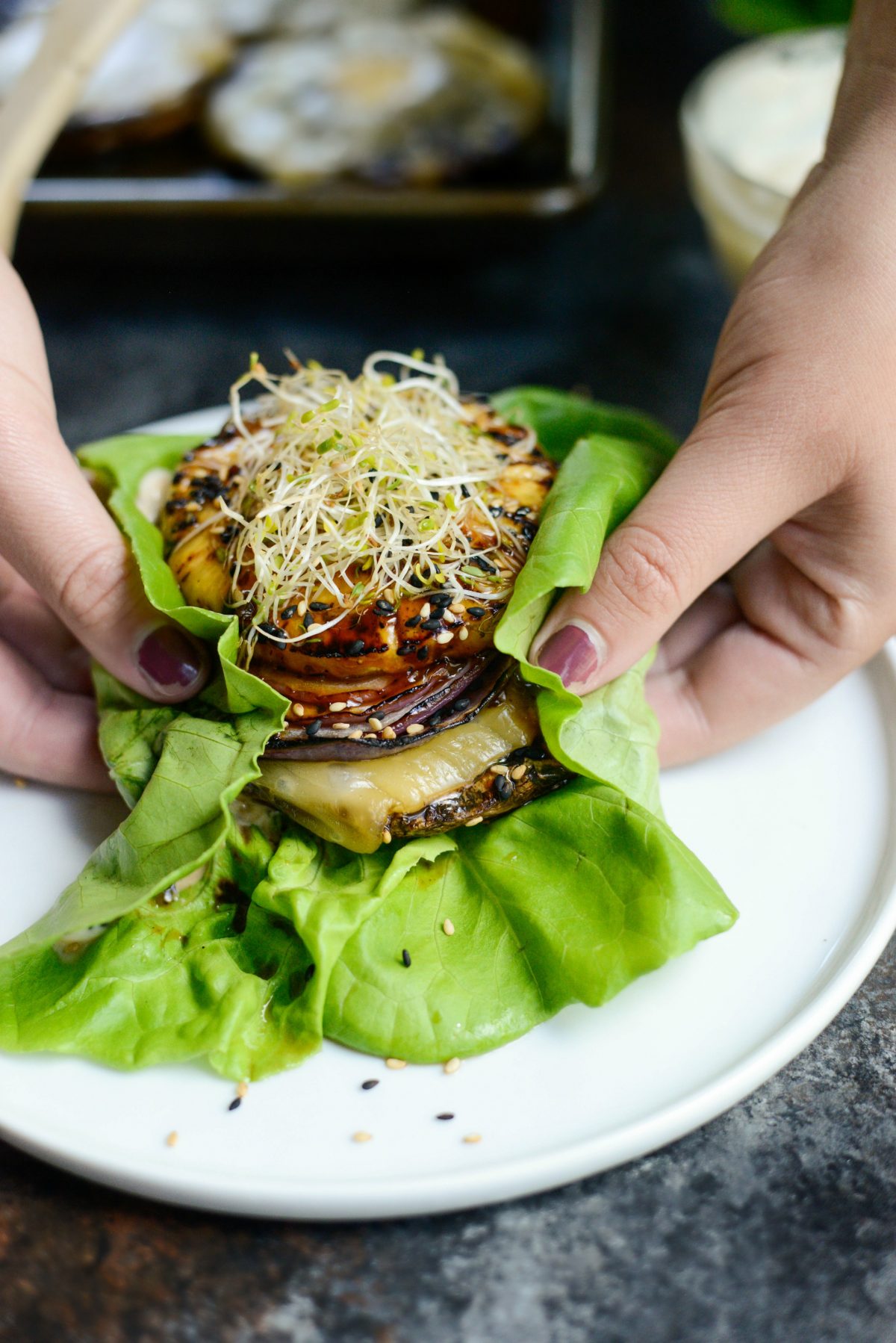 More and more I crave meatless recipes. Perhaps I was a vegetarian in a former life? Maybe. All I know is that I love vegetables, especially mushrooms.
If you haven't had a portobello burger yet, this is your time to go for it. I am completely, 100% on team portobello burger. At first I was skeptical, sure, who wouldn't be? Mushrooms masquerading as a beef patty, I mean yeah, I was definitely leery. But over the last year, I've been ever so slowly working portobellos into recipes that typically call for some sort of meat protein. I grilled them for quesadillas and panfried them for fajitas, and I use baby portobellos in just about all the recipes calling for mushrooms. I'm also working on another recipe that I hope to share before the summer is over. But today, it's all about this grilled teriyaki portobello burger.
Thick, meaty mushrooms are slathered in homemade teriyaki sauce and grilled until tender and caramelized. Then I top each burger with a slice of gouda, and once it melts into cheesy bliss, I nestled the burger into butter lettuce leaves and topped it with lots of grilled red onion, a slice of grilled pineapple and fresh sprouts. I even went a step further and made a honey wasabi mayo to tie this delicious burger together.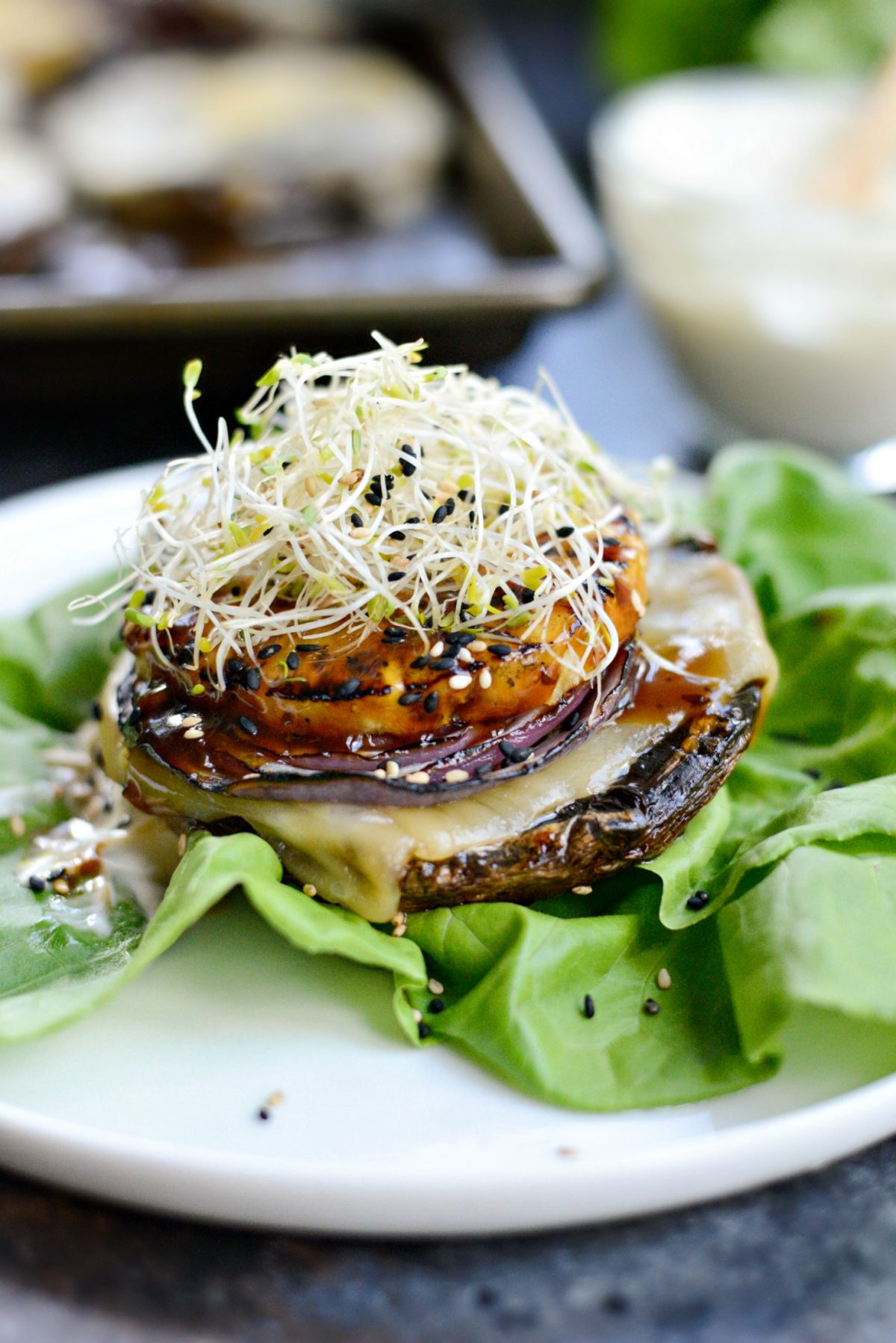 It's a little sweet and a little spicy. Just how I like it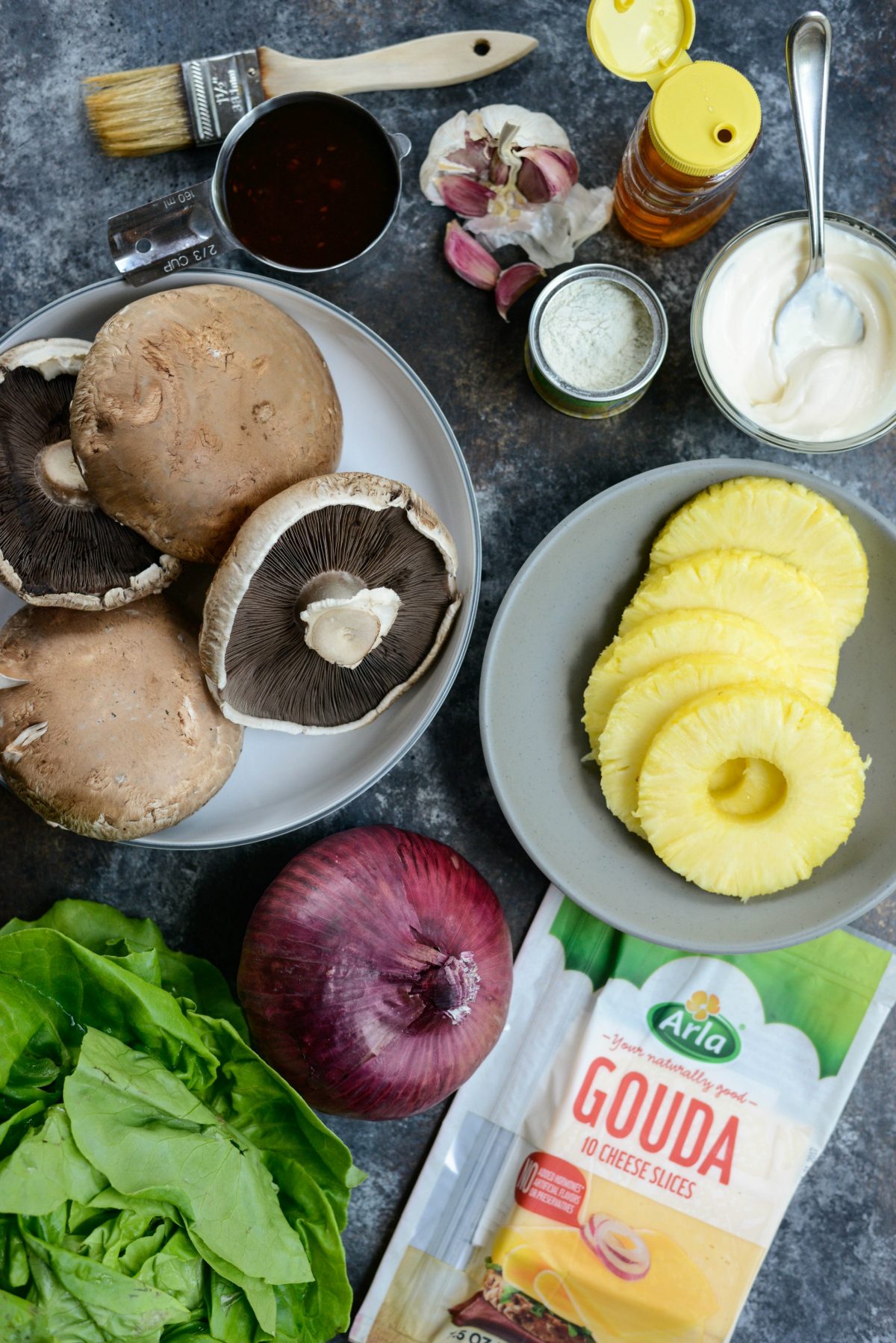 To make these grilled teriyaki portobello burgers, you will need: 4 portobellos, teriyaki sauce, sliced onion and fresh pineapple, gouda (slices or freshly grated), butter lettuce, mayonnaise (homemade or store-bought), garlic, honey and wasabi paste.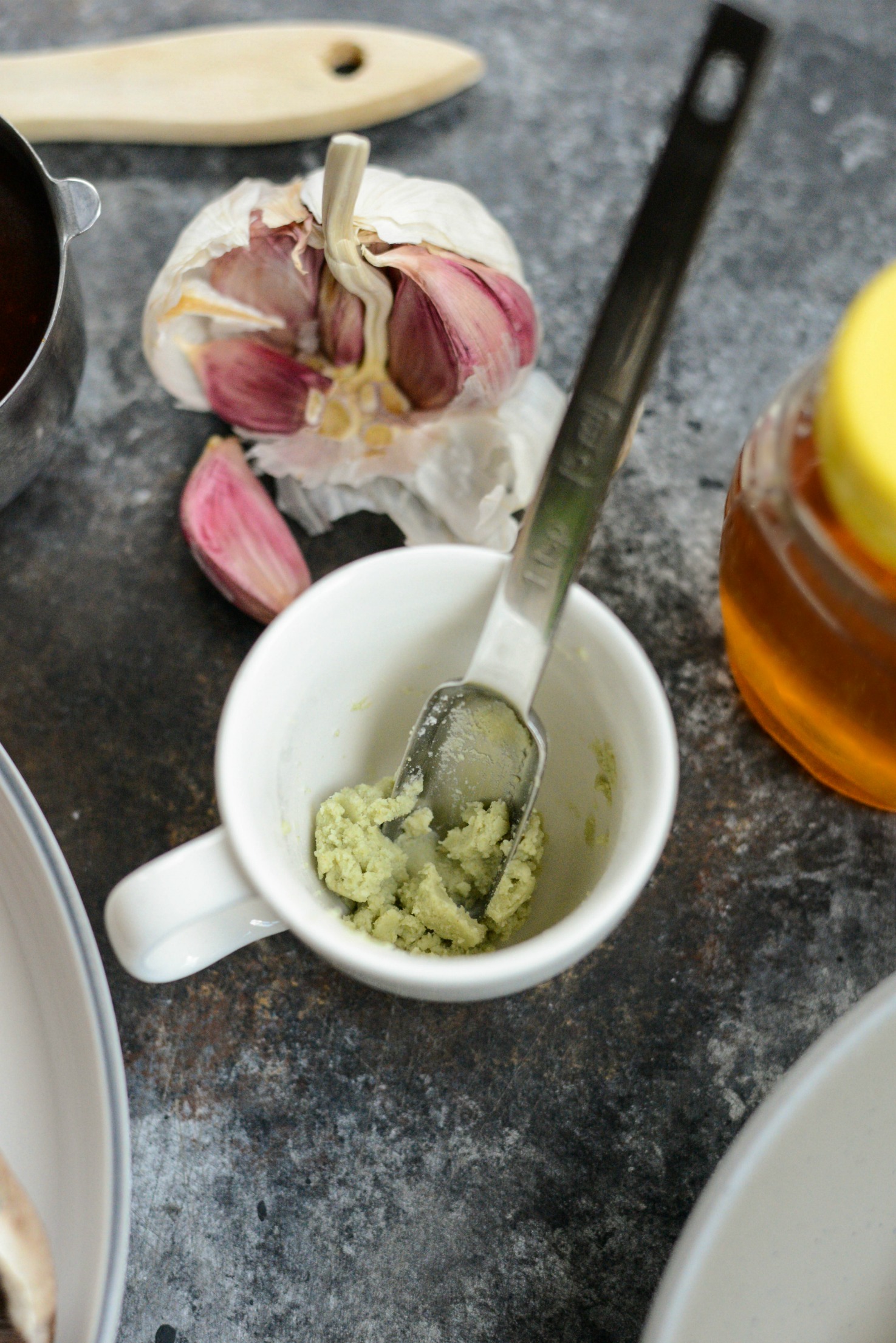 When I was at my grocery store I had two options for wasabi: a pre-made paste with a slew of iffy ingredients or wasabi powder that had 3 ingredients that I've heard of and could pronounce, so I went with the latter. To make wasabi paste from the powder, just combine a little of the wasabi powder with a little water until it makes a thick paste.
In a small bowl, combine 1/2 cup mayo with 1 small clove grated garlic and a 1 teaspoon honey.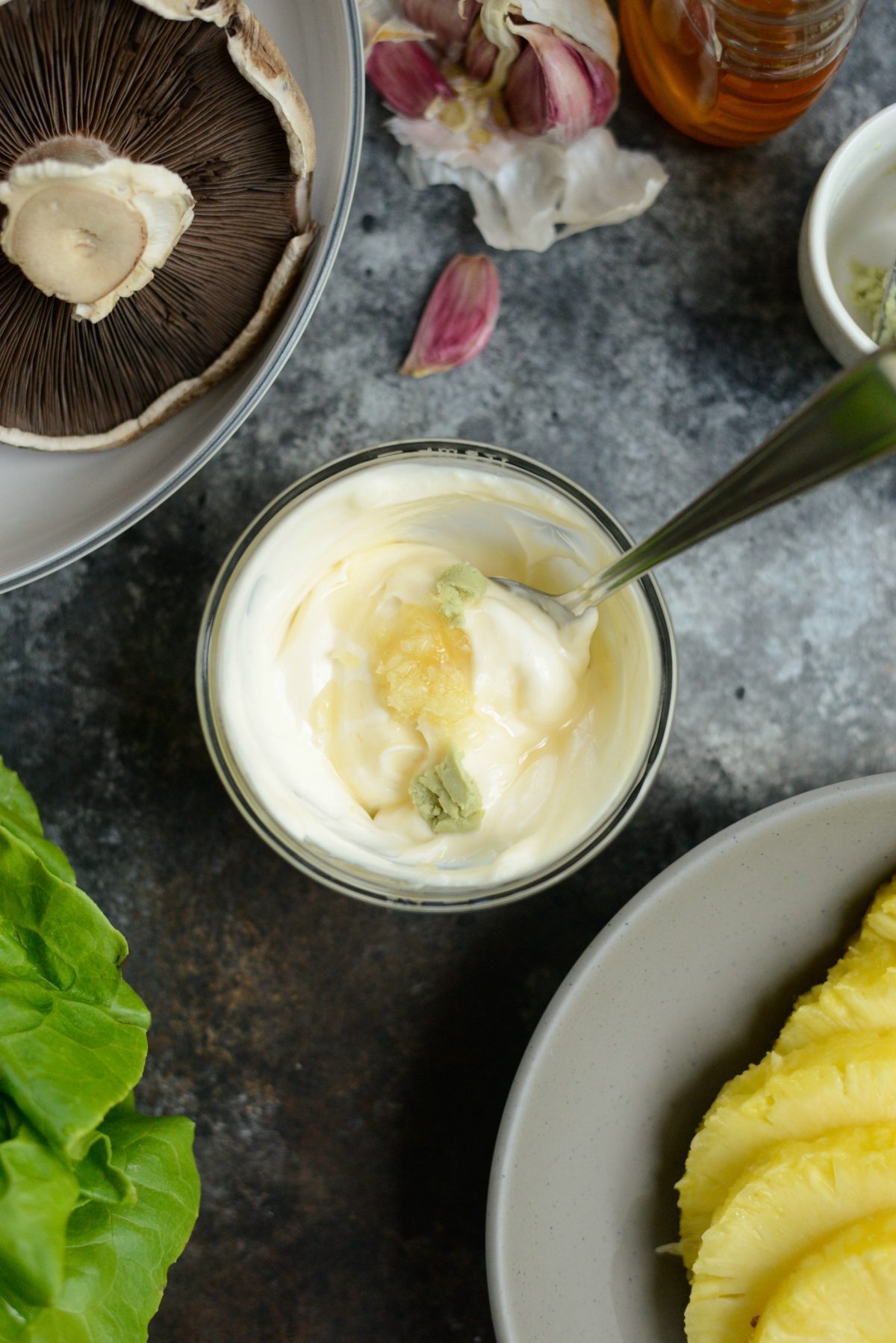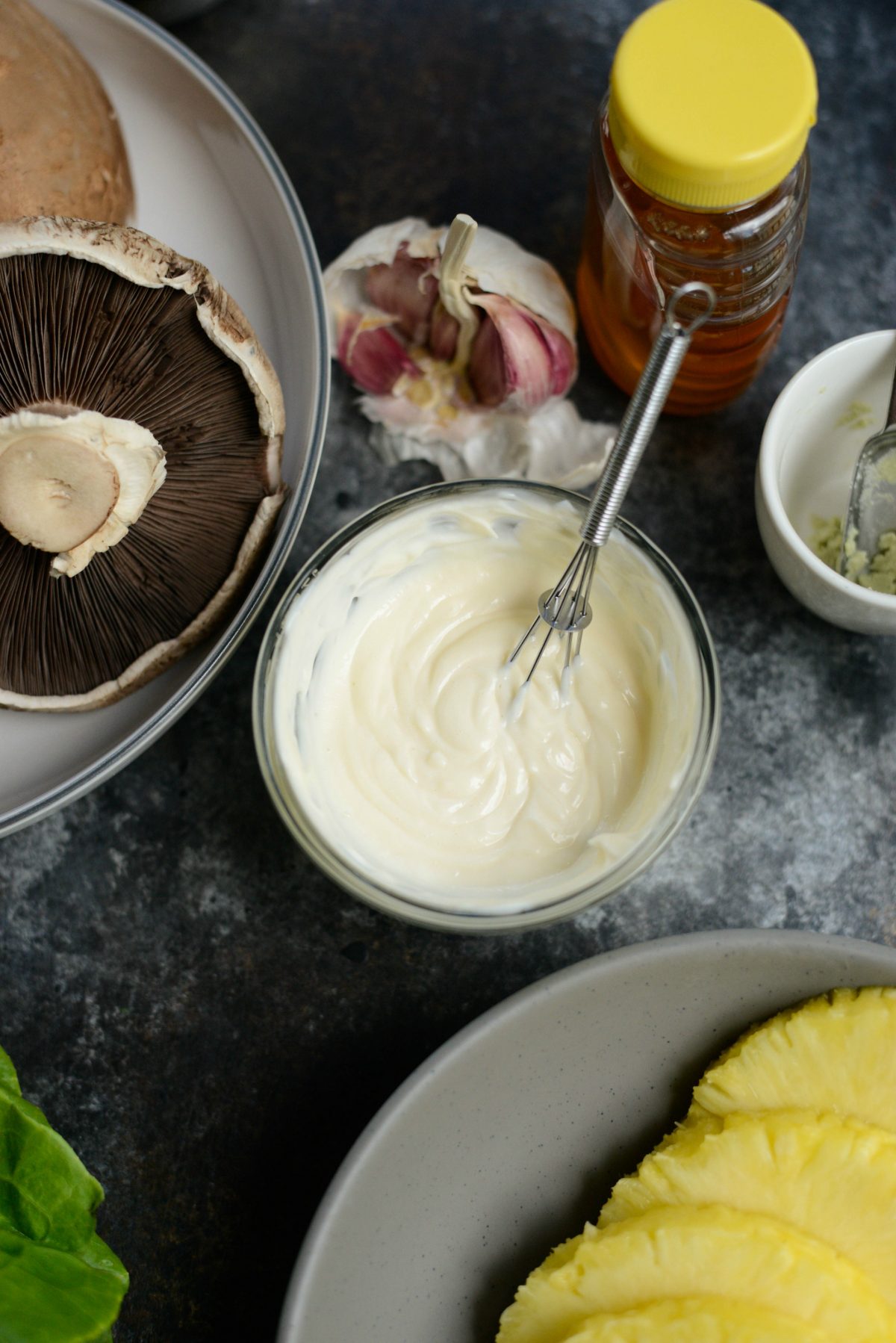 Then only add in a pea-size amount of the wasabi paste at a time until you get the flavor you want. A little wasabi goes a long way, so only add a little at time and whisk and taste as you go.
Preheat your outdoor grill (or grill pan) to medium-high heat or about 400° to 425° Fahrenheit. Clean any dirt off of the portobello mushrooms and brush the underneath side with teriyaki sauce and spritz with an olive oil mister. Lightly mist both sides of the pineapple and onion slices with olive oil as well. This helps to keep them from sticking when grilling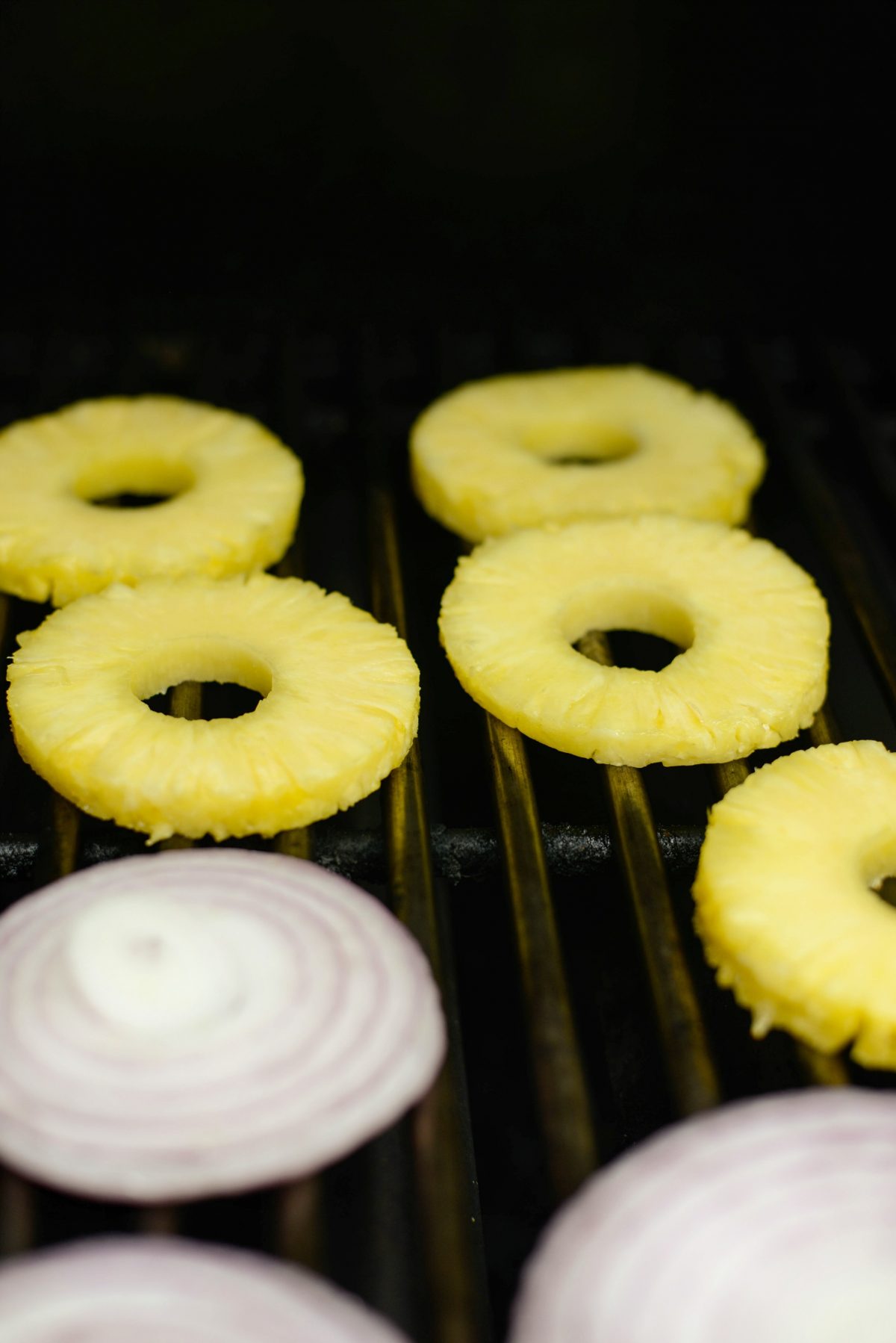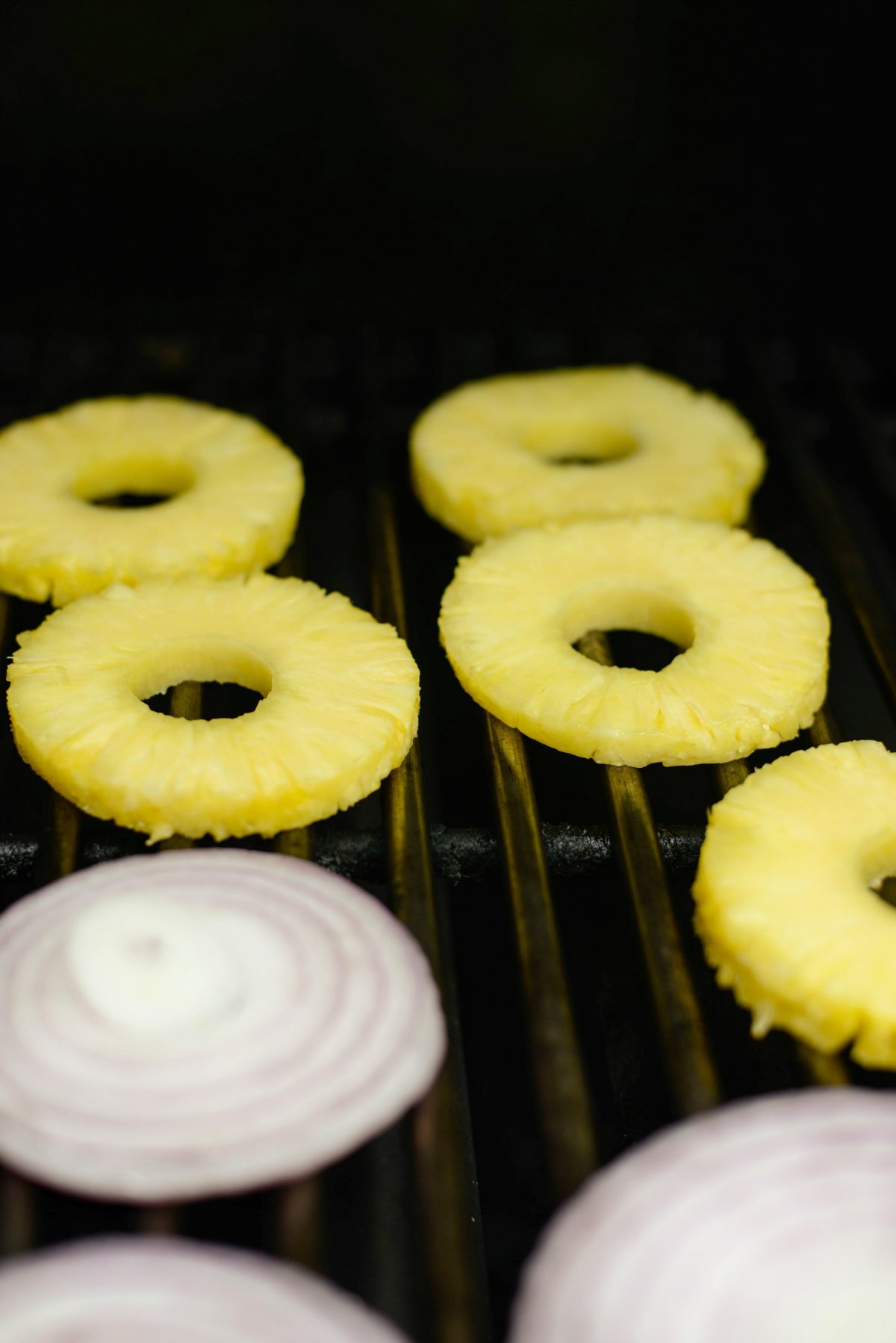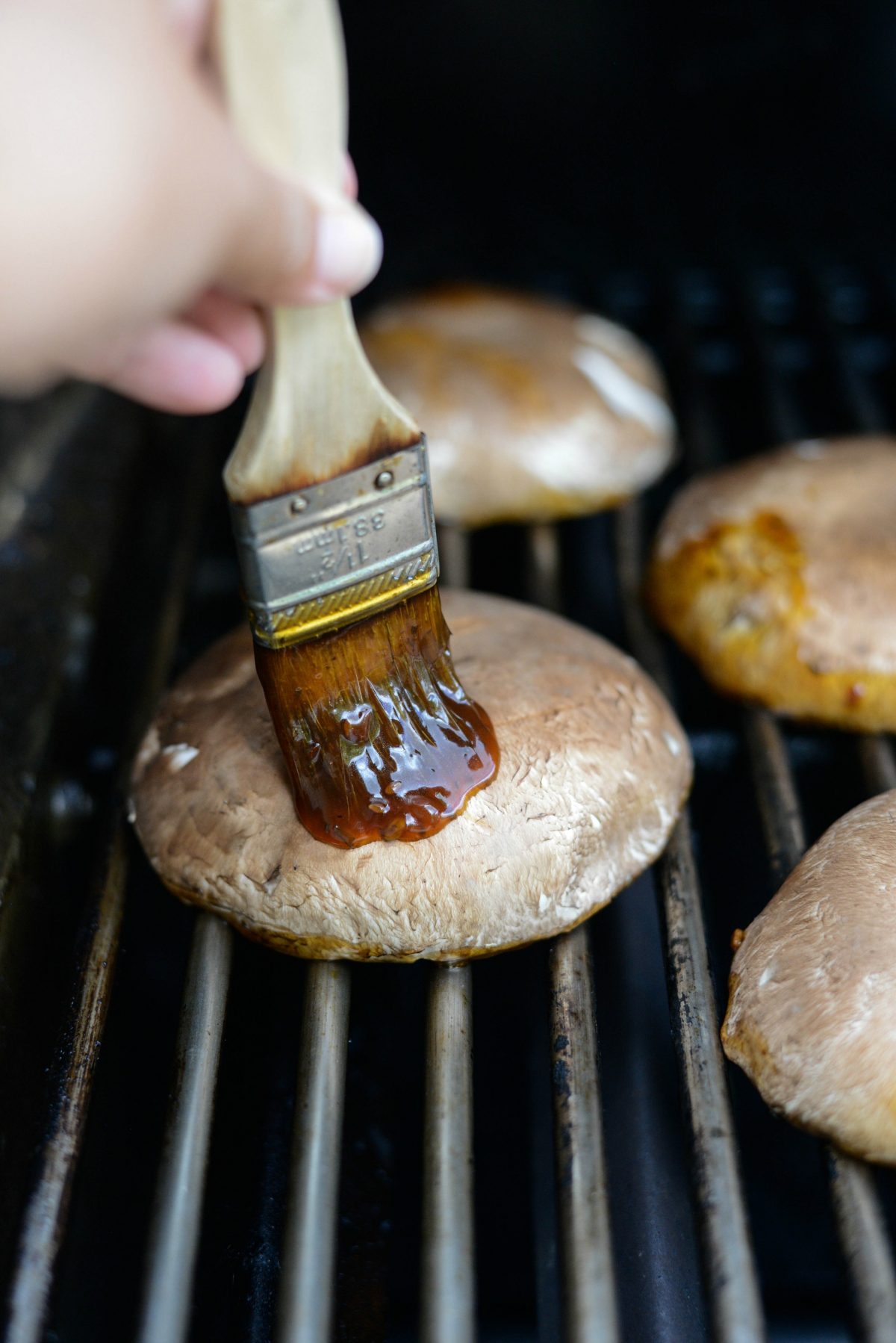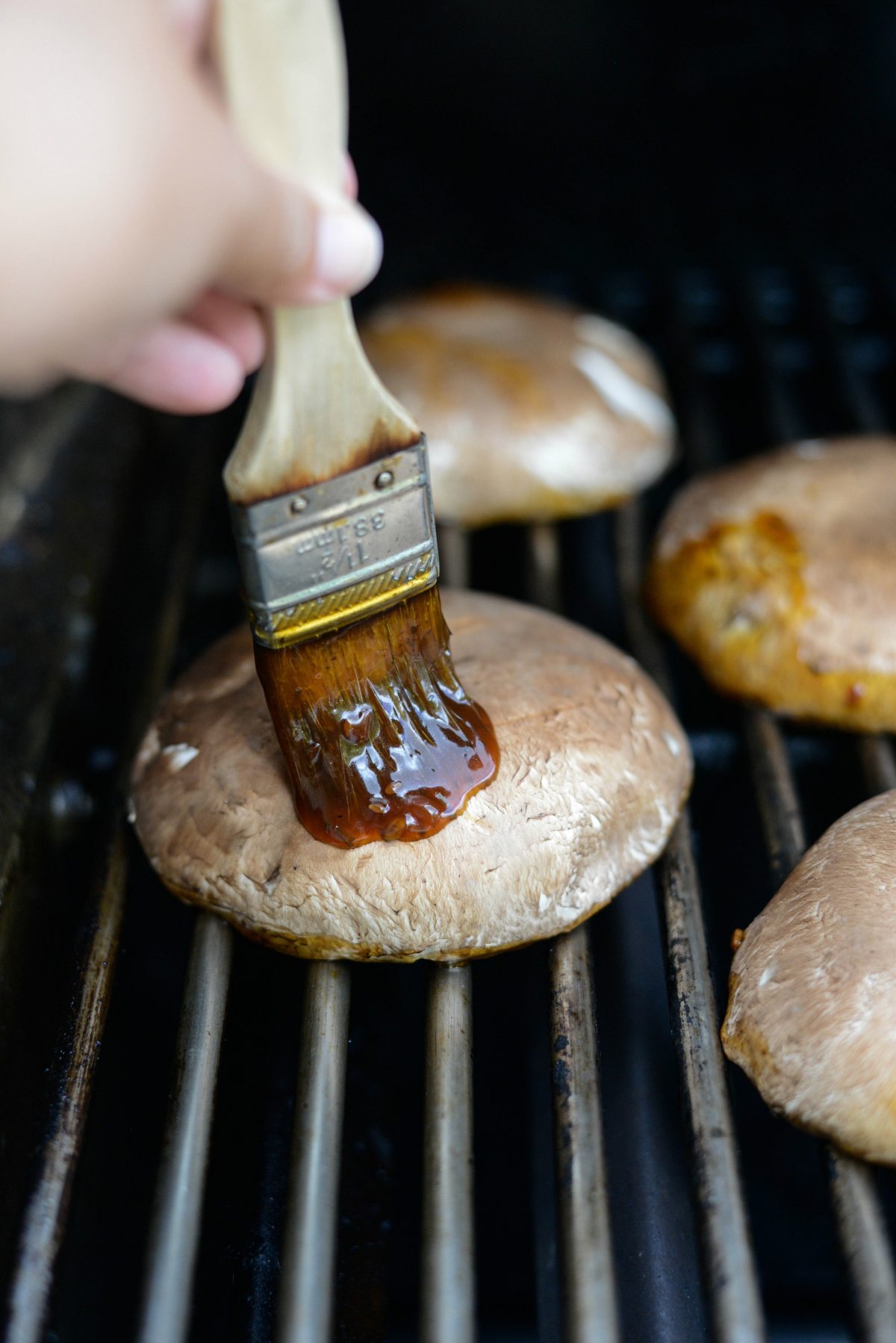 Once your grill is hot, place the pineapple, onions and portobellos on the grill grates. Brush the portobello tops generously with teriyaki sauce. Close your grill lid and grill for 8 to 10 minutes or until good grill marks form.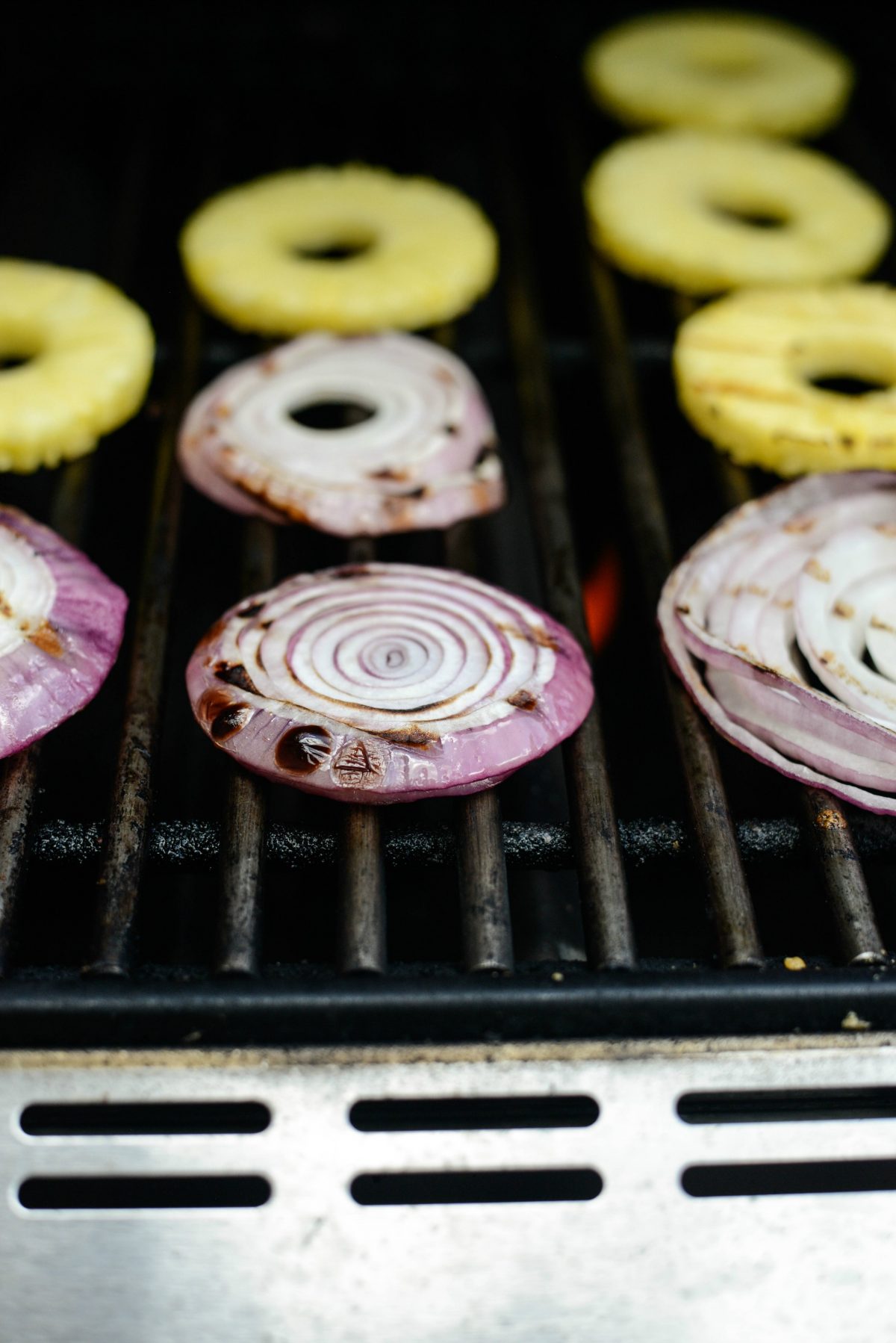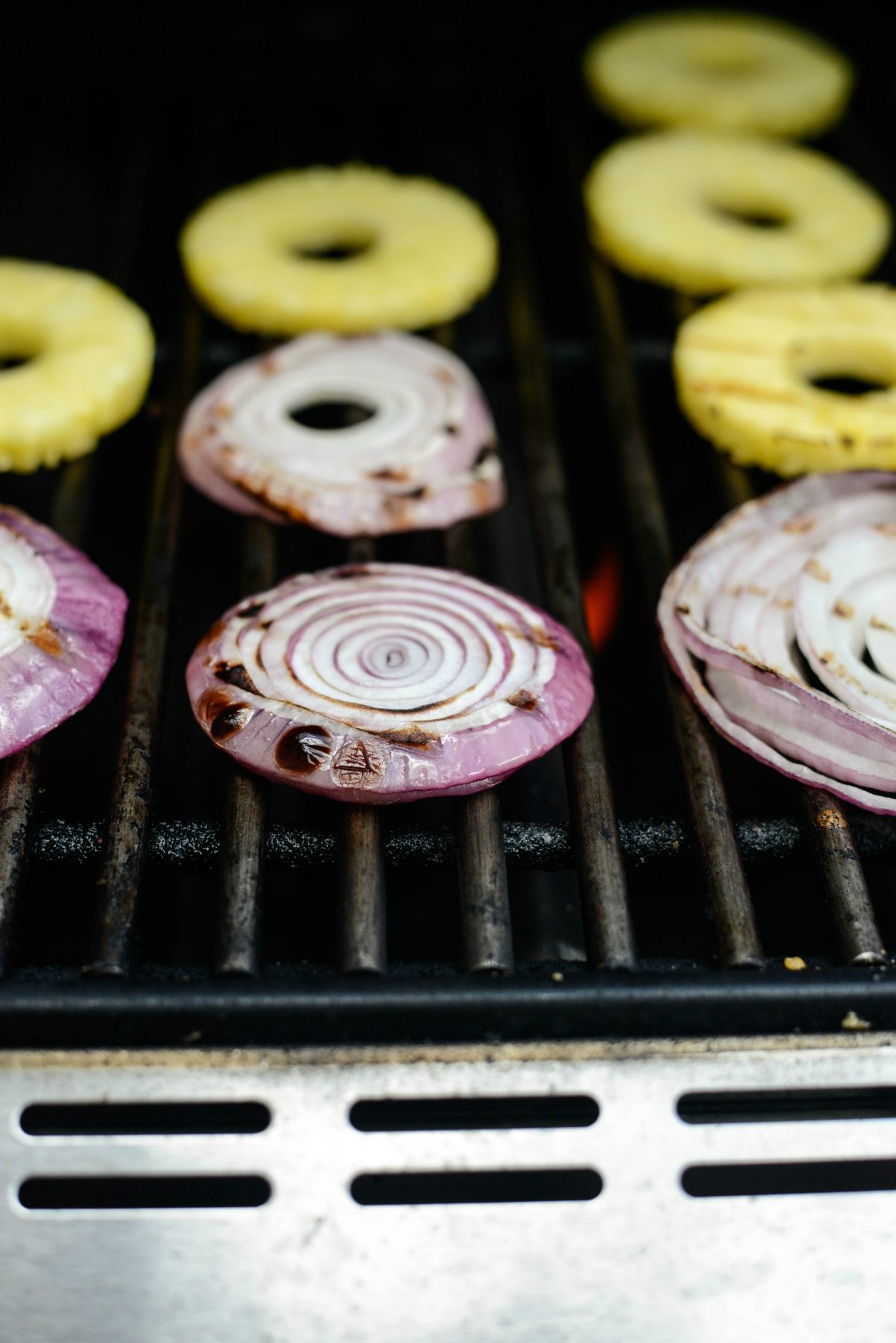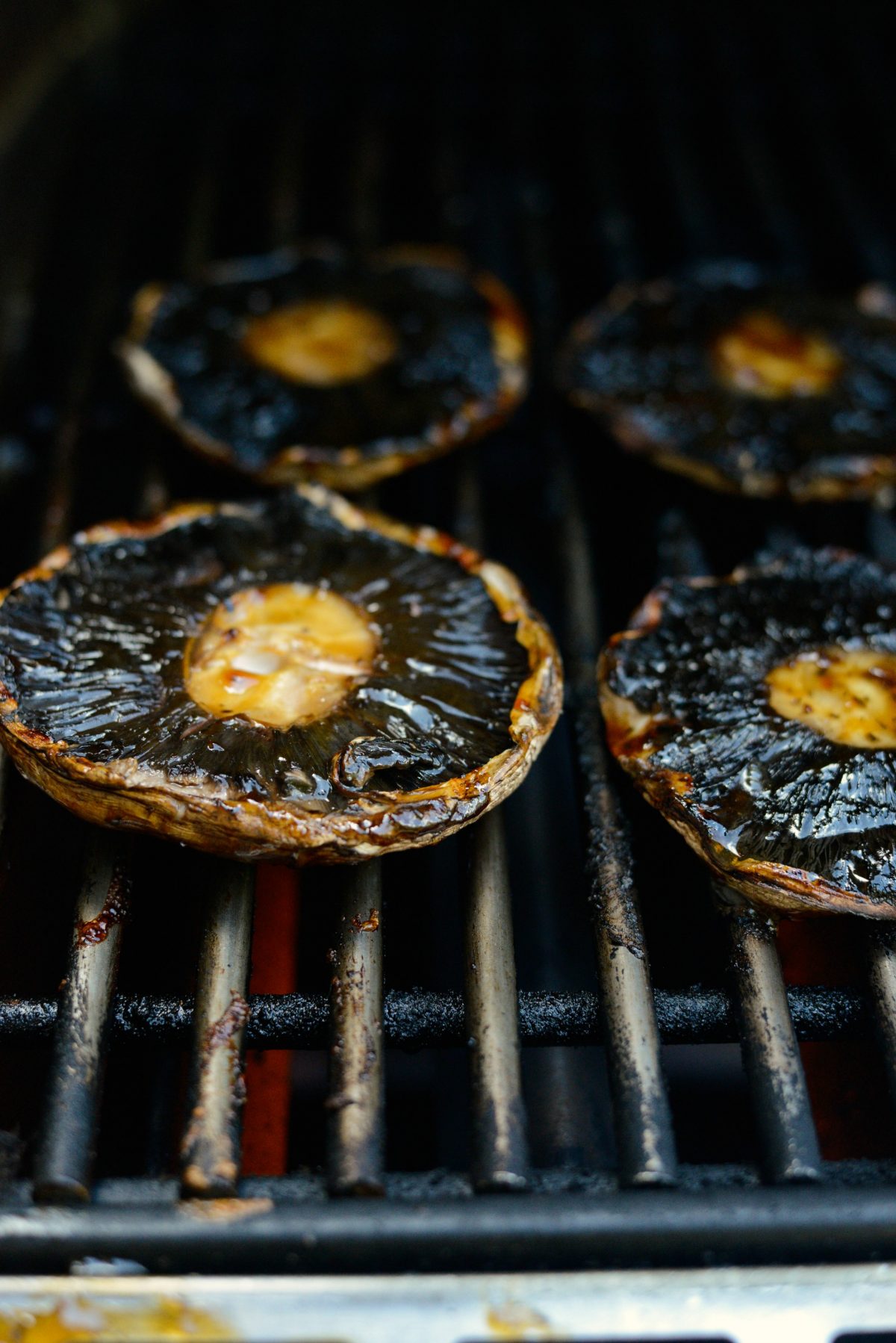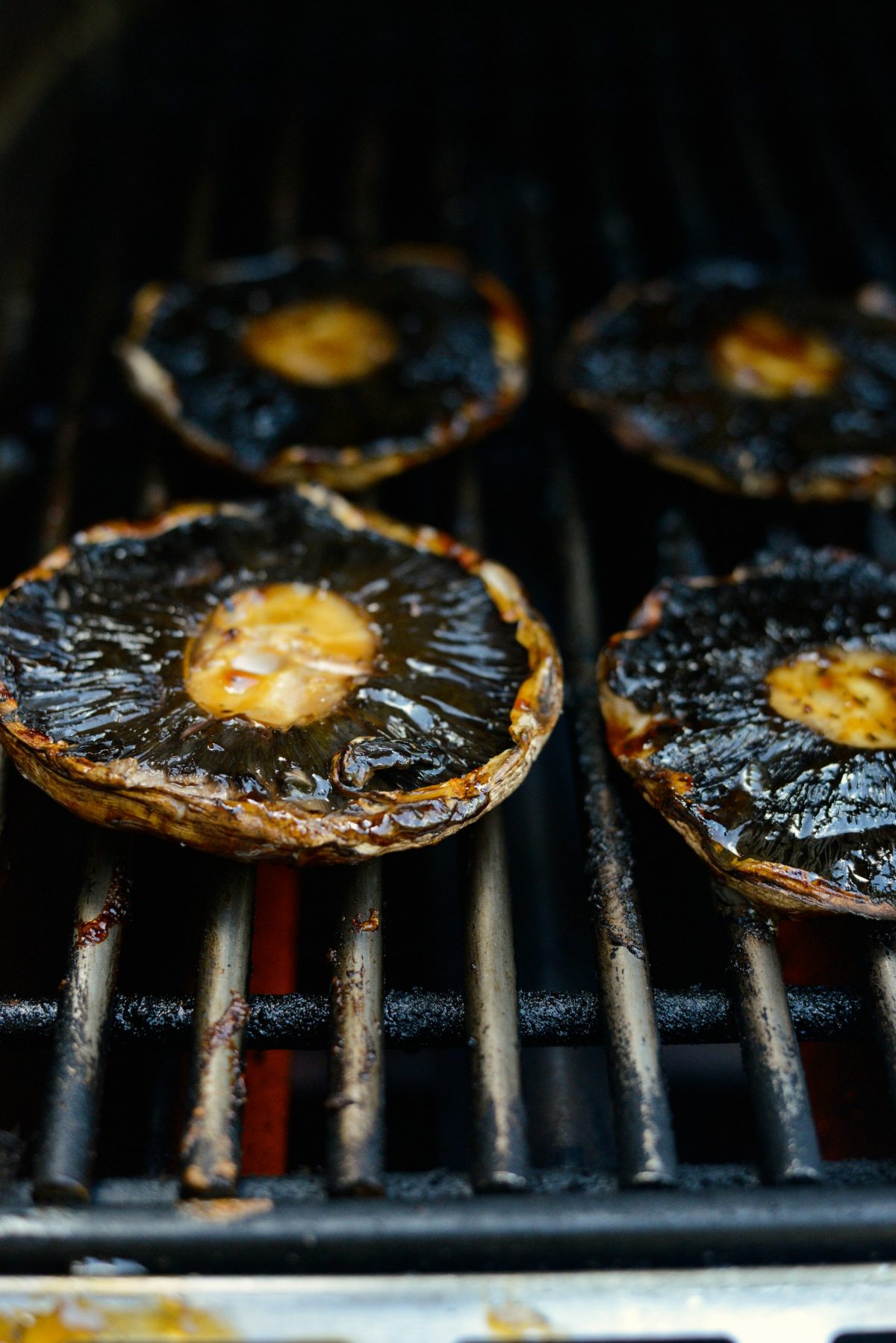 Then carefully turn the portobello burgers, pineapple and onion slices. Close the grill and continue grilling for 3 to 4 minutes more.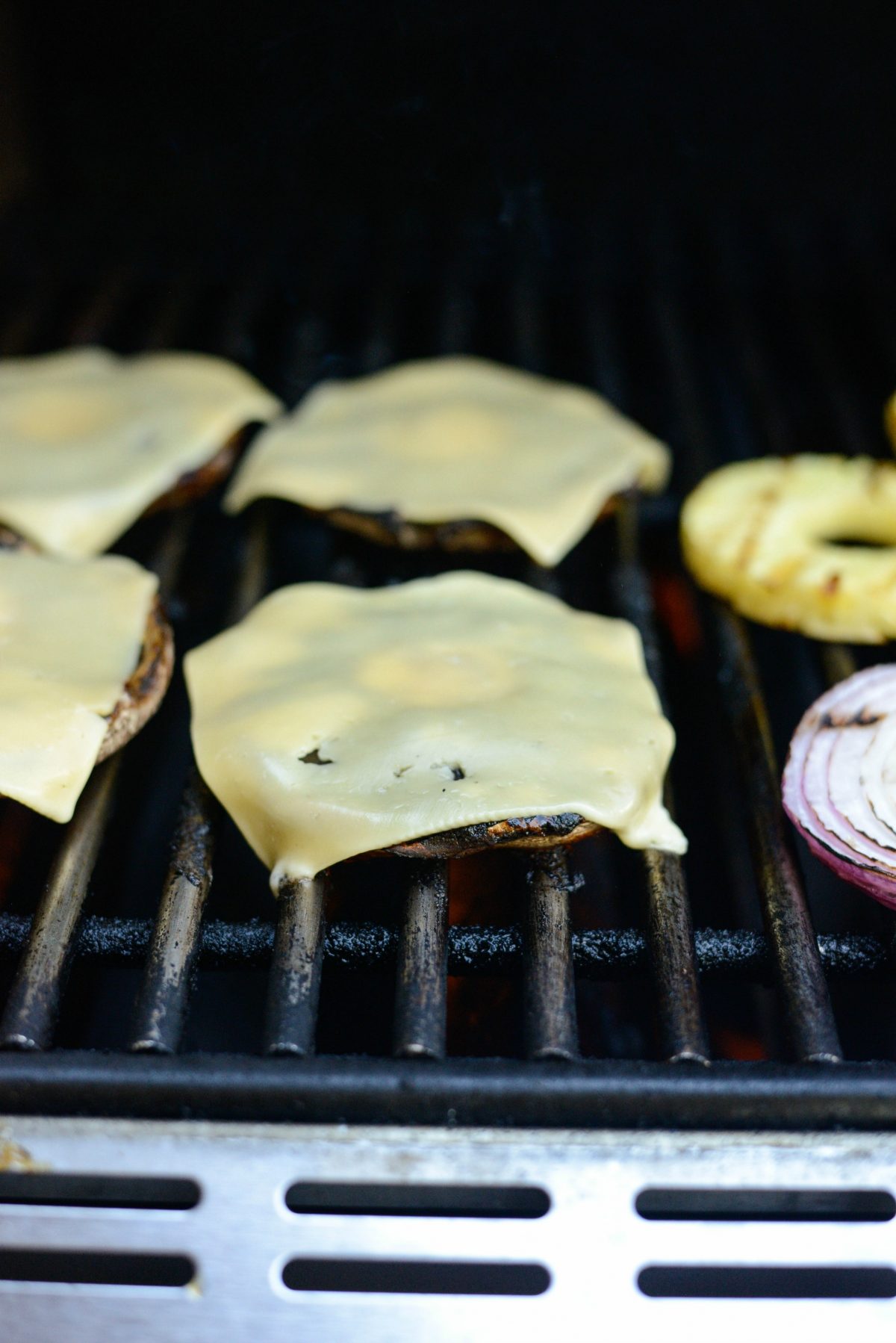 Open the grill and top each burger with a slice of gouda cheese. Go ahead and close the lid if the cheese needs help melting, it should only take a minute or two. Remove the burgers, grilled pineapple and red onion.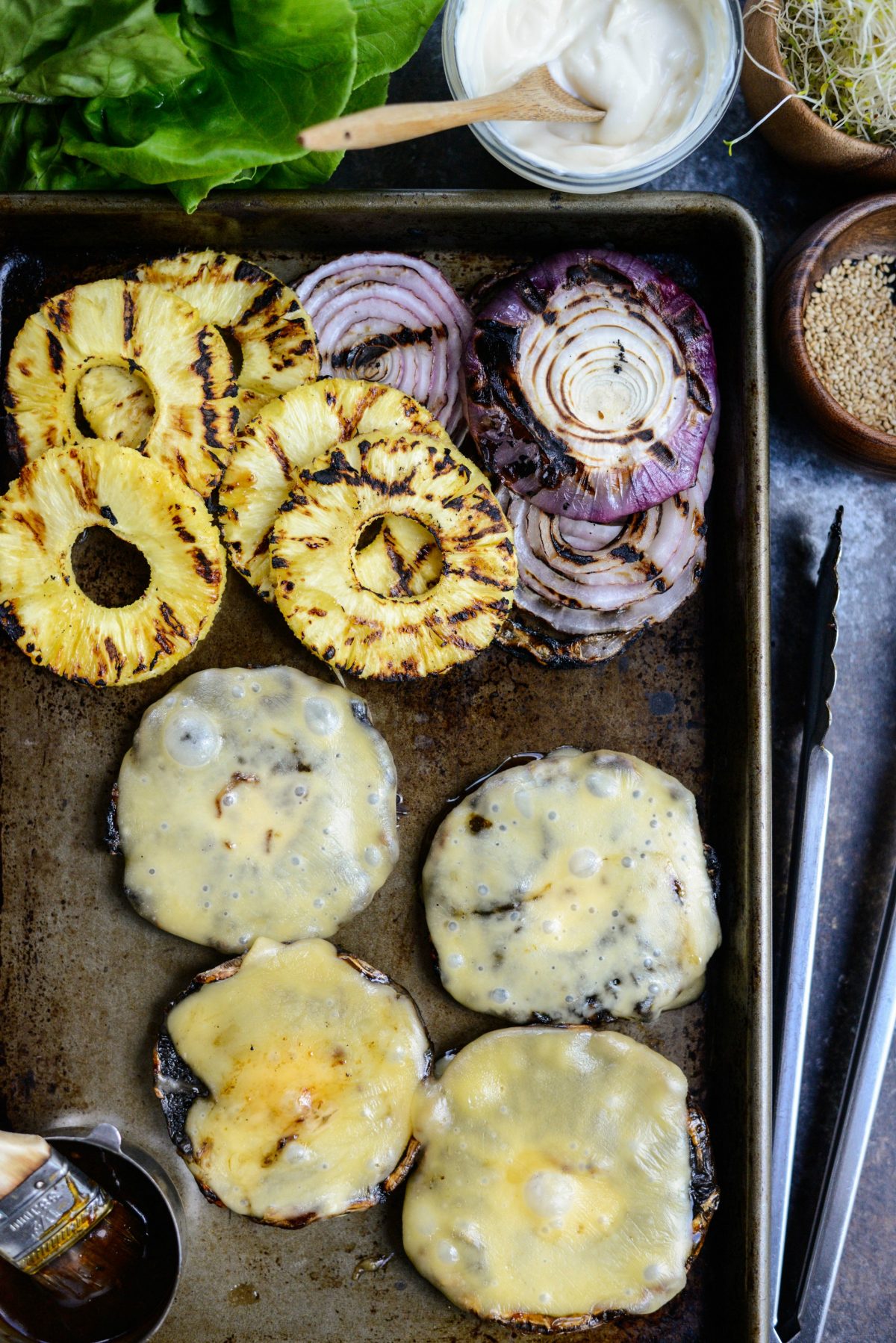 Now it's time to build these burgers!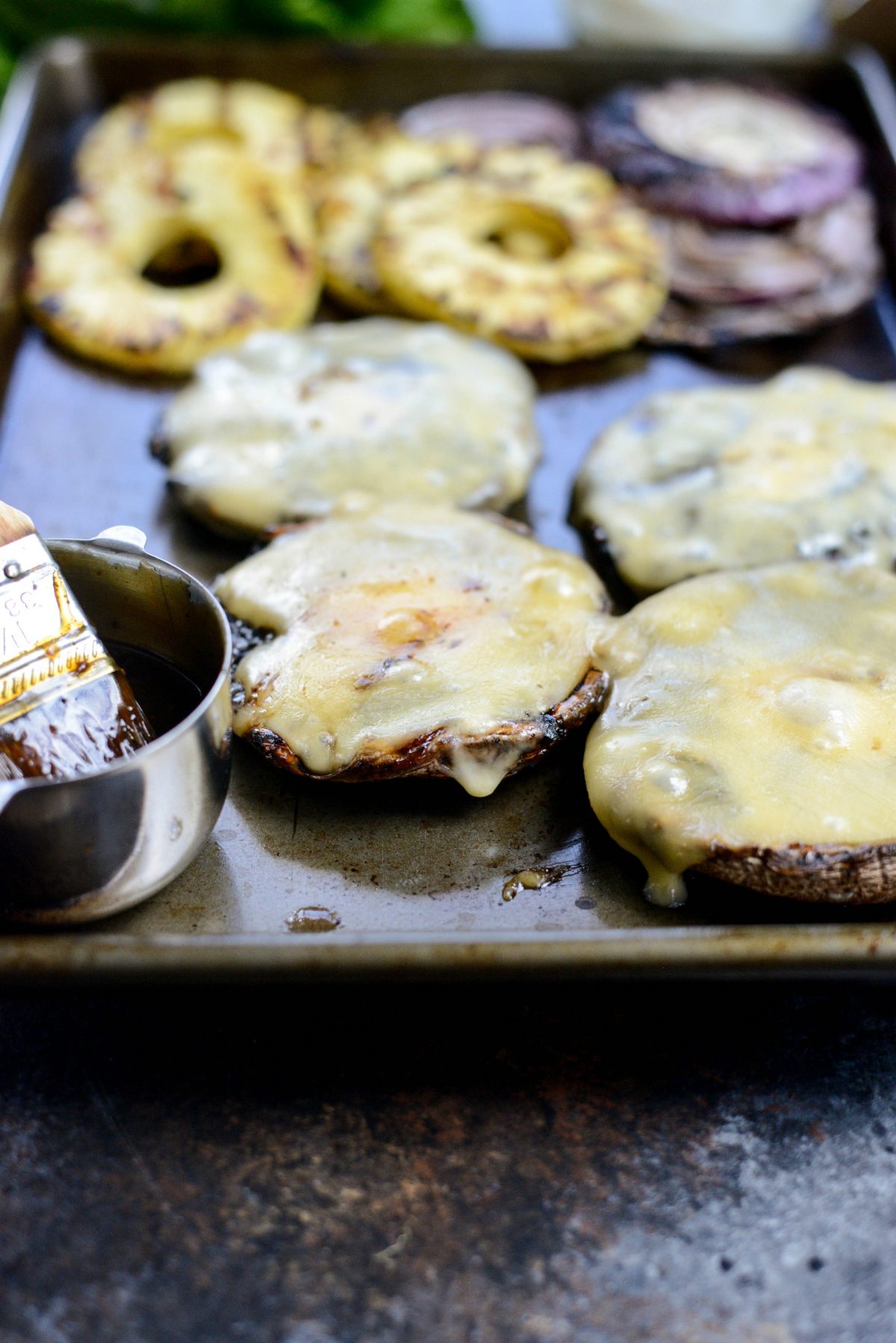 You should smell this deliciousness!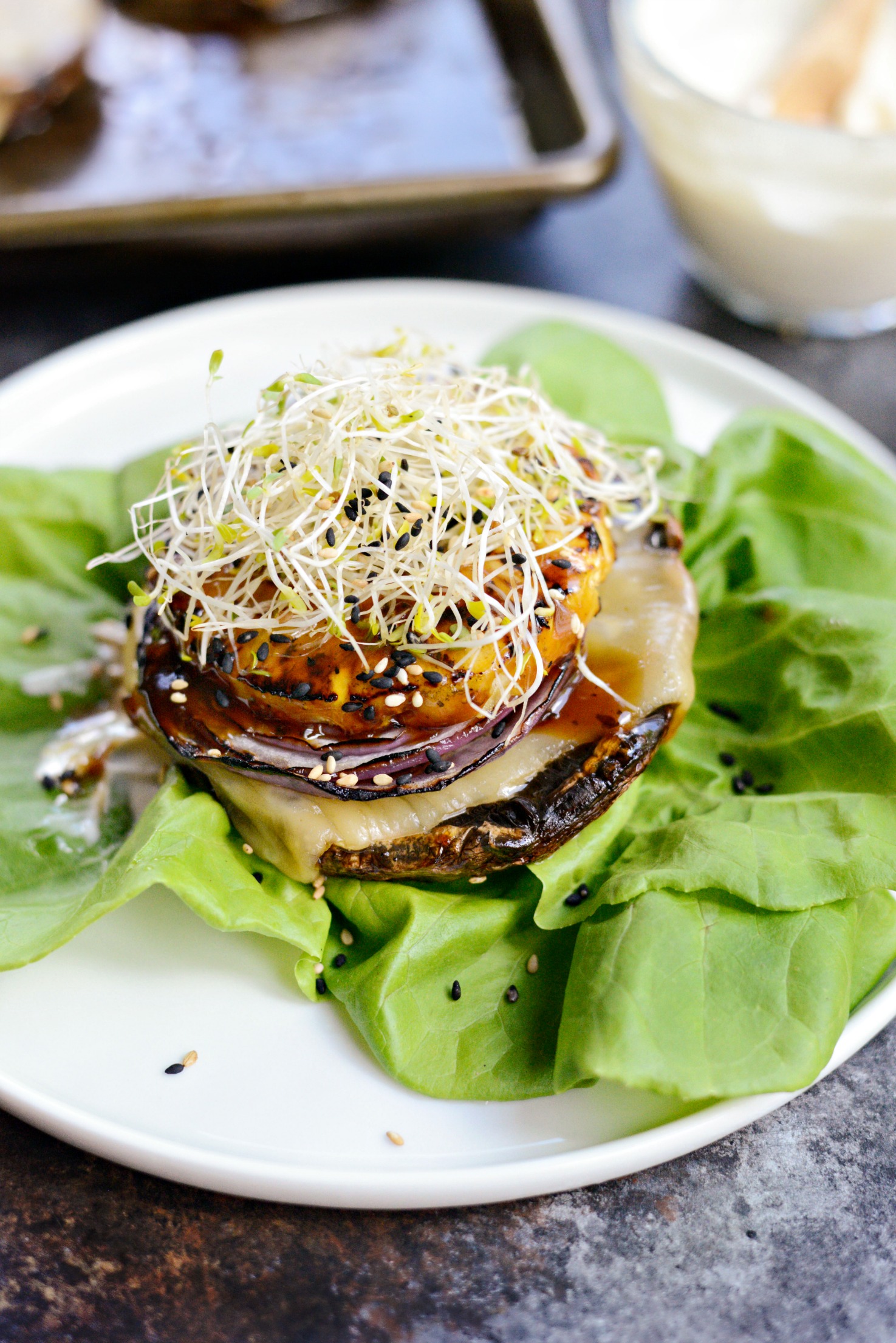 Divide a few butter lettuce leaves onto four plates, add a dollop of the honey wasabi mayo and top with a grilled teriyaki portobello burger, slices of grilled red onion, pineapple and more teriyaki sauce if desired. Garnish with sprouts and a sprinkle of sesame seeds.
These grilled teriyaki portobello burger are:
so juicy
extremely flavorful
ridiculously easy
and very delicious.
Enjoy! And if you give these Grilled Teriyaki Portobello Burgers a try, let me know by snapping a photo and tagging me on twitter or instagram!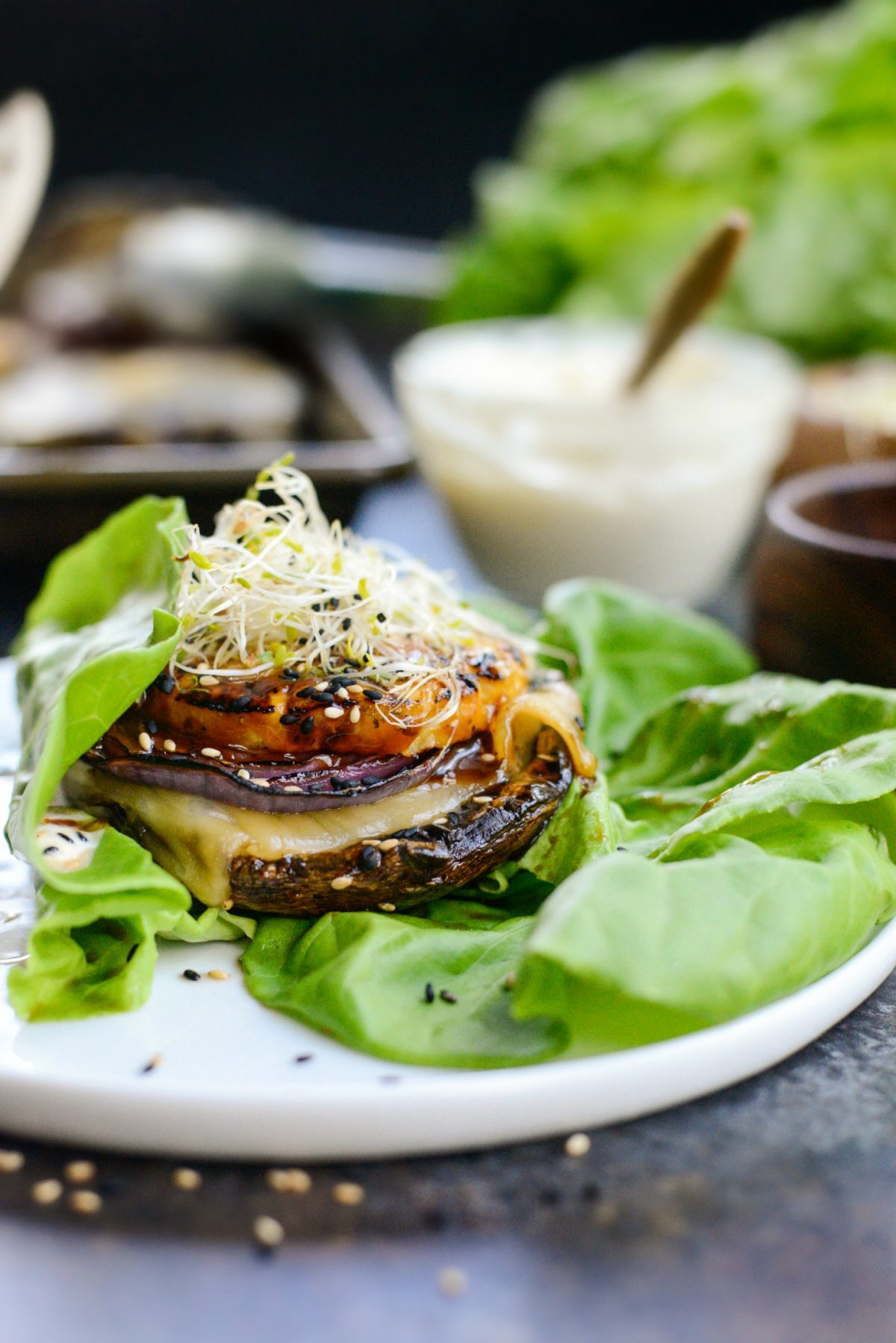 My cookbook Simply Scratch : 120 Wholesome Homemade Recipes Made Easy is now available! CLICK HERE for details and THANK YOU in advance!
[this post contains affiliate links.]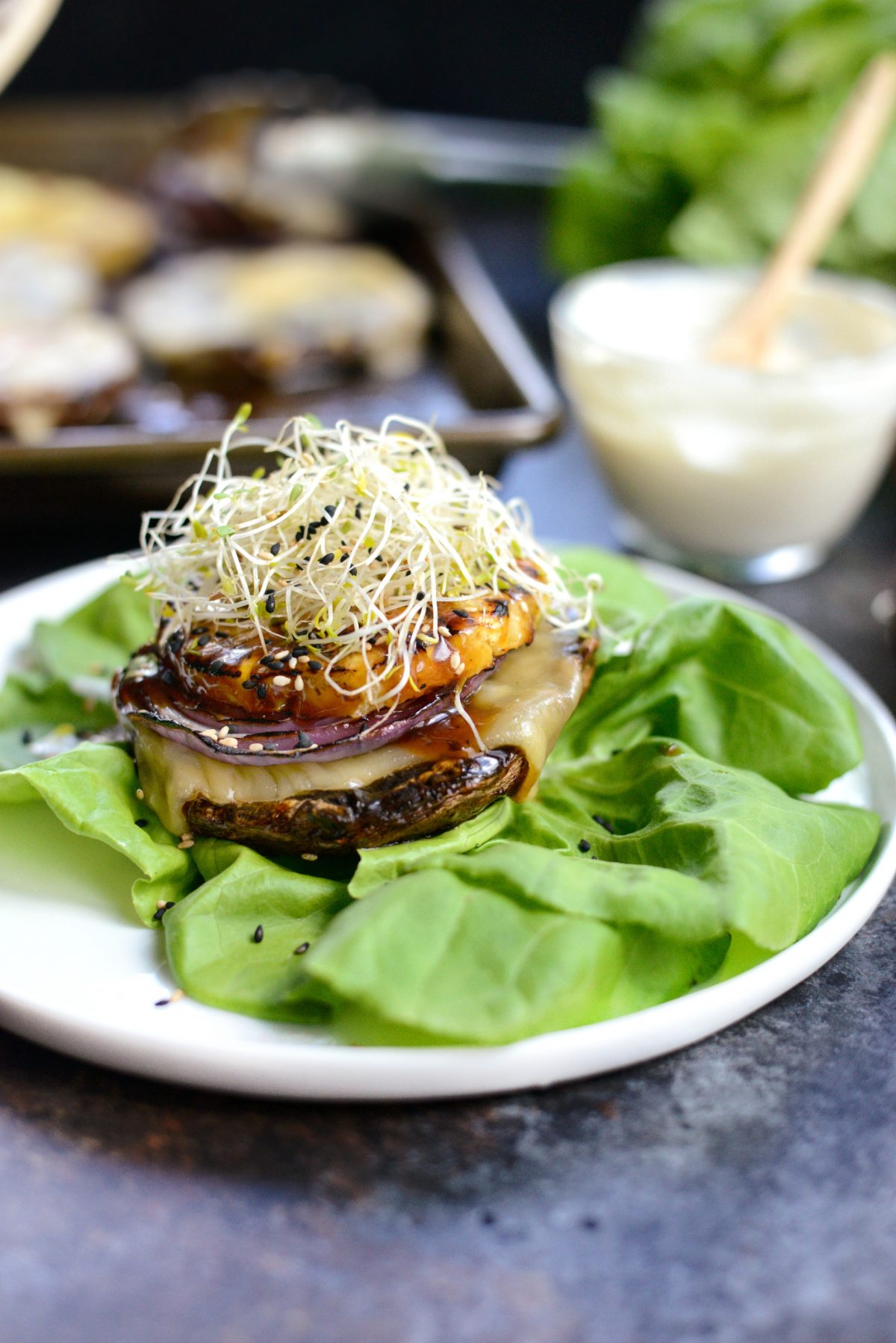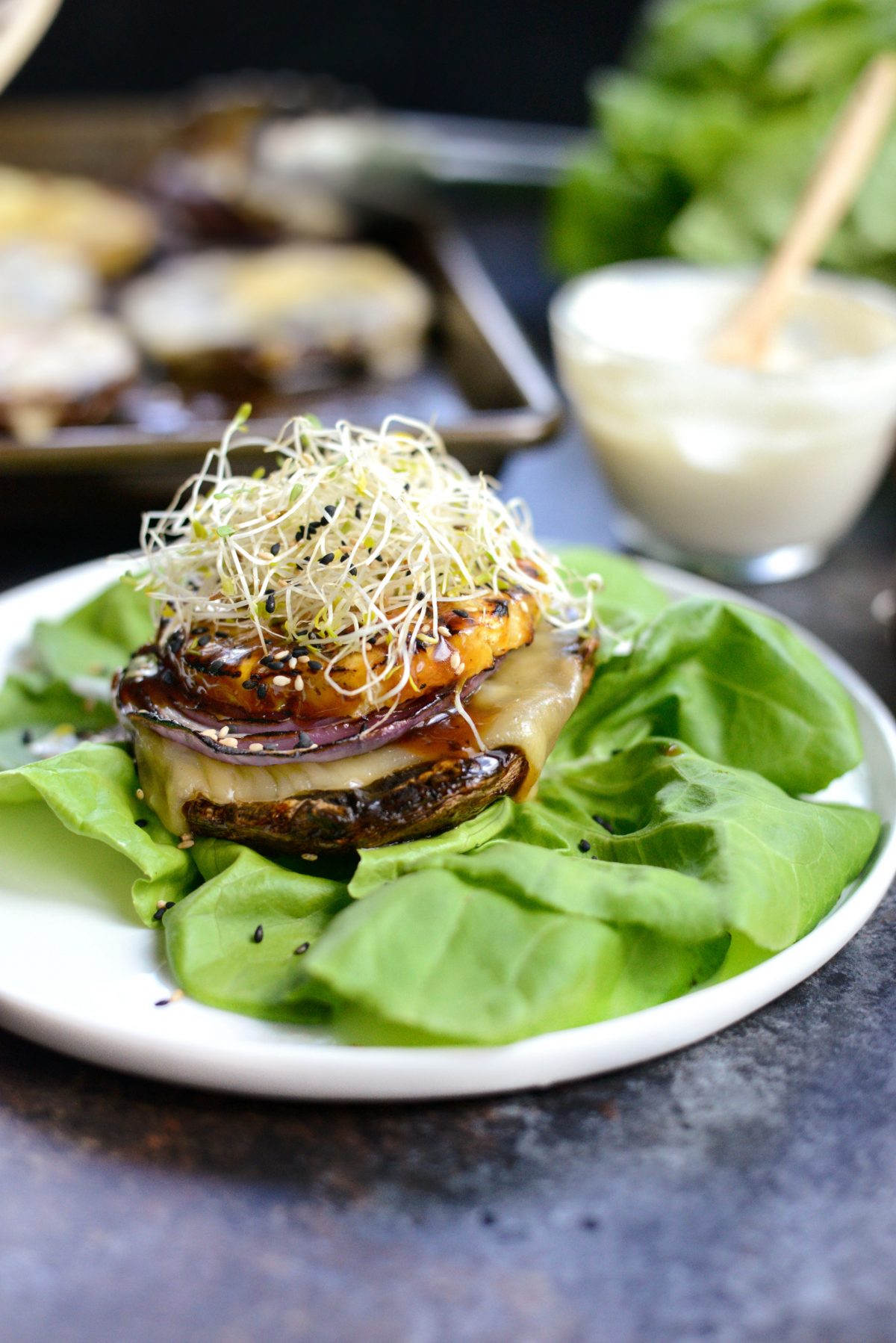 This post may contain affiliate links.
Buy the Cookbook: Simply Scratch : 120 Wholesome Homemade Recipes Made Easy Now available on Amazon »
THANK YOU in advance for your support!