I've partnered with Pampered Chef to create this delicious Strawberry Swirl Mascarpone Ice Cream Cookie Cake with the help from Pampered Chef's time saving tools. Pampered Chef provides personalized, inspirational cooking solutions and is the inspiration behind this recipe.
In this recipe, homemade mascarpone ice cream is swirled with a fresh strawberry puree and layered between thin chocolate cookies. If you're looking for a fun and creative way for spending more time with friends and family, making an ice cream cake is a fun and simple way to create long lasting memories. This post is indeed sponsored by Pampered Chef. As always, my thoughts are my own and my daughter Malloree and I had a blast making this ice cream cookie cake thanks to Pampered Chef and its high-quality and innovative products.
It's officially summer and boy does it ever feel like it. This is my girls first few weeks home on summer vacation and I've had it filled to the max with things to do. Some of our plans are not-so-fun like eye appointments and (gasp!) chores. But the rest of our time, it has been fun things like a mini-staycation up north, summer clothes shopping, having their friends over.
And of course, making delicious, fun and cool treats together like this Strawberry Swirl Mascarpone Ice Cream Cookie Cake.
While the title of this recipe may be a mouthful, I promise you that it isn't as hard as it may sound. You don't have to be an expert cook to use Pampered Chef products (and recipes). Trust me! Its tools and cooking experiences are designed to fit every lifestyle and skill level, allowing you to enjoy meals (and desserts 😉 ) on the table faster so you can spend more time with friends and family.
What I particularly love is that Pampered Chef solves everyday problems through quick and easy recipes, entertaining inspiration and educational experiences. And they pretty much have a time-saving kitchen tool for just about anything and everything. Pampered Chef products can be purchase through a local consultant or at PamperedChef.com.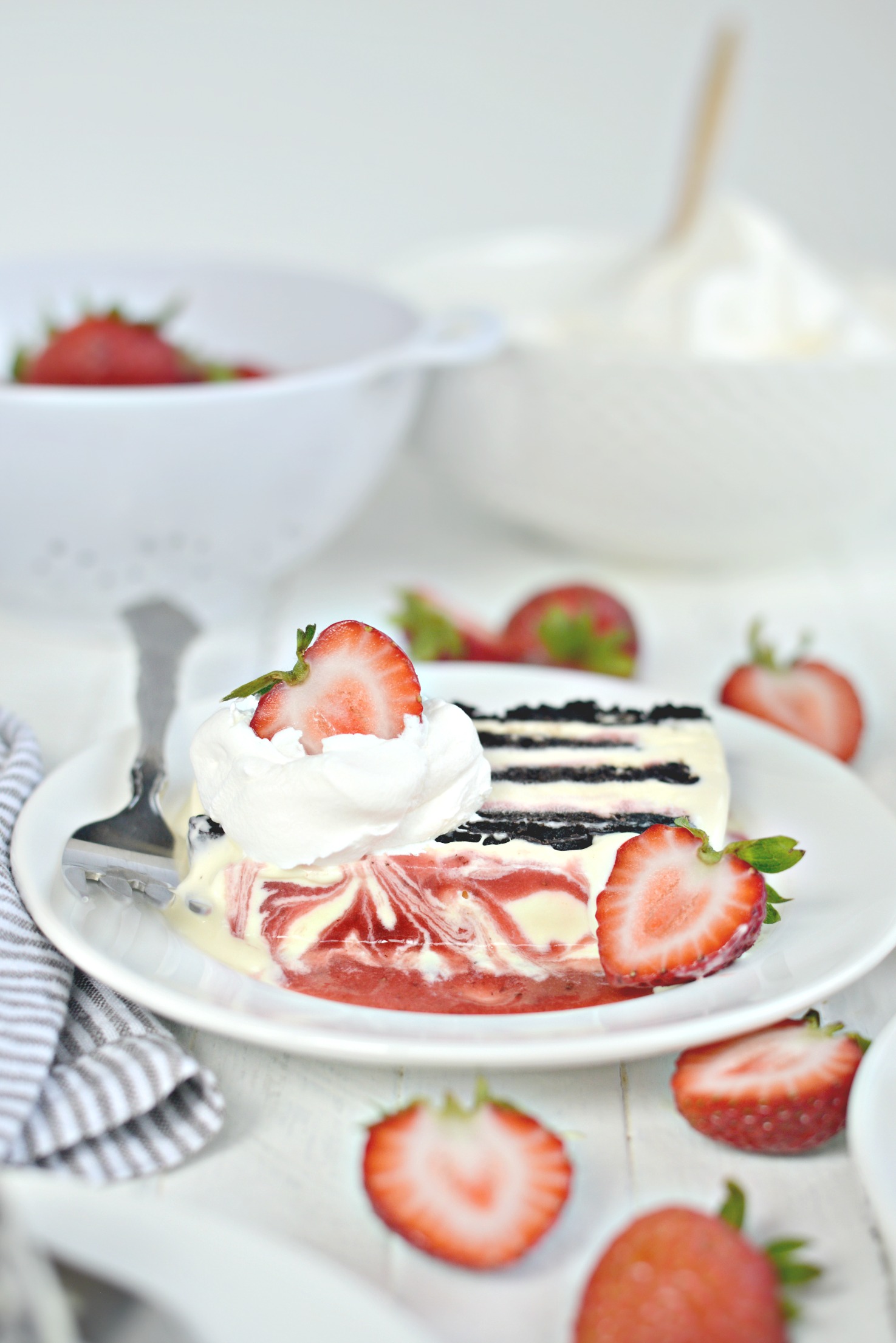 I'm excited to tell you all about this cake and the new summer products that launched June 1st of this year and some classics that are kitchen must haves. So many useful, fun and vibrantly colored kitchen tools, gadgets and even a Kids' Apron Set that I think you and your kids love.
Because I sure do.
I thought making this ice cream cookie cake was a delicious way to kick off summer and to cool down on these hot and humid 90° days. Wouldn't you agree? Not that I expect this dessert to last longer than the weekend around here. So, I enlisted the help from my youngest daughter, Malloree, because she's usually up before Haileigh's rise-and-shine at 12pm. Plus she likes to bake with me.
Let's begin! (ps. I could never make this hairstyle work for me. Ever.)
Start by adding 1-1/4 cup (2 and 1/2 sticks or 20 tablespoons) of softened unsalted butter into a large bowl.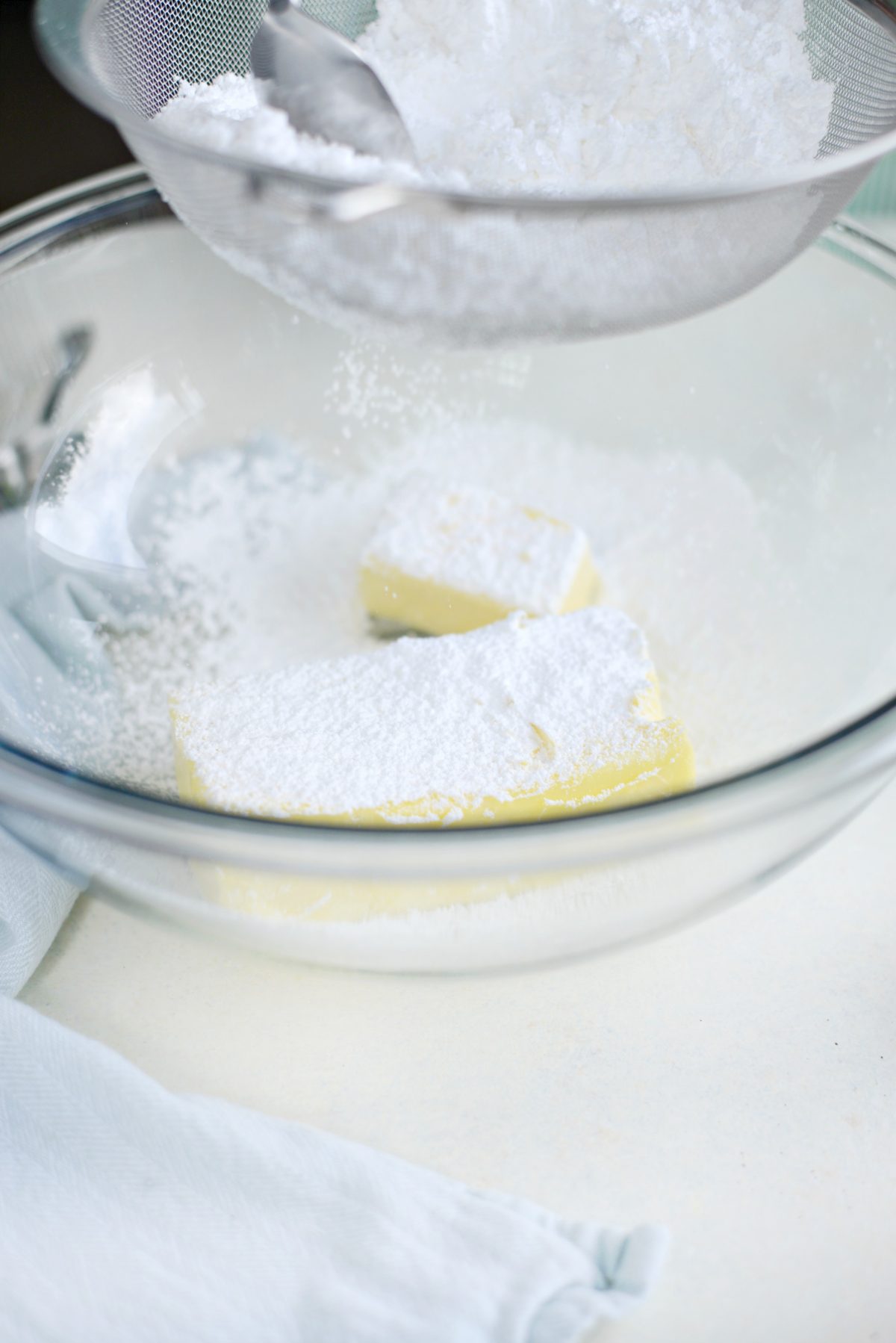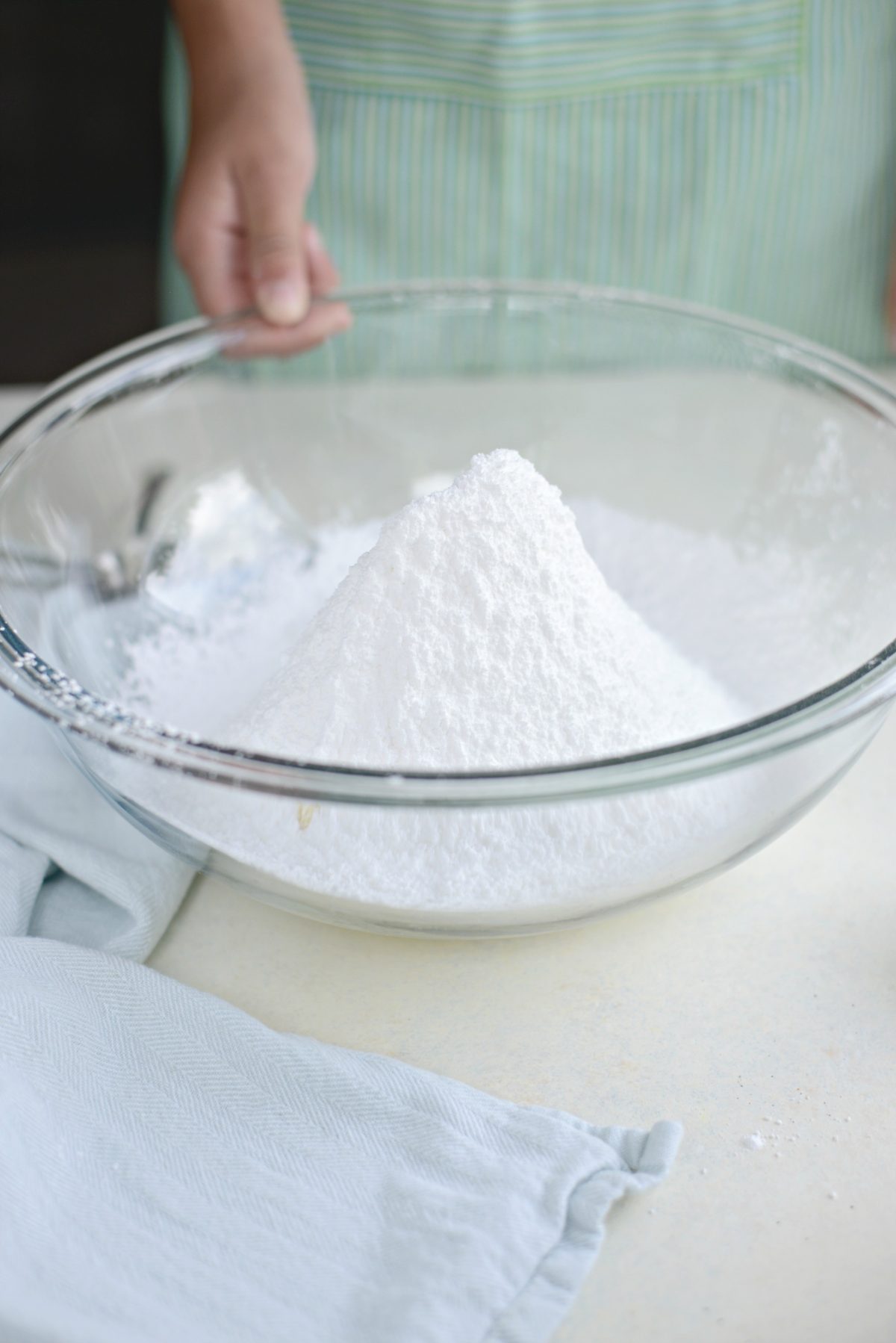 Next sift in 2 cups powdered (confectioners) sugar.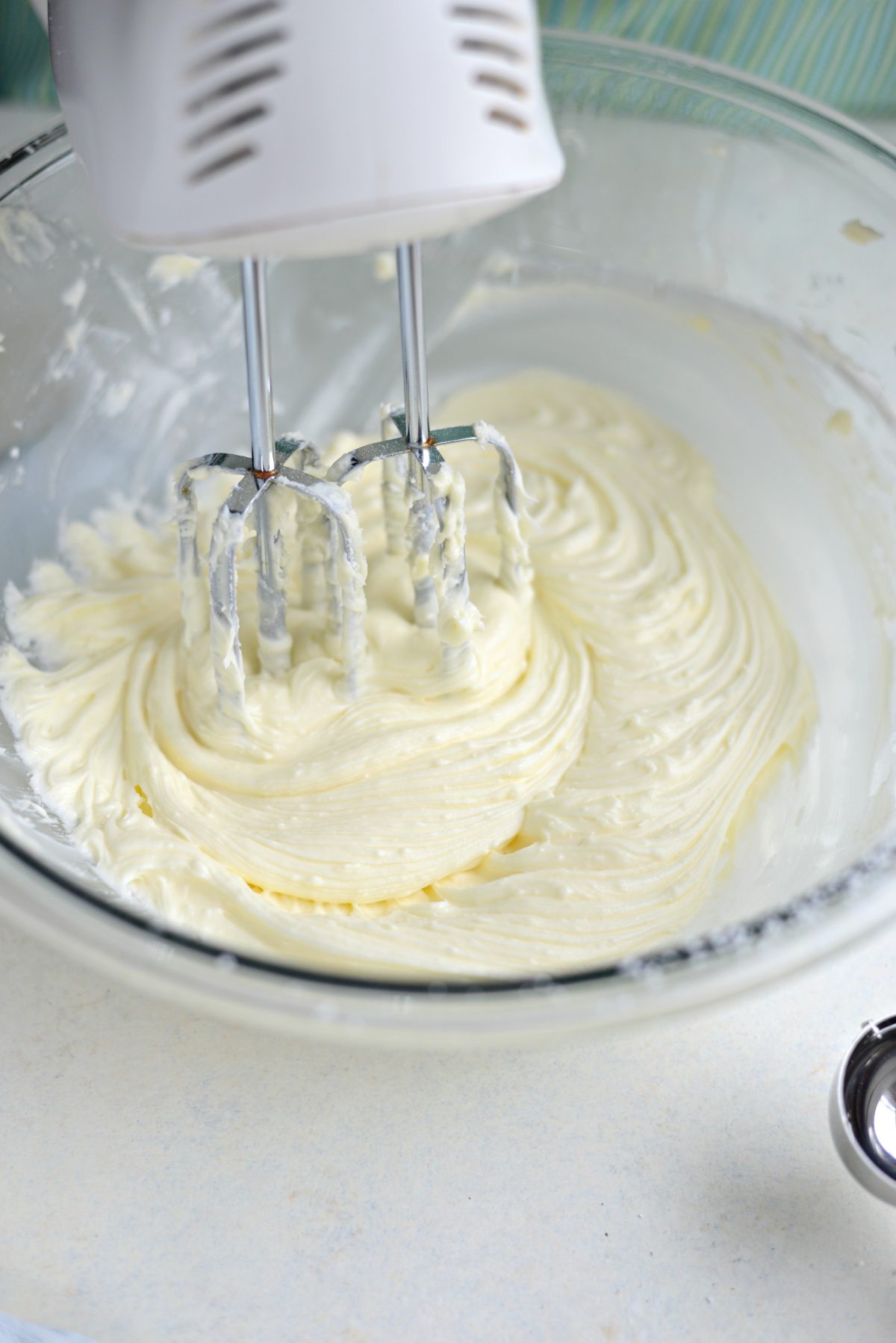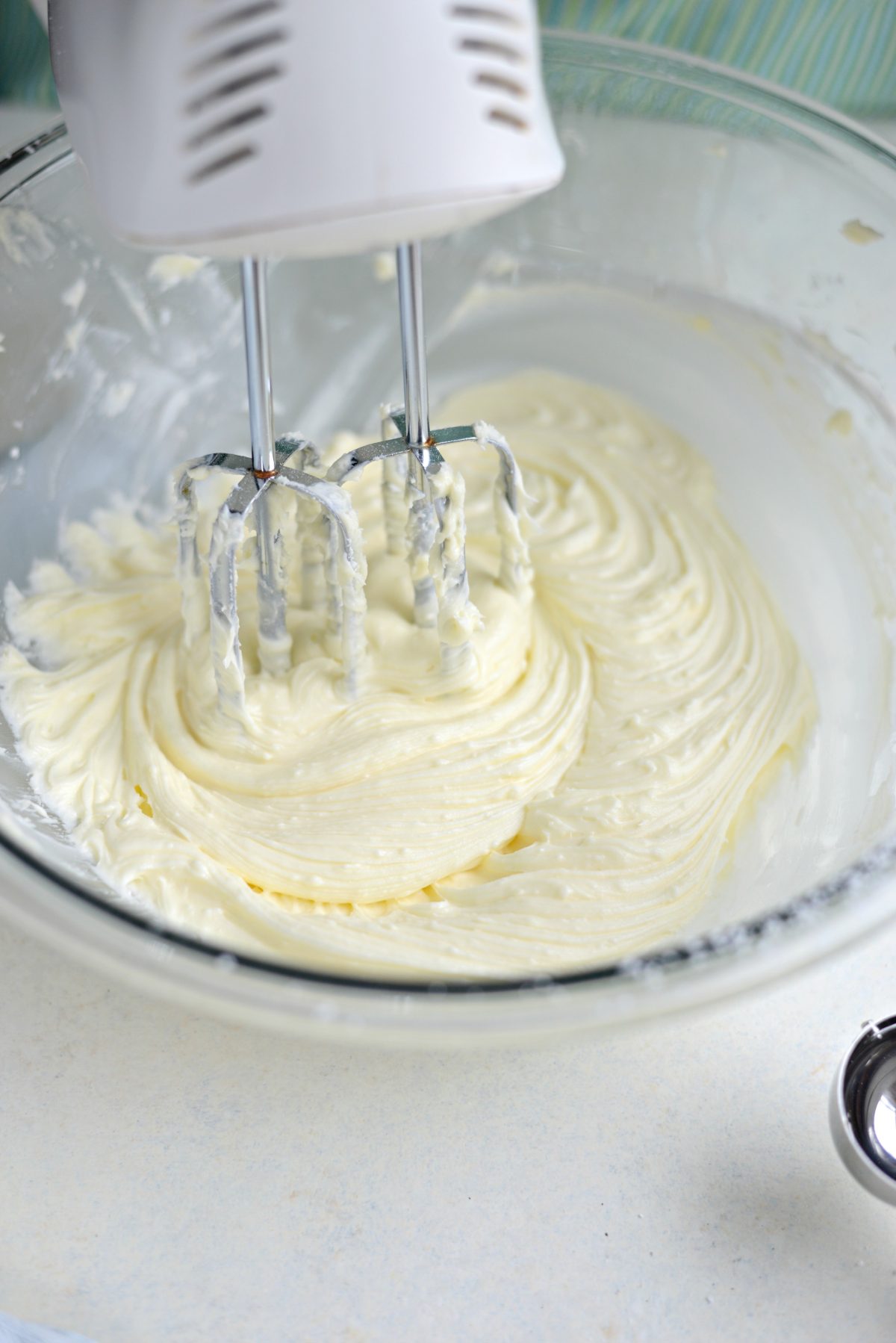 Using a stand mixer or your hand mixer, combine the sugar and butter together until creamy and light yellow in color.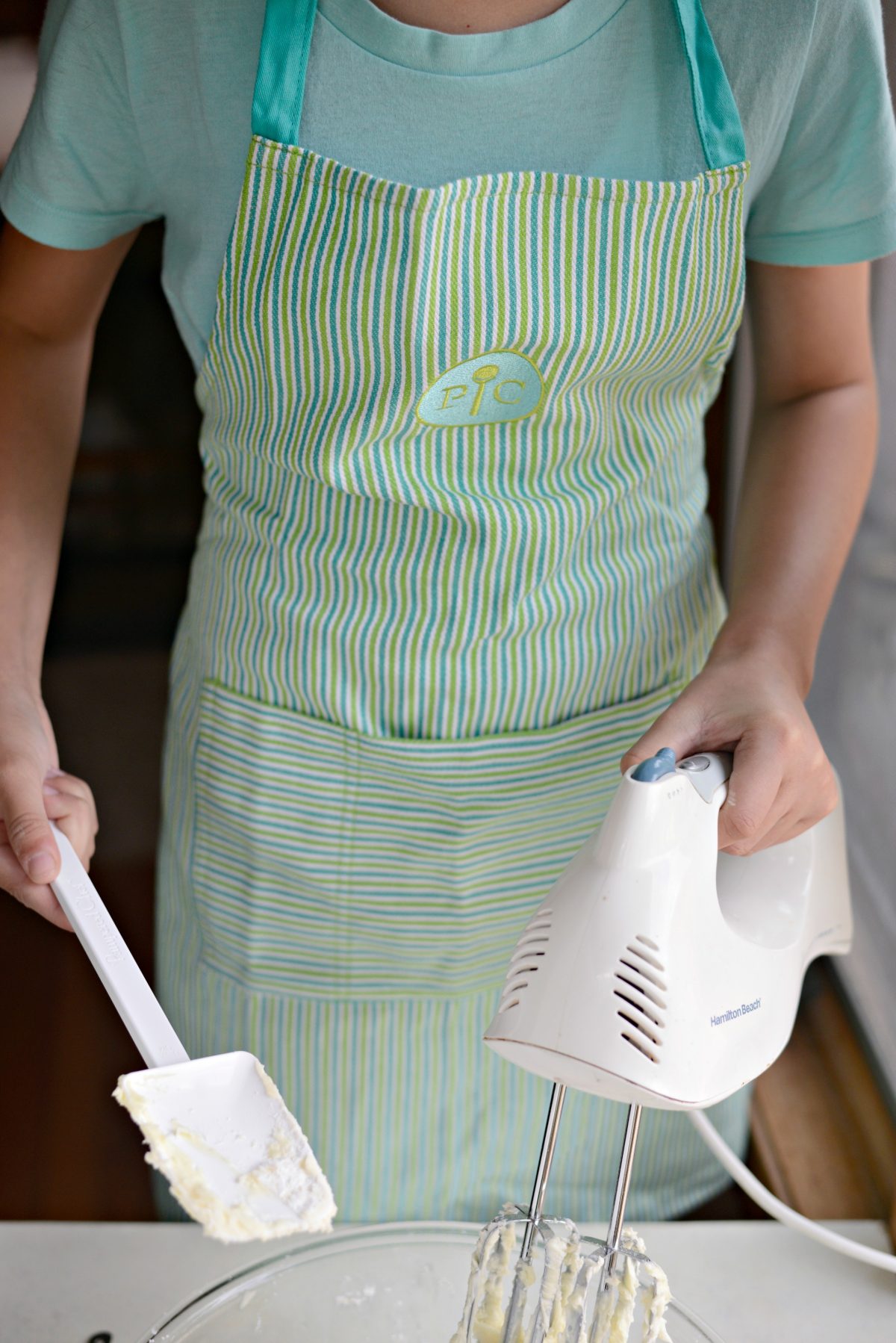 Scrape the bowl and the beaters with the Small Mix 'N Scraper. You guys, no kitchen is complete without the Mix 'N Scraper! It's a heavy-duty scraper and spoon in one — use it to mix, then easily scoop and scrape food into your pan or serving dish. I LOVE THESE SPATULAS! Not only are they dishwasher safe, but the head is heat resistant up to 650° and the nylon handle is heat-resistant up to 450°. I have the Mix 'N Scraper in two sizes (regular and small) and they both get a lot of use in my kitchen. The small one is great for smaller hands while the large one is great for bigger jobs.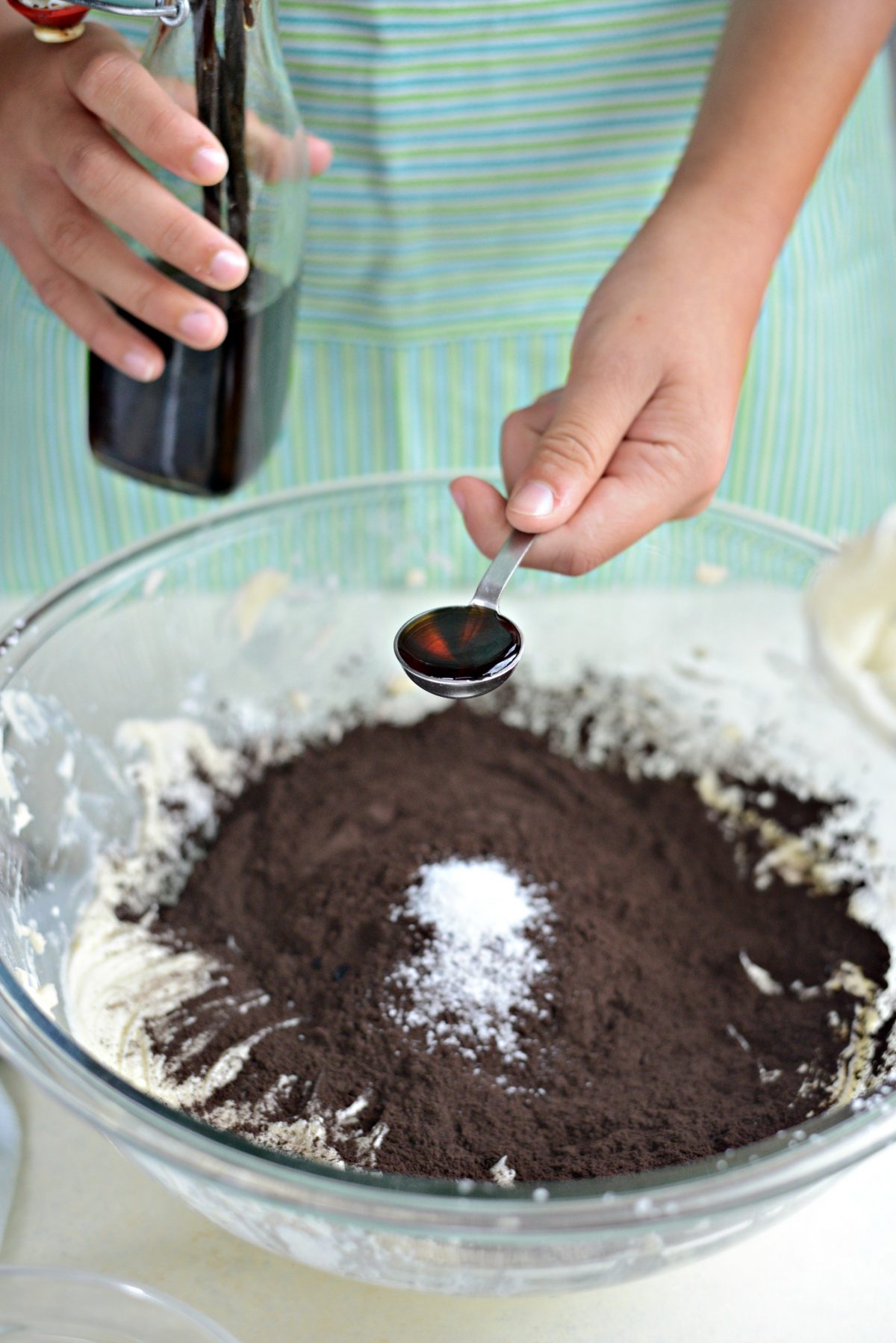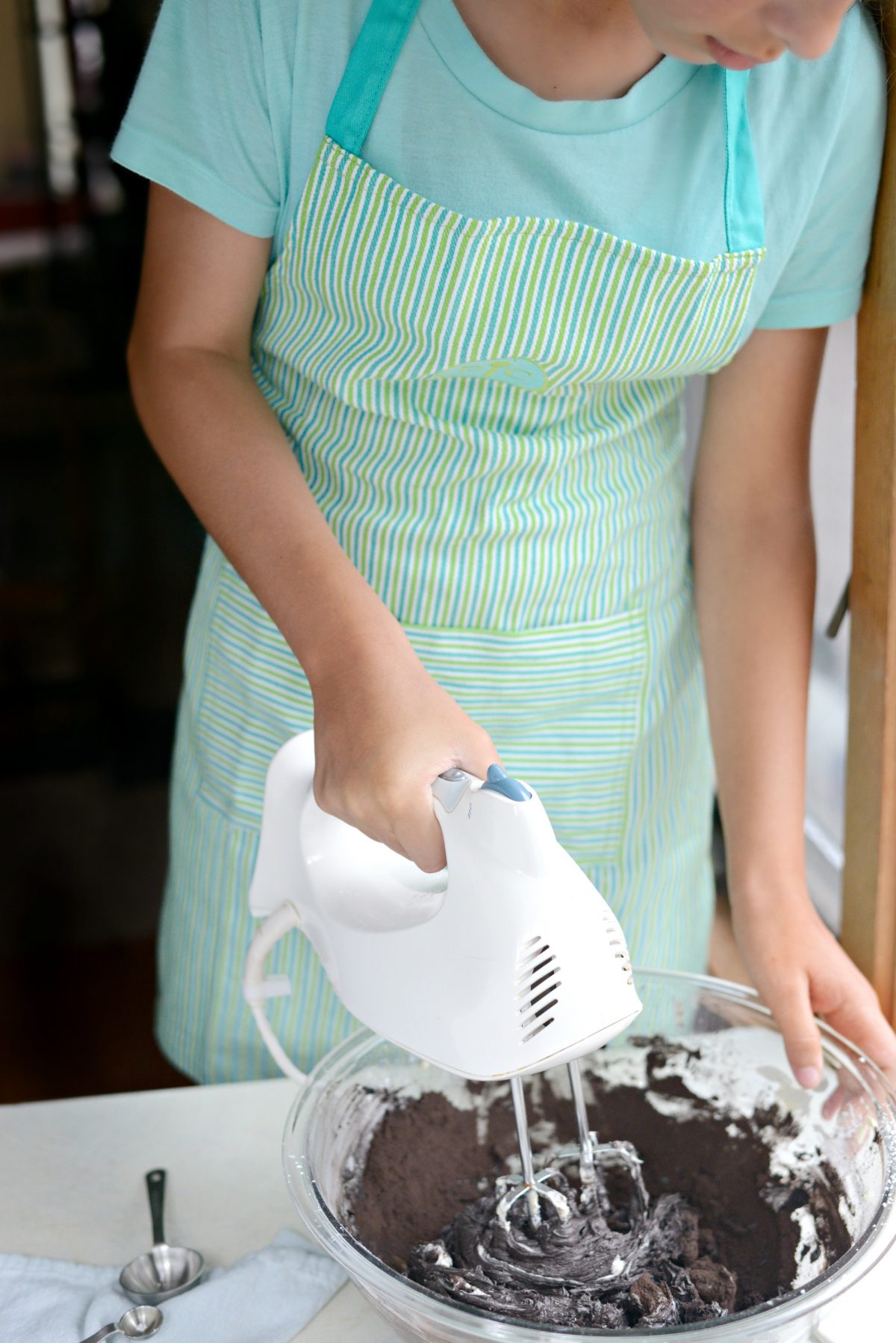 Next add in the 1 cup cocoa powder, 1/2 teaspoon kosher salt and 1 teaspoon pure vanilla extract to the sugar and butter mixture. I'm using unsweetened black cocoa powder (think Oreos!) but in a pinch, Hershey's Special Dark cocoa powder can be used.
Gradually add in the flour, a half cup at a time, until the cookie dough is crumbly and no longer sticky.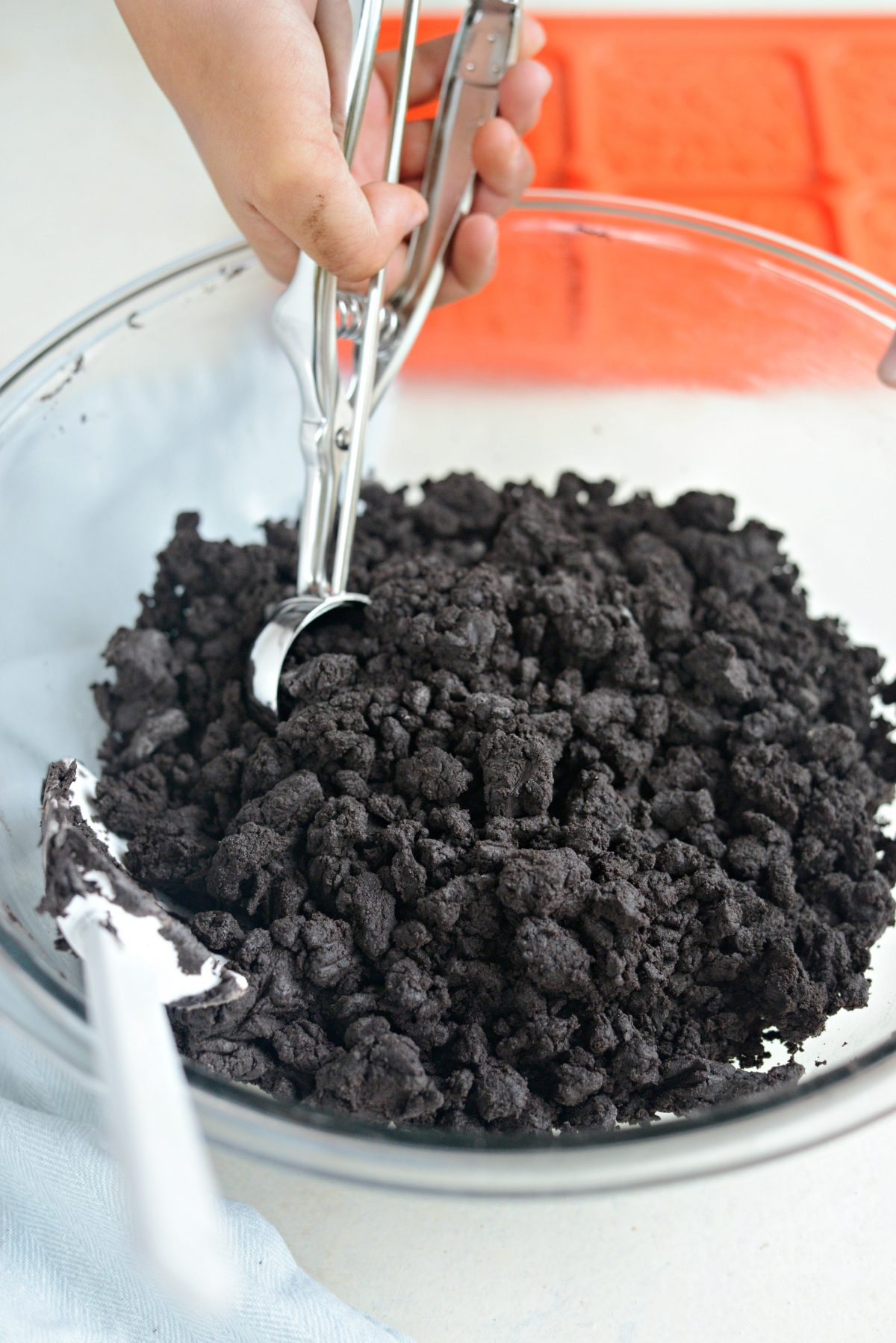 I use my Pampered Chef Medium Scoop (holds 2 tablespoons) to scoop the dough onto the bottom tray of the Ice Cream Sandwich Maker.
These heavy-duty stainless-steel scoops are great for evenly portioning batters, doughs, fillings and salads. The squeeze-action handles allow for convenient one-handed use and they are dishwasher-safe. I use these ALL the time and are a long-time favorite and kitchen tool essential!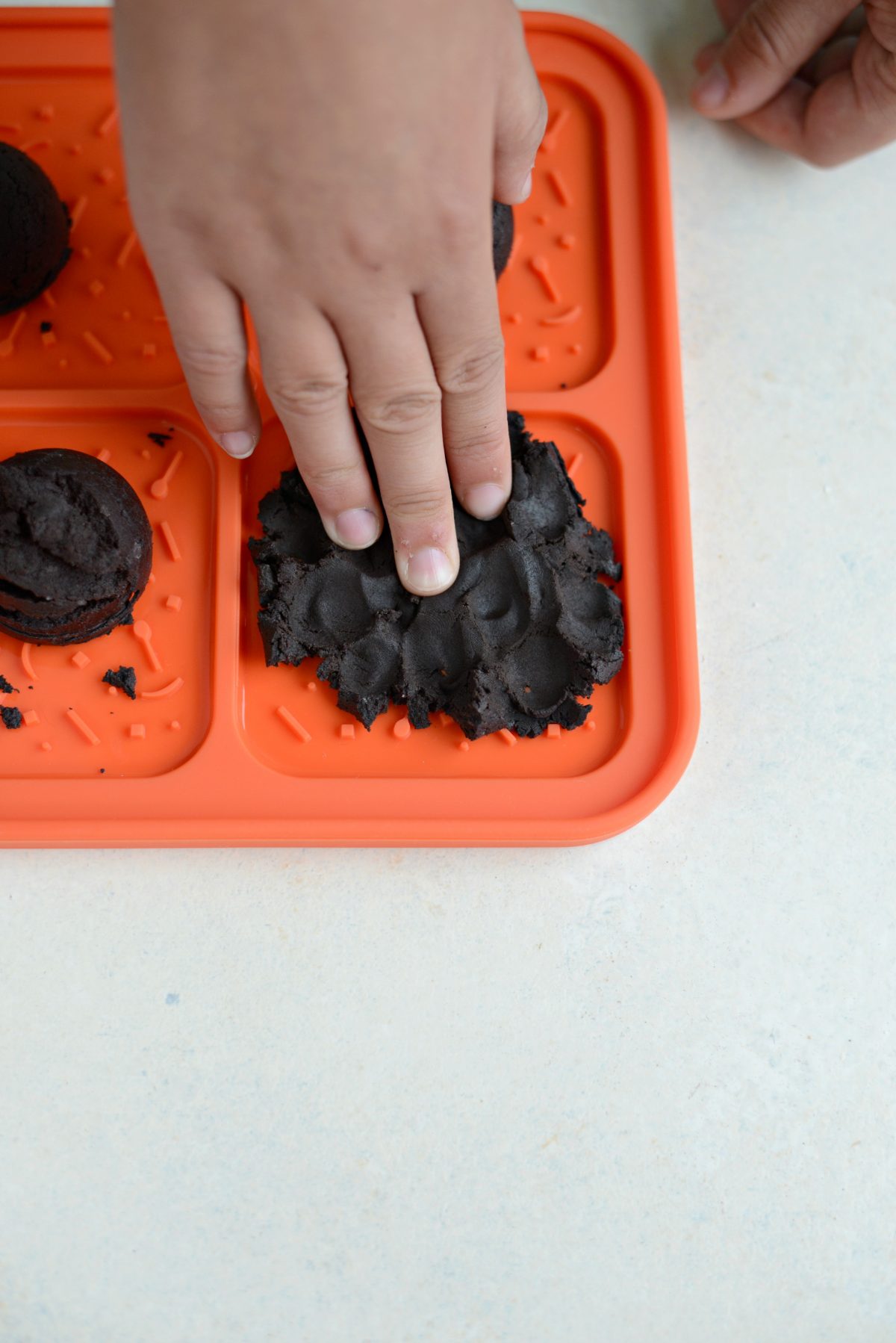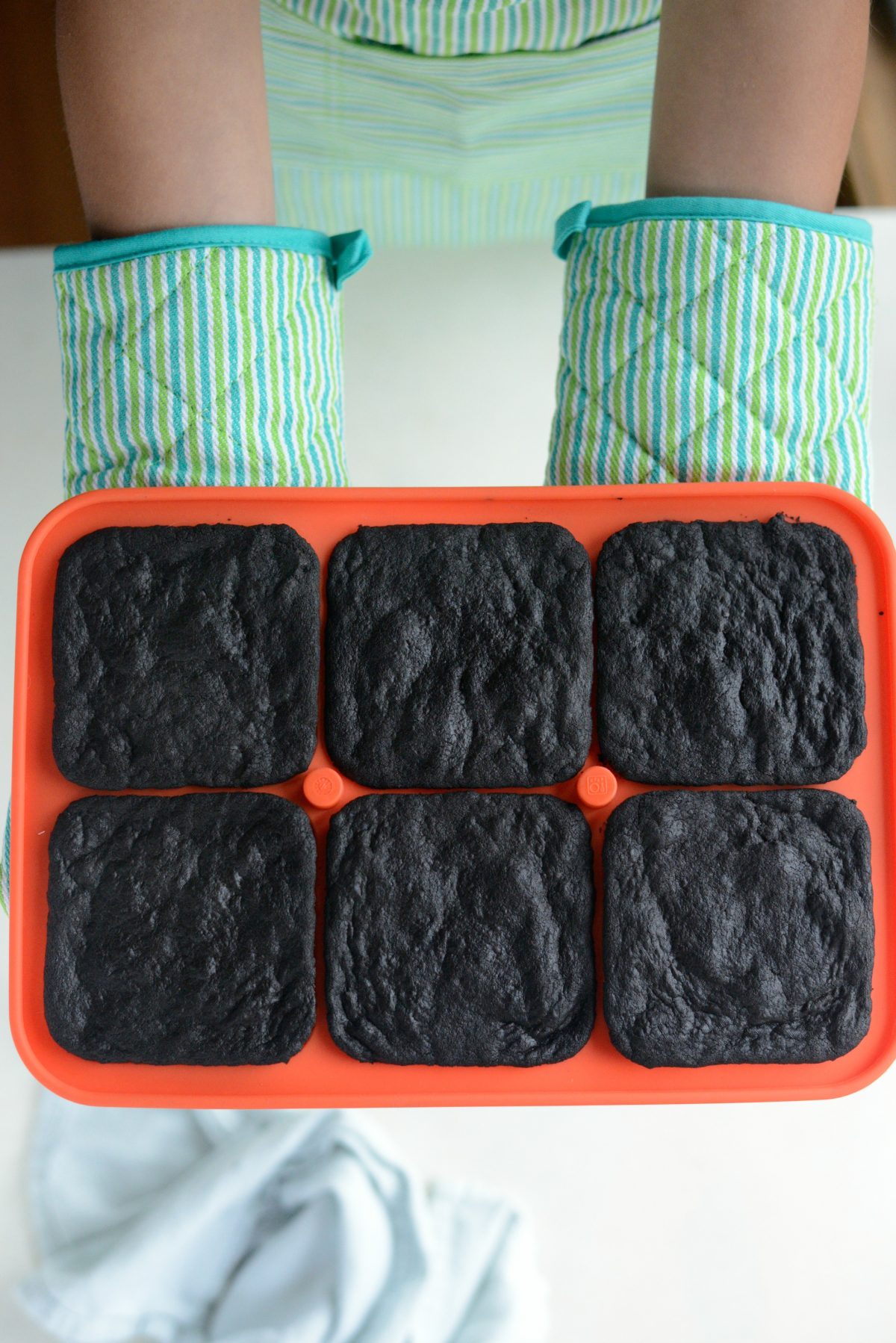 Use your impeccably clean hands to press the cookie dough into the ice cream cookie tray, and bake at 300° for about 12 to 14 minutes. Then cool completely.
I'm pretty excited about the Ice Cream Sandwich Maker. Making homemade ice cream sandwiches has never been easier! Start by baking your favorite cookie or brownie batter in the silicone trays. Then fill the molds with your favorite ice cream, and freeze for sweet, simple treats. One set makes six square ice cream sandwiches and the whole thing is dishwasher-safe.
I'm not making ice cream sandwiches today, but it's on my to-do list. However, I did want to make cookies to fit the Ice Cream Cake Pan and the silicone trays helped me with that.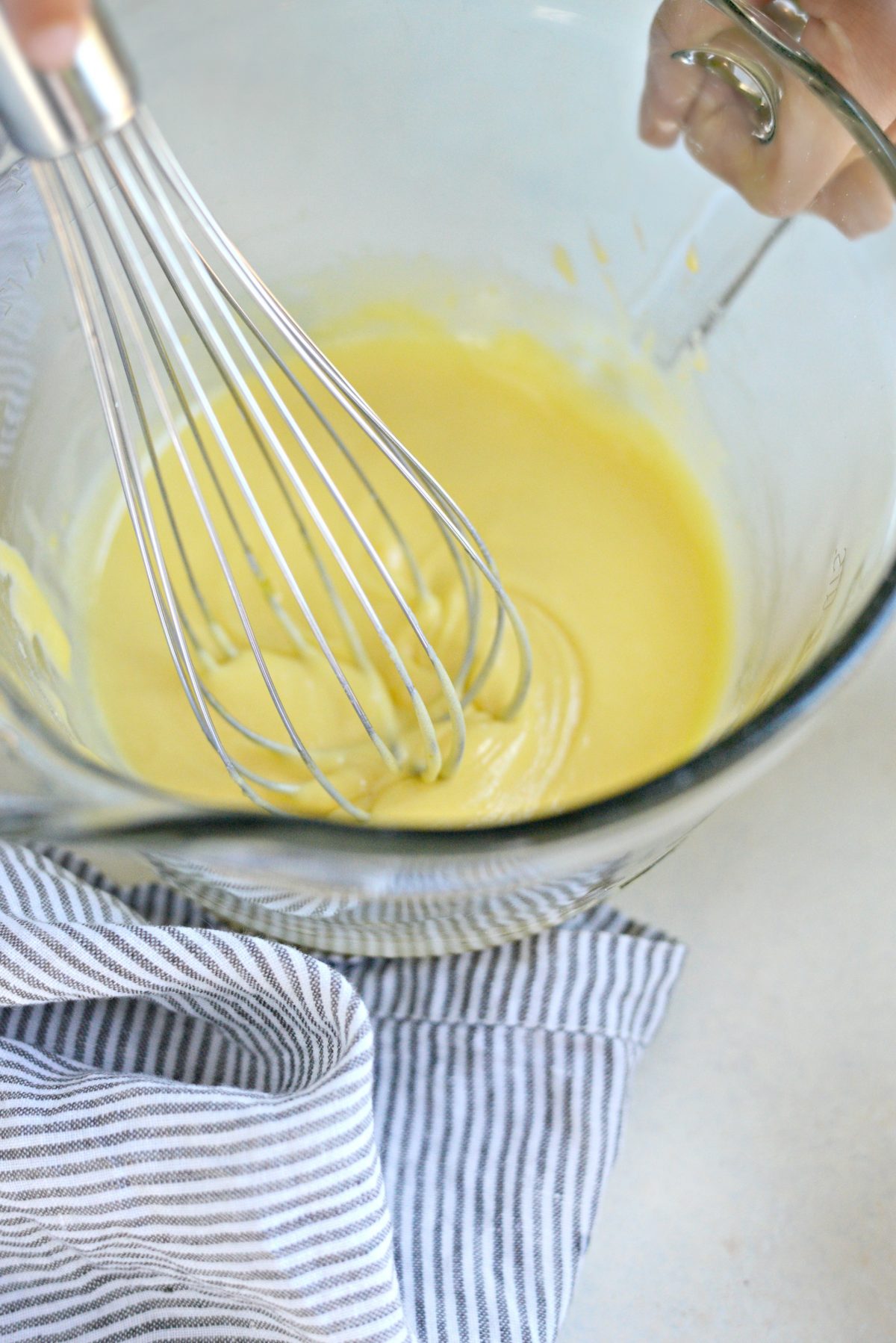 Moving onto the homemade mascarpone ice cream! Whisk 4 egg yolks with 3/4 cup of super fine sugar until pale yellow.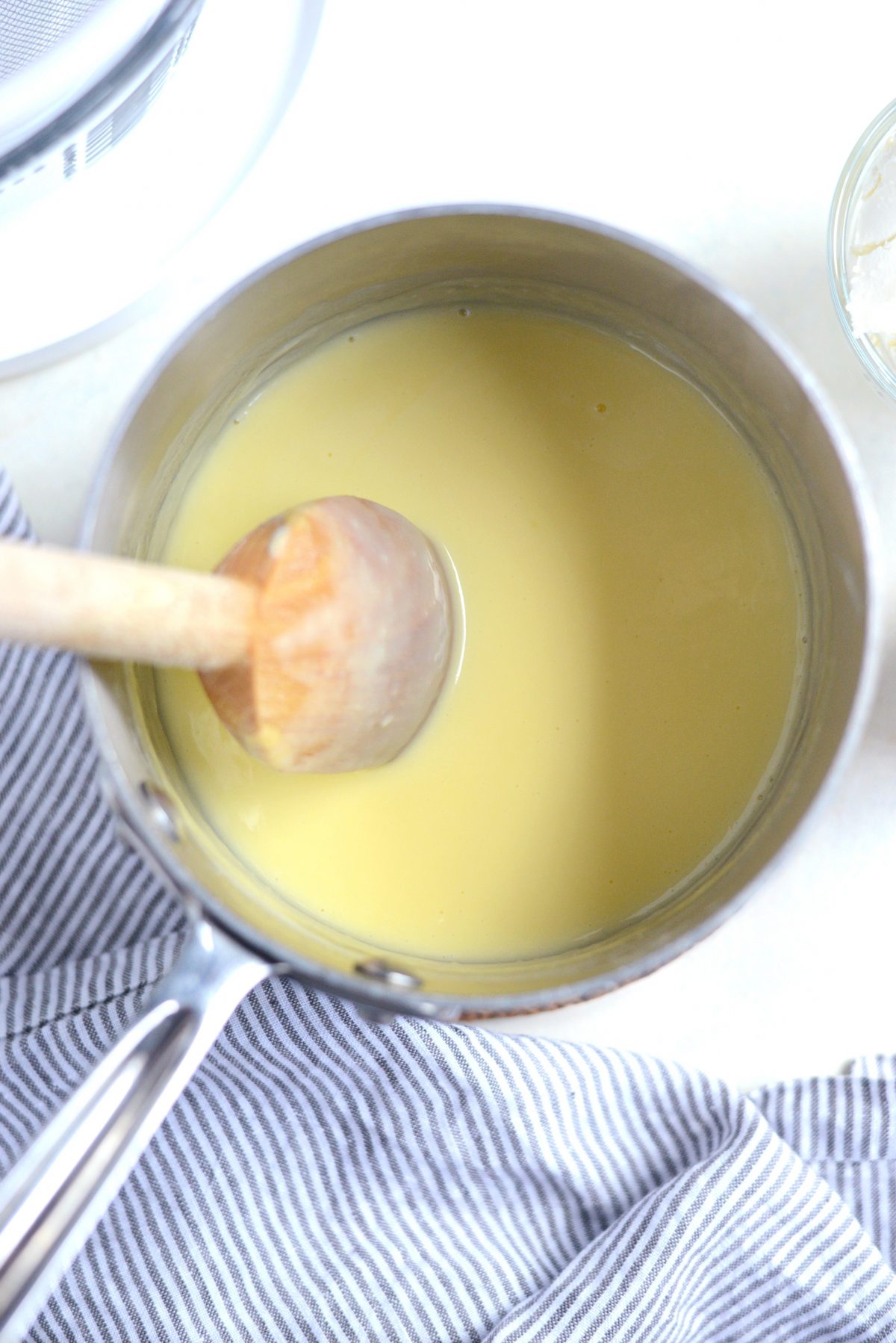 Then bring a cup of heavy cream and a cup of half & half to a simmer — where bubbles start to form around the edge of the pot– stirring often.
While whisking, pour a little of the hot cream into the bowl of the eggs and sugar to temper the eggs. Then slowly pour the rest of the cream into the bowl, still whisking vigorously.
Next, pour that mixture back into the pot that you heated the cream and half & half in and cook for 10 more minutes on medium to medium-low heat. You will know the ice cream base is ready when it coats the back of a spoon and when you drag your finger through, it doesn't fill back in.
Strain the egg and cream mixture through a fine mesh strainer, set into a clean bowl, to catch any egg impurities and then whisk in 8 ounces of mascarpone cheese and 1 teaspoon vanilla extract.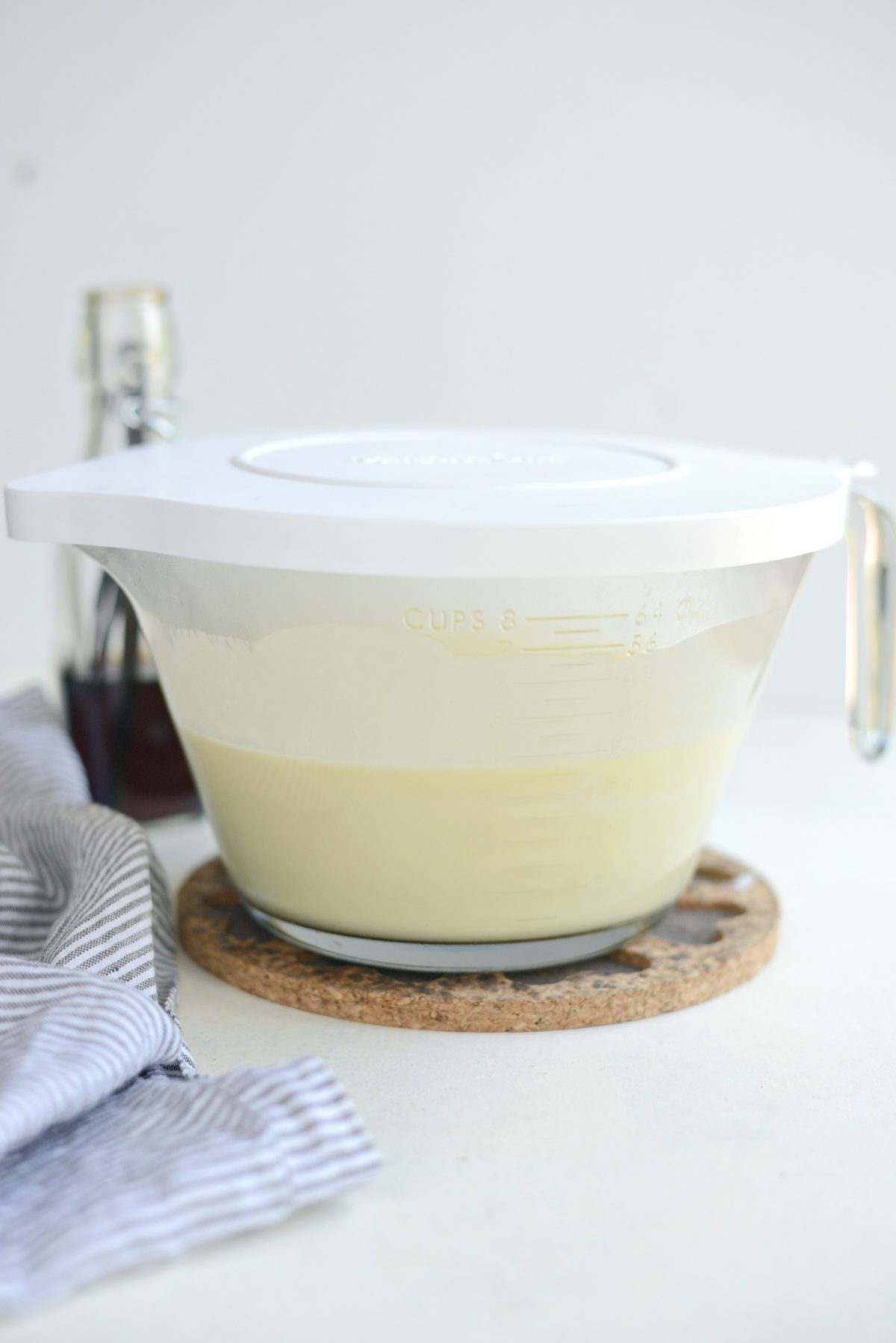 Cover and chill for 2 to 4 hours. I use my Pampered Chef Classic Batter Bowl for this very purpose because it's large enough to hold the ice cream base, it also has a lid that fits perfectly. And because of its spout, I can pour it effortlessly into the ice cream maker. I've had both batter bowls for years now and I use them all the time for many things.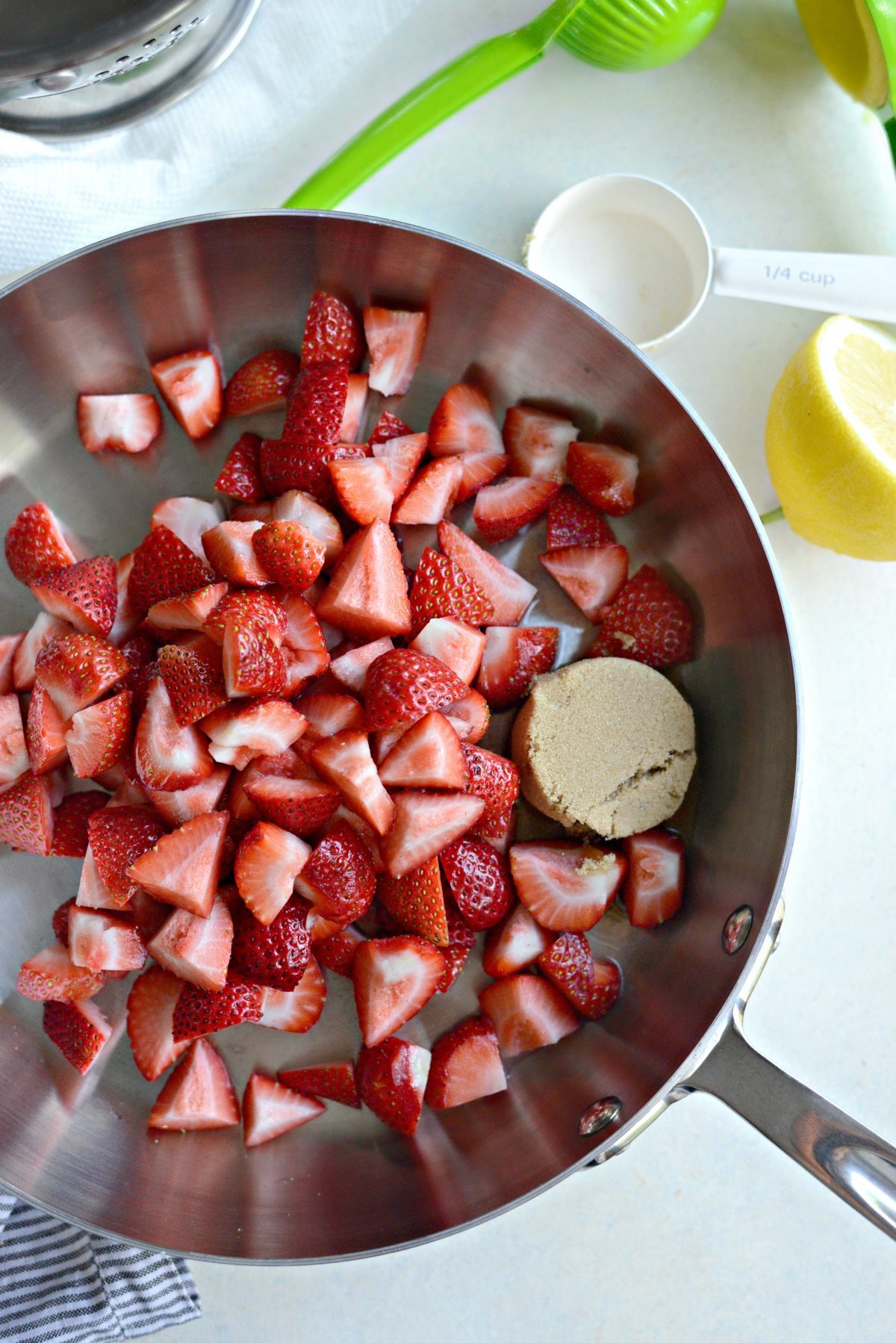 Meanwhile to make the strawberry swirl, add 1 pound of chopped fresh (hulled) strawberries to a 10-inch skillet along with the juice of half a lemon and 1/4 cup of light brown sugar. Bring to a boil, reduce to simmer and cook for 10 to 15 minutes.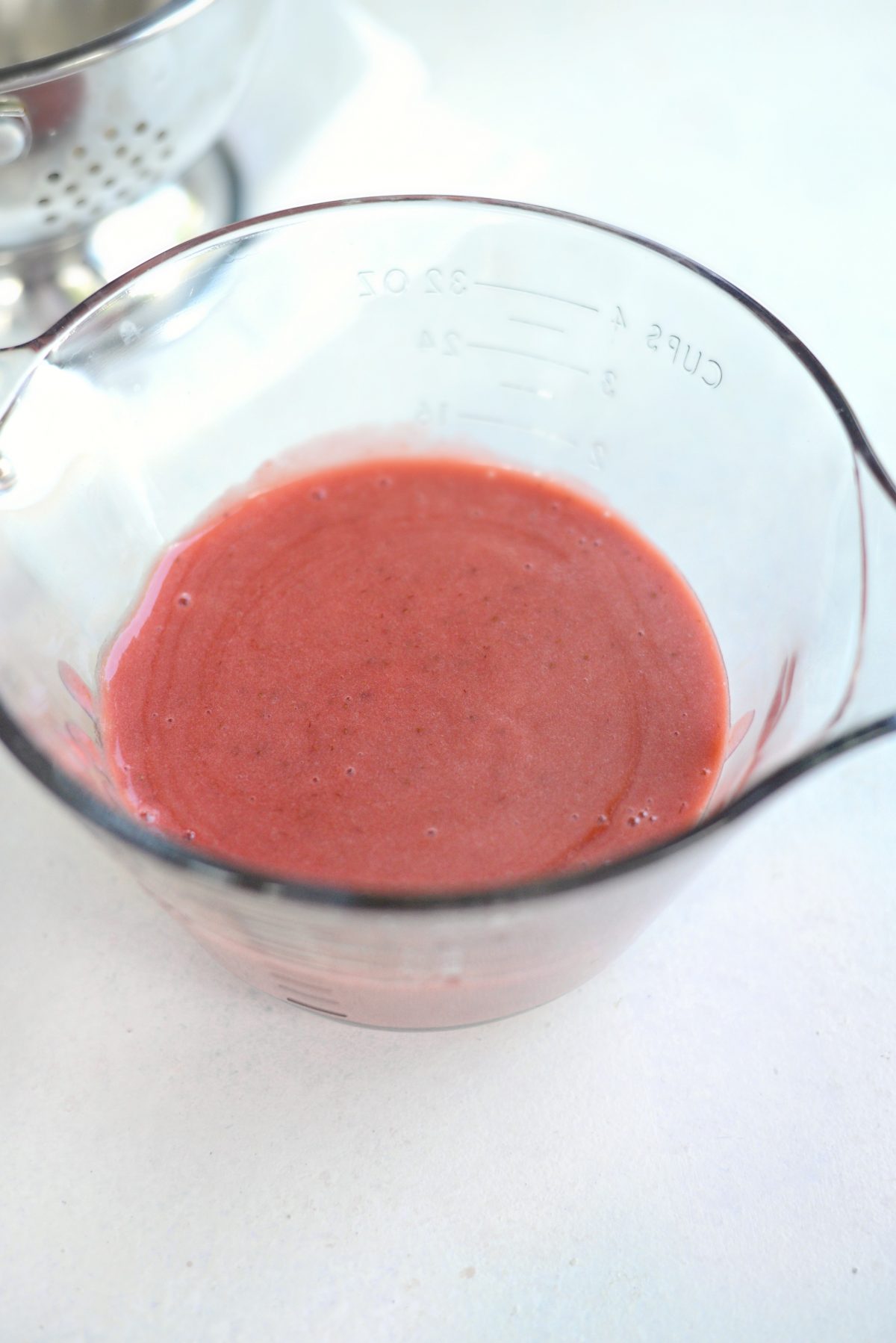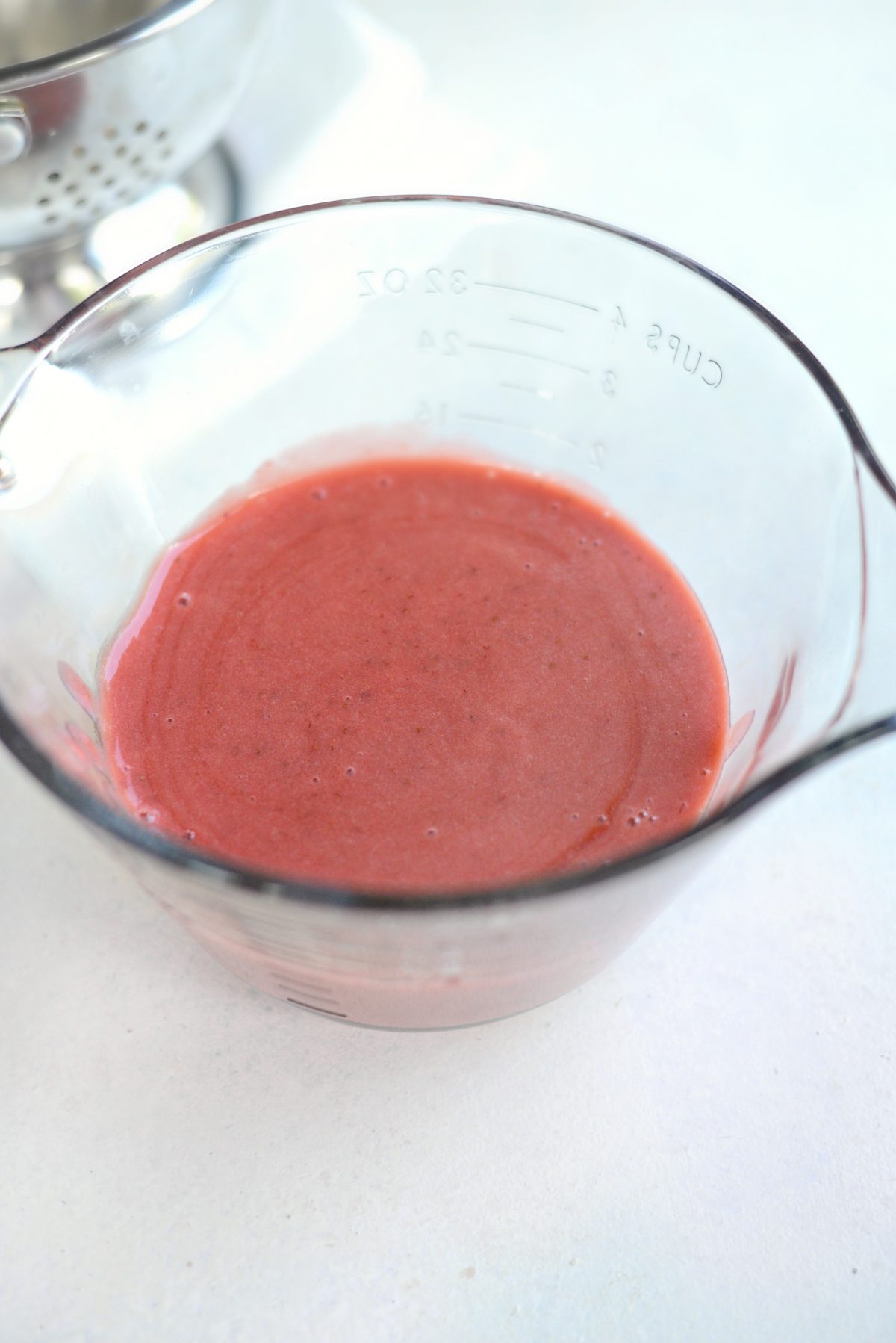 Cool completely and then puree in your blender until smooth. Cover and refrigerate until ready to use. I'm storing this in my Pampered Chef Small Batter Bowl. Fits perfectly!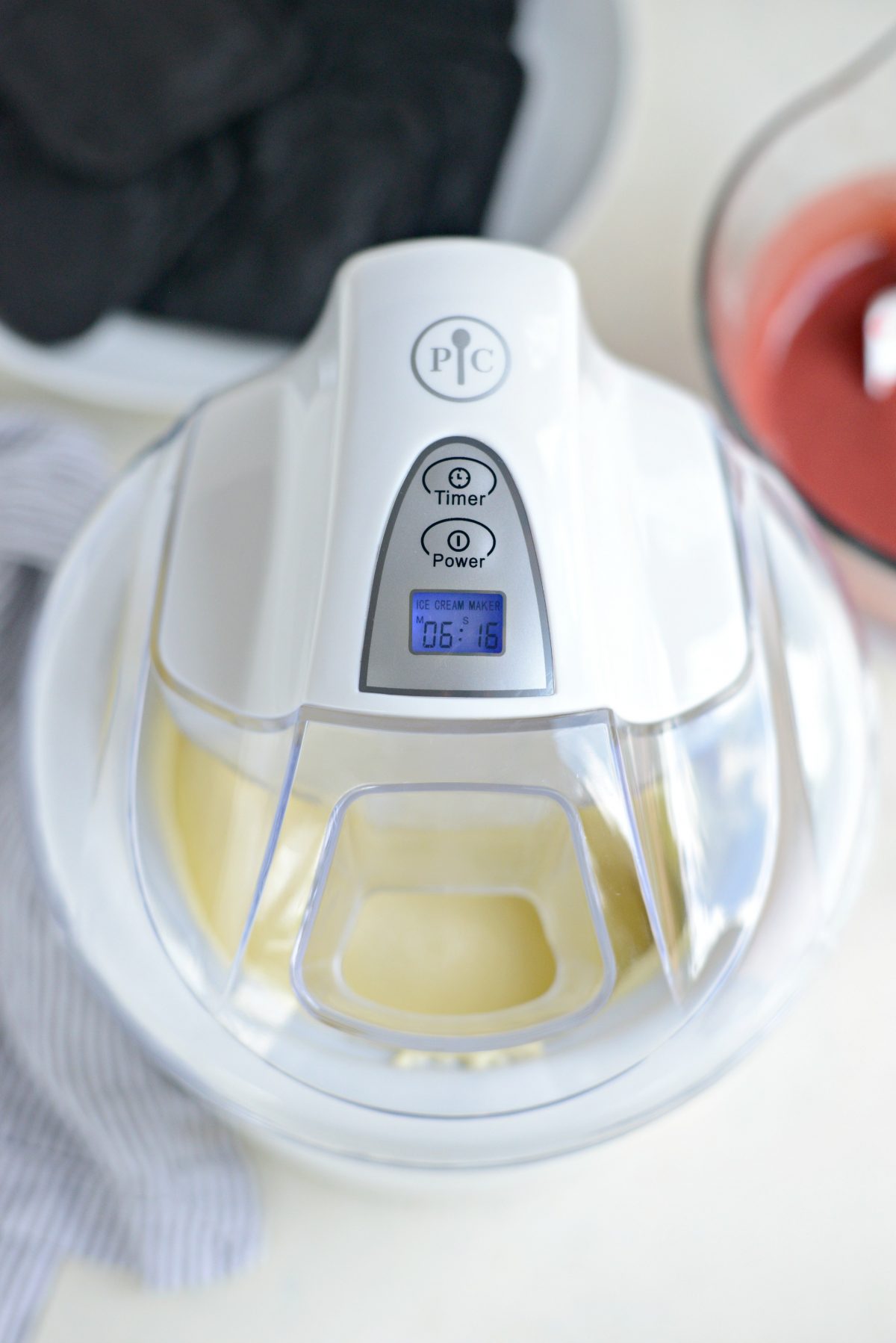 Once the ice cream base has chilled, pull out your ice cream maker. It's a good idea to pop the ice cream maker base into your freezer a good 24 hours prior to making ice cream, so it can freeze solid. And I love this Pampered Chef Ice Cream Maker. When you start with fresh, simple ingredients you can pronounce, ice cream gets even better. This compact appliance makes it easy to create your favorite ice cream flavors any time you want. Simply mix up smooth, decadent, custom-flavored ice cream, custard, frozen yogurt, sorbet, sherbet and even frozen drinks. <—even frozen drinks!
To use you just push a button to set the time, add your ingredients and you'll have a frozen treat in 45 minutes or less. For my mascarpone ice cream 40 minutes was perfect. I just set it and went about washing the dishes from making ice cream and getting everything set up to build the ice cream cookie cake. Meanwhile you can peek through the clear lid to see it come together. This ice cream maker makes up to 1 quart of ice cream, or eight ½-cup servings and it works best when placed in a freezer that's set to 0°F.
Ice cream perfection, thick and creamy!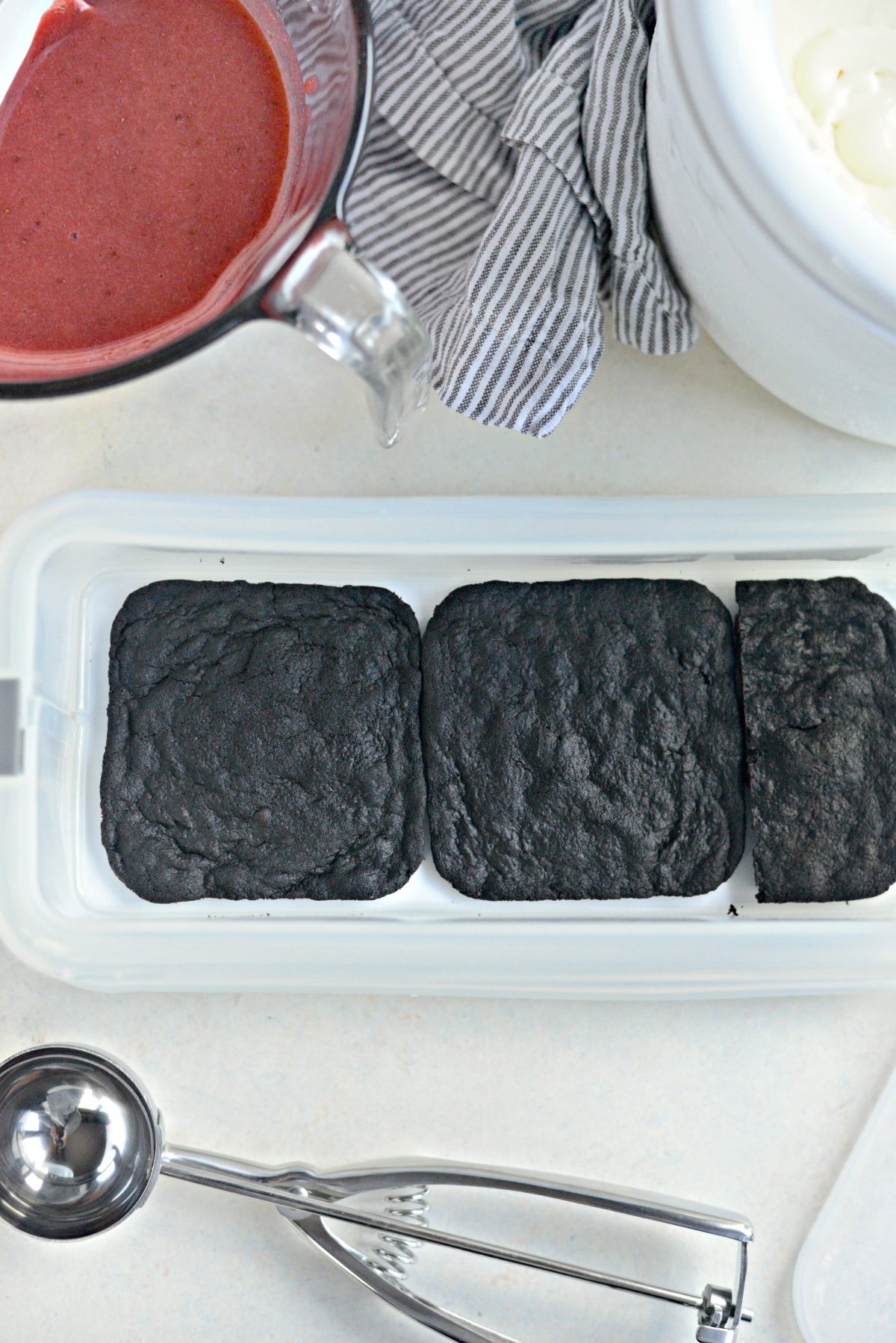 Now it's time to build the Strawberry Swirl Mascarpone Ice Cream Cookie Cake.
First things first, you will need this brilliantly designed, easy to use Ice Cream Cake Pan. The raised ceramic platter lets you bake and serve – it even has a channel to help keep your table free of melted ice cream. When you're ready to serve, just remove the sides!
To start, since this is a cookie cake, I layered 2 full size and a one 1/2 cookies in the bottom of the pan.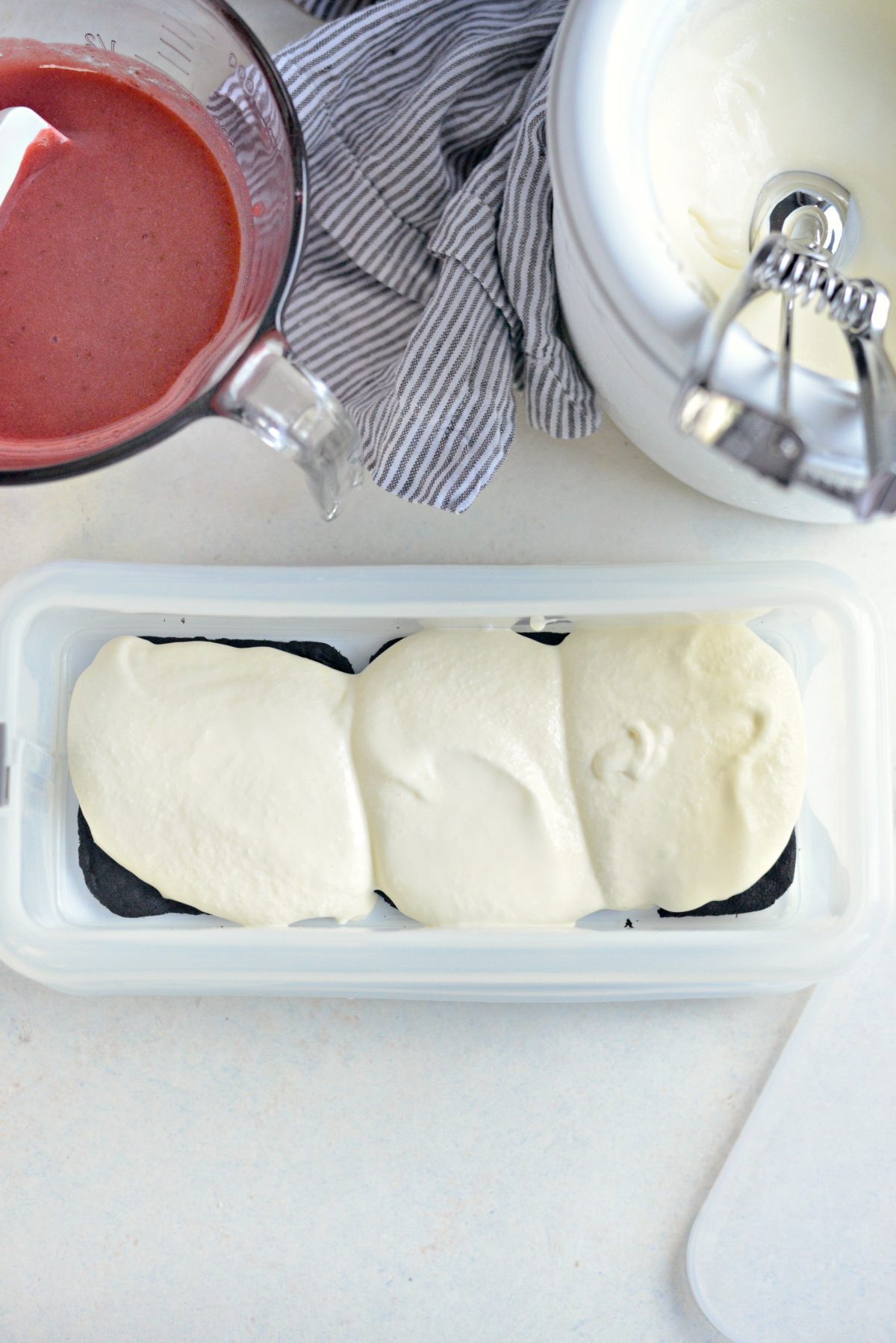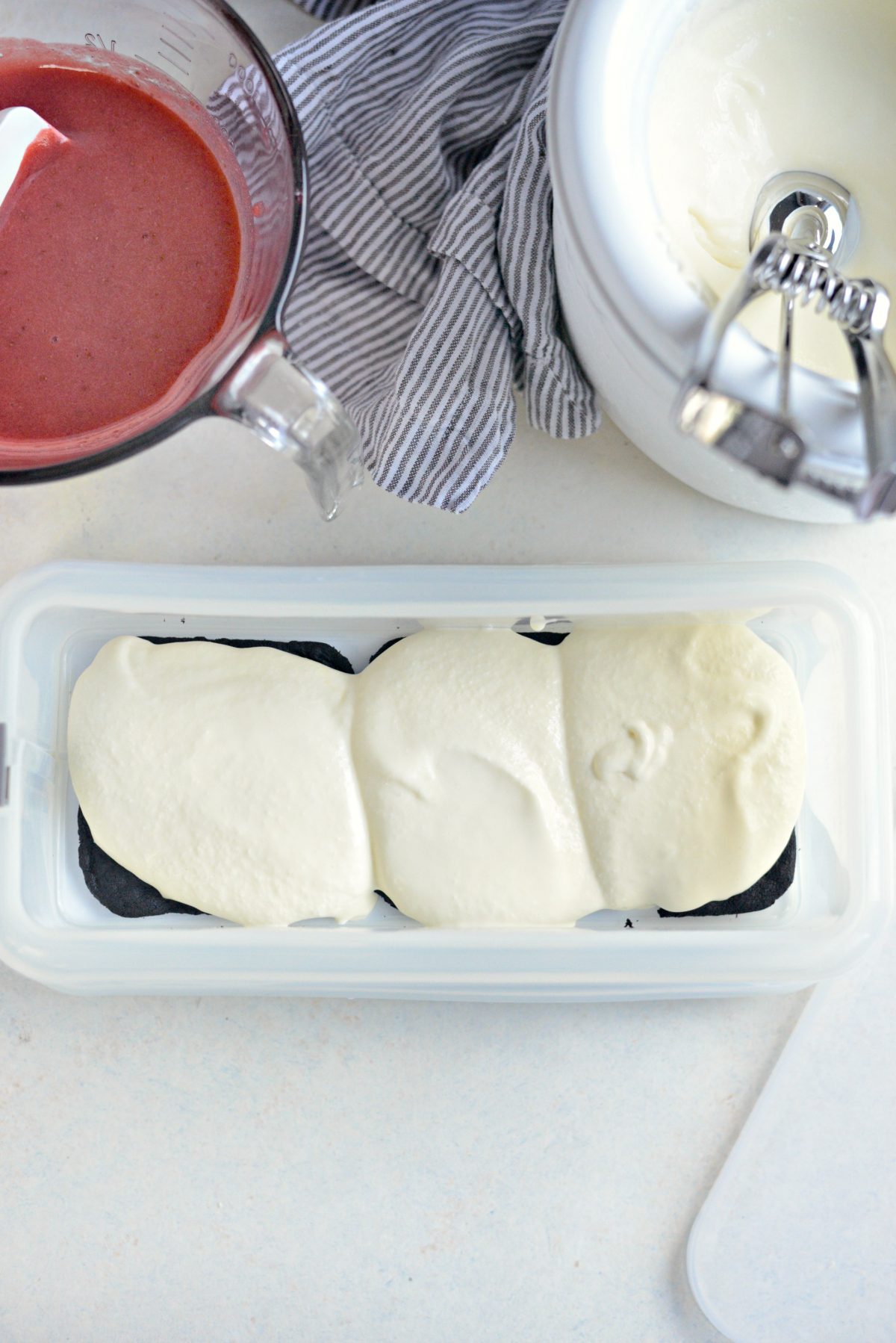 I used my Pampered Chef Large Scoop (holds 3 tablespoons) and topped the cookies with three scoops of the mascarpone ice cream.
Next I used the Small Scoop (holds 1 tablespoon) to measure and drizzle the strawberry puree onto the ice cream layer and used the blunt side of a wooden skewer (the tip of a butter knife would work too!) and swirled the strawberry puree into the ice cream.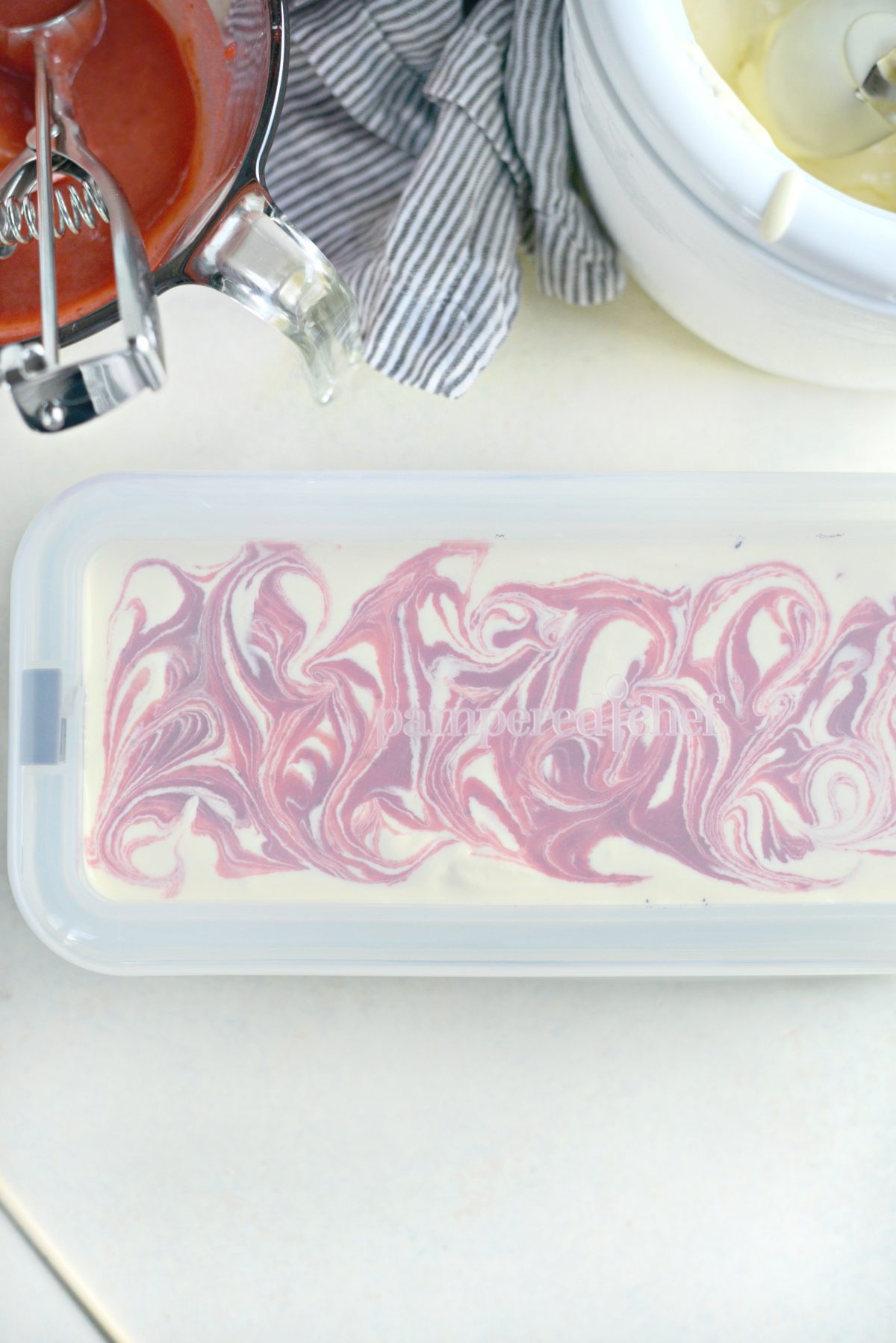 Simply repeat each step until you have 3 layers. Cover with the lid to the Ice Cream Cake Pan and place into your freezer to freeze for 6+ hours to overnight.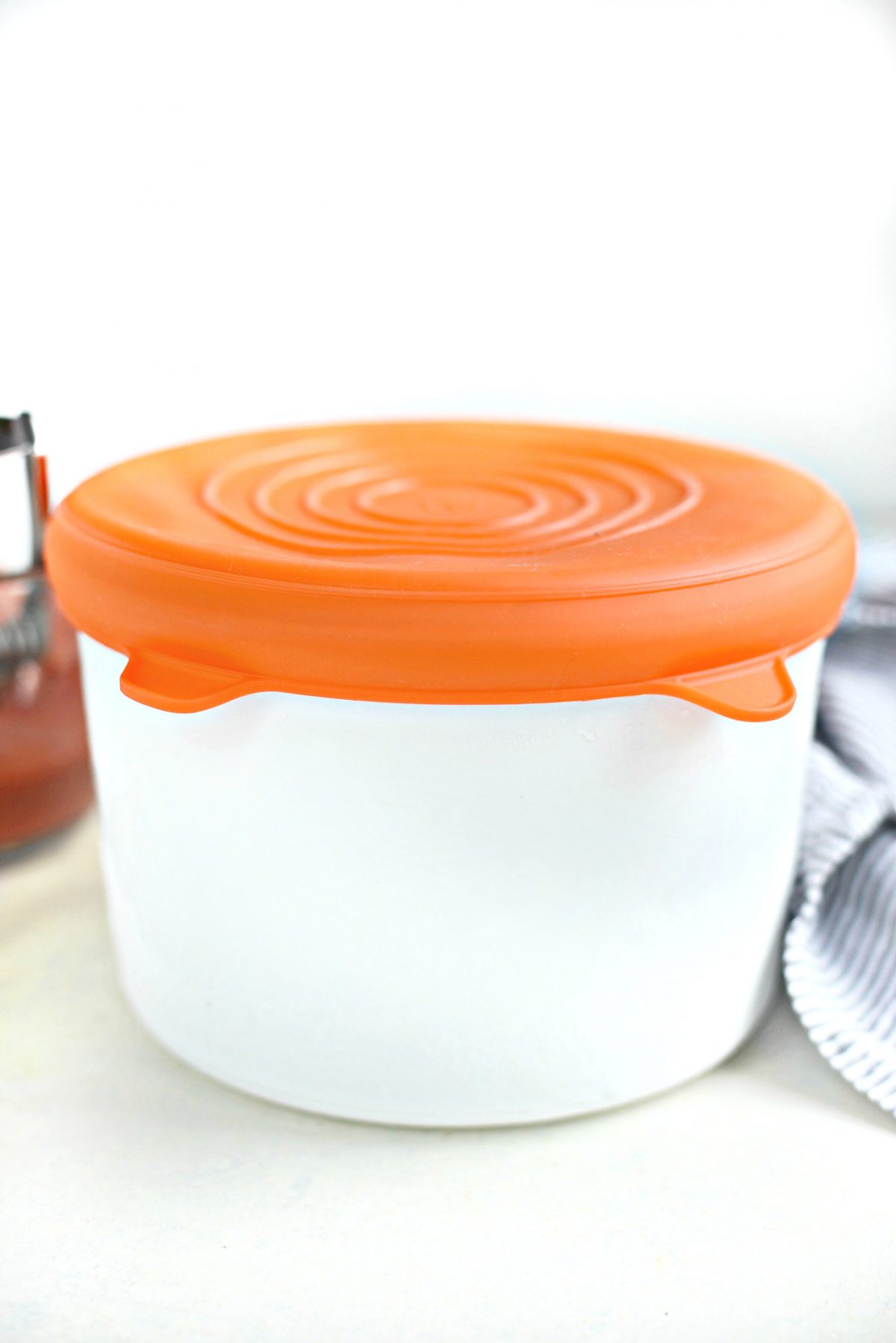 Any leftover ice cream in the Pampered Chef Ice Cream Maker can easily be saved. Slip the silicone lid over the bowl and popped back into the freezer.
Then scoop and serve with a long-time favorite Pampered Chef Ice Cream Scoop. Cutting through hard ice cream has never been easier! The pointed head of the Ice Cream Scoop cuts through hard ice cream easily. While the handle keeps your hands from getting cold. I get every spoonful of the carton (even all the way to the bottom corners) because of the scoop's scalloped edges. It's also dishwasher-safe
SO pretty! Unwrapping the ice cream cake pan couldn't be any easier! Remove the pin holding the mold together and unwrap the cake. It goes from freezer to table in a snap or unsnap!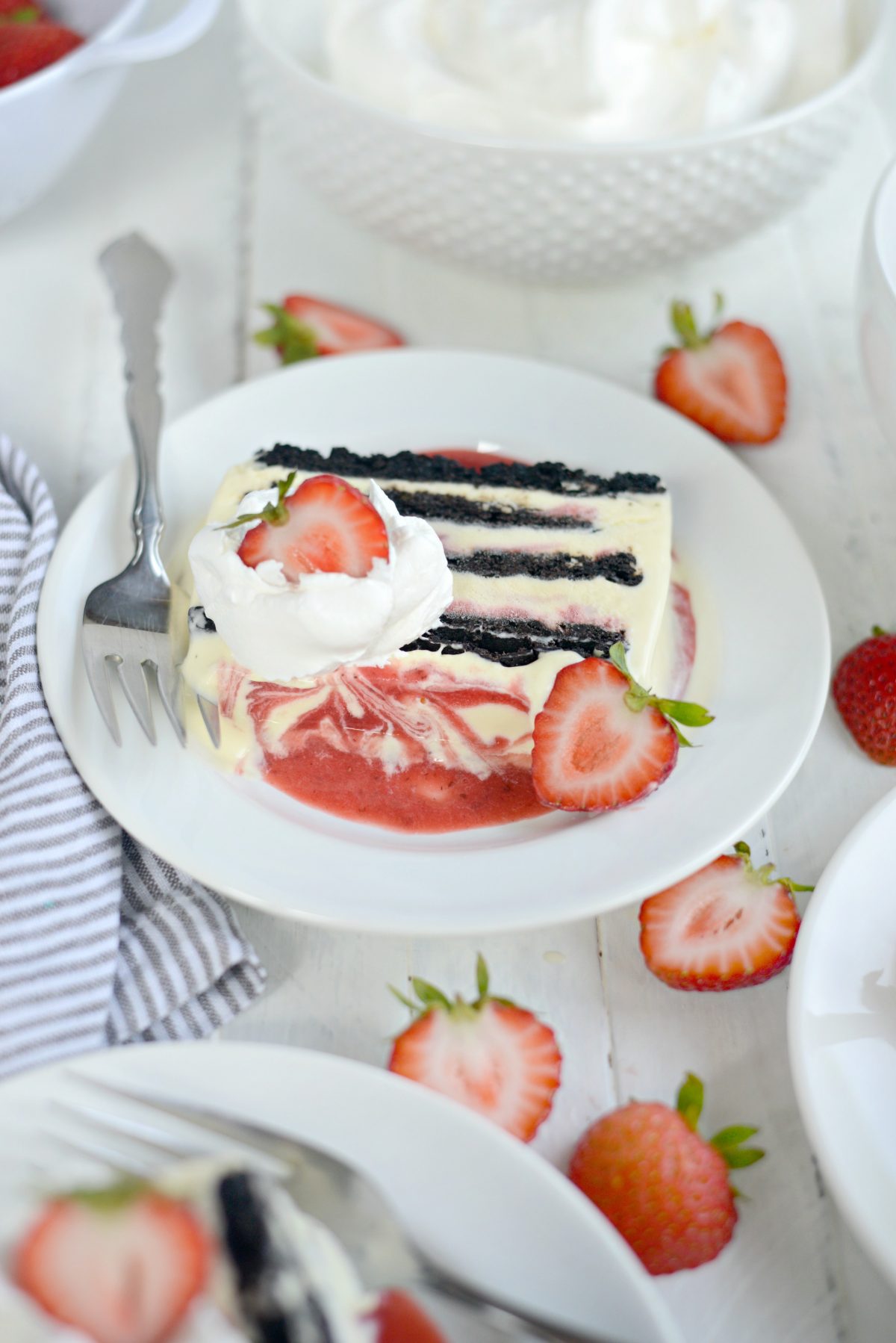 Run a large chef's knife under hot water. Dry it off with a kitchen towel and it should slice right into the cake effortlessly.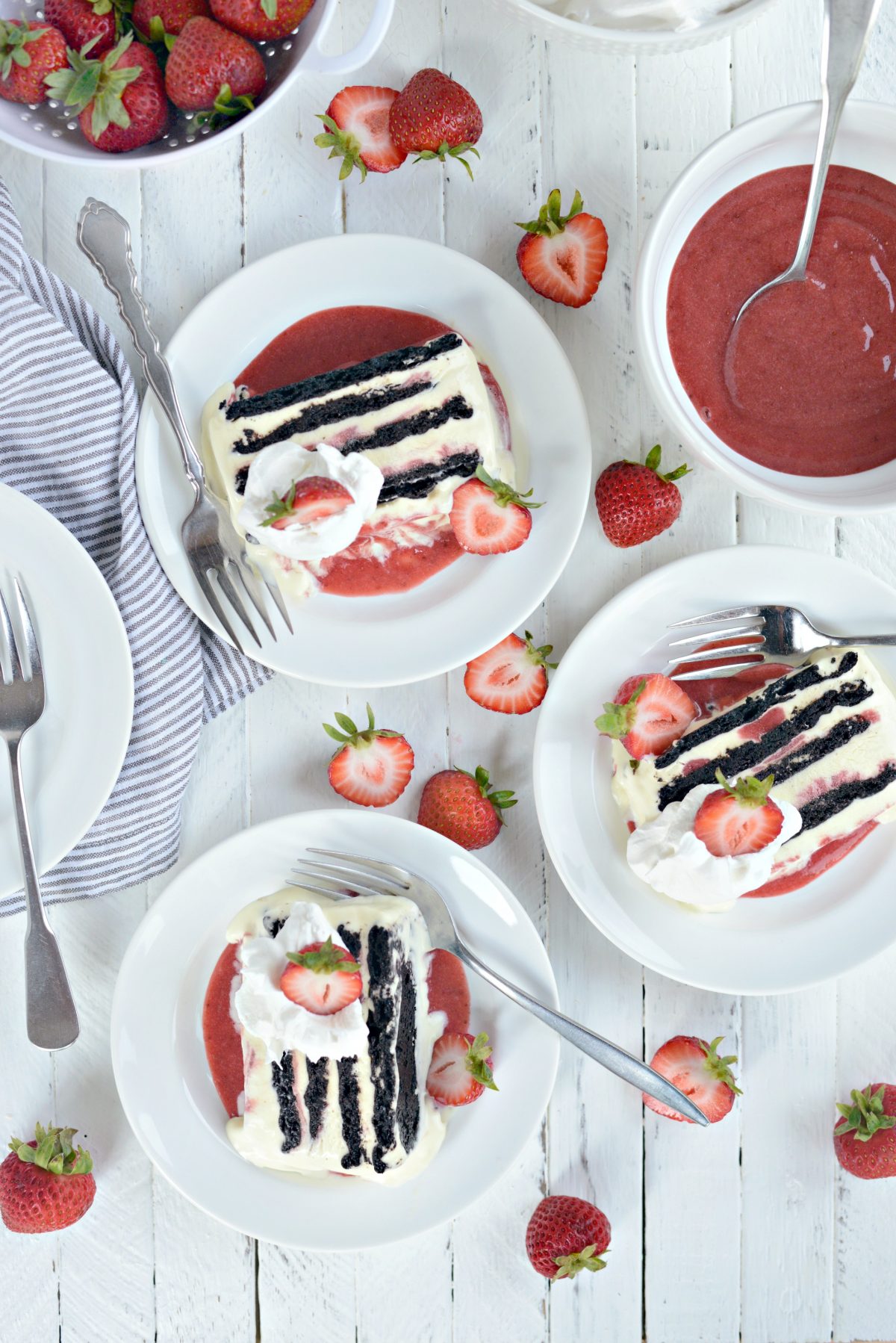 Spoon more of the strawberry puree onto small plates. Then place a slice of the Strawberry Swirl Mascarpone Ice Cream Cookie Cake on top. Lastly add a dollop of whipped cream and a few fresh strawberries.
This ice cream cookie cake is creamy and tart from the strawberry swirl. But the chocolate cookies give it crunch and that delicious chocolatey goodness that works perfect with the strawberries. My whole family loved the flavors and the crunch of the cookies, giving it two thumbs up!
For More Ice Cream Recipes Click Here!
Enjoy! And if you give this Strawberry Swirl Mascarpone Ice Cream Cookie Cake recipe a try, let me know! Snap a photo and tag me on twitter or instagram!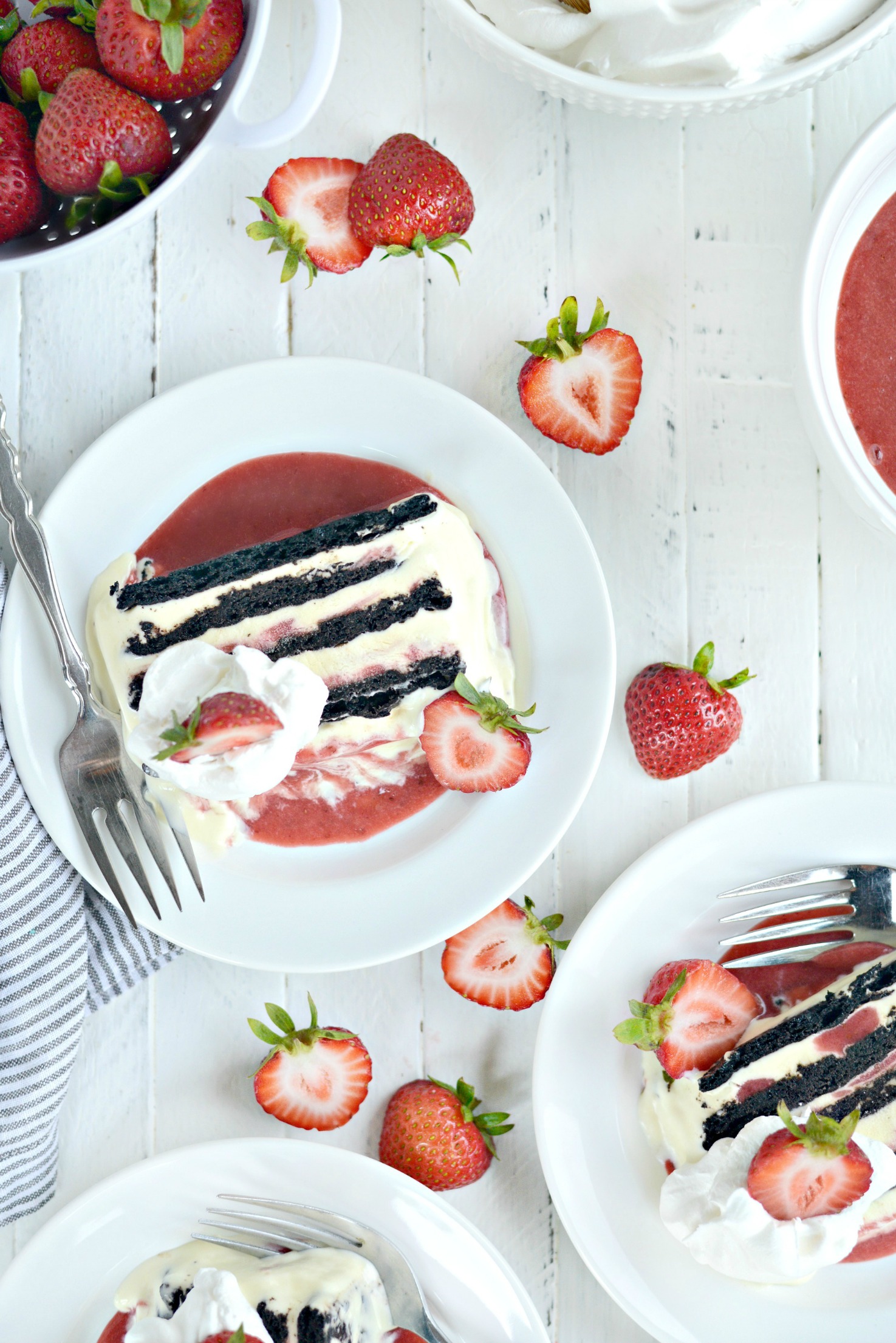 Malloree and I had so much fun making this strawberry swirl mascarpone ice cream cookie cake together. Pampered Chef helps people create memories and enjoy meaningful moments with family and friends through high-quality kitchen tools, quick tips and personalized cooking experiences (like this one!). These solutions are demonstrated and delivered into people's homes through Pampered Chef's community of 40,000 cooking consultants. If interested in a flexible business opportunity by becoming a consultant, check out their "Be a Consultant" page.
This post may contain affiliate links.
Buy the Cookbook: Simply Scratch : 120 Wholesome Homemade Recipes Made Easy Now available on Amazon »
THANK YOU in advance for your support!