Packed full of nutritional goodness this Grilled Sweet Potato, Lentil and Kale Buddha Bowl is deliciously filling and satisfying. Massaged kale is saddled up next to grilled sweet potato planks, sliced avocado, cooked lentils, juicy red seedless grapes and crispy, roasted chick peas. Topped with chia seeds, fresh cilantro and then the whole bowl is drizzled with a vibrant 4-ingredient dressing!
I am currently writing this post while enjoying what is quite possible the best lunch I've had all year. Now this had me thinking, I really don't put much effort in to my lunches lately. The day usually gets away from and me and somehow lunch gets forgotten about. Sometimes I do pile turkey, lettuce and sharp cheddar cheese on an everything sandwich thin or have a bowl of cereal. If I'm on the go, I'll skip over lunch and grab some Chex mix to hold me over. Why even lie about it?
This recipe came to me in the student pick-up line at Haileigh's high school parking lot. Which is probably the weirdest spot yet to date but it was a skip-lunch-kind-of-day and I was sitting there starving. Much like grocery shopping, thinking on an empty stomach can be dangerous. Or brilliant. But there I was plotting another healthy, nutritional and filling buddha bowl. It was a recipe that would have an array of jewel toned fruits, vegetables and leafy greens mixed in with cooked lentils, crispy roasted chickpeas and with a vibrant golden almond butter dressing. This is my life, I'm always daydreaming about food.
My dreams became reality today, creating what you see above. A grilled sweet potato, lentil and kale buddha bowl with a golden almond butter dressing.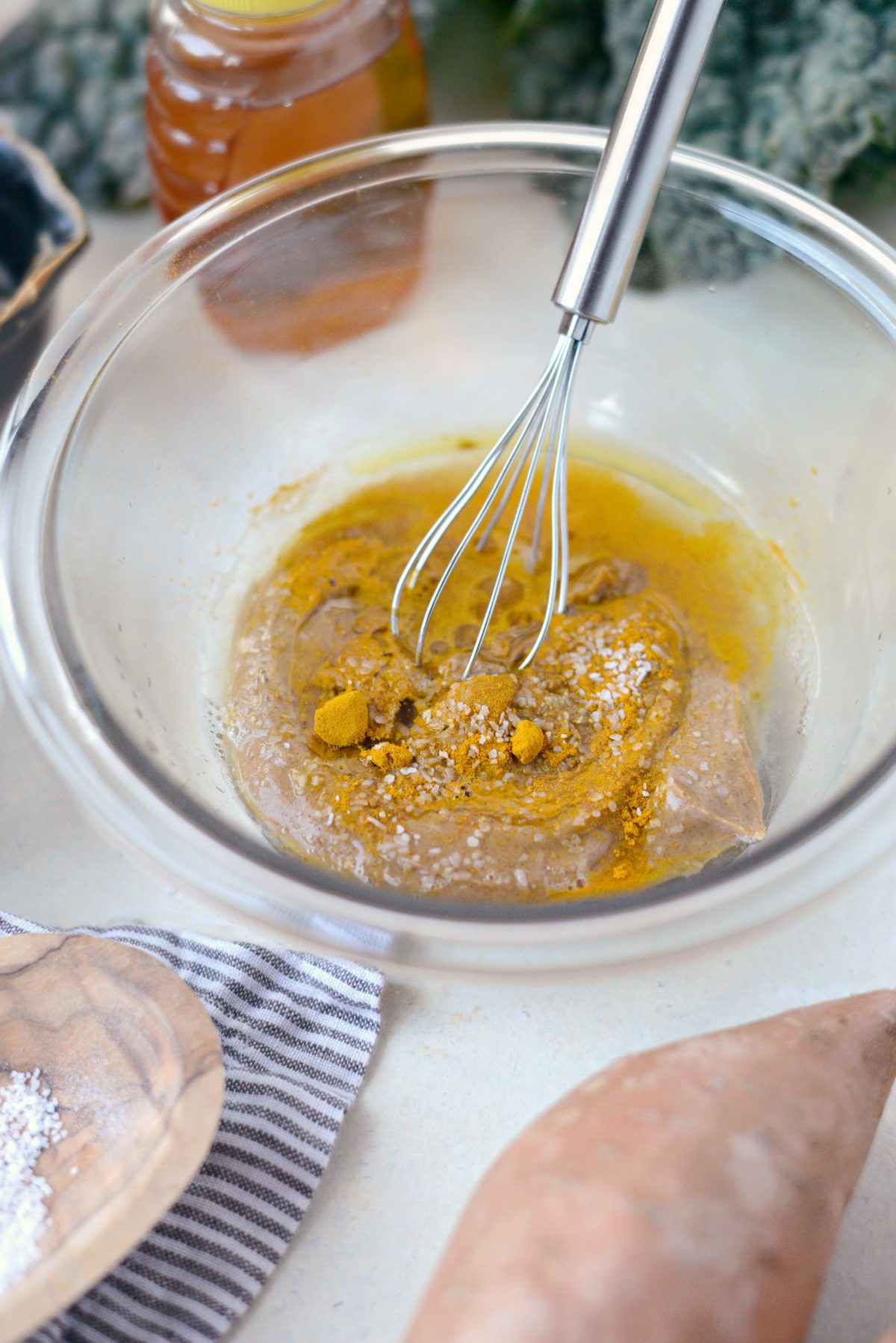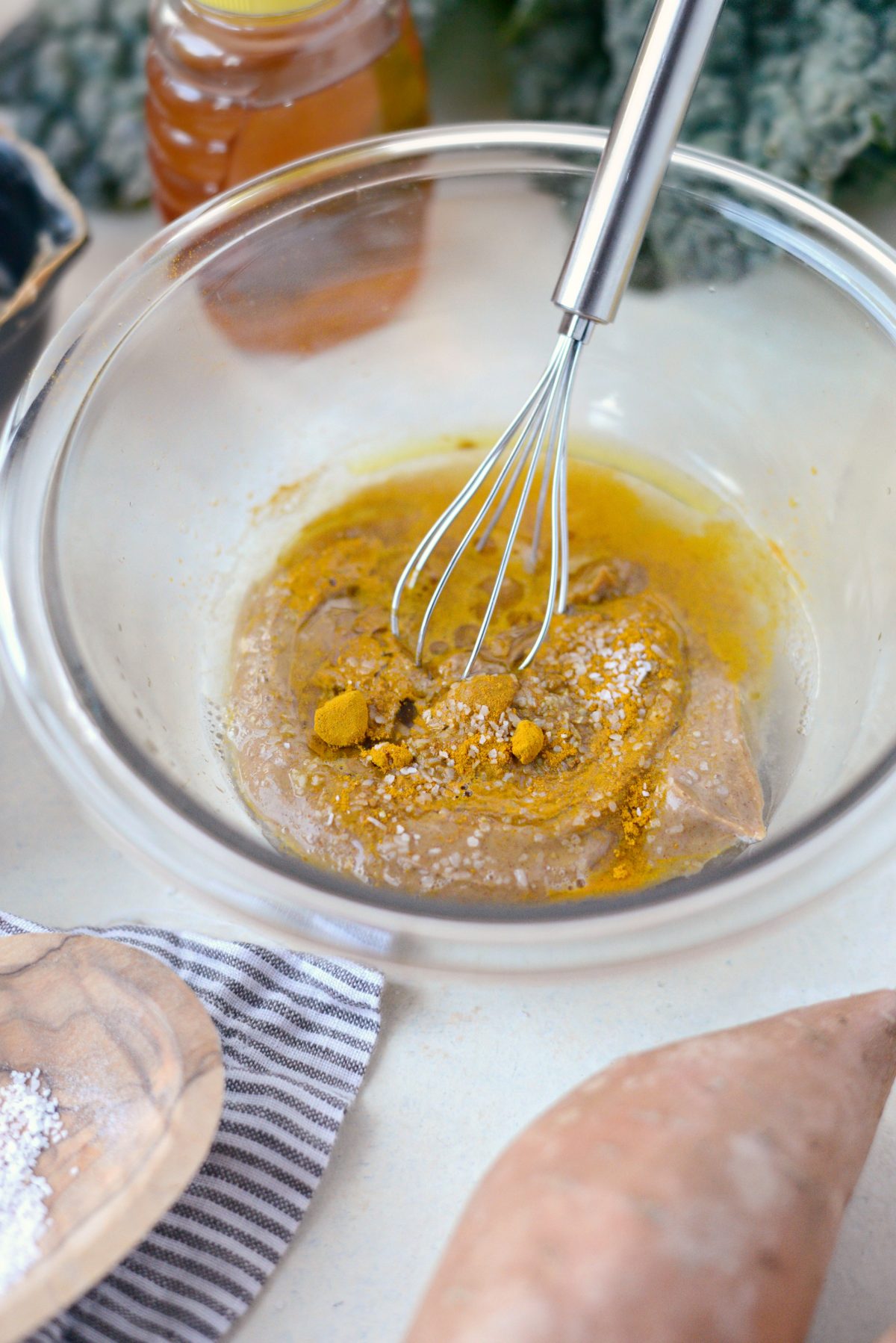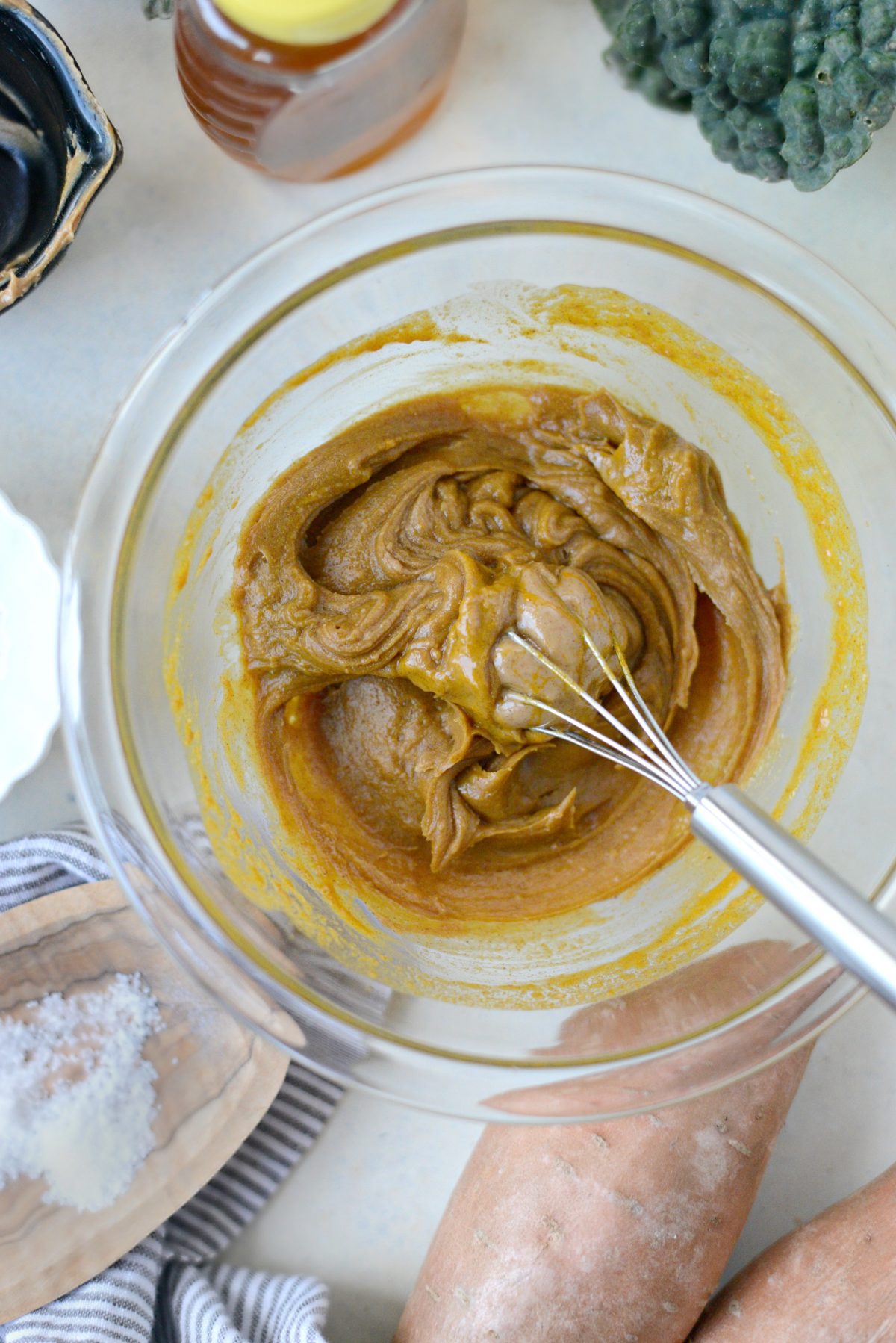 First thing, whip up the golden almond butter dressing. It's quick and easy to whip up. Start by whisking together 1/4 cup of smooth almond butter, 2 teaspoons honey, 1 teaspoon olive oil, 1 teaspoon turmeric, a 1/2 teaspoon of kosher salt and then the juice from half a lemon.
Then thin it out by whisking in 2 to 4 tablespoons of water until the dressing reaches a desired consistency. I like it thin enough to drizzle 🙂
Next pour into a glass jar and set off to the side for a moment. But first, THAT COLOR!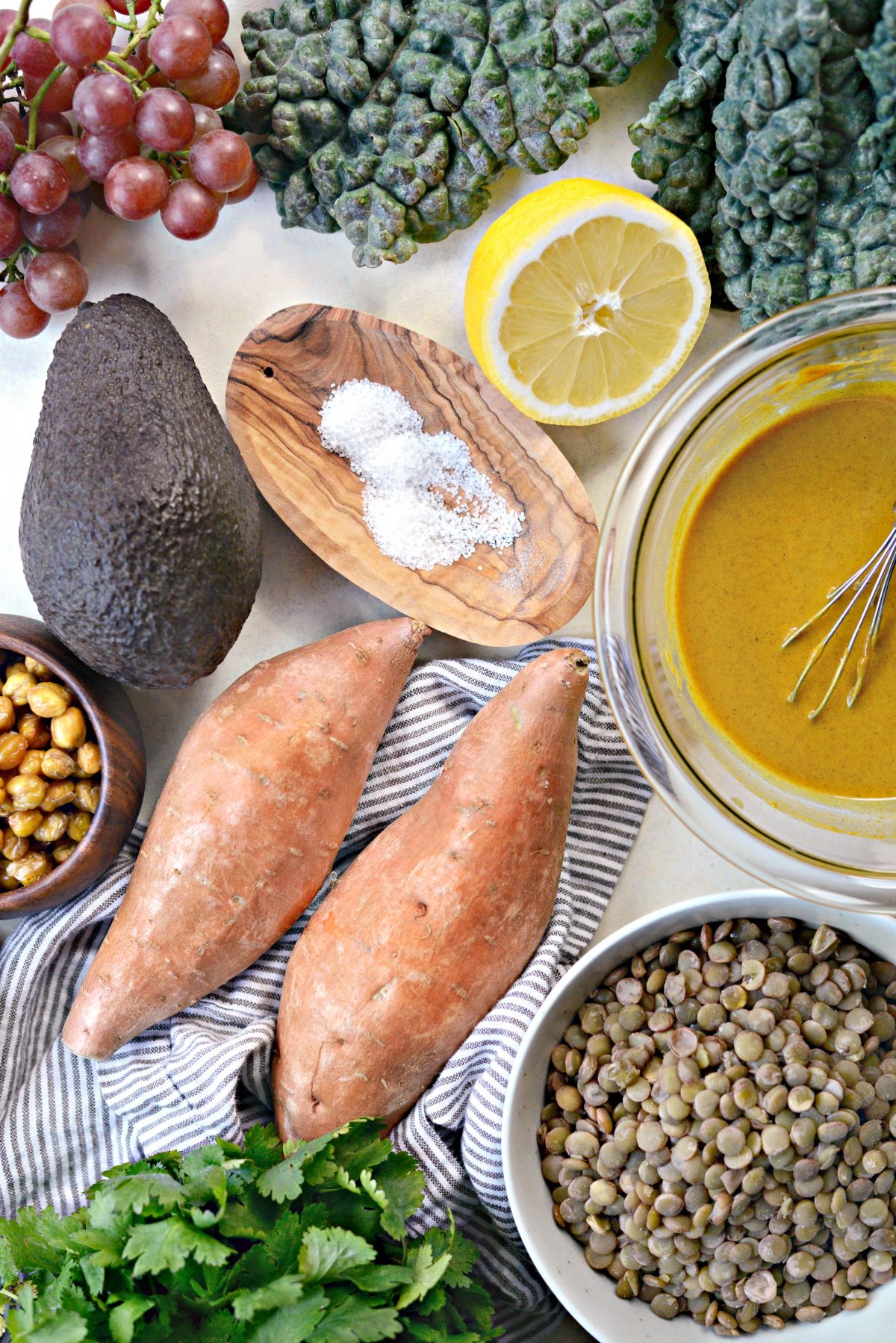 Now for the rest of the buddha bowl you'll need kale, red seedless grapes, cooked lentils, roasted chickpeas, cilantro and sweet potatoes.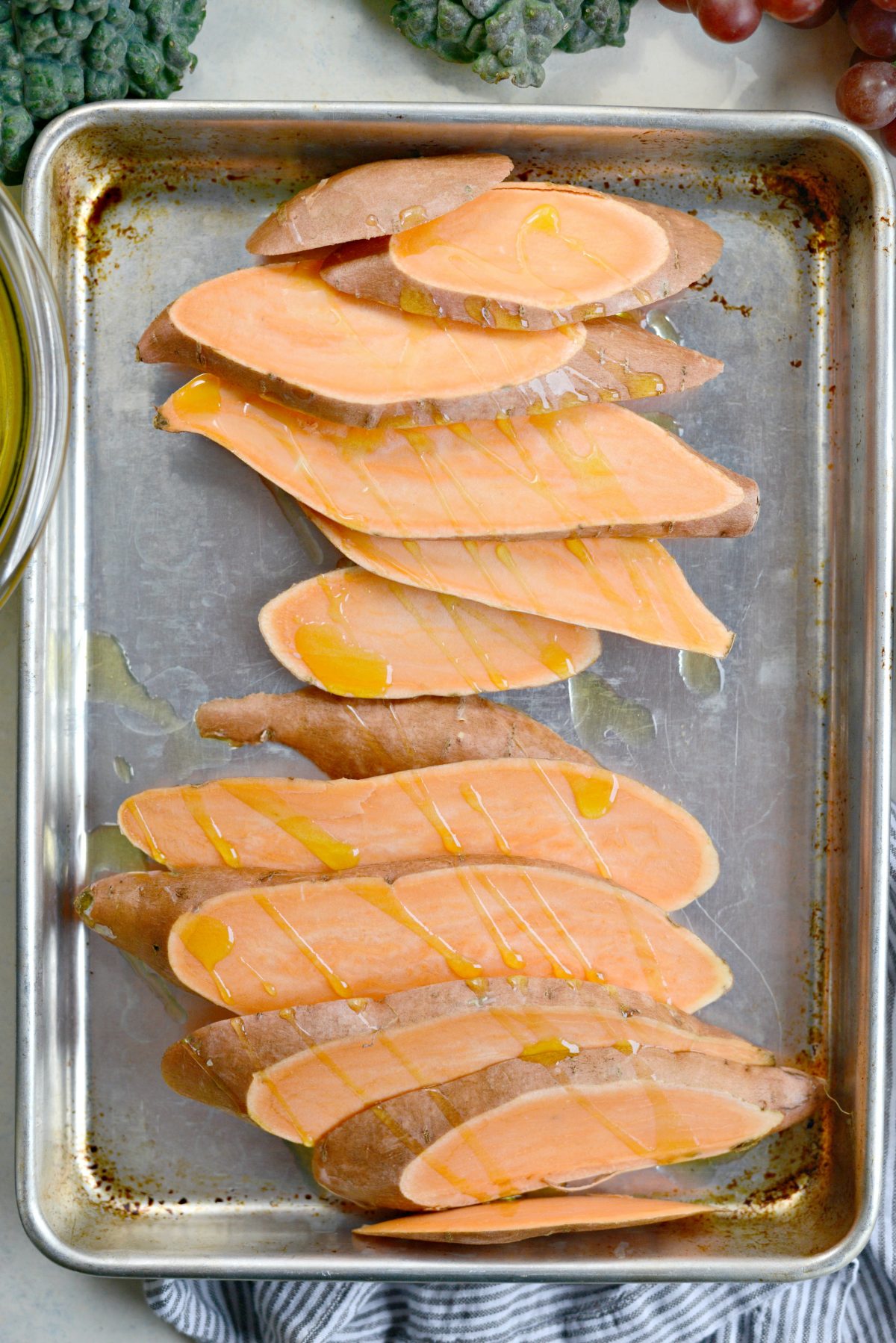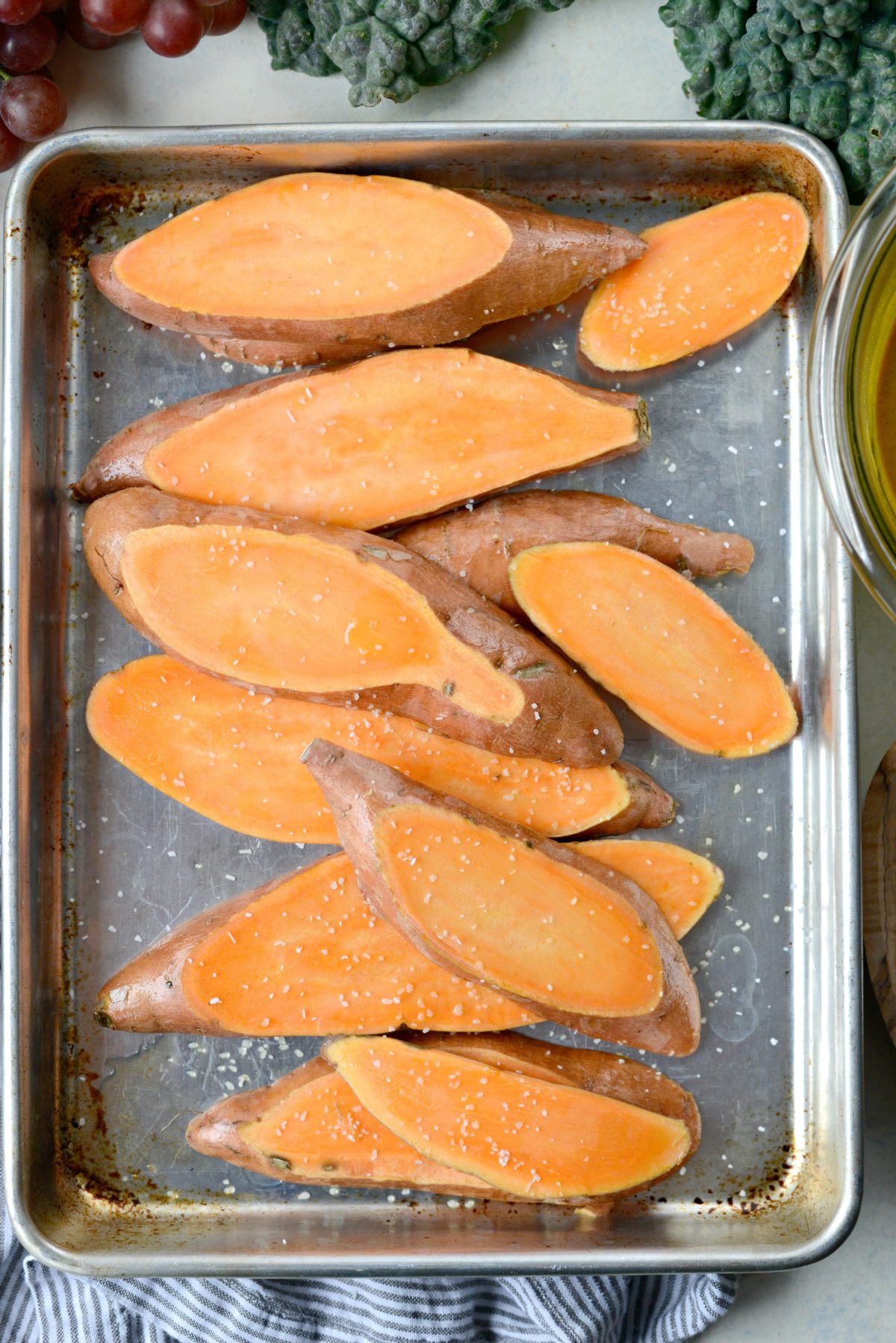 You'll need two large sweet potatoes. First, give them a good scrub and pad dry before slicing them in to planks. Then toss them with olive oil and a few pinches of kosher salt.
Next, grill them on medium heat until tender. About 4 to 6 minutes a side.
Easy and delicious! If you've never had grilled sweet potatoes, you must right away!
Next, grab the remaining ingredients and let's build these buddha bowls!
Slice the leaves away from the stems of a bunch of lacinato kale. Next give them a rough chop and then drizzle with a little olive oil and a pinch of salt and massage with your impeccably clean hands.
I divide the kale on to plates and nestle in half of an avocado and a few planks of the grilled sweet potato. Next add some red grapes, cooked lentils and roasted chickpeas. Then a little sprinkle of chia seeds, salt and pepper and cilantro leaves complete the masterpiece.
Oh wait! Let's not forget about the dressing!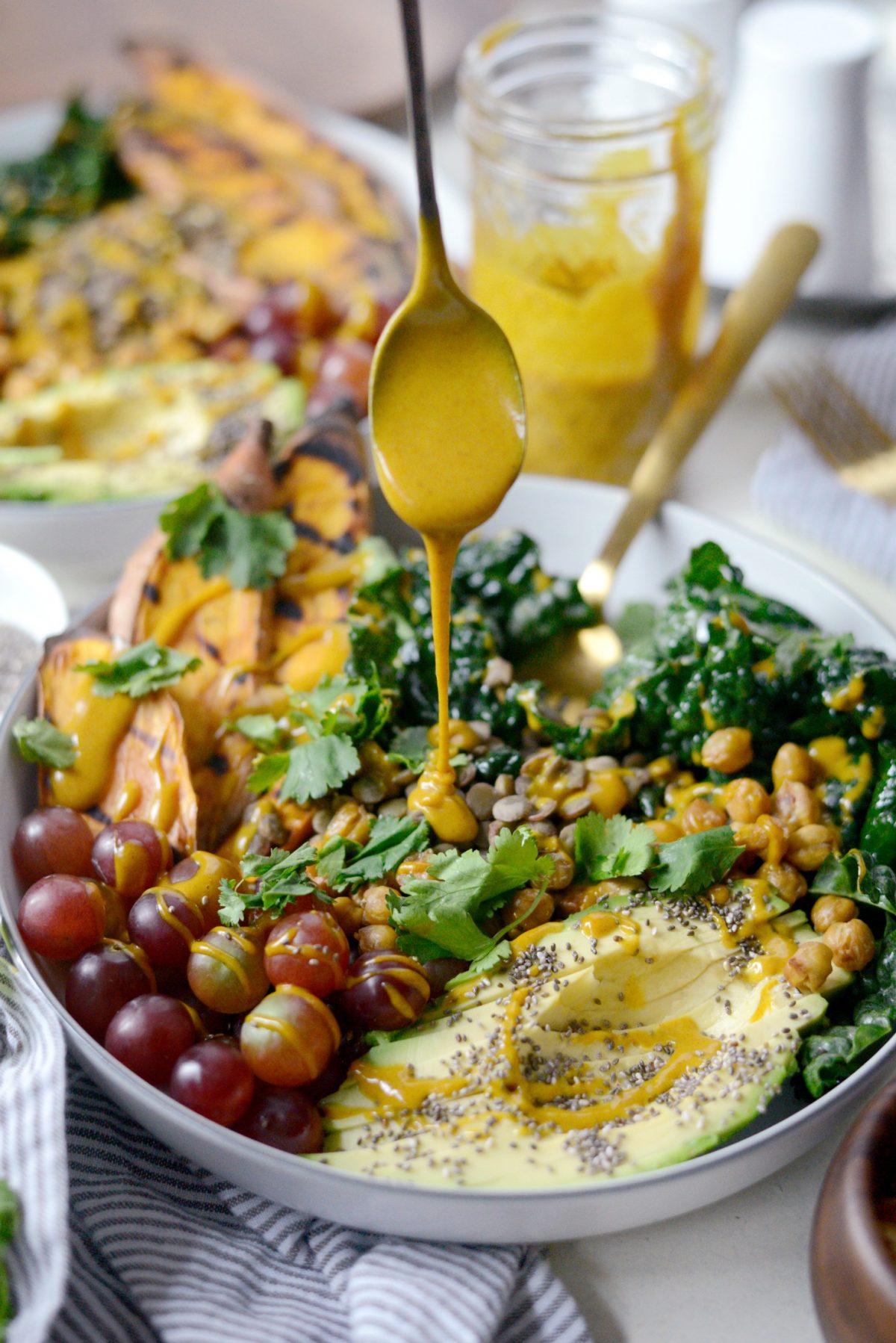 Drizzle that golden turmeric almond butter dressing over top and dig in.
Last week, I told you how I was feeling inspired. Well this is one of those recipes I was eager to make because HELLO?! it's beautiful. I also love this buddha bowl because it's healthy, filling and good for me (and you!) and that dressing is so vibrant and is the perfect dressing for the bowl.
Enjoy! And if you give this recipe a try, let me know by snapping a photo and tagging me on twitter or instagram!'
My cookbook Simply Scratch : 120 Wholesome Homemade Recipes Made Easy is now available! CLICK HERE for details and THANK YOU in advance!
[this post contains affiliate links.]
This post may contain affiliate links.
Buy the Cookbook: Simply Scratch : 120 Wholesome Homemade Recipes Made Easy Now available on Amazon »
THANK YOU in advance for your support!