Grilled halloumi vegetable skewers are fun and delicious vegetarian option for your summer! Halloumi cheese is threaded onto skewers with summers best produce. These skewers marinate in a homemade Greek dressing and then grilled until golden and caramelized. I like to serve with toasty warm pita and homemade tzatzki!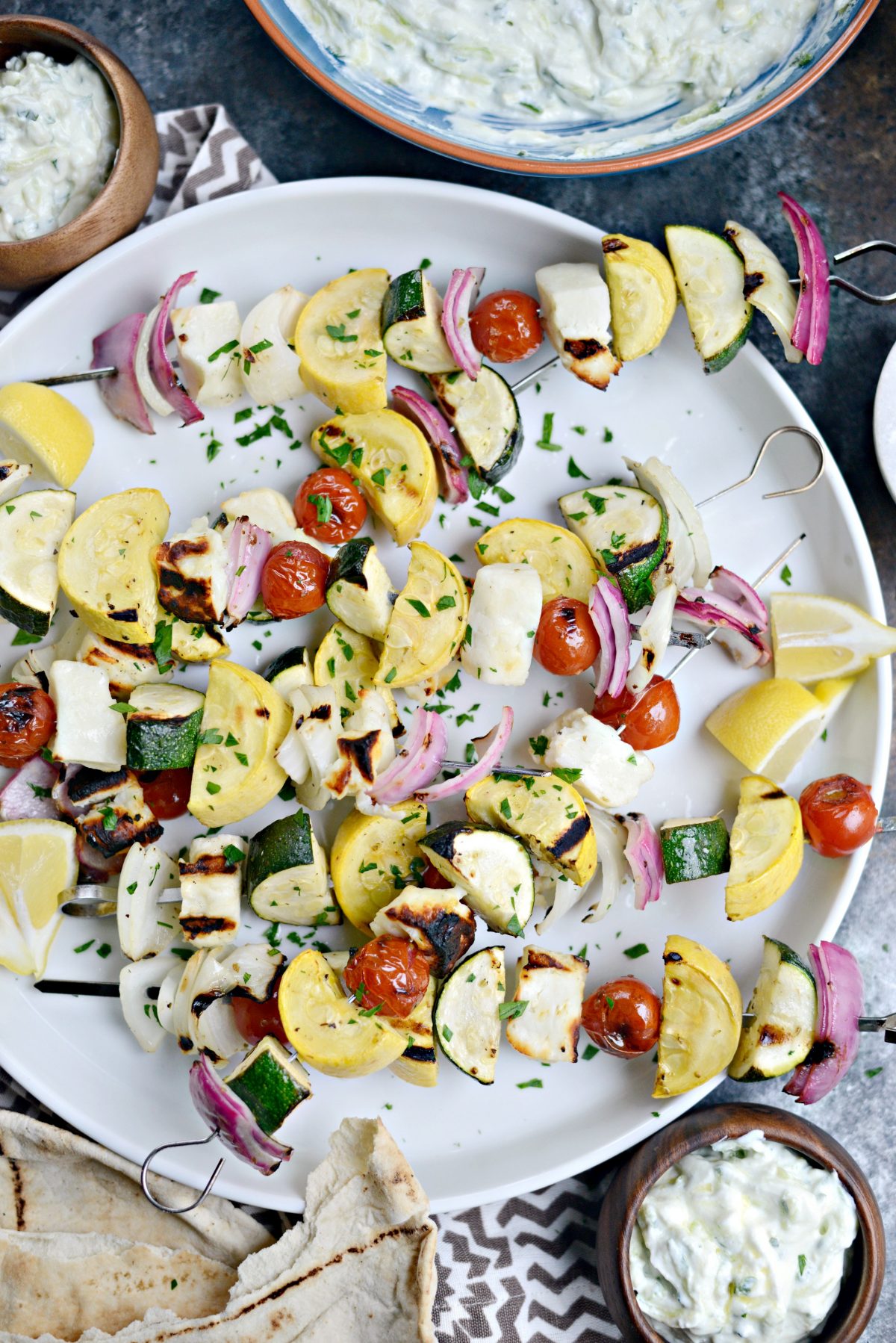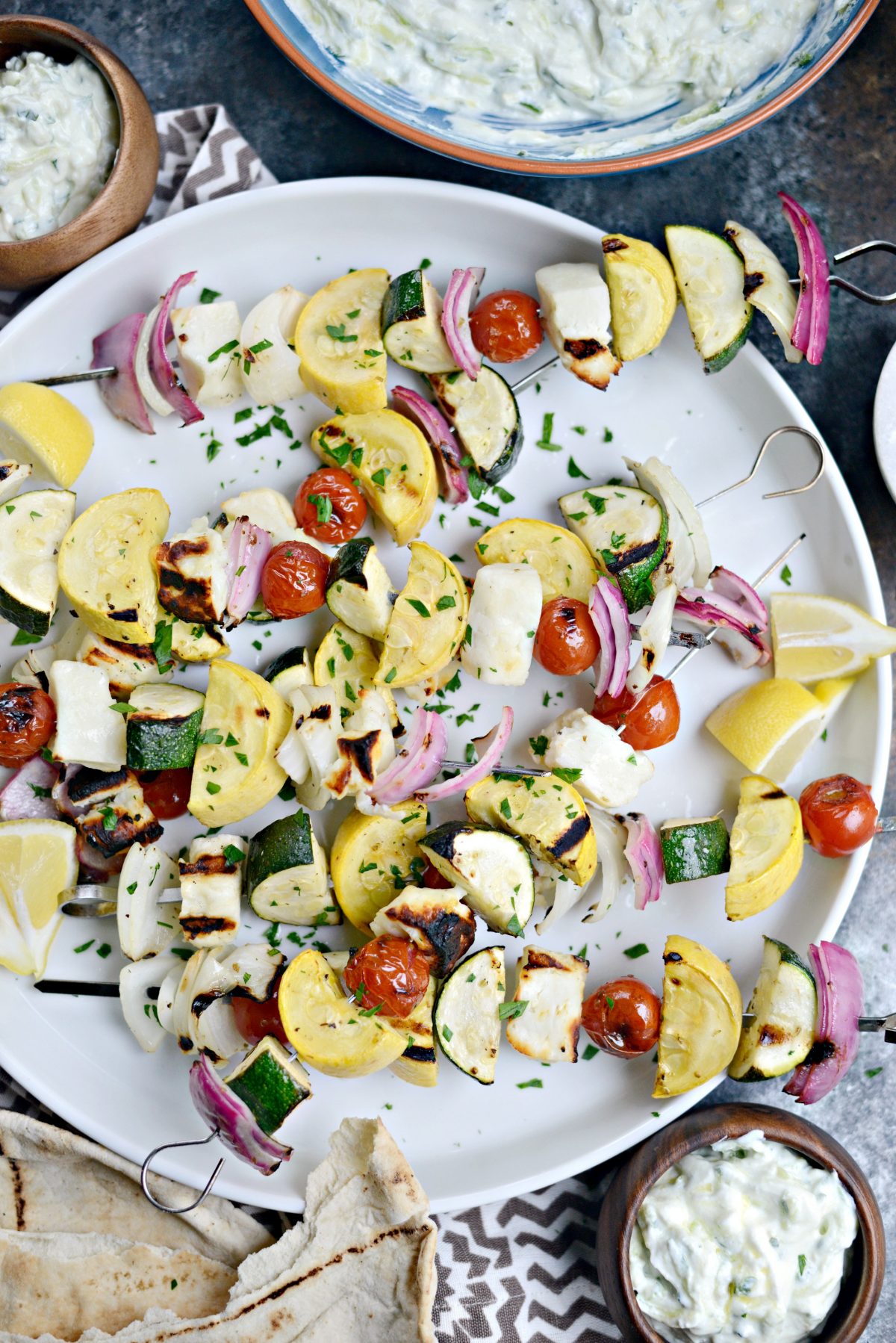 Today we are grilling CHEESE!
Yes, yes, cheese! Halloumi to be exact. What is halloumi? Well, according to Wikipedia, it's a semi-hard, unripened brined cheese made up primarily from goat and sheep's milk. Which is why (to me) it tastes like goat cheese and feta had a love child (er, cheese?). Anyway, because it has a high melting point, it can be fried or grilled and why it's also known as 'grilling cheese'. So I decided to skewer it with greek marinated veggies and grill it until it's edges caramelized and got all lovey, dovey and crisp.
In other news, we are inching our way to the summer vacation finish line. School softball is over and so I have my evenings back, which feels amazing! Hello, wine I've missed you. With only two weeks left, school is almost out for summer vacation and I cannot wait. Haileigh is starting to take drivers training so we still have that going on but it's just until the end of June and then we're free. I know most people dread having their kids home, and believe me I was one of them when Haileigh and Malloree were little. But now that they're older it's way more fun… and they sleep in till like 1pm.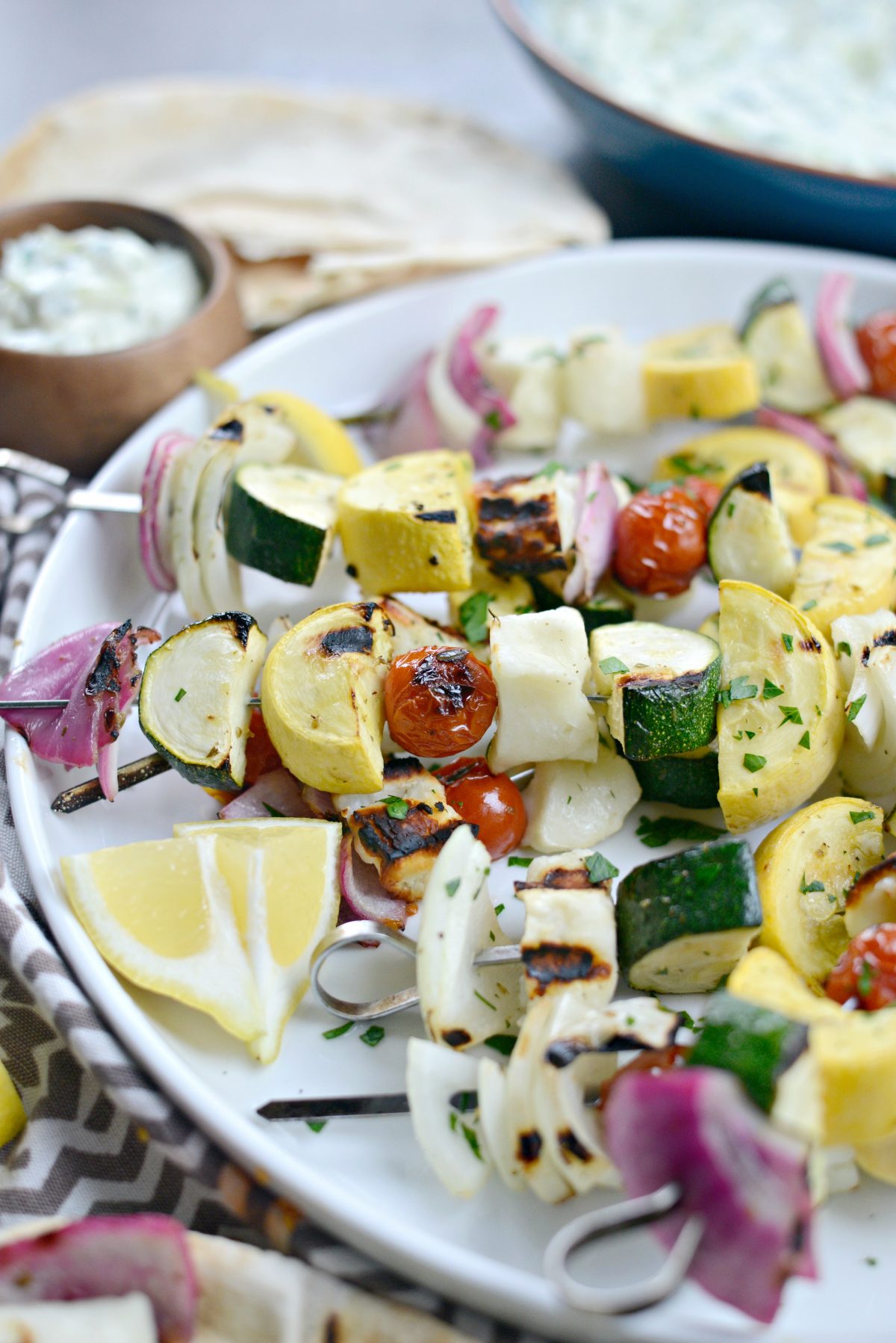 So I feel a little back to normal with my behind-the-sceens real life and this is the first week I feel inspired. Like, really inspired. So we're cooking up these amazing grilled halloumi & vegetable skewers. A satisfying vegetarian grilling option this summer!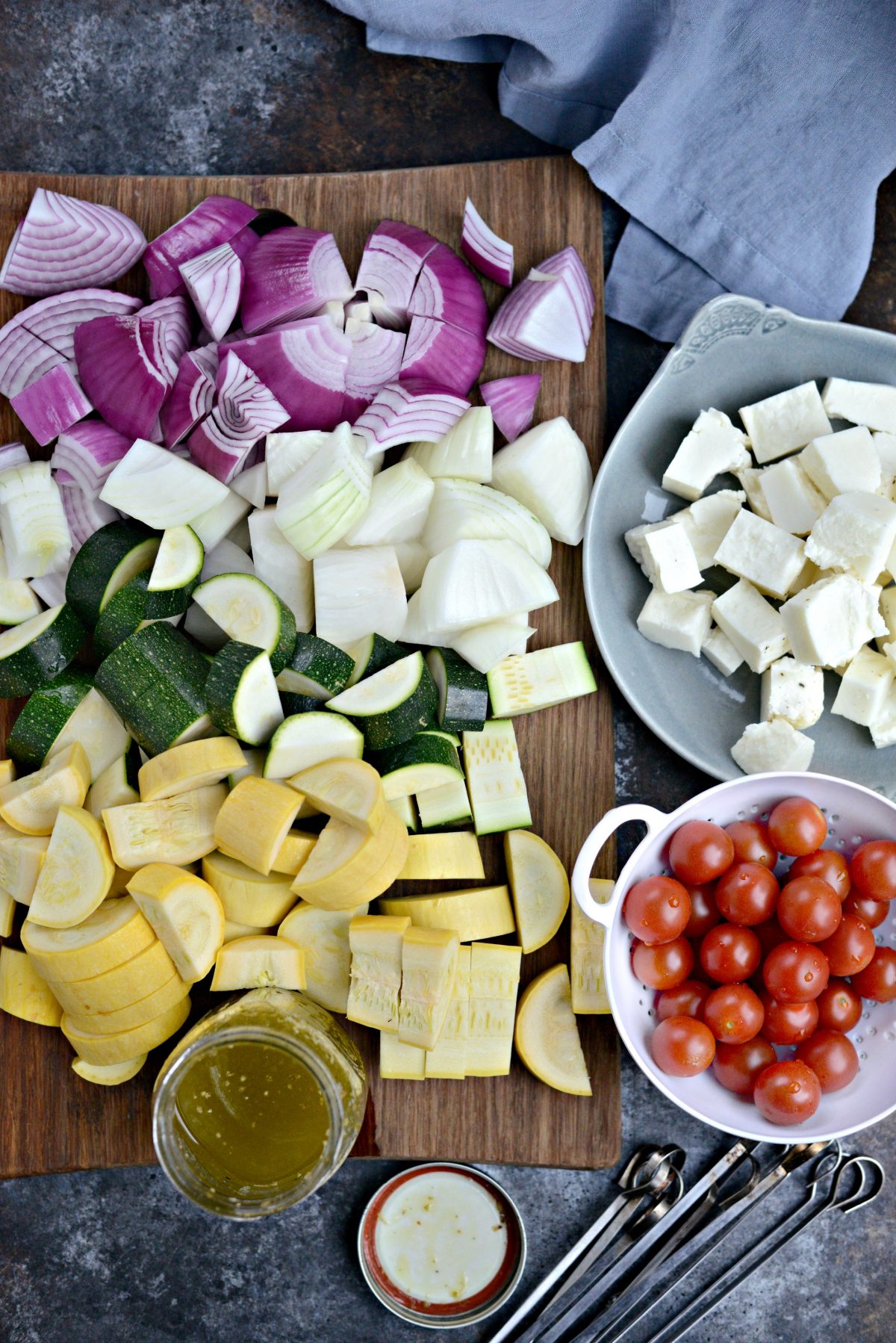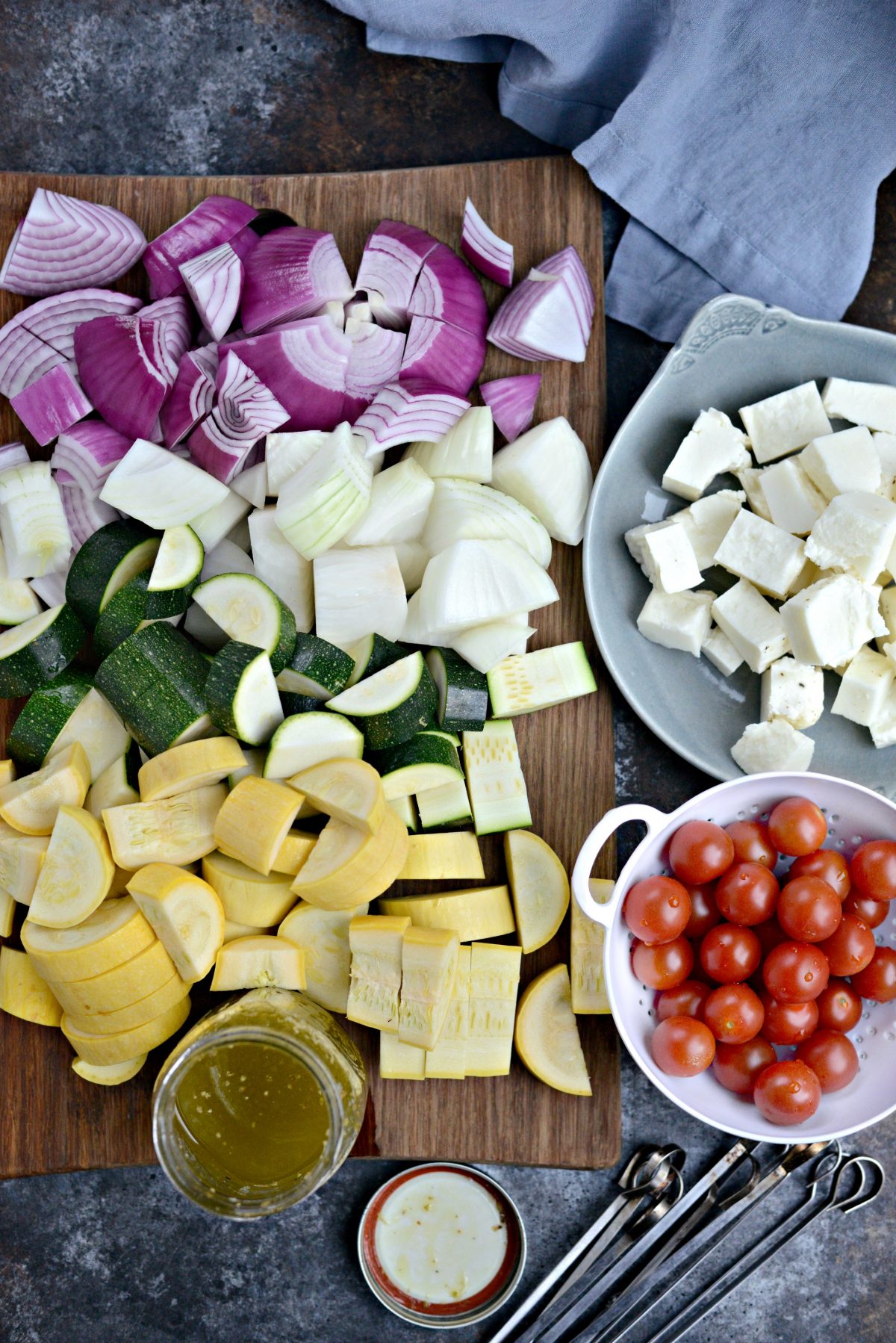 To make these, you will need 1 to 2 zucchinis and yellow squash (depending on size), 1 medium red and sweet onion, large cherry tomatoes (or grape is fine), the best Greek dressing and 1 pound (16 ounces) halloumi cheese. Depending on where you shop, halloumi can be a little pricy. But keep in mind how inexpensive vegetables are and it's always more cost effective if you make your own dressing. Also, try to find a block of halloumi and not one that is folded.
Clean your grill grates and brush with oil before preheating to medium.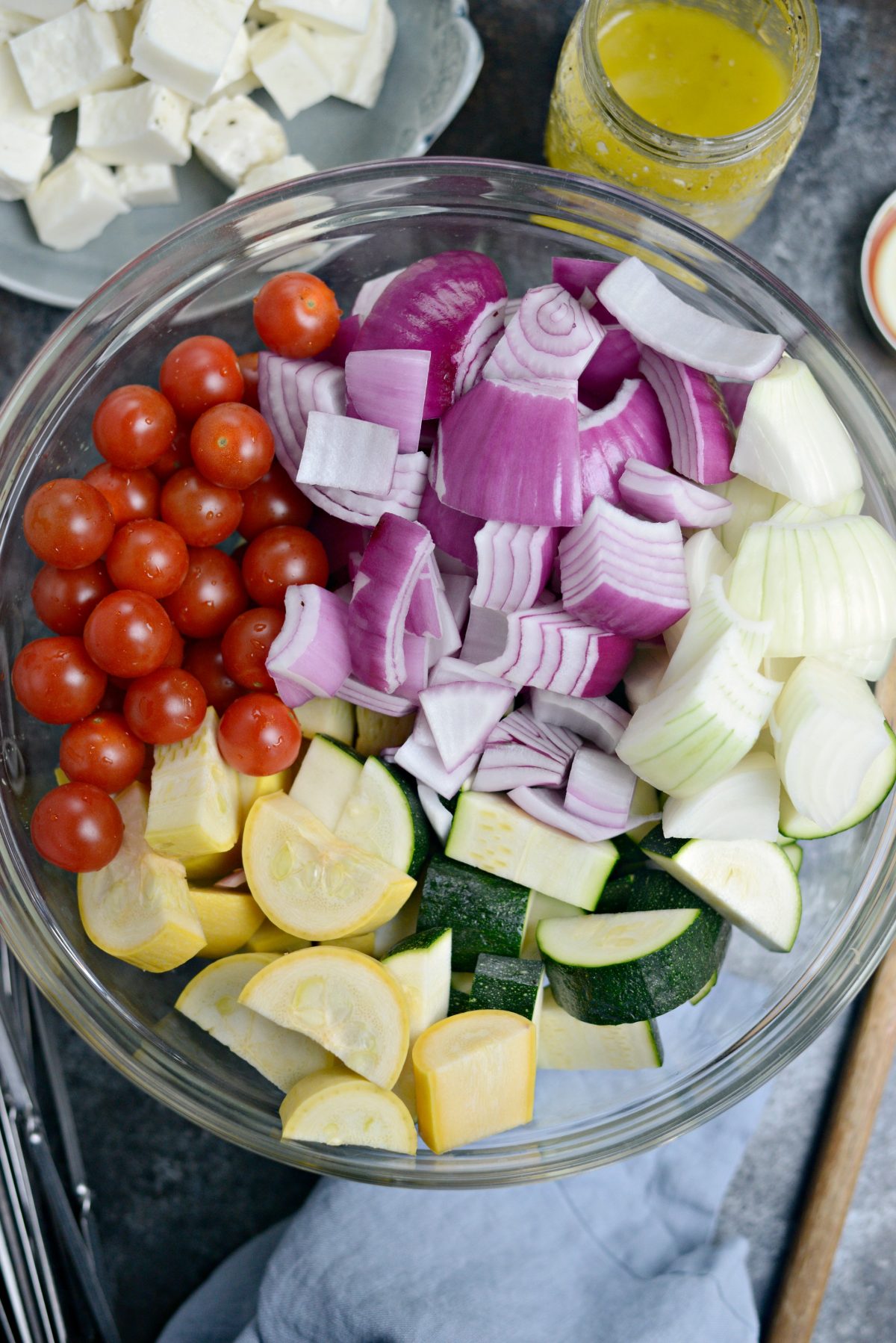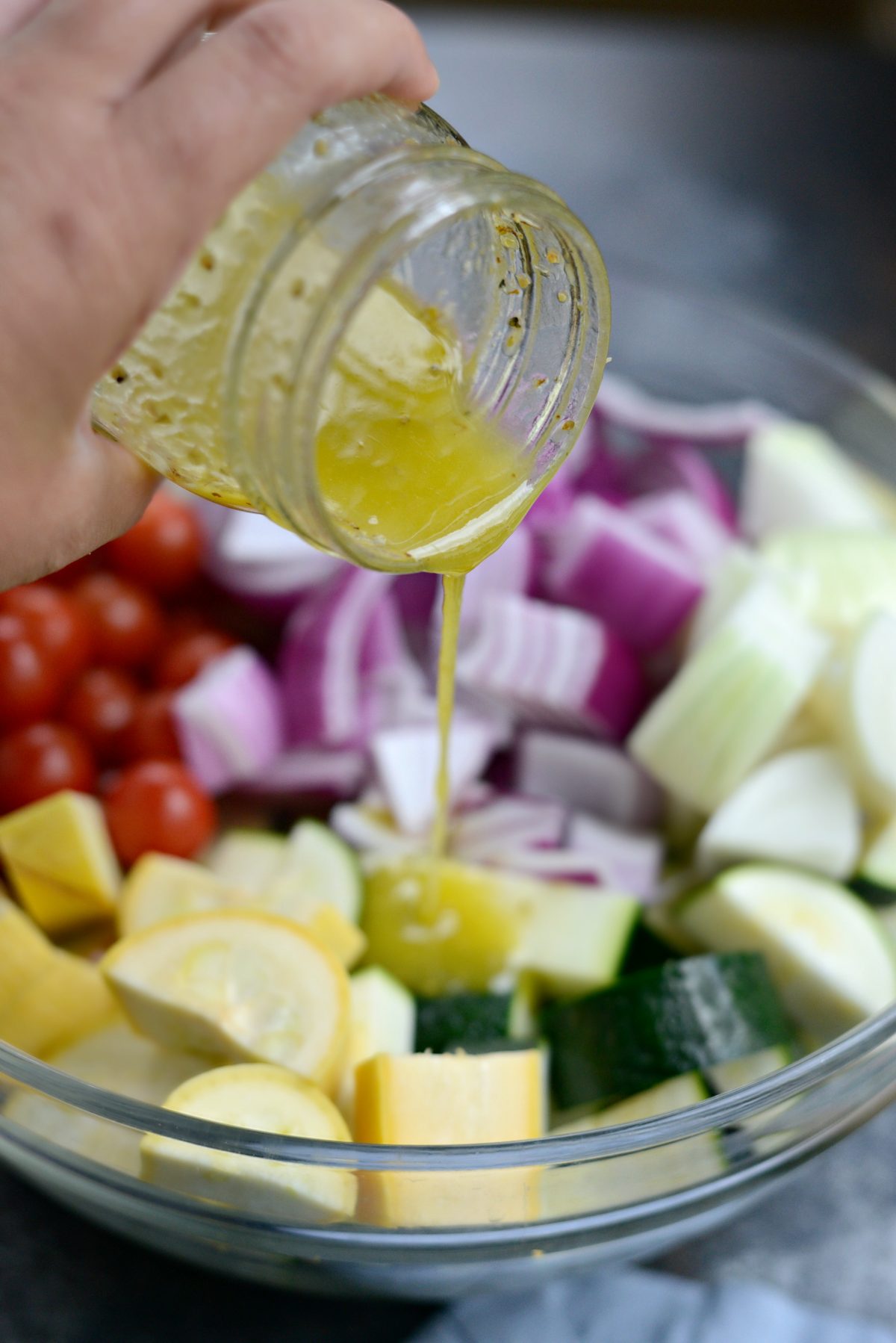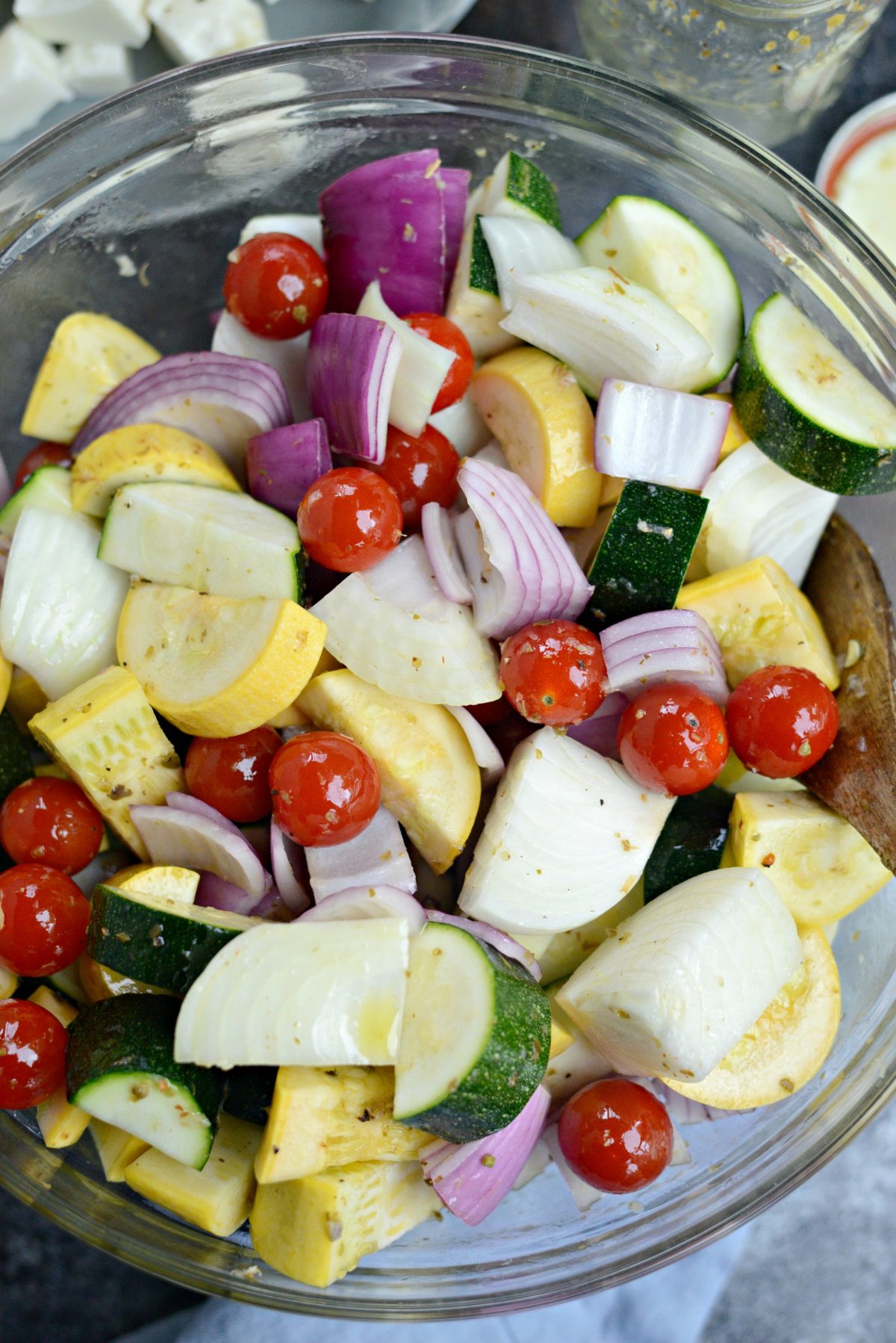 First things first, start prepping all of the vegetables; chop the onions, cut the squash into half-moons and rinse the tomatoes. Add them all in to a large bowl. Then pour in all of the Greek dressing, tossing with tongs until each veggie is coated generously.
Note: Try to keep the vegetables in uniform with the halloumi to insure even cooking.
Thread 2 to 3 pieces of halloumi along with a mix of vegetables onto metal skewers. Of course you could us wooden skewers. Just be sure to soak them in water for 30 to 40 minutes before threading. This will help keep the wood from burning too fast.
If you have a grill basket, use it with any extra vegetables. Just add them loosely into the basket and grilled.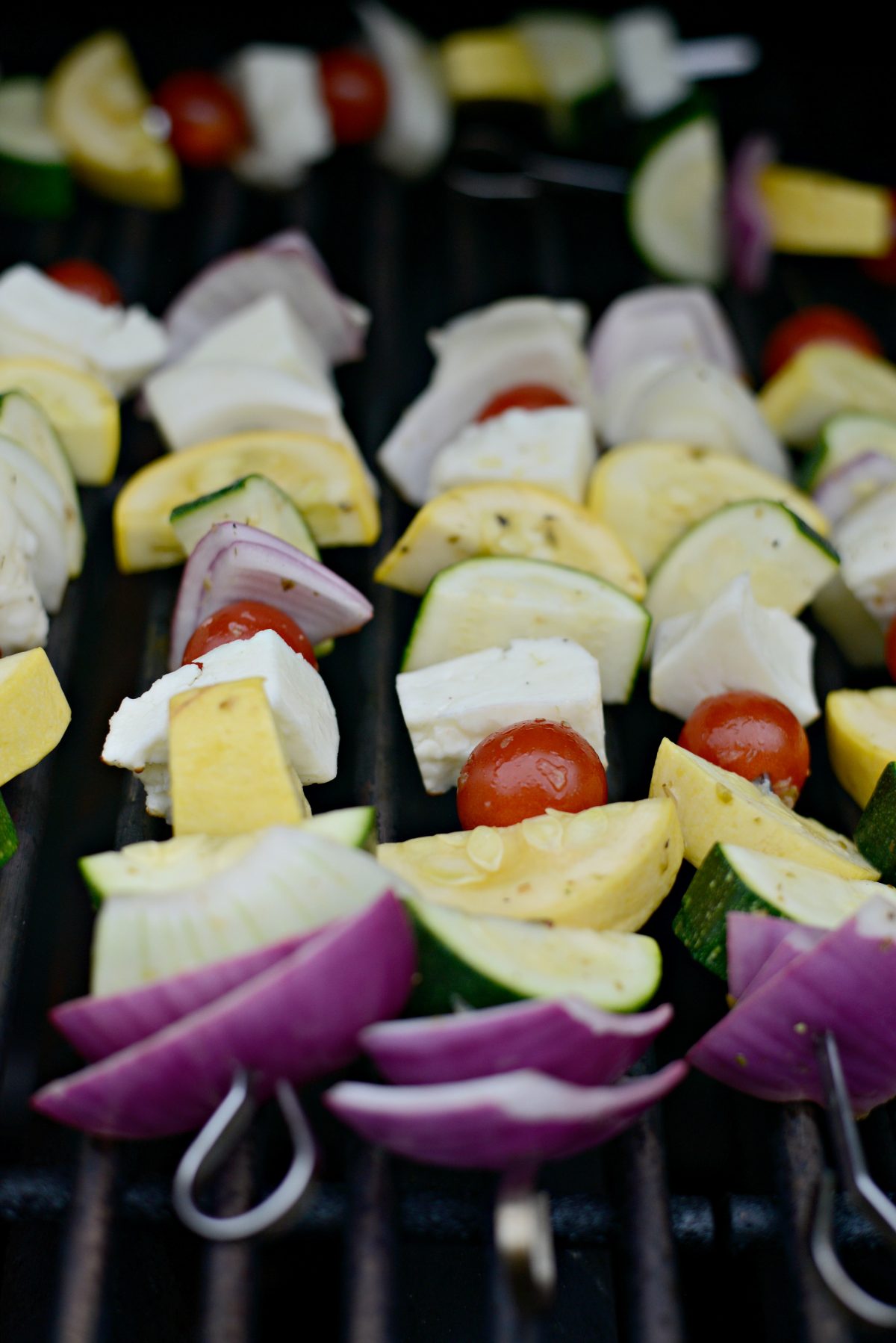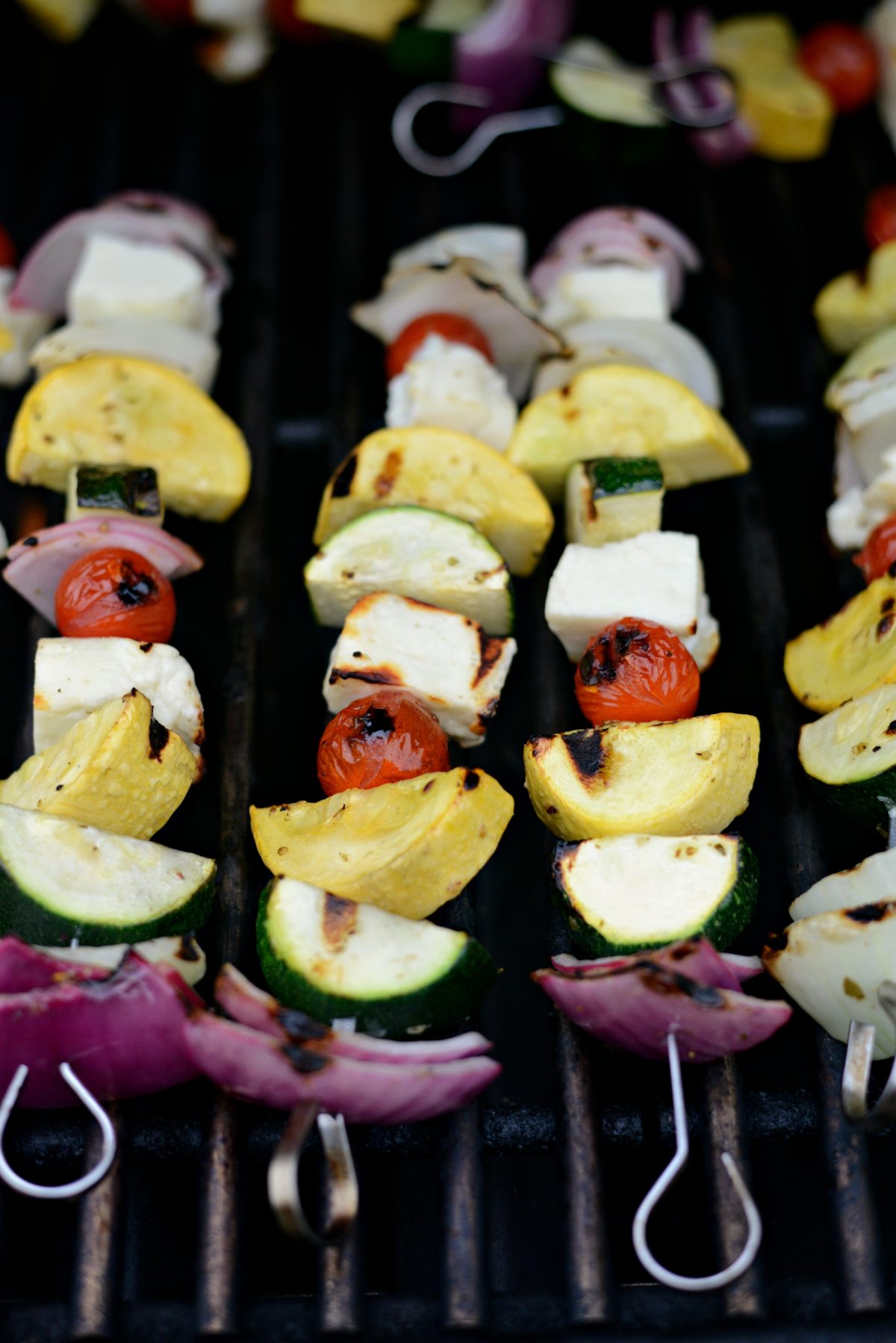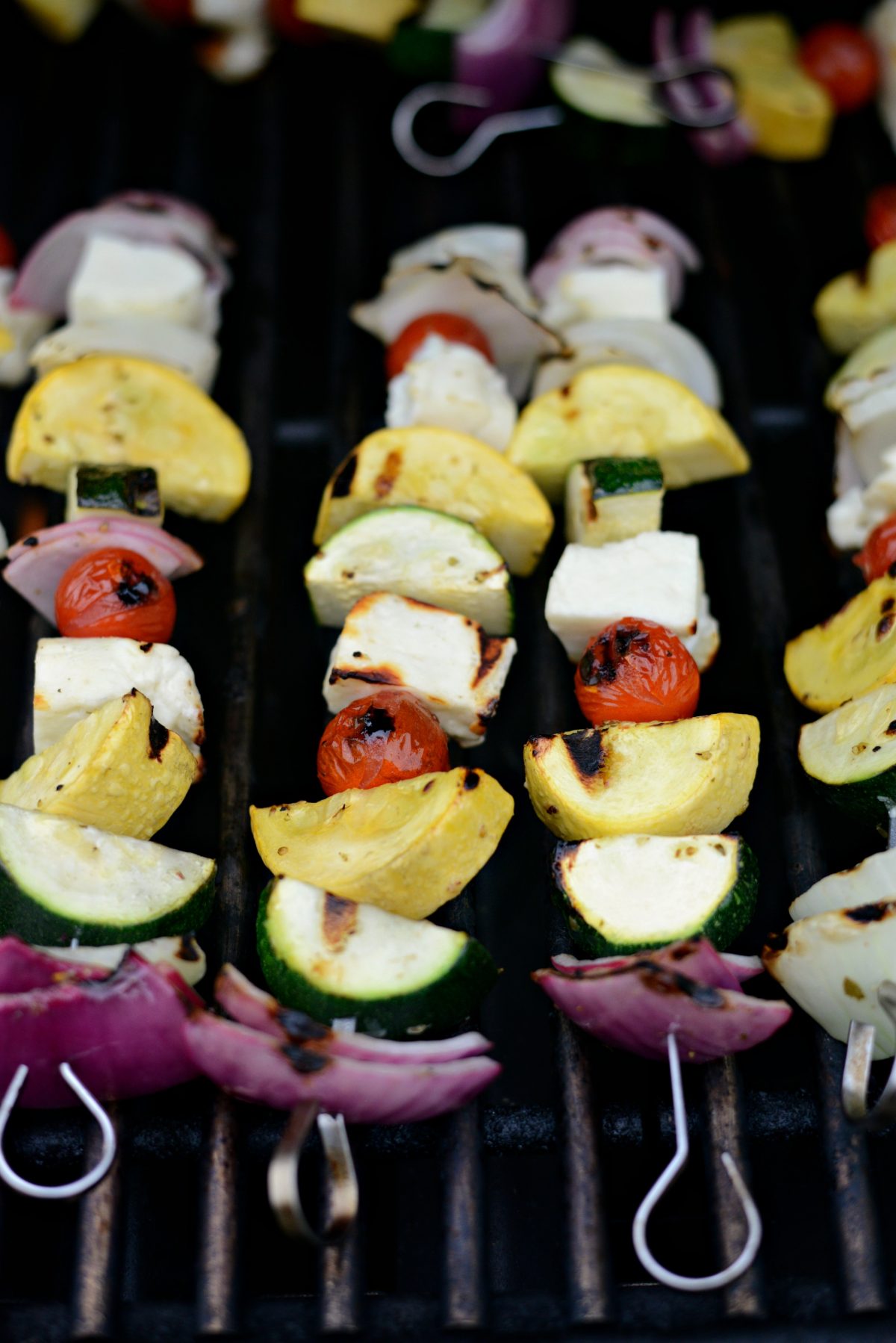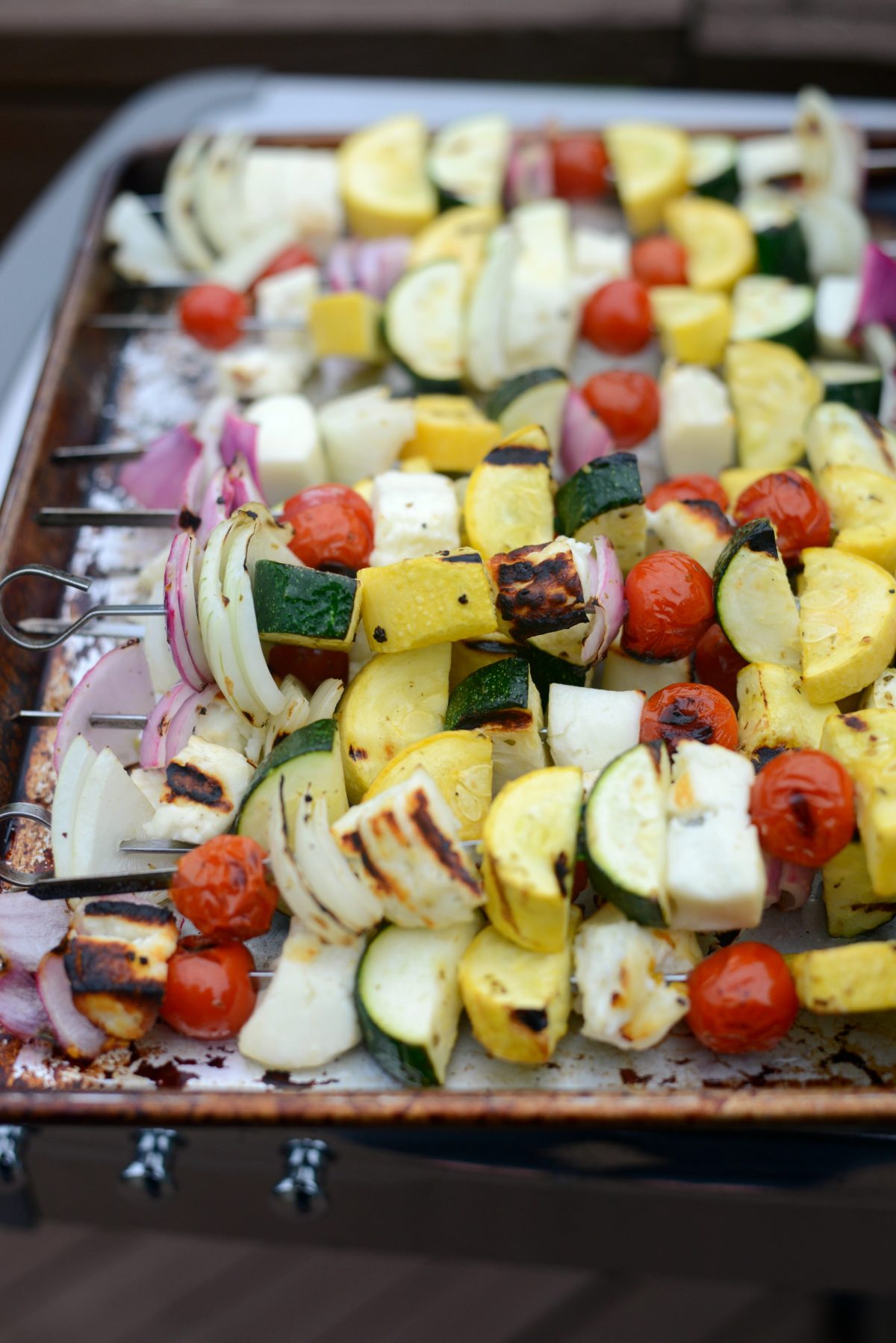 Place the skewers on your preheated grill (about medium heat) and grill for 3 to 4 minutes or until good grill marks form. You'll know when to flip when the cheese releases easily from the grill. If the halloumi cooks too fast, it will start to melt. So use tongs to remove any pieces of halloumi that come off the skewer. It's still edible, so grab it fast. Have a rimmed metal baking sheet nearby so you have a place for the grilled halloumi vegetable skewers once grilled.
You can also thread the halloumi on its own skewers separate from the vegetables. This will also help cook everything evenly.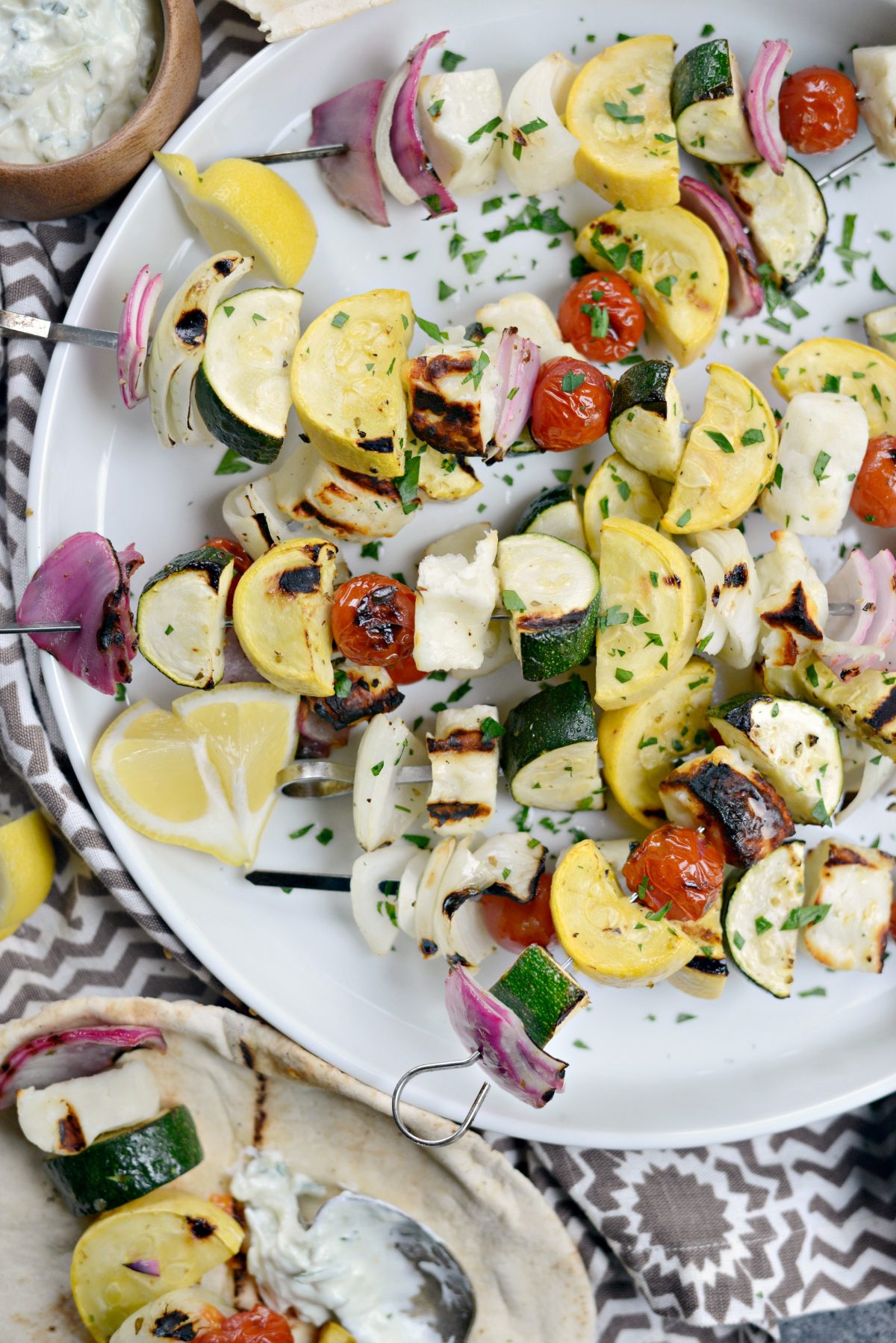 Squeeze a lemon wedge over all of the grilled halloumi vegetable skewers and sprinkle with chopped parsley and mint.
Un-skewer these onto toasty warm pita with a dollop of homemade tzatziki! Serve immediately so you can enjoy that crisp yet melty halloumi!
Enjoy! And if you give these Grilled Halloumi Vegetable Skewers a try, let me know by snapping a photo and tagging me on twitter or instagram!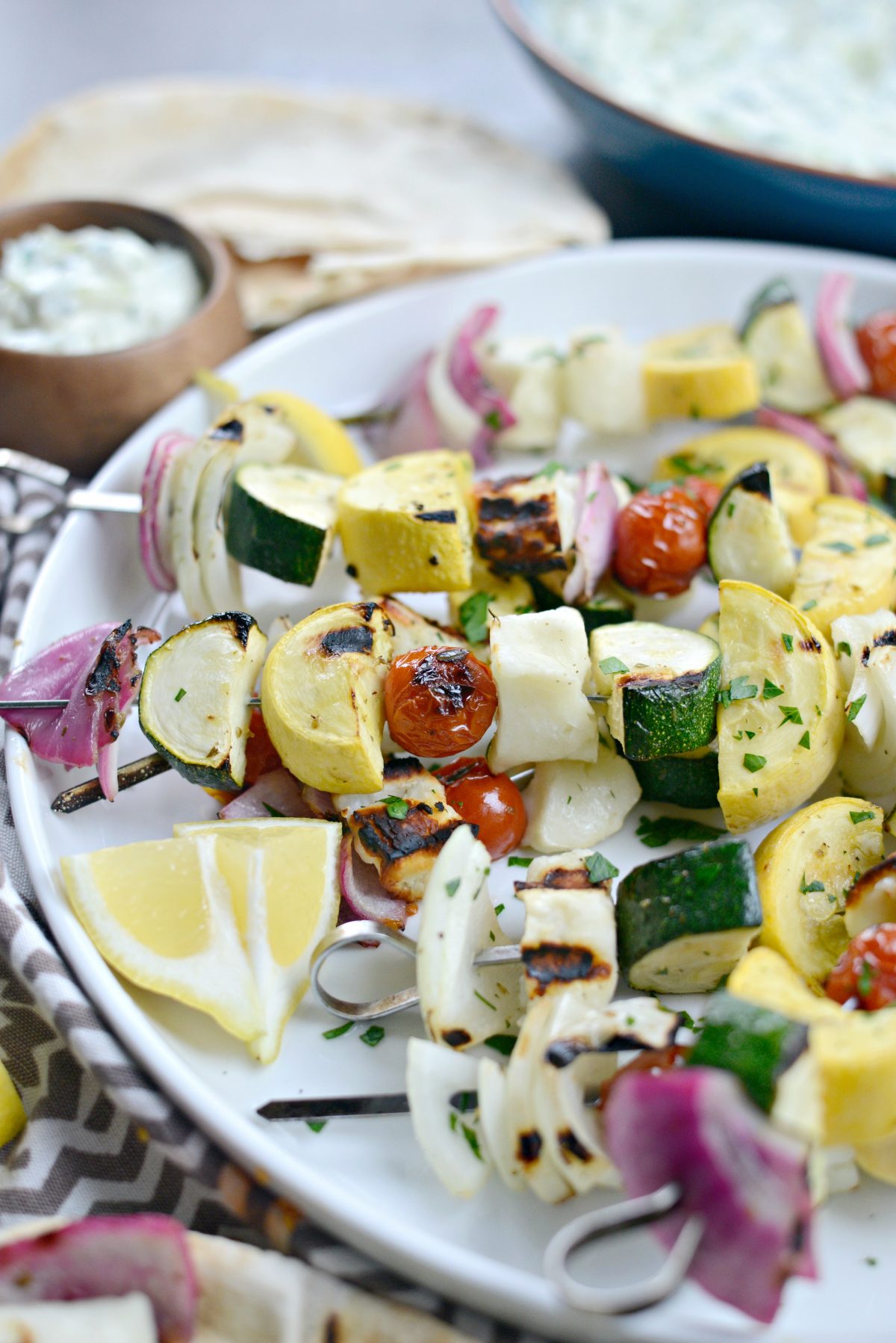 My cookbook Simply Scratch : 120 Wholesome Homemade Recipes Made Easy is now available! CLICK HERE for details and THANK YOU in advance!
[this post contains affiliate links.]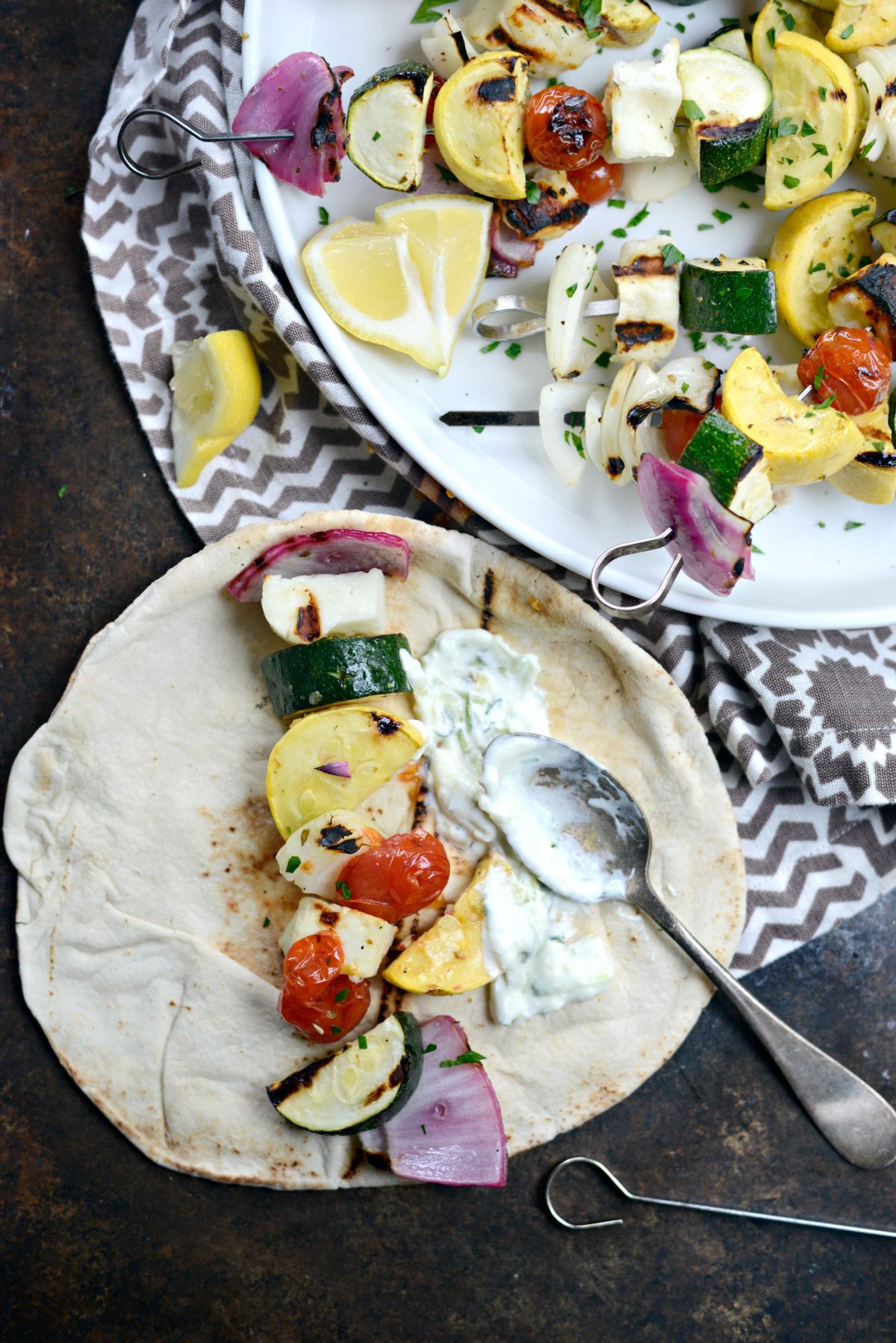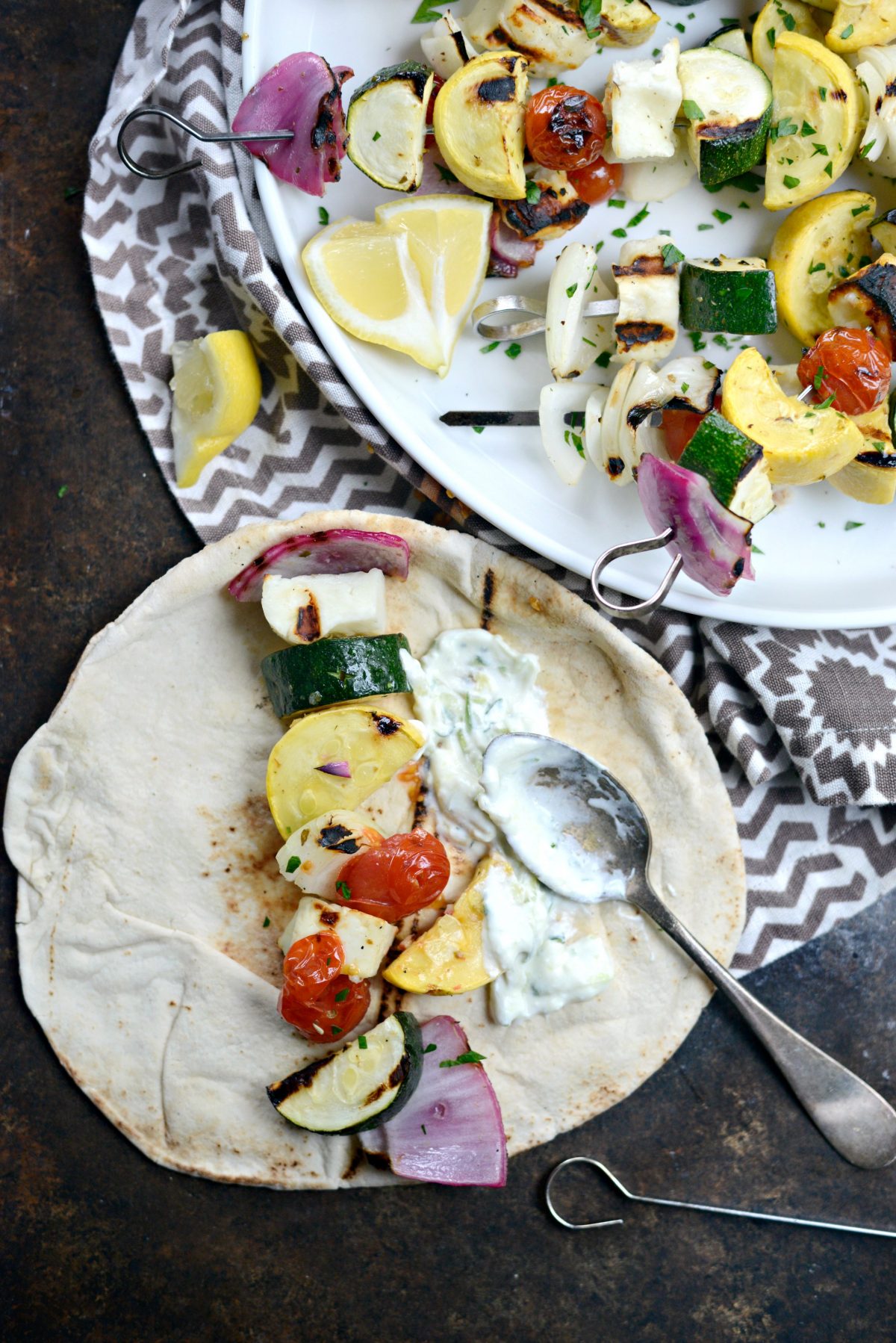 This post may contain affiliate links.
Buy the Cookbook: Simply Scratch : 120 Wholesome Homemade Recipes Made Easy Now available on Amazon »
THANK YOU in advance for your support!