Tomato Florentine Soup is the perfect spring soup!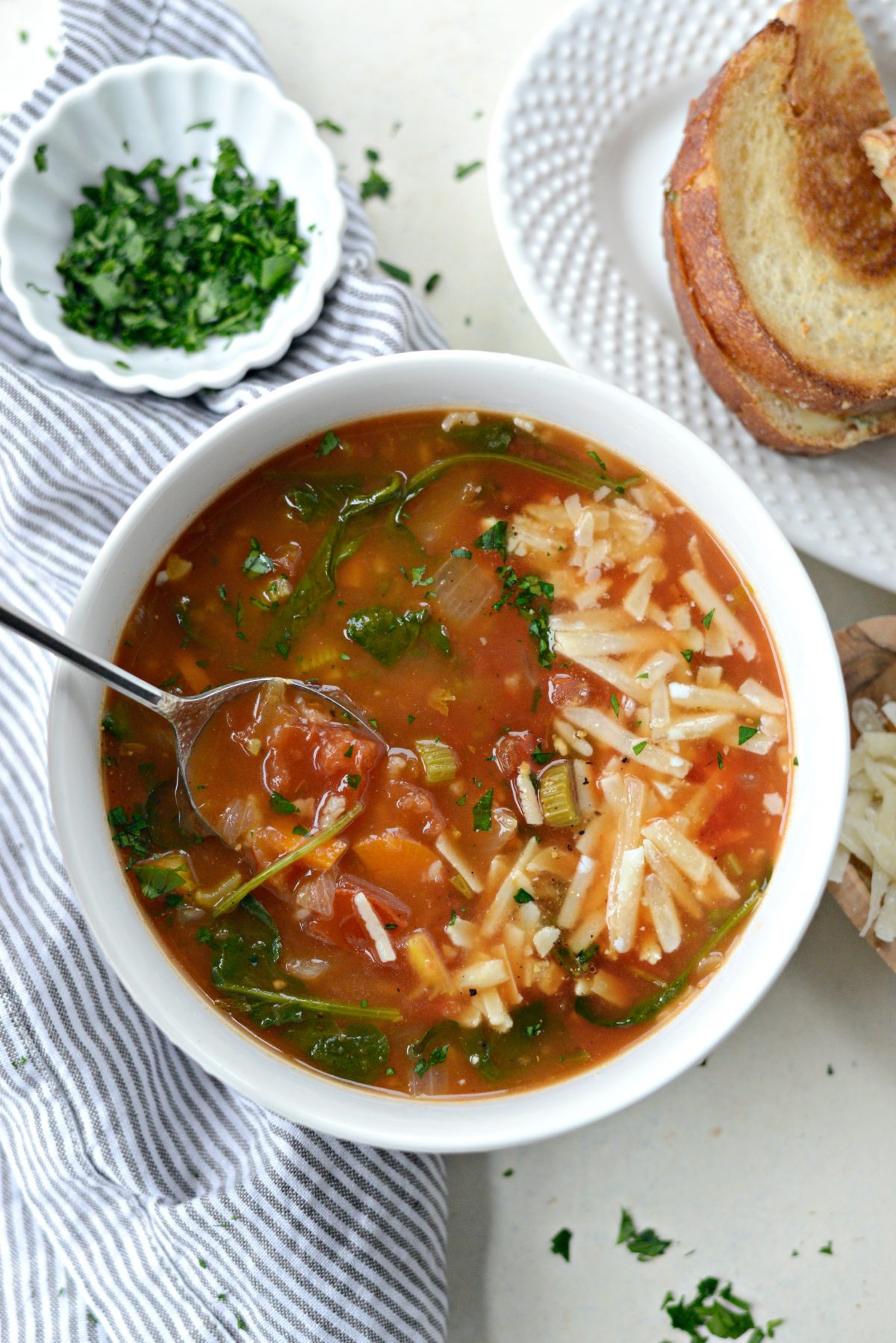 Don't believe me? Look at that beautiful and bountiful bowl-o-soup! Carrots, celery, fresh tomatoes and spinach just to name a few. A soup so simple it's beyond ridiculous. So darn delicious folks will think you dropped into your local diner and confiscated pints of their "soup de jour" trying to pass is as your own. To extreme? Possibly.
One of my all time lunch combination is the mighty soup and sandwich. Over spring break I took my daughter's to our favorite spot in downtown Fenton for lunch. Since it was a chilly, rainy afternoon, Haileigh and I both ordered the soup and sandwich combo while Malloree ordered a chicken pot pie. Cozy comfort at its best. The restaurants soup was, you guessed it, tomato Florentine. A light tomato broth soup swimming with vegetables and clean, simple flavors.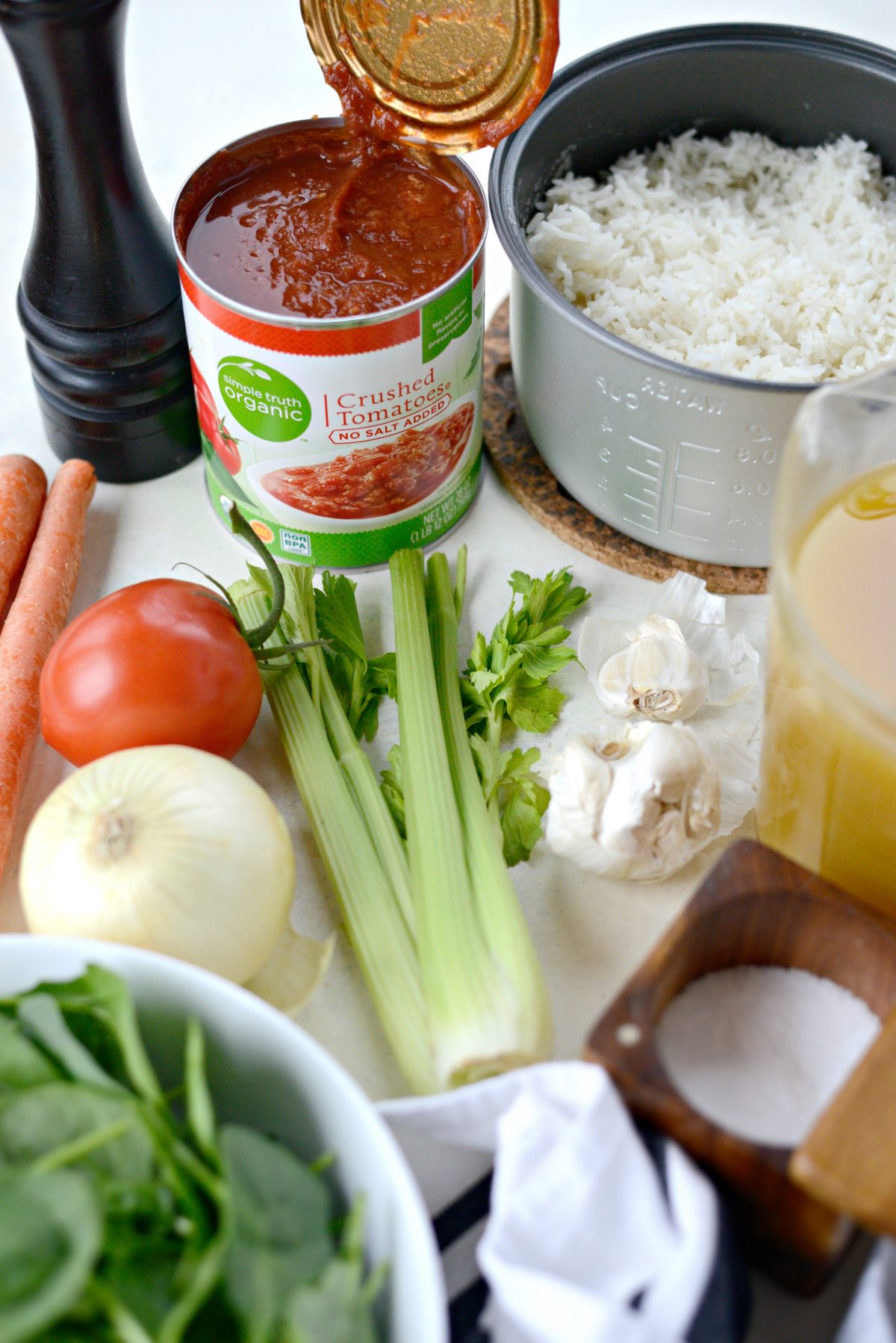 It was the perfect thing on the perfect day. So I knew I had to recreate it at home asap.

Start by adding 1 tablespoon of olive oil to a large, heavy bottom stock pot or Dutch oven. Heat on medium, once hot add the onion, celery and carrot along with a pinch or two of kosher salt. Cook until soft and the onions are translucent. About 10-12 minutes.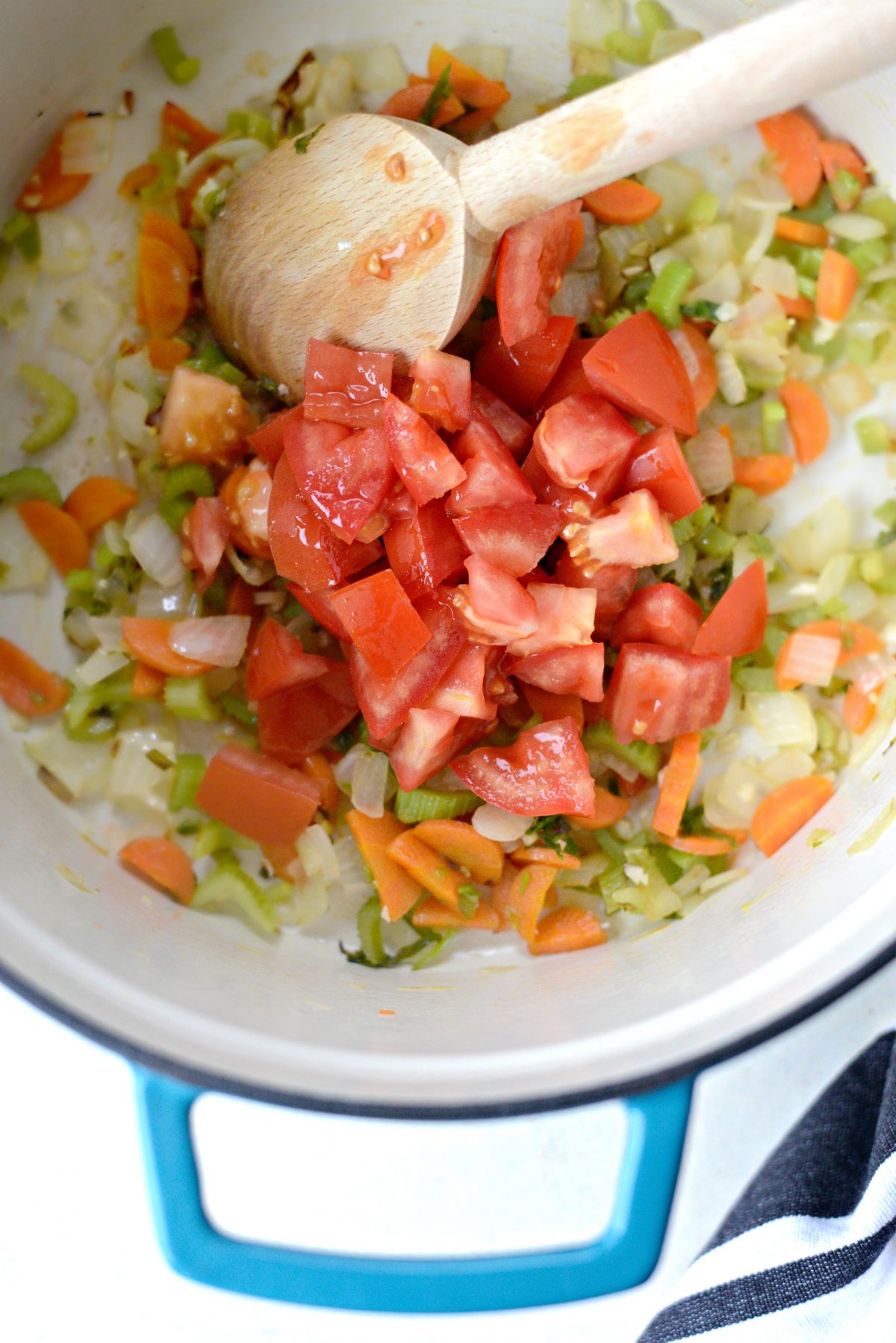 Once the vegetables are tender, I add in the minced garlic and cook for 1 minutes before adding in the chopped tomatoes (skin, seeds and all).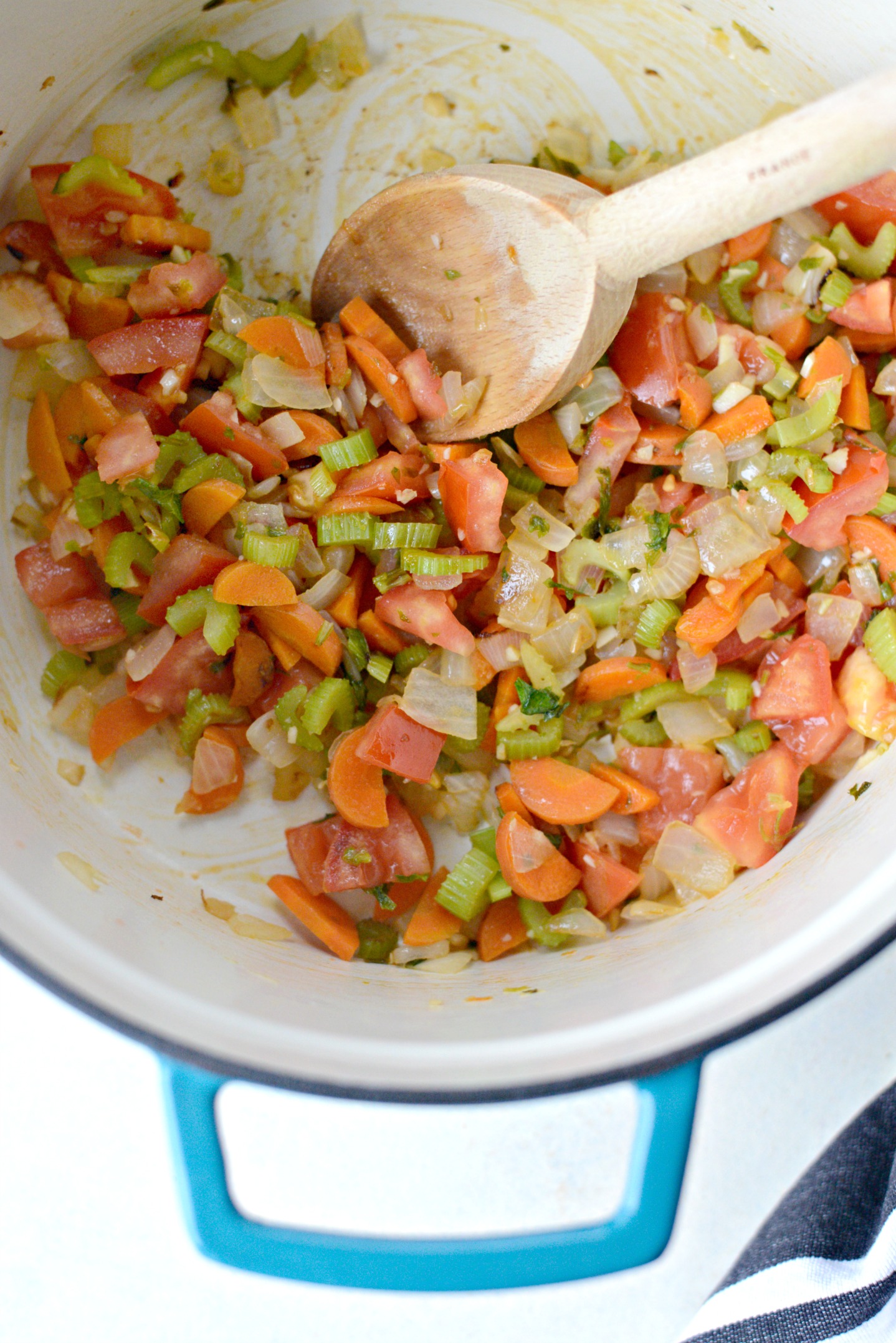 Stir, and cook for an additional 2 to 3 minutes.
Next pour in the 2 quarts (8 cups) vegetable broth and the can of crushed tomatoes. Stir and bring to a simmer, cover, reduce the heat to low and cook for 30 minutes.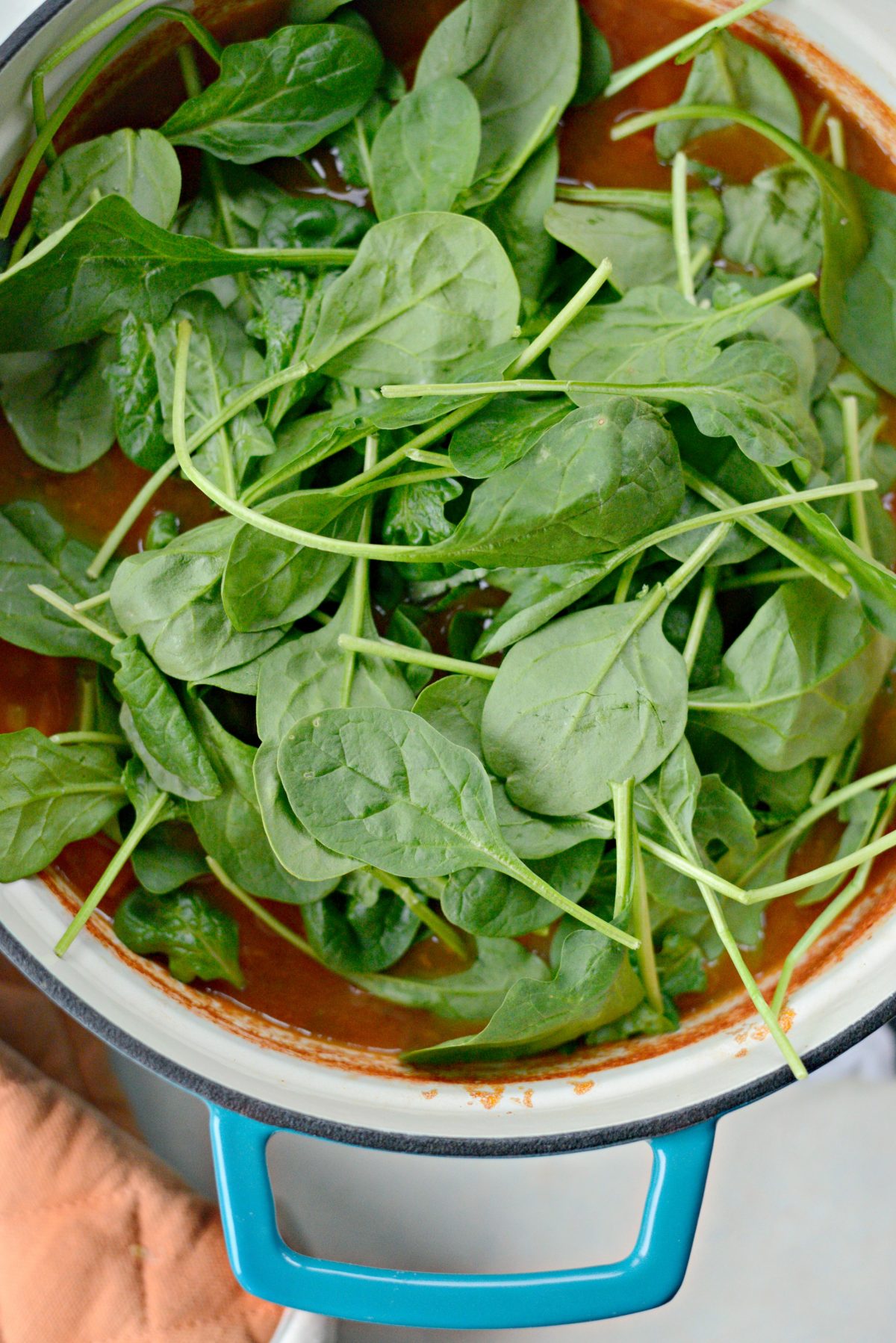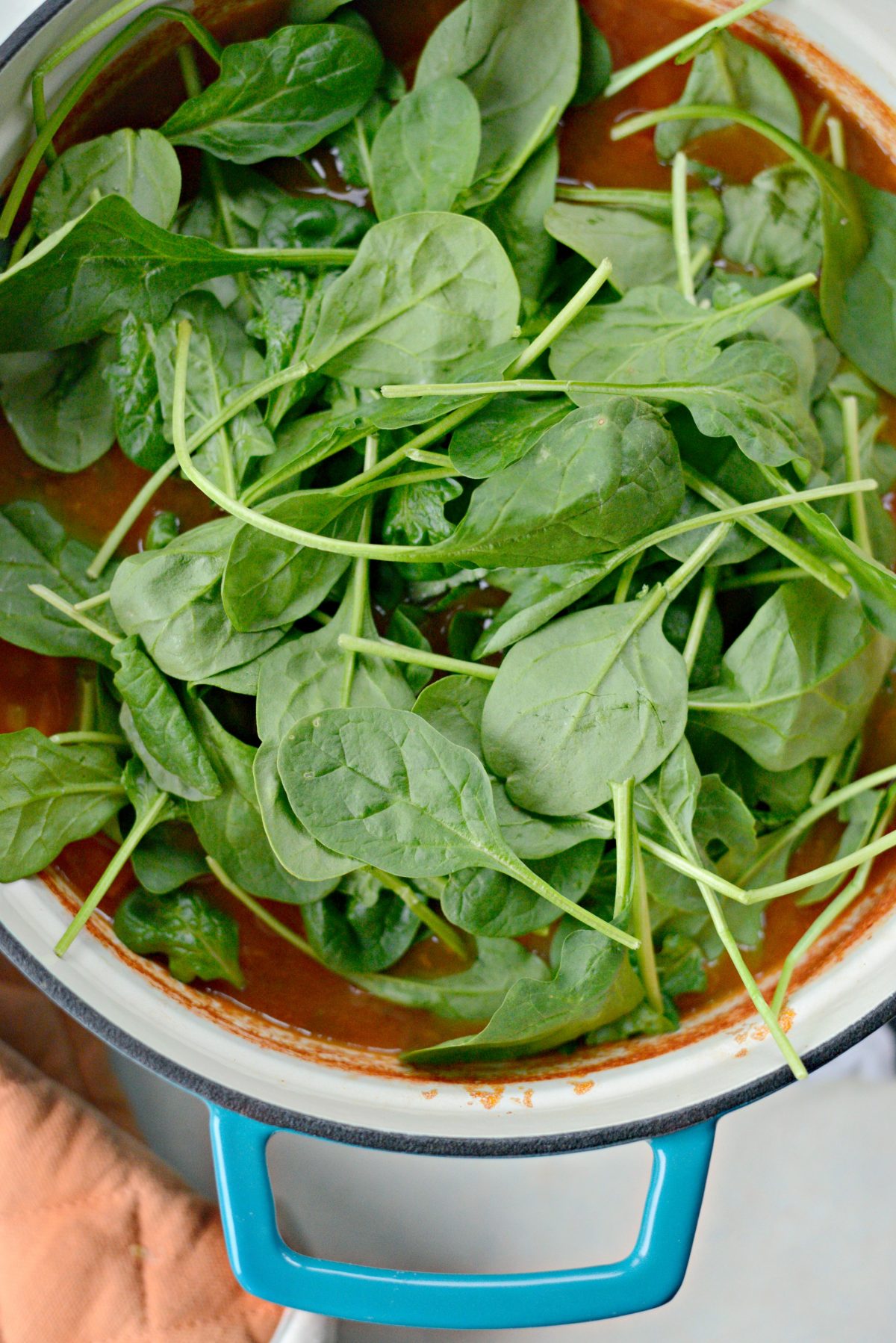 When the 30 minutes are up, add in about 2-1/2 ounces of baby spinach, or regular spinach that's been chopped. Stir and cook until the spinach wilts.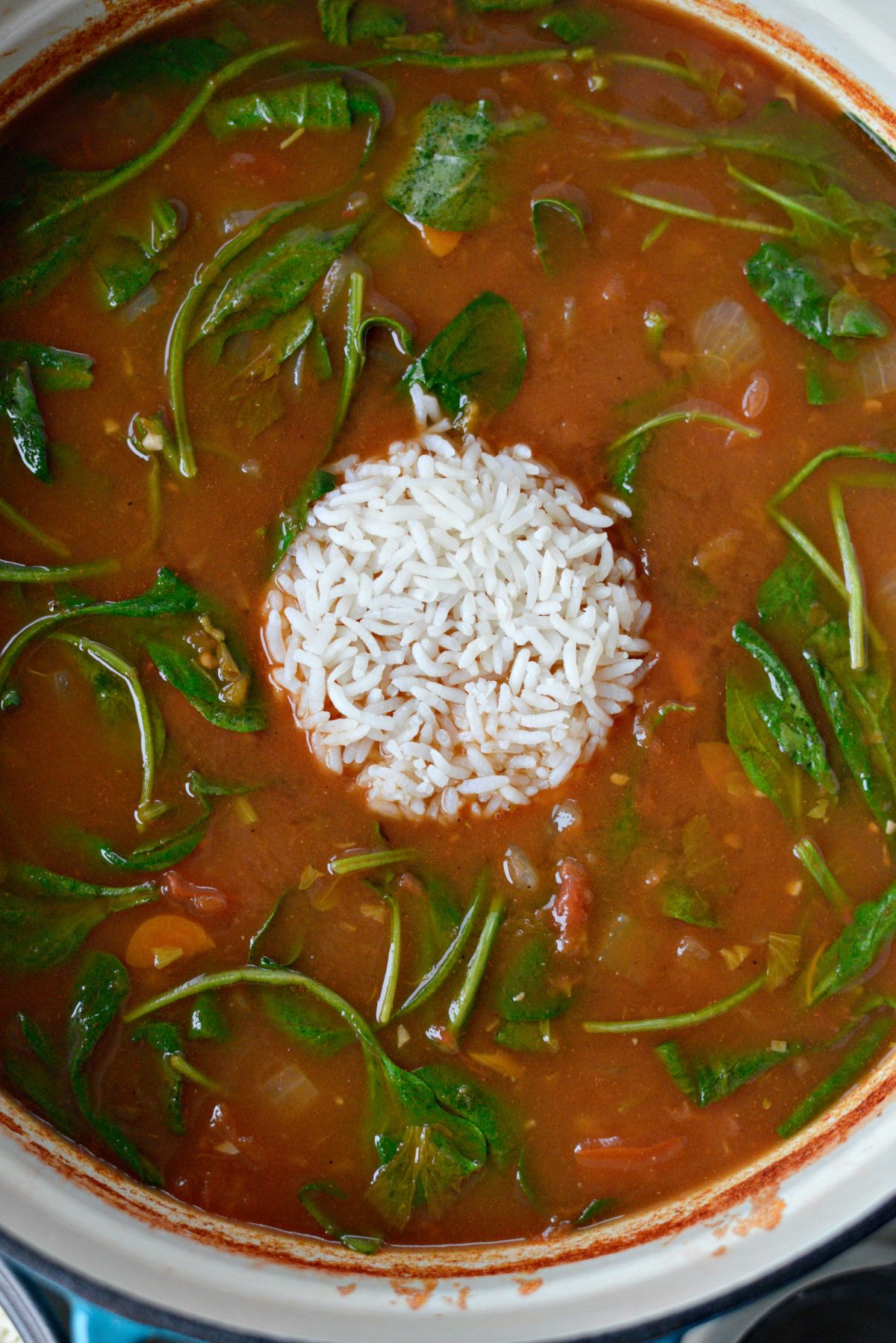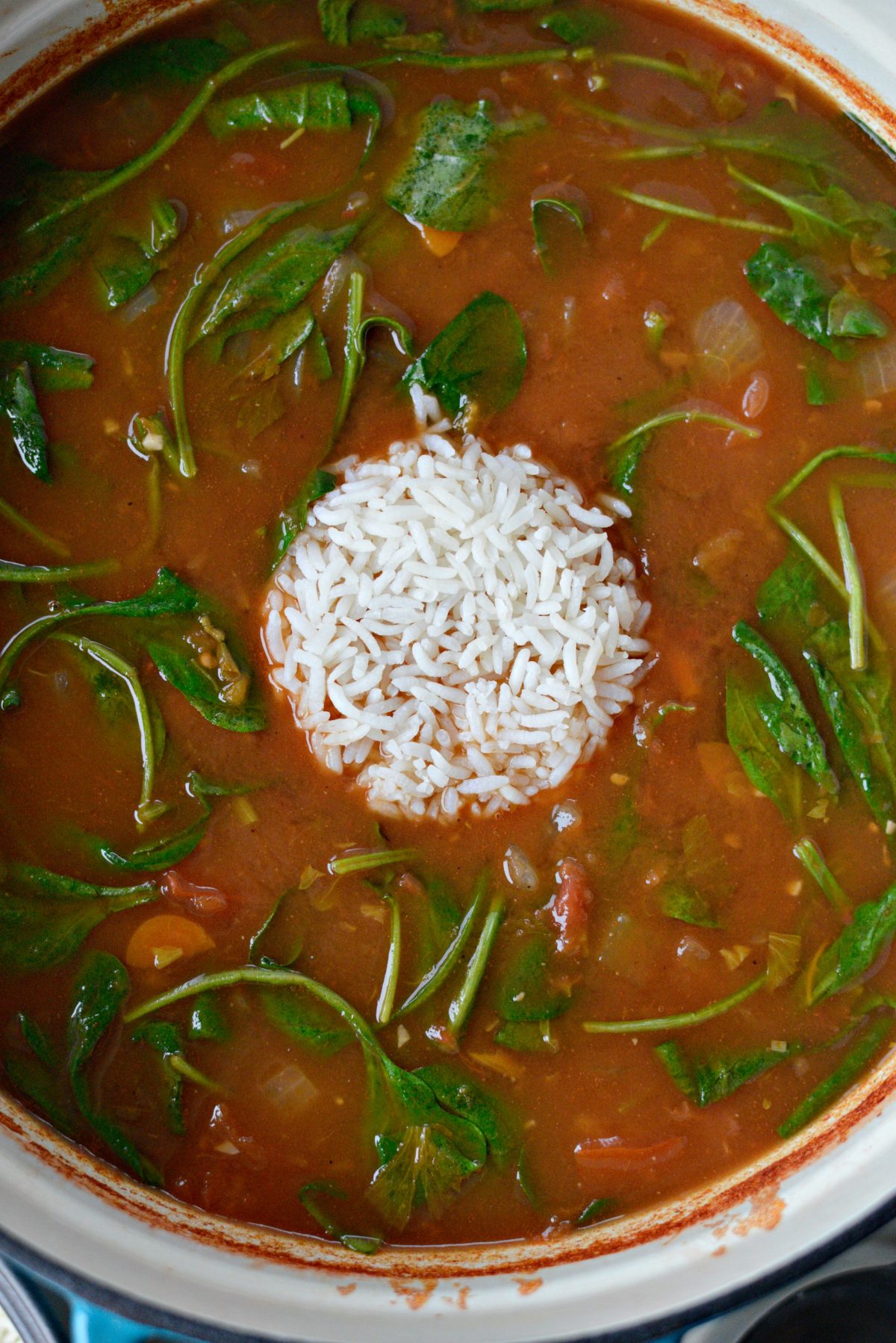 Next, stir in 1 to 1-1/2 cups pre-cooked long grain white rice and heat throughout. It won't seem like a lot of rice at first, but the rice will absorb some of the liquids swell even more.
When I first made this soup, I tested it with 2 cups of rice and found that to bee too much, so I use about a generous cup to cup and a half.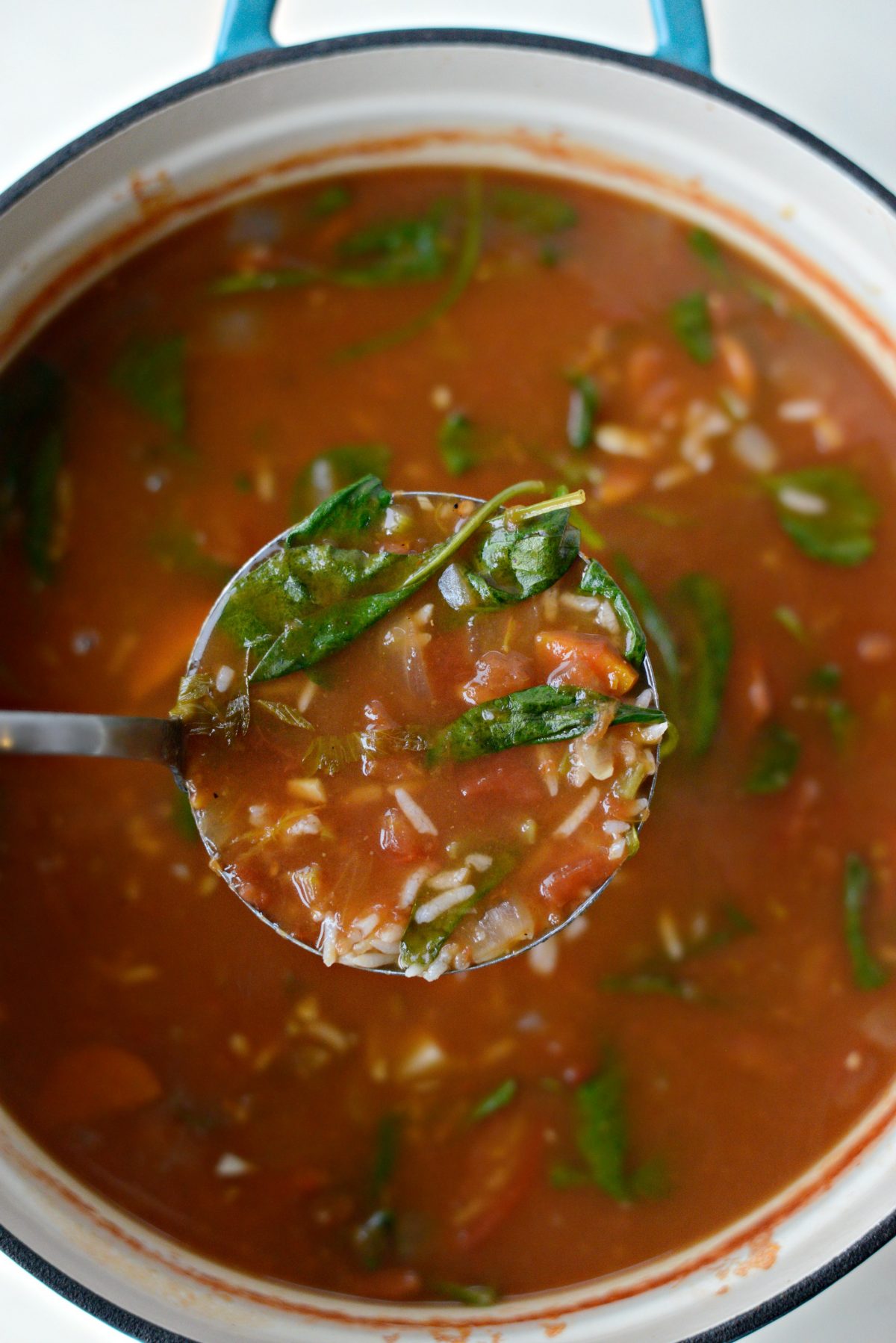 Taste and season with 1-1/2 teaspoons kosher salt and 1/4 to 1/2 teaspoon ground black pepper.

Ladle the hot soup into bowls and garnish with grated Parmesan Reggiano, minced parsley and freshly ground black pepper.
This soup was made for dunking in, so I served this soup with a fancy-schmancy grilled cheese sandwich and will be sharing the recipe with you all very soon.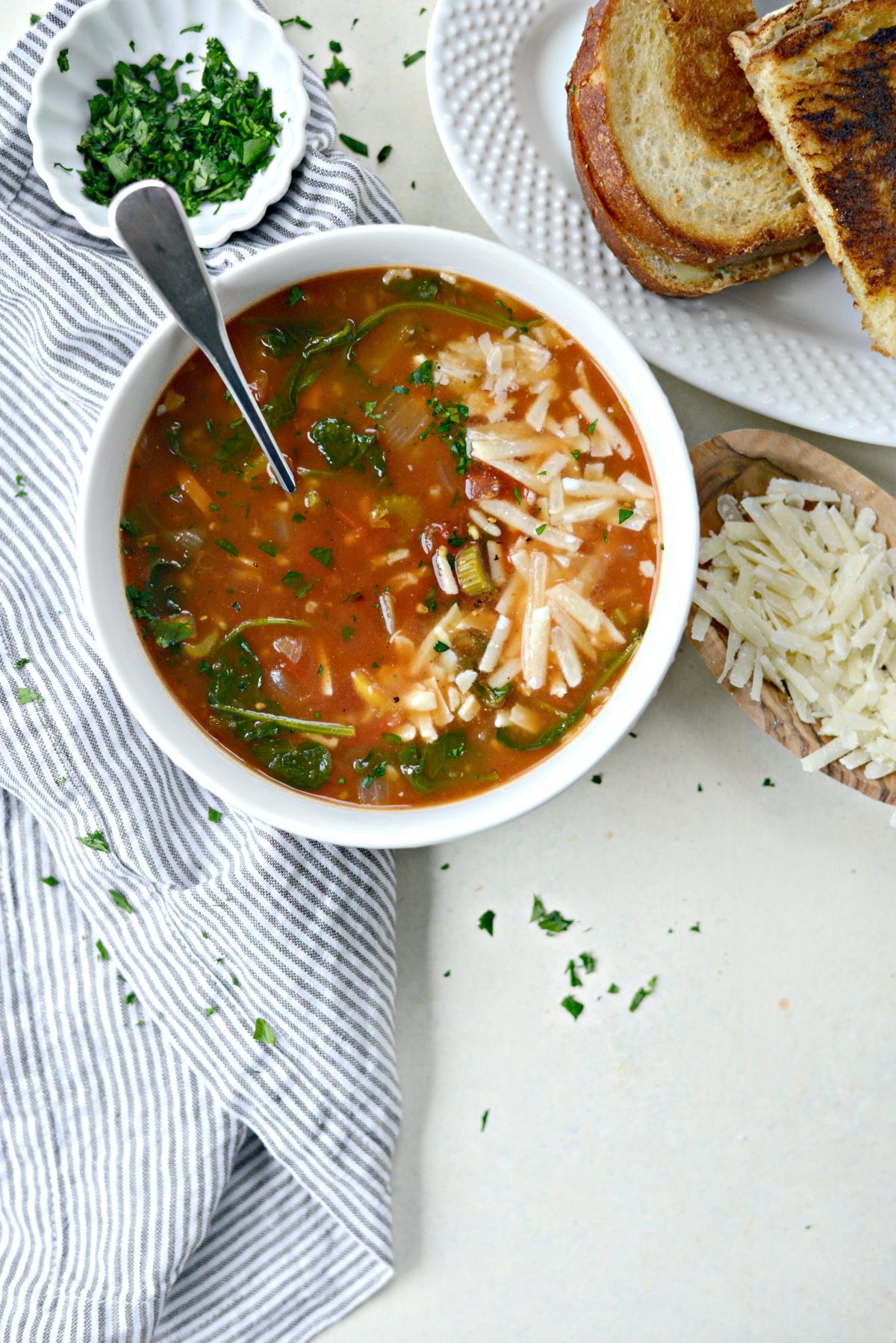 Enjoy! And if you give this recipe a try, let me know by snapping a photo and tagging me on twitter or instagram!
My cookbook Simply Scratch : 120 Wholesome Homemade Recipes Made Easy is now available! CLICK HERE for details and THANK YOU in advance!
[this post contains affiliate links.]
This post may contain affiliate links.
Buy the Cookbook: Simply Scratch : 120 Wholesome Homemade Recipes Made Easy Now available on Amazon »
THANK YOU in advance for your support!