Who needs store bought stir-fry sauce when you can whip up an easy homemade stir-fry sauce in little to no time at all?! Make in advance and have it on hand at a moments notice! Customize it to your preference with extra garlic or ginger, toasted sesame seed oil or Sriracha! 
If you haven't notice, I'm a bit of a stir-fry addict. In fact I made one just last night (which I will be sharing tomorrow).
Malloree wants to strangle me right about now because she claims and I quote "Stir-fry agaaaaain?! Mom, you either make stir-fry or Mexican for dinner!" And she's right. I could live off a bowl of rice, some sort of chicken, steak or pork stir-fried in a yummy sauce and roasted broccoli (<— my go-to. you know this) or anything Mexican for the rest of my life and be a-okay with it.
Ages ago; before blogs, bloggers and "foodies" (cringe) there was really only one, maybe two online sources for me to turn to for recipe help. One late afternoon, I hopped on to my computer hoping I could find some sauce recipe to pour over my cooked, yet once frozen stir-fry veggie blend and fully cooked but hardly browned cubed chicken and rice– not that I could make rice then either. All I wanted was a basic, easy homemade stir-fry sauce. That's it. Nothing complicated with ingredients that I had no idea what they are nor where to find them. My search was futile. I couldn't find a single one. Zip. Zilch. Zero.  Sure there were less than authentic sauces calling for Dijon mustard– uhwhat? But those just wouldn't do.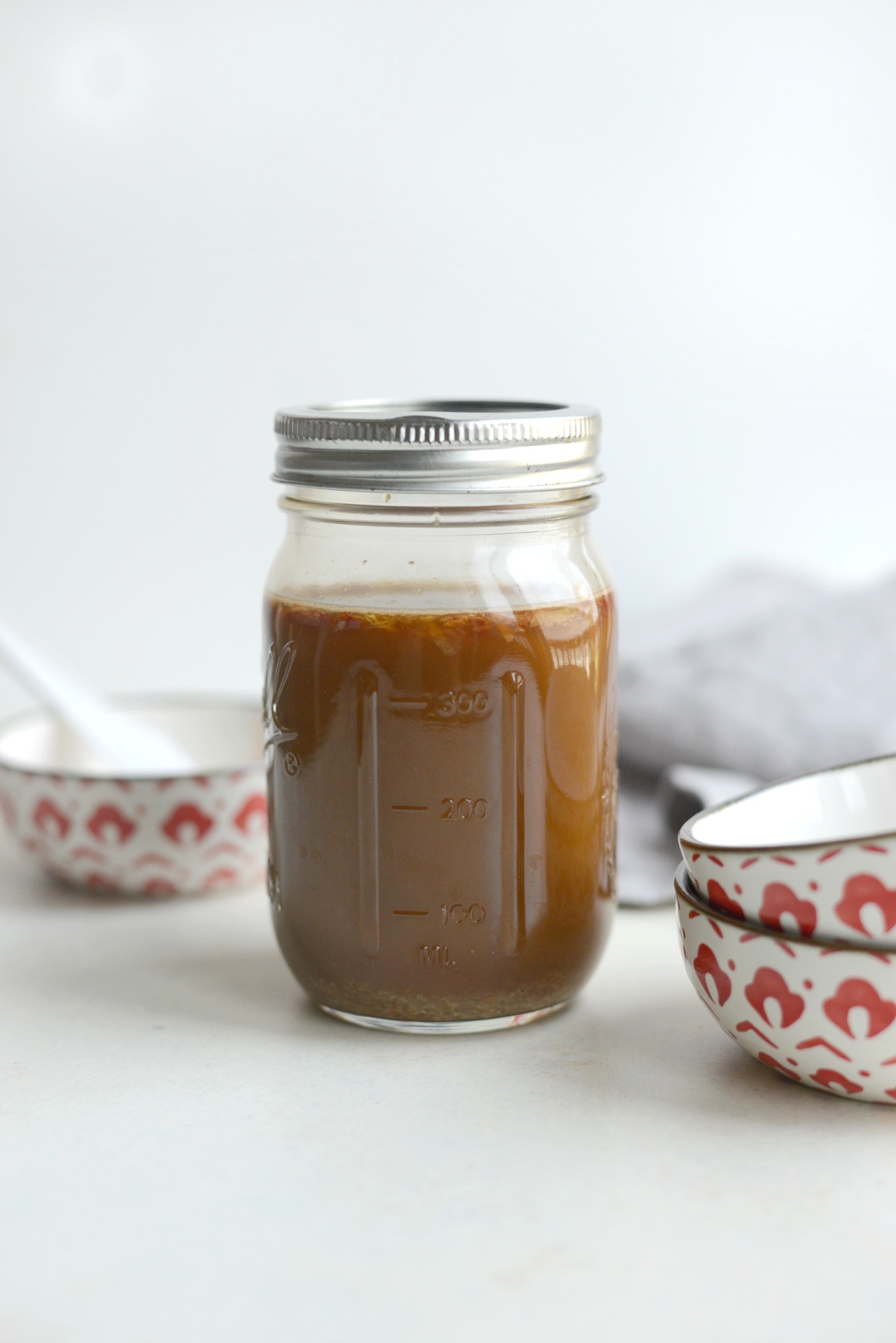 Fast forward to a few years ago. I'm a little (and I mean little) wiser, a smidgen more confident in the kitchen and making basic cooking essentials is my jam. So I've come up with a easy homemade stir-fry sauce that you can literally pour right over your (cooked) veggies and/or protein and rice. A sauce that you can make ahead and keep it in the fridge until ready to use. Simply bring it to a bubble and cook until thickened. SO EASY.
For the homemade stir-fry sauce you'll need; garlic, ginger, chili garlic paste, brown sugar, cornstarch, low-sodium tamari (or low-sodium soy sauce), rice vinegar and, depending on what you're making (beef, chicken, pork or vegetable stir-fry), you use 1 cup of broth of your choosing.
Add the ginger, garlic and chili garlic paste into a glass jar or container with a tight fitting lid.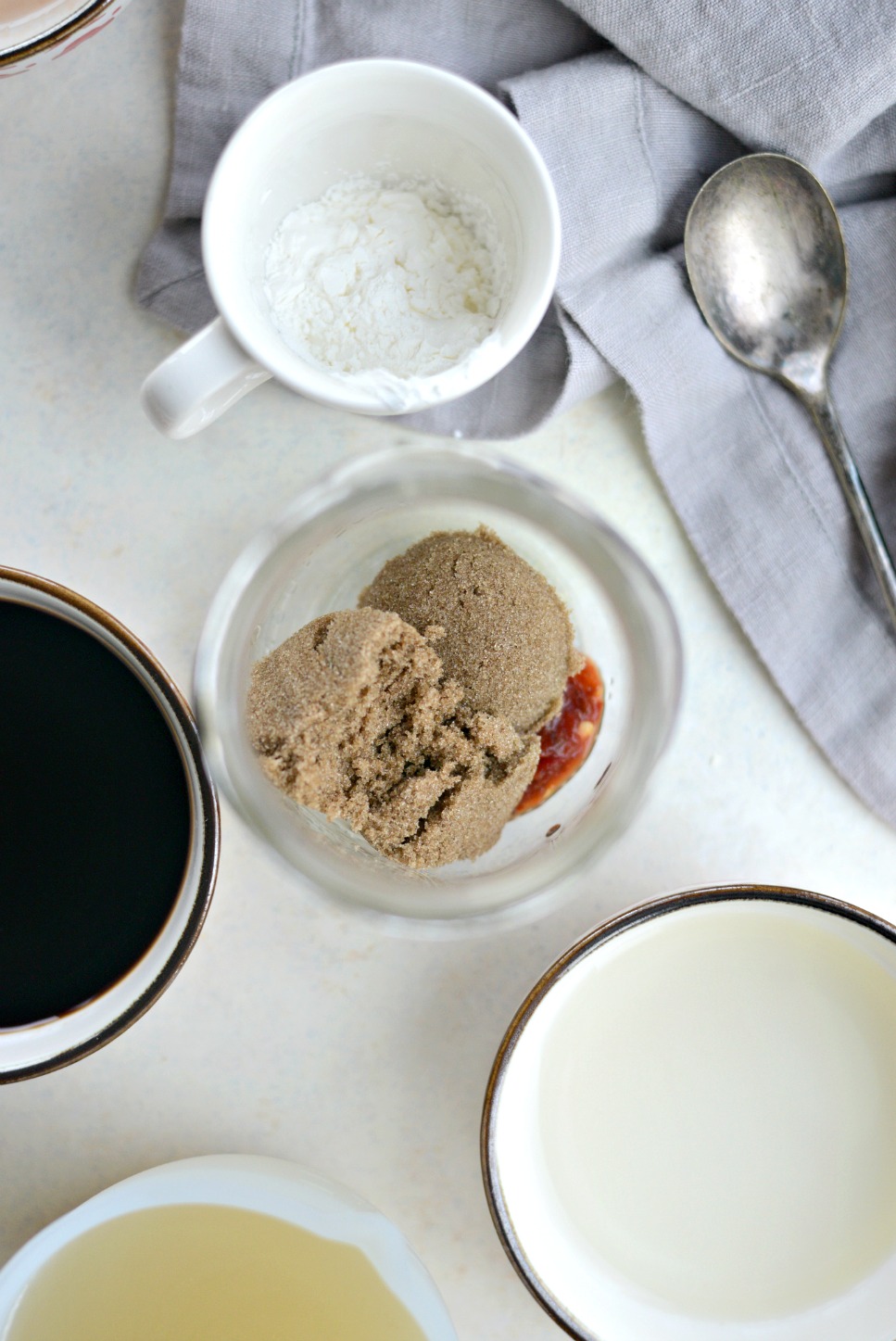 Next drop in 2 tablespoons of dark brown sugar.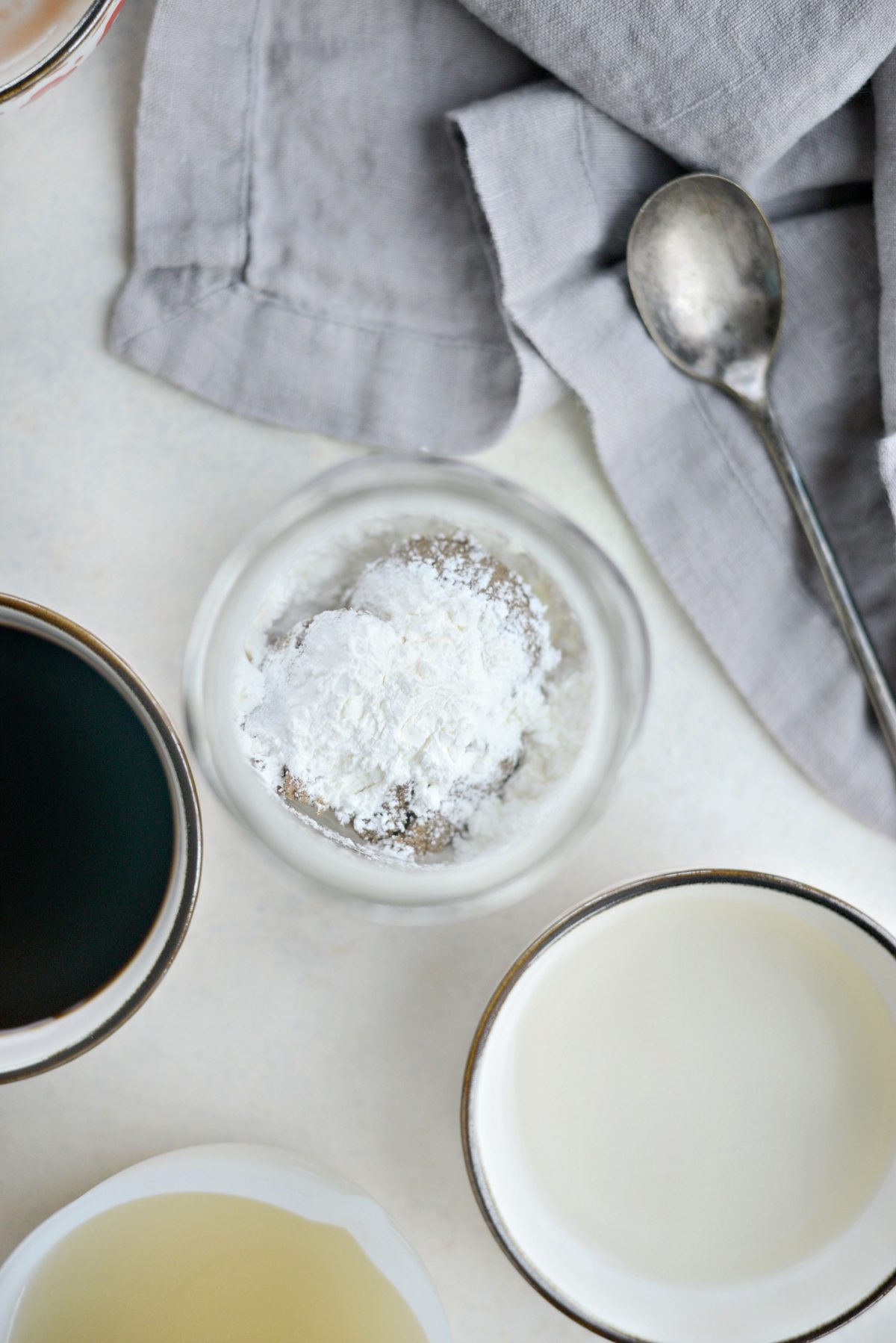 Then add in 2 tablespoons cornstarch. This will help thicken the sauce once you add it to the skillet and bring it to a boil.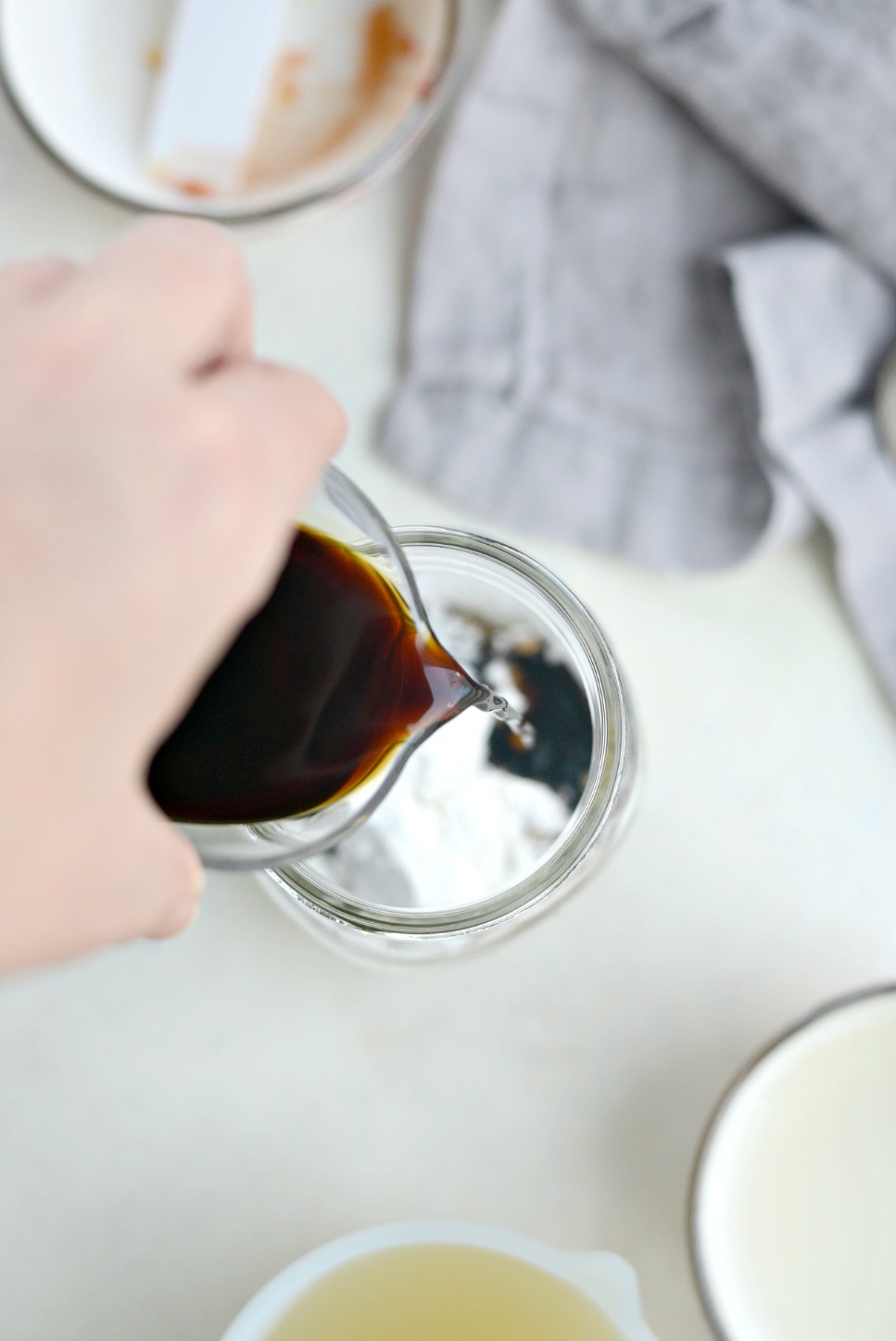 Pour in 1/4 cup of low-sodium tamari…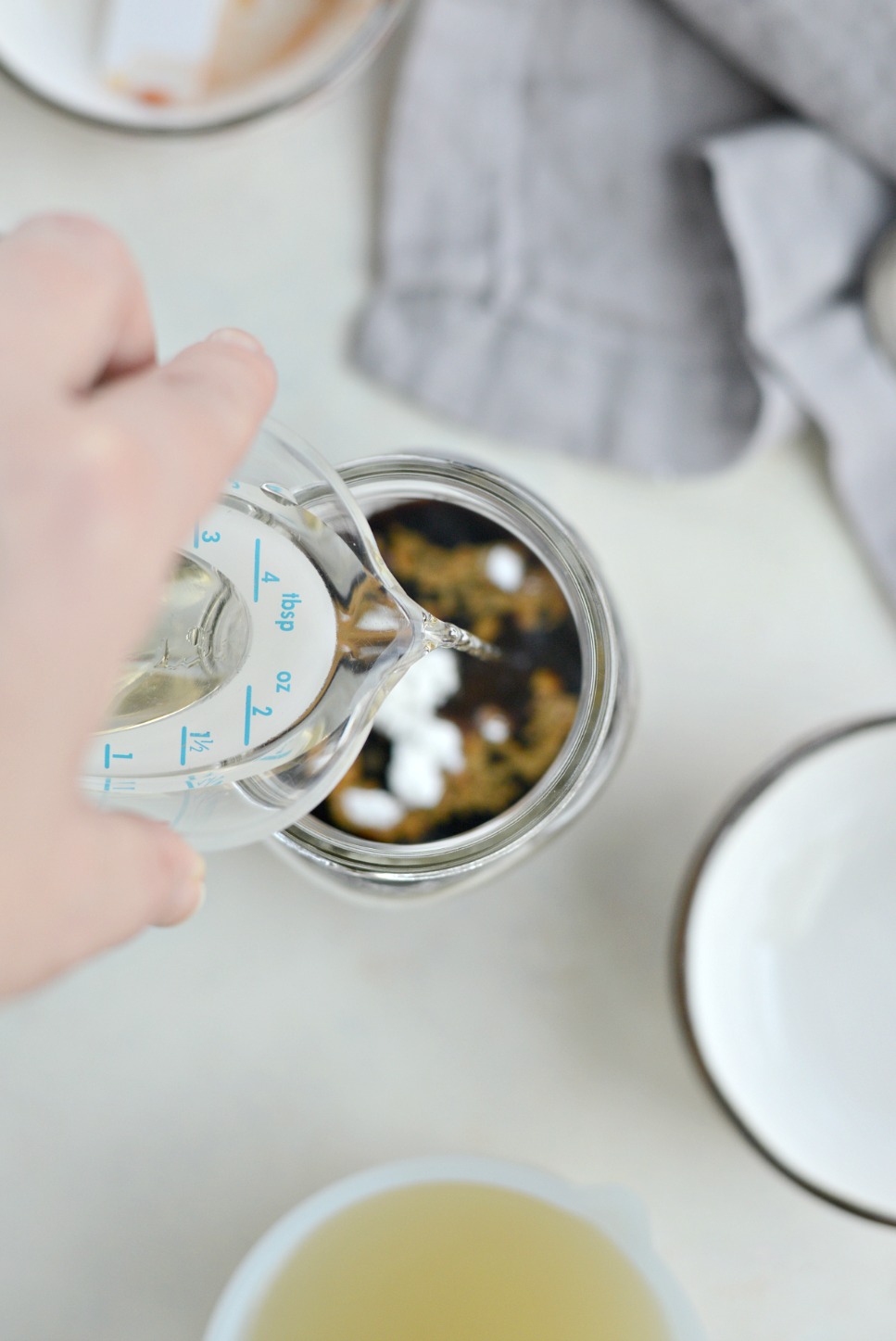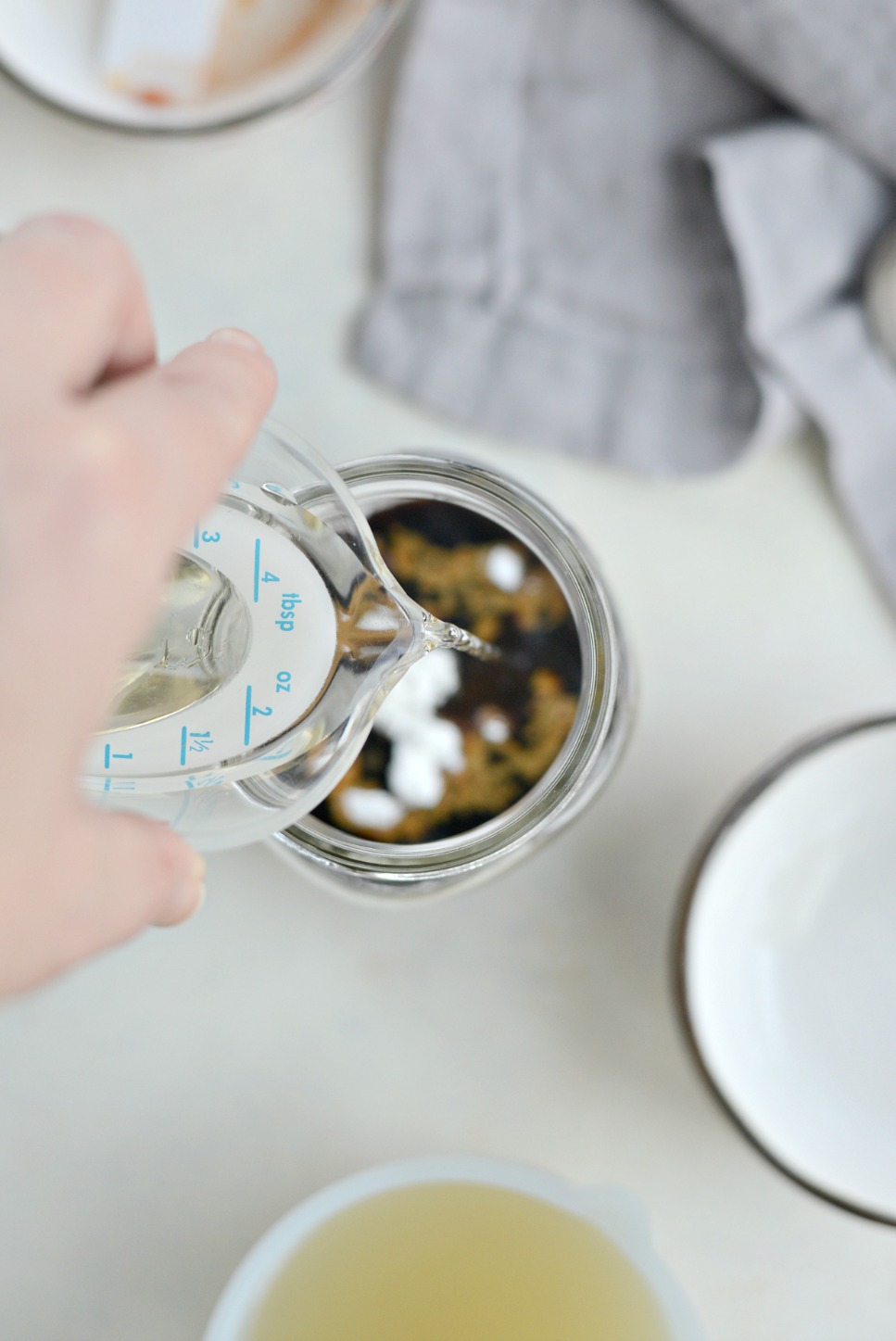 …and 2 tablespoons of rice vinegar.
Now depending on what you're making, you can use that kind of broth. Beef broth for a beef stir-fry. Veggie broth for a vegetarian stir-fry… you get the point. For pork you can use either chicken or vegetable broth.
Tighten the lid and give it all a shake. You can either store it in your fridge until you're ready to use it or pour it into a hot pan with fully cooked, stir-fry meat, vegetables or both! Bring it to a simmer and stir until thickened. Feel free to adjust this sauce to your taste buds. Add more ginger or garlic, toasted sesame oil, chili garlic paste or Sriracha. It's easy to customize so go for it and have fun. Try it with this Saucy Pork Lettuce Wraps!
There you have it! One majorly easy homemade stir-fry sauce!
Try it tonight in this recipe!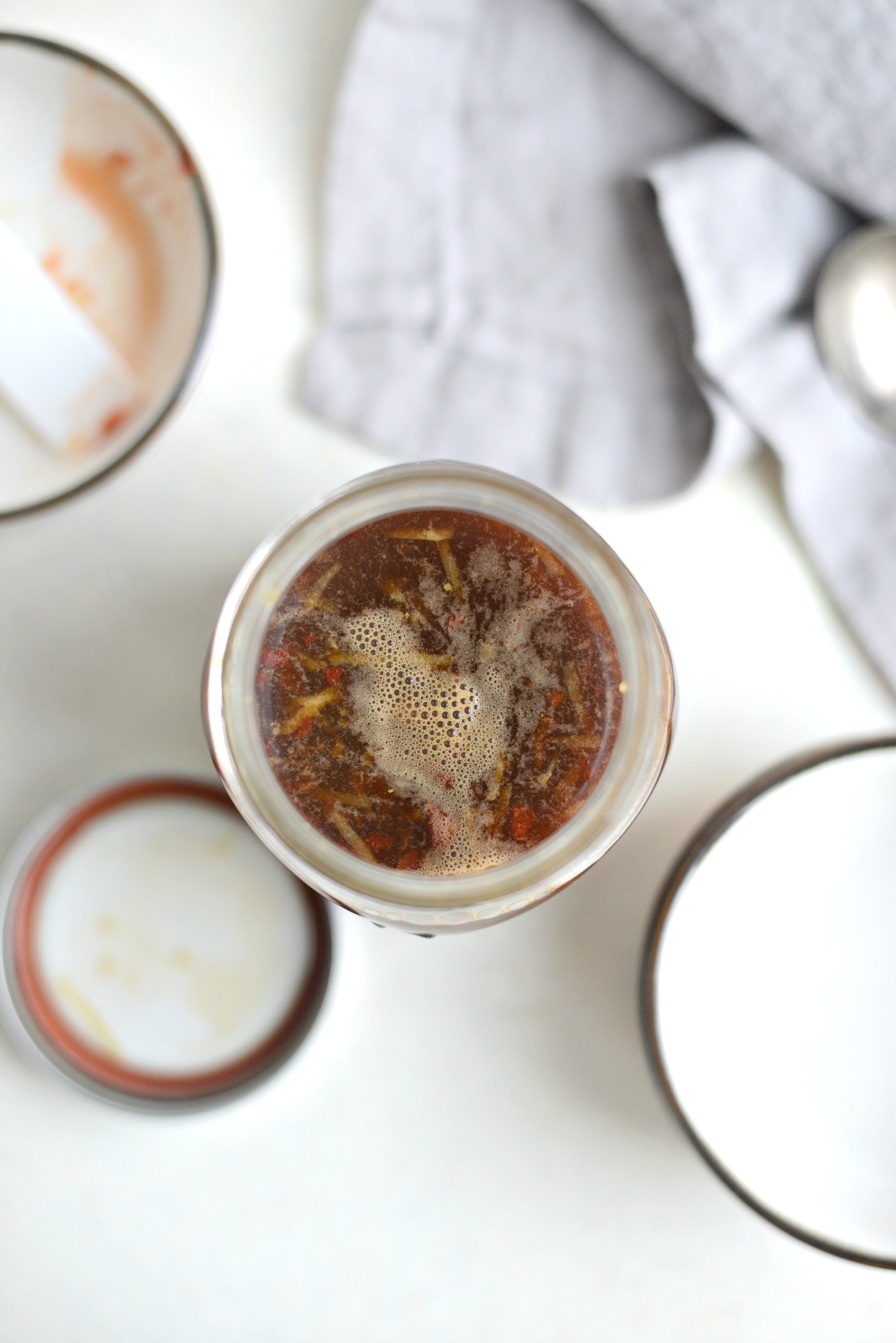 My cookbook Simply Scratch : 120 Wholesome Homemade Recipes Made Easy is now available! CLICK HERE for details and THANK YOU in advance! 
[this post contains affiliate links.]
Enjoy! And if you give this recipe a try, let me know by snapping a photo and tagging me on twitter or Instagram!
This post may contain affiliate links.
Buy the Cookbook: Simply Scratch : 120 Wholesome Homemade Recipes Made Easy Now available on Amazon »
THANK YOU in advance for your support!