Miso honey glazed whole roasted carrots are a mixture of sweet and savory deliciousness. Whole carrots are tossed in a simple glaze consisting of white miso, honey, tamari and rice vinegar and roasted until tender and caramelized.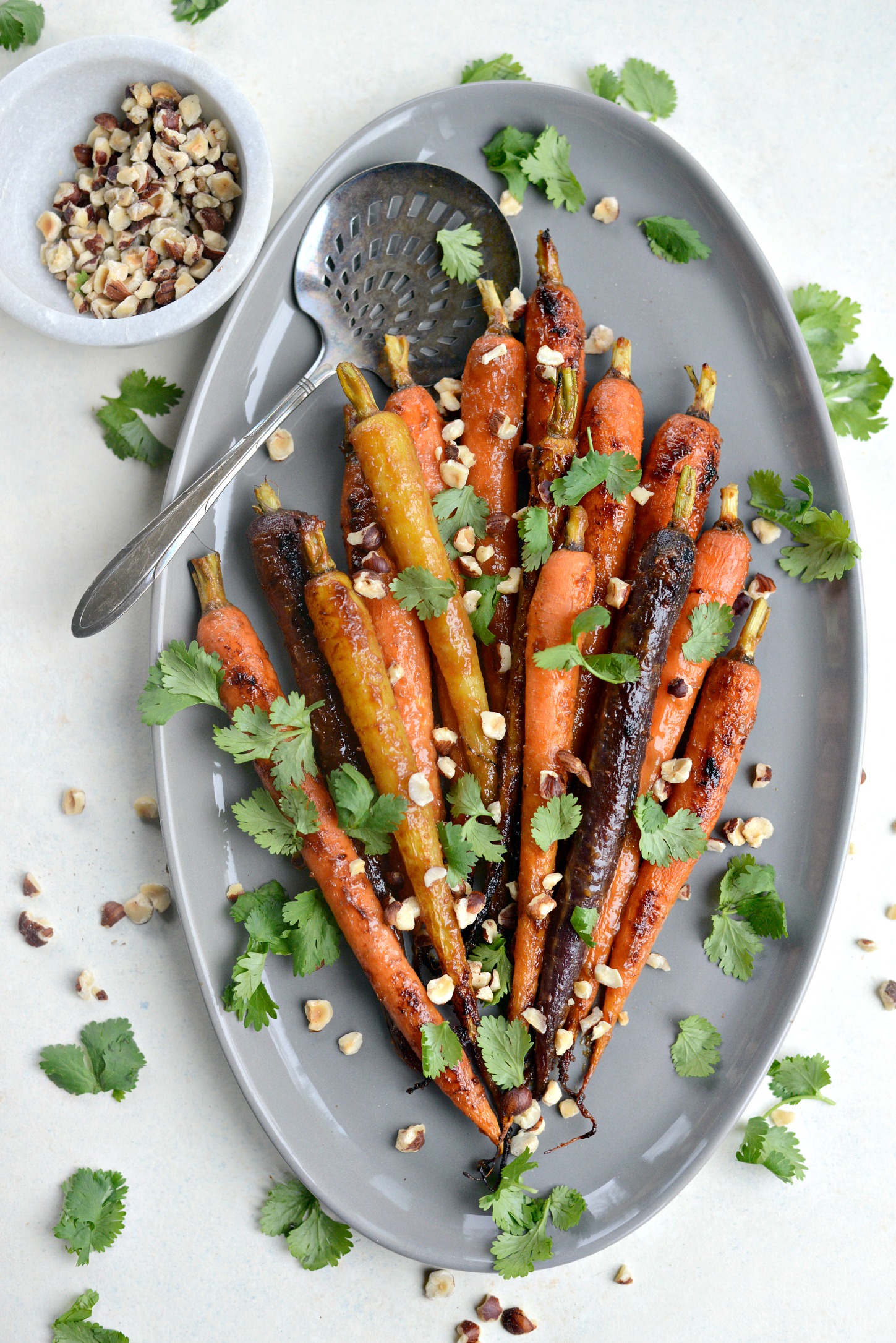 These carrots, oh man. Roasted carrots are delicious all on their own but carrots that are roasted in a simple 4 ingredient miso glaze??? Totally speechless.
White miso, in a nutshell, is a fermented soybean paste and gives any recipe a delicious and mellow umami flavor. I've only just started cooking with it, but so far I've made a scrumptious Spring Vegetable Soba Noodle Stir-fry, a quick and simple miso salad dressing to drizzle over this gorgeous (and equally yummy) Avocado and Raw Sweet Potato Salad and now these heavenly and beautifully caramelized Miso Honey Glazed Whole Roasted Carrots.
I'm on a roll and I'm not quitting the miso any time soon.
You can find miso at most major grocery stores. I've seen it in the refrigerated produce section, next to the salad dressings and vegetarian items but that was after I bought it on amazon. Typical.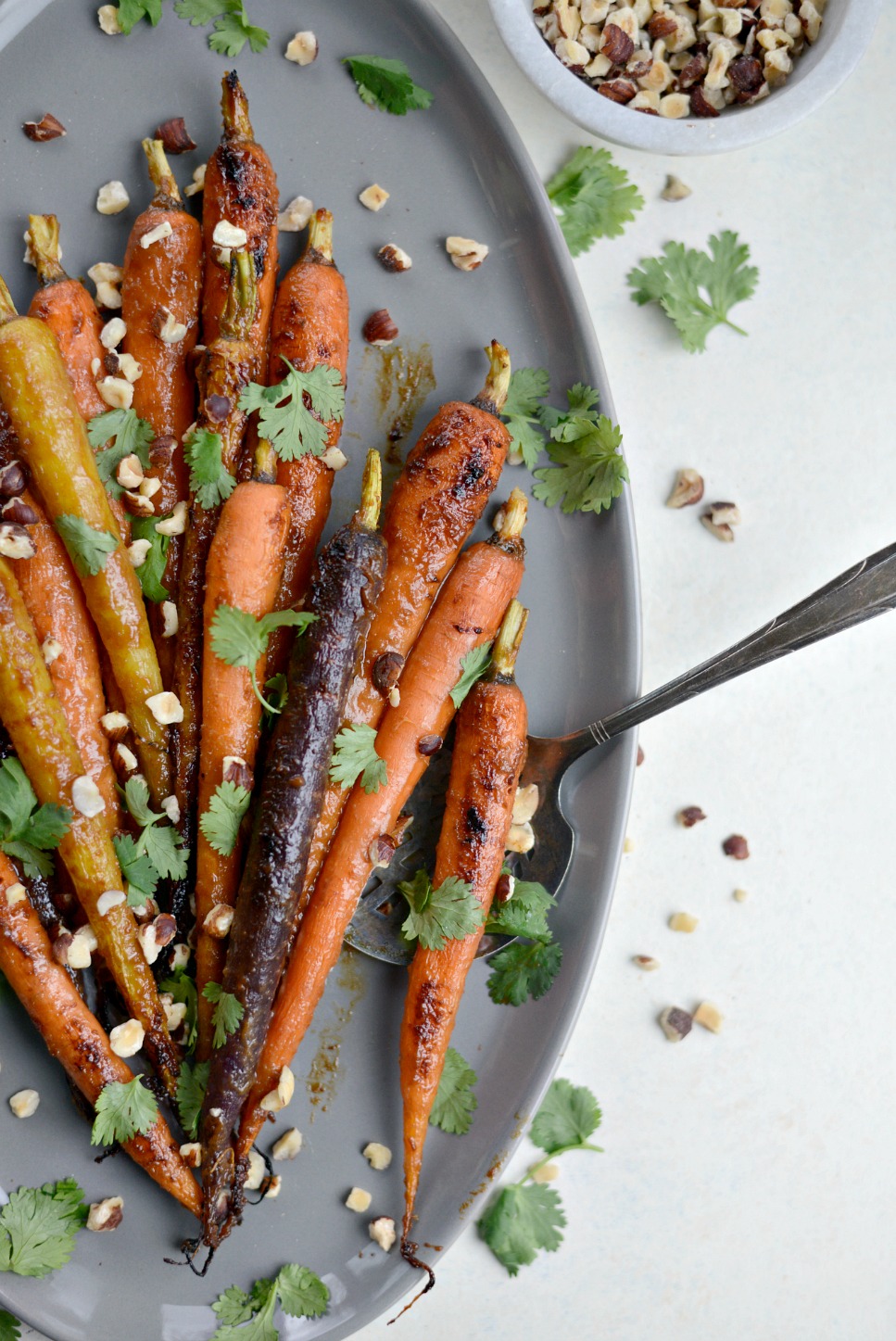 Whether your roasting a chicken for Sunday dinner or want a colorful side for you Easter ham, these miso honey glazed carrots go with just about everything and will definitely brighten up your dinner table.
And what is more colorful than shiny glazed jewel toned carrots? Not a whole lot.
To Make These Miso Honey Glazed Whole Roasted Carrots You Will Need:
small to medium organic carrots, leafy tops trimmed and discarded
white miso paste
honey
rice vinegar (unseasoned)
low-sodium tamari or low-sodium soy sauce
cilantro leaves
chopped hazelnuts
I bought organic heirloom carrots. The beautiful orange, yellow and purple jewel toned ones. In my opinion, the organic carrots or any smaller sized carrots (usually with their leafy green tops still in tact) are tender and roast a whole lot quicker than the large, thick carrots you find in a bag. Just trim off those tops, give them a good scrub and dry with a kitchen towel.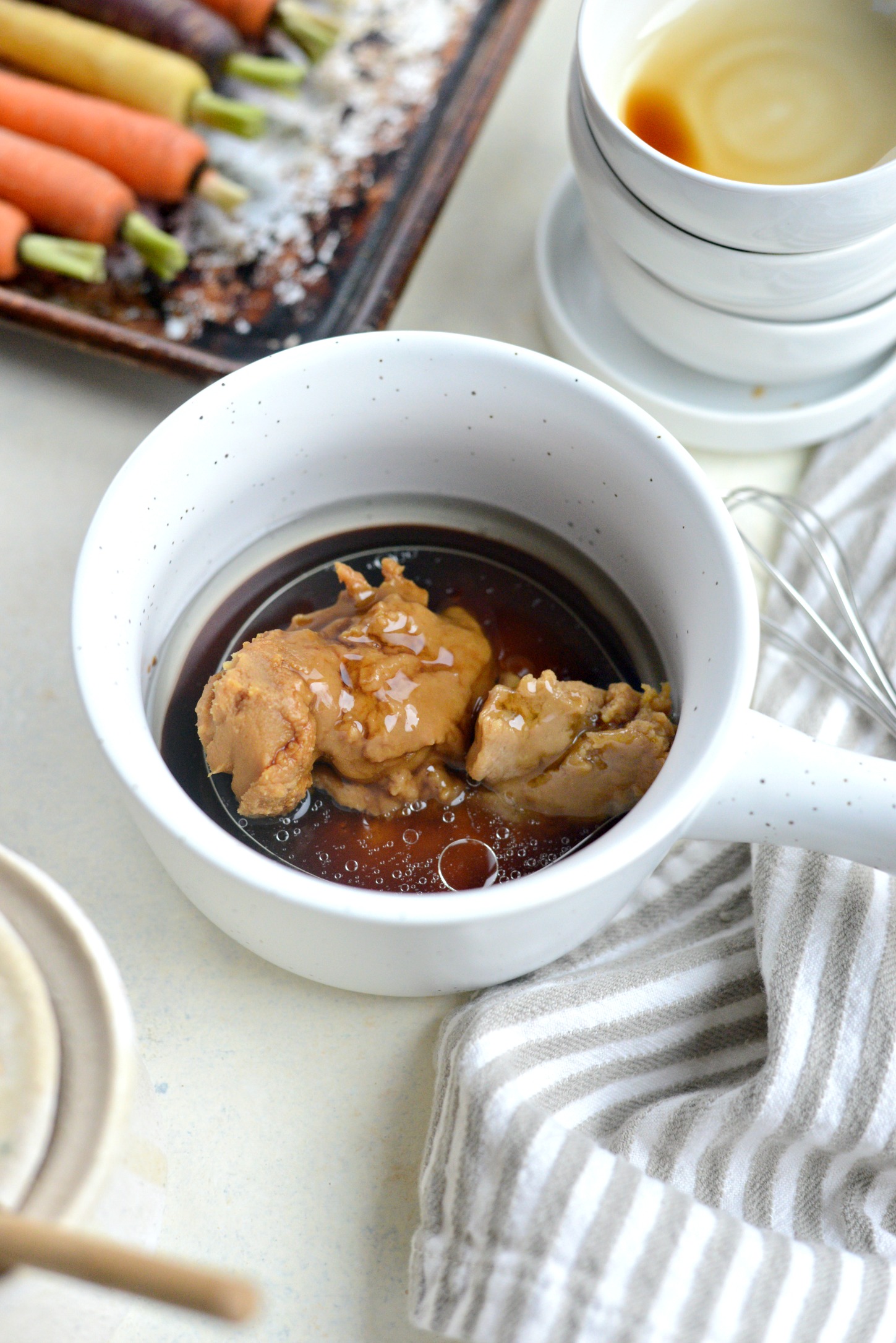 Then in a small bowl, measure and add the 3 tablespoons of white miso paste and 2 tablespoons each of honey, rice vinegar and low-sodium tamari (or low-sodium soy sauce).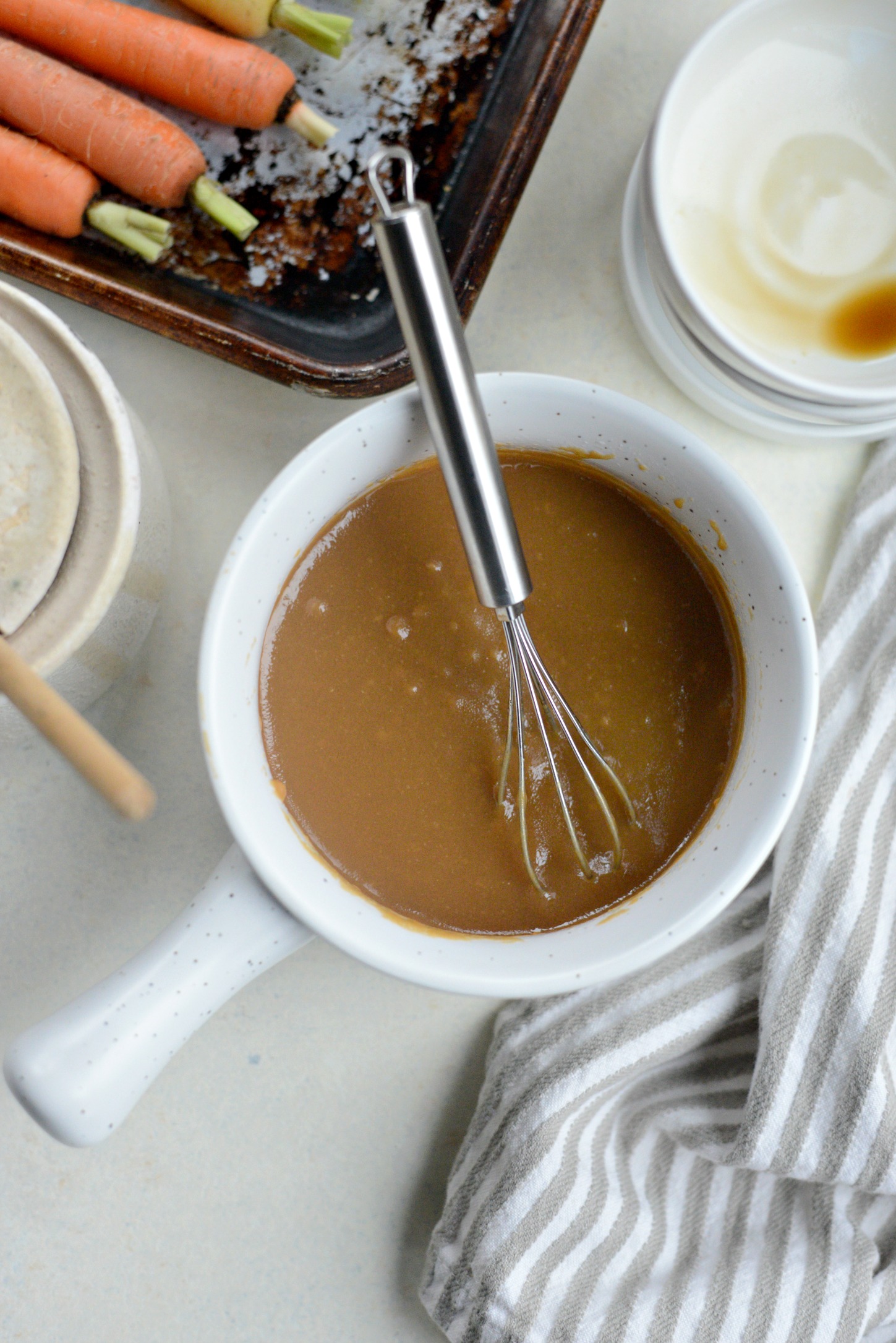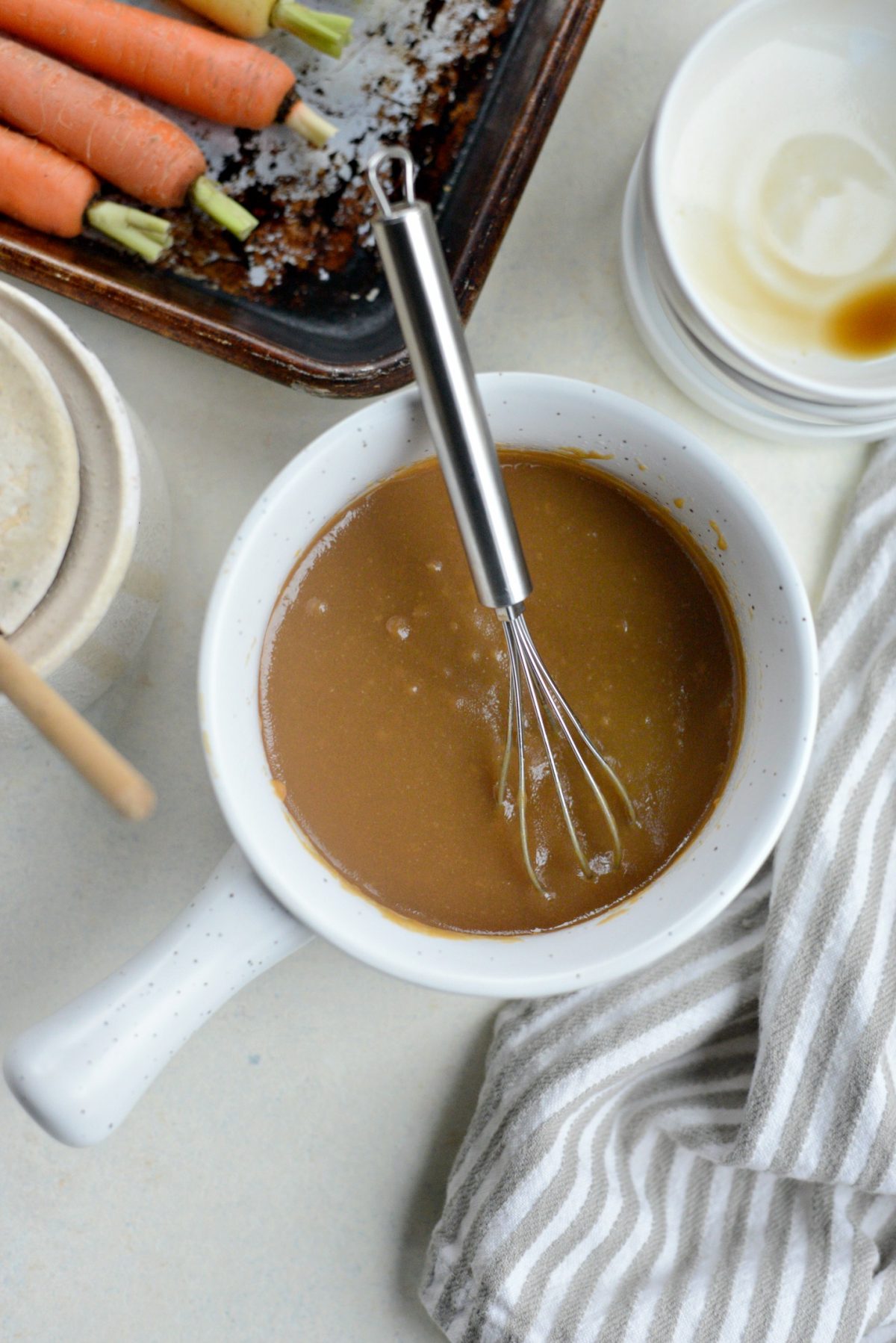 Whisk until smooth and you're good to go.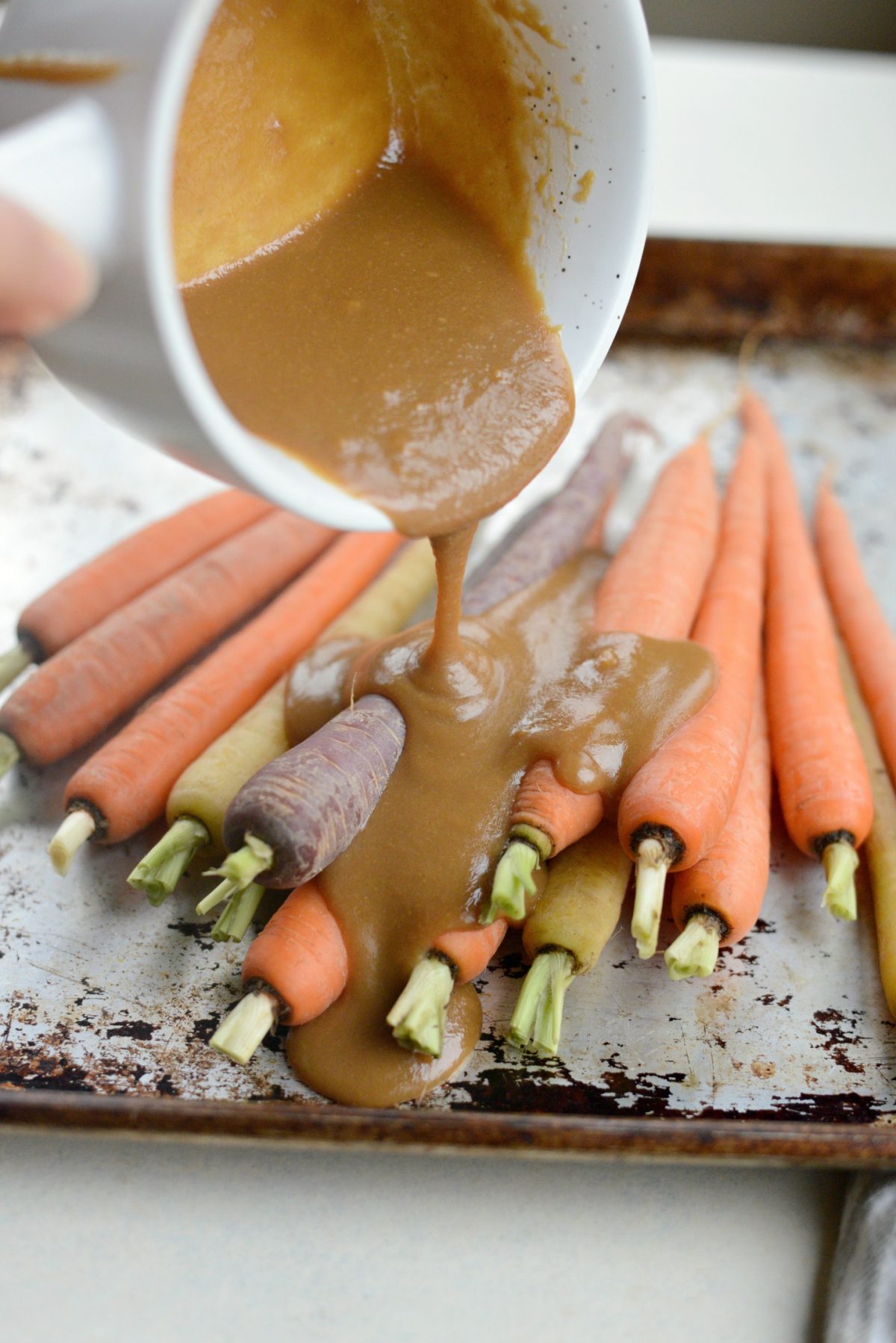 Place 1-1/2 pounds of carrots onto a rimmed metal baking sheet and drizzle with the miso honey glaze.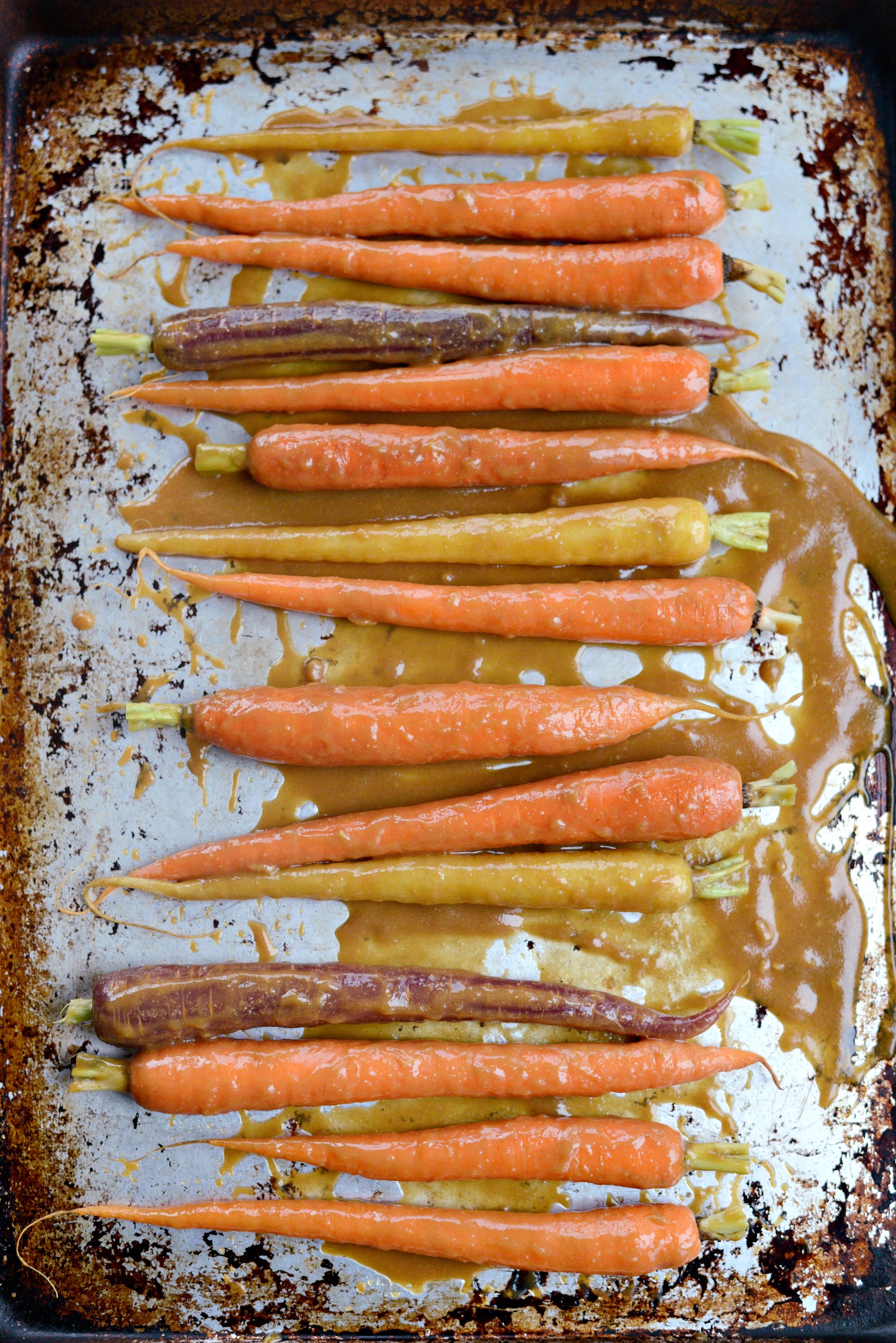 Using your impeccably clean hands, toss the carrots until coated generously with the glaze.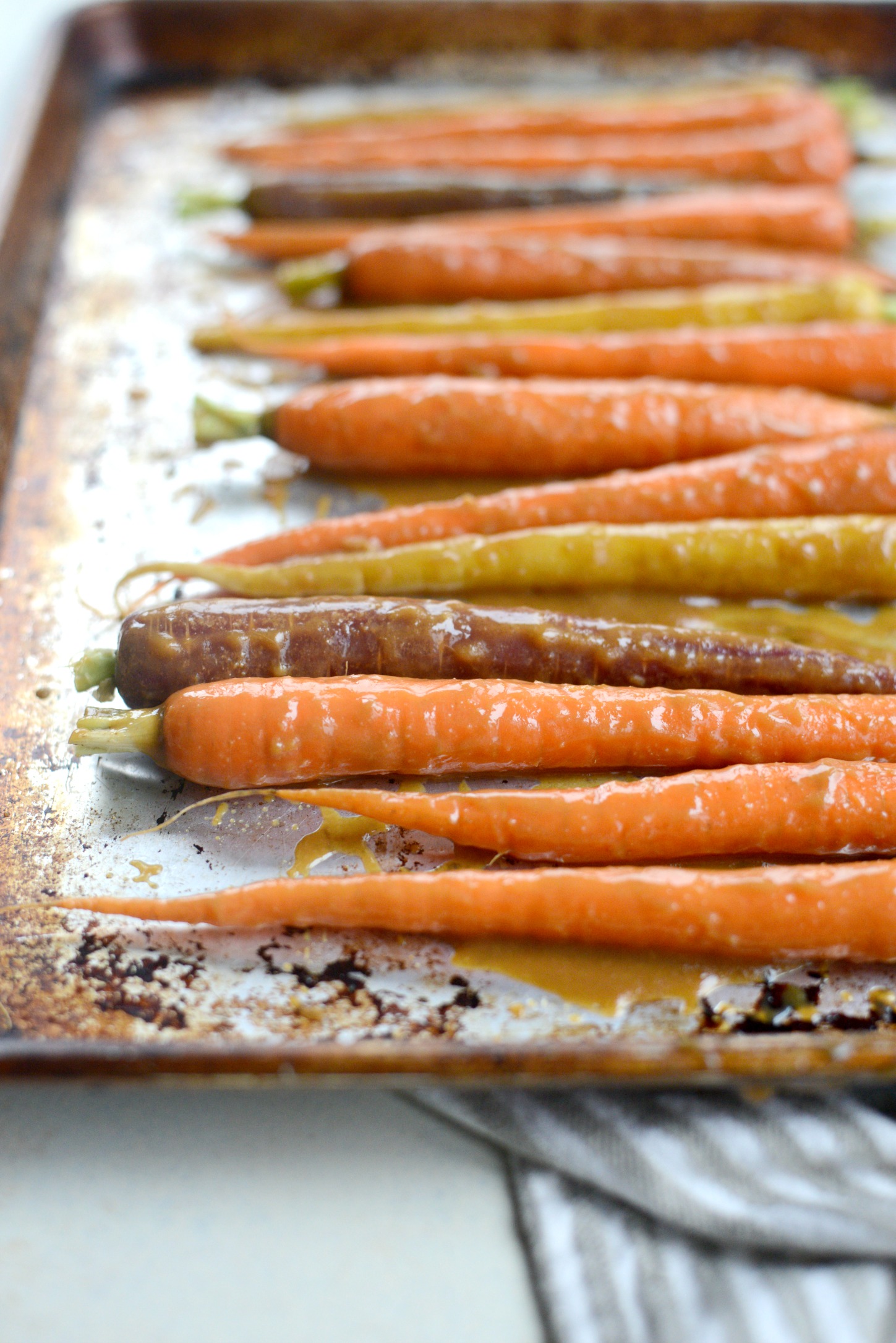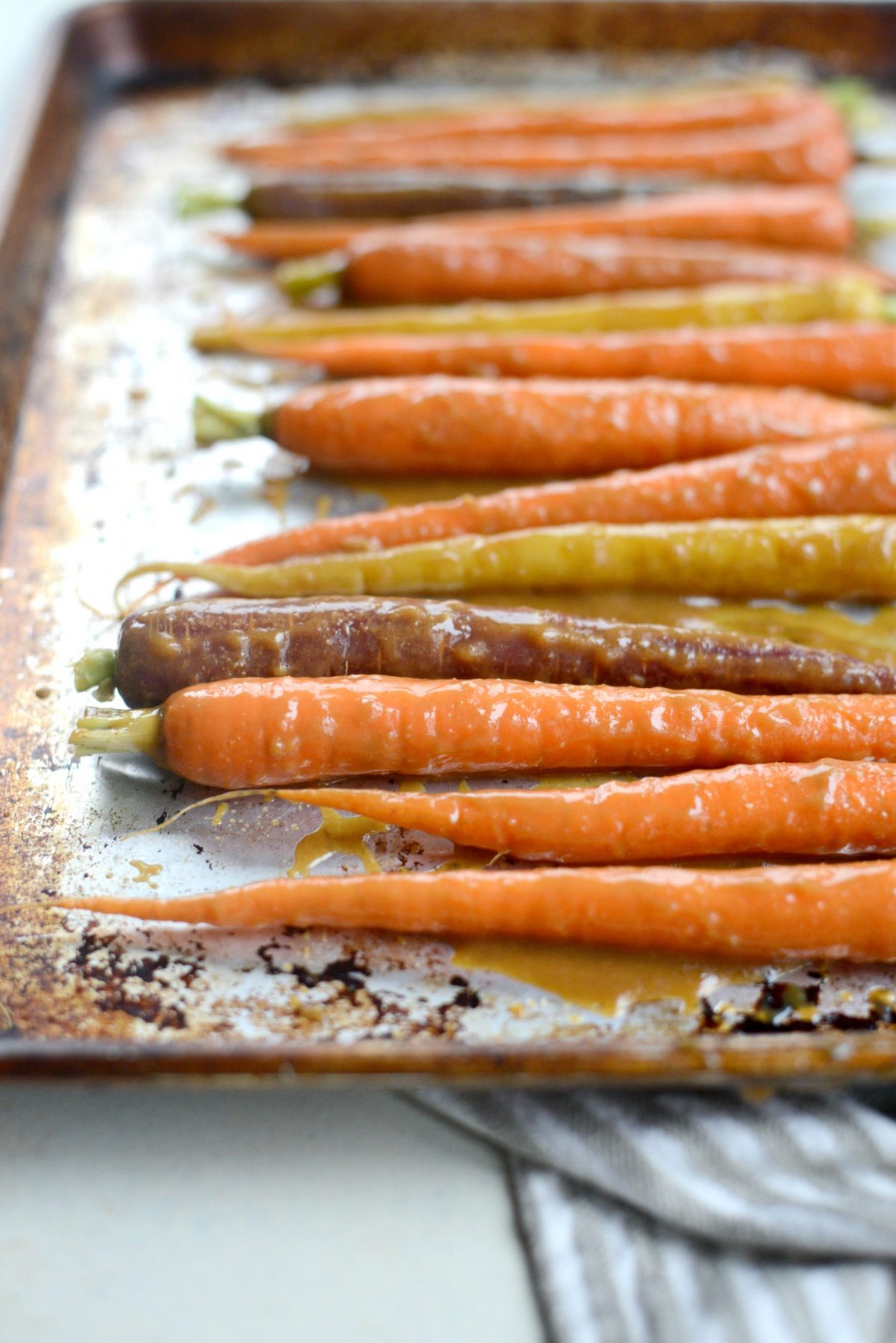 Make sure that every carrot is coated from root to tip, then slide the pan onto the middle rack in your hot, preheated 425° degree oven. Roast for 10 minutes, then remove, using oven mitts, and shake the pan and continue roasting for an additional 10 to 15 minutes or until the carrots are caramelized and tender.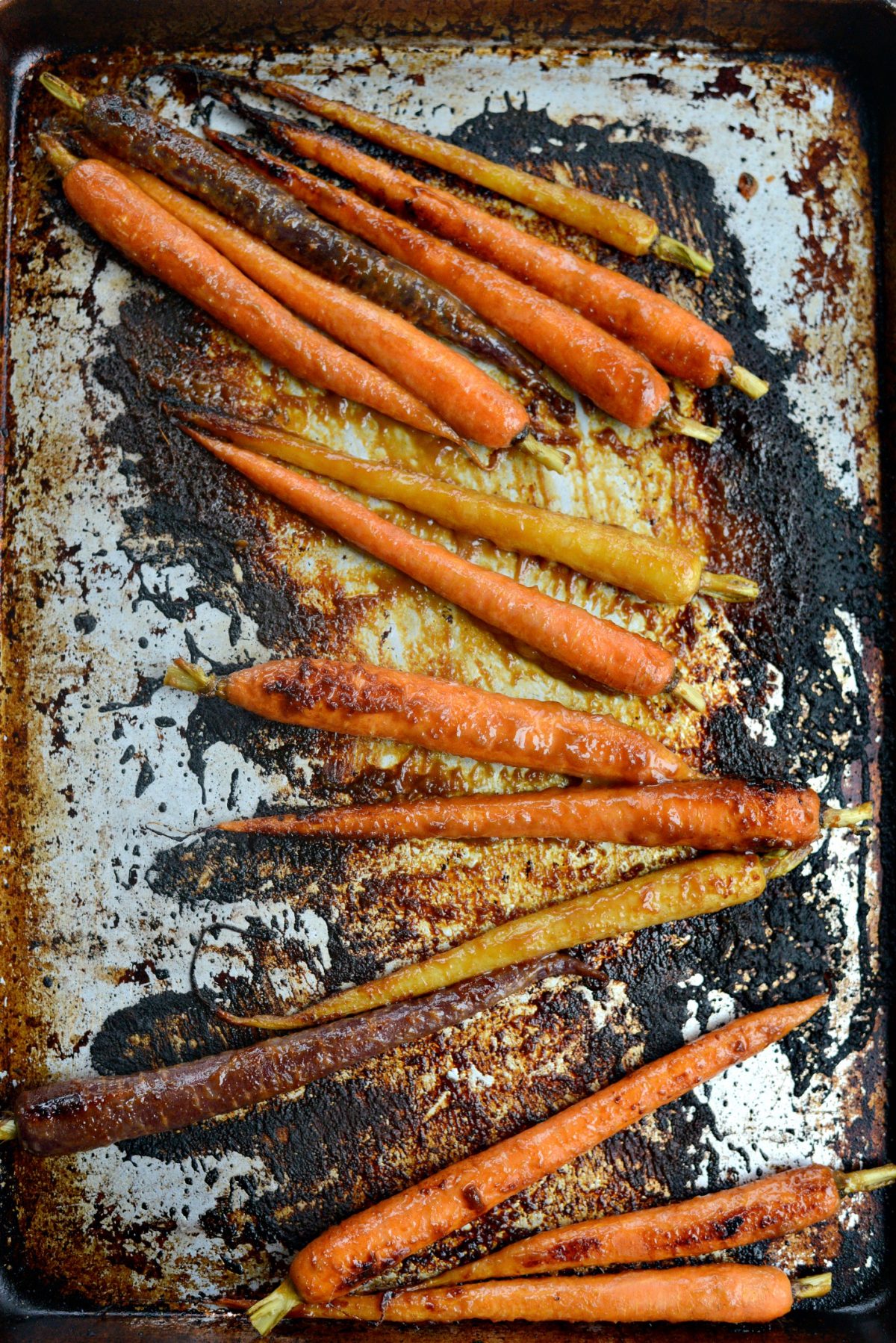 Caramelized perfection.
Arrange the miso honey glazed whole roasted carrots onto a platter (or individual plates) and sprinkle with chopped hazelnuts and fresh cilantro leaves.
I like how the cilantro adds a fresh burst of flavor and green. While the hazelnuts add a nutty warmth of flavor. If you don't have hazelnuts, I would try chopped pistachios, pecans, walnuts or toasted slivered almonds.
My favorite part? Those extra crispy ends. ❤️
Enjoy! And if you give this Miso Honey Glazed Whole Roasted Carrots recipe a try, let me know! Snap a photo and tag me on twitter or instagram!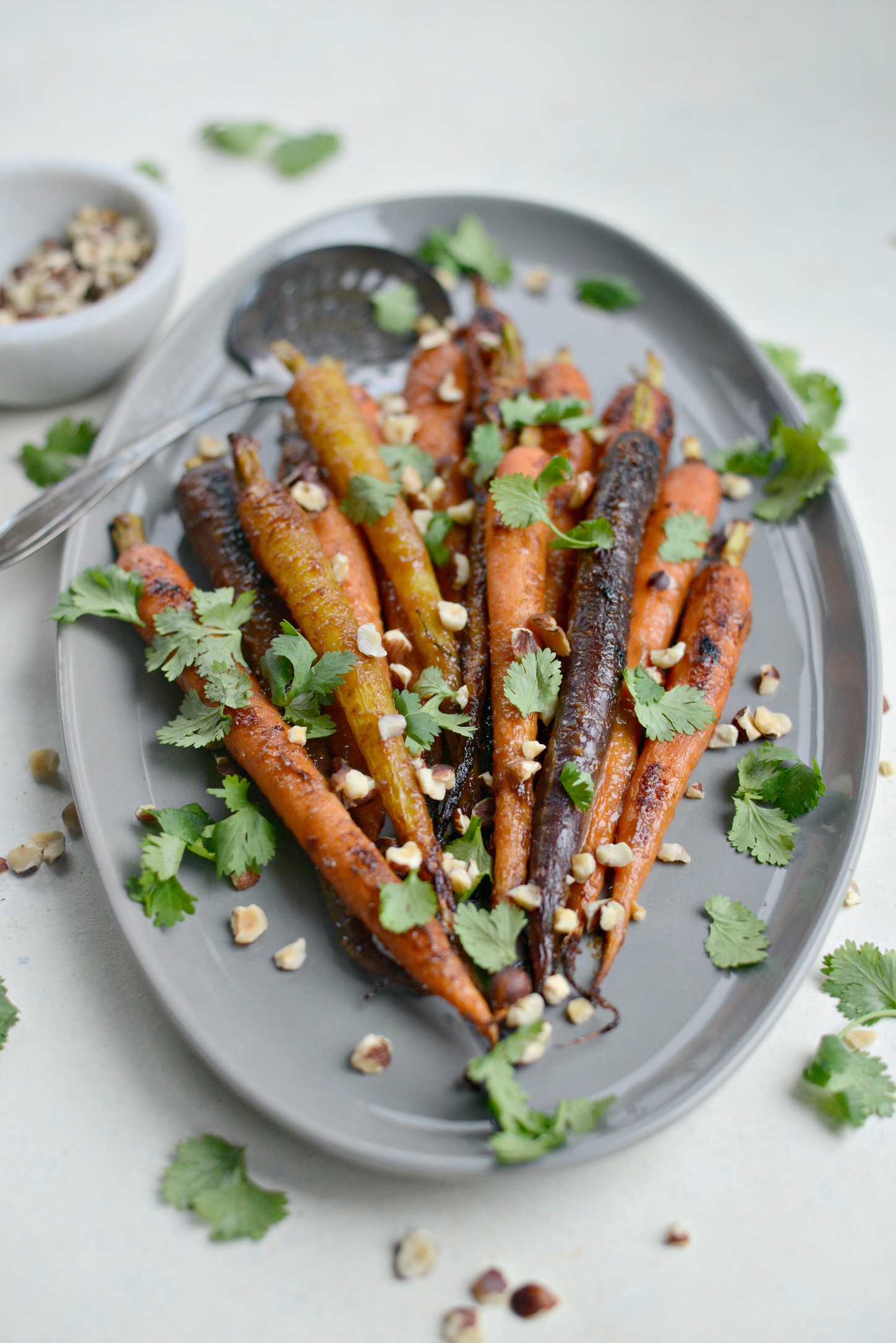 This post may contain affiliate links.
Buy the Cookbook: Simply Scratch : 120 Wholesome Homemade Recipes Made Easy Now available on Amazon »
THANK YOU in advance for your support!