Chicken and Rice Enchiladas couldn't be any easier. In this recipe you toss cooked, shredded chicken with leftover rice, sautéed peppers, onions and garlic with homemade enchilada sauce. Roll that deliciousness into flour tortillas, smother with more sauce and freshly grated cheddar cheese for the ultimate enchilada experience! Serve with sour cream, green onions and hot sauce.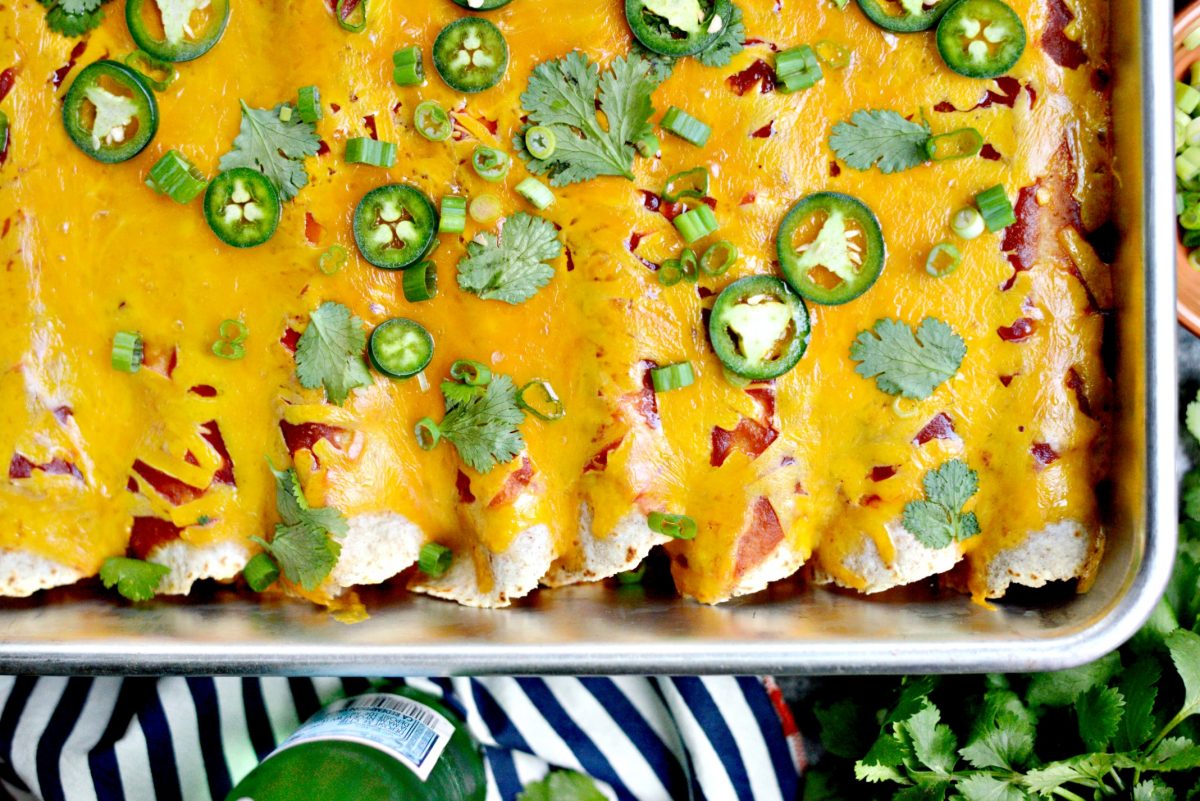 Welcome to cheesy enchilada heaven.
After posting a 15-minute enchilada sauce, what else would one make? Duuuuh? Only one of the best comfort foods evvvver– enchiladas!
Usually stir-fry is my go-to for weekday dinners especially on the evenings when Pat and I are passing ships. 4 out of 5 days we just about pass each other on the road; he's on his way home from work while I'm headed on my way out taking Haileigh or Malloree to their respective sport practices, friends houses or to the movies…
But I've been making a lot (like an embarrassing amount) of enchiladas. I've made chicken and beans, beef and cheese and so far the overall consensus was in favor of these chicken and rice enchiladas. It's like chicken and Spanish rice stuffed into tortillas, smothered in a flavorful sauce and cheddar. Dinner doesn't get much better.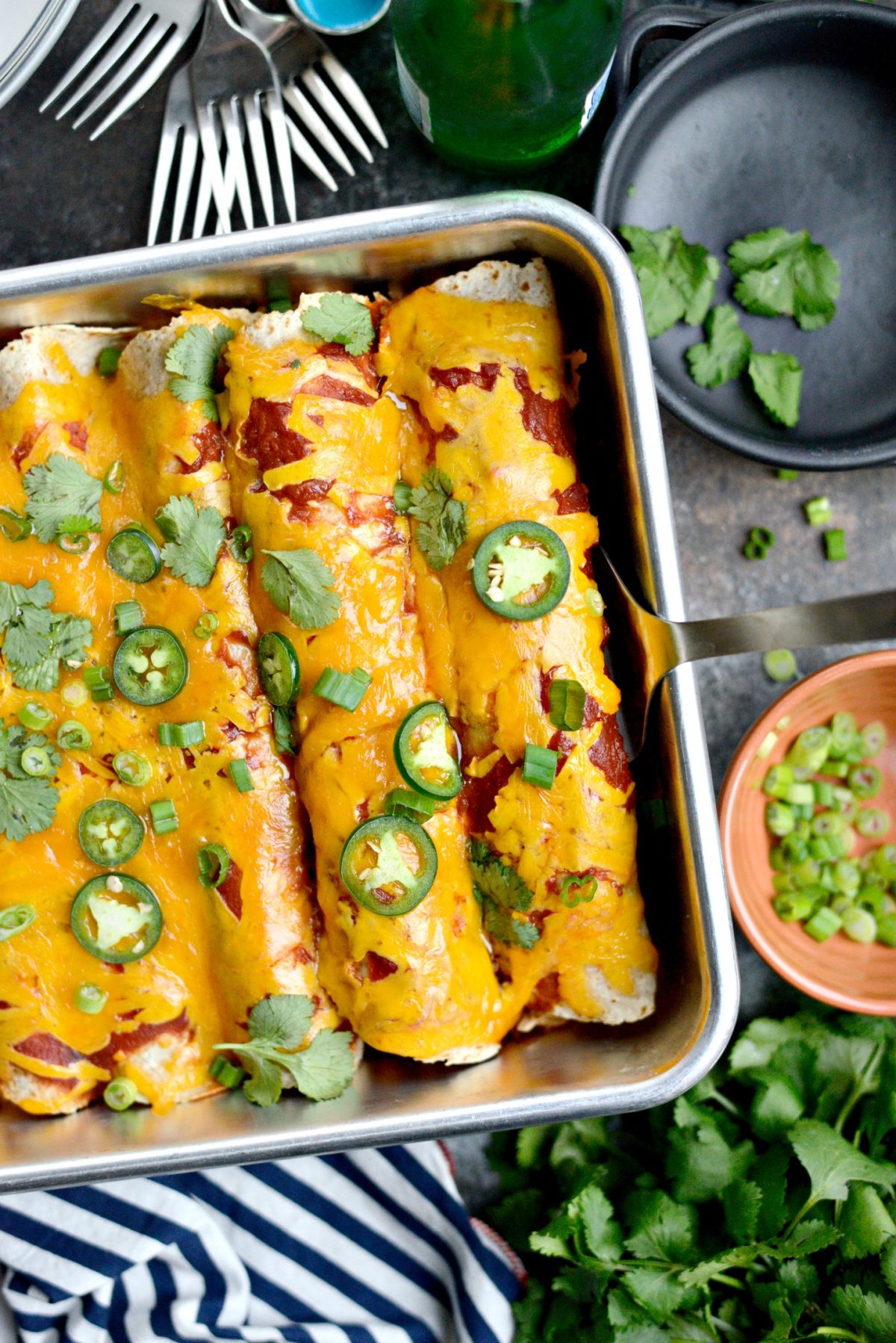 These are great for make ahead. So I whip up a batch of these during the day and reheat later on when everyone gets home at different times. Enchiladas are good like that and these chicken and rice enchiladas are no different. They reheat beautifully, taste amazing and on top of it all, they're easy to whip up.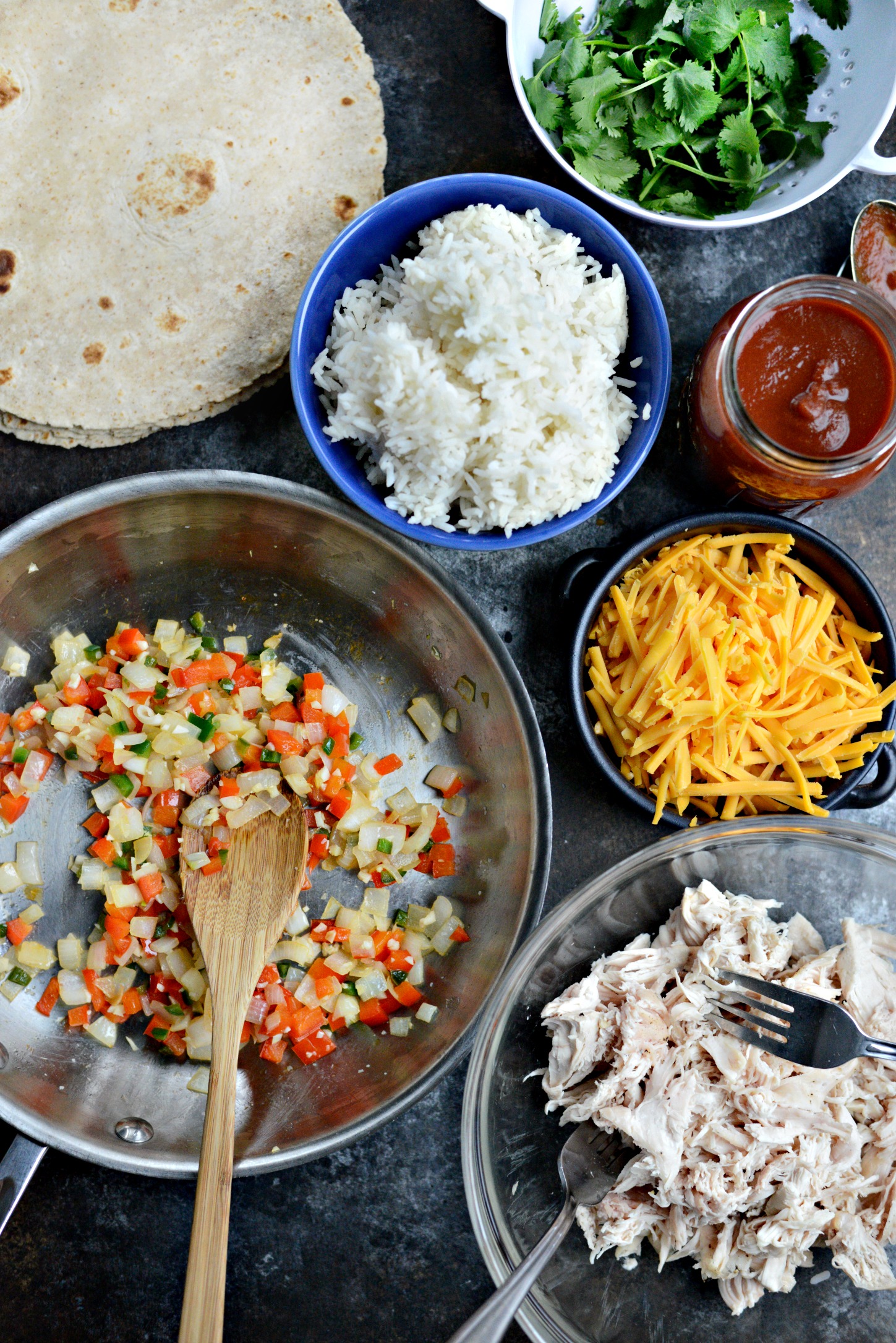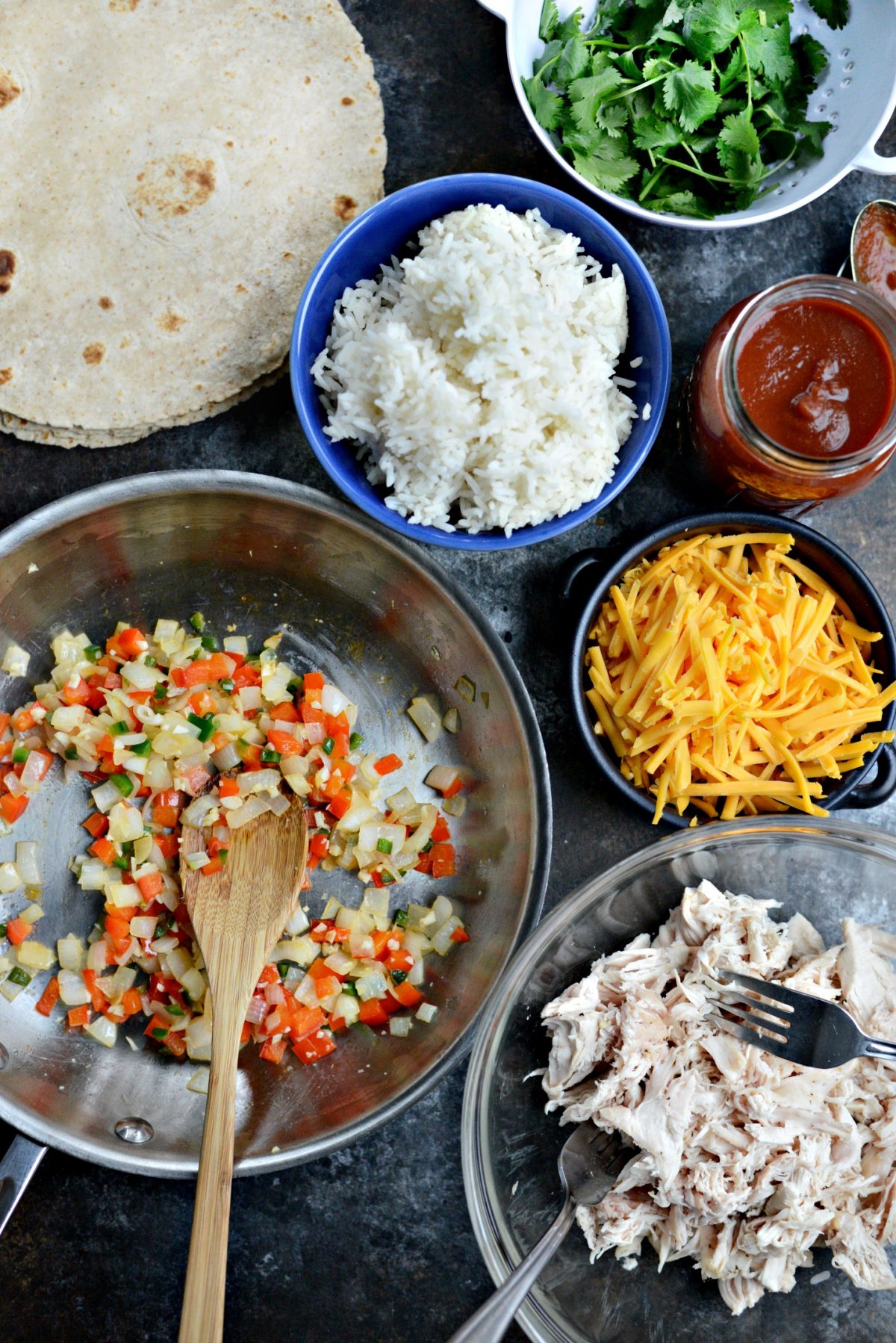 To Make These Chicken and Rice Enchiladas You Will Need:
leftover cooked chicken, roasted or rotisserie
olive oil
kosher salt and pepper
yellow onion
bell pepper (red, orange, green –any)
jalapeño (seeds and ribs removed for less spice)
garlic
cilantro
leftover cooked rice
soft flour tortillas
cheddar cheese
In a skillet, add 1 teaspoon olive oil and sauté 3/4 cup dice yellow onion with 1/2 cup diced red bell pepper, 1 tablespoon finely diced jalapeño and 2 cloves garlic until softened.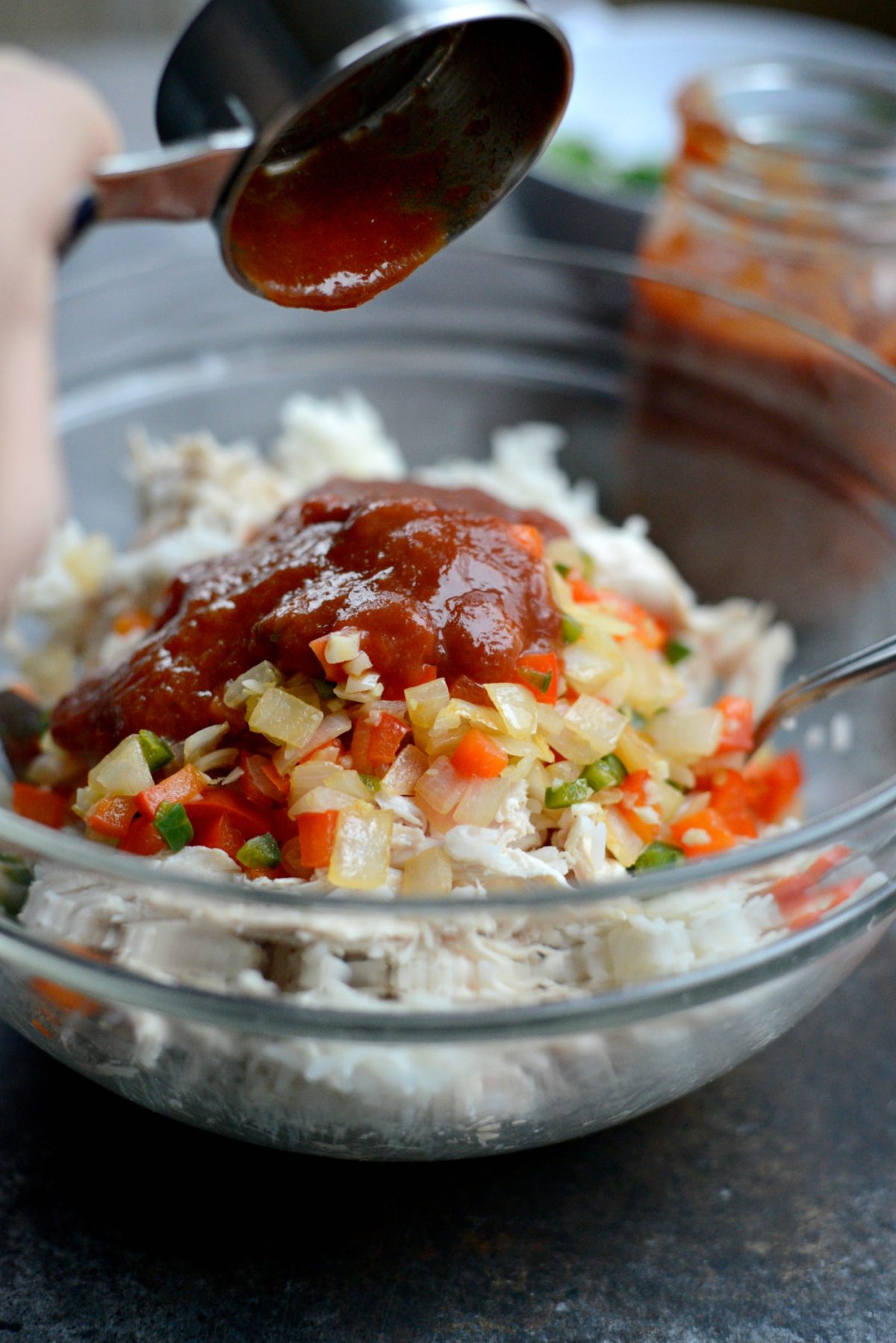 Next toss the 1 pound shredded shredded chicken into a bowl and add the sautéed vegetables along with 1/3 cup of enchilada sauce.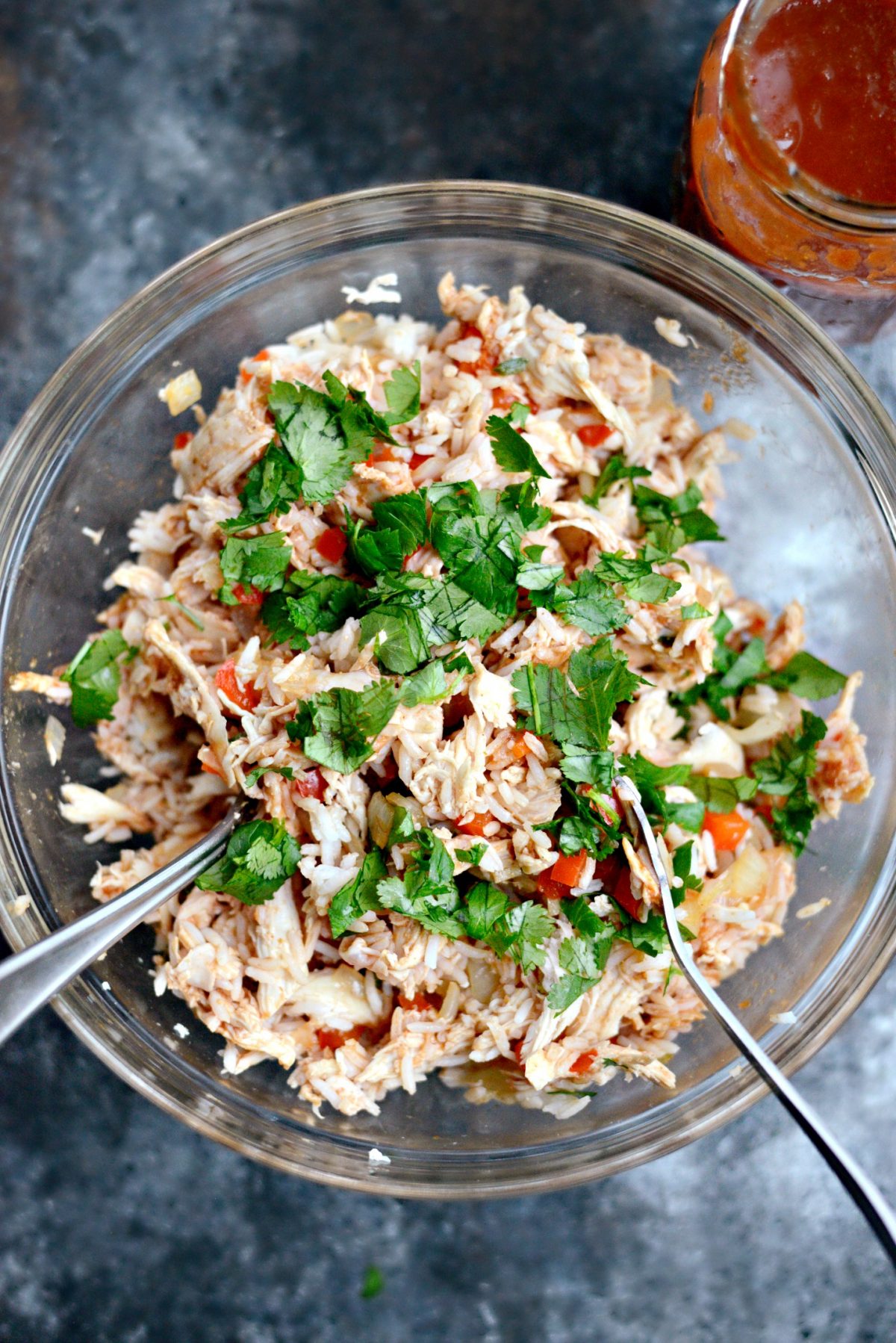 Then mix in about 1/2 cup coarsely chopped fresh cilantro and set off to the side.
Spread about 1/3 of a cup of the sauce into the bottom of an baking dish. Then place a few spoonfuls of the mixture onto one side of the tortilla and roll. I'm using a low-carb whole wheat tortilla but feel free to use your favorite.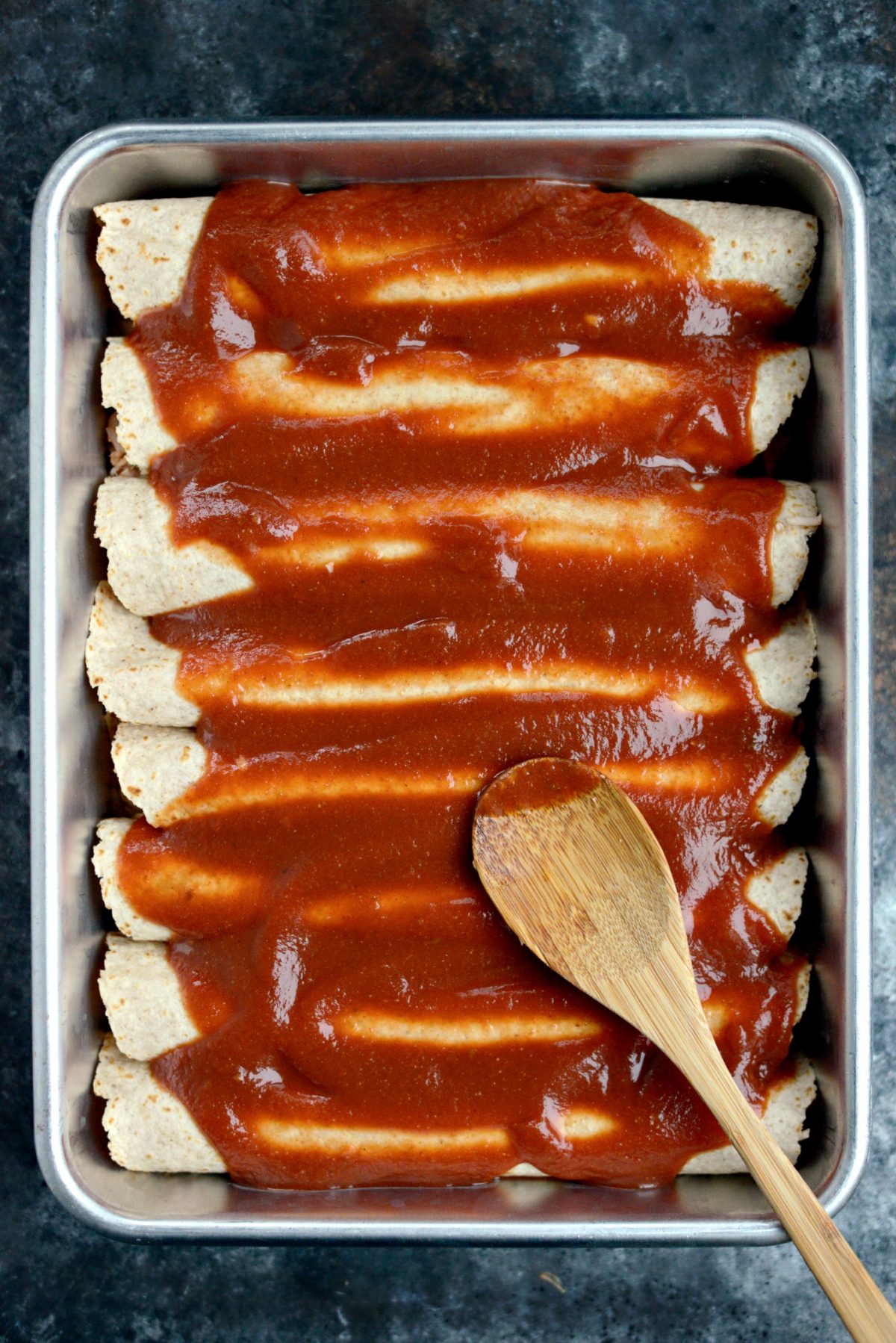 As you fill and roll each one, place them into the pan seam-side down before repeating with the next. Pour the remaining enchilada sauce over top and spread it around using the back of a spoon.
Lastly, sprinkle with 4 ounces of freshly grated cheddar cheese and cover tightly with foil and bake in your 400° oven for 20-25 minutes.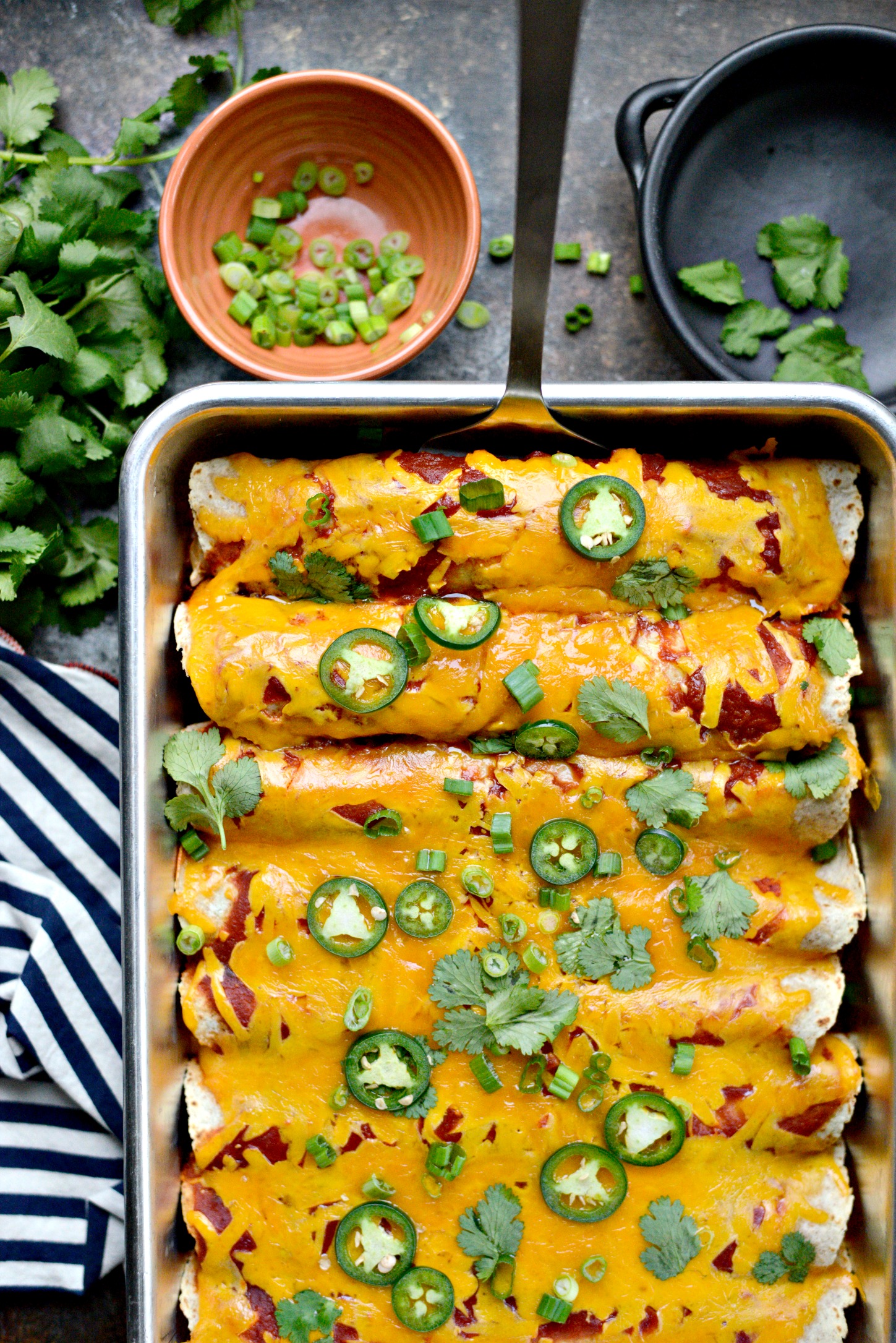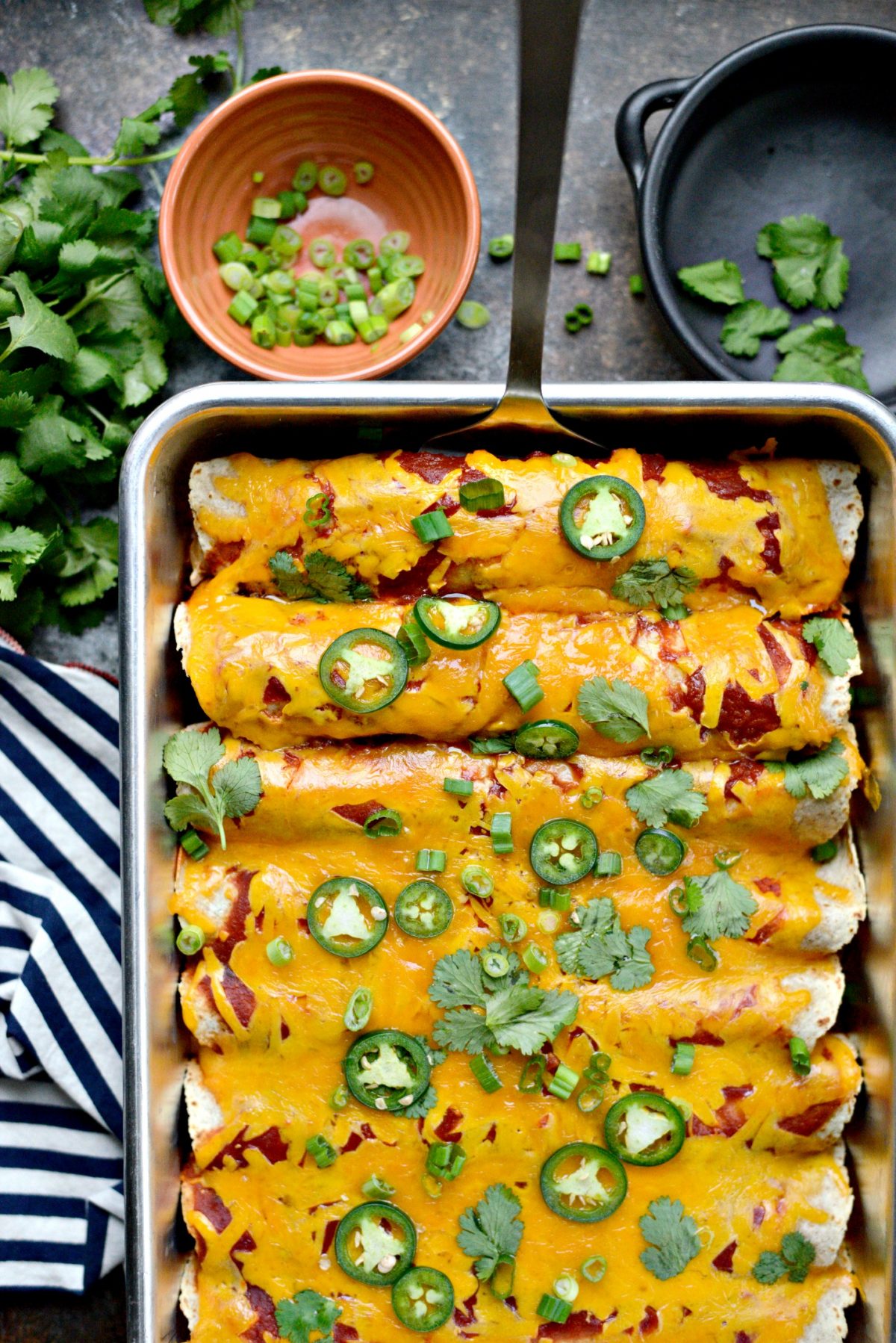 I use medium cheddar or sometimes cheddar jack to get the best melty cheesy goodness.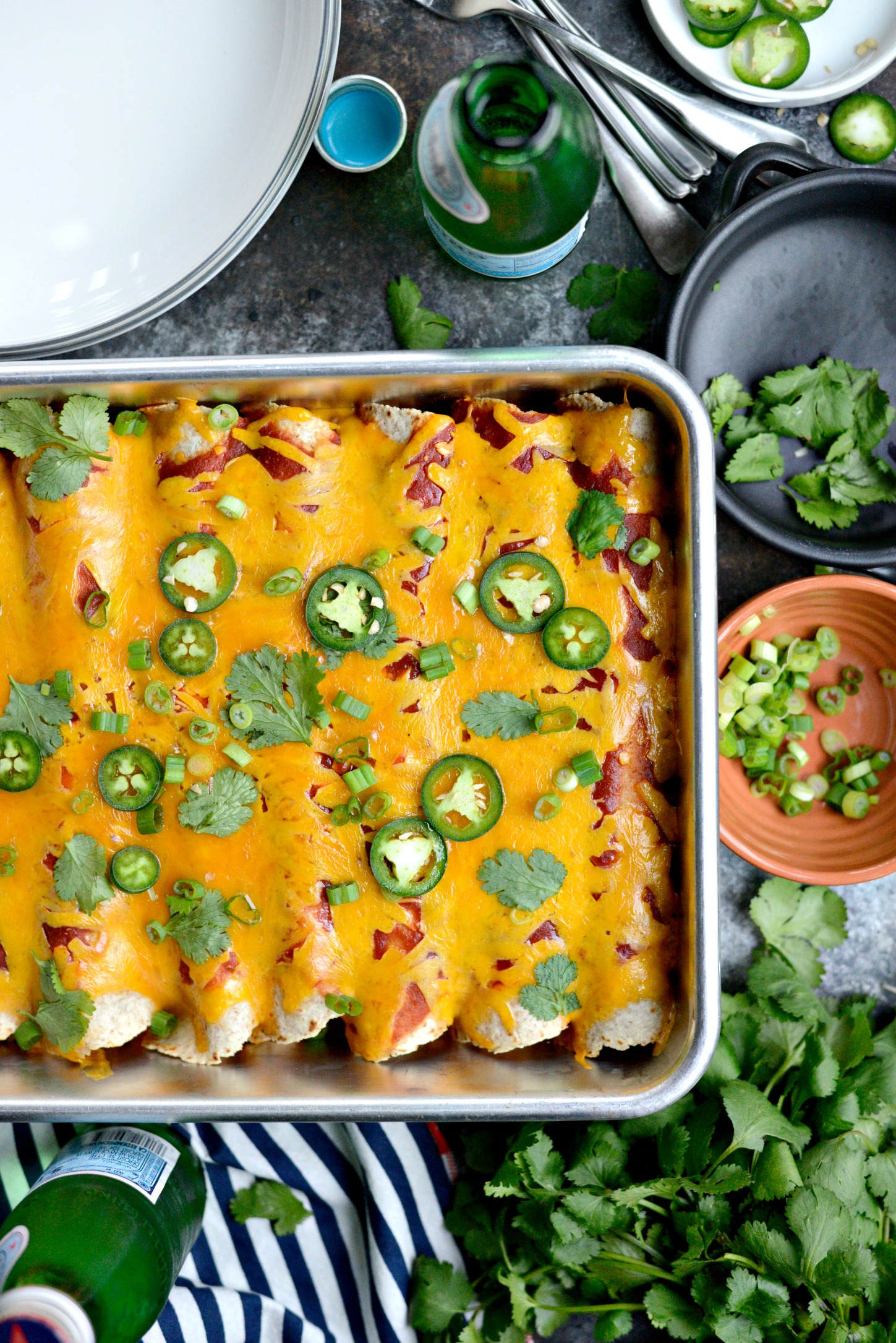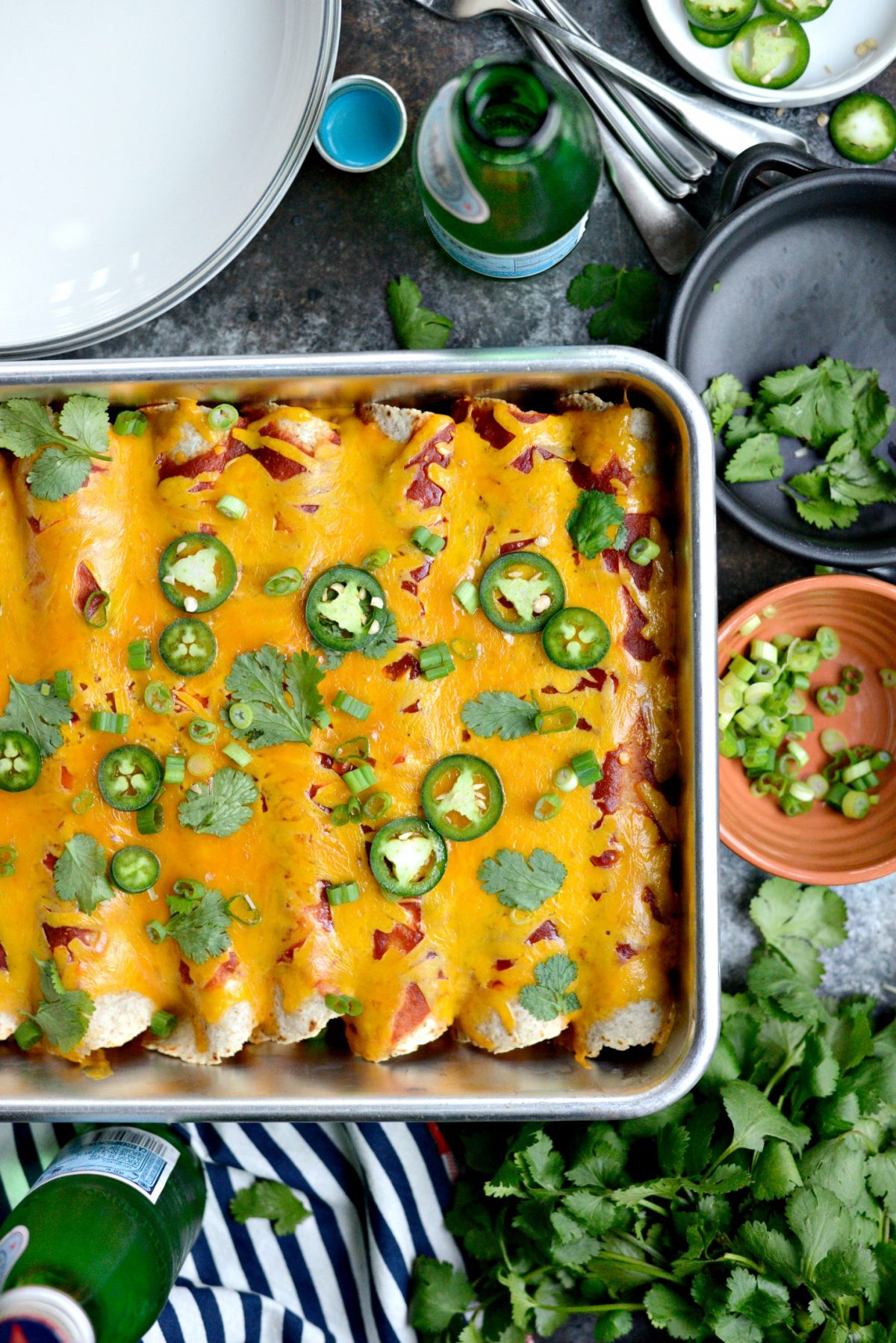 As you can see, I top this pan of chicken and rice enchiladas with fresh cilantro leaves, green onions and slices of jalapeño. But we all eat ours differently, I like sour cream and avocado and if I have it, fresh pico de gallo. Pat and Haileigh both are sour cream and hot sauce people and Malloree is a plain Jane. She's basically me as a kid.
Enjoy! And if you give this Chicken and Rice Enchiladas recipe a try, let me know! Snap a photo and tag me on twitter or instagram!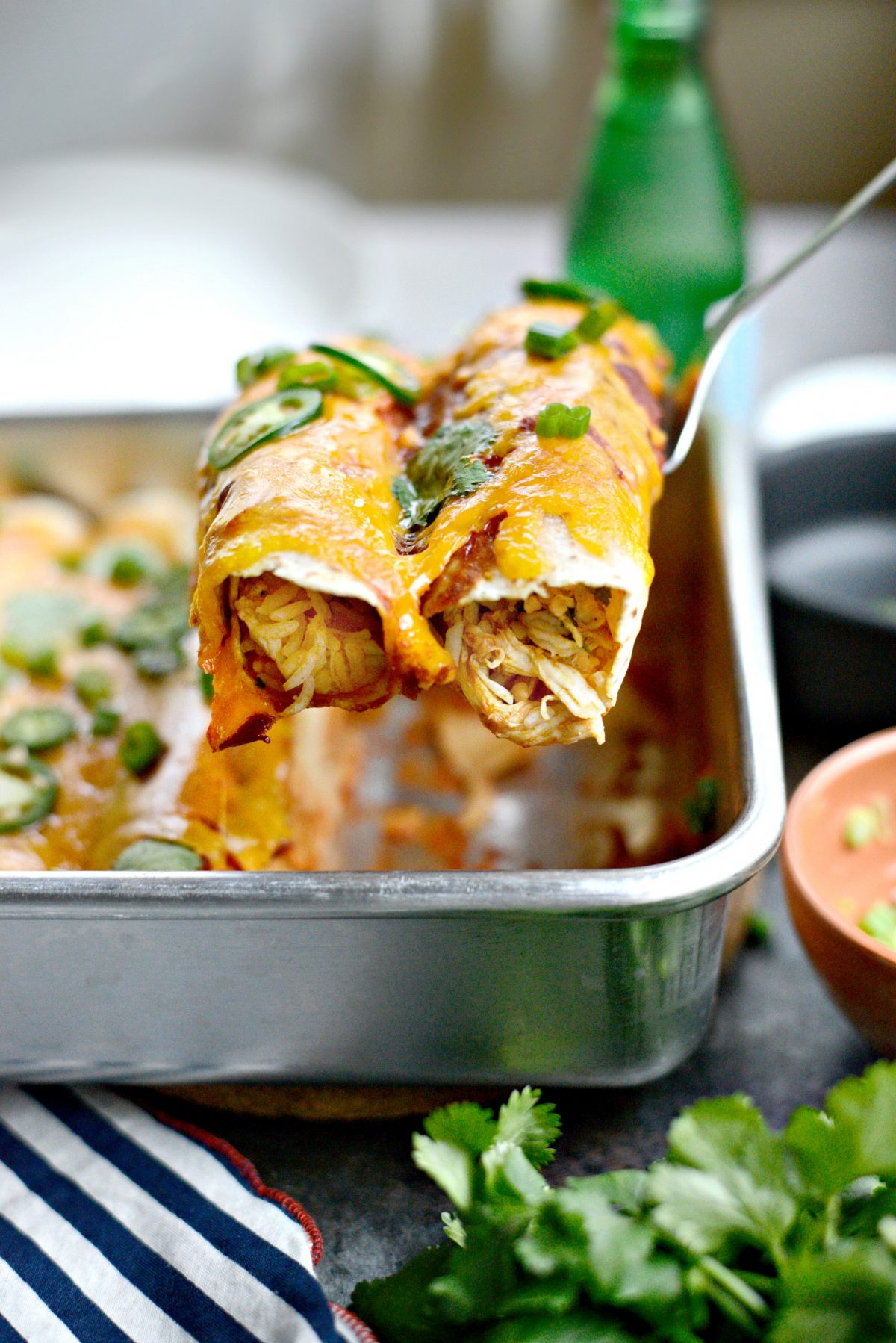 This post may contain affiliate links.
Buy the Cookbook: Simply Scratch : 120 Wholesome Homemade Recipes Made Easy Now available on Amazon »
THANK YOU in advance for your support!