This blueberry almond salad with blueberry balsamic vinaigrette is basically spring in a bowl.
You know I have been counting down the days until I could kick winter to the curb. Finally spring is here and we're not only a few days in and I'm already sharing a salad recipe that's bursting with all the spring colors and lots of blueberries.
If you recall, I made a similar blueberry feta salad with pistachios with a pomegranate honey vinaigrette salad a few years back. Equally delicious in its own right, because feta and blueberries is unexpected deliciousness. I made that salad after a night with close friends, having that mind blowing salad with dinner and afterwards Pat and I were asked to become god parents. Well our godson just turned 4 earlier this month. Ladies and gentle men, that is how fast time flies.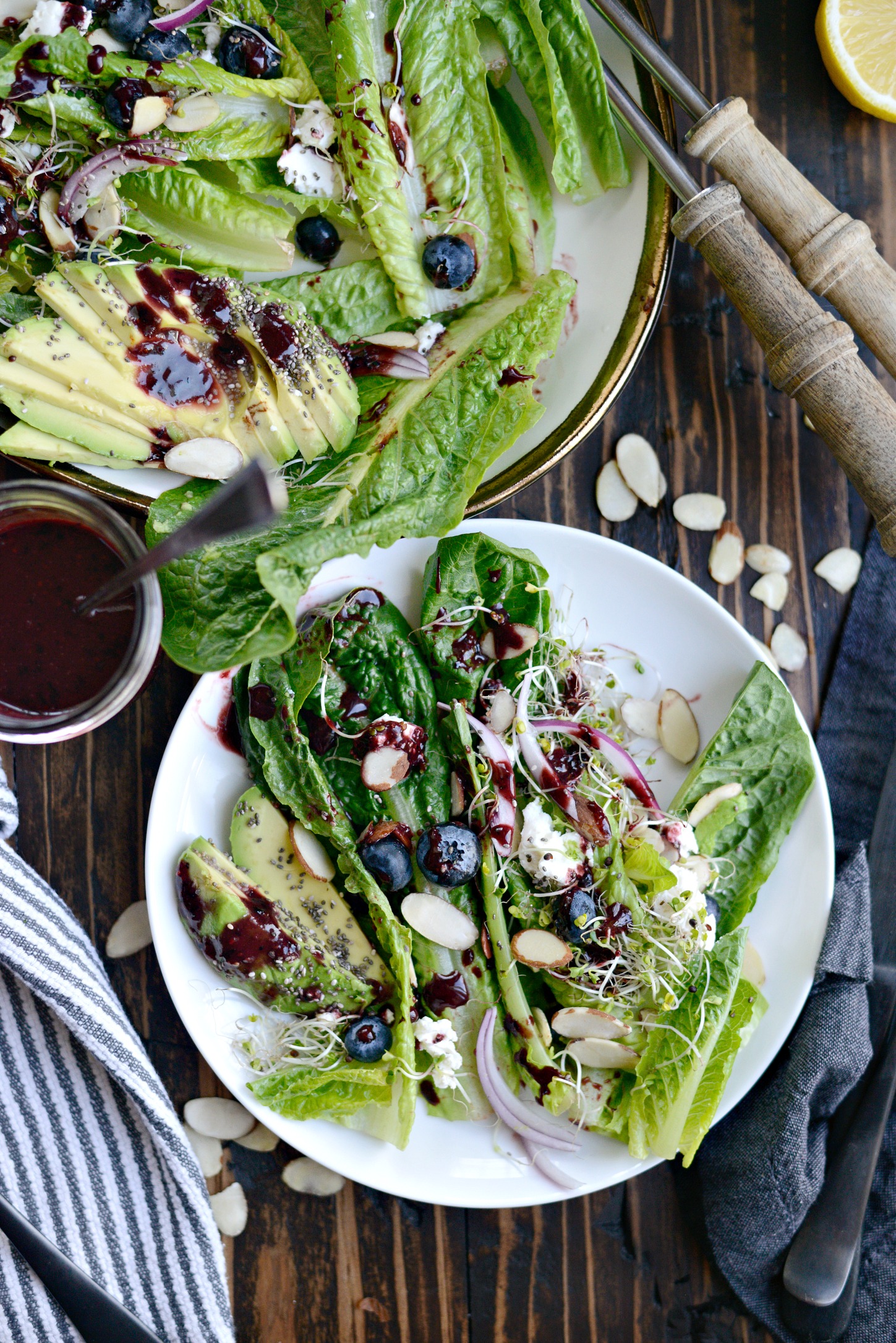 This time I wanted to up the blueberry factor; blueberries in the salad and blueberries in the vinaigrette. Then add almonds, crumbled goat cheese and avocado. You get the idea.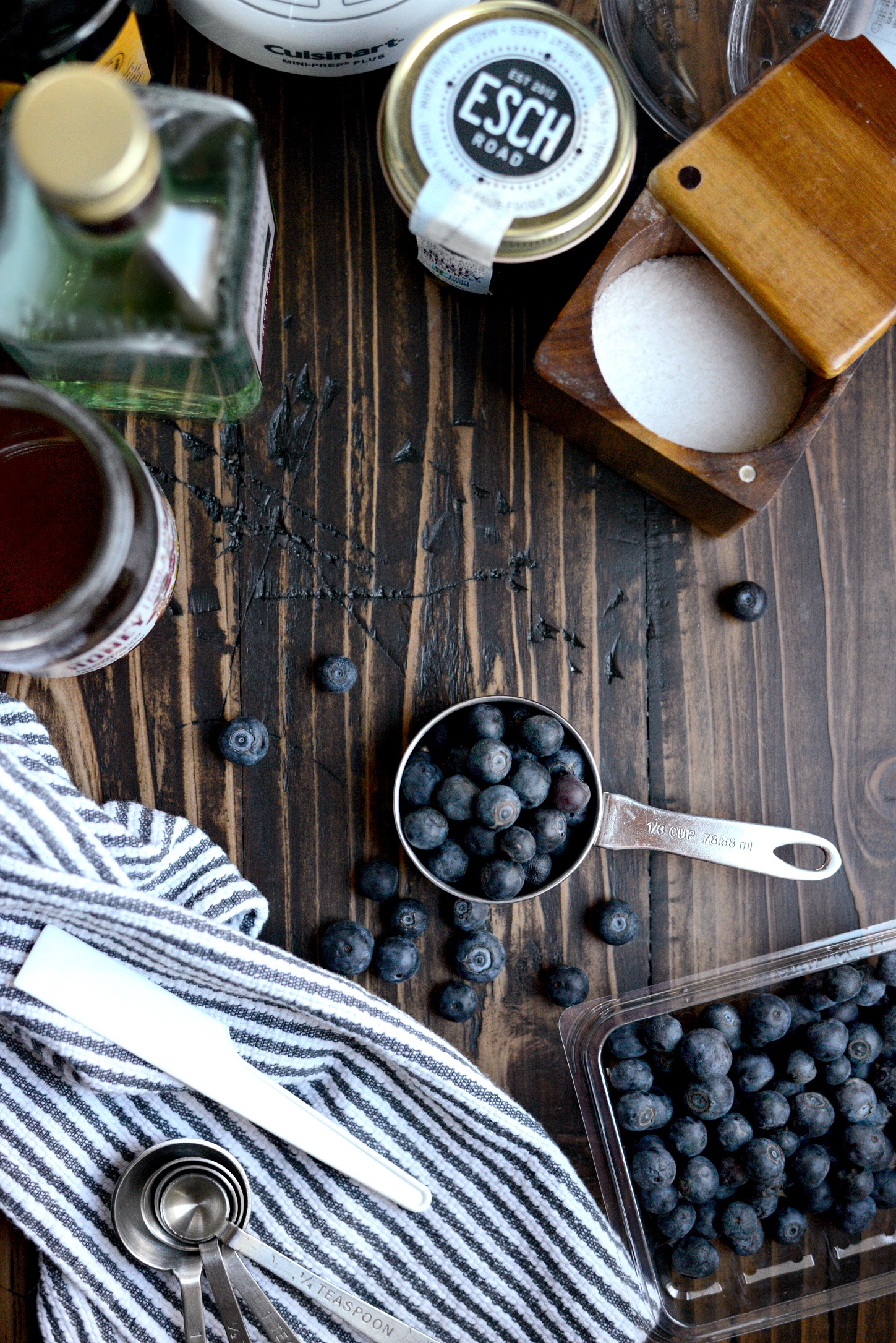 The vinaigrette is simple. Fresh blueberries, balsamic vinegar, honey, a smidgen of olive oil and my secret ingredient– blueberry preserves. I found organic Michigan blueberries and preserves at my local grocery store and instantly had visions of making a blueberry almond salad with blueberry balsamic vinaigrette and all the fixins.
Now this is the part where I confess. I have a OCD-ish thing about blueberries, I cannot handle a slightly mushy, non-firm blueberry. I know they are perfectly fine –unless they're sprouting some fuzzy whitish-green growth– but I just can't put them on my oatmeal or anywhere in the vicinity of my mouth or face. BUT I have no problem adding them into a food processor for vinaigrette. Riddle me this.
To start, place a 1/2 cup of fresh blueberries into your mini food processor or blender. Add a few small pinches of kosher salt (about 1/8 teaspoon) and puree until most of the skins are pulverized.
Then add in 1/4 cup of balsamic vinegar, 1/2 teaspoon of honey and 2 tablespoons of the preserves. Continue to puree while ever-so-slowly pouring in the olive oil. Doing this will yield a perfectly blended vinaigrette.
For the salad you will need, romaine leaves from about 2 heads, fresh blueberries, almonds, goat cheese– I'm using a honey goat cheese, but plain is fine too, broccoli sprouts, thinly slice red onion and an avocado.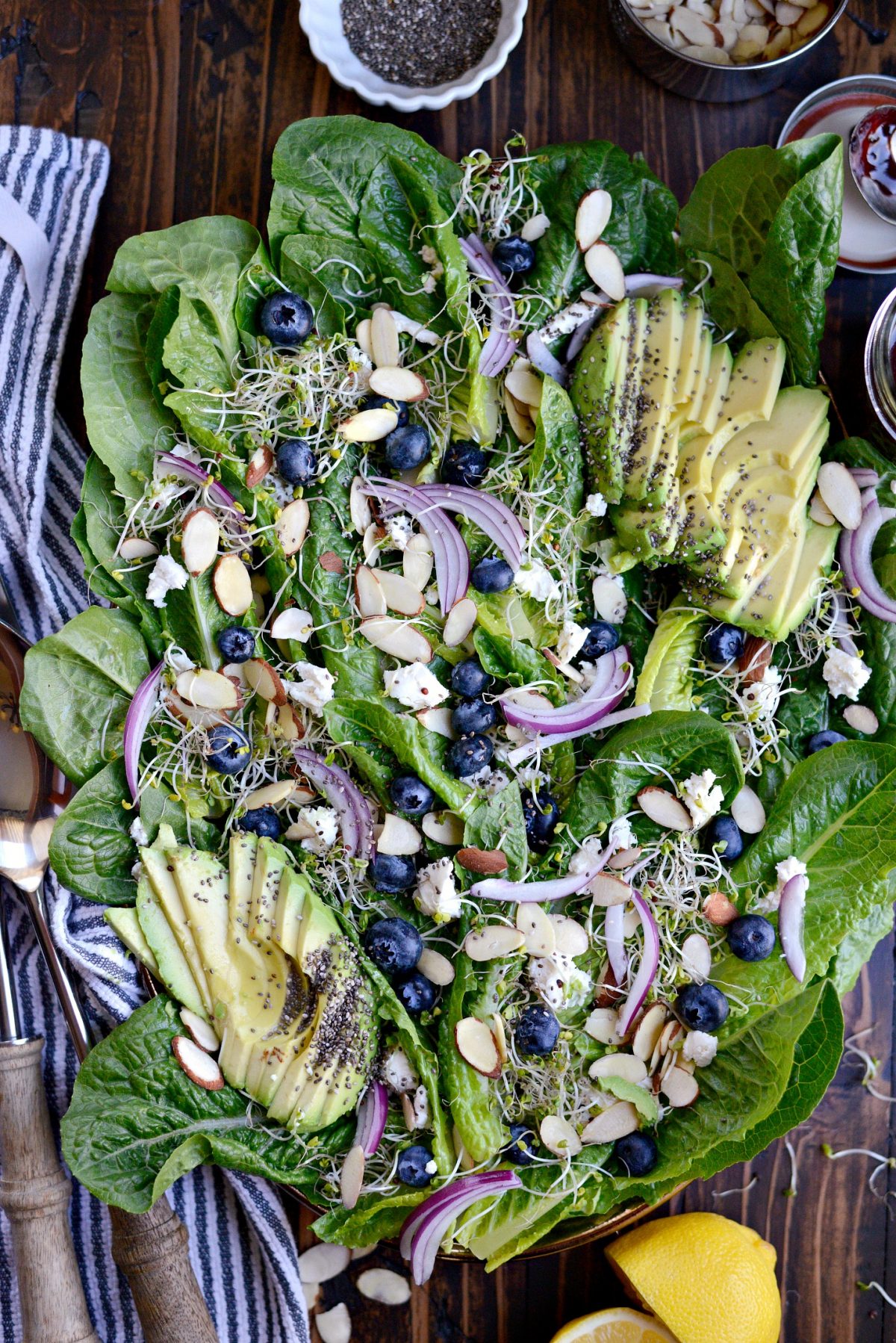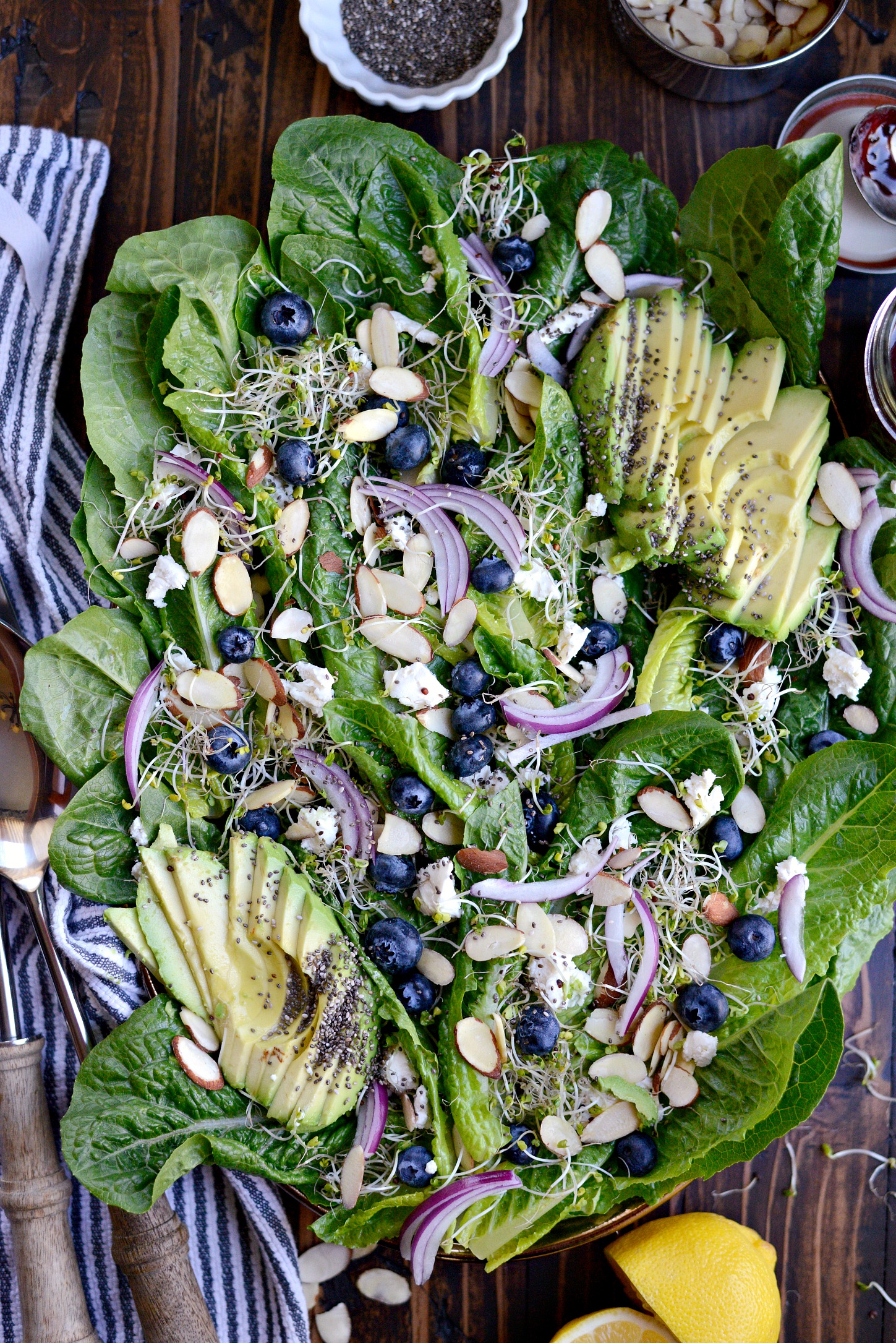 Next, arrange the romaine leaves onto a platter or individual bowls. Then top with broccoli sprouts, red onions, blueberries, sliced almonds and crumble the goat cheese over the top. Nestle in the sliced avocado and drizzle a little bit of fresh lemon juice over the avocado and the rest of the salad. I sprinkled some chia seeds over the top to make the avo prettier.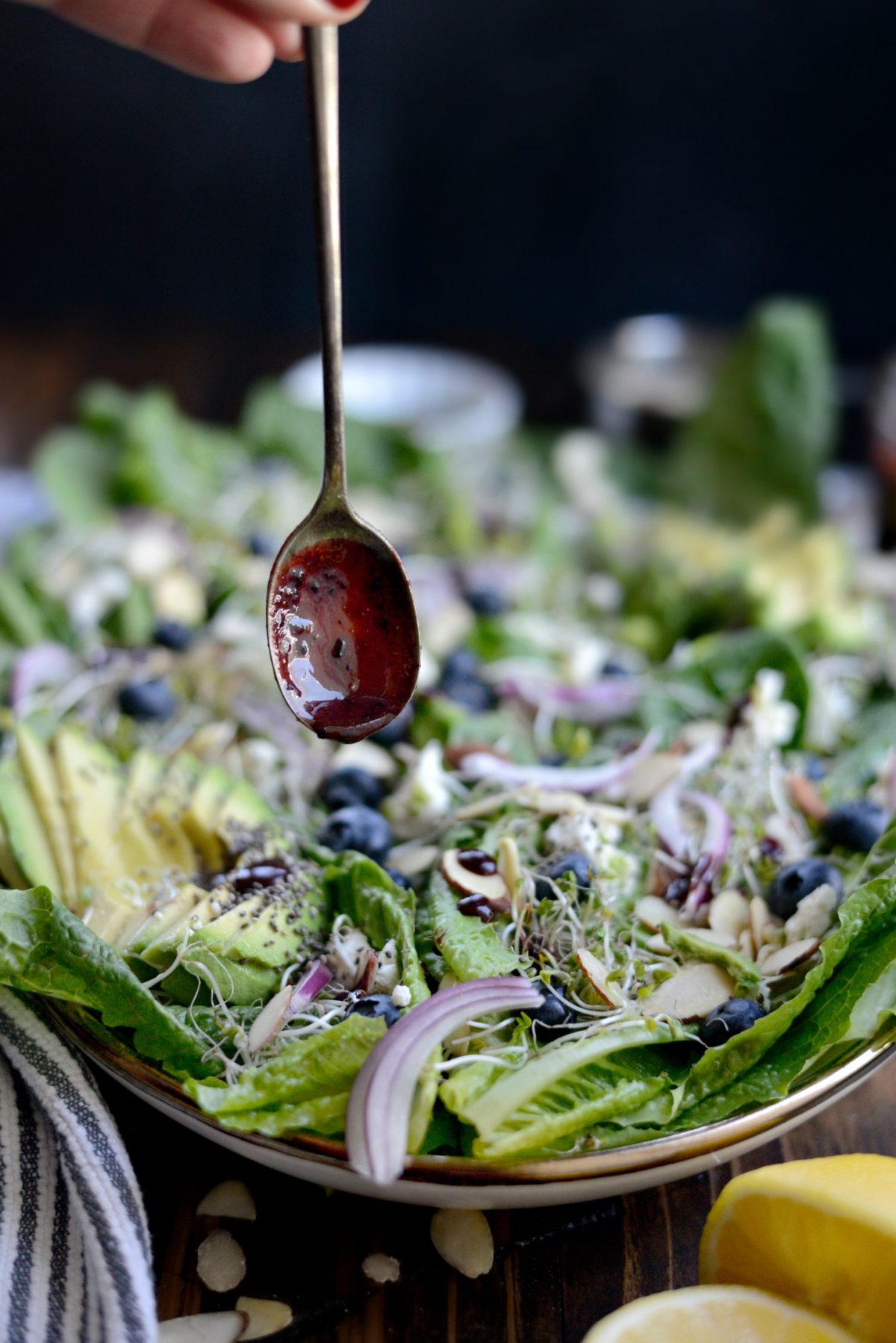 Lastly drizzle some of the blueberry balsamic vinaigrette over top the blueberry almond salad.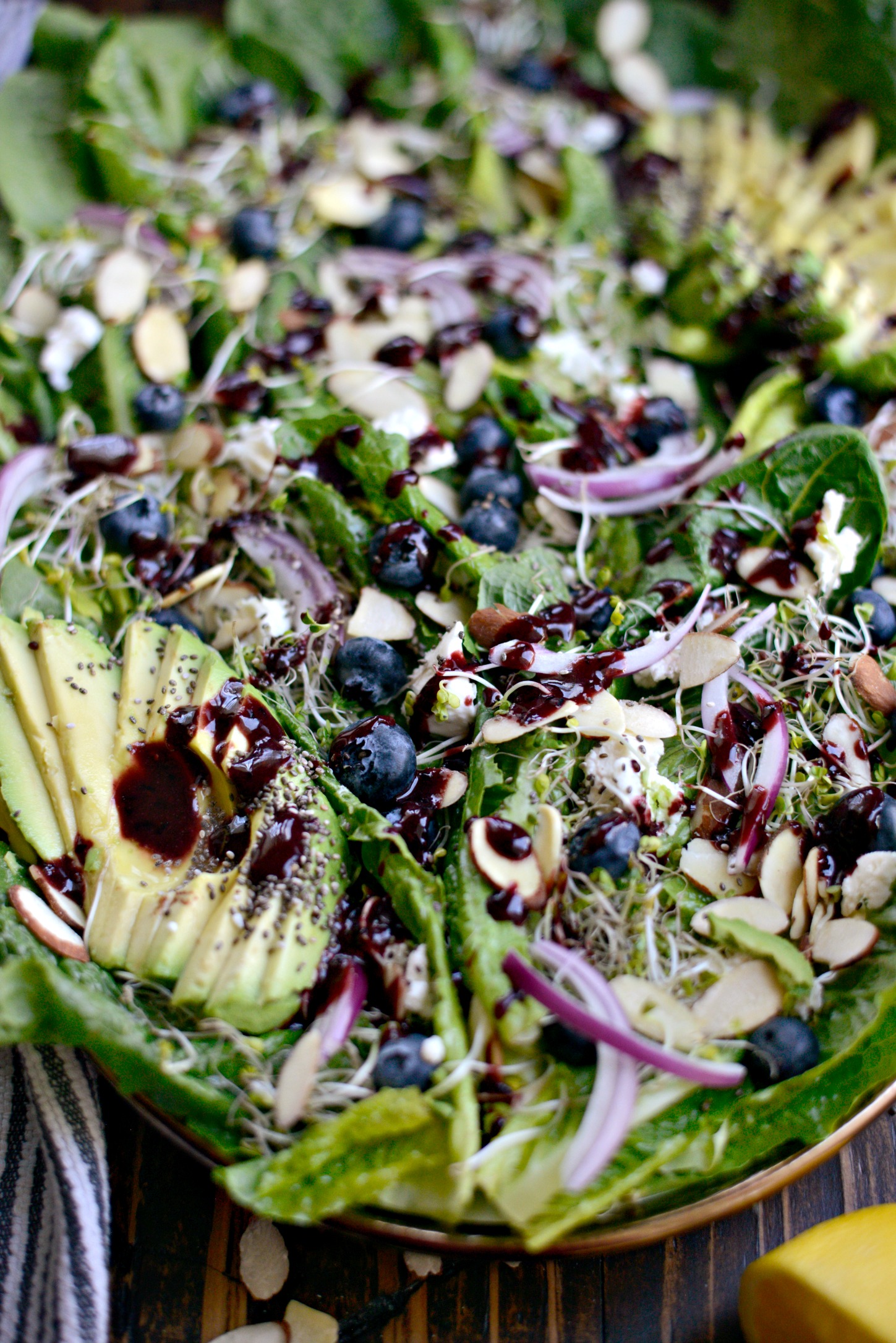 Stunning!!
This salad is everything. Crisp lettuce, pungent red onions mix well with the sweet and tart blueberries, funky goat cheese and crunchy almonds. The broccoli sprouts make this salad pretty and add some healthy goodness and avocado is always good in a salad. The blueberry vinaigrette is money and is incredibly delicious!
This is a fork and knife salad. Meaning you don't pre chop the lettuce (lazy persons dream salad! aka me), you just serve up the whole leaves with all the toppings nestled into the crook of the leaves. Of course you could chop the leaves if you wish, no big deal, I just think whole leaves are pretty and it's fun to eat a salad like this every once in a while. Go on and serve this as a meatless-main for lunch, dinner or as a side salad to salmon or chicken.
It's almost to pretty to eat. Almost.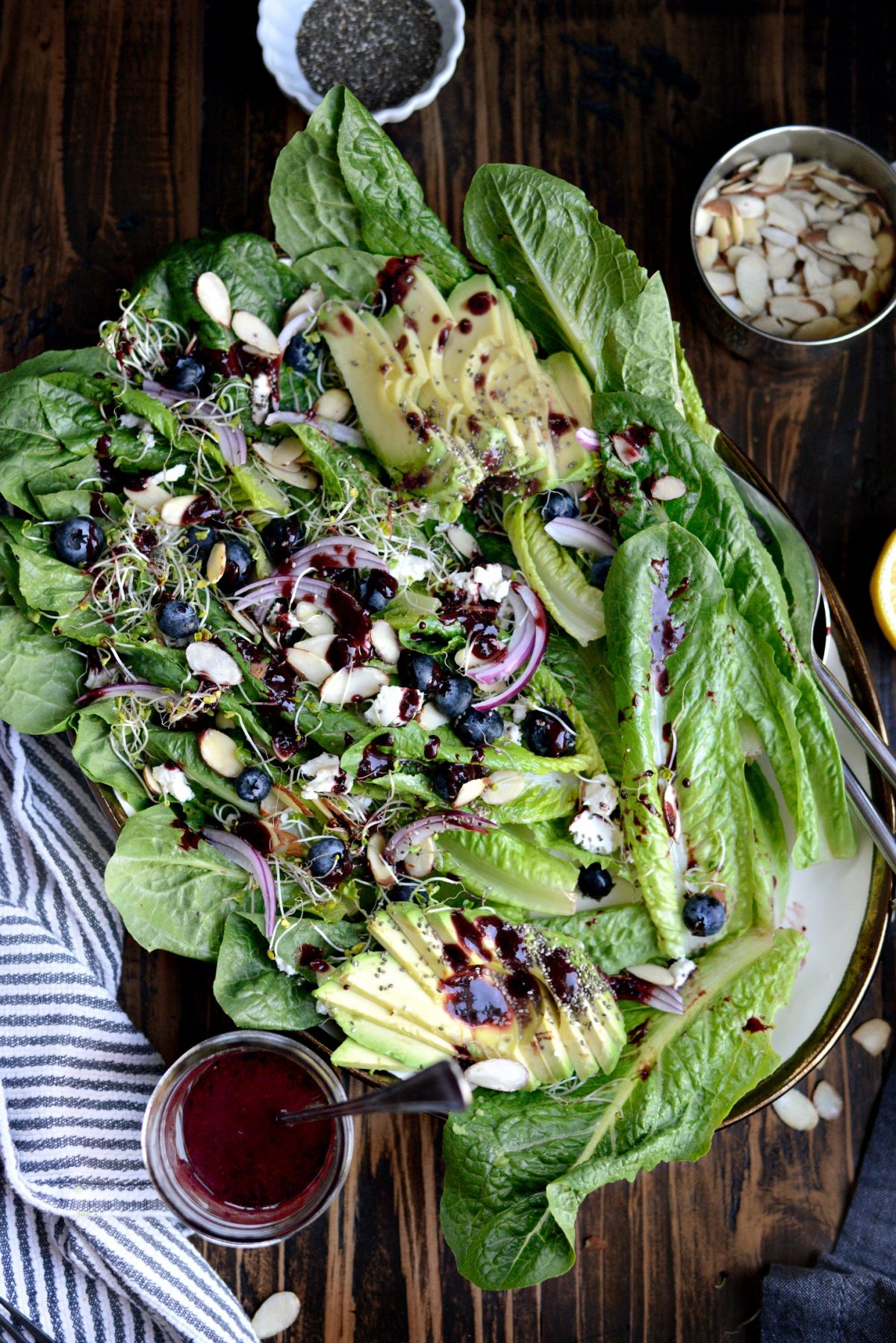 Enjoy!
My cookbook Simply Scratch : 120 Wholesome Homemade Recipes Made Easy is now available! CLICK HERE for details and THANK YOU in advance! 
Yield: about 2 to 4, depending
Blueberry Almond Salad with Blueberry Balsamic Vinaigrette
This Blueberry Almond Salad with Goat Cheese and Blueberry Balsamic Vinaigrette is spring in a bowl. Romaine, broccoli sprouts and avocado round it all out!
Ingredients
FOR THE BLUEBERRY BALSAMIC VINAIGRETTE:
1/2 cup blueberries
1/4 teaspoon kosher salt
1/4 cup balsamic vinegar
2 tablespoons blueberry preserves
1/2 teaspoon honey
1 tablespoon light olive oil
FOR THE BLUEBERRY ALMOND SALAD:
romaine leaves from 2 to 3 small to medium heads, washed and spun dry
1/2 cup broccoli sprouts
1/3 cup sliced almonds
1/4 cup thinly sliced red onion
1/2 cup fresh blueberries (more or less)
2 ounces goat cheese crumbled
1 to 2 avocados, halved and sliced thin
1/2 a lemon (juice)
chia seeds, optional
Instructions
FOR THE VINAIGRETTE: In a mini food processor or blender, combine the blueberries and salt. Blend until most of the skins have been pureed. Add in the balsamic vinegar, preserves and honey. Continue to blend while slowly pouring in the tablespoon of olive oil. Blend until smooth. Makes 3/4 cup.
FOR THE SALAD: Arrange the romaine leaves onto a platter or individual plates. Top with broccoli sprouts, sliced almonds, red onion, blueberries and crumble the goat cheese over top. Nestle in the avocado slices into the leaves and squeeze the lemon juice over the avocado and the rest salad. Sprinkle the chia seeds over top and drizzle on some of the blueberry balsamic vinaigrette.
[this post contains affiliate links.]