A quick creamy tomato soup that takes little to no time to whip up? Sign me up! Canned whole tomatoes blended with sautéed vegetables is pureed and topped with Gruyere toasts! The color is gorgeous the flavor is spot on delicious. You'll never want to eat canned tomato soup again.
I've never been a tomato soup fan. Never.
I've always wanted to like it because it smells so darn good. But once I had the first spoonful, it instantly reminds me of Spaghetti O's minus the O's. I just couldn't.
It wasn't until I was testing recipes for my cookbook that I tried making my own tomato soup. Rows of halved, ripe plum tomatoes roasting away and blended with homemade broth. It is utterly delicious and life changing. My whole outlook on tomato soup has since changed.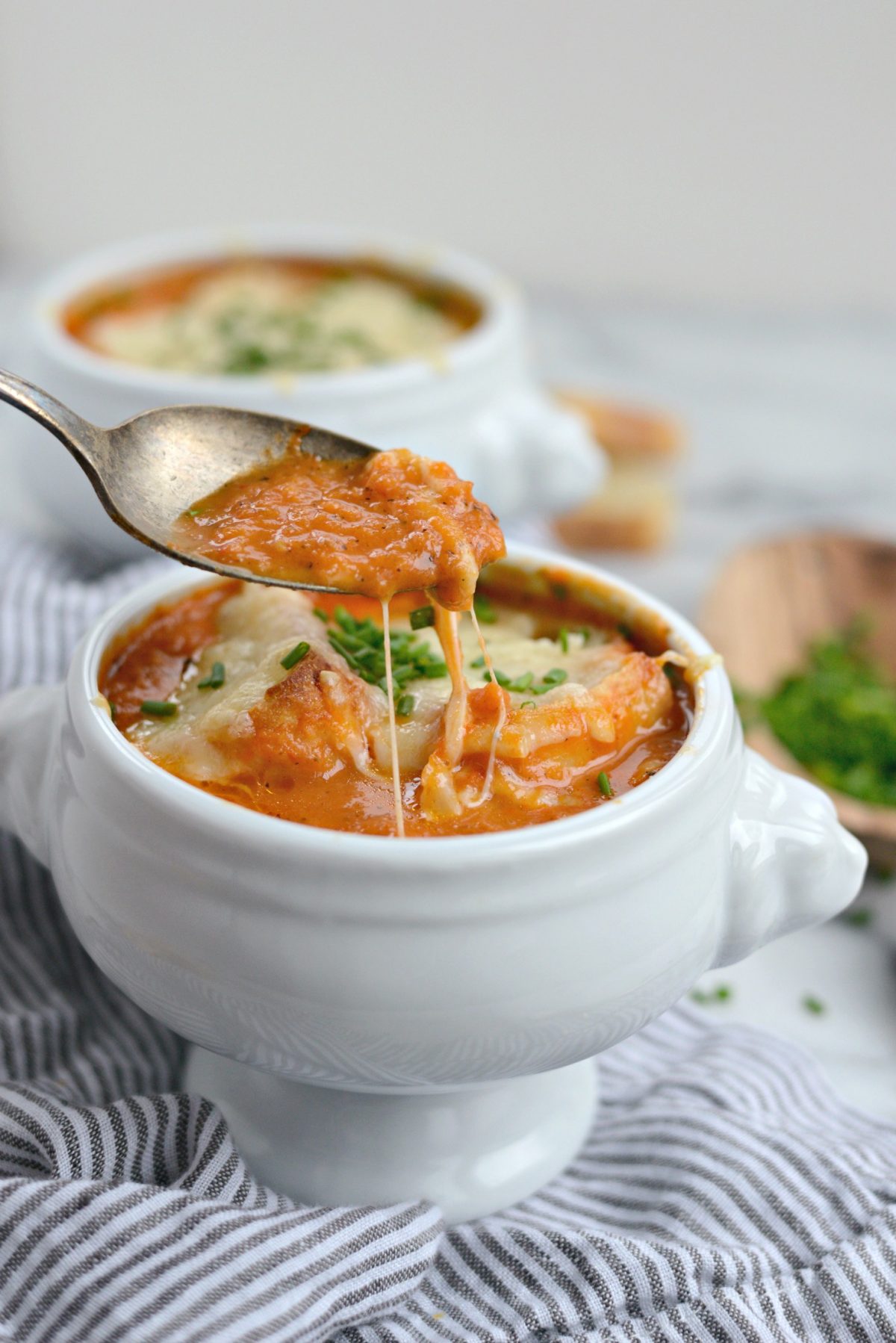 It was a snowy cold January day and I wanted tomato soup. I wanted an easier tomato soup. One that could be whipped up any day of the week and tasted just as fabulous.
I swear nothing beats homemade tomato soup. Nothing.
For this soup, you will need: 1 onion, 1 to 2 each carrots and celery, fresh thyme, 2 large cloves of garlic, Sherry wine, 1 (28 ounce) can of whole regular or fire-roasted San Marzano tomatoes, vegetable broth, salt, pepper, heavy cream, 1 small baguette and lots of Gruyere cheese.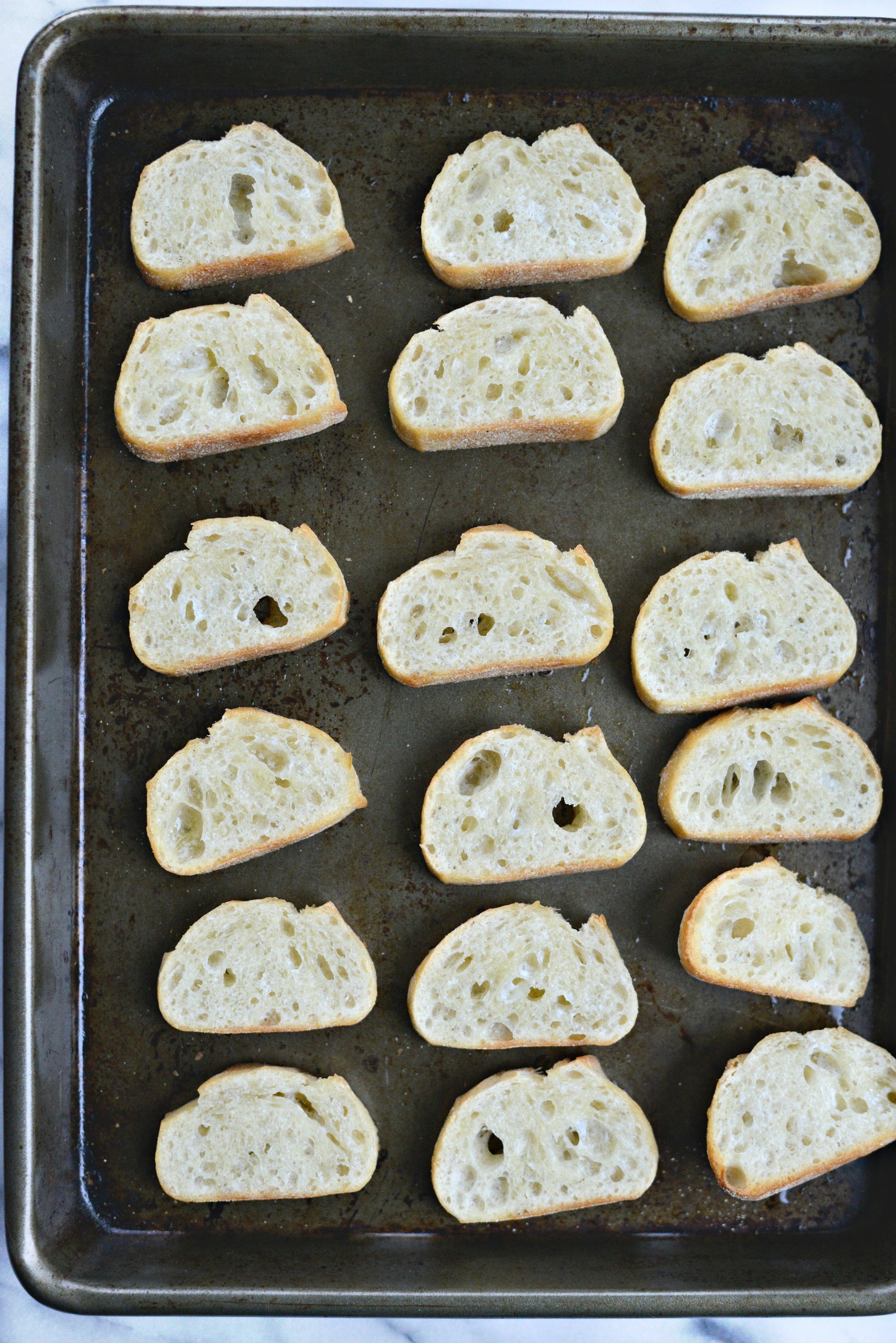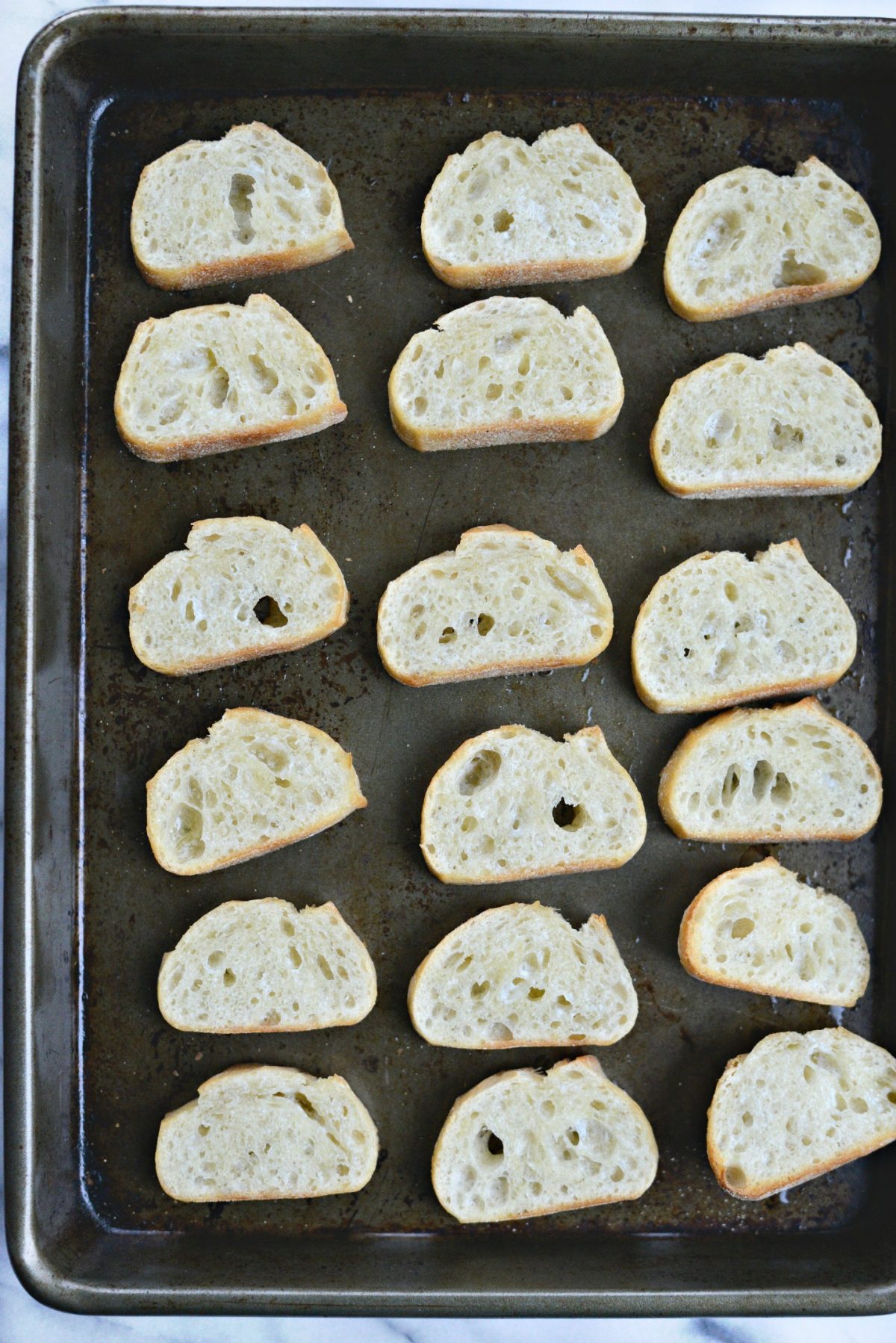 Start by slicing the baguette into 1/2 to 3/4 inch slices (about 12-16 total. More is fine! Butter each slice then toast in your preheated 400° oven for 6 minutes. The bread should be crispy and very lightly golden. Then set off to the side.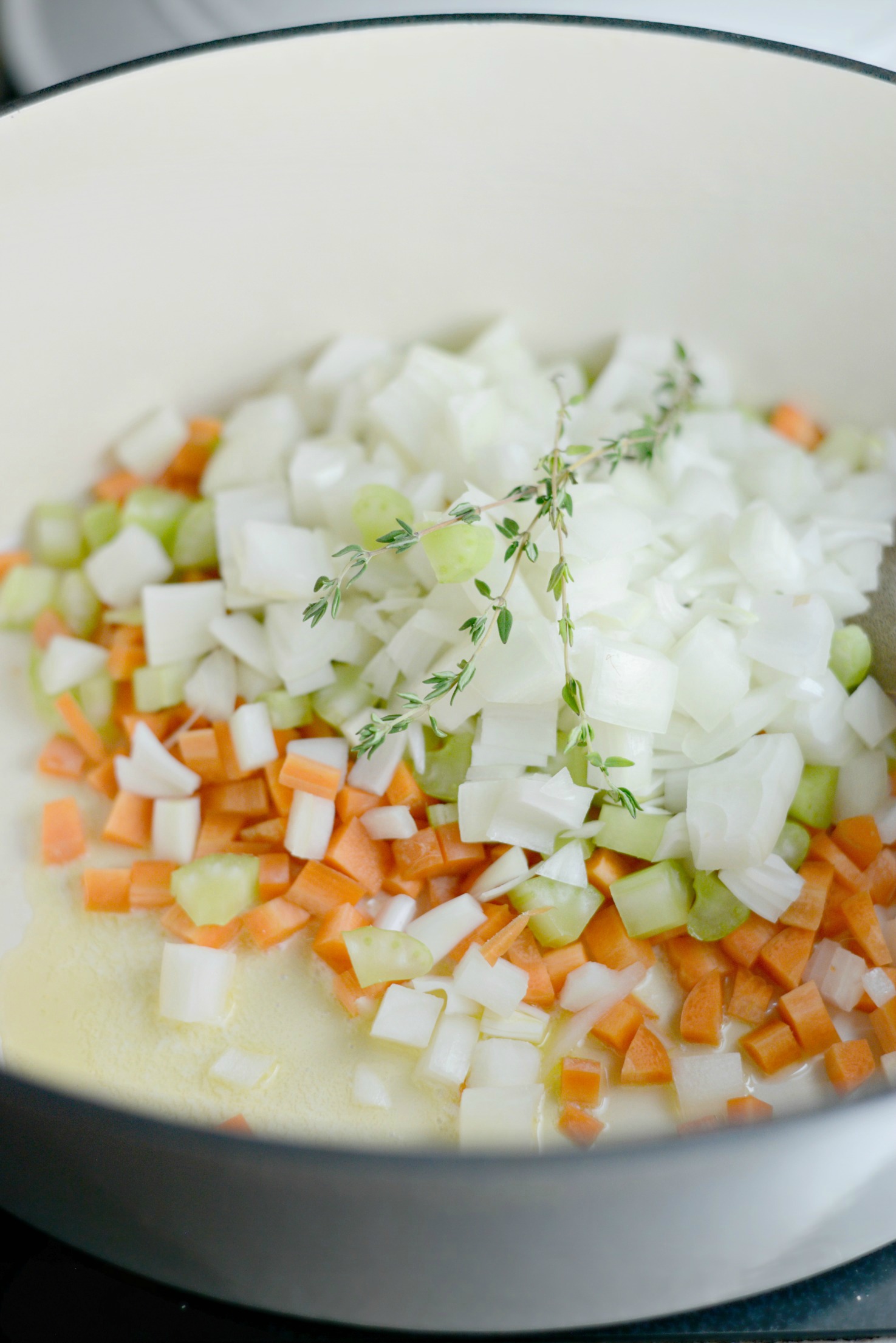 Moving on the soup: heat a Dutch oven over medium to medium-low. Once preheated, add in 1-1/2 tablespoons of butter and the onion, celery, carrot and three fresh thyme sprigs with a pinch of salt. Stir, cover and cook until soft. This should take anywhere between 8 and 12 minutes, stir every so often.
Once the vegetables are soft and tender, add in the minced garlic. Cook for 1 minute.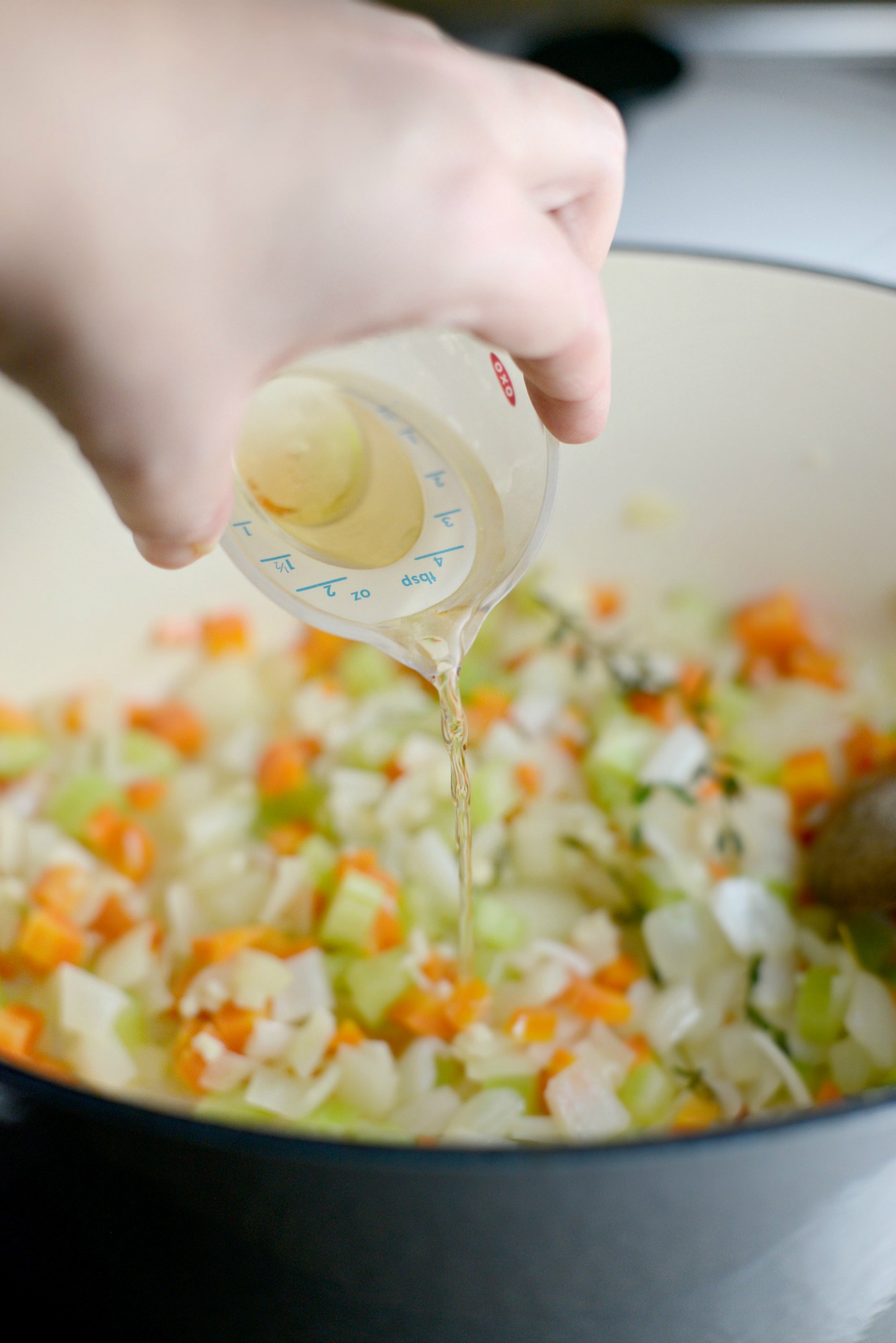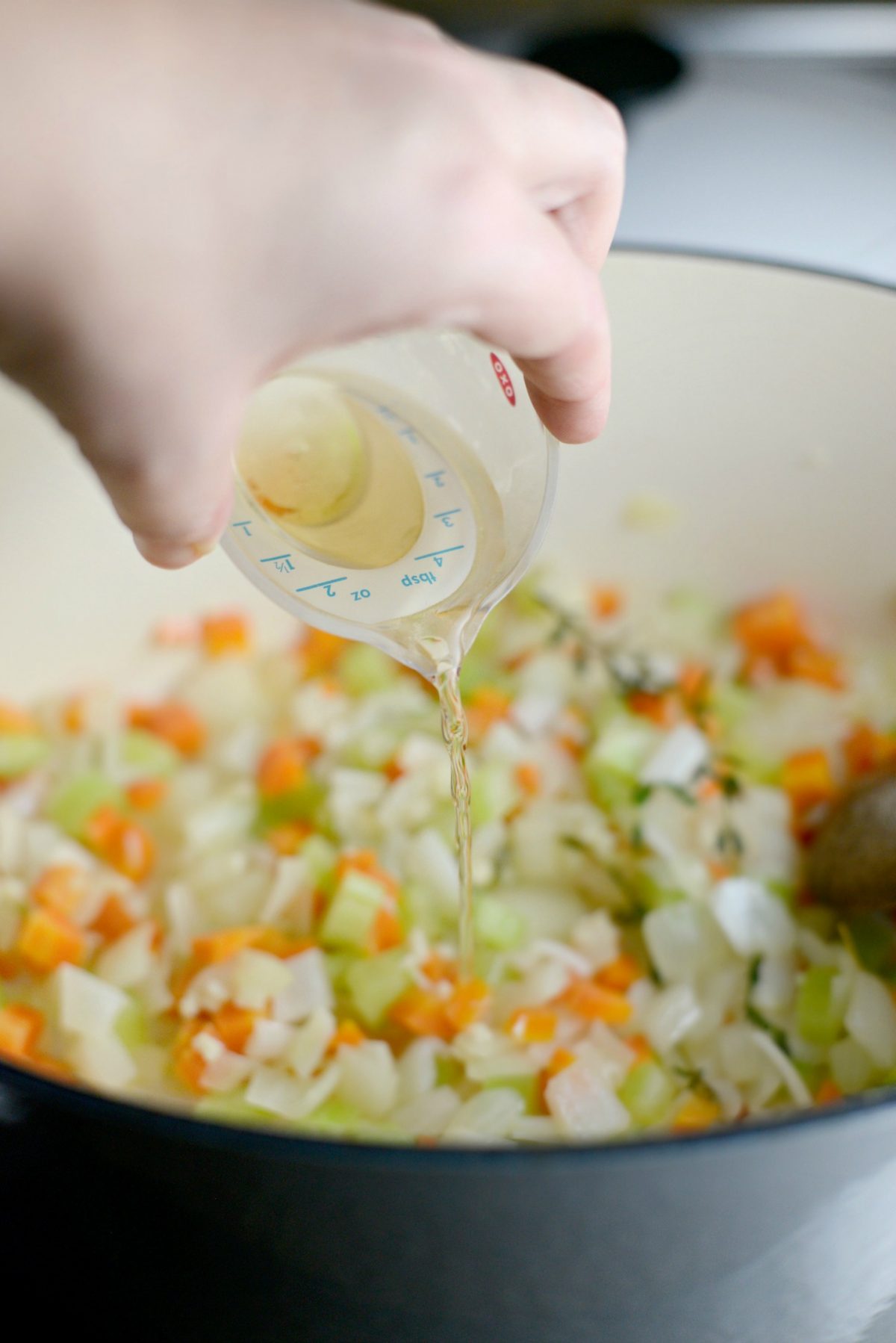 Next, pour in 2 tablespoons of dry Sherry…
…add in the tomatoes and use your wooden spoon to break them up.
Pour in 3 cups of vegetable broth, cover and increase the heat to medium-high and bring to a simmer. Once simmering, reduce heat to medium-low and allow it to go for 20 to 25 minutes.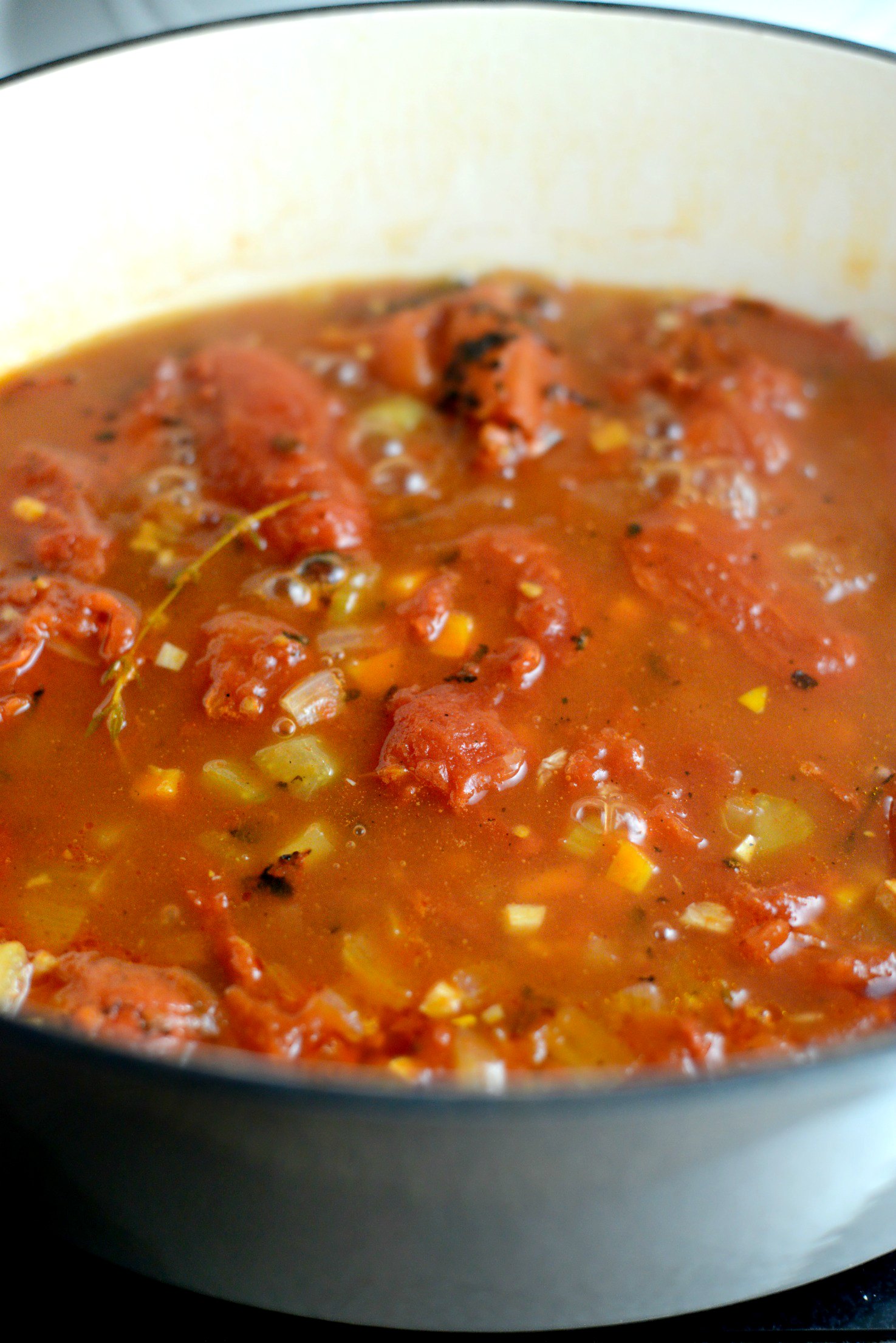 Remember to remove the thyme stems!!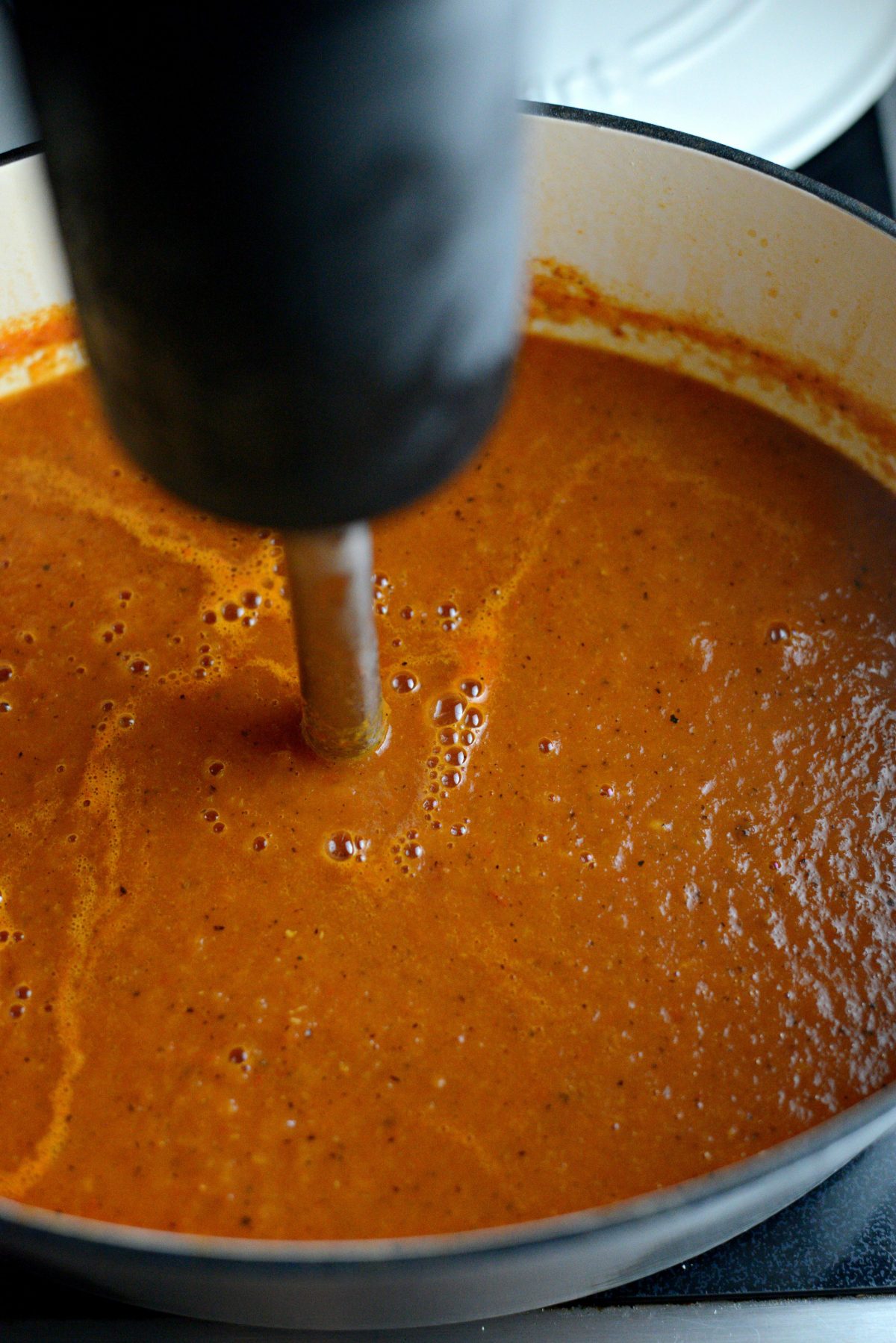 Use an immersion blender to puree the soup until smooth. Alternatively, you could ladle the soup into a blender, remove the center plug out of the lid, cover the hole with a kitchen towel and puree. If using this method then just pour the soup back into the pot and continue with the next step.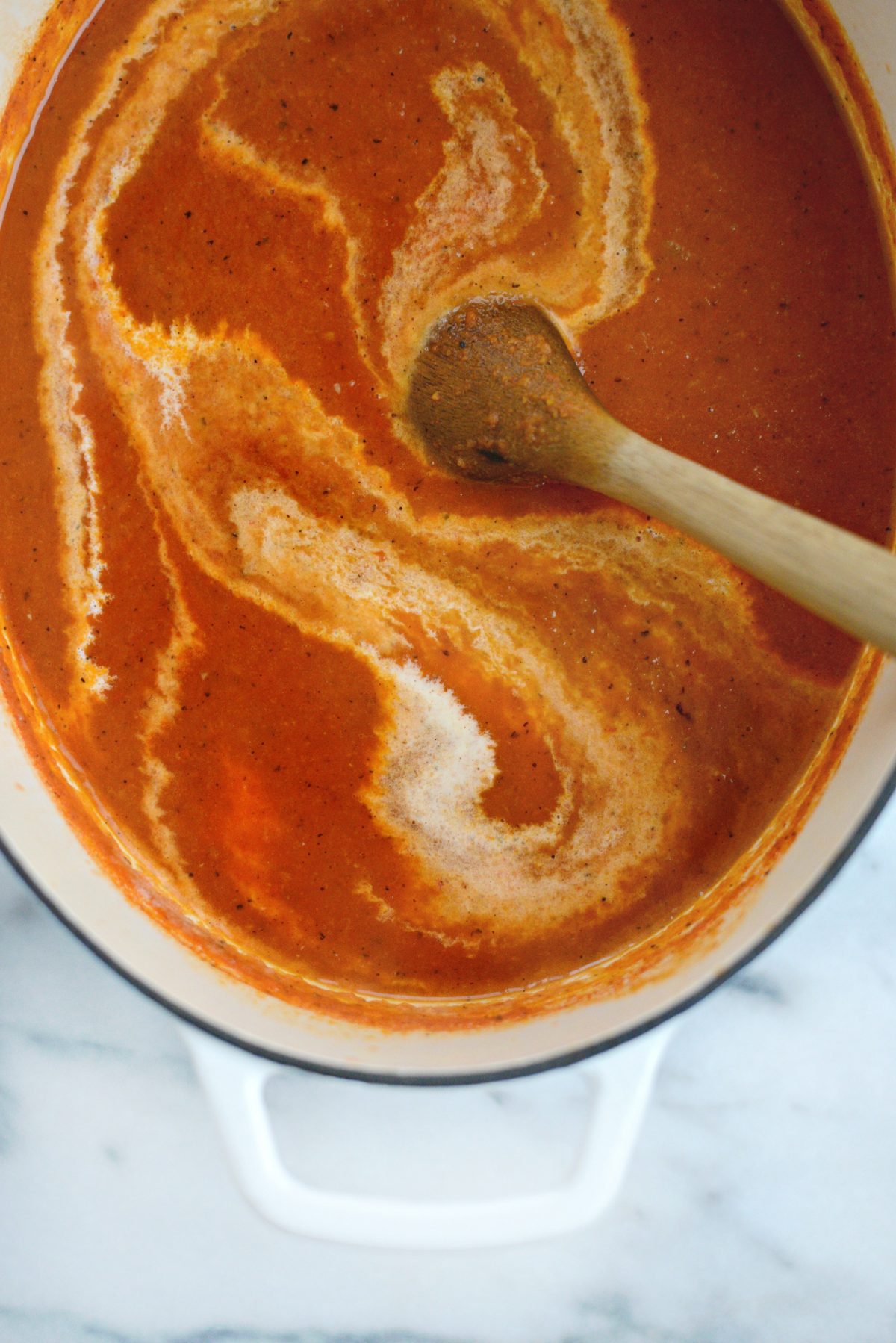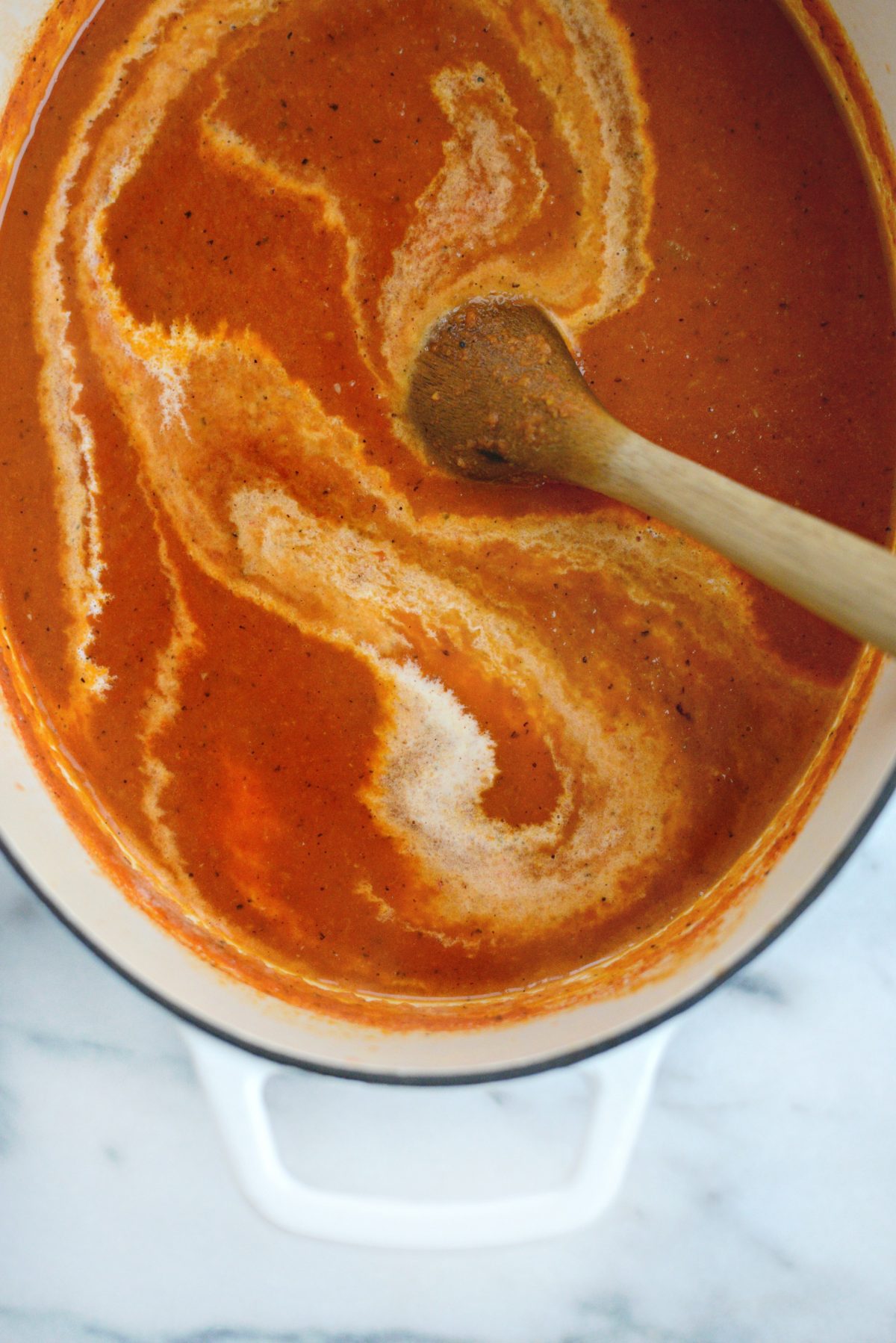 For this creamy version, I added 1/3 cup of heavy cream. However you can totally omit this and it will still taste delicious. Season with 1 teaspoon of kosher salt, more or less to your personal taste.
Moving on to my favorite part of the soup… cheese toasts!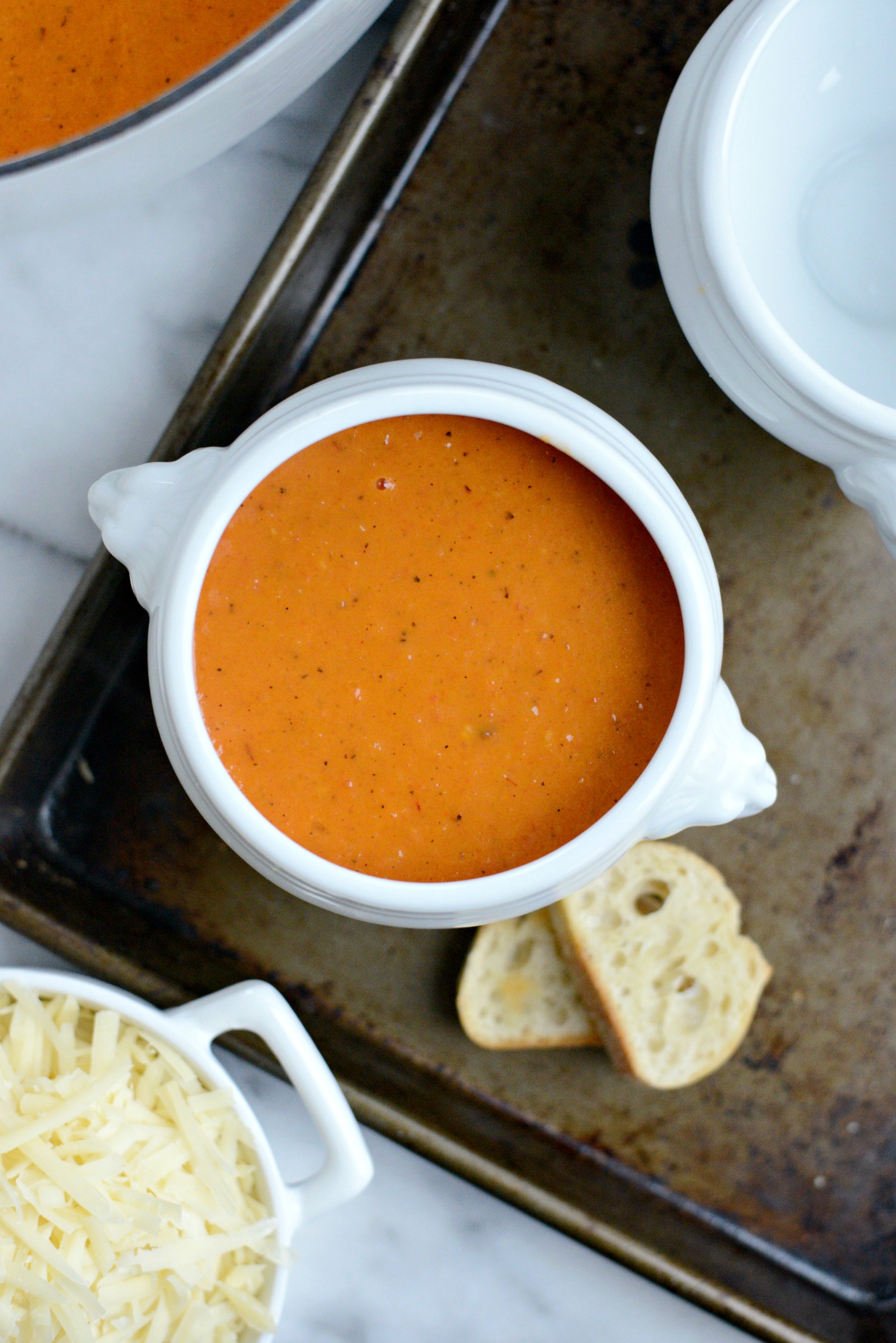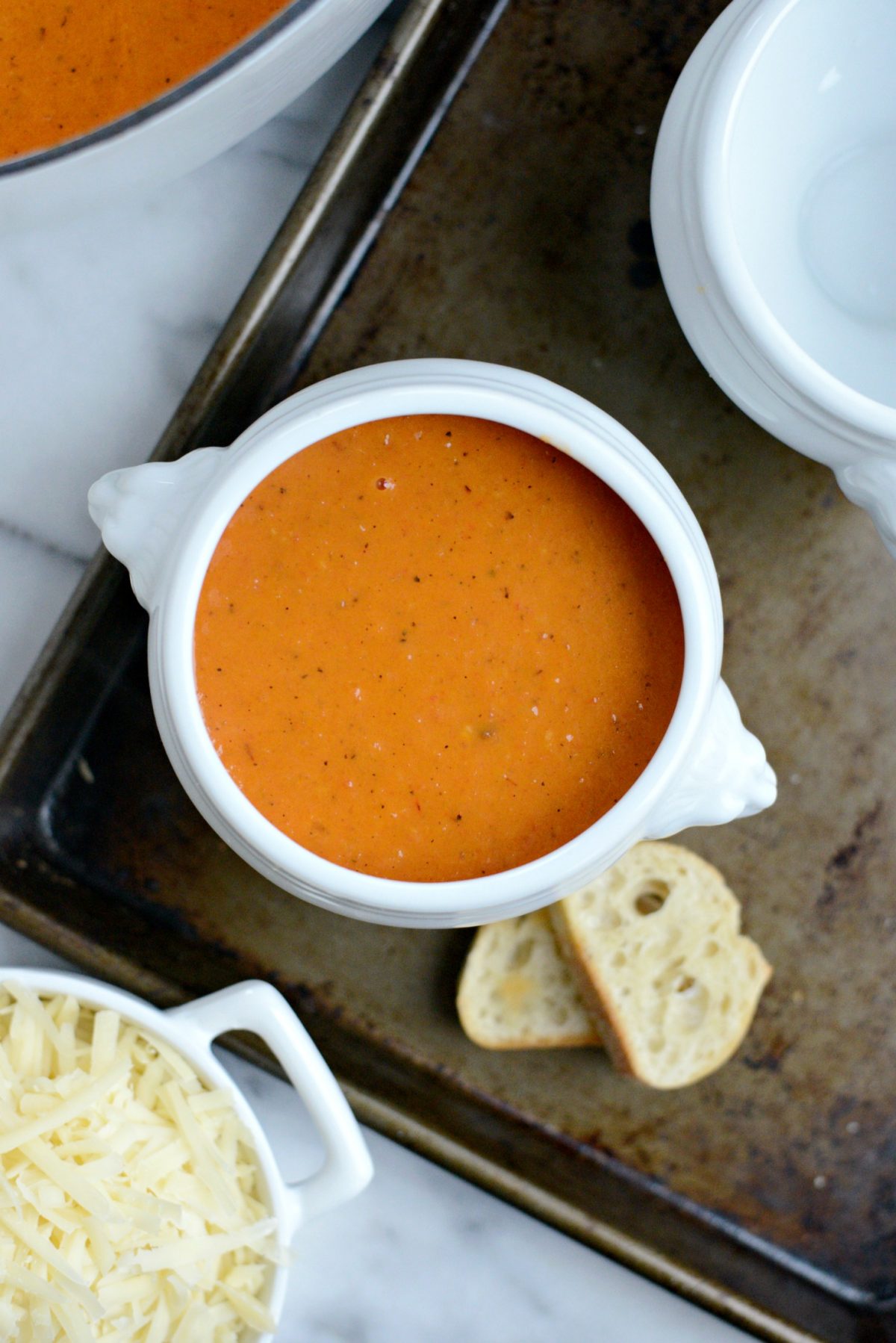 First, ladle soup into oven-safe bowls.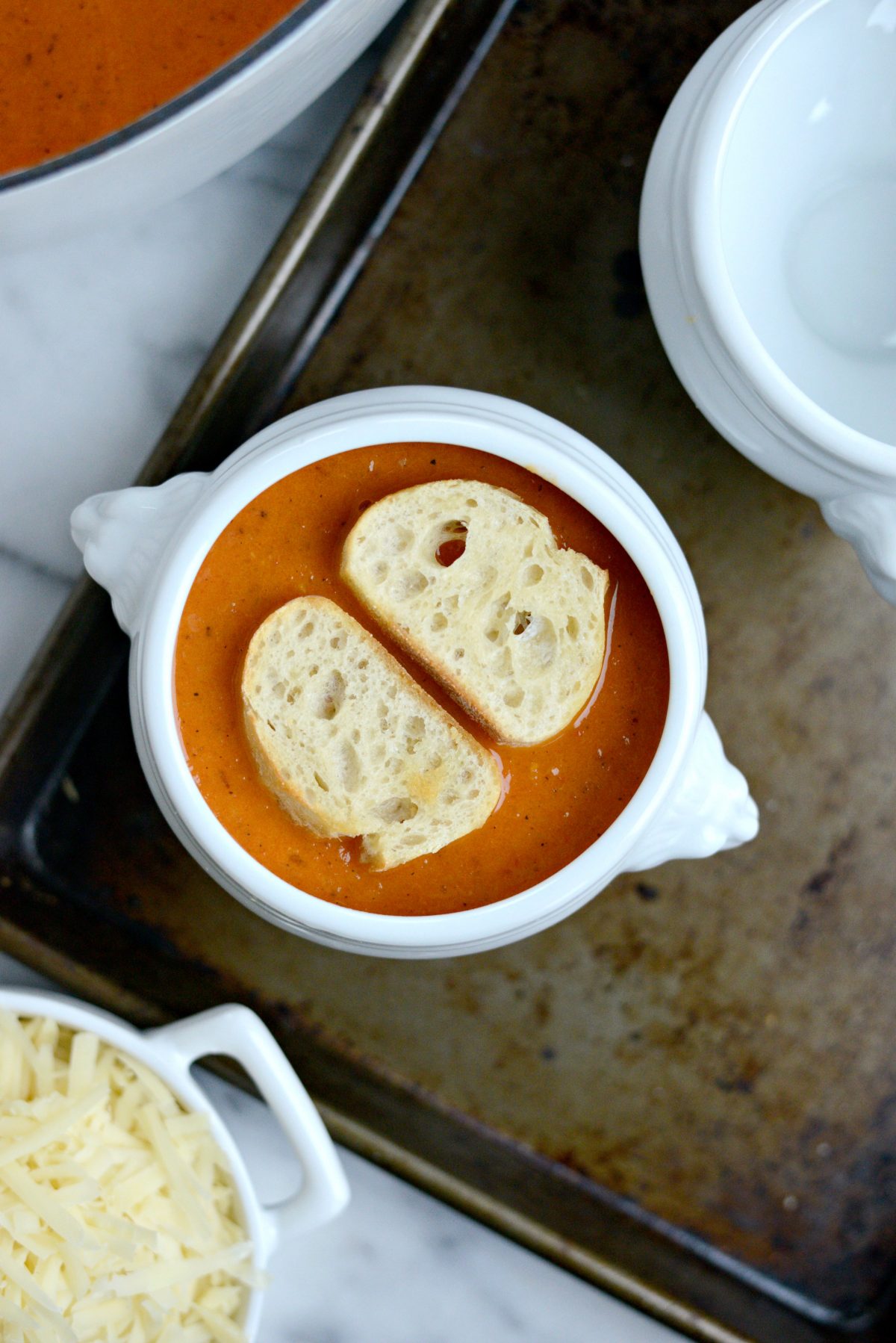 Then top it with two toasty baguette slices.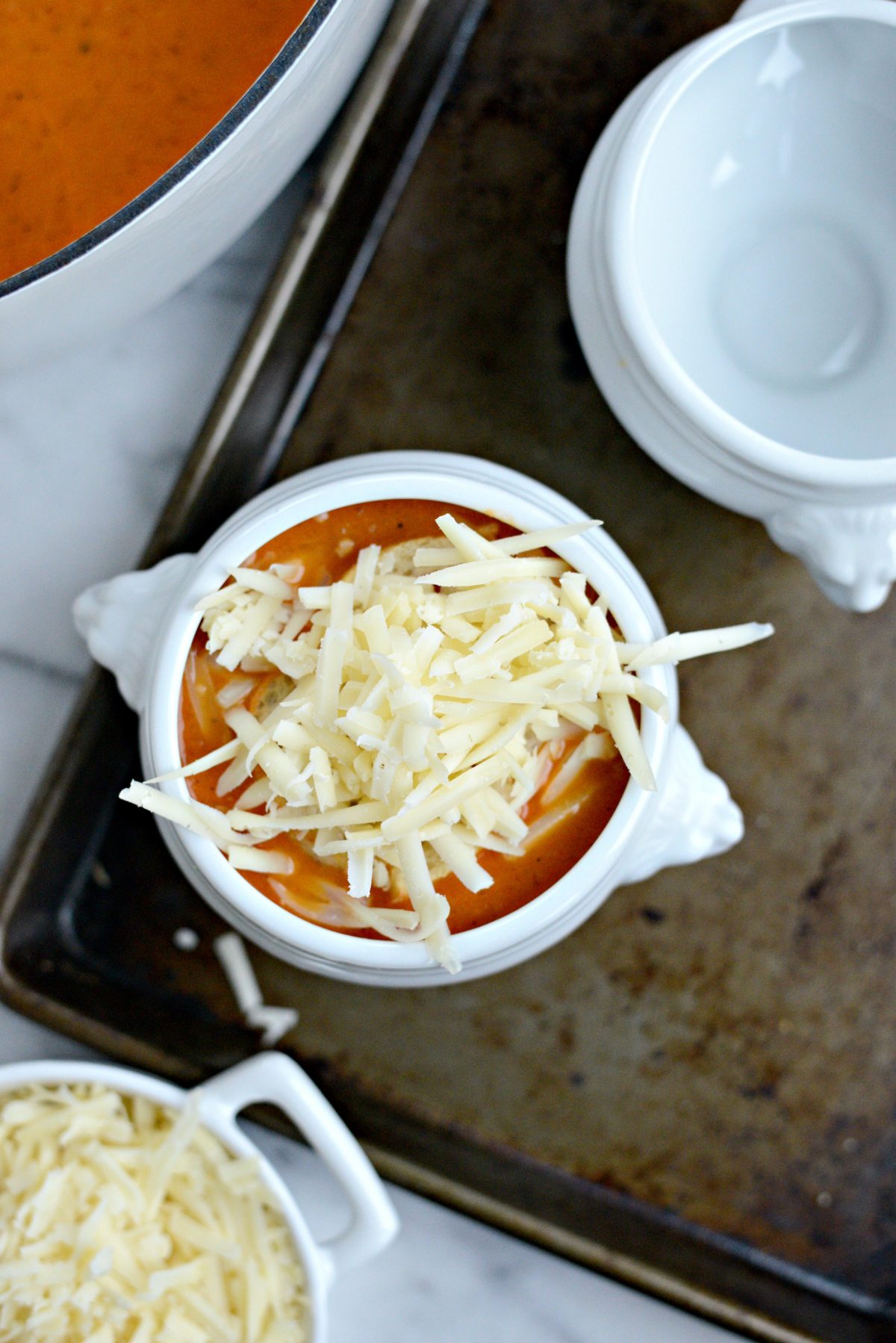 And finally, a whole mount of shredded Gruyere. I'd say that's about 1/4 cup-ish.
Next, place the soups on a rimmed, metal baking sheet and slide them onto the middle rack of your oven and back for 5 to 7 minutes or until the cheese has melted and soup is gently bubbling.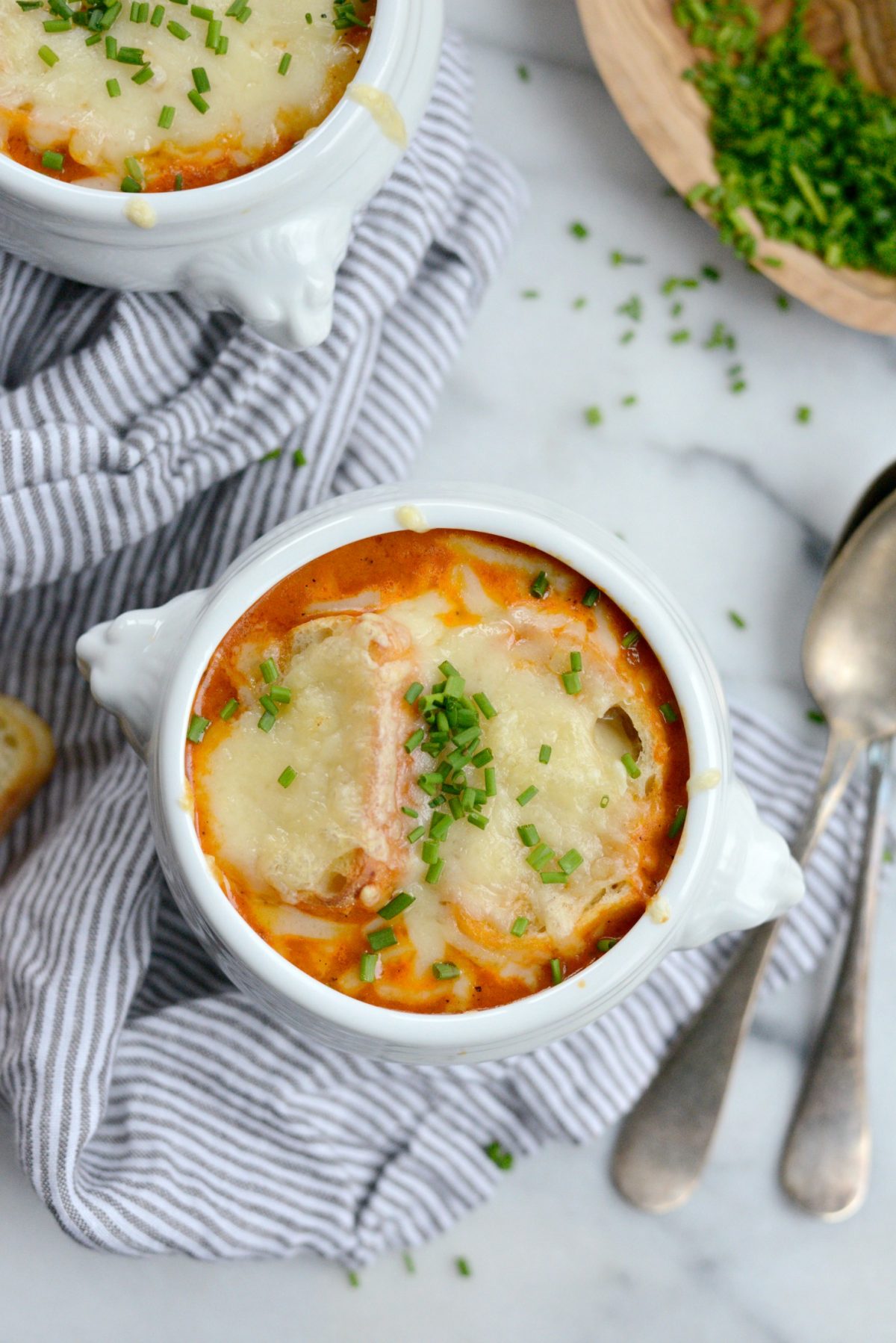 It's like having mini, open-faced grilled cheese sandwiches floating on your soup. Brilliant.
I served this creamy tomato soup with snipped chives on top and with extra baguette slices on the side. You know, for dunking.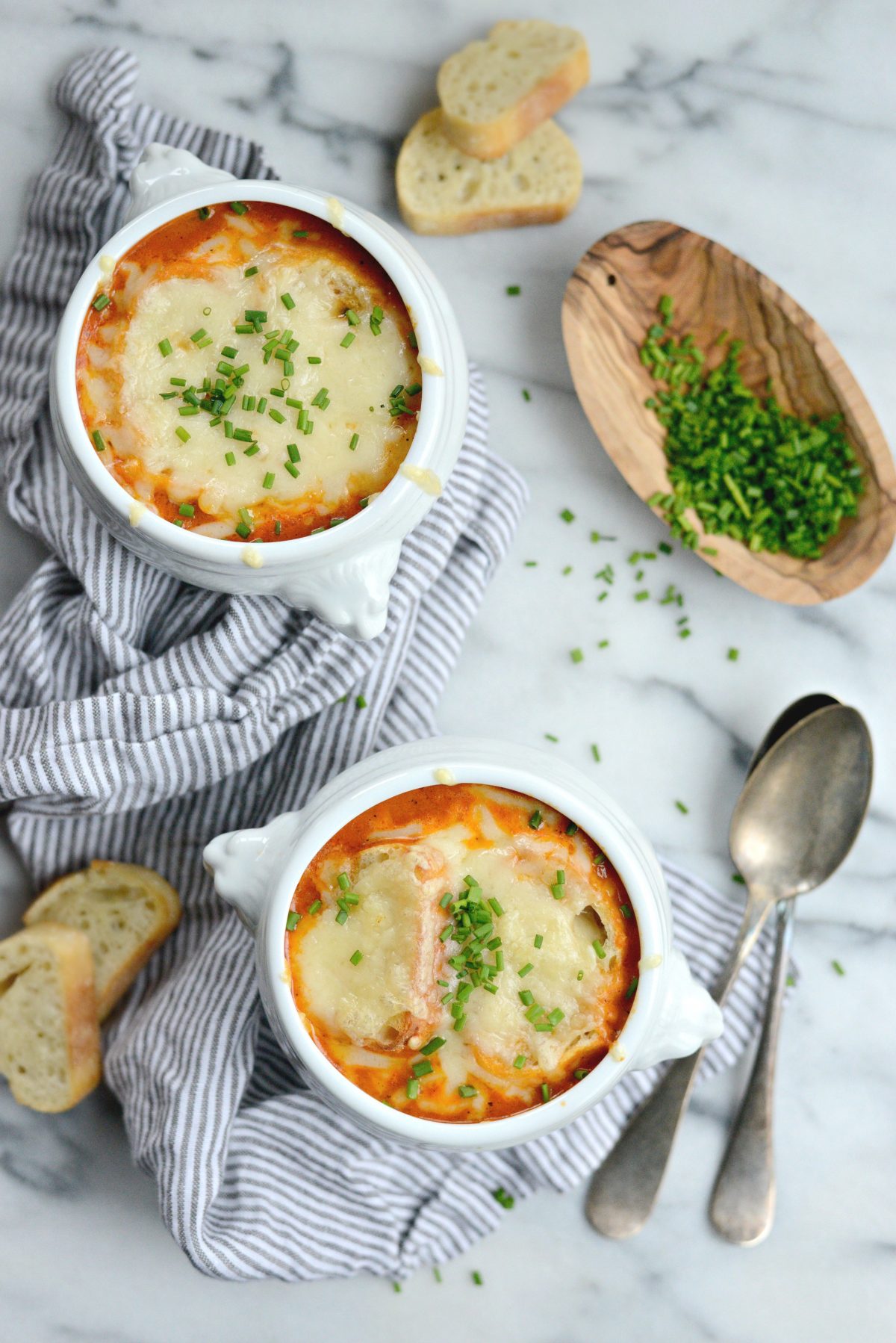 After shooting this recipe, I immediately sat down and devoured this bowl you see above, before I had to drive down to pick up my girls at their bus stop. When they walked in, they sat down and split the second bowl. They love this soup! Haileigh even took some to school in her lunch.
SO with that said, even if you think you don't like tomato soup and yet have never given homemade tomato soup a try, pleas give this recipe a go. It's quite possible that this creamy tomato soup may change that.
Enjoy!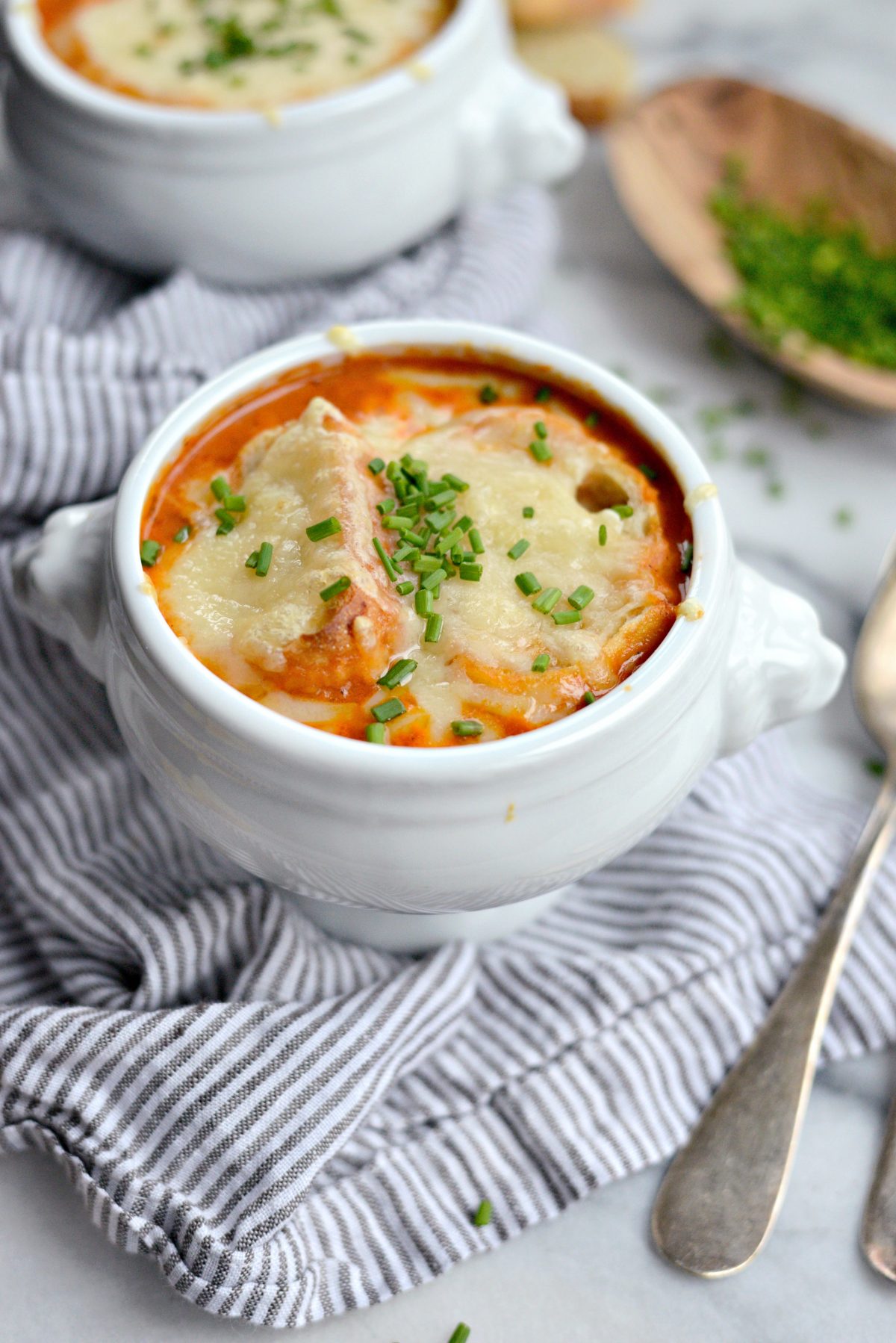 My cookbook Simply Scratch : 120 Wholesome Homemade Recipes Made Easy is now available! CLICK HERE for details and THANK YOU in advance!
[this post contains affiliate links.]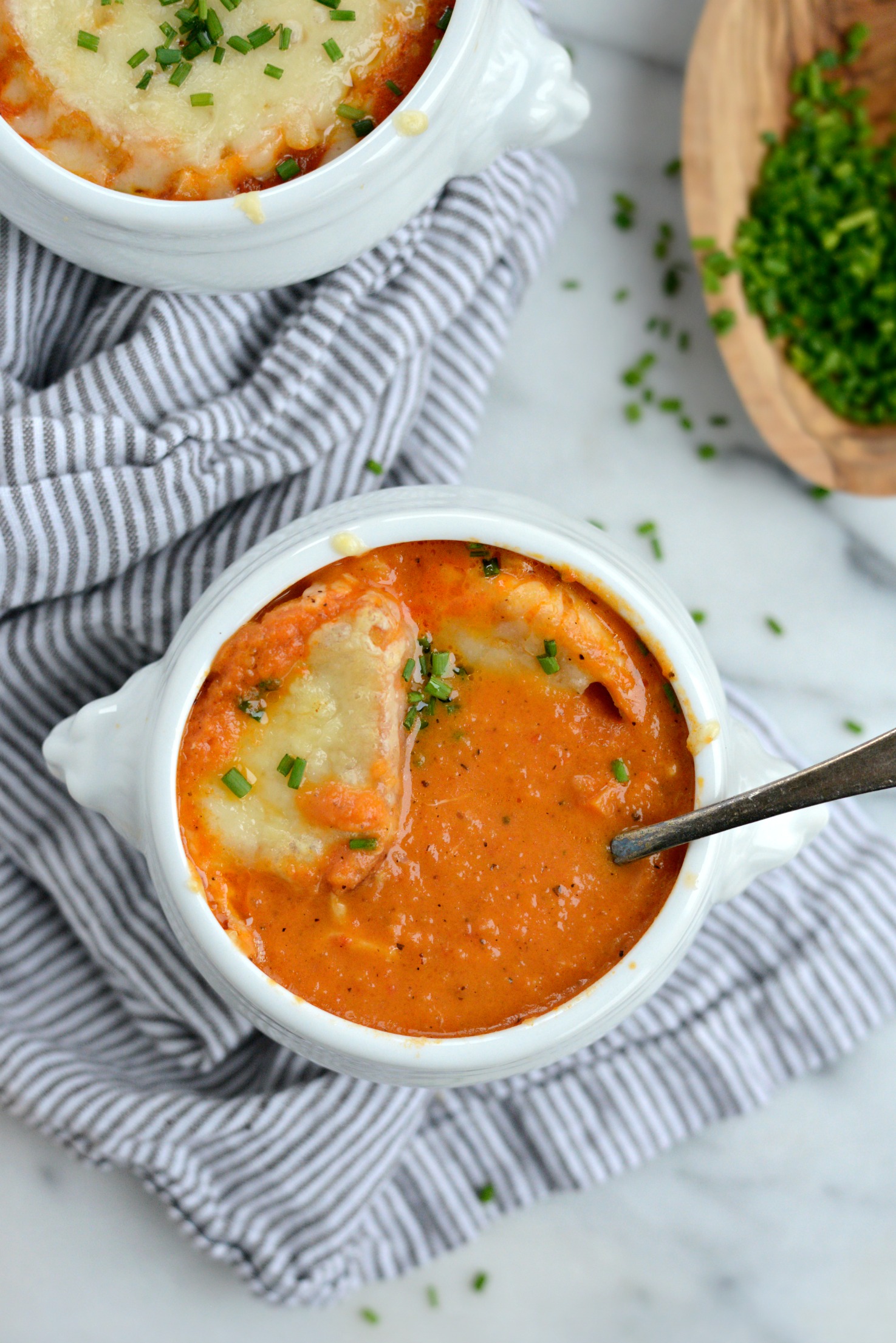 This post may contain affiliate links.
Buy the Cookbook: Simply Scratch : 120 Wholesome Homemade Recipes Made Easy Now available on Amazon »
THANK YOU in advance for your support!