Soups on! And I've made you a giant, steaming pot of lemon rosemary chicken noodle soup!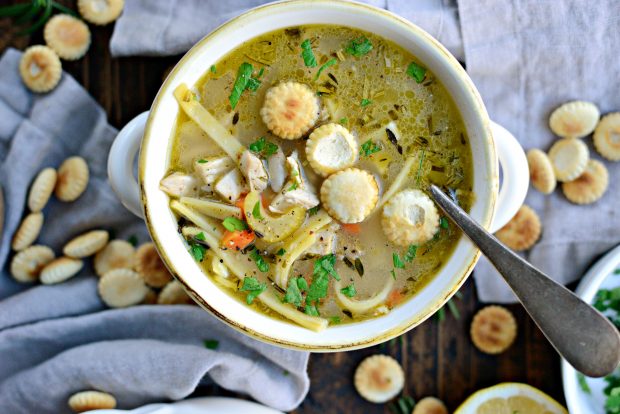 That's right chicken noodle soup that's bright with fresh lemon zest and juice, earthy with woodsy and aromatic rosemary and filled with roasted chicken, vegetables and noodles.
This soup is delicious and ready to fight your next cold, because if you've been following me for a while, you know that I'm a firm believer that chicken noodle soup not only helps cure your cold but also soothes your soul. It's currently cold season, so arm yourself with a good cold-fighting soup.
Especially a soup that is made from scratch.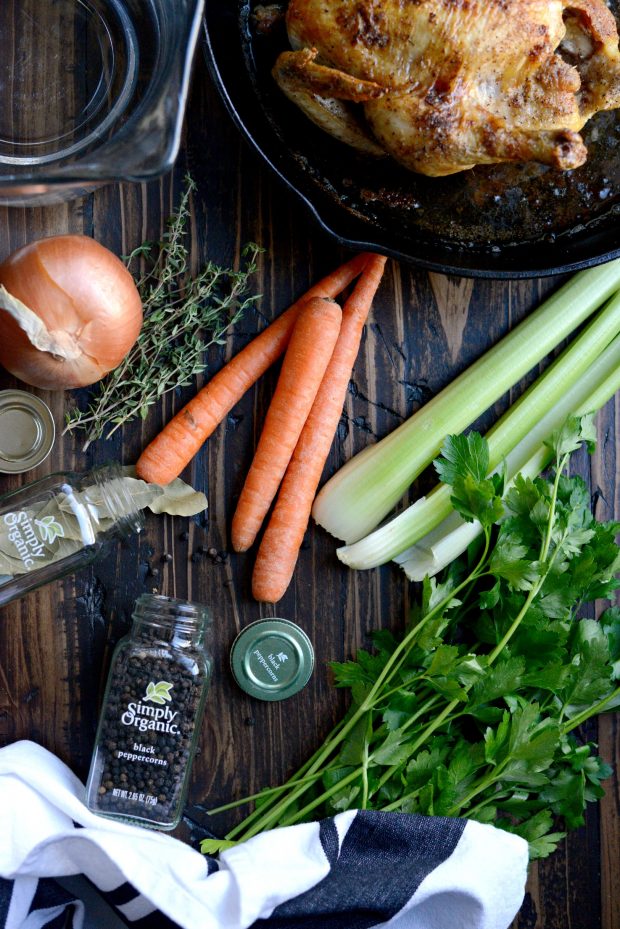 Speaking of "from scratch", when ever I make any chicken noodle-ish soup, I make my own broth. YES I'm totally an overachiever that wakes up early to roast a chicken to then make soup, BUT in my defense, it was Sunday and honestly it's so incredibly easy.
Here's my post (with step-by-step photos) showing you just how easy it is to roast a chicken. In a pinch you could totally use a rotisserie chicken (done it!), either way, you'll use the bones to make an easy and flavorful broth and end up with a delicious and flavorful soup.
Promise.
Here. I'll just show you!
Next, after you remove the chicken from the bones, throw the carcass into a large stock pot along with an onion, carrot, celery, parsley, thyme, a bay leaf, peppercorns…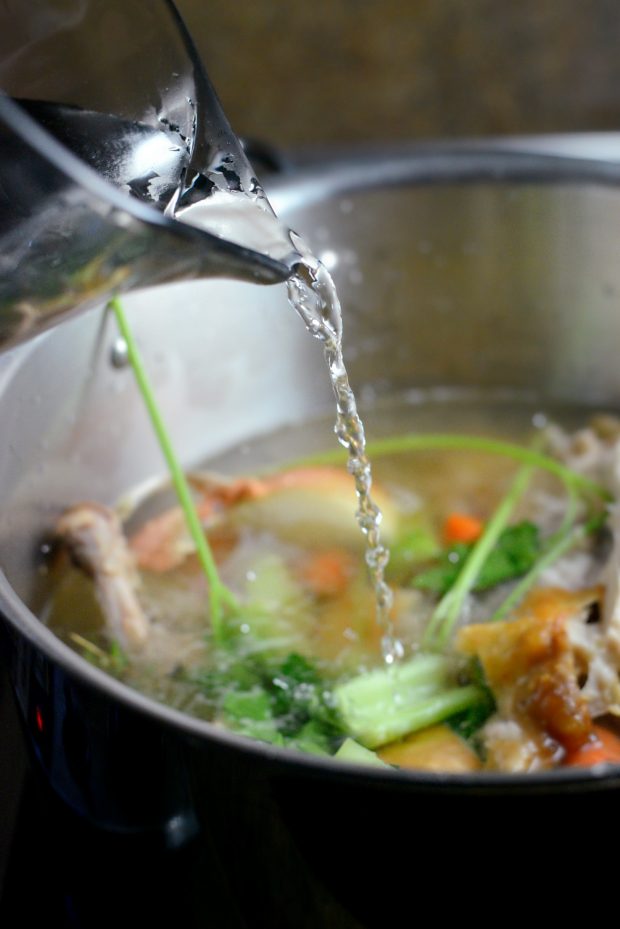 Then and 12 cups of water. Bring it to a boil, then reduce to a simmer and cook for 1 hour.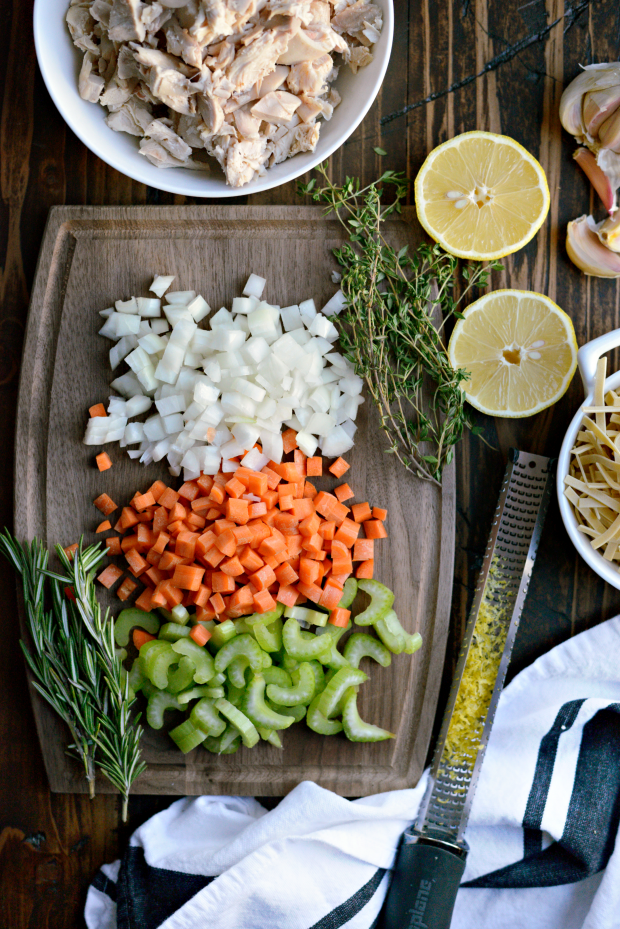 Meanwhile, as the broth is simmering away on the stove, it's a good time to start prepping the soup ingredients.
And then, with 15 minutes left on the broth, start making the soup. Heat a Dutch oven on medium heat and drizzle in a couple teaspoons of olive oil. Then, add in 3/4 cup each of the diced carrot, celery and onion, a pinch of salt before stirring and cooking for about 5 minutes until soft.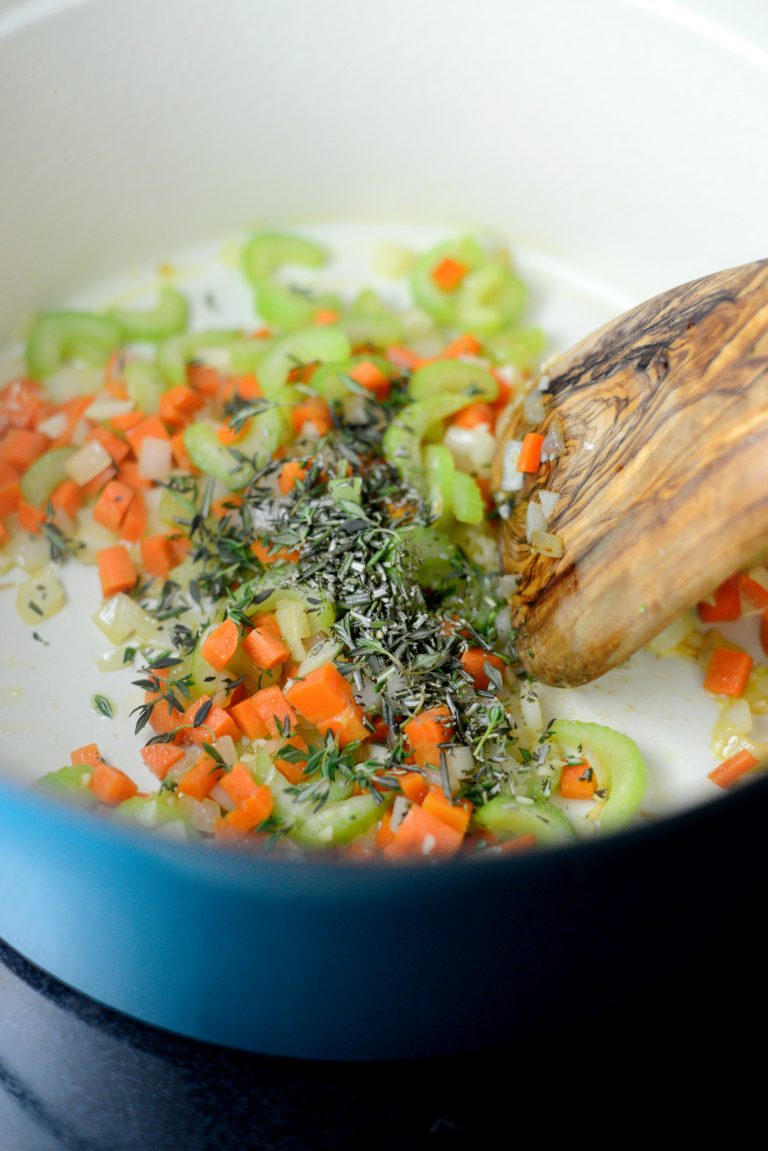 Then just throw in the 2 minced cloves of garlic and the chopped rosemary and thyme and cook for 1 minute.
And then grate in a 1/2 teaspoon of lemon zest. More if you want more lemony goodness.
Then I place a strainer over my soup pot, remove the carcass from the stock pot and then slowly pour the broth through the strainer. Discarding the vegetables and herbs.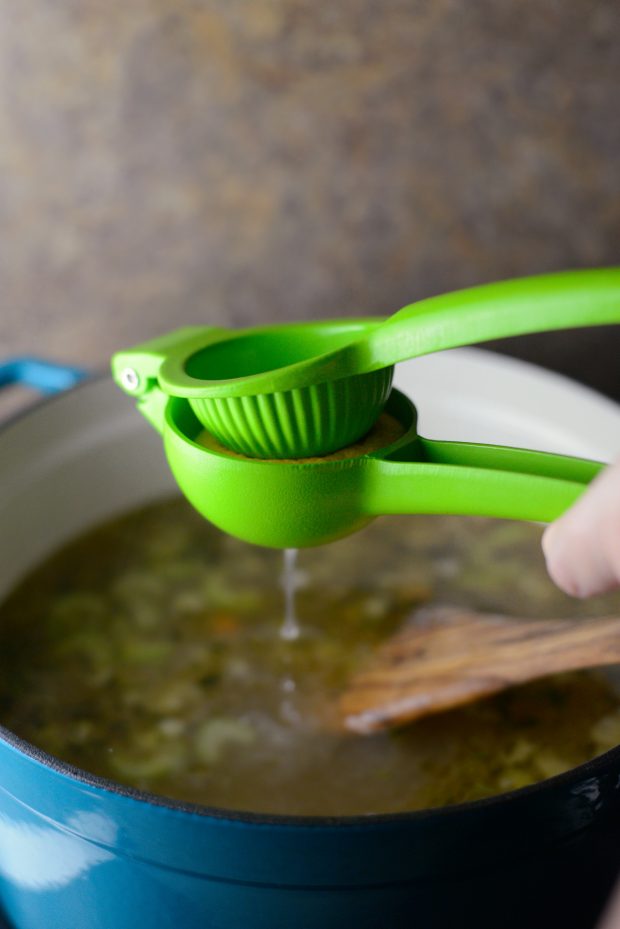 Then I squeeze in the juice of 1 medium juicy lemon. Again, add more lemon if you want it super lemony. Personally, I think adding the juice of 1 lemon is perfect.
Bring the whole pot to a boil and drop in the chopped chicken and noodles and cook for 12-14 minutes.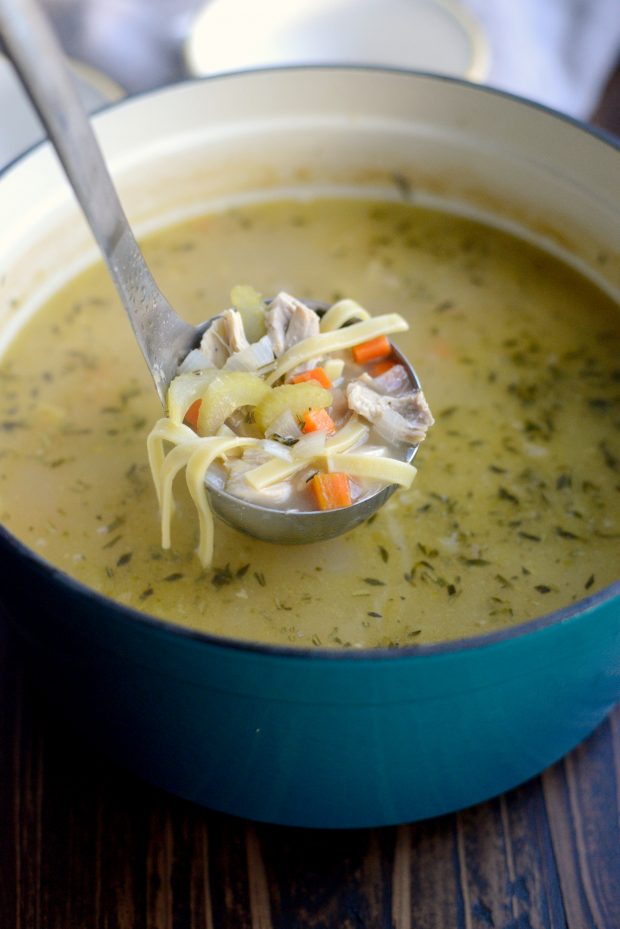 Taste and season with 1-1/2 to 2 teaspoons kosher salt and 1/4 teaspoons freshly ground black pepper.
Ladle the Lemon Rosemary Chicken Noodle Soup into bowls and top with chopped fresh parsley and extra black pepper.
And oyster crackers. Oh and maybe a grilled cheese on the side? Yum.
Gah! This Lemon Rosemary Chicken Noodle Soup is delicious. Did I already say that?? I dunno but I think it's the perfect blend of lemon, rosemary and homemade goodness.
Make it. Eat it. Love it.
Enjoy! And if you give this Lemon Rosemary Chicken Noodle Soup recipe a try, let me know! Snap a photo and tag me on twitter or instagram!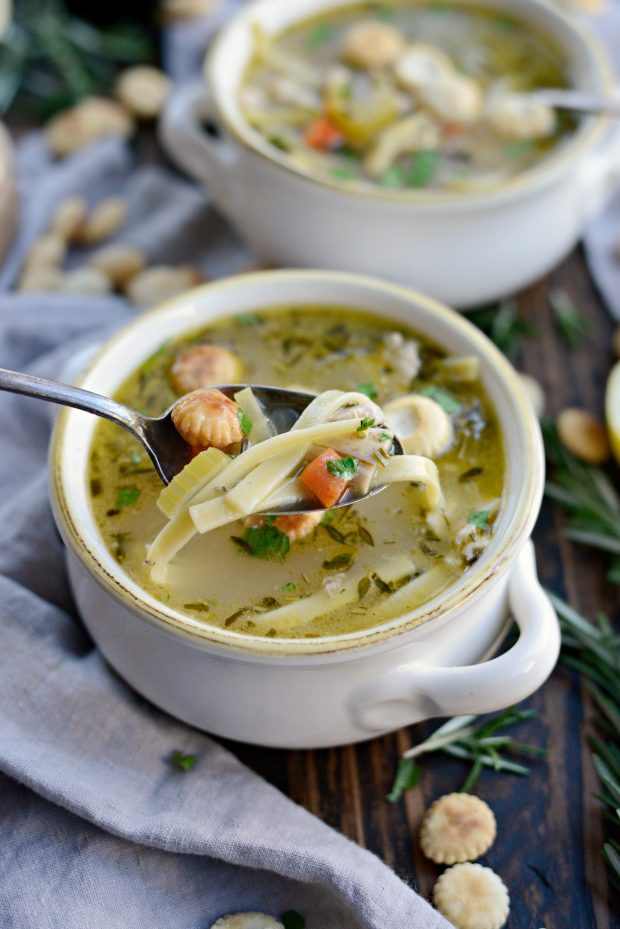 My cookbook Simply Scratch : 120 Wholesome Homemade Recipes Made Easy is now available! CLICK HERE for details and THANK YOU in advance!
[this post contains affiliate links.]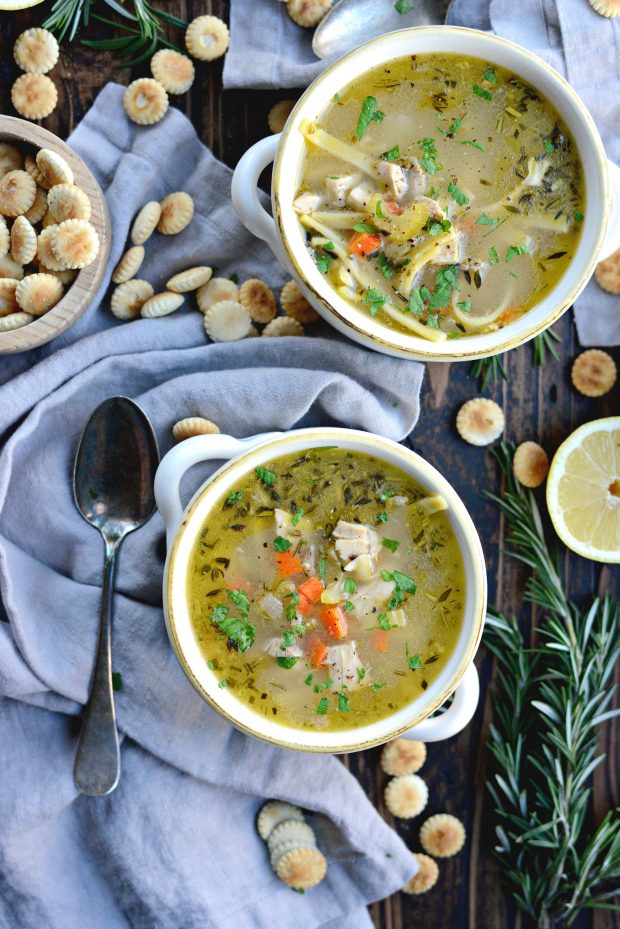 This post may contain affiliate links.
Buy the Cookbook: Simply Scratch : 120 Wholesome Homemade Recipes Made Easy Now available on Amazon »
THANK YOU in advance for your support!