Simple is the ✨magical✨ ingredient in these simple sugar cookies! A delicious buttery cookie that's crisp on the outside and soft on the inside. They're also super easy to whip up and don't require chill time. Roll in coarse sugar or colorful sprinkles for a fun festive touch!
Malloree needed to burn off some Christmas excitement today.
Just one day post Thanksgiving and she already wants to decorate the house and put up the Christmas tree. I'm just not quite there yet. However, I'm always down for cookies. And what's super cool is that Mal is 12 and old enough to make them without my help.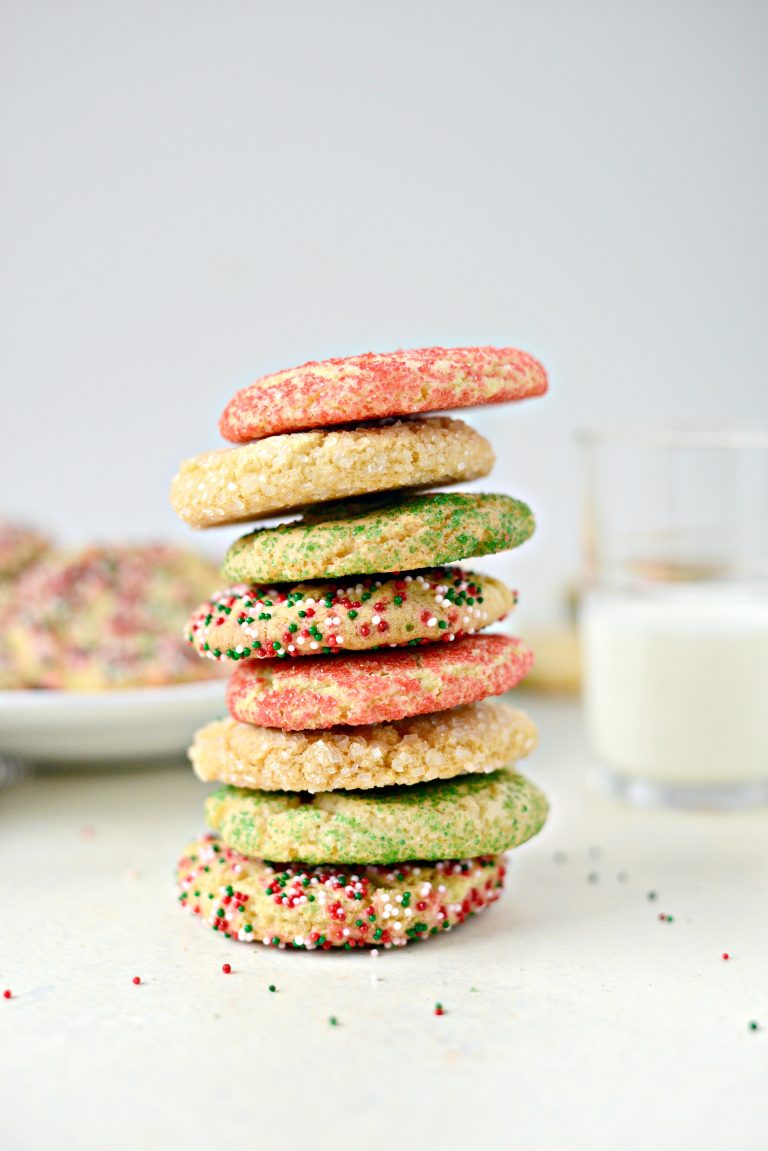 Since she wanted instant sugar cookies. I knew she wouldn't have the patience to make this sugar cookie recipe, where she would have to chill the dough in the fridge and then roll it out. Side Note: I just looked back at that sugar cookie recipe and OMG Malloree is so small! It was 6 years ago and she was half the age she is now. Excuse me as I go curl in fetal postition and ugly cry.
Anyhoo, since the only sugar cookie recipe I've ever made is the one linked above, I made Malloree scour the internet until she found a recipe that she wanted to make. She was the one that made the executive decision to omit the almond extract, then to roll the sugar cookies in sprinkles and colored sugar and she even got all the ingredients out and ready.
I literally did nothing but snap pictures. So. Much. Fun
It didn't dawn on me to start taking photos until halfway through the whole cookie making process. Sorry!
So just like any cookie recipe you'll want to whisk together the flour, baking soda and baking powder. Then, in the bowl of your stand mixer, cream together 1 cup (two sticks) of butter with 1-1/2 cups of sugar. Scrape down the sides and bottom of the bowl before adding in the egg and teaspoon of pure vanilla extract. Slowly add in the dry ingredients until incorporated.
Once the batter is made, use a small ice cream scoop to measure out each cookie. Roll them into balls and toss them around in colored sugar or sprinkles.
Place onto a silicone mat or parchment lined sheet pan and bake in your preheated 375° oven for 10 to 12 minutes.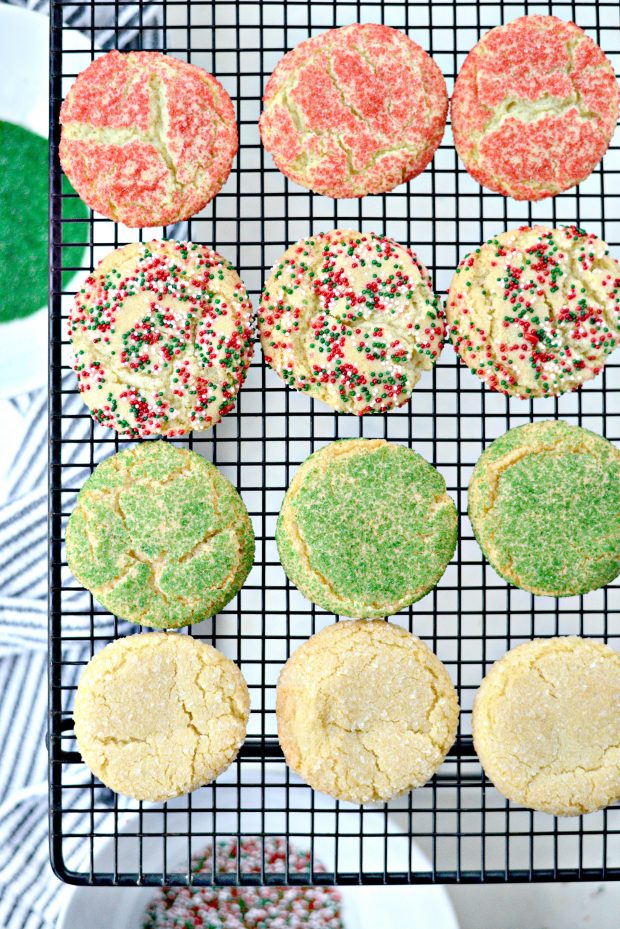 Allow the cookies to cool on the pan for 2 minutes before transferring to a wire rack to cool.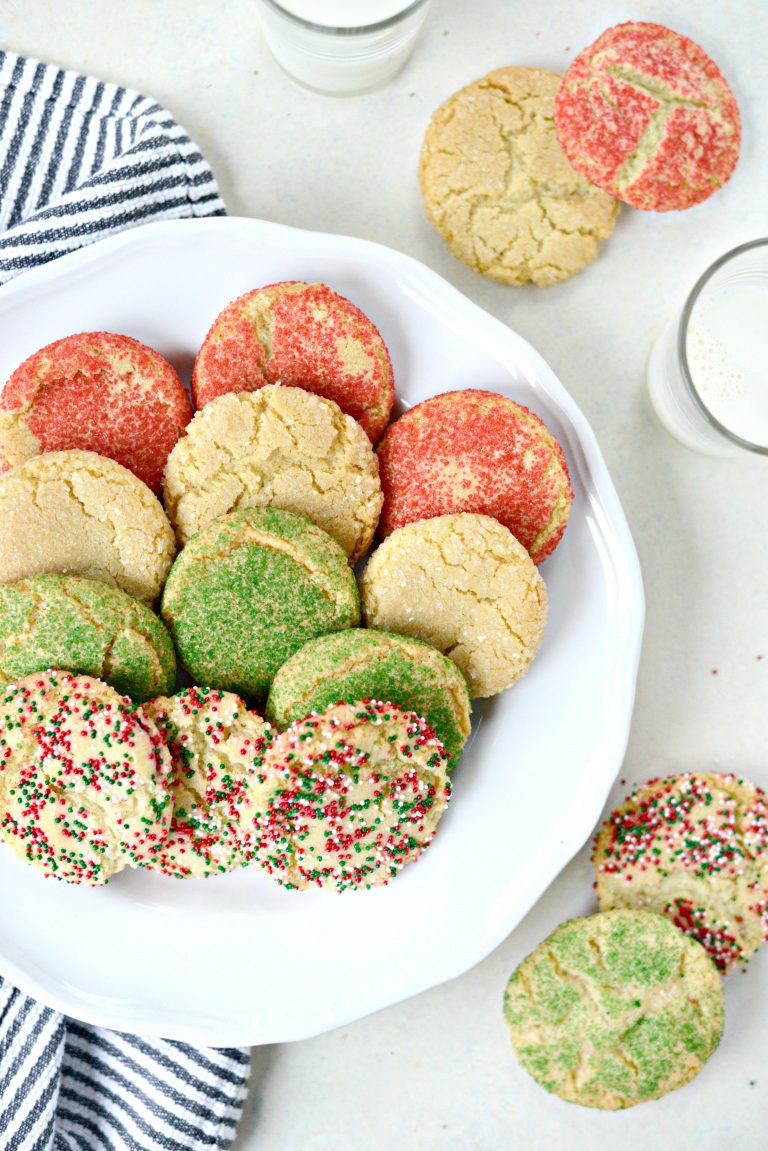 I think you will love these easy sugar cookies. The sugar crisps the outside while the inside is tender and chewy. For a crisper cookie, bake them for the 12 minutes. For a more chewier cookie bake for 10 minutes.
I think Sana would approve of these gems!
Let cookie season begin!
Enjoy! And if you give this Simple Sugar Cookies a try, let me know! Snap a photo and tag me on twitter or instagram!
This post may contain affiliate links.
Buy the Cookbook: Simply Scratch : 120 Wholesome Homemade Recipes Made Easy Now available on Amazon »
THANK YOU in advance for your support!