Today is National Pasta Day and I made you roasted red pepper pasta!
Actually, I've read that October is pasta month, which is kind of surprising, because I would have expected it to be pumpkin spice month but I'm a little thrilled that it's not. I love pasta more. Way more.
We have a entire month dedicated to pasta and the 17th is the national day to celebrate. I love it. Move over September, October is officially my favorite month.
Because of this glorious month/day, two things are happening. The first is that I made you this EXCELLENT roasted red pepper pasta dish. The sauce consists of sautéed carrots, celery, onion and garlic with homemade, oven-roasted red bell peppers blended until velvety smooth with broth and then swirled with mascarpone cheese. A creamy, luscious yet simple roasted red pepper pasta sauce is tossed with Italian egg noodles is the ultimate way to celebrate.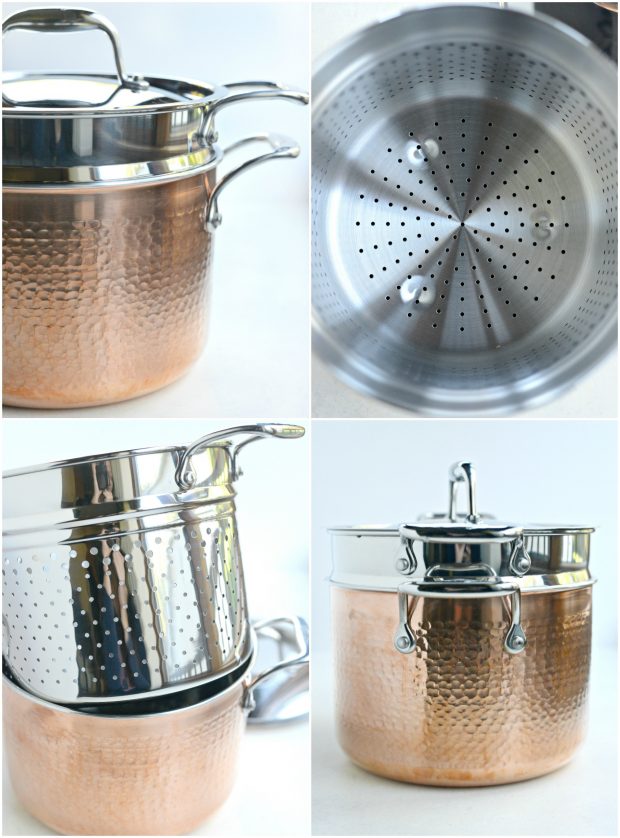 Number two: my friends at Lagostina want to give one of you lucky readers, a beautiful hammered copper pastaiola set (!!!), it's comes from their Martellata Collection and it's stunning.
I know.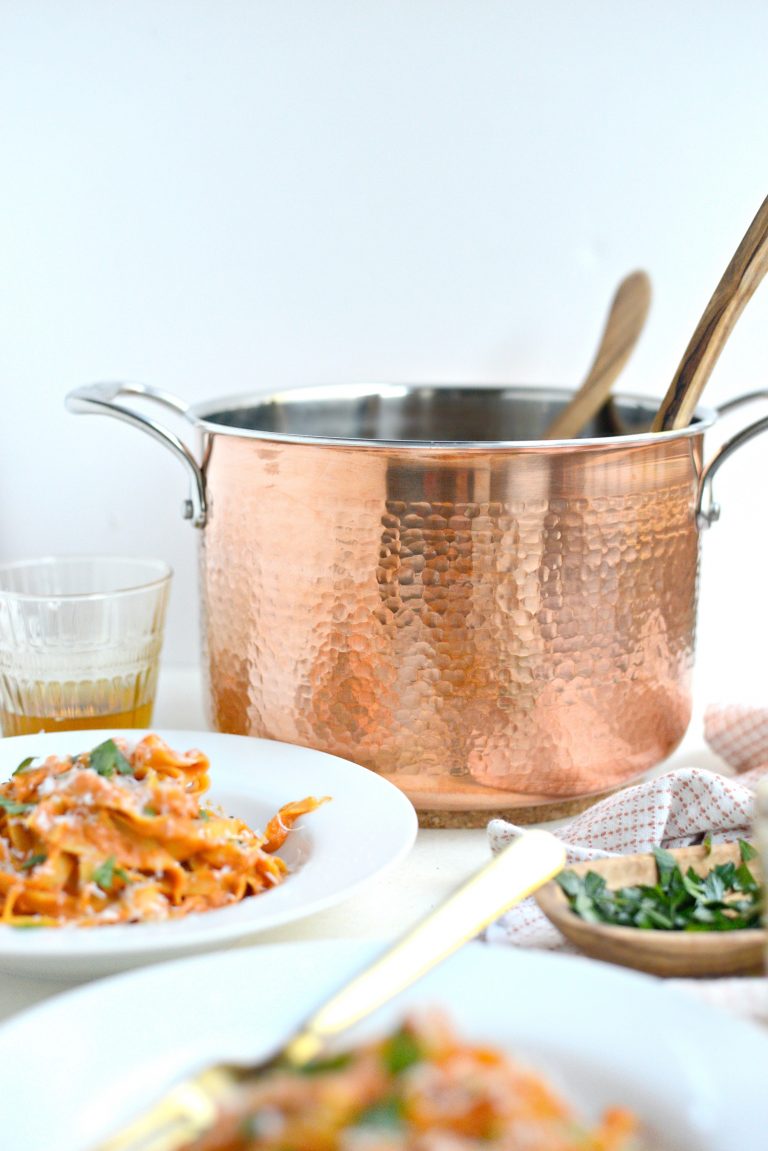 This pot is without a doubt the most beautiful pot I have. I've have always wanted a pastaiola set, since watching hours upon hours of cooking shows my whole life. To be able to cook pasta then lift the nesting colander straight out of the boiling water, noodles are instantly drained and can be immediately added to pasta sauce. So of course you can imagine that when Lagostina reached out to me asking to review this gorgeous pasta set and host a giveaway, I couldn't say yes fast enough.
For me I was so excited to no longer have to pour scolding hot water from a pot into a colander in my kitchen sink, steaming my face and sometimes dew-ing my make up and I can't tell you how many times the steam has burned my hands. All of the above is no longer an issue with this pot. Using this pasta set is so convenient and if I need to ladle out some pasta water to loosen up my sauce, it's still in the pot and not down the drain because I had forgotten to reserve a half cup. <—- story of my life.
BONUS: you can serve the pasta dish you've made (and hopefully it's this one!) straight out of the gorgeous hammered copper pot, adding a beautiful rustic touch to your dinner table.
I now must own one of everything in this collection. (sorry Pat!)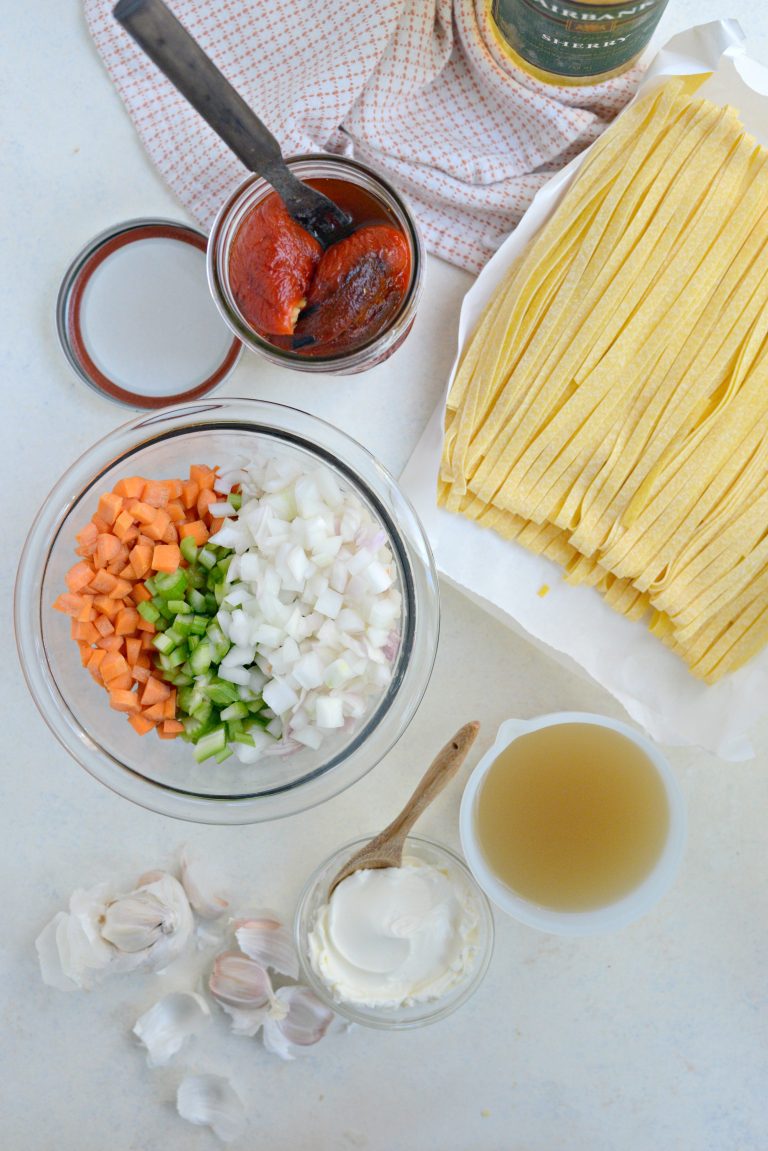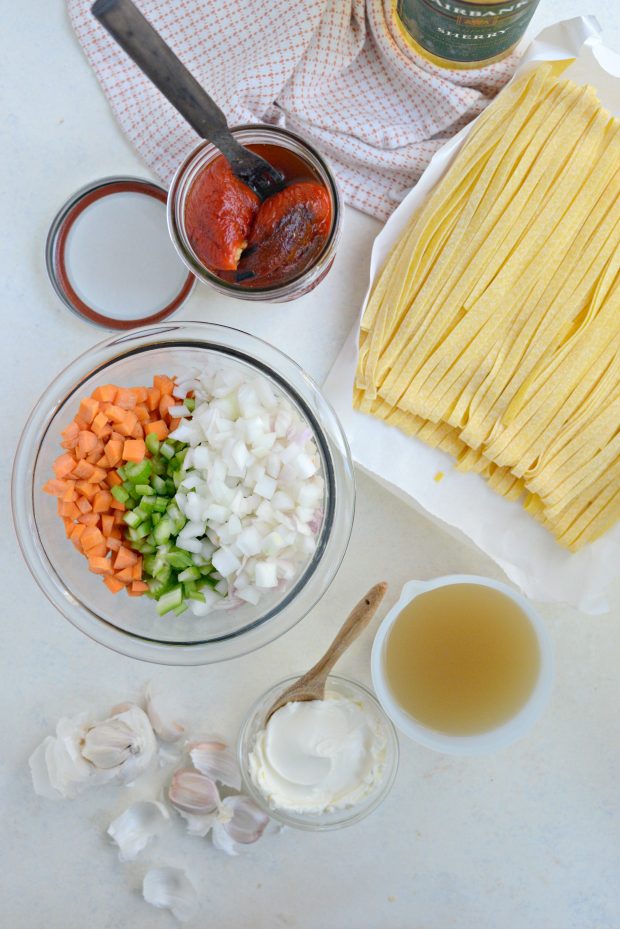 The day before I planned to make this pasta, I oven-roasted my own red peppers just for this sauce. You need 4 large bell peppers, and since you never really know how many you're getting in a store bought jar of peppers, I like to roast my own.
The rest of the ingredients include; olive oil, diced carrots, celery onions, minced garlic, sherry wine, chicken or vegetable broth, mascarpone cheese, salt and pepper and pasta.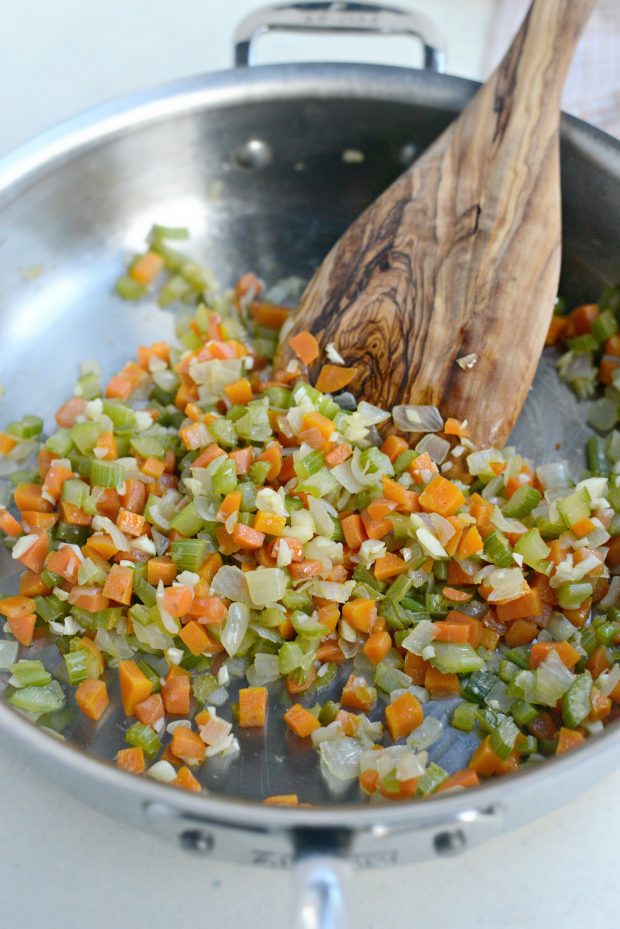 To start, add 2 teaspoons of olive oil to a 10-inch skillet and cook the carrots, celery and onions with a pinch of salt until tender. I cover mine, stirring occasionally until a fork can easily pierce a carrot. Then I add in the garlic, cook for a minute or two before adding 2 tablespoons of dry sherry wine and scraping up any bits on the bottom of the pan.
Meanwhile bring a pot of salted water to a boil.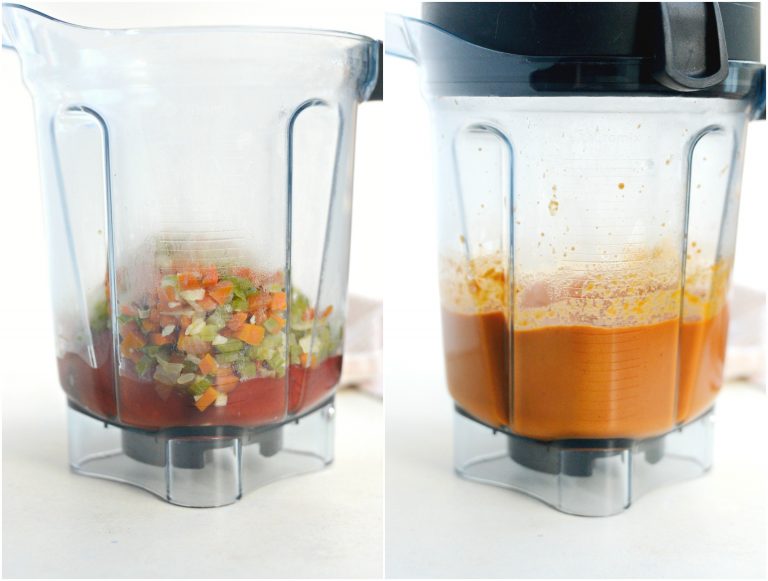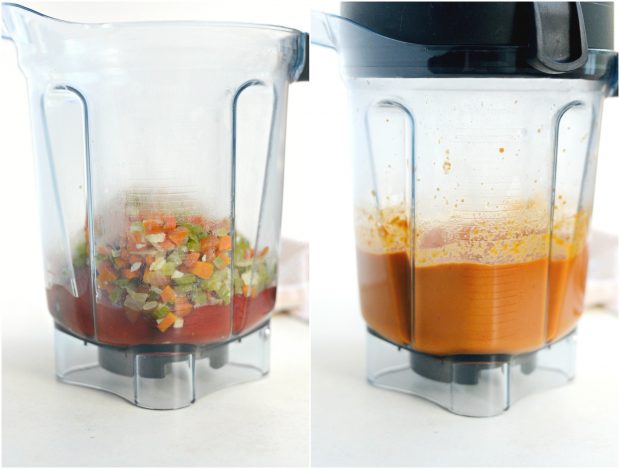 Then add the peppers (plus any liquids from roasting) into my blender along with the sautéed vegetables and garlic. Add a little of the chicken or vegetable broth at a time until pureed velvety smooth. I used my Vitamix.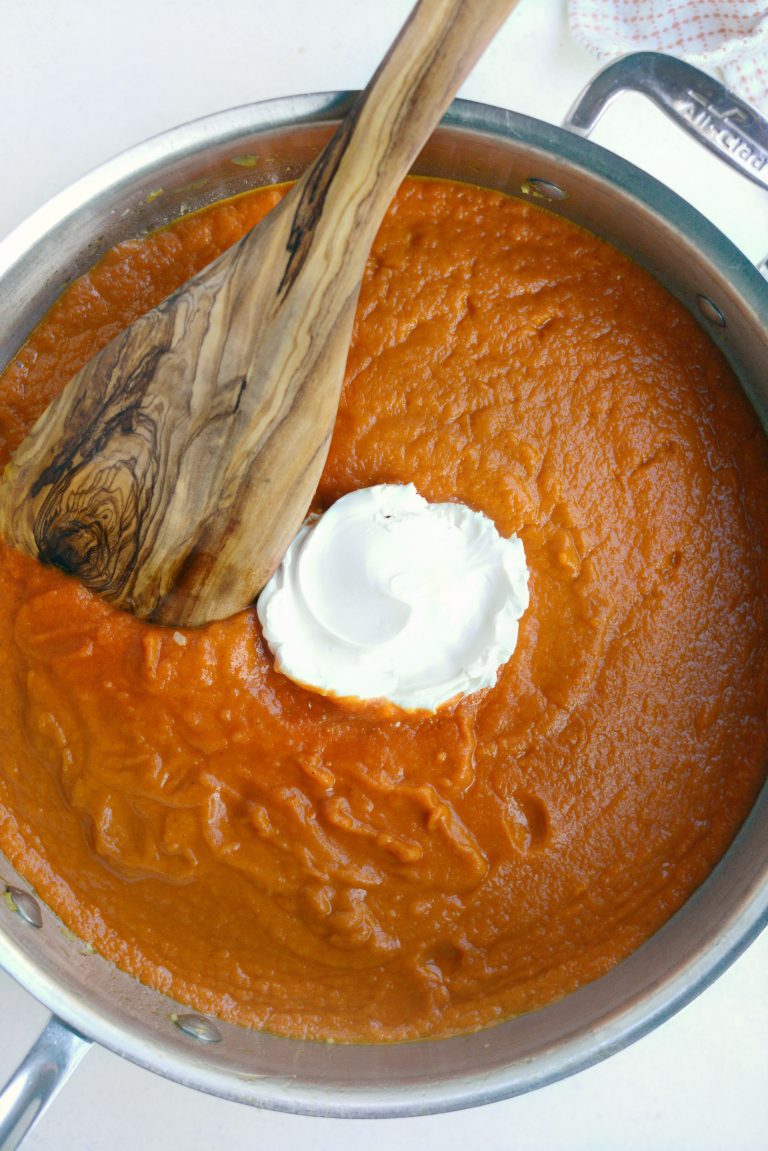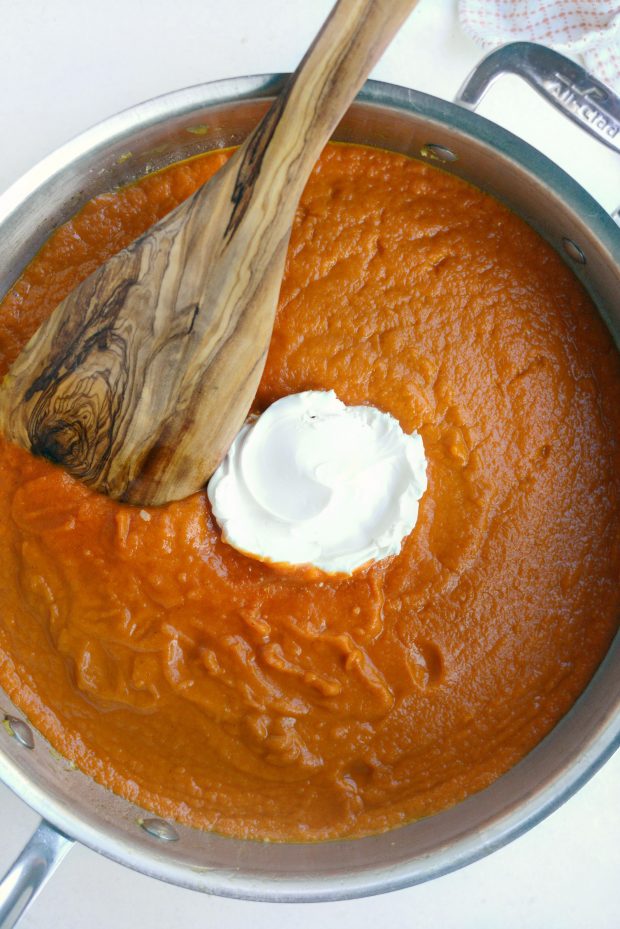 Add the pureed roasted red pepper sauce back into the skillet and heat over low. Then swirl in 1/4 cup of mascarpone cheese. This is my favorite ingredient to add to sauces to give them a luscious creamy factor. If you can't find mascarpone cheese, then you can use 3 to 4 tablespoons of heavy cream in replacement.
Season with kosher salt and black pepper.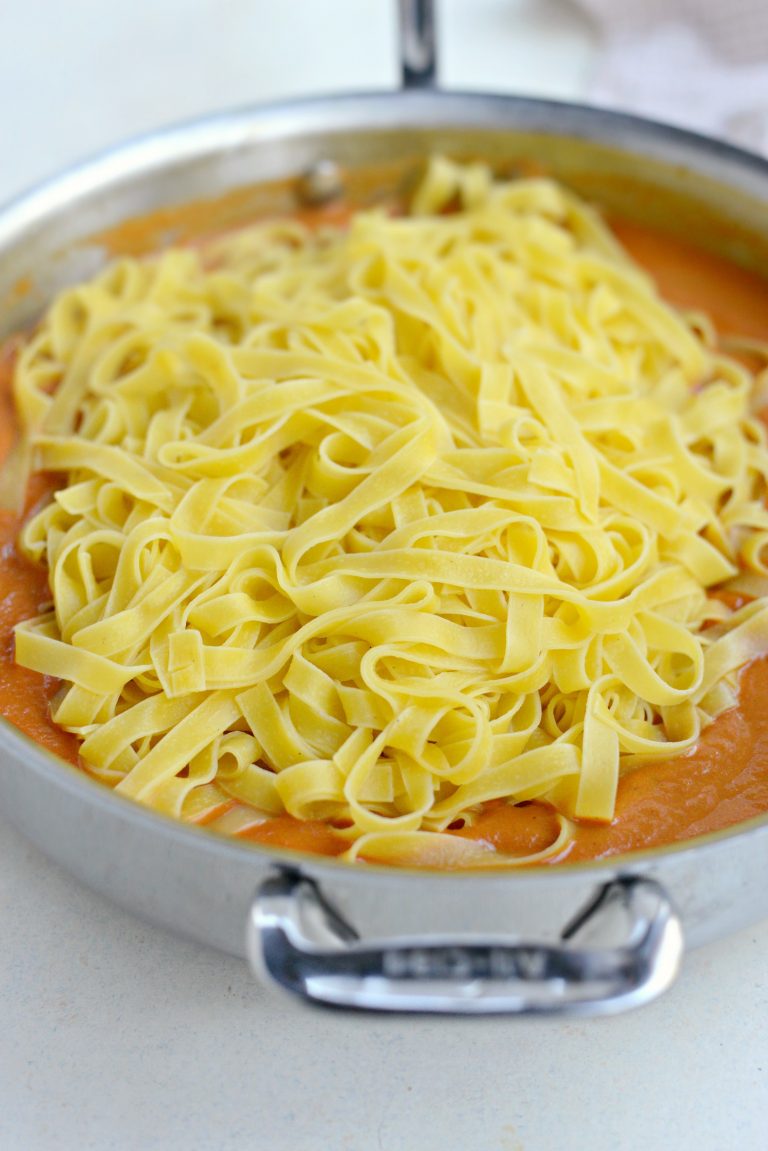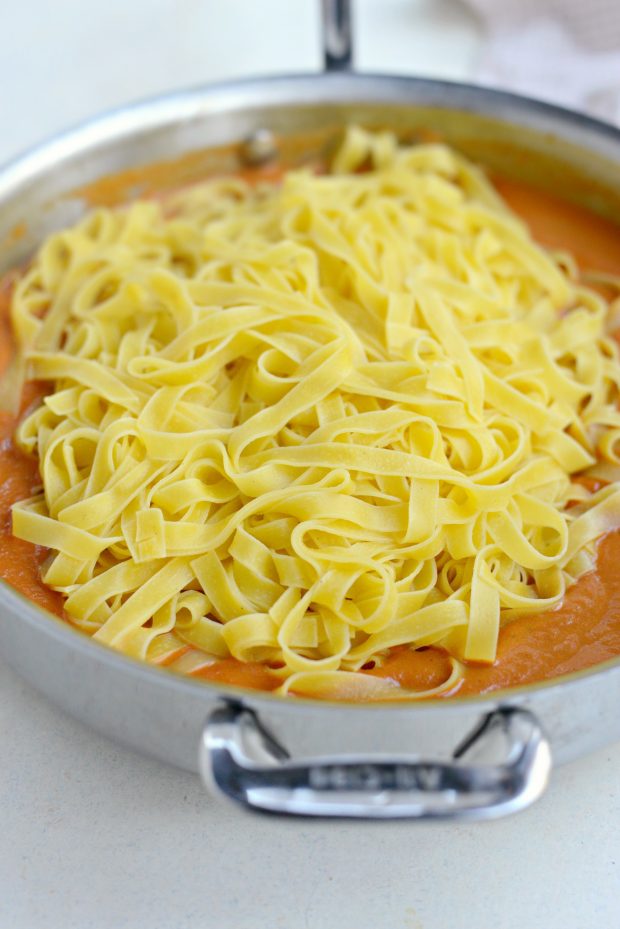 While the sauce is warming I drop the pasta into the pot to cook. I found the Italian egg pasta at Kroger and it only needed 3 to 4 minutes, so it was done in no time. Then I lifted my pasta from the boiling water and added it directly to the roasted red pepper pasta sauce.
Next, toss the pasta in with the sauce to coat.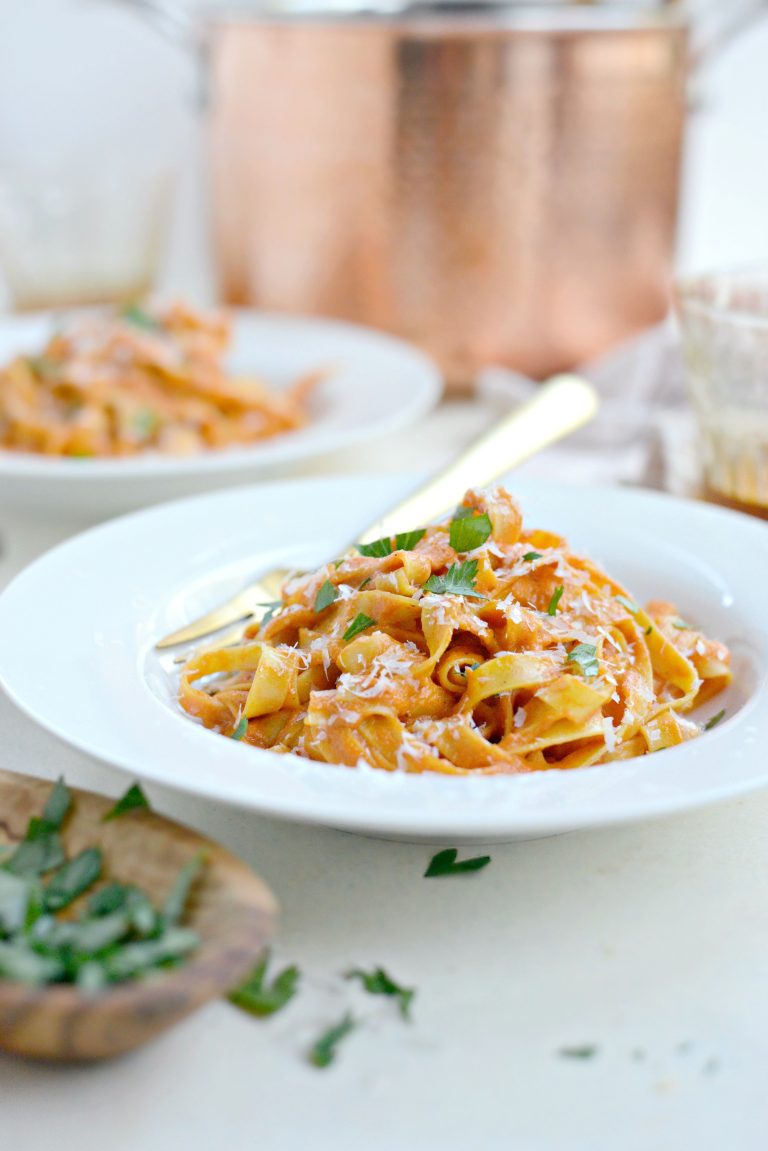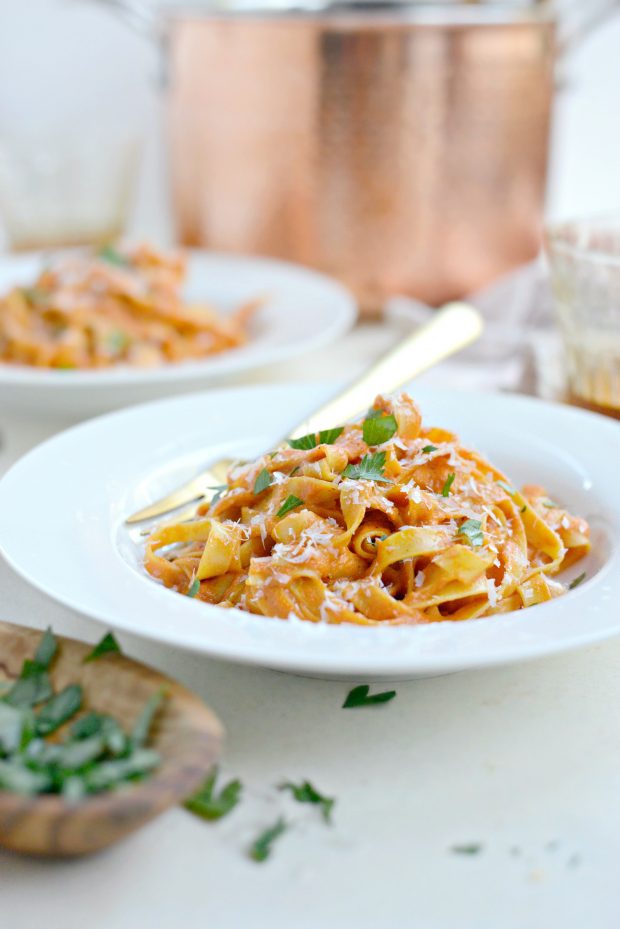 …then serve!
I piled the roasted red pepper pasta high into bowls and I topped it with chopped fresh parsley, basil because I love the combination of herbs. Then of course, and LOTS of freshly grated Parmesan cheese.
This roasted red pepper pasta is delicious, so creamy and flavorful! I served this with a Caesar salad and grilled garlic bread. Prepare to fall in love.
About the giveaway…
Lagostina Martellata Hammered Copper 6-Qt. Pastaiola Set with Lid and Pasta Insert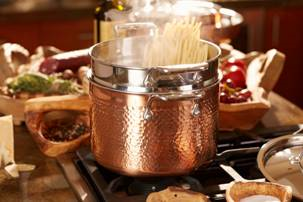 Bed Bath & Beyond // Price: $249.99
The Martellata Hammered Copper Pastaiola is the perfect for creating delicious, authentic Italian Pasta.
The pot features premium tri-ply technology combining stainless steel inside and hammered copper outside
with a thick heat-radiating aluminum core for optimal heat distribution. Flared edges were designed for
dripless pouring while the different diameters of the holes and their positions on the pasta strainer allow you
to cook pasta perfectly. The Pastaiola is also great for stocks, seafood boils and blanching vegetables.
Lagostina's professional-quality pastaiola is fitted with a perforated insert with holes sized and spaced to streamline preparation, allowing you to boil and drain the noodles in efficient succession. Or, you can use the pot on its own to simmer pasta sauce.
 Lagostina Martellata Tri-Ply Copper 6 qt. Covered Pastaiola features durable tri-ply construction for lasting utility plus thermal efficiency courtesy of a heat radiating, encapsulated aluminum core
 Brushed 18/10 stainless steel interior will not react with food
 Polished, hammered copper exterior looks striking on a stovetop and enhances heat conductivity
Compatible with most stove types, except induction
 Oven safe up to 500º F
 Polished, snug-fitting stainless steel lid helps prevent heat and moisture from escaping
 Sturdy, riveted cast stainless steel side handles for confident handling
 Flared edges for dripless pouring
 Comes complete with a stainless steel pasta insert
 Copper, aluminum and stainless steel
 Hand wash
 6 qt. capacity
Where to Buy:
The Lagostina Martellata Hammered Copper Pastaiola is available at Bed Bath & Beyond nationwide. For
more information please visit the Lagostina website.
Lagostina: Creative spirits and people with strength of character have made the Lagostina story an extraordinary saga. Since 1901, Lagostina's core values of impeccable Italian craftsmanship, high-quality materials, technological innovation, and elegant design have endured. A passion for the art of cooking mixed with an undisputable industrial fiber are the base on which the company established its savoir-faire and built its success. Today, as Italy's preferred premium cookware brand, Lagostina continues to stand behind these core values with a lifetime guarantee. Each piece of Lagostina cookware represents quintessential Italian culture…celebration of food, life, family and friends – of memorable gatherings around the table; of spirited conversation. Cooking is an art that is meant to be shared. ™
This giveaway is open to US residents only.
Enjoy! And if you give this recipe a try, let me know! Snap a photo and tag me on twitter or instagram!
My cookbook Simply Scratch : 120 Wholesome Homemade Recipes Made Easy is now available! CLICK HERE for details and THANK YOU in advance!
[this post contains affiliate links.]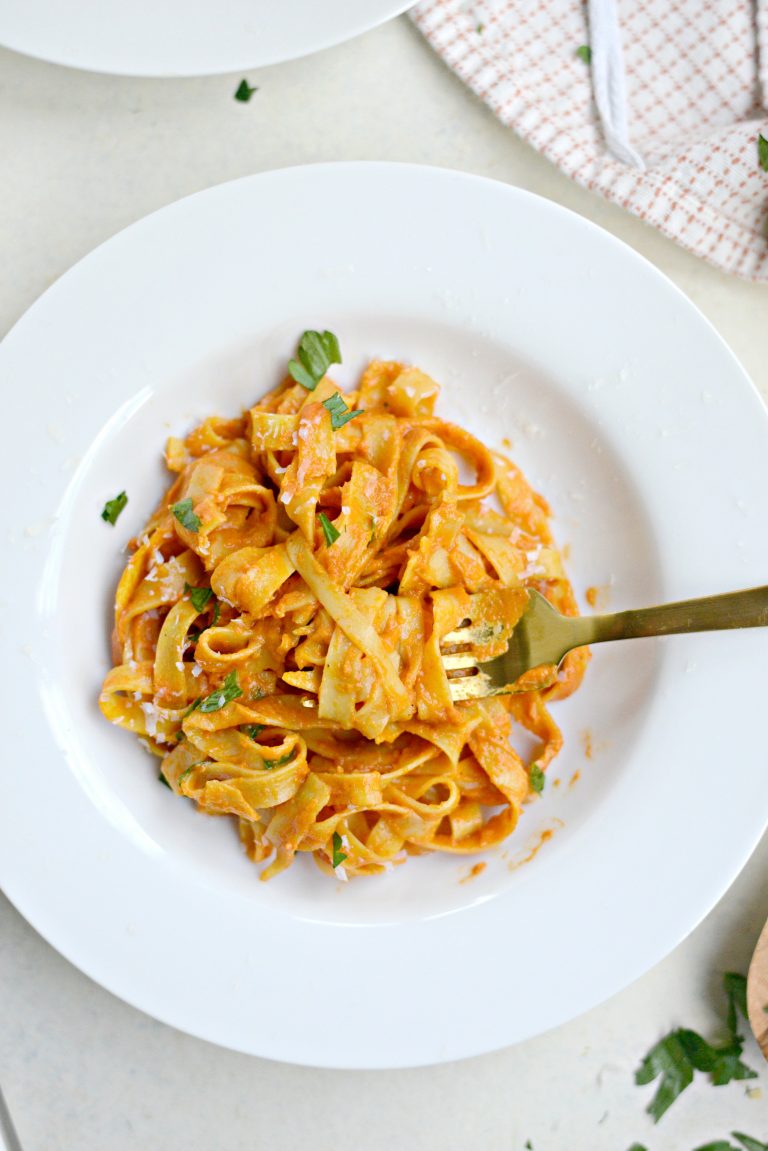 This blog post and giveaway is sponsored by Lagostina. I was given a Lagostina Martellata Hammered Copper Pastaiola Set for review and for my honest opinion. My thoughts, words and feelings are all my own and I'm completely smitten with this pasta set. THANK YOU Simply Scratch readers for supported the brands that support posts like this!
Enjoy! And if you give this Roasted Red Pepper Pasta recipe a try, let me know! Snap a photo and tag me on twitter or instagram!
My cookbook Simply Scratch : 120 Wholesome Homemade Recipes Made Easy is now available! CLICK HERE for details and THANK YOU in advance!
[this post contains affiliate links.]
This post may contain affiliate links.
Buy the Cookbook: Simply Scratch : 120 Wholesome Homemade Recipes Made Easy Now available on Amazon »
THANK YOU in advance for your support!