This tandoori roasted chickpea & squash Buddha bowl is the best thing I've made myself for lunch in a long while.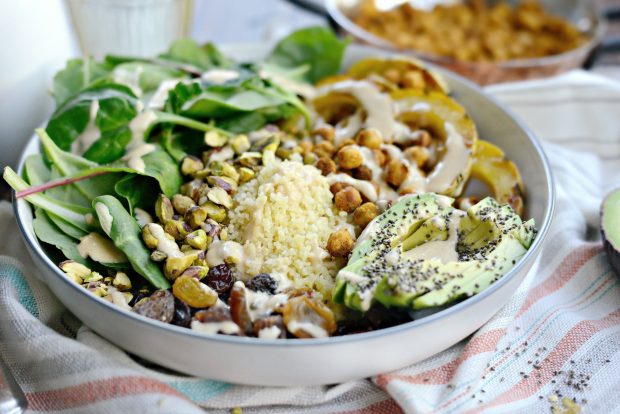 The Buddha Bowl.
What is a Buddha Bowl, you ask? Basically they're just bowls of grains, greens, vegetables (or fruits), nuts and seeds. A plethora of wholesome and healthy goodness in one filling and satisfying bowl.
I have become ridiculously obsessed with these Buddha Bowls. Like it's all I think about. All I crave. I'm already thinking of my next bowl recipe.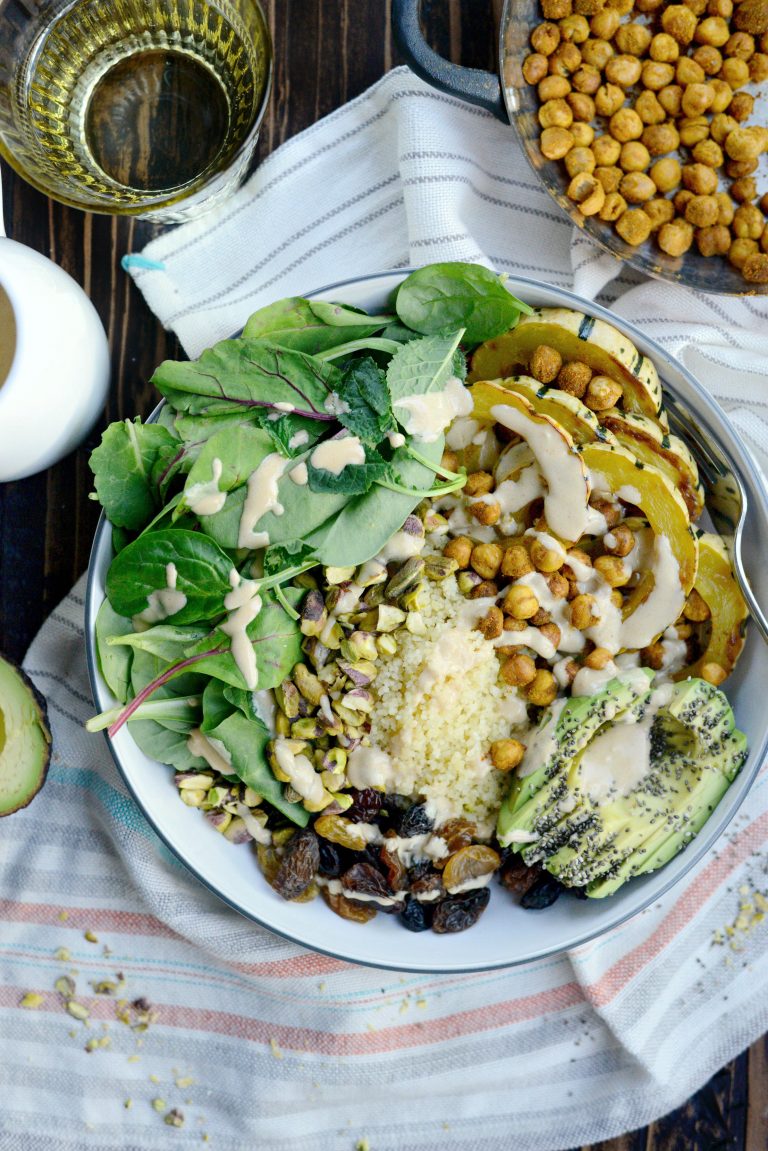 In this bowl I decided to put together a few of my favorite things starting with; roasted chickpeas and squash, avocado, raisins and couscous to name a few. Staying in the green and gold tones. Not that I planned that.
This bowl is soul gratifying in not only flavor but also in the textural department. It covers crisp, creamy, crunchy and chewy. It's a party. A pretty darn delicious party.
I started by roasting the chickpeas. Roasted chickpeas are one of my all time favorite things. It amazes me how these little beans can crisp up how they do. Once roasted I toss them in homemade tandoori seasoning which will add a ton of flavor to the bowl. However these can be eaten on their own as a snack.
When the chickpeas are halfway through roasting I slide in the pan with the squash. Sliced delicata (tossed in olive oil and salt) only needs 20-ish minutes to roast, so it's just a quick trip in the oven. While those are two are roasting, I whip up the couscous and tahini dressing and then it's time to build the bowls.
Obviously I have OCD when it comes to food styling and arranging, especially when bowls of food are involved. We've discussed this.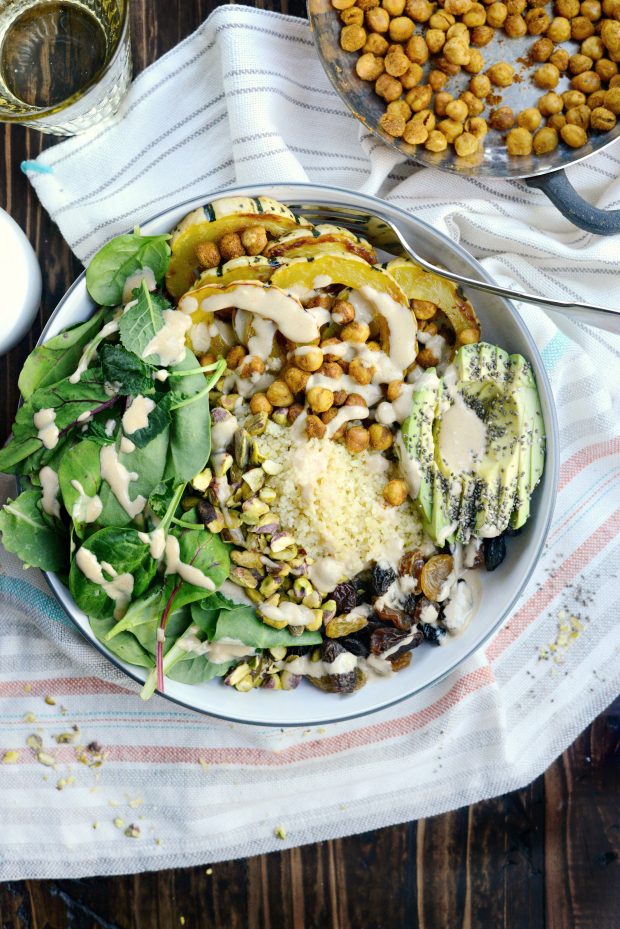 You just want to add about 1/4 to 1/2 cup of couscous to a bowl and then divide the squash, greens (I'm using an organic baby kale blend), sliced avocado, some raisins, chopped pistachios and roasted chickpeas all around it.
It doesn't have to be perfect or anything, unless you're a virgo and completely obsessive (that's me) about the arranging of food.
I usually give my bowl a little sprinkle of smoked sea salt before digging in.
Once I drizzle the dressing over top of everything, I go at it with my fork. Mix, mash and inhale. The dressing mixes with the spices from those crunchy chickpeas and it's amazing! The avocado ups the creamy factor, raisins add a subtle sweetness and the squash is the main sustenance by adding this delicious butternut squash-esque flavor just without all the prep work. P.s. you can totally eat the squash skin, it's tough but totally edible. In the real world, I usually peel it off before adding it to my bowl, it's just that I really isn't as pretty to photograph with it off, so that's why I left it on in these shots.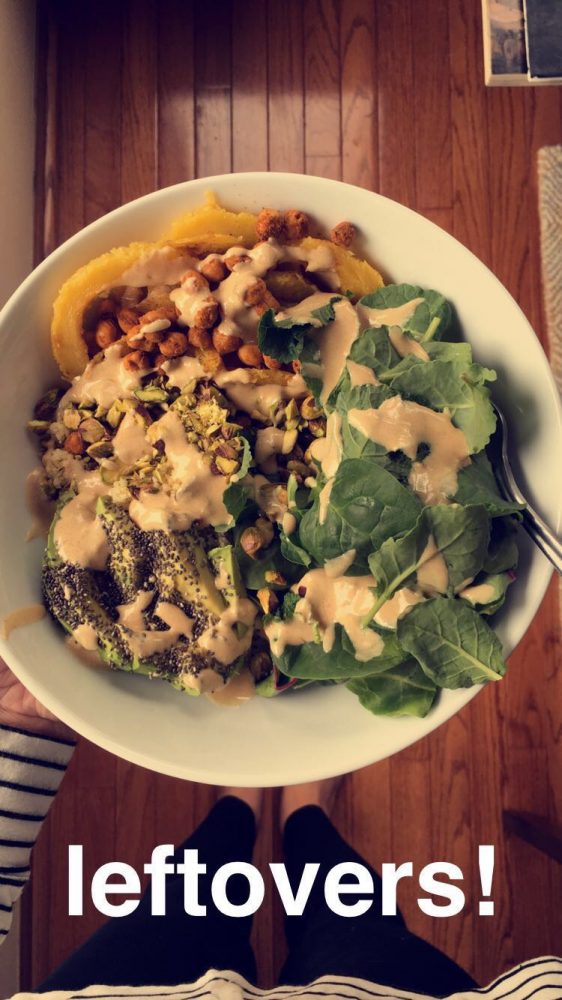 So basically this was my lunch for a few days. I never got sick of it. I actually looked forward to eating this glorious tandoori roasted chickpea & squash Buddha bowl each day and was a little sad when it was gone. because it was that GOOD.
Enjoy! And if you give this Tandoori Roasted Chickpea Squash Buddha Bowl recipe a try, let me know! Snap a photo and tag me on twitter or instagram!
My cookbook Simply Scratch : 120 Wholesome Homemade Recipes Made Easy is now available! CLICK HERE for details and THANK YOU in advance!
[this post contains affiliate links.]
This post may contain affiliate links.
Buy the Cookbook: Simply Scratch : 120 Wholesome Homemade Recipes Made Easy Now available on Amazon »
THANK YOU in advance for your support!