On the menu today are these delicious Peppercorn Crusted Burgers! All beef patties rolled in cracked peppercorns are grilled and topped with bacon, mushrooms and a dill pickle aioli.
Believe it or not, but this peppercorn crusted burger was originally supposed to be in the cookbook.
I know right? When sending in the first of a cookbook manuscript it's totally normal and expected to have recipes that get pulled either by the author or the editor. Initially I was a little bummed that this recipe wouldn't grace the pages of my book BUT that only meant it would grace the screen of your computer via the blog.
So I got over it real quick.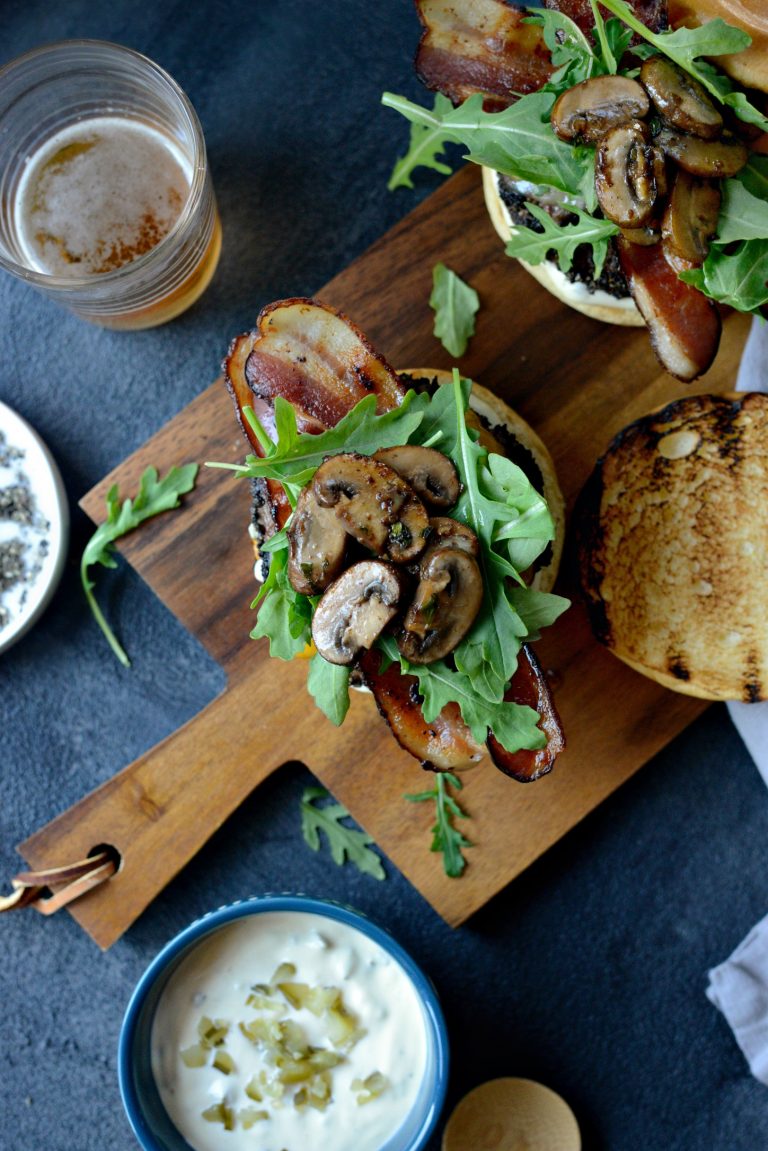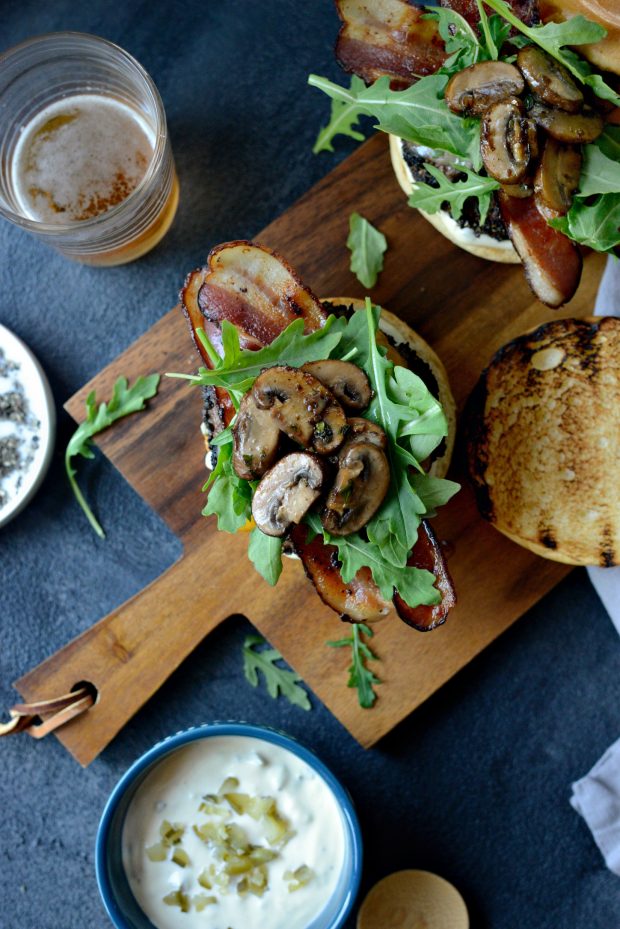 But the reason I was bummed is because this recipe is a loving nod to my husband.
If there's one thing you should know about Pat, it's that he puts black pepper on (literally) everything. From coney dogs to popcorn to pizza rolls. If I season his eggs or biscuits and sausage gravy with a normal amount of black pepper, he will circle back and blanket it with more.
It's because of his black pepper addiction that I came up with the idea to pepper crust our burgers.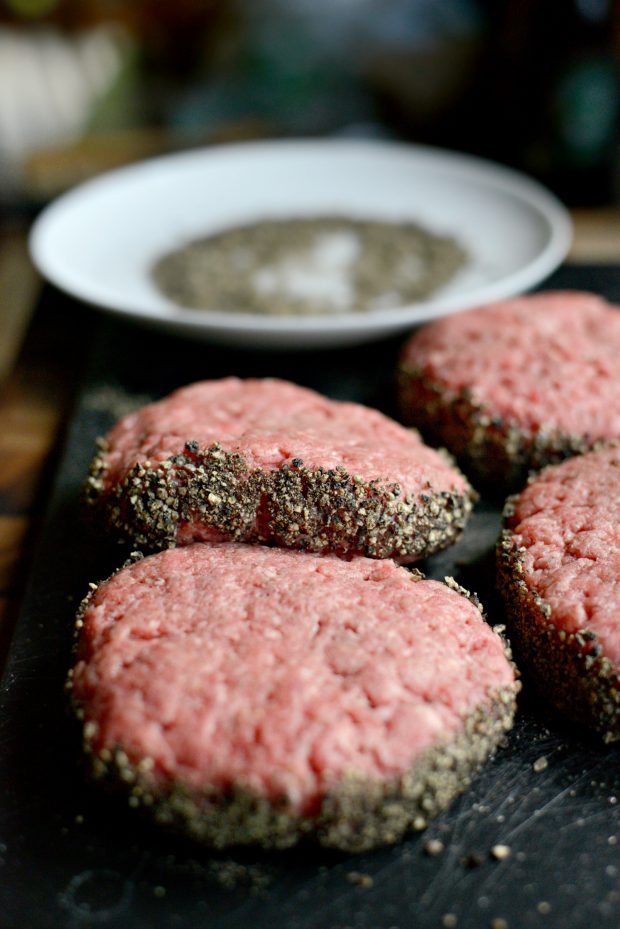 The burger patty itself is pretty simple:
2 pounds ground chuck, Worcestershire sauce, kosher salt and a little pepper. Nothing too fancy, as it should be. BUT after I've divided the burger mixture into fourths -yes that's 1/2 pound a person!- and form the patties, I then roll the edge of each burger in freshly hand-cracked peppercorns. Giving it that distinct delicious flavor and that spicy peppercorn punch at the end.
Whether you grill or griddle your burger is totally up to you. I grilled mine outside on our Weber and right before pulling it off the grates, I top with with TWO kinds of cheese (thank you cheddar and Swiss).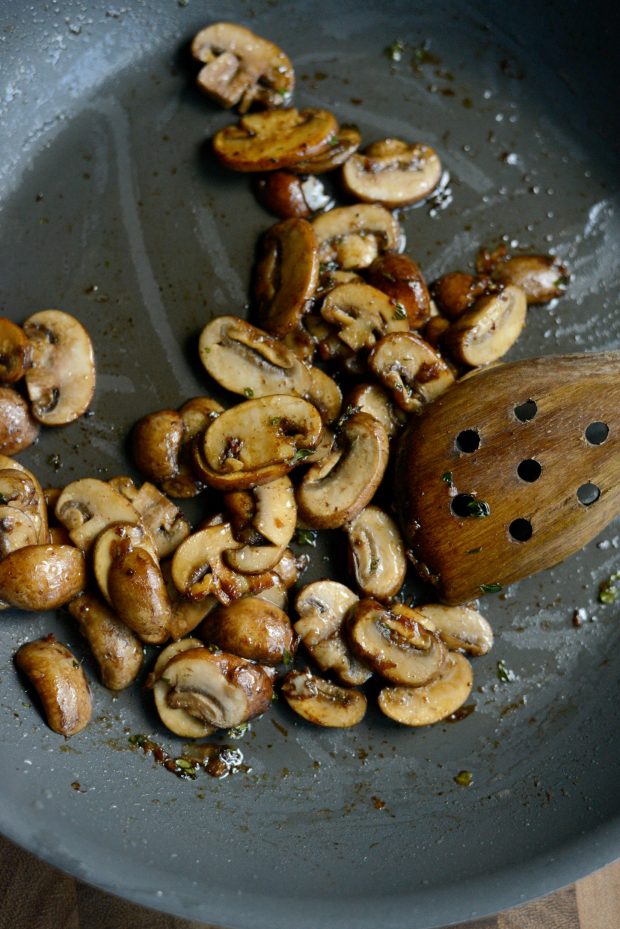 The rest of the toppings are this:
Crispy thick-cut slices of applewood bacon, baby arugula for a little extra peppery punch and cremini mushrooms that are cooked in a little of the reserved bacon fat, garlic, thyme and simmered in beer (!!!) until they're drunk with deliciousness.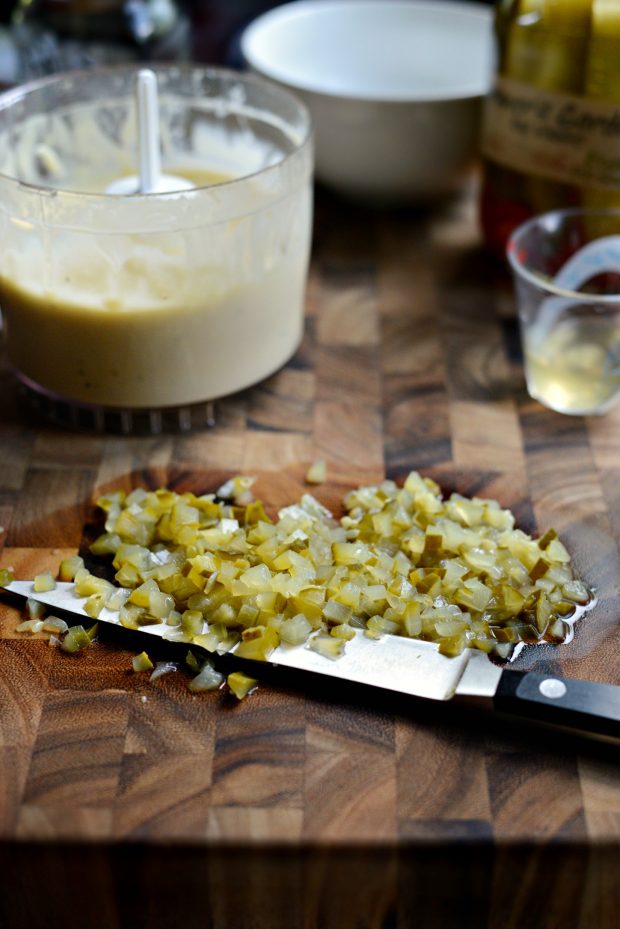 OH and I whipped up a yummy dill pickle aioli.
I quickly made my own mayo from scratch and then mixed in minced pickles and a little juice from the pickle jar. This aioli is pretty stellar, but if your not into making your own mayo then swap out everything (but the pickles and juice) and substitute a cup of store-bought mayo. It's not as smooth and creamy and delicious… but it would definitely work.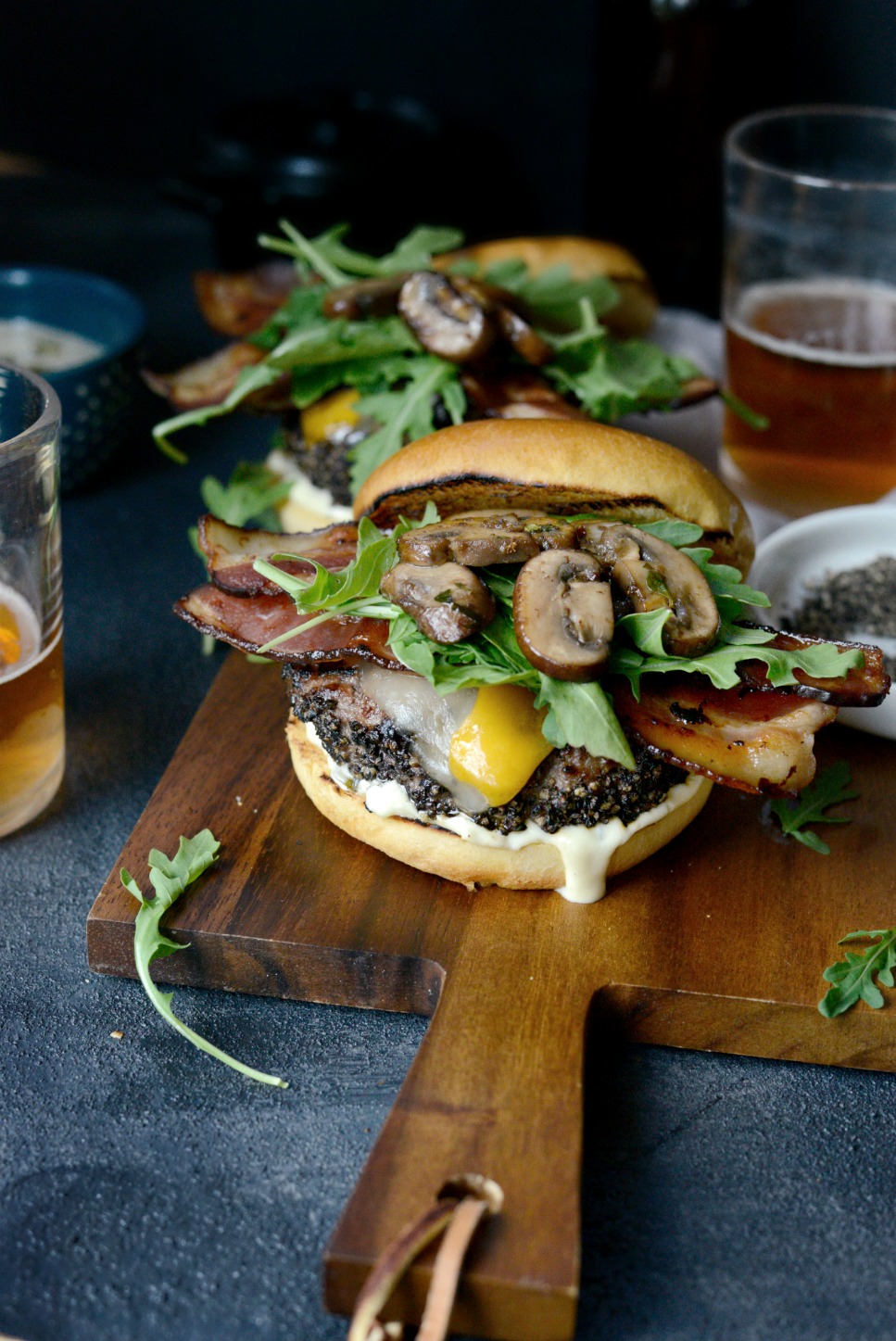 Needless to say my pepper-loving husband enjoyed this mammoth burger, which really isn't that surprising; big burger, lots of pepper… BACON, I mean c'mon?! But he did say that everything together was outstanding and that I could peppercorn crust his burger any day. Wait.
Malloree, my almost twelve-year-old and somewhat picky eater, inhaled her burger and rarely does she ever finish a whole regular sized burger (she's so tiny!) and she finished all but one bite!
That's my girl.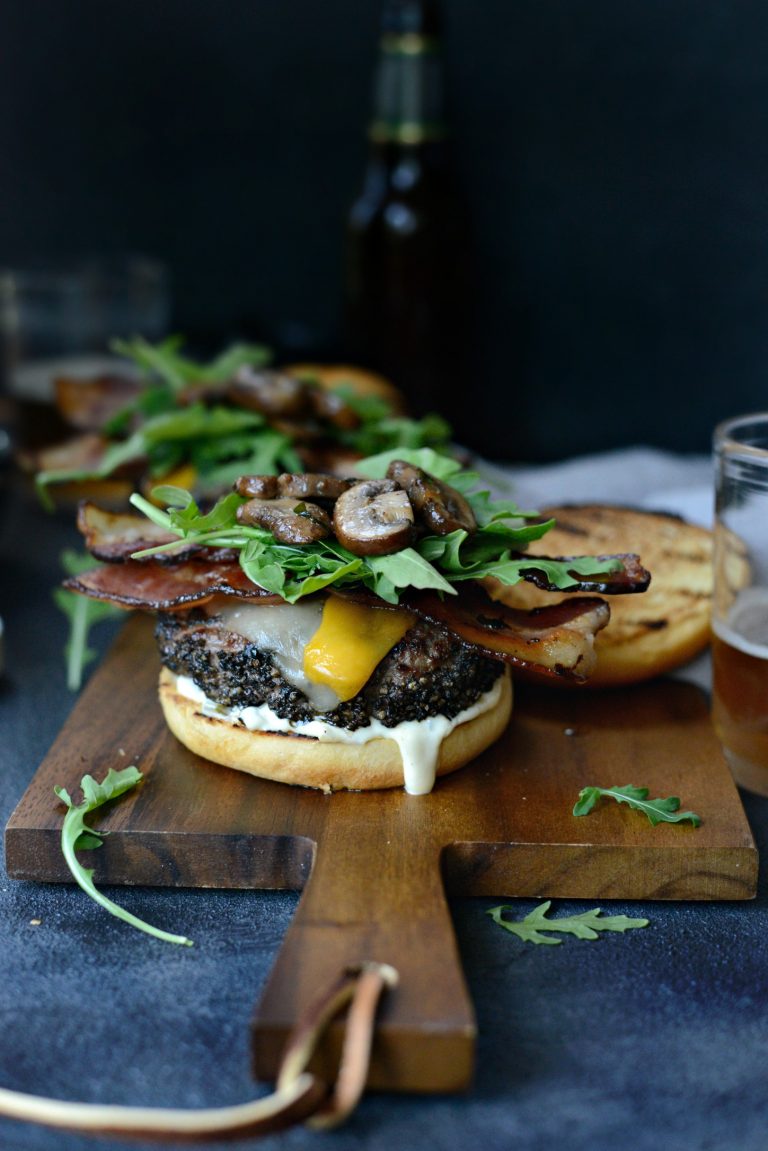 Enjoy! And if you give this Peppercorn Crusted Burgers recipe a try, let me know! Snap a photo and tag me on twitter or instagram!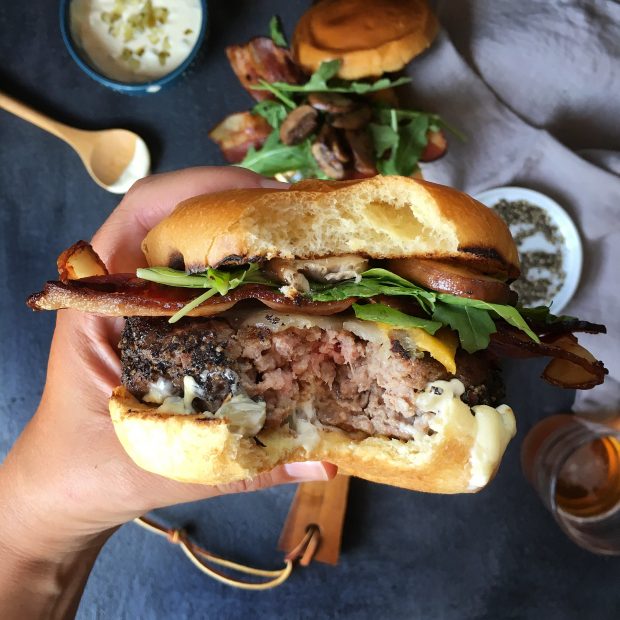 This post may contain affiliate links.
Buy the Cookbook: Simply Scratch : 120 Wholesome Homemade Recipes Made Easy Now available on Amazon »
THANK YOU in advance for your support!