This cherry chia jam consists of a blend of sweet and tart cherries, maple syrup, vanilla extract, lime juice and chia seeds. It's great in oatmeal or spread on muffins or toast! [this post contains affiliate links.]
Waking up to sunny and clear blue skies is my favorite motivator. If the sun is shining I will likely accomplish all things on my to-do list. If it's not, well, I can't make any promises- I am fueled by the sun (and coffee).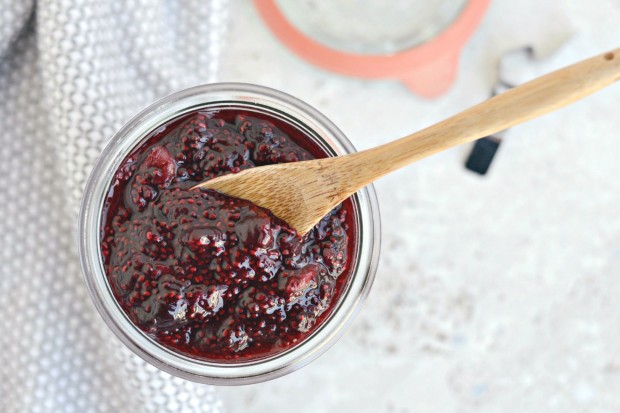 Unlike today which is overcast with thick grey clouds, there's no sun in sight and the sound of freezing rain is pelting the deck outside my bedroom window. Thus I am under covers with a cup of coffee in my left hand while typing with my right. But seriously, what the heck spring??
Back to yesterday, when it looked like it was 70 degrees outside but was really 30, and yet who cares because the sun was out and gave me the illusion of what spring should be like! And because of this illusion, I cleaned my house, did laundry, ran to the grocery store and then I made jam. Cherry chia seed jam, and it took me all of 30 minutes.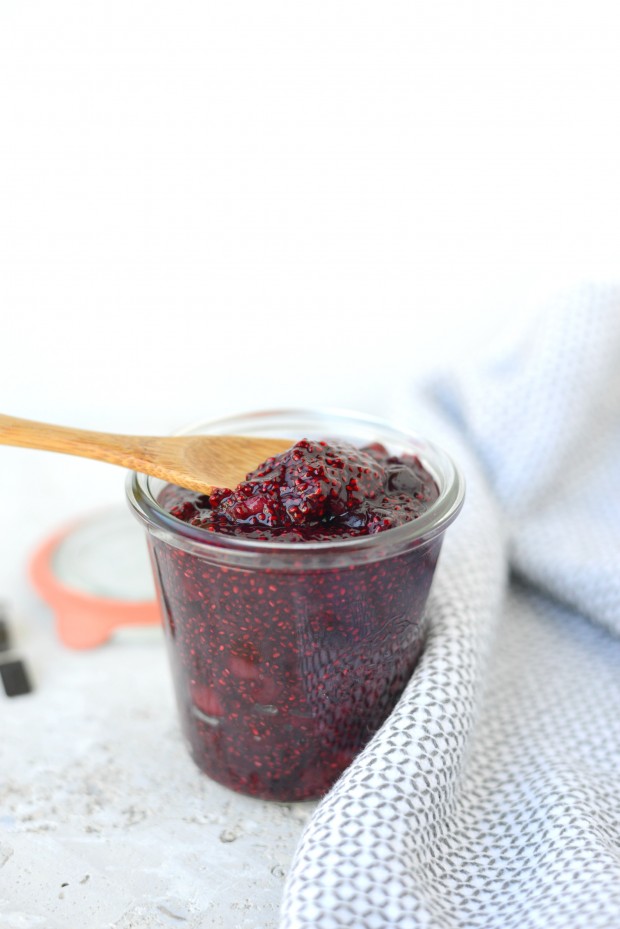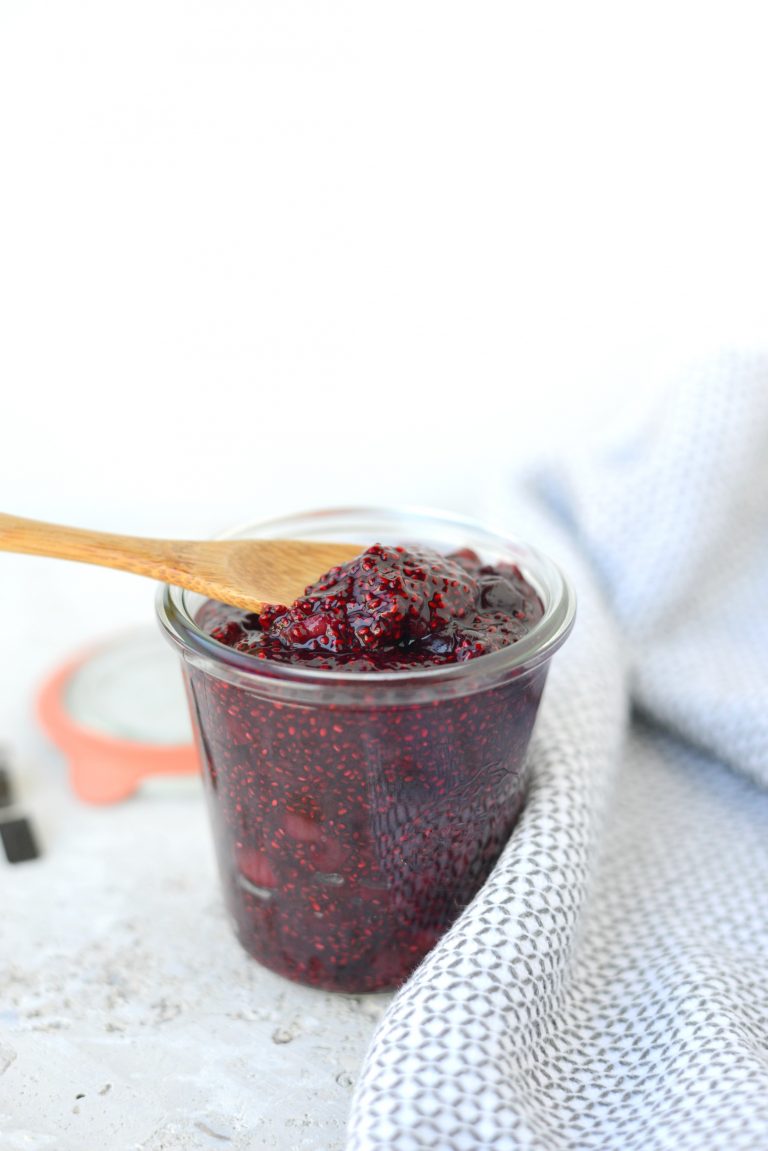 I've professed many times on this blog that I am in no way a canner. I like recipes that don't require hours and hours of time. If you are like me then this jam is your jam!
Instead of needing loads of sugar (along with pectin and lots of time) in order to produce jam, I'm using chia seeds. We briefly talked about these last week, but the fact these little cuties can swell so much that they can thicken any fruit into jam is reason enough for me to now make my own jam all of the time.
A less sugar, less time, better for you jam?! SOLD.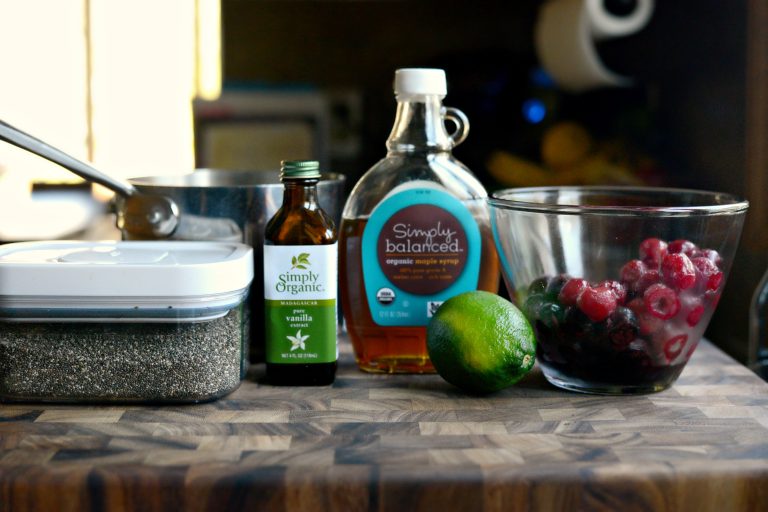 Feel free to use fresh cherries if you want- but frozen cherries work fine too. In fact, using frozen means the cherries come pitted already- bonus! I had a few (frozen) bags of both tart and sweet cherries in my freezer (from making the cherry pie in my cookbook) that I wanted to use up, so today we are making a stunningly gorgeous and equally delicious cherry chia jam. Stay tuned for more jams to come because I am so totally and unabashedly obsessed!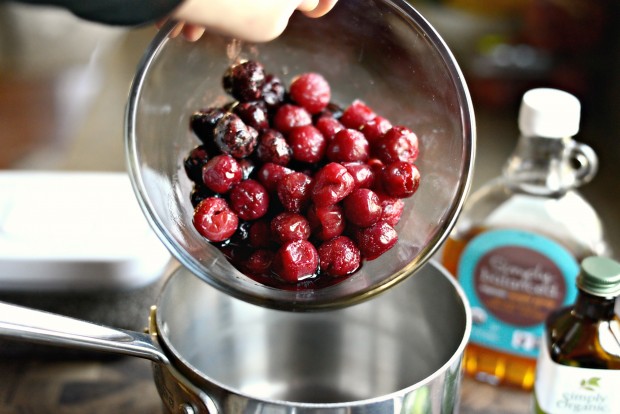 Here we go! Add two rounded cups of fresh or partially thawed (if frozen) cherries, I'm using a cup of both tart pie cherries and sweet dark cherries. I personally love the combo together, but feel free to use what you like.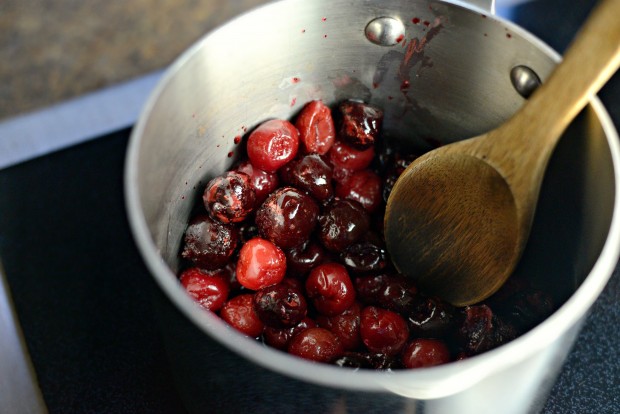 Heat the cherries (and any accumulated juice that forms in the bowl from thawing) into a heavy bottom sauce pan over medium. Heat until the liquids begin to simmer and the fruit softens, about 20-25 minutes.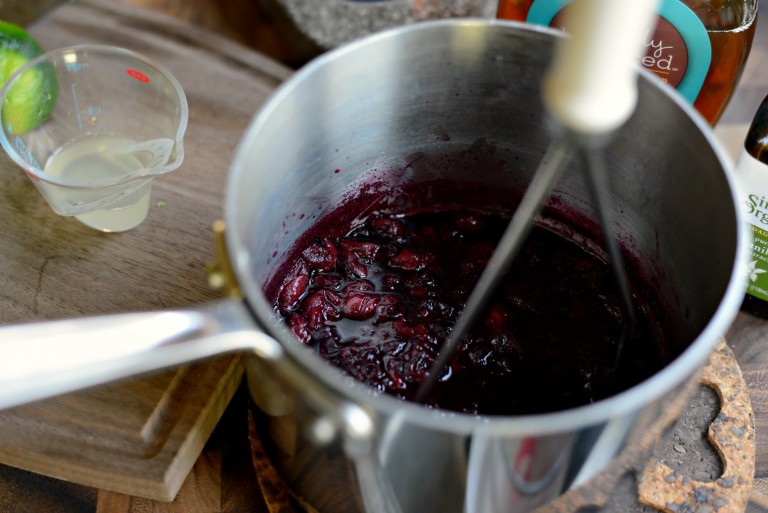 Once you are at this stage, remove the pan off of the heat and mash the cherries with a potato masher.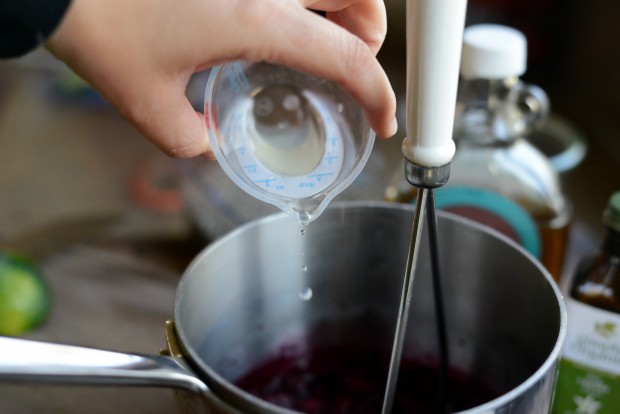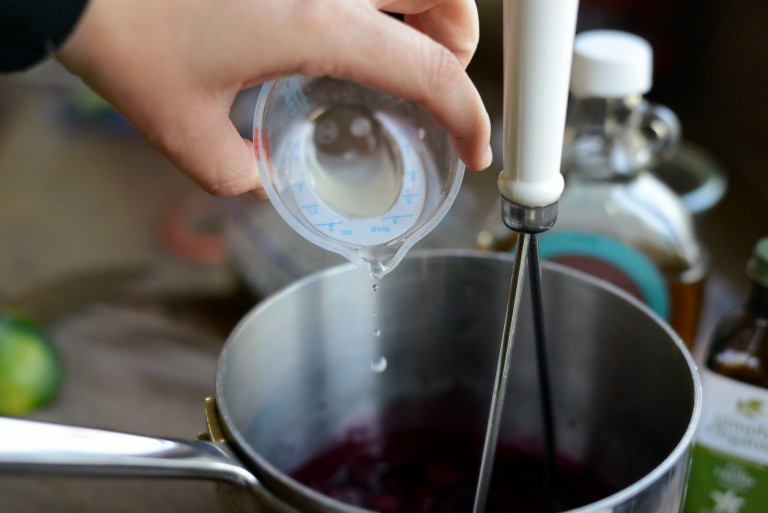 Pour in 1 tablespoon of freshly squeezed lime juice…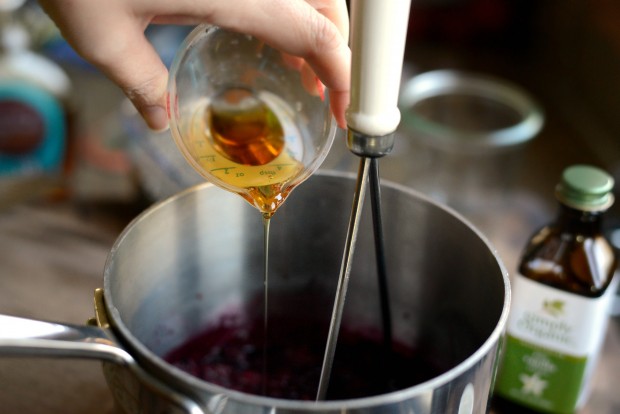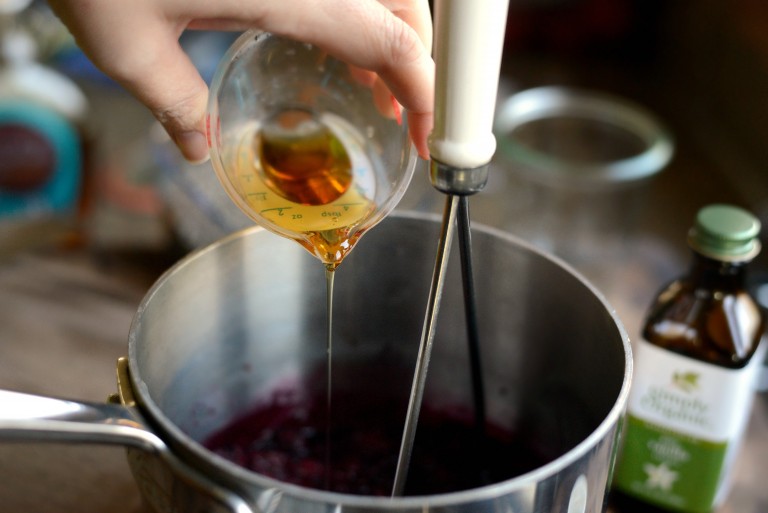 1 tablespoon pure maple syrup (honey would totally work too!)…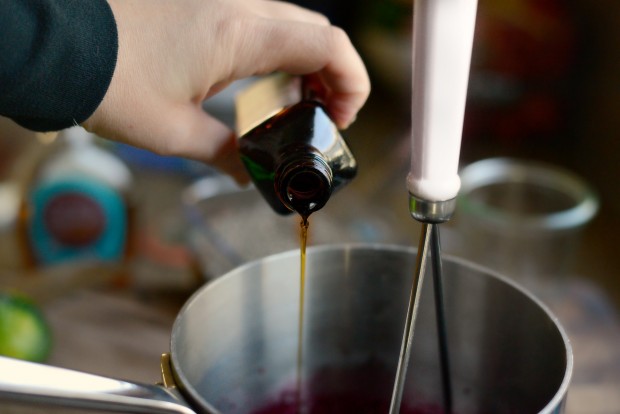 …a splash of real vanilla extract…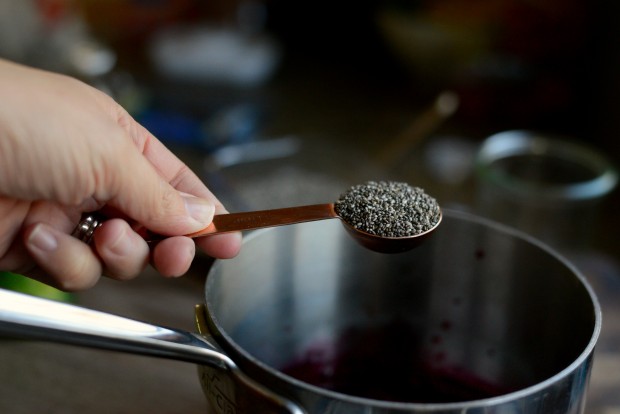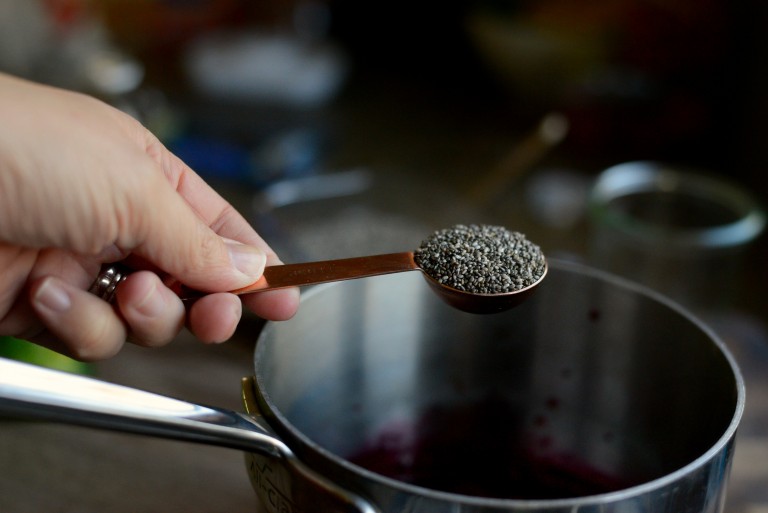 And then two tablespoons of chia seeds.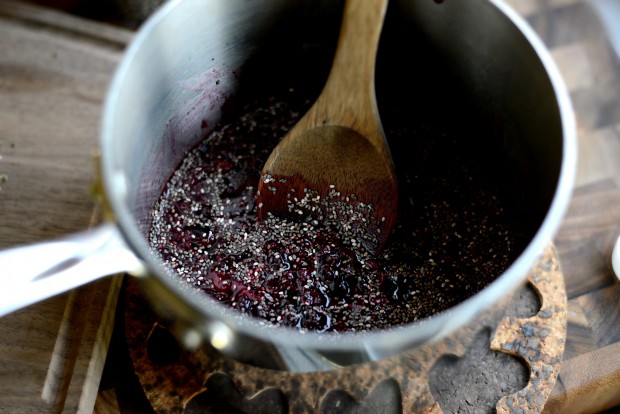 Stir it all together and let it sit for a minute or two. After a while you'll be able to gauge if you need more chia seeds or not. I added an additional teaspoon here because I wanted a thicker jam. If adding more chia seeds, add them a half teaspoon at a time and give them time to swell before adding more in.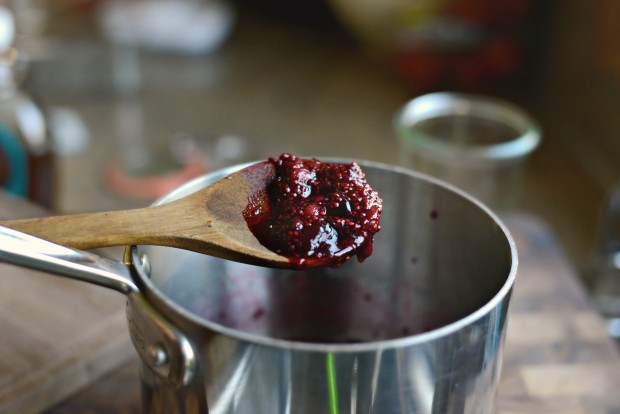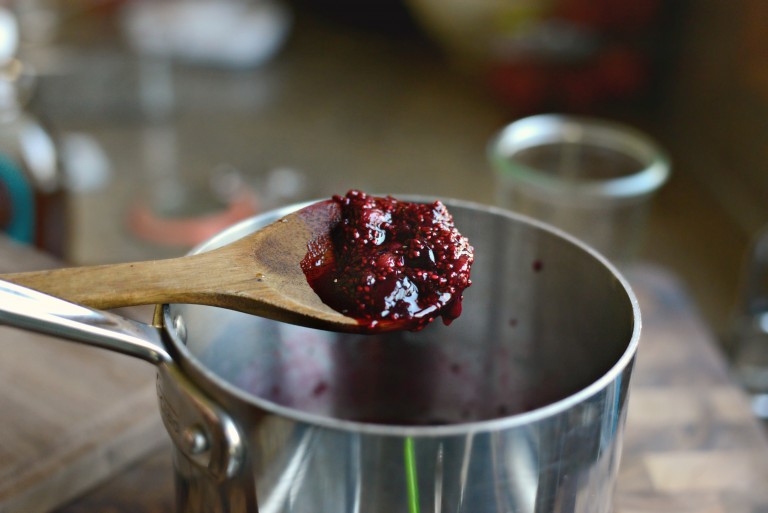 Jam on! Sweet and tart and gorgeous! The color of this cherry chia jam is out of this world pretty and I would like a lipstick, shoes and matching clutch in this color please and thank you.
Note: If you do not wish to see the chia seeds in your jam then you can puree it in a high-speed blender.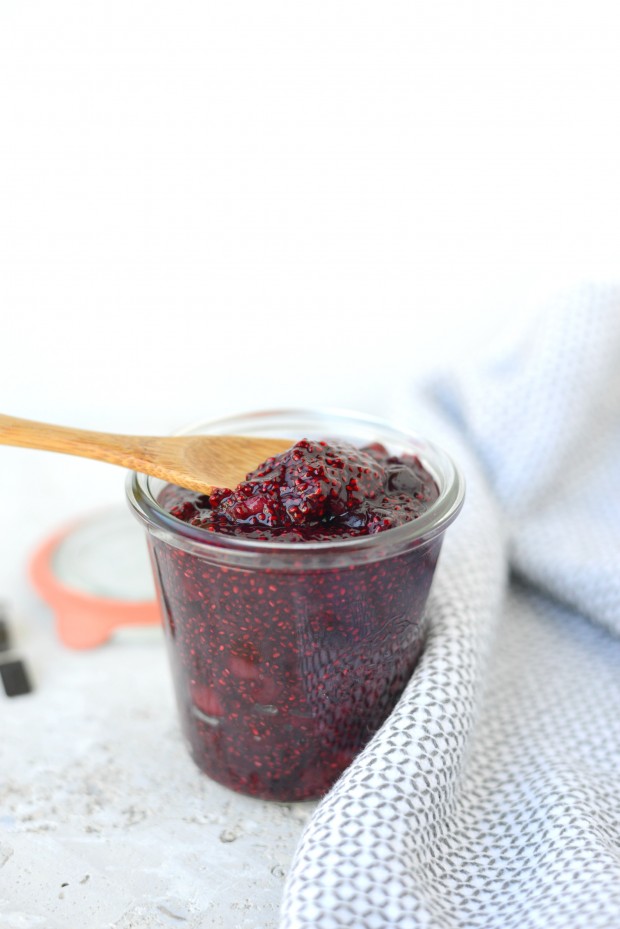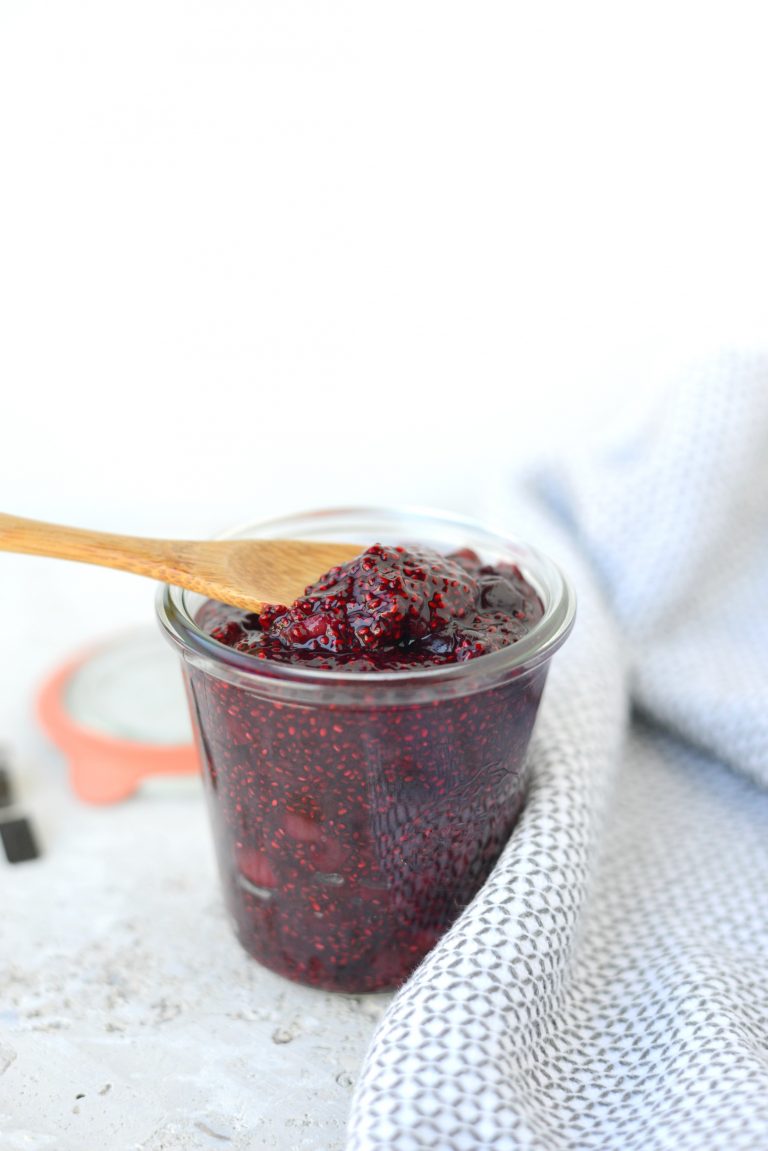 Today (if I ever get motivated) I'm going to try this cherry chia jam in a (hopefully soon to come) recipe. So fingers crossed and if all goes well, you'll see it here on Friday!
In the meantime, look at this….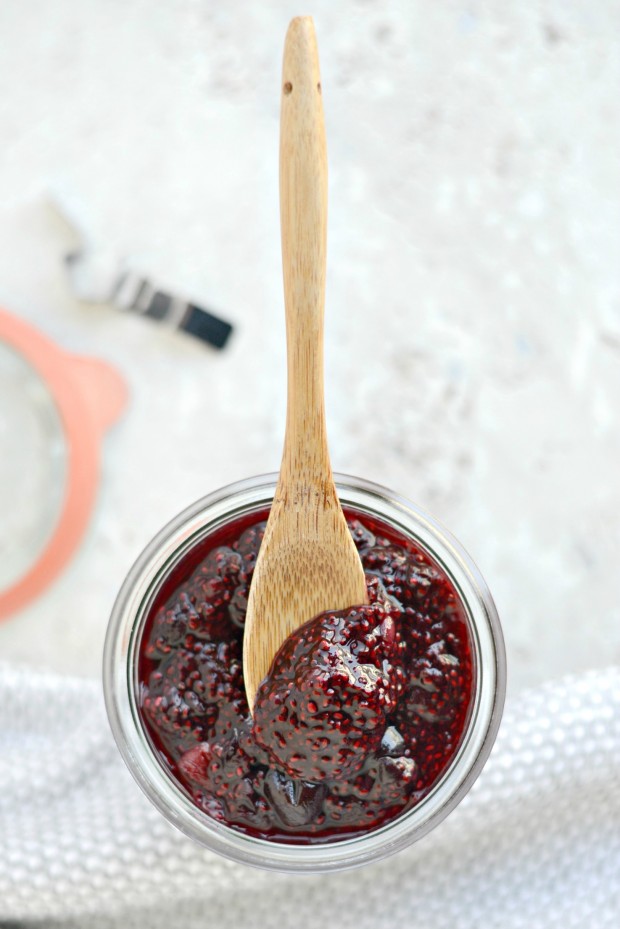 My cookbook Simply Scratch : 120 Wholesome Homemade Recipes Made Easy is now available! CLICK HERE for details and THANK YOU in advance! 
Cherry Chia Seed Jam
Less sugar, less time, better for you jam. All you need is two cups of fruit, juice from a lime (or lemon) a natural sweetener like maple syrup or honey and of course, chia seeds. So easy with a ton less sugar. Swipe this jam on toast or dollop on oatmeal... any way you serve it, it's delicious!
Yield: about 1 cup jam
Prep Time: 5 minutes
Cook Time: 20 to 25 minutes
Total Time: about 30 minutes
Ingredients:
1 rounded cup (slightly thawed) frozen tart pie cherries
1 rounded cup (slightly thawed) frozen sweet dark cherries
1 tablespoon freshly squeeze lime juice (lemon juice may be used in replacement)
1 tablespoon pure maple syrup (or honey may be used in replacement)
a splash of real vanilla extract
2 tablespoons chia seeds
Directions:
Place partially thawed cherries into a medium, heavy bottomed pot. Heat over medium until the fruit softens and the juice from the cherries start to simmer, about 20-25 minutes.
Remove the pot off of the heat and mash the cherries with a potato masher until small pieces remain. Then add in the lime juice, maple syrup, vanilla and chia seeds. Stir to combine and let the jam sit for a few minutes to thicken. Adding a 1/2 teaspoon at a time if needed if a thicker jam is desired. Note: I added up to a full teaspoon more, but all of this depends on the juiciness of the cherries.
Allow the jam to cool completely before storing in an air-tight jar and in the fridge for up to a few weeks, OR freeze for 3 months.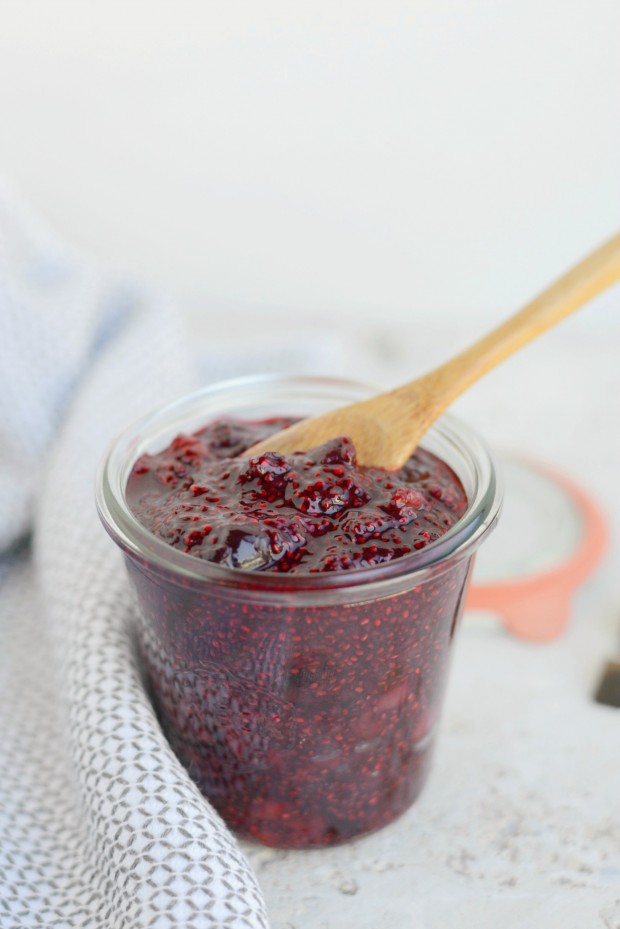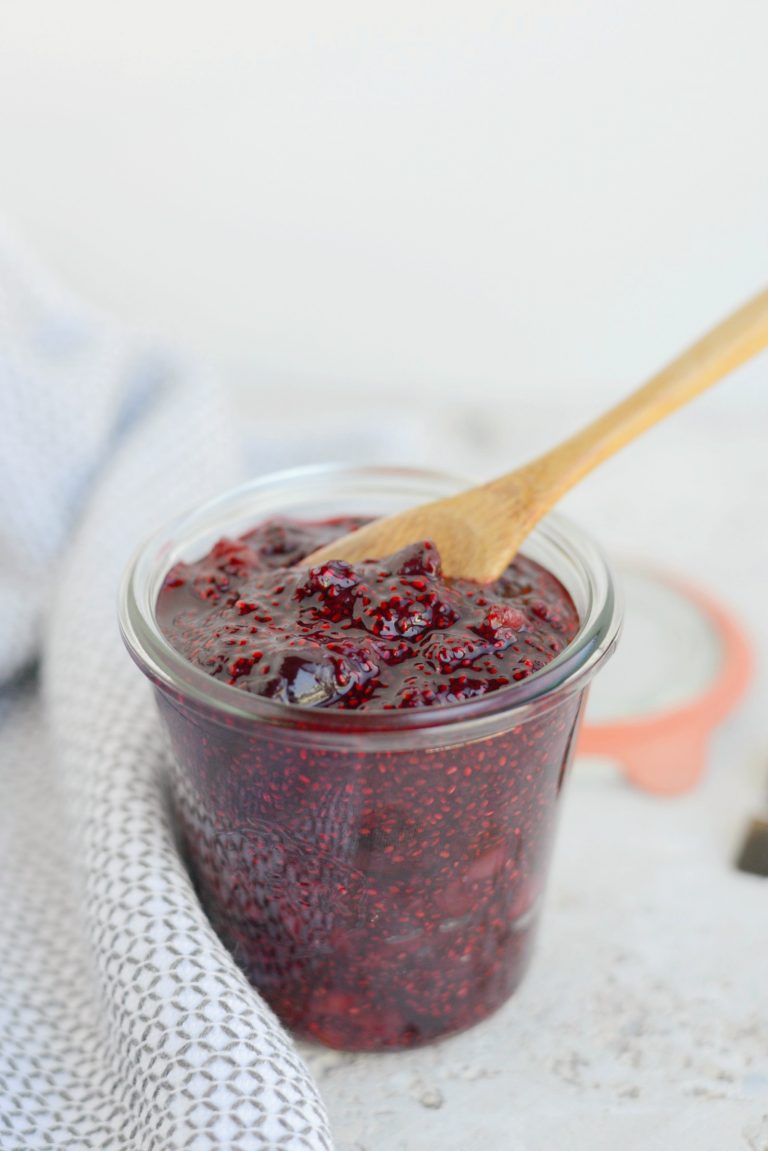 Enjoy!