A delicious meatless meal, these portobello fajitas are topped with all the fixings! Delicious, filling and you won't even miss the meat!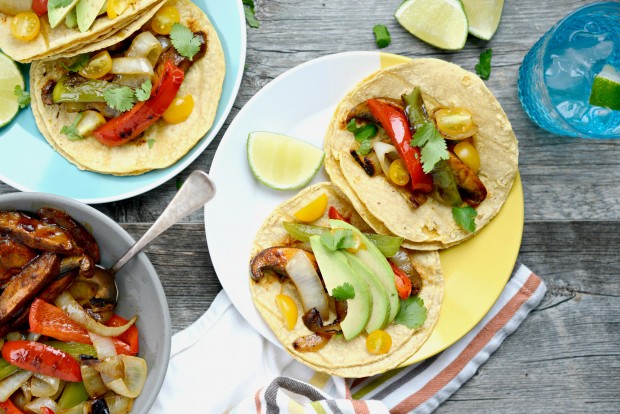 Lately, I've been craving vegetables any way I can get them. I want them for breakfast, lunch, dinner, roasted, stir-fried and/or in salads. And today I had the BEST vegetarian fajitas! I tucked thick slices of fajita-seasoned portobello mushrooms into toasty-warm yellow corn tortillas and topped it with charred peppers onions and fresh avocado, tomatoes and torn cilantro leaves. It was pretty spectacular.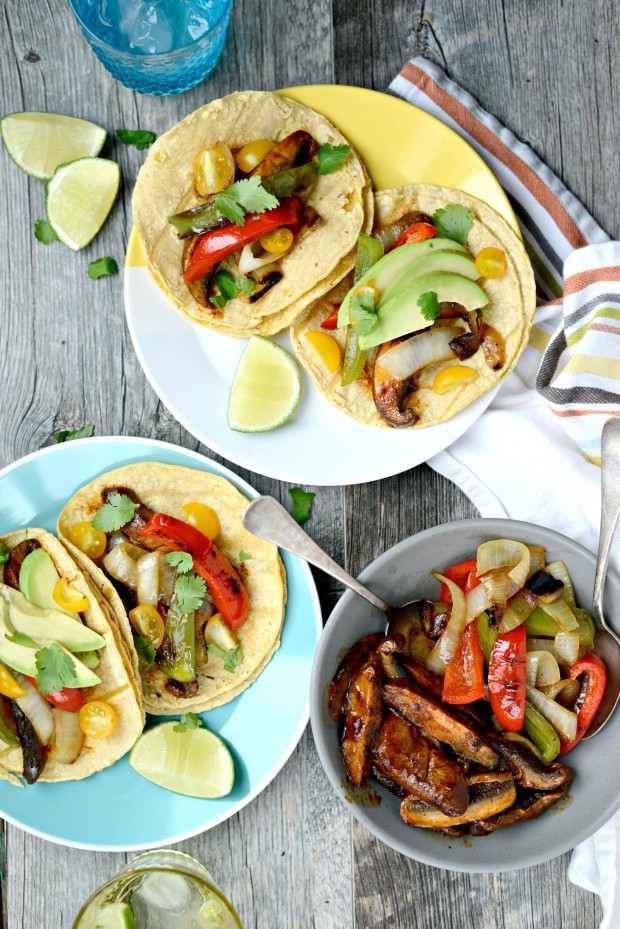 I'm seriously considering a vegetarian diet, but I think I'd miss bacon too much.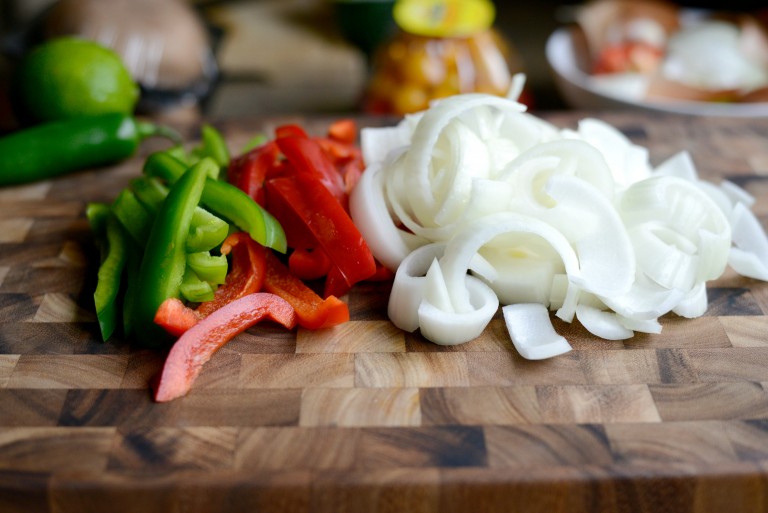 Start by slicing a green and red bell pepper plus a medium yellow onion into thick strips.
Next, heat a tablespoon of oil in a large, 12-inch cast iron skillet over medium to medium-high heat until it glistens. Then add in all of the peppers and onions in at once and season with a generous pinch of kosher salt.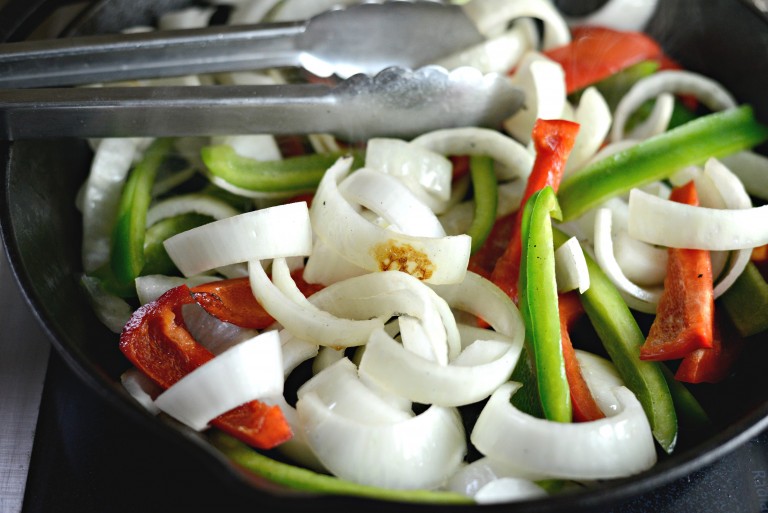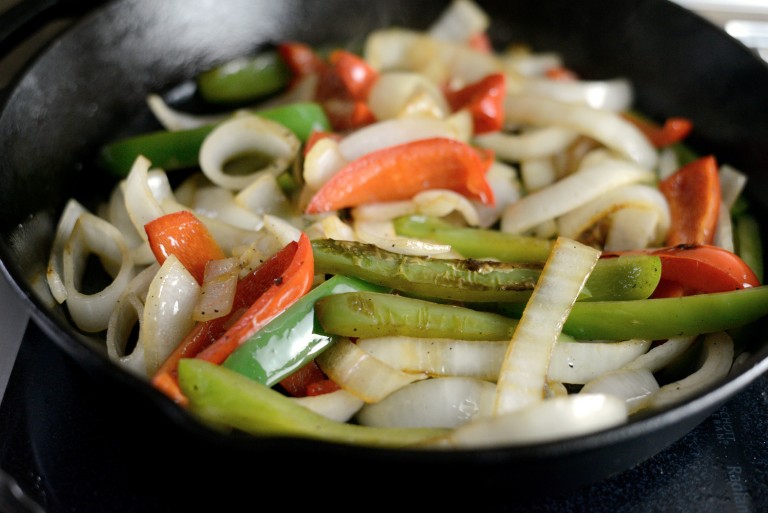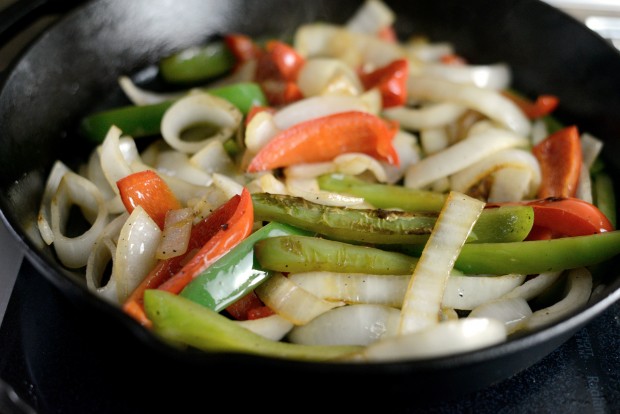 Next, toss the vegetables around to coat in the oil and then let them cook, undisturbed for 3 to 4 minutes. Quickly toss and repeat until the peppers and onions have good char and have softened a bit but are still slightly firm. Next, transfer them to a bowl, cover with foil to keep warm and set off to the side.
Meanwhile, wipe 12 ounces (about 4) Portobello mushroom caps with a slightly damp cloth and remove the stem.
Then slice into 3/4 inch strips.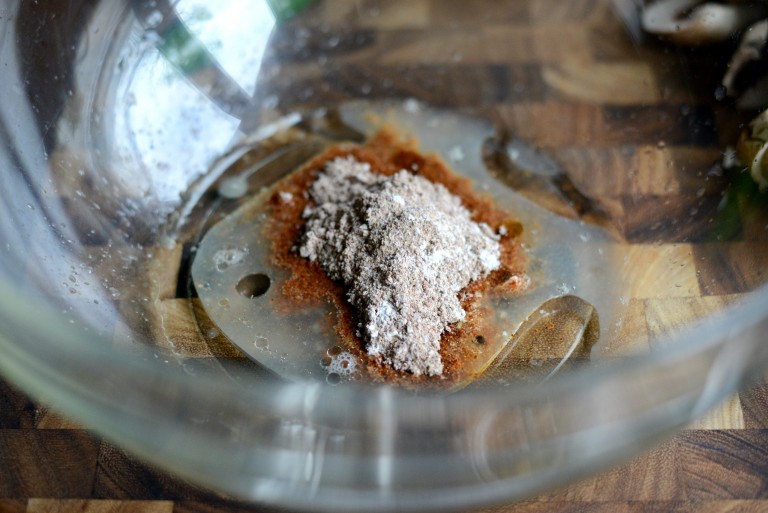 Next, in a large bowl add 2 tablespoons of oil, the juice of a small lime and the fajita seasoning.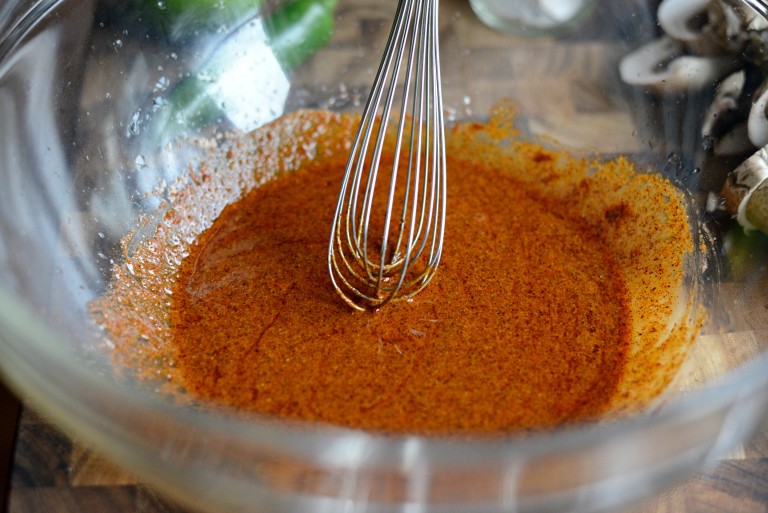 Whisk or stir to combine.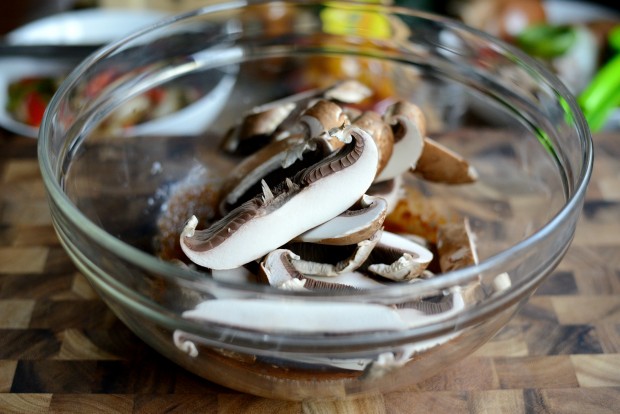 Add in the portobellos…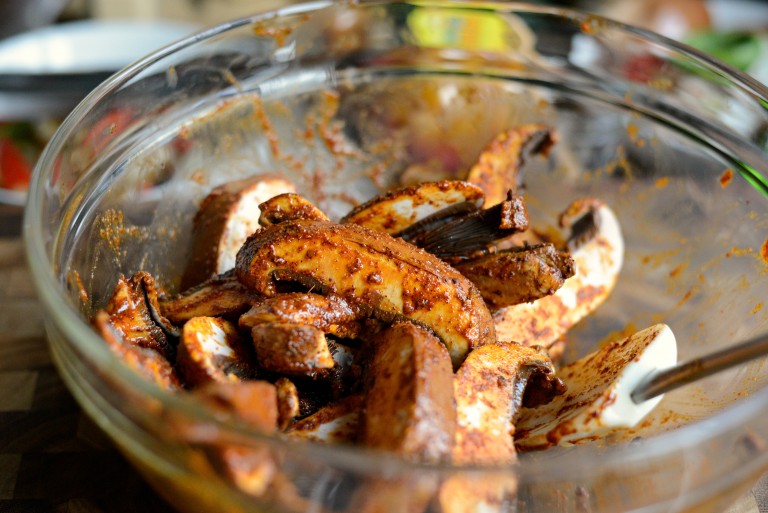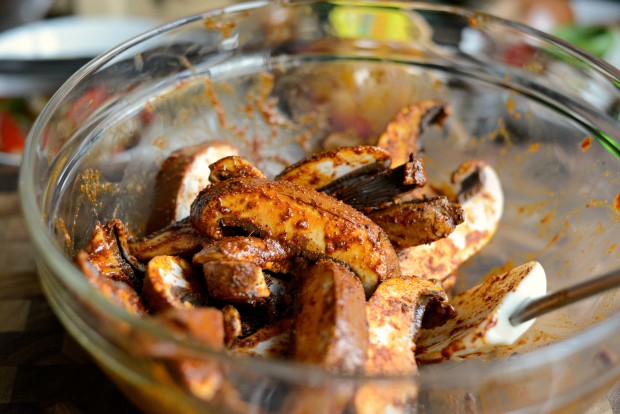 …then use a rubber spatula to gently toss them into the fajita seasoning mixture.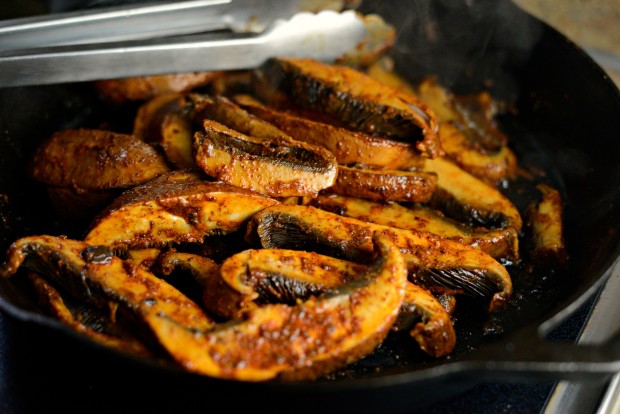 In the same skillet the vegetables were cooked in, add a teaspoon more of oil and add in the mushrooms. Cook on medium heat, tossing only occasionally until they are tender but still hold their shape and are a bit firm. Kind of like the peppers and onions.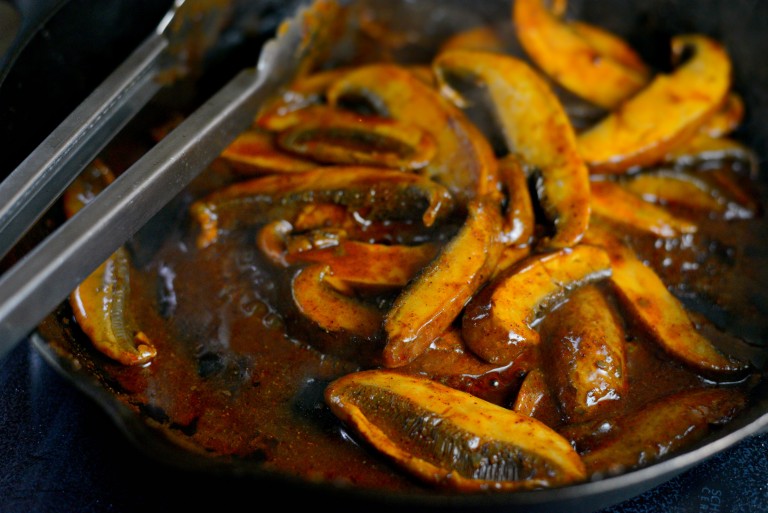 Remove off of the heat and start building your fajita tacos.
While all of this was going on, I quickly warm these tortillas in a dry skillet, over medium heat. I just heat one at a time for about 3o to 40 seconds a side. For more of a crispy shell, keep them in the skillet a little longer.
Place 2 to 3 portobellos onto a couple shells…
…top with the peppers and onions and any other topping your heart desires.
Lastly top with tomatoes, avocados, cilantro leaves and wedges of lime. However, I also like to serve jalapeños, pepper jack cheese and sour cream therefore dress them up however you prefer.
Here's a closer look at those portobellos and the peppers and onions. Gorgeous, right? I mean, who even needs meat?? Because this girl doesn't.
With that said, I do like my steak and chicken fajitas, these portobello fajitas are right up there with them. Meaty, filling and full of flavor.
.
Enjoy! And if you give these Portobello Fajitas a try, let me know! Snap a photo and tag me on twitter or instagram!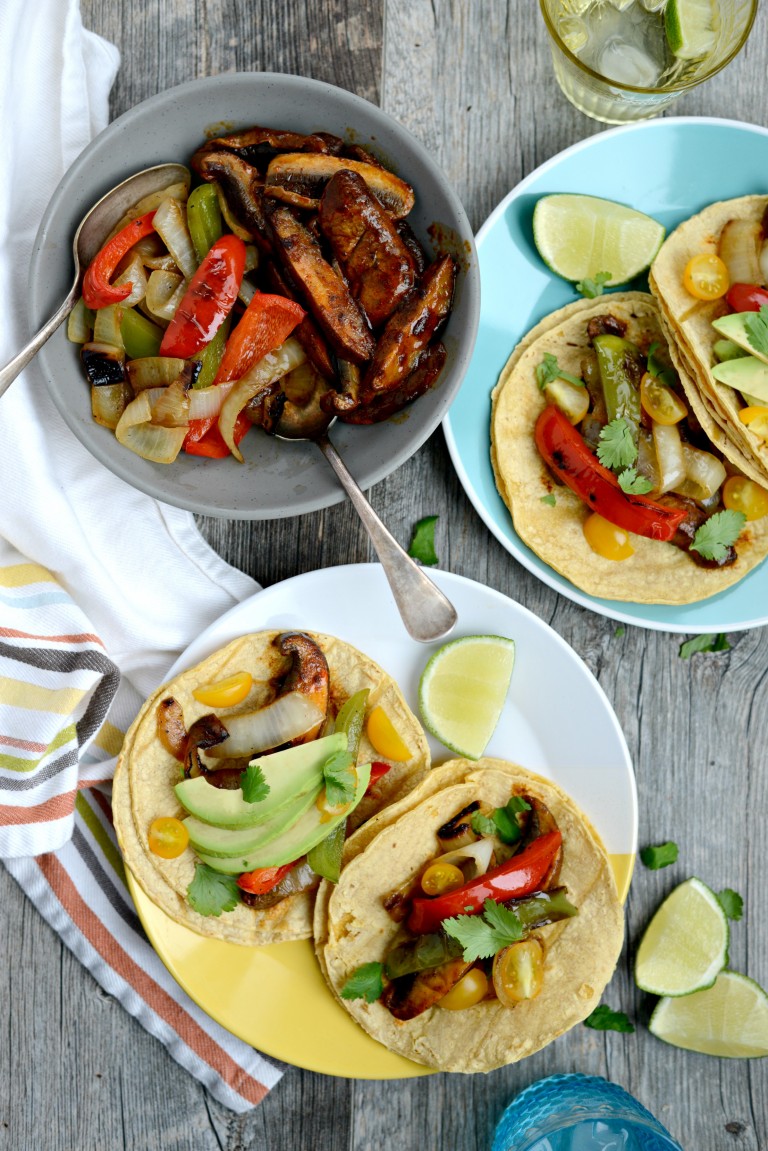 My cookbook Simply Scratch : 120 Wholesome Homemade Recipes Made Easy is now available! CLICK HERE for details and THANK YOU in advance!
This post may contain affiliate links.
Buy the Cookbook: Simply Scratch : 120 Wholesome Homemade Recipes Made Easy Now available on Amazon »
THANK YOU in advance for your support!