I gave my mother's homemade carrot cake recipe a makeover, using applesauce (so less oil!), cardamom, toasted pecans and my homemade cream cheese frosting.
This year we're celebrating St. Patrick's Day and then moving right on to Easter.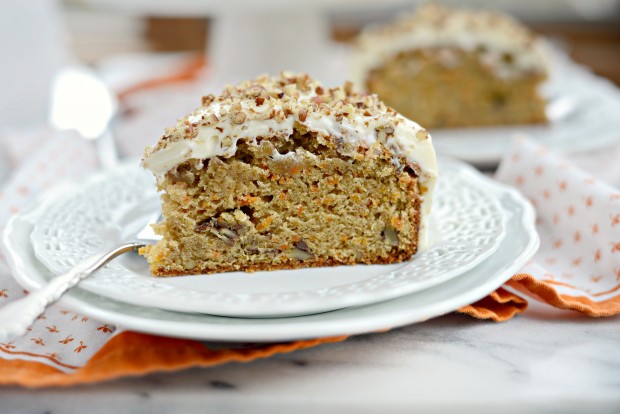 It always feels strange celebrating Easter in March. Spring literally just arrived but here in the mitten it's still pretty cold. Even when Easter is in April, rarely is it warm enough for an outdoor egg hunt or to wear those cute spring dresses that are out on display, so when it's in March it's even worse. Seriously, the weather app on my phone says there's a chance of snow this Friday. Case and point. A white Easter?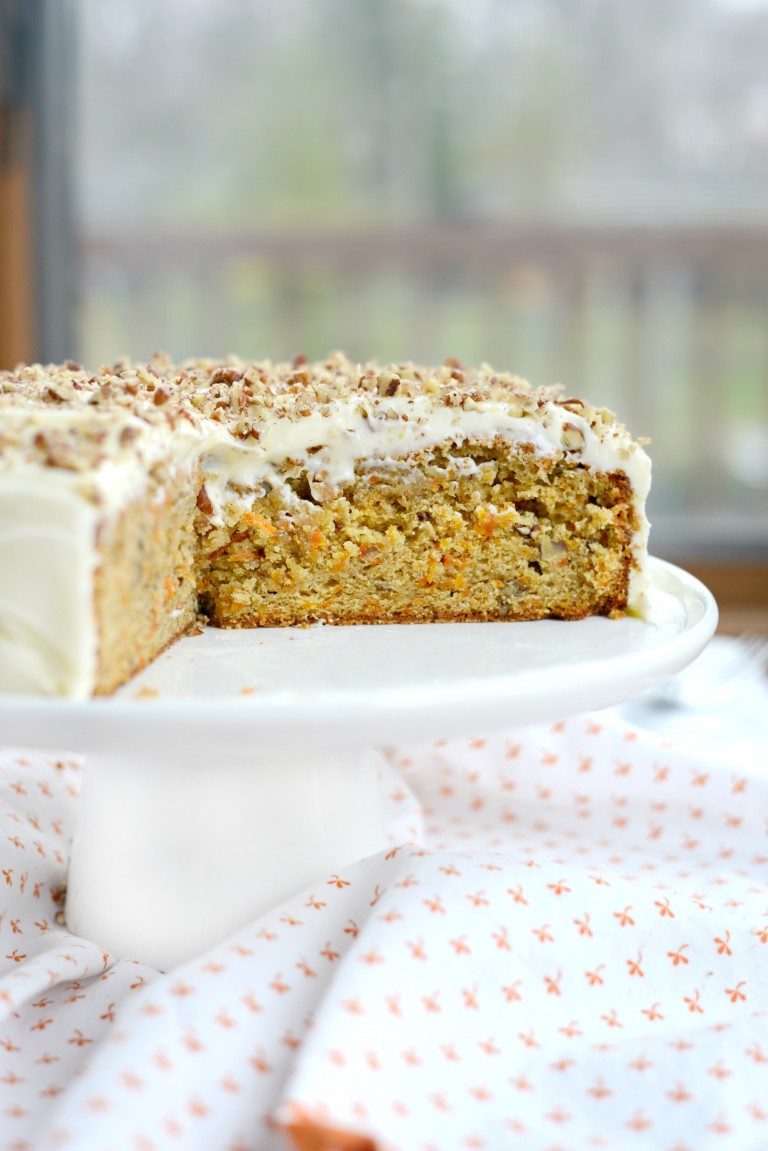 As a kid some of my fondest memories revolve around Easter. Hunting for eggs in my purple housecoat, getting water color paints in my basket and my mom's carrot cake. She'd alternate between making this Lemon Lime Cake or carrot cake and I remember seeing it served right after the traditional ham and cheesy potato dinner. Seeing it and never tasting it because helloooo carrots in cake was not my idea of a dessert. How wrong I was.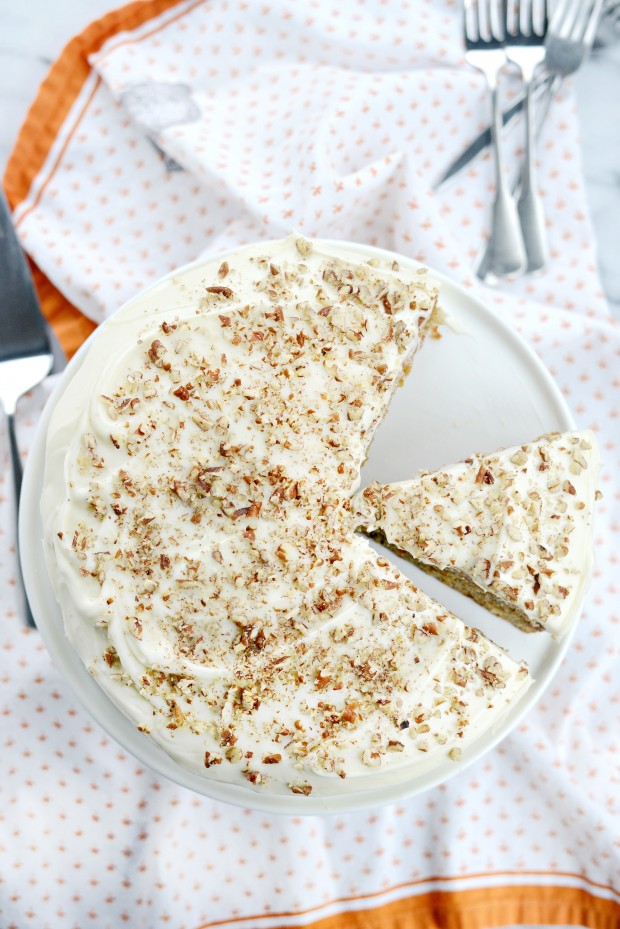 Obviously I got over myself and jumped on the homenade carrot cake wagon.
My mom was gracious enough to give me her recipe. After taking a look at it, I decided I would make a few minor changes. Changes that I'm positive my mom would approve of; like adding in ground cardamom and freshly grated nutmeg, swapping out half of the oil for applesauce and instead of walnuts, I mix in toasted pecans- which in my opinion, make this cake.
Gather and pre-measure all of your ingredients. This makes the whole process easy and effortless.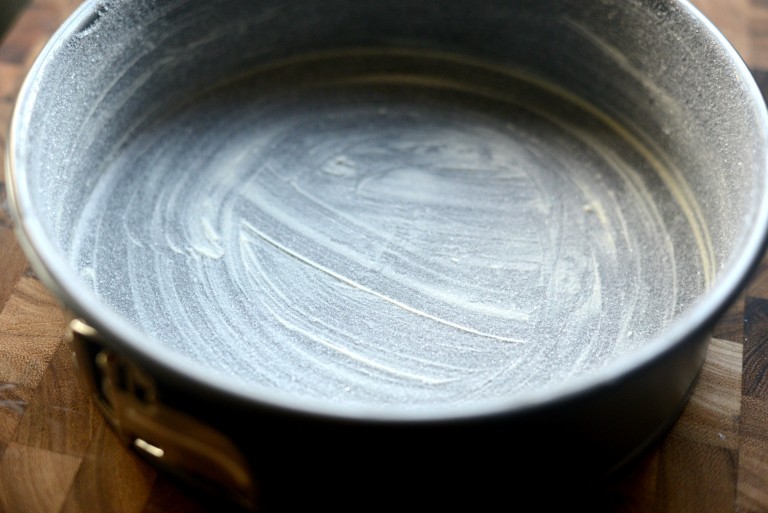 Another good idea is to prepare the pan ahead of time, simply grease a 9-inch spring-form pan by greasing with a tablespoon of butter and then add in 2 tablespoons of sugar, turning the pan to coat then tipping out any extra. Then just set it off to the side.
Into a medium bowl, crack in 3 large eggs and add in a 1/2 cup of both apple sauce and grapeseed oil.

To that, add in a tablespoon of vanilla extract and a 1-1/2 cup sugar, then mix until all of the ingredients are combined.

In a large bowl, measure and add in the flour, baking powder, salt, cinnamon, cardamom and nutmeg, then whisk to combine.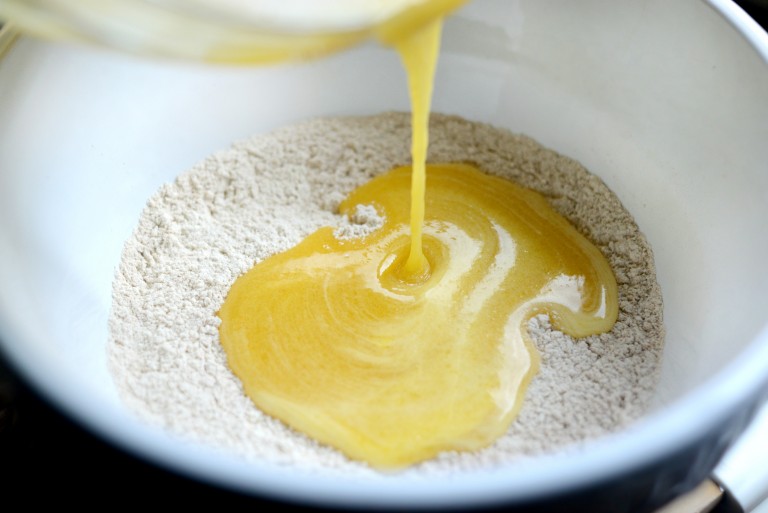 Pour the wet ingredients…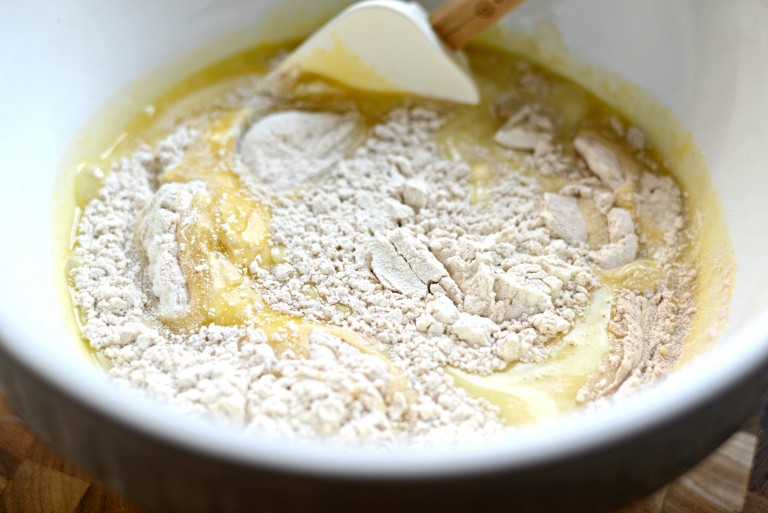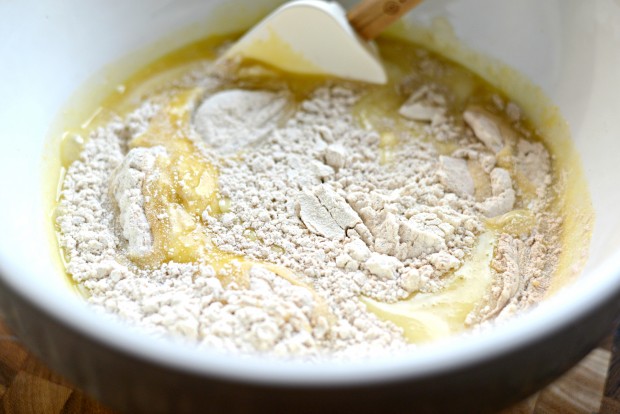 Then stir by hand to incorporate.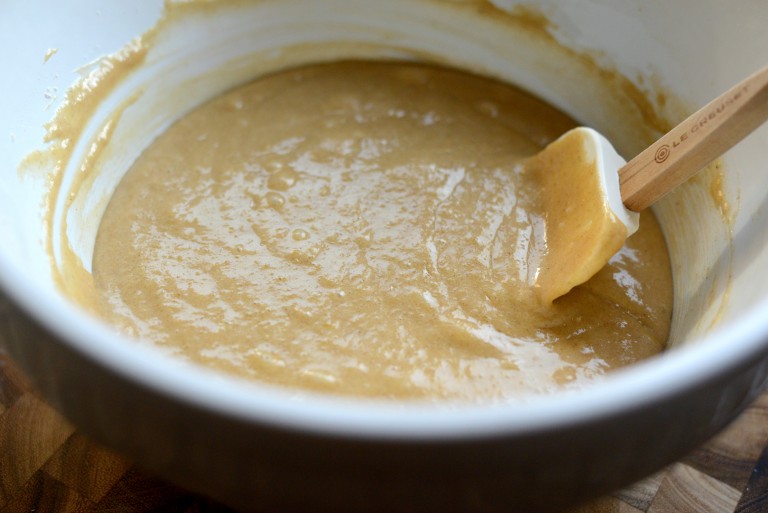 Be sure to scrape the sides and bottom of the bowl.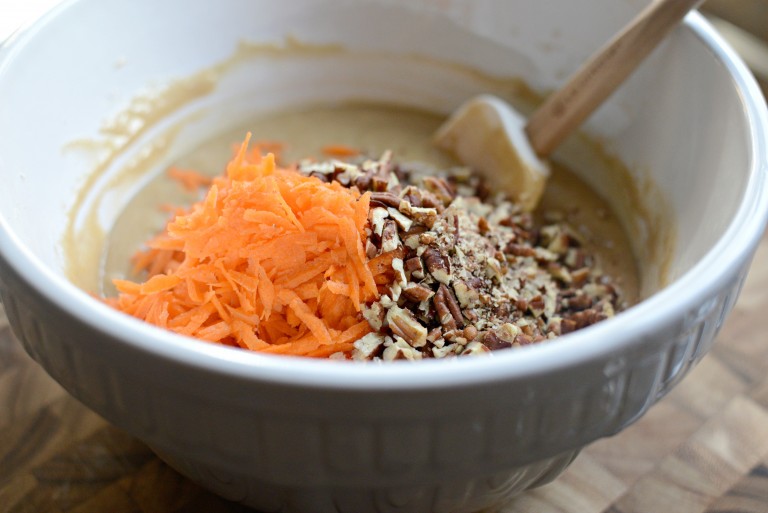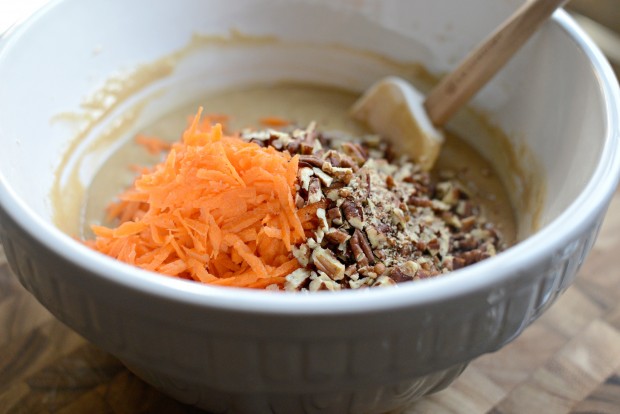 Next add in the 1-1/2 cups of grated carrot and a 1/2 cup of chopped toasted pecans.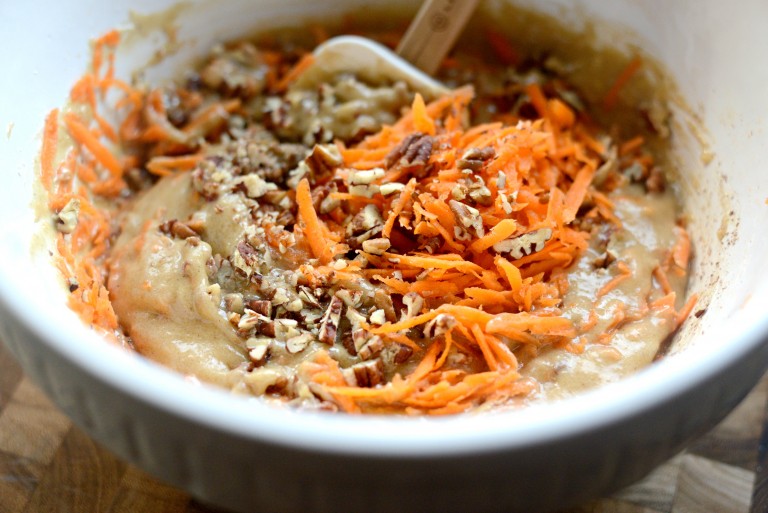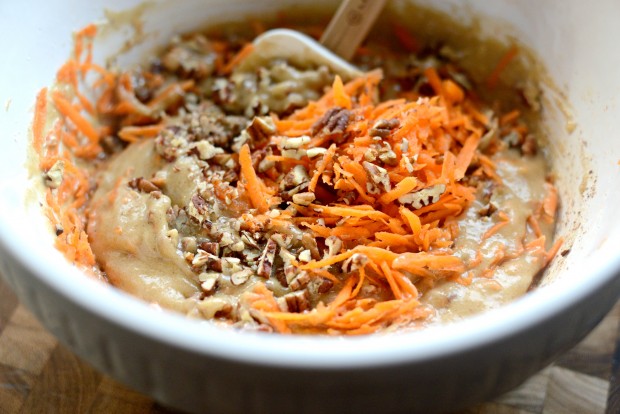 …mix…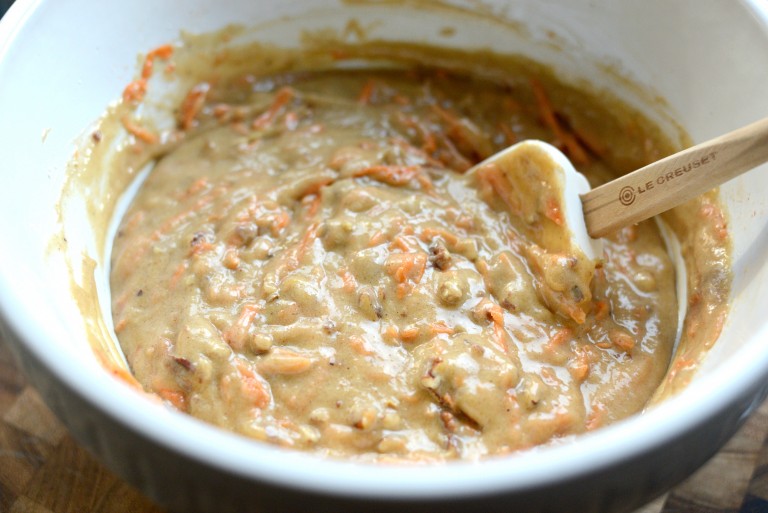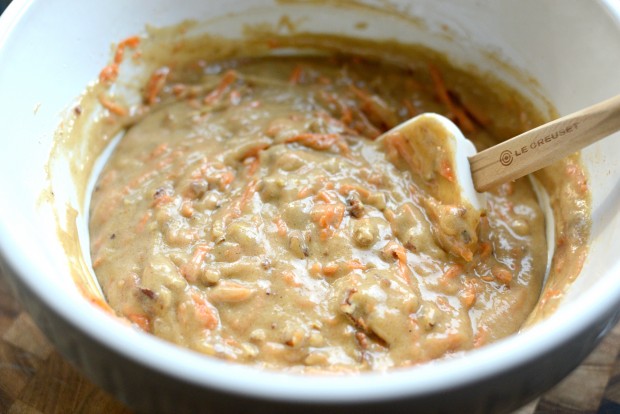 …until combined.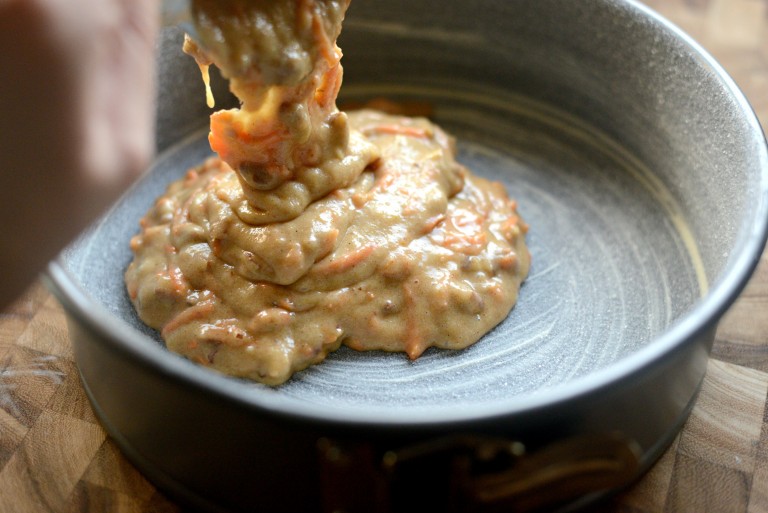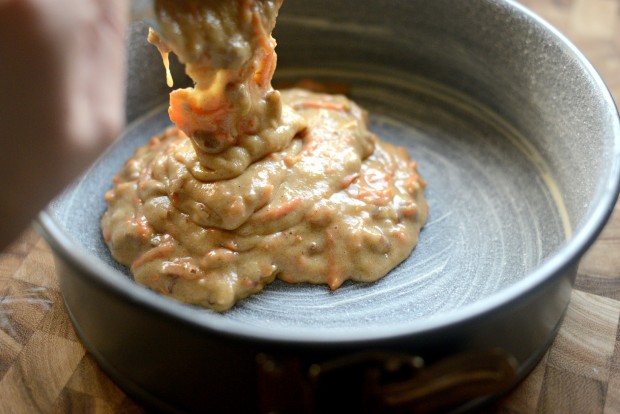 Pour in the carrot cake batter…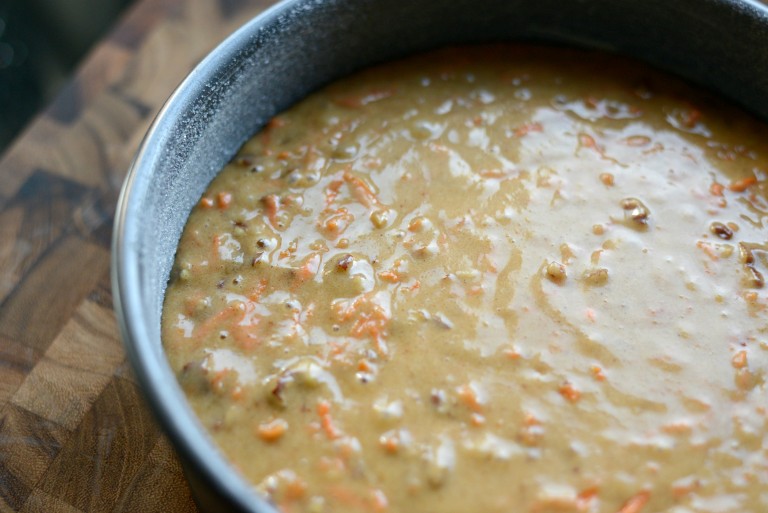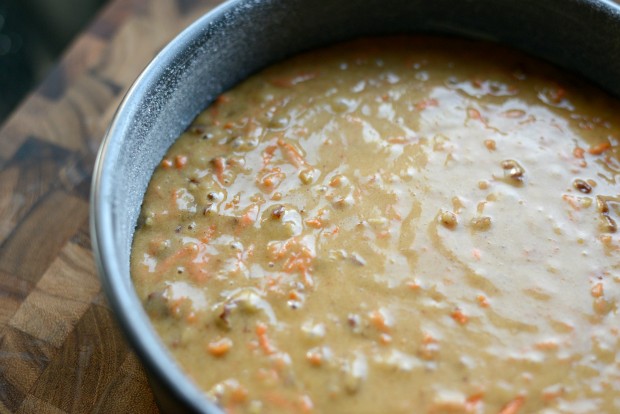 Then slide the cake into a preheated 350 degree oven for 50-60 minutes or until a toothpick comes out clean when inserted in the center of the cake.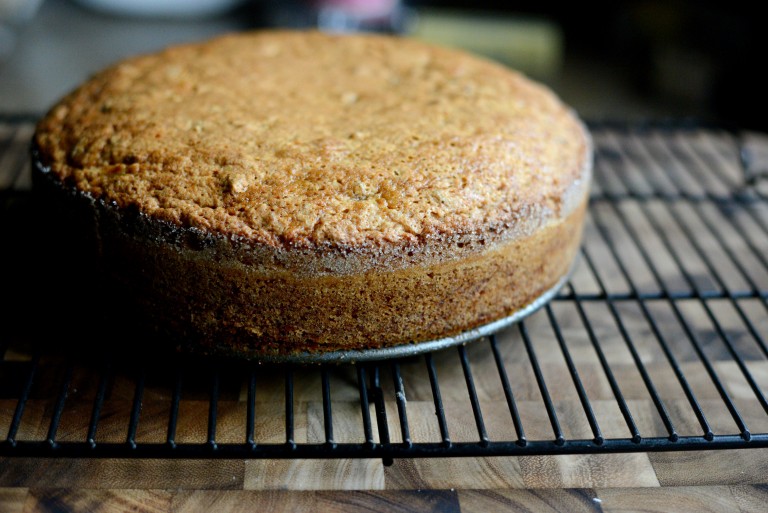 Allow the cake to cool for 10-15 minutes before releasing the spring form and removing it from around the cake. Run a large offset spatula between the cake and bottom of the pan and transfer the cake to a cooling rack to cool for 2 hours.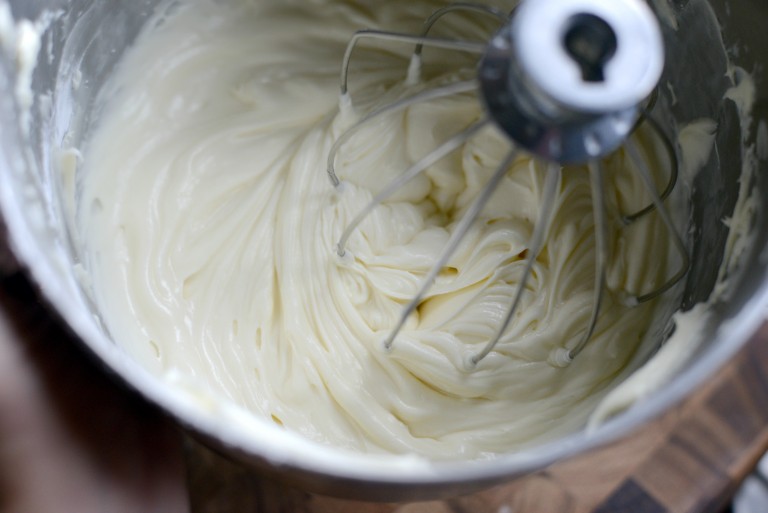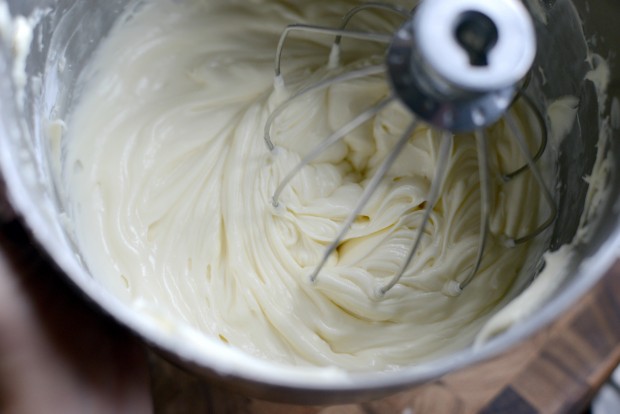 Once the cake has cooled make the cream cheese frosting.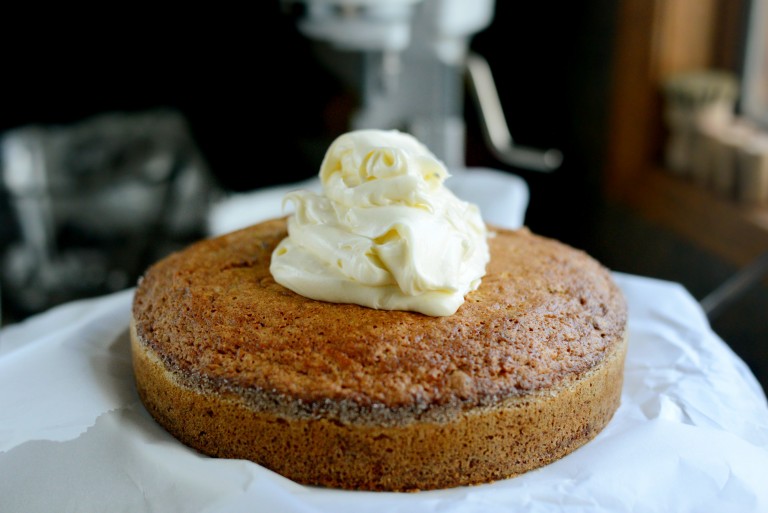 Scoop a large amount onto the cake.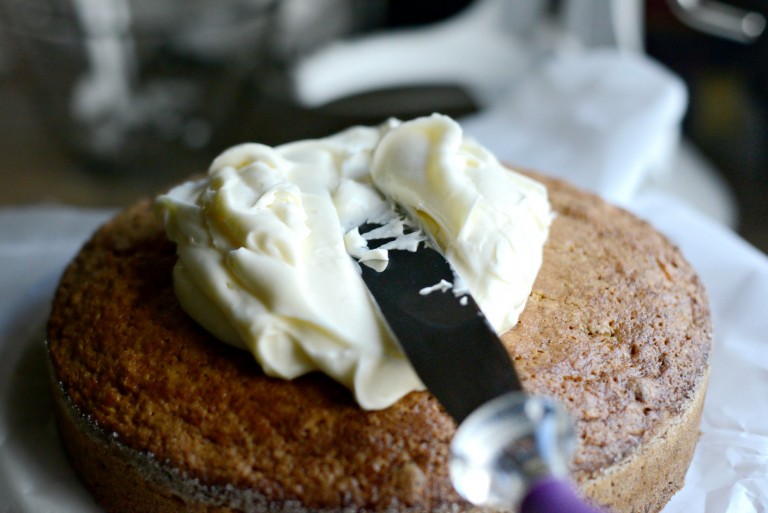 Spread from the center out towards the edge…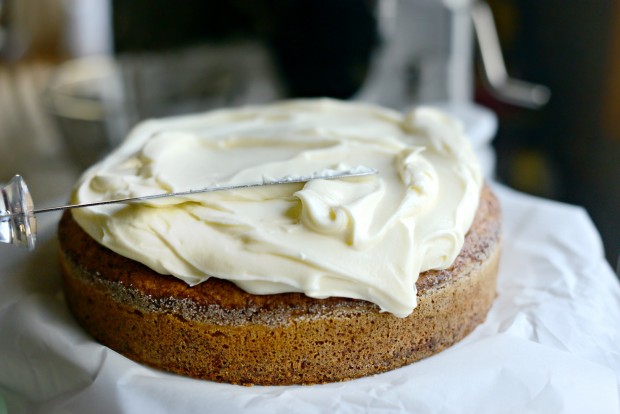 …until it falls over the edge of the cake.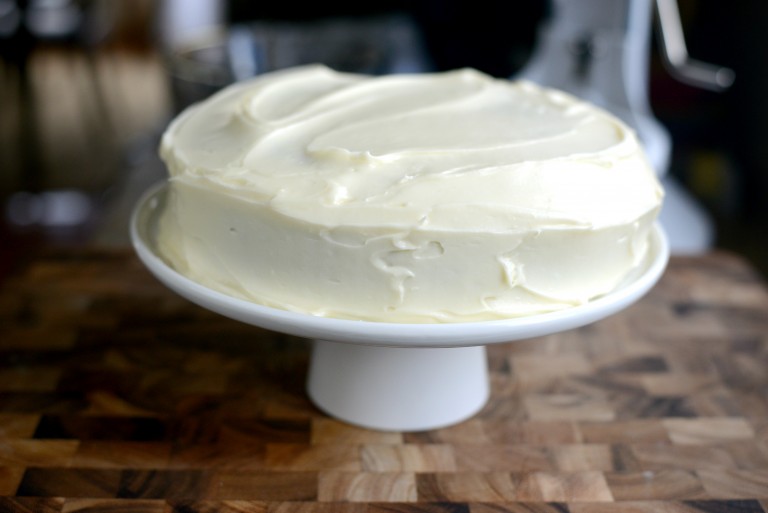 I may be the worst cake froster but there it its.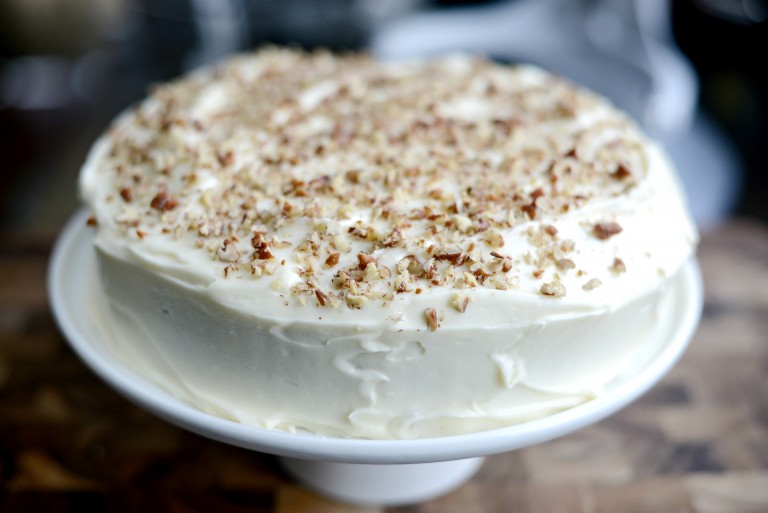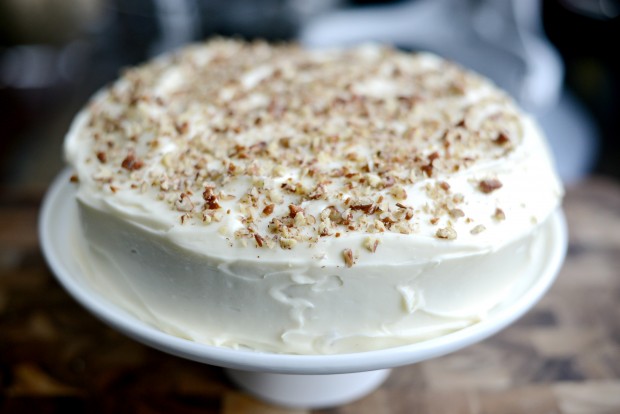 Sprinkle with 1/4 cup of finely chopped toasted pecans. Then I pop the cake into the fridge until ready to serve.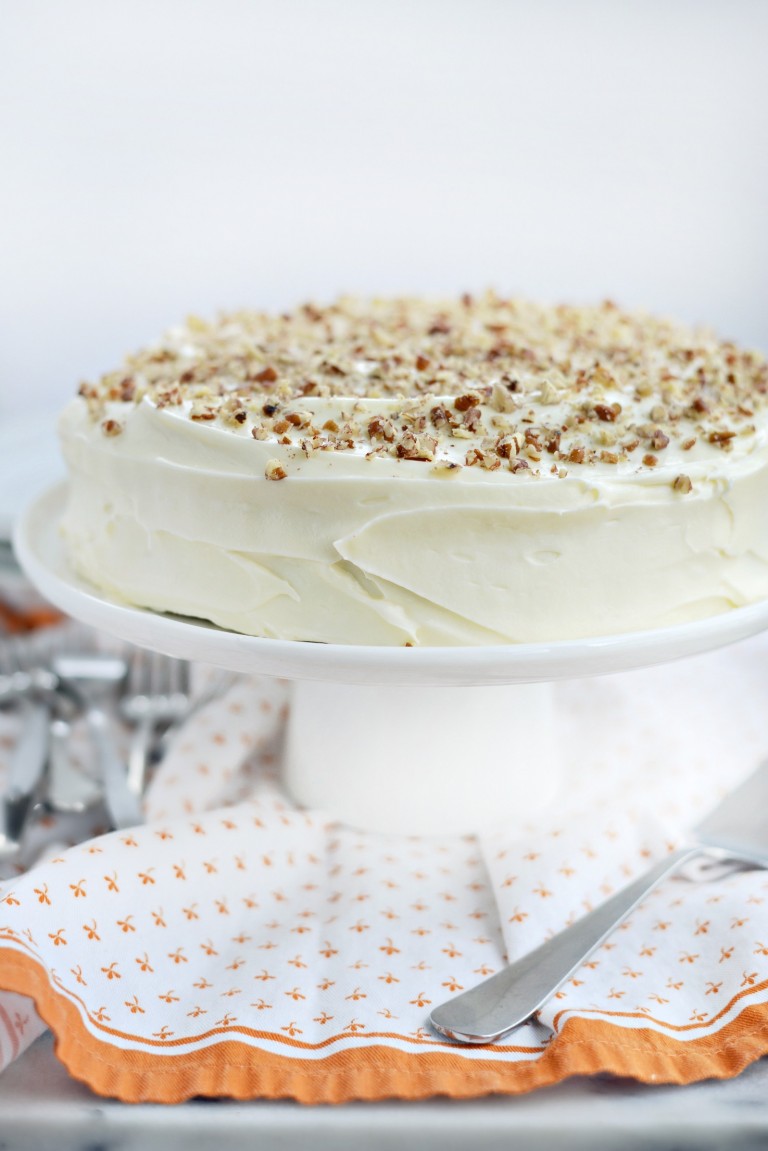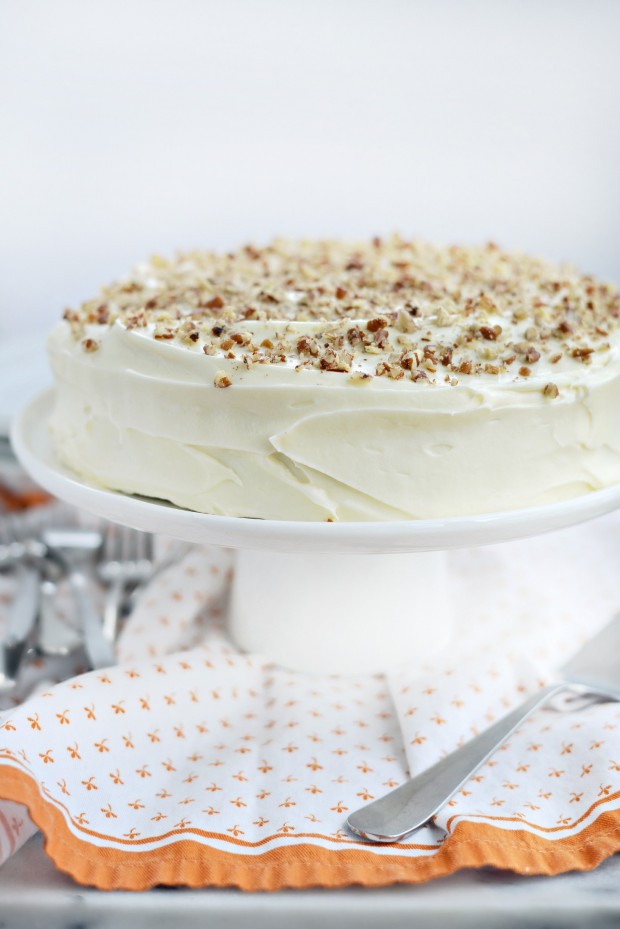 So pretty. Oh and if you're using my cream cheese frosting recipe, you may have some frosting left over… try dipping strawberries in it. AMAZING!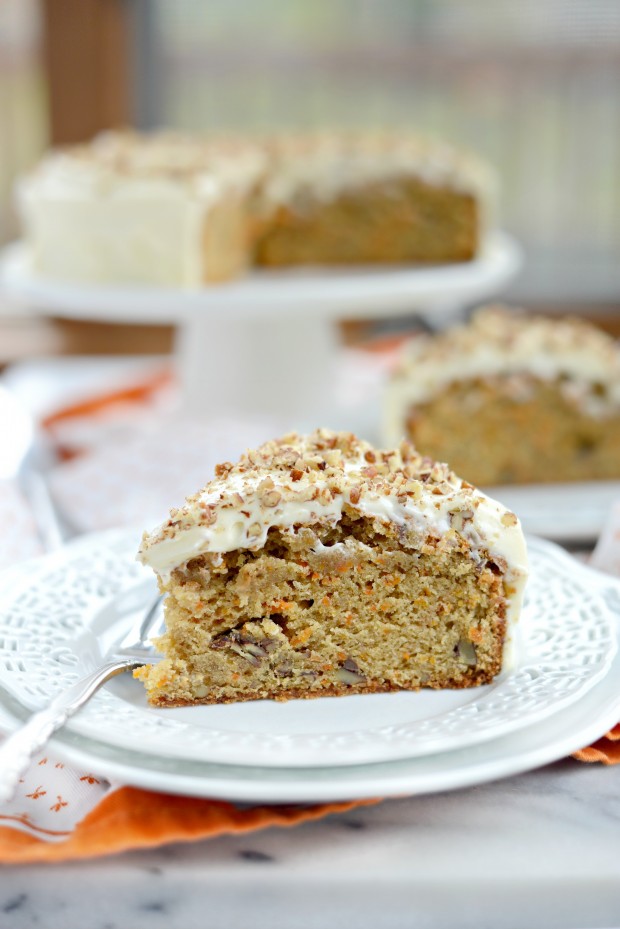 The flavors of this homemade carrot cake is outstanding. The cardamom and cinnamon is so lovely and the toasted pecans are my favorite part.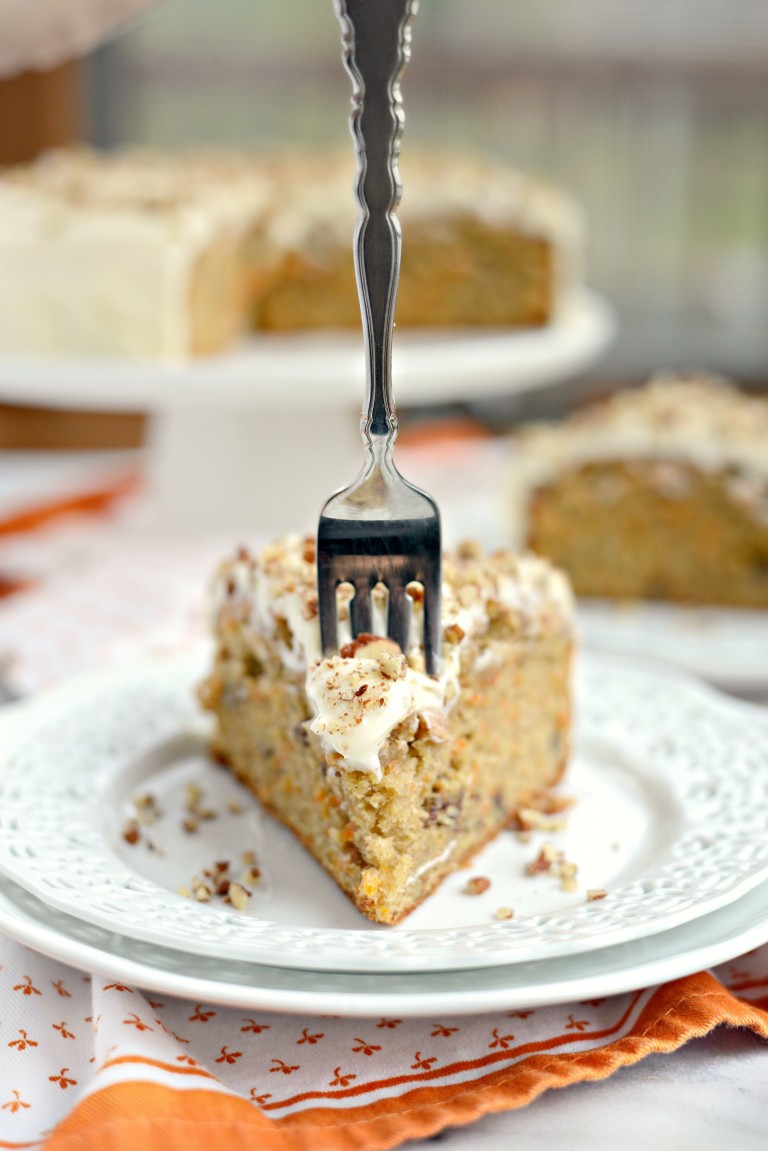 It doesn't have to be Easter to make this cake. But if you do make it… invite me over?
Enjoy!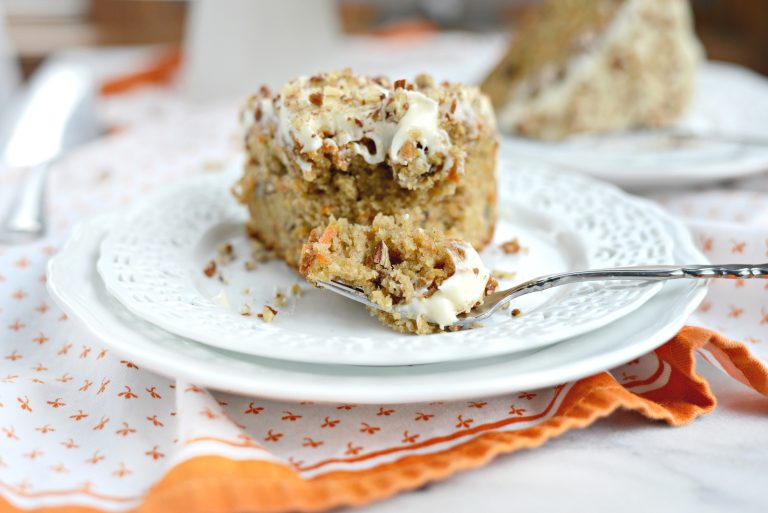 My cookbook Simply Scratch : 120 Wholesome Homemade Recipes Made Easy is now available! CLICK HERE for details and THANK YOU in advance!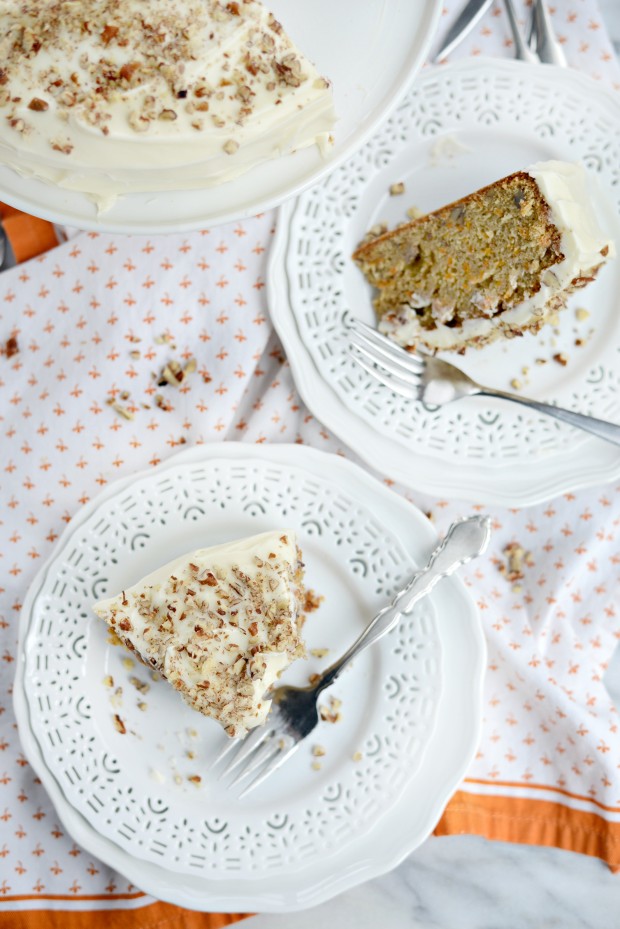 This post may contain affiliate links.
Buy the Cookbook: Simply Scratch : 120 Wholesome Homemade Recipes Made Easy Now available on Amazon »
THANK YOU in advance for your support!