These herbed goat cheese deviled eggs are a fun and delicious twist on the original. Goat cheese and fresh herbs like parsley and terragon are blended into the filling, topped with paprika and fresh chives.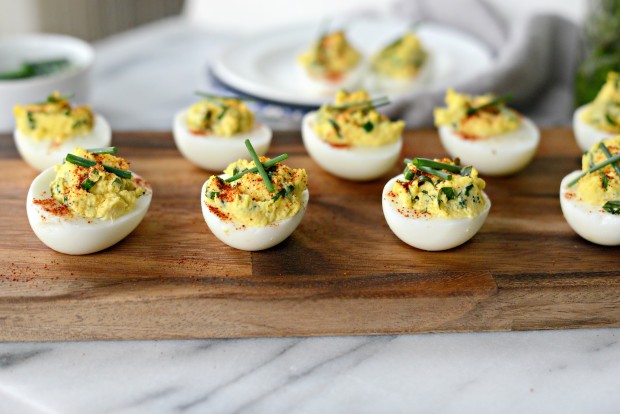 Deviled eggs are the quintessential Easter appetizer.
My mother-in-law is the queen of making deviled eggs. Every Easter I can count on her to whip up a classic batch and rarely is there any left by the time dinner is served. I kind of ride the fence when it comes to deviled eggs. Most of the time I really have to be in the mood to eat them but when I am in the mood I eat like 8. Okay, 9. Don't judge me.
This year I am totally in the mood! And if, like me, you're wanting something a little different and if you (also, like me) love goat cheese how about this year you flip the script on traditional deviled eggs by mixing in a little goat cheese and fresh herbs? I did and you should too.
These herbaceous goat cheese deviled eggs are so fabulous. Because what's not too love about creamy, bursting with fresh herbs like parsley and tarragon meets a subtle crunch from the green onion? It's basically a party for your tastebuds.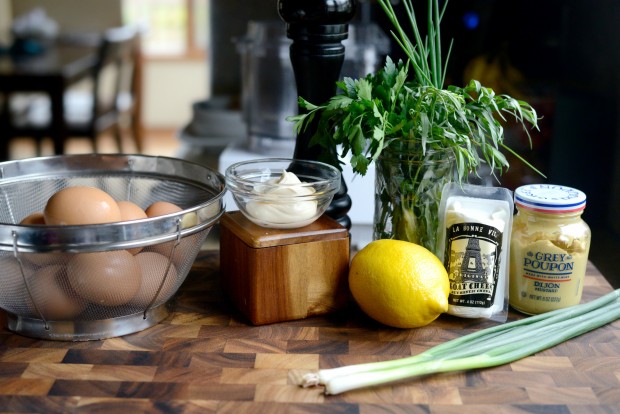 Earlier in the morning I hard boiled a dozen eggs. I have fool-proof method to avoid those overcooked green yolks and the step-by-step post showing you how here.
So once the eggs have cooled, peel them and slice in half.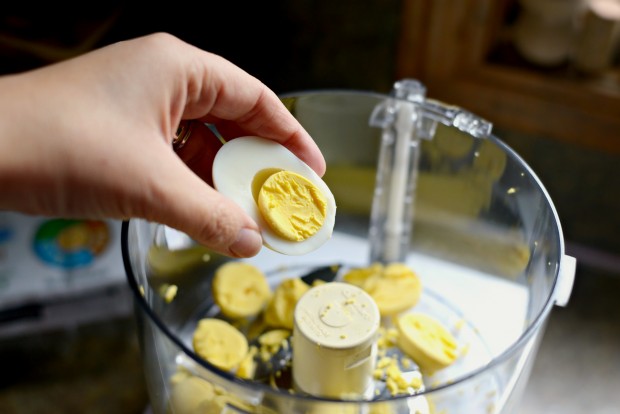 Gently squeeze the egg halves over the bowl of your food processor, dropping the yolks into it. Place the egg whites onto a clean plate.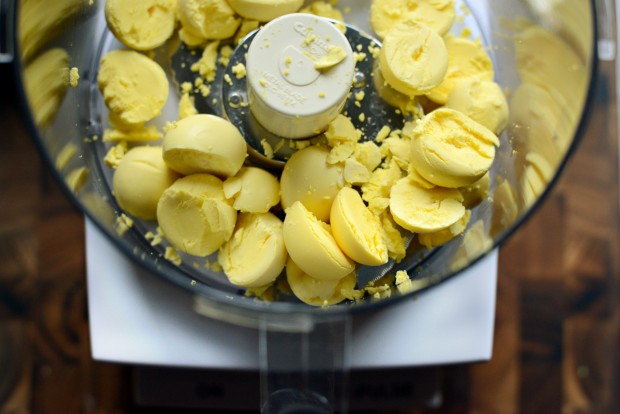 Yummy goodness right thurrr.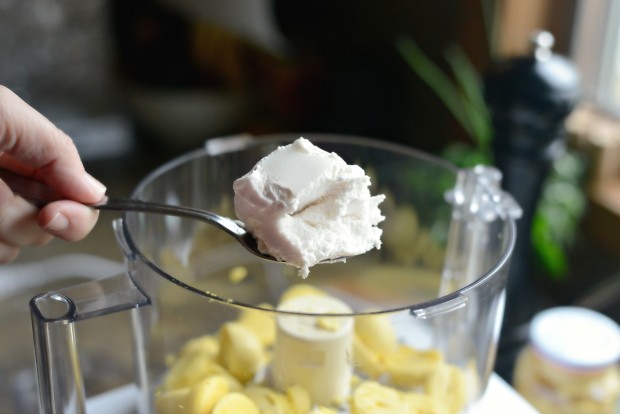 To the yolks, add in 2 (generous) ounces of goat cheese…
4 tablespoons of mayonnaise…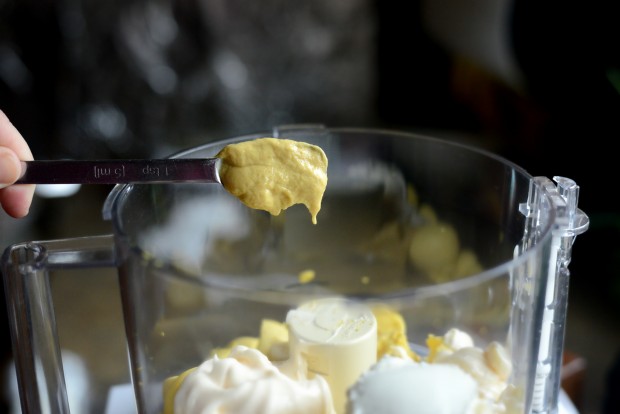 1 heaping teaspoon of Dijon mustard…
Squeeze in about a 1/2 teaspoon of fresh lemon juice…
and lastly season with a 1/4 teaspoon of both kosher salt and freshly ground black pepper.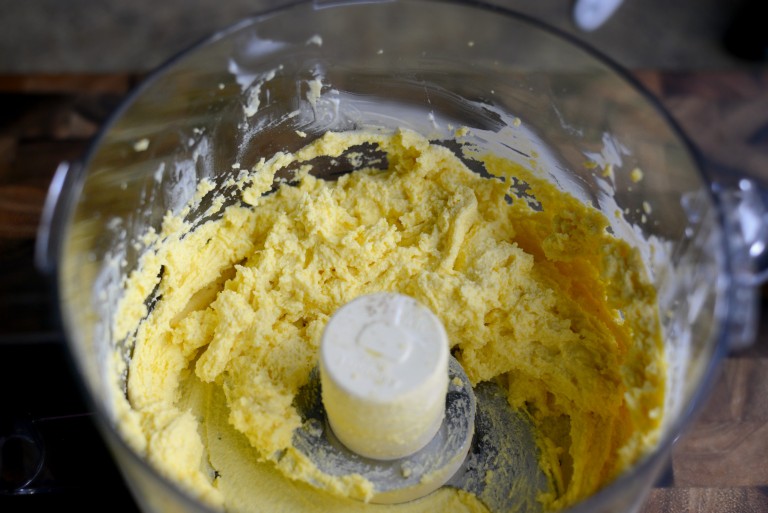 Secure the lid and blend until whipped and smooth like velvet. Scrape down the sides of the bowl as you go. Then set that off to the side for a moment…
Meanwhile, slice up 2 green onions and measure 1-1/2 tablespoons of minced parsley leaves and a tablespoon of fresh tarragon leaves.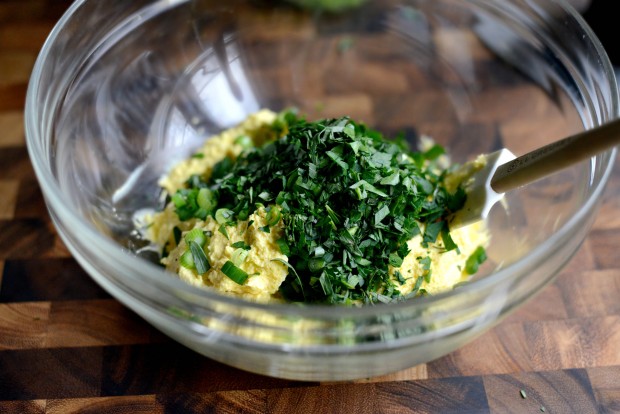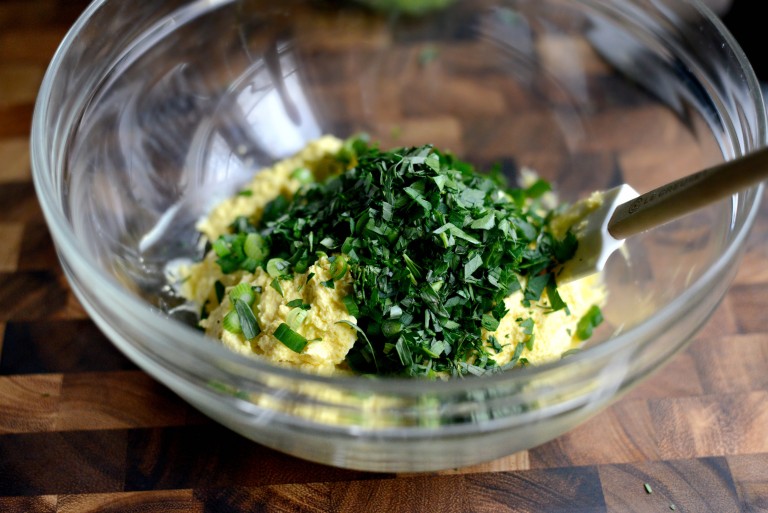 Next you'll want to add those into the bowl with the egg yolk mixture…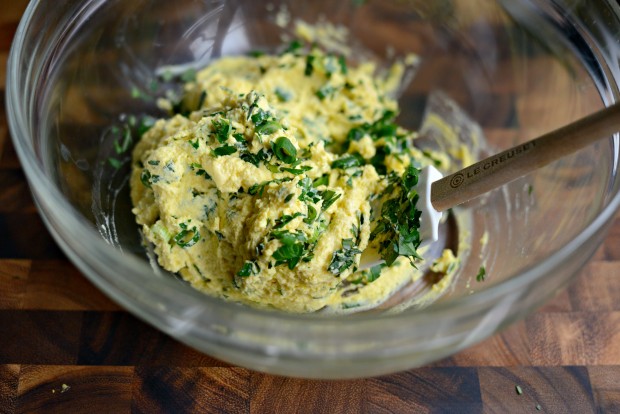 …and then mix them together.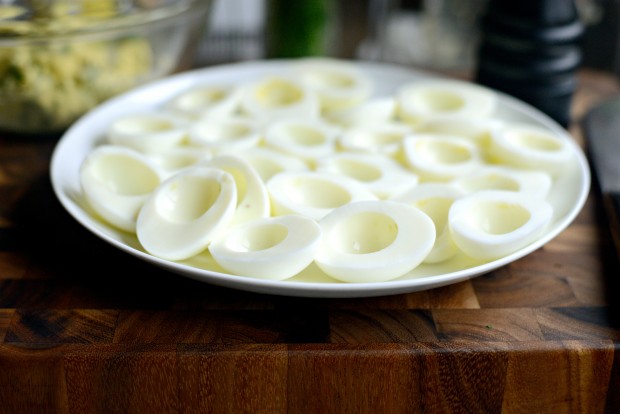 Next grab the plate-o-eggs.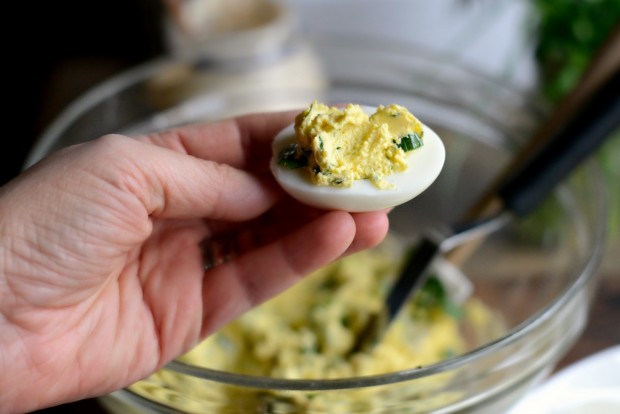 Lastly fill them up. I use an offset spatula which I think works great but you can use a teaspoon or even pipe it in if you're feeling extra fancy.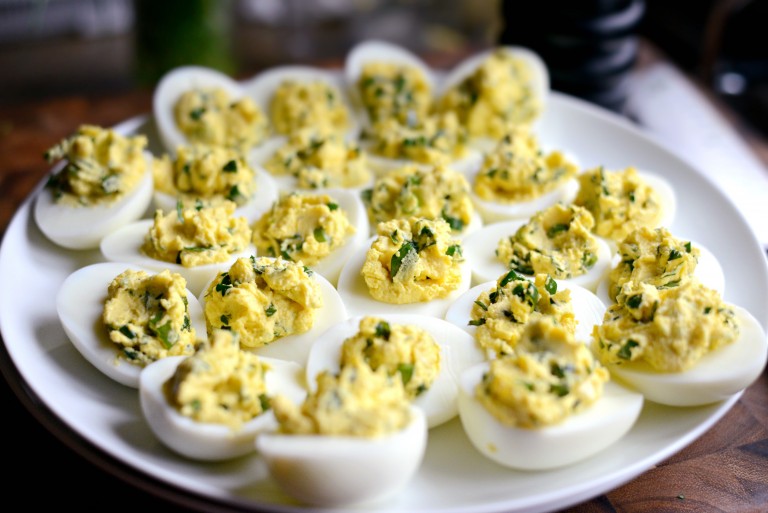 And that's it. This perfect handheld appetizer is done-zos.
Now sit back and watch them disappear.
3…2…1…
Enjoy!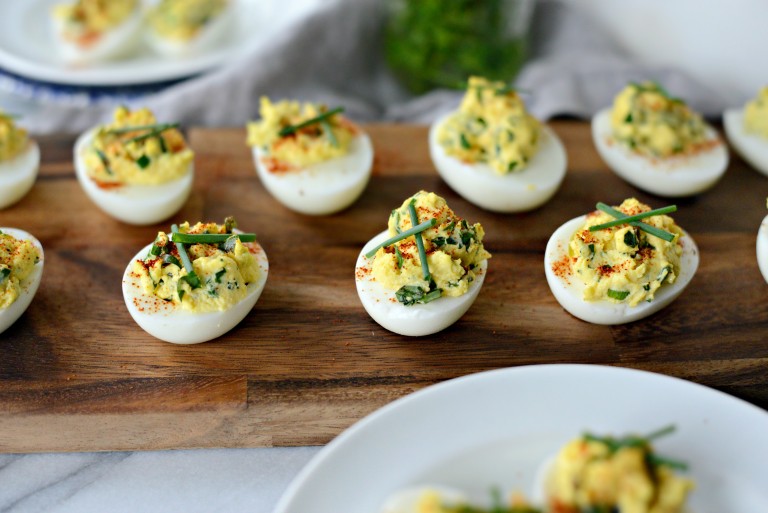 My cookbook Simply Scratch : 120 Wholesome Homemade Recipes Made Easy is now available! CLICK HERE for details and THANK YOU in advance!
Yield: 24 deviled eggs / 12 servings
Herb and Goat Cheese Deviled Eggs
Goat cheese is whipped into hard boiled egg yolks, Dijon mustard and a smidgen lemon juice. Fresh herbs get folded into that and filled into the open egg whites.

Prep Time 15 minutes

Cook Time 12 minutes

Additional Time 3 minutes

Total Time 30 minutes
Ingredients
2 ounces goat cheese
4 tablespoons mayonnaise
1 teaspoon Dijon mustard
1/2 teaspoon lemon juice
1/4 teaspoon kosher salt
1/4 teaspoon freshly ground black pepper
2 green onions, sliced
1-1/2 tablespoons chopped fresh parsley
1 tablespoon chopped fresh tarragon
paprika, for garnish
chives, for garnish
Instructions
Hard boil the eggs and immediately plunge them into ice water to cool for 5 minutes. Remove the eggs from the ice bath, towel dry and peel.
Slice the peeled, hard boiled eggs in half. Over the bowl of your food processor (fitted with the blade attachment), gently squeeze the egg whites so the yolks pop out and falls into the bowl. Place the egg white portion onto a large plate.
Next, add in the goat cheese, mayonnaise, Dijon, lemon juice, salt and pepper to the egg yolks in the food processor.
Pulse, stopping to scrape down the sides of the bowl until the mixture is smooth.
Scrape out the egg yolk filling into a medium bowl and add in the sliced green onions, chopped parsley and tarragon. Use a spatula and mix to combine.
Fill each of the egg whites (with an offset spatula, spoon or pipe it in with a pastry bag) with the goat cheese/egg mixture. Sprinkle the deviled eggs with paprika and top the yolk mixture with a few inch-long snipped chives for garnish.
Refrigerate until ready to serve.
Nutrition Information:
Yield:
12
Serving Size:
2

Amount Per Serving:

Calories: 124 Total Fat: 10g Saturated Fat: 3g Trans Fat: 0g Unsaturated Fat: 6g Cholesterol: 191mg Sodium: 169mg Carbohydrates: 1g Fiber: 0g Sugar: 1g Protein: 7g

Nutrition information isn't always accurate.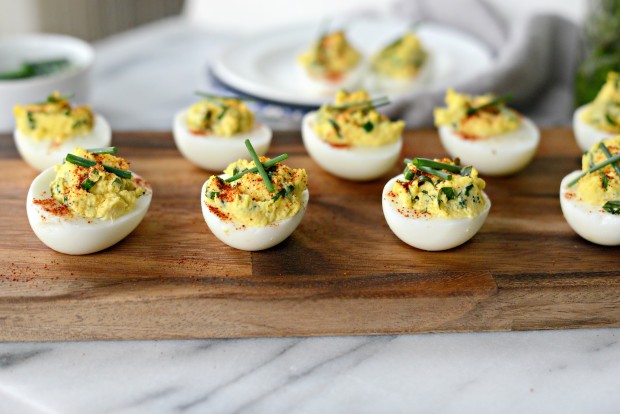 This recipe was inspired from myrecipes.com : http://www.myrecipes.com/recipe/herb-crumb-deviled-eggs