Serve this roasted fennel potato hash at your next family breakfast or brunch. Fennel and potatoes are tossed in spices and roasted and then topped with a fried egg.
In our house we call Thursdays, Thuriday.
I know, how weird and totally random… but here's why; Thursday is Pat's "Friday" because it ends his 40-hour work week and starts his three day weekend. So around here Thursdays feel like Fridays and Fridays feel like Saturdays… etc.
When hunting season is over and he's home, I cherish our Fridays together. Our girls are at school so we usually run errands, go out to lunch or (my personal favorite) lay around all day and do absolutely nothing. On those particular lazy days, I like to make us breakfast.
It usually consists of some sort of hash that we can put an egg on top of. A few Friday's ago, roasted fennel and a red-skin potato hash was on the menu, so I decided to blog it as I go. As you'll soon see, this hash is incredibly easy, as any oven-roasted hash should be, and if you've never had the pleasure of experiencing roasted fennel- you're totally missing out. The fennel softens, it's edges caramelizes and licorice flavor mellows out so just a hint remains… it's utterly scrumptious. Mix it with roasted potatoes, Parmesan cheese, chopped fresh parsley and fennel fronds and you my friends, have breakfast.
For this recipe you really only need a few ingredients. Baby red-skin potatoes are perfect and cook quickly, but larger redskins can be used just chop them into smaller chunks.
You'll also need a large sweet onion, fennel bulb with the fronds still attached, paprika, garlic powder, s & p and freshly grated Parmesan cheese.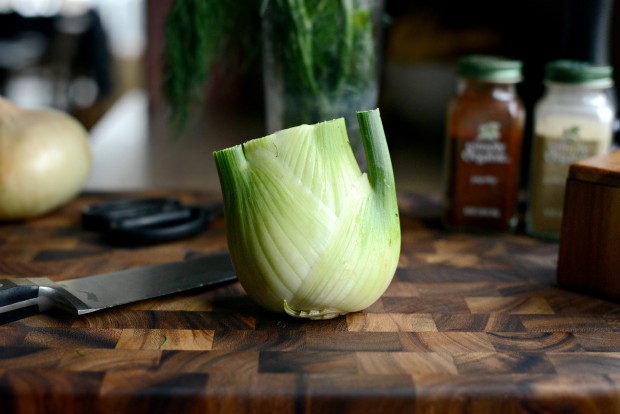 Trim the root end a bit, cut the stalks off of your fennel bulb and remove any outer layers that are a little dried out.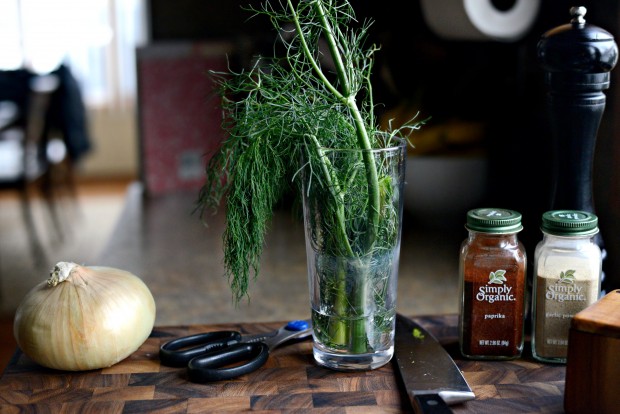 I put the stalks in a tall drinking glass with some water to keep it fresh. We'll be using those fronds a little later.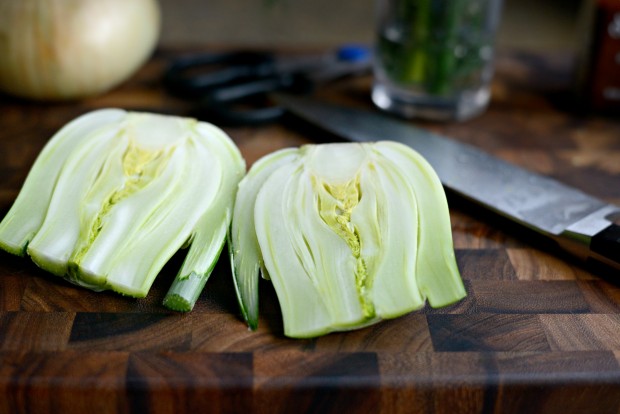 Cut the fennel in half…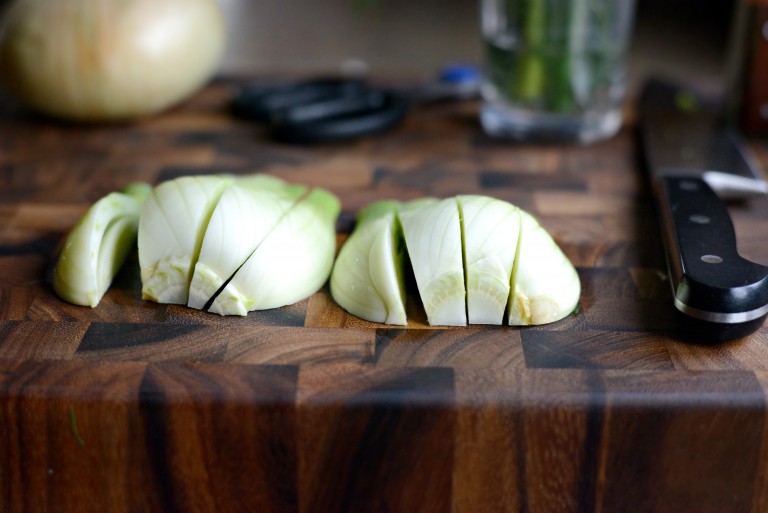 …and then into wedges.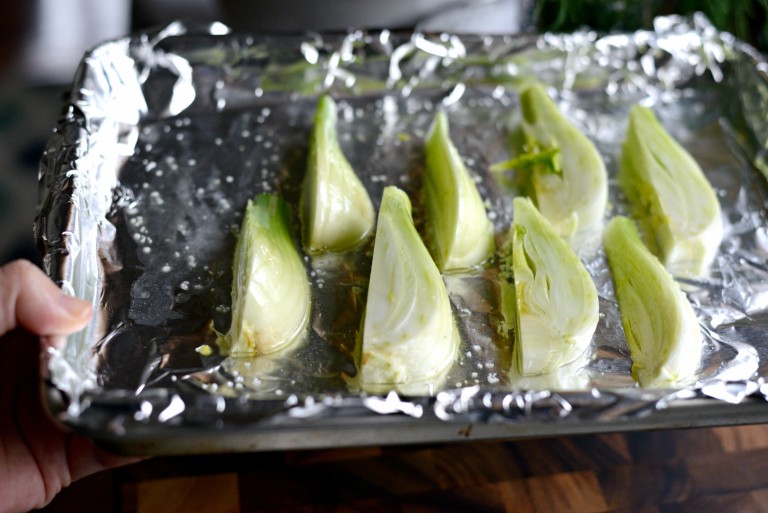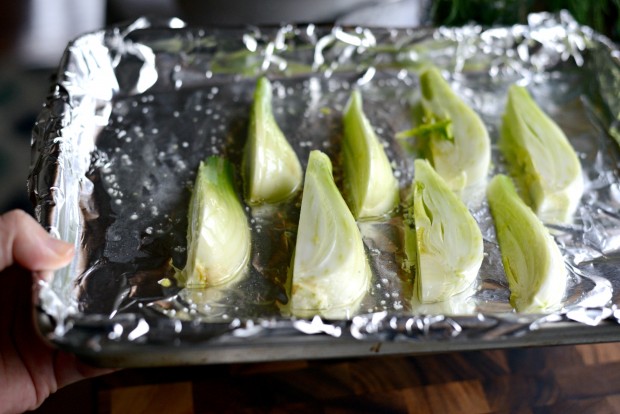 Drizzle with a little olive oil and sprinkle with a few pinches of kosher salt and set off to the side.
Rinse 2 pounds of baby red-skins off and pat dry with a kitchen towel.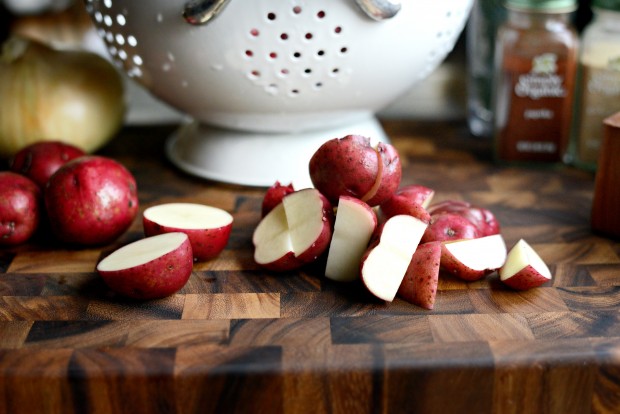 Slice the smaller potatoes in half, the larger ones should be quartered.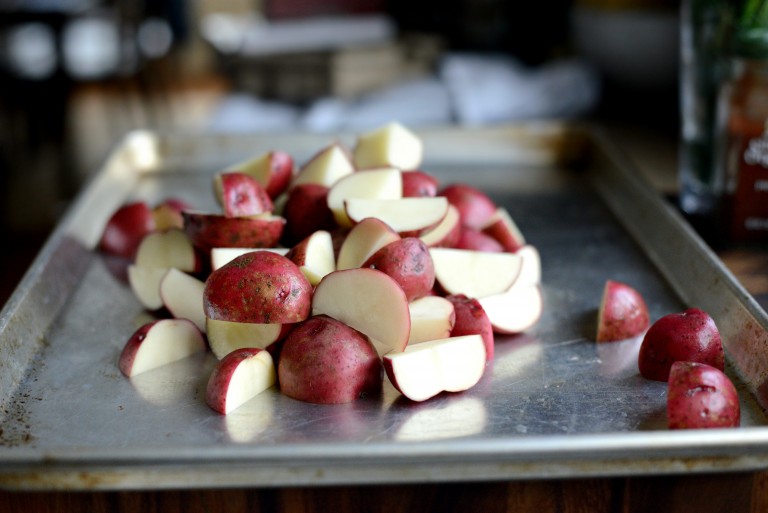 Drop the potatoes onto a rimmed, metal baking sheet…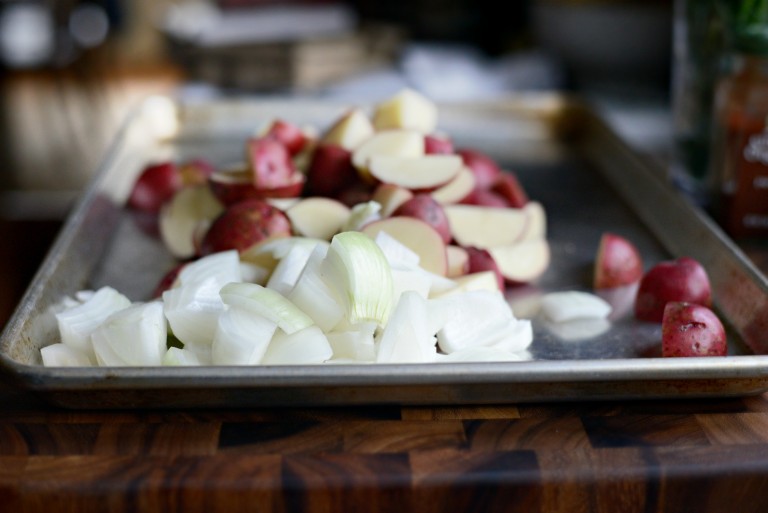 Along with the chopped sweet onion…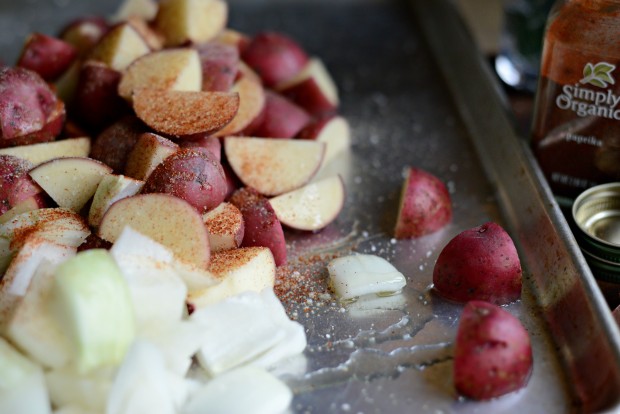 Drizzle with olive oil (eyeball it) and season with 1/2 teaspoon paprika and garlic powder…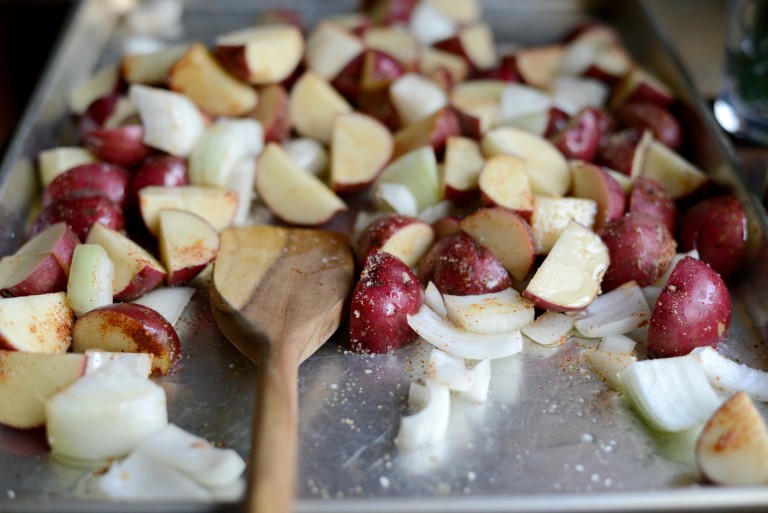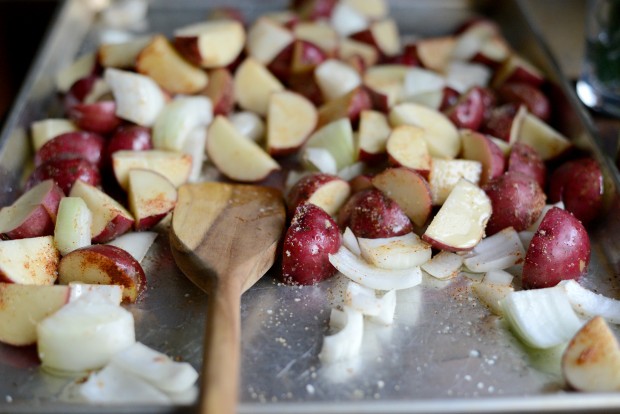 Stir and toss to coat.
Slide both pans into your preheated 400 degree oven and roast for 30 to 35 minutes.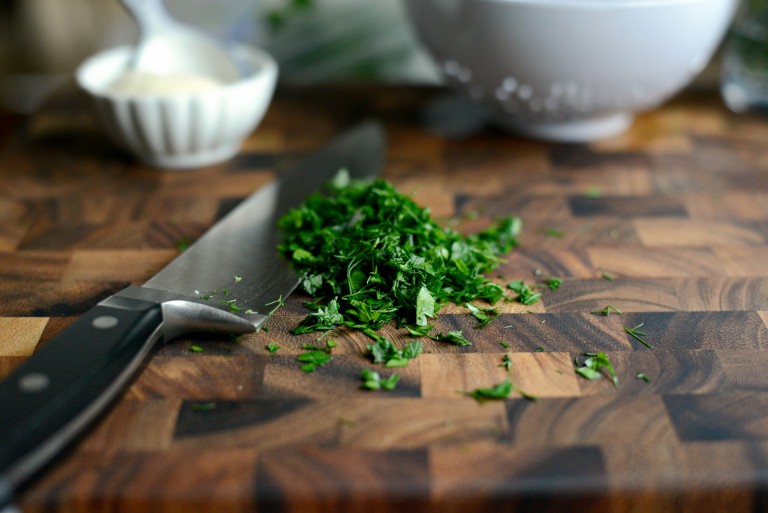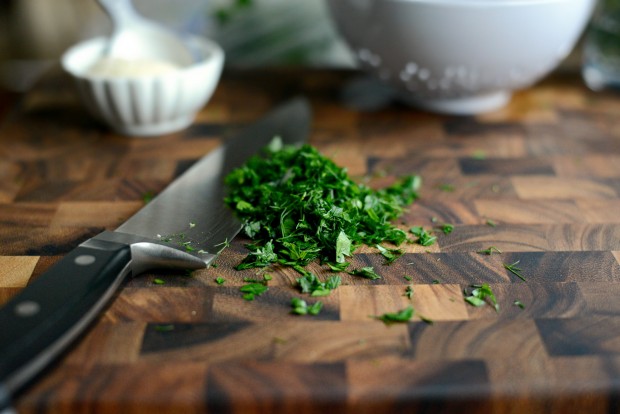 In the mean time chop up about a tablespoon and a half of both flat leaf parsley and fennel fronds.
The fennel will cook more quickly so I pull it out about 10 minutes before the potatoes.
And give them a rough chop.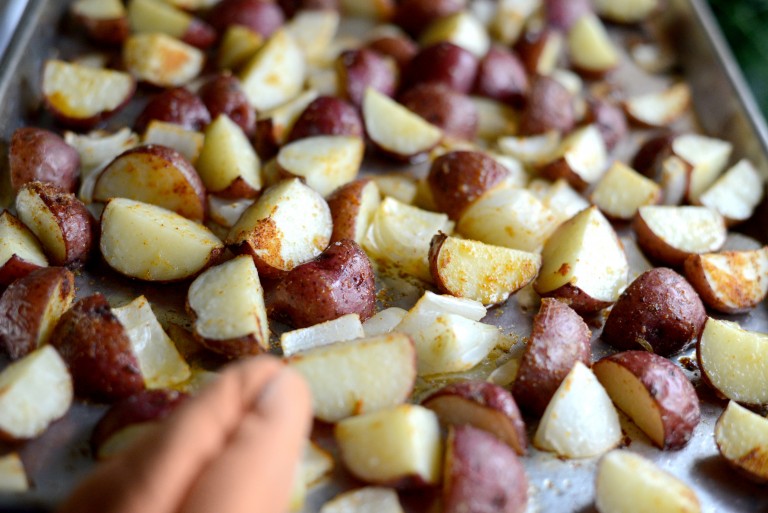 Once the potatoes are fork tender I remove them from the oven…
Add the chopped roasted fennel, sprinkle with Parmesan and some of the parsley and fennel frond combo (leaving a little behind for garnish.)
With the oven turned off, I slide the pan back in and work on poaching the eggs. Here's my post on How To Poach Eggs if you need a reference.
Plate up some of that roasted fennel potato hash, place a perfectly poached (or fried) egg on top.
Poke the egg so the yolk can cascade down all over the hash.
I love it.
Enjoy!
My cookbook Simply Scratch : 120 Wholesome Homemade Recipes Made Easy is now available! CLICK HERE for details and THANK YOU in advance!
This post may contain affiliate links.
Buy the Cookbook: Simply Scratch : 120 Wholesome Homemade Recipes Made Easy Now available on Amazon »
THANK YOU in advance for your support!