This easy split pea soup is soul-warming and quite possibly one of the easiest soups to make. Smoke ham hocks give this soup it's smoky flavor. [this post contains affiliate links.]
It's definitely starting to feel like winter around here.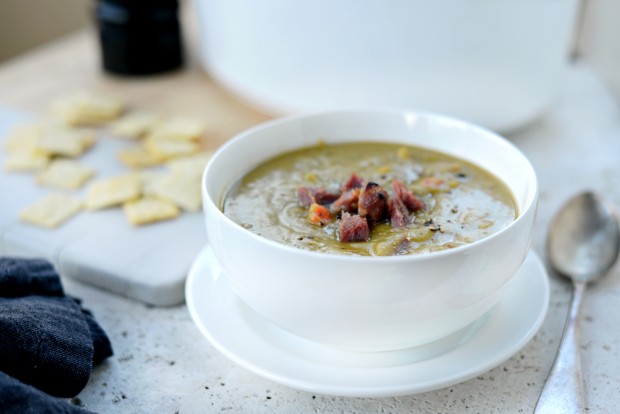 The past month or so we've been so utterly spoiled with the weather. Around Christmas the temperatures here were in the low to mid 50's, totally feeling like spring and now the weather app on my phone is currently reading, ahem 20 degrees (but it feels like 11 -ewww). All good things must come to an end so I suppose winter is officially here to stay for the next couple of months.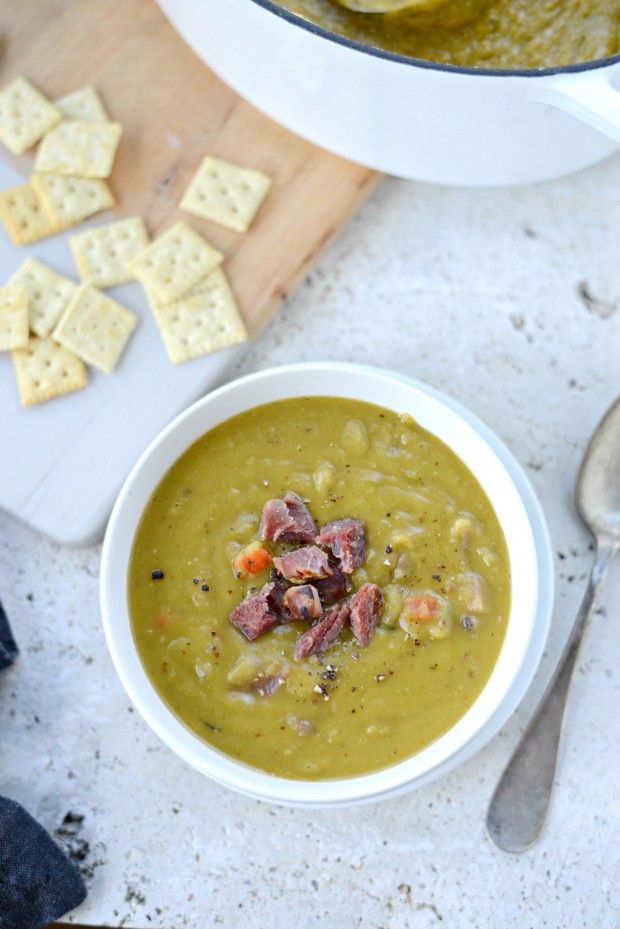 Translation: Soups on! This is the time of year I crave hearty, soul-warming soups and split pea soup is quite possibly one of the easiest soups to make. You basically throw everything into a pot and cook it for about an hour. Who doesn't love the sound of that or that vibrant green color??
Vegetables, green peas and ham hocks- oh my!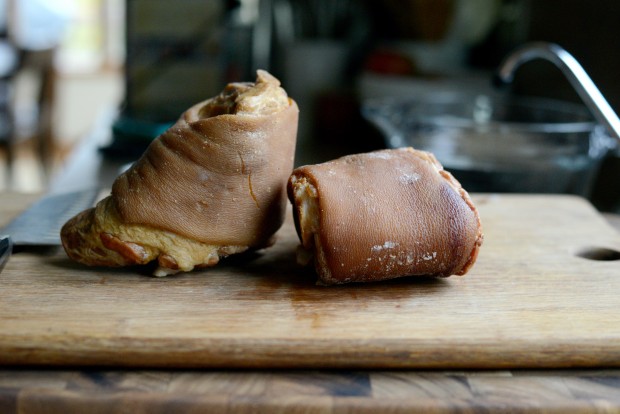 I was near finished with my grocery shopping when I stumbled upon these not-so-pretty ham hocks and I immediately knew that split pea soup was in my future, so I weaved my way back throughout the store to pick up the split peas and other ingredients. I like my split pea soup with lots of tiny bits of ham, so I try to find the ones the package weighing closest to 2 pounds, insuring that just about every bite would contain a piece (or two).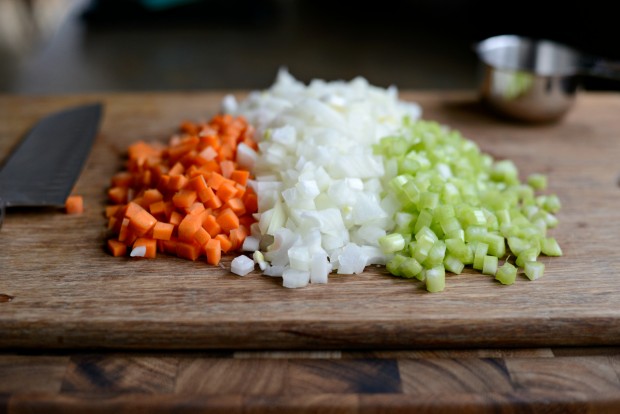 Start things off with the typical soup starting ingredients by dicing up a large onion, 2 small to medium carrots and a few stalks of celery. All the vegetables should be about 1/4 of an inch.
I cover the pot and cooked them in 3 tablespoons of butter, over medium-low heat for about 5-8 minutes until just they're just starting to soften, only stirring occasionally.
While the vegetables are cooking, sort through 2 cups of green split peas.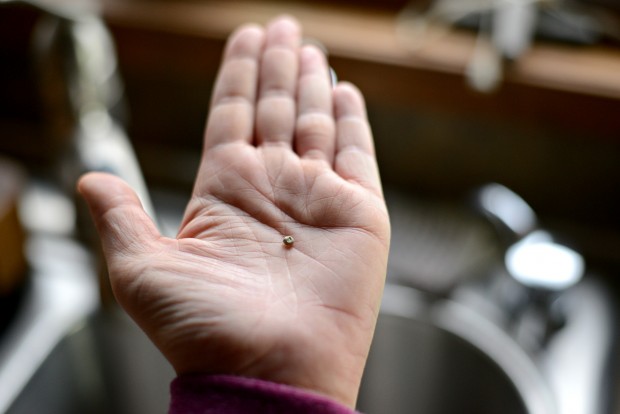 Is it a rock? Or a shriveled up pea? I don't know but it sure as heck wasn't going to find it's way into my soup. It'd be just my luck to find it in my bowl, or worse, my husbands. I can see it now, for the rest of my life I'd hear Pat say; "remember when you put a rock in my soup??" – so yeah, sort through the peas!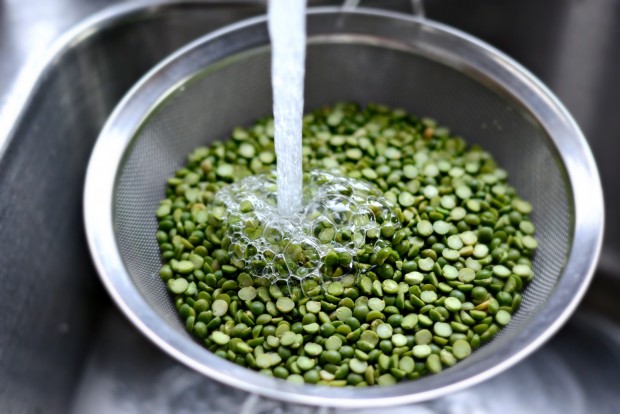 Give the peas a good rinse and set them off to the side for a second.
Now that the vegetables are somewhat tender, add in 4 sprigs of fresh thyme…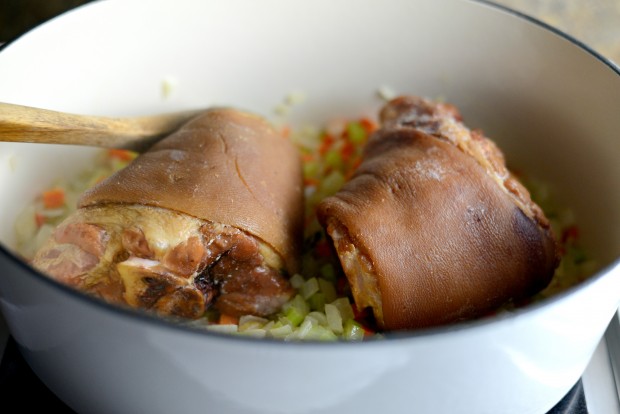 the ham hocks…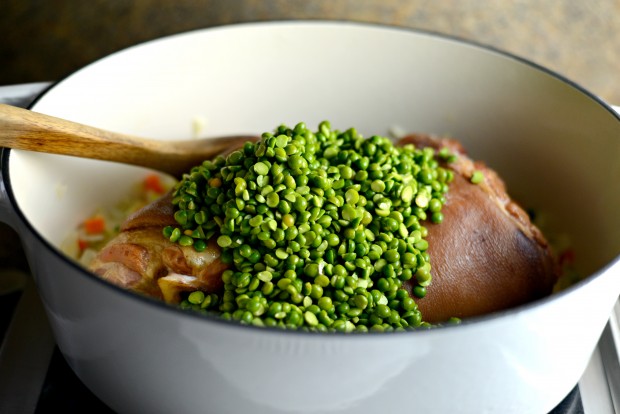 the peas…
…and cover it all with 8 cups of water.
Yes, you're actually making the stock of this soup with water and ham hocks. <—- heaven right there.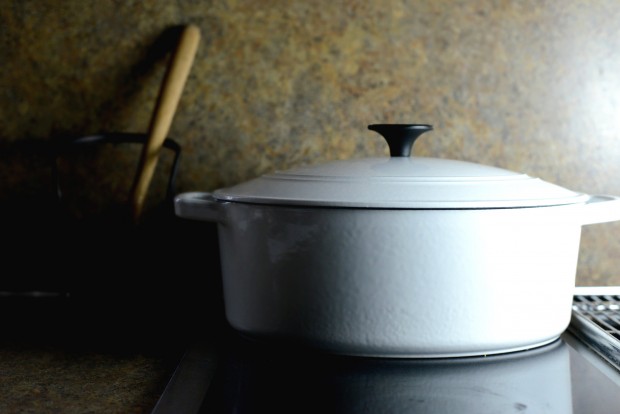 Cover, increase the heat to high and bring to a boil. Once it's boiling, reduce the heat to medium-low and crack the lid a bit so the steam may escape.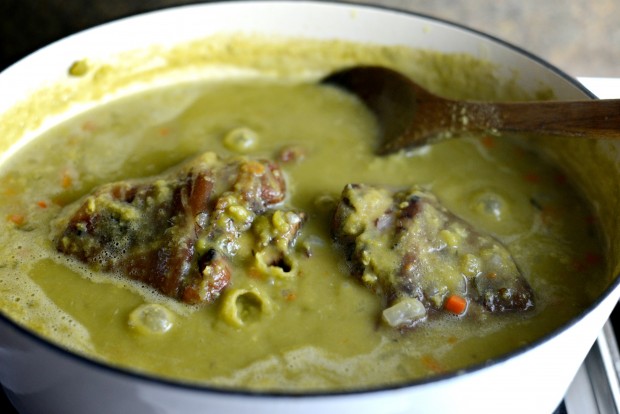 Simmer for about 1 hour, stirring often. The soup is done when the ham hocks are tender and the peas are falling apart.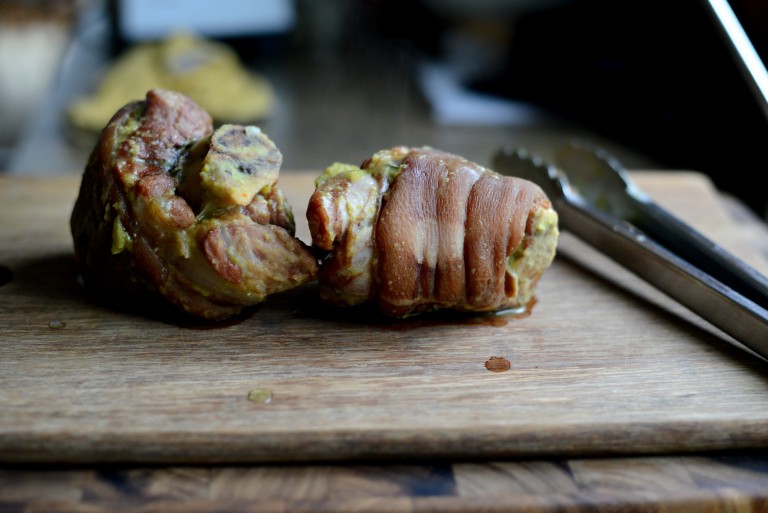 Use tongs to remove the hocks to a cutting board. Let these cool for a few minutes.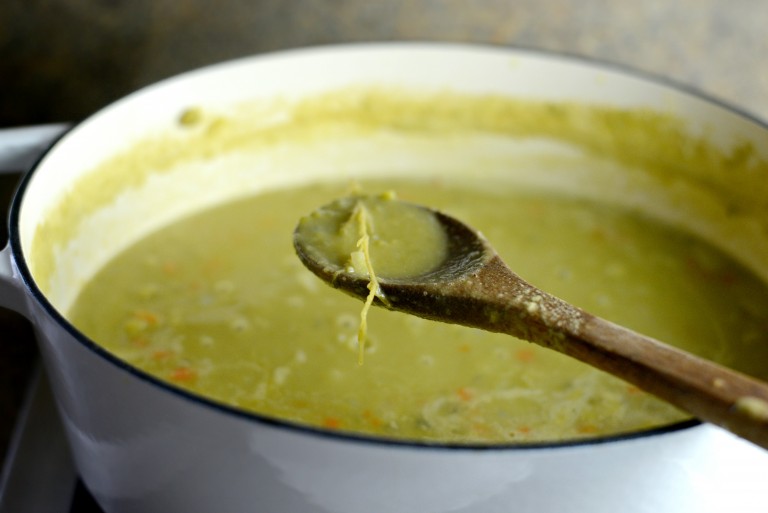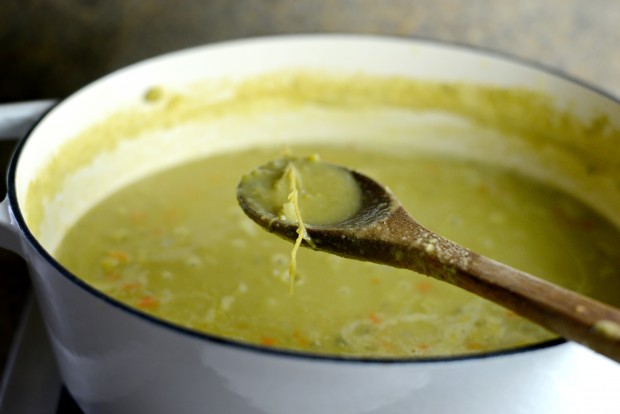 Remove the thyme stems from the soup…
Ladle 3/4 of the soup in to a blender
…or about 4 to 5 cups.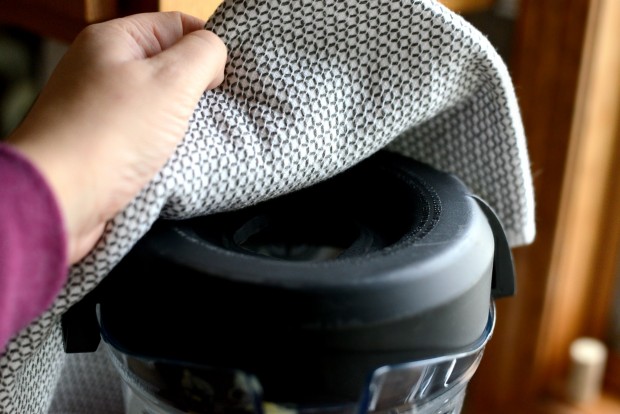 If using a blender, remove the center plug from the lid and cover the hole with a kitchen towel allowing steam to safely escape while you blend.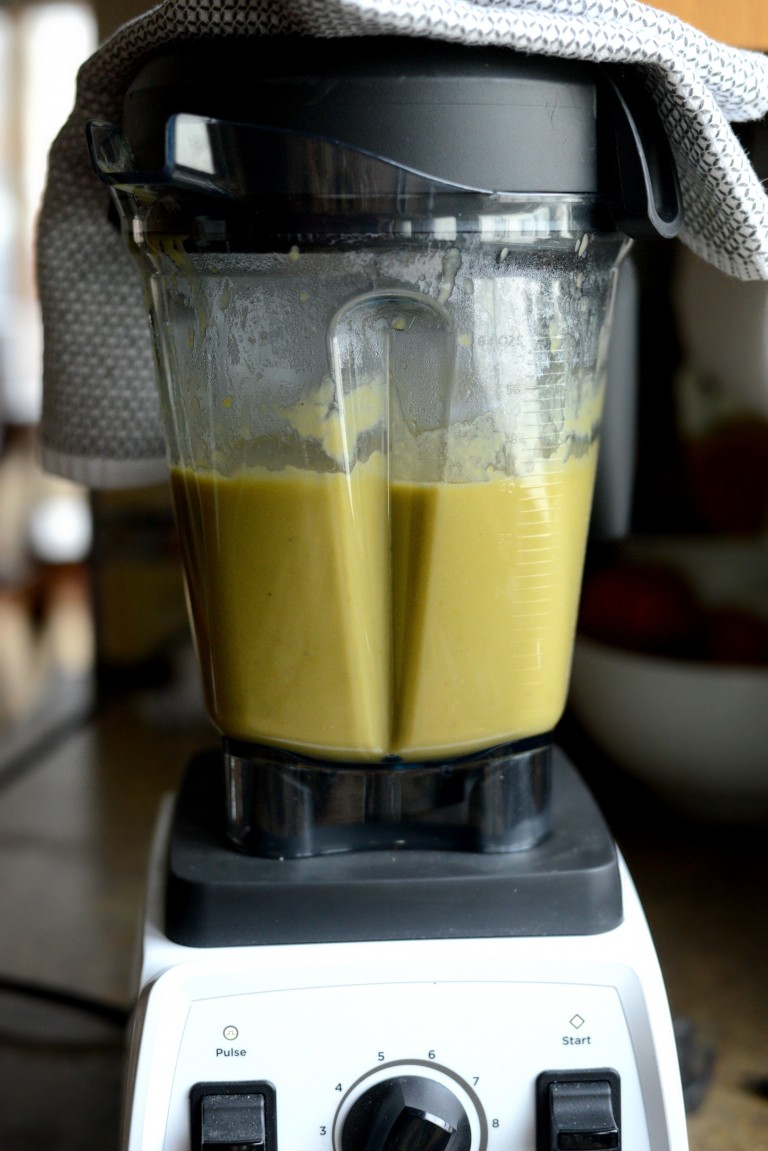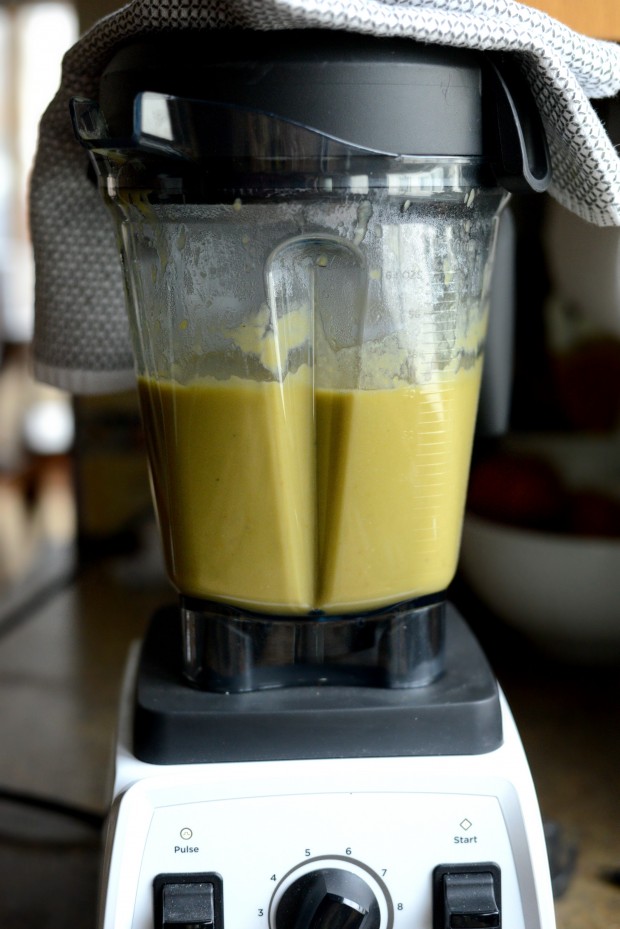 Puree until velvety smooth. I used my Vitamix.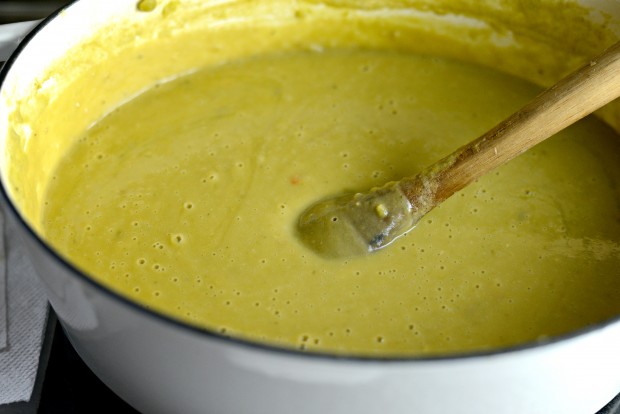 Pour the pureed soup back into the pot with the remaining non-pureed soup and keep warm over low heat.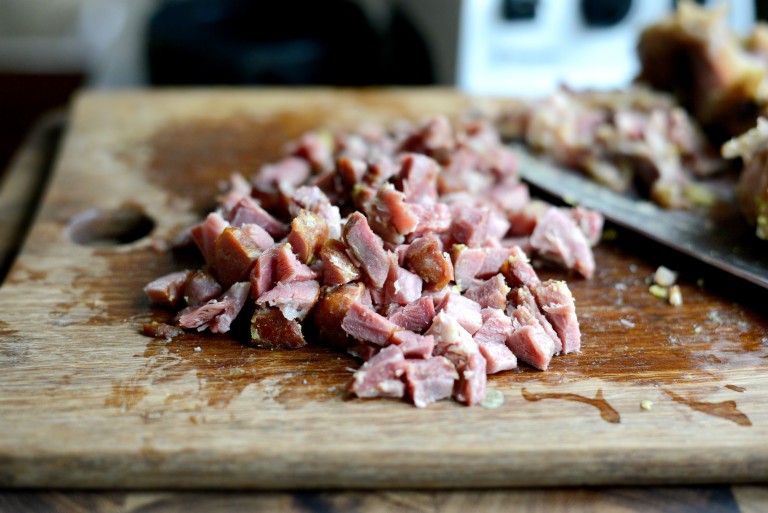 Once the ham hocks have cooled a bit and are safe enough to handle, discard the skin and chop the meat into small pieces.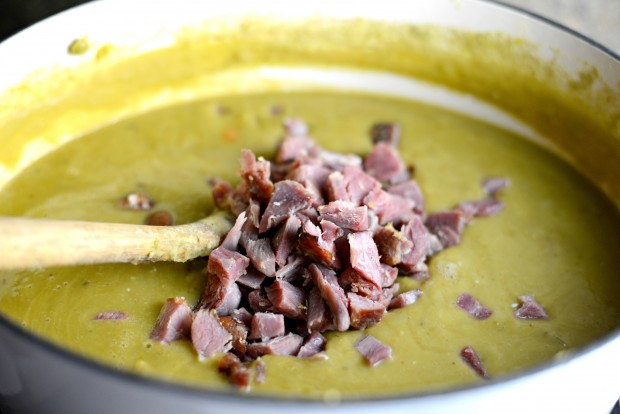 Add the ham to the soup. I reserve a little bit to garnish the soup before serving but that's totally my food styling mind at work and is completely optional.
Taste the soup and season accordingly with 3/4 to 1 teaspoon of kosher salt and 1/4 teaspoon freshly ground black pepper.
So good! If you want to loosen up the soup a tad more, be my guest and add a little water at a time until you reach a desired thickness or thin-ness.
I made this soup on this past Sunday to go along with grilled cheese and football- it was the perfect meal for a cold lazy day.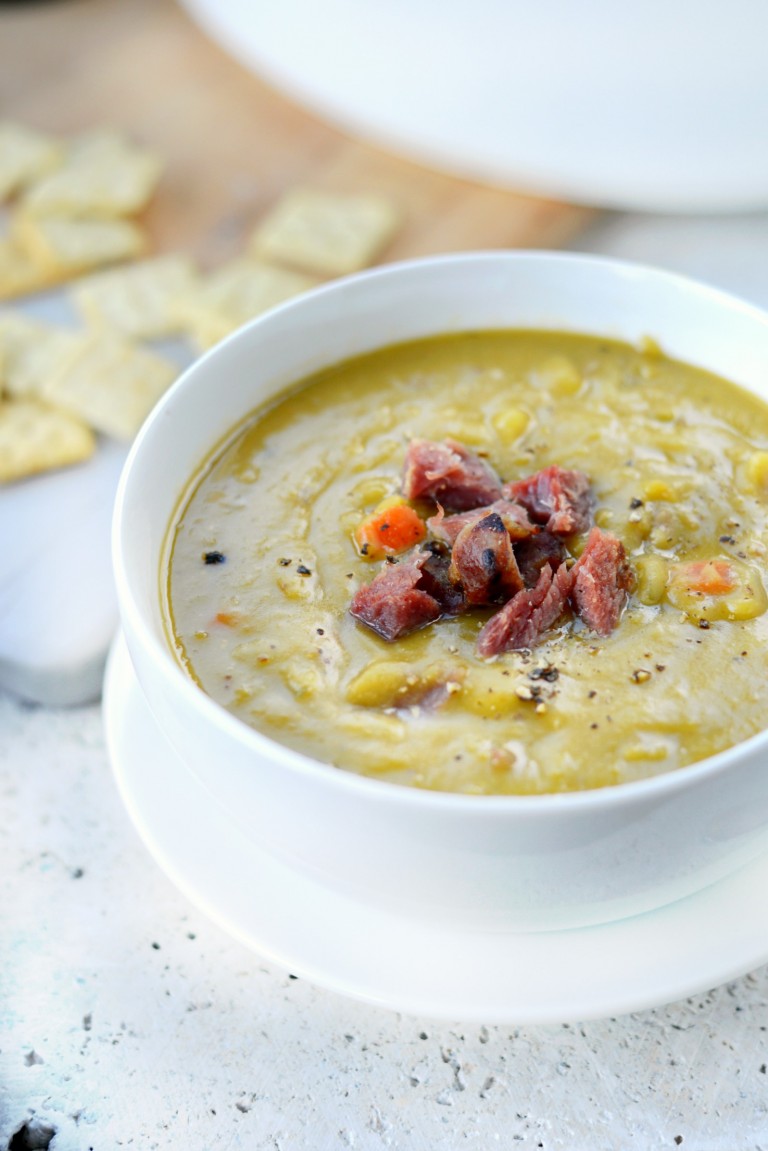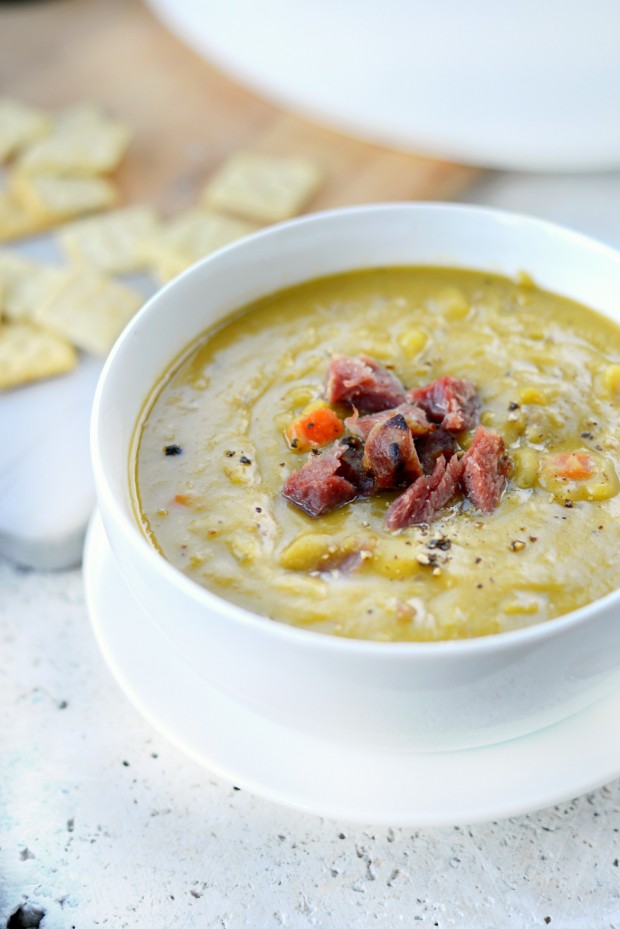 The ease of this soup is also much appreciated, especially on a night before kids go back to school from a two week break and there's a ton of laundry still left to do.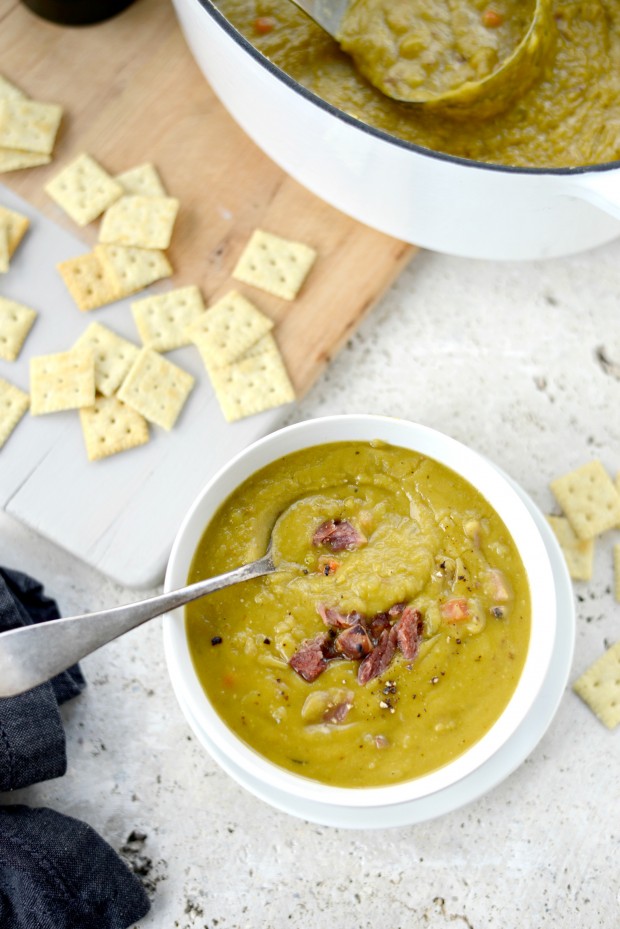 So I give to you, a one-pot soup masterpiece which means little dishes to wash giving you more time to sort and fold socks. Yay!
Kidding.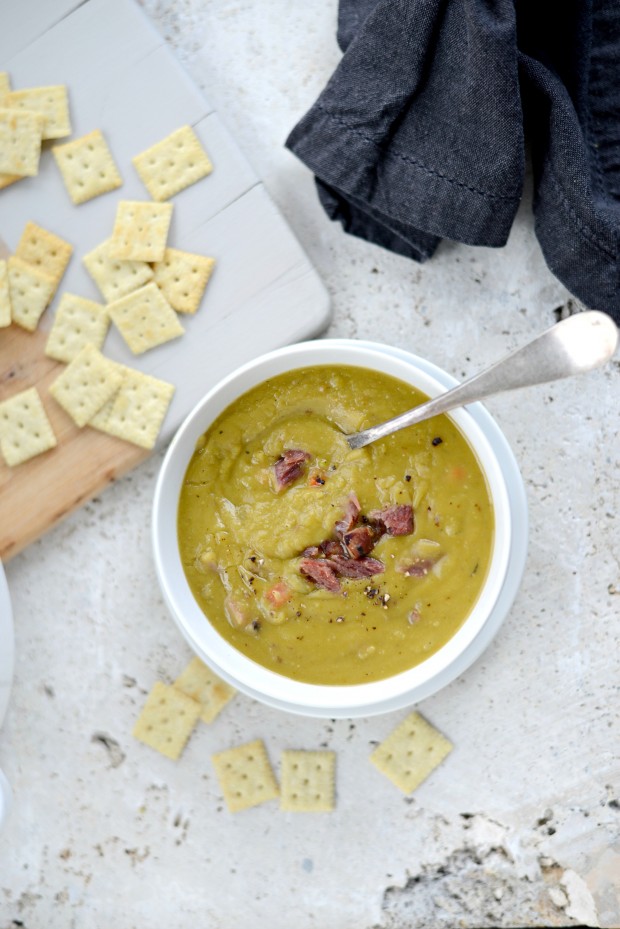 Welcome to cozytown.
Enjoy!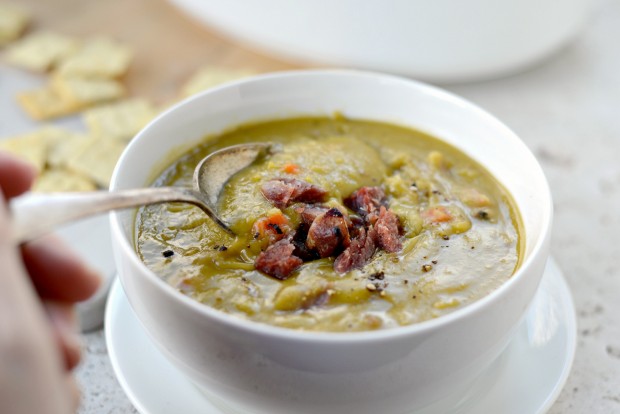 My cookbook Simply Scratch : 120 Wholesome Homemade Recipes Made Easy is now available! CLICK HERE for details and THANK YOU in advance! 
This post may contain affiliate links.
Buy the Cookbook: Simply Scratch : 120 Wholesome Homemade Recipes Made Easy Now available on Amazon »
THANK YOU in advance for your support!