This chicken rainbow vegetable stir-fry with its vegetables, thin strips of chicken, ramen noodles in a addictive, slightly spicy sauce. SO good, SO easy!
I've never been so excited for leftovers in my life.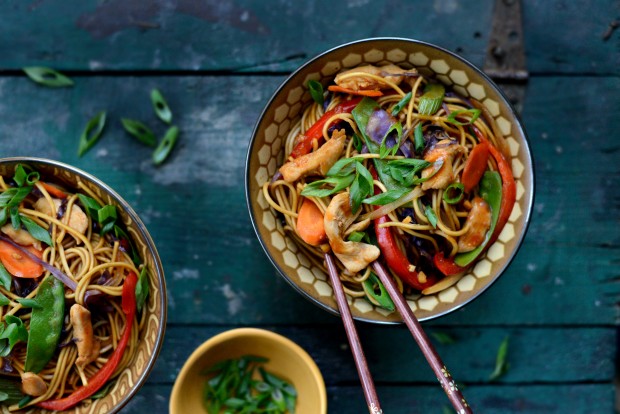 Even as I type this (at 9:31 in the a.m.) I'm thinking about ditching my breakfast of oatmeal and having my leftover chicken stir-fry instead. Which isn't too crazy-crazy I guess but if you know me at all then you know I love my breakfast- so this stir-fry is sort of a big deal.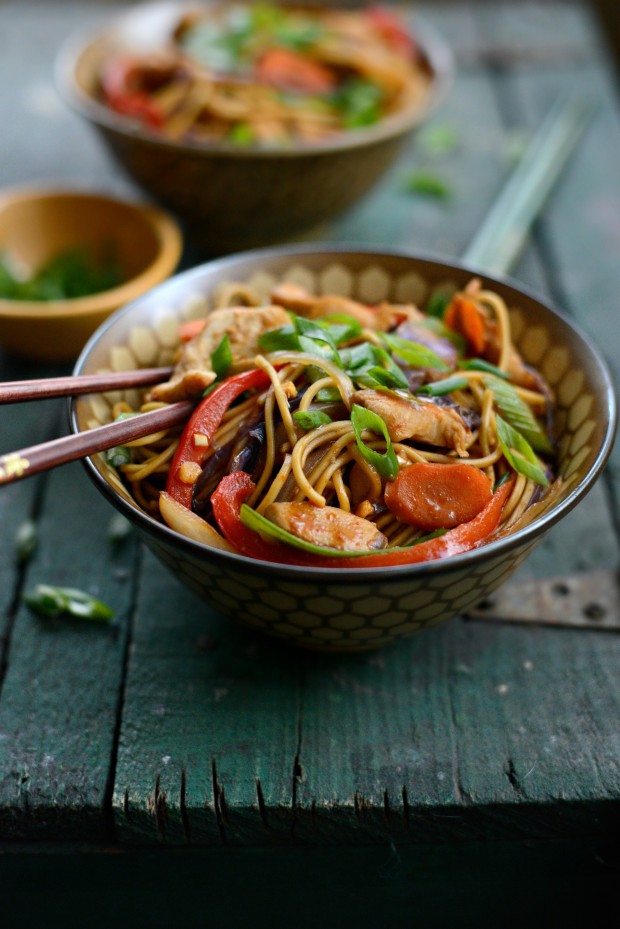 My husband announced while eating his bowl, that stir-fries might be his favorite thing to eat. I'd have to agree. Stir-fries (and anything Mexican) is my favorite. They're just so easyyyy and take only minutes to cook in a hot wok or pan. Most of the time the only real effort is in prepping and even that isn't as dreadful as you might think. Many times I've done the prep work the night before that way on a busy night, it's done and we're all eating in no time.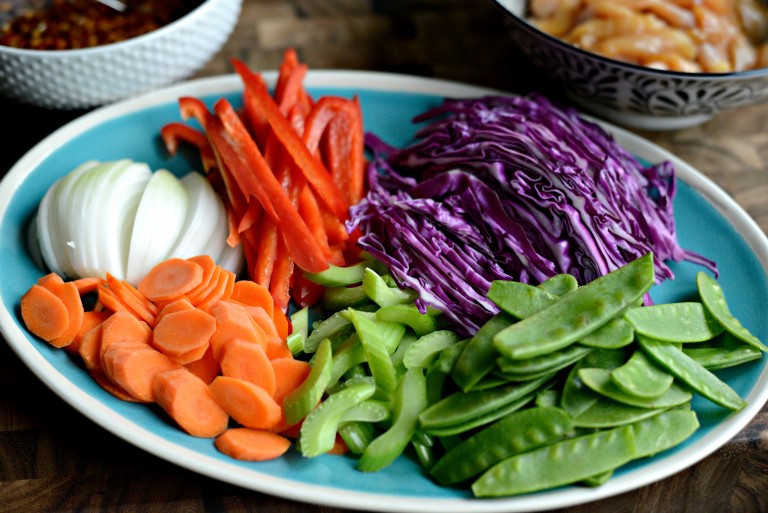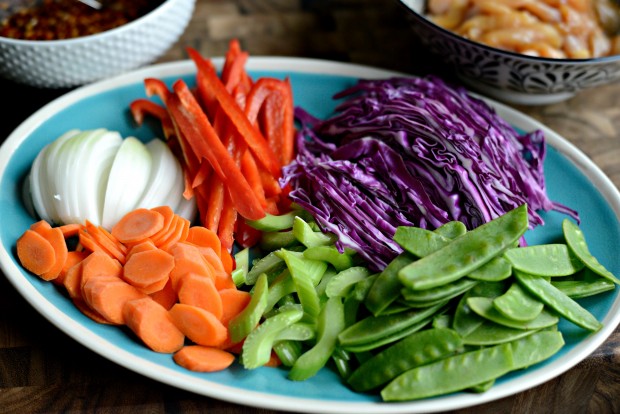 Start this stir-fry party off right by prepping the veggies. Here we have a rainbow of  healthy veggies starting with  1/2 a large red bell pepper, 1 large carrot and two stalks of celery sliced thin and on an angle, 1/2 a white onion (but yellow would work fine too), 1 cup finely sliced purple cabbage and 1 cup snow peas with their ends trimmed. Like I said, all of this can be done the night before and kept in a large resealable bag for the next day.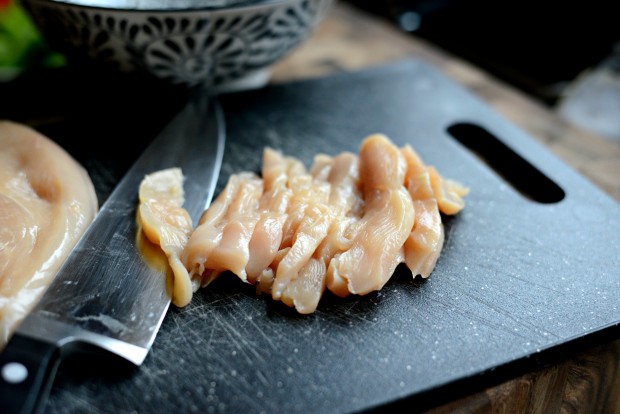 Next, slice 1-1/4 to 1-1/2 pounds of thin-cut chicken breasts into thin strips.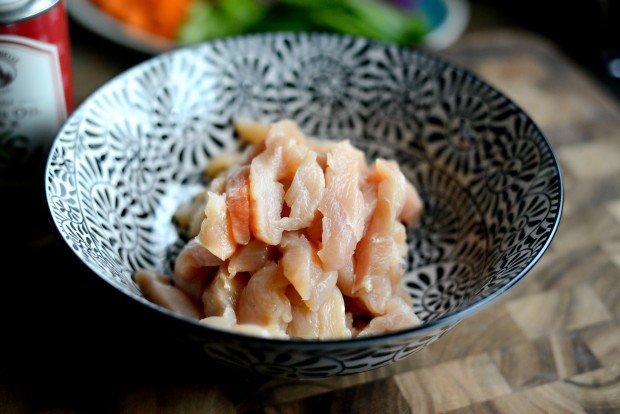 Place it all into a pretty medium bowl. Just kidding on the pretty bowl part, any regular bowl will do.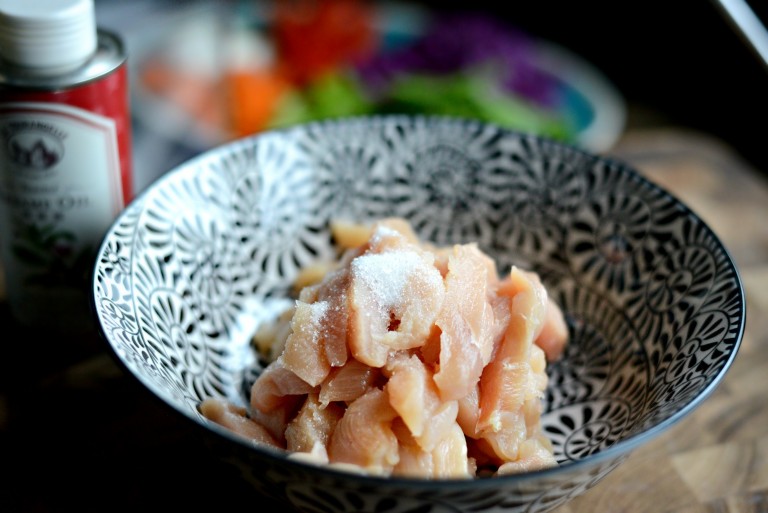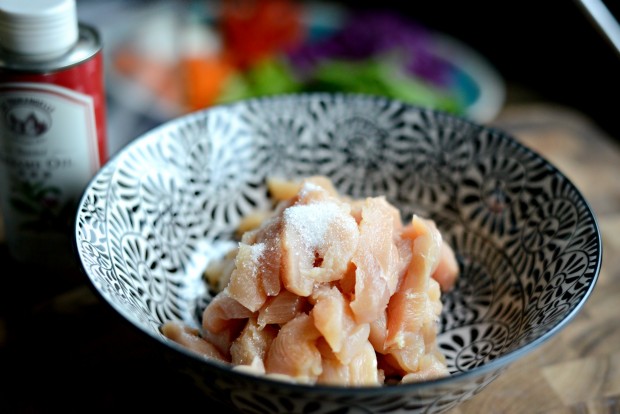 To the chicken, add 3/4 teaspoon of sugar…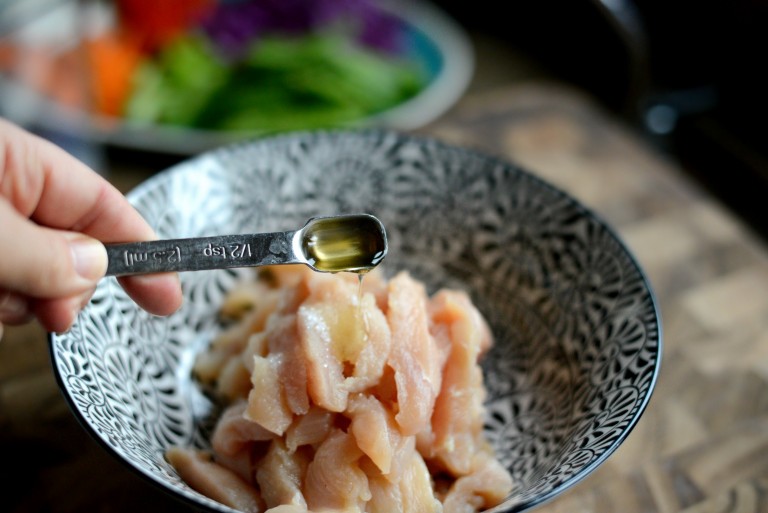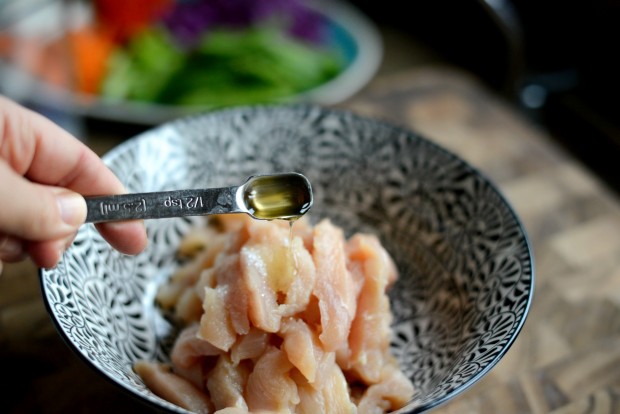 …1/2 teaspoon toasted sesame oil…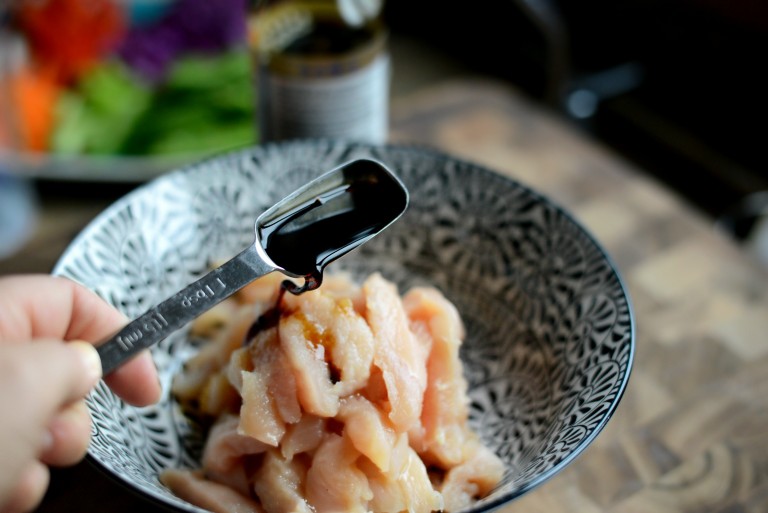 …and 1 tablespoon low-sodium tamari.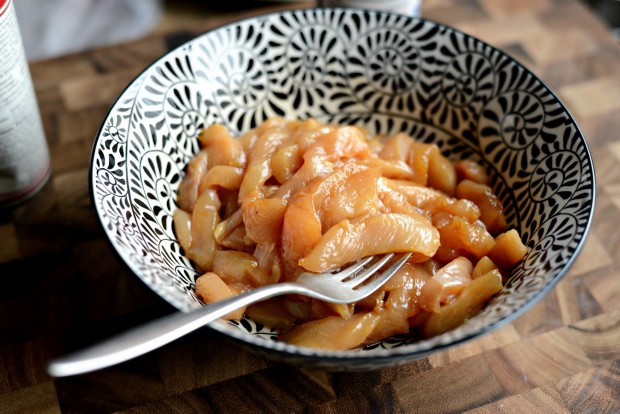 Toss the chicken around to coat and then set it off to the side.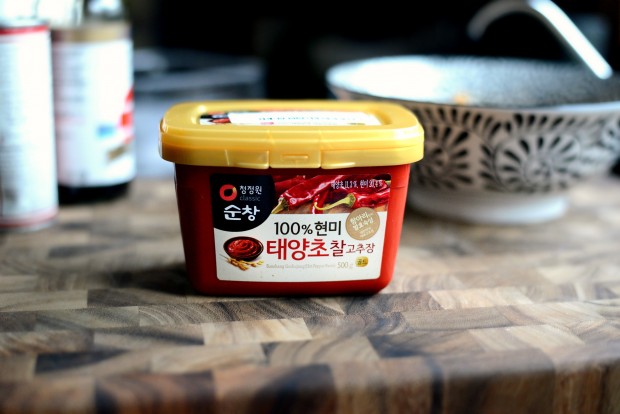 Meet Gochujang. It's a fermented Korean red pepper, rice and (fermented) soybean paste that gives this stir-fry sauce its savory, pleasantly warm and back-of-the-throat heat. I've been told it can be found and any authentic Korean markets, but I had to order my Gochujang [affiliate] on Amazon since I don't live near any and couldn't locate it at my major grocery store. It's a little pricey but I thought it was worth it because from what I read about it, it's flavor is uniquely delicious and hard to replace with any other ingredients. BUT if you aren't willing to shell out the money then I was thinking maybe try Thai red curry paste along with some red pepper flakes? But honestly, I still don't know if these together are comparable to Gochujang. It's so good!
Typically I don't like to use ingredients I can't find at my grocery store, but sometimes I do splurge and this was worth it.
Measure out 1-1/2 tablespoons of the gochujang…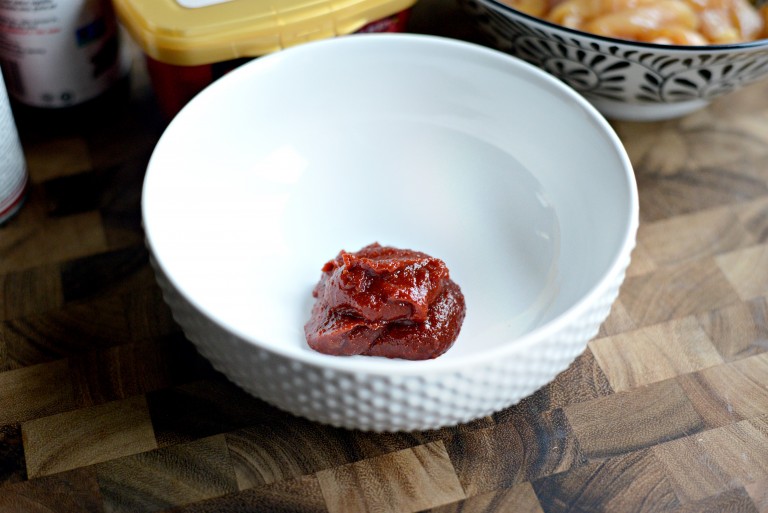 …and add it to a bowl.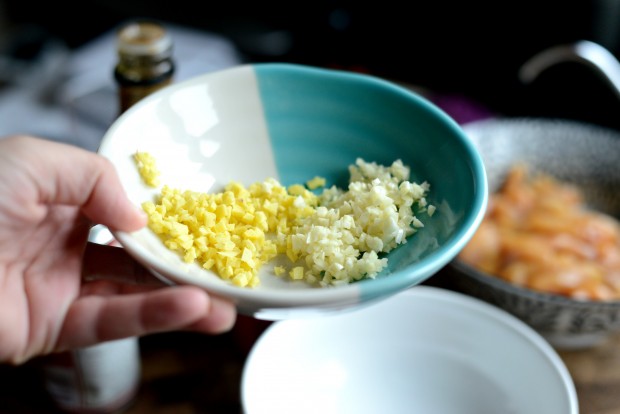 Add in 1 tablespoon of both minced fresh ginger and garlic.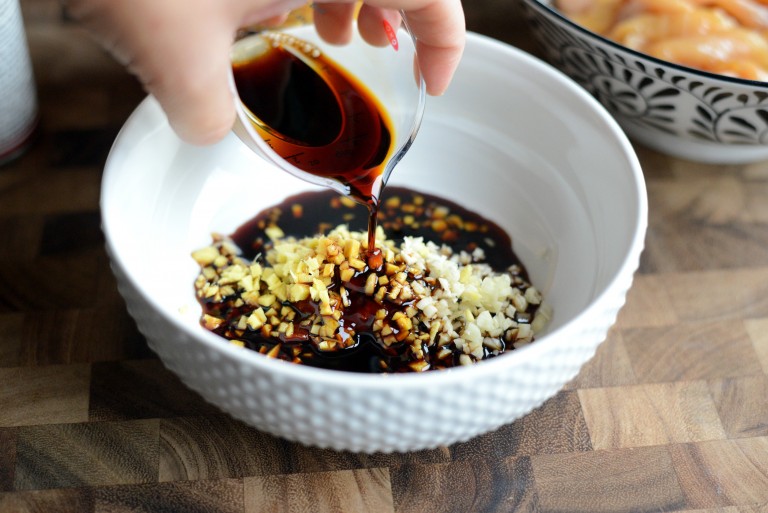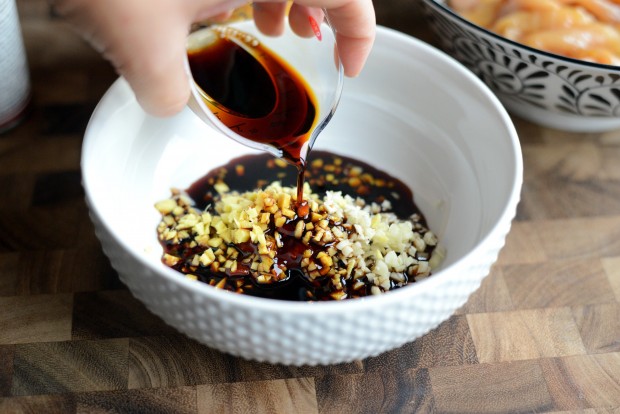 Pour in 6 tablespoons of low-sodium tamari…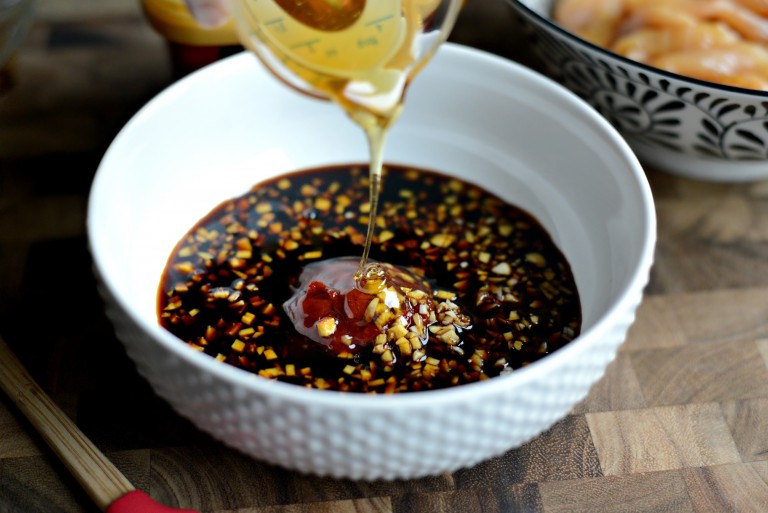 …and 2 tablespoons of honey.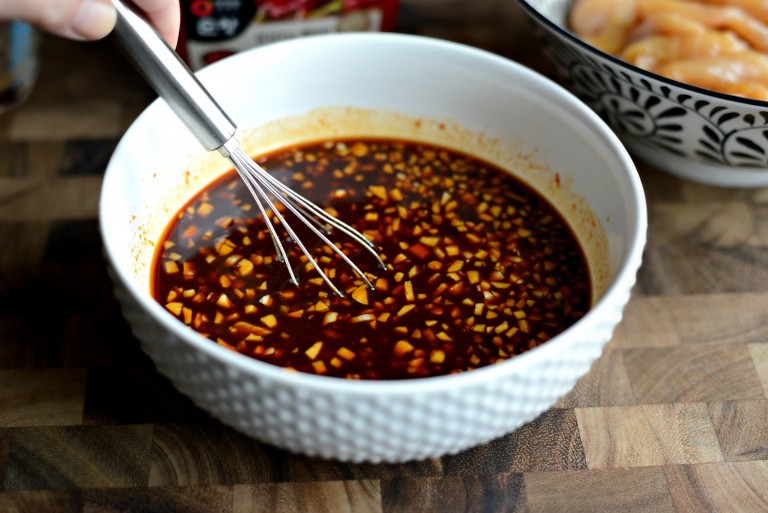 Whisk well to incorporate the paste and the honey and set off to the side.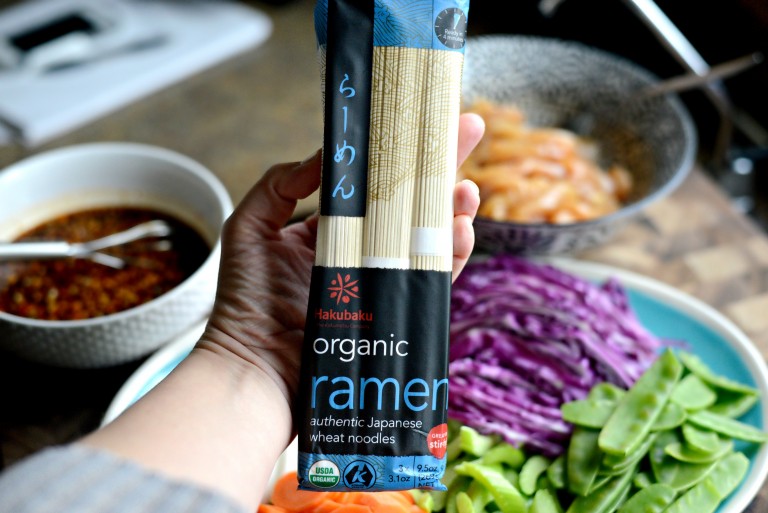 In this stir-fry recipe, I'm using ramen noodles, but soba noodles can be substituted.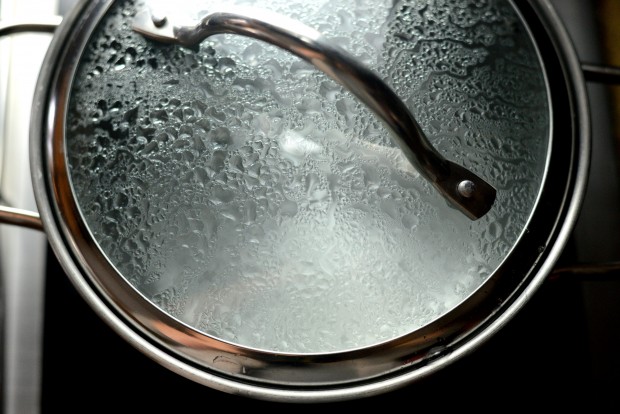 Bring a pot of water to a roiling boil.
Add in the entire (9.5 ounce) package of ramen into the water and cook for 3 minutes, 1 minute shy of package directions because the noodles will finish cooking in the wok.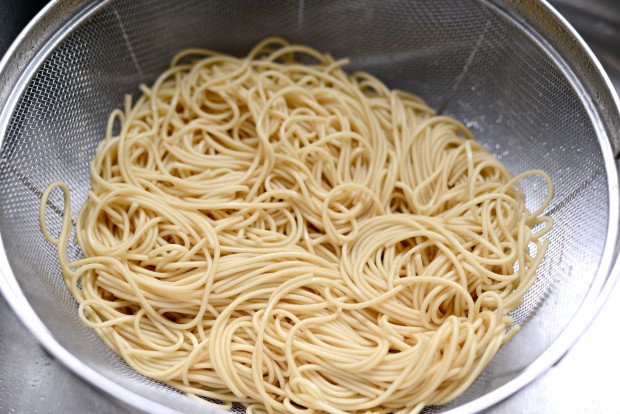 Once the 3 minutes are up, drain and rinse with cold water to stop the cooking.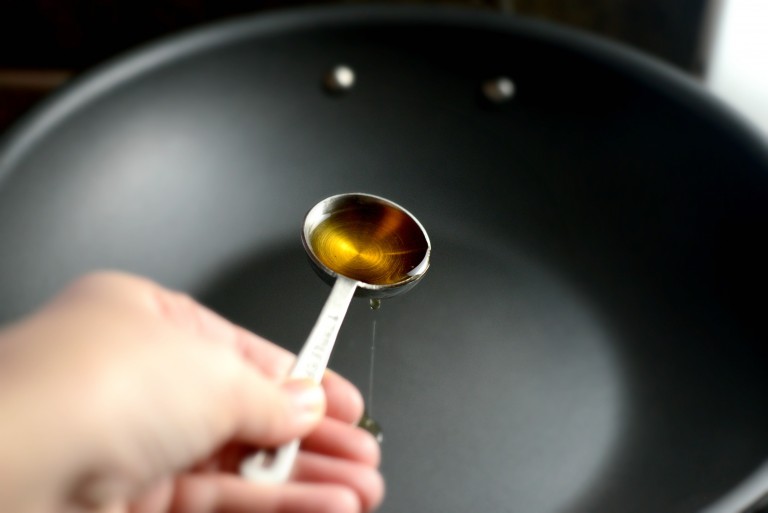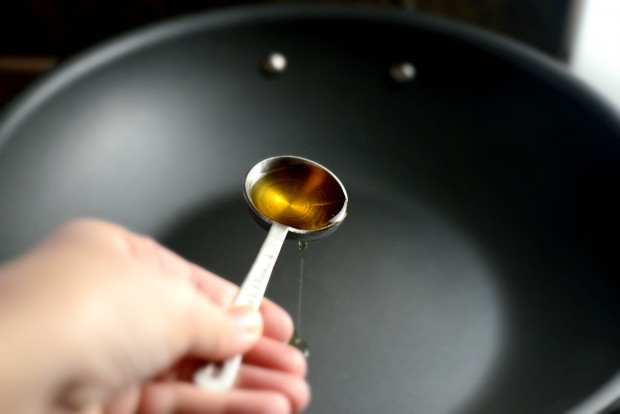 In a large 12-inch chefs pan or wok, add in 1 tablespoon of toasted sesame oil.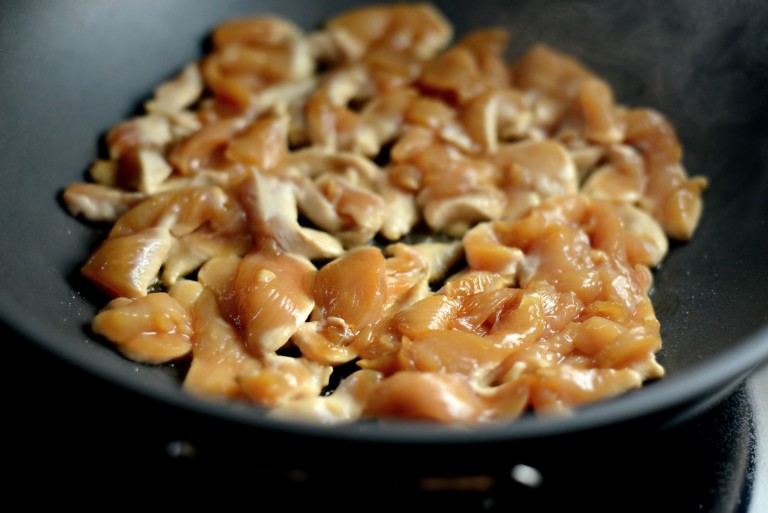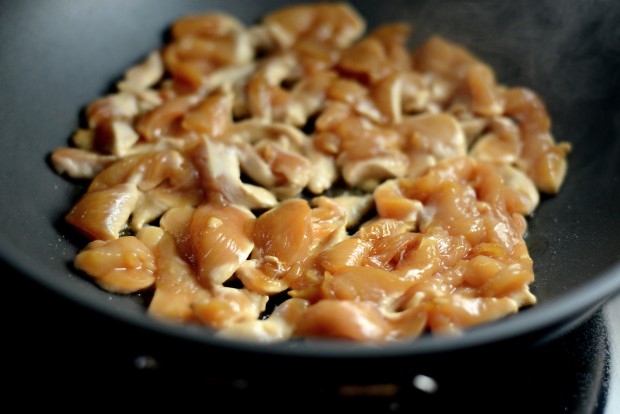 Add the chicken in an even layer and let cook for a few minutes, undisturbed, to form a golden crust.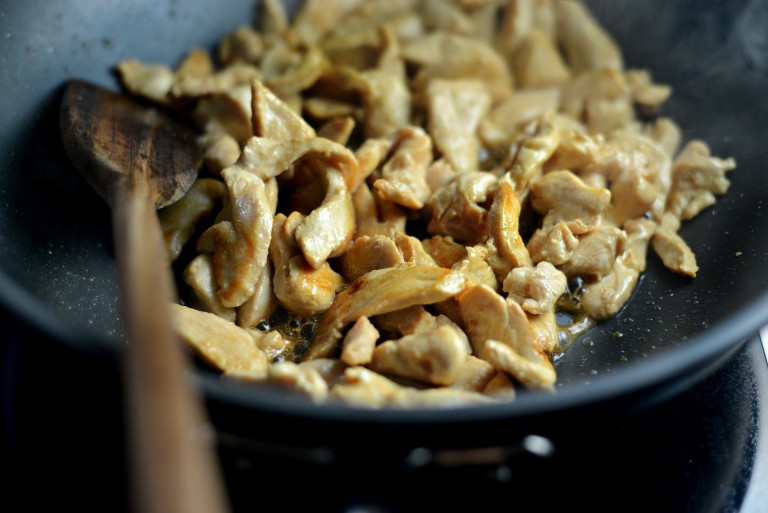 Once the chicken is almost fully cooked, toss and cook for another minute or so.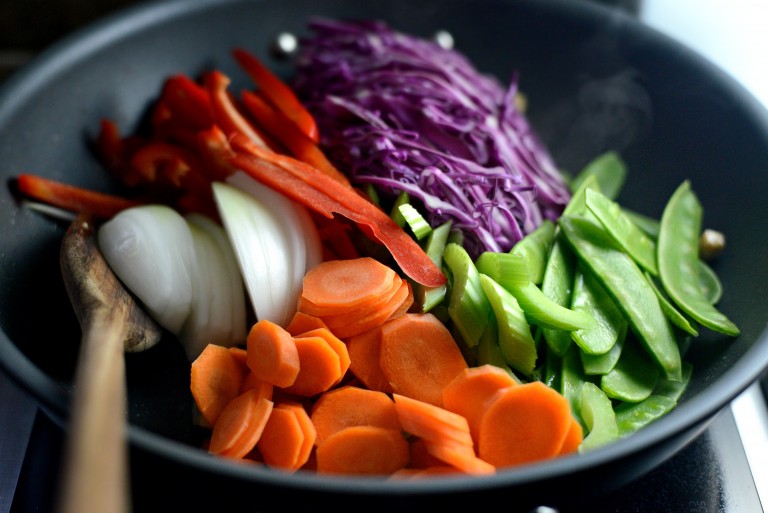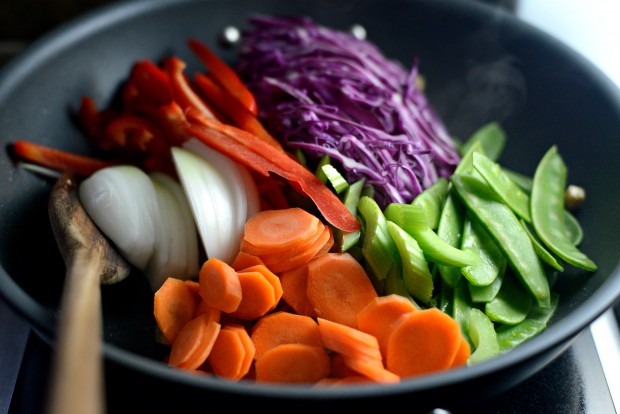 Now, add in all of the vegetables…
Toss and cook until the vegetables brighten in color and have a glossy sheen to them.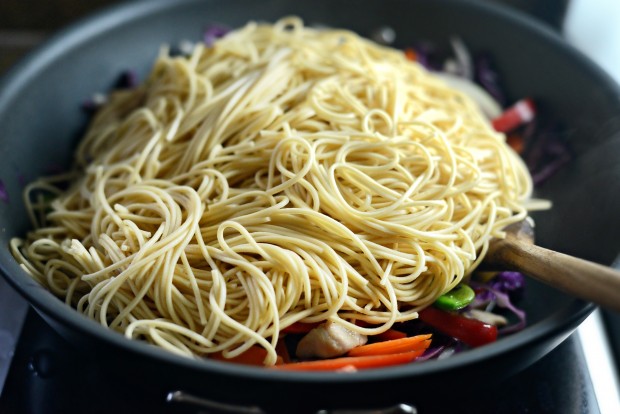 Add in the ramen…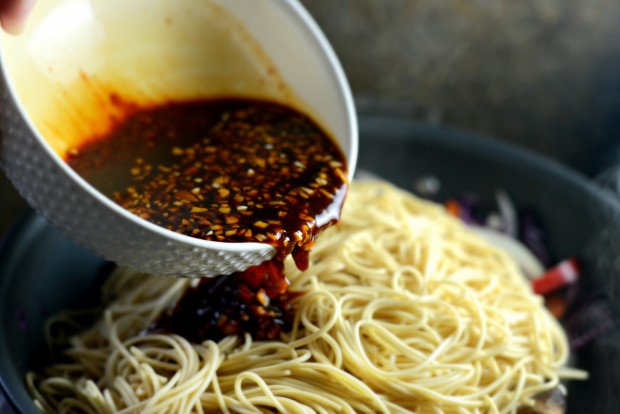 …the stir-fry sauce…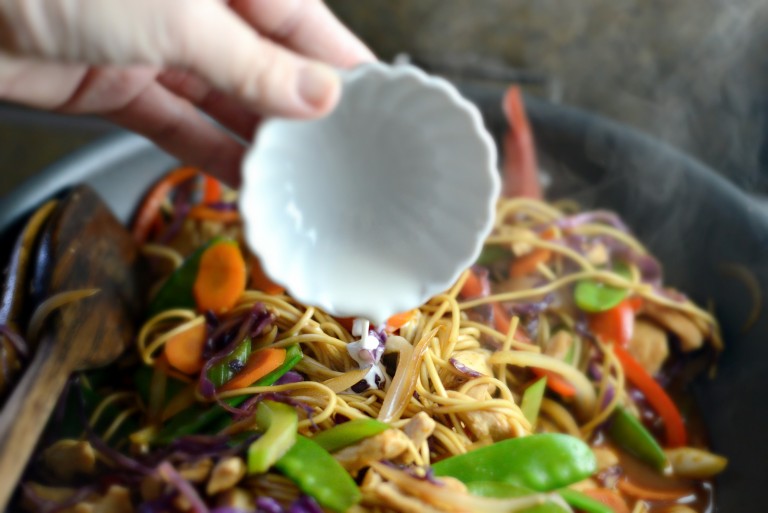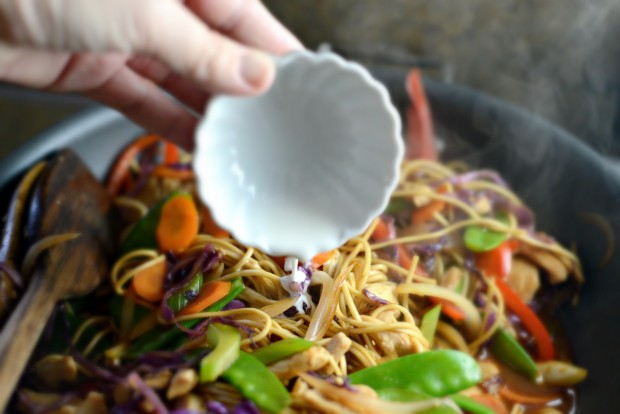 …when the sauce is boiling add in the cornstarch slurry (1 tablespoon cornstarch + 1 tablespoon water).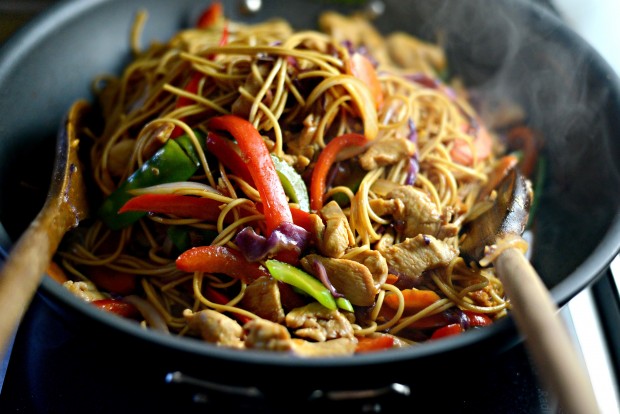 Toss and toss and toss until the liquids thicken, about 2 minutes. Then serve this chicken rainbow vegetable stir-fry in to bowls.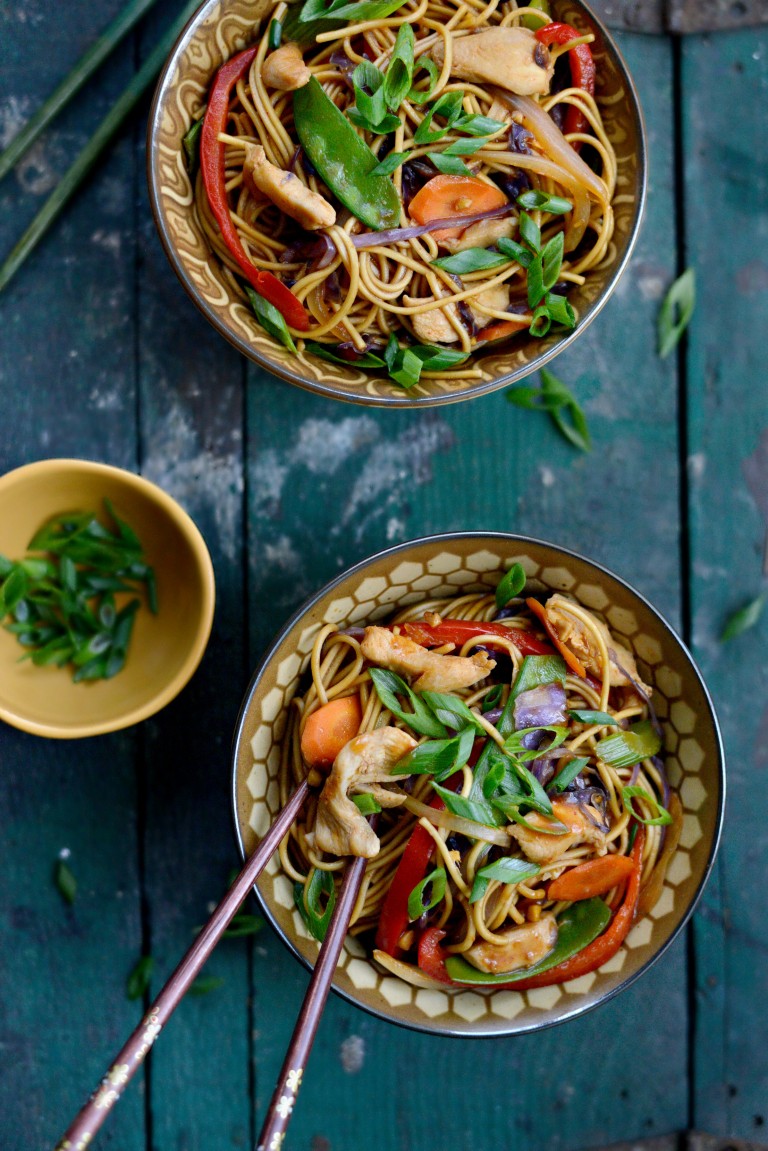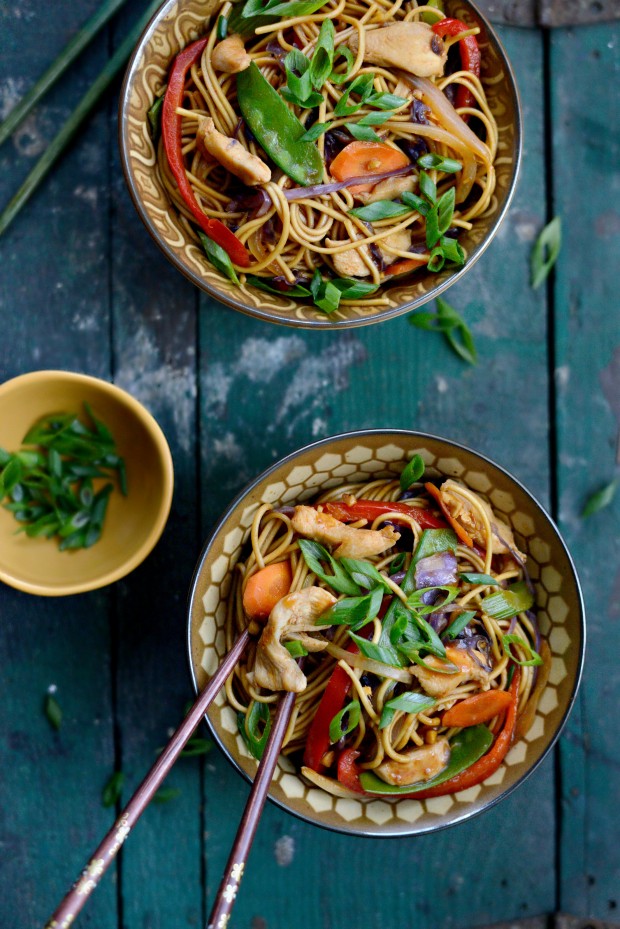 Lastly, scatter some sliced green onions over top for some bright fresh flavor.
Then grab your chopsticks and go to town on this scrumptious noodle bowl! Of course the ones you see are just for show because I've still yet to get my fingers to cooperate and use them correctly. I just don't have the patience for them, give me a fork so I can consume this vegetable loaded stir-fry asap!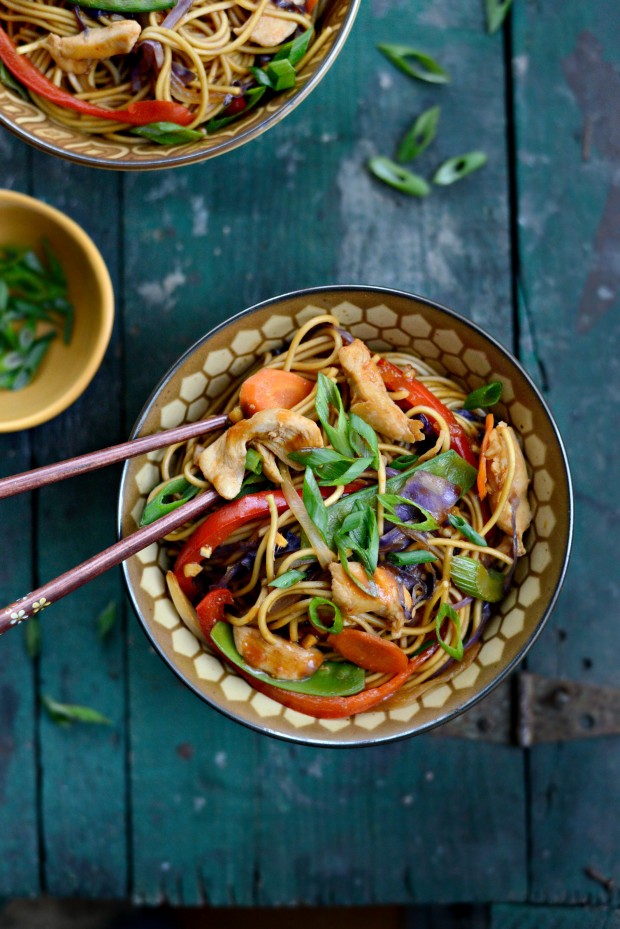 The vegetables still retain some of their crunchiness- which I like, and the noodles are perfectly cooked. The sauce is absolutely addicting- a smidgen spicy but nothing crazy. Like I said… I can't stop thinking about this bowl-o-goodness and I just know you'll love this chicken rainbow vegetable stir-fry too!
Enjoy!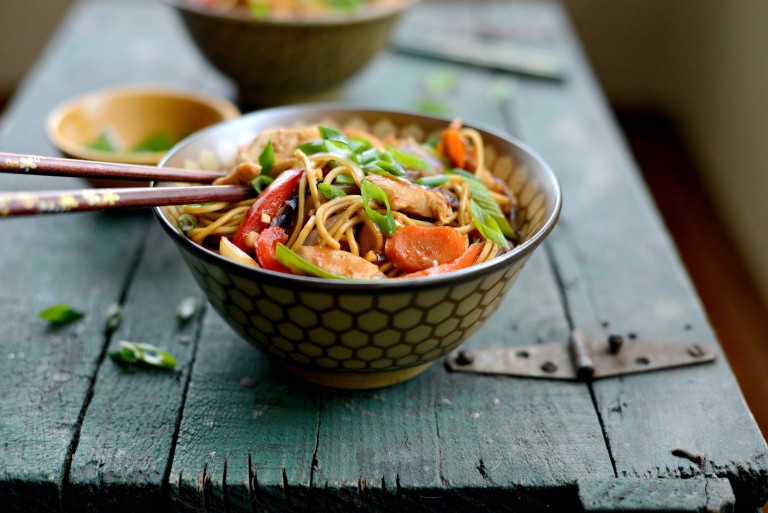 My cookbook Simply Scratch : 120 Wholesome Homemade Recipes Made Easy is now available! CLICK HERE for details and THANK YOU in advance!
[this post contains affiliate links.]
This post may contain affiliate links.
Buy the Cookbook: Simply Scratch : 120 Wholesome Homemade Recipes Made Easy Now available on Amazon »
THANK YOU in advance for your support!