Maple glazed carrots are dairy free and as sumptuous as ever. Caramelized carrots glazed in coconut oil and maple syrup- SO good!
Truth be told, I could plop down with a bowl of this size filled with glazed carrots and make a meal out of it.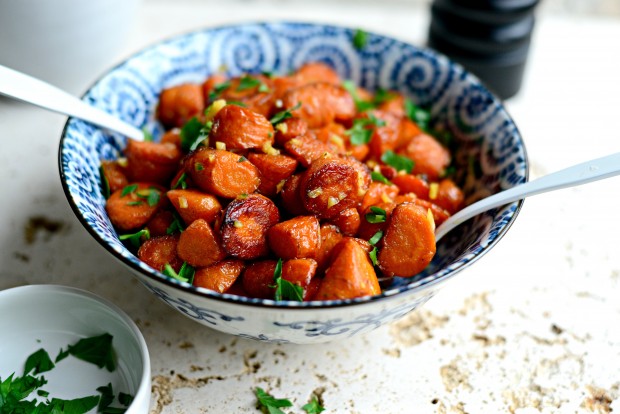 Carrots for dinner; I've done it before and I'd do it again. Happily.
As a kid I'd look at you like you were crazy if you suggested for me to put one bite of cooked carrots in my mouth. Unh-unh no way. That's why I don't fault my kids for turning their noses up at these. I totally get it. Cooked carrots may be an acquired taste. Plus, BONUS, more for moi!
This seasonal maple glazed carrot recipe is perfect for my dairy-free peeps because by using un-refined coconut oil, then some garlic for a punch of flavor and sweetened with a little maple syrup there's not a speck of butter- and you won't even realize it. It really is a simple recipe, perfect for a casual meal next to meatloaf or baked chicken yet these are dressy enough for a formal holiday meal.
Side note: How is it November already?!
I'm not fooling you when I say these maple glazed carrots are easy. I mean look at these ingredients? 2 pounds of carrots, un-refined coconut oil, pure maple syrup, garlic, s & p and flat-leaf Italian parsley for some color.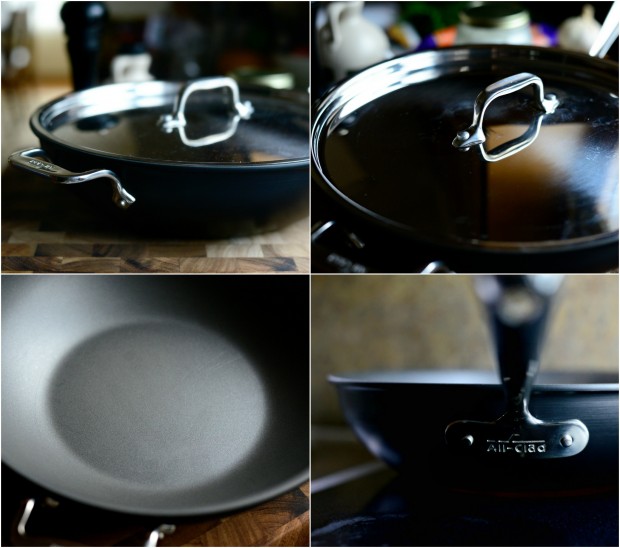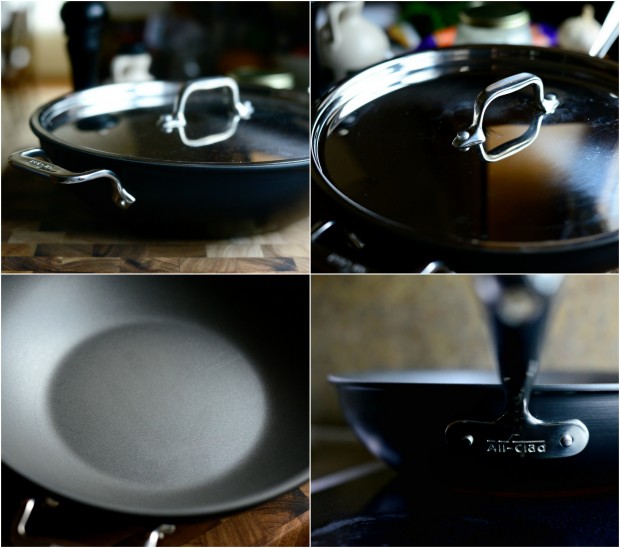 When one cooks 2 pounds of carrots, one needs a pan big enough to handle the job, amiright?! That pan is an All-Clad NS1 12-inch Nonstick Induction Chef's Pan. AND OH HOW I LOVE THIS PAN!
I don't normally do to many product reviews unless it's a brand I love and fully support. Since I'm madly in love my set All-Clad pans Pat bought me for our anniversary a few years back, it was a no-brainer when they asked me to review this pan.
First of all it's a beauty! I love the smooth black- almost satin exterior and the small handle on the side is great for pouring whatever's in the pan onto a platter with ease. Since receiving this pan I've used it a bunch of times; stir-fried dinners, big batches of sautéed vegetables (like green beans and this carrot recipe you see here) and fried rice. But these sort of recipes are just the tip of the iceberg! It is definitely a must have pan in my book and thanks to All-Clad one of you lucky readers will get a chance to win your very own!! More on that towards the bottom of the post, but for now let's get cooking!
I roll-cut 2 pounds of unpeeled carrots. I personally don't know why you need to peel carrots when all they need is a good scrub and rinse. To roll-cut it's best explained in this video.
Finely mince up a couple cloves of fresh garlic. I love, love, LOVE garlic in this recipe and tend to add quite a bit. Two slightly larger cloves is the ticket.
Heat up a large 12-inch skillet and add 2 tablespoons (solid) un-refined coconut oil. Try not to use refined or you'll more likely miss out on the coconut flavor, since refined means it's been removed.
To the oil add in the carrots and salt.
Toss to coat…
…and continue to cook for 20 to 25 minutes, stirring every so often to ensure evenly cooked vegetables.
The carrots are done when they're tender and the edges have caramelized.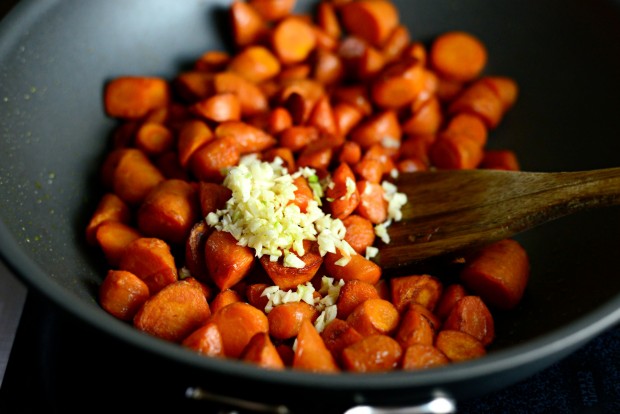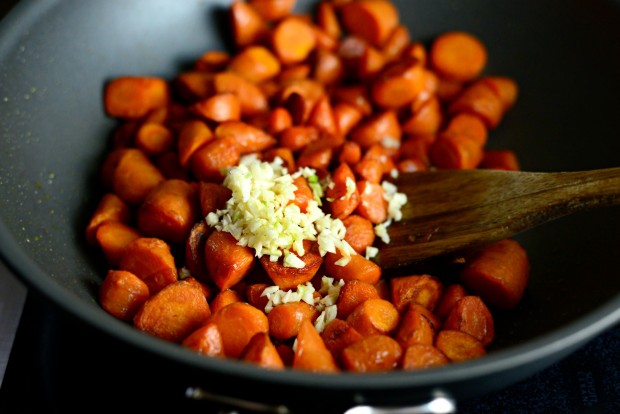 Add in the minced garlic and cook for 2 minutes.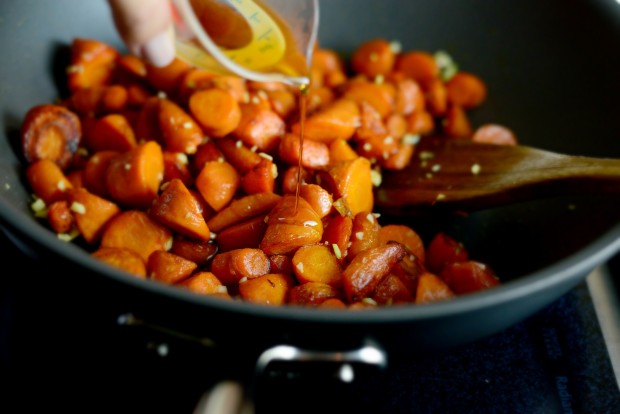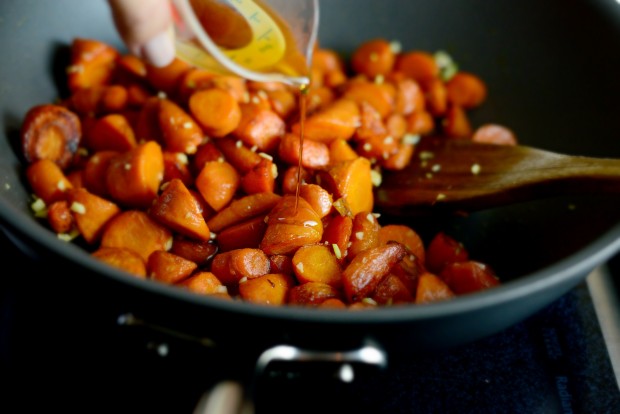 Then pour in the 2 tablespoons maple syrup.
Toss the carrots in the maples syrup and garlic and cook for a minutes or so.
Turn off the heat and add in a teaspoon of coconut oil.
Season with another 1/4 teaspoon of salt and 1/8 teaspoon of freshly ground black pepper.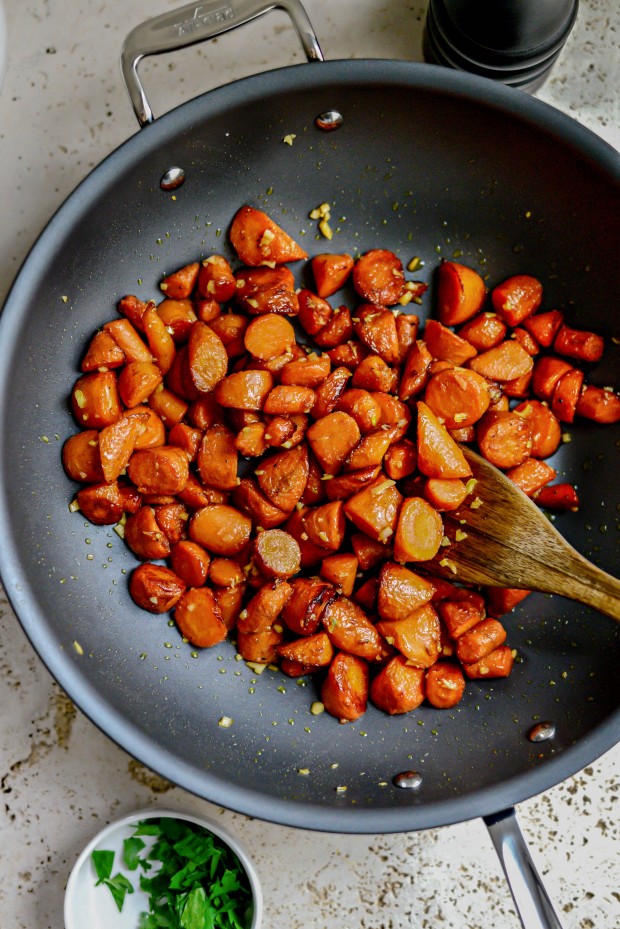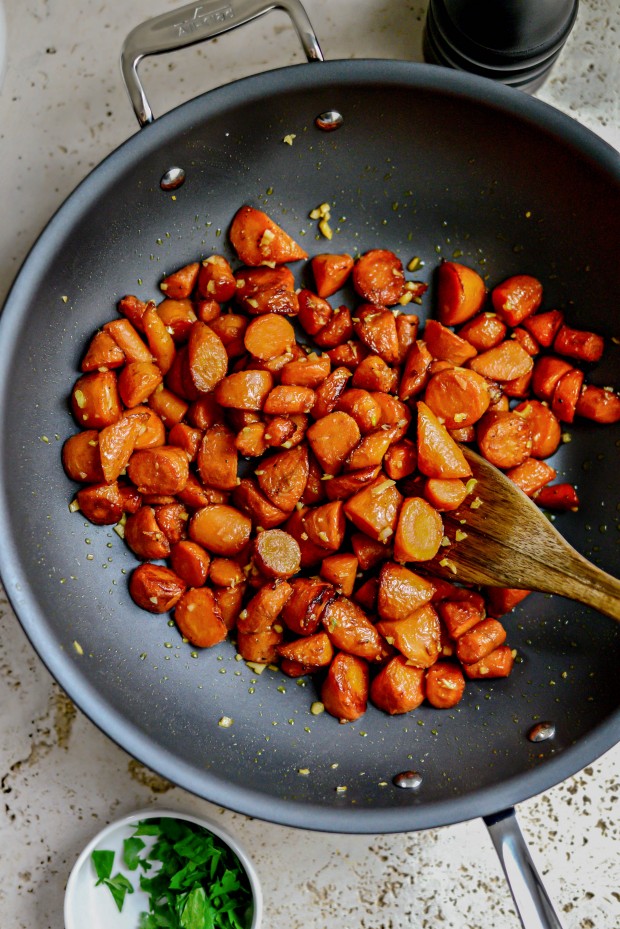 That's it!
For a pop of color I sprinkle the maple glazed carrots with chopped fresh parsley but I think chives would be nice too.
So pretty and SUPER delicious! Welcome to yumsville flavortown.
Enjoy! And if you give this Maple Glazed Carrots recipe a try, let me know! Snap a photo and tag me on twitter or instagram!
My cookbook Simply Scratch : 120 Wholesome Homemade Recipes Made Easy is now available! CLICK HERE for details and THANK YOU in advance!
[this post contains affiliate links.]
This post may contain affiliate links.
Buy the Cookbook: Simply Scratch : 120 Wholesome Homemade Recipes Made Easy Now available on Amazon »
THANK YOU in advance for your support!