This butternut kale quinoa salad is a healthful and wholesome salad. The spices of the roasted butternut flavor shine through, the pepitas give it some crunch and I absolutely adore the sweetness of the raisins and dried cranberries. The whole thing tastes like fall.
I can hardly believe it's already October.
What happened to September? It was my birthday, and remember the school year beginning, my oldest daughter's first homecoming. But really that's it. Everything else was a whirlwind of blur. I don't like it.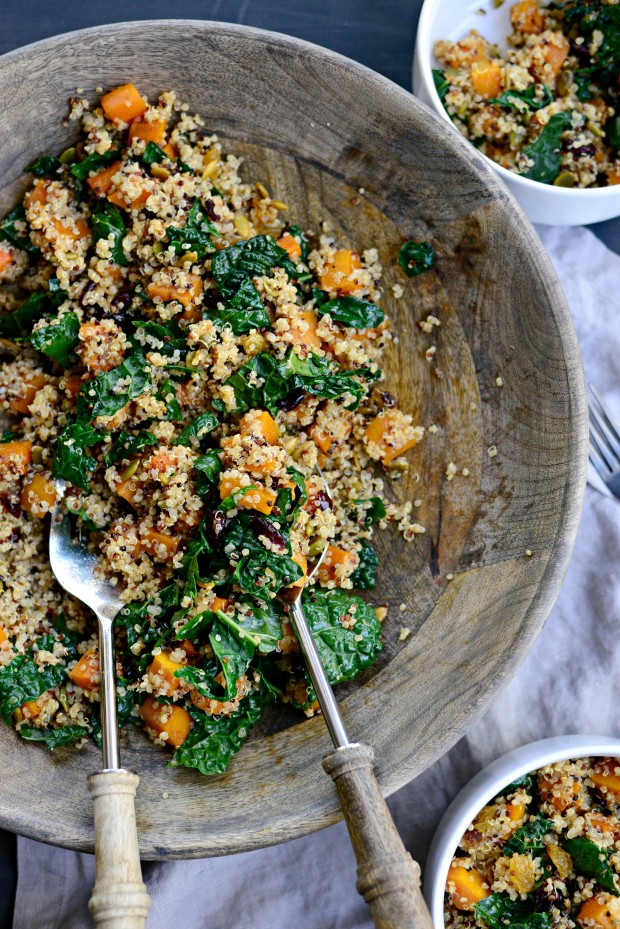 But I do love fall! And of course when the first day of October hits it's time to celebrate Fair Trade Month! This is my 3rd (2012, 2013) year celebrating with you guys, I took last year off because I was waste deep in butter, flour and dirty dishes- writing and eating my way through the cookbook.
I am so honored to be a part of something as important as Fair Trade. Not only do I get to help spread the love about all things Fair Trade and how it improves lives while producing quality products and being good to the environment, but I get to introduce you to a Fair Trade farmer and then of course Fair Trade USA wants to give one of you lucky readers a box full of Fair Trade goodies (Trust me, you want this)! To get an even better understanding of the importance of buying Fair Trade and/or how you can get involved. click here. #BeFair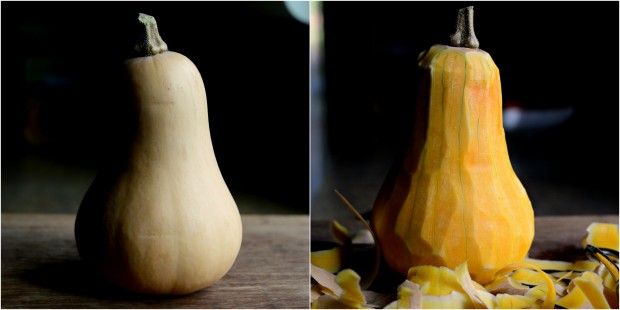 I bought the cutest butternut squash at the store the other day. I should have weighed it, but if I had to guess, it would be about 2 pounds. All in all, you need 4 cups of cubed butternut squash.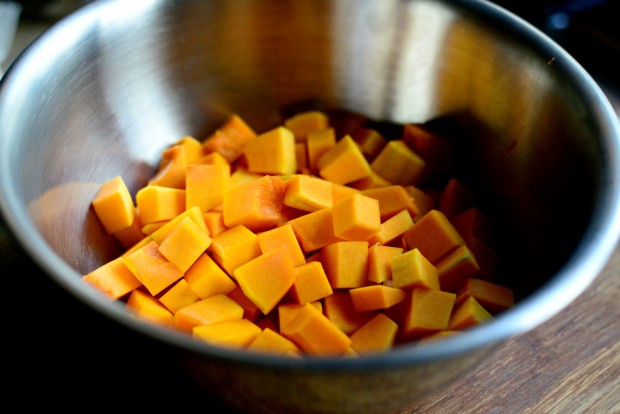 First add the butternut squash to a large bowl.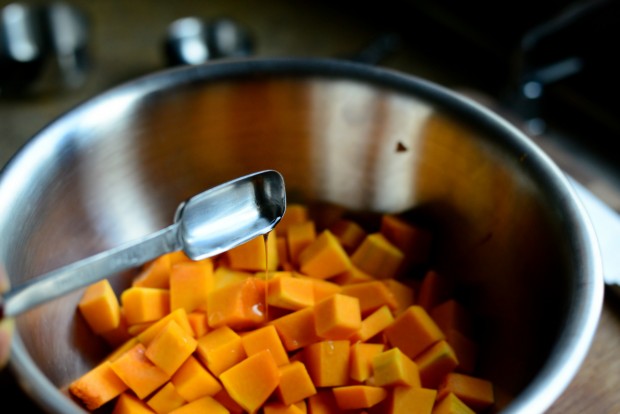 Drizzle in 1 tablespoon sunflower oil. Coconut oil would work well here too!
To the squash, add in 1 tablespoon dark brown sugar, 1 teaspoon smoked paprika, 3/4 teaspoon cumin, ground coriander and kosher salt. 1/4 teaspoon black pepper and 1/8 teaspoon ground nutmeg (found in your goody box!) and cayenne pepper.
Toss that all together until the squash is coated evenly.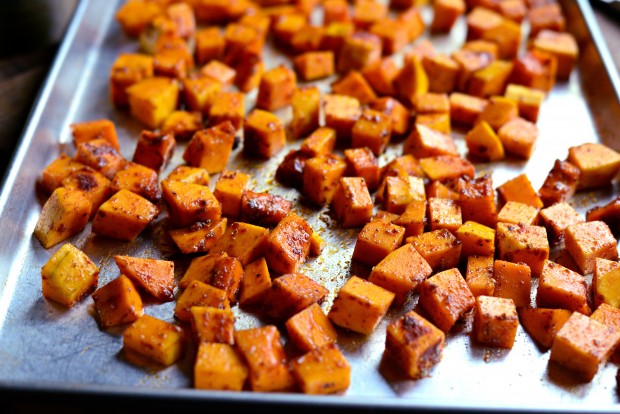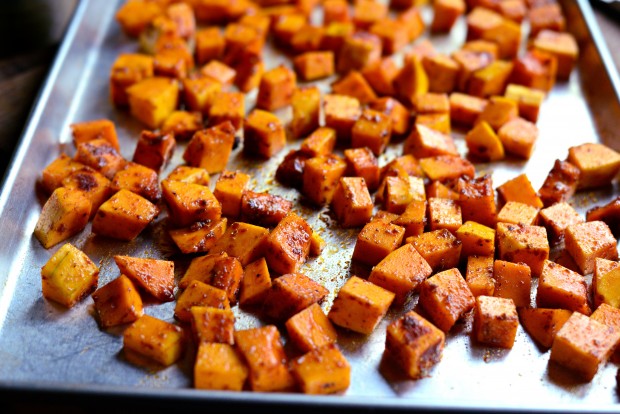 Spread the squash out on a rimmed sheet pan and slide it into a preheated 400 degree oven for 20 minutes or until fork tender.
While the squash pieces are roasting I get on the dressing and quinoa.
Make the dressing by measuring in gradients into a glass jar. You will need: 1 tablespoon whole grain Dijon, 2 tablespoons honey, 1/2 cup olive oil, 1/4 cup cider vinegar, 2 tablespoons fresh lemon juice, 2 tablespoons white wine vinegar, 1/2 teaspoon kosher salt and 1/4 teaspoon freshly ground black pepper. Secure the lid and shake!
Prepare 1 cup dried quinoa as directed on the package.
Strip the leaves from the stems of 1 bunch lacinato kale, rinse and spin or pat dry, then coarsely chop. You'll need about 2 cups.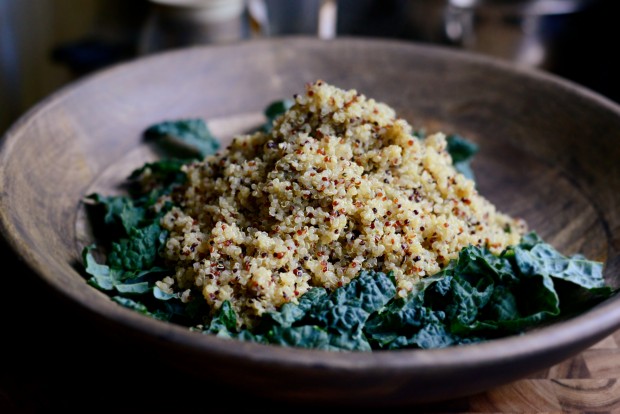 Once cooked, add the hot quinoa over top of the chopped kale.
Add the roasted butternut squash.
Measure and add 1/3 cup roasted (unsalted) pumpkin seeds.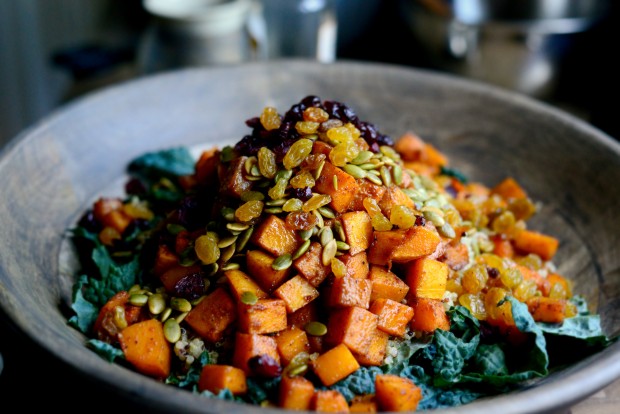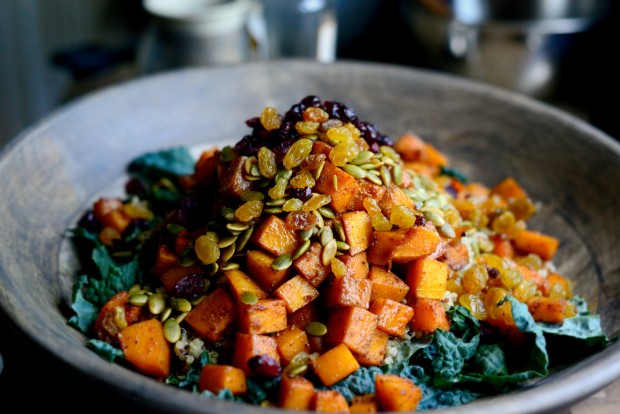 Lastly add 1/2 cup combination of yellow raisins and dried cranberries.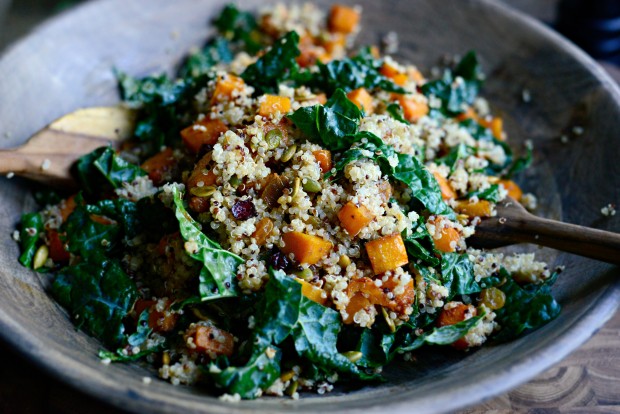 Season with a generous pinch (or two) of kosher salt and a few turns of freshly ground black pepper before tossing to combine.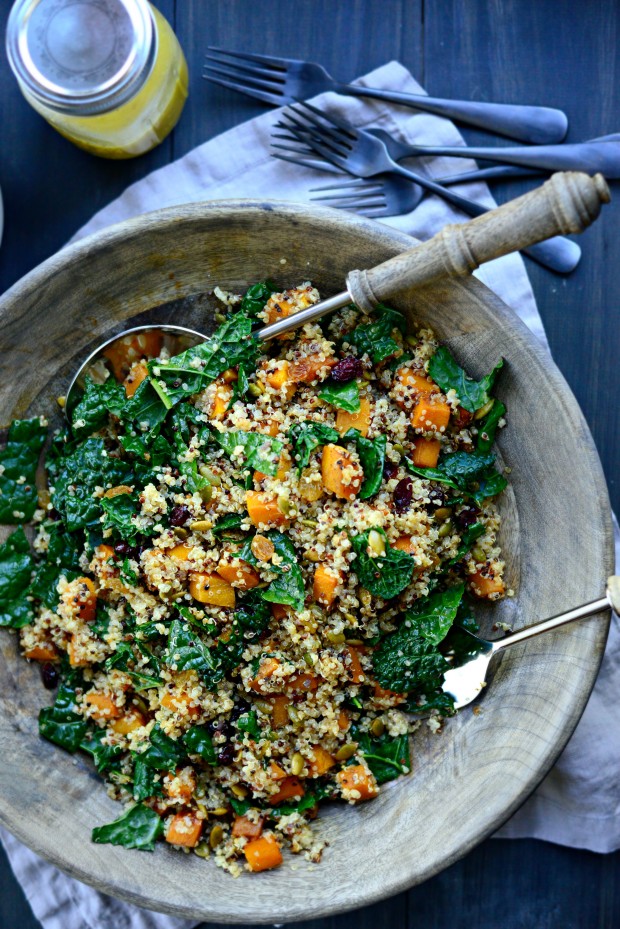 Serve warm with about 1/4 cup of the dressing drizzled over top.
I inhaled this salad. The kale and quinoa round out this healthful and wholesome salad. The spices of the roasted butternut flavor the salad, the pepitas give it some crunch and I absolutely adore the sweetness of the raisins and dried cranberries. In fact the whole thing tastes like fall. And since fall is in full effect here, I'm totally okay with it so bring on the sweaters and scarves, apples and all things squash and roasted (and braised)! I could go on…
Now meet Isabel Uriarte Latorre, a coffee farmer and member of the CECANOR cooperative in Peru.
Isabel, 58, from Cajamarca, CECANOR's Finance and Commerce Manager, checks the coffee plants of a local Agua Azul member. Isabel has been involved in social justice movements in her native Peru since the 1970's. And also having been part of a student movement and later numerous labor unions. She is one of the founders of CECANOR and developed the revolutionary Cafe Femenino, a select brand of coffee made only by women. She states: "The purpose of Cafe Femenino is to make visible the contribution women make not only to the household economy, but the community and to the umbrella organization CECANOR.
It also aids in providing women the same opportunities and respect in these mentioned spaces. By doing so, women gain confidence, status, are protected from marginalization and it even motivates them to develop new ventures." When asked about the advantages of being certified by Fair Trade, Isabel explains: "The certification and subsequent prize money is vital for our success. It allows us to provide rural coffee growers a steady price that sets a solid base for economic budgeting both at the family and community levels. In addition, positive results turn into incentives for the growers to produce higher quality coffee, and many are also seeing the positive aspects of organic farming – economically and health wise." Cafe Femenino currently has 645 producers. You can read more about Isabel here.
Enjoy! And if you give this Butternut Kale Quinoa Salad recipe a try, let me know! Snap a photo and tag me on twitter or instagram!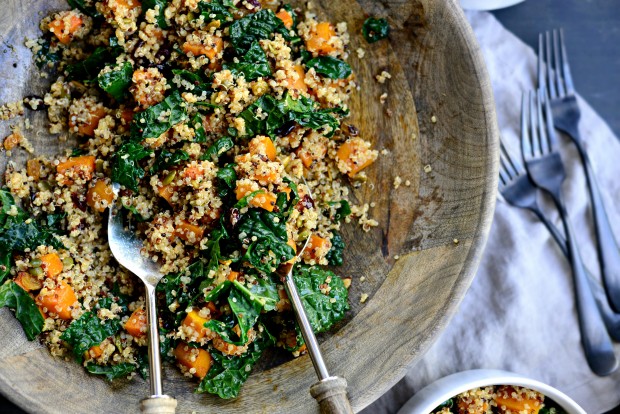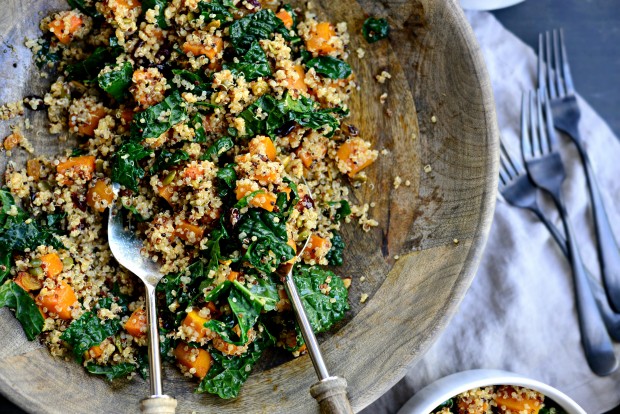 A huge THANK YOU to all the brands that have graciously donated these amazing products!
This post may contain affiliate links.
Buy the Cookbook: Simply Scratch : 120 Wholesome Homemade Recipes Made Easy Now available on Amazon »
THANK YOU in advance for your support!