A simple homemade caramel sauce for dipping apples, topping ice cream, waffles, pie or your face.
I picked up my first peck of Michigan apples this weekend at the market.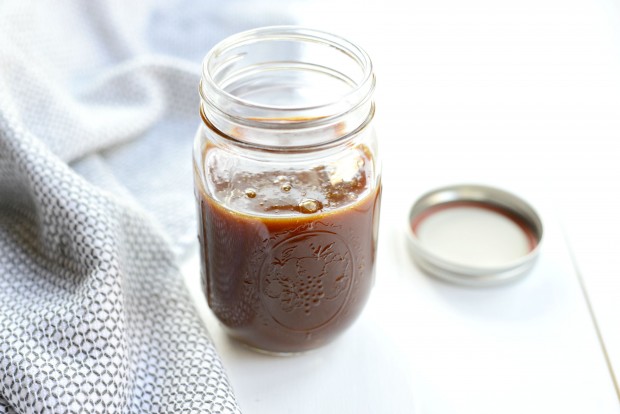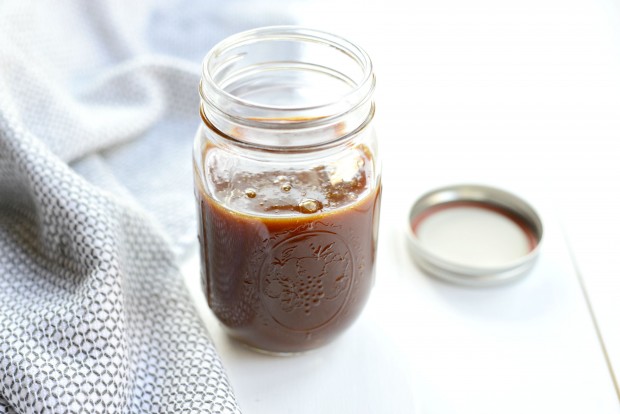 I know I said I was hanging on to summer for as long as I can, BUT I can't help but to get a little (read: A LOT with, like, fifty exclamation points!) excited when I see the paper bags with their paper handles filled with un-perfect yet perfectly perfect apples peeking out the tops. It's still early so the apple options were slim; McIntosh, Spy and some other kind I'm totally blanking on but I know come fall there will be lots and lots to choose from. Since I never had a Spy apple in my life, I grabbed them- and locked it in that I was making homemade caramel sauce for apple dipping- among other things.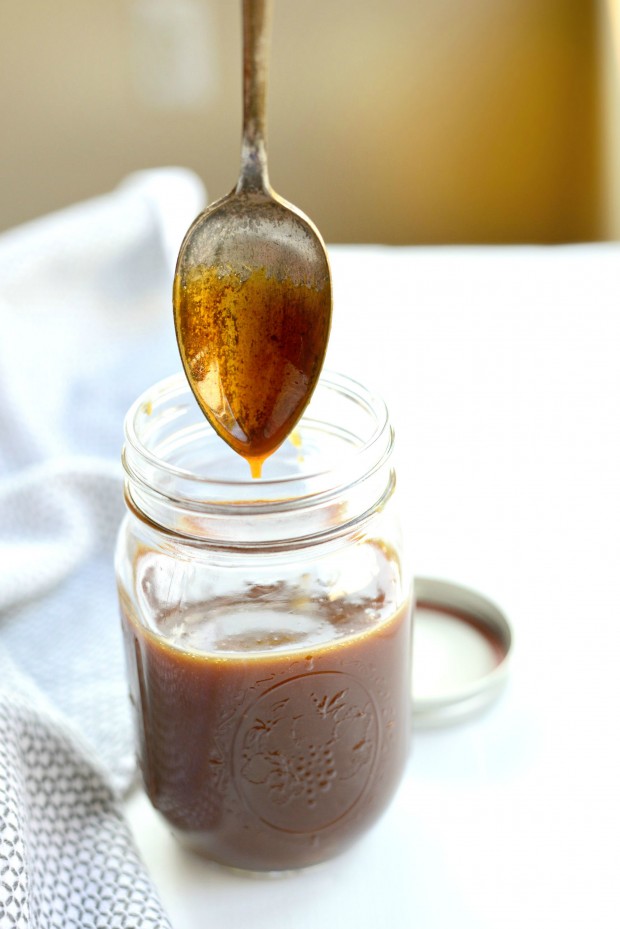 I'm proud to say that I am the first person to introduce my family to a from scratch caramel sauce. If you've never had it before, and I'm not talking about the melting of those cubes with the impossible cellophane wrappers… you have not lived. It's pure bliss. The hint of burnt sugar, the butterscotch notes which I'm assuming is from the butter and vanilla combo… it's worth the little hassle that caramel making has you endure.
Trust me. If I can do it, so can you!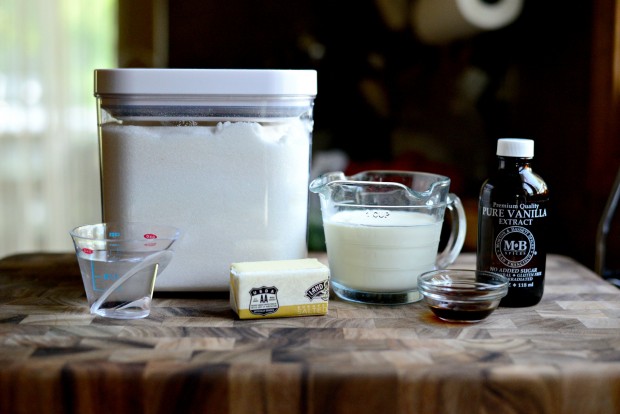 To make caramel you'll need sugar, water, heavy whipping cream, butter, vanilla and salt.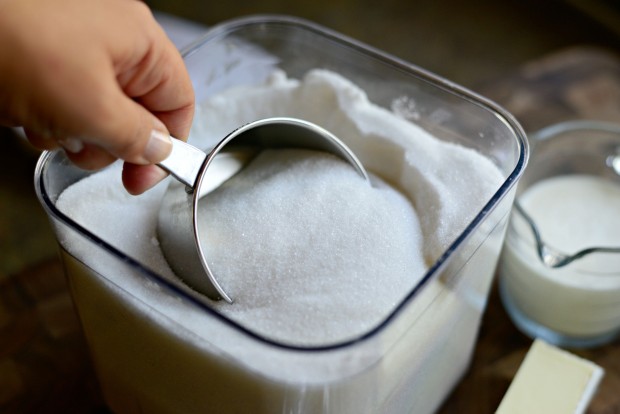 Measure out a cup of sugar.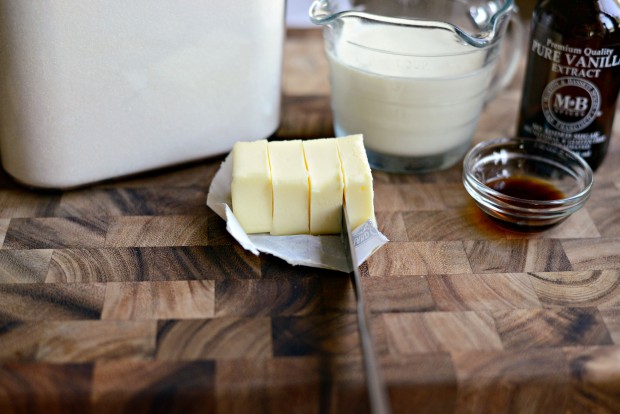 Then 4 tablespoons of salted butter. (I'm using Land O'Lakes European butter- for kicks.)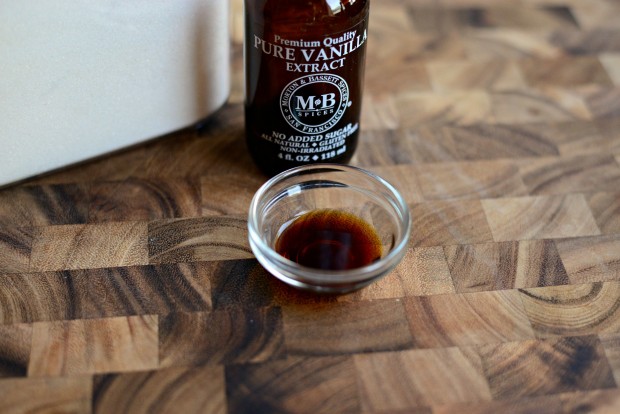 Lastly, measure out a teaspoon of pure vanilla extract.
Having your room temperature ingredients measured and nearby is pretty darn helpful if not crucial for caramel making to run smoothly (<— get it? SMOOOTHLY!?)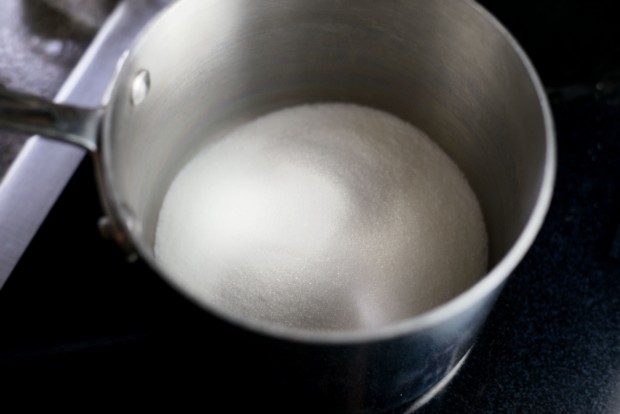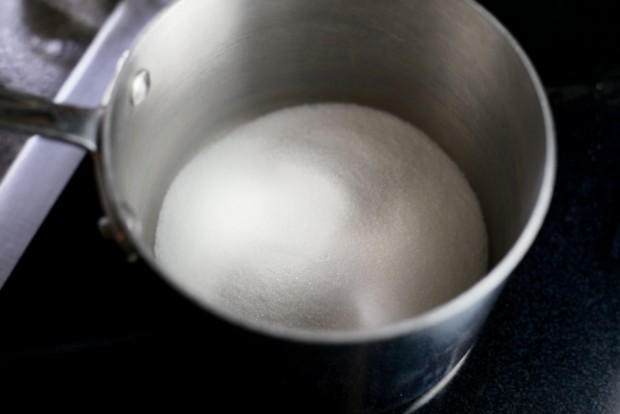 In a clean, heavy bottom sauce pan slowly pour the cup of sugar into the center.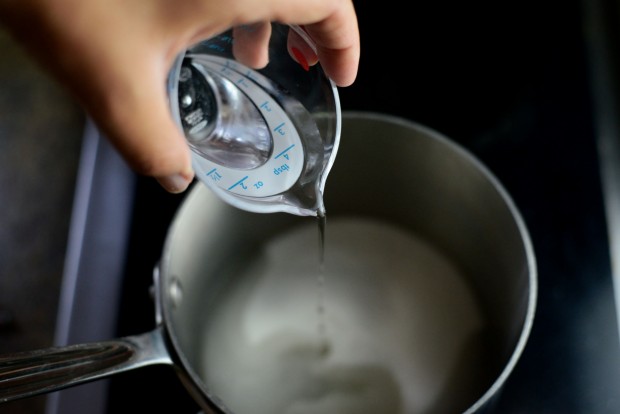 Pour in the 1/4 cup of water.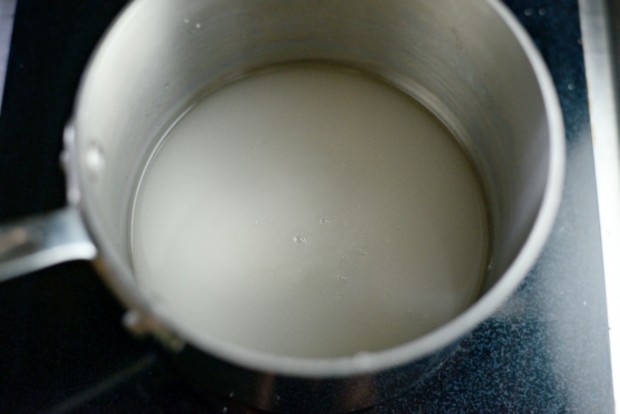 DO NOT STIR! Trust me on this, stirring disturbs the magical caramelization process that can result in a crystalized sugar hot mess. Trust me it's bad. Honestly, I mean it… just stand by and allow the water to absorb the sugar before cranking the heat to medium high.
And just watch. Do not leave the stove top to get the mail, or change a load of laundry… stay close and watch the sugar/water mixture go from clear…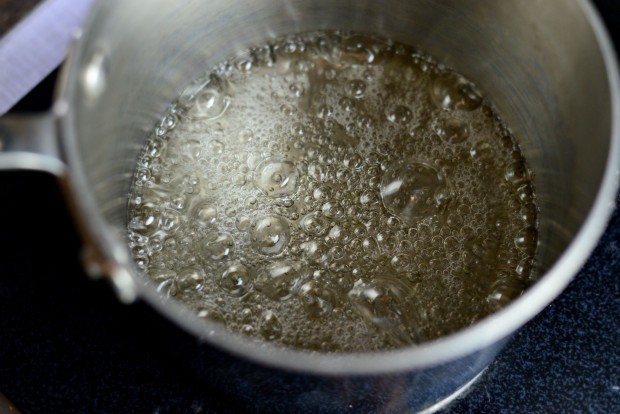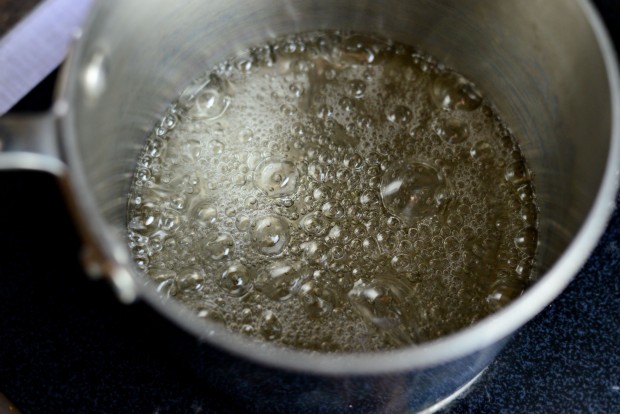 …to a champagne color…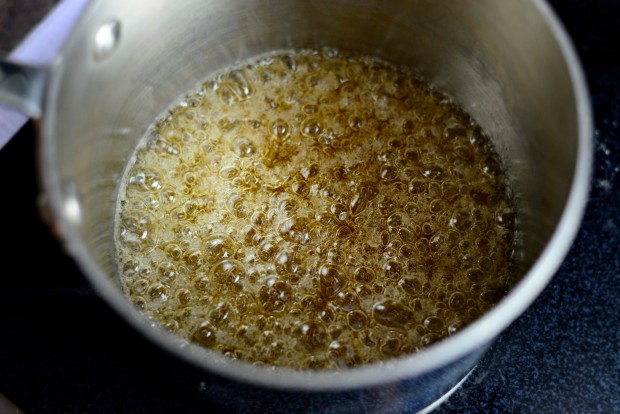 …then to a light amber…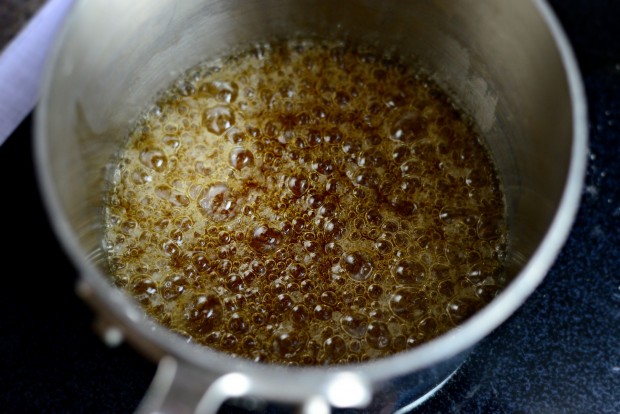 …medium amber…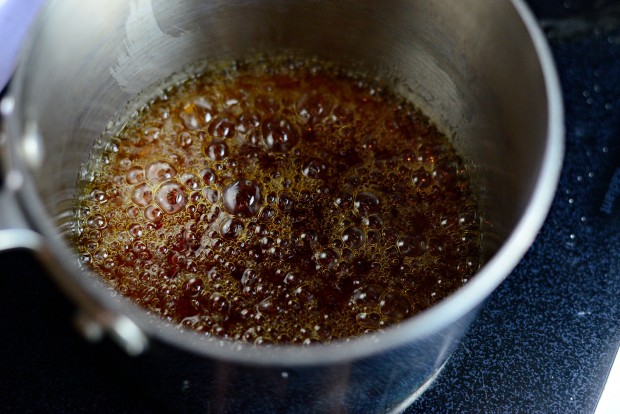 …then finally to a deep amber color. If at any point things are moving to fast for you, you can reduce or adjust the heat… it just may take longer to caramelize.
Here's a quick time-lapse video! PS. It looked a lot better on my phone but oh-wells.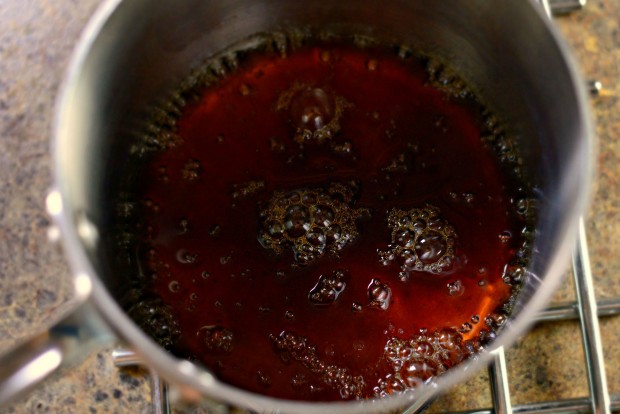 It can go from caramelized to burnt pretty quickly in these last few stages so once you reach this color immediately remove the pan from the stove top to an awaiting trivet or heat-proof surface.
Holding the whisk out in front of you, slowly pour (while whisking) in the 3/4 cup of room temperature heavy cream. I hold the whisk out in front of me to avoid the hot steam from burning my skin. A lesson I learned the hard way.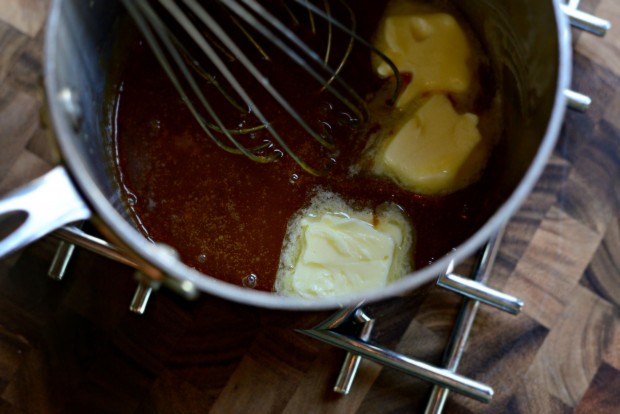 After the cream, carefully drop in the 4 tablespoons of butter.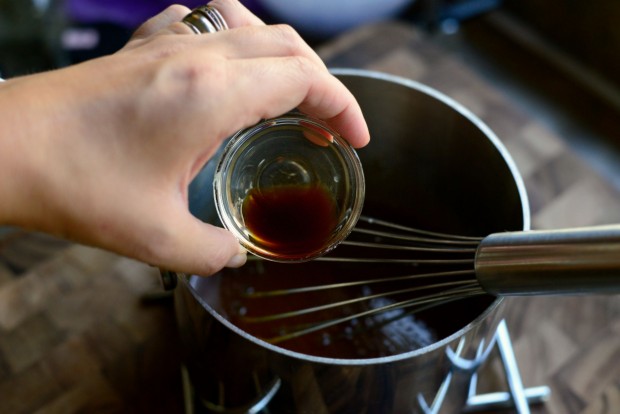 Then add in a teaspoon of vanilla extract…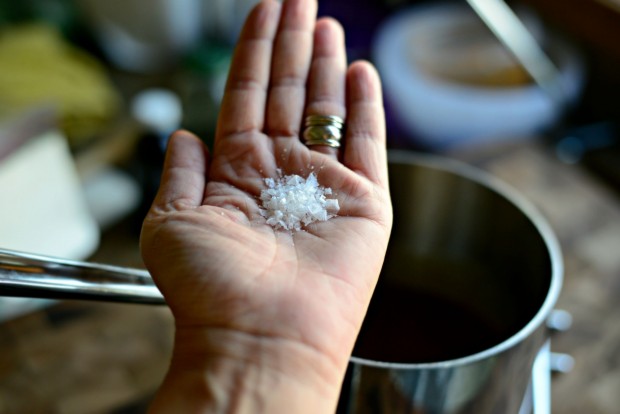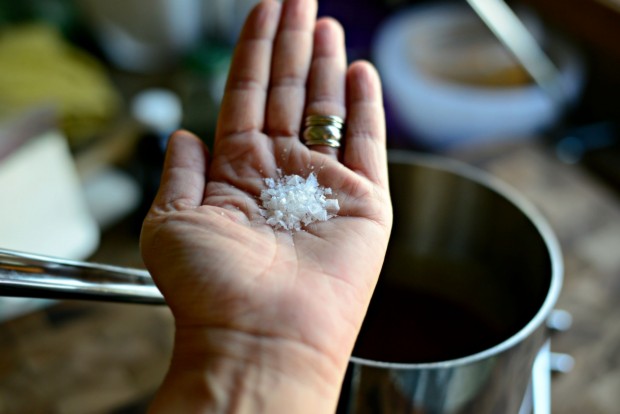 …annnnnd about 1/4 to 1/2 teaspoon of flaked sea salt. For more of a "salted caramel" up the salt a bit more.
Allow the caramel to cool in the pan before pouring the liquid-gold-of the-gods it to a heat-safe container that has a tight fitting lid. At this point the caramel is still pretty thin, but fear not… it will thicken up quite a bit while it cools. I give the sauce about an hour to cool on the counter before screwing on the lid and popping it into the fridge.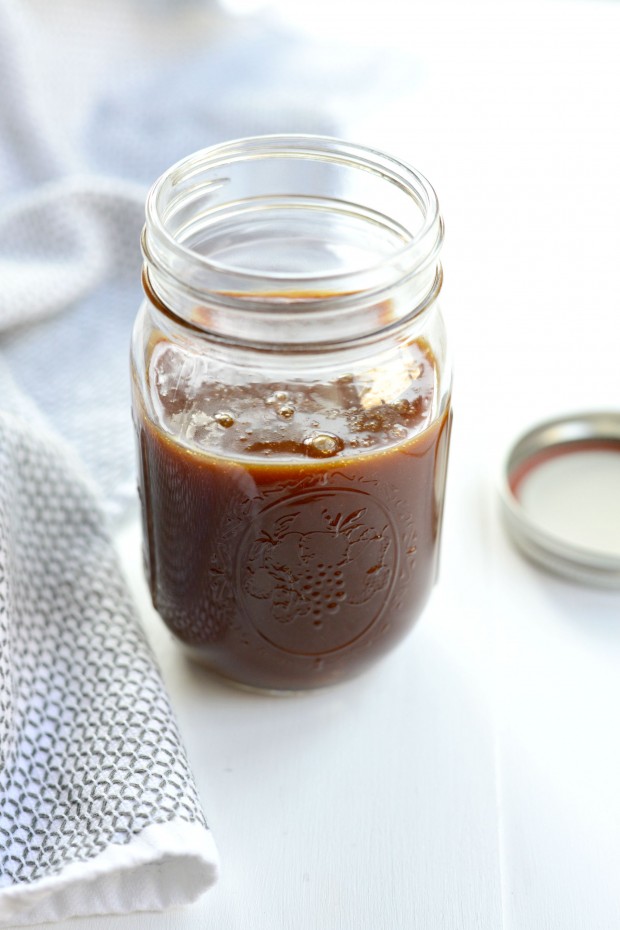 All in all it takes about 25 minutes (or less!) to make this caramel sauce. Don't fret if it takes you a couple go rounds. It still crystalizes on me from time to time. 9.9 times out of 10 it's because I stirred it at some point. That's always my problem… I'm a need to stir kind of person so I forget every. single. time.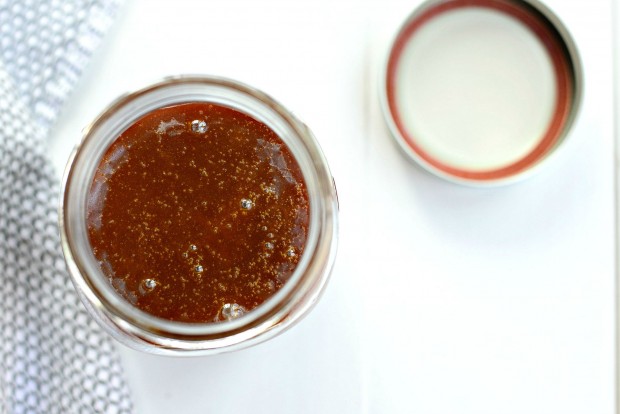 Once the homemade caramel sauce has cooled (in the fridge) and has thickend up a smidge, you can pour some in a bowl for dipping apples, orrrrrr drizzle it over ice cream, waffles, pie and/or your face. Whatever. I will not judge. Basically because I did exactly that. #noshameinmygame
Once you make your very own caramel… you wont go back.
Ever.
Enjoy! And if you give this Homemade Caramel Sauce recipe a try, let me know! Snap a photo and tag me on twitter or instagram!
My cookbook Simply Scratch : 120 Wholesome Homemade Recipes Made Easy is now available! CLICK HERE for details and THANK YOU in advance!
[this post contains affiliate links.]
This post may contain affiliate links.
Buy the Cookbook: Simply Scratch : 120 Wholesome Homemade Recipes Made Easy Now available on Amazon »
THANK YOU in advance for your support!