In this watermelon wedge salad, watermelon is topped with peppery arugula that has been tossed in a light champagne vinaigrette, feta and pistachios.
Have you seen? Topping wedges of watermelon with all things salad related is a major trend this summer.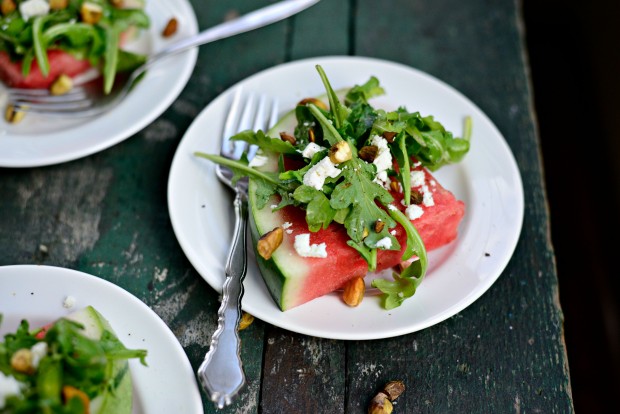 I stumbled upon this genius idea after seeing a few similar salads like this in my instagram feed. I was instantly obsessed with this idea and HAD to make one ASAP. My summer just wouldn't have been complete otherwise.
So I tossed peppery baby arugula in a quick champagne vinaigrette that I made and piled it on a triangle of watermelon. I adorned it with crumbles of feta, chopped roasted pistachios and more freshly ground black pepper. But get creative! Seriously the sky is the limit; you could do an all fruit salad on top, or a savory combination of blue cheese, avocado and micro greens. Anything works when it's on top of a wedge of watermelon, no?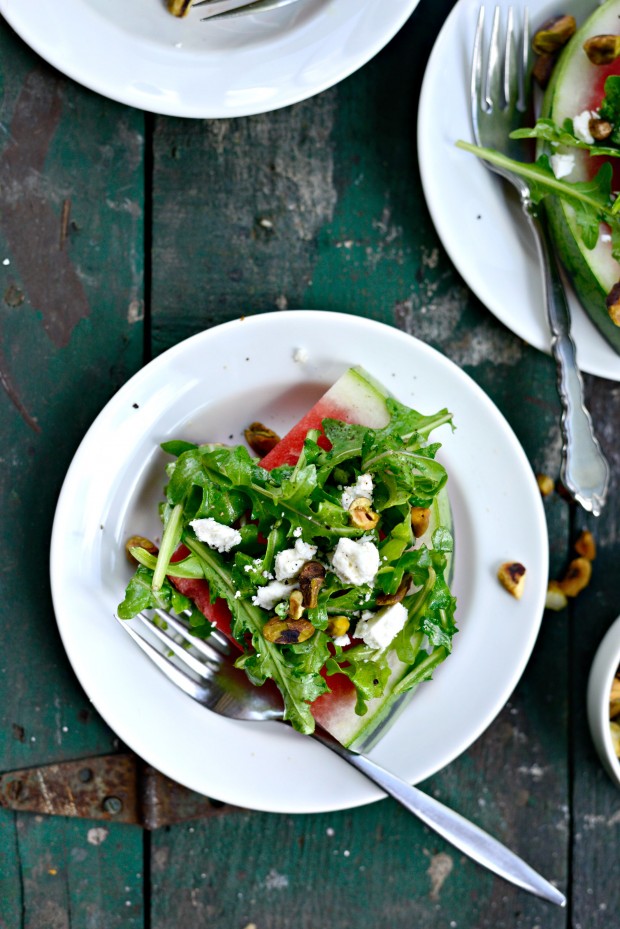 I mean, how pretty right??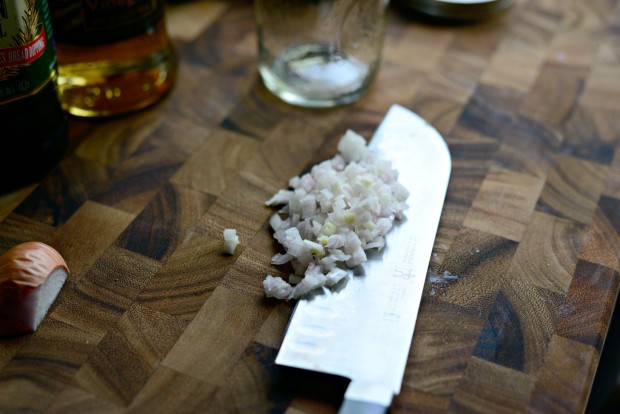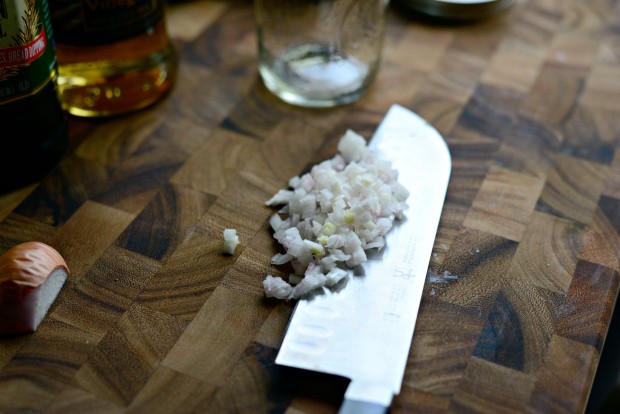 The champagne vinaigrette is as simple as it gets. It's a light dressing for just about any salad your heart desires.
Finely dice up a small shallot or about 1 tablespoon and throw it into a jar.
Next mince up a small clove of garlic and add that in too.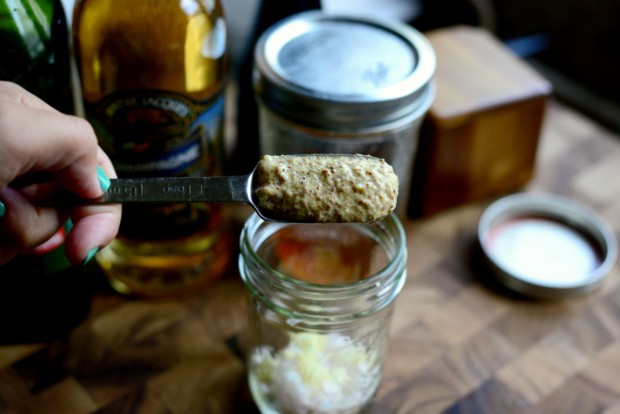 Next measure and add in a tablespoon of Dijon mustard (I'm using country style)…
2 tablespoons of champagne vinegar…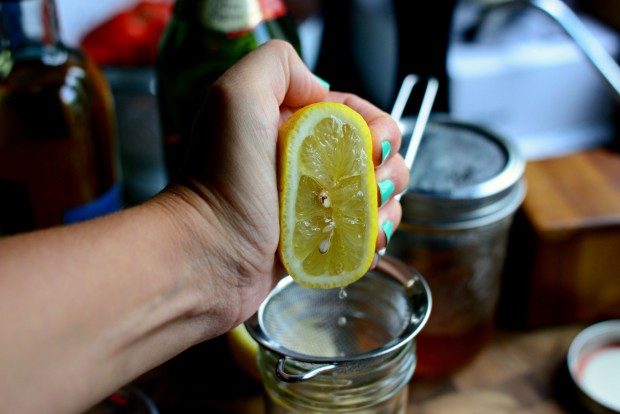 … then put the squeeze on half of a lemon, with a strainer set over the jar to catch the seeds.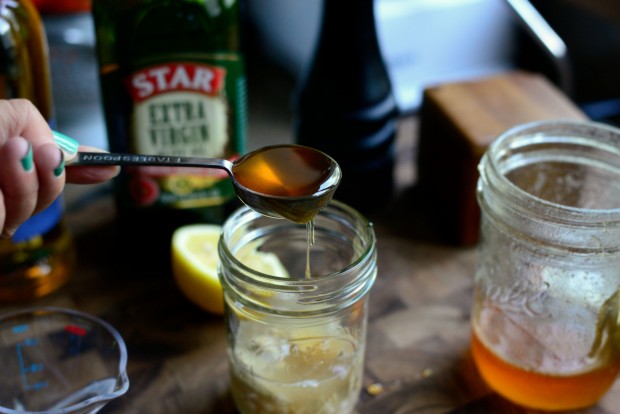 Then add a heaping tablespoon of honey…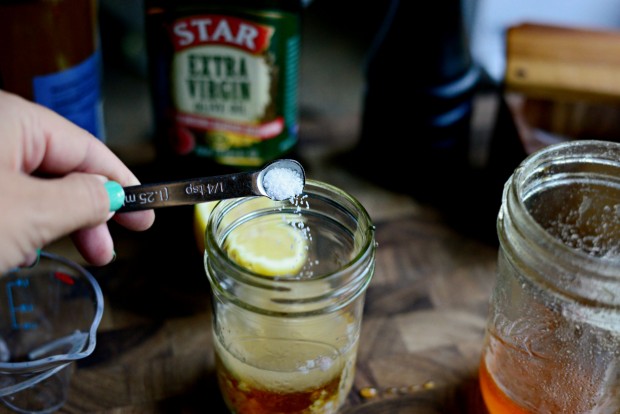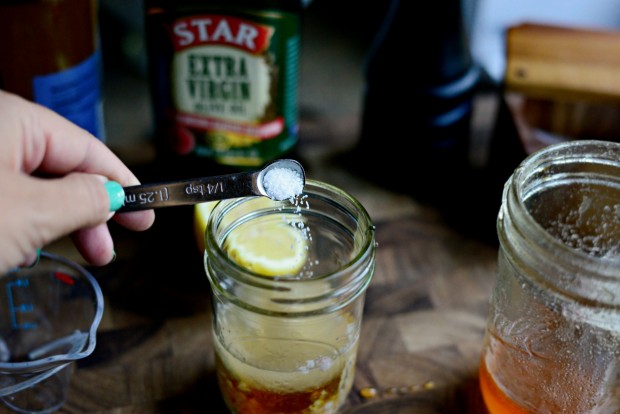 1/4 teaspoon of kosher salt…
…and a few grinds of fresh black pepper.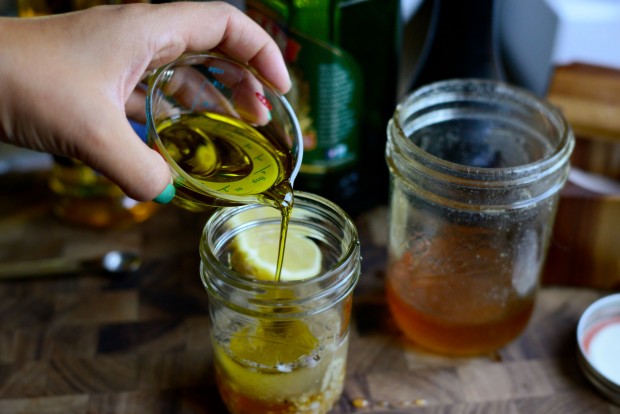 And then lastly, add in a half cup of olive oil.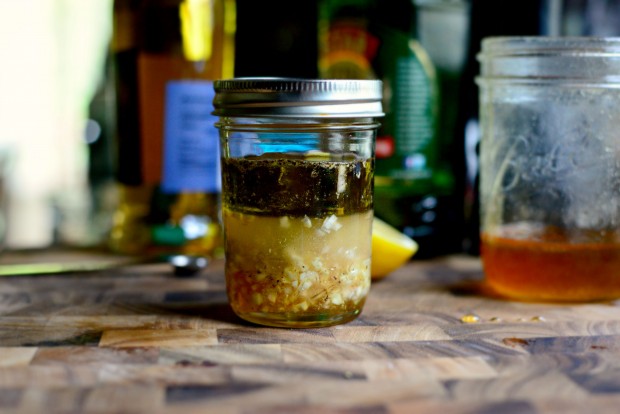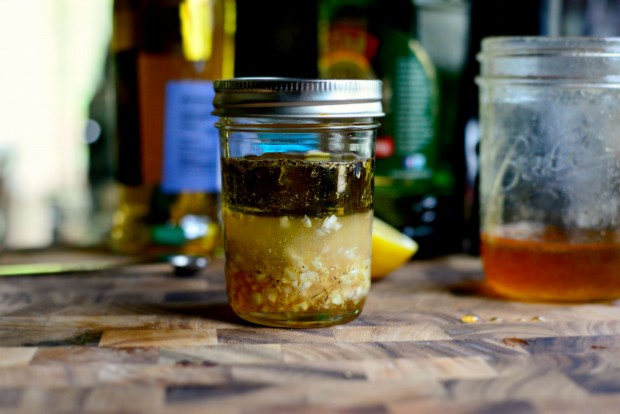 Secure the lid…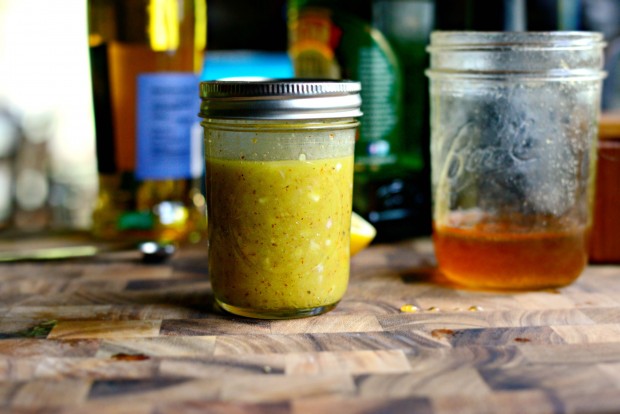 …and shake it till you make it.
Stunning!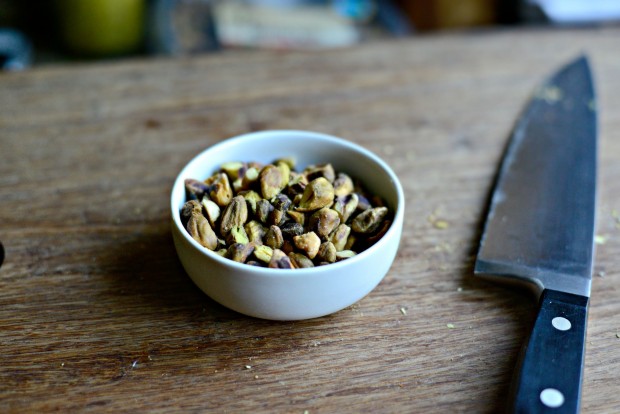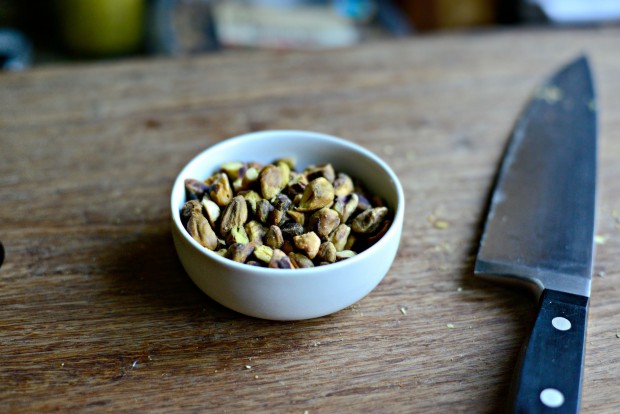 However, before salad assembly begins, coarsely chop up a handful or so of roasted pistachio meats.
Halve and slice the watermelon into wedges. I'm using a small seedless one.
Then right before serving, throw the baby arugula into a bowl.
Next drizzle in a tablespoon or so depending on how many salads you're putting together and toss to coat by hand. I like the leaves to be evenly coated in the dressing and not drenched.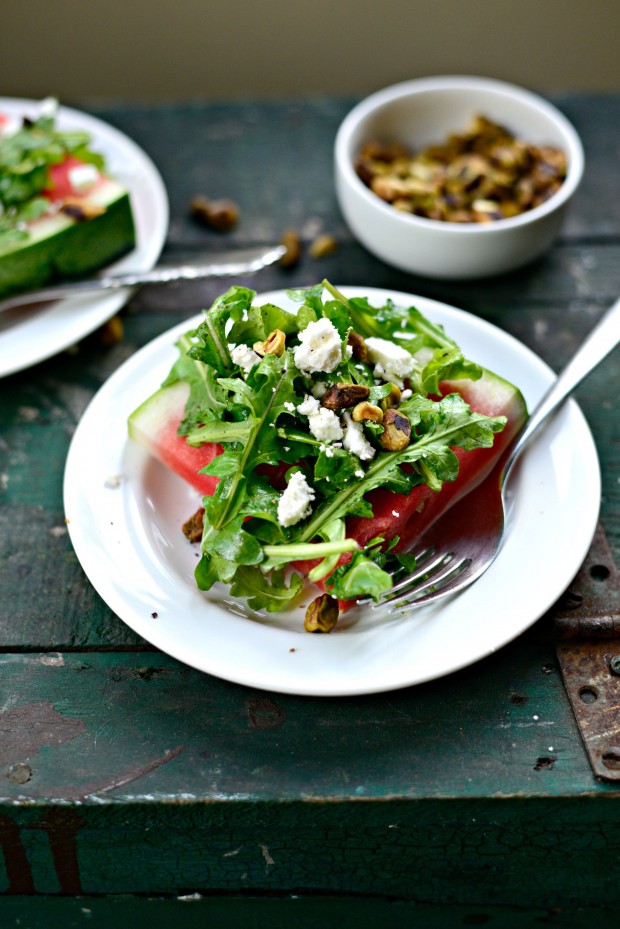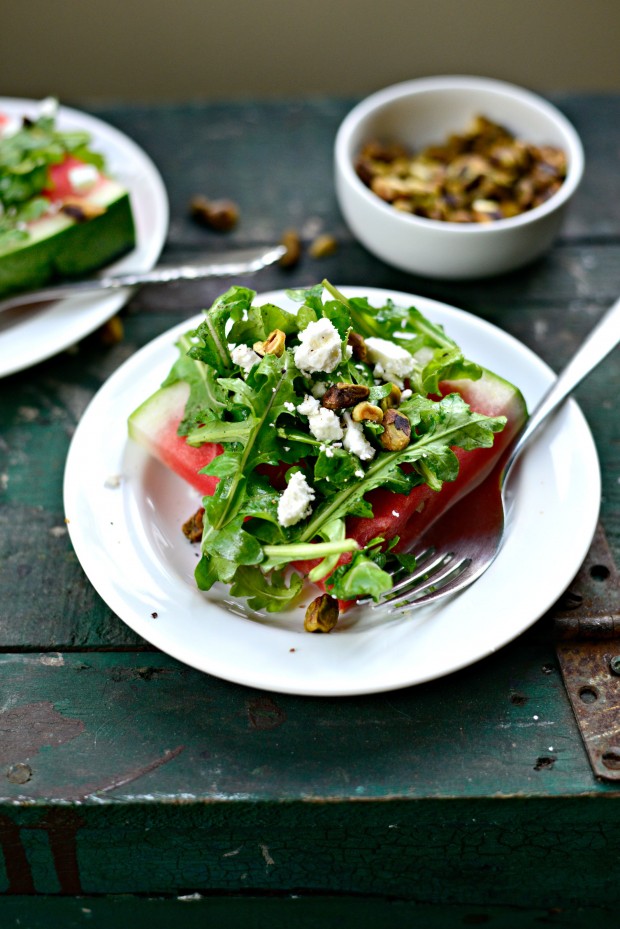 Lastly, divide the dressed baby arugula on wedges of watermelon then sprinkle the watermelon wedge salad with some crumbled feta (or heyyy try goat cheese), the pistachios and more black pepper if desired.
In my house it's always desired.
Serve. Inhale. Enjoy. It's really that simple.
You can turn this into a complete meal by serving this with grilled anything and crisp glass of white wine.
Enjoy! And if you give this Watermelon Wedge Salad recipe a try, let me know! Snap a photo and tag me on twitter or instagram!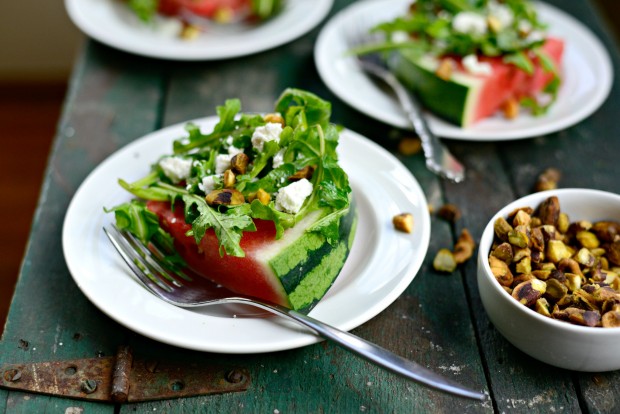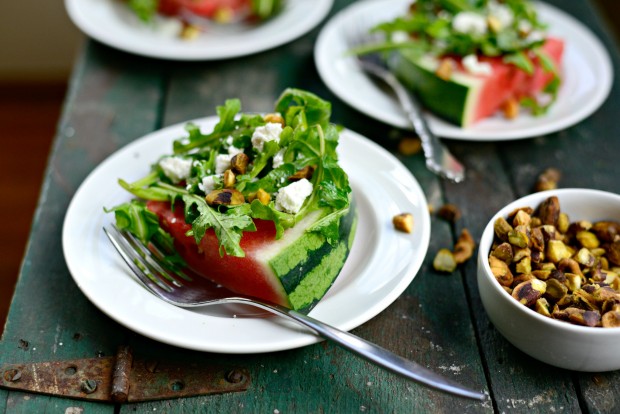 My cookbook Simply Scratch : 120 Wholesome Homemade Recipes Made Easy is now available! CLICK HERE for details and THANK YOU in advance!
[this post contains affiliate links.]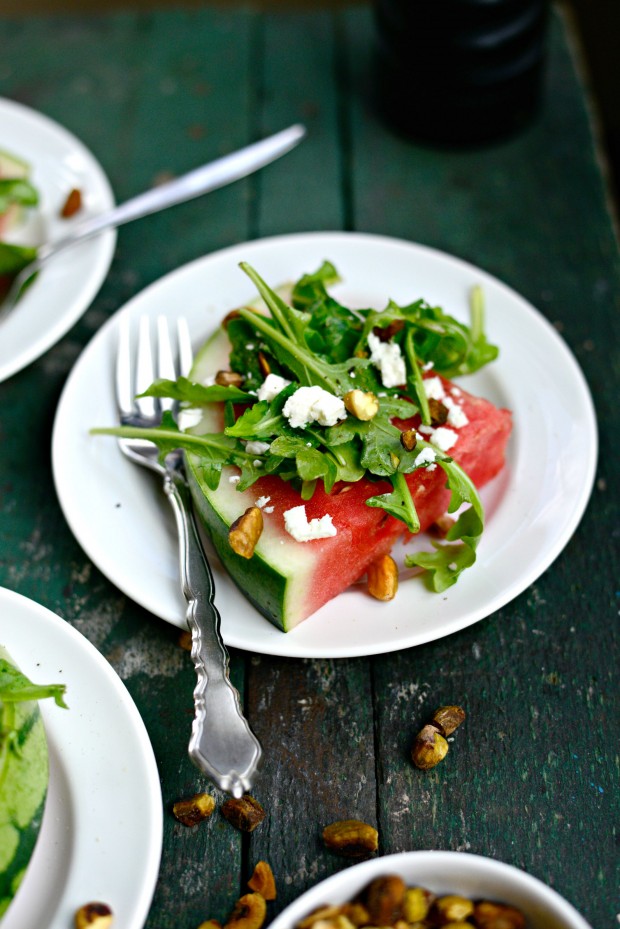 This post may contain affiliate links.
Buy the Cookbook: Simply Scratch : 120 Wholesome Homemade Recipes Made Easy Now available on Amazon »
THANK YOU in advance for your support!