This fattoush salad is dreamy. It's loaded with grilled za'atar chicken (but feel free to leave out the meat for a vegetarian version!), cucumbers, onions, tomatoes and lots of crumbled feta, olives and crispy pita pieces. Everything gets tossed with a simple lemon sumac dressing. This fattoush salad is the ultimate.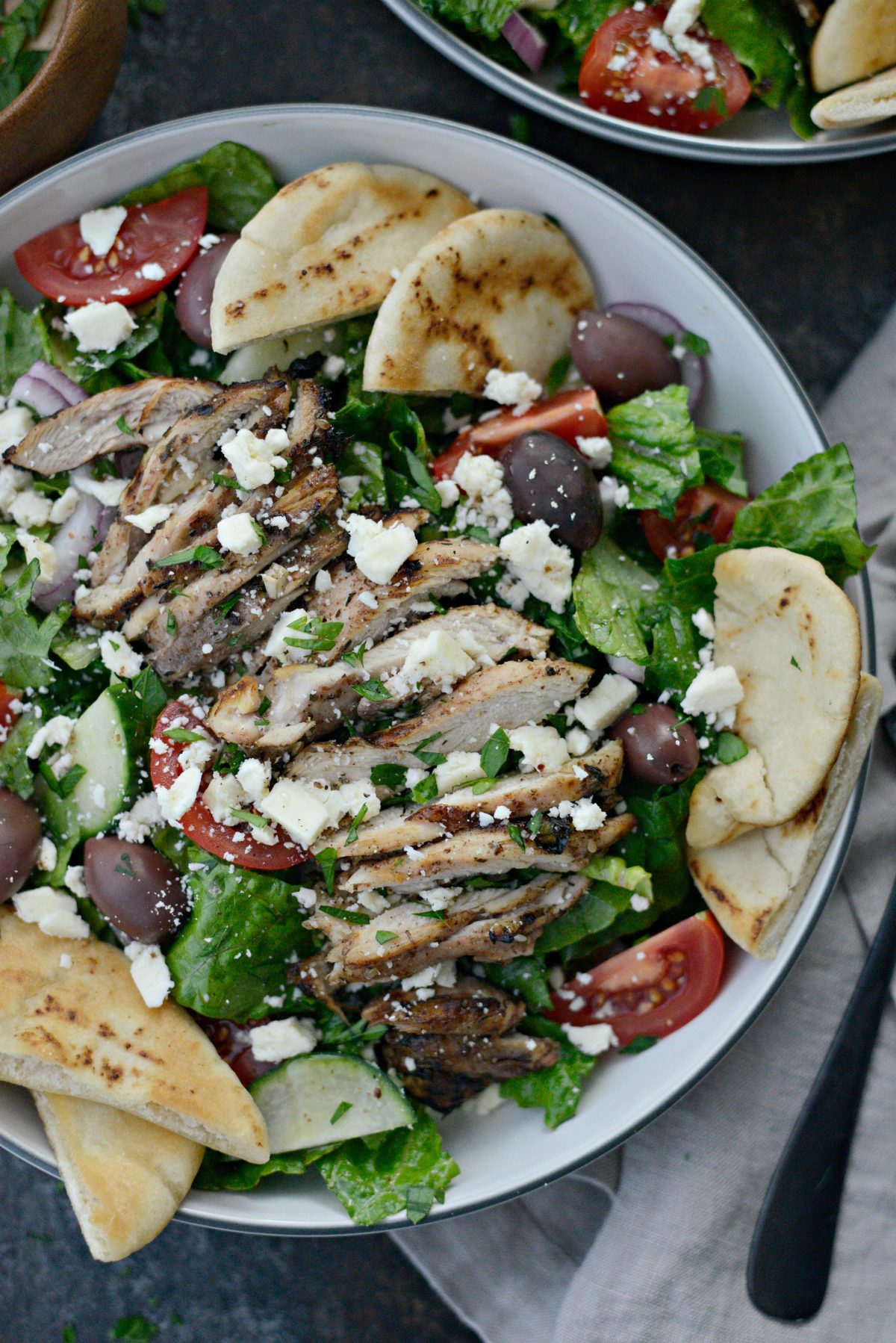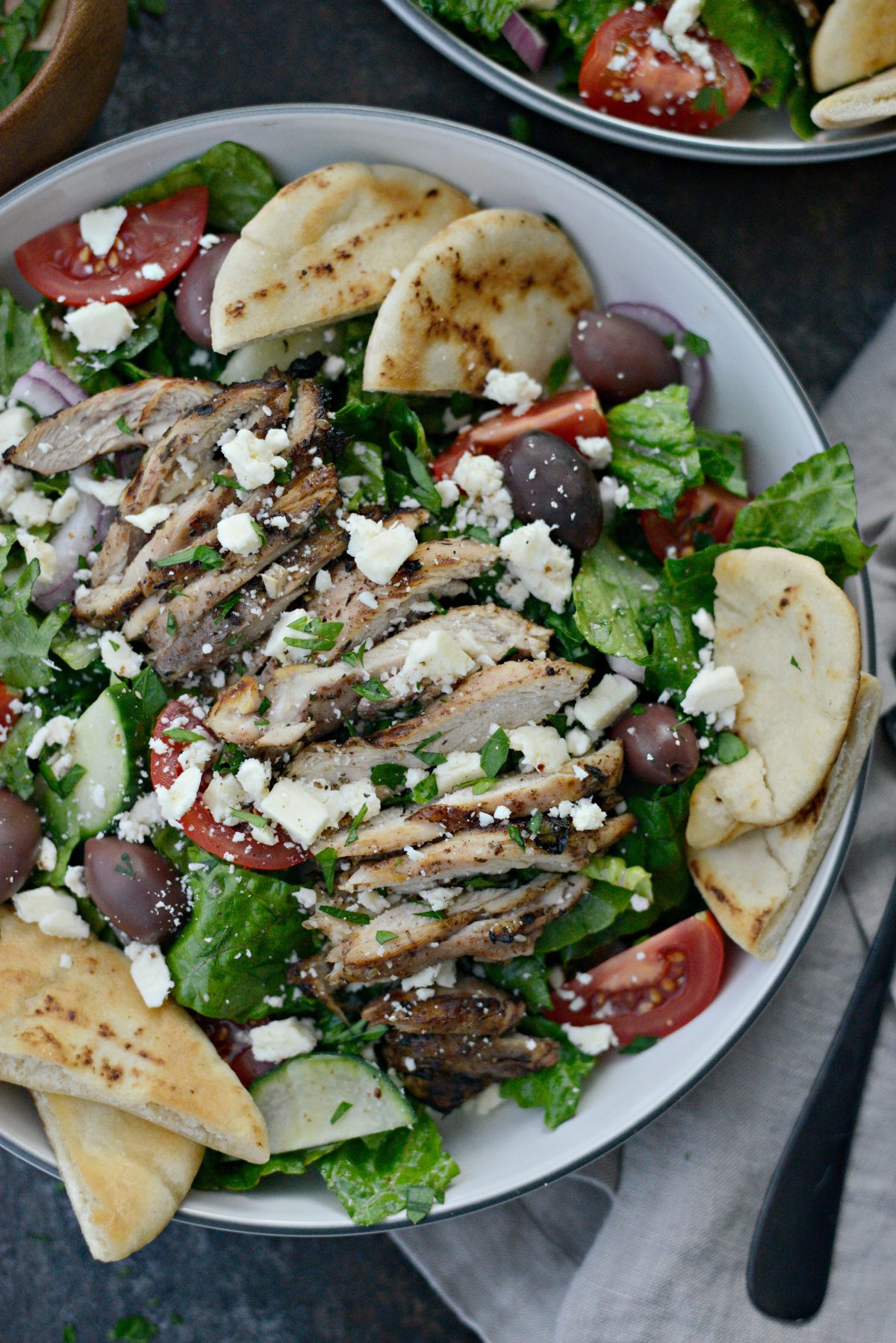 Fattoush, fattoosh or fattush. No matter which way you spell it, there's just so many good things going on in this one salad you're destined to love it.
I only know of two (but I'm certain there are more) restaurants that make a fab fattoush. One is Mr. Kabob, it's located near my old hospital job and is in an actual gas station, a Sunoco I think. I know what you're thinking, but the food is all kinds of amazing and if you live in the Royal Oak/ Berkley and surrounding area- you KNOW this place. It's just 45 minutes away from where I live now and well, that's a long way for carry-out. But then there's La Marsa; 25 minutes away, equally delicious, not in a gas station and where we tend go on most occasions. Typically we order shawarma wraps and either their regular salad or the fattoush. If I'm being honest, the fried pita pieces are extremely hard to pass up on, so 99.9% of the time it's fattoush for us.
On days that I have zero desire to drive all that way, just to calm my fattoush craving, I make my own. In my version, you'll find the traditional (and quite possibly non-traditional) fixings you'd typically get in a really good fattoush salad. Things like tomato, red onion, cucumber, parsley, feta, kalamata olives and crumbled toasted pita- tossed with crisp lettuce. And the dressing…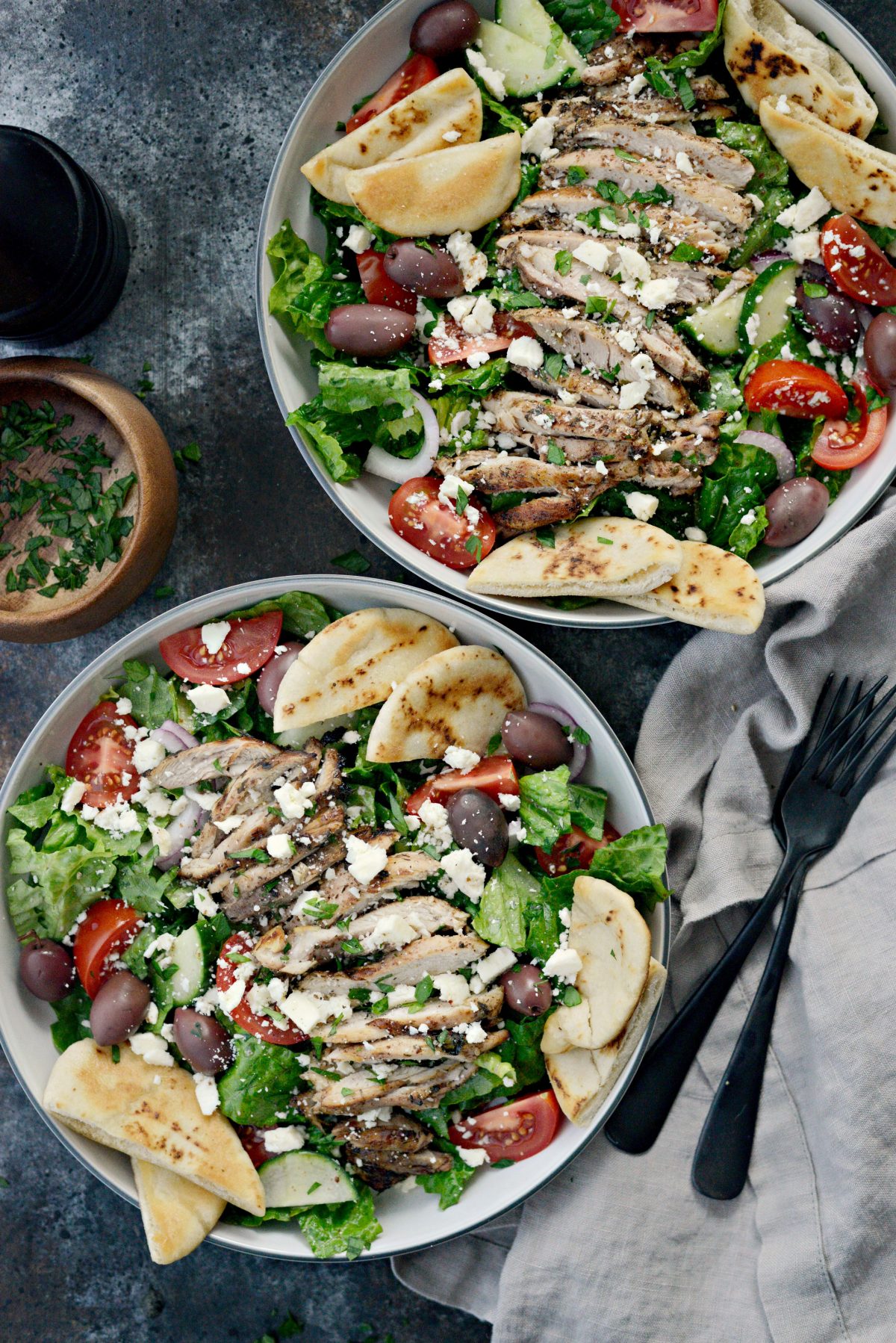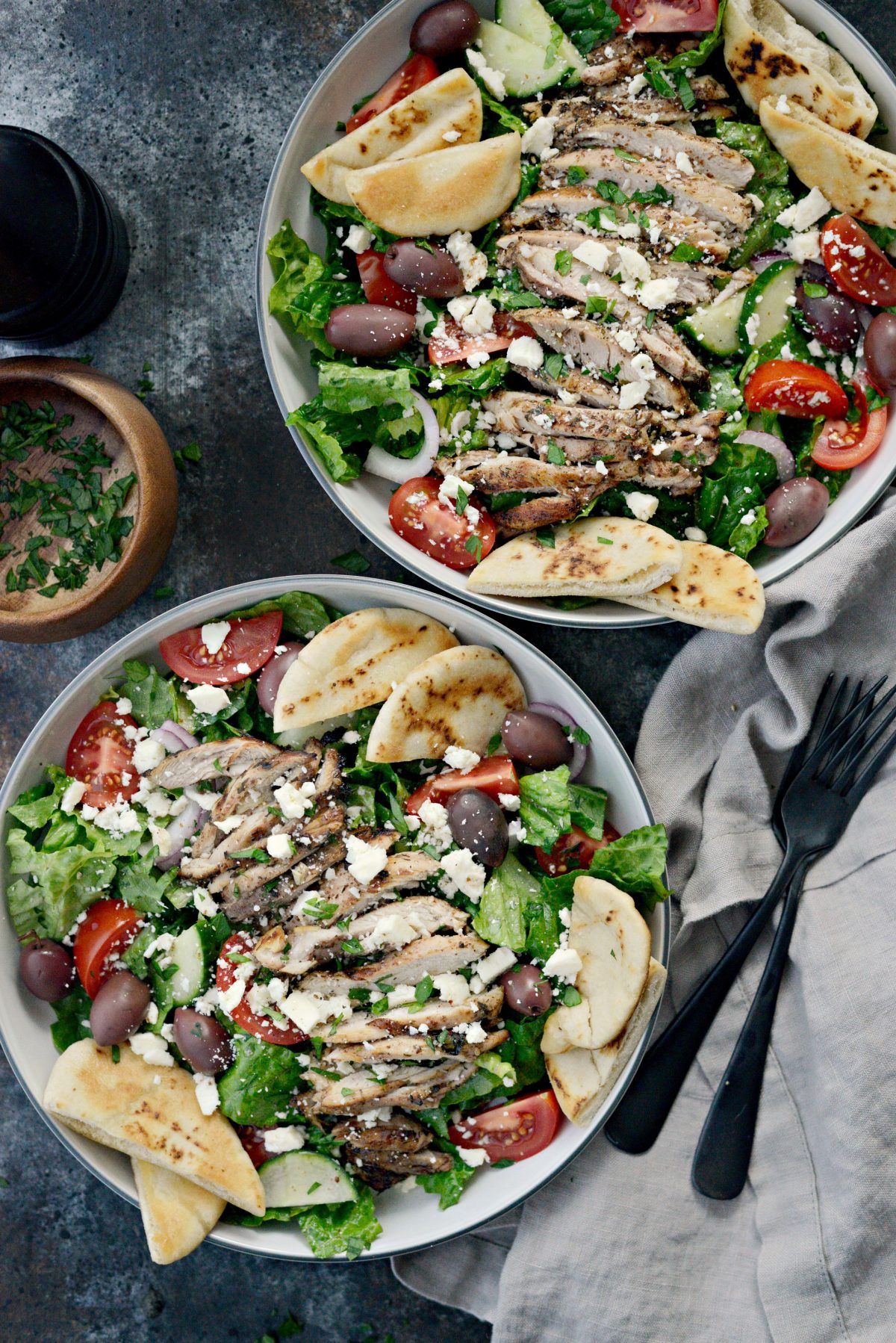 The dressing is what I quite possibly love most about a fattoush salad. Doing my best to mimic take-out fattoush salad dressing, I made a lemon sumac dressing. Sumac is a sour lemony and flavorful spice that's typical in fattoush dressing. I go easy on it (only using a tablespoon), but feel free to add more if you love your sumac too. The dressing is as simple as it gets and the end result is a perfectly dressed salad that not only looks so rustic and pretty but is also delicious and satisfying.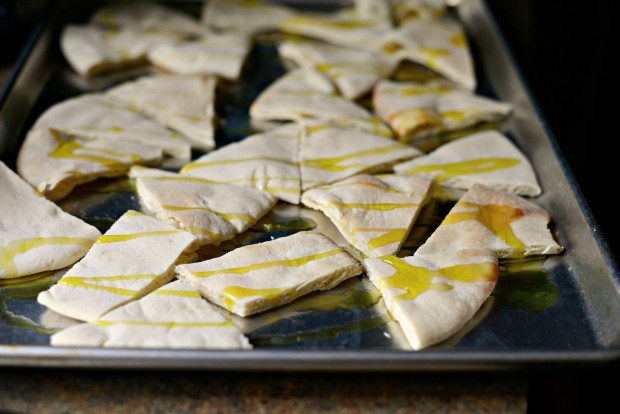 I first toast my pita in the oven. To get it out of the way and so it can cool in time to be crumbled. I crisp it in the oven because I avoid frying at all costs. Me + deep frying = terrified.
I just take three pitas, cut them into triangles and drizzle with olive oil.
I do my best to coat them well and then slide them into a preheated 400 degree oven for 5-8 minutes…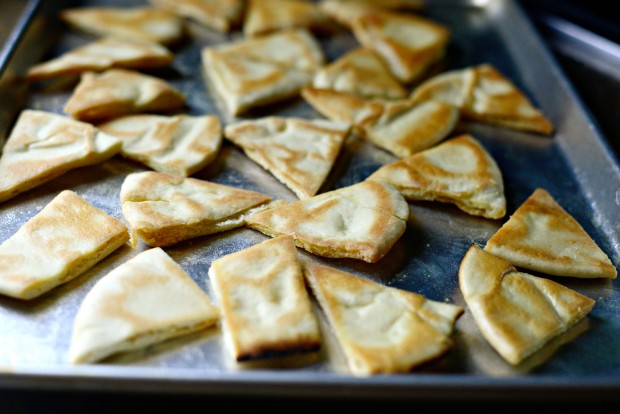 … once they're golden and crispy, I pull them out, set the pan off to the side and let them cool completely.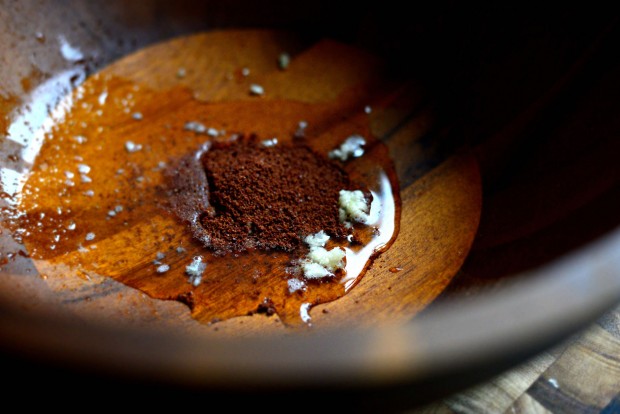 Next, in a large serving bowl, add finely minced clove of garlic. Then add in 1 tablespoon sumac (which I buy from Penzey's) and the juice of a large and very juicy lemon.
Alternatively, this salad dressing can be made in a jar to avoid an overly dressed salad.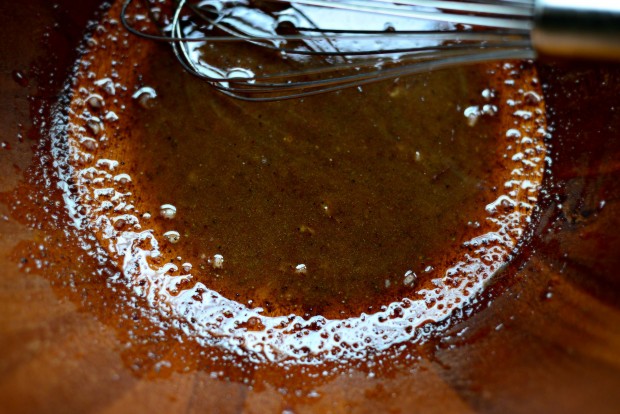 Whisk while drizzling in about 1/4 cup of olive oil. I eyeball it… so can you. 🙂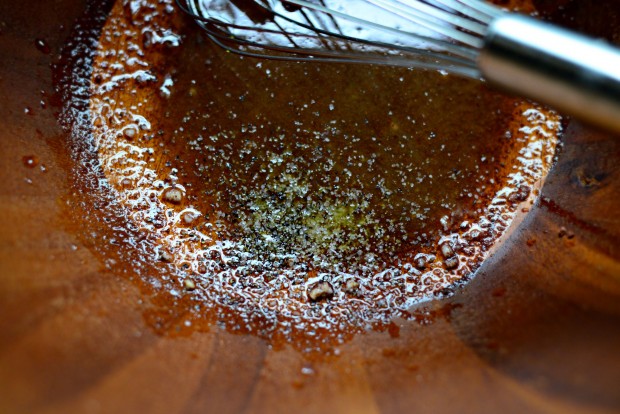 Taste and season with a pinch or two of both kosher salt and black pepper.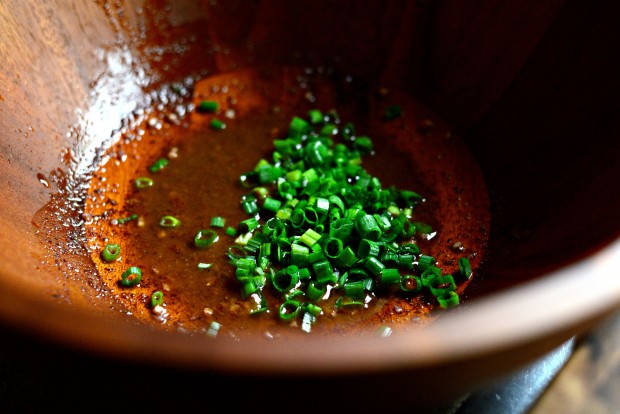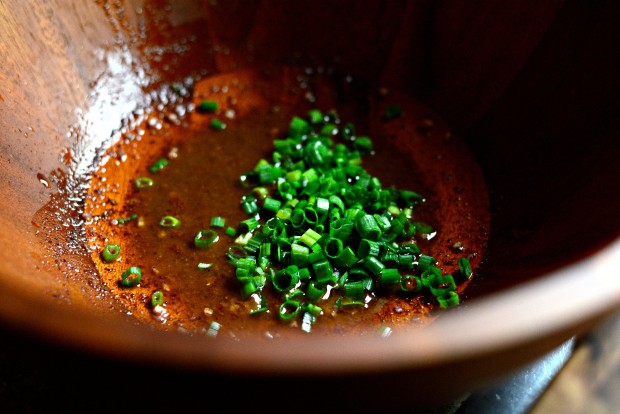 Throw in the dark green parts of three green onions…
1 to 2 tablespoons minced flat leaf parsley. I just eyeball it.
Throw in about 3/4 cup of cherry tomato halves.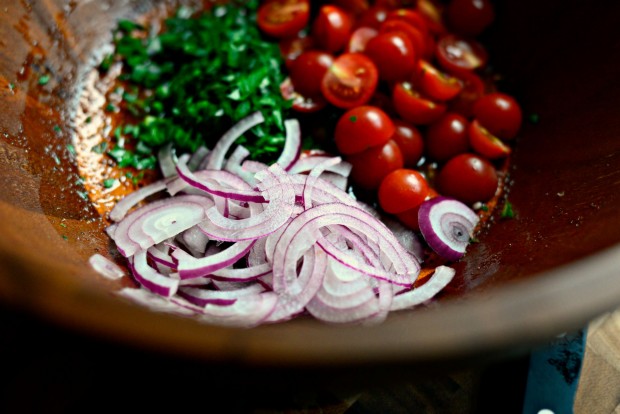 …and about 1/4 to 1/2 cup of thinly sliced red onions.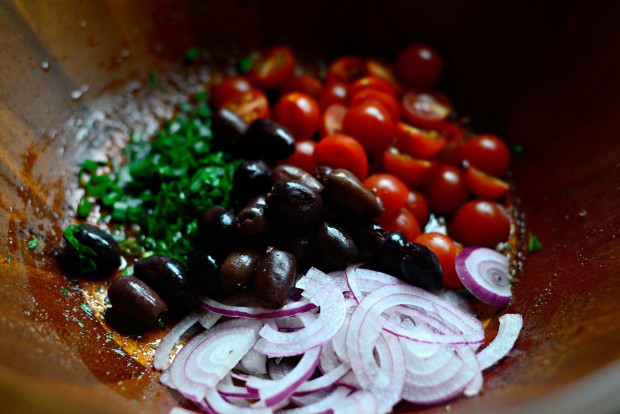 … and the same amount of kalamata olives. If some of the juice gets in there, that's not a bad thing.
Add in sliced cucumber, about 1/2 cup. Seriously I just eyeball it.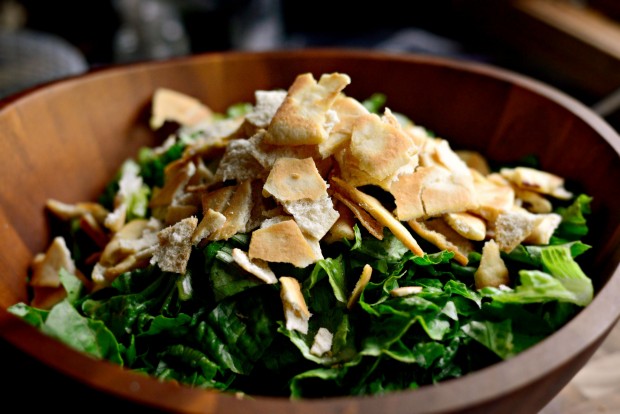 Add in the leaves of one large head of romaine. Then crumble in the crispy pita wedges.
Next toss the salad until all the dressing coats everything nicely.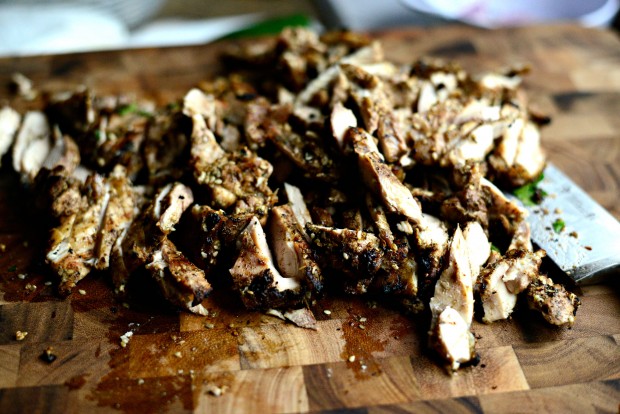 To bulk up the salad when making it for lunch or dinner, I make this grilled za'atar chicken thigh recipe before I even start the pitas and keep it warm under foil. Then before serving I quickly slice up the chicken thighs (or skip this step to keep it meatless).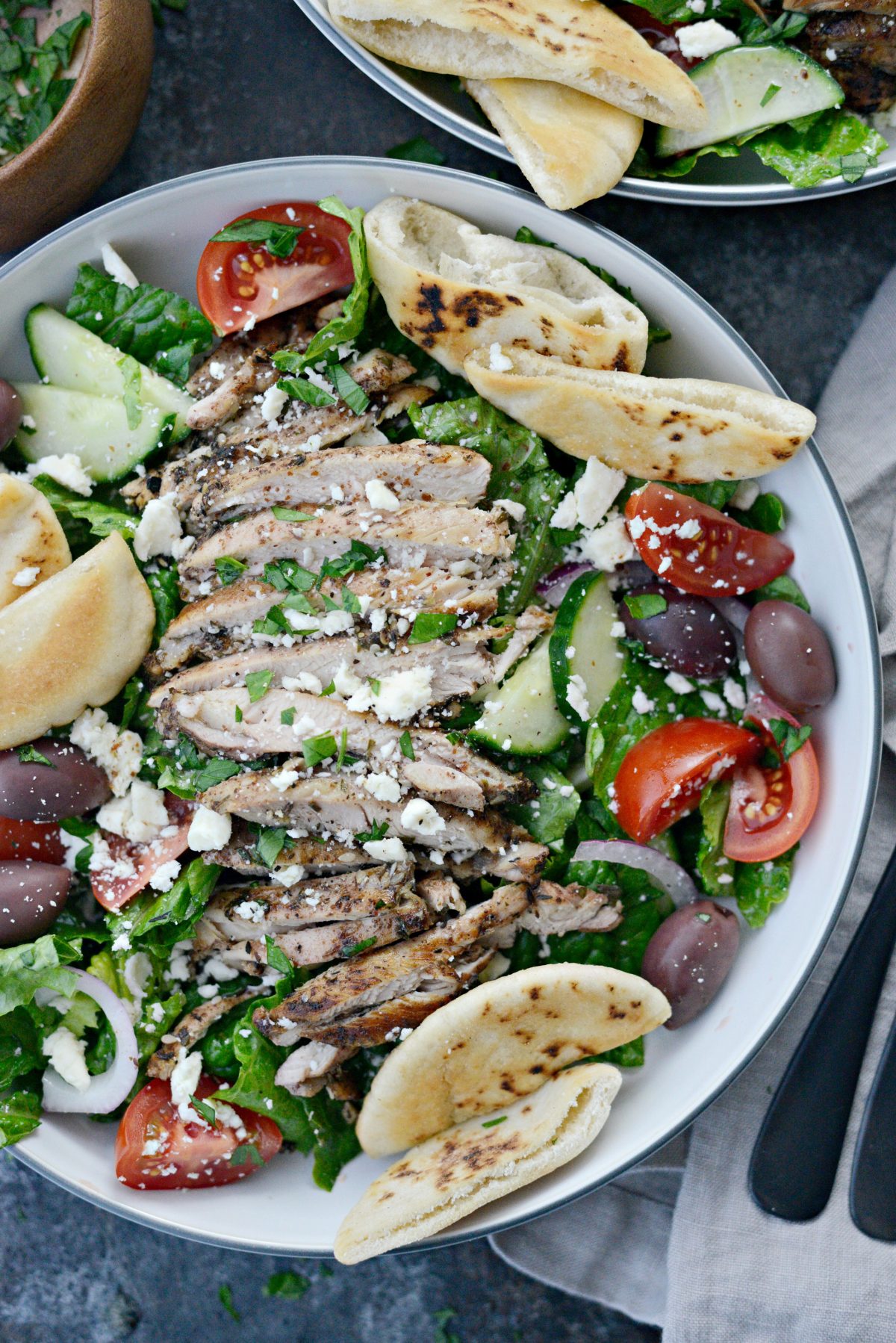 Use salad tongs to serve up a good amount of the salad into a bowl(s) or dinner plate(s) and pile high with the grilled chicken.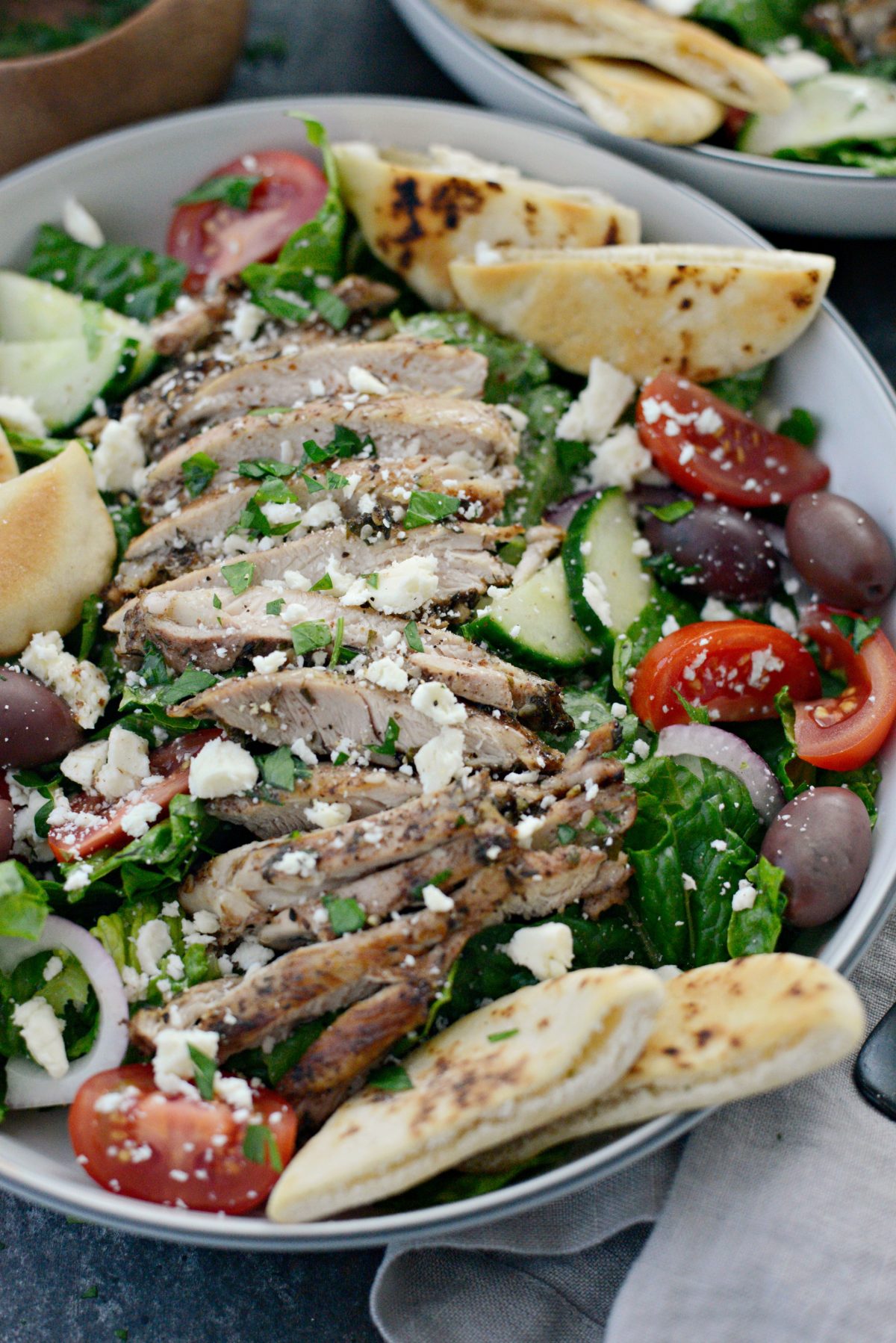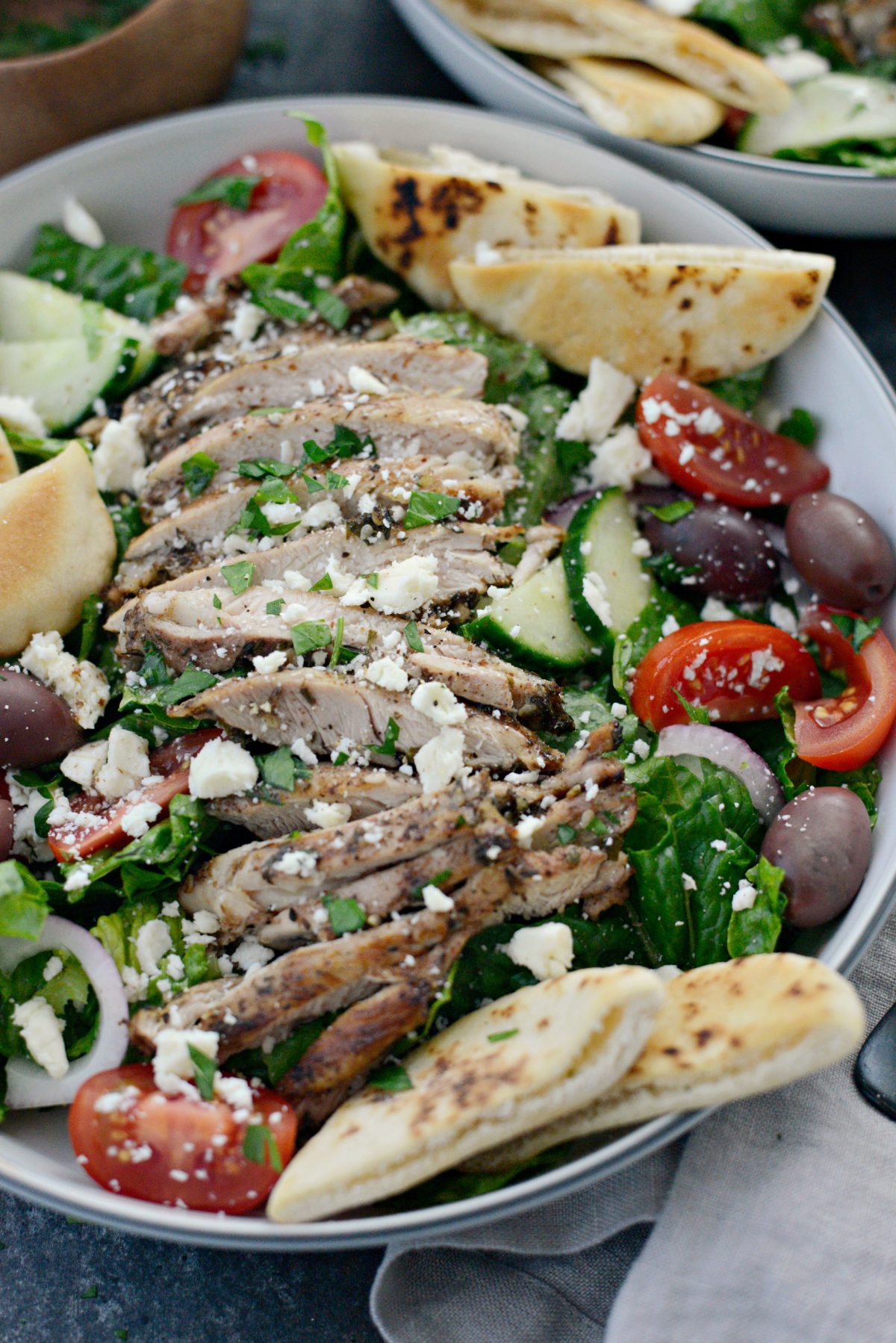 I sprinkle with a little bit of feta. My husband sprinkles his with lots of black pepper, which is the norm with pretty much everything he eats.
Then grab your fork and stab away!
This salad is dreamy. The chicken, the dressing, the crisp-yet-starting-to-absorb-the-dressing pita pieces. This salad is addictive and will not disappoint.
Enjoy! And if you give this Fattoush Salad recipe a try, let me know! Snap a photo and tag me on twitter or instagram!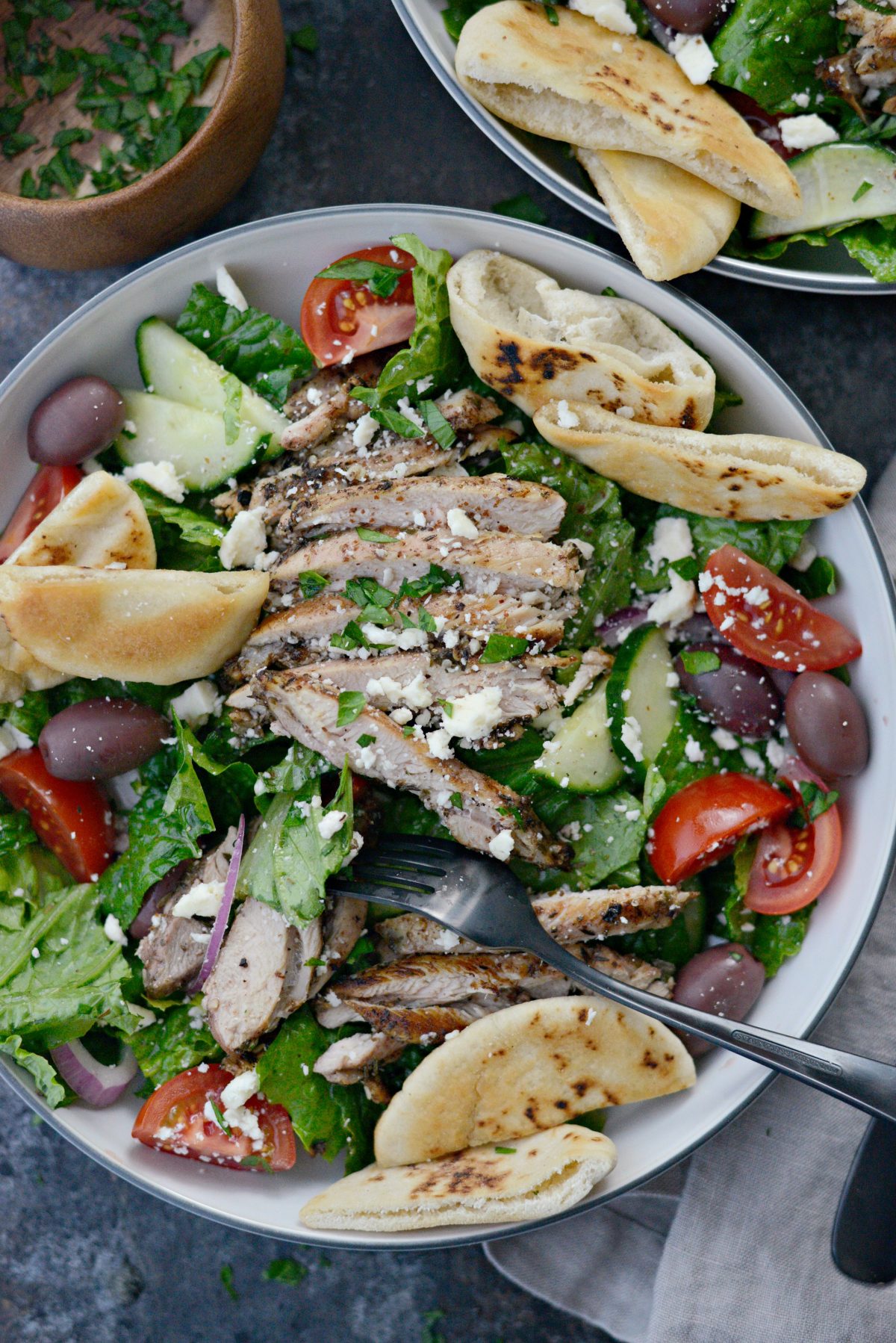 This post may contain affiliate links.
Buy the Cookbook: Simply Scratch : 120 Wholesome Homemade Recipes Made Easy Now available on Amazon »
THANK YOU in advance for your support!