The best Grilled Vegetable Spinach Pesto Quesadillas ever! All the vegetables get grilled and stuffed into tortillas with a spinach pesto and ooey gooey cheese!
Grilled vegetables meets spinach pesto and cheese meets crispy, corn and flour tortilla meets my face. It's official, I am obsessed with this 'dilla.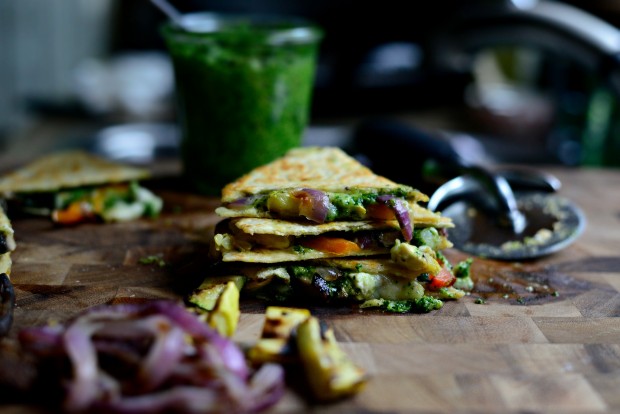 And I (and you 😉 ) have my wonderful hairdresser and friend Nancy to thank for it (Hi Nancy!). Haileigh, my oldest daughter was getting her hair done at the salon. She's almost 14, has a few highlights and is heading into highschool. My life = over. I kid. sort of.
Anyways, we all were standing around chatting about this and that. I asked Nancy if we were her last client of the day, she said that we were and that she was going home after to make dinner. Well you know me, being the nosy food-obsessed person that I am– I asked her what she was cooking up. Nancy told me she was making grilled vegetable quesadillas, a recipe she found on Pinterest.
As she went through the ingredient list, I ooooed and ahhhhed, trying not to drool while hearing and imagining grilled portobellos, peppers, yellow squash, zucchini and onions. Then there's basil pesto involved and goat cheese. My brain stopped right there on the words goat and cheese. I wish I was a fan, truly I do. because goat cheese is all the rage these days… but for the life of me I cannot. I've tried and I can't get past the furry sock texture.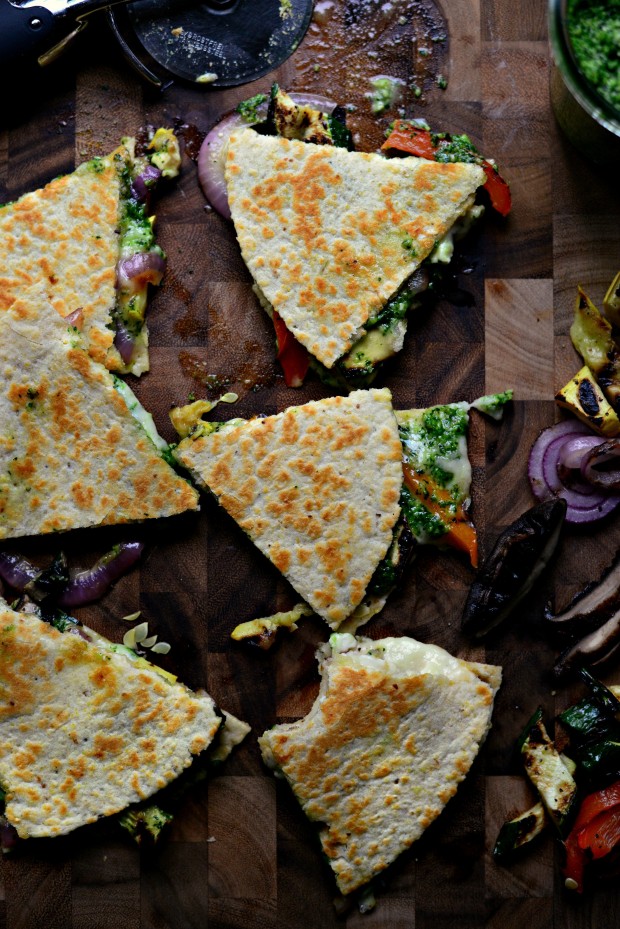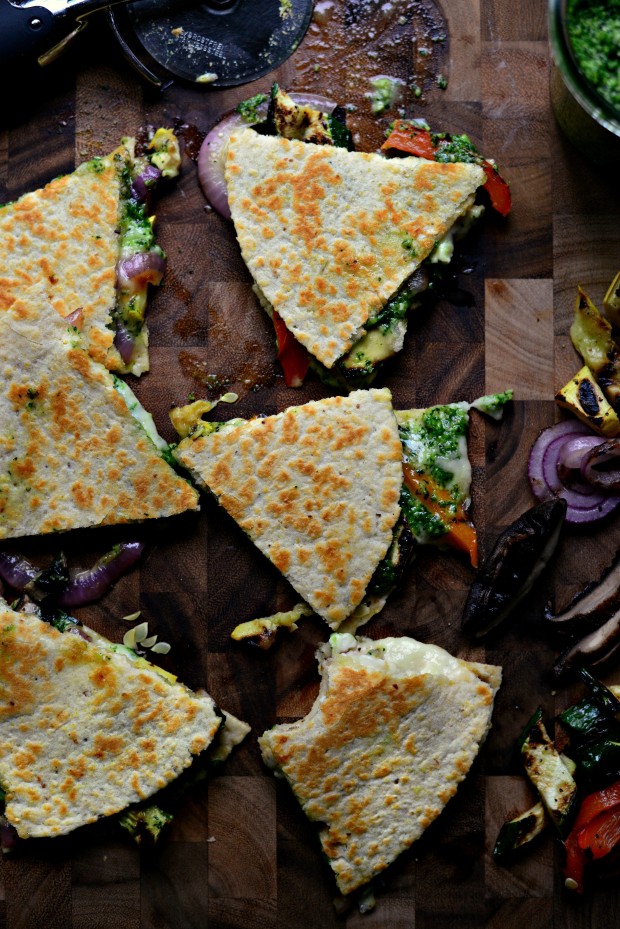 So I thought of a way to make this quesadilla happen, minus the goat cheese and with a from scratch fresh spinach pesto. The results were amazing, mind blowing deliciousness. I am not exaggerating.
I may or may not have wept a smidgen after my last bite. These grilled vegetable spinach pesto quesadillas are legit.
So the other day, I whipped up my recipe for fresh spinach pesto, I gather all the other ingredients and grilled a bunch of vegetables for the most amazing quesadillas ever. Ever-ever.
Remove and discard the stems form the portobellos.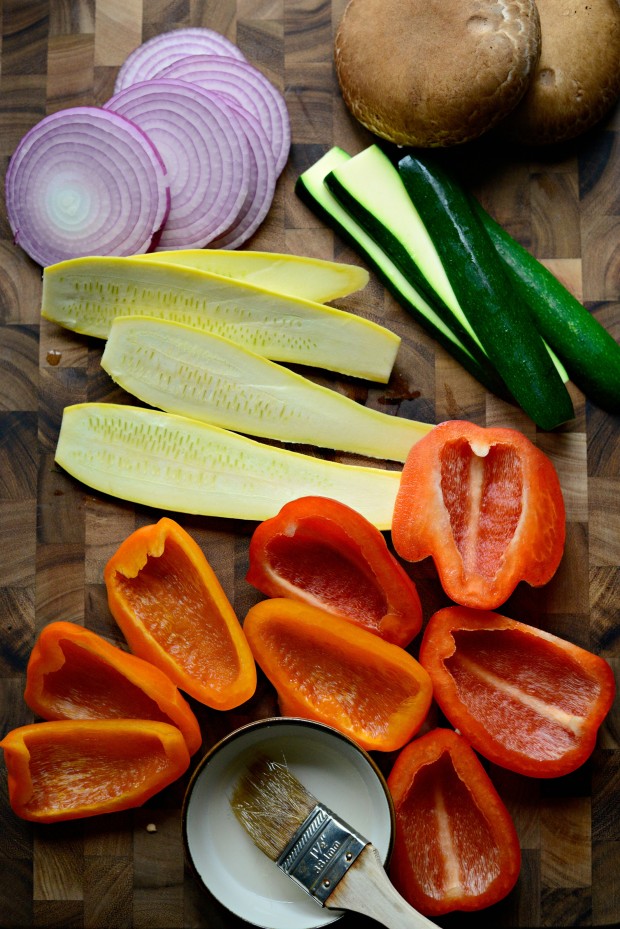 Slice the cheeks off of the peppers, slice the squash and zucchini into planks and slice a medium red onion into 1/4 inch rounds.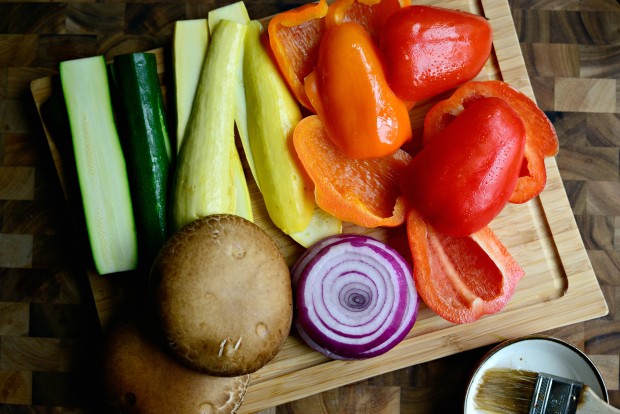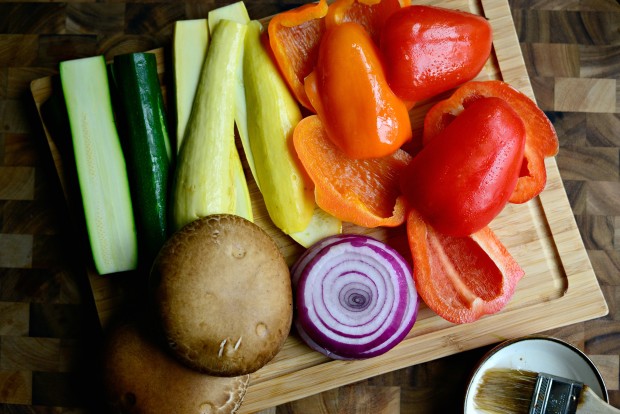 Brush all sides with safflower oil.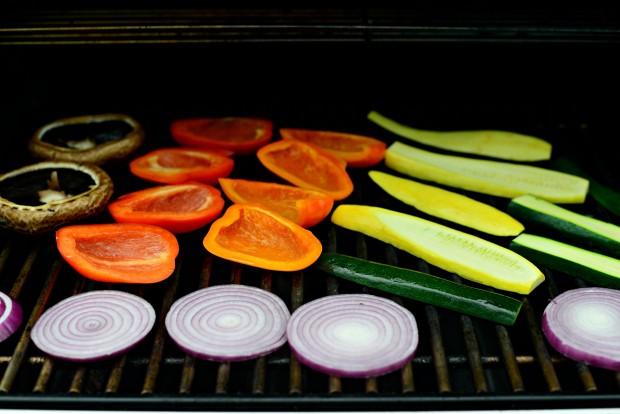 Place the veggies onto a preheated medium to medium-high grill, close the lid and grill for about 4 to 5 minutes or until charred.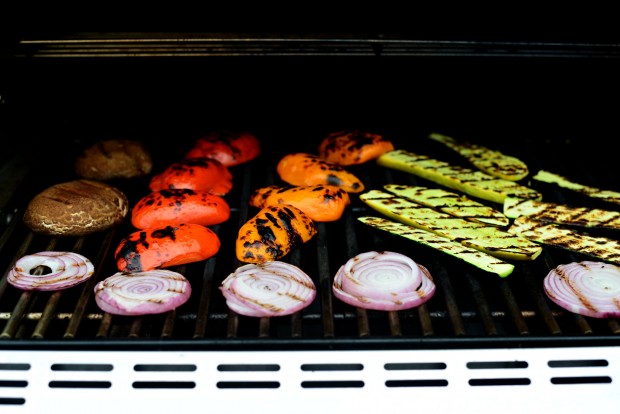 Flip the veg and continue to grill for a few more minutes.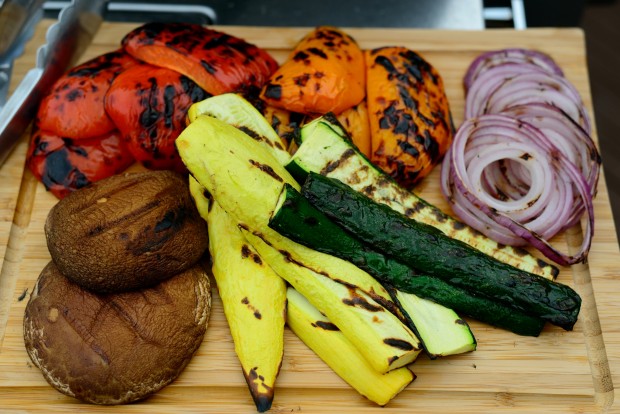 Once the vegetables have good grill marks, are firm yet tender– go on and remove them and transfer to a platter or cutting board…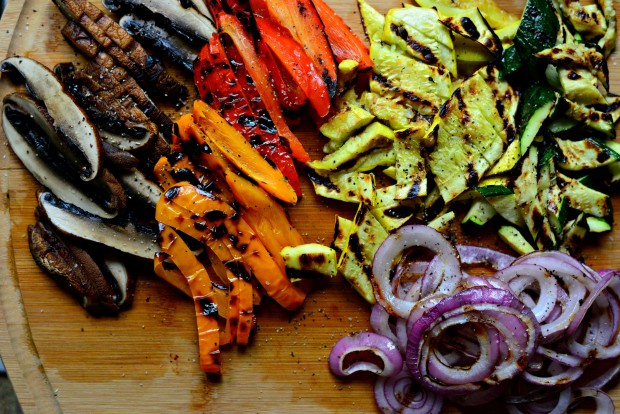 Slice the mushrooms, peppers, squash and zucchini. I keep the onions whole, but do what you like.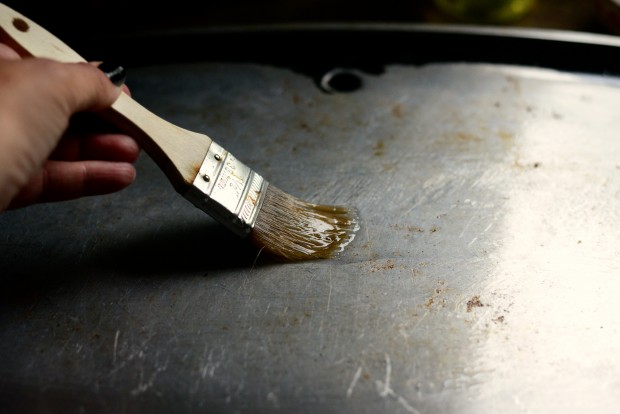 In the meantime, preheat a griddle or large skillet and brush with a little oil.
Then on an 8-inch tortilla (I'm using a corn/flour blend) sprinkle a little Farmers cheese and crumbled feta.
Next, top with veggies, a few dollops of pesto and then more feta and grated farmers cheese.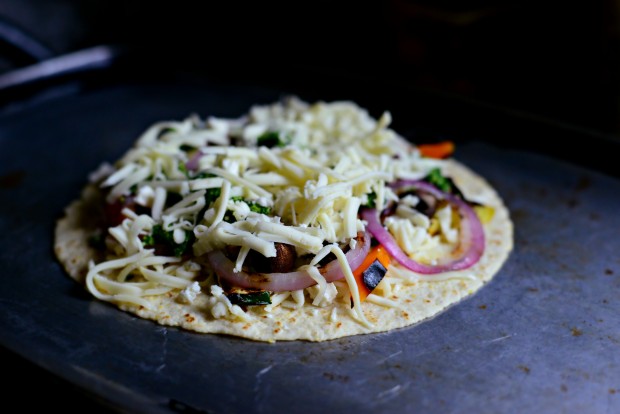 Then place the whole thing onto the hot griddle…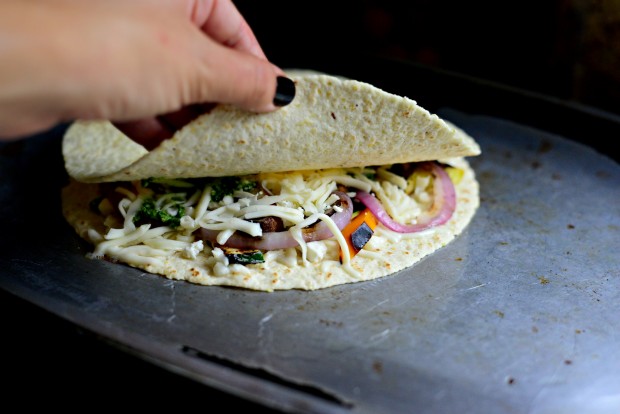 Next, top with a second tortilla.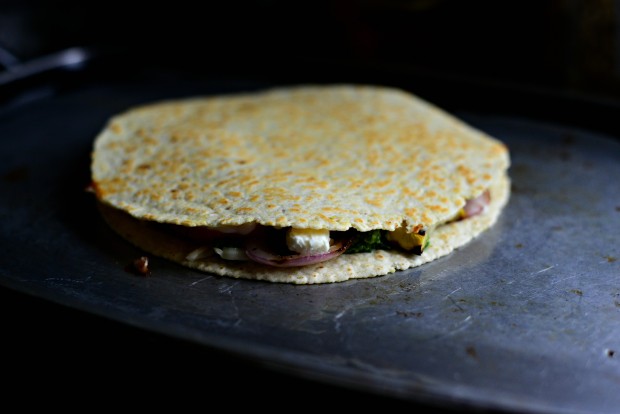 And then griddle until golden, crispy and cheese is ooooozing.
Now let the Vegetable Spinach Pesto Quesadillas cool a bit before you slice into half-sies, fourths or eighths. But just know it gets a leetle messy after fourths.
Oh. Dang.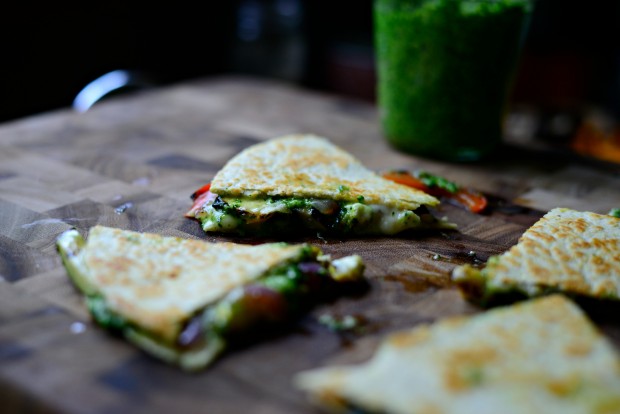 Hello, lover.
Even after I ate my entire grilled vegetable spinach pesto quesadilla I made sure to save all leftover grilled vegetables, pesto and grated cheese– and I'm glad I did because I made them again later in the evening for my bff and I– after we sipped glasses of wine, got ding-dong-ditched by some neighbor kids and talked for hours. And she wholeheartedly agrees that these are top-notch, life-changing quesadillas.
Enjoy! And if you give this Vegetable Spinach Pesto Quesadillas recipe a try, let me know! Snap a photo and tag me on twitter or instagram!

My cookbook Simply Scratch : 120 Wholesome Homemade Recipes Made Easy is now available! CLICK HERE for details and THANK YOU in advance!
[this post contains affiliate links.]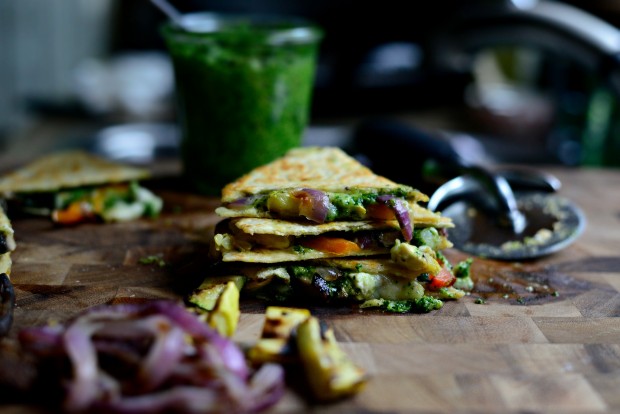 This post may contain affiliate links.
Buy the Cookbook: Simply Scratch : 120 Wholesome Homemade Recipes Made Easy Now available on Amazon »
THANK YOU in advance for your support!