In this Bacon Chicken Chopped Salad everything that is delicious chopped up and added to a salad and smothered in a smoky cilantro avocado dressing.
There is little-to-no guilt where this salad is concerned. I mean sure, there's bacon (and cheddar) but that's like protein and dairy *wink* which are all parts of the food pyramid, right?
However, there's also grilled chicken, tomatoes, bell peppers, grilled corn, green and red onions. This salad is a meal. If you like things spicy, then add a few sliced jalapeños. All these nutritious and colorful a toppings mixed with chopped romaine lettuce and tossed with a luscious smoky avocado dressing. See? Like I said, nothing to feel bad about. Riiiiiight? I think not.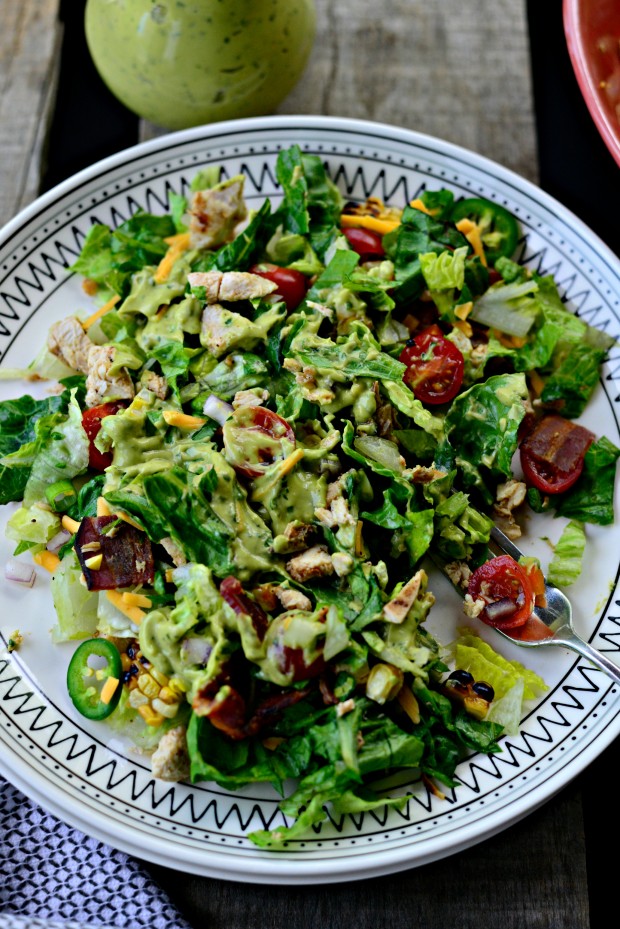 I made this salad for dinner one night on a whim and instantly wish I blogged it. The only thing I didn't do was make the avocado dressing. Like I said, it was just on a whim so I used what I had on hand and in the fridge was ranch. We all agreed it was missing a little somethin-somethin.
So I thought about it and thought about it and I finally came to the conclusion that this salad needed avocado. So this time I made a smoky, cilantro-y, avocado-y dressing. Yeah, I wasn't prepared AT ALL for the incredible flavor amazingness. There is something about the combination of bacon and avocado that I just love so much. And if you can imagine tossing it all with grilled chicken, corn and allthevegetables, you can expect your taste buds to be blown away.
And because, bacon.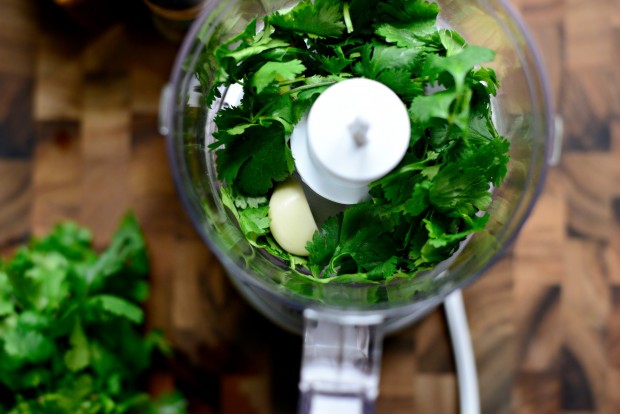 First the dressing! To start, in your mini food processor, throw the cilantro and garlic clove.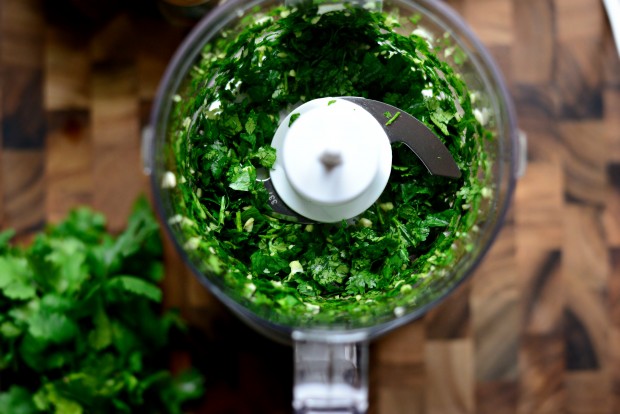 Then pulse until coarsely chopped.
Next slice open two medium avocados and cut a lime in half. Scrape out the flesh of the avocado and add it to the cilantro and garlic.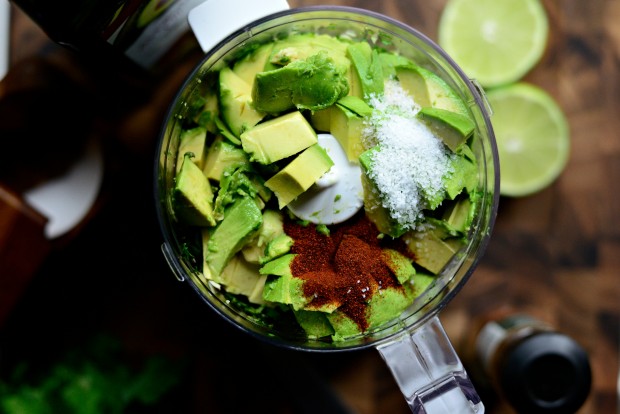 Then add in the kosher salt and chipotle powder.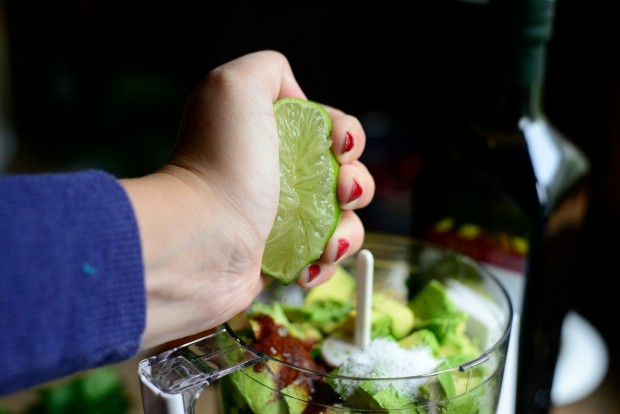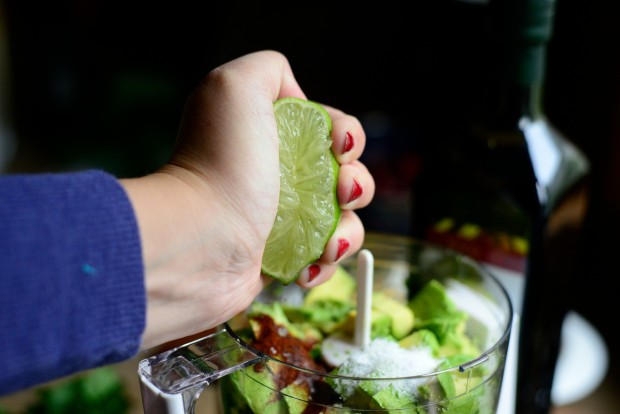 And then squeeze in the half of a lime.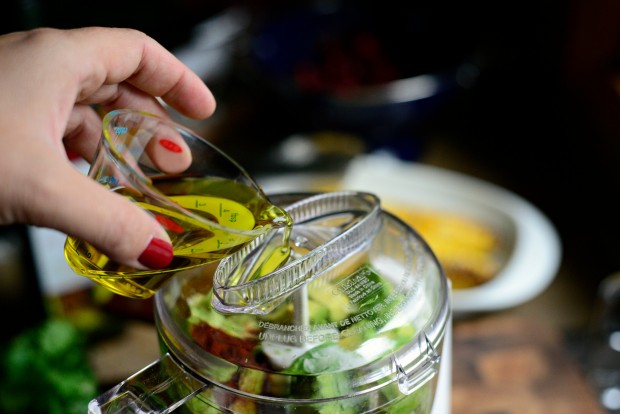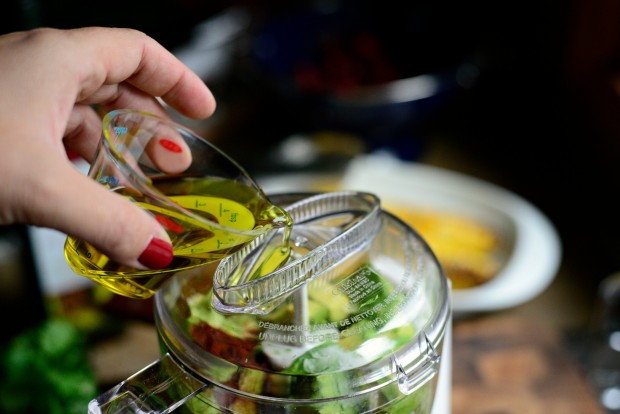 Next, with the processor on, pour in the avocado oil.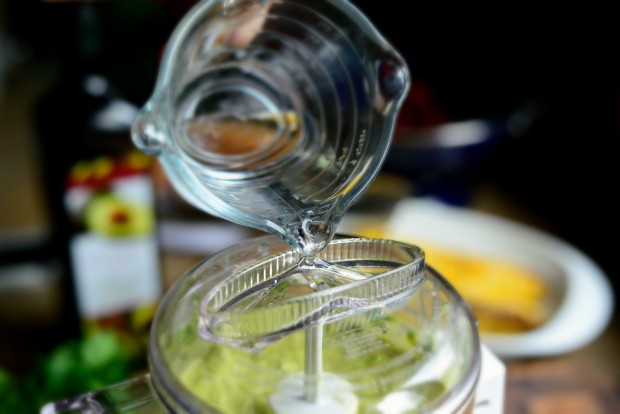 And then thin it all out with about 1/4 to 1/2 cup of water.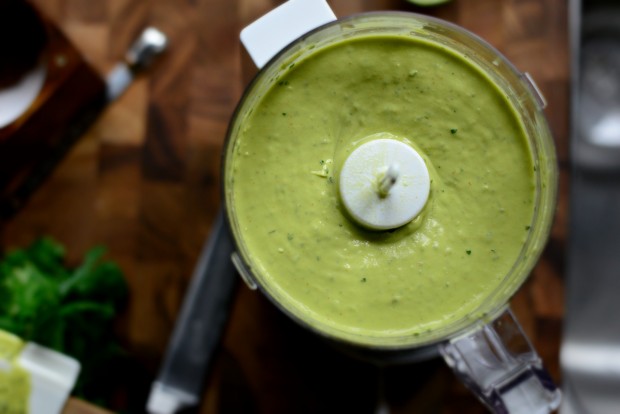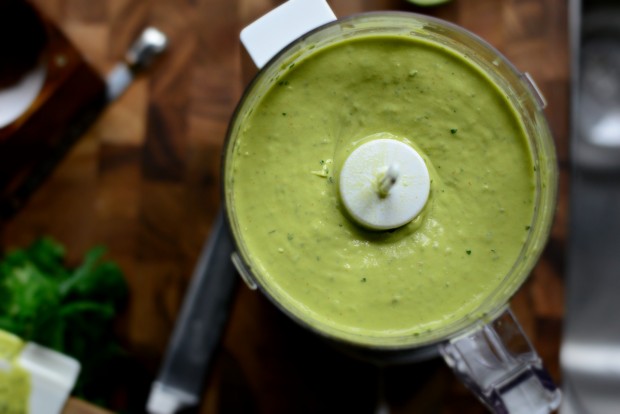 And just like that you have a deliciously amazing smoky avocado dressing.
How To Get Ripe Avocados To LAST:
The trick to storing ripe avocados so they last is a no-brainer, it's easy and effective and has saved me SO much money. First buy hard to the touch, bright green avocados and allow them to ripen on the counter. Once they are black, soft to the touch (NOT squishy) pop them into the fridge. Because here is where they will last for quite a few days! You guys this has changed my life and I owe this trick to my sisters. No more wasted avocados!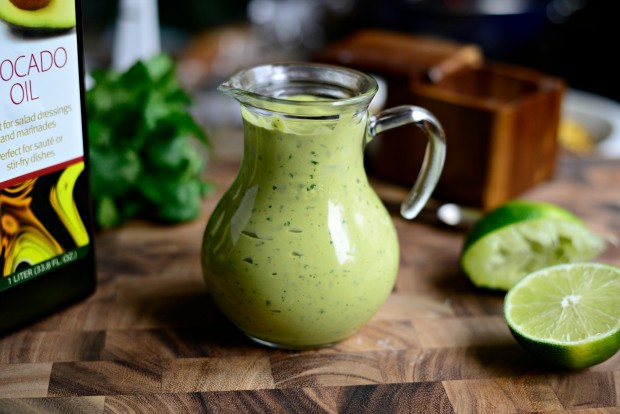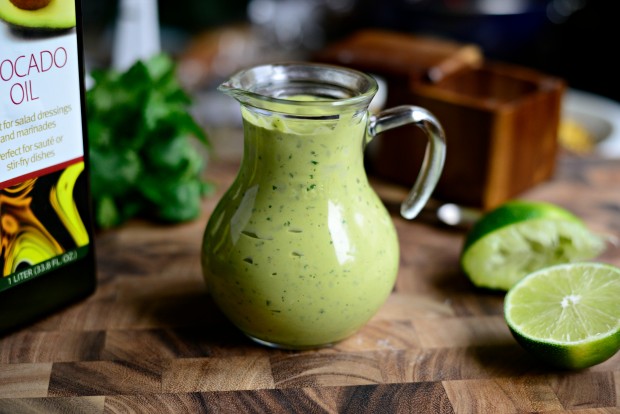 This stuff almost steals the show. Almost.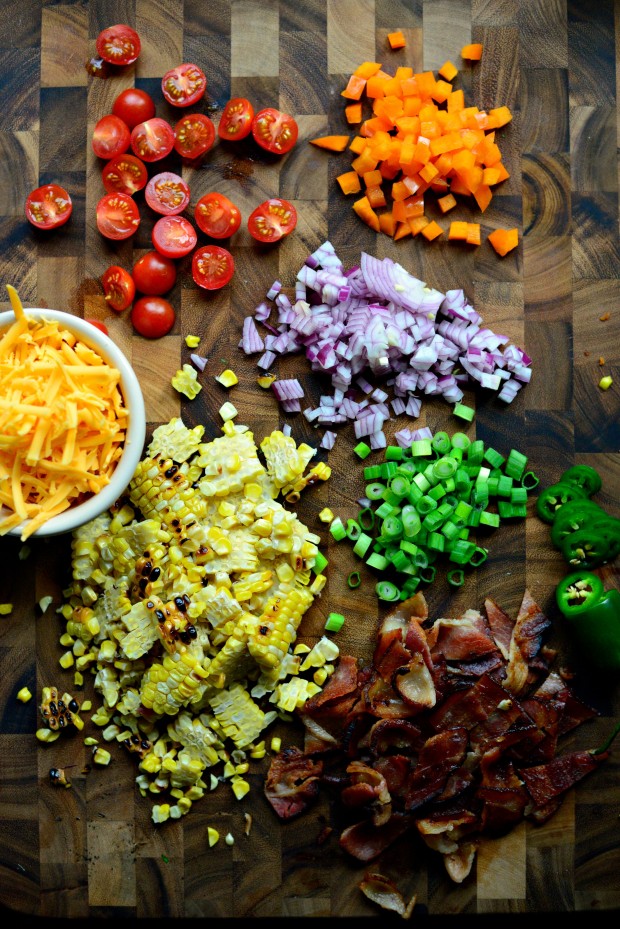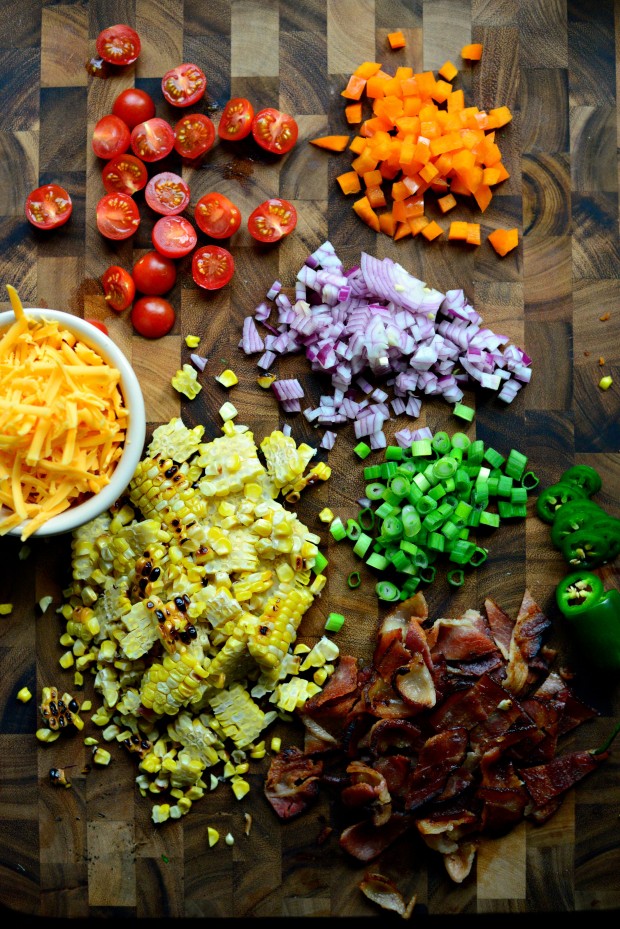 And then there is allthetoppings. And bacon.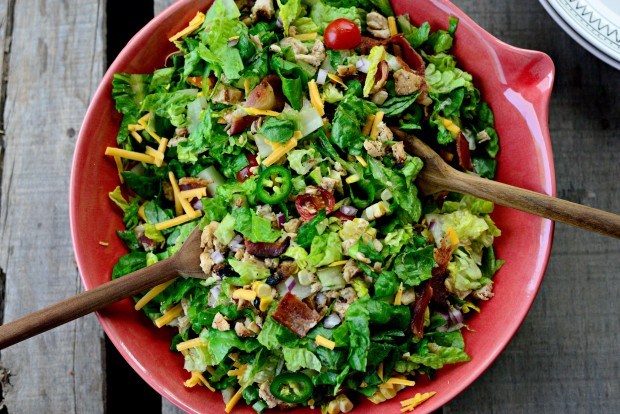 Finally toss those beauts with chopped romaine leaves, cheddar cheese and then sprinkle in some sliced jalapeño, if that's your thing.
Lastly, plate up the salad and then drizzle with the avocado dressing.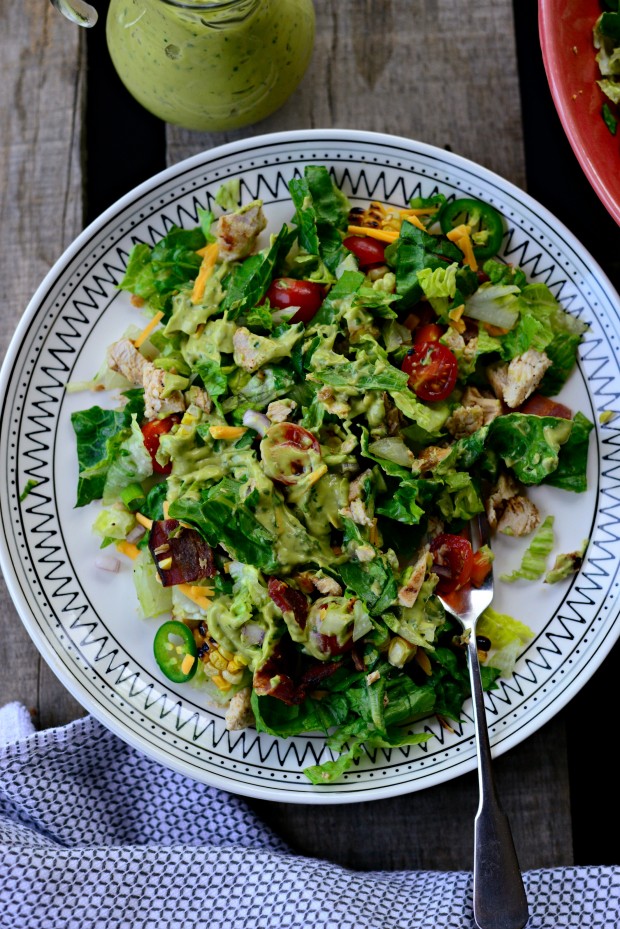 Toss it all around, grab a fork and finally… dig in.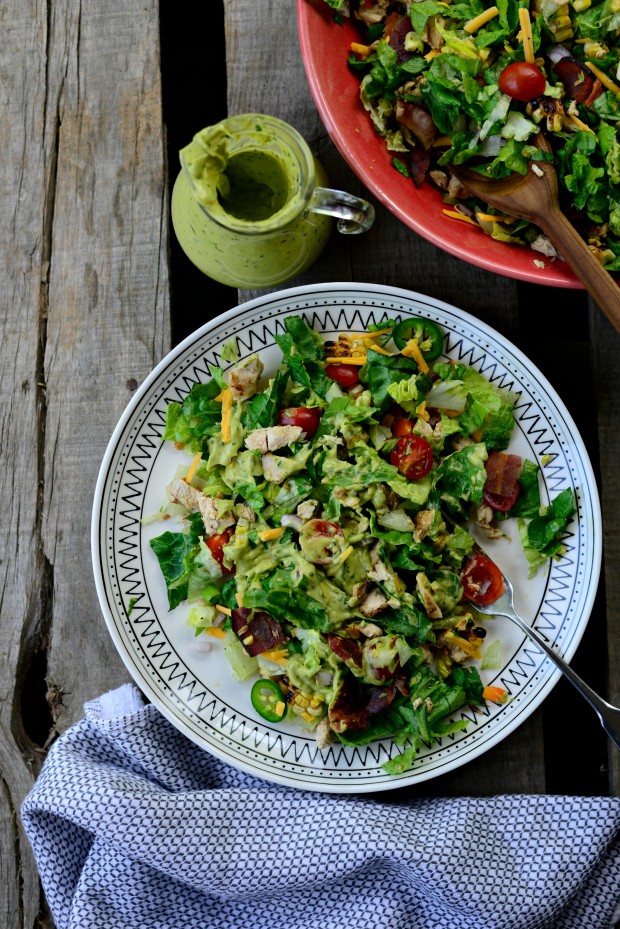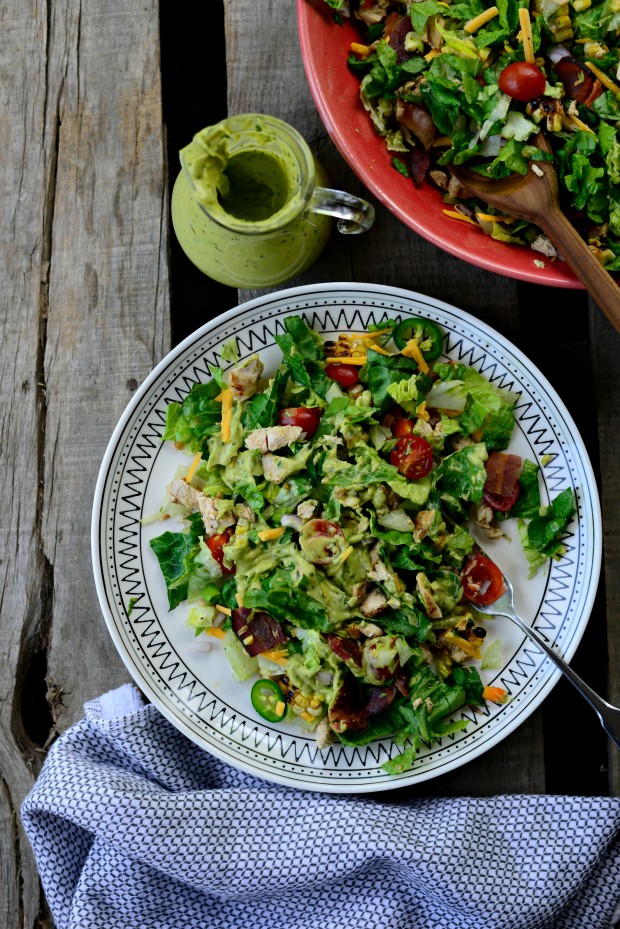 YOU. Will. Love. This.
Enjoy! And if you give this Bacon Chicken Chopped Salad recipe a try, let me know! Snap a photo and tag me on twitter or instagram!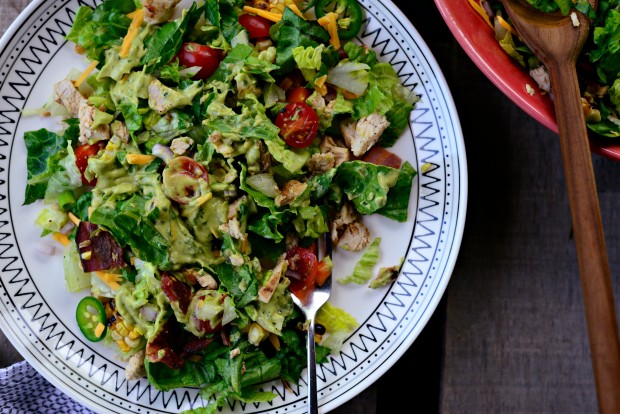 My cookbook Simply Scratch : 120 Wholesome Homemade Recipes Made Easy is now available! CLICK HERE for details and THANK YOU in advance!
[this post contains affiliate links.]
This post may contain affiliate links.
Buy the Cookbook: Simply Scratch : 120 Wholesome Homemade Recipes Made Easy Now available on Amazon »
THANK YOU in advance for your support!